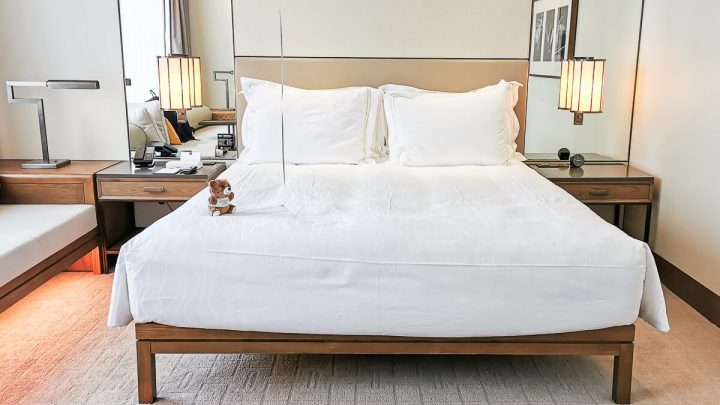 What to do when you can't travel overseas for your birthday because of the worldwide border closure? Well, you can eat lavish food in a restaurant, then go home. Or, you can consider a staycation.
I am at the stage where I'm chronically travel-starved and I will do everything to feel like I'm in an entirely different place. So, staycation it is!
Why Conrad, you ask? Well, like many other American Express KrisFlyer Ascend card holders, I was holding on a hotel voucher that's expiring on 31 December 2020.
Before November 2020, there was no way for us to use this voucher in Singapore, because the only hotel in Singapore that accepts the voucher was Hilton Garden Inn, which was under SHN contract, so it wasn't open for staycation. Thankfully, I read on Milelion that the rule was changed in November, and both Conrad & Hilton Hotel are accepting Amex KFA voucher from December. Just in time for my birthday (yes, I'm a December baby)! I was ecstatic!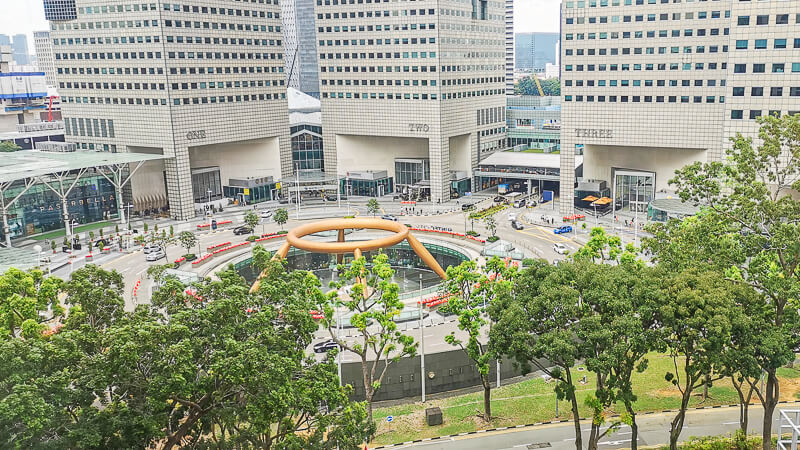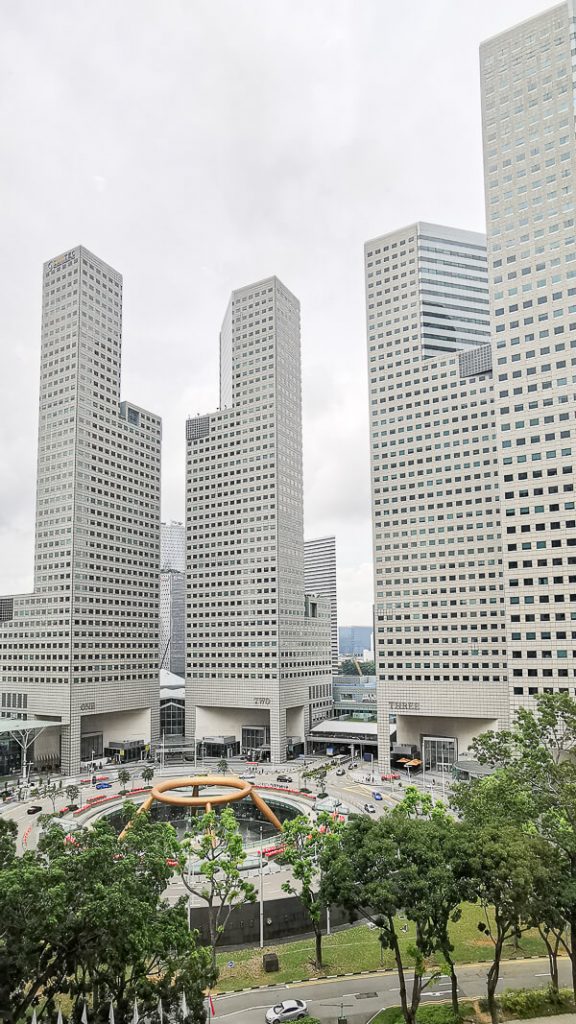 Booking
Because I'm redeeming my hotel voucher, I followed the instructions from Amex on the procedure. If you're also redeeming your Amex KFA voucher, this is the link to see the list of allowed hotels and the T&Cs.
If you're not Amex KFA voucher holder, I recommend that you check this page for Conrad's current offering.
PS: Conrad is eligible for SingapoRediscovers Vouchers (SRV)!
Redeem your ticket here.
During booking stage, we can indicate whether we'd like to request upgrade by topping up, but we won't be able to know the outcome until the day of check-in.
I was on a splurging spree, so I requested to upgrade to Executive so that I can have access to Executive Lounge for afternoon tea and evening canapes, as well as breakfast at Oscar's. It requires SGD 90 top-up, and I think it's quite worth it.
My booking doesn't come with free breakfast, so if I don't get the upgrade, I will have to pay SGD 40/pax for the breakfast at Oscar's, or I have to find my own breakfast elsewhere.
Also, I shamelessly wrote in the notes during booking: "celebrating Eva's birthday." In case they miss out that it's my birthday 🙊
Pre-Check-In
Because of Safe Distancing requirement, guests are allocated specific check-in timing. Two days before my check-in, I received email from Reservation Team that my check-in time is 3.30pm. I was not happy.
I expected that I'll be upgraded to Executive. The afternoon tea at Executive Lounge is between 3-5pm, so if I check-in only at 3.30pm, I'll miss the afternoon tea.
So, I called the reservation team and requested for earlier check-in because I want to enjoy afternoon tea. The staff told me that they can let me check-in earlier at 2.30pm, however, I wasn't successful in my request for upgrade. Sigh…
But I want to applaud the staff (Diana) who was on the call with me for her utmost kindness. I asked her how about when I can book the pool, she told me to refer to the email I received about check-in timing. Had I not talk with her, I wouldn't know that the link to book pool is in the email, because the wording was not clear at all.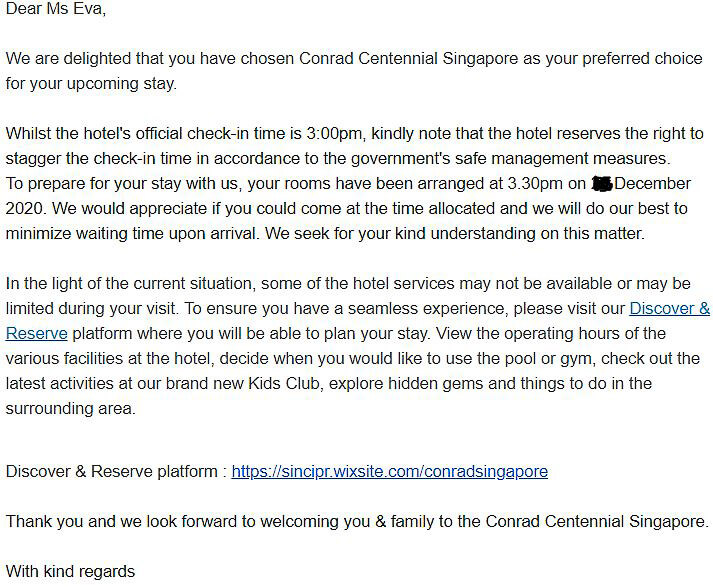 Due to various events happening in my life, I forgot to book the pool timing after I called the hotel. I suddenly remembered about the pool booking 1 day before my stay! As a result, all of the good timings are fully booked. What's left were late at night, or early in the morning.
Each guest can book 1 time per day, so I decided to book the pool at 7.30pm for my first day, and 7am for my second day.
Gym usage also requires advance booking, but I didn't book because I don't plan to exercise on my birthday staycation!
Check-In
We arrived at 2.30pm sharp at Conrad and was met with a line of about 5 or 6 groups. The line moved pretty fast. I guess that's because we were early. When we walked past the lobby later that day, at around 4pm, the line was much longer.
The receptionist told us that we weren't granted the upgrade to Executive, and she could offer us a special price for breakfast at Oscar's. After tax, it's about SGD 35/pax. We told her we need some time to consider it. In the end, we decided not to go for the breakfast because we felt it's too expensive; a SGD 90 Executive upgrade could get us breakfast for 2 plus afternoon tea plus evening canapes. Yeah, we're that typical calculative Asian. Also, I couldn't eat majority of the food on the breakfast menu due to certain condition. So, it was an easy decision.
The receptionist also said that if we intend to bring outsiders to our room, they must register at front desk, and they must leave the hotel by 10pm. It's nice to know that they do welcome outside guests. Anyway, we didn't invite any guests to our room because we feel that there's no point inviting someone to our room if they can't enjoy the pool.
We asked the receptionist if it's possible to request for late check-out. We were really grateful that she granted us late check-out at 1pm instead of the usual 12 noon.
Lastly, there's something a little embarrassing that we did and I was contemplating whether to share this or not. But I decided to just spill it out, so that you won't make the same embarrassing move. Hubby asked the receptionist, "Today is her birthday, do you have anything special for her?" The receptionist looked annoyed and answered, "Yes, we have already prepared something in the room."
Lesson learned: if you have indicated in your booking that you're celebrating a special occasion, do not ask receptionist about it. Just pretend you don't know that a surprise is waiting for you in the room.
The Room
The first thing we noticed when we arrived in front of our room was a "Hilton – Clean Stay" sticker pasted between the main door and doorframe. It gives me assurance that my room has been thoroughly cleaned.
However, when we detached the sticker and then attached it back, the sticker didn't look that much different from its pre-peeling condition. I thought it was supposed to work like a warranty seal, well, I guess I had too high expectation.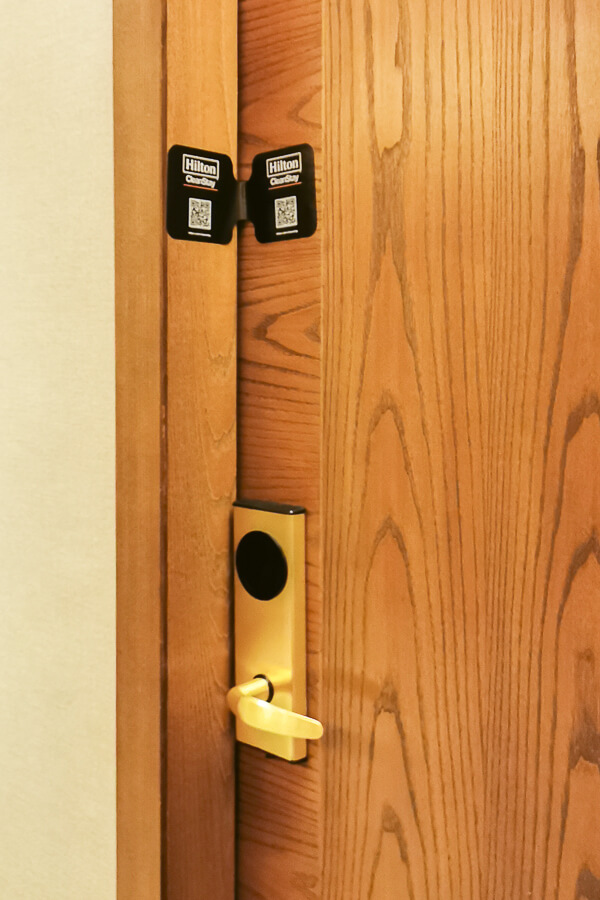 And… yup, as expected, there was a surprise for me in the room: a balloon and a card! Hooray!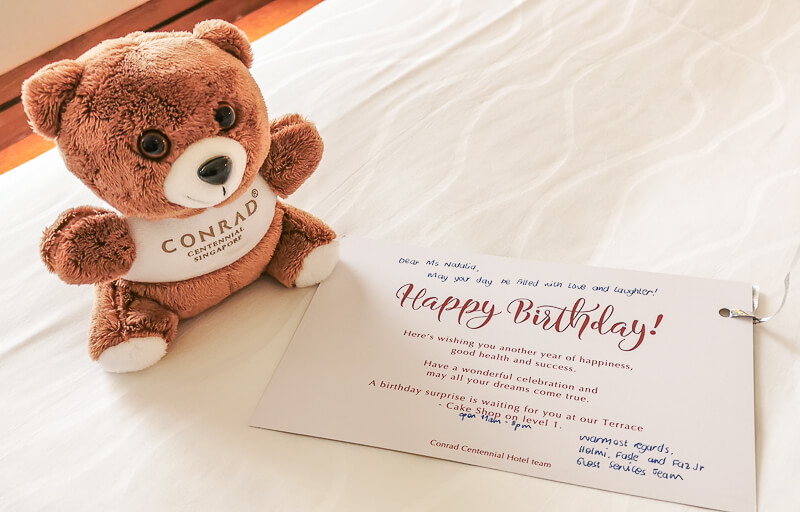 The card says that "A birthday surprise is waiting for you at our Terrace Cake Shop at Level 1" We started guessing, is it a slice of cake or a whole cake? Are we supposed to eat there or we can bring it back to our room?
We were too excited with the room and too lazy to go down to collect the cake, hence we spent an hour or more taking selfies and exploring the room.
Our room is a Deluxe King room (40 sqm, or 430 sqft) located at 10th floor. It comes with 2 big glass window panels and window sofa which could actually be a bed for 2 persons.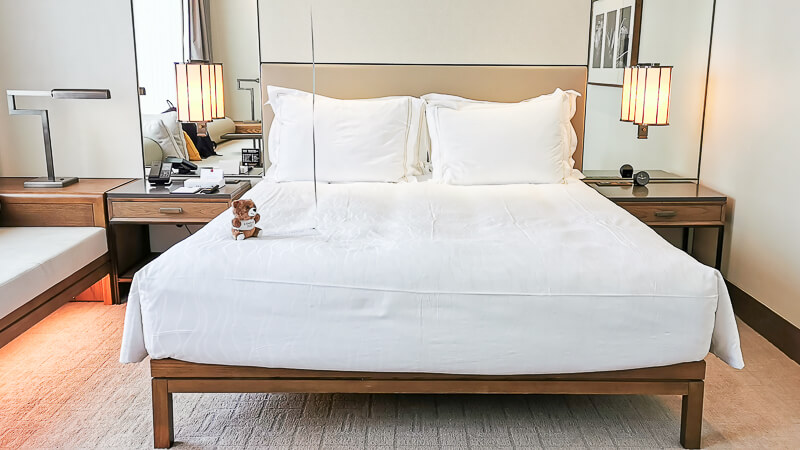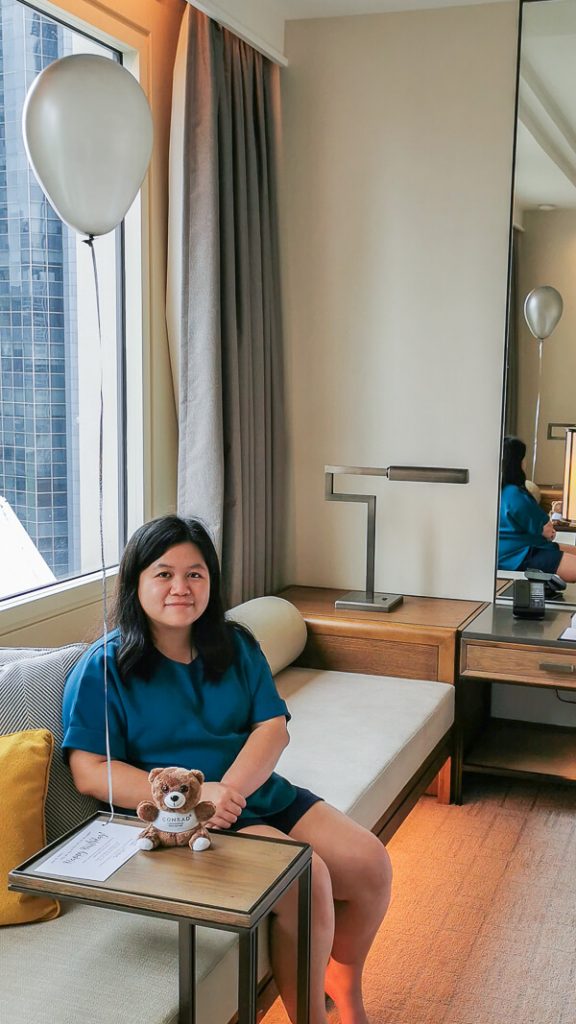 On the round table, there were a pack of chocolate cookies, a pack of dried fruit and a cake. Beneath them was a shelf filled with a plate and a knife. As a suaku staycationer (aka noob staycationer), we didn't know whether these were complimentary or part of the minibar. I persuaded hubby to call either front desk or room dining to ask about it, but he refused.
So, we discussed and decided that we should check the menu of minibar. If these 3 items are not in the menu, it means they're complimentary. But our next the problem was: we could not find the minibar menu! Hubby made a call to ask for minibar menu, and was told to scan a QR code provided at the bedside table. By now, I think you'd agree that we're really suaku staycationer.
Anyway, the minibar menu doesn't mention anything about the 3 items on the round table. So, we opened and tried them immediately. They were really really SWEET! Sugar-overdosed after a couple of pieces, I told hubby he can have them all.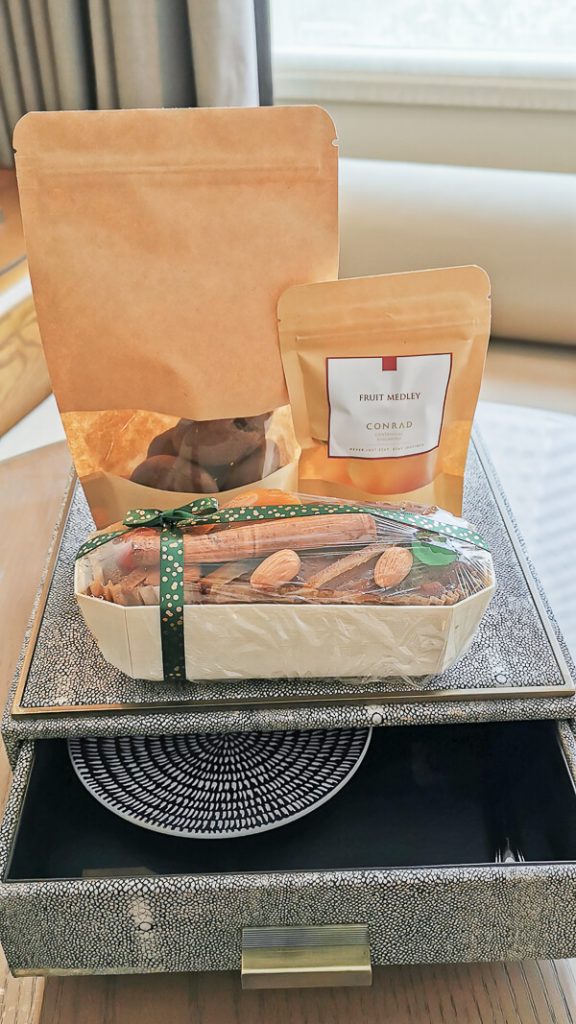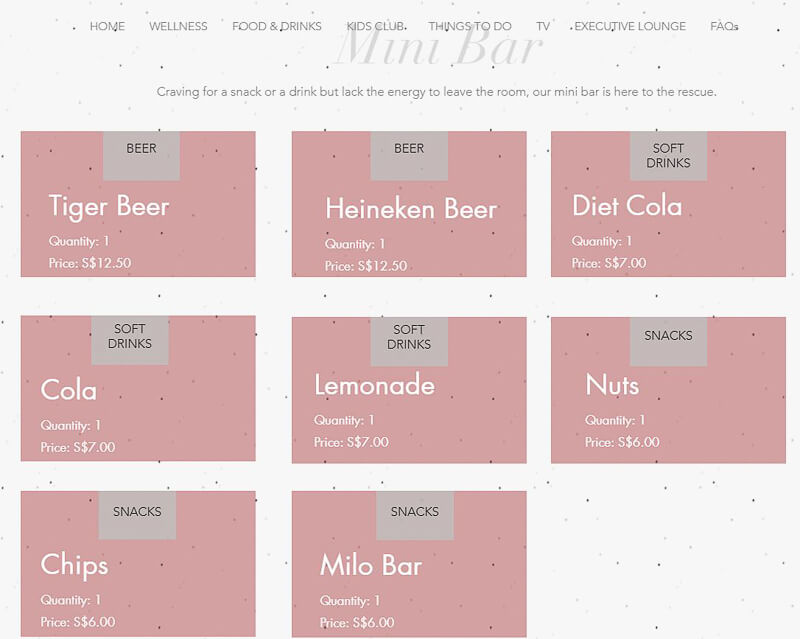 The pantry was stocked with 4 small bottles of mineral water, glasses, a kettle and a Nespresso machine. The Nespresso machine's model is Pixie, aka one of the cheapest Nespresso machines that doesn't have milk system, so you need to pour the milk manually into your coffee.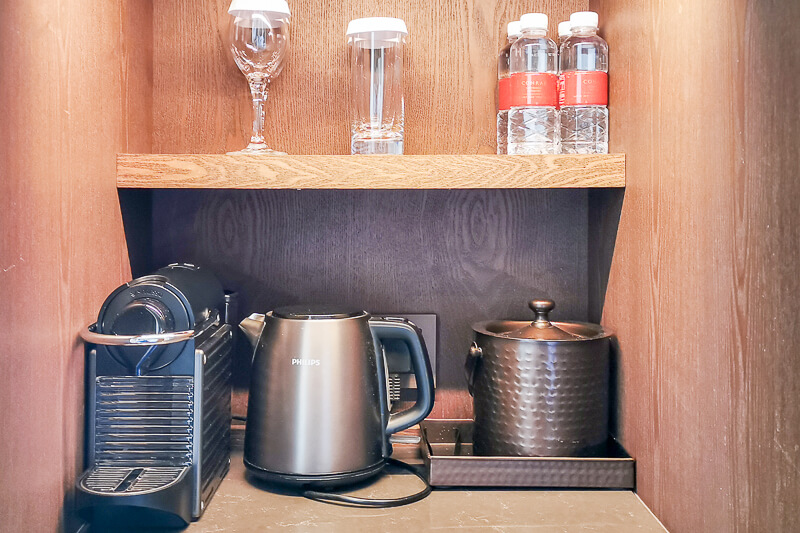 The minibar drawer was stocked with 6 Nespresso capsules (2 decaf, 4 caf), assorted Ronnefeldt teas, sugar, creamer, more cups and glasses, a cork screw, teaspoons, and several snacks. The rightmost row was empty and we wondered if there were items missing from the minibar. When we compared the items in our minbar and the menu of minibar, everything in the menu was available in our minibar.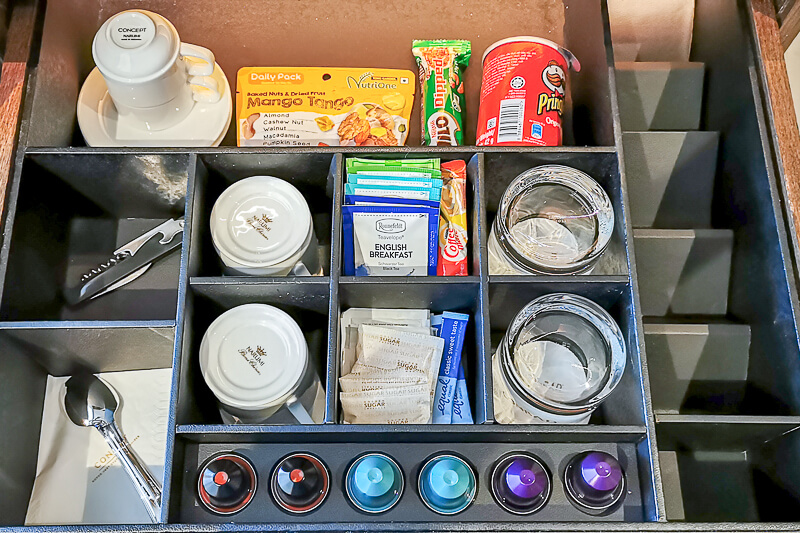 Below the minibar drawer is the fridge that stored a Tiger Beer, Heineken, Coke, Light Coke and Lemonade. But something was weird with our fridge. It WASN'T COLD at all! It was at room temperature! How are you supposed to drink a room temperature beer? It's just impossible.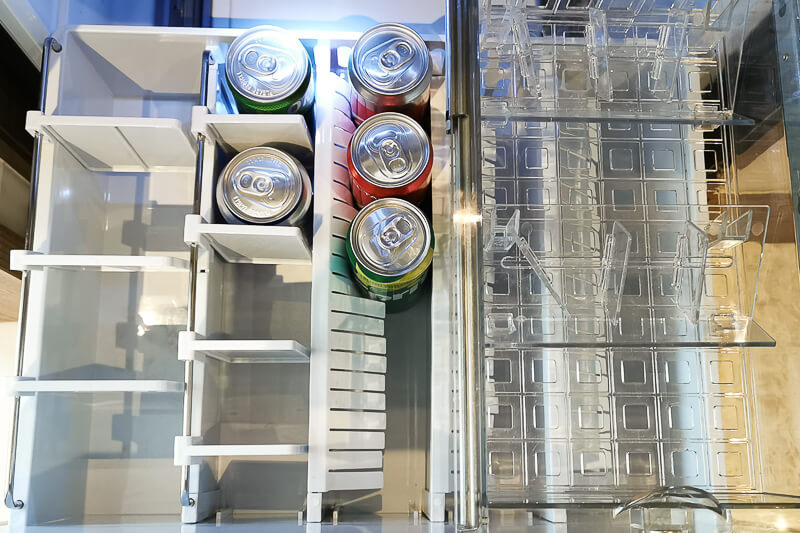 It was an inconvenience to have a warm fridge because that means we can't store fresh milk in it. We love to drink coffee with milk (not creamer) in the morning, so that means we have to go to Giant at Suntec City in the early morning the next day just to get a fresh milk. Anyway, in my feedback form upon check-out, I mentioned about the warm fridge, I hope they do something about it.
Now, let's move on to the bathroom. Conrad's bathroom is REALLY SPACIOUS! There are 2 huge sinks, one for each of us, and plenty of mirrors. The best thing is, there's a separate bathtub and a shower area! The shower area comes with a rainshower and handheld shower. Meanwhile, the bathtub comes with an extendable handheld shower and there's even a pack of bath salt!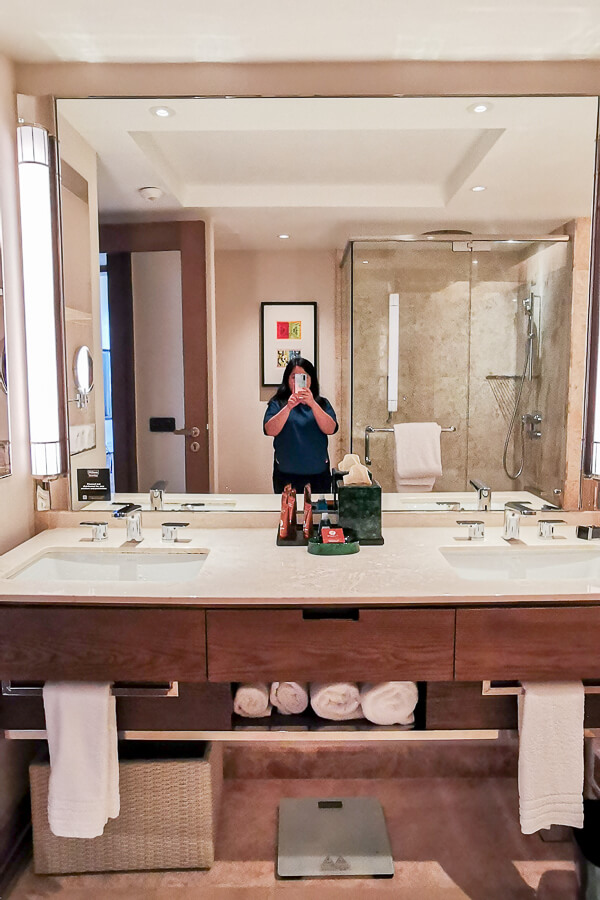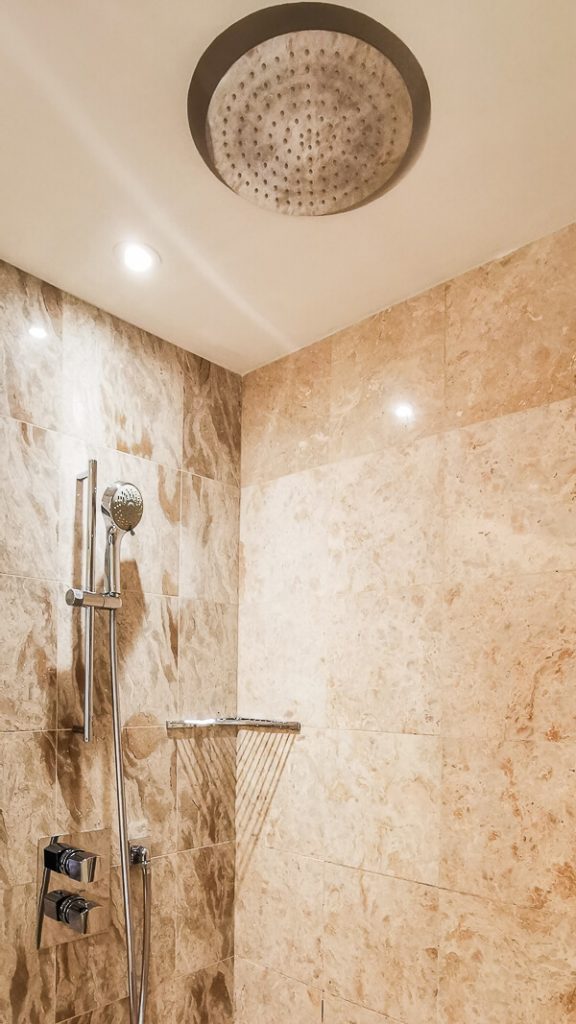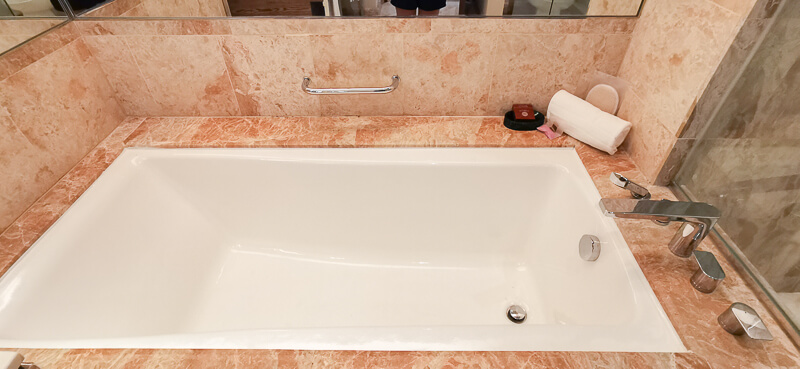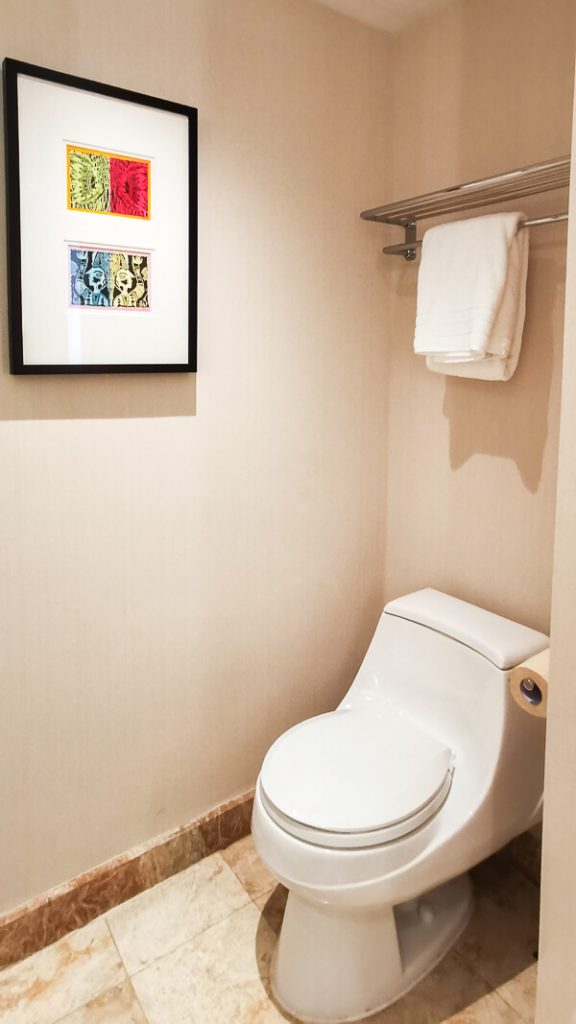 The bathroom amenities come from Mandarin Tea, Shanghai Tang. There were a shampoo, conditioner, bath gel, lotion, face soap and bath soap. In addition, there's a WhisperMint mouthwash. Other amenities in the bathroom were a digital scale, hair dryer, laundry basket, toothbrush and toothpaste, assorted and various towels.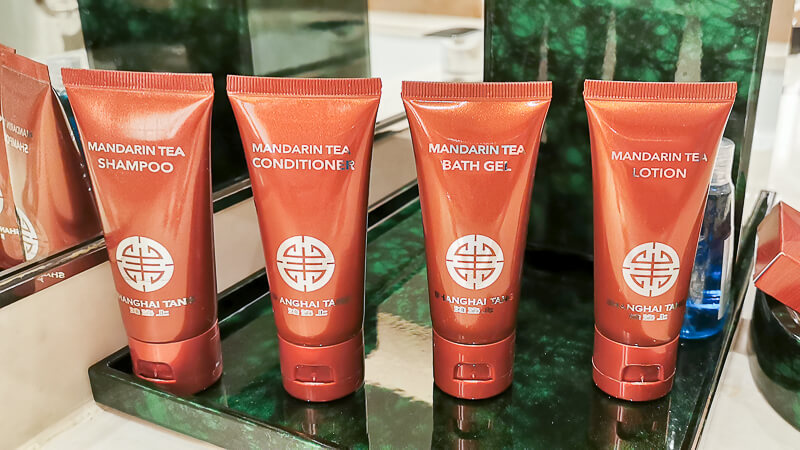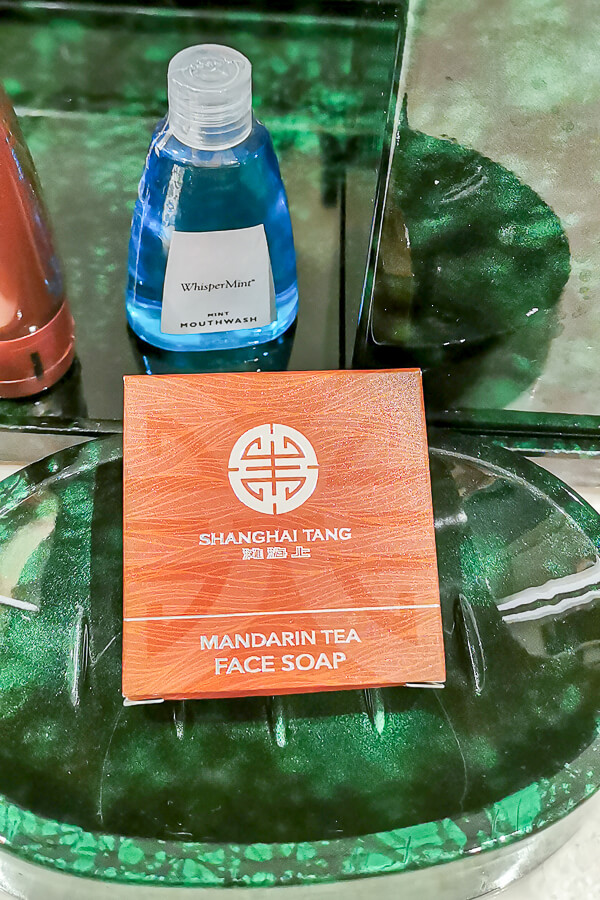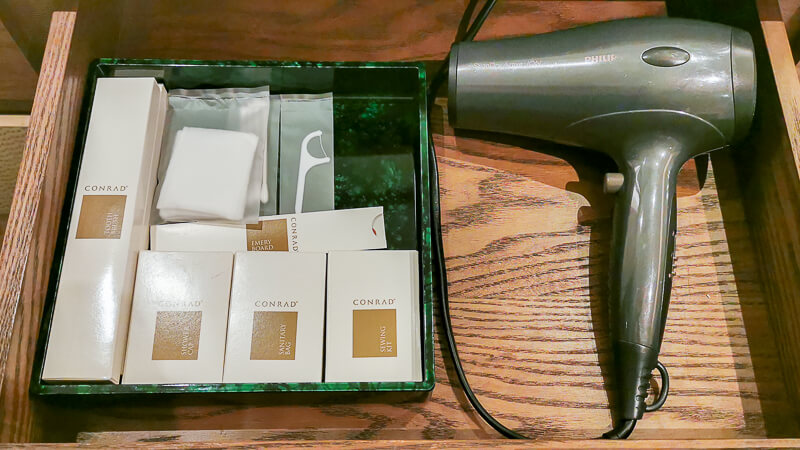 Right outside the bathroom was the wardrobe that came with an ironing table, 1 bathrobe (yep, ONE, not two), a safe box. We wanted another bathrobe so we called the housekeeping to get one. The bathrobe only came a few hours after our request, I guess there's really a manpower crunch. It's alright, as long as the bathrobe comes.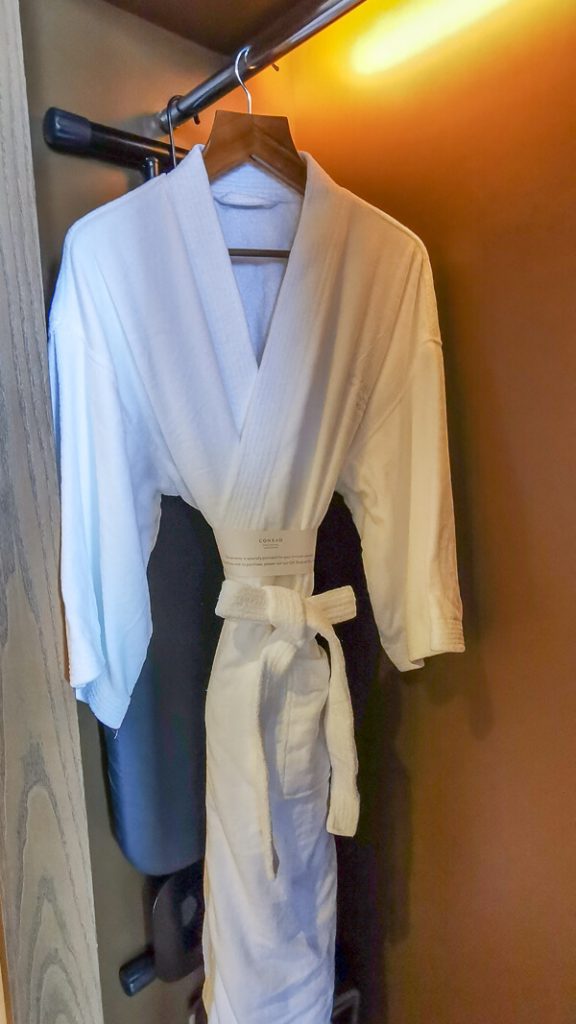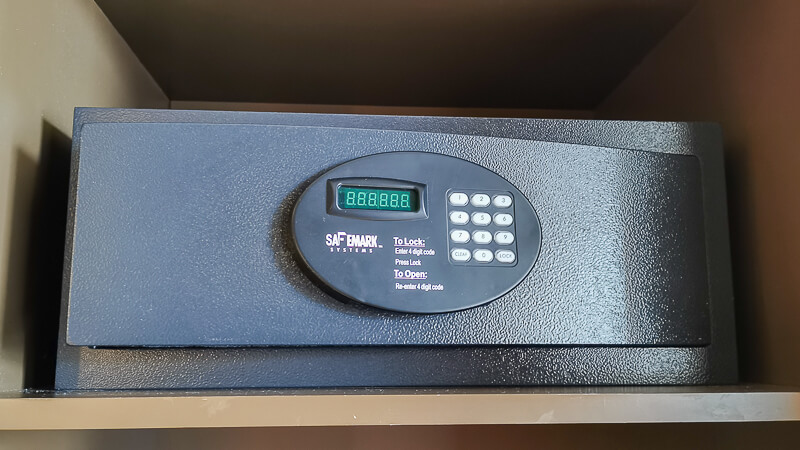 Next, let's explore the bedside areas. Both side tables have a reading lamp and power socket each. On the side table nearer to window, there's a writing notepad with pen, a TV remote sealed with "Hilton Clean Stay" sticker, as well as an amenity box that consists of masks, wet wipes and hand sanitizer.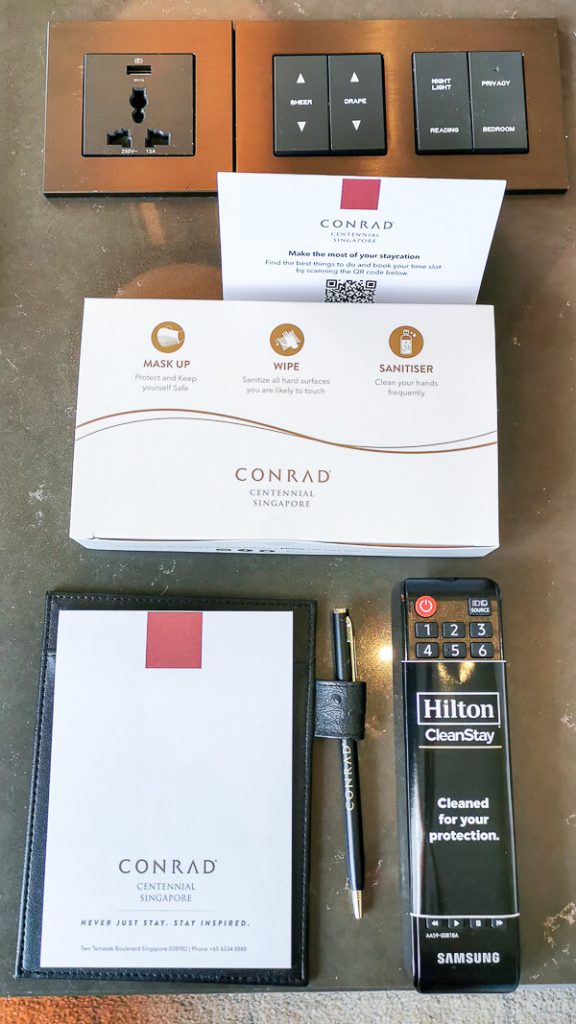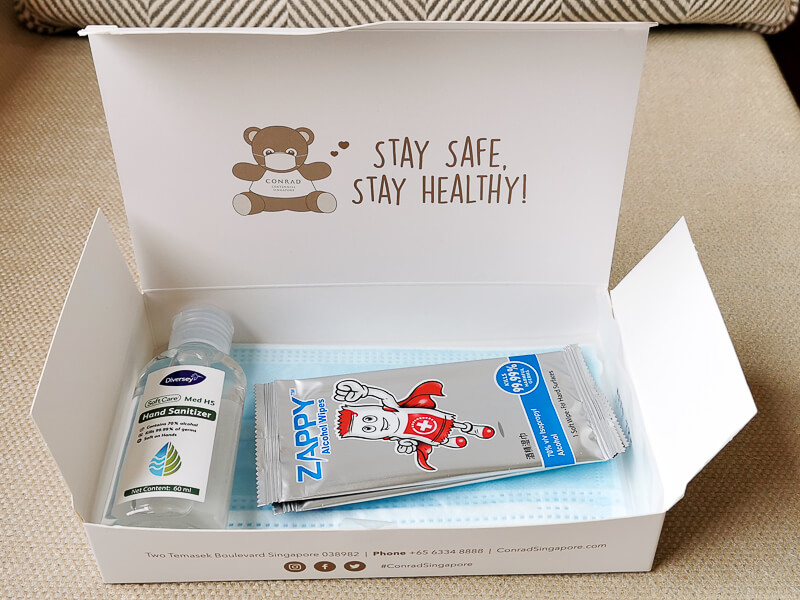 At the other side table, there is a drawer that comes with a Bible, a book about Buddha's teaching, a Conrad Hilton's book and a safety brochure.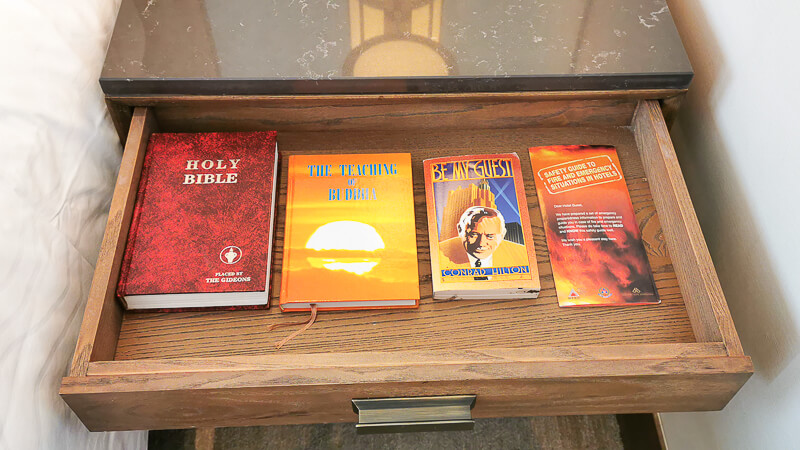 After being worn out from taking too many photos in the span of an hour, it's time to change medium. So, I made a simple room tour video for my sister. In case you're curious how the room looks like in a video format, here it is.
The Surprise Cake
We went down to collect the cake from the Terrace Cake Shop, which is located just beside the hotel. The staff asked for our card, but we didn't bring it with us, so we showed him the photo and told him our room number. A few minutes later, he handed us a small box of cake.
Back in the room, we unboxed the cake box and found a small chocolate cake. There was no candle, oh well, I guess it's a good fire-prevention measure.
And then, it's time for the mandatory birthday photo-taking session.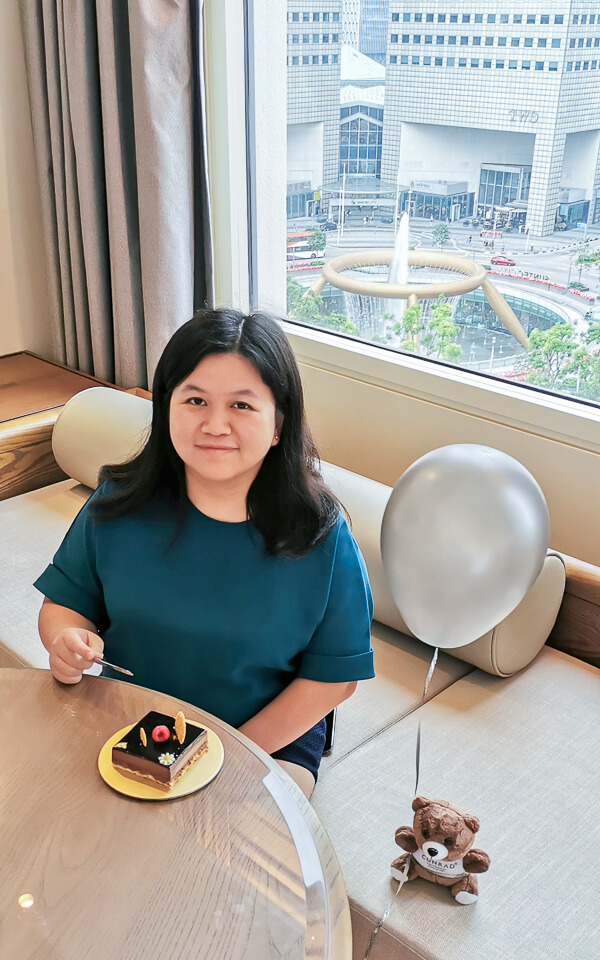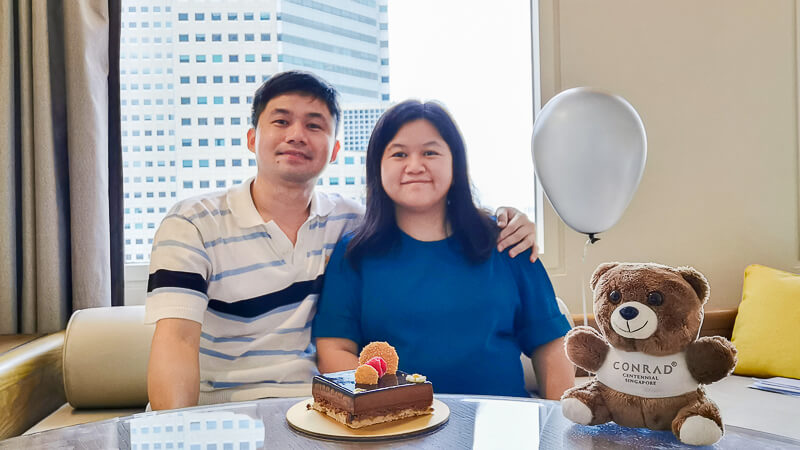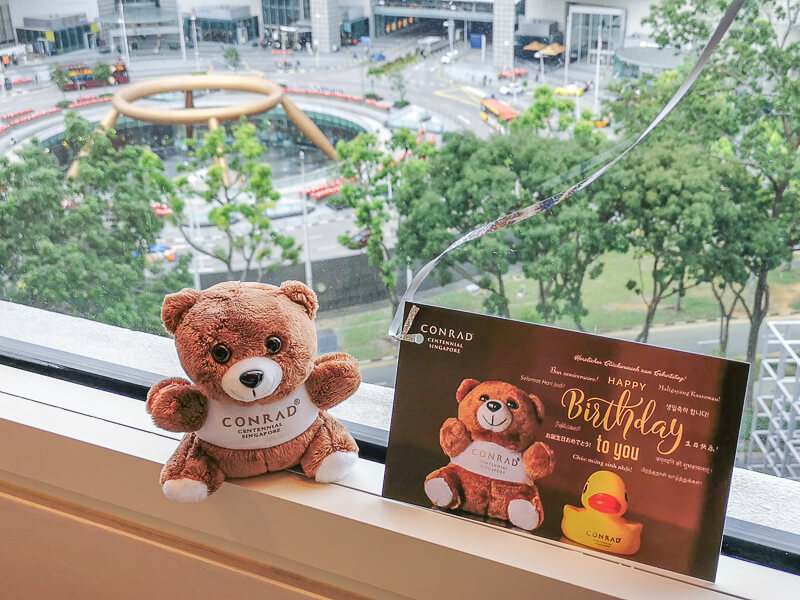 The Pool in the Evening
I mentioned earlier in this post that I forgot to book the pool timing as soon as I received the email from Conrad, hence I was left with only late-night slots and early-morning slots.
For the first day, the earliest pool slot I managed to snatch was 7.30pm to 8.30pm. As you can guess, it's past sunset and the temperature has dropped significantly. Not a fan of evening swim, I spent my time taking photos and using phone while hubby enjoyed his brief swimming session.
To be honest, the pool looked really nice in the evening. There were 4 cabanas with a low table and outdoor chairs & sofa with cushion. There were also plenty of sunbeds.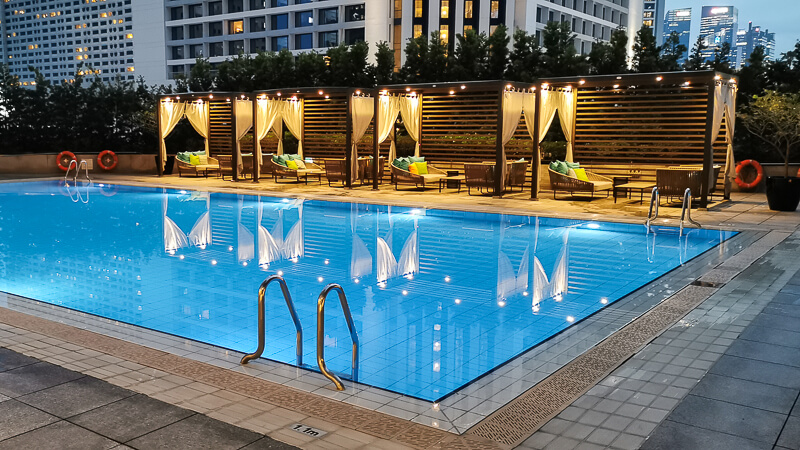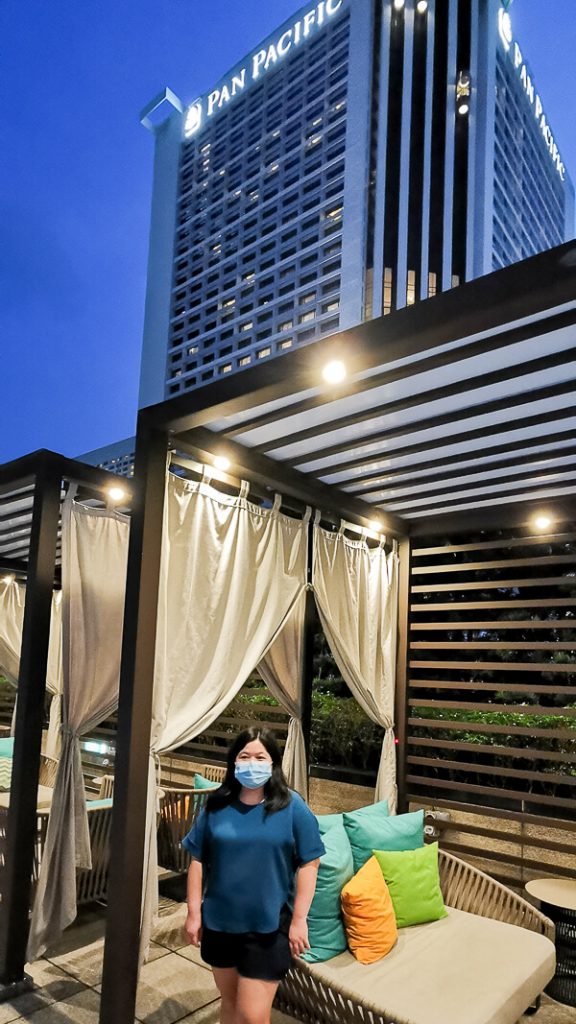 The Dinner
After the swimming session, we were starving. Both Suntec City and Millenia Walk are within walking distance from Conrad, both have amazing food options.
However, we decided to eat at one of our favorite ramens in Singapore: Tsuta, partially because I have a 1-for-1 birthday treat since I'm a member (PS: in case you love Tsuta as well, the registration for membership is free, so I recommend that you sign up for it).
We took a bus to get to the Capitol Building, then walked about 10 minutes to Tsuta at Funan. By the time we reached Tsuta, they were already getting ready to close. Thankfully, they accepted us and told us to make order asap.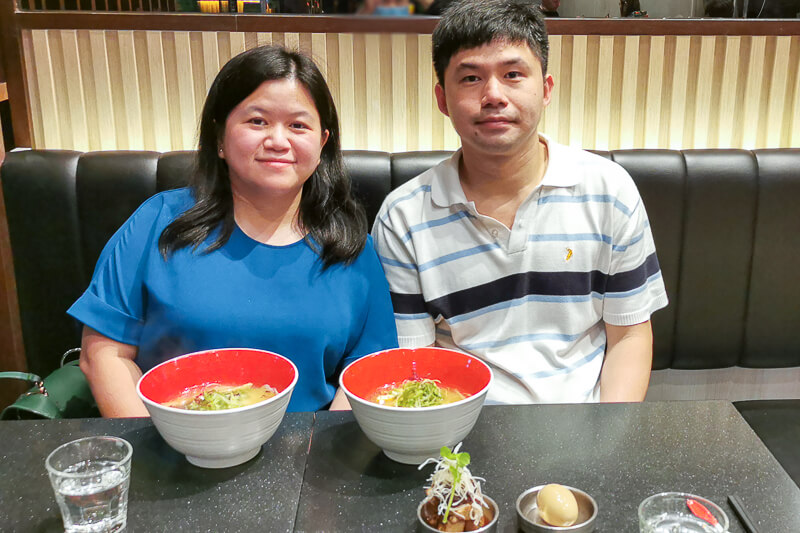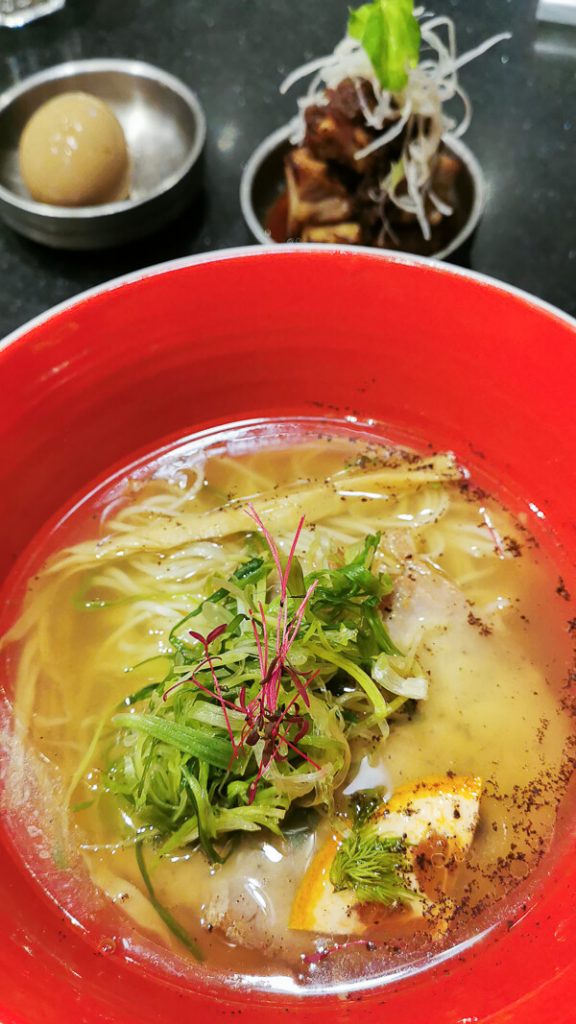 After dinner, we walked around Capitol Building to soak in the Christmas atmosphere.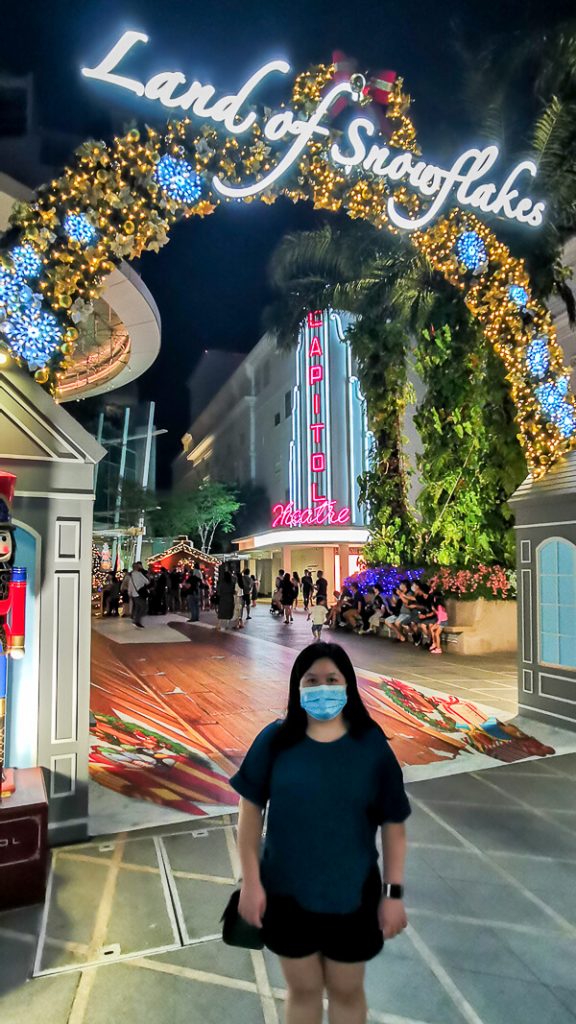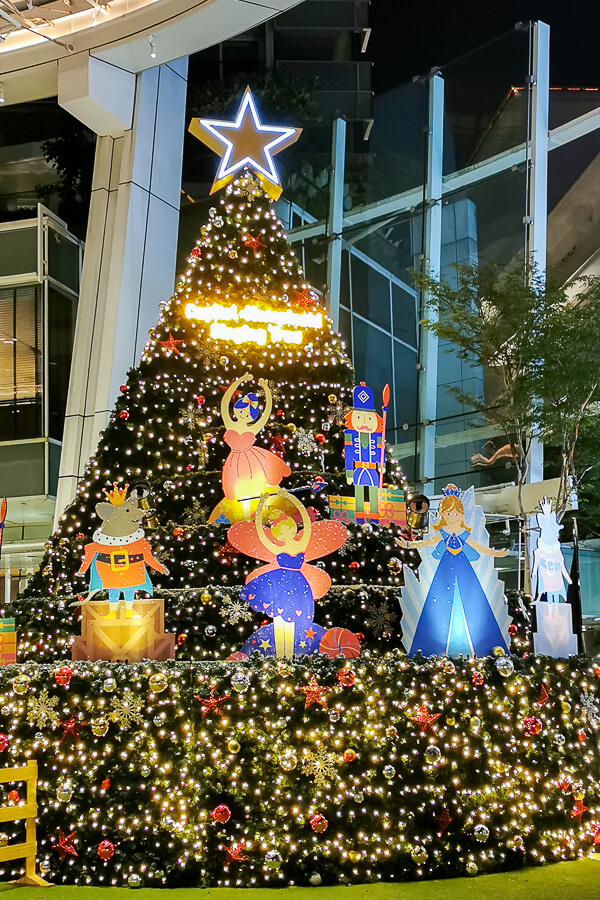 Back at Conrad, we noticed this huge masked-up bear and we couldn't resist taking photo with it.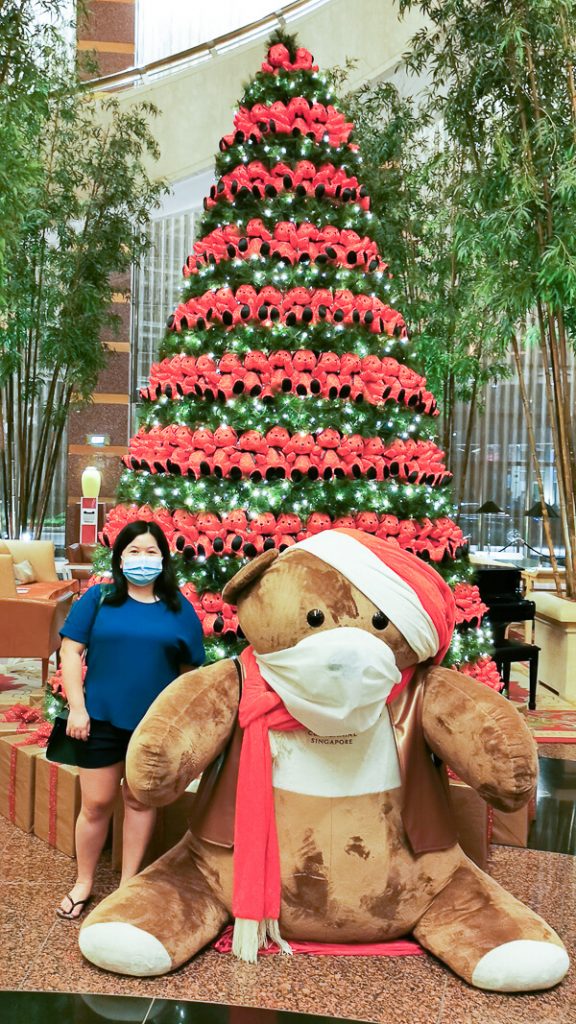 The Pool in the Morning
The next morning, our first activity before breakfast was swimming! This was my only chance to swim so I eagerly woke up early and headed to swimming pool.
The sun had risen. Temperature was still low but it rose with time. We both love the pool more in the morning. It felt like a grandeur start of a new day. For me, it was the start of a new age. I'm officially 33.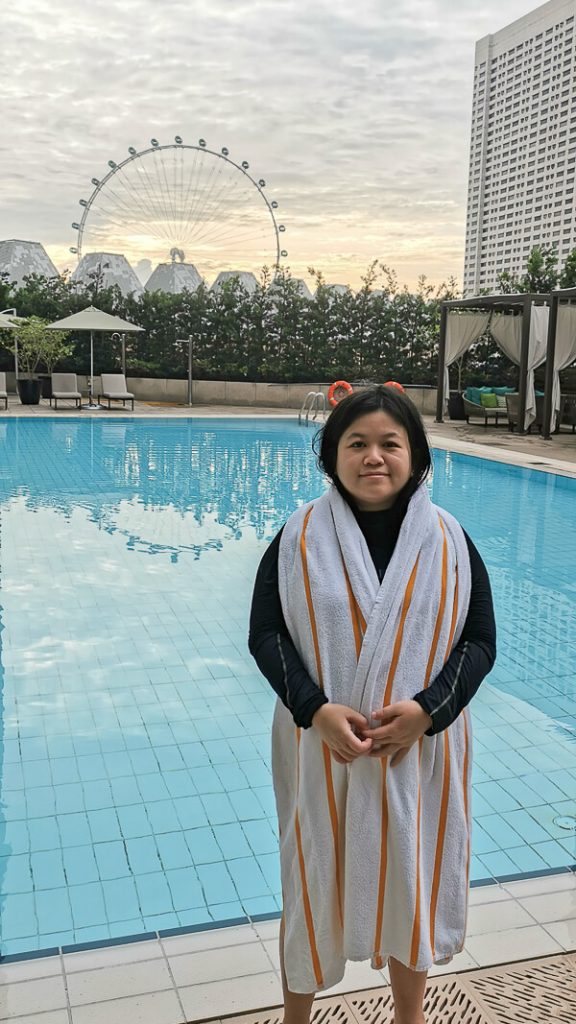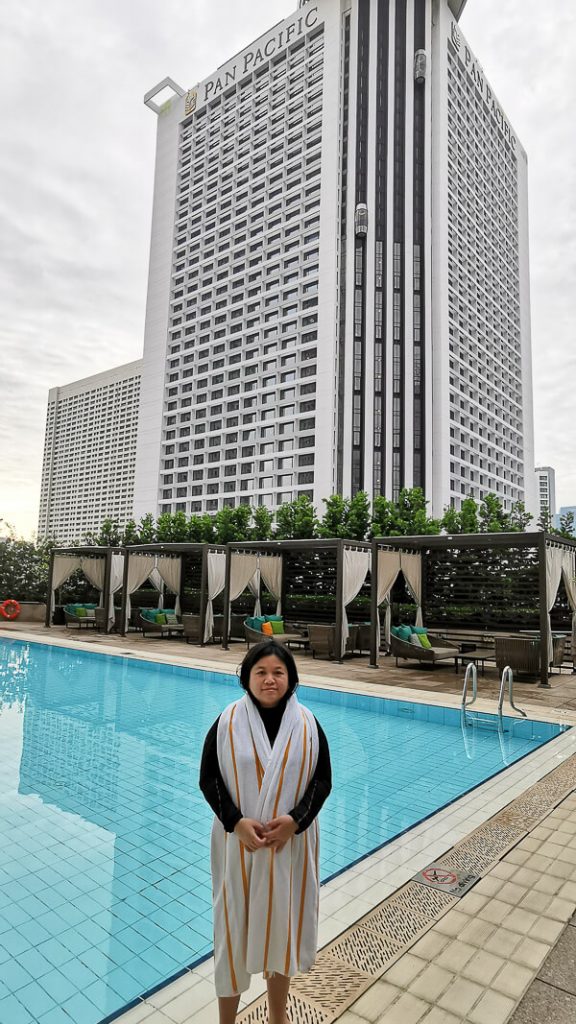 Morning Activities (or the lack thereof)
After swimming we took a shower and headed to Suntec to look for breakfast. Not many stores were open, we decided to share a plate of beehoon at a stall located near Giant. No photo because it wasn't a pretty breakfast.
Then, we bought fresh milk from Giant and headed back to our room to enjoy our coffee. I love the Nespresso coffees. They're really aromatic, even the decaf one.
Then, it was a couple of hours lying on bed, packing our stuffs and coming to realization that vacation is over, and it's time to go back to reality.
Check-Out
At 1pm, we unwillingly checked out. The lobby was filled with lines of people wanting to check out. We were already starving and couldn't bear the thought of having to wait for 30 mins or 1 hour just to check out.
Fortunately, hubby approached a staff and asked if it was possible to do express checkout, and he said yes. So, we passed him our key, and off we went to have our lunch.
We had half roasted chicken at Hawker Chan (Funan branch). The chicken was good, but the cleanliness of the premise definitely has a room for improvement.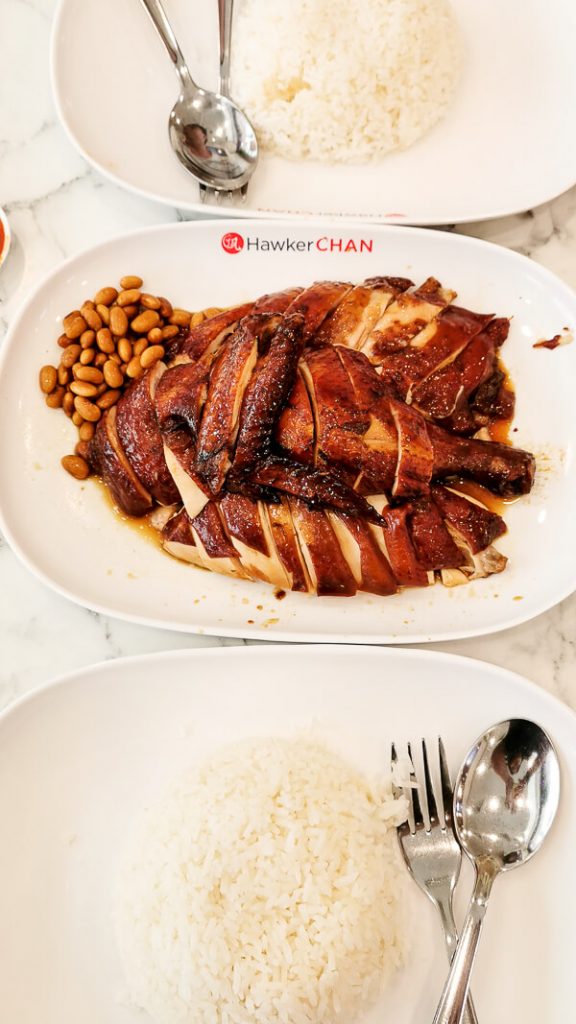 Conclusion
Personally, I think staycation is a great option for travel-starved people. It is a great getaway from the routine during the absence of international travel.
Overall, I do enjoy my staycation at Conrad. It really gives me the feeling that I'm traveling. When we walked around Capitol Building at night, it felt like we were exploring a night Christmas market somewhere overseas.
It is worth redeeming my Amex KFA voucher. And it's definitely worth staying at least once in my life.
What I love:
The birthday surprise
Nespresso
The big window sofa
Having a warm bath with bath salt
The pool in the morning
The location – it's 3 mins walk to Millenia Walk, 5 mins walk to Suntec, a bus ride to Marina Bay Sands
What I didn't love:
No updates about Executive upgrade request until check-in – it makes planning extremely hard
That breakfast isn't included 🙁
The faulty fridge
Other Staycation Experience in Singapore
I'm a noob staycationer, I seldom do staycation unless there are irresistible deals or if there are special occasions I want to celebrate. Here's my other staycation experience in Singapore, so far.
Want to be the first to know whenever I post new articles and videos? Join my Telegram Channel and you'll get new post alerts sent directly to your phone.