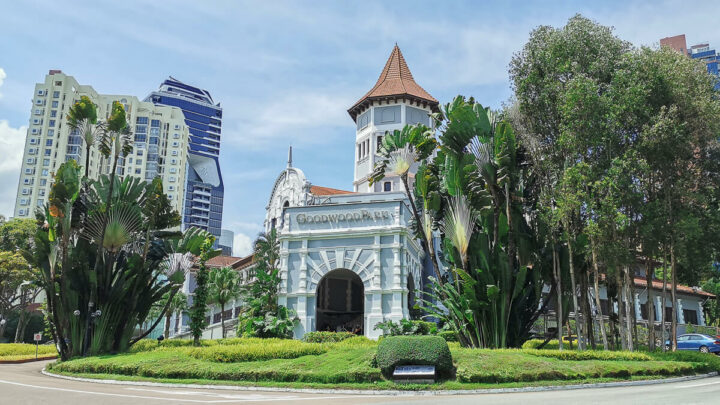 The reasons why we decided to have a staycation at Goodwood Park Hotel are because it's one of Singapore's National Monuments, it's a 5-star hotel near Orchard Road, and it's wayyyy more affordable than other 5-star hotels at Orchard.
If you need history introduction, here's a brief one. Built in 1900, the building used to be a a club for German expat community. In 1922, it became a restaurant-café-entertainment establishment after being bought by three Jewish brothers. Then, in 1929, the brothers turned it into Goodwood Park Hotel, one of the best-known hotels in the city.
During World War II, Goodwood Park became the residence for Japanese soldiers. After WWII ended, the hotel saw rapid expansion and changed hands a couple of times. In March 1989, the historic tower of the hotel was gazetted a National Monument by the Singapore National Heritage Board.
Okay, back to my story. I stayed in Goodwood Park Hotel on 16th May 2021, which is also the first day of Phase 2 Heightened Alert (also known as: that time when Singapore was in semi-lockdown AGAIN due to second wave of corona).
During the said Phase 2 HA, dining-in was not allowed and groups were limited to only 2 people. The announcement on Phase 2 HA (semi-lockdown) was released on 14th May 2021 afternoon. It was so sudden that we had to make a quick decision whether to cancel or proceed with this staycation.
Since our room didn't come with hotel's breakfast, the no-dining-in rule won't really affect our experience. My household consists of only my hubby and I, so the 2pax limit won't matter to us too. The only thing that would make or break the deal is the swimming pool.
We called the hotel to ask whether swimming pool will be opened during Phase 2 HA, and the hotel said they don't know and they were still waiting for more instructions from the ministries. So.. we simply waited patiently while googling ferociously. The detailed information was released that night and thankfully, pool was allowed to be open.
So, staycation goes on!
PS: Goodwood Park Hotel is eligible for SingapoRediscovers Vouchers (SRV)!
Redeem your staycation here.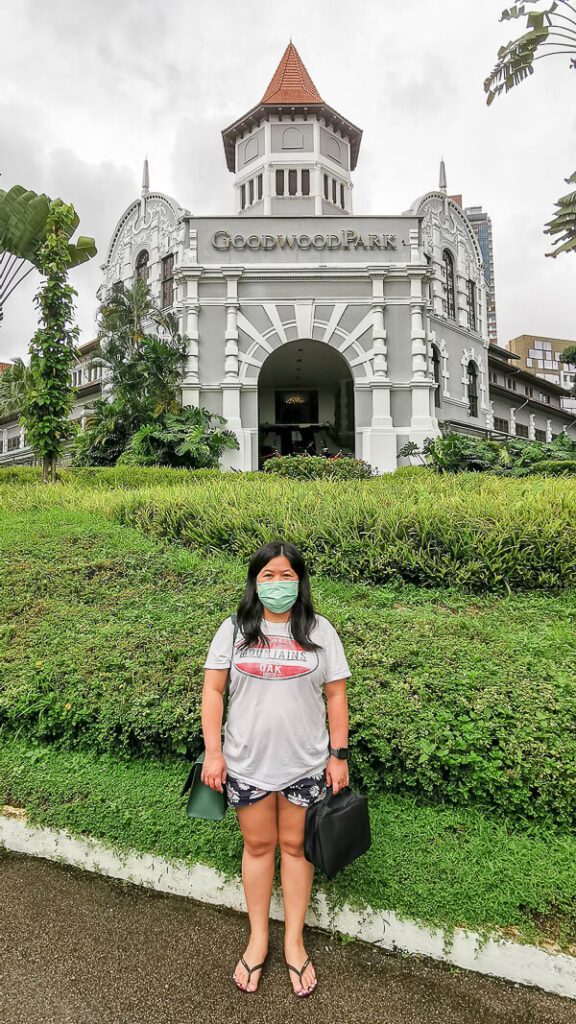 TABLE OF CONTENT
1. Booking
2. Pre-Arrival
3. Check-In
4. Deluxe Premier Room
5. Main Swimming Pool
6. Mayfair Swimming Pool
7. Exploring Goodwood Park Hotel
8. Conclusion
Booking
I booked the Deluxe Mayfair Room from Traveloka, an online travel agency (OTA). During their sale, the price of Deluxe Mayfair Room (aka the cheapest room) was SGD 127.49, about 25% cheaper than booking directly. By offsetting SGD 40 of SRV (SingapoRediscover Voucher), I paid only SGD 87.49. Quite a steal, right?!
My booking was Room-only, it didn't come with breakfast. We had the option to top-up for breakfast. But, after conducting online research, we concluded that the hotel's breakfast was too expensive for our wallet, so we would need to go out to buy our own breakfast the next day.

Pre-Arrival
Based on our experience during our previous staycation, we knew that OTA (like Traveloka) may not pass our email address to the hotel, so we have to call the hotel ourselves to enquire about pool booking and check-in timing.
Thus, one week before our arrival, we called Goodwood Park Hotel to ask about the said queries. The staff of Goodwood Park said that pool booking can be done at the hotel during check-in. When asked if we could check-in early, she said that we have to call the hotel in the morning of our check-in date to get a firm answer. Oh, well.
Fast forward to the morning of our arrival, we called the hotel to ask for the possibility of early check-in. Unfortunately, they said it's not possible. We had to adhere to the default check-in time of 2pm.
Check-In
We arrived sharp at 2pm and were met with 2 queues for check-in. Most guests were seen bringing lunch boxes (including us), probably due to dining restriction.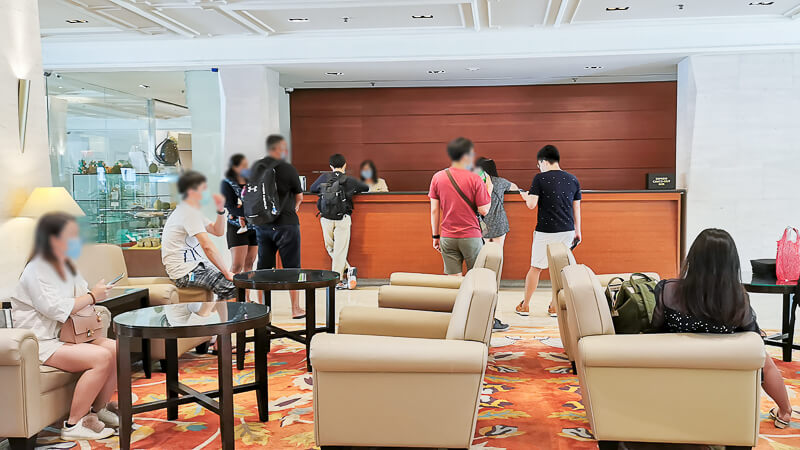 We waited about 15 minutes for our turn; it was not fast considering that there were only 2 groups in front of us. We feel that, the one thing that really slowed down the check-in was the process of filling out health declaration form manually using pen and paper.
Anyway, we got upgraded to Deluxe Premier Room, yay! It doesn't come with breakfast, but it's okay. We also booked our pool session through the receptionist and were granted 2 hours, one hour for each pool.
We requested for late check-out and were granted 1pm check-out.
After all of the paperwork was done, a staff walked us to our room. That's a nice gesture that we haven't seen in other hotels for a long time.
Deluxe Premier Room
According to Goodwood's website, Deluxe Premier Room was refurbished in 2021. The size is 39 sqm, or about 420 sqft. Our room is facing the Main Pool (aka the square pool, not the resort pool). No balcony, just a half-height window.
The room comes with either a double bed or twin bed, a work desk with chair, an armchair, a round coffee table with ottomans.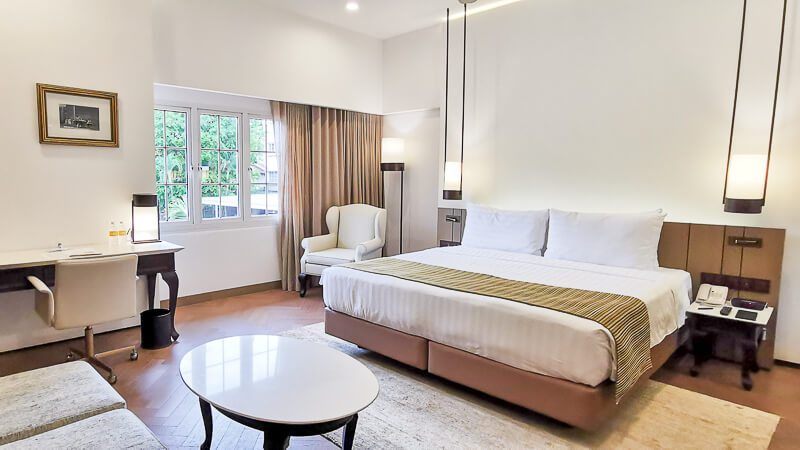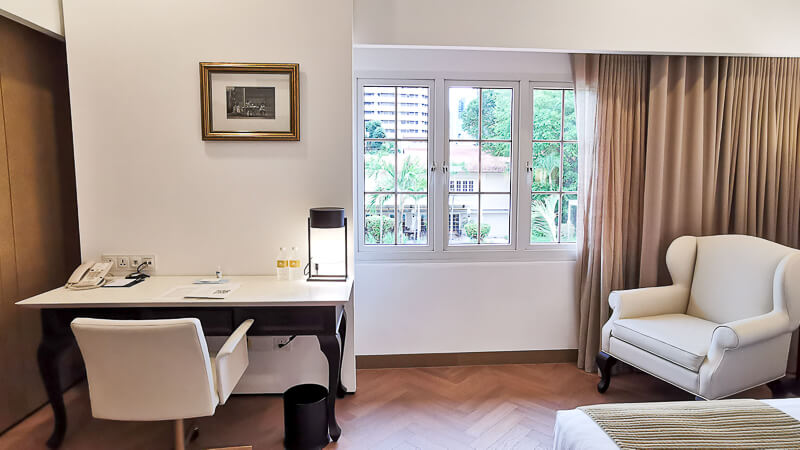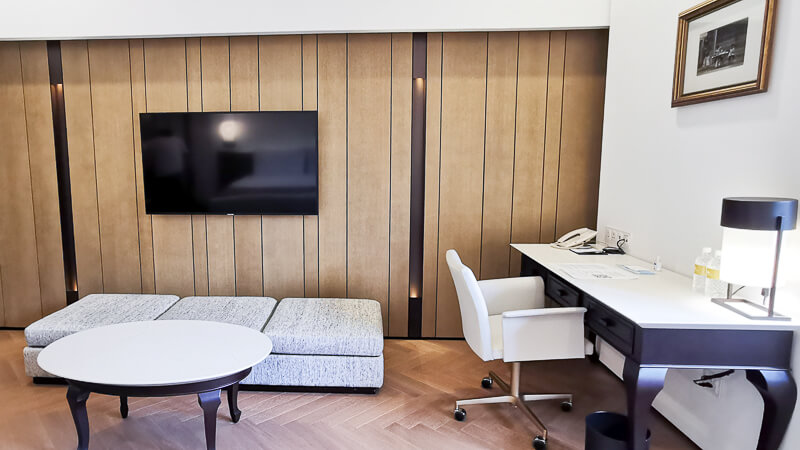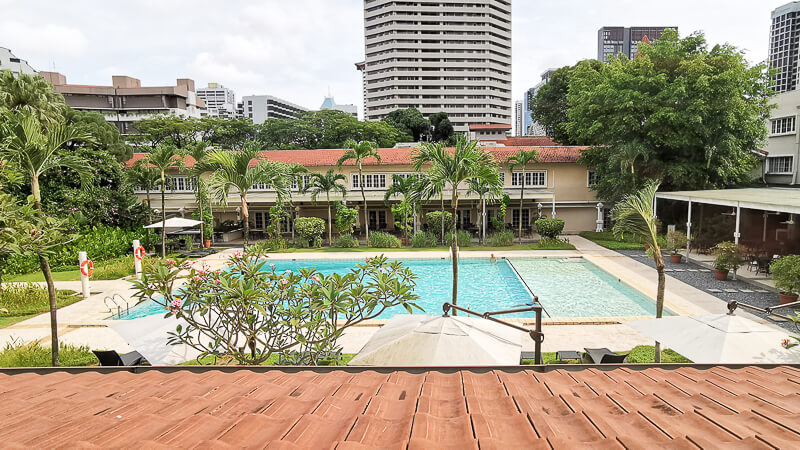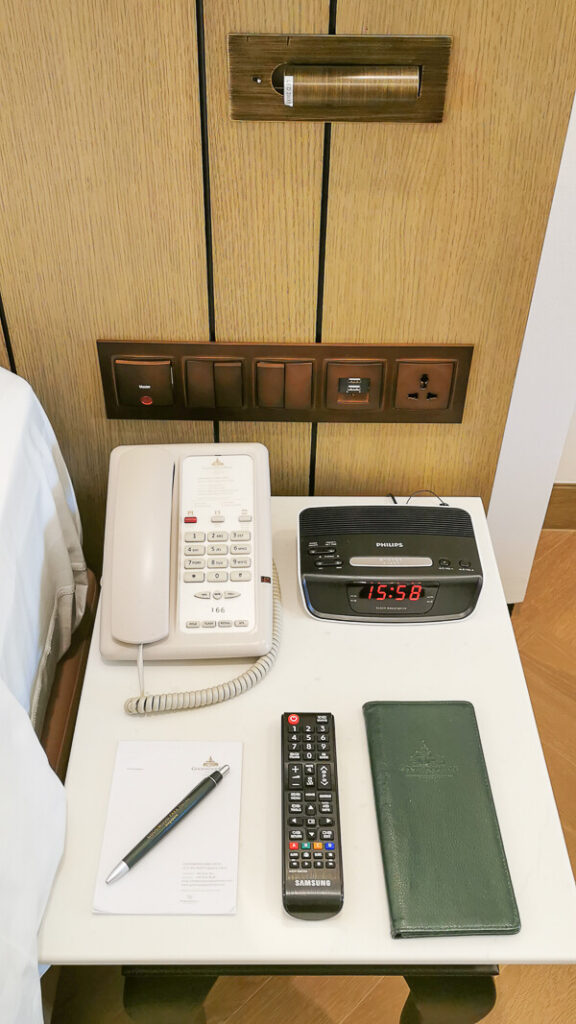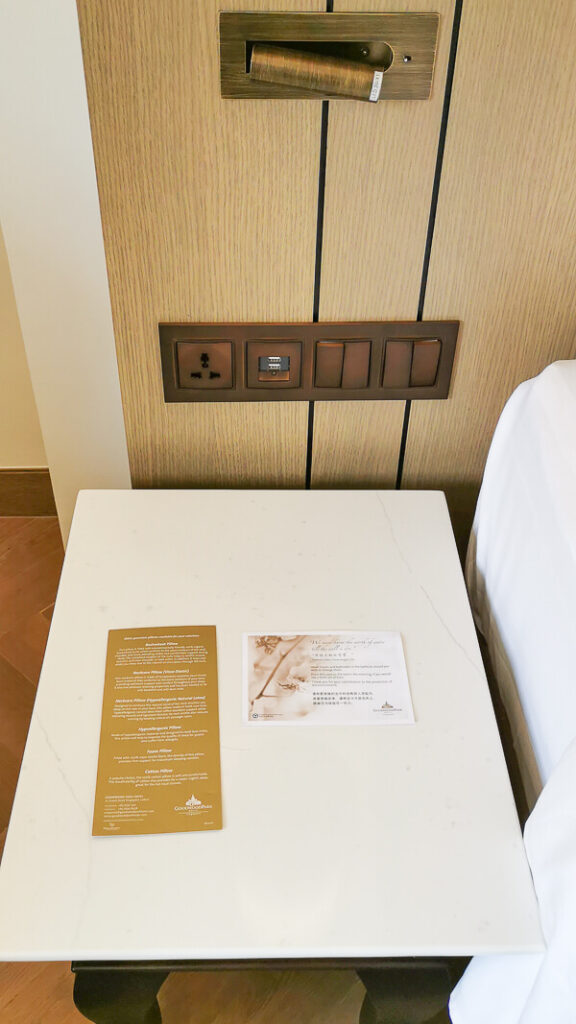 The minibar comes with TWG tea bags and Nescafe instant coffees. Other than that, the minibar is pretty minimalist and I love it. No snacks and no drinks. The fridge is almost empty, except for 3 mini liquid creamers.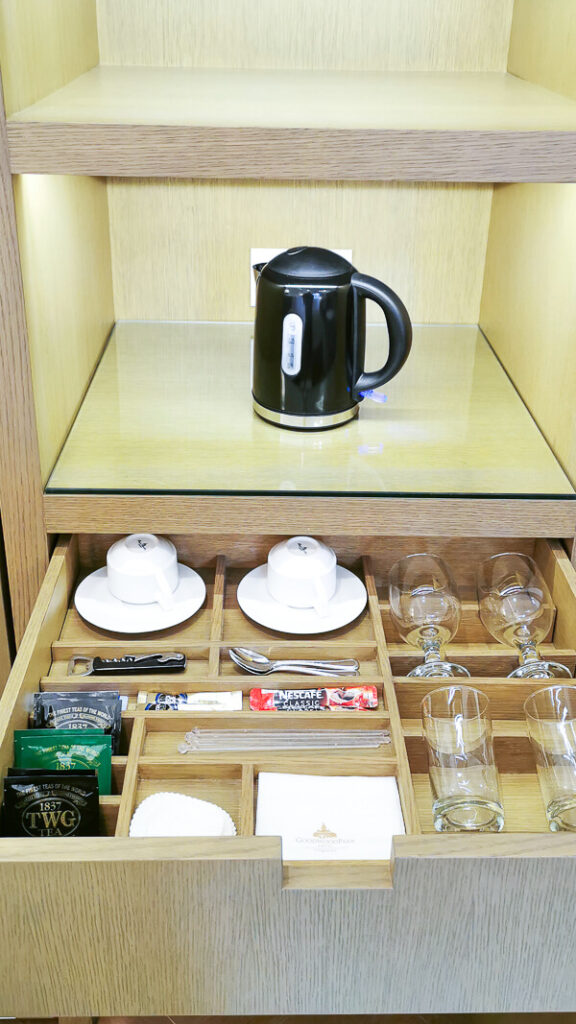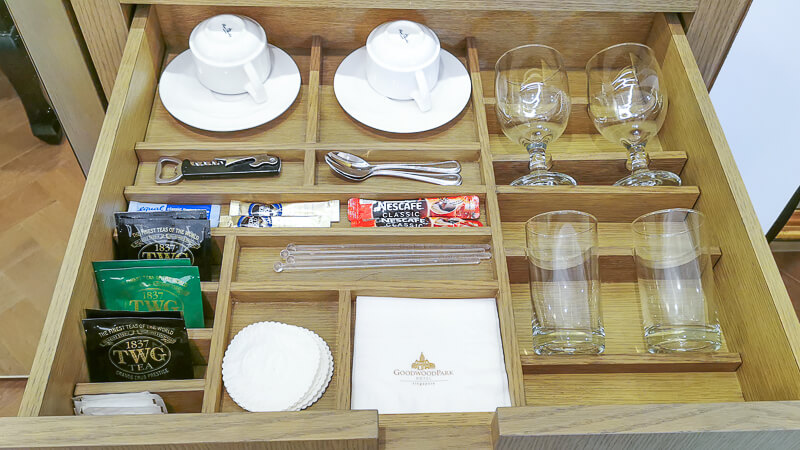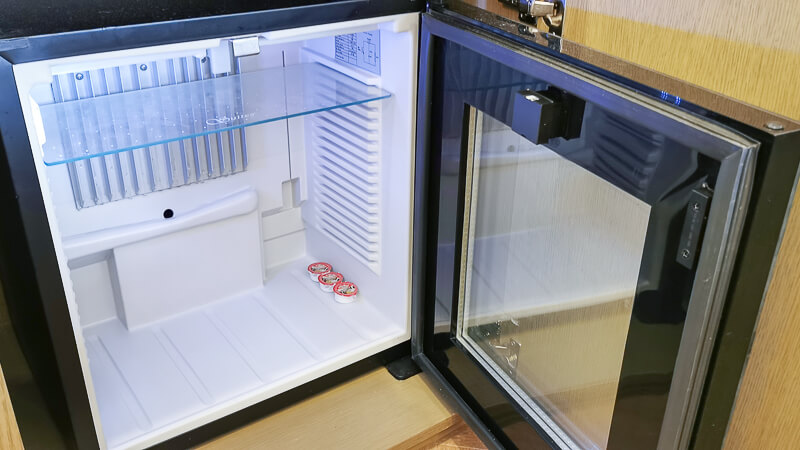 There are 2 complimentary bottles of mineral water, a bottle of hand sanitizer and 2 surgical masks on the work desk.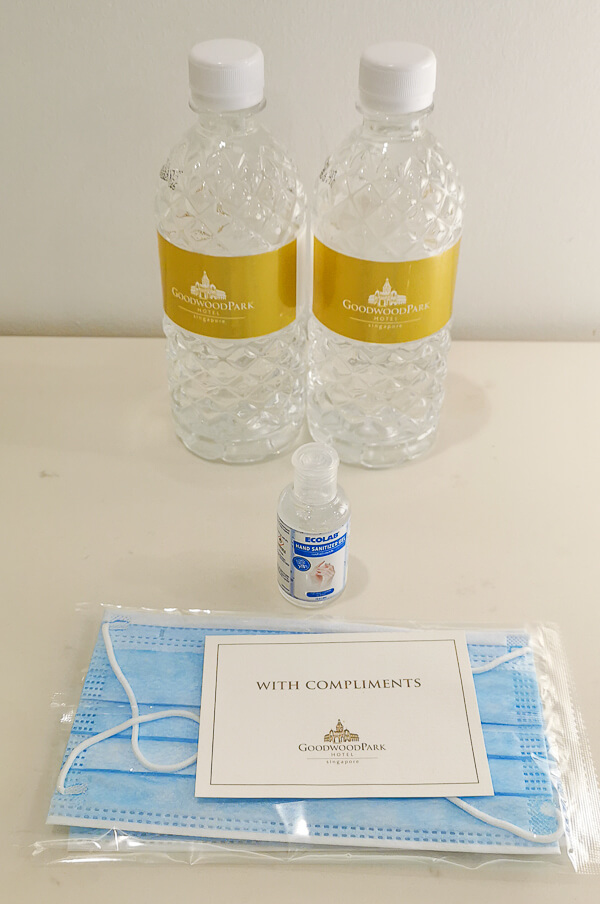 The bathroom is quite interesting. There's a 2-in-1 bath & shower, with a sliding glass door! That's a really creative and effective solution. And I think we all can agree that a curtain can never do the work of a shower screen, so why not install the real shower screen instead of flimsy curtain. Kudos to Goodwood Park Hotel.
Another thing I like from the bathroom is the scale! Yeah, thanks for reminding me that I need to go on a diet really soon.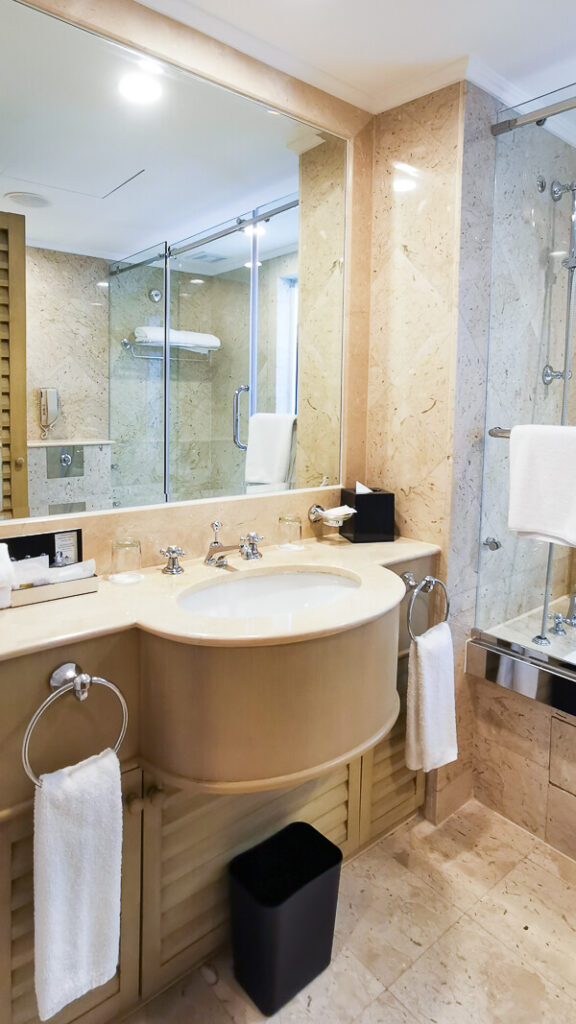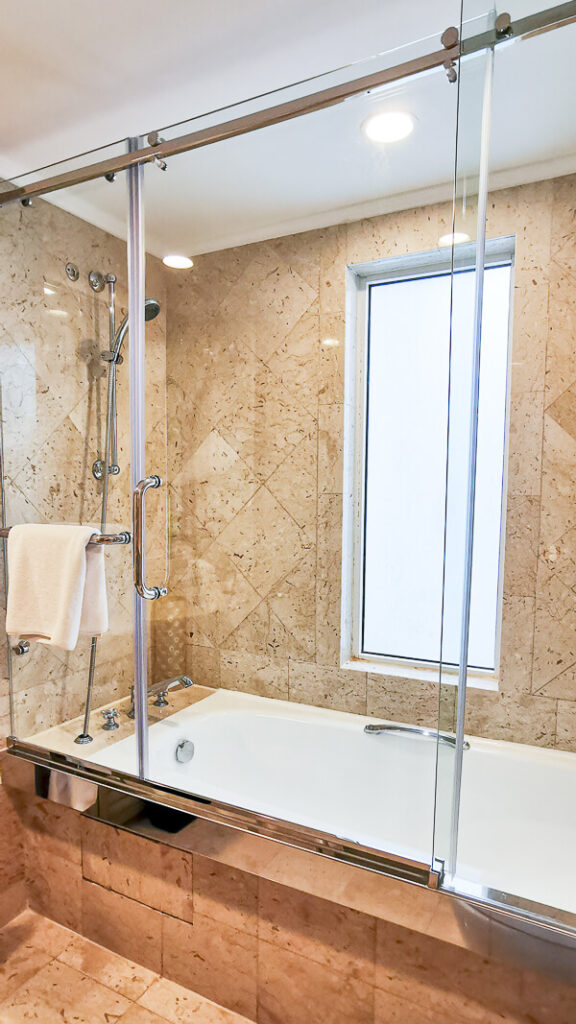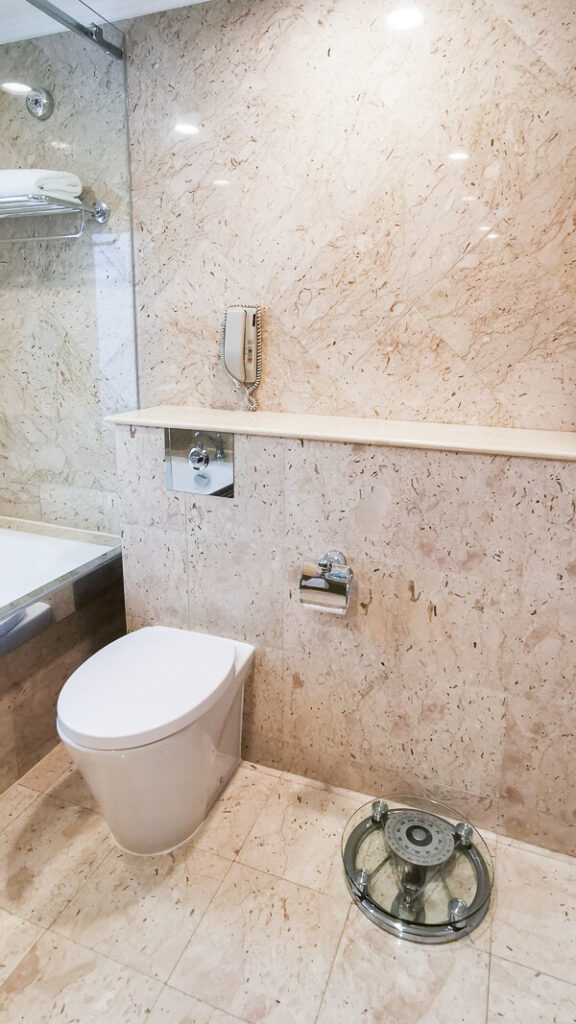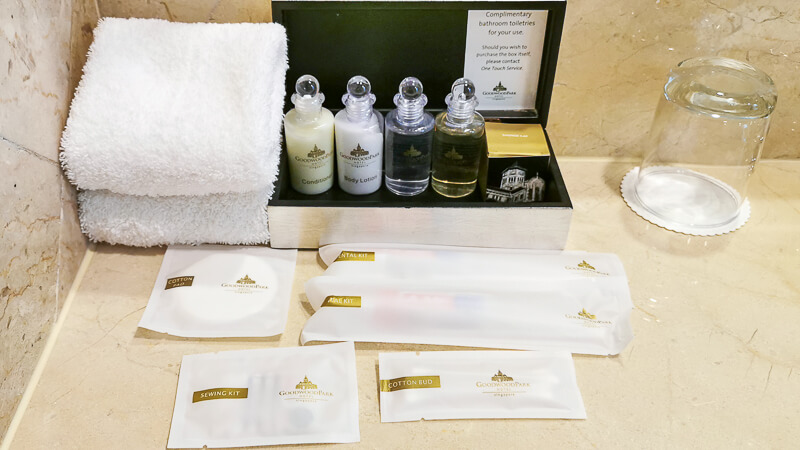 Iron, ironing board and safe can be found in the wardrobe. And so are the bath robes and slippers.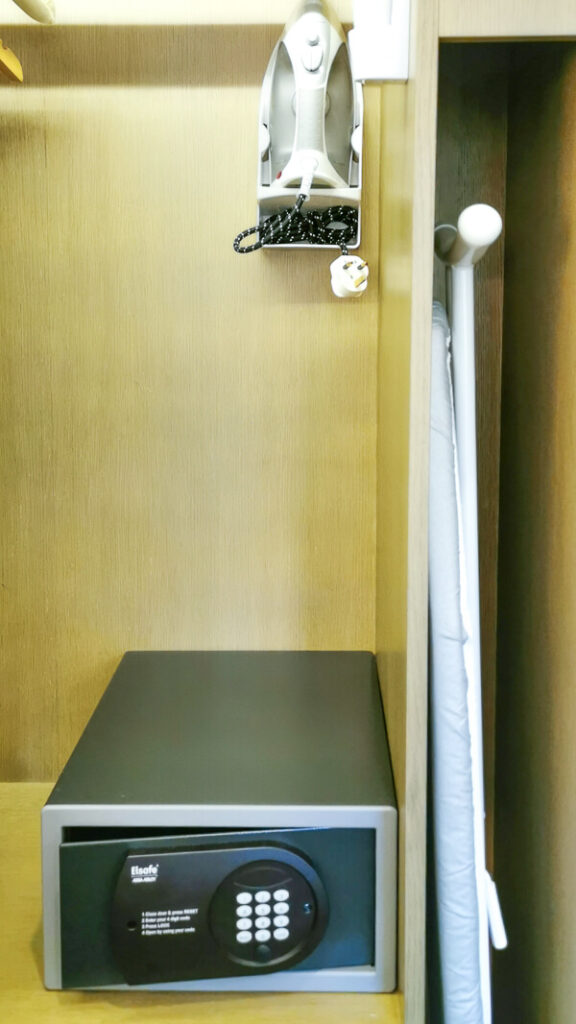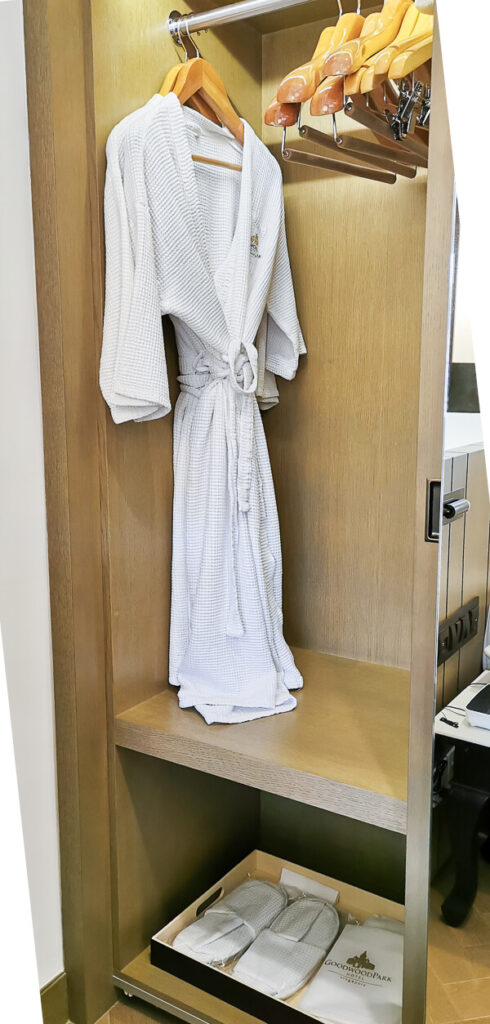 Main Swimming Pool
We started our swimming session in the Main Pool at around 5.30pm. There was nobody in the pool! I'm not sure if it's because of the group size restrictions (only 2 pax are allowed in a group, except those from the same household), or because it just rained earlier, or the guests were simply not in the mood for a swim.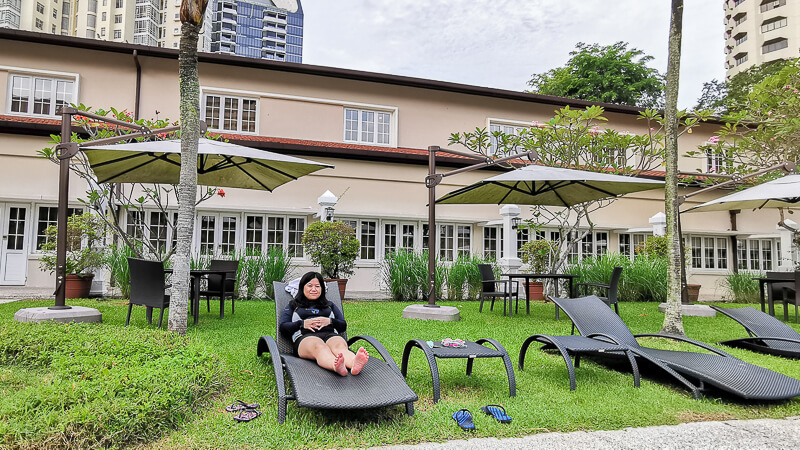 Anyway, we had the pool for ourselves for a good 30 minutes before another family came to the pool. So, naturally, we took plenty of photographs and even shot several swimming footage. You can watch it in my vlog (I'm working on it, and I'll upload to YouTube soon, do subscribe to my channel if you haven't!)
The depth of the main pool varies from 1.2m to 2.8m. Do watch out for your loved ones because there is no lifeguard. There is also a shallow pool (0.5m depth) for kiddos.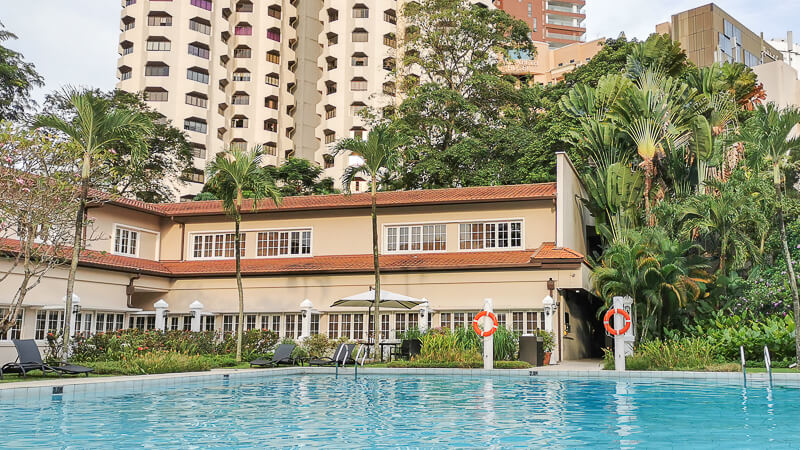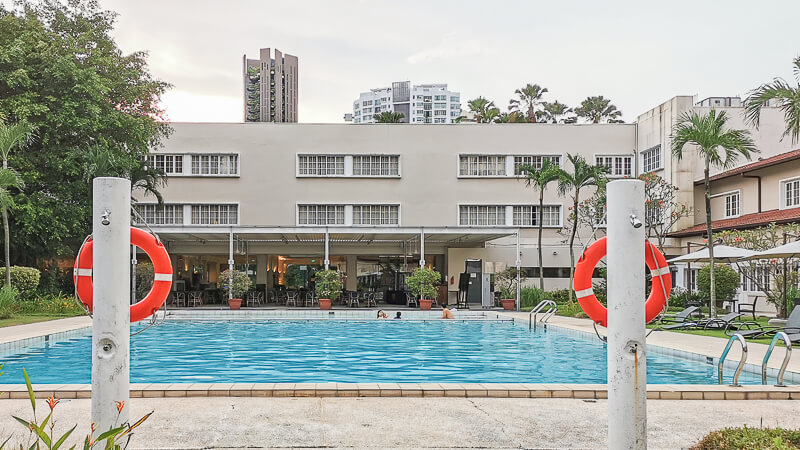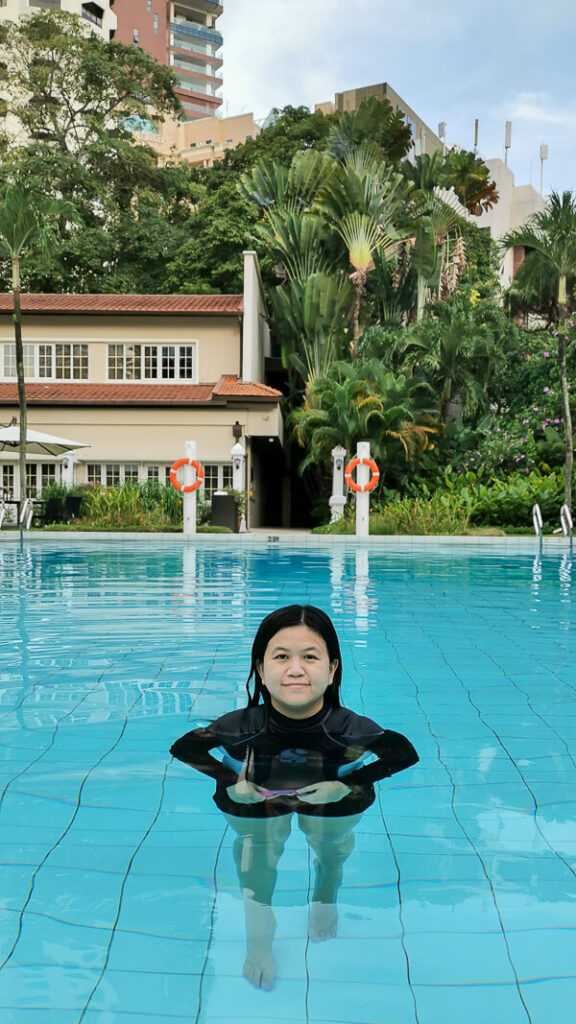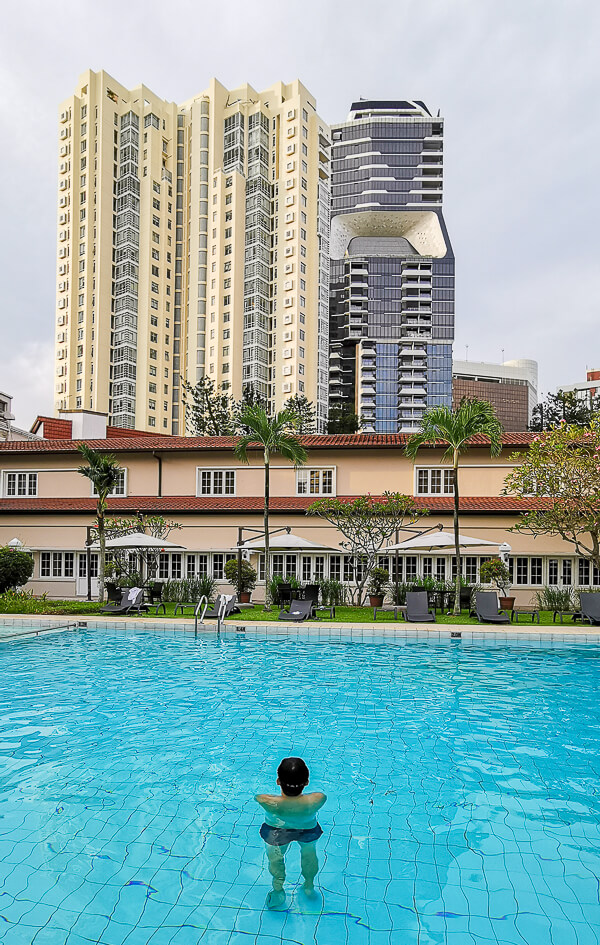 One thing I don't like from the main pool is the mosquitos. I don't know if the mosquitos were there because it just rained, or because the pool has been under-used. I recommend that you apply mosquito repellant, or simply keep moving when you're in the pool, to avoid the mosquitos.
We saw dry towels neatly folded on a table near the 2.8m side of the pool. Nobody was manning the counter, so help yourselves!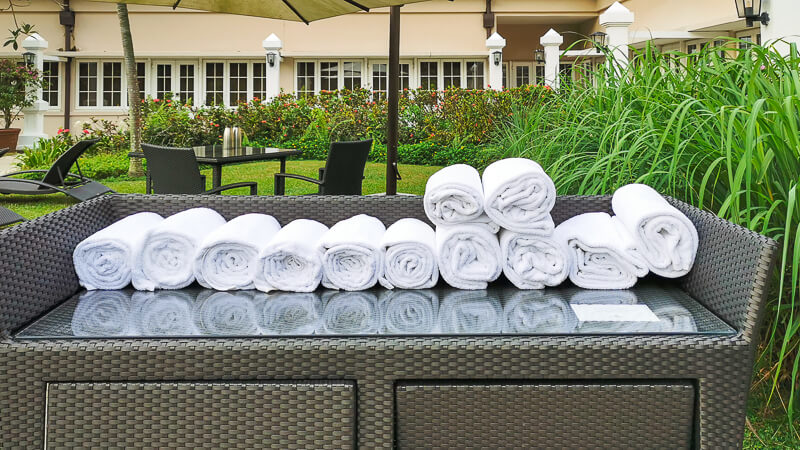 Mayfair Swimming Pool
Satisfied with the main pool, we then moved on to the Mayfair swimming pool, a.k.a. the Balinese-resort-inspired pool. There are 2 pretty gazebos which would make a pretty backdrop for your selfie, provided that you're the only one in the pool.
The Mayfair pool is smaller than the main pool and has a sloping floor. The depth varies from 0.5m to 2.5m. Similar to main pool, there's no lifeguard on duty, so do take precaution when swimming in the deep area.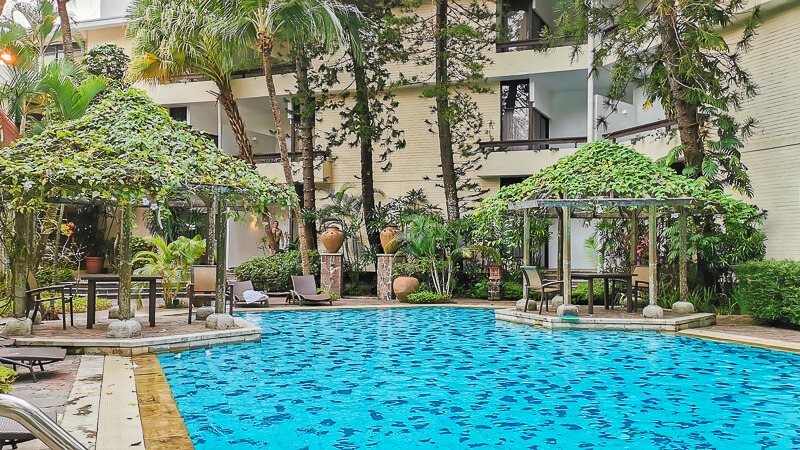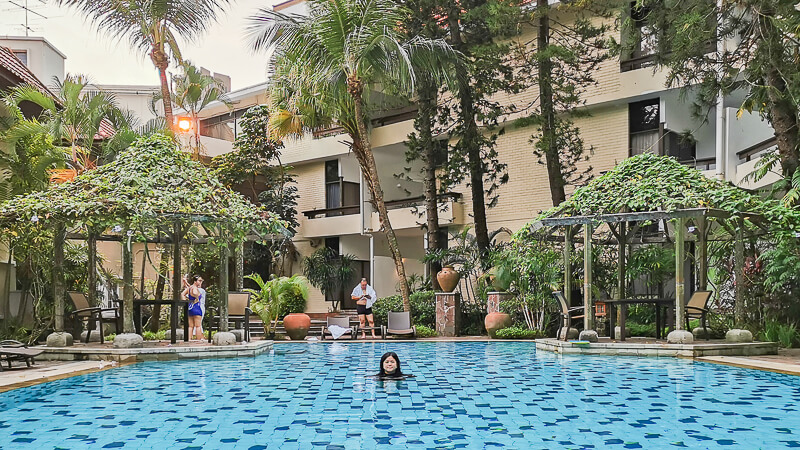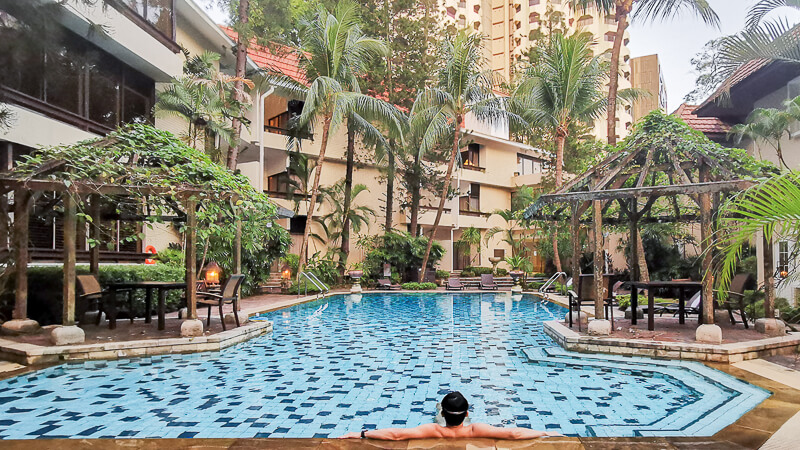 Maybe it's just me, maybe I'm just someone who's prone to feet injury.. I was walking barefoot around the pool, trying to be Instagram-wife for my hubby, when I suddenly felt a sharp pain on my left feet. I lifted up my feet and saw that a small cut near my heel (here's my gross feet picture if you dare to see). I was so scared thinking that a foreign object was trapped in my feet. Thank God, a week later, the cut healed. My advice to you is: don't walk barefoot if you're prone to feet injury.
Exploring Goodwood Park Hotel
One of the must-visit spots in Goodwood Park is the entrance of Grand Tower, where a vintage Fiat Brevetti from 1906 is parked at. Assembled in Turin, Italy, these cars were produced in limited numbers between 1905 and 1908.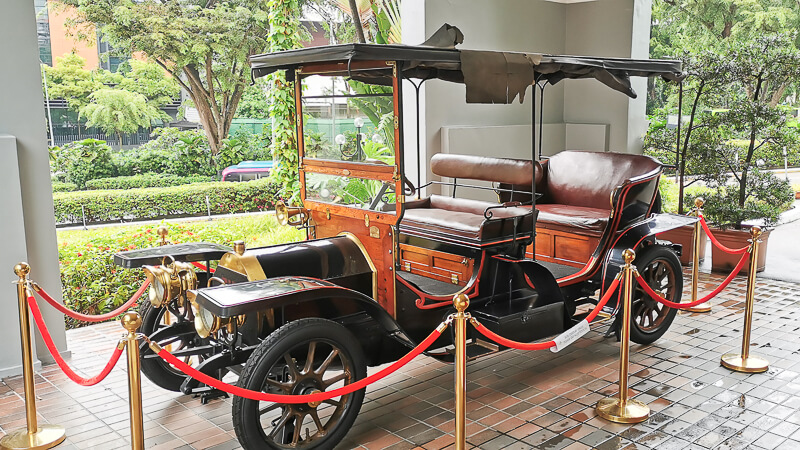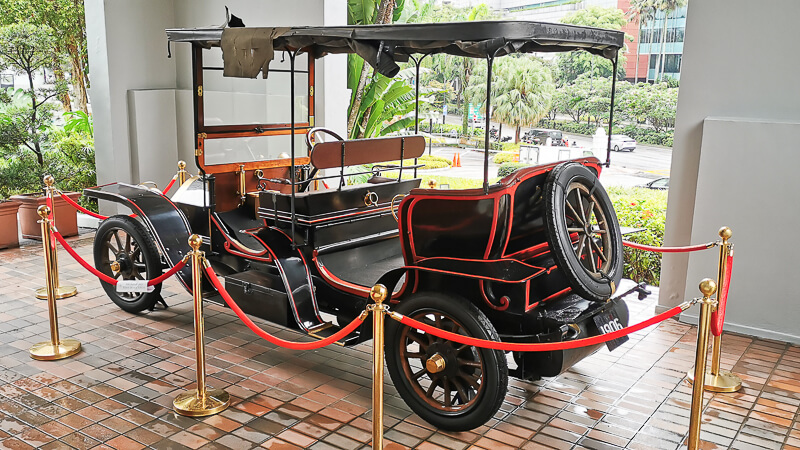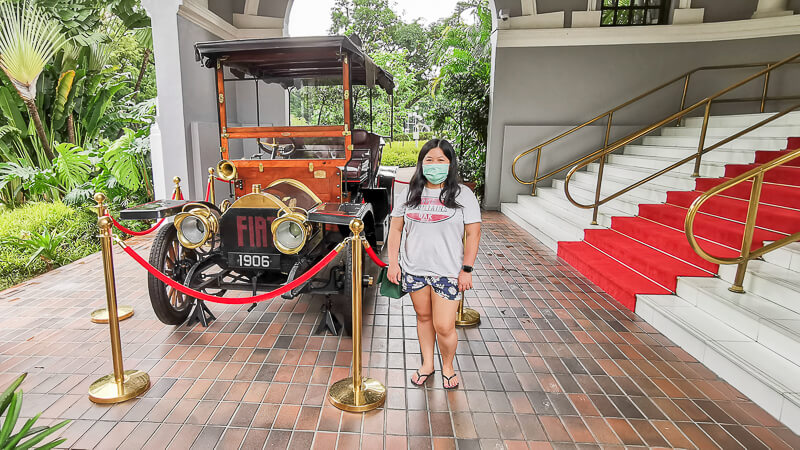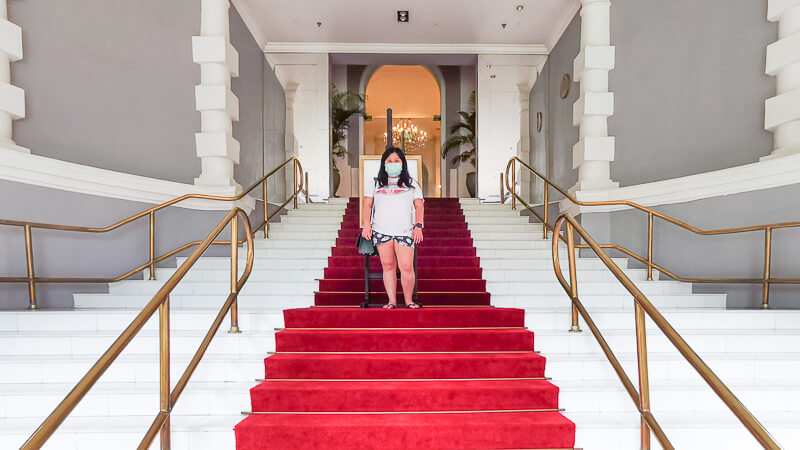 We also spent some time posing in front of the picturesque Grand Tower.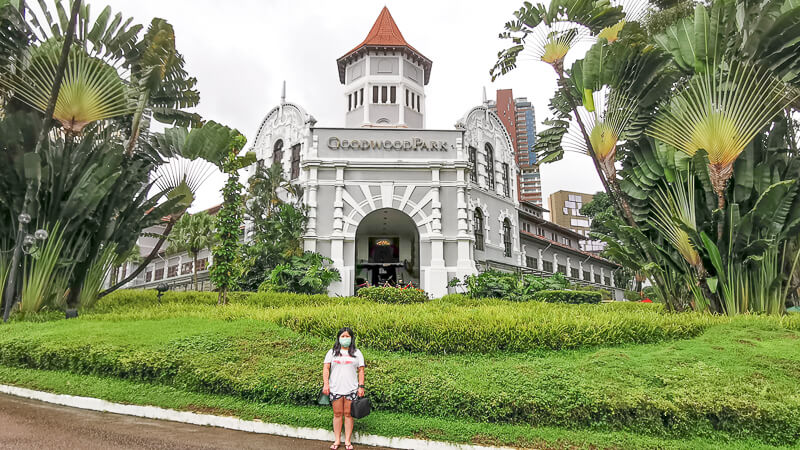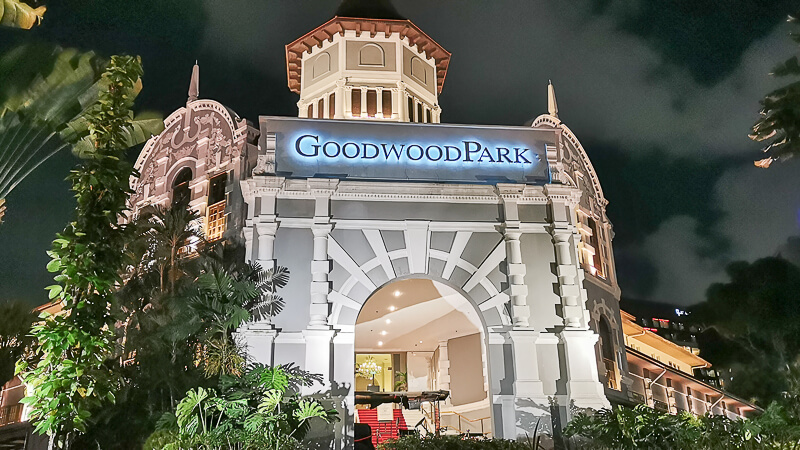 Our Takeaway Meals
My hubby said that I should not post what I eat because it's totally unnecessary and meaningless for my readers, because by the time you read this article, the Phase 2 Heightened Alert will be over, and everyone can have their meals at restaurants again!
But… I just want to document what I actually ate during my staycation in the midst of semi-lockdown. Perhaps when I turn 80 and read back this story, I can enjoy a good laugh! So.. here it goes.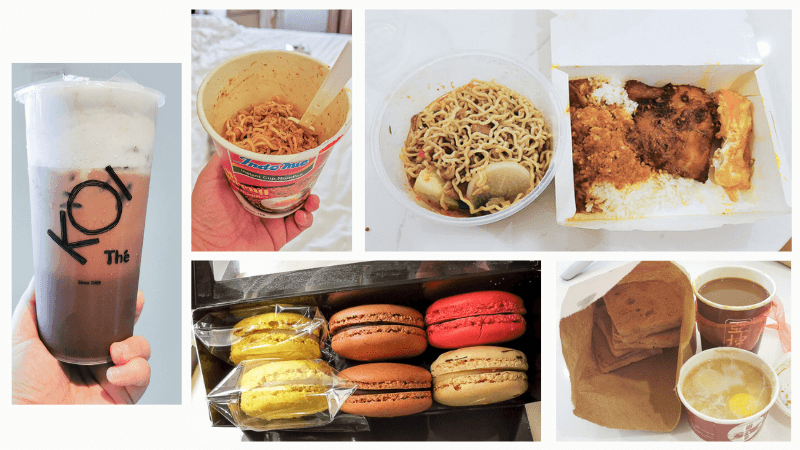 Conclusion
Many blogs (including Straits Times) that write about Goodwood Park Hotel review mentioned that people do not go to Goodwood to be impressed by its novelty, but to be immersed in the history. Before my stay, I did not understand these ideas.
After my stay, I think I understand now. See, you cannot compare Goodwood and, say, Marina Bay Sands because they are built during different era. So, you cannot expect Goodwood to have impressive infinity pool or glossy marble flooring or exquisite finishing. In a layman's term, do not expect a modern hotel. Throw out all of your 21st century expectation and you'll begin to embrace the vintage vibes of Goodwood Park Hotel.
When I shared story with my friend about my staycation at Goodwood Hotel, she remarked that I was quite lucky to get upgraded. She stayed in Deluxe Mayfair in the past and she did not love it because it was different from what she had in mind. She didn't fully grasp the meaning of quaint when she booked, but now she does.
If you are tired of modern vibes and are seeking quaint vibes, you might love Deluxe Mayfair Room. Otherwise, if you prefer a little more modern vibe, I'd suggest that you go with Deluxe Premier Room.
Other Staycation Experience in Singapore
I'm a noob staycationer, I seldom do staycation unless there are irresistible deals or if there are special occasions I want to celebrate. Here's my other staycation experience in Singapore, so far. Here are my other staycation experiences in Singapore.
Want to be the first to know whenever I post new articles and videos? Join my Telegram Channel and you'll get new post alerts sent directly to your phone.