Blossom Lounge is the only third party lounge / contract lounge in Terminal 4, Changi Airport Singapore. Because Terminal 4 is separated with Terminal 1, 2 and 3, you can only use Blossom Lounge if you are departing from Terminal 4.
At the time of writing, airlines operating at Terminal 4 are:
AirAsia
Bamboo Airways
Cathay Pacific
Cebu Pacific
Jeju Air
Jetstar
Juneyao Airlines
Korean Air
Pacific Airlines
VietJet
Vietnam Airlines
I've been wanting to visit Blossom Lounge for so long (since T4 opened in 2017), however, I never had the chance because the airlines I often fly with don't depart from T4.
Eventually this year, I intentionally chose to fly out of T4 because I want to visit Blossom Lounge (anyone can relate? haha!) and also because I want to see the interactive Peranakan Heritage Zone. It turned out that T4 is quite a nice terminal in my opinion! Anyway, back to the main topic of this article.
Blossom Lounge is part of Plaza Premium Lounge Network and SATS Premier Lounge. Here's my review of Blossom Lounge at T4.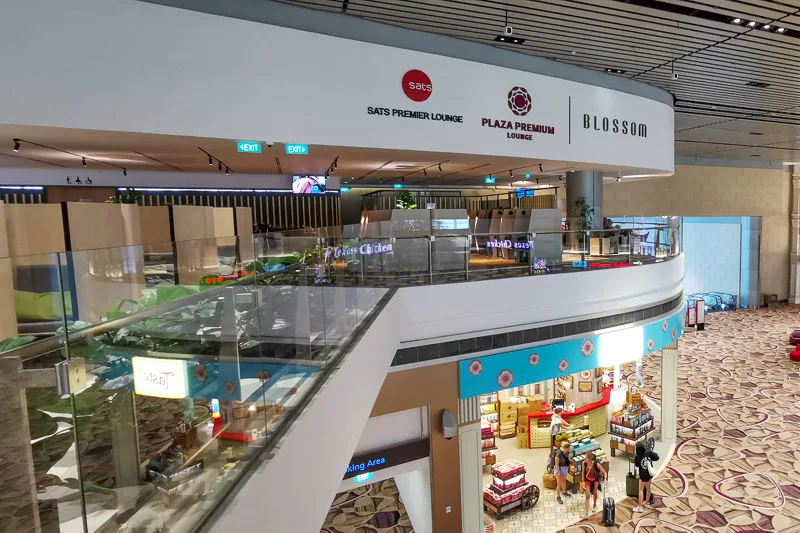 Have any questions about traveling in Singapore? Join All About Singapore Travel FB group, I'll be there to answer your questions!
Lounge Access
Blossom Lounge can be accessed:
Via memberships such as:

Priority Pass
LoungeKey
DragonPass

Via credit cards that give Plaza Premium Lounge access, such as Diners and Amex Ascend.
By paying:

walk-in rate: from S$55
online rate: from S$50
Want to get free lounge access? Read: Which Singapore Credit Cards Have Free Lounge Access
For me, I use my Amex Ascend lounge access vouchers. To check-in, I had to present my boarding pass Amex Ascend lounge voucher as well as Amex Ascend physical card.
Opening Hours
Blossom Lounge at T4 is open 24 hours daily.
To check the latest opening hours, I use Blossom Lounge website here.
How to get there
Blossom Lounge is an airside lounge. It is located at Level 2M, above the Heritage Zone and Discover Singapore souvenir shop.
After passing through immigration, follow the signs to Lounges. When you arrive at Discover Singapore souvenir shop, take the escalator up and you will arrive at Blossom Lounge.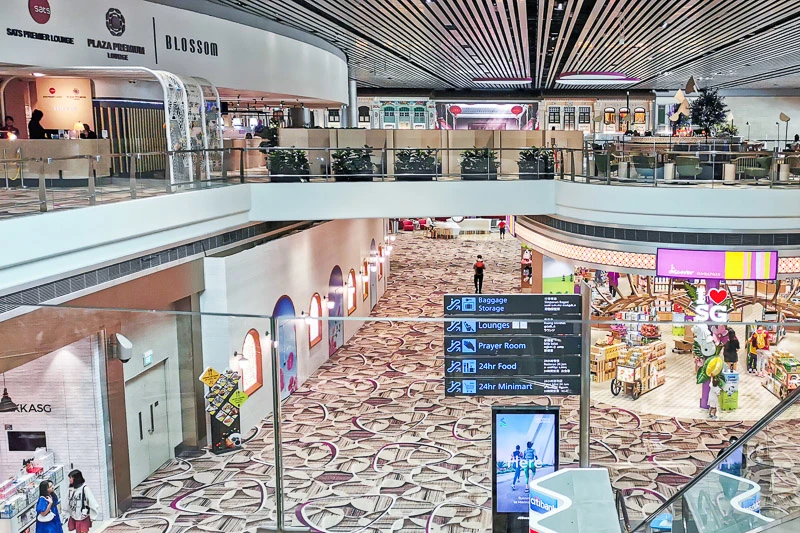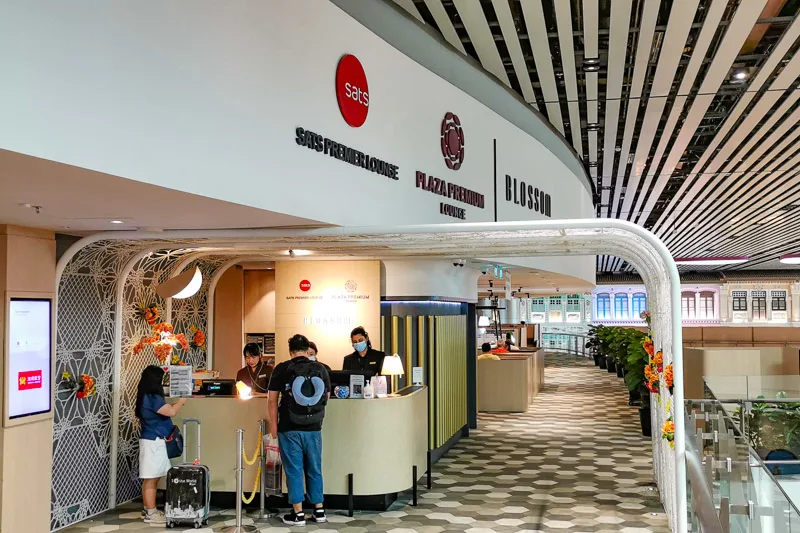 Seating
Blossom Lounge is really spacious. At the buffet area, there are dining tables. This section is rather dimmed because it's an indoor section with ceiling.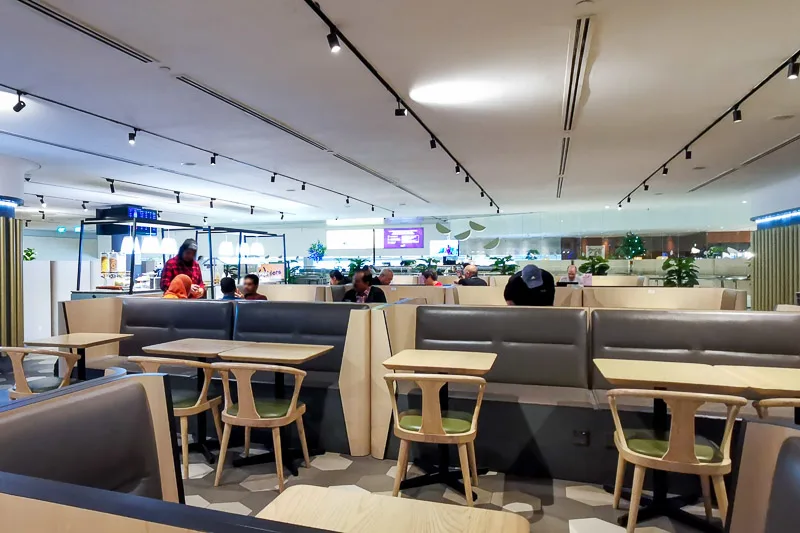 A little further from dining area is where you can find individual pods. These pods have a tiny table, a spotlight and power outlet. I personally don't feel comfortable working or lounging in a confined pod with a tiny table, unless I have a video call or meeting, and I need privacy.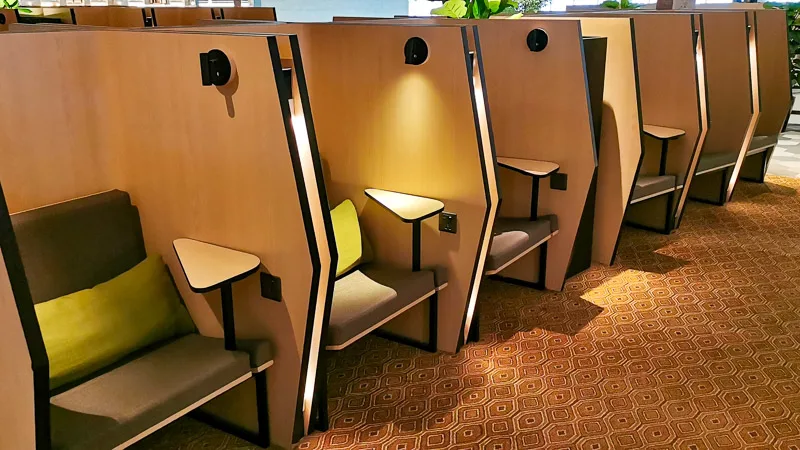 Next to the individual cubicles / private pods, there is a hidden section with 4 reclined sofas that are directly facing the Heritage Zone. Here, we could watch the Heritage Zone short movie on repeat. Just note that the back can't be adjusted, the reclined angle is fixed.
Next to the reclined sofa are 8 wooden chairs with wooden tables. 4 of the wooden chairs also enjoy direct view of the Heritage Zone.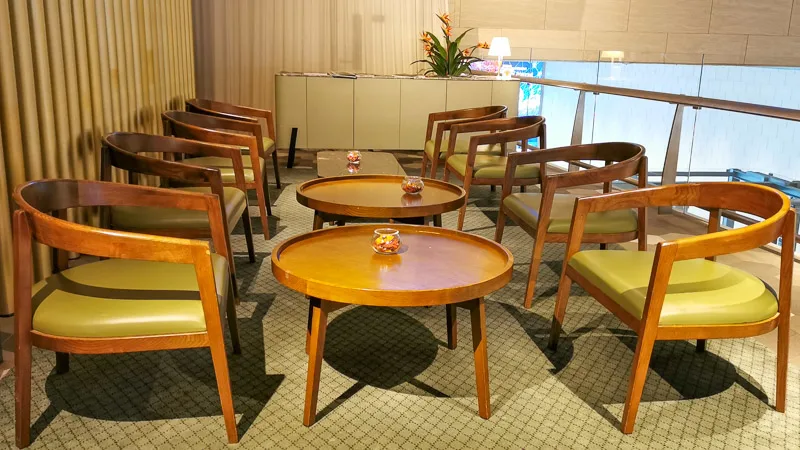 My favorite section has to be the "al-fresco" section. This section is so much brighter than the dining area and private pods area. Furthermore, the ceiling is much higher, so it feels less claustrophobic.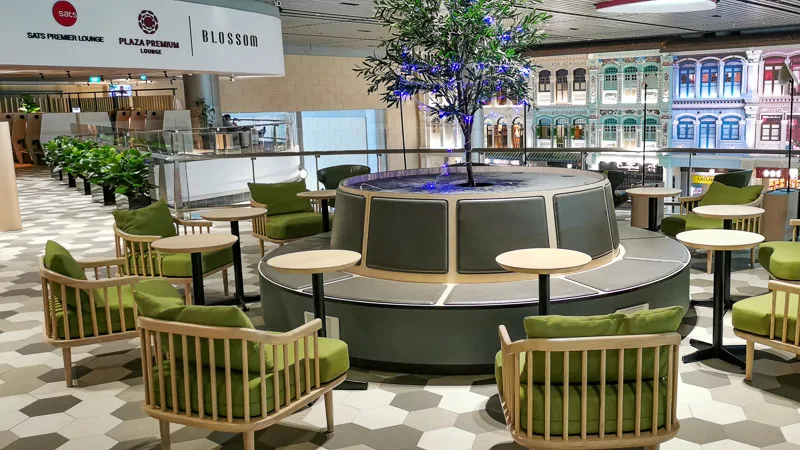 Here, the power outlets can be found at almost, if not all seats.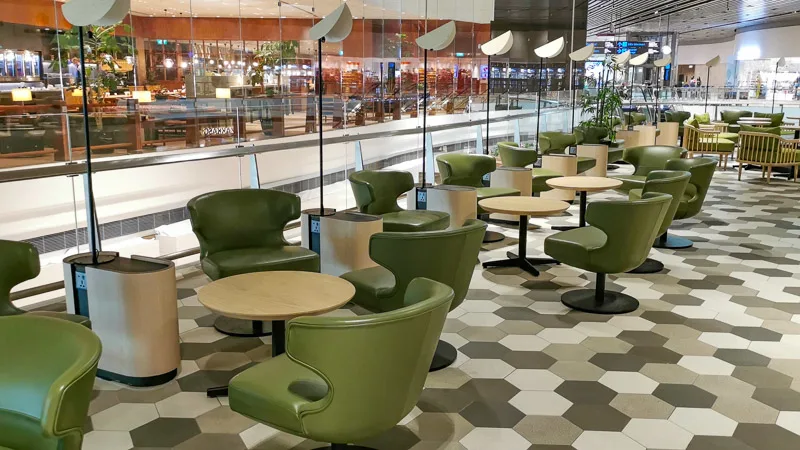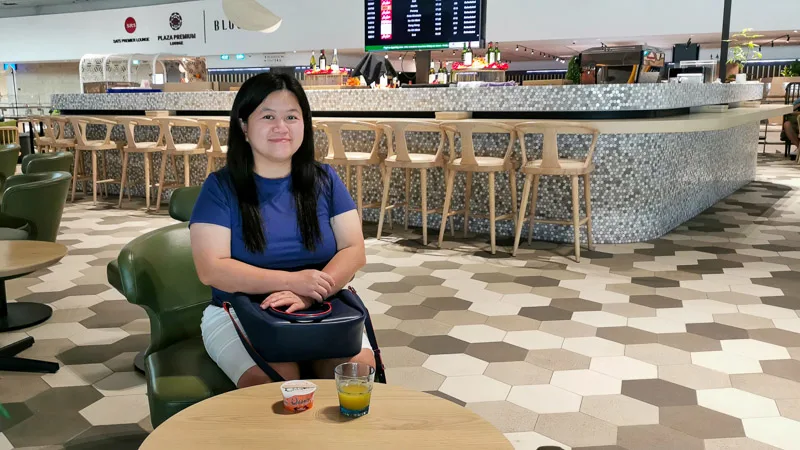 There is a bar but it wasn't open during our visit. There was no information about the operating hours of the bar.
At the center of the bar, there is a monitor that shows flight information, so we can monitor the status of our flight.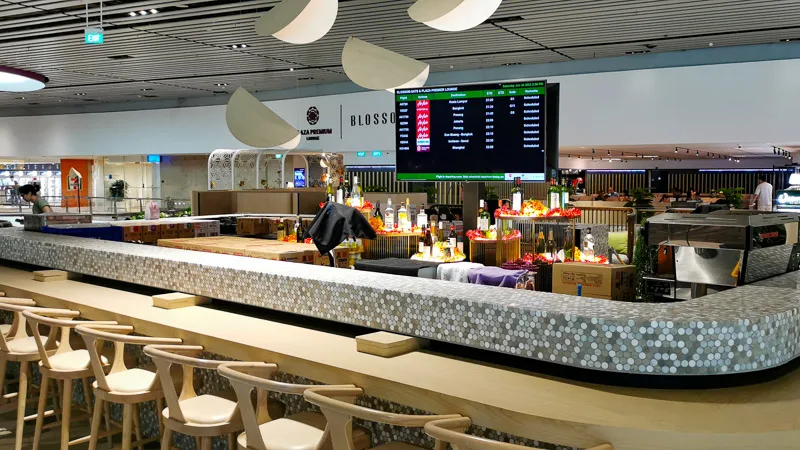 Food
The food section is compact, but they have quite a variety of food and drink. The food in Blossom Lounge doesn't contain pork and lard.
There is a noodle station which offers 2 types of noodles: laksa and vegetarian noodle. The kitchen staff cooked the noodle upon request. It's similar concept to Plaza Premium Lounge at T1.
The laksa comes with noodle, egg and fish cakes only; there's NO PRAWN! In terms of taste, the laksa tasted okay, the chili is quite good. But the vegetarian noodle was not what I expected; it's doesn't scream comfort food.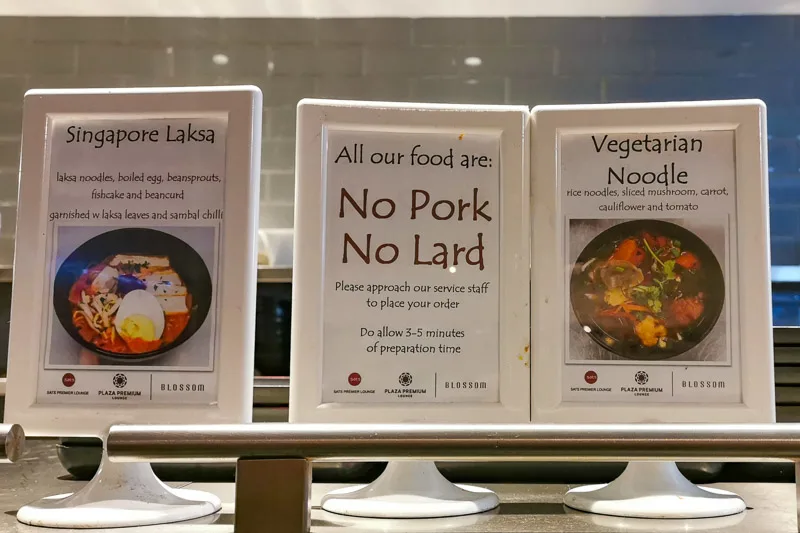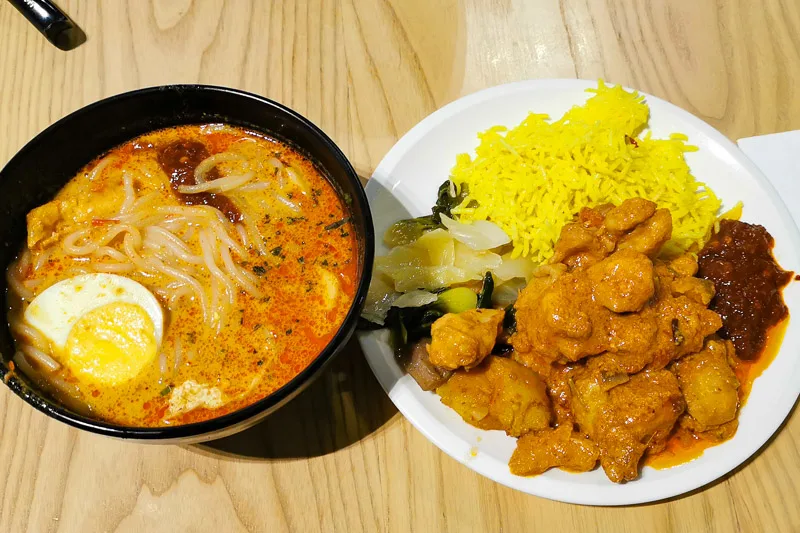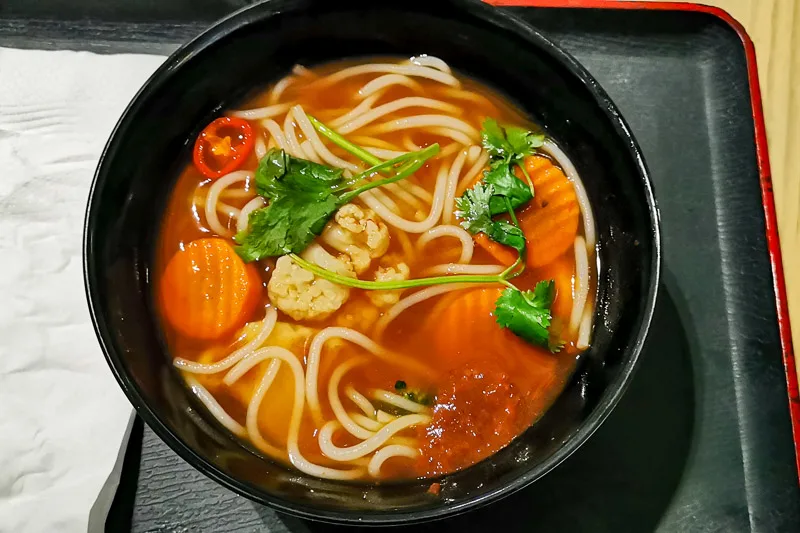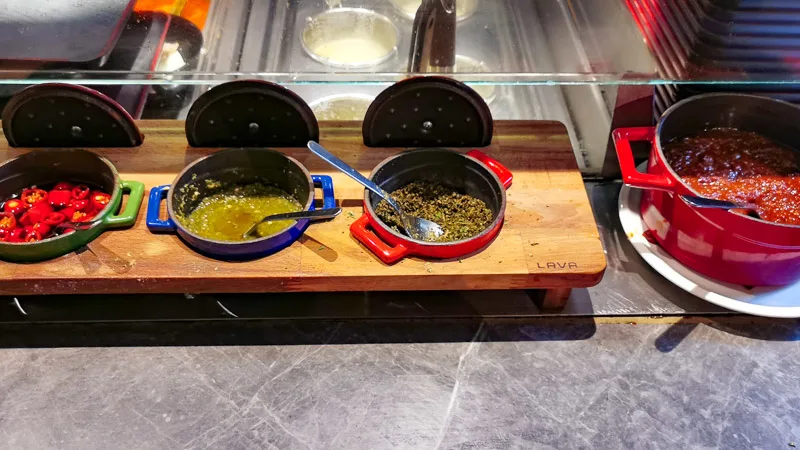 At the buffet area, there were rice, noodle, vegetables, meat and cauliflower soup. The curry chicken was surprisingly really good.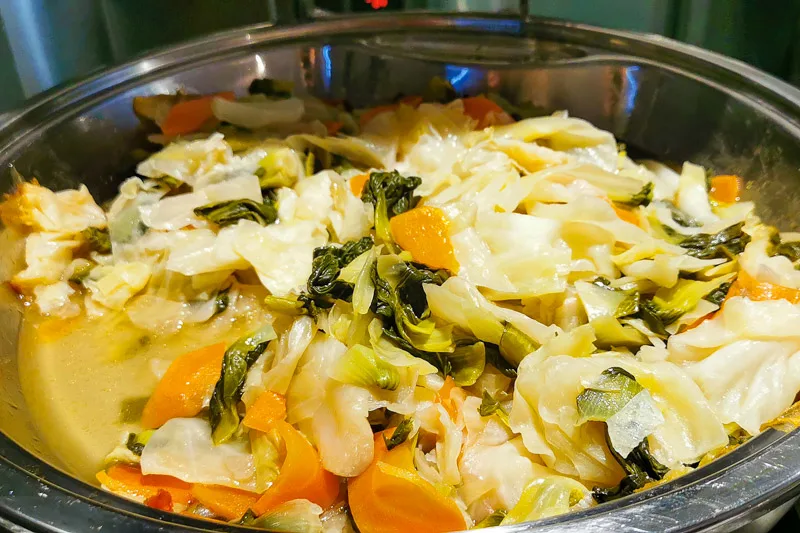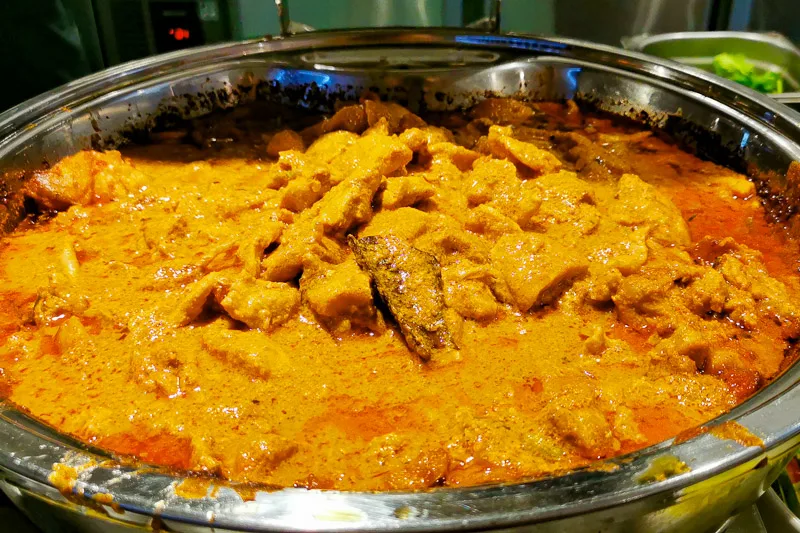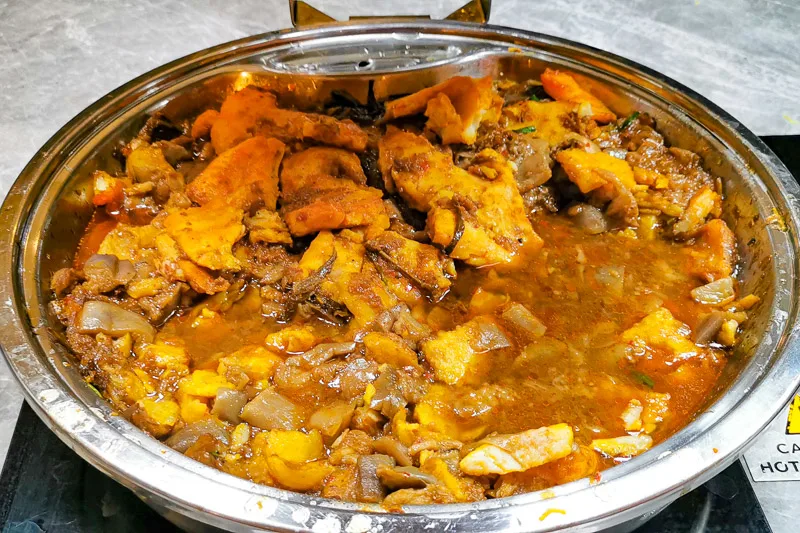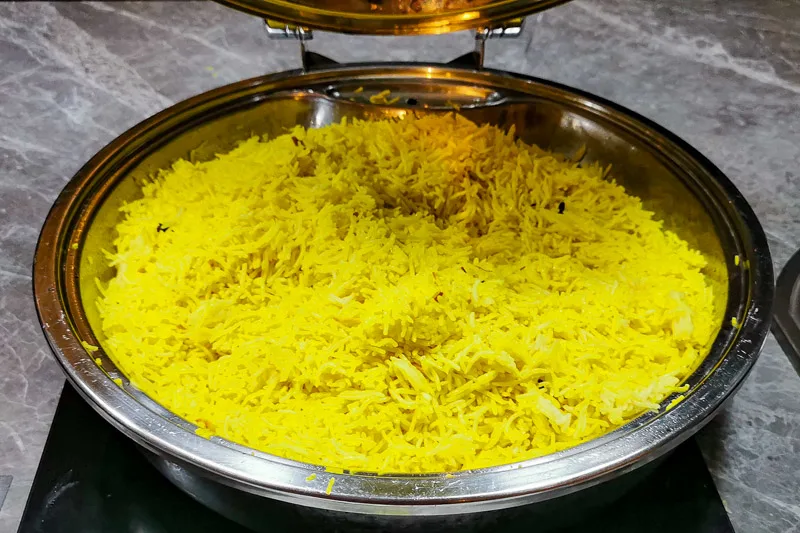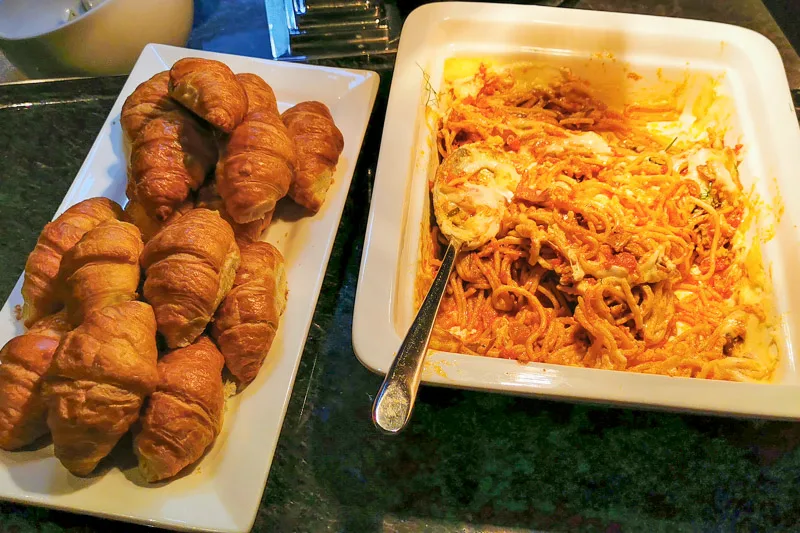 There was a salad station offering various veggies and salad toppings.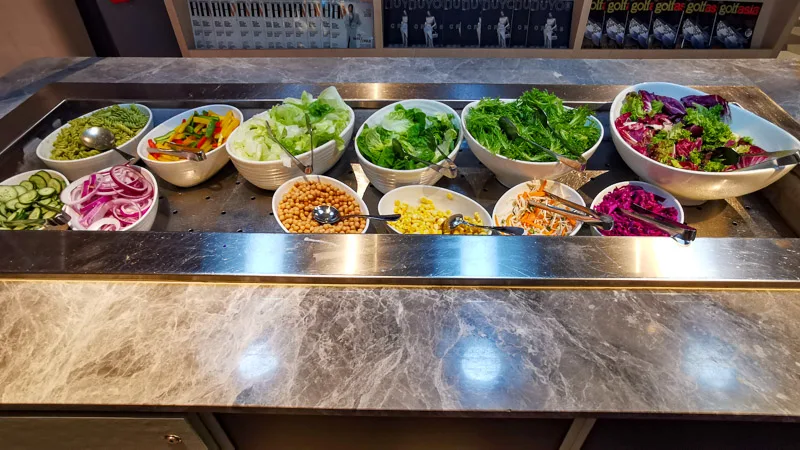 They also had various cakes (kueh), sandwich, bread with toaster, cereals, fruits, and even a cheese plate!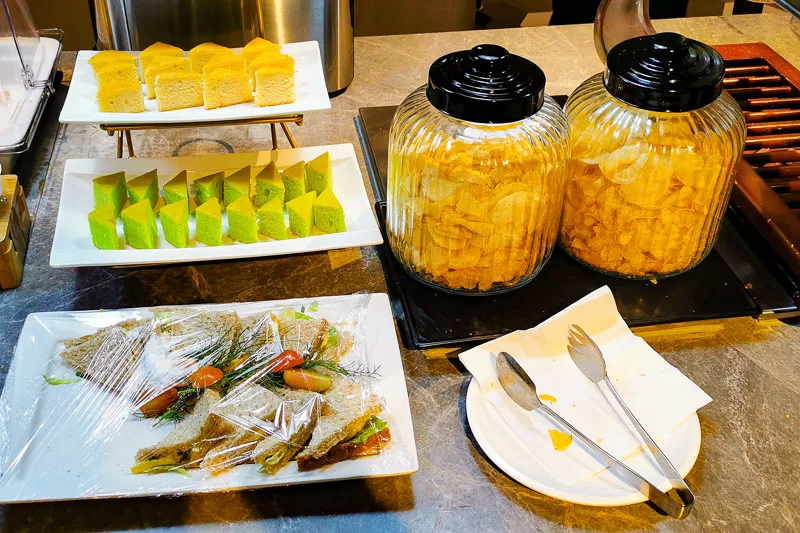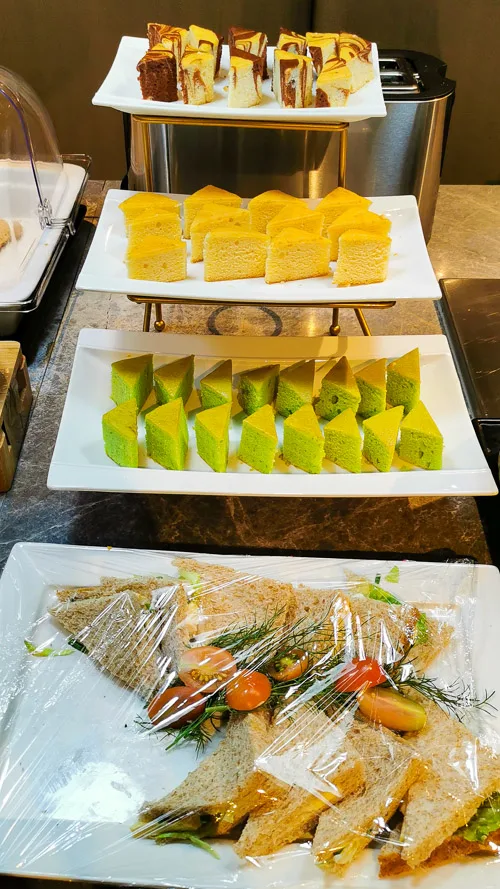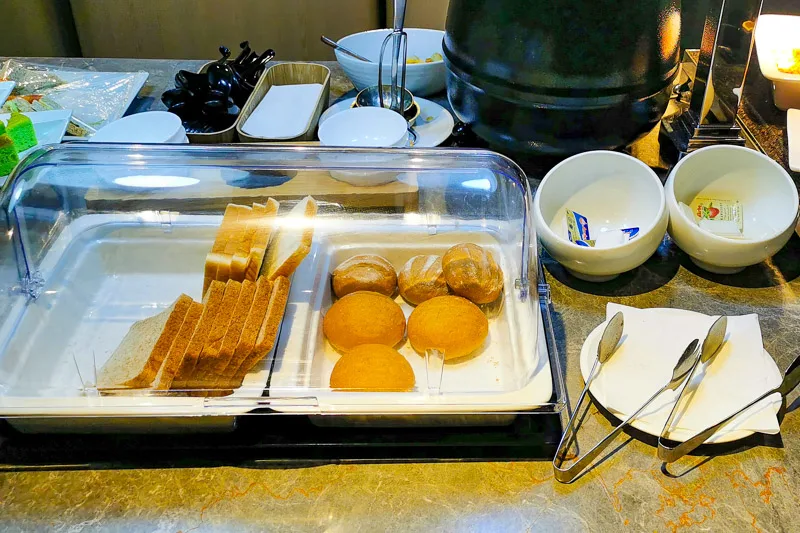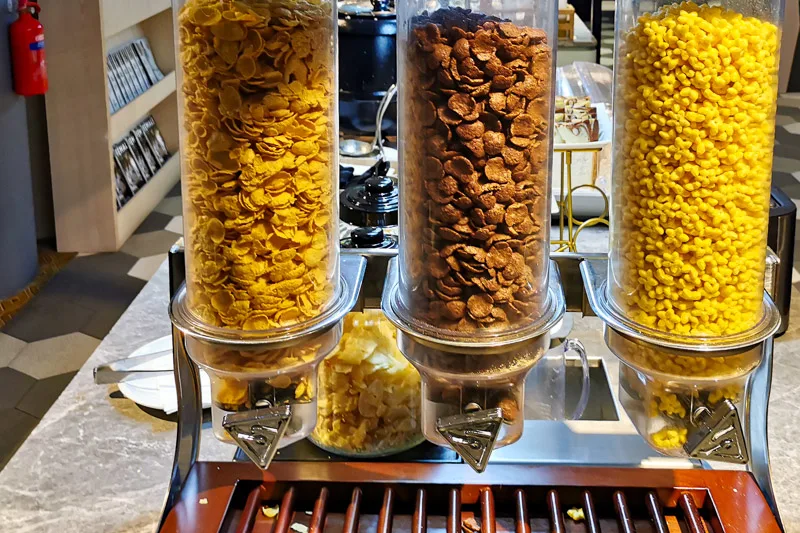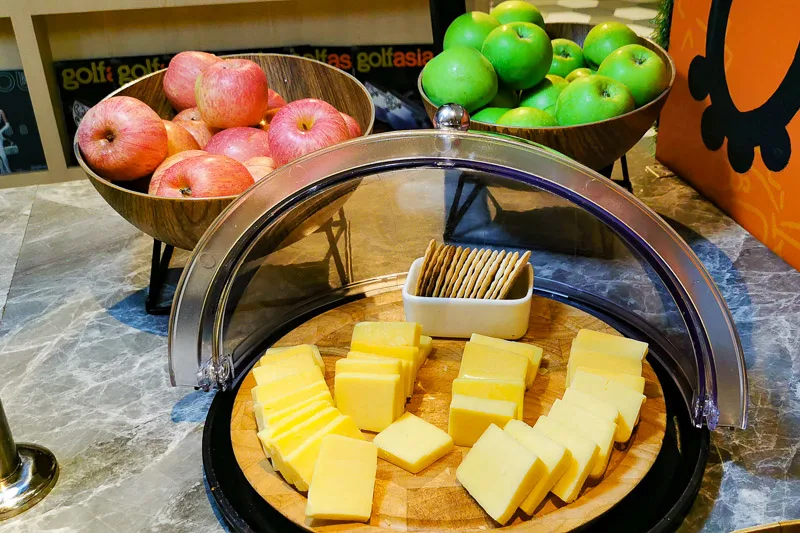 Lastly, they have Udders ice cream!! We tried 2 cups and it looks like the only flavor was chocolate. But I don't mind, I love chocolate! I wish other lounge provides ice cream too!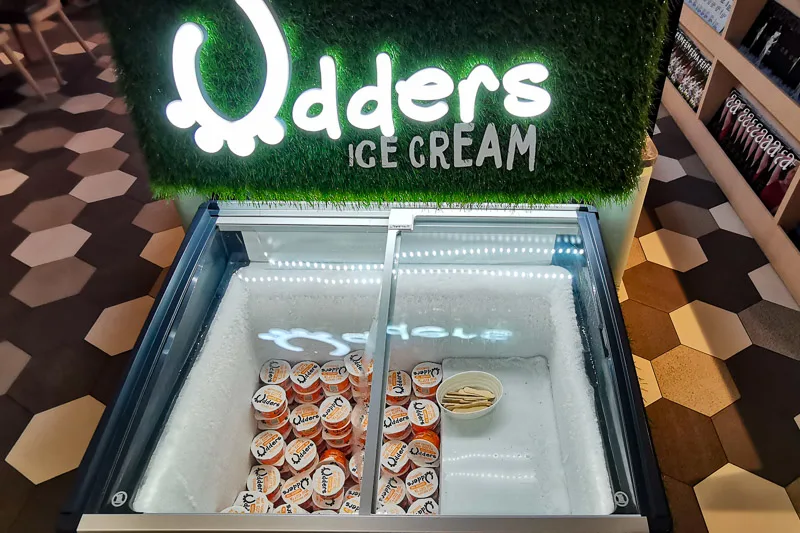 Drink
At the hot beverage section, there is a coffee machine with coffee beans, a selection of teas as well as a syrup corner (that's a first for me!).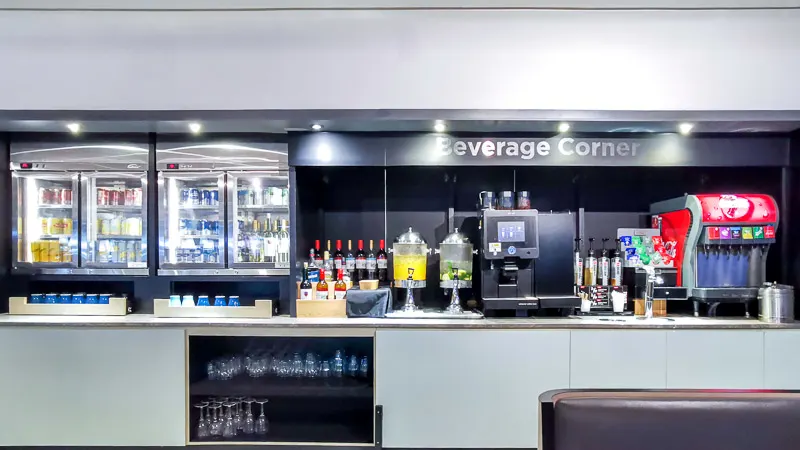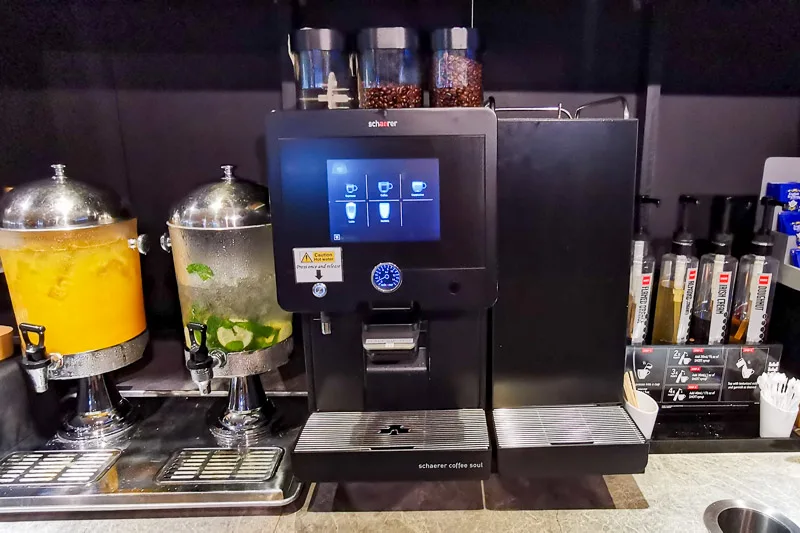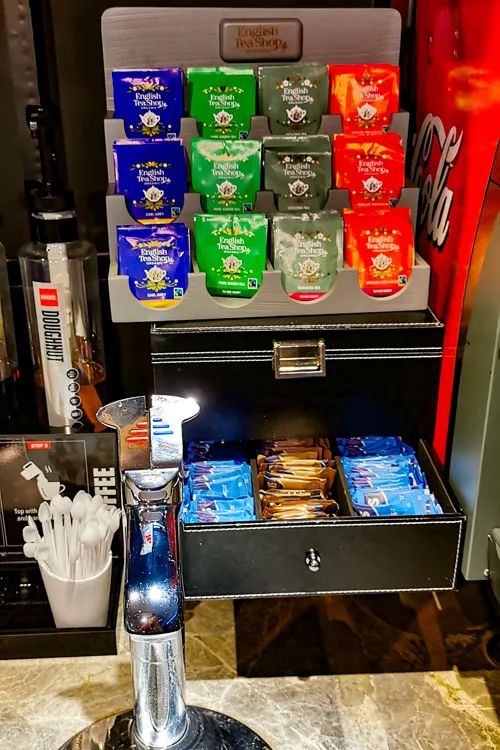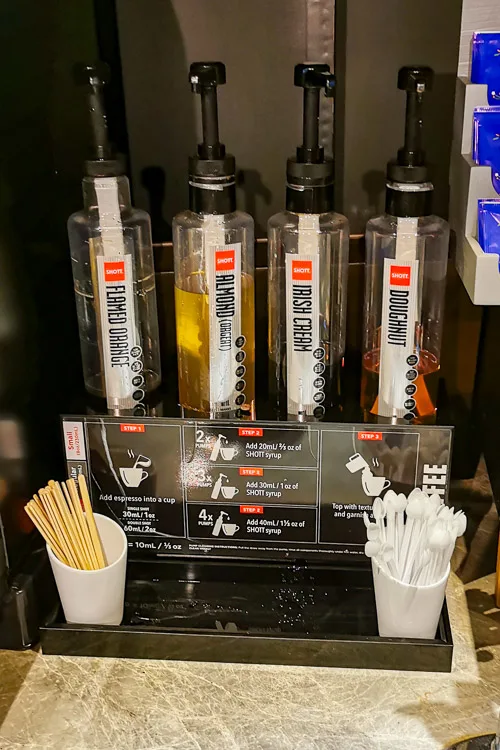 In the cold beverage section, there were infused water, fruit juice, as well as soft drinks (from the dispenser and in the fridge).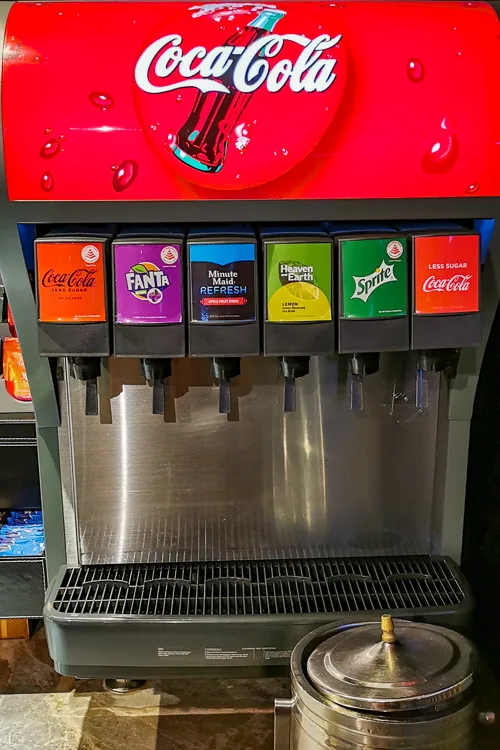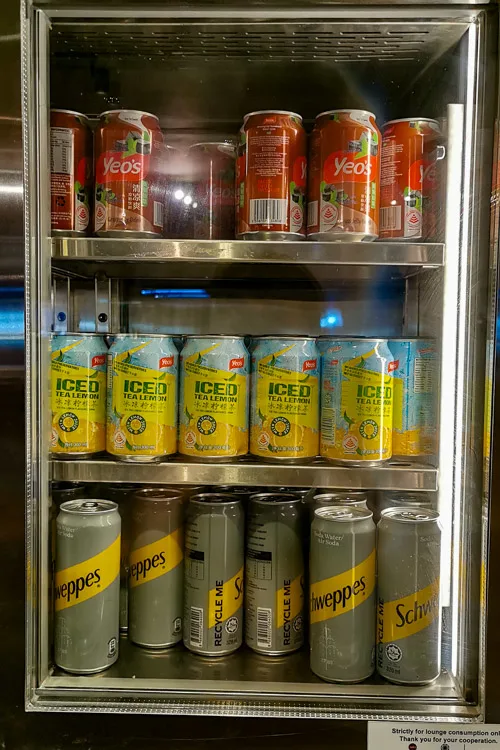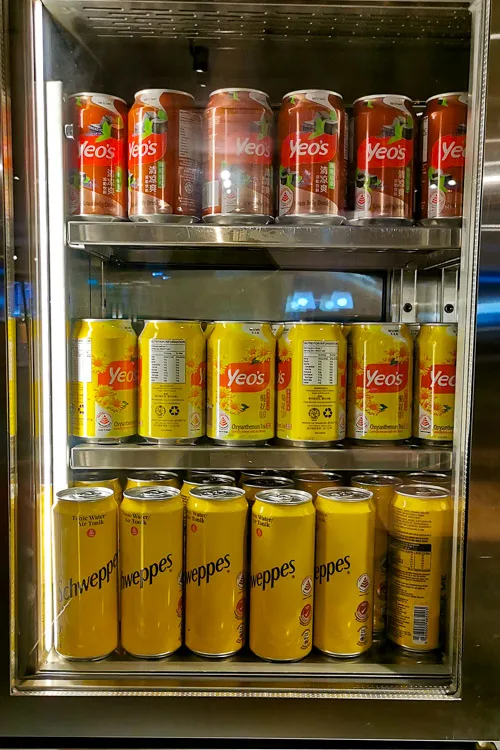 In the alcoholic beverage section, there were beers (Sweet Touch and Cheers), wines (Prestigium Cuvée Spéciale, Torre Tallada Blanco, Torre Tallada Tinto), gin (Propeller), vodka (Lithuania Gold), and whisky (Jim Bean).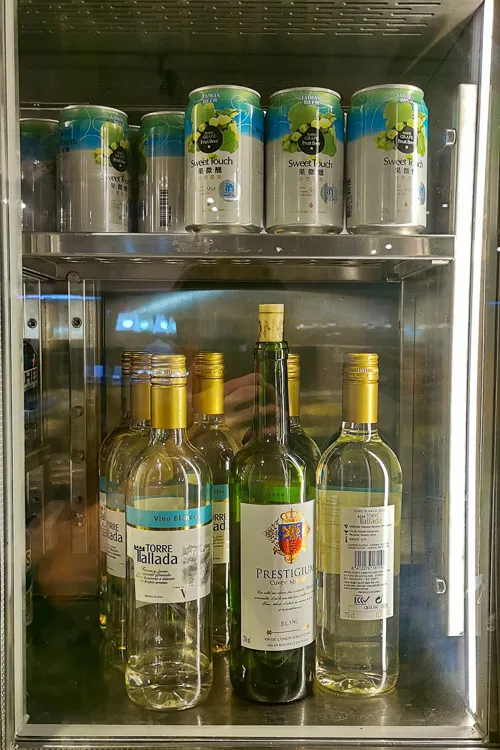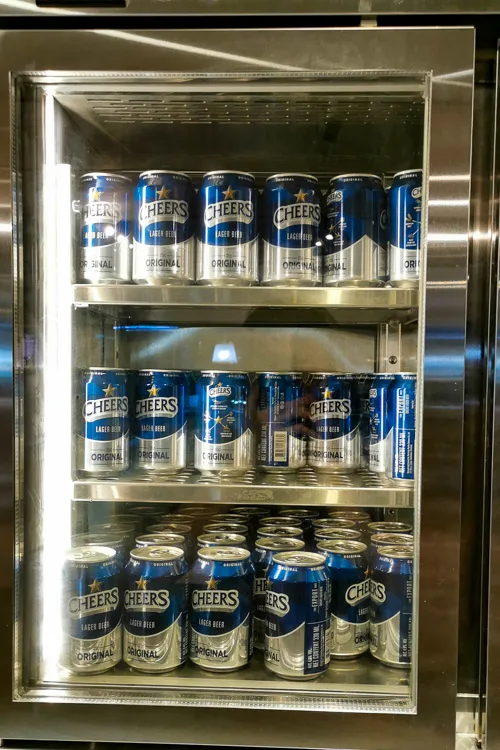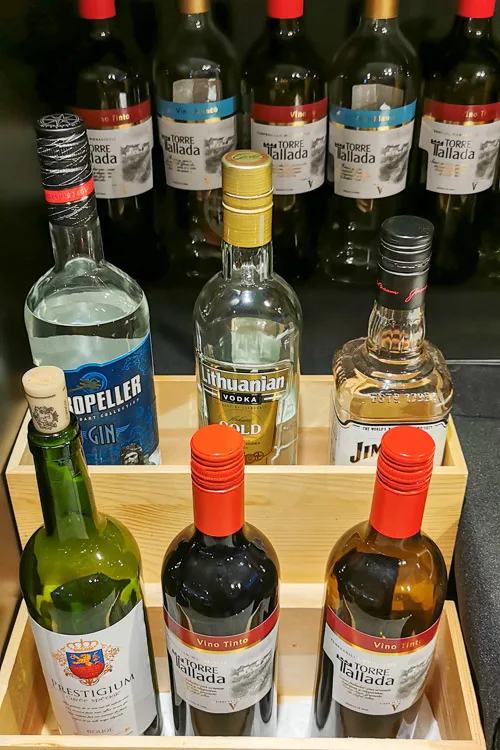 View
Since Blossom Lounge is an indoor lounge without any access to the airport tarmac or runway, the only view you can get is the indoor view.
Fortunately, Blossom Lounge is located right next to Peranakan Heritage Zone, so you can enjoy the Peranakan Love Story show about a couple that falls in love during the colonial time. I truly enjoy this show.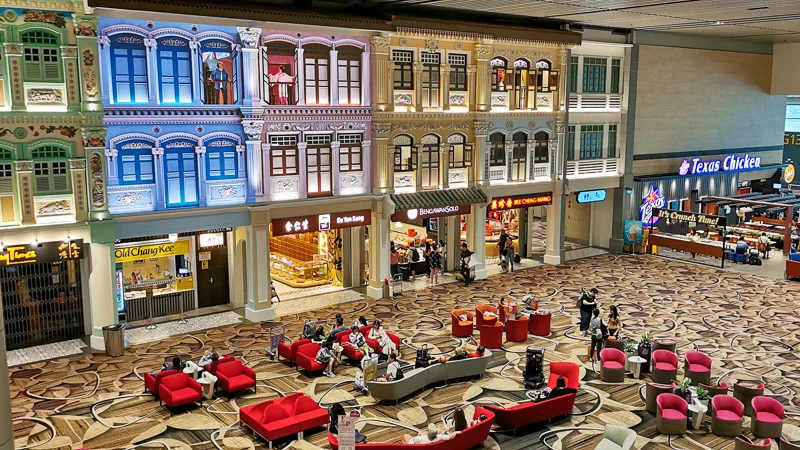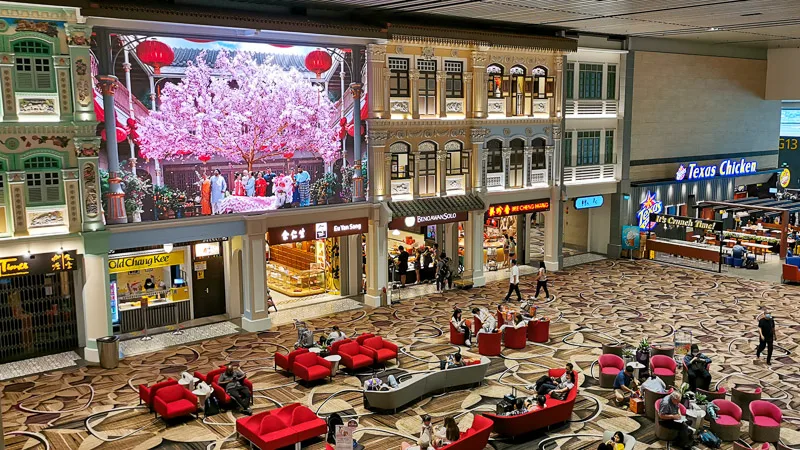 Shower Room & Toilet
There are 2 shower rooms located behind the individual cubicles / private pods. To use the shower, you need to make reservation from the reception.
During our visit, the shower rooms were fully booked, so we didn't use the shower. We didn't even get to see the interior of the shower!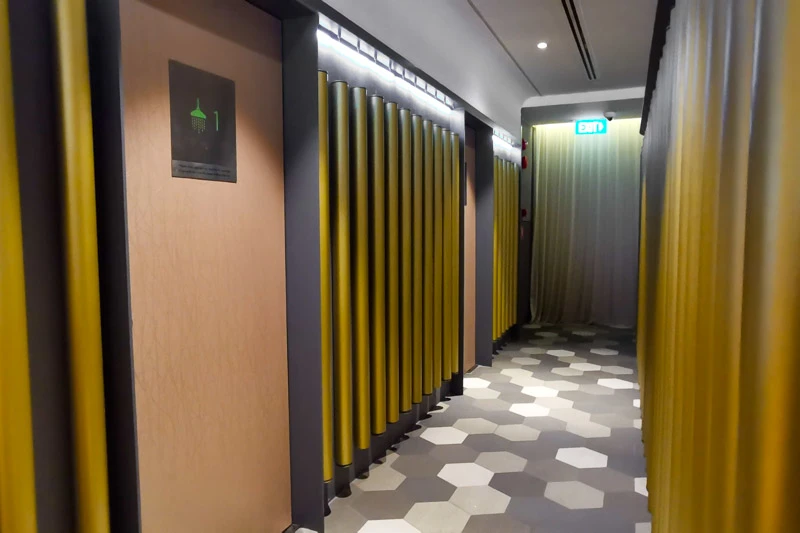 The toilet at Blossom Lounge is compact yet cozy. It's clean and toiletries supplies are well-stocked. No complaints.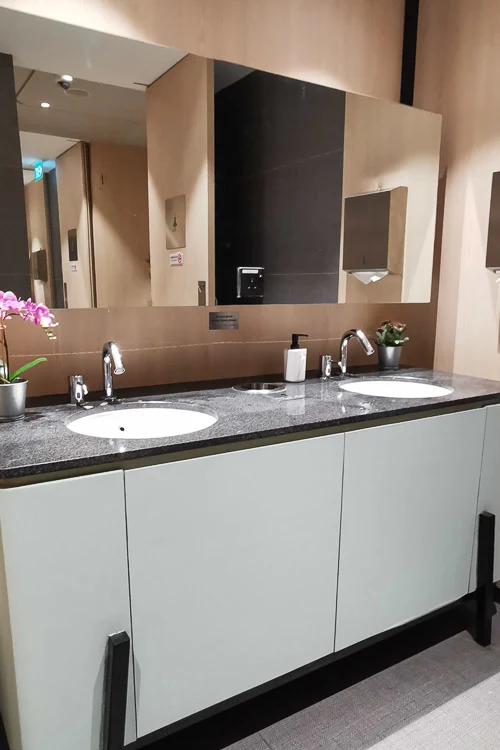 Other
There is a magazine corner with various prints, such as Forbes, Home Decor, Golf Asia, Female and Peak Magazine.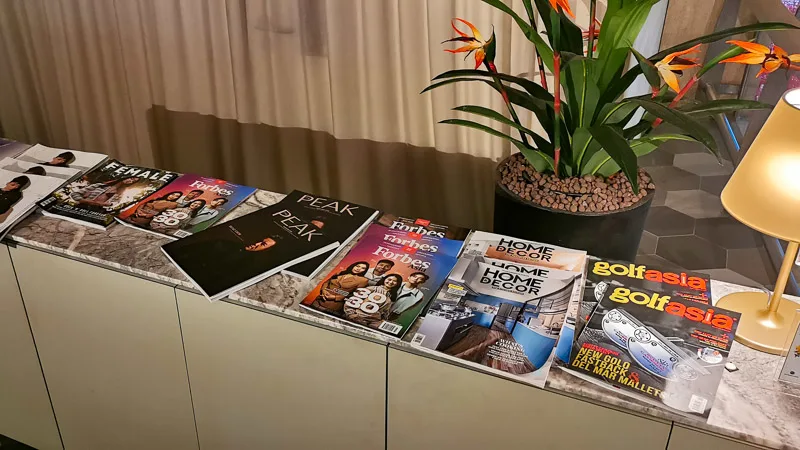 Final Thoughts
I like that Blossom Lounge is quite spacious, not too crowded, has unobstructed view of Heritage Zone, and has Udder ice cream!!
The food and drinks are alright. They are enough to fill me up before my flight, they aren't spectacular, but they aren't too shabby either.
Given that it is the only third party lounge in Terminal 4, if I'm flying out of T4 again in the future, I will most likely return (unless I've used up all my lounge access) and provide updates in this article!
If you like my work, you can buy me a coffee! Your support will help me to keep going!