Coral Premium Departure Lounge is an airside lounge located at the International Terminal (also known as Terminal 2) of Phuket International Airport (HKT). As the name suggests, the lounge serves passengers departing for international flights.
In case you are not aware, Terminal 1 (Domestic Terminal) and Terminal 2 (International Terminal) are two different buildings.
First-time visitors at the Terminal 2 (International Terminal) of Phuket International Airport may find themselves confused because there are 3 Coral lounges at the same terminal. (PS: we're referring to none other than ourselves, noob travelers at Phuket!).
Here's the list of all Coral Lounges at Phuket Airport Terminal 2 (International Terminal):
Coral Premium Departure Lounge (Level 3, accepts Priority Pass and equivalent) -> This is what I cover in this article
Coral Executive Lounge (Level 4, accepts Priority Pass and equivalent)
Coral First Class Lounge (Level 4, doesn't accept Priority Pass and equivalent)
We tried to visit Coral First Class Lounge and was told to visit Coral Premium Departure Lounge at L3 because Coral Executive Lounge at L4 was fully booked. Oh well.
Lounge Access
Coral Premium Departure Lounge can be accessed:
Via memberships such as:

Priority Pass
LoungeKey
DragonPass

Via credit cards that give direct access to the lounge, such as Diners
Want to get free lounge access? Read: Which Singapore Credit Cards Have Free Lounge Access
For us, we use our Priority Pass to access Coral Premium Departure Lounge. We were entitled to 3 hours of visit, which is more than enough considering that our Jetstar counter check-in only opened about 2.5 hours before departure (hence we have only 2 hours left in the departure area).
Opening Hours
Coral Premium Departure Lounge is open from 6am to 1am daily.
To check the latest opening hours, I use PP website here.
How to get there
Coral Premium Departure Lounge is an airside lounge. It is located at Level 3, the same level as the airport security and boarding gates.
After clearing immigration and baggage scan, simply turn right until the end. You'll then see Coral Premium Departure Lounge located next to Gate 11.
You'll have to exit the airport building through a small glass door to a small outdoor area, in order to enter Coral Premium Departure Lounge. It can be easily missed out especially when there are long lines at Gate 10 or Gate 11.
I'm not sure why the signage says "CIP Lounge" instead of "Coral Premium Departure Lounge" though.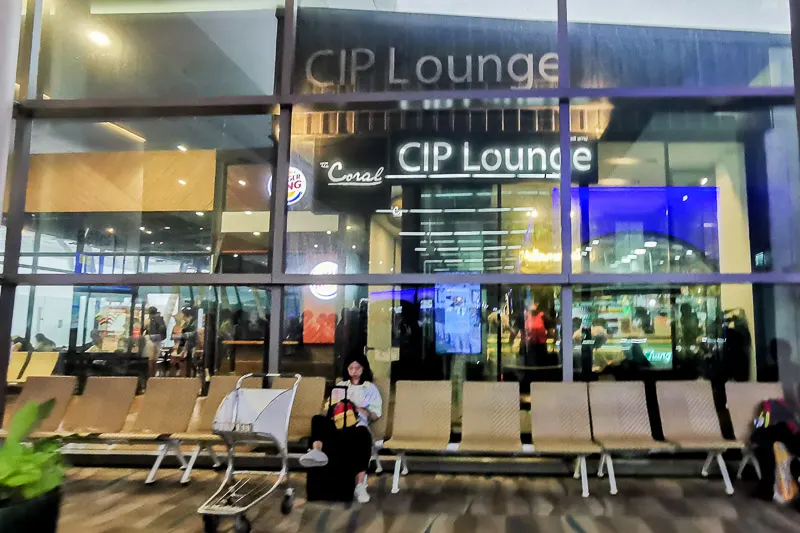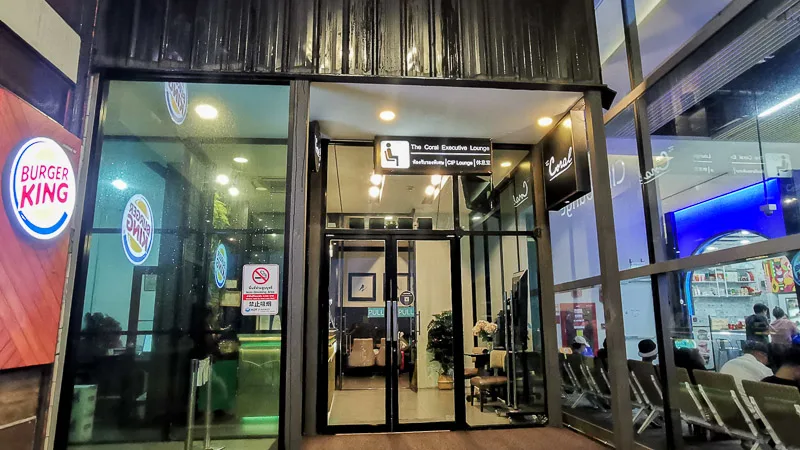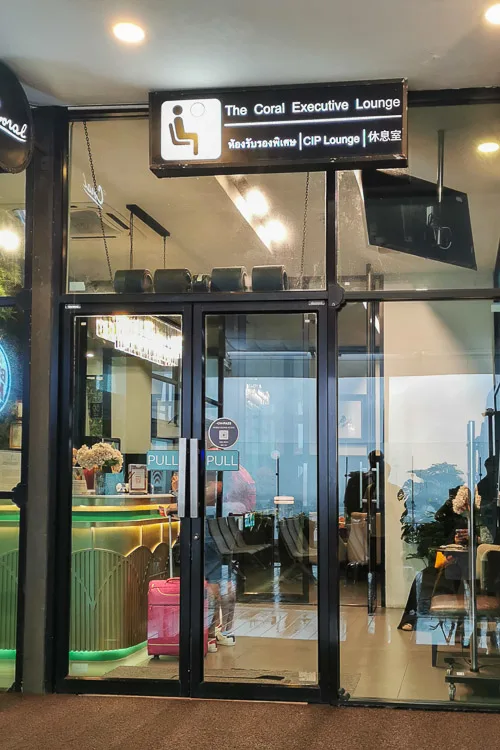 Seating
Coral Premium Departure Lounge is a small lounge. When you enter the lounge, you'll immediately find yourself at the dining area and buffet area.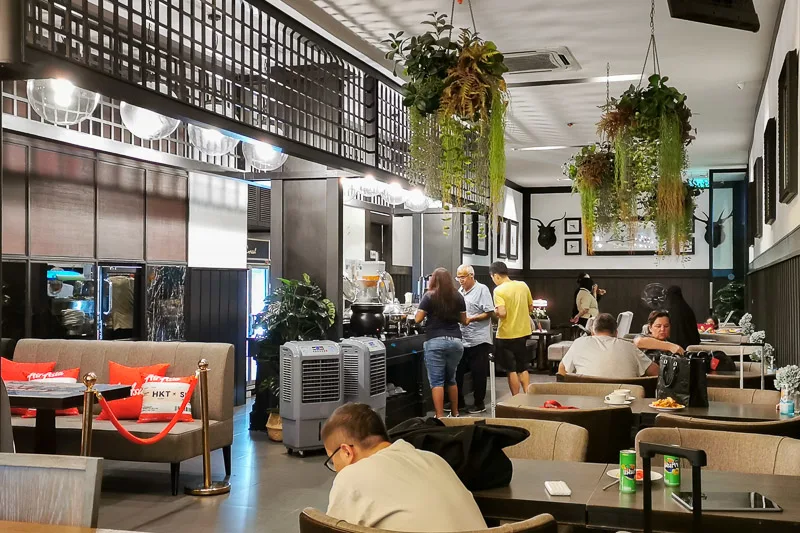 As you walk further inside, there is a long communal table.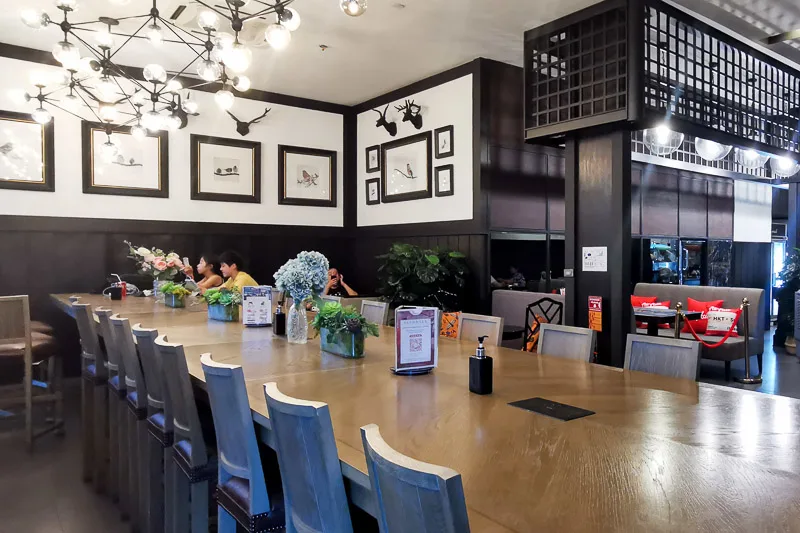 If you keep walking further inside and exit the glass door, you will arrive at this section that looks like an outdoor sheltered terrace. Here, there's another long communal and several round tables with lounge chairs.
This is the least crowded area when we visited, so we decided to sit here. And I'm glad to say it's my favorite part of the lounge.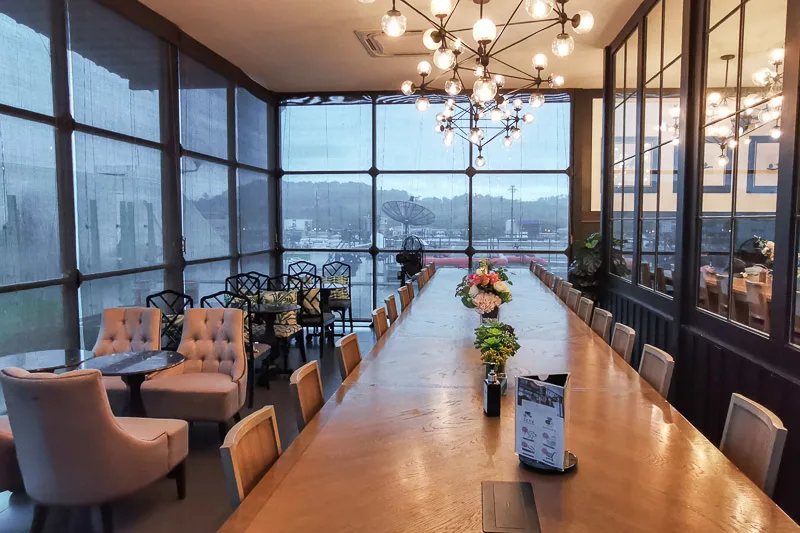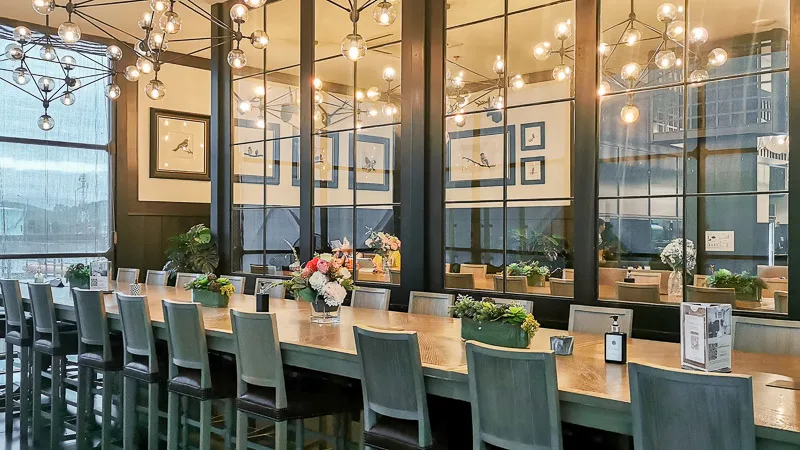 Food
Despite being a small lounge, Coral Premium Departure Lounge tries to serve as many types of food as it can. Their effort is noticeable in my opinion.
The buffet table is divided into 2 sides. The part facing the dining area is where you can find soup, main dish, and toast.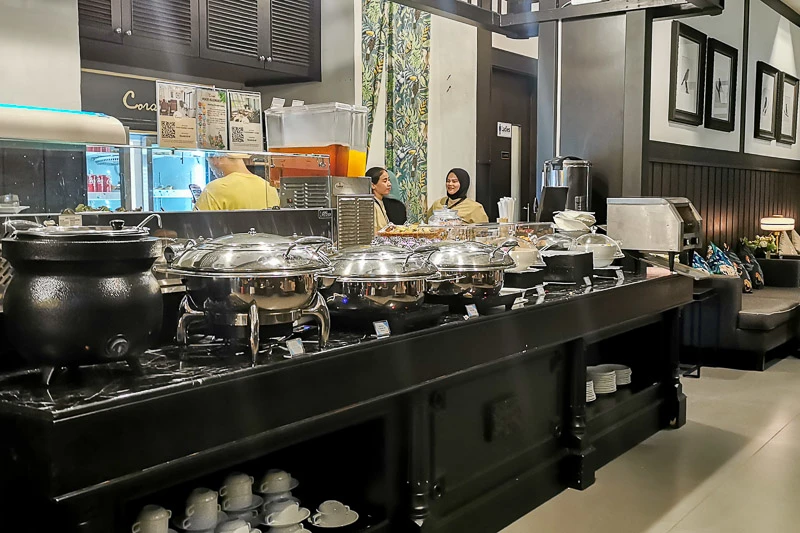 At the main food area, there were tomyam soup, rice and meats. I love their tom yam soup so much that I had my second and third servings!
Unfortunately, due to miscommunication with my husband, we didn't managed to capture the photos of the main food. I thought he took the photos, and he thought I took the photos, but apparently none of us took the photos of the main food, sigh! That's what usually happens when we are both hangry!
But we did have photos of the rest of the food. These beautiful dishes below are Nicoise Salad (Tuna Salad), Grain Salad and Pasta Salad.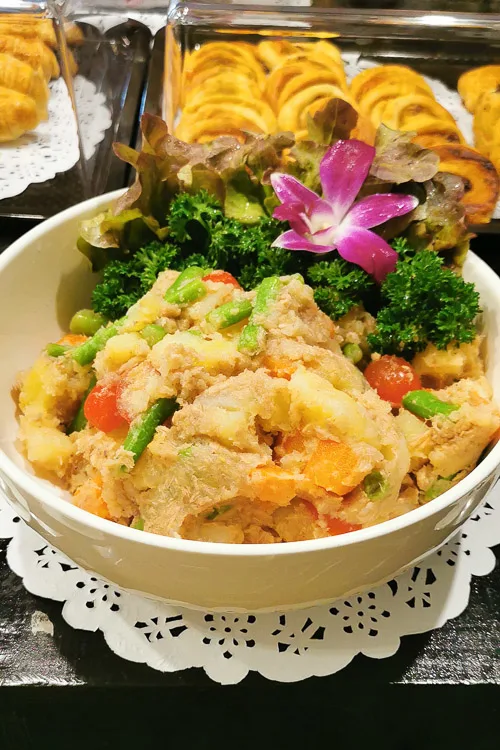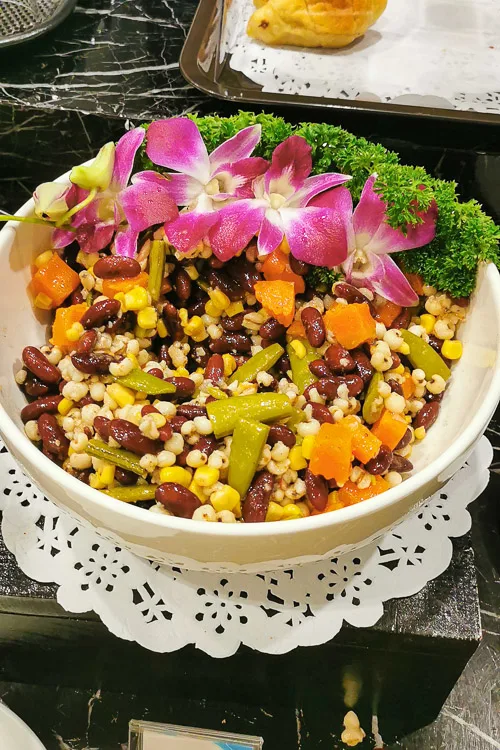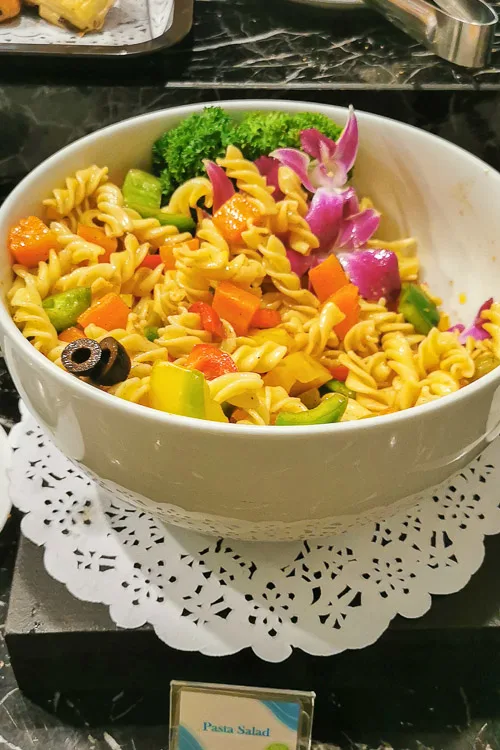 At buffet section that's facing the inner wall, you can find salad, condiments, pastries and drinks.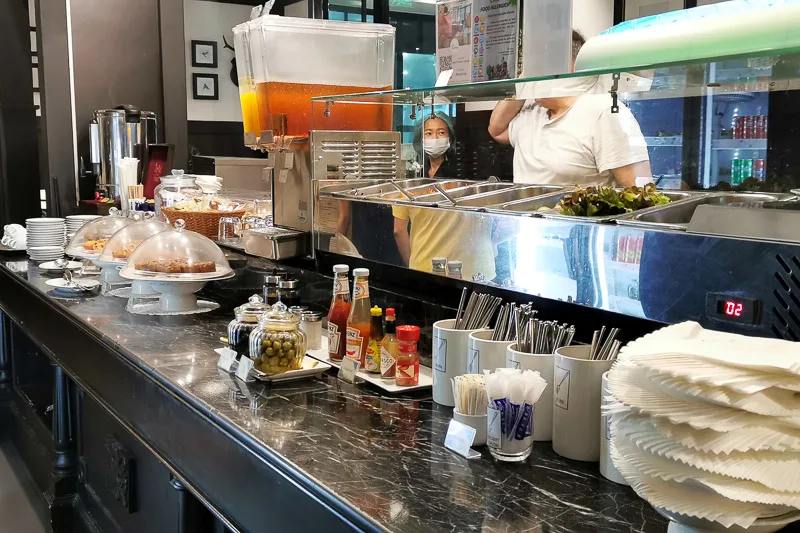 At the salad section, there were purple cabbage, shredded carrots, beans, corns, cucumbers, mixed greens and capsicums. In front of the salad is where you'll find condiments and cutleries.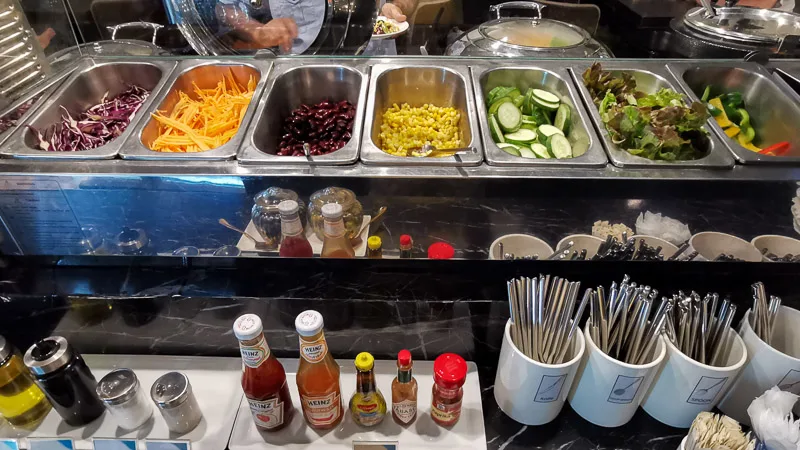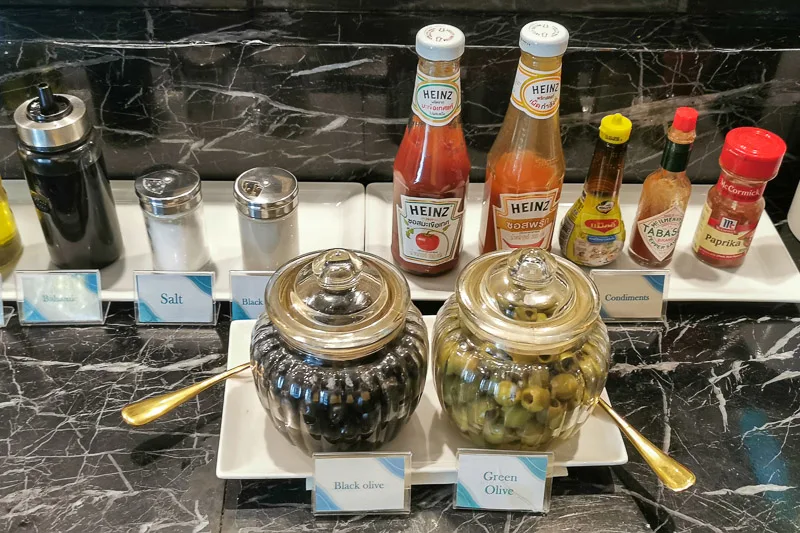 Next to salad section is the pastry section. There were various pastries, cakes, as well as cereals.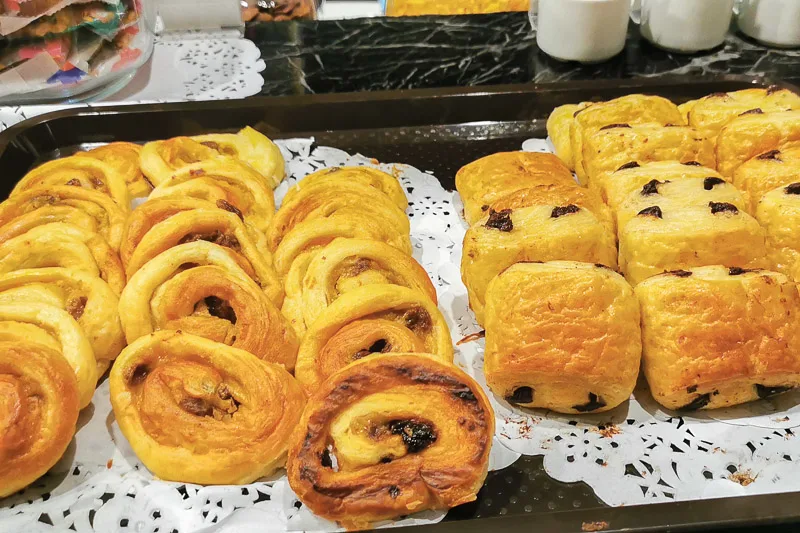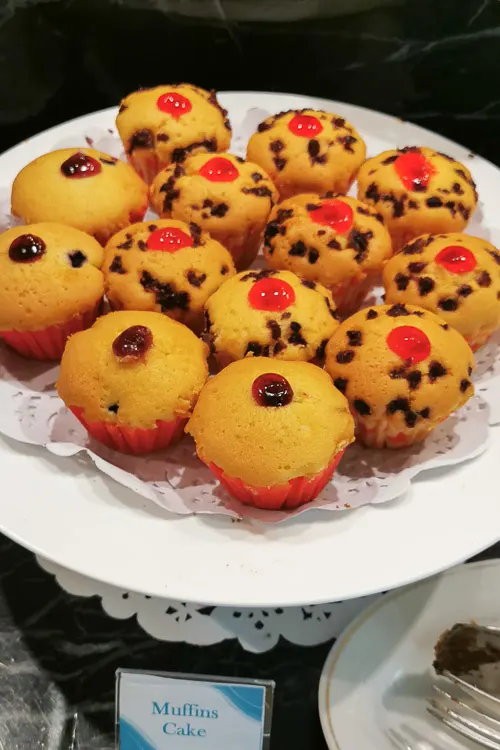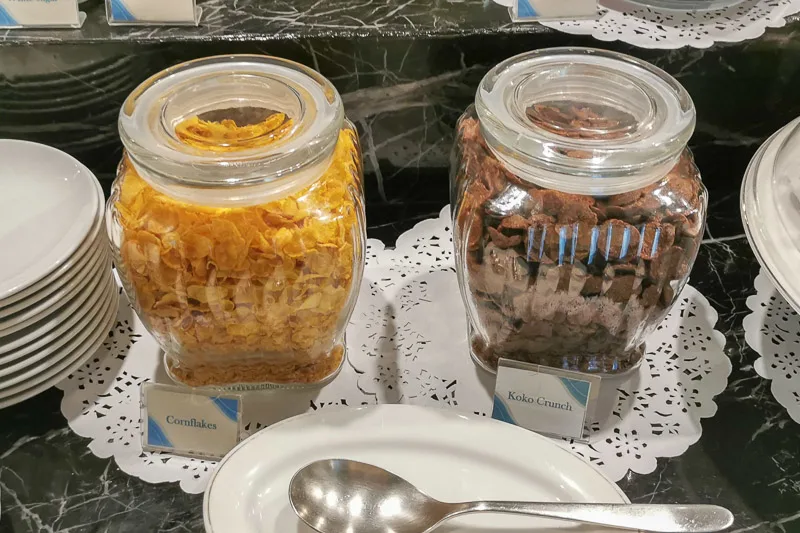 Drink
At the hot drink section, there is a coffee machine (didn't manage to capture it in photos, sorry), as well as a hot water tank for teas. The teas are from Twinings.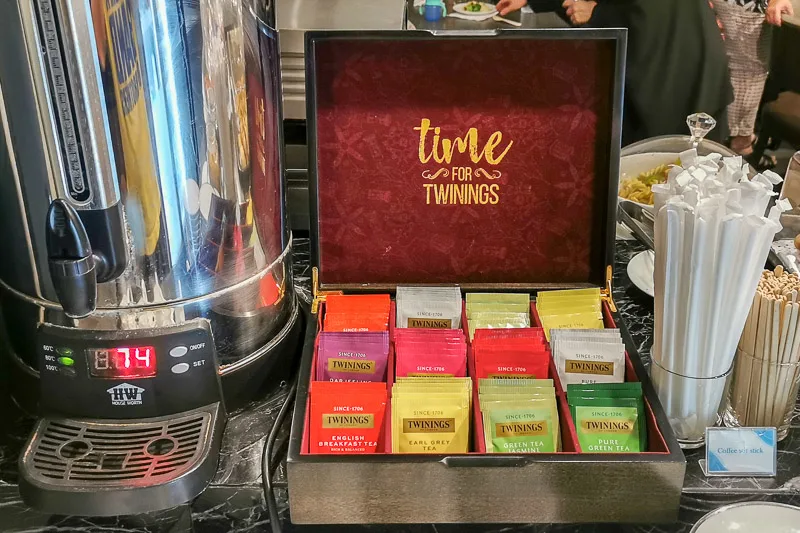 Inside the fridge, there are soft drinks, soda water, mineral water, desserts, fruits, salad dressing, butter, yoghurt, milk and orange juice.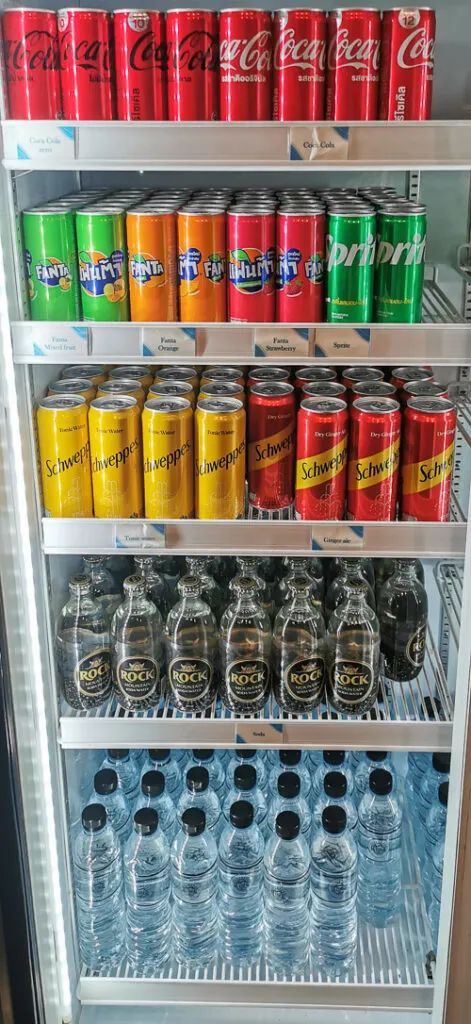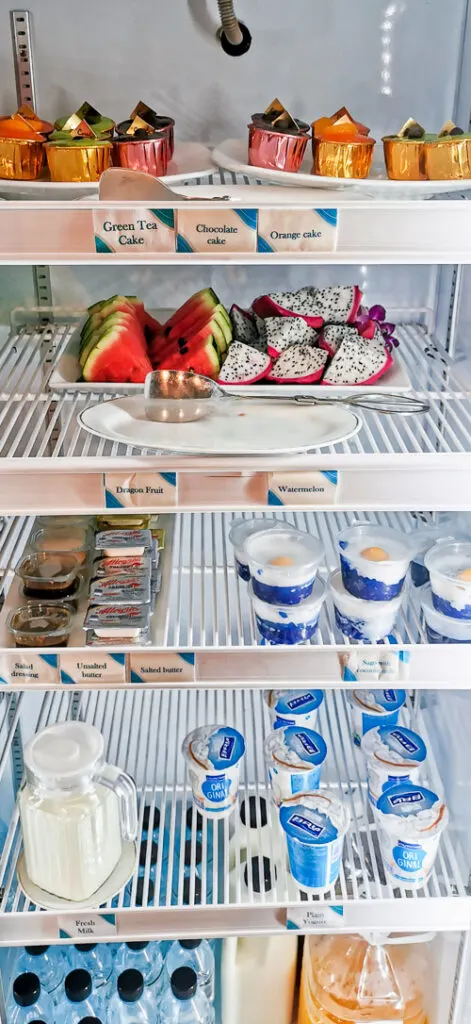 There are also juice dispensers at the buffet table serving orange juice and apple juice.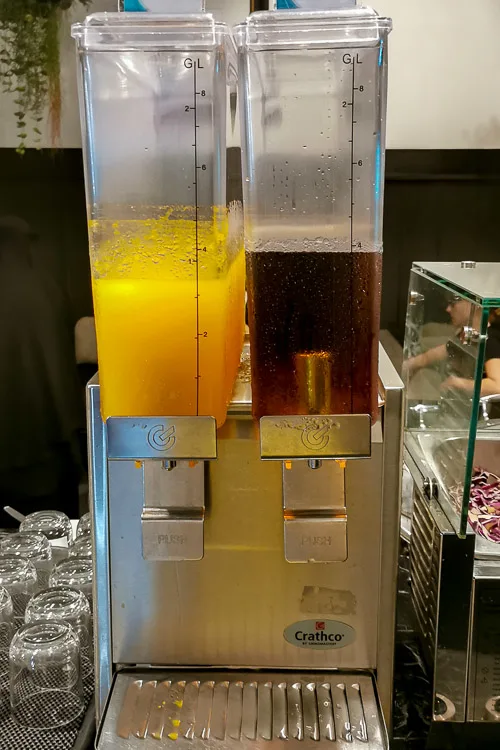 The alcohol section is located right next to receptionist. They serve beer on tap, red and white house wines, as well as cocktails!
The menu of cocktails are:
Pink Coral
Blue Coral
White Coral
Orange Sunshine
Siam Mojito
If you're abstaining from alcohol, you can request mocktails as well. They'll just remove the alcohol part from the cocktails.
Because they need time to prepare the cocktails, they asked us to wait at our seat and delivered our drinks to us.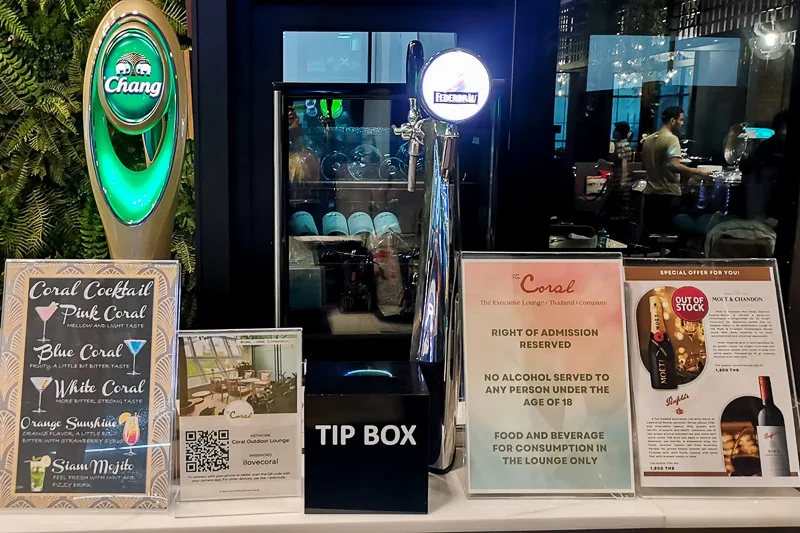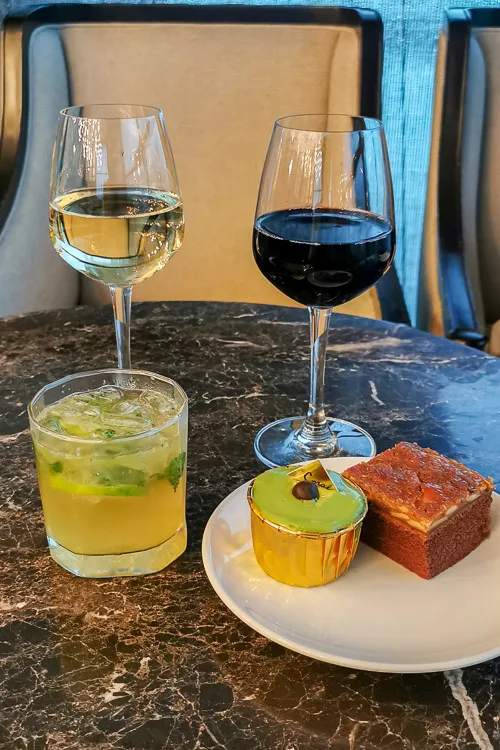 As someone who loves colorful drinks, I'm very happy with the color of my Orange Sunshine mocktail. However, the drink is too sweet for me. I decided not to finish it, otherwise, I'll be diagnosed with diabetes afterwards.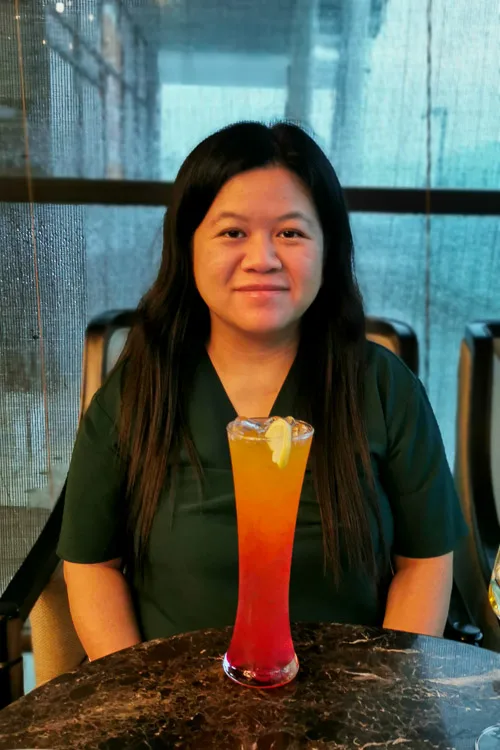 View
The view outside the lounge is the airport tarmac. However, we didn't get a clear view of it because it was raining during our visit and the day blind was put down.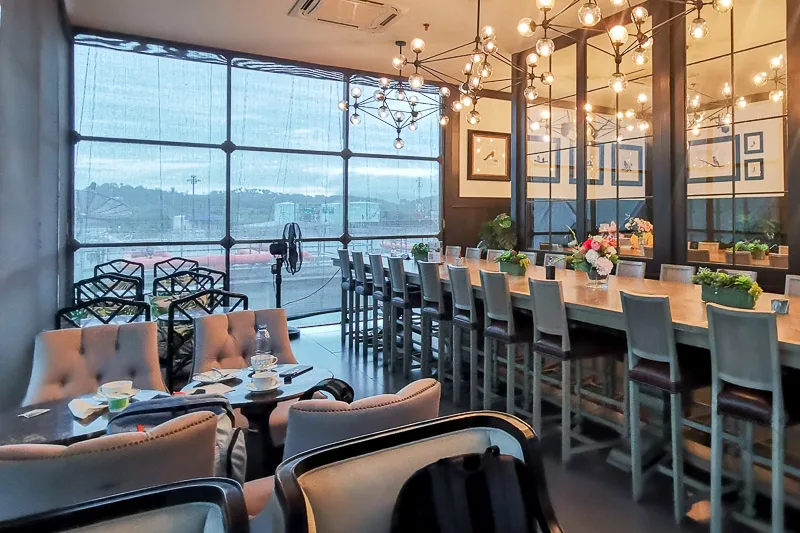 Toilet
As expected, Coral Premium Departure Lounge has a small toilet. Inside the female toilet, there are only 2 cubicles. And one of it happened to be under repair! So, there's only 1 usable cubicle. Plus, the toilet is kind of smelly.
The good thing is that there's the toilet has very little traffic. I never had to wait to use the toilet, it was always empty when I went there.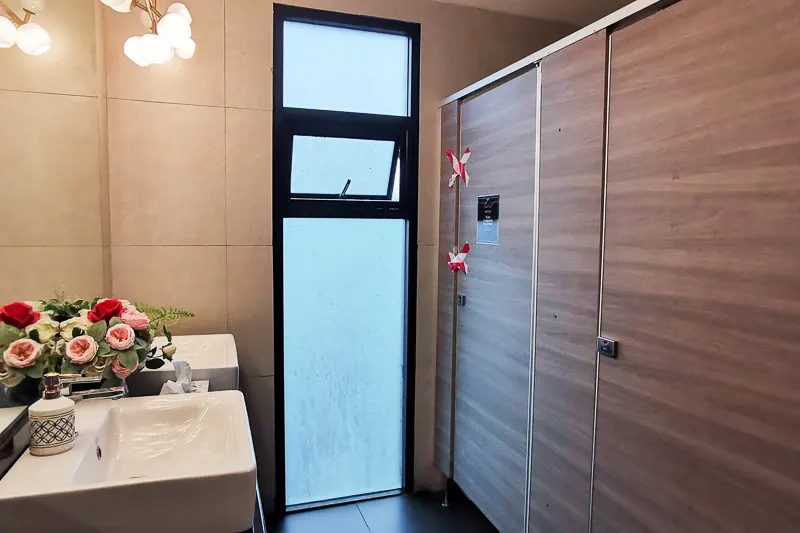 Nope, there isn't any shower in Coral Premium Departure Lounge.
Other
Apparently, Coral Premium Departure Lounge provides free massage service for visitors. However, it wasn't mentioned anywhere, so we didn't know about it.
We only found out about the massage because we saw a staff giving shoulder massage to a visitor sitting next to us. So, if you love massage, don't forget to request one from the staff when you visit Coral Premium Departure Lounge!
One thing I don't like about the lounge is the lack of flight information. Before entering the lounge, we knew our gate is only 5 mins walk from the lounge so we took our own time enjoying the lounge before boarding.
However, when we reached our gate, there was no staff, now passengers and no boarding. We were in such a panic, I thought the plane has left! We searched frantically for the flight information monitor (which was very hard to find!) and found that our gate has been changed to the other end of the terminal!
We ended up having to run to our new gate. And we were officially the last person to board the plane. The crew was not happy when she saw us. Oh well. At least we didn't miss our flight, phew!
Final Thoughts
Coral Premium Departure Lounge is not perfect. There are good points (yummy tom yam, cocktails, free massage, not too crowded) and there are bad points (toilet, no flight information, small space).
But, given that there are very few lounge options in Phuket Airport International Terminal (there are only 2 contract lounges that accept Priority Pass and equivalent), I'd say Coral Premium Departure Lounge is worth a visit if you have no other options.
If you like my work, you can buy me a coffee! Your support will help me to keep going!