I've been a repeat visitor of Christmas Wonderland for at least 5 years. Even though some of the light installations and activities are similar to past years, Christmas Wonderland is still something I look forward to visiting every year.
That's because Christmas is my favorite holiday and in Singapore, there are not many places that can make you feel the vibes of Christmas beside Christmas Wonderland.
Enough of me rambling about my obsession with Christmas, I bet you come to this page because you want to know what to expect from this year's Christmas Wonderland, right?
Alright, let's cut to the chase. Let me share with you my experience visiting Christmas Wonderland 2022 at Gardens by the Bay Singapore.
Opening Hours
Christmas Wonderland is only open for 1 month, starting from 2 December 2022 to 1 January 2023.
The operating hours are from 6.30pm to 11pm daily (last admission at 10pm).
When purchasing the ticket, you will need to select your preferred session from 4 available sessions.
| Session | Time |
| --- | --- |
| Session 1 | 6.30 pm |
| Session 2 | 7.30 pm |
| Session 3 | 8.30 pm |
| Session 4 | 9.30 pm |
We visited on the first day, 2 Dec 2022, during the first session at 6.30pm. Despite being late for 30 mins, we were still able to enter without any problems.
On the booking platform, there isn't any mention about how long we can remain in the park, so I assumed there's no time limit.
As I'm writing this article (post visit), I found a Q&A in the FAQ section that says:
Q: Can I stay longer than the one hour session?
A: Visitors are allowed to stay within the Christmas Wonderland event ground for 90 minutes from the start of their session.
We spent 3 hours in the event, from 7pm to 10pm, and nobody asked us to leave halfway through the event. I guess the sessions were meant to control the pace of crowd arrival only?
Ticket Prices
The ticket prices depend on which day you visit. If you visit earlier in the month, the cheaper you'll pay.
All tickets MUST be purchased online, because there's no physical ticket counter on-site. Click here make your booking.
Date of Visit
Advance Purchase
Same-day Purchase
2 Dec – 15 Dec 2022
Adult: S$8
Child: S$6
Adult: S$12
Child: S$6
16 Dec – 1 Jan 2023
Adult: S$10
Child: S$6
Adult: S$12
Child: S$6
Advance Purchase means tickets are purchased latest by 23:59hrs on the day before the visit.
Christmas Wonderland is a rain or shine event. No refunds or alternative dates will be provided for weather reasons.
How to Go to Christmas Wonderland 2022
Christmas Wonderland has 3 gates:
1. Gate 1 near Floral Clock (which is near Shake Shack & Flower Dome)
2. Gate 2 near Floating Baby (which is near The Meadow & Floral Fantasy)
3. Gate 3 near Malay Garden/Chinese Garden. At the toilet between Malay & Chinese Garden, take the lift down to Supertree Grove and you will find Gate 3.
By MRT
Take MRT to Bayfront Station (Circle Line/Downtown Line) or Gardens by the Bay Station (Thomson East Coast Line), then walk about 15 mins to the gate.
If you're coming from Gardens by the Bay Station, the nearest gate is Gate 1 near Shake Shack/Flower Dome.
If you're coming from Bayfront Station, you can cross the Dragonfly Bridge and walk towards Gate 3, or you can walk to Floral Fantasy then cross the bridge and walk towards Gate 2 at The Meadow. Do note that Gate 2 is quite a distance away from Supertree where the main festivities take place.
Personally, I came from GBTB MRT Stations so I enter via Gate 1. Based on my experience, there is NO SIGNAGE pointing to the gate. We managed to find the gate quite easily because we're quite familiar with the garden's layout. If you're not familiar with the garden's layout, you may have to ask around for directions, or use Google Maps to direct you to Shake Shack.
By Car/Taxi
Gate 1 (Floral Clock):
Nearest Drop-off: Gardens by the Bay Gift Shop
Nearest Carpark: Main Entrance Basement Carpark
Gate 3 (The Meadow):
Nearest Drop-off: Bayfront Pavilion
Nearest Carpark: Bayfront Plaza Carpark
It is not recommended to drive to Christmas Wonderland because of the limited parking.
Things to do at Christmas Wonderland 2022
This year, there are 6 festive zones:
St Nick's Square
Gingerbread Grove
Merry Lane
ELFresco
Mistletoe Alley
Games Village
1. St Nick's Square
St Nick's Square is main zone of the event where you can find a lot of attractions and activities. It is also the main zone you will encounter if you enter from Gate 1.
Spalliera is the 21-metre tall luminaire hand-crafted by Italian artisans and features 103,000 LED bulbs. It looks great both during the day and in the evening!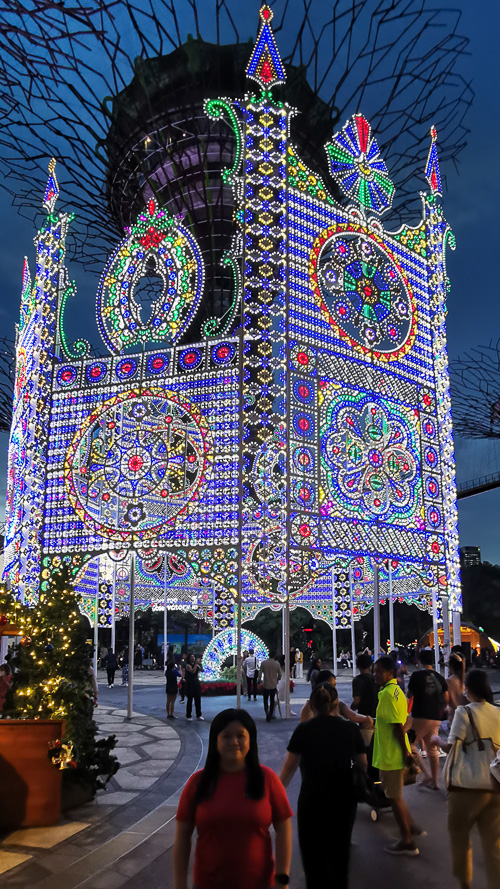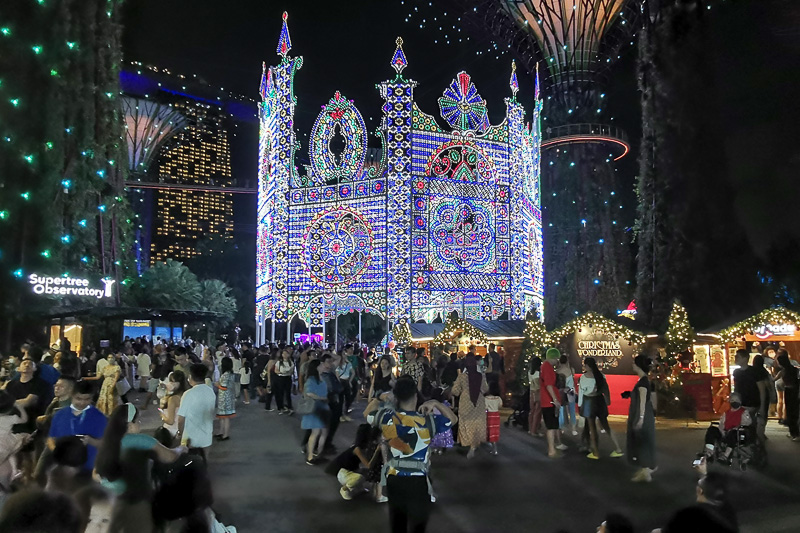 The main activity on my to-do list is meeting Santa Clause! He sits in his home throughout the night and welcomes everyone who wants to take a photo with him.
Meet Santa Clause is a popular activity so be prepared to queue! We spent about 20 mins queueing.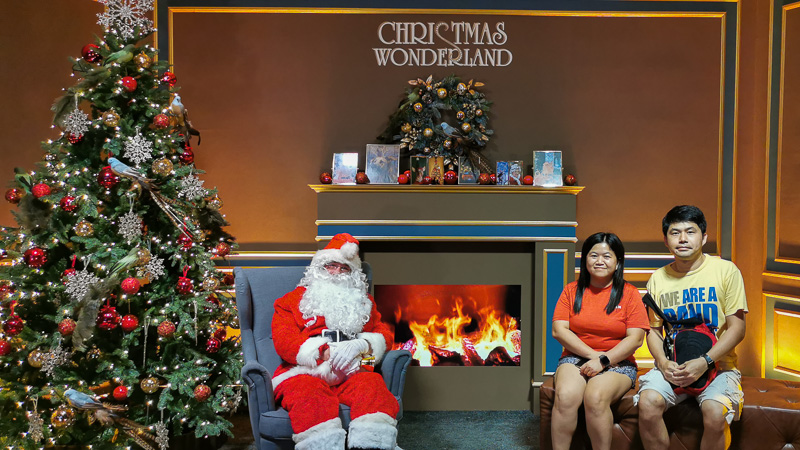 If you're lucky, you might get to meet and take photo with Cinderella at her Magical Carriage!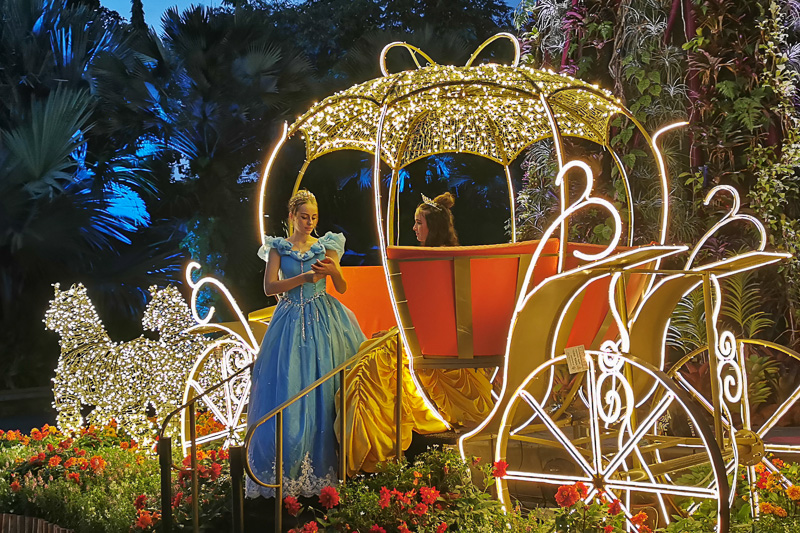 Kids love Navidas Station as they get to hop aboard the bus.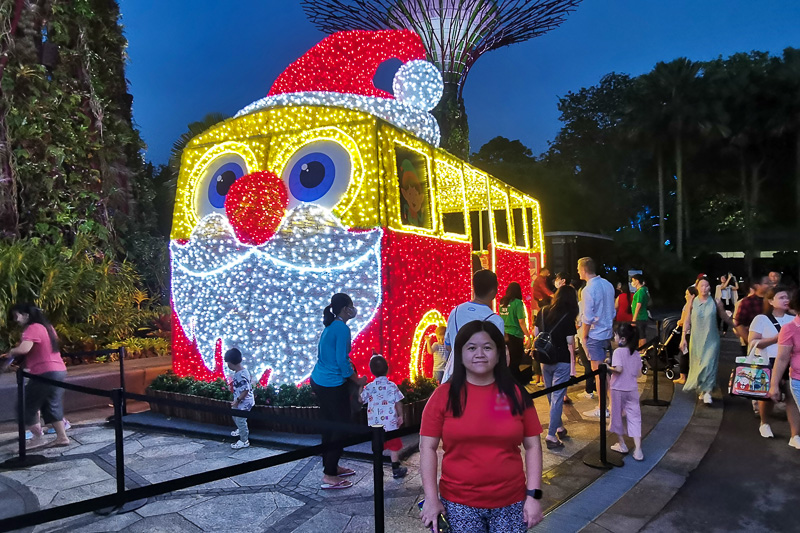 Don't miss out the Garden Rhapsody which takes place at 7.45pm / 8.45pm / 9.35pm daily. The Supertrees will light up as the Christmas tunes are played.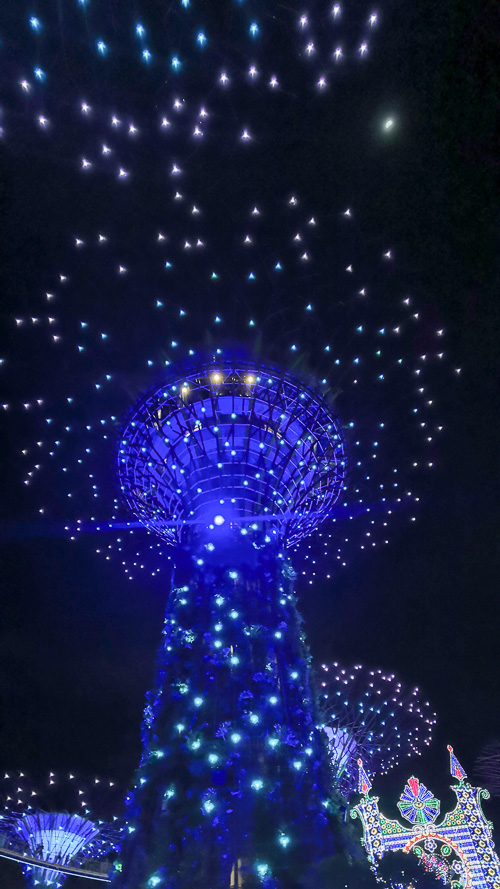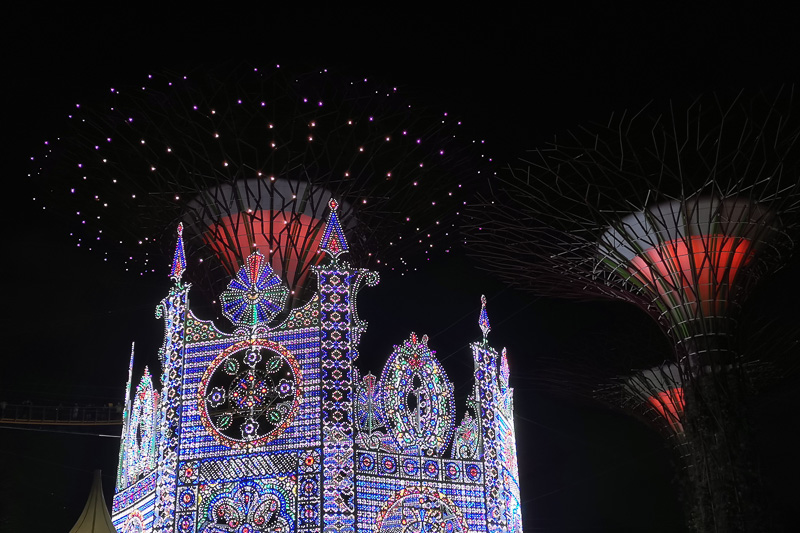 If you love carousels, head to the Double-Storey Carousel. Separate ticket applies (S$10/pax, per seat; accompanying adult pays S$5).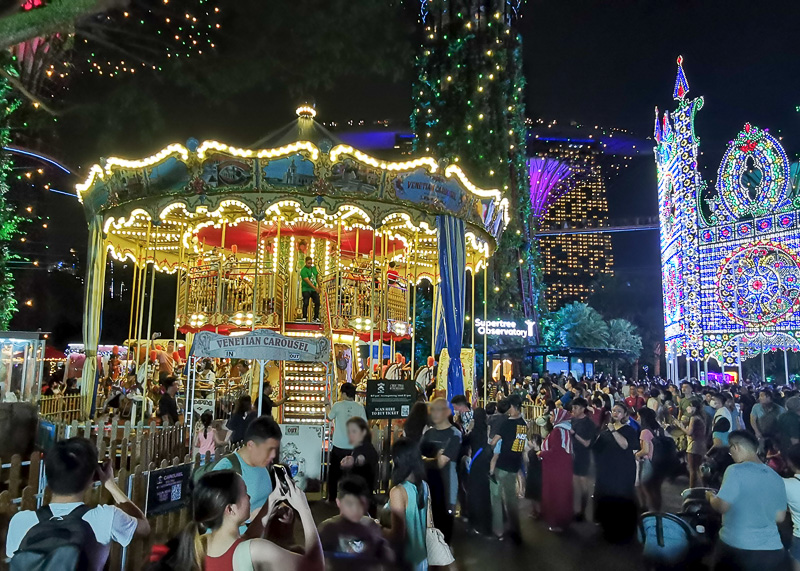 2. Gingerbread Grove
Gingerbread Grove houses The Walk of Lights and Whimsical Windmill. To get here from St Nick's Square, you'll need to walk through El Fresco, the dining zone.
The Walks of Lights tunnel has been almost a permanent fixture at Christmas Wonderland, this year being its fourth year. I love this year's tunnel because the light is animated and pretty colorful (there's rainbow color as well!).
This year's edition features 50,000 programmable LED lights illuminating a myriad of colours along a 50-metre long tunnel.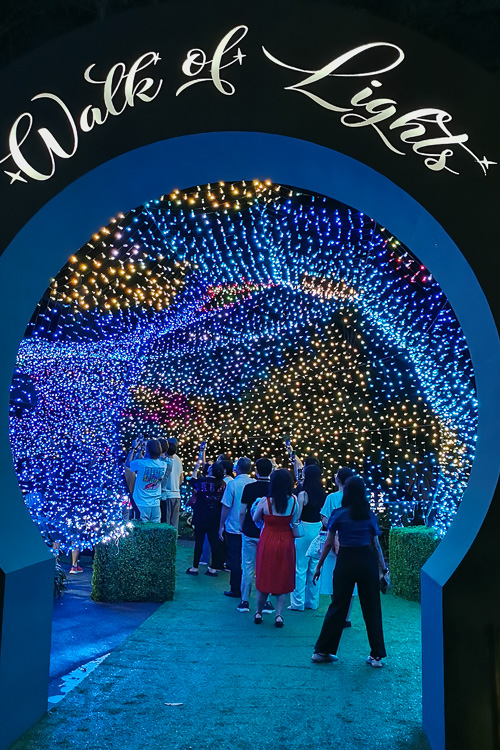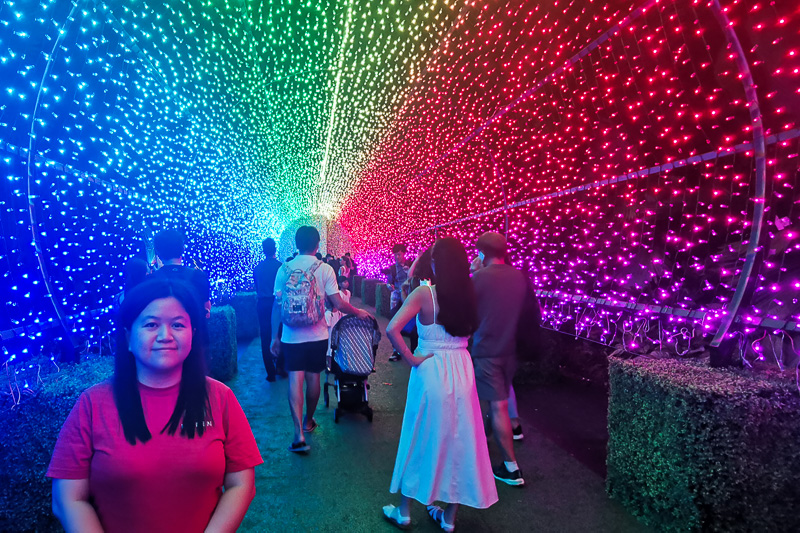 The Whimsical Windmill is quite hidden away. I wouldn't know of its existence if I hadn't done my research prior to visiting.
Here, you will find a 10-metre tall colorful windmill set in a field filled with 250 candy canes. This light display features 35,000 light bulbs.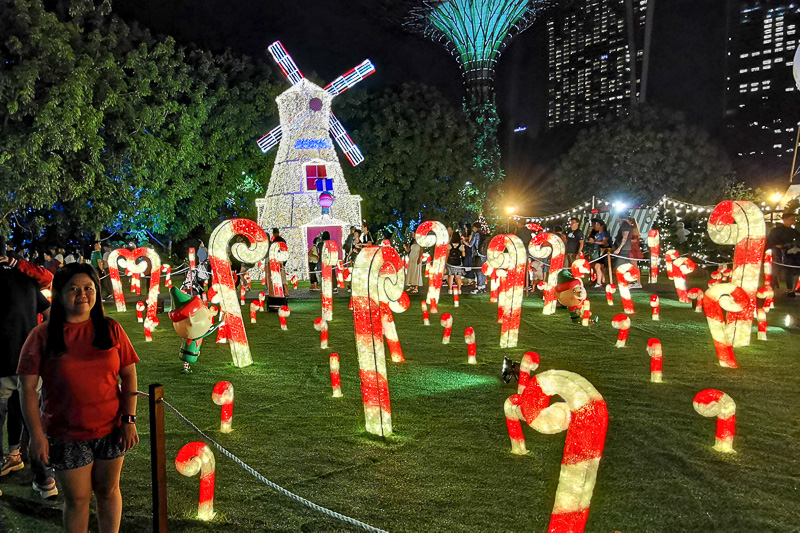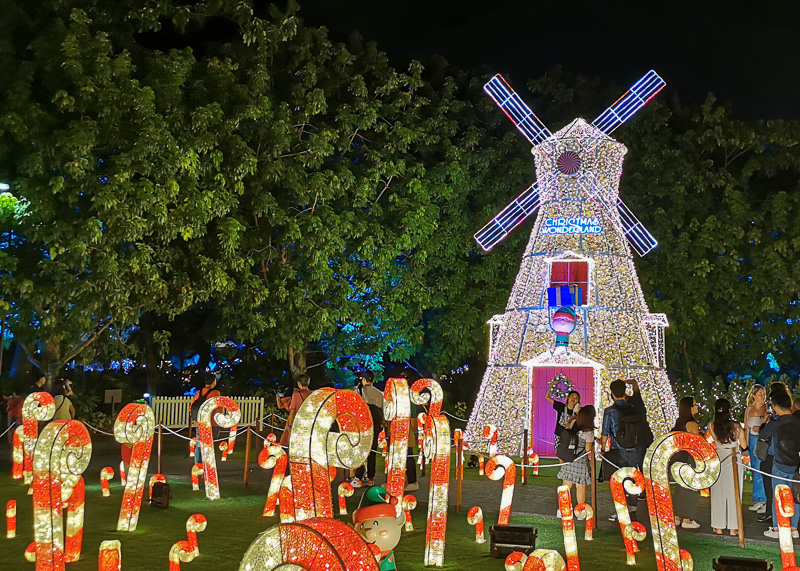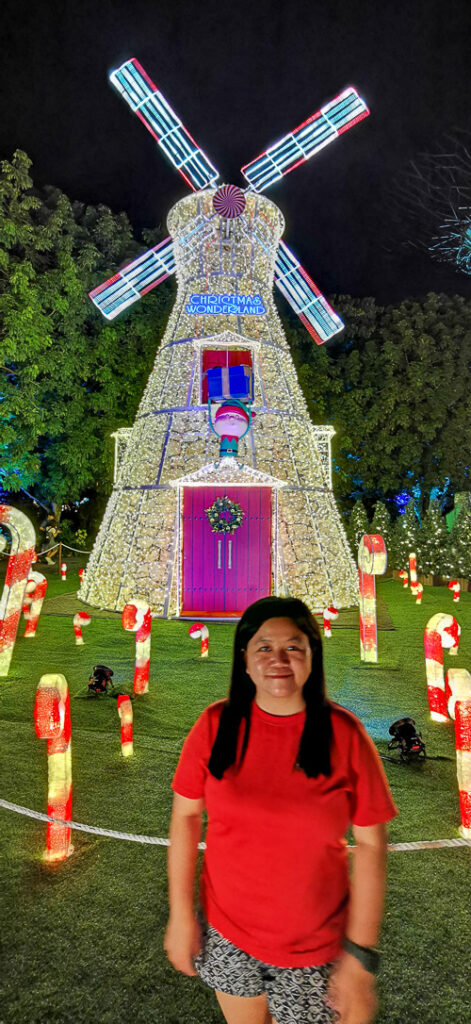 3. Merry Lane
The Merry Lane is a one-way footpath where visitors get to take photos with various Light Displays, such as Poinsettia Castle, Gingerbread House, Jolly Express and Illuminated igloo.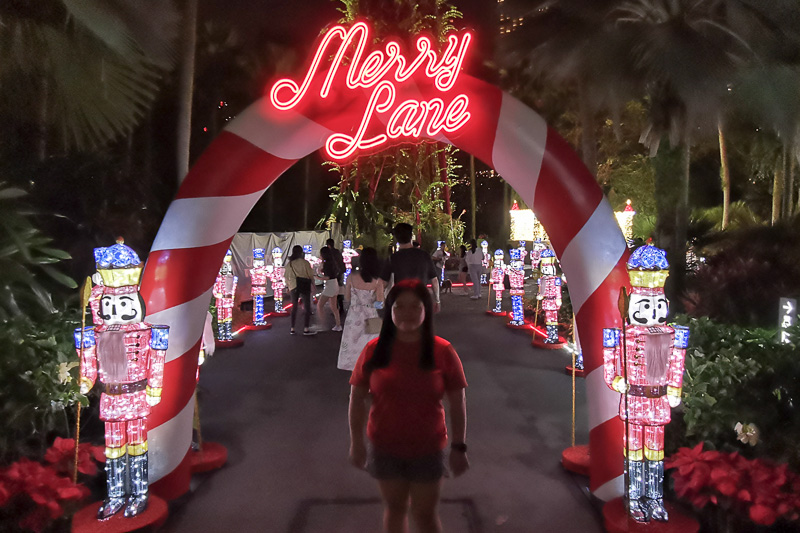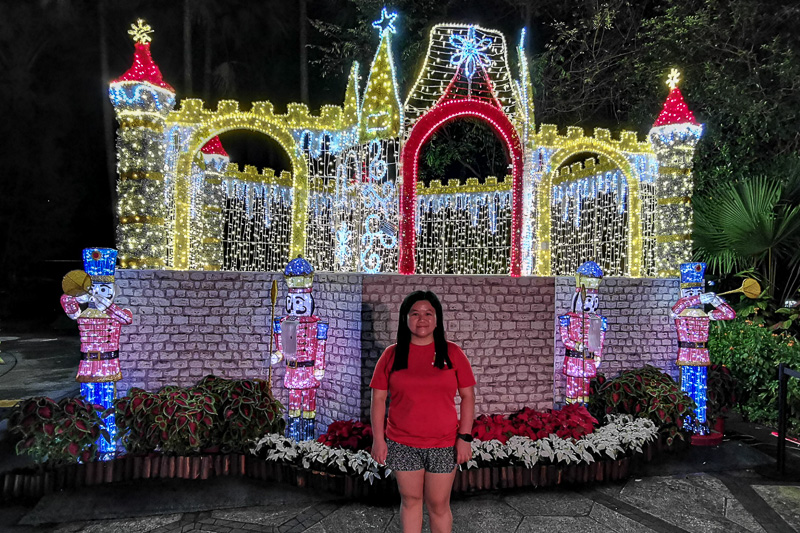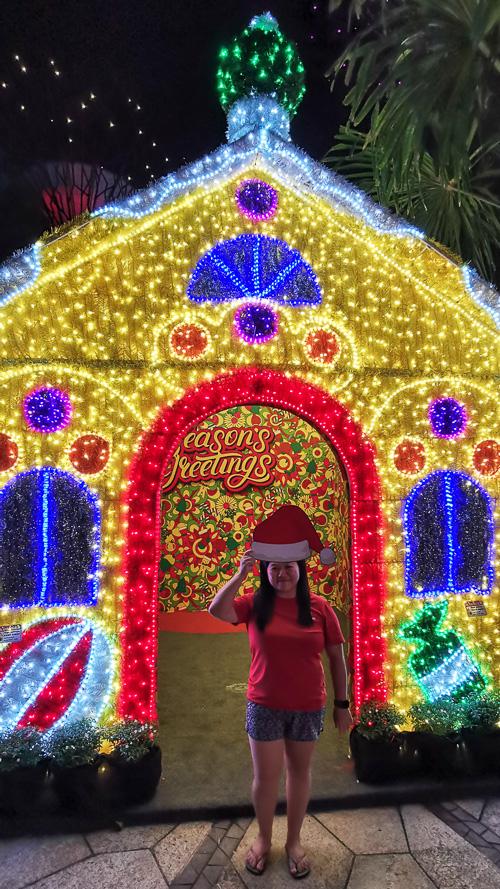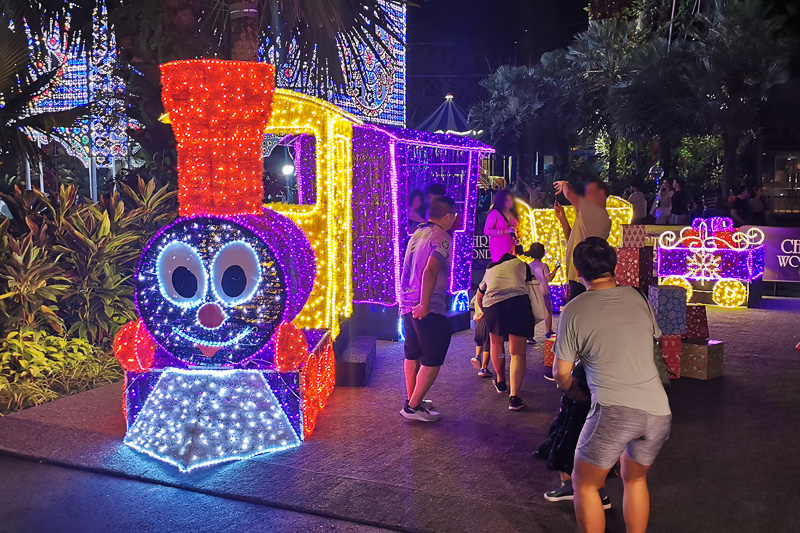 At the end of the lane is Snowland. 'Snow' falls at the illuminated igloo every 15-min interval for the duration of 5 mins.
During my visit, the queue for photo-taking with snow is quite long (at least 30 mins), so we decided to skip the snow and just take photo with the snow-less igloo.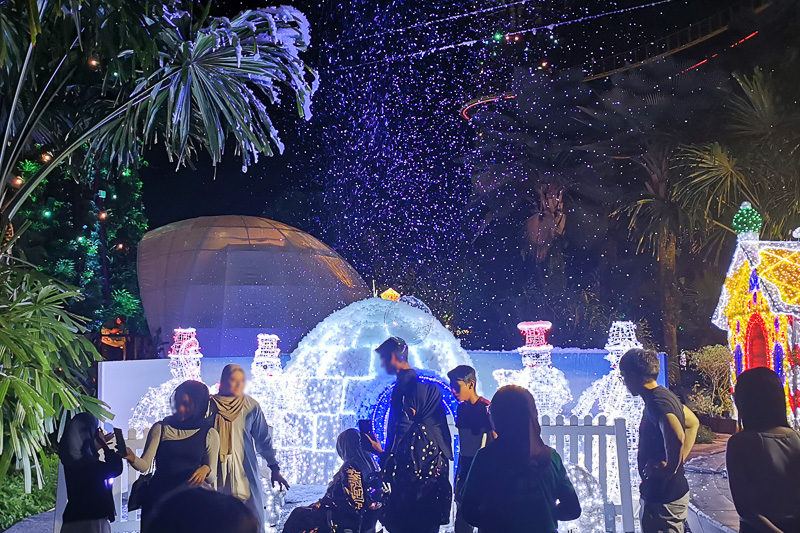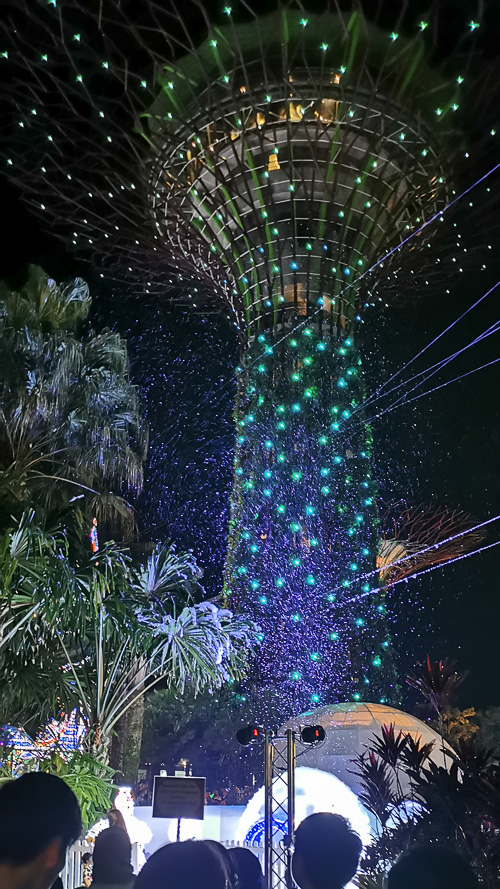 4. ELFresco
As the name suggests, ELFresco is an al fresco (open-air/outdoor) dining area with fairy lights and plenty of food options.
Tables are plenty, but during peak dinner period, it's quite hard to get a table. If you can't get a table at ELFresco, do look for garden table located near supertree.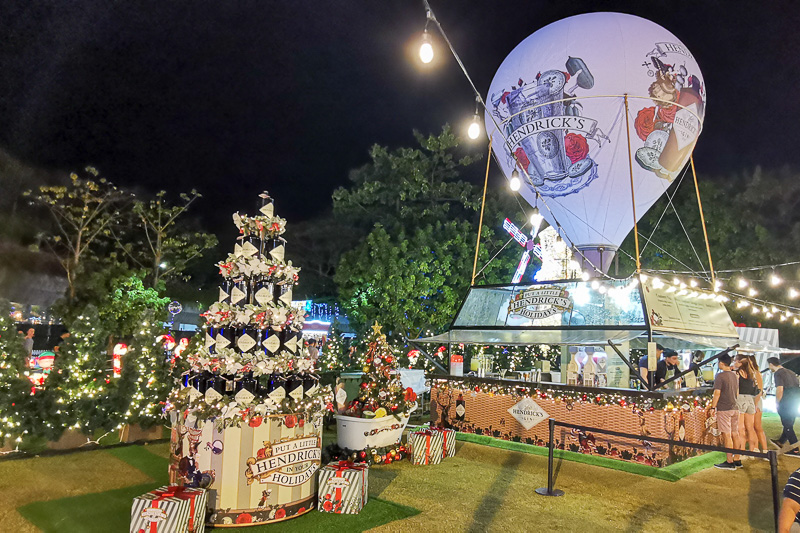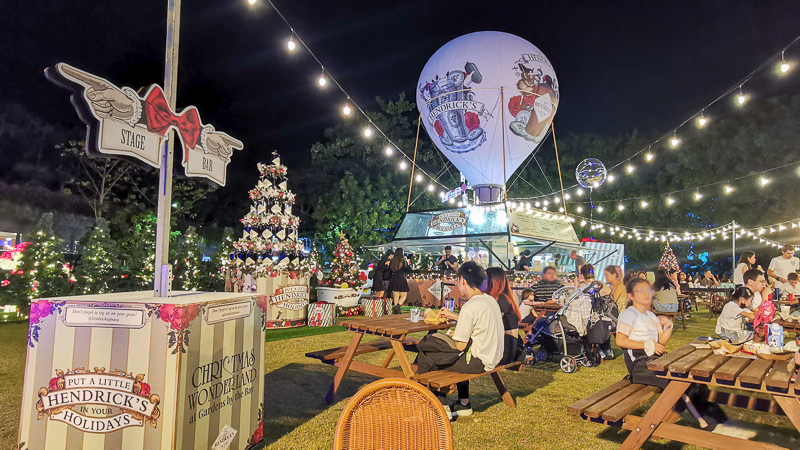 The food are mostly light bites, with some stalls offering pasta, burger, rice, sushi and kebabs.
Draft beers from Brewerks are sold by other stalls as well, thus reducing bottleneck at Brewerks stall. The beer costs S$12 for 330ml, and S$16 for 480ml.
The cocktails at Hendrick's Gin start at S$12.
For us, we got the Firecracker chicken popcorn (S$12) and truffle fries (S$12) from Brewerks. For the drink, we got Cucumber Lemonade from Hendrick's Gin (S$12).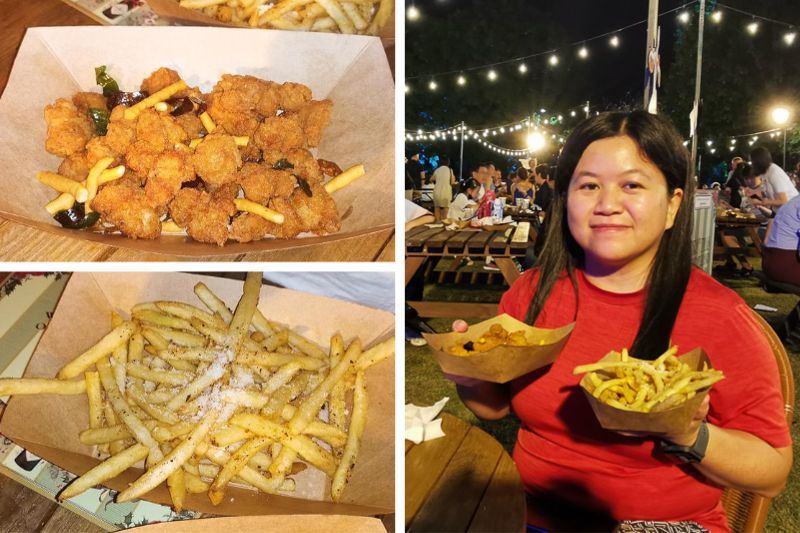 After the meal we later found out that other stall sells truffle fries for S$6! Oh well..
Besides a dining area, ELFresco is also where the entertainment stage is located at. The performance schedule varies every day. You can check the schedule here.
Ideally, you want to sit at the table near the stage if you enjoy live music. We were so fortunate to snatch a front-row table during our visit. Of course we didn't sit there the entire night, otherwise, we won't be able to explore the wonderland.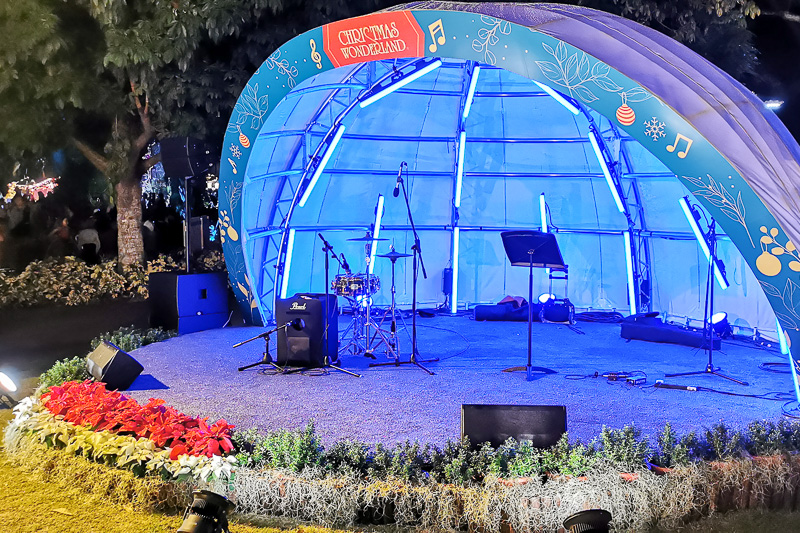 5. Mistletoe Alley
The Mistletoe Alley is basically a row of shops selling various products. We didn't really explore the shops as shopping wasn't our priority that day.
6. Games Village
Games Village is where you'll find carnival games. Each game costs $6, two games cost $10.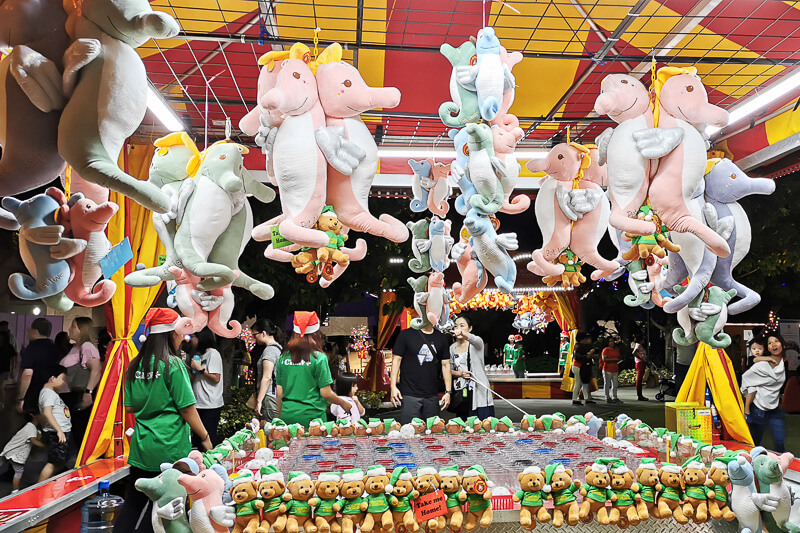 My Tips
1. Visit during early days (2 to 15 Dec 2022) for cheaper tickets.
2. Visit during early hours (6.30pm or 7.30pm) if possible to maximise your time at Christmas Wonderland.
3. If you're a member of FOTG (Friends of the Gardens), remember to show your membership e-card when buying food to get 10% discount. I forgot to show my card cos I was too hungry!
4. It's true that a lot of the attractions/activities require queueing and many people dislike the idea of having to queue for everything. My advice is: only queue for what you truly like.
For me, I skipped queuing for Magical Carriage, Navidas Station and Snowland because they weren't my priorities. I did spend some time queueing for Santa Clause, Walks of Lights and Merry Lane, and I'm happy to do so.
My Review
I truly appreciate that the staffs are there to help visitors take memorable photos for keepsake (unlike Flower Dome where the staffs refused to help visitors take photos because they said they aren't allowed to do so).
I'm quite happy that there are many interesting attractions in this year's edition. My favorite attractions/activities beside Santa Claus are the Whimsical Windmill and Garden Rhapsody.
I think crowd management is done quite well at the Walks of Light and Merry Lane. Visitors enter in batches so there wasn't any severe overcrowding.
I'm kind of disappointed with the Snowland. The snow happens at a very small corner, for a very short period of time. I miss the Blizzard in 2018 where snow falls on the entire Supertree Grove, and everyone gets to enjoy it.
I feel that the allowable visit time of 90 mins is too short, fortunately they didn't enforce this rule. If they do, I wouldn't be happy to be asked to leave after 90 mins. I hope they won't continue implementing this rule in the coming years.
If you like my work, you can buy me a coffee! Your support will help me to keep going!