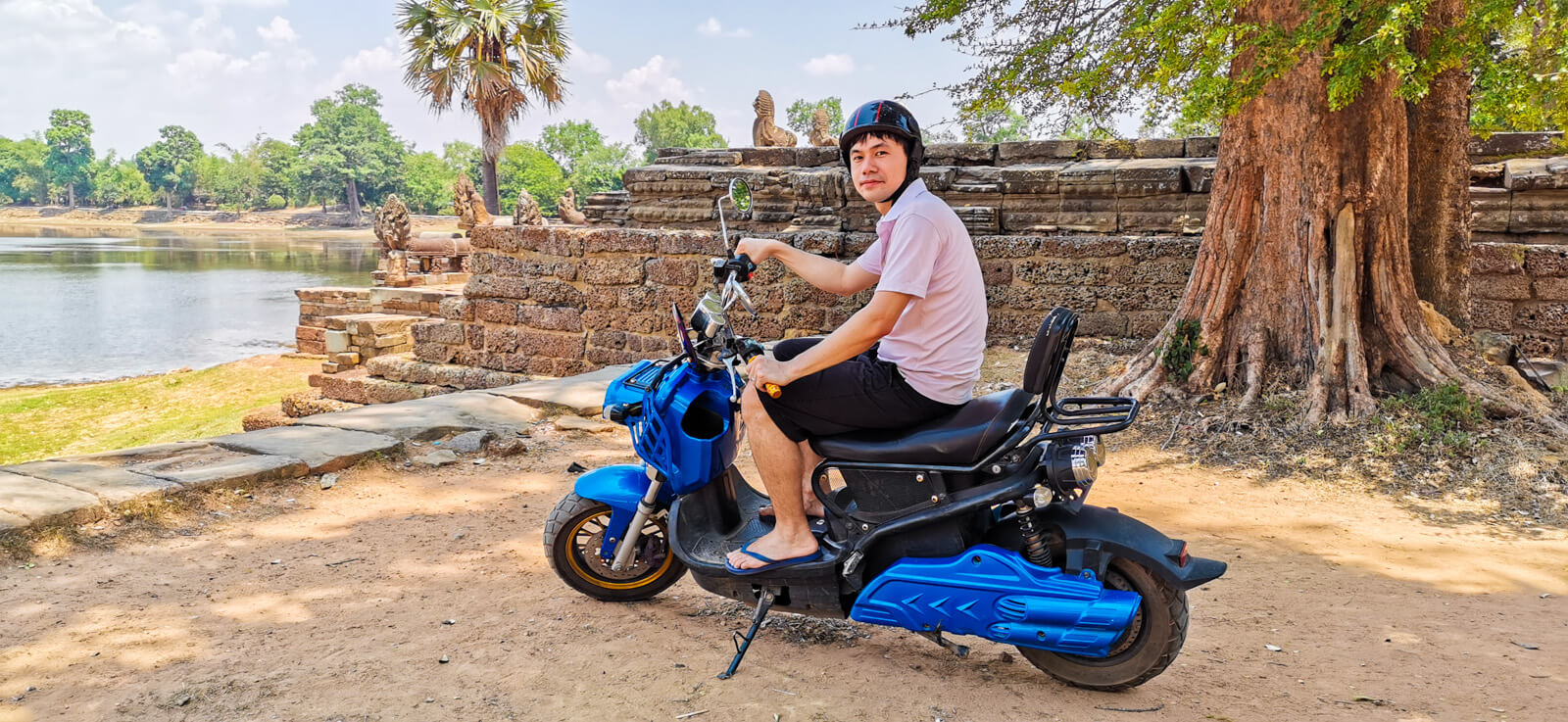 Could E-Bike be the sustainable solution in Angkor Wat?
Years ago when I went to Siem Reap with my girl friends, we took tuk-tuk to explore the Angkor Wat complex. This time, I want to try something new. I thought a scooter would be a great idea. It's cheap and we have the freedom to use it even at night or early in the morning without worrying about paying overtime charges to tuk-tuk drivers.
However, when I researched about how to rent a scooter in Siem Reap, I found conflicting information on the internet. Majority of the people said that foreigners are not allowed to ride a scooter inside Angkor Wat. Oh NO!
Some people suggested that foreigners rent an e-bike instead of scooter. Hmm, that sounds interesting!
Fast forward, when we were finally in Siem Reap, we went to a couple of scooter rental shops and asked them whether it's possible to ride scooter in Angkor Wat. They said, "Yes, of course." Now, my head was spinning from trying to figure out if they were lying to get our business or they were telling the truth.
Eventually, we made the decision not to take the risk with scooter and to rent an e-bike instead.
How to rent E-Bike in Siem Reap
There are a few ways to rent an E-Bike in Siam Reap.
Rent from travel agents at Pub Street. This was our first choice, however, it was unsuccessful because the e-bike shop was already closed for the day when we made the request around dinner time!
Visit the E-Bike shop and rent from them directly. See the list of E-Bike shops below.
Text them through WhatsApp and get them delivered to your hotel. This was what we did. It was the same price as if we went to the shop directly. So, we certainly saved transport money $.
Some things you should know if you want to rent e-bike:
E-Bike companies usually rent their bikes for 24 hours.
At the end of your rental period, you are required to return the bike to their shop or some agreed meeting point. However, as our hotel is far from the shop, we asked them to collect from our hotel instead.
Helmets are provided.
Some companies ask to keep your passports. Ours didn't, probably because they knew in which hotel we were staying at.
Some e-bike companies have their own designated changing points, which are clearly marked along the roads in Angkor Wat complex. But our e-bike company didn't provide such luxury.
If you rent from e-bike companies that don't provide designated charging point, you can charge the bike at restaurants, but the restaurants expect that you buy something from them. Also, it's good to ask them first whether they can let you charge, before deciding to eat there.
We were told that one e-bike is able to withstand maximum weight of 120 kg for 40km.
Where to rent E-Bike in Siem Reap
How much E-Bike rental costs
Different companies have different price. The price ranges between 10 USD to 35 USD for 24-hour rental. We paid 13 usd for our e-bike rental with Blue Electric Bike.
Our E-Bike Experience
We rented from Blue Electric Bike because we could do the booking through WhatsApp and have the bike delivered to our hotel in less than an hour. We were really impressed with this express-delivery service!
The person who delivered the bike (presumably the owner) gave hubby a briefing and tutorial about how to ride the bike. He also plotted famous temples and charging point locations on Google Maps, and sent to hubby for our reference.
As suggested by the e-bike owner, we went to Angkor Wat via the Ticket Checkpoint at Apsara Road instead of via Charles de Gaulle. At the checkpoint, we showed our ticket and the officer punched a hole on the tickets. Afterwards, to our surprise, the officer asked us if we want to hire him and his tuk-tuk on our next day! Unable to decide, we told him we would think about it first.
So, how was the e-bike? Well, throughout the day, we had the unsettling feeling that the battery is going to run out soon. There was no battery level indicator so it was difficult to tell when the battery is going to run out. Moreover, our bike was doing a heavy job of supporting 2 adults! Our combined weight is slightly over the 120kg limit (oops!). I can't help it, I don't know how to ride a bike 🙁
To be safe, we went for an early lunch so that we could charge the bike asap. We chose a random restaurant after making sure that they provide free charging. Our e-bike company doesn't have designated charging points. The charging point indicated in their map is basically either a restaurant or roadside shop.
We then took a long lunch so that our bike would be well-charged. After lunch, we went to explore more temples. At around 5pm when most of the temples are closed, hubby had the feeling that the bike need another charge. By that time, it was really hard to find a restaurant that's still open. Fortunately, there's a tent shop that use generator as power. We bought some coconuts and in exchange, they let us charge our bike.
Did we make it back to town in one piece? Thankfully, we did. Even though we didn't use any lock, nobody stole our e-bike. We even parked it at Pub Street (without lock, without parking attendants), went for a dinner, went to 2 massage sessions. At the end of the day, we found our bike at its original location. We rode it back to our hotel. The next day, the owner came to collect the bike.
The pros and cons
To sum up my e-bike experience, here are the things we like and don't like renting e-bike in general.
What we like:
Renting E-Bike is cheaper than renting tuk-tuk.
We can use E-Bike at night without additional cost, unlike tuk-tuk.
We can use E-Bike for sunrise without additional cost, unlike tuk-tuk.
We can stop along the road as many times as we like without annoying anybody.
What we don't like:
Unlike tuk-tuk, E-Bike doesn't shelter us from the sun!
There are limited charging points and not all companies have designated points.
I really dislike the lack of battery level indicator. It's so difficult to make a sound plan without knowing the exact battery level.
E-bike's battery is good for the Small Circuit (temples nearer to Siem Reap), but may not be enough for the Big Circuit (temples further away from Siem Reap).
Would I recommend riding E-Bike in Angkor Wat?
Even though it was fun trying out something new, it didn't suit our travel style. We love freedom, we want to be in control of our own destiny. Not knowing the actual battery level and having to charge frequently definitely gave us additional headache that we didn't sign up for.
To be honest, I think the infrastructure for e-bike in Siem Reap and the capability of the e-bikes are not quite there yet. If both of these improve in the future (I truly hope so), then e-bike would be a wonderful transportation method to explore the temples in Angkor Wat.
In conclusion, e-bike is a great idea for travelers who can ride a bike (and don't have to carry another passenger who can't ride a bike), are planning to visit temples in the Small Circuit only, and love to be in control.
I don't recommend e-bike to travelers who can't ride a bike and have to rely on somebody else's bike (like me!), are prone to anxiety (again, like me), and plan to explore the Big Circuit.