Ellenborough Market Café is a buffet restaurant at Paradox Singapore Merchant Court (previously Swissotel Merchant Court), which is located right next to Singapore River at Clarke Quay.
I first got to know about Ellenborough back in the early 2010s when the first company I worked at decided to hold the company dinner there. Back then, they offered crab buffet and I really like it. But I do not frequent this restaurant because their price is a bit on the higher end.
This year, we decided to re-visit Ellenborough Market Cafe for their Festive Dinner Buffet to celebrate my birthday. So, here's my honest review.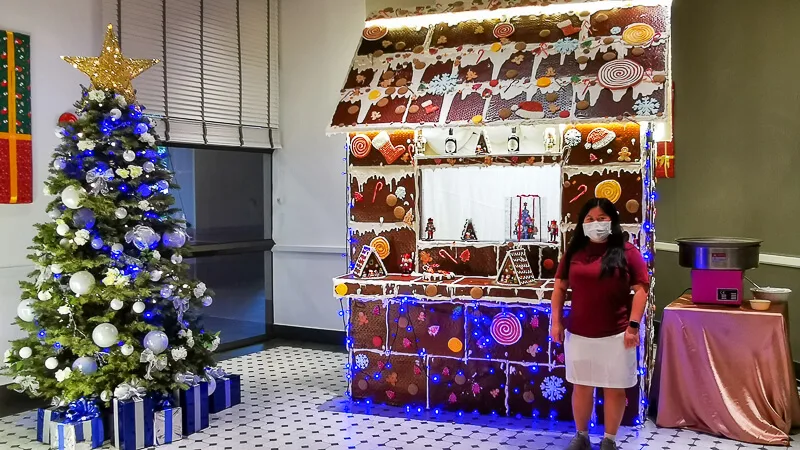 Have any questions about traveling in Singapore? Join All About Singapore Travel FB group, I'll be there to answer your questions!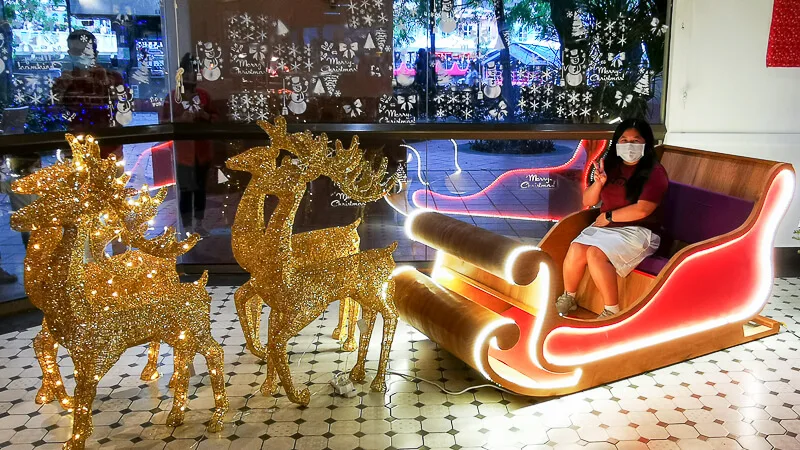 Reservation
They accept reservation via website, phone and email. We decided to make reservation via website because it's quick, easy and we can indicate that we'll be using our Accor Plus Membership. (PS: The hotel is no longer part of Accor Group as of 1 April 2022)
If you are planning to use credit card and you want to know what credit card promotions are available, you may want to call them directly, because I can't find any info about credit card promotion for dining on their website.
Several days after making reservation, the restaurant called and asked that we make pre-payment within the next 3 days to guarantee our seat, because our chosen date is the eve of public holiday. Oh well, we had no choice but to comply.
After making the payment, there was no confirmation email or receipt. So, I decided to email them to confirm that they have received our payment. They replied on the same day and issued a deposit receipt.
Sit Down Ala Carte Buffet
Due to the current pandemic situation, the buffet style is ala carte. They provide order sheets and pencil on the table. We're supposed to fill in what we want to order, and then pass the paper to the crews. The crews will then serve the food to our table.
Here's the official PDF full menu for the festive dinner buffet that I had. I will share what I think of the food for each category. And no, I did not order the entire menu, so this review is not exhaustive.
Please note that everyone's taste buds are different, so what I like may not be what other people like, and vice versa. Just take my review with a pinch of salt, ok?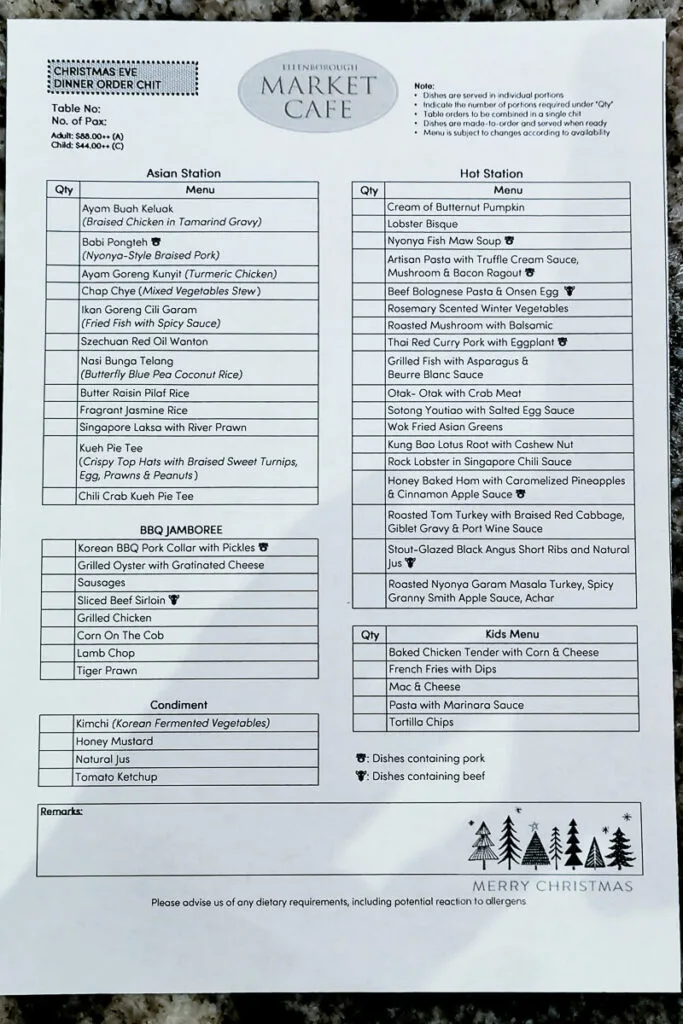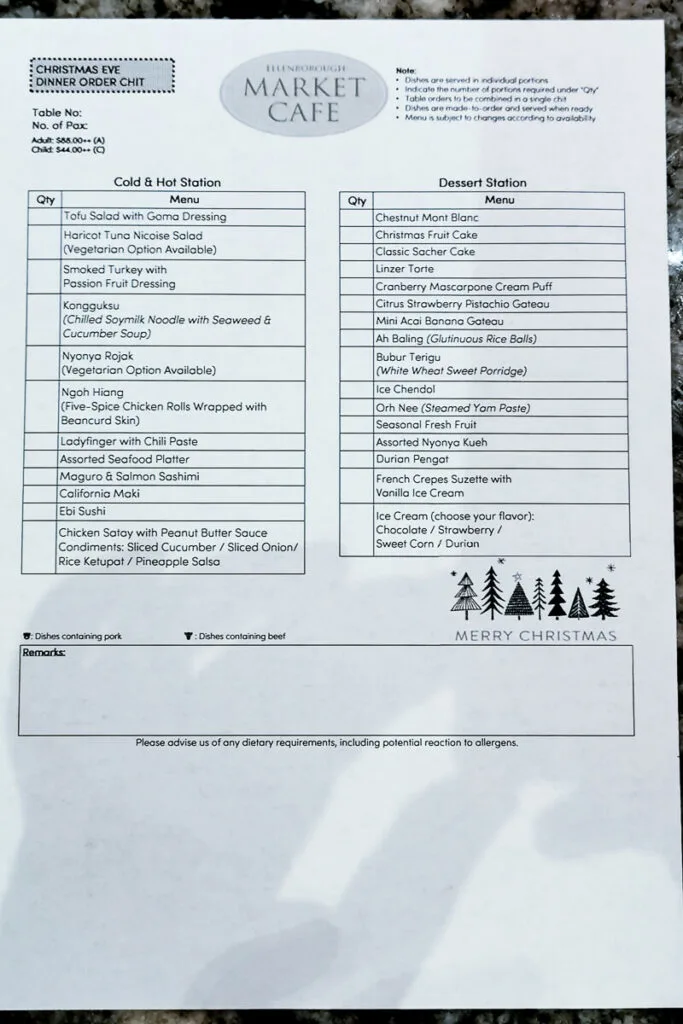 Appetizer
These are the appetizers that we ordered:
maguro and salmon sashimi: 5/5 – one portion consists of 3 slices of each, but let's just say that they're quite stingy, I'll explain more in the "What I Don't Like" section below.
haricot tuna nicoise salad: 3/5 – it's alright, one pc of tuna with a small salad on the side
smoked turkey with passion fruit dressing: 3/5 – standard
ngoh hiang: 3/5 for taste and 1/5 for portion size – this dish is not in the official PDF menu but it appears in the physical order sheet. This ngoh hiang looks like a very unpopular dish and they have too much leftovers, hence they serve us 10 pcs when we ordered only 1 portion! Taste wise, it's like it has been re-fried a couple of times before serving.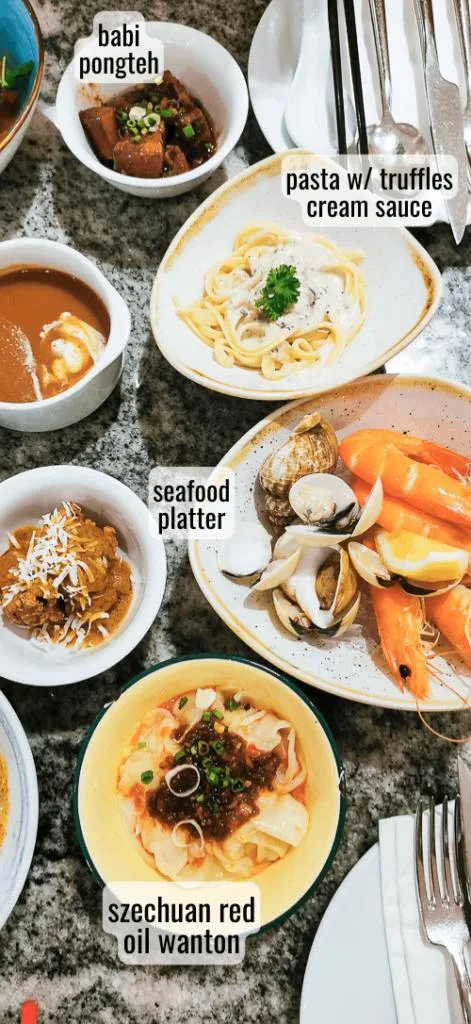 Seafood Platter
The seafood platter comes with 4 tiger prawns, 2 whelks, and 4 white clams. The whelks are really fat! I'm not a whelk and clam lover so I skipped those. Hubby said they're good. The tiger prawns are fresh and quite meaty. I think it's a must to order this platter unless you're not a seafood eater. If you don't eat certain item, you can request to exclude them. Rate: 4/5.
Soup
What we ordered from the soup section:
lobster bisque: 2/5 – I didn't quite enjoy this, I found it quite bland
nyonya fish maw soup: 5/5 – surprisingly this is quite good, it comes with meatballs and carrots as well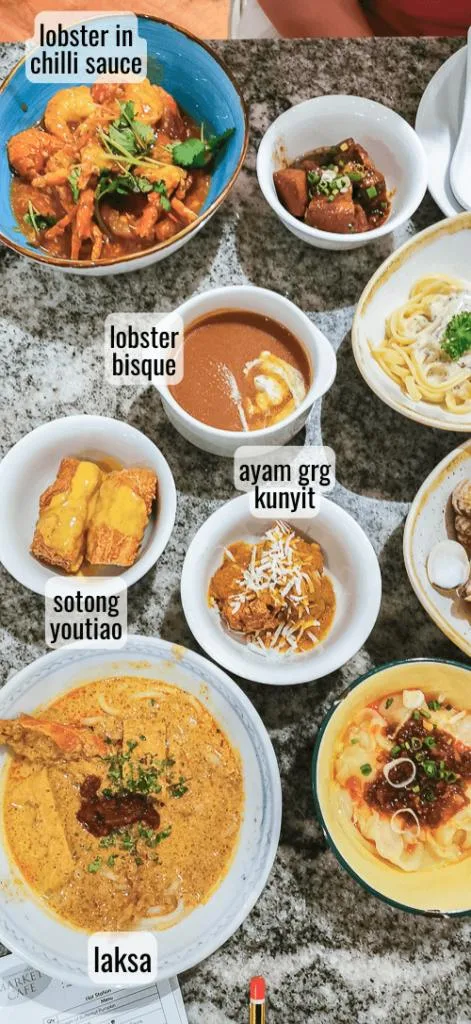 Peranakan
What we ordered from the Peranakan section:
ayam goreng kunyit: 5/5 – crispy fried chicken covered with spicy rendang-like gravy, yum!
babi pongteh: 3/5 – we feel that it tastes pretty standard
ikan goreng cili garam: 3/5 – just not a fan
kueh pie tee & chilli crab kueh pie tee: 3.5/5 – taste is alright, but service is horrible, I'll explain more in the "What I Don't Like" section below.
singapore laksa with river prawn: 3/5 for laksa soup is quite sweet (I prefer and expect savory laksa soup), and 4/5 for the prawn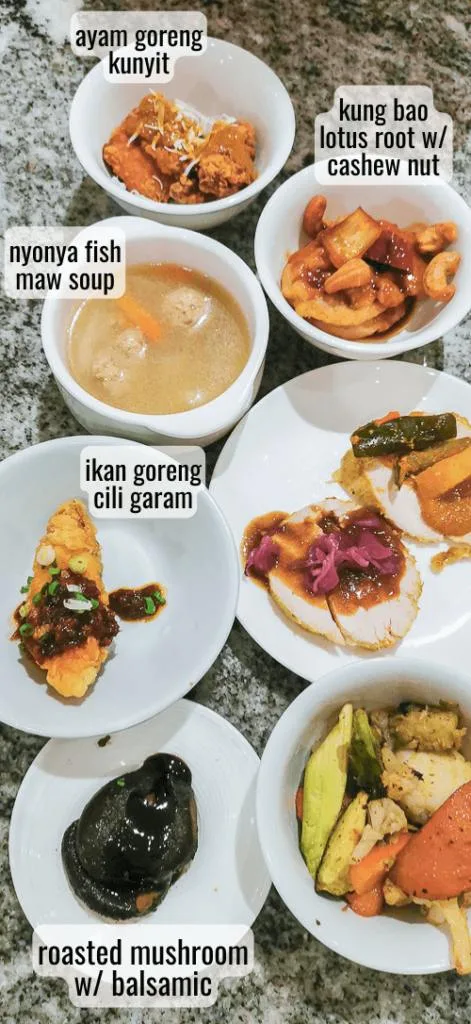 Hot Specialty
What we ordered from the Hot Specialty section:
kung bao lotus root with cashew nut: 4/5 – not bad, but I wish the lotus root could be more crispy
rock lobster in singapore chilli sauce: 5/5 – so good, we ordered a second serving, but they're pretty stingy, I'll explain more in "What I Don't Like" section.
sotong youtiao with salted egg sauce: 5/5 – I like it a lot, the youtiao is very crispy and the filling & sauce are nice. Hubby doesn't like it though.
szechuan red oil wanton: 2/5 – it's different from what typical Chinese restaurant serves, don't waste your calories
artisan pasta with truffles cream sauce, mushroom and bacon ragout: 3/5 – nothing special, tastes like a normal creamy pasta
roasted mushroom with balsamic: 3/5 – it's alright for me, I would prefer if they roast it with savory oils instead of balsamic vinegar
rosemary scented winter vegetables: 4/5 – I love this, it's quite tasty and when you have a non-veggie-eater says that it's nice, you'd better believe her!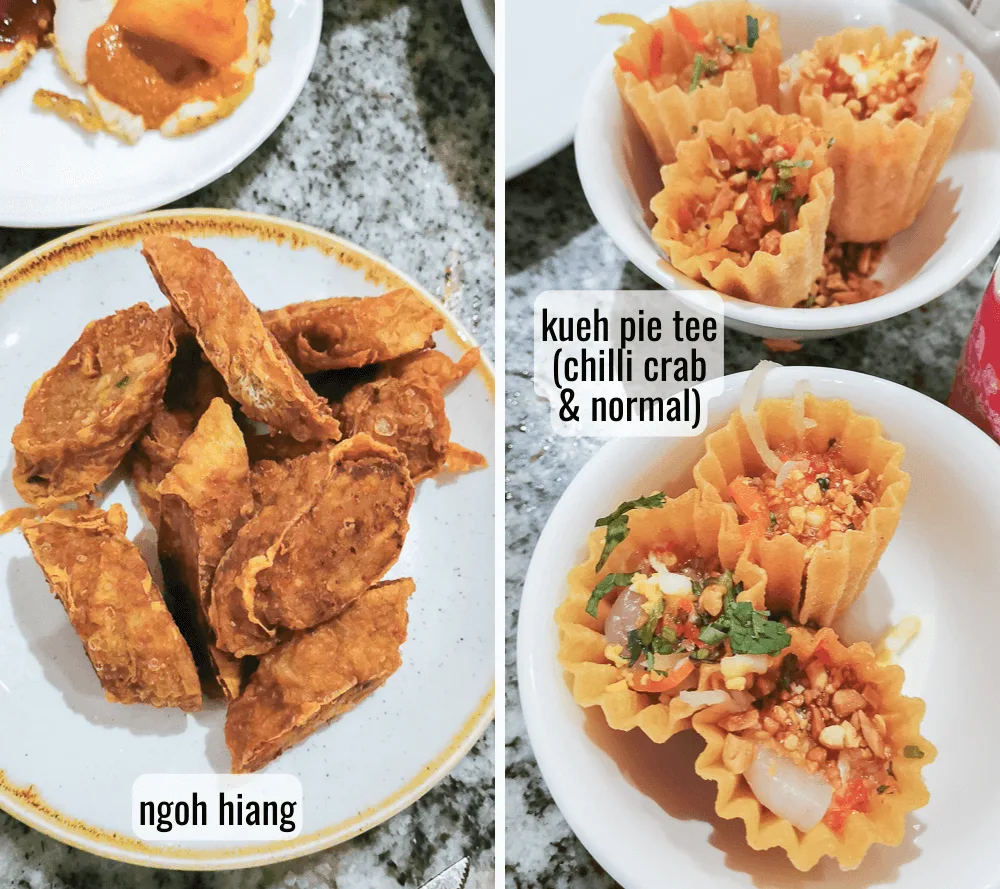 Festive Delight
What we ordered from the Festive Delight section:
roasted tom turkey, braised red cabbage, giblet gravy, port wine sauce: 3/5 – kind of forgettable
roasted nyonya garam masala turkey, spicy granny smith apple sauce, achar: 3/5 – kind of forgettable
stout-glazed black angus short ribs and natural jus: 3/5 – I was expecting a slab, but I got a small cube instead! It gives a fine-dining feeling but the taste is not at fine-dining-level.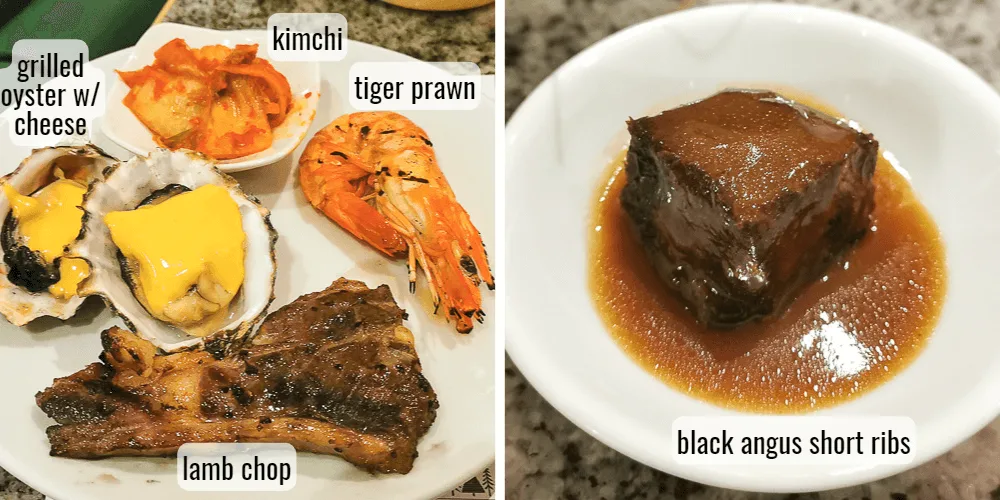 BBQ
What we ordered from the BBQ section:
chicken satay with peanut butter sauce: 4/5 – even though there are only 2 sticks in one portion, the satay is quite good.
grilled oyster with gratinated cheese: 2/5 – not too fresh but of coz you can't expect them to grill a fresh oyster
corn on the cob: 2/5 – it was bland
lamb chop: 2/5 – could only eat 40% of the meat as the rest was inedible.
tiger prawn: 3/5 – it's alright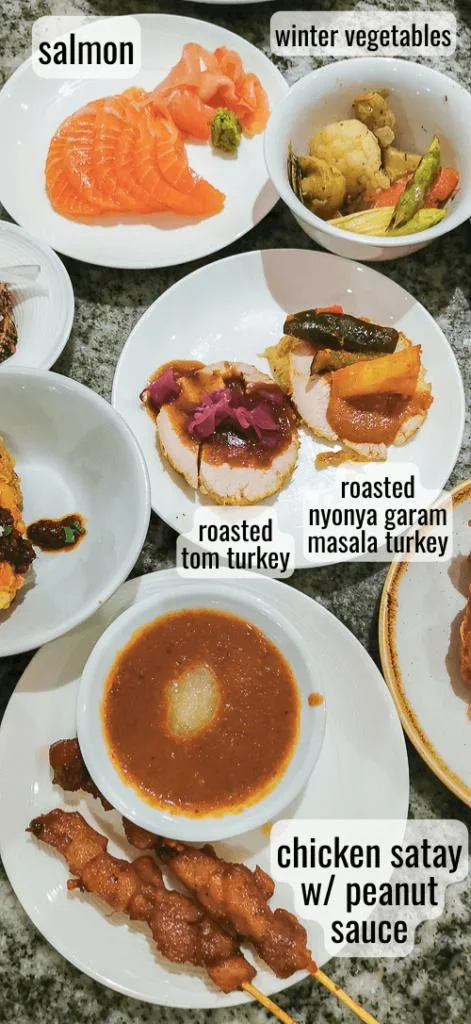 Dessert
What we ordered from the Dessert section:
durian pengat: 5/5 – really nice, we ordered a second serving
classical sacher cake: 4/5 – good, it comes with a candy stick too
cranberry mascarpone cream puff: 4/5 – sour and sweet, quite good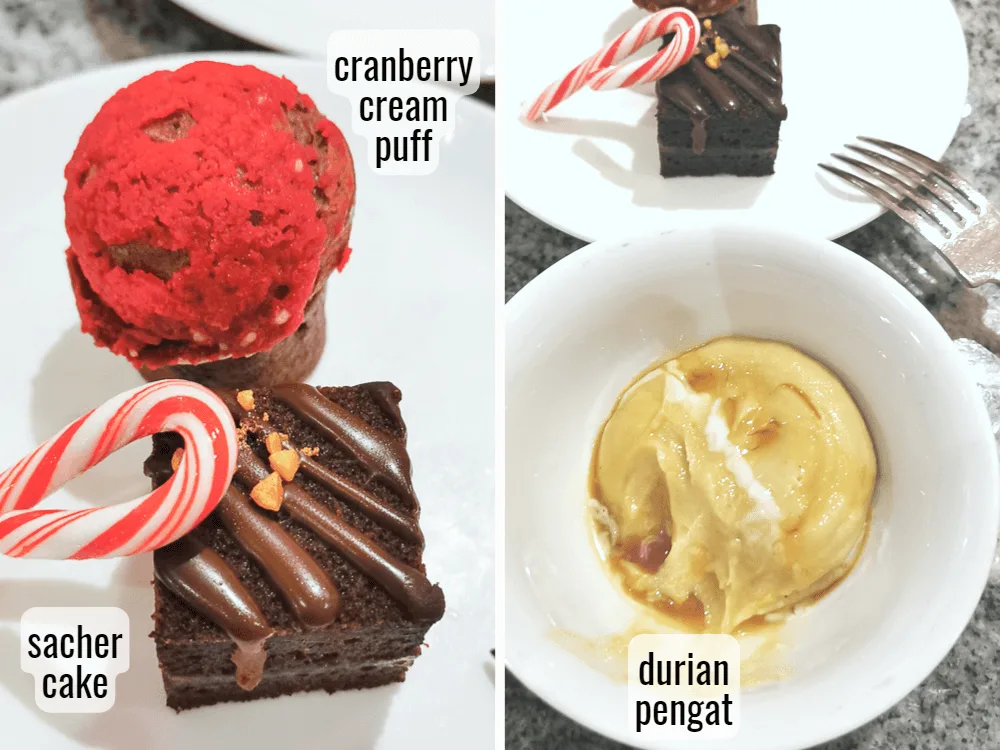 Lastly, as we were finishing our dessert, a staff came with a plate of chocolate cake with a lighted candle and said to me, "Your husband." Didn't expect it so I was pleasantly surprised. Thankfully it's just a small slice, otherwise we wouldn't be able to finish it.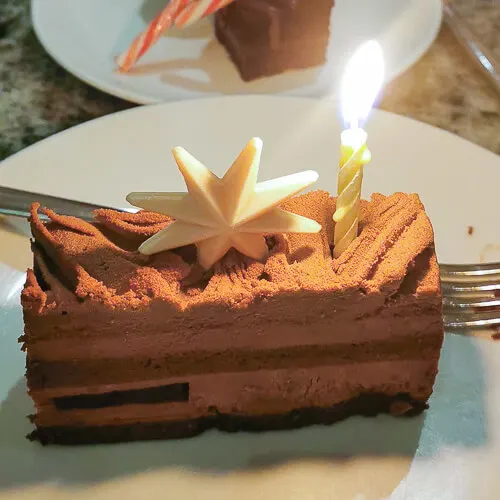 What I Like
The portion size of most items is roughly a mouthful, so it's good for people who want variety instead of quantity.
Ellenborough Market Cafe has quite a number of credit card promotions, so most people can easily quality for some of their promotions. For us, as a member of Accor Plus, we enjoyed 50% discount when dining in a group of 2.
I like their generosity when giving the free birthday cake.
What I Don't Like
Inconsistent portion size. For example:
when we requested for 2 portions of lobster rock in chili sauce, we received 4pcs of lobster. Then, we requested for 4 portion of lobster rock and we received 4pcs again. The same happened with salmon.
we ordered 1 portion of ngoh hiang and we received 10 pcs of it! It's too much!
The kueh pie tee that never came. We ordered twice, and they never came both times! I'm not sure what's the reason behind this, probably the pie tee chef never received my order. I was a kind of unhappy so I made a complaint to a female staff. She immediately went to kueh pie tee stall to order, waited for it, and brought it to me, she's truly a gem!
Address
FYI, I paid for my own meal at this restaurant.
If you like my work, you can buy me a coffee! Your support will help me to keep going!