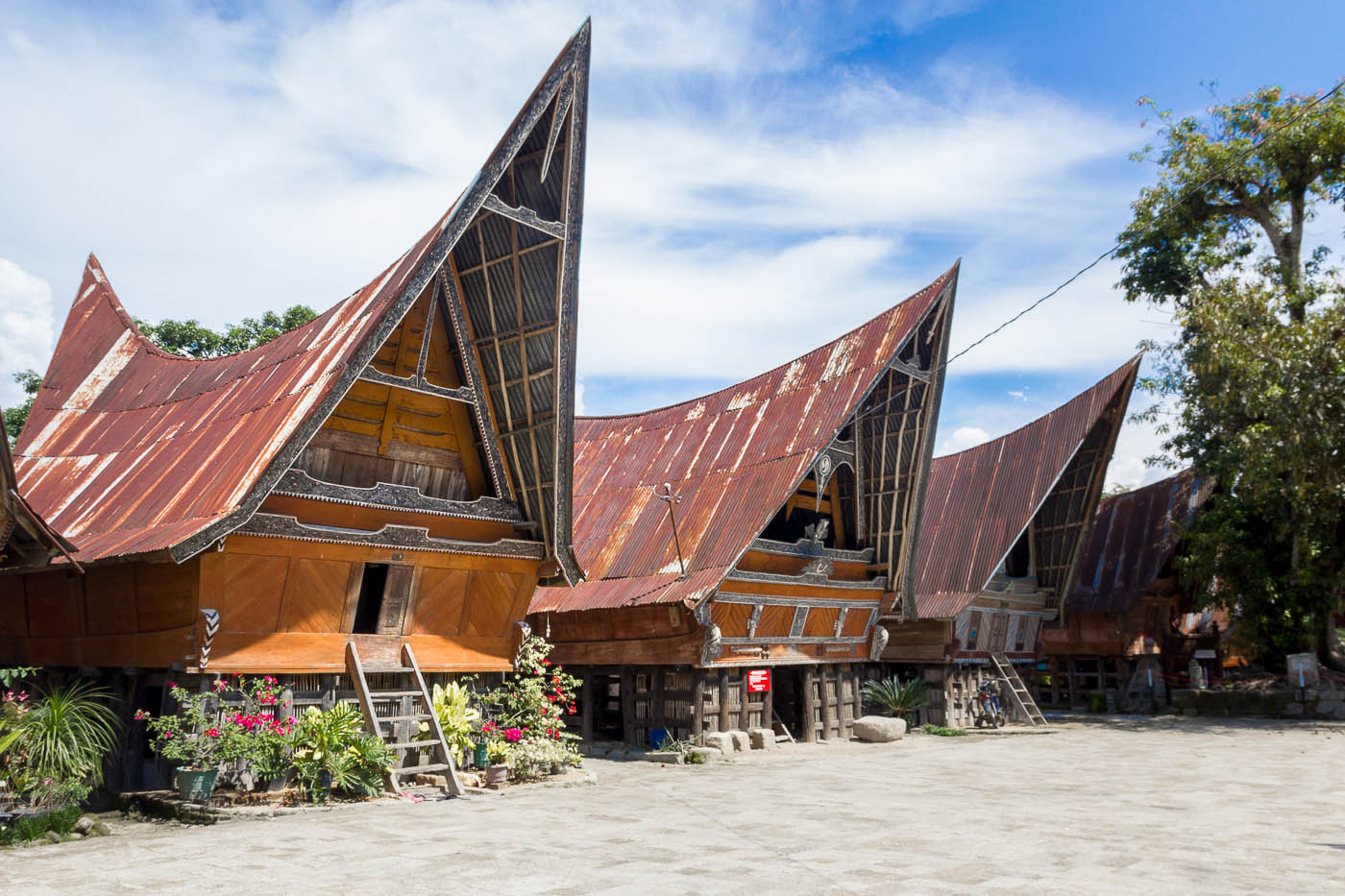 Day 2 of our trip is dedicated to spending time on Samosir island. After breakfast, we went to Tomok village with our bus. The roads in Samosir island are narrow with electricity cables hanging low at certain locations. Our bus was like a Godzilla in a small city at times. Our driver drove extra carefully in order not to damage electricity cables, hit any properties or roaming animals. It was about 2-3 km drive from our hotel in Tuk Tuk to Tomok.
Tomok has so many souvenir shops selling handicrafts, clothing, and souvenirs. For people who don't fancy shopping like my hubby and my family, we chose to visit the attractions. We followed the direction arrow to Sigale-gale.
Sigale-gale is a traditional dance by a moving statue. We were told that it was an off-peak season so the show would not start unless there's group booking; thus if we want to request for the show, we need to pay IDR 100k. We felt the fee was acceptable so we agreed. They asked whether we wanted to hear the history of Sigale-gale, at IDR 50k, we declined. They then brought the statue and stereo out, then cordoned off the performance area with 2m-high clothes. They turned on the stereo and the statue started dancing. They invited anyone who wanted to dance, and my mom volunteered. Check out the video of my mom dancing!
[youtube https://www.youtube.com/watch?v=gW4YzfS5TSA?ecver=1&w=560&h=315]
From Sigale-gale we walked further into the village, towards King Sidabutar's tomb. There were nobody else except us at the tomb. There stood two huge tombs, one with carvings on it, and another one covered neatly with tiles.
We had Batak food for lunch at Lomak restaurant in Tuk Tuk. They sold fried pork (babi goreng) and grilled pork (babi panggang) for IDR 30k per portion, which is enough for 2-3 person. It was a medium-priced lunch yet satisfying. They do not have written menu, so before we order any dishes, we ask for the price first to avoid being charged a high price.
Our second main destination for the day was Ambarita village, which is also 2-3 km drive from Tuk Tuk. Ambarita has far lesser souvenir shops compared to Tomok. We visited Huta Siallagan, a complex with traditional Batak houses, which was said to be King's residential complex. We paid IDR 3k/pax entrance fee, and IDR 50k for guide fee.
The history of Huta Siallagan goes like this. Batak traditional houses have different design for different use. A house with a hidden entrance staircase signifies a house for females. A Batak house with a horn above the main door indicates the king's house. Main doors usually have a low ceiling so that people bow when entering a house.
Under the houses is an open space for pets or animals. There's a prison under the king house where prisoners are kept while waiting for judgement day. In the past, criminals were believed to possess black magic, thus the execution day must be determined by Dukun. Dukun would study Batak calendar before deciding on the judgement day.
At the main square, there's a set of table with a few chairs, which is a judging place to determine the punishment for prisoners. Light crime offenders would not be kept in the prison but would be required to pay back 3x the crime that they committed. Severe crime offenders, such as murder, rape and betrayal, would be executed by beheading.
At the execution area, the criminal would be fed his last meal before being blindfolded and tortured. The torturing is believed to eliminate all black magic possessed by the criminal. The executor would pour lime juice on criminal's wounds to ensure the criminal is in pain (signifying the successful elimination of black magic). Thereafter, criminal will be beheaded in one attempt. The liver and heart of criminal would be cooked with blood and eaten by the king and seniors. Sounds scary right?
The exit point of Huta Siallagan led us to a row of quiet souvenir shops. We didn't venture much in Ambarita and decided to go back to the hotel to rest and swim! Personally, I hope to have a chance to stay longer in Samosir and explore every corner. I like the island a lot!
At night, we had dinner at Elios Restaurant which was an expensive restaurant with nothing much to boast about. The portion was super tiny, and they took a long time to prepare the food. I highly discourage anyone to eat there. There are many good restaurants in Samosir, just check TripAdvisor list.
At the end of our exploration of Samosir island, I felt that I've only seen the tip of Samosir, and I felt compelled to return for many more times in the future. I've fallen for the mountain, the lake, and the island. I'm so proud of my hometown.
Further Infomation
There are 3 main tourist places in Samosir: Tuk Tuk (where most hotels and restaurants are located at), Tomok (place for souvenir shops and cultural attractions), and Ambarita (similar to Tomok but smaller).
Other than via ferry from Parapat, Samosir is also accessible via road from Pangururan but the journey from Medan to Panguguran is a 6-hour drive, much longer than the 4-hour drive from Medan to Parapat.
Parapat is the major departure location for ferries for going to Samosir. Other than Ajibata and Tigaraja ferry terminals at Parapat, travellers can also take a ferry from Tigaras (mainland) to Simanindo (Samosir), and vice versa. This option is good for travellers coming from Berastagi to Samosir, and vice versa.
There are 5 main attractions in Tomok: Sigale-gale dance, King Sidabutar's tomb, Rumabolon, Batak Museum and Gentongan Raksasa. I have never visited Rumabolon and Gentongan Raksasa, I think. But I visited Batak Museum on my previous trip with friends.