Floral Fantasy is an air-conditioned indoor garden that features rows upon rows of suspended flowers, diverse garden landscapes, rain oasis and even a vivarium with poison dart frogs.
Opened in April 2019, Floral Fantasy is one of the main attractions at Gardens by the Bay.
It is located right next to Bayfront MRT Exit B's tunnel, making it the most convenient attraction to reach from Bayfront MRT and Marina Bay area.
And nope, Floral Fantasy is not the same as Flower Dome. Even though both are showcasing flowers, they have different emphasis.
Flower Dome features flowers from various places around the world, and has everchanging themes throughout the year.
Meanwhile, Floral Fantasy features creative arrangement of flowers and garden landscapes; the flowers are more or less the same all-year round, with occasional addition of special statues to mark special occasions.
Floral Fantasy has a total area of 1,500 square metres. The recommended visiting duration is 45 mins, but personally I spent about 1 hour exploring the 4 zones at Floral Fantasy without the theatre.
If you're reading this article because you want to know whether it's worth visiting, you're at the right place. I'll share what you can see and do at Floral Fantasy, as well as my review of this place.
Floral Fantasy Opening Hours
The opening hours of Floral Fantasy are:
Mon – Fri: 10am – 7pm (last admission at 6.30pm)
Sat, Sun & PH: 10am – 8pm (last admission at 7.30pm)
Sometimes, they may be closed for maintenance. You can check their closure days before visiting.
Floral Fantasy Ticket
The walk-in prices for Floral Fantasy are:
Adult (13 years old and above): S$20
Child (3-12 years old): S$12
You can save up to 20% if you book your ticket here.
Singapore Residents (SC, SPR, long term pass holders including Employment Pass, Work Permit and Dependent Pass holders) can get special rates by showing proof of residency.
How to go to Floral Fantasy
By taxi/driving: Head to Bayfront Pavilion, then walk a short distance to Floral Fantasy. The nearest carpark is Bayfront Plaza Carpark.
By MRT: Take the Circle Line or Downtown Line and alight at Bayfront MRT Station. Head to Exit B and walk through the underpass tunnel. Upon exiting, follow the directions and walk a short distance to Floral Fantasy.
Alternatively, you can also take Thomson East Coast Line and alight at Gardens by the Bay MRT Station. But, the distance between GBTB MRT and Floral Fantasy is quite far (about 1.5km, or 15-min walk away).
By Bus: Take bus 97, 97e, 106, 133, 502, 502a, 518, 518a and alight at Bayfront Stn Exit B/MBS. Then, take the lift up and walk along the linkbridge (Overpass) to Gardens by the Bay, passing through Marina Bay Sands Lobby. Upon reaching the end of the Overpass, take the escalator down and walk a short distance to Floral Fantasy.
What to do and see at Floral Fantasy
Floral Fantasy is divided into 5 zones: Dance, Float, Waltz, Drift and Fantasy Theatre. Each zone has its own distinct features. Let's dive into the details!
Dance
Dance is the first zone that you will encounter when entering Floral Fantasy. Here, you will be mesmerized by beautiful canopy of suspended flowers. At one section, a cluster of flower pots are swaying up and down, as if they're doing a dance.
It's a very Instagram-worthy photo location, especially at the circular flower wreath and at the arched balcony.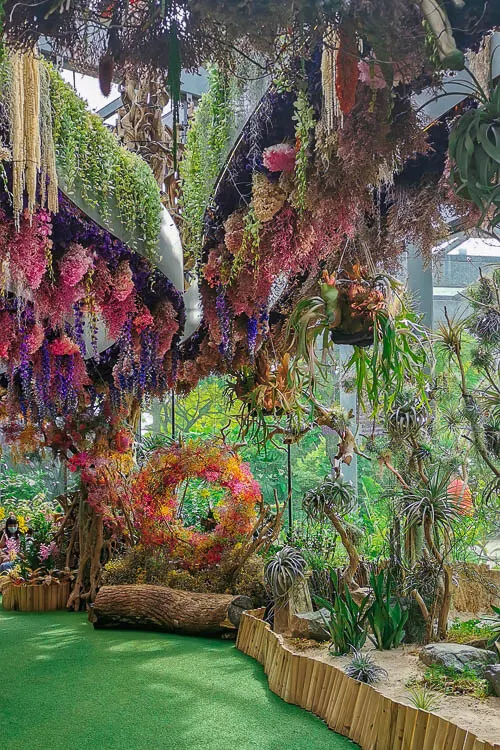 Have any questions about traveling in Singapore? Join All About Singapore Travel FB group, I'll be there to answer your questions!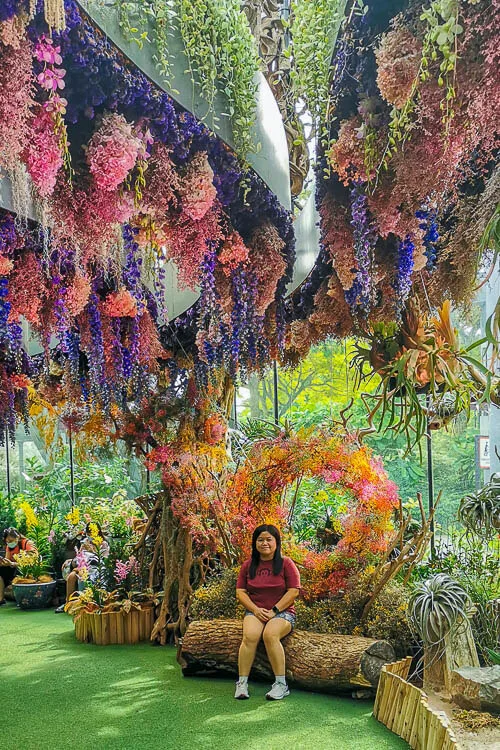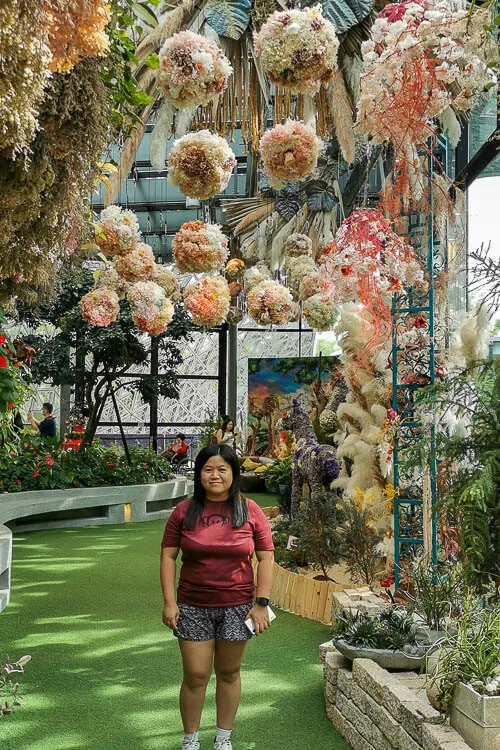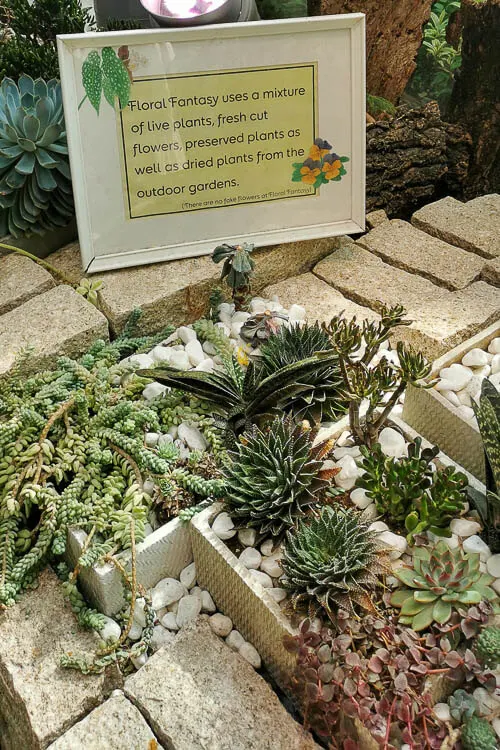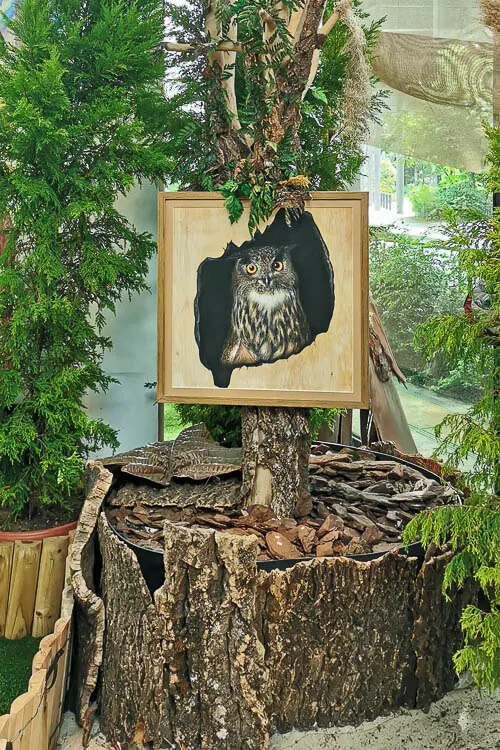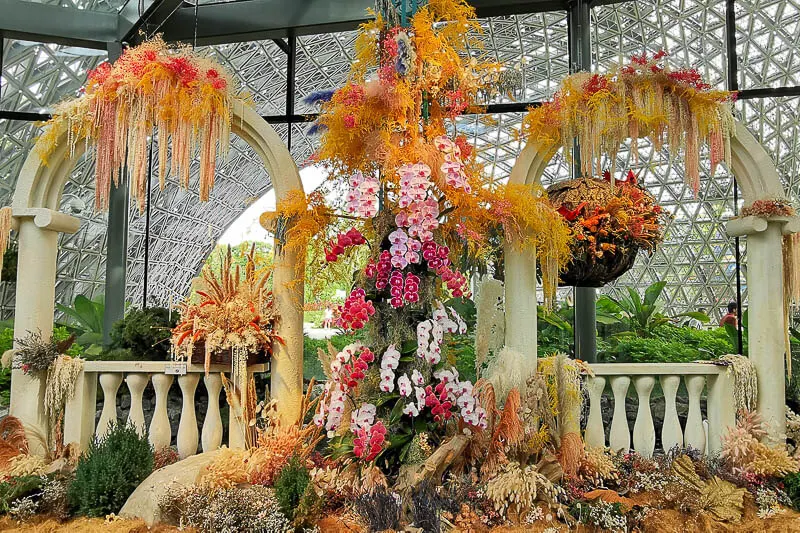 I also love the purple donkeys and colorful bird with pink eggs!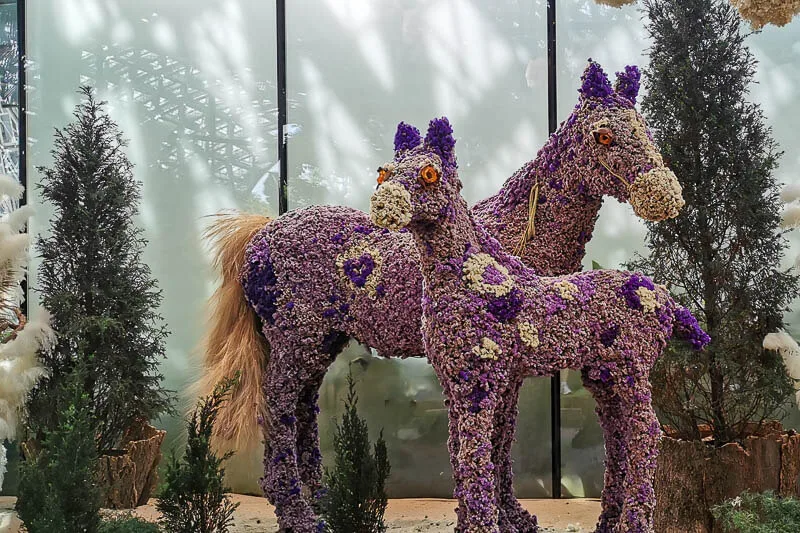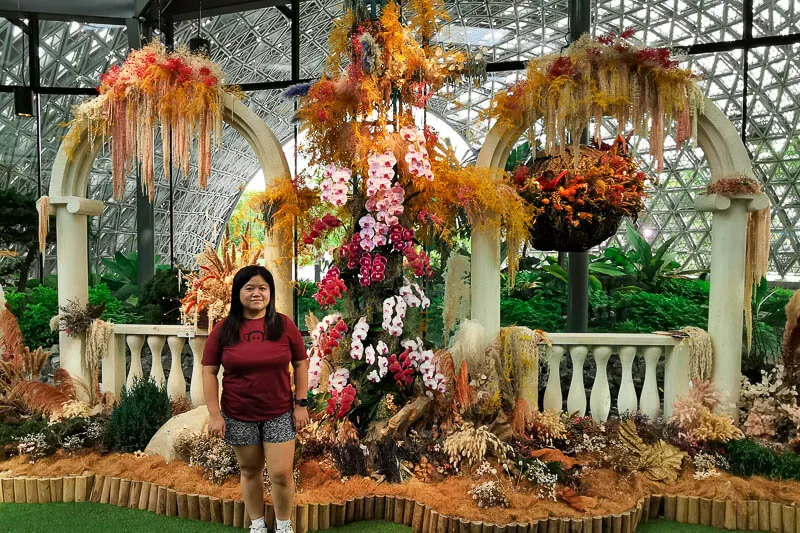 Float
Float is characterized by the lush greeneries, calming pond and the unmissable giant called Nobu. Nobu is the garden guardian who watches over the plants.
Do not miss the butterfly-shaped flower board where you can channel your inner fairy. Also, there is a rooster wooden sculpture that you can easily miss out if you're not too observant.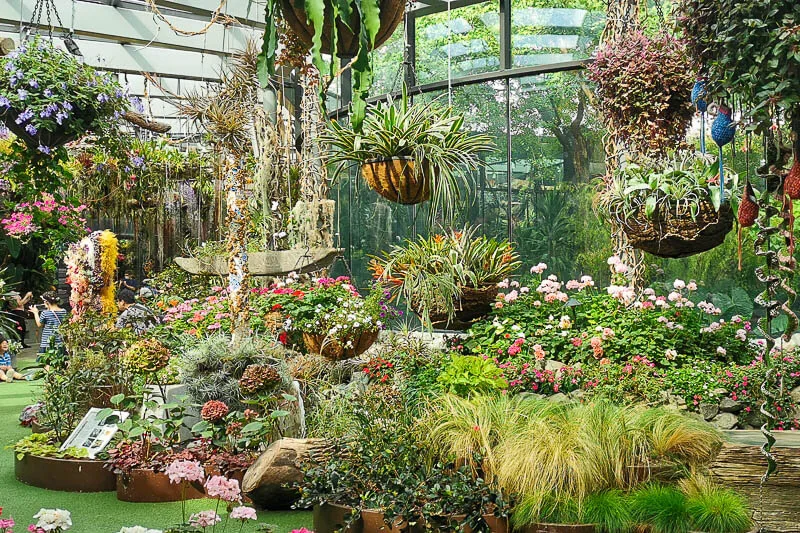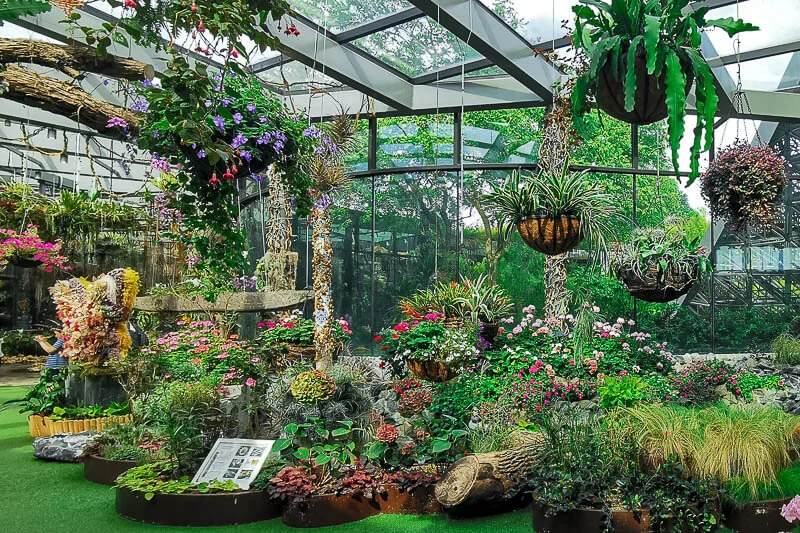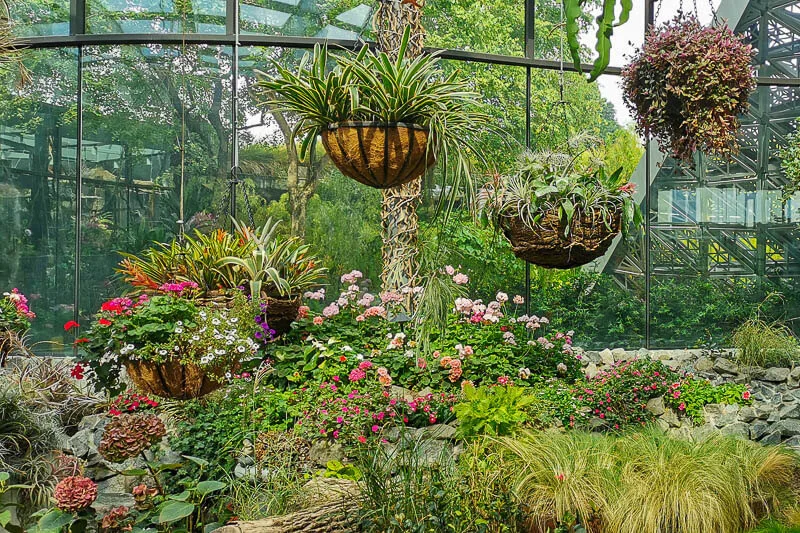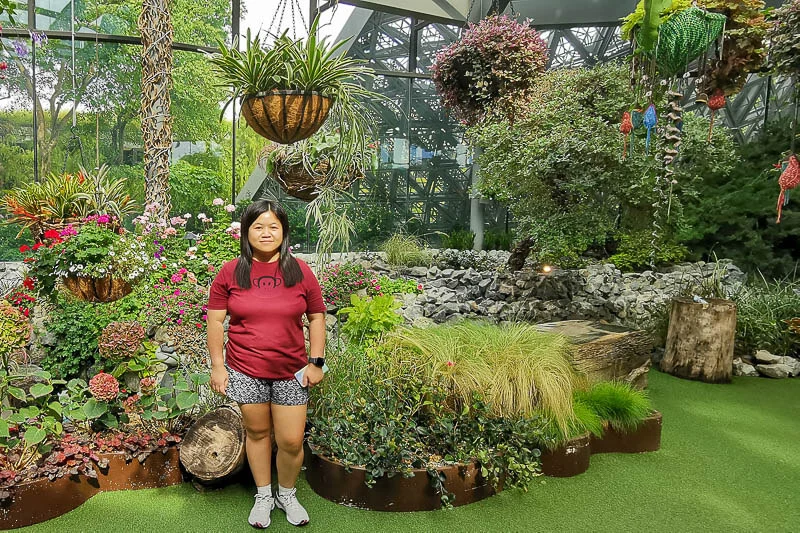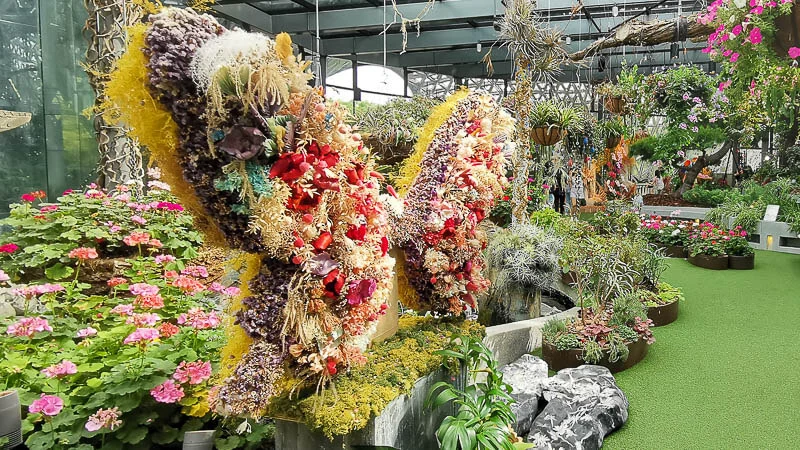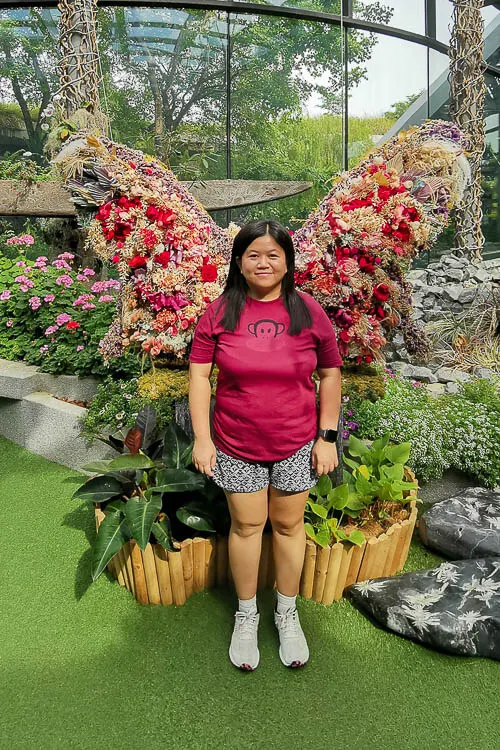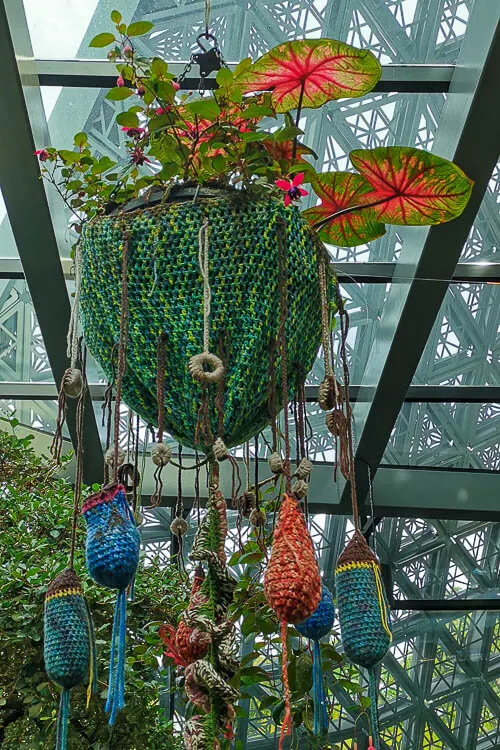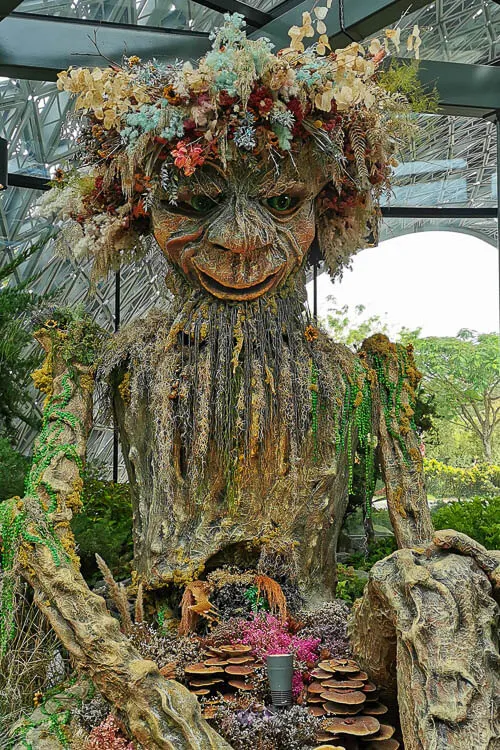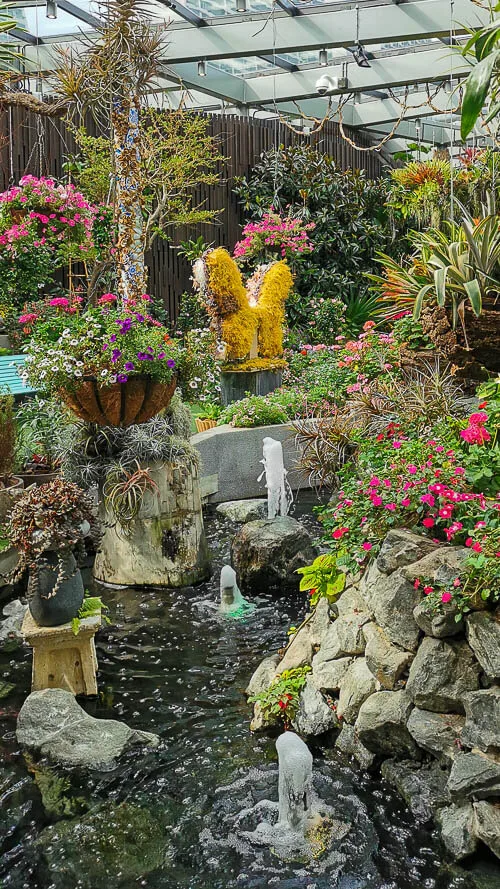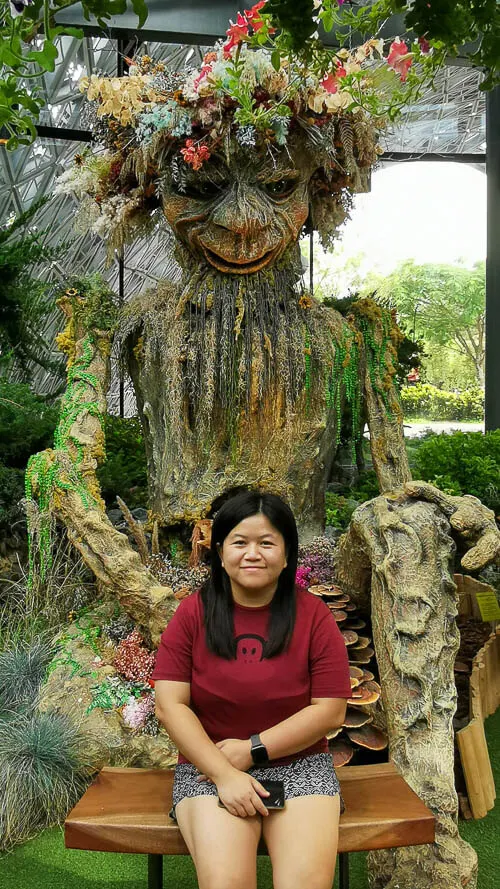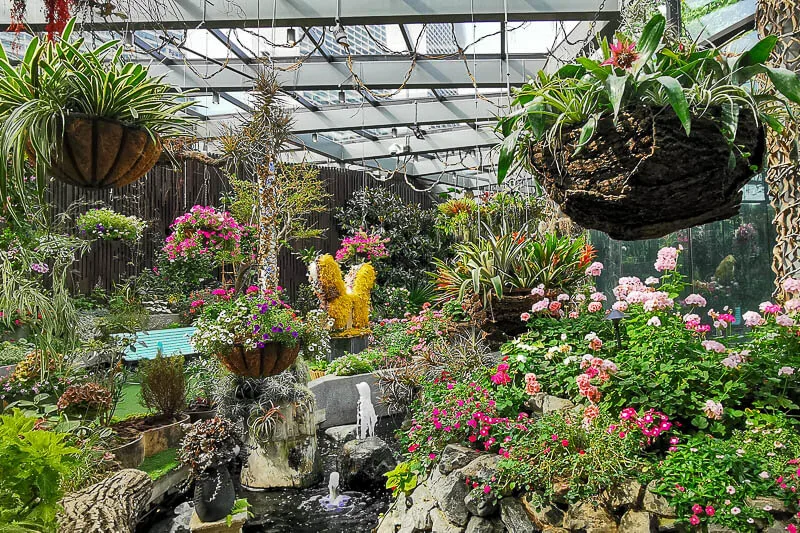 Waltz
Waltz is a small zone which features the enchanting Rain Oasis as well as a huge Vivarium where poison dart frogs live in.
The walkway at Rain Oasis can get pretty slippery, so make sure your footwear has a good grip.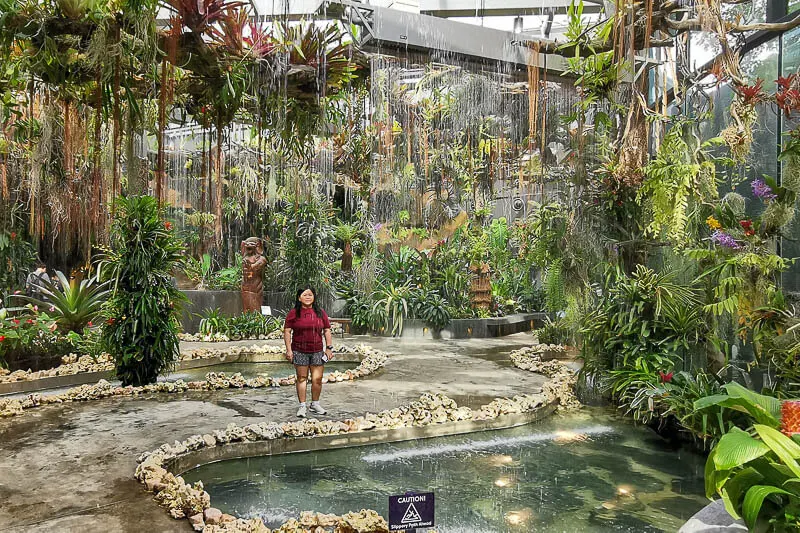 If you're lucky, you'll get to see poison dart frogs in various colors in the Vivarium. I managed to see the green-black and yellow-black.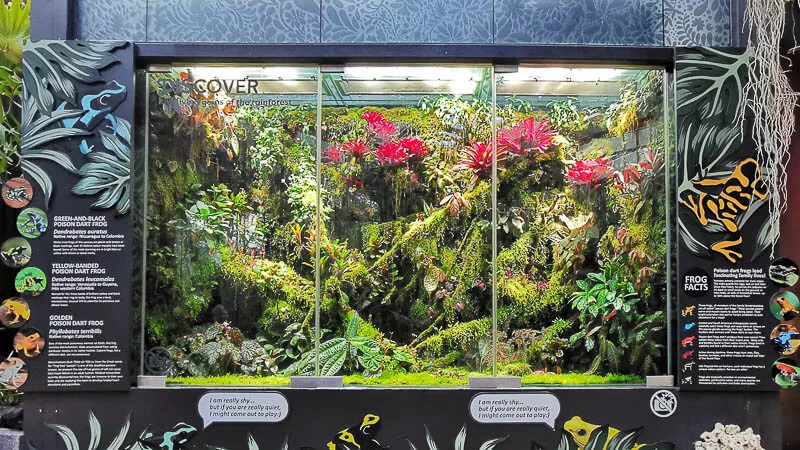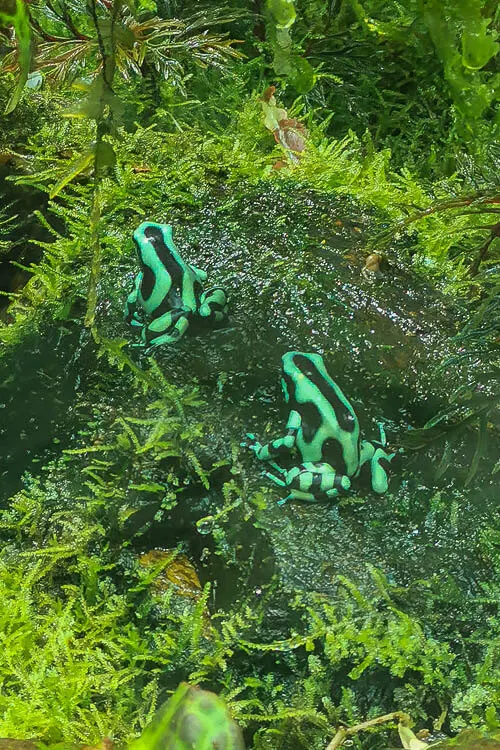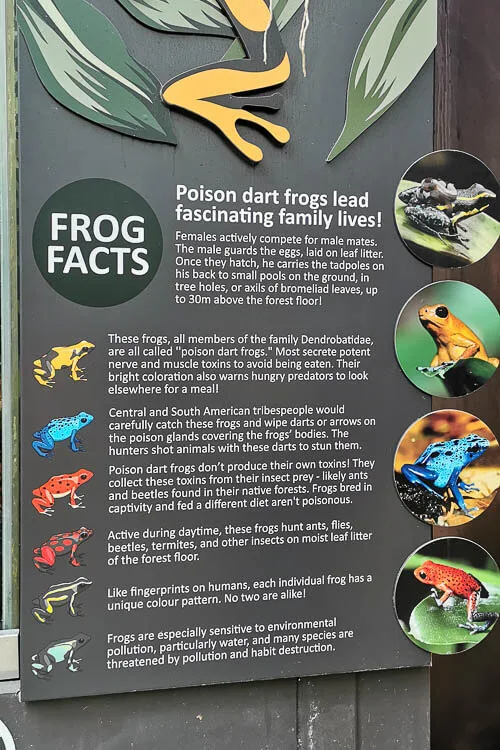 Hidden among the bushes is the Merlion statue holding a spear. It turns out that this guy has abs!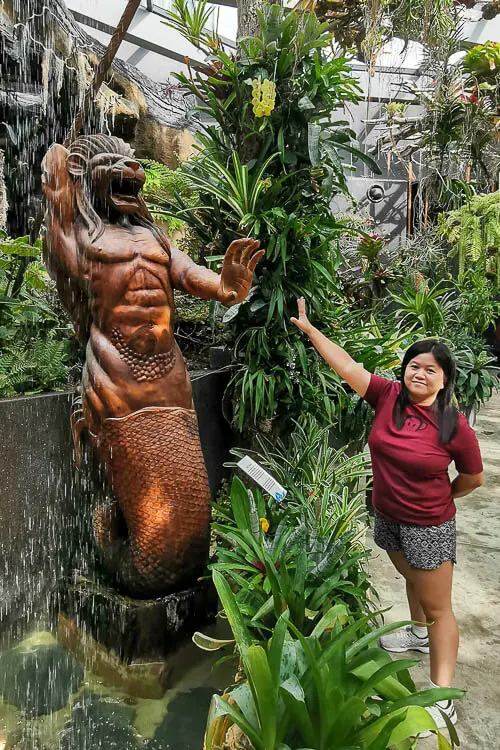 Drift
Just as you thought you've reached the end, you'll be surprised by another zone! The Drift zone is modeled after a cave.
The entire zone is pretty dark and most people walked through it quickly without realizing there are over 50 species of plants from Central and South America.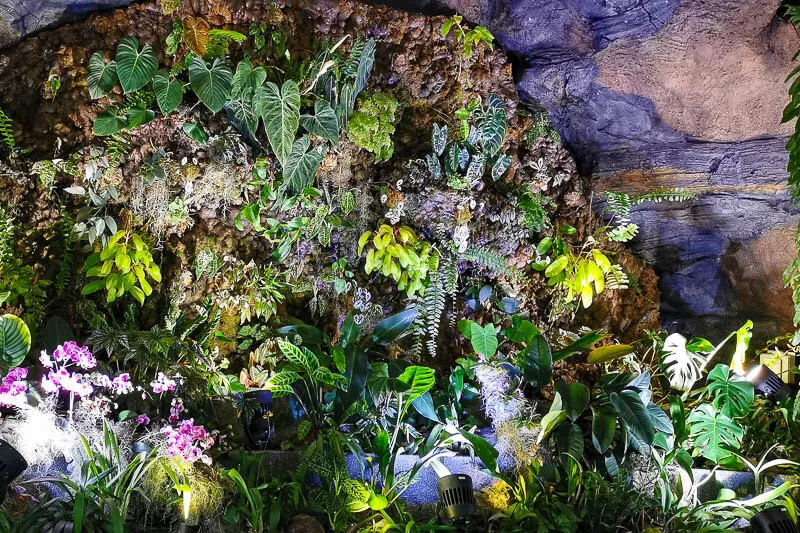 There is also a cluster of stalagmites towards the end of the zone.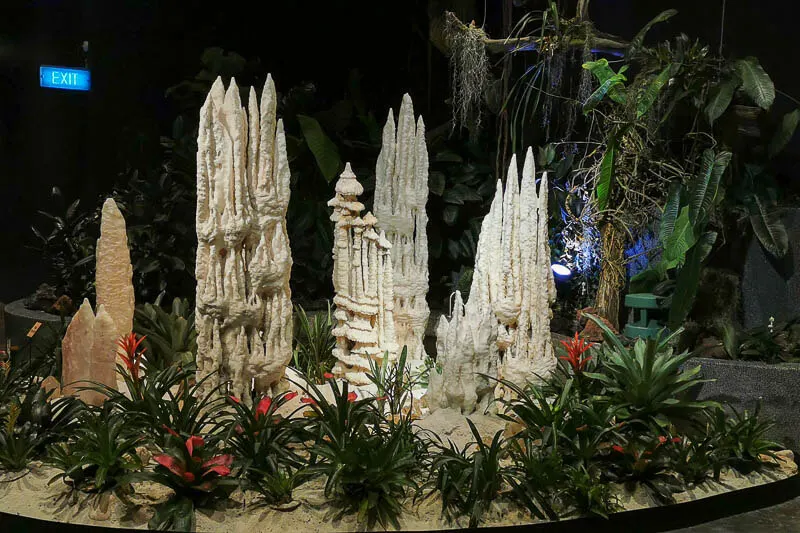 Fantasy Theatre
At the very end of Floral Fantasy is the Fantasy Theatre, a 4D movie studio.
Here, visitors can take a simulated flight around Gardens by the Bay through the eyes of a dragonfly!
Unfortunately, during my visit, the theatre is closed. I hope they will open soon and I hope you get to experience the 4D ride!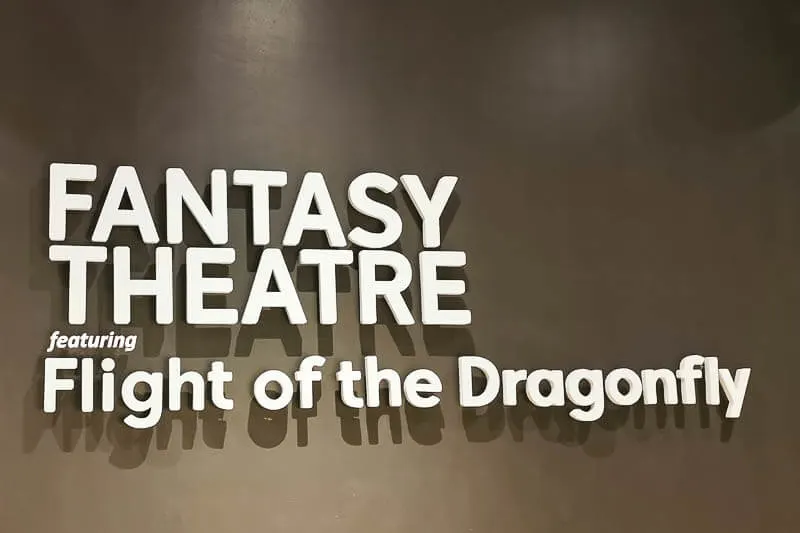 Floral Fantasy Review
What I like:
I love the Vivarium! There's something magical about colorful frogs jumping around the tree branches. It's quite a challenge to spot them, and it's quite satisfying to successfully spot jumping frogs.
I like that each zones has its own distinction, and the flower display is quite elaborate.
And I really appreciate how photogenic the place is. There are plenty of opportunity to take selfies in each zone.
What I think can be improved:
First, I hope they bring back the 4D movie theatre soon!
As a member of Friends of the Garden, I'm quite unhappy that Floral Fantasy admission is not free for member. I really hope they will include free admission to Floral Fantasy as one of the perks of the membership.
I feel that the admission rate for Floral Fantasy is a little on the pricey side.. Since prices change so frequently, it's hard to do a direct comparison. At the time of writing, Floral Fantasy is just slightly cheaper than Flower Dome, but FD is more than 2x larger than FF. So… personally I will only visit FF if there are promotions/discounts.
Is Floral Fantasy worth visiting?
Floral Fantasy is worth visiting if you're a hardcore Gardens by the Bay lover and you want to have the complete experience of the Garden.
Floral Fantasy is not worth visiting if you're short on time or budget. If you have limited time or budget, I'd recommend that you visit Flower Dome to get the best bang for your bucks.
If you like my work, you can buy me a coffee! Your support will help me to keep going!