After a 2-year hiatus due to the you-know-what, i Light festival is finally back this year. From 3 to 26 June, visitors can enjoy colorful art installations, and take part in various programmes.
The theme color of this year is violet which is the color that has the shortest wavelength with the most powerful electromagnetic energy in the visible light spectrum. Violet is also a color that signifies the awakening of the senses, akin to the spark of an idea in one's mind.
The opening hours of is as follow:
Sun to Thu: 7.30pm to 11pm
Fri & Sat: 7.30pm to 12am midnight
Admission for the art installation is free. Meanwhile, for the programmes, some are free and some require a separate ticket.
Here are the summary of what you can expect at the festival:
20 art installations scattered around Marina Bay (free admission)
GastroBeats, a gated zone with live performances, food stalls (hawker food as well as elevated food prepared by renowned culinary personalities), live graffiti art creation, and giant inflatable bouncy castles. Admission is SGD 9 for weekdays and SGD 11 for weekends (not inclusive of food, drinks and bouncy castle). Ticket here.
Lightwave: Isle of Light empowered by OPPO. Five unique art installations constructed on floating pontoon. Admission is SGD 8 on weekdays and SGD 10 on weekends. Ticket here.
Drone Nation. Visitors can learn and try their hands at flying drone at SGD 30/pax. Opening Hours are 5pm to 10pm, Thurs-Sun only. Ticket here.
Light Forum features various talks, tours, and participatory workshops with professionals from art, design, and sustainable development. Some sessions are free, some require tickets. Details here.
Light Wash features 13 landmarks lit up in a violet hue, including Merlion, Marina Bay Sands and Singapore Flyer.
Rediscover Marina Bay Walking Tour is a 90-min free walking tour held by URA volunteers on selected Wednesday. Book here.
Tours guided by Let's Go Tours is a 2-hour tour around the i Light Festival, either on foot or on bicycles, led by Let's Go tour guides. It costs SGD 30/pax. Ticket here.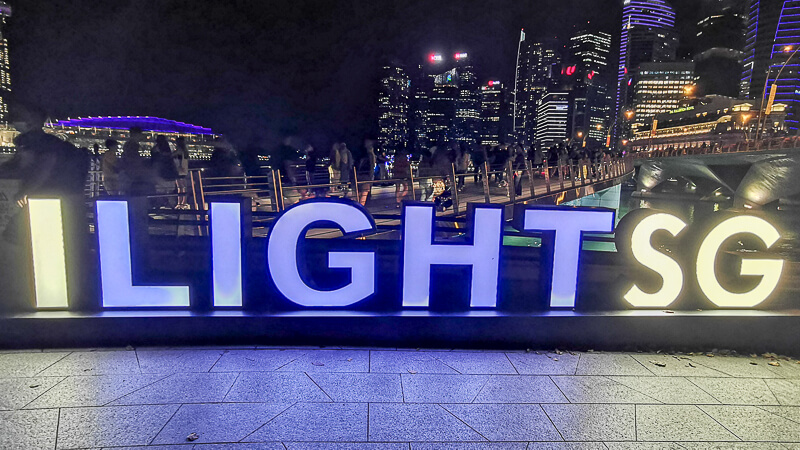 In this post, I will be sharing more on the Art Installations and Light Wash.
The 20 art installations are scattered around the Marina Bay area, with Exhibit No 1 starting at ArtScience Museum, and Exhibit No 19 starting at Esplanade Park. Exhibit No 20 is located near No 5.
I started my walk from Esplanade Park towards ArtScience Museum. I will present all of the 20 installations in the order of their appearances, starting from No 19 and ending with No 1.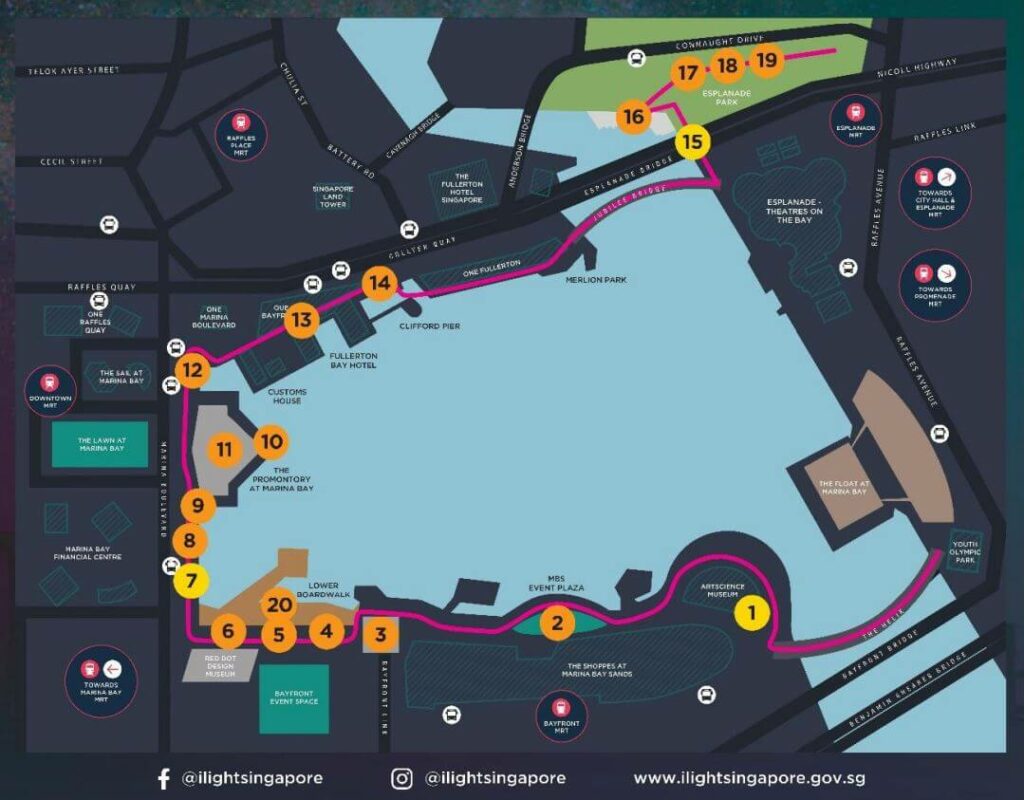 19. Meet Me Under the Moon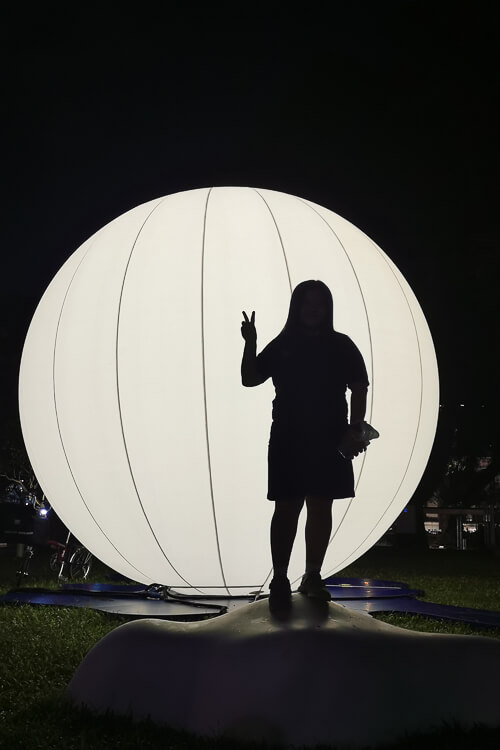 Meet Me Under the Moon is inspired by the Mid-Autumn Festival where loved ones gather to enjoy the moonlight together. There are several cloud-shaped benches surrounding the moon.
18. Underworld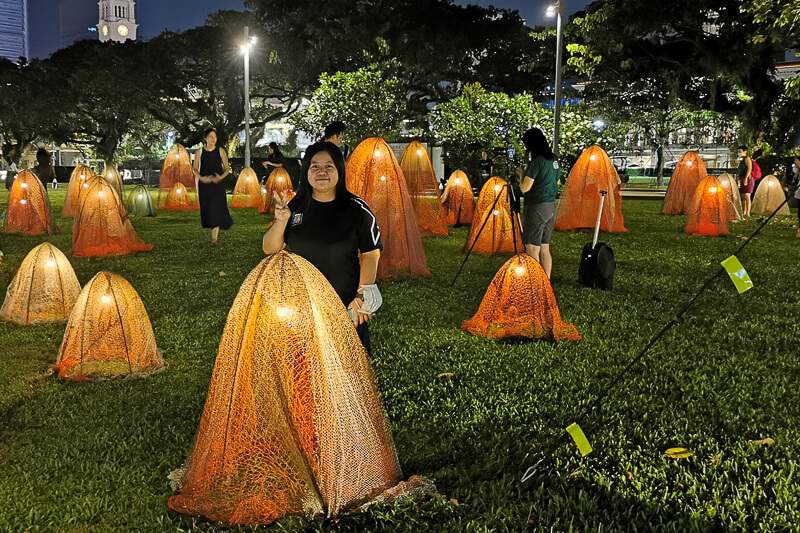 At Underworld installation, you'll see a sea full of bright orange lanterns. Inspired by the marine conservation efforts in Smögen, a small Swedish fishing village, the giant lanterns are made of discarded fishing nets collected at the Sotenäs Marine Recycling Center in Sweden, to bring awareness on the fragility of our marine ecosystem.
17. Bondfire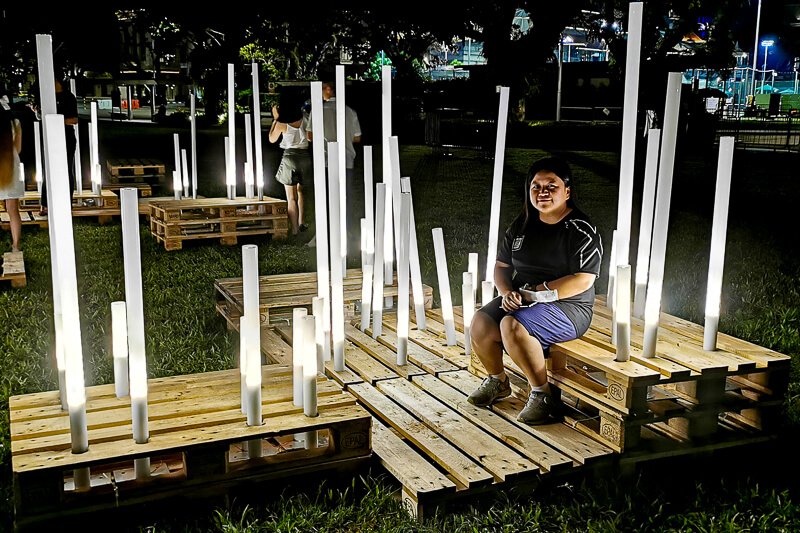 Bondfire showcases vertical glowing light tubes integrated with wooden platforms. Inspired by bonfire, this installation hopes to create opportunity for strangers to come together and spark new connections. Every few minutes, fog would be released to envelop the installation, giving the feel of being around a bonfire.
16. Re-Act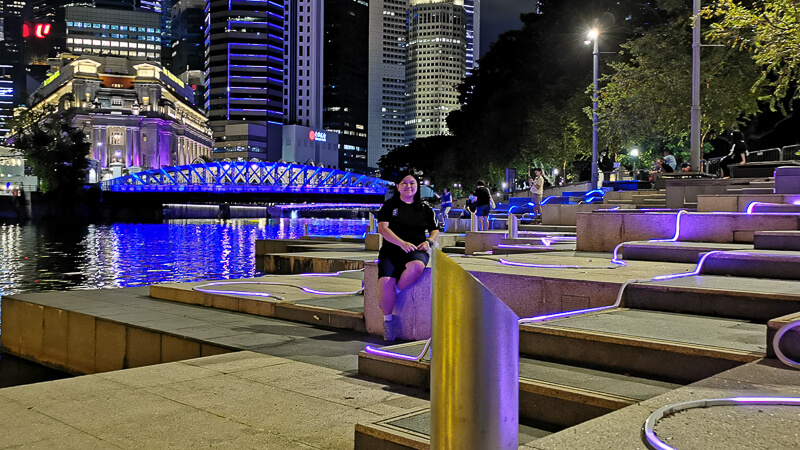 Re-Act aims to highlights climate issues, such as rising sea levels and water pollution. The lighting strips simulates the trickling of water pollutants.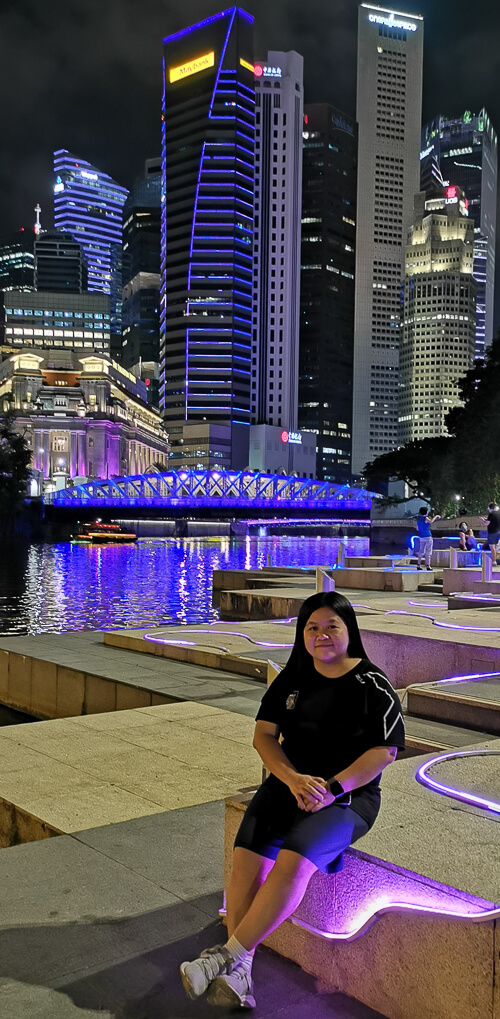 Additionally, the lighting design also symbolizes cracks in icebergs caused by climate change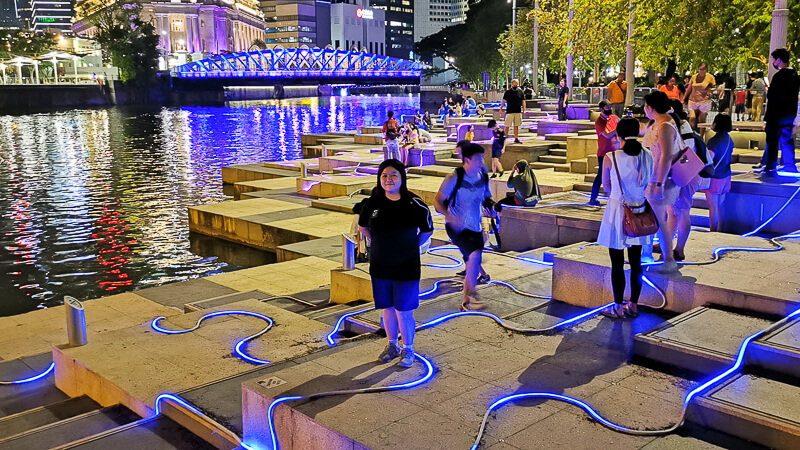 15. Scribble Jam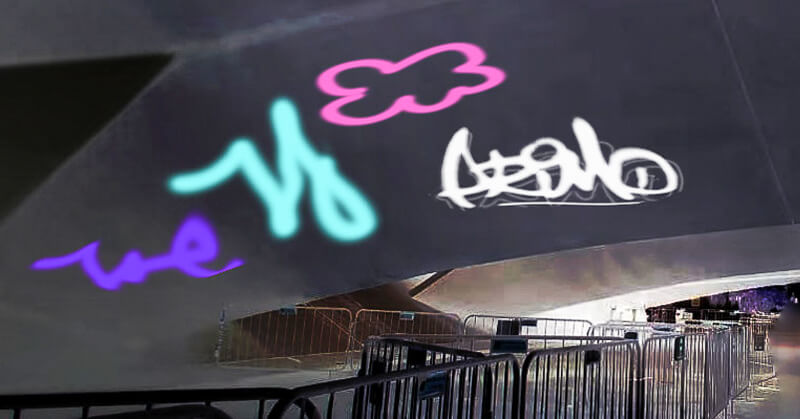 Scribble Jam uses an interactive projection mapping technique to create digital graffiti art on urban landmarks. It redefines graffiti as a non-destructive process that does not rely on aerosol pollutants.
You can contribute your own graffiti by scanning the QR code on location. Hidden under the Esplanade Bridge, I actually missed this installation and only realized it after crossing the Jubilee Bridge, sigh.
Light Wash
Light Wash refers to 13 landmarks around Marina Bay that are lit up in a violet hue as a tribute to i Light's theme color for this year. Here are some buildings that participated in Light Wash that you can see from the Jubilee Bridge.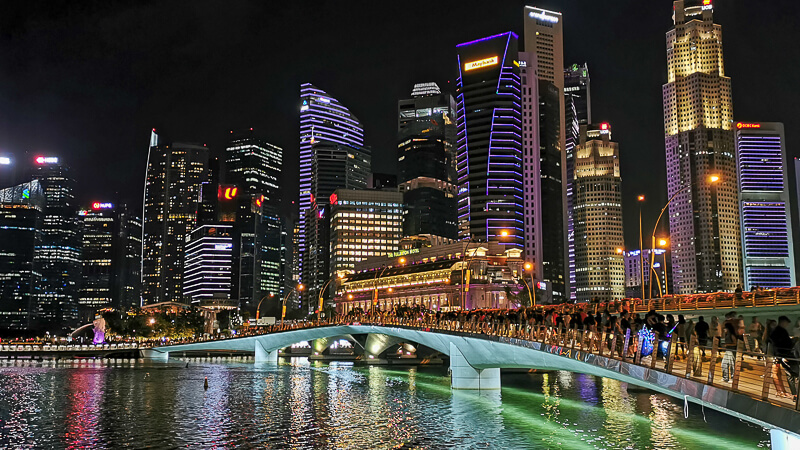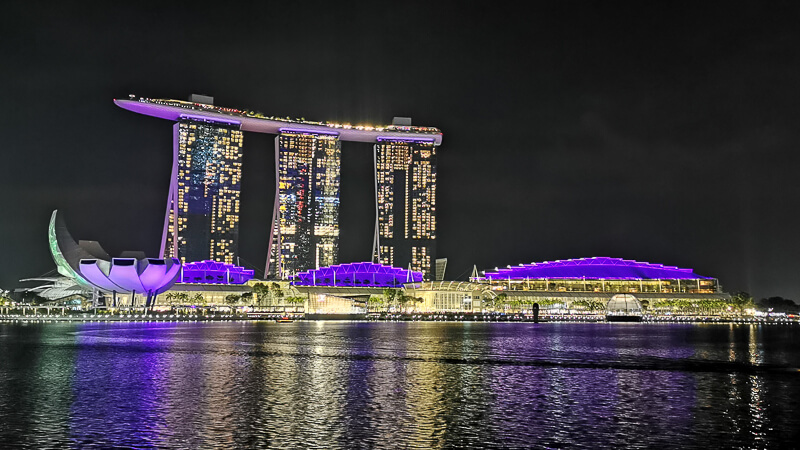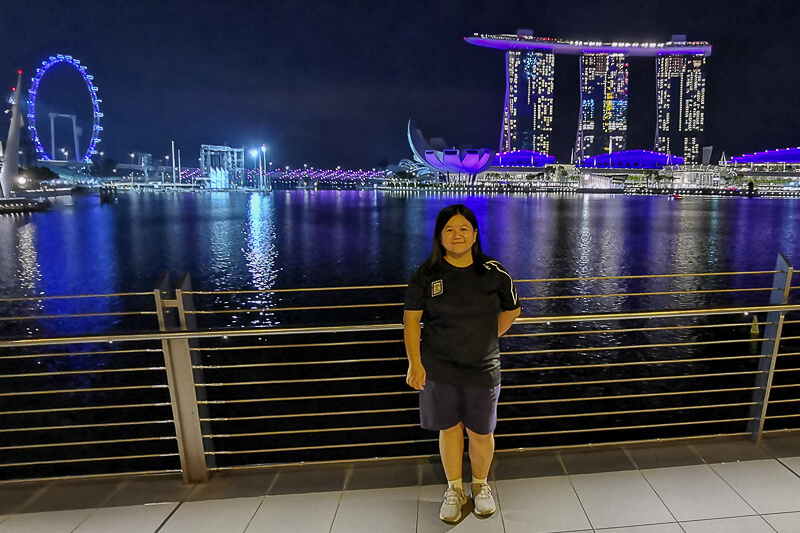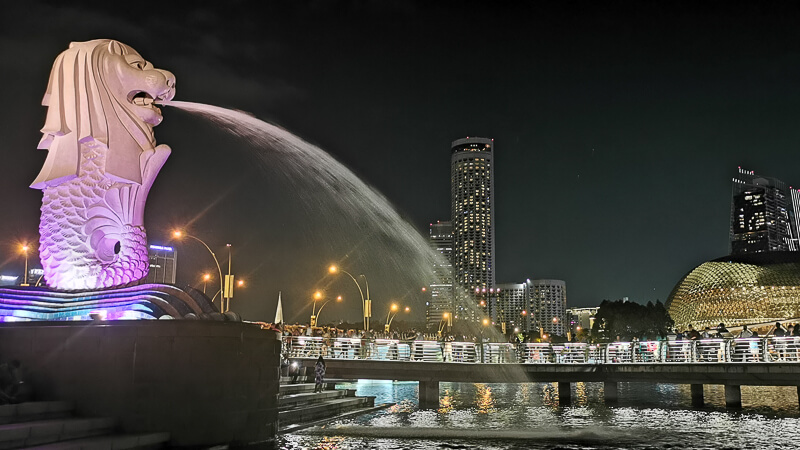 14. Florescentia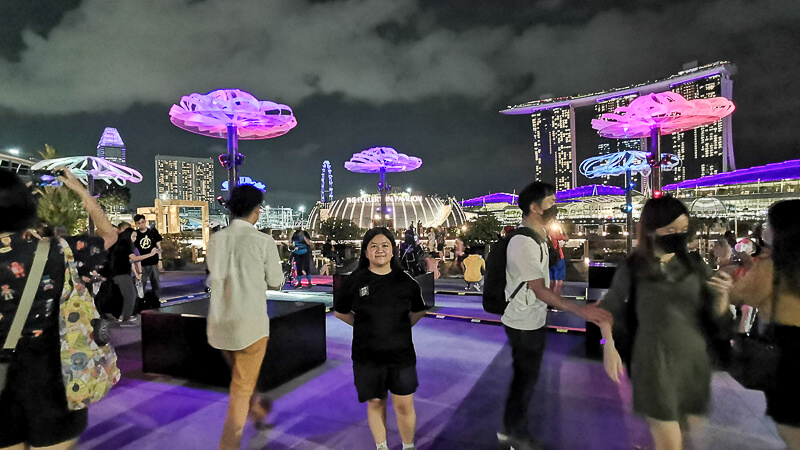 Florescentia means blossoming in Latin. This installation showcases kinetic sculptures made of 100% recycled carbon neutral polypropylene. The floral display set the scene for quiet reflection.
13. SWANS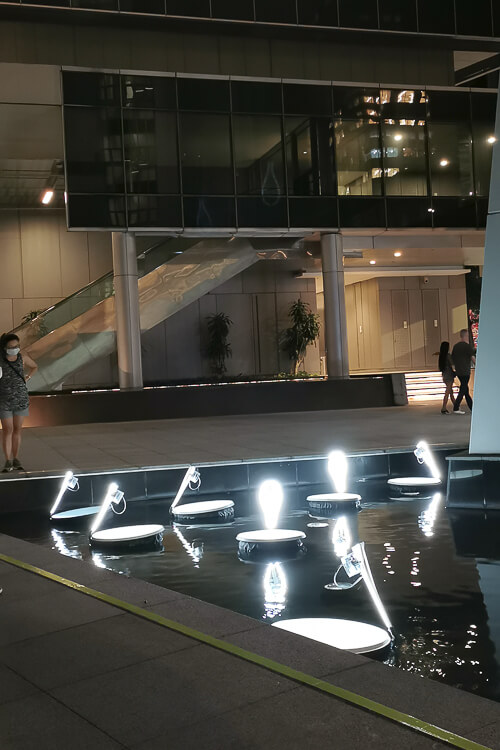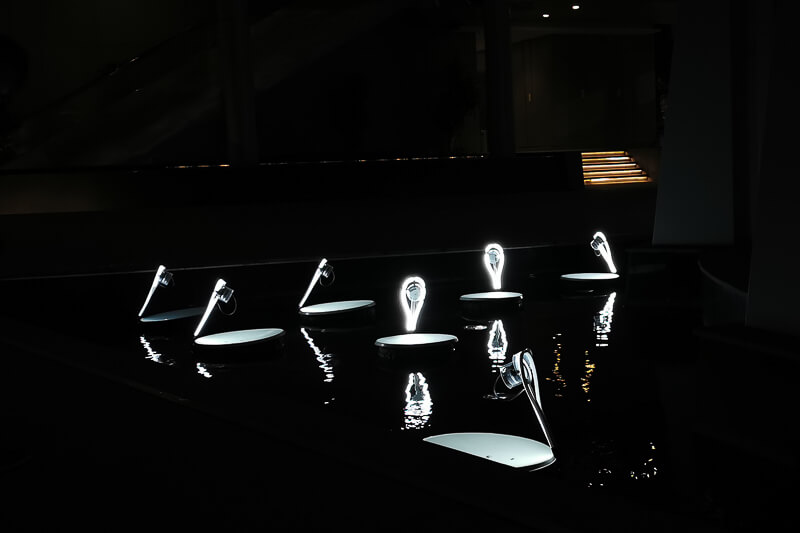 Stationed inside a shallow pool, SWANS is a group of swan-shaped floating satellite dishes with head made of speakers. These swans move along with the winds and ripples of the water, blending perfectly into the environment. This installation can be easily missed because it's not so visible from human eye-level.
12. Fallen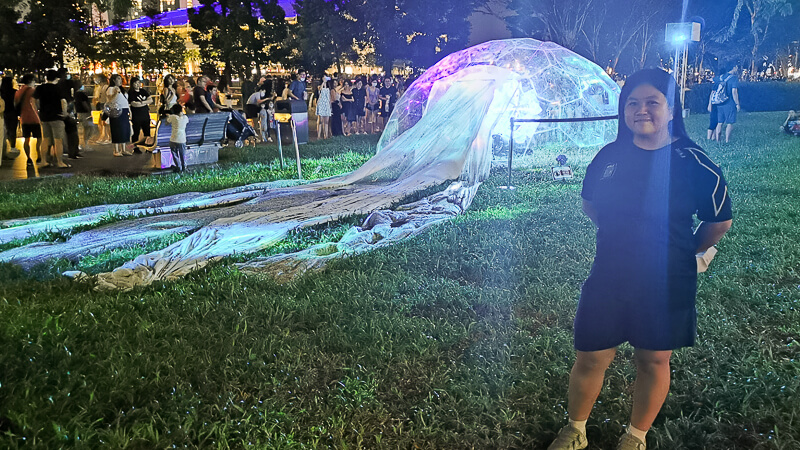 Fallen is inspired by the story of a jellyfish that roamed the universe in search of stars to consume. One day, the jellyfish took huge bites of a star with unusual colors. As a result, it became bloated and fell onto Earth, thus the name Fallen. This unusual star was actually trash that human discharged to the space because the garbage disposal area has run out.
11. Firefly Field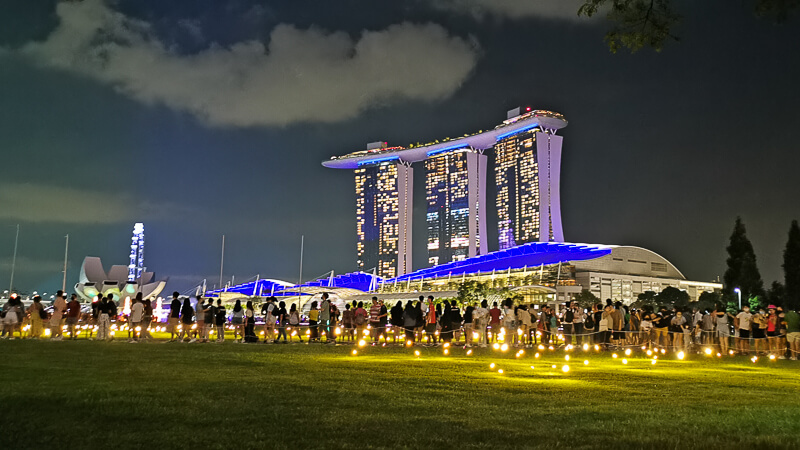 As the name suggests, Firefly Field is an installation located on a spacious field that is filled with hundreds of fireflies. They're not stationery fireflies, instead, they're cleverly simulated as if they're flying.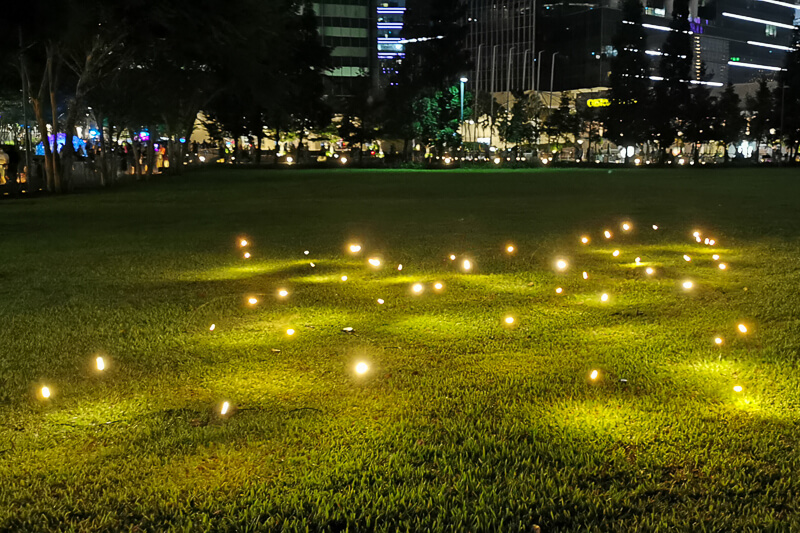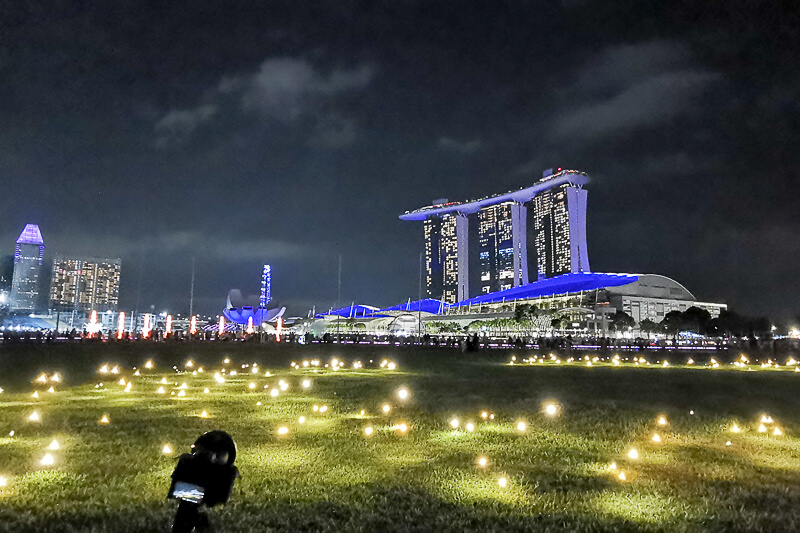 10. Shish-ka-buoy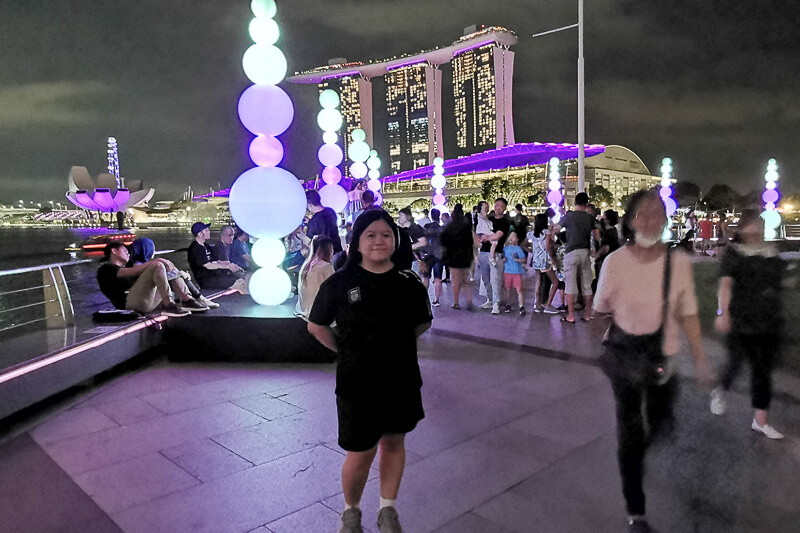 Shish-ka-buoy is a cluster of vertical buoys at almost 4-meter tall made of fully recyclable marine buoys. These buoys are positioned in a cluster to create a dynamic light scene on land and a reflection in the waters.
9. Keep on Moving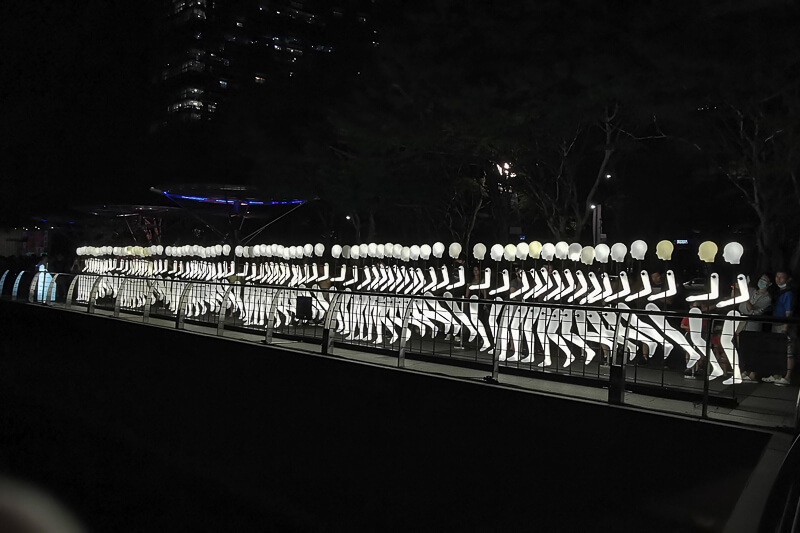 Keep On Moving is inspired by Chronophotography, a traditional photography technique that captures movement in several frames of print, before layering them in a single frame to display phases of motion. This installation captures movement of a runner, which is a common sight at Marina Bay area.
8. Collective Memory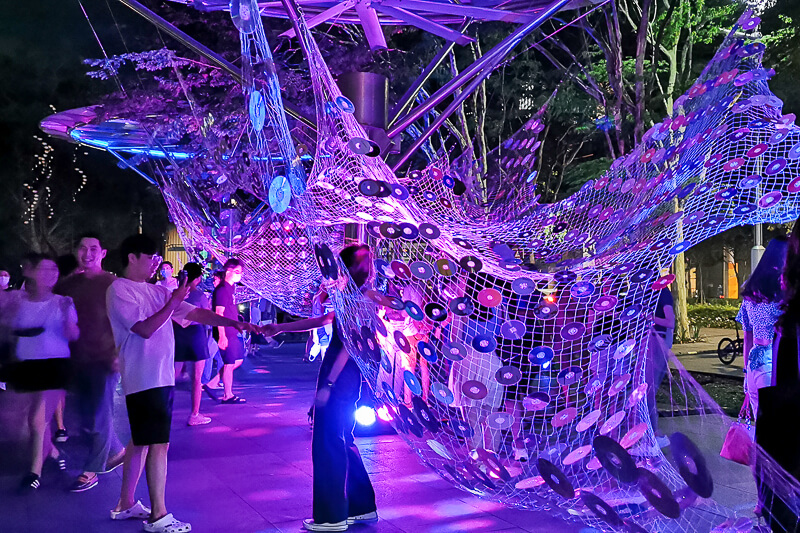 Remember CDs? Those discs that we used to store songs and movies before internet era is the highlight at this Collective Memory installation. Each suspended disc, containing its own memory, interweaves with others and collectively reflect on their mirrored surfaces a host of inspiring memories that these CDs once held.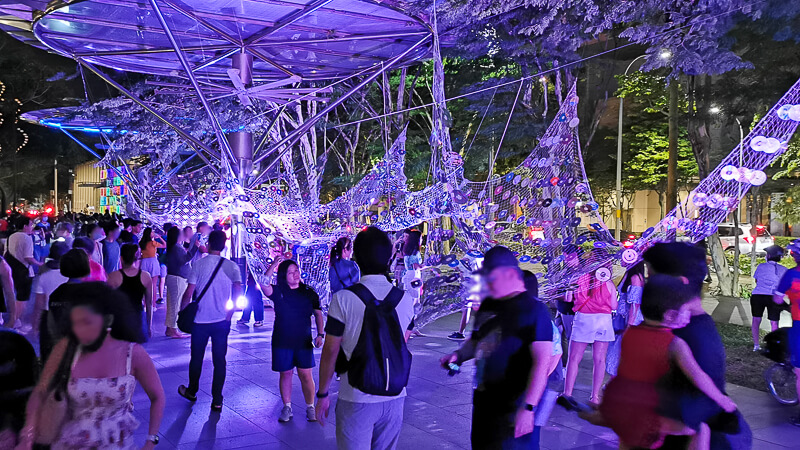 7. Alone Together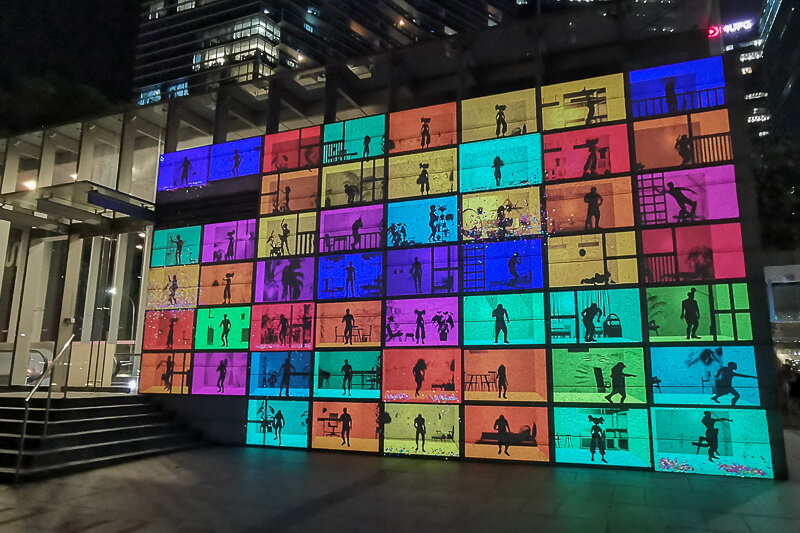 Alone Together reflects on the experience of living in isolation during the C'rona era. Inspired by the scenes of housing estates in Singapore, each window is a peek into people's lives and what they do when they're confined to their homes.
6. Light Canvas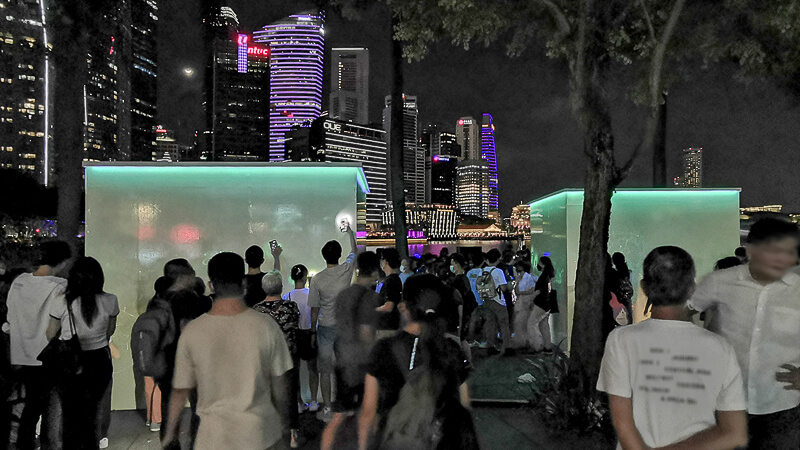 Light Canvas is an interactive canvas that allows you to create doodles using the light from your mobile phone. Here's mine.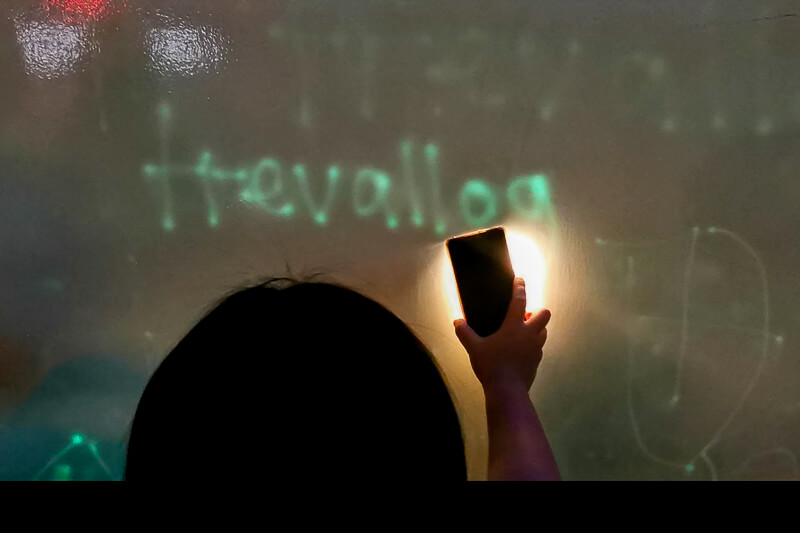 According to the write-up, Light Canvas probes into several contemplative questions – is the short-lived nature of what we do worth the energy expended? What is the cost of our actions on the environment? What are we willing to give up for a more sustainable future?
20. DBS Live More, Waste Less Installation: Waste Not, Want Not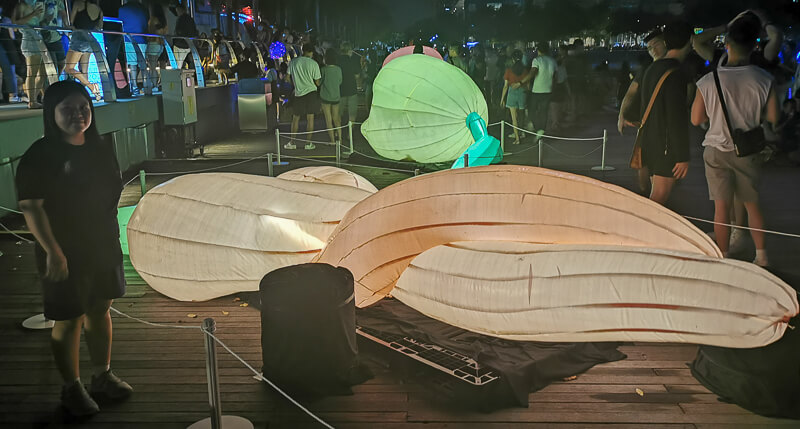 Waste Not, Want Not is an installation promotes the message of not wasting ugly food with irregular shapes. There are 4 types of fruit: the curled carrot, eggplant with black dot, tomato with two stems, and a pear (probably?) with irregular shape.
5. Ruffled Ice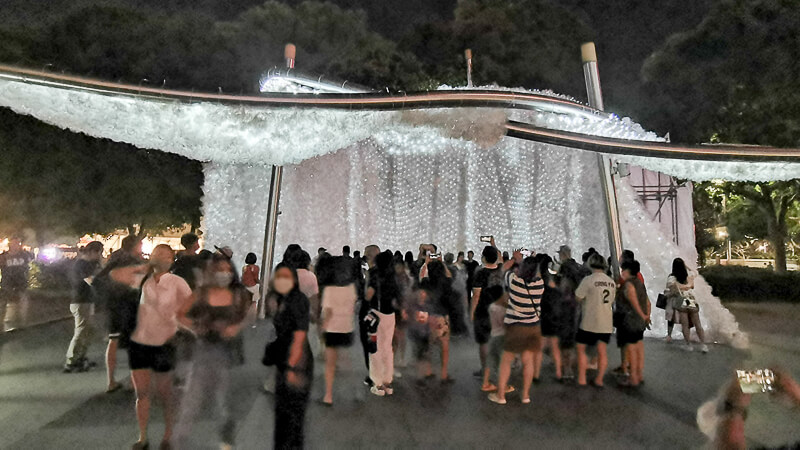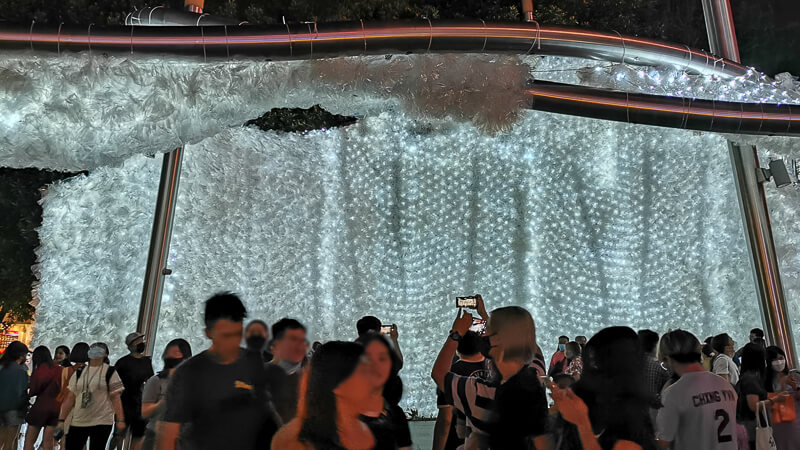 Ruffled Ice is about the excessive use of plastic packaging in our everyday lives. Too many retail products are often unnecessarily wrapped in decorative plastic packaging to enhance their appeal and perceived value to consumers, creating more waste in the process. Ruffled Ice turns plastic waste into a melting icebergs and ice caverns, highlighting the enormous damage discarded plastics have on our environment.
4. Eyes of the Sea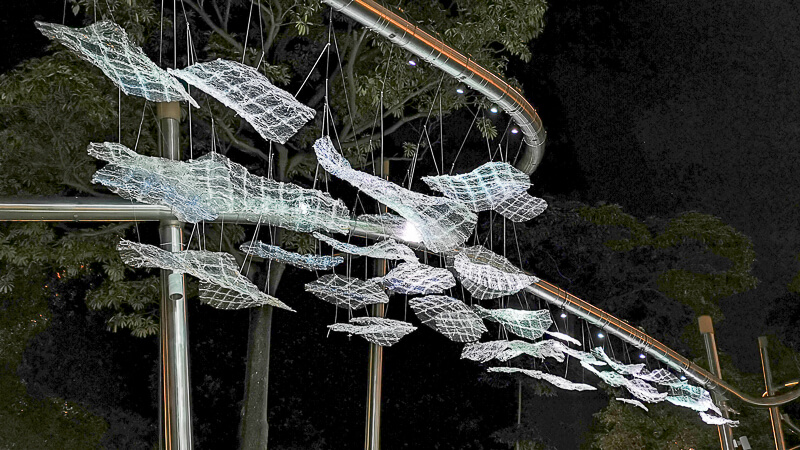 Eyes of the Sea is made of discarded plastic bottles ironed and shaped to resemble ocean waves. It aims to bring to light the dichotomy of mesmerising waves on the surface, and the global problem of discarded plastics choking our oceans masked underneath.
3. Here and There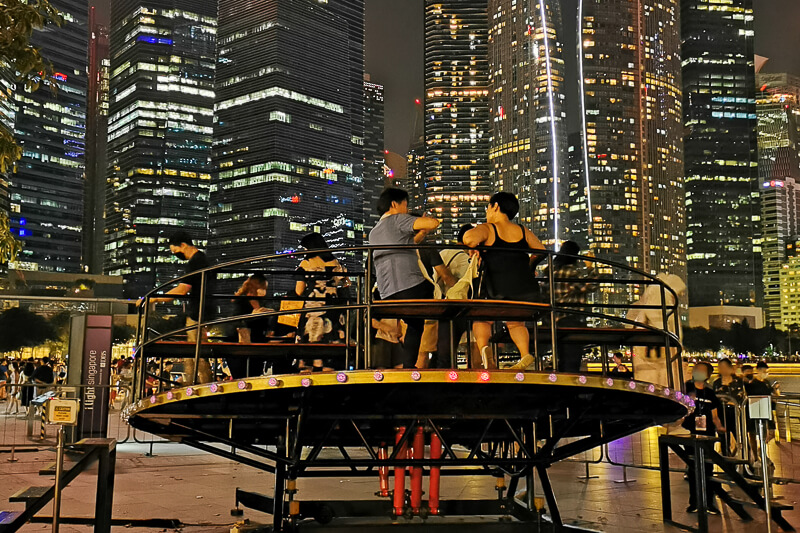 Here and There is an interactive ride that mirrors the physics of a seesaw. Visitors are encouraged to move around in such a way that the human weight is equal on both side. If that is achieved, all the lights will be turned on.
This installation portrays the balancing act as a metaphor for the world's societal and political issues. The artist Eiji Sumi was also present during my visit. He wore a white scarf and was seated at the back.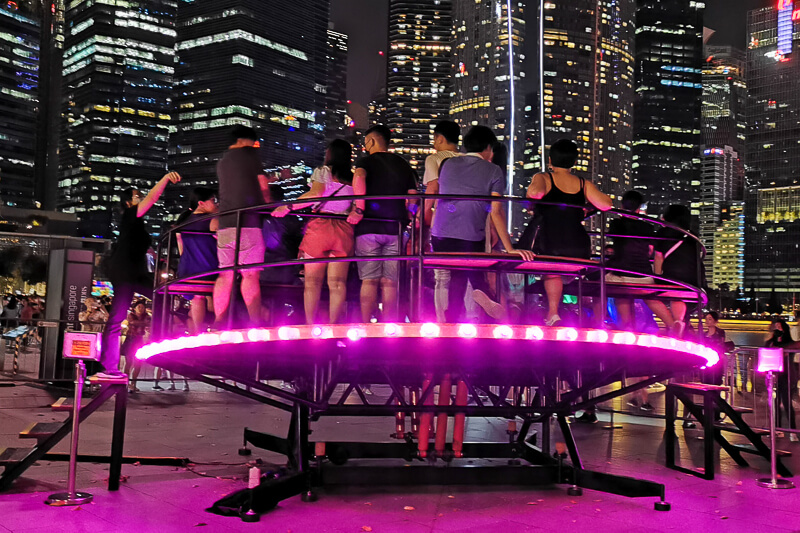 2. Plastic Whale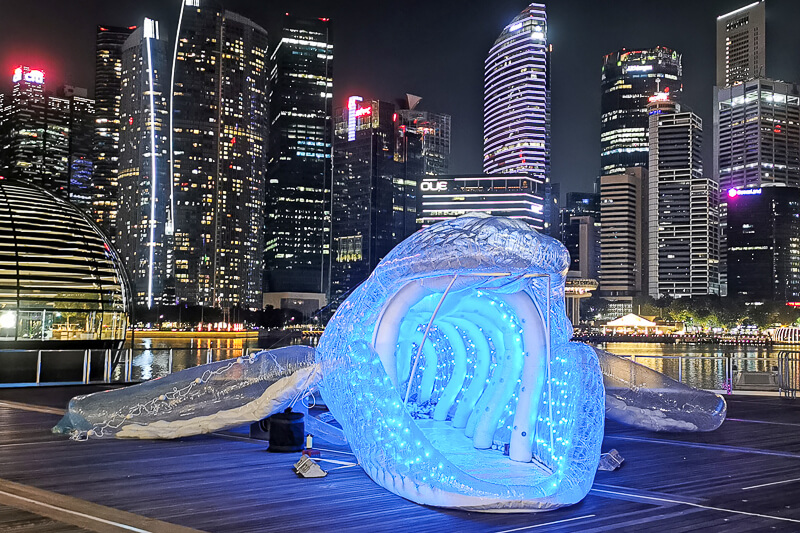 This life-sized Plastic Whale is lit internally by various colors of lights, depicting the whale's struggles as it attempts to respire amidst a sea of plastic garbage. This installation highlights the plight of whales and other
aquatic life that are struggling to survive in their increasingly polluted homes.
You can walk into the whale, but you'll have to join the queue.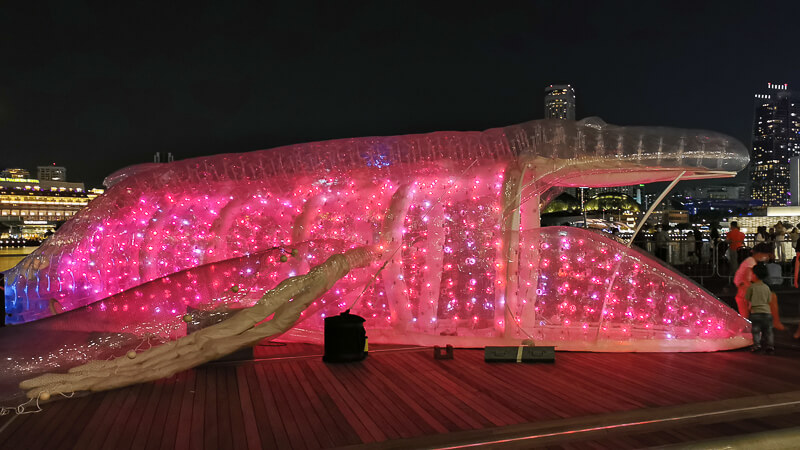 1. MOTHEREARTH ClimateChange Data Sculpture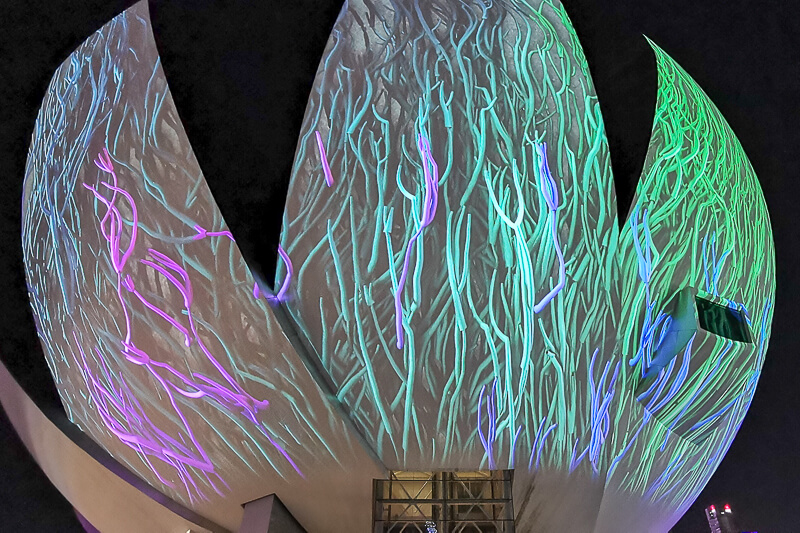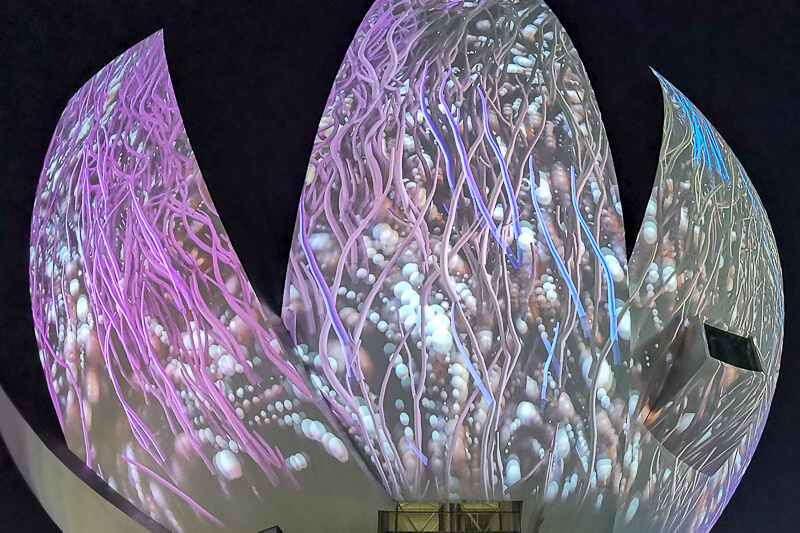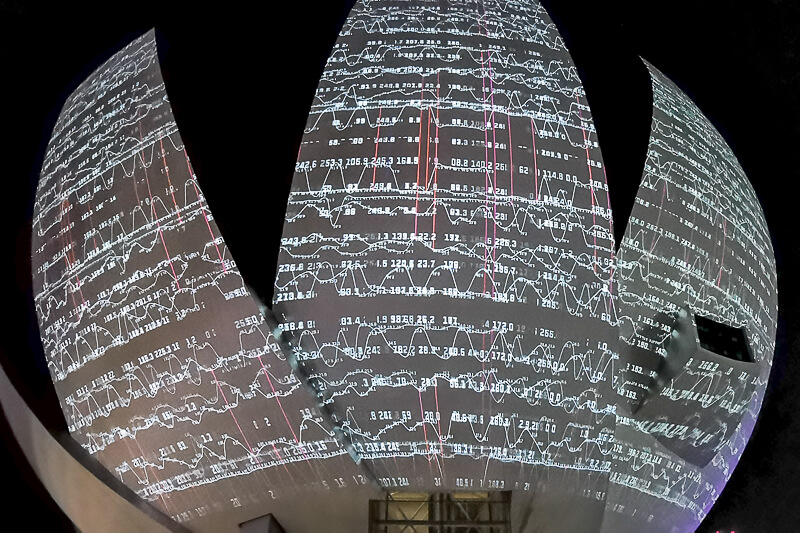 Using artificial intelligence and machine learning algorithms, MOTHEREARTH ClimateChange Data Sculpture turns mundane data into a stunning visual treat of moving lights, colours and sounds, to draw attention on climate change issues.
Conclusion
This year's i Light Festival is heavily focused on bringing climate change issues into the spotlight. It's a great exhibition for art lovers, sustainability-focused individuals as well as families looking for things to do during the school holiday.
Crowd is pretty huge during weekends. I visited on a Saturday evening and it was extremely crowded (you can see the amount of crowd in my photos). If you worry about crowd size, visit on weekdays instead.
If you like my work, you can buy me a coffee! Your support will help me to keep going!