Opened in 2018, The RuMa Hotel and Residences is located right within the heart of Kuala Lumpur, Malaysia. The Pavilion mall is just 600m (9-min) walk away and KLCC aka the Twin Towers is just 800m (10mins) away from the hotel.
During our trip to Kuala Lumpur in May 2022, we wanted to stay in a hotel near KLCC because we'd love to see the Twin Towers. After comparing various hotels around KLCC, we decided to stay at The RuMa Hotel because the property is quite new and we've heard great reviews about the hotel.
When I first heard the word "RuMa" I immediately thought of home, because in Malay & Indonesian language, rumah means home. So, here's my quest to find out if I indeed feel like home at The RuMa Hotel.
Booking
I booked Grand Room which comes with free breakfast via Klook.
Klook has revamped their hotel booking system and I find it to be quite easy to use! You can see all the prices of each room in one single page, without having to click the room type one by one. My favorite feature is that I can filter the pricelist by "free breakfast" because I wanted to have breakfast at ATAS.
But I found the "free parking" filter to be useless because all guests are entitled to free parking (before booking, we called the hotel to ask about parking rate and they said parking is free for hotel guests). I didn't choose "free parking" filter on Klook's platform, and my booking doesn't have "free parking" tag on the system, but we were still entitled to free parking.
Getting to the Hotel
If you're traveling by public transport, the nearest train station to the hotel is Raja Chulan Monorail Station (700m away). If you're coming from KL Sentral, you can take the monorail for 6 stops and alight at Raja Chulan Station. If budget is not a big concern, I highly recommend taking a taxi or Grab.
For us, we drove to the hotel with our family's car. The traffic around KLCC can be pretty insane during peak period, so try not lose your cool.
Parking
Each room is entitled to one free parking lot. When entering carpark, do not scan your Touch 'N Go. Instead, get the physical ticket from the gantry.
Before driving your car out of carpark, go to receptionist and get your physical parking ticket validated. Then, at the carpark, validate your ticket again at the machine near the carpark exit. If there's any problem of exiting, simply press the intercom to speak with operator.
The carpark is located at the basement. There were normal carpark lots and there were mechanical carpark lots. When we arrived, all the normal lots were taken, so we had to park at the parking lot that's fitted with mechanical parking system.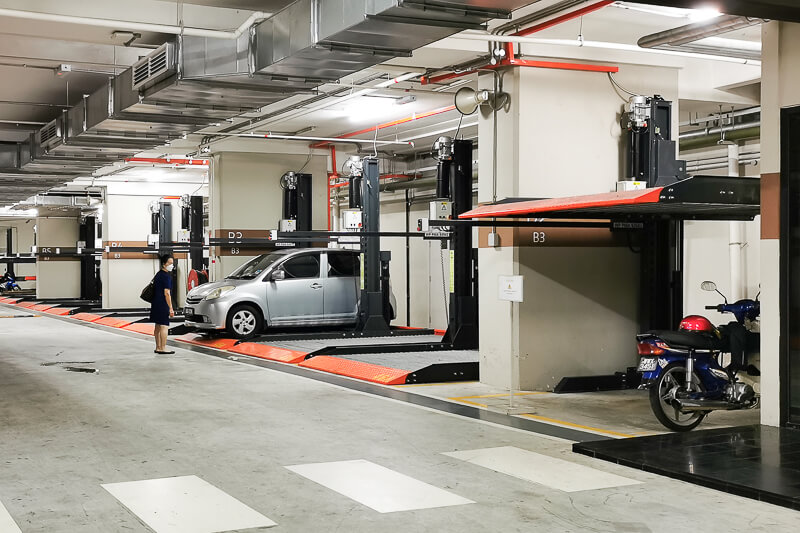 To be honest, it's quite a struggle to get on the ramp, we spent probably a good 15 mins trying to on the ramp. Furthermore, the width of lot is quite narrow. Once your car is on the ramp, you can't open the back doors anymore because they will clash with the poles. If you're lucky enough to find a normal lot, I'd suggest that you go for it!
Check-In
The lobby of The RuMa Hotel is pretty well-designed and gives a warm vibe. As you enter, you'll pass through a foyer with a bamboo installation.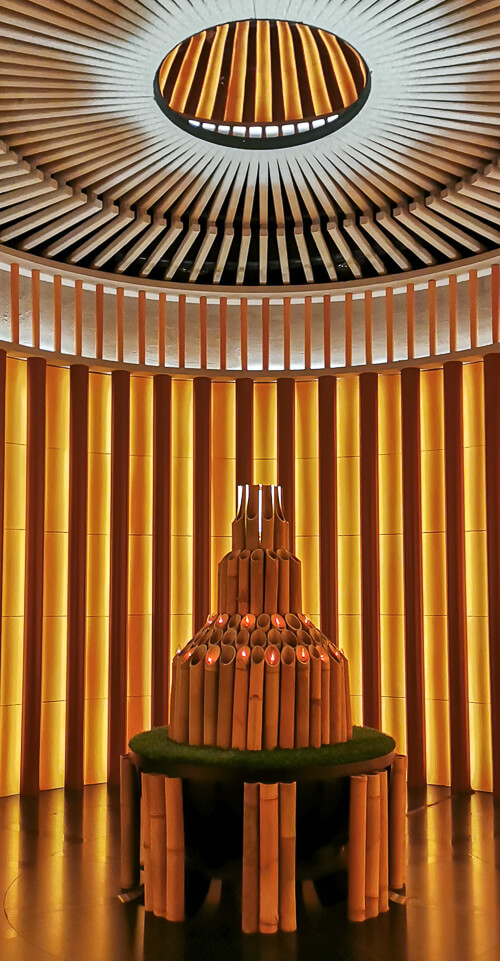 Then, you'll see two spiral staircases which make great Instagram backdrop. The twin staircases link the first floor (lobby) and the Mezzanine level (ATAS restaurant).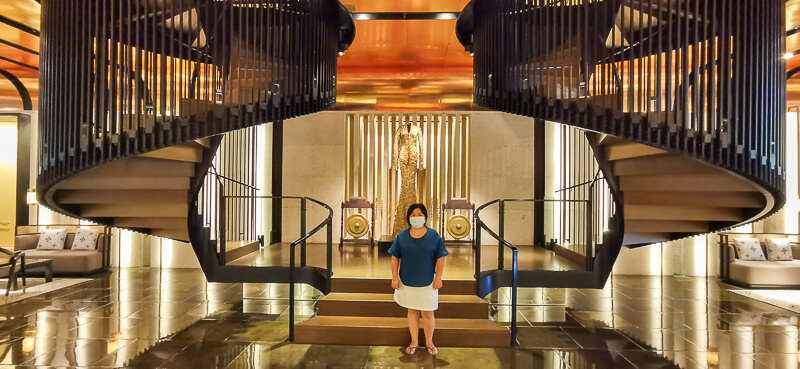 Instead of queueing at the reception counter, we were seated at the sofa and the receptionist came to us to do the check-in.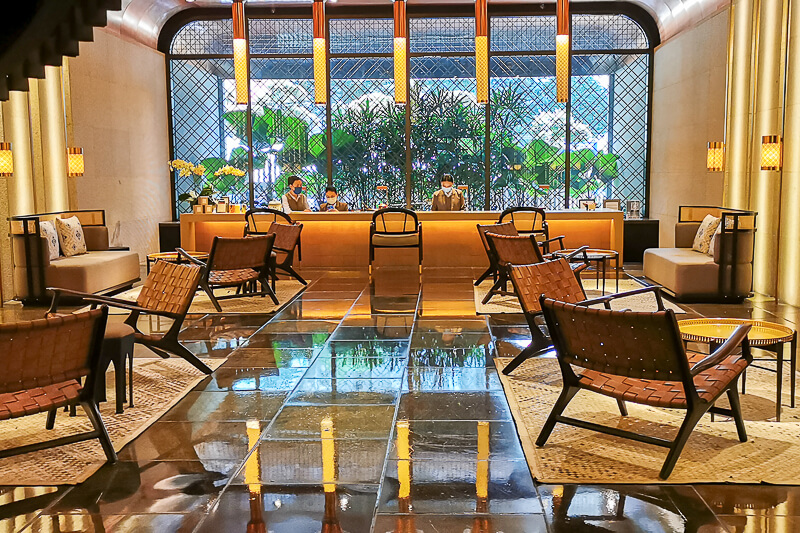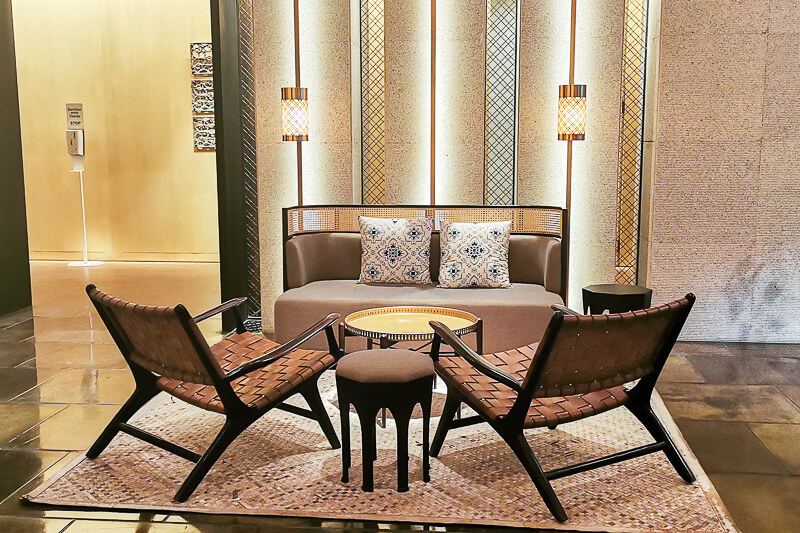 During check-in, the receptionist told us that we were upgraded from Grand Room to Corner Studio with Twin Tower view. We were surprised and stoked. After going into our room, apparently it was a Corner Studio with City View; Twin Tower was not visible. Well, it's alright, we'll take it; the upgrade to Corner Studio is already a great surprise.
Welcome drinks were served during check-in. And a deposit of RM300/room was collected during the check-in, which will be refunded after check-out.
We requested if late check-out was available. Upon checking, the receptionist told us that we could check-out at 1pm instead of the usual 12noon.
Room Types
Here are all the room options for easy comparison.
| Room Types | Size | View |
| --- | --- | --- |
| Deluxe Room | 43 sqm | City |
| Grand Room | 45 sqm | City |
| Corner Studio – City View | 45 sqm | City |
| Corner Studio – Twin Towers View | 45 sqm | Twin Tower |
| Grand Studio | 48 sqm | Twin Tower |
| Deluxe Suite | 60 sqm | Twin Tower |
| Grand Suite | 88 sqm | City |
| 2-Bedroom Family Studio | 90 sqm | City |
| 2-Bedroom Deluxe Suite | 110 sqm | Twin Tower |
| RuMa Suite | 111 sqm | Twin Tower |
| 2-Bedroom RuMa Suite | 172 sqm | Twin Tower |
If you're specifically looking for rooms with Twin Towers view, do note that the Twin Towers view at RuMa is partially obstructed. You'll only get to enjoy the view the Twin Tower's upper half, not the entire Towers' height.
Corner Studio – City View Room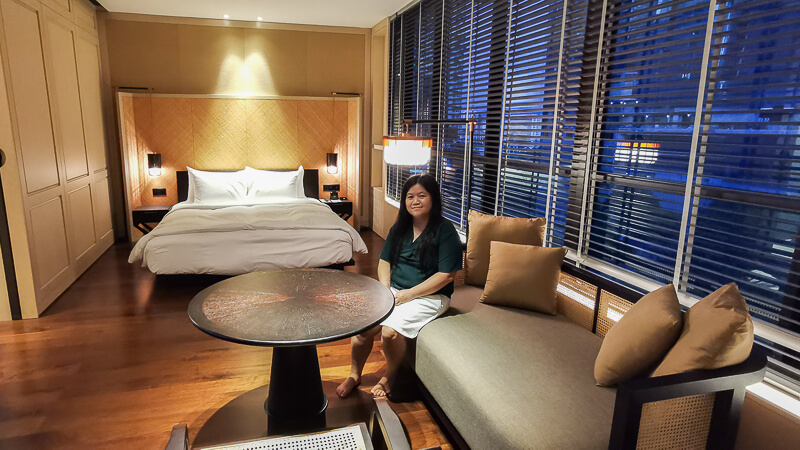 Our Corner Studio with City View comes with a kind bed, a living area (with a sofa, chair and table), two vanity basin, and a bathtub with separate rainforest shower.
Because it is a corner room, we enjoy the privilege of having a really large window along the length of the room.
The window comes with a blackout roller blind which can roll down by itself with the push of a button, as well as a horizontal blind which allow natural light to come into the room.
The View
The view from our room consists of 8 Conlay shopping complex (which is still under construction), Pullman Hotel, Banyan Tree Hotel, and Kondominium Sri Kia Peng.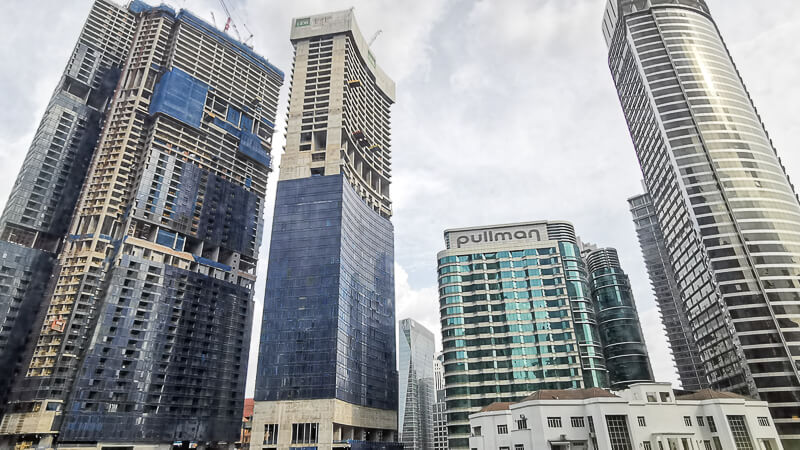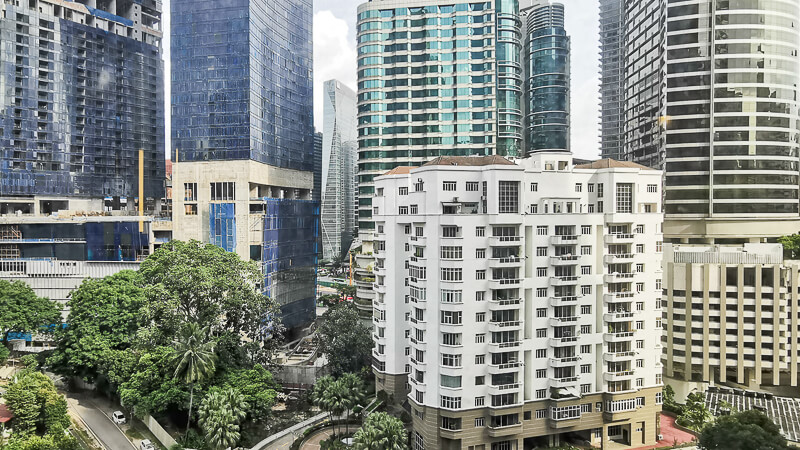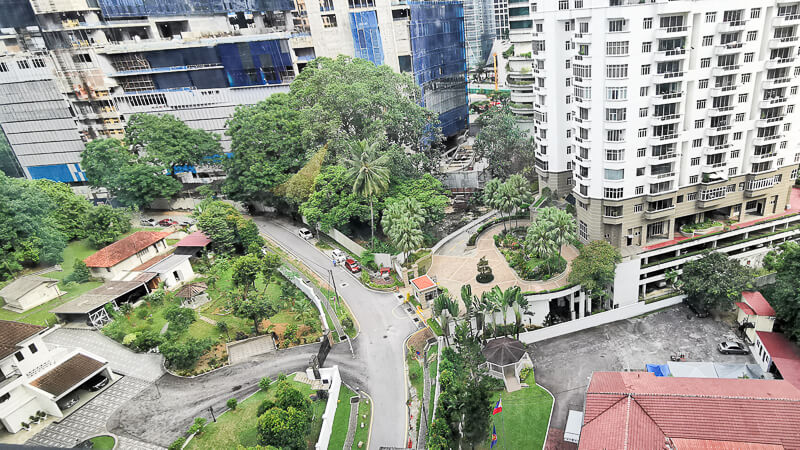 Living Area
The living area is fitted with a round table, a sofa with cushion, and a side table with lamp. When seated on the sofa, the TV is right in front of you. But if you prefer to watch TV on the bed, you can do so by twisting the TV mount to make the TV face the bed.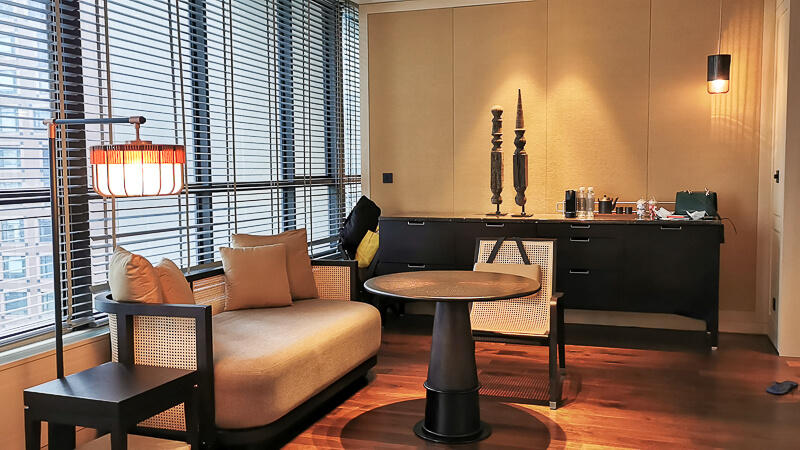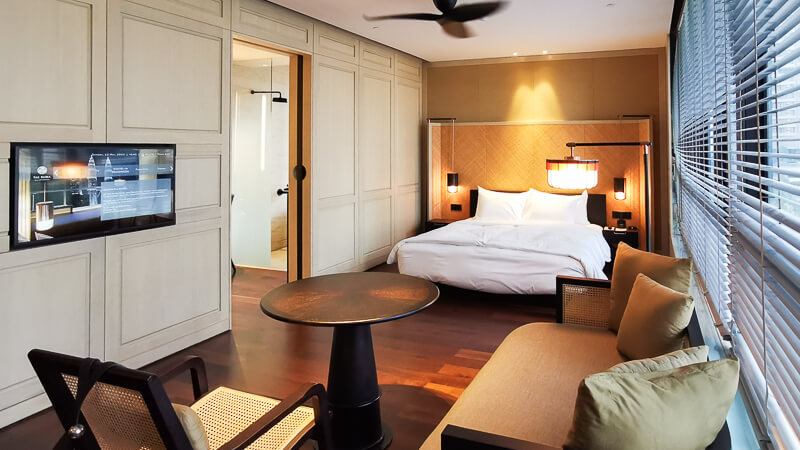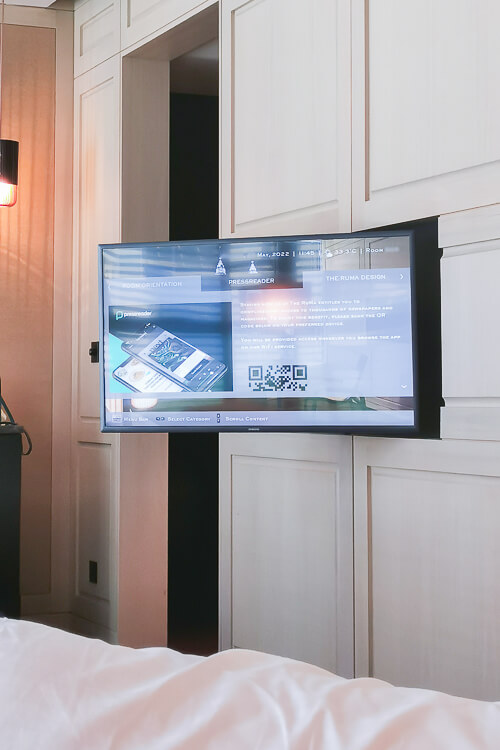 Minibar
One of my favorite parts at RuMa is the free minibar. Free replenishment is available only for guests staying at least 2 nights. Since we only stayed for a night, we didn't ask for any replenishment.
So, what's available at the minibar?
First, on the countertop, there's a basic Nespresso machine, 6 bottles of mineral water (pretty generous!), a set of kettle and two cups, as well as two jars of local snacks.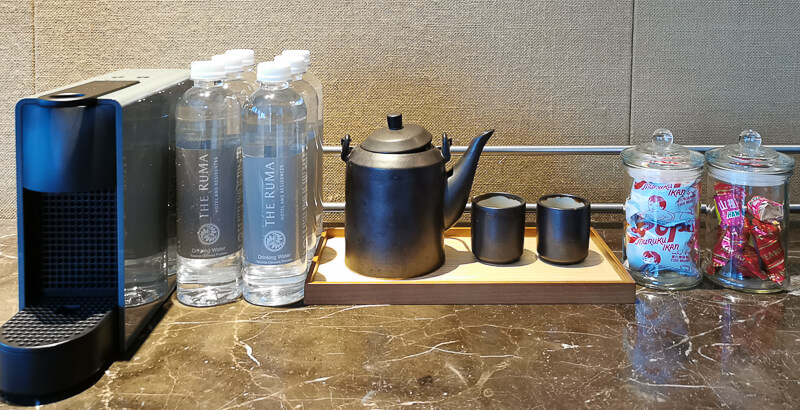 Then, in the drawer, there are 6 Nespresso capsules (2 of them are decaf), 3 packs of Harney & Sons tea, sugar, creamer, bottle opener, plates and utensils.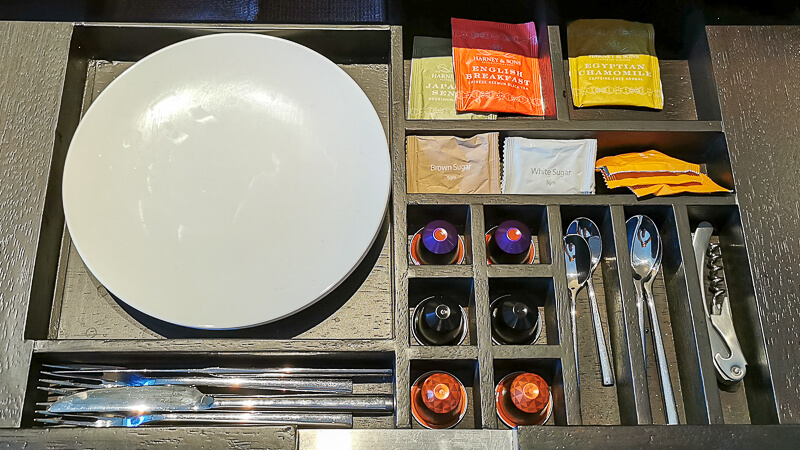 In the fridge, there are 2 bottles of RuMa mineral water, a normal Coke, a Zero Coke, F&N Ginger Ale, F&N Chrysanthemum, Carlsberg and Apple Juice.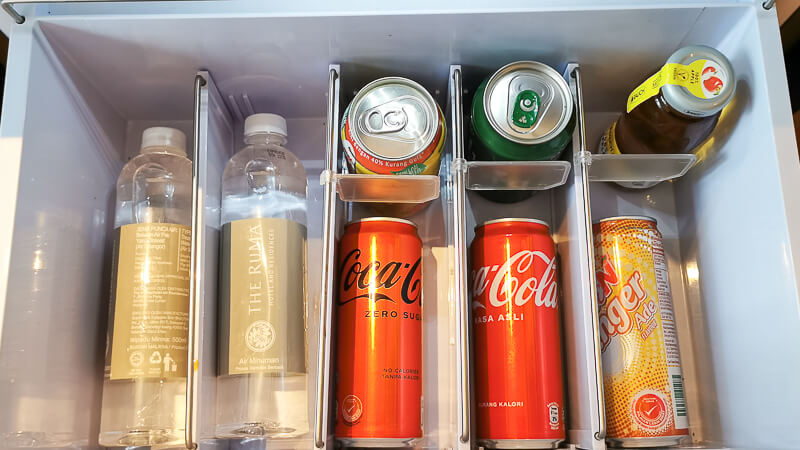 Seriously, all hotels should provide free minibar because the items are not expensive to begin with, and hotels can easily cover the cost from the room price.
Amenities
Food and drink-related amenities include tea sets and glasses, electric kettle and ice bucket.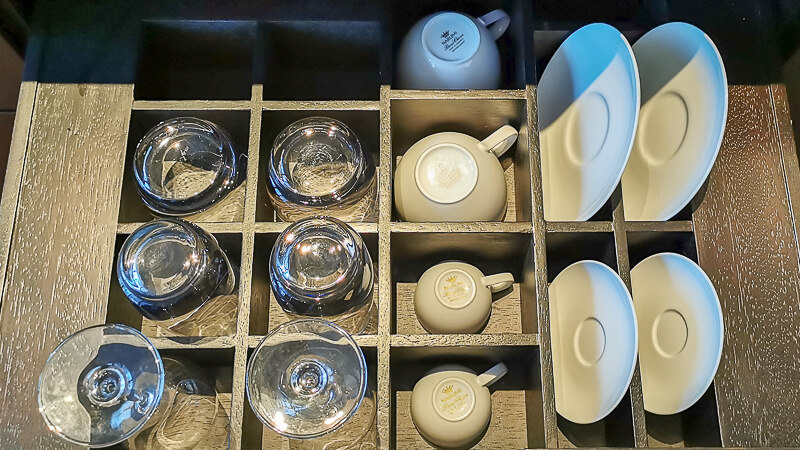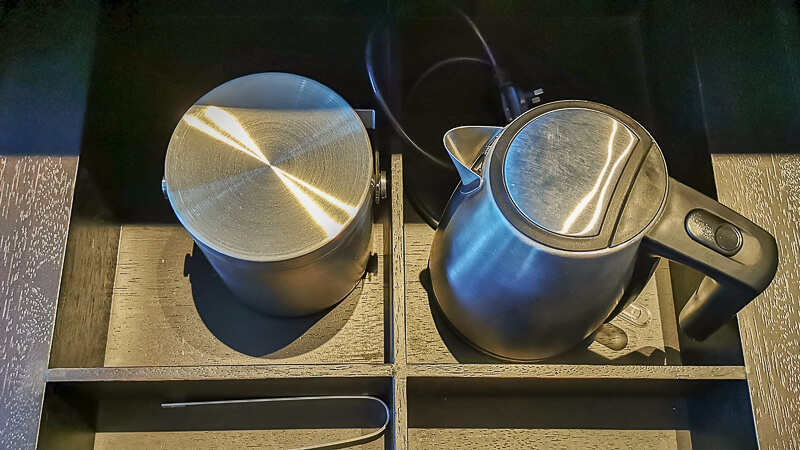 There is also a safe hidden in one of the drawers.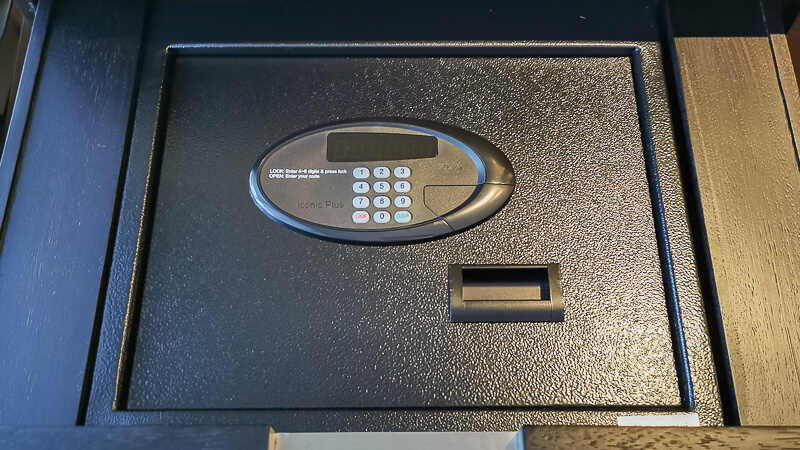 Slippers and bathrobes are also available, along with umbrella.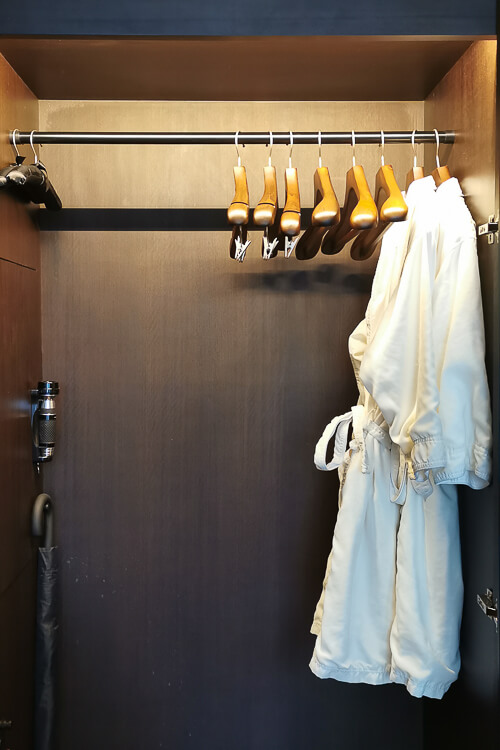 Bathroom
I am very impressed with the bathroom! When you step into the bathroom, you'll immediately notice twin basin vanity. I always love the idea of twin basin because it saves you time from not having to wait for the other person to finish using it.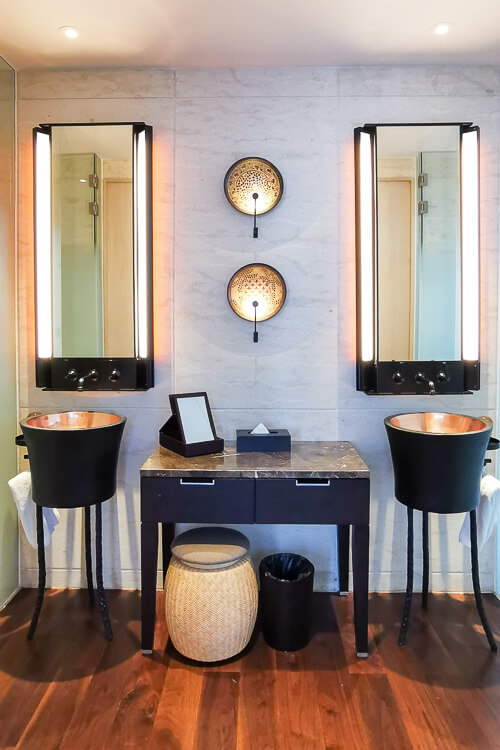 On one side of the bathroom, you'll find the toilet cubicle (bidet hose is available). Meanwhile, on the other side, you'll find the shower room which is fitted with a bath and a separate rainforest shower.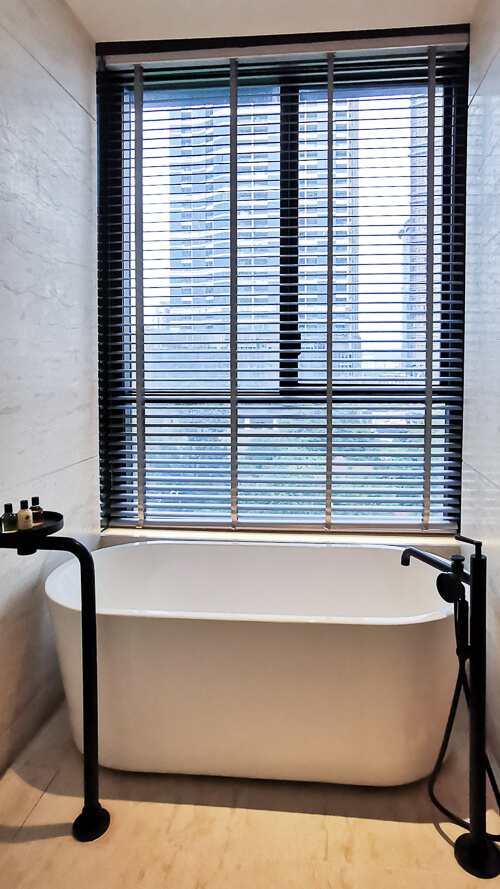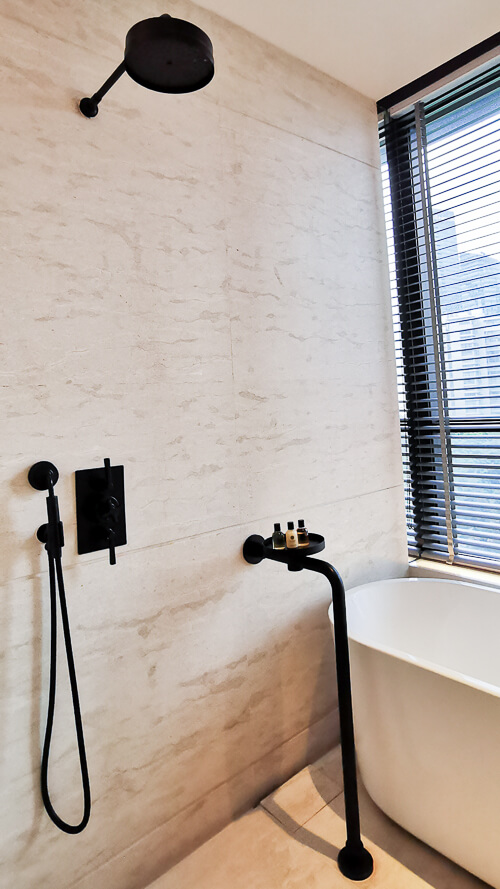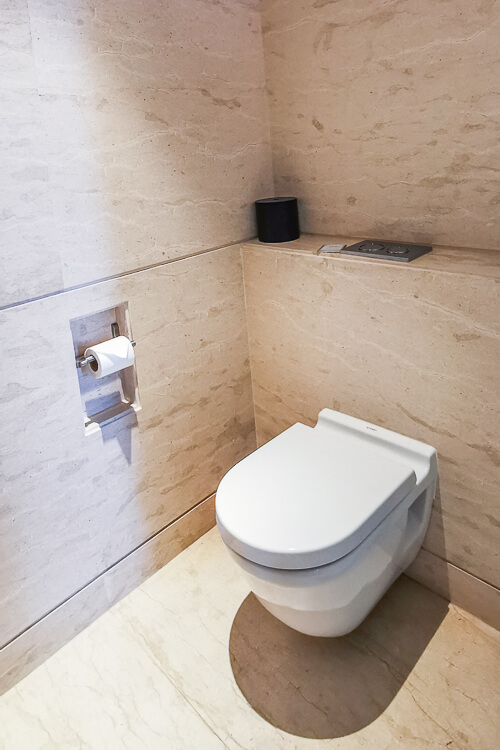 You can enjoy the views from the bathroom window when taking a bath, but, personally I'm worried that others can see me from the outside. So I'd prefer to shut the blind.
The amenities provided in the bathroom are toiletries (such as hand soap, shower gel, shampoo, conditioner, body lotion, toothbrush kit, shaving kit, comb, nail filer, cotton pat, shower cap), hair dryer, as well as 2 packs of bath salt!
Bed Area
Our bed is a king-sized bed. The bedsheet is said to be a sumptuous 330-thread count Egyptian cotton bed linen. Four pillows were provided, but you can request for more pillows and even a bolster by calling the housekeeping. The pillow menu is available in the PDF guide that can be downloaded from the QR code found on the TV or during check-in.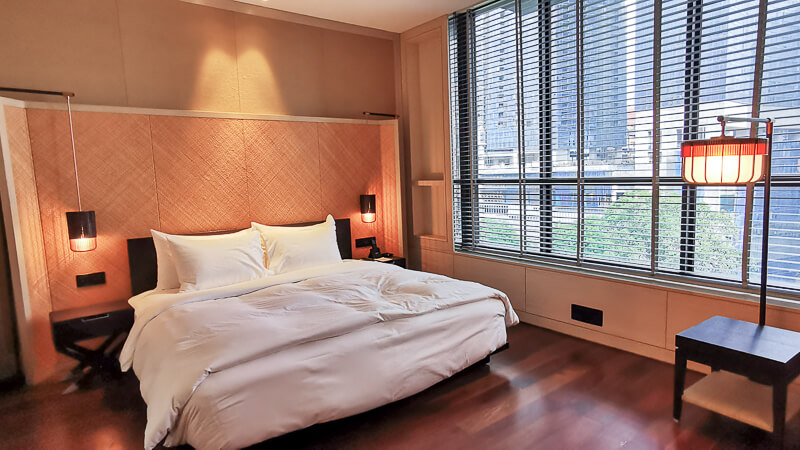 For reference, here is the pillow menu during our stay:
Down & Feather Pillow
Memory Pillow
Synthetic Pillow
Polyester Fiberfill Pillow
Polyester Fiberfill Bolster
Charm Down
Eco Latex Pillow
Beside the bed, there are 2 side tables on each side, with night lamp, power plug, USB charging points, as well as switches.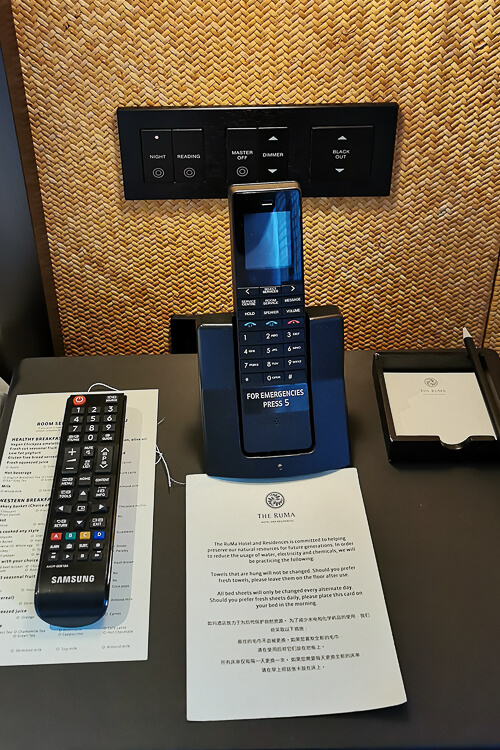 The lighting system in the room is quite interesting. The button "dimmer" allows you to choose your preferred lighting set up. Press the up arrow and more lights will be turned on, and vice versa. Some people may love this "smart" feature. But, if you have OCD, and you want to control exactly which light is on, you may not love this feature.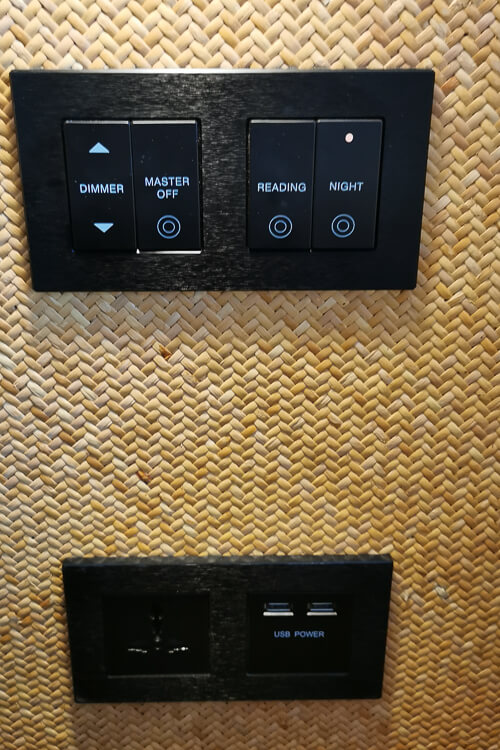 Gym
The Fitness Centre (aka Gym) is located on the same floor as the swimming pool, which is the 6th floor. It is open 24 hours a day. The gym is not manned, to enter you simply tap your room card to the card reader.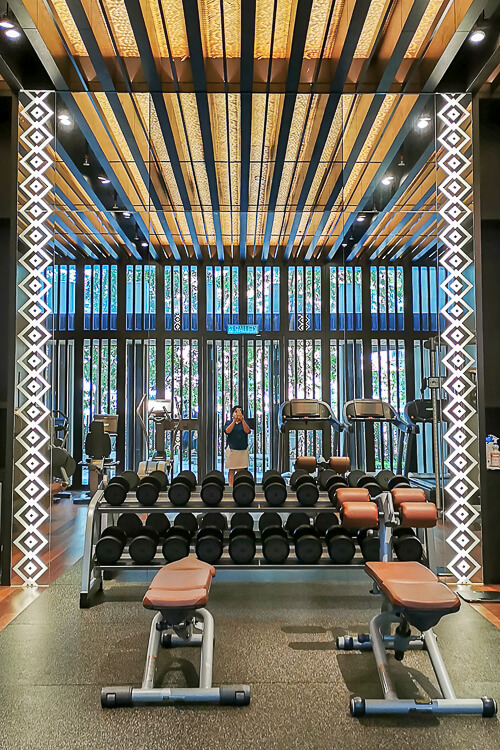 The available equipment are treadmills, elliptical, dumbbells and weight benches, gym ball, and various machines as can be seen from the following photos.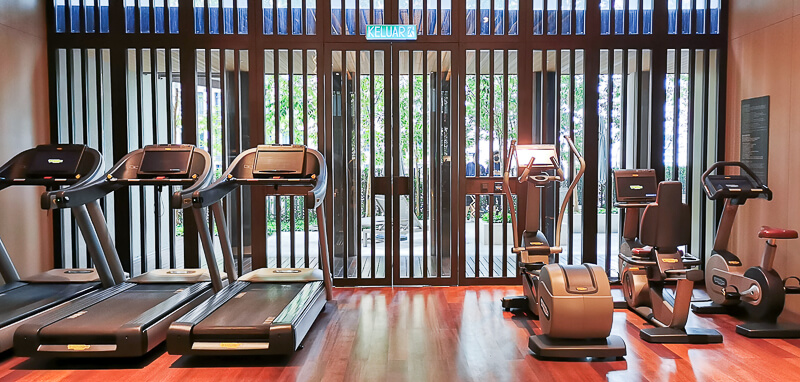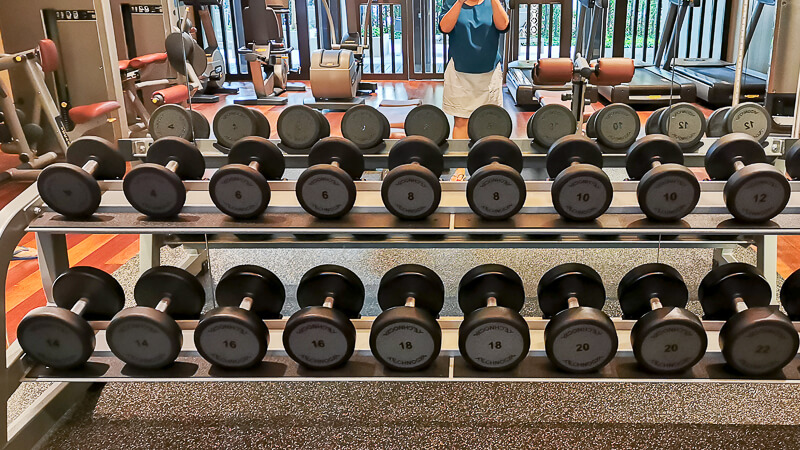 At the corner of the gym, there is a mini fridge loaded with 100plus and mineral water to help gym-goers to stay hydrated.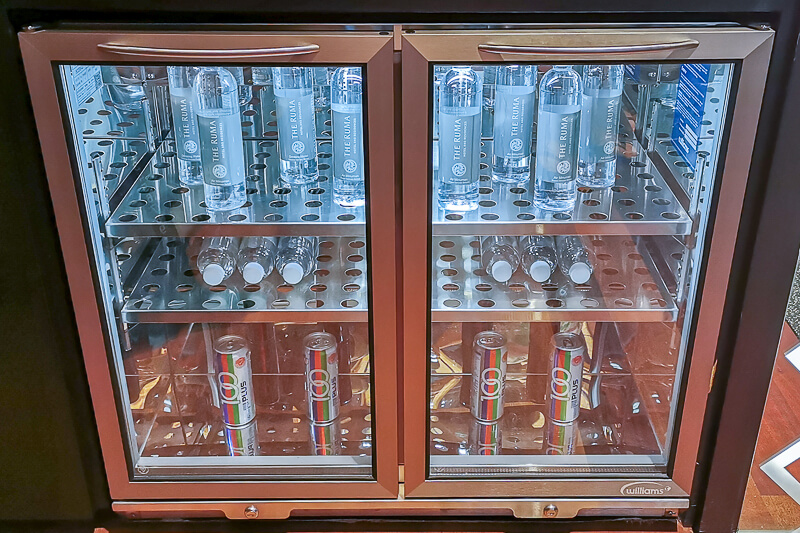 Swimming Pool
The swimming pool (also known as infinity pool) is located at Level 6. It is open daily from 8am to 9pm. There are 2 pools located side by side: the adult pool (1.2m deep) and kids pool (0.5m deep).
The pool deck is furnished with various seating options, such as sun lounger, chaise lounge, day bed as well as photogenic egg-shaped seating pods.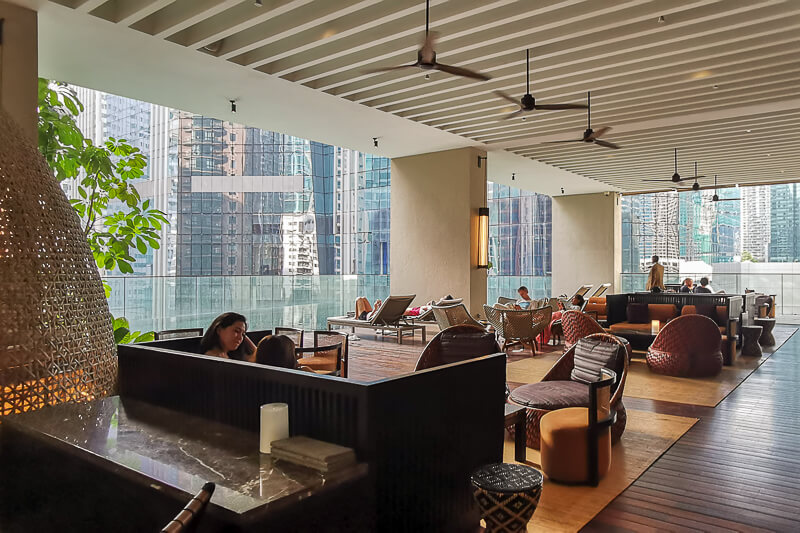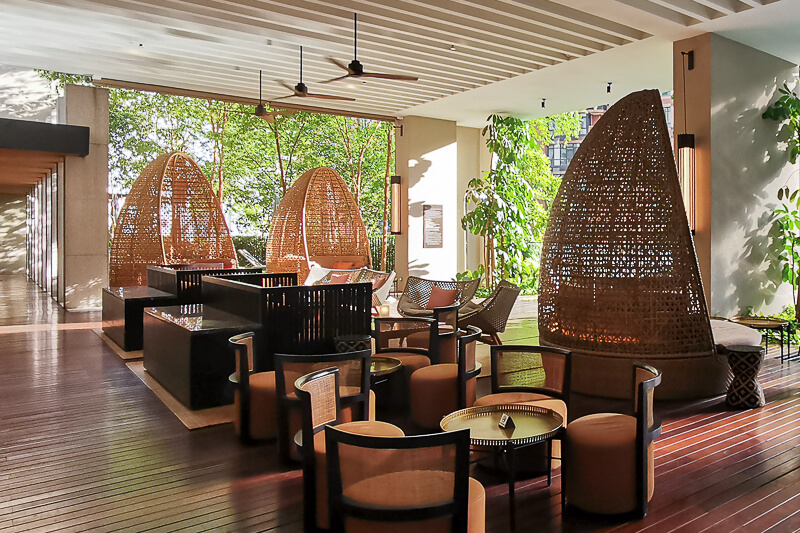 Also located on the pool deck is the SANTAI pool bar and lounge, which serves burgers, beers, cocktails and snacks. They also have all-day happy hours where you can get 50% off selected drinks.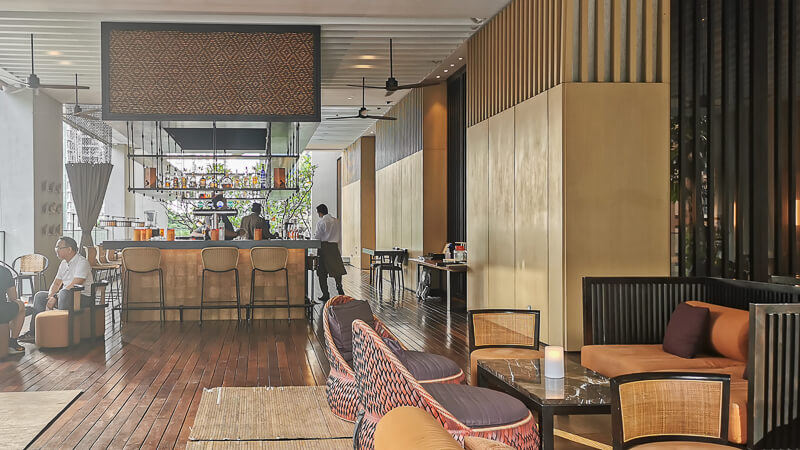 Because the pool is not at the rooftop, the view is obstructed by the surrounding apartment and office buildings. You can also see Twin Towers in the distance, partially blocked by 45-storey glass-cladded Permata Sapura Tower.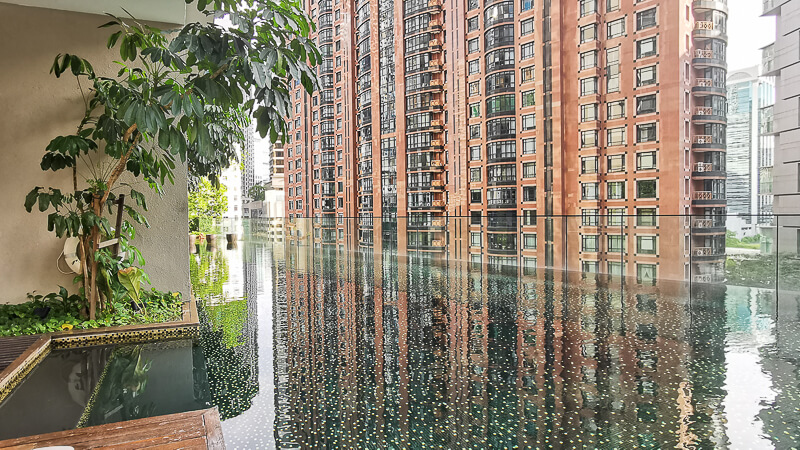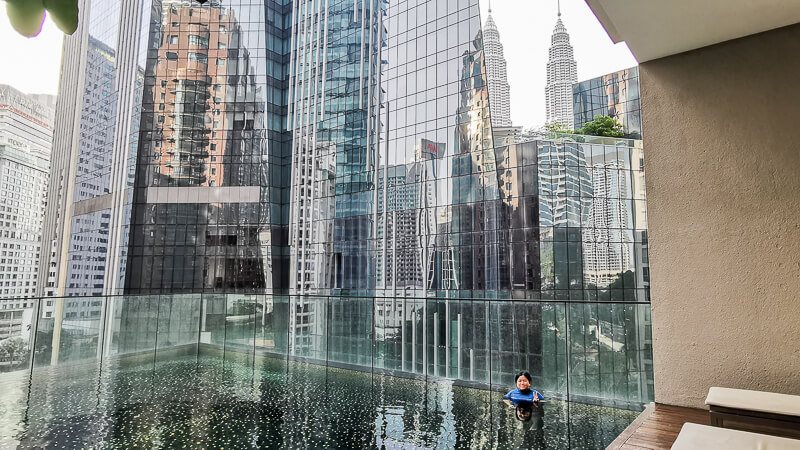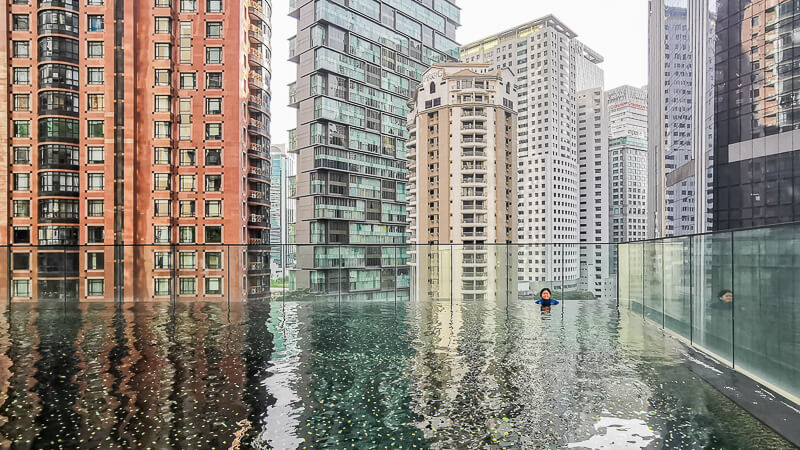 One thing that requires improvement is the cleanliness of the water. The water looked clear, but it lacked the smell of clean water. Let me just put it this way, the water tasted more sodium-ish rather than chlorinated.
Breakfast at ATAS
Breakfast is located at ATAS Restaurant, which is at Mezzanine Level. If your room doesn't include breakfast, the walk-in price is quite steep at RM130 per person.
Breakfast hours are from 6.30am – 10.30am. It is a buffet breakfast. Gloves are provided for guests to maintain hygiene at the buffet spread.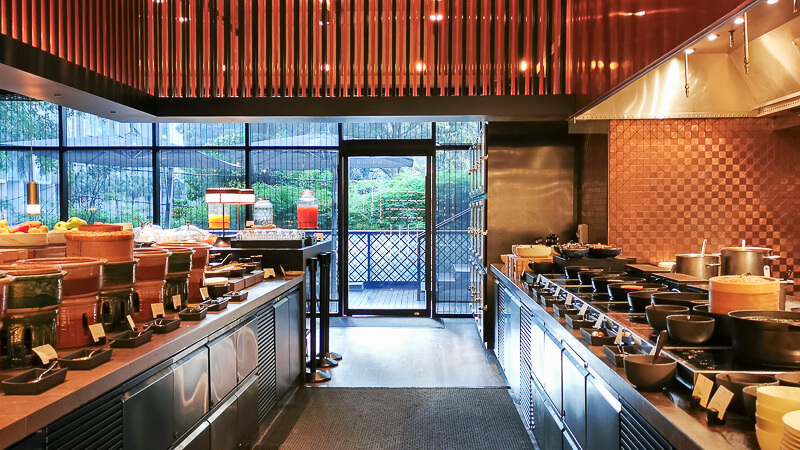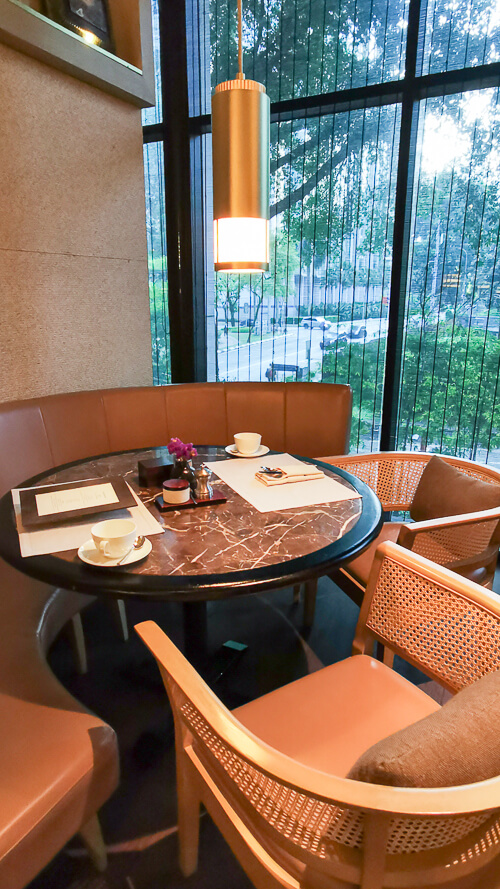 There is no visible egg station, so if you want to order egg dish, you need to refer to egg menu on your table and order directly with the service crew. I ordered Mix Benedict and I really like it because it's so pretty and it tasted nice too!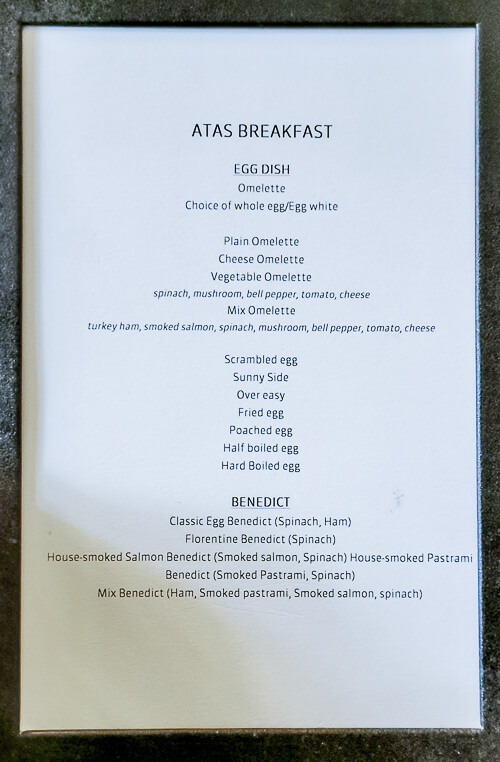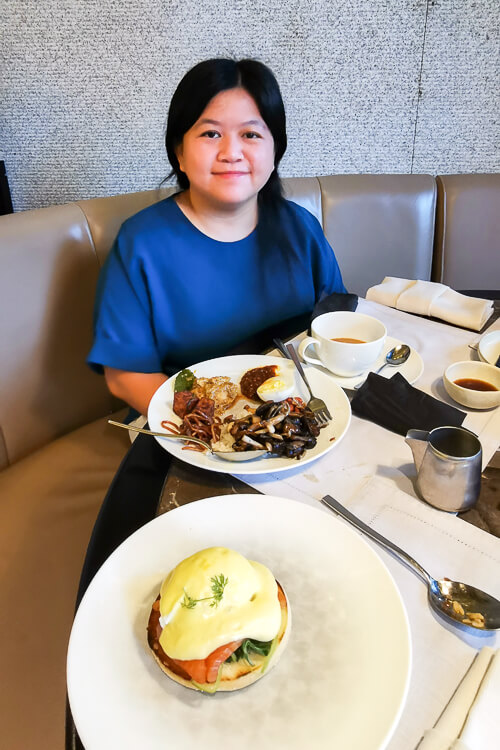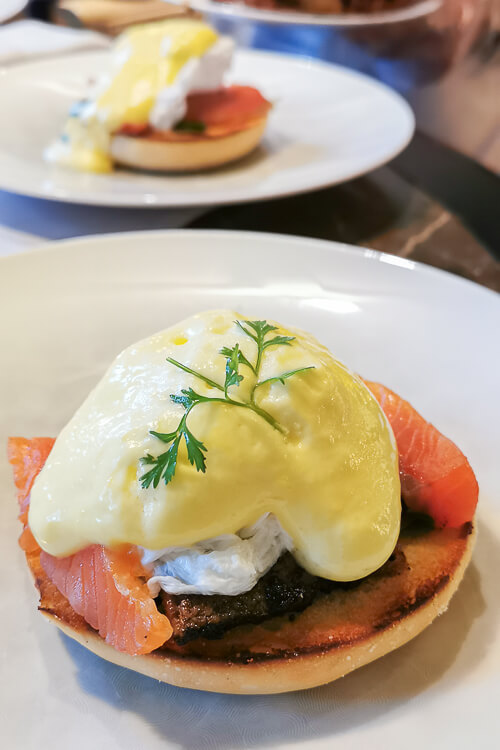 There is a noodle station where you can order either a curry noodle soup or chicken noodle soup. You can choose the amount of noodle that you want, as well as the amount of condiments. I couldn't decide which soup go to for, and the noodle staff kindly offered me both soup! Really appreciate the kind gesture!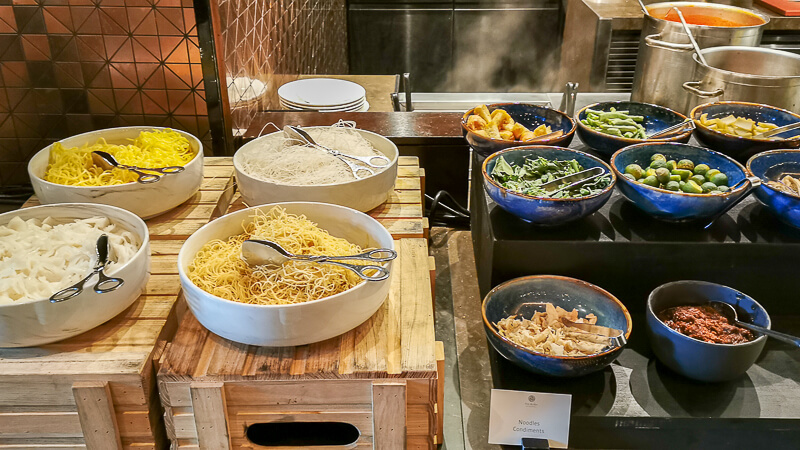 Personally, I'm quite impressed with the variety of food at ATAS. Correction, I'm super impressed! How can I not be? See, the bakery section is filled with various bread and pastries, such as baguette, croissant, muffin and puffs. You can also toast your own bread.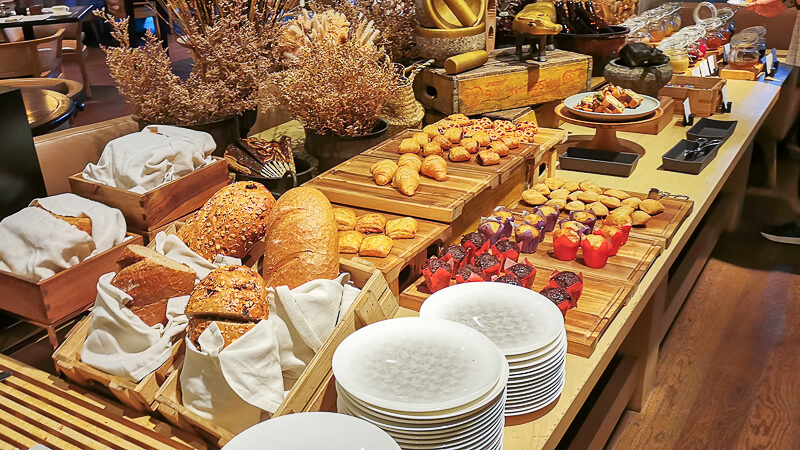 Next to the bread section, there are 14 jars of jam/honey! I've never seen this much jam in a restaurant's breakfast.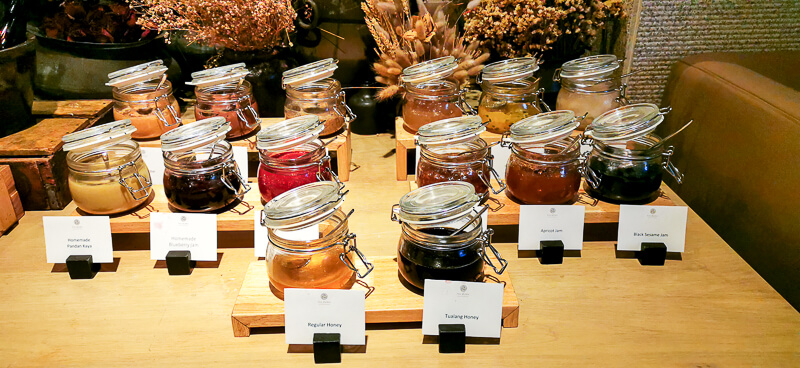 As I turned around, I was so shocked to see more than 15 jars of seeds and nuts! From chia seeds, pumpkin seeds, cashew nuts to pistachio nuts, I felt so spoilt for choice. If you love seeds and nuts, you'll understand my excitement.
Then, there is a cheese section with 2 soft cheese and 1 hard cheese. I prefer feta cheese, if you need recommendation. Next to it are the salad and fruit sections.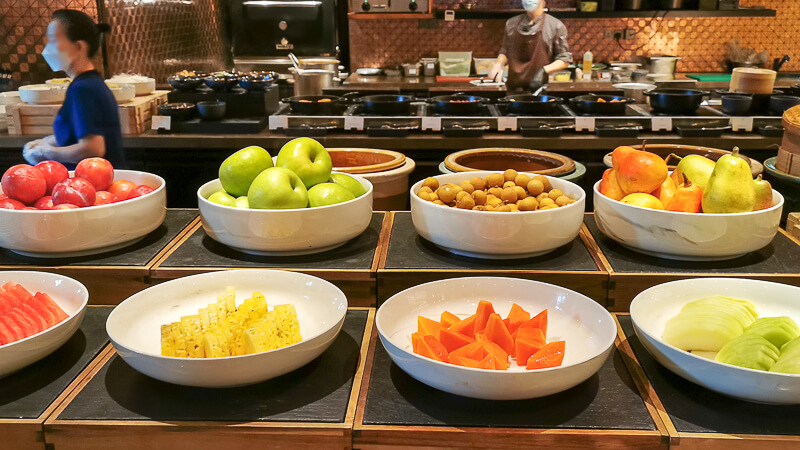 Behind the fruit & salad sections is the nasi lemak section. You can't go to Malaysia without eating nasi lemak, so I did what I had to do. I love the nasi lemak and sambal. My family loves the chicken rendang.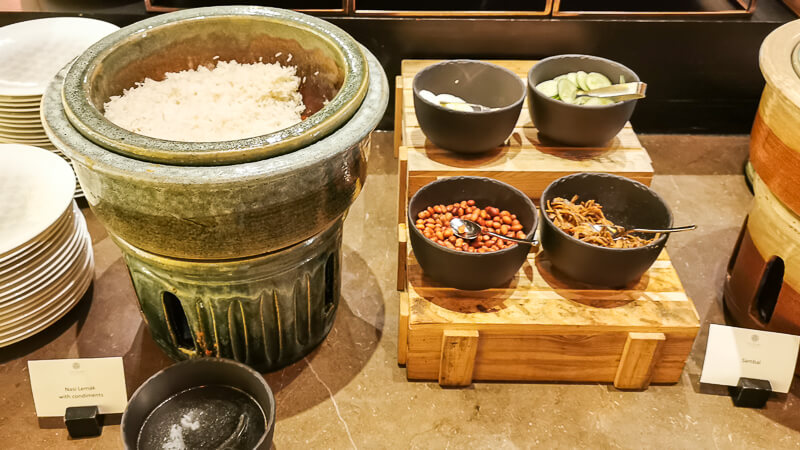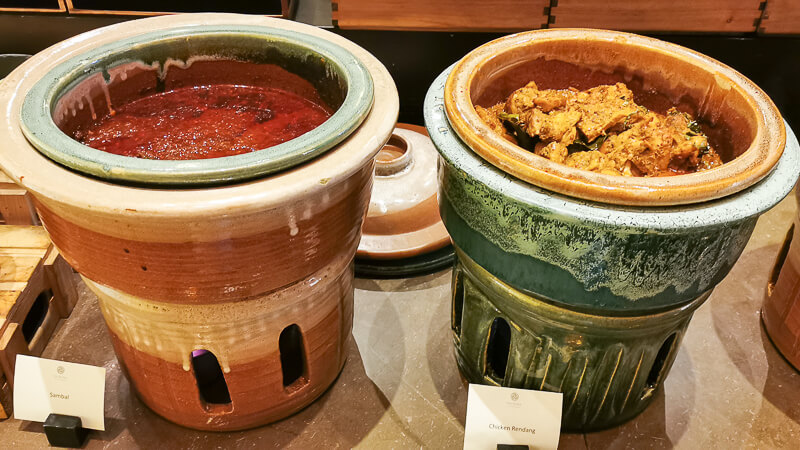 Next is the fried section, which has fried carrot cake, fried noodle and fried spring roll. I'm not a fan.
After the fried section is the cereal section. There are 2 bottles of milk (full cream and low fat), together with 6 choices of cereal. Love the koko krunch and full cream milk.
The porridge section comes with a bowl of piping hot porridge and various porridge condiments, such as spring onion, fried onion, boiled egg, shredded chicken, soya sauce and sesame oil. The plain porridge is truly plain and flavorless. As a porridge lover, I think there is room for improvement. I'm the type of person who prefers savory porridge; I was hoping the condiments could give umami to the porridge, but nope they didn't.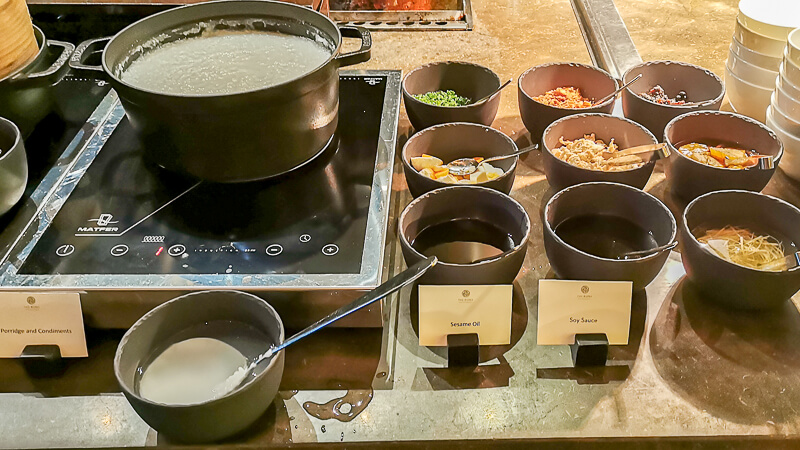 At the drink section, there are plain water, orange juice and pink guava juice. Tea and coffee can be ordered directly from the service crew.
Another thing I hope ATAS can improve is to replace the plates with blackish color. Or choose plates that won't change colors after prolonged usage.
Exploring RuMa Hotel
Despite being a single block hotel, I think RuMa is pretty well-designed. There are photogenic spots all over the building and here are some that I found when I explored the hotel.
The SEVEN lobby bar and lounge is a quiet bar located near the entrance of the hotel, next to the spiral staircase. SEVEN serves various alcoholic and non-alcoholic drinks, hot beverages, western and local food.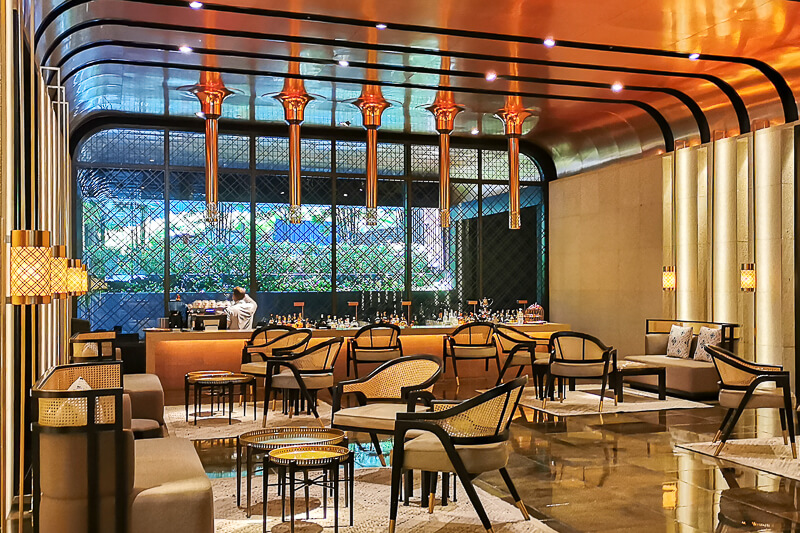 The Librari is an actual hidden gem. I had a hard time finding i. Apparently it is located at the first level, next to SEVEN. There are several books on the shelf. Guests are allowed to eat and drink here. So, don't expect it to be a quiet spot to work. If any, it has more café vibe rather than library vibe.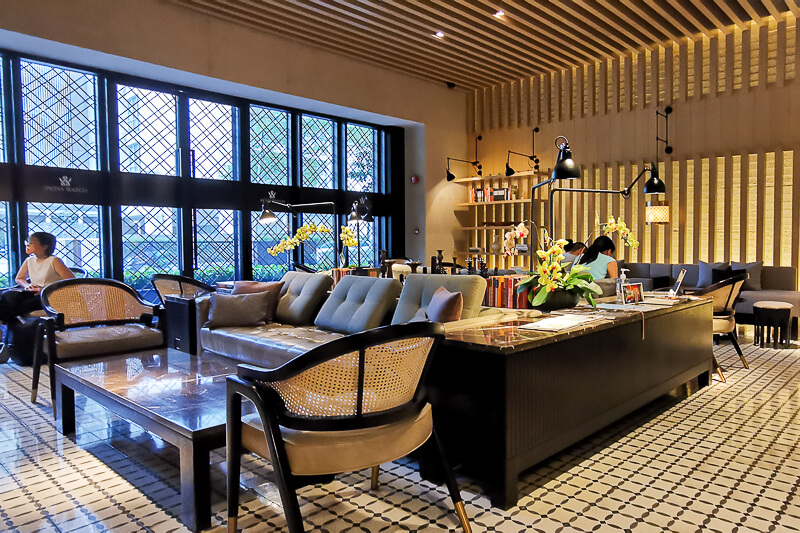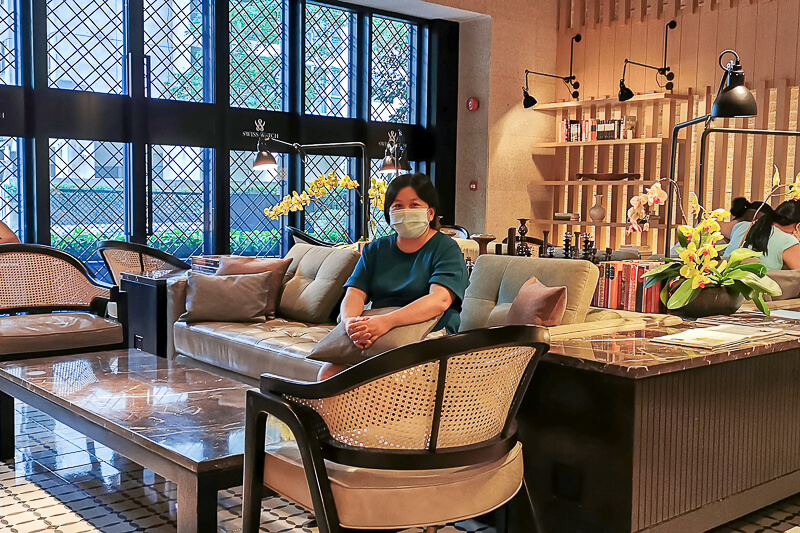 Located at Level 6, the Spa is quite hidden, which is great for people looking to have a relaxing massage. Opened daily from 10am to 9pm, UR SPA offers therapies starting from 30mins all the way to 90mins.
There is also a barber at the hotel, located at level 6.
Unfortunately, there is no steam room or sauna at RuMa Hotel. I was really expecting to enjoy steam, sauna and a hot bath after swimming; sadly, there were not any.
Around RuMa Hotel
As RuMa Hotel is located near city center, it's very easy to find restaurants, convenient stores and shopping malls. The nearest restaurant to RuMa Hotel is Hakka Restaurant, which is an open-air restaurant. We wanted to eat here but were told they're full. If you intend to eat here, do go there early, like 6pm.
For Halal option, there is I'dahlia Corner Sup Tulang Meletop which is 550m away.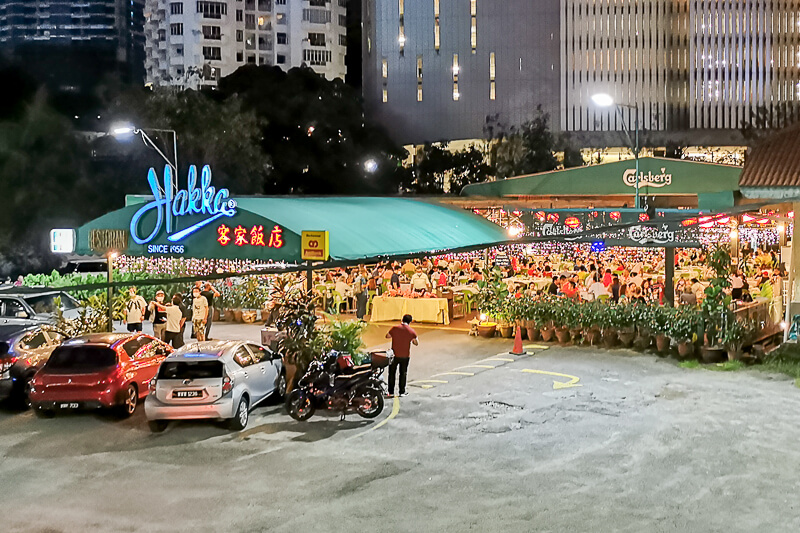 Pavilion Kuala Lumpur shopping mall is just across the road from Hakka Restaurant. Here, there are hundreds of restaurants and cafes, you'll be spoilt for choice. If restaurant dining is not your thing, you can walk a little further to Jalan Alor where you'll find plenty of street food.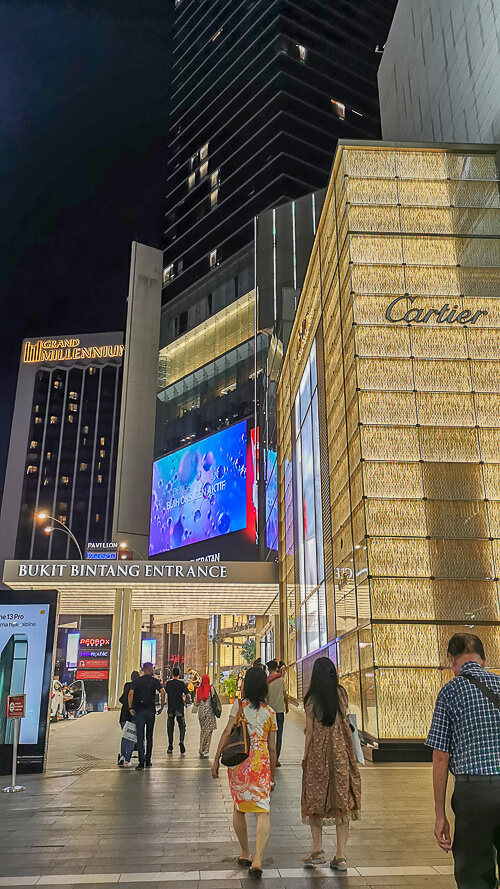 The Petronas Twin Towers (KLCC) is located at the north west of RuMa. You can go there on foot via Jln Pinang (800m) or by crossing KLCC Park (750m).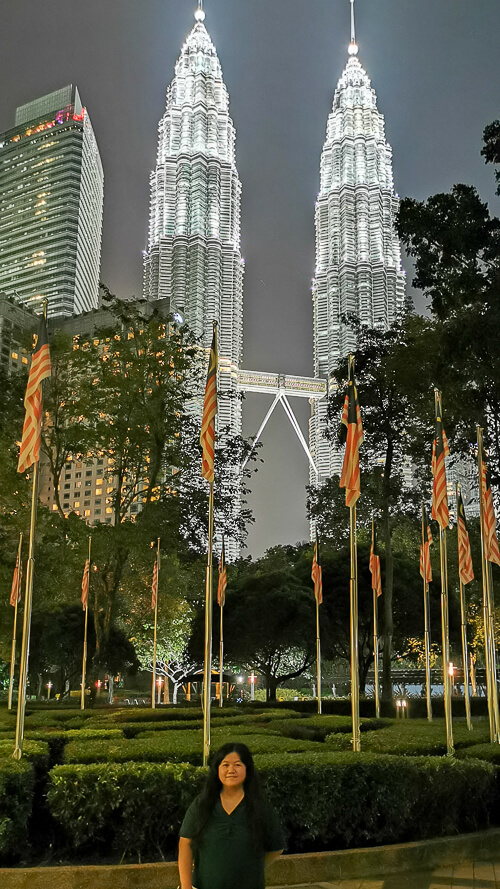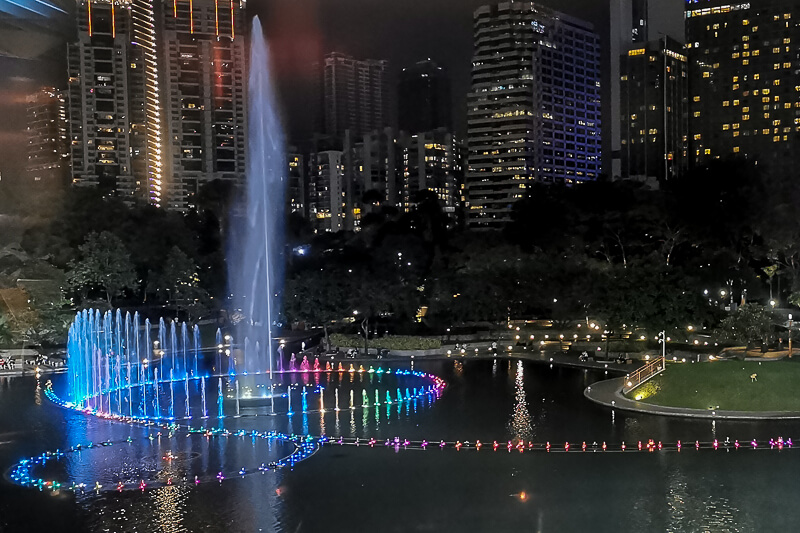 Watch my video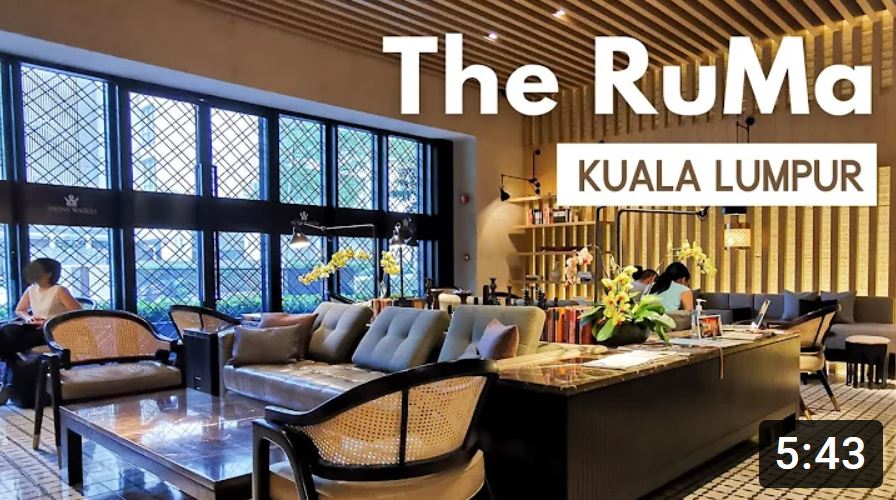 If you like my video, do subscribe to my Youtube channel.
Conclusion
Despite some minor hits and misses, overall, staying at RuMa was a great experience for me and my family. If you're looking for a 5-star hotel that is affordable and within walking distance from KLCC, RuMa is a great option to consider. Of course you have to compromise on full Twin Towers view to save a few bucks.
What I Like:
Free minibar!!
Delectable breakfast
Room upgrade
Ability to request for bolster and additional pillow
Bath tub with a view
Twin basin vanity
What I Don't Like:
No steam room, sauna, jacuzzi
Late check-in time at 3pm
Now, it's time for the moment of truth: did I feel like home at RuMa? Well, in terms of functionality, there is no kitchen in the room, so it doesn't feel exactly like home. But, in terms of comfort, I do feel very much at home. The breakfast is so so much better than the one I have at home, that's for sure!
This post is a collaboration with Klook. All opinions remains my own.
If you like my work, you can buy me a coffee! Your support will help me to keep going!