On that fateful day, I guess we were lucky!
It was 50 days before Chinese New Year and we haven't booked our flight tickets to my hometown Medan, Indonesia.
Ideally, we'd book tickets 3 months in advance, but this time we couldn't do it due to a lot of uncertainty in our lives. So, on that day, we finally sat down and decided on the travel date.
We browsed AirAsia, Jetstar, Traveloka, Tiger and many more websites but couldn't find any affordable flights from Kuala Lumpur to Medan.
And then, by fate, my eyes noticed that Malindo Air Business Class was cheaper than the Economy class!
How on earth could it happen? I didn't know!
But I knew I must book the tickets right there, right then. I filled up my particulars and my husband's, then the website gave us an error message!
I refreshed, the price has increased!
But it's STILL cheaper than Economy Class. It was a no-brainer. We booked our tickets at the revised price. We rejoiced! A dream was coming alive soon and we couldn't wait.
Two days before the flight
We received an email from Malindo with a subject line "Trip Reminder" two days before the flight. Hey, Malindo, I don't need to be reminded, I'm SO looking forward to the first business class flight of my life! I opened the email but didn't really read it.
From Seremban to Kuala Lumpur International Airport (KLIA)
My husband is from Seremban, so we spent Chinese New Year with his family first, before flying to my hometown to spend time with my family. I was so stressful on this particular day. My flight from KL to Medan was scheduled at 6pm.
The long story (you can jump this section if you are not interested to read about my stress!):
We purchased tickets for a bus that leaves from Seremban to KLIA at 2pm. The journey is supposed to be 1 hour. Arriving at 3pm is just nice, we thought! Then, the bus was late. We waited until 2.15pm, and the bus still wasn't at the bus terminal yet. We checked our tickets and found out we were cheated, the tickets were for 12noon bus. We decided it was time to change to Plan B.
We walked to train station. The next train to KL was scheduled at 2.30pm. The journey takes 1 hour to BTS terminal. From BTS, we still need to take KLIA Transit (30-45mins journey) to the airport. If we chose this method, we would've arrived at the airport at 4-4.15pm if everything goes as plan. What if the train is full and we have to wait for the next, next train? We didn't dare to take the risk. We decided it was time to engage the help of our family. 15 minutes later, we were sitting in our family's car.
The short story:
At about 2.50pm, I checked my email and found an email from Malindo, sent at 11am on that day, titled "FLIGHT HAS BEEN RE-TIMED". It says that our flight was delayed from 8pm to 9.30pm. I was confused because my flight should depart at 6pm, not 8pm.
I called the hotline. They confirmed that my 6pm has been changed to 8pm, and now the flight is further delayed to 9.30pm.
In my mind, "So, I was stressed about the whole bus and train saga for nothing? Anyway, I'm actually relieved our flight is delayed! We don't need to rush to the airport and once we arrive there, we'll get to relax at the airport!"
I read carefully the email titled "Trip Reminder" they sent 2 days ago. It said that my flight was scheduled at 8pm! C'mon Malindo, why can't you put "Trip Rescheduled" in the title and save me from the stress?
Anyway, if you want to know what's the best way to go from Seremban to KLIA, this is my advice. Take KTM train from Seremban to Nilai. From Nilai, take the 45-min airport shuttle to KLIA. This is the cheapest and most reliable method. And this was what we did. Don't take the bus from Seremban bus terminal.
From Kuala Lumpur to Kuala Lumpur International Airport (KLIA)
Do you know that the airport is about 60km from the city centre? If you're staying in the city centre, you need to leave KL really early. Here are public transportation methods from KL Sentral to KLIA:
1. Take the 30 mins KLIA Express train, or 40 mins KLIA Transit train. This is the fastest method, even faster than driving. It costs RM55 for single trip and RM 100 for return trip. Buy ticket online
to get discounts and to save time queueing at the counter.
2. Take the 1-hour Airport Coach bus from KL Sentral. It costs RM 10 for single trip and RM 18 for return trip. This is the cheapest method if budget is your priority and you have ample time.
Check-in Counter at KLIA
Even though the website states the check-in counter is open 3 hours before the flight, we went ahead to check in at 5pm, or 4.5 hours before our scheduled flight at 9.30pm, and there wasn't any problem.
I guess it was probably because our flight was delayed, so we got no problem checking-in early.
The check-in counter for Malindo Air Business Class passengers was different from that of the Economy Class. There was only 1 person before us when we queued. Service was prompt and friendly.
We were given a meal voucher that we could use at any of the places listed: Burger King, Flight Club, Kopi Time, Café Barbera, Noodles, Airport Fast Track KLIA, The Airport Lounge, Old Town White Coffee, Starbucks Coffee and Food Paradise.
Of course, we chose The Airport Lounge.
Immigration at KLIA
There is a dedicated immigration counter for Business Class passengers! Cool, huh?
I didn't know about it and queued at a normal counter. My husband, who loves to explore more than I do, found this special counter.
So, the next time you take Business Class, don't miss your opportunity to use the special immigration counter.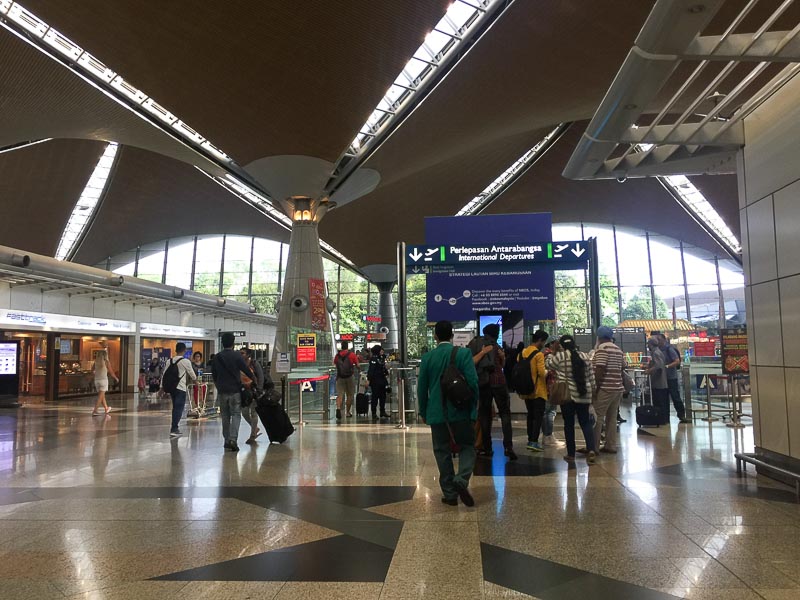 Going to The Airport Lounge
Since Malindo's actual lounge is under construction, their Business Class passengers are given the chance to enjoy The Airport Lounge instead.
To go to there, after immigration, we had to take the aerotrain to gate C. Then, walk to gate C5 and look for Sama-Sama Express. There, take the lift or staircase to the lobby at Level 2.
The Airport Lounge
The admission process was a breeze. They took our vouchers and welcomed us to the lounge. We didn't even need to show our passport. The first thing we did was, of course, eat!
It was late afternoon. These were the available foods when we visited: penne pasta, tomato sauce, pineapple fried rice, chicken kurma, vegetable dhal, white rice, mushroom soup, bread, cakes, pastries, fruits, salad.
Meanwhile, the available drinks were coffee, tea, apple juice and rose syrup. No alcoholic drinks, though. Beer and wine lovers, sorry you won't be able to enjoy them here.
My favourites were penne pasta with tomato sauce and coffee! Meanwhile, my husband's faves were pastries and bread!
In general, the lounge was pretty dark and small. There were a couple of high back chairs facing the screen, a high table with several Mac desktop and high chairs, and plenty of dining tables with armed chairs.
The minus point of the lounge was the lack of power points! Some people even pulled out the lamp plug to charge their devices!
In the female toilet, there was only 1 toilet cubicle and about 4 shower cubicles. Apparently, no other woman took shower except me.
Outside cubicles, at the rack, there were toothbrushes with toothpaste, shavers with cream and shower caps! They were quite hidden and I didn't notice them until I finished my shower! Hairdryers were available near the sink.
Towels were provided inside the shower cubicles, so there was no need to request from the receptionist. There were also soap and shampoo in the shower. However, the shampoo container in my shower cubicle was empty! Oh well..
Unlike contract lounge, there wasn't any time limit for business class passengers. So, we could stay there as long as we want! But since we had a flight to catch, we left the lounge at about 8.45pm.
Departure Gate
We took aerotrain again to our boarding gate. And, guess what we found? Another delay!
Our flight was further delayed from 9.30pm to 10pm! Ugh! If they had told us earlier, we could've spent a longer time in the lounge! Instead, we spent almost an hour at the gate that has no water fountain/dispenser! And my phone's battery was dying.
Finally Boarding
After a long day, finally, we boarded the plane at about 10.10pm. Business class passengers were allowed priority boarding, but… economy class people were already anxious and were blocking the gate, I had difficulties getting through the crowd.
Anyway, once we were seated, everything was good again. For the welcome drink, we were given 3 options: apple juice, orange juice and water. No alcoholic drinks for the welcome drink.
Then, we were asked what we wanted for our meal. The options are vegetarian pizza or chicken pizza. We requested for alcoholic drinks and were given 2 options: Tiger or Carlsberg. We chose the former.
So, what are the advantages of Malindo Air Business Class? First of all, plenty of space, including leg space and arm space. It wasn't a flatbed, it was just a reclined seat with a leg rest. Then, there were power points below the armrest. Finally, I could charge my phone!
Since we were seated in first row, we can't put our cabin bags at our feet, they have to be kept in the cabin compartment above our seats.
Our trays aren't attached to the seat in front of us, instead, they were hidden inside the armrest! Also inside the armrest was the interactive monitor, which wasn't that interactive at all.
Once the plane started cruising at a stable altitude, the meals are served. The rectangle pizza bread is served with a muffin and a glass (not a can) of beer. The cloth napkins were labelled Batik Air, so I guess they are related.
As it was a relatively short flight, it wasn't boring. Soon after finishing our meals, the plane started to prepare for landing.
We had the privilege to be the first ones to step out of the plan, yay! We were also the first ones to go through immigration counters and the first ones to collect our suitcases. Yes, our suitcases were released first because they were priority suitcases 🙂
But we weren't the first ones to exit arrival gate because we hadn't filled up the Custom Declaration form. The forms weren't distributed on the plane by Malindo 🙁
Conclusion
We have a love-hate feeling towards Malindo Air Business Class. We love it because it's affordable and the lounge and service are not bad (though not exceptional).
We didn't really hate the delay because we had an enjoyable time at the lounge (but we hated the lack of power points though).
Do I recommend Malindo Air Business Class? Yes, if you don't mind the possibility of delay.
Will I take Malindo Air Business Class again? Yes, but I will ensure my spare batteries are fully charged.