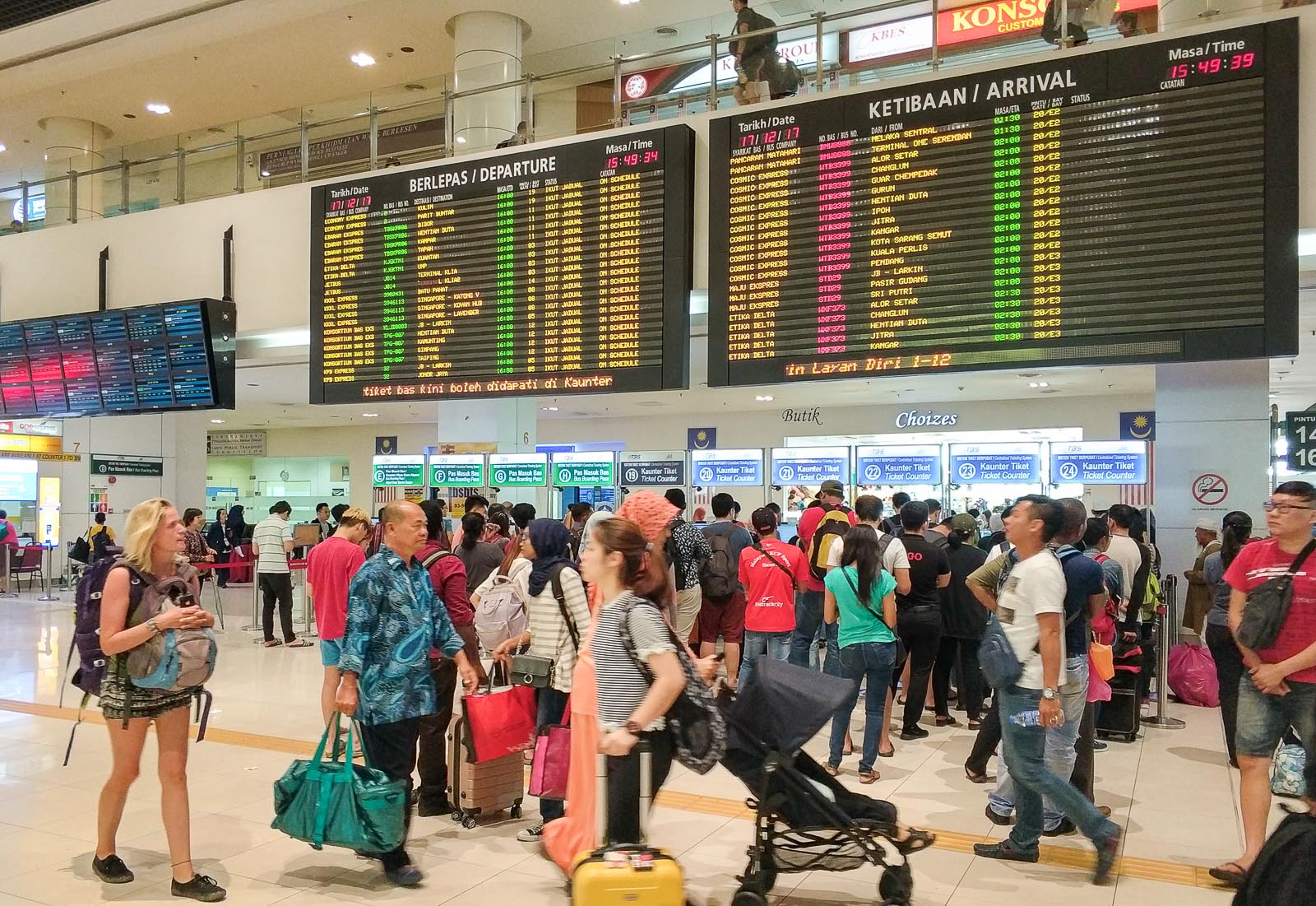 The best way to travel between cities in Malaysia? Forget the train. Either you drive, fly or take a bus.
It's not a surprise that public buses blossom in Malaysia. I mean, just look at those highways, there are maybe tens or hundreds of thousands of them. In fact, the public bus network is so comprehensive, every city in Malaysia is connected by bus. Availability is abundant. Price is affordable. The intercity/long distance bus is probably one of the best way to get around the whole Malaysia.
When should you consider taking flight and when should you take bus? Here are some considerations.
If your origin city and destination city are less than 5 hours drive away, take the bus. For example: Ipoh to Penang, Ipoh to Kuala Lumpur, Penang to Kuala Lumpur, Kuala Lumpur to Johor Bahru.
If your origin city and destination city are more than 5 hours drive away and both cities have airport, take the fight. For example: Johor Bahru to Penang, Kuala Lumpur to Langkawi.
If either your origin city or destination city doesn't have airport, take the bus. For example: Kuala Lumpur to Cameron Highland
Even though buses are one of the best public transportation methods in Malaysia, taking an intercity bus is quite challenging for first-timers. There are so many things that foreigners, including me, don't know when they book their first bus in Malaysia. So, I'm hoping that this post will be beneficial to people who are booking Malaysia intercity/long-distance buses.
1. Avoid seller who approaches you at the bus terminal.
This happens all the time. When you just arrive at a bus terminal, or when you're walking around bus terminal, these guys will approach you and ask where you're going. Sometimes, they'll say, "KL, KL, leaving now" because they know most people will take the bus to KL (Kuala Lumpur). You should IGNORE them or just SAY NO, then walk away as fast as you can.
Why? Because they are not the official seller, they might sell you the ticket at a higher price. Also, if you buy from them, they might assign you to the bus that doesn't even have a departure time yet. Even if they tell you the bus is leaving now, it's a lie, they will keep changing the departure time. This is my hubby's true story. So, avoid them at all costs.
2. Buy bus ticket directly from the counter.
If you're going to a popular destination like KL, Genting, Ipoh, Johor Bahru, or Penang, there are so many buses you can choose from. Take your time and walk around bus terminal to see departure timings of different bus companies. Once you've decided which timing you want, go to the bus company's counter to ask for the price and other enquiries I'll write more about in this post.
At some terminals (such as Larkin and TBS), there are "centralised ticketing counters" where you can buy the ticket from rather than going to individual bus company's counter. But these counters may not be comprehensive; they don't sell ALL bus tickets, they only sell tickets from the selected bus. So, it's better that you walk around the terminal first before you join the queue. Oh, most of the time you need cash to bus buy tickets.
3. Don't just buy from ANY bus company that matches your desired departure time or budget.
Buy from trusted companies instead of unknown companies because trusted companies usually leave on time (or sometimes with 5 to 15 mins delay). With unknown companies, the delay can be up to 1 hour or more. The seat quality and driver skills from trusted companies are better too.
What are the trusted companies? Based on my personal experience as a frequent traveler to cities at west coast of Malaysia, these are the companies that I have good experience with: Grassland, KKKL, Sri Maju, Konsortium, Transnational, Plusliner.
Starmart is a hit or miss. I love Starmart for certain routes, such as from Larkin (Johor Bahru) to KLIA because the journey is really fast and there's no transit at other cities. And the price is quite affordable.
However, I hate Starmart for super long distance route, such as Singapore to Penang, because cross-border Starmart buses always transit at Larkin (Johor Bahru) thus increasing journey time by 1 or 2 hours! If you're planning for a long distance trip, avoid Starmart.
4. Ask for the size of the bus.
A bus with the lesser number of seats means that there will be plenty of legroom for each seat. Ideally, you want to ride a 27-seater bus, rather than a 44-seater bus.
5. Ask whether it's a direct bus. Also, ask if the bus will stop at other locations along the way.
You want a direct bus, but most of the time, buses stop to pick up or drop off passengers at other places during the journey. If the bus stops at places within the same city as your origin or destination to pick up/drop off passengers, it is fine. For example, a bus from Penang's Komtar terminal stops at Penang's Butterworth to pick up other passengers, this is fine.
But, it is NOT fine when a bus from Penang to Johor stops at Taiping (Perak), to pick up/drop off passengers. The worst is when you book a bus from Penang to Johor, but a van (instead of bus) drive you to Taiping, then you have to wait for the real bus for 2 hours. This is Starmart by the way, and this is my real story. It's so horrible, and I don't wish anyone would experience this ever.
6. When you book online, know your risks.
First of all, you can't ask them whether the bus stops at other locations. There's no info about stopovers in the online booking system. My advice: make a booking from the trusted bus companies.
Sometimes, your seats might get double-booked. Means either you or somebody else won't be able to board the bus or get the seats they've chosen. And when you request a refund, you might not hear anything back. I've never experienced this, but others had.
7. Booking online has its own advantages.
Booking online is great because you don't need to go to the bus terminal to book the ticket. And, sometimes, you can get dirt-cheap tickets. But I encourage you not to buy those cheap tickets from unknown companies because you might be stuck at some places and arrive at your destination super late.
The only time you should book online is during the festive season. During New Year, Chinese New Year, Christmas, and other public holidays, tickets are sold out early. So, it's best to book your ticket as early as possible. If you book last minute, the prices will go up.
8. Book online or from bus counter?
This is a real dilemma that most people face every time. Here are simple tips:
Book online for travel near festive season.
Book online if you can control what time you arrive at the origin bus terminal.
Book from the counter if you can't predict what time you arrive at the origin bus terminal. For example, if you cross the border from Singapore to Johor Bahru before taking a bus from JB to another city, most likely you don't know how long you will spend in immigration checkpoints, so don't book your ticket online.
9. If your bus journey involves crossing Singapore-Malaysia border, ask which border the bus is crossing.
Ideally, you want the bus to cross at Tuas (second link) rather than Woodlands because the traffic at Tuas is much lighter.
10. Travelling during the festive season is crazy.
Traffic in Malaysia during the festive season is horrible. Once, I was stuck on the bus for 10 hours, when the usual journey is only 5 hours. If you can, avoid travelling the day before and the day of public holiday. You will thank me =)
Also, please do not buy tickets during last minute. You'll find that the prices have gone up multiple times of the usual price.
11. Fancy things don't usually work on a bus.
Some bus companies advertise fancy facilities, such as WiFi, TV, in-bus-entertainment, charging. But, don't expect too much.
12. What if you miss the last bus of the day to your destination?
You'll be miserable for the whole week! Just kidding!!! For less popular origin city/destination city, there are limited buses daily. So, if you miss the last bus of the day, but it's only 3 pm, what can you do? Go to a major hub nearby your origin city!
For example, go to Kuala Lumpur BTS (Bandar Tasik Selatan) Terminal first, then take another bus from BTS to your destination. BTS is such a huge terminal, it has multiple buses leaving every 5 minutes!
13. What should you bring when you ride an overnight bus?
Overnight bus is great for budget travellers because you get to save a night of accommodation by sleeping in the bus! If you find yourself booking a ticket for an overnight bus, please bring these lifesavers: jacket, long pants, socks, blanket (optional), water and snacks (you'll never know if you'll be stuck in the traffic).
14. Bring your own toilet paper and coins.
Yeah, some toilets don't provide toilet paper. And some toilets charge users with few cents, though most public toilets are free nowadays.
15. Be prepared for subpar food at resting areas.
If your bus journey is more than 3 hours, it's likely that the bus stop at certain resting area for meal break or toilet break. Though you'll be able to find food at the resting areas, just remember not to have high expectation for the food quality from the canteens or street vendors.
16. Eat discreetly in the bus.
Eat snacks or light food. Avoid eating KFC or other foods that smell so good everyone becomes hungry. And don't litter.
17. Be prepared to arrive late at your destination, sometimes.
Don't expect precision of Japanese bus drivers. Some (not all) of Malaysia's bus drivers take their own sweet time driving the bus. You can't predict exactly what time you'll arrive at your destination. But you can allow some buffer during trip planning stage. If you have to work after arriving at your destination, try to take the earliest possible bus.
Sometimes it's good if the driver drives slowly and safely. But it's totally not cool if he stops during the trip to settle his own things. It does happen sometimes.
Conclusion
I have a love-hate relationship travelling between cities in Malaysia by bus. I love it because it's cheap, abundant and it has extensive networks to almost all of the cities in Malaysia. But I hated it when the trip took longer than usual because the bus stopped at other locations to pickup/drop off passengers, and when the bus ran late.
Overall, I think it's something you should experience because it's a very local way to travel around Malaysia. And, boy, Malaysian buses are way more comfortable than those of other developing nations.