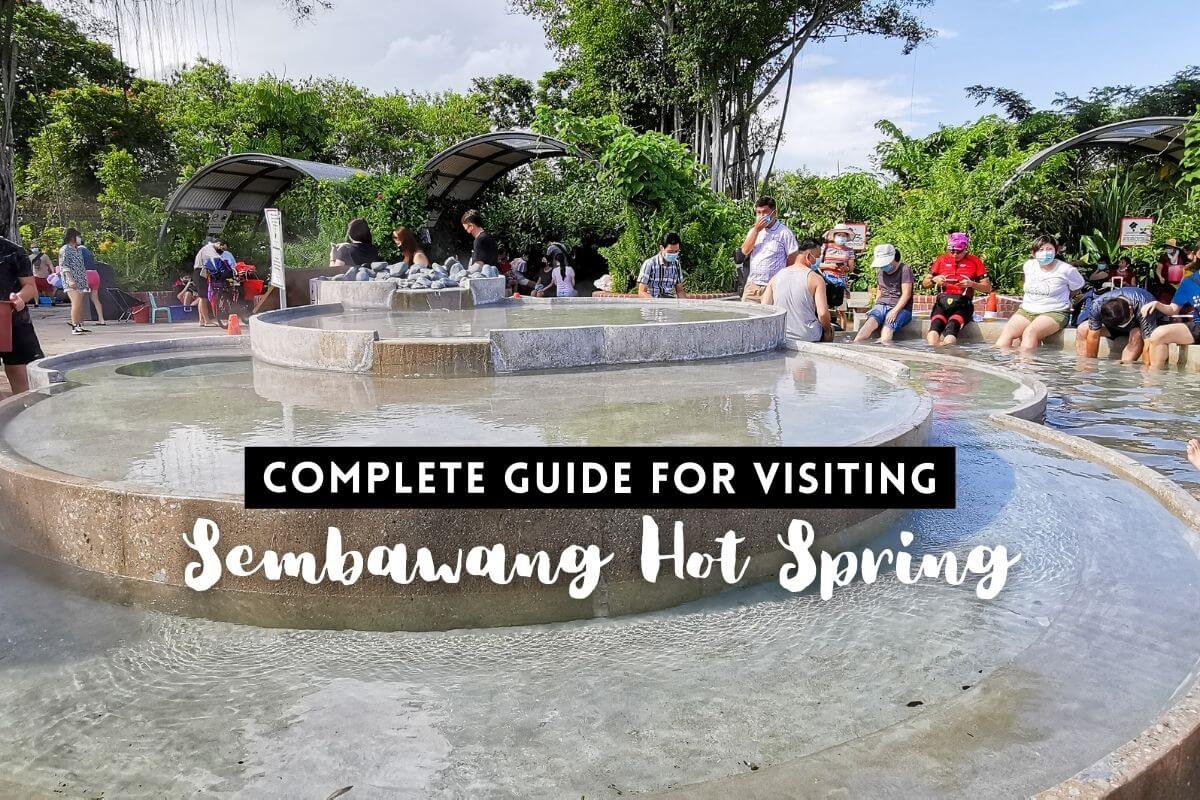 Sembawang Hot Spring is one of the two hot springs in Singapore. The other hot spring is located at Pulau Tekong (Tekong Island), an island that's not accessible to public, so let's not talk about it.
Before 2018, all you can find at Sembawang Hot Spring were only standpipes with taps, plastic buckets and plastic chairs. Visitors who wanted to enjoy the hot water had to fill up the bucket with water from the standpipe.
From 2018 to 2020, the hot spring was closed for renovation. The newly renovated hot spring was finally opened on 4th January 2020, and it's now called Sembawang Hot Spring Park.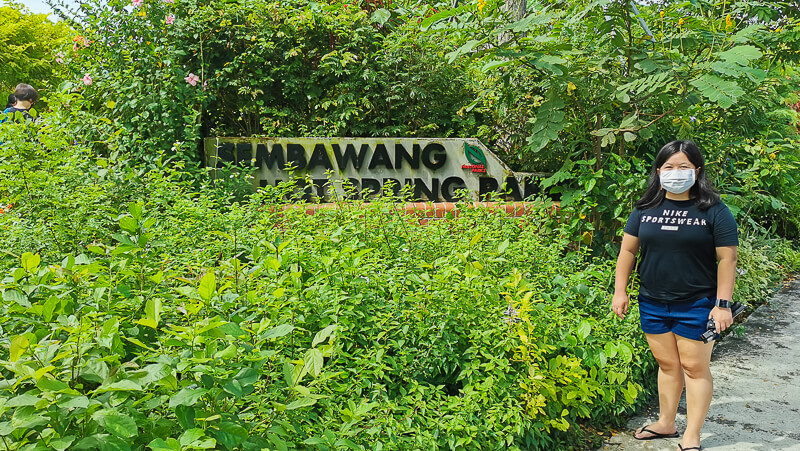 If you're planning to visit during the era of 'rona (i.e. the era where the nasty monster that starts with C disrupts everyone's life), take note of the following:
Before April 2020, there were free wooden buckets for visitors to use. But, after circuit breaker, visitors have to bring their own buckets.
1m social distancing must be observed, including at the foot bath in the cascading pool. So, if you want to have foot bath at the pool, there's high chance that you need to queue to wait for your turn.
'Rona-related regulations apply: Compulsory mask wearing. 5 persons in a group. SafeEntry check-in.
PS: I have a vlog on my visit to Sembawang Hot Spring Park. Watch it here!
In this guide, I will share detailed information and tips to help you plan your visit to Sembawang Hot Spring Park so that you can make the most out of your visit to this hidden gem.
Here are the things that I will cover in this guide:
Brief history of Sembawang Hot Spring
I guess the above picture sums up the history of Sembawang Hot Spring really well.
In brief, here's the timeline of Sembawang Hot Spring:
1908: Sembawang hot spring was found. After being tested and certified safe for consumption, the water was bottled and sold under the brand "Zombun"
1918: The hot spring and the bottling plant were advertised as tourist attraction. It was named Seletar Hot Springs.
1921: F&N bought over the company and continued selling the bottled water.
1942 to 1944: During Japanese Occupation, thermal baths were built for Japanese officers. In 1944, the hot spring was destroyed by the Allied forces.
1967: F&N repossessed the land, repaired the damaged hot spring and built a new bottling plant.
1985: Singapore government acquired the land for military use. Locals appealed for the hot spring to be retained.
2002: The govt built standpipes to channel the water for public use.
2018: NParks decided to redevelop the hot spring into a park.
2020: Sembawang Hot Spring Park is officially opened.
Sembawang Hot Spring Park opening hours
Sembawang Hot Spring Park is open from 7am to 7pm daily. The best time to visit the hot spring is during weekdays, in the morning and afternoon. The hot spring is crowded on weekday's evening from 4pm to 7pm, and all day on weekends and public holiday.
If you can only visit the hot spring on weekends, the least crowded time is at noon, between 12 to 3pm. That is also the hottest time of the day, so brace yourself for the heat.
Admission is free; there's no need to apply any permit to visit the hot spring.
How to get to Sembawang Hot Spring Park
By MRT + Bus: Sembawang Hot Spring Park is not located nearby any MRT, so if you're taking MRT, you need to change to bus. Below are 3 MRT stations where you can catch a bus to Sembawang Hot Spring Park:
From Yishun MRT: Take Bus 858 or 969 from Yishun Station. Then, alight 4 stops later, at Opposite Blk 115B (bus stop ID: 57121)
From Sembawang MRT: Take bus 858 from Opp Sembawang Station. Then, alight 6 stops later, at Blk 114 (bus stop ID: 57129)
From Admiralty MRT: Take bus 969 from Opp Admiralty Station. Then, alight 5 stops later, at Blk 114 (bus stop ID: 57129)
Then, from these bus stops, just walk about 450m to Sembawang Hot Spring Park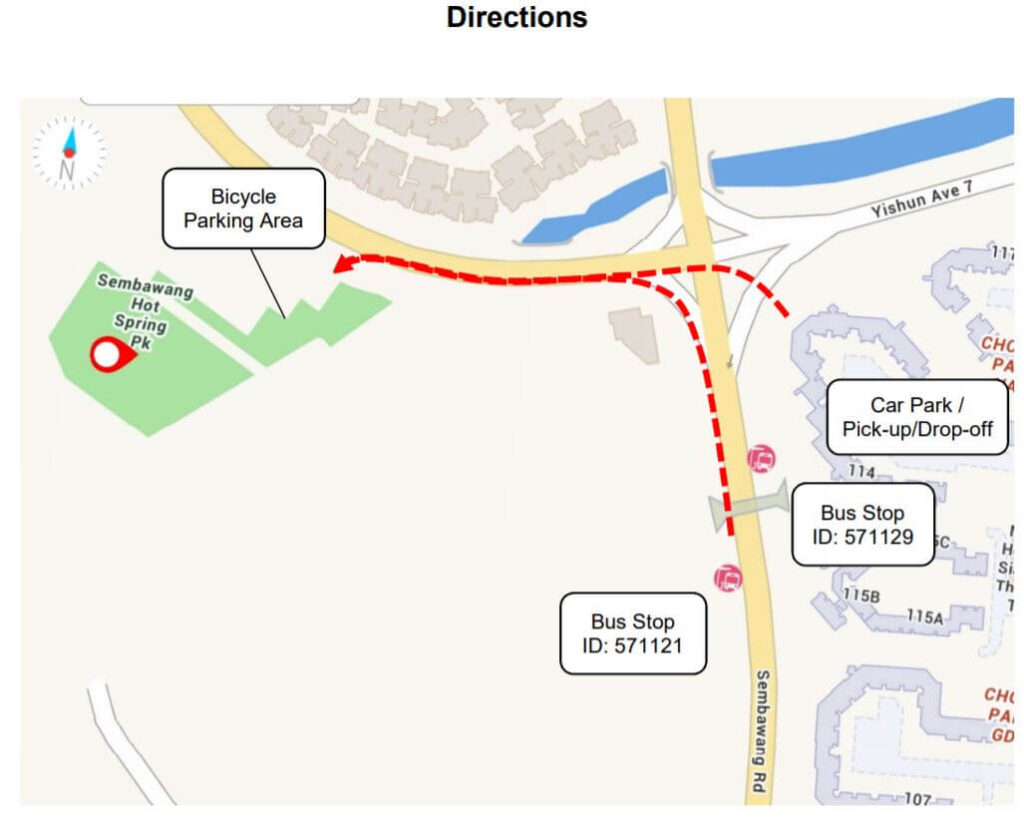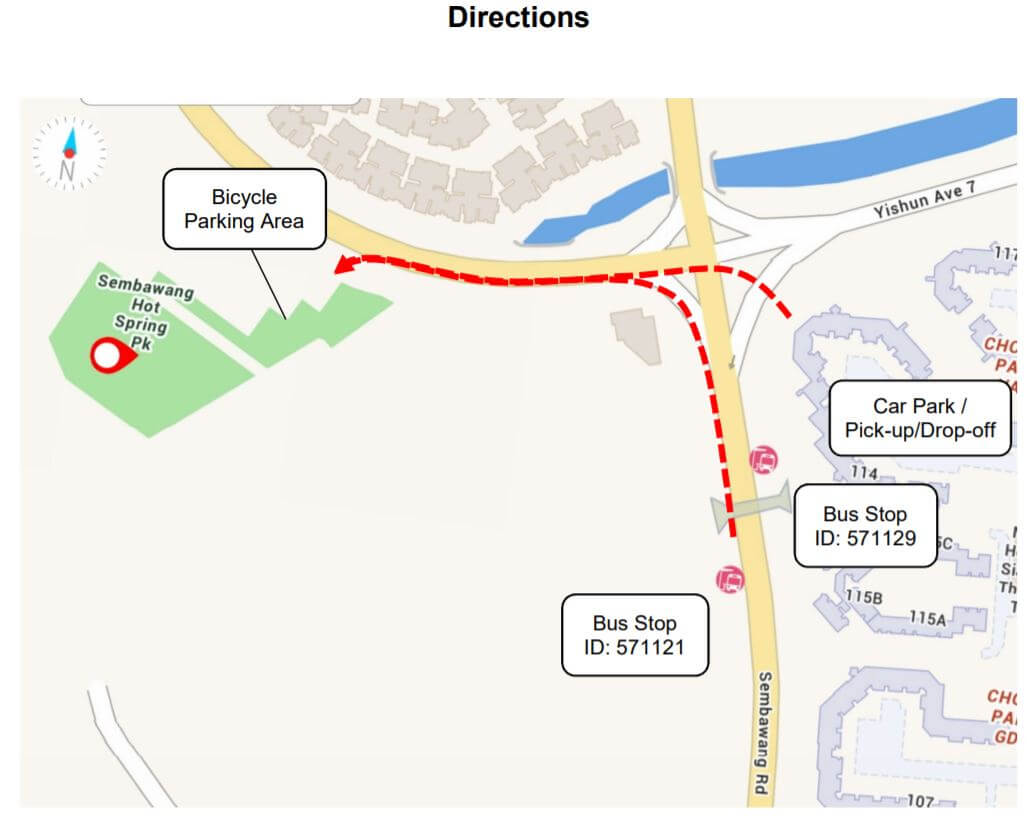 By taxi: It's possible to take a taxi or private hire car to Sembawang Hot Spring Park. But, just take note that there's no proper drop off point, so you need to alight at the roadside.
By car: There's no car park at Sembawang Hot Spring Park, so you need to park your car at the nearest HDB carpark at Blk 114 Yishun Ring Road. From there, walk about 450m to the hot spring.
By cycling: There are 2 designated bicycle parking place: 1 at the hot spring, and 1 near the toilet. Do note that you need to push the bicycle whenever you're inside the park. Riding inside the park is not allowed.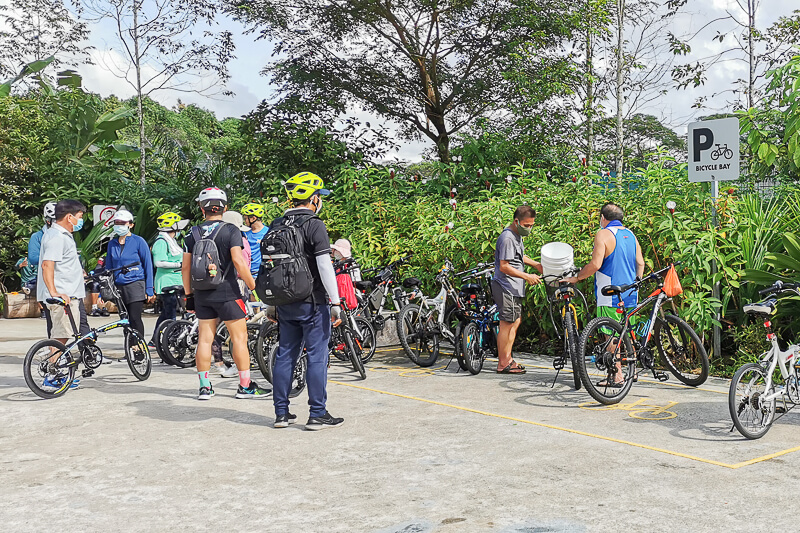 What to bring to Sembawang Hot Spring Park
Bring your own buckets or pails. Before the era of 'rona, there were several wooden buckets that visitors can use to soak their feet and cook eggs. However, after the Circuit Breaker, visitors have to bring their own buckets.
If you don't have a bucket, you can rent one from Sembawang Eating House the only café in the park (subjected to availability). Otherwise, you only option is to soak your feet at the lowest level of the pool, together with dozens of other people.
I saw some families bring a plastic bathtub so that their toddlers can soak in the tub. I think it's really genius.
I also saw some people use dry bag to contain the hot water. Personally, I prefer to use a pail rather than a dry bag. But I understand that it's quite troublesome to bring pails all the way to Sembawang.
Bring your own egg cooking equipment, namely: raw eggs, container to hold the eggs (could be plastic container or thermos), bowl to serve your eggs, spoon, soya sauce and pepper.
Bring umbrella (optional). There is not much shade at Sembawang Hot Spring Park, so if you hate to be under the scorching sun for hours, I recommend that you bring an umbrella.
Bring sunblock (optional). If you hate using umbrella (like me), then I recommend using sunblock to protect your skin from the scorching sun.
Bring mosquito repellant (optional). Personally, I didn't use a mosquito repellant and I didn't get any bite when I visited in the morning. But since the hot spring is in a park, it's always a good idea to protect yourself from a possible mozzie bite.
What to wear to Sembawang Hot Spring Park
For footwear, since the main activity at the hot spring is foot spa, then I guess sandals/flip flops is the way to go. For your info, the walkway inside the park is well paved and flat, so if you want to wear heels, you'll be fine.
Since there's little shelter at the park, you may consider wearing hat or long sleeve shirt.
Sembawang Hot Spring Park Map
The above photo is Sembawang Hot Spring Park Map.
You may also find the softcopy on NParks' website here.
What to do at Sembawang Hot Spring Park
Admire the beautiful Floral Walk
In order to reach the hot spring, from the entrance of the park (Gambas Avenue), you have to walk through the entire Floral Walk. The length of Floral Walk is about 200m.
Along the Floral Walk, you will find various colorful flowers, edible kampong plants (pandan, lemongrass, etc) as well as fruit trees (chiku, rambutan, etc).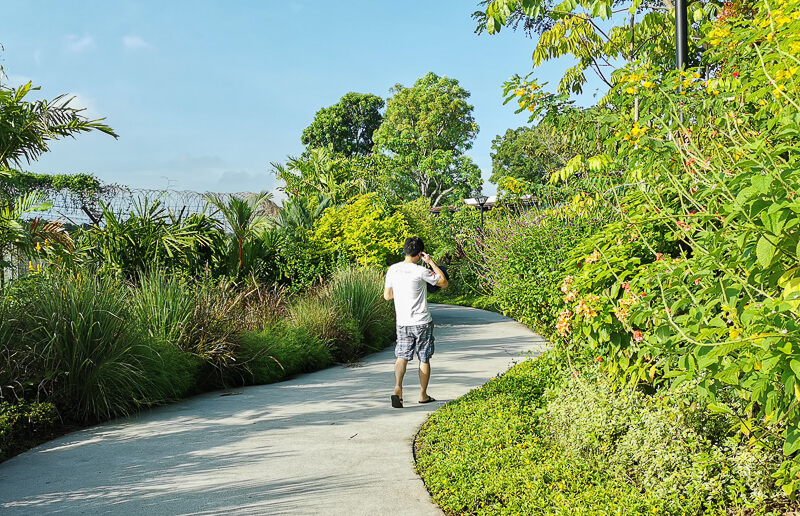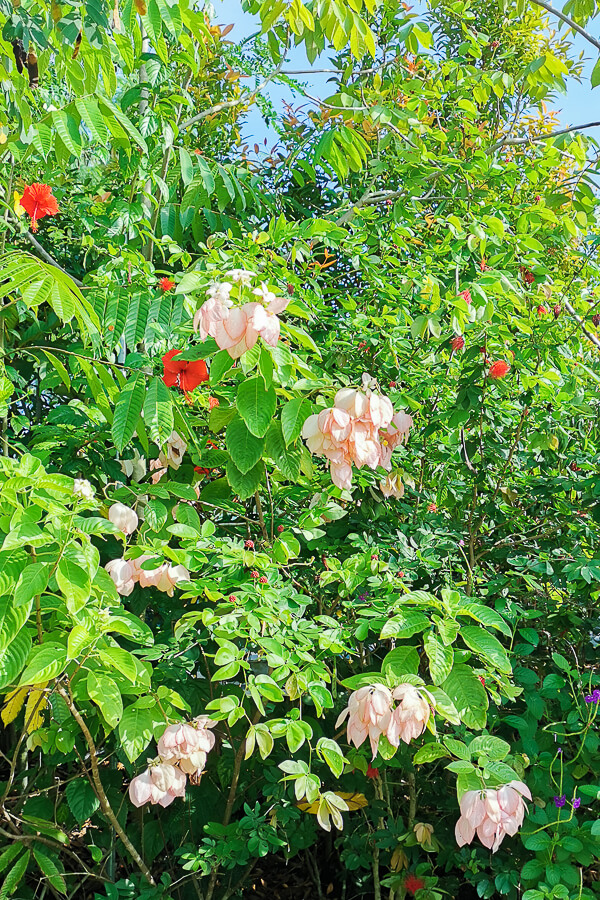 Cook your own onsen tamago (a.k.a. hot spring soft boiled eggs)
This is probably my most favorite activity at the hot spring. I love soft-boiled eggs and I love the idea of cooking my own onsen tamago with real hot spring water! If you're also like me, I have loads of tips for you.
Do bring plenty of eggs! There's a chance that you might make some mistakes and your eggs don't turn out as what you've expected. If you have extra eggs, you can make another attempt to cook your eggs properly. Personally, I brought 4 eggs for 2 persons. I recommend that you bring at least 2 eggs per person (more is better).
I've written in "what to bring" section above, but I will repeat it again here in case you missed out that section: do bring container, bowl, spoon, soya sauce and pepper.
To make edible soft-boiled eggs, you need to place your eggs under the running hot water; this is to maintain the water at high temperature so that it can cook the eggs properly.
Do not put your eggs in a container of hot water and leave it somewhere else, because the temperature of the water would be going down by the minute and your eggs won't be cooked.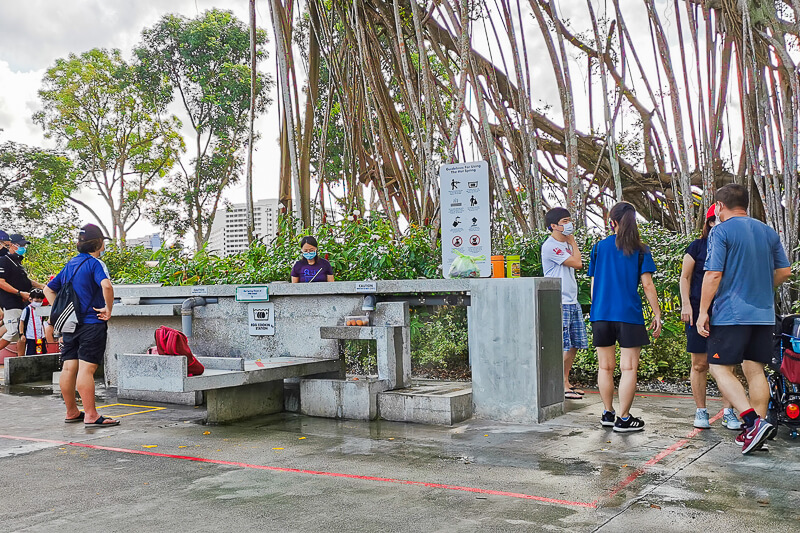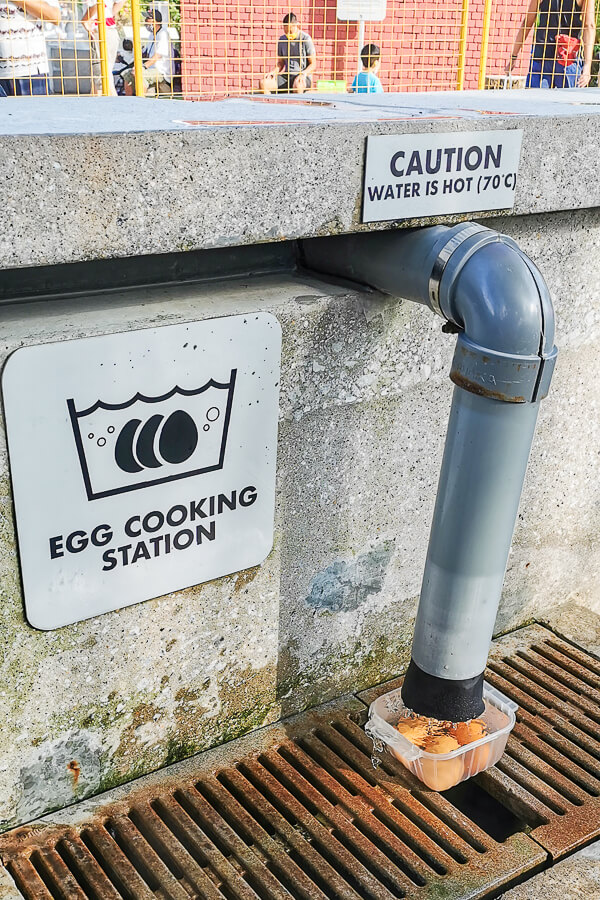 How long do you need to cook the eggs? In my opinion, you need to go through some trial and error. You see, different hot water outlet has slightly different temperature. Your type of container that holds the egg also plays a part (plastic container won't be able to retain the same amount of heat than thermos). I recommend cooking for at least 20 minutes.
We tried to cook 4 eggs in a plastic container, under the trickling (not gushing) hot water. 20 minutes later, we cracked 1 egg and found a perfect white egg, but the yolk was too runny to our liking. So, we decided to cook the remaining 3 eggs for 10 more minutes.
10 minutes later, the remaining eggs have slightly more set yolks, which is what we're hoping for, yay! In conclusion, we had to boil our eggs for 30 minutes to make the onsen tamago that we like.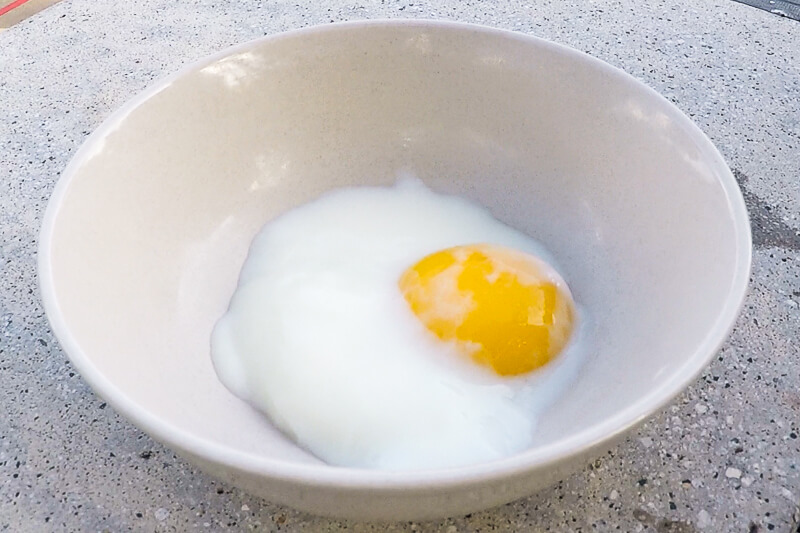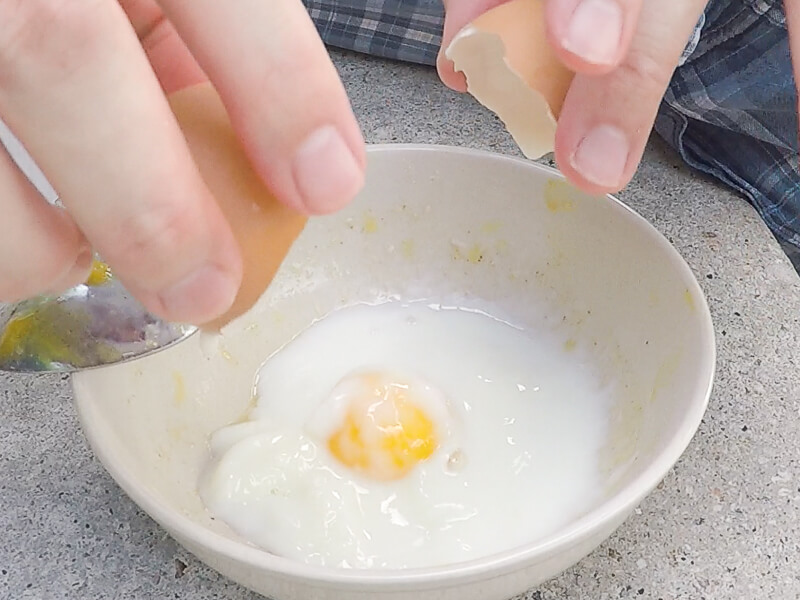 Have a relaxing foot spa with your own bucket
Foot spa is a must-do activity at Sembawang Hot Spring. Personally, I prefer to enjoy a private foot spa with my own bucket because I can adjust the temperature to my preference, and I can practice social distancing.
Yes, I brought the bucket from my home. And yes, I carried it on the bus and received several stares from people who weren't able to comprehend why a lady would carry an empty bucket on the bus. My hubby didn't want to get those stares, so he kindly let me do that noble task.
If you don't have a bucket, or you don't want to carry it all the way to Sembawang, you can rent one from the restaurant called Sembawang Eating House. But, during this weird era of 'rona, I feel that it's better to use my own stuff rather than to use shared stuffs.
There are plenty of benches at Sembawang Hot Spring Park where you can sit while having foot spa with your own bucket. Some benches are sheltered, but most benches are not sheltered.
The hot spring water is REALLY HOT. We took water from the third tier of the pool (i.e. 50 degrees Celsius. 30 minutes later, the water was still too hot. We decided to mix the hot spring water with cool tap water to get the temperature that we desire.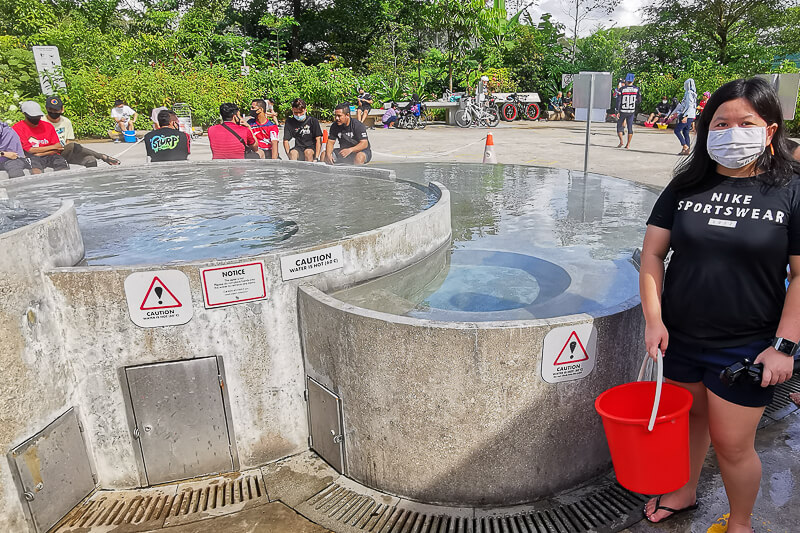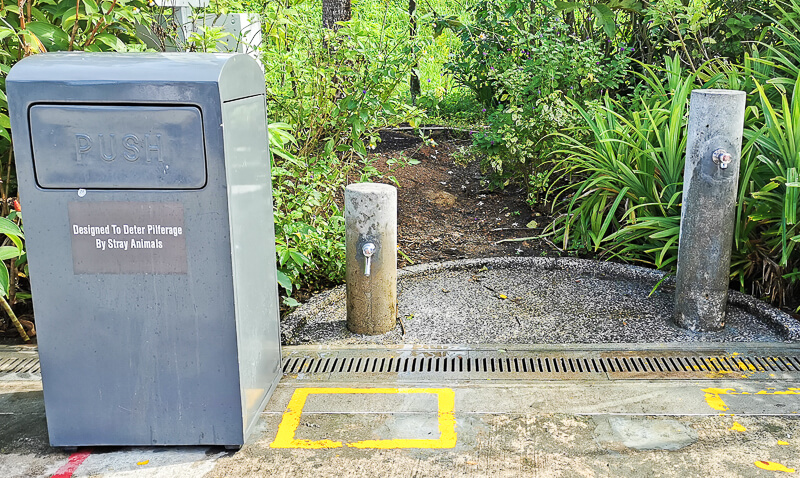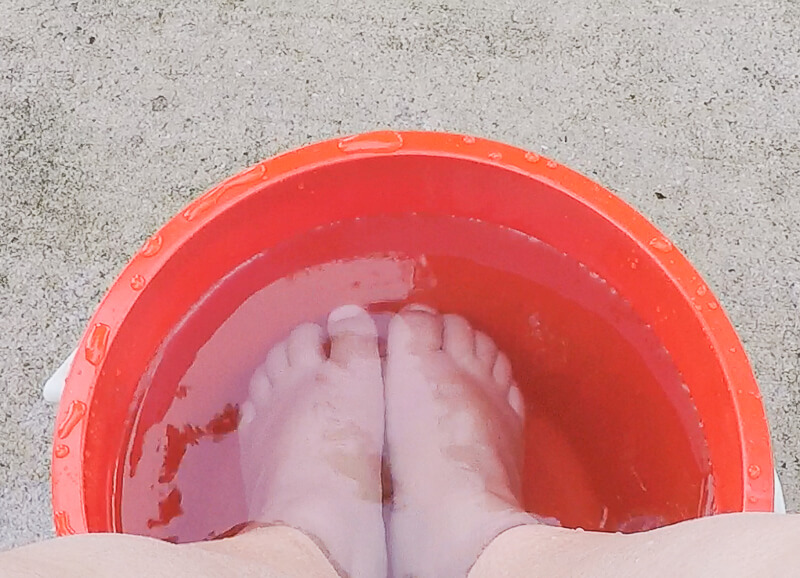 Soak your feet in the lowest level of the cascading pool
In addition to private foot bath, you can also enjoy communal foot bath at the cascading pool. The temperature at the foot bath area is 40 degree Celsius, which is the optimal temperature for contact with skin.
There are dedicated seats for people to soak their feet at the lowest tier of the pool, but these seats are really limited. On crowded days, you may need to queue (under direct sun) to enjoy this communal bath. If this is what you want, do bring umbrella or wear sunblock.
Do note that full-body dipping or clothes washing is not allowed at the cascading pool.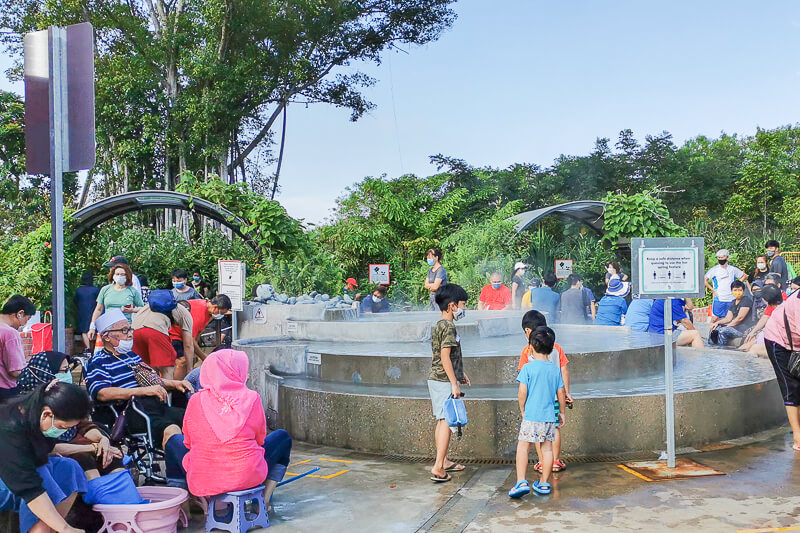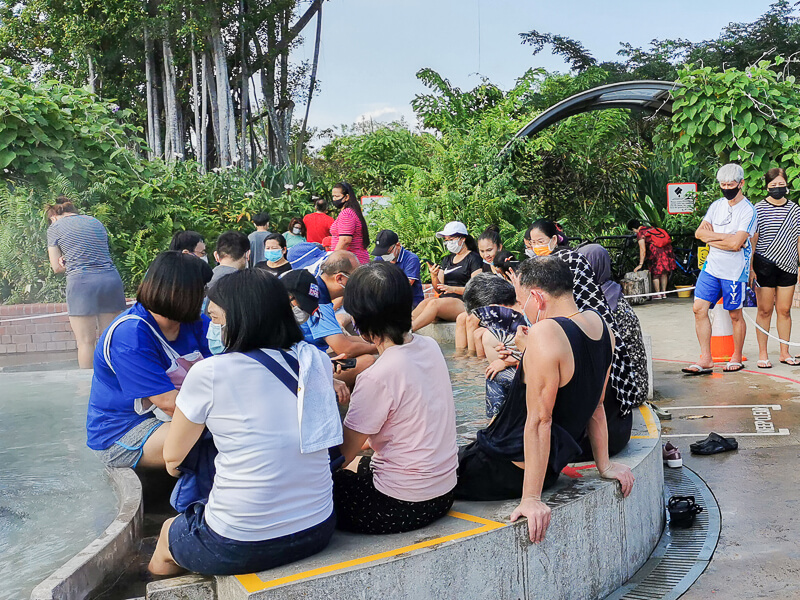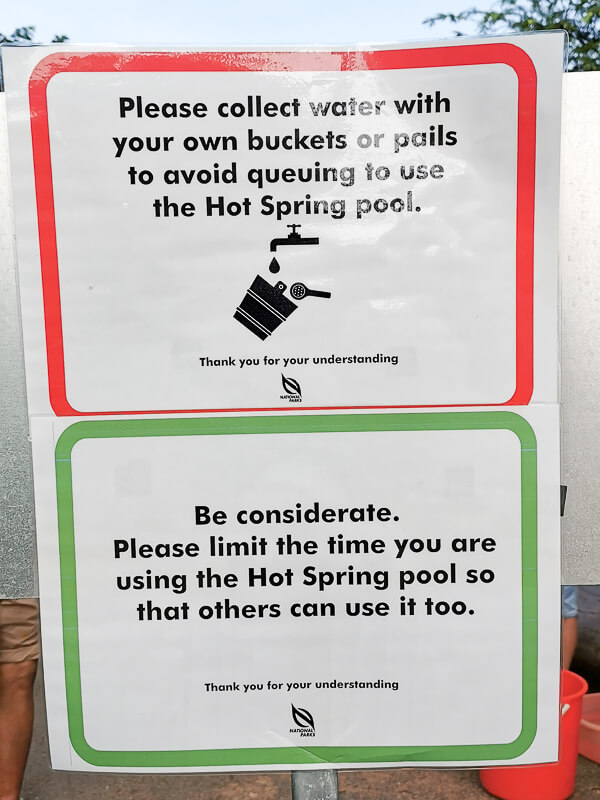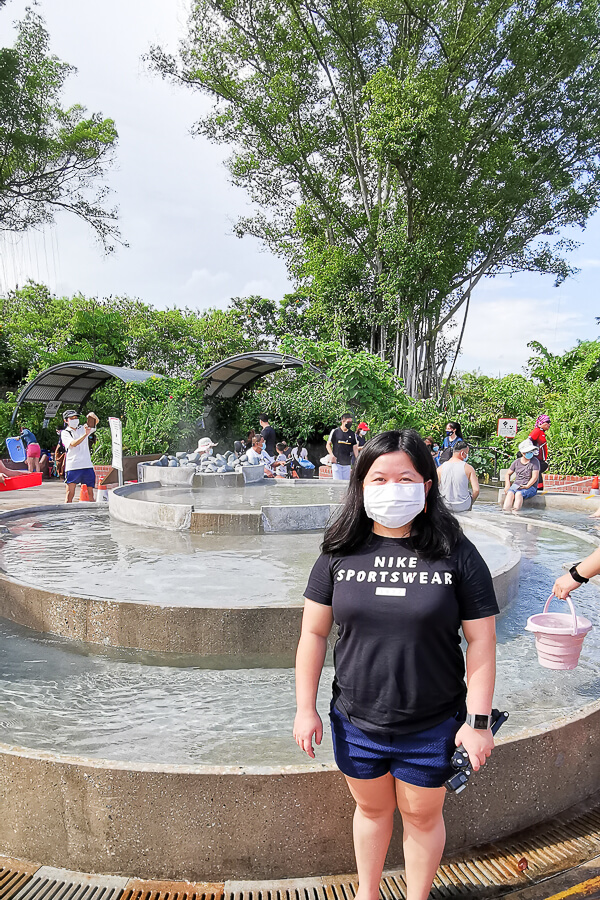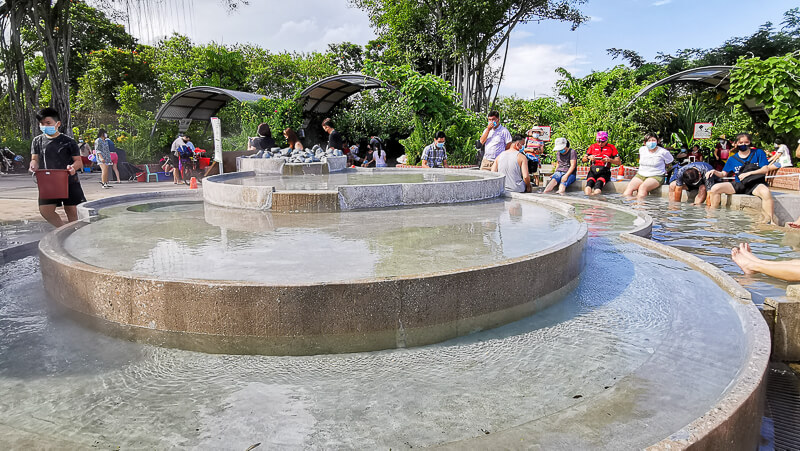 Be humbled by the majestic Banyan tree
There is a Banyan tree that is too majestic to be missed out. The good news is, there is a small path from the egg cooking station that leads to the base of this Banyan Tree. So, of course I had to take some photos with the tree.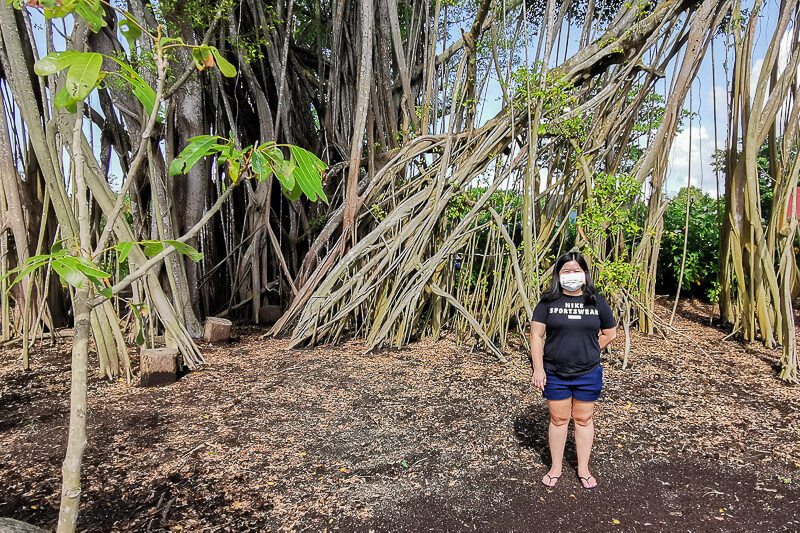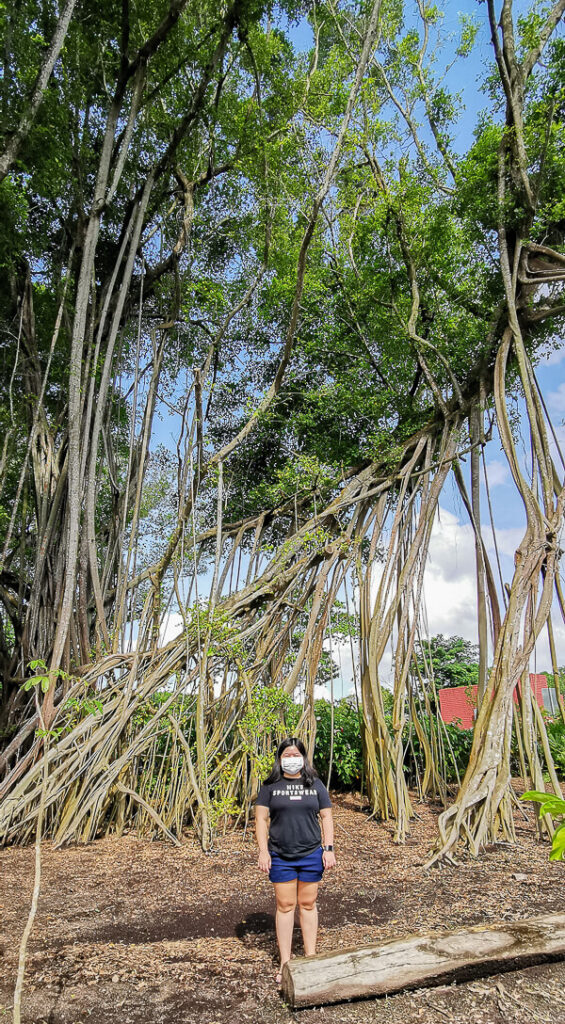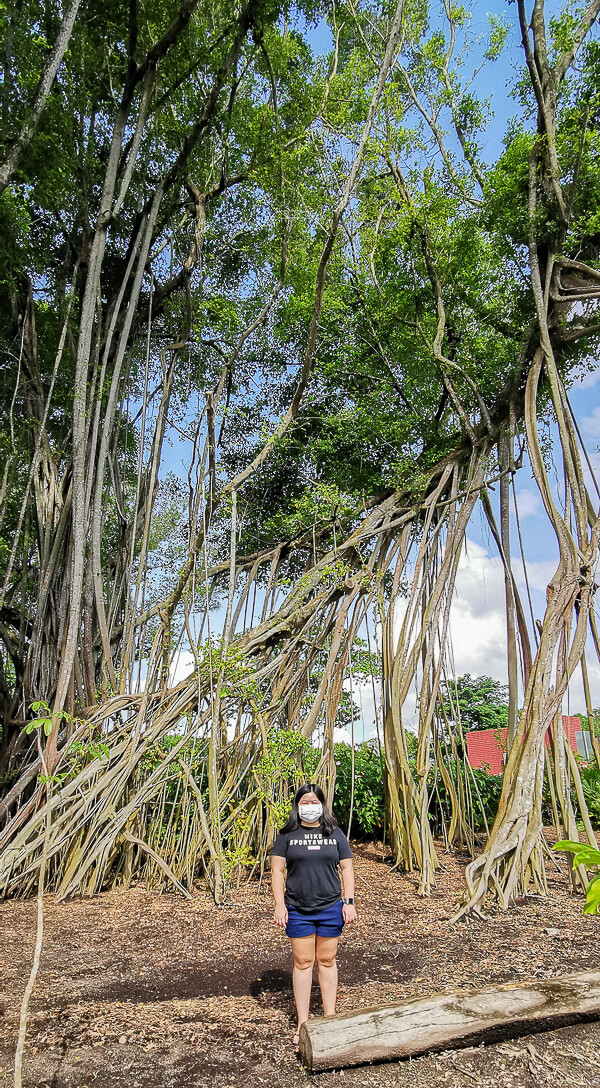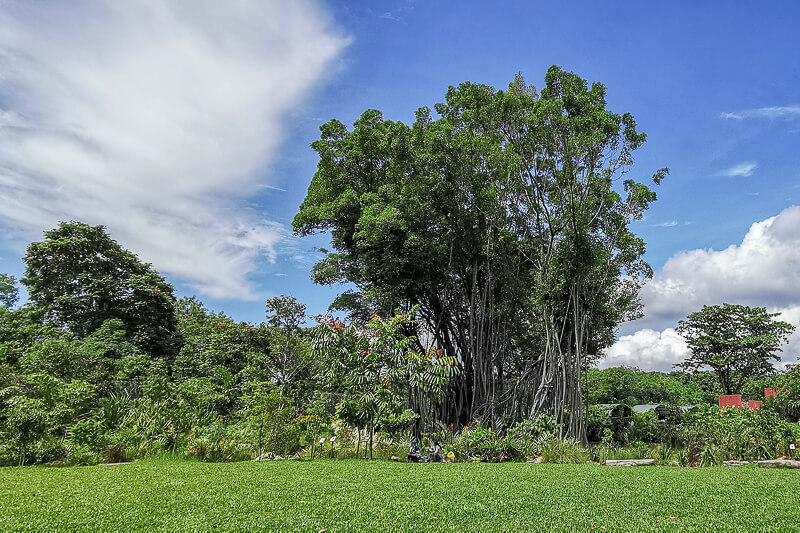 Learn about the hot spring
Curious about how hot spring works? You're not alone. Fortunately, there are plenty of educational boards all around the park that contain information about how hot spring works, the source of the spring, history of Sembawang Hot Spring as well as information about flora species at the park. Here are some educational boards that I managed to capture.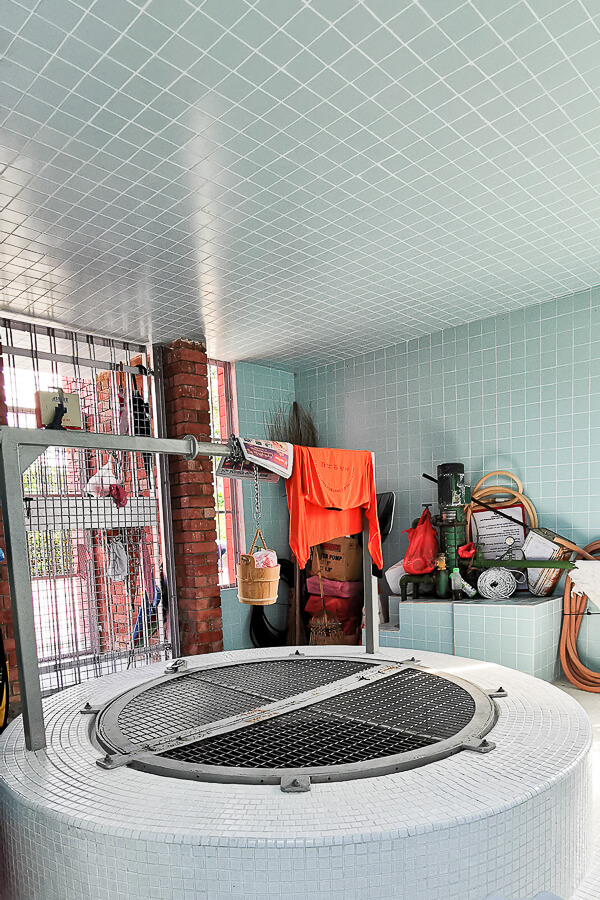 Have a meal at Sembawang Eating House
Sembawang Eating House is a café in Sembawang Hot Spring Park that serves local delicacies at affordable prices. This Halal-certified café is open from 8am to 8pm daily, except Monday (8am to 5pm). PS: Please check their FB Page before visiting, in case they changed their operating hours.
Since their menu changes from time to time, do check their FB Page for their latest menu. As of November 2020, they sell tze char dishes as well as toasts and dim sums.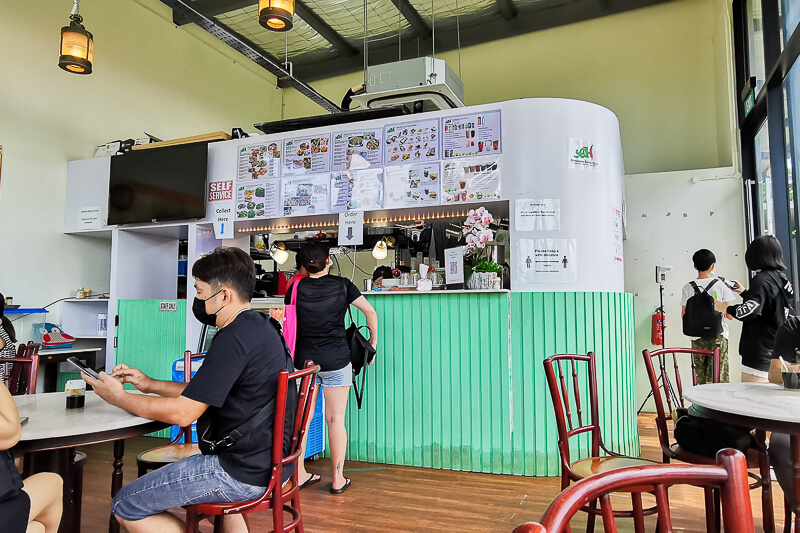 As of November 2020, the rice and noodle dishes cost between $4 to $6. Tze char dishes cost between $12 to $25. Kaya toast set cost $4.8. Dim sum costs between $2.8 to $4.2. Meanwhile, the drinks cost $1 to $2.2. Pretty affordable, right?
My hubby ordered Buttercream chicken rice with egg ($6), and I ordered Kampong fried rice ($5.50) for our late breakfast. Verdict? The Kampong fried rice is really nice, but the buttercream chicken still has room for improvement.
My only complaint? The place is really small. With social distancing in place, there are only 6 tables indoor and about 3 or 4 tables outdoor. However, the outdoor section was closed when we visited. If you want to eat here, be prepared to wait to get a table.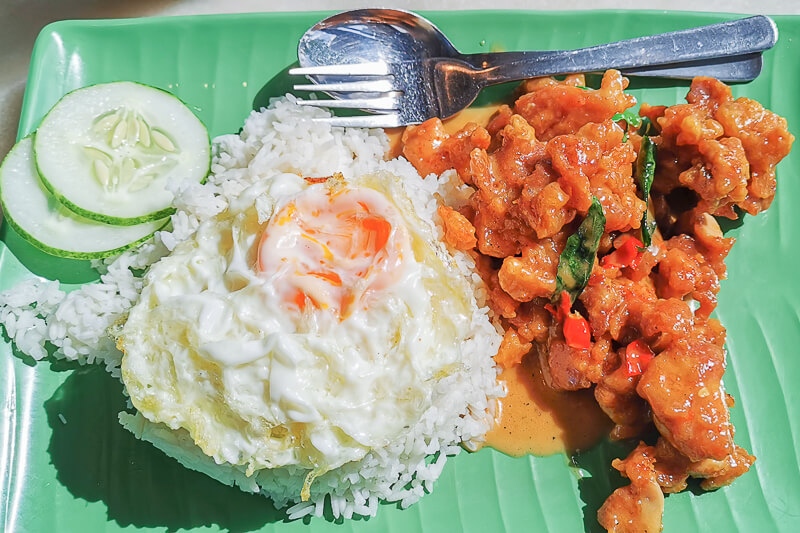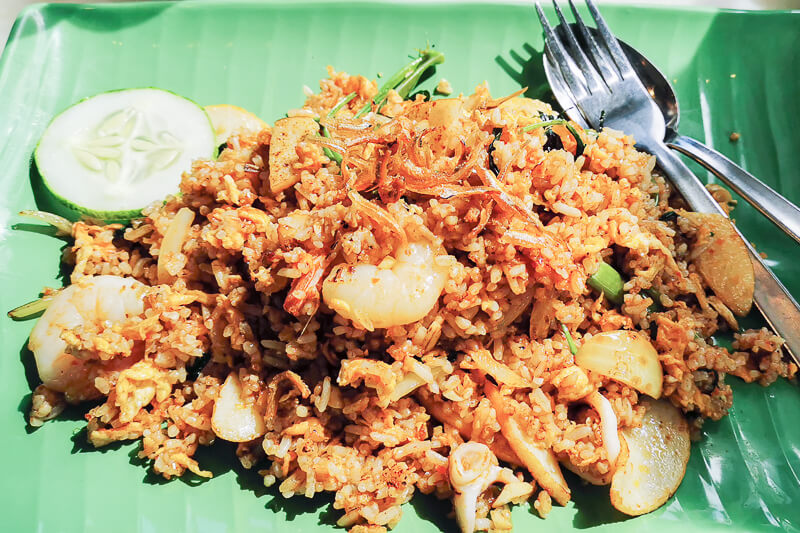 Proper Etiquette to be observed
Since the hot spring is a communal place, let's do our best to keep the place in a good shape for everyone's enjoyment. Here are several common etiquettes to be observed at the hot spring.
Do not submerge your entire body in the pool. The pool is only meant for foot bath.
Do soak your feet only at the lowest tier of the pool.
Do wash your feet before soaking them in the pool.
Do not cook eggs in the pool, do cook them at the egg cooking station.
Do not wash clothes or other items in the pool.
Do not pour used water back into the pool, instead, pour it into the drain.
Do not litter, there are plenty of rubbish bins at the park.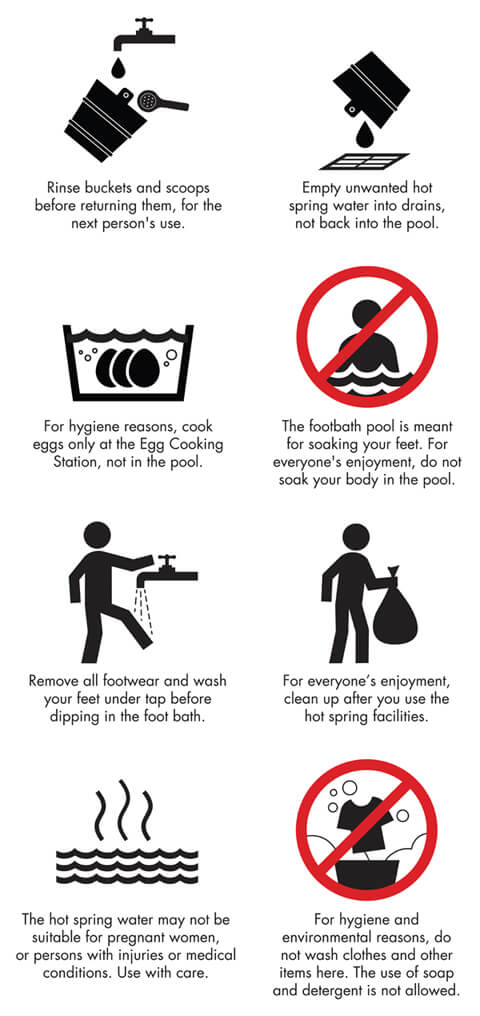 Park Facilities
These are the facilities at Sembawang Hot Spring Park:
Shelters (limited number at hot spring)
Cold water point (at hot spring)
Female and male toilets, as well as handicapped toilet (near café)
Water fountain (near toilet)
Bicycle parking (at hot spring and near toilet)
Barrier-free walkway (from entrance to café and hot spring)
You've come to the end!
Congrats for making it this far! I hope my guide has been helpful for you. Have any question or feedback? Do let me know in the comments!
Want to be the first to know whenever I post new articles and videos? Join my Telegram Channel and you'll get new post alerts sent directly to your phone.