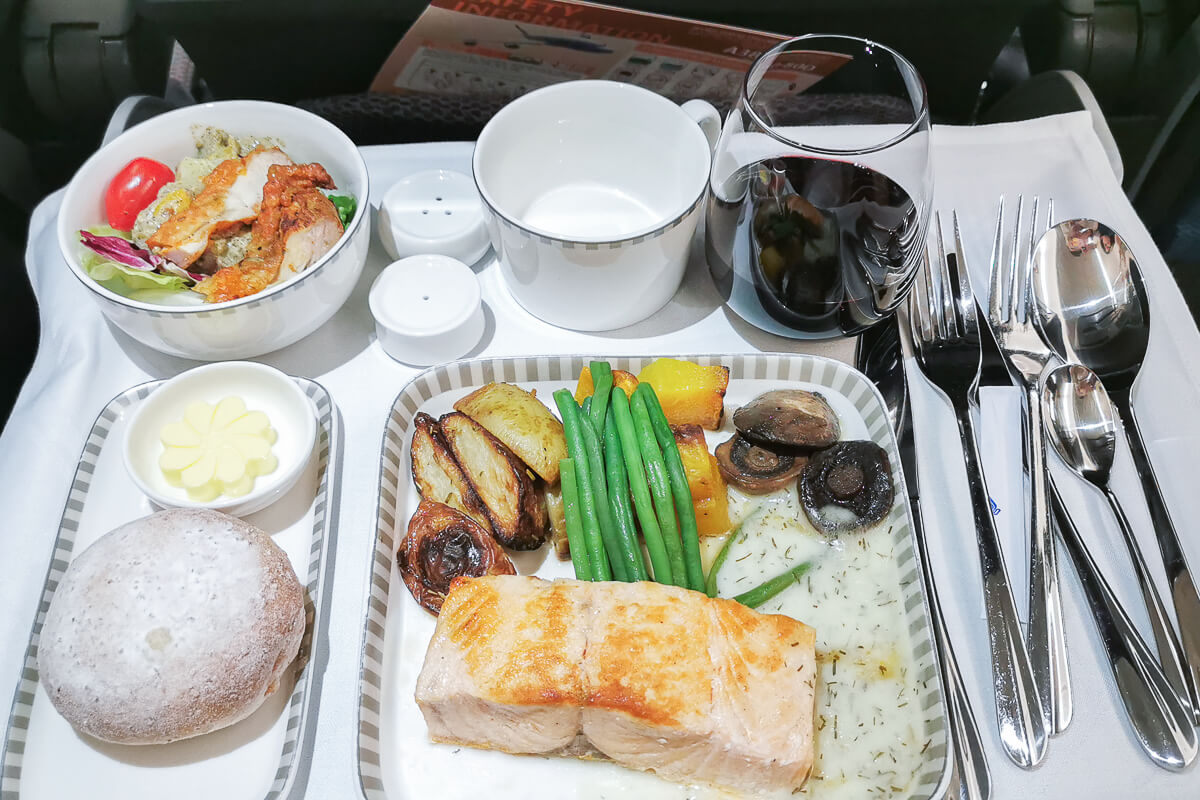 If you're living in Singapore, I'm pretty sure you've been bombarded with news about the Restaurant A380 at Changi, the hottest pop-up restaurant on the island. Plenty of medias and other bloggers have written reviews about Suites and Business Class.
Since yours truly isn't able to afford paying $300 for Business Class and $600 for Suites, she is going for the cheapest option, which is the Economy Class that costs $50 before tax. After tax, it is $53.50.
In case you're wondering if it's worth $50 for a 3-course meal on a stationary aircraft, I'm going to cut to the chase and tell you the answer. It is SO WORTH IT.
In my case, it is LIFE CHANGING.
This is going to be a rather long article, because I'll be bringing you along the journey, from the beginning when I was deliberating whether I should register for the event, until the end of the event. So, grab your tea, sit back and enjoy the flight, uhm… I mean the ride!
The Deliberation
In the early October, when Singapore Airlines (SIA) announced that they're offering a dining experience on A380, the world's largest passenger aircraft, I was intrigued yet skeptical.
It sounds like an exciting experience, but I don't know if the meal is worth the price tag. The economy class costs $50, premium economy $90, business $300 and suites $600.
The event will only last for 2 days, 24 and 25 October 2020. There will be lunch and dinner on both days. That means, there'll be 4 seatings on that weekend.
I asked hubby, "Do you want to go for SIA's Dining Experience? The cheapest one is $50 for a 3-course meal in economy class."
He said, "That's too expensive! I can eat better food elsewhere at a cheaper price."
Oh well, I guess it's a NO.
Fast forward to a few days later, SIA officially launched the dining experience and they sold out in 26 minutes! That's impressive. Well, we've made our decision not to go for it. And now, even if we want to go, it's no longer possible.
Fast forward again to a few days later, SIA adds 2 more additional days and puts up a waiting list form on their website. This time, I knew I had to get on the waitlist. The burning desire inside of me is too hard to ignore.
I raced to their website to find the registration form. I saw a bright and big gold button that says "Join the waitlist" (or something like that, I can't really recall the exact wordings). I quickly click the button, filled up the form and submitted it in less than 3 minutes.
I didn't even ask my hubby again whether he wants to go. I registered for both of us. Then, I let out a yell,
"OH MY GOD! I FILLED UP THE WRONG FORM!"
"What form?"
"I submitted the form to be on waiting list for SIA A380 Dining for both of us, but the form that I filled up was for Business Class seats! Business Class costs $300, we can't afford it!"
"Have you paid?"
"Not yet, it's not confirmed yet, just a waiting list."
"Can you waitlist for Economy class?"
"There's no button for Economy class waitlist. I guess there are no more Economy seats."
The Call
More than a week after I submitted the wrong form, I received a call from SIA to confirm my reservation for 2 Business Class seats.
I nervously told the girl on the phone that I filled up the wrong form, that I actually wanted to book economy seats. She kindly told me to hold the line while she checks the system if there are any available economy seats.
When she came back to the phone, she told me there are available seats for dinner on 31 October 2020, and asked if I'm okay with that. I told her "YES" as quickly as I could. She then asked for my credit card details.
After the call, I told my hubby, "YAS we got 2 Economy seats! You have to come with me even though you think it's expensive!"
The Perks
To be honest, I didn't know that the Dining Experience comes with many perks. thought that for $50 (before 7% tax), we'll only get a 3-course meal. How wrong was I.
After researching, I find out that there are so many perks included in the dining experience. Here are the perks for Economy class:
Tour of A380 aircraft (limited slots, first come first served) – we registered, but didn't get this tour
Shopping tour (limited slots, first come first served) – we didn't go for this tour
3-course meal
2 glass of alcoholic drinks
Free flow of soft drinks
Goodie bag
Free admission ticket to Canopy Bridge at Jewel
Shopping vouchers, discounts, etc.
My hubby's outlook changed from "$50 is too expensive for a 3-course meal" to "This experience with all the perks are definitely worth more than $50! It's so worth it!"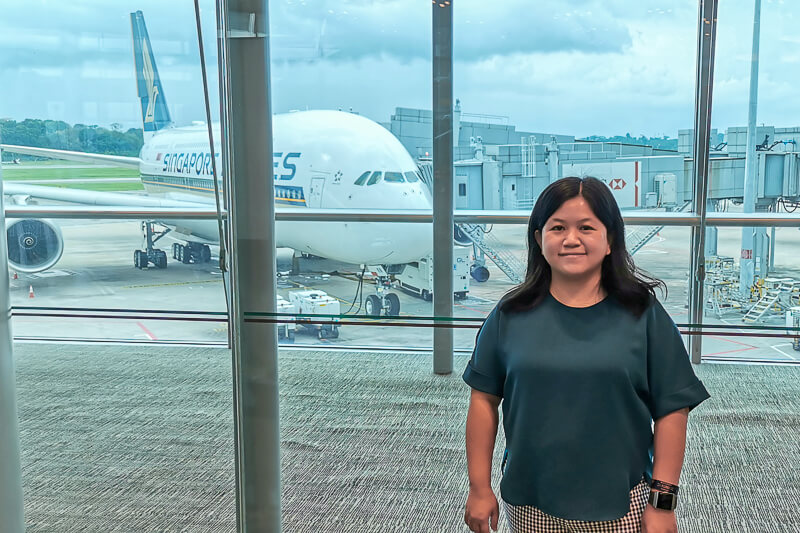 The Paperwork
After the phone booking, I received 2 emails from SIA's KrisShop. One is the receipt. Another one asked me to submit my personal details (including passport details), my meal selection and if I wanted to join the aircraft tour.
After submitting this form, it's another 5 days before I received the final confirmation email. This final confirmation email stated that the aircraft tour is fully booked. However, there's a shopping tour organized by Changi Airport that we can register by replying YES to the email. We didn't.
Checking In
On the day of departure, uhm.. I mean the day of the event, we brought our passports and our fully-charged GoPro to Terminal 3 at Changi Airport.
Checking in was a breeze, partly because we were the first person. We were issued a wrist tag that indicates our seat number, and a boarding pass (aka invitation card).
We then went through some "immigration" and surrendered our passports. We were told that we can collect these passports after the dinner, at the Arrival.
The event's holding gate is at Gate B1 to B4. The Gate is quite a distance away from Immigration. Along the way, we were not allowed to roam freely around Transit area. Instead, we had to walk through the designated lane. There were plenty of crews along the way who'd make sure everyone stays in the lane.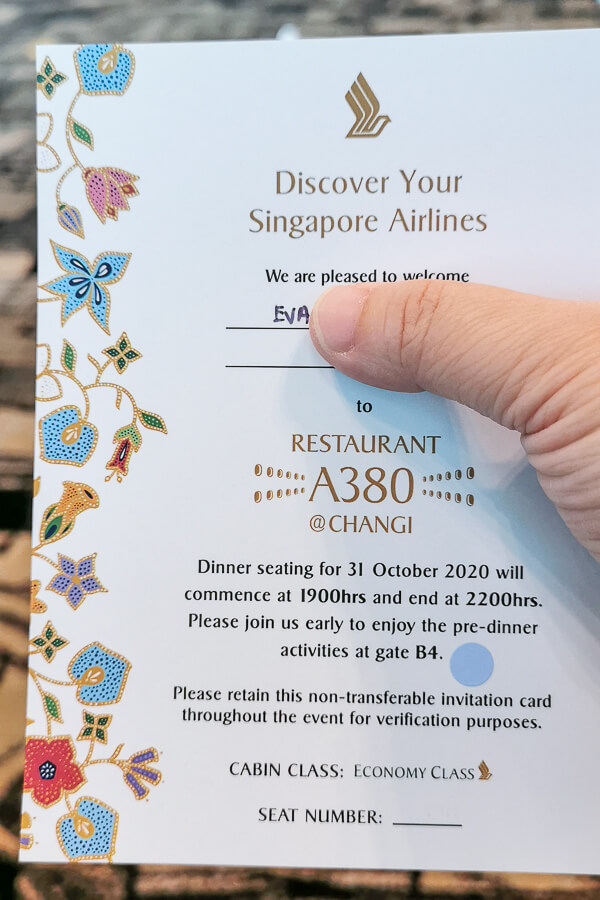 Pre-Dining Activities
PS: Watch my video to see my entire experience dining at Restaurant A380 @Changi
There's another security checkpoint at Gate B1 – B4. This time, we were not allowed to carry any liquid. I was carrying a full bottle of water, so I had to finish it before they allowed me to pass.
After the security, we were ushered to a table where we got to choose a stick-on tattoo. Too bad we don't have any heritage wear, otherwise we would've gotten SIA special umbrella.
Our first activity of the day was the caricature. I've heard from people who went on the first weekend that the caricature booth is the most popular booth with the longest queue. So, we made it our priority to get our caricature done first before going for other activities.
We waited less than 10 minutes because we were one of the first passengers at the holding room. The artist asked if we wanted to be drawn together or separately. I asked to be drawn separately so that my hubby can film me getting drawn and I can do the same for him.
Here is my caricatures. Do you think the drawing looks similar to me?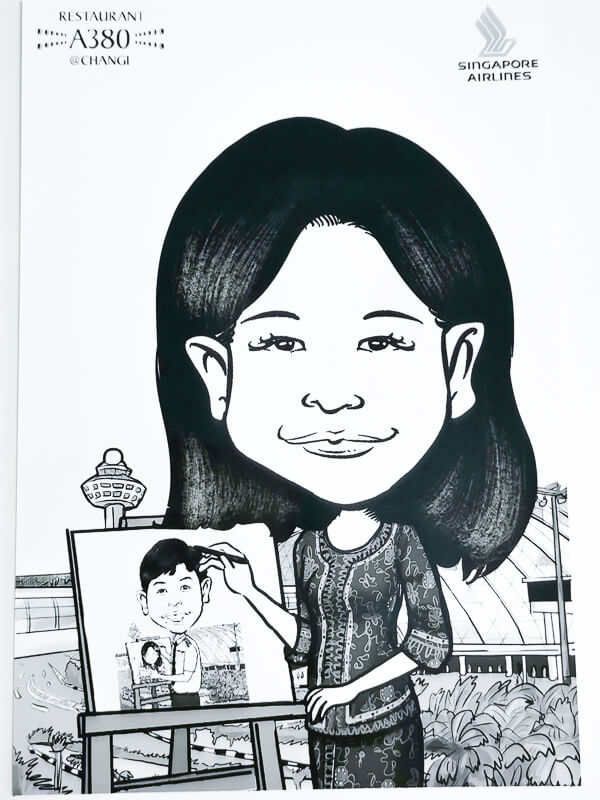 Our next activity was the photobooth. Following the instruction from the crew, we took 2 sets of photographs.
The first set of the photos requires us standing right next to each other, at the center of the stage. The second set requires us to stand about half a meter apart, so that the SIA logo at the background is visible.
Here are our photos with our masks intact.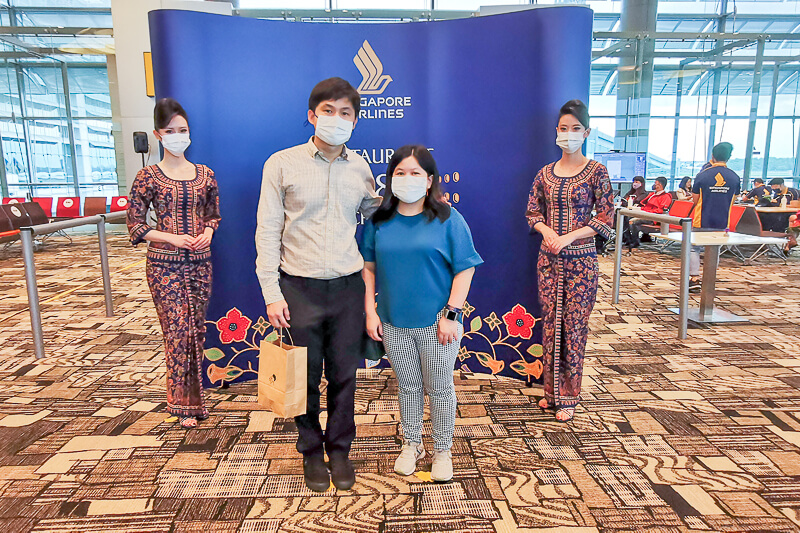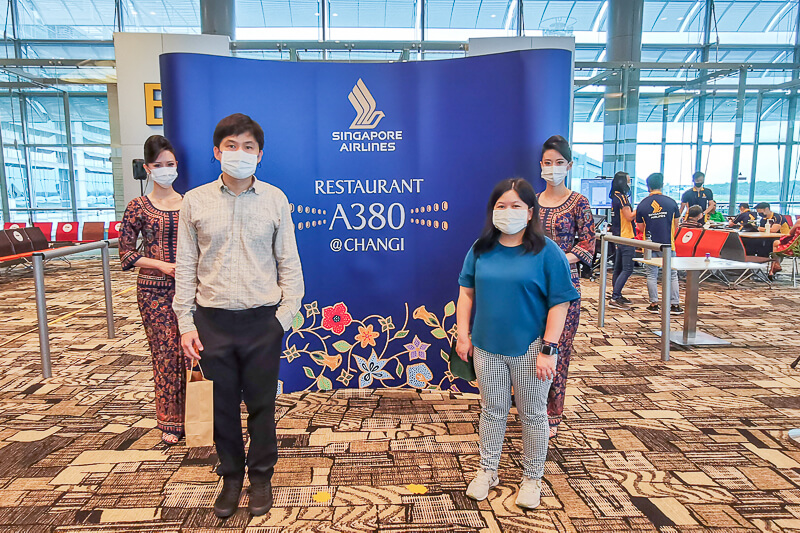 Next, it's time for Batik roses! At the Batik rose booth, the crew asked us, "Do you guys want to collect the ready-made roses, or do you want to make your own roses?" Of course, we went with the latter.
The rose making workshop took us about 5 minutes only. The process of making the rose is pretty simple and straightforward.
Here are us with our roses.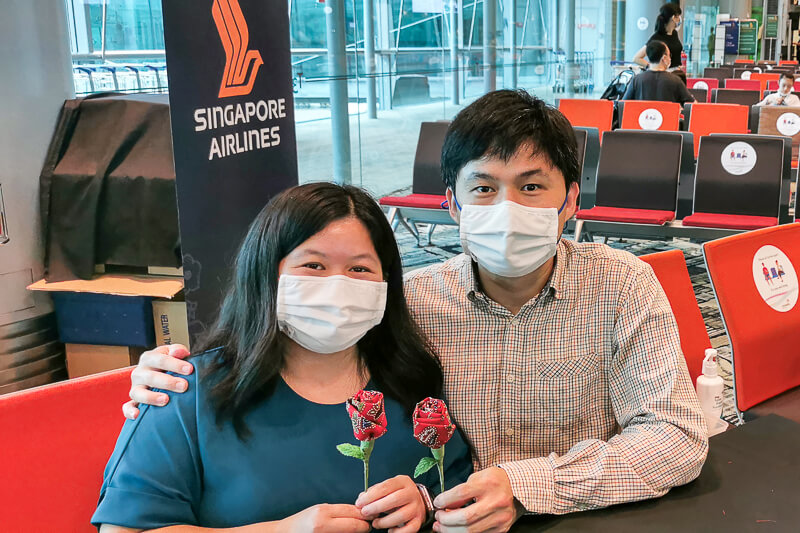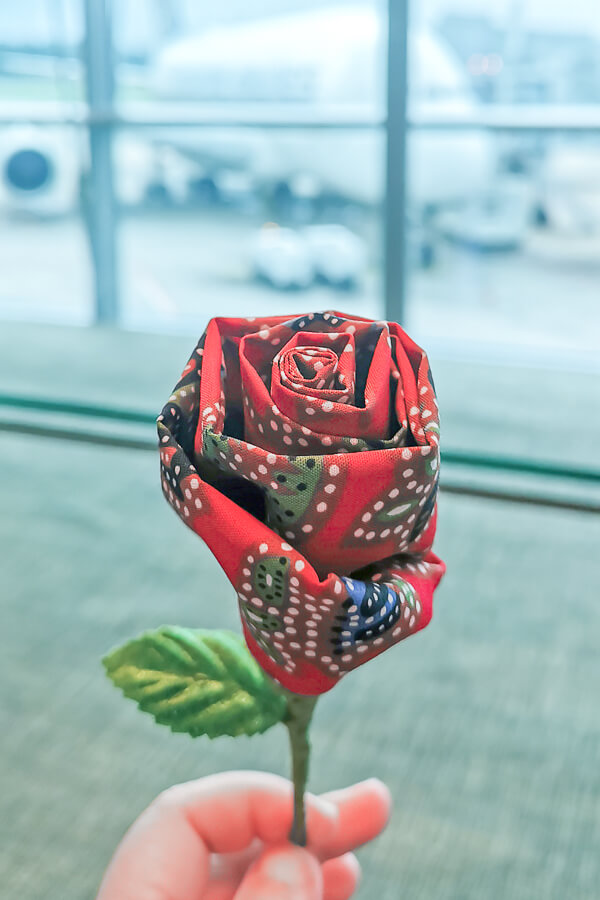 3 activities done, we thought that's all there is at the holding room. Suddenly, about 4 couples of steward-stewardess walked from the back of the room to the stage. A crew encouraged us to stand in line if we want to take a photo with the stage.
It turned out to be a Heritage Showcase. The 4 couples on the stage showcased SIA's cabin crew uniforms from the beginning of SIA until the present time. It's such a cool showcase, we managed to film the entire showcase. Watch the full video on my YouTube channel.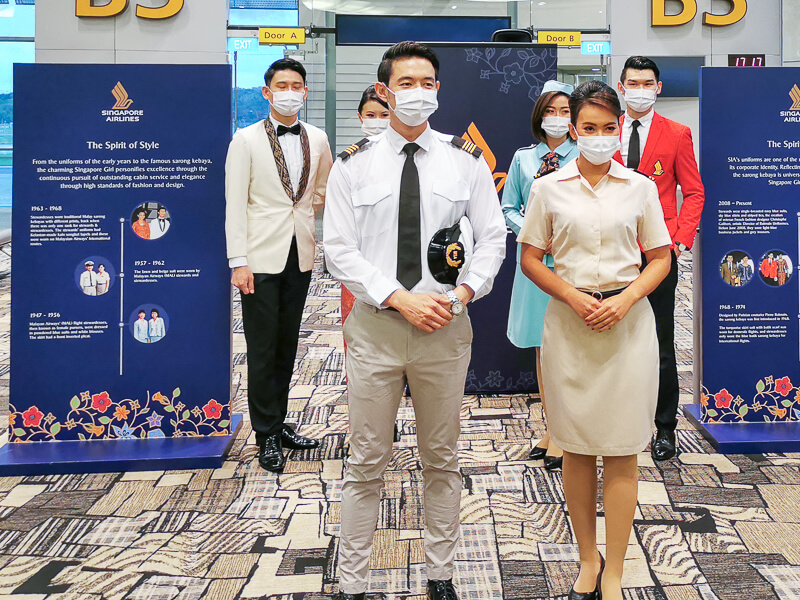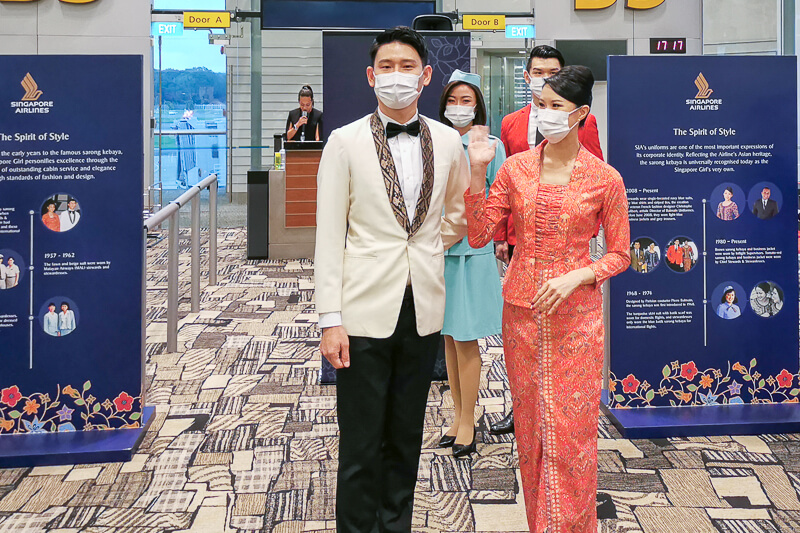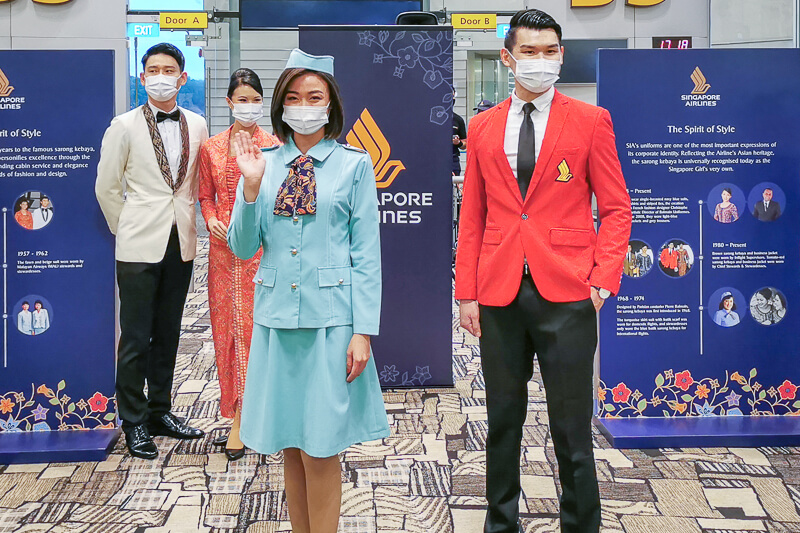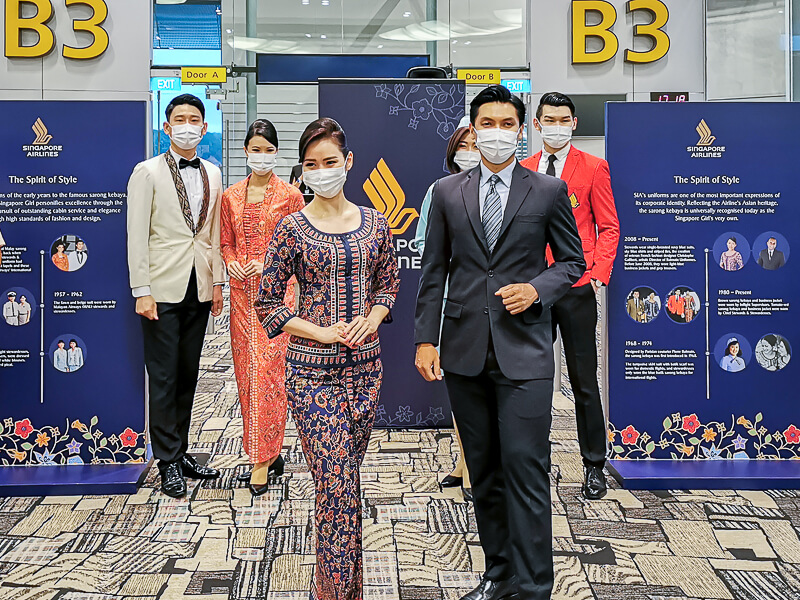 We were so glad that our friend, who went cruising with us in 2018, also attended this event with the same timeslot as us. Obviously, we had to take an obligatory photo.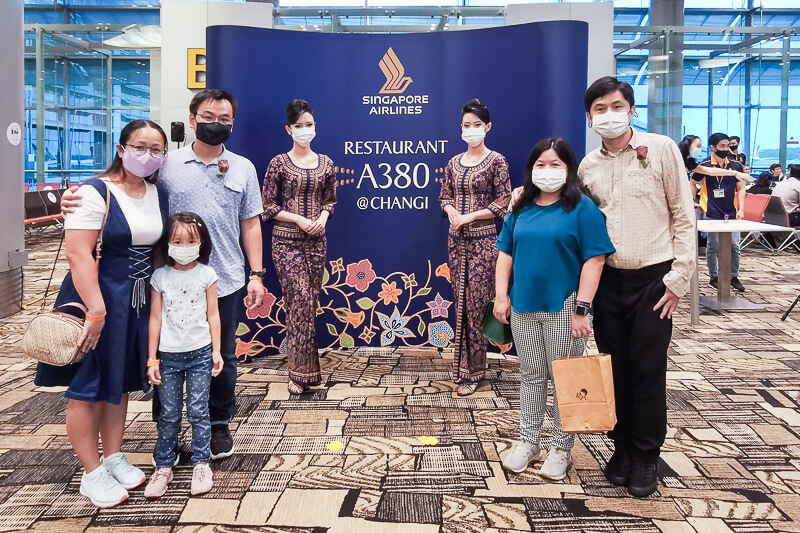 At 5.30pm, we were pretty worn out from all of the activities. Our boarding time was 7pm, so we had 1.5 hours to kill at the holding room.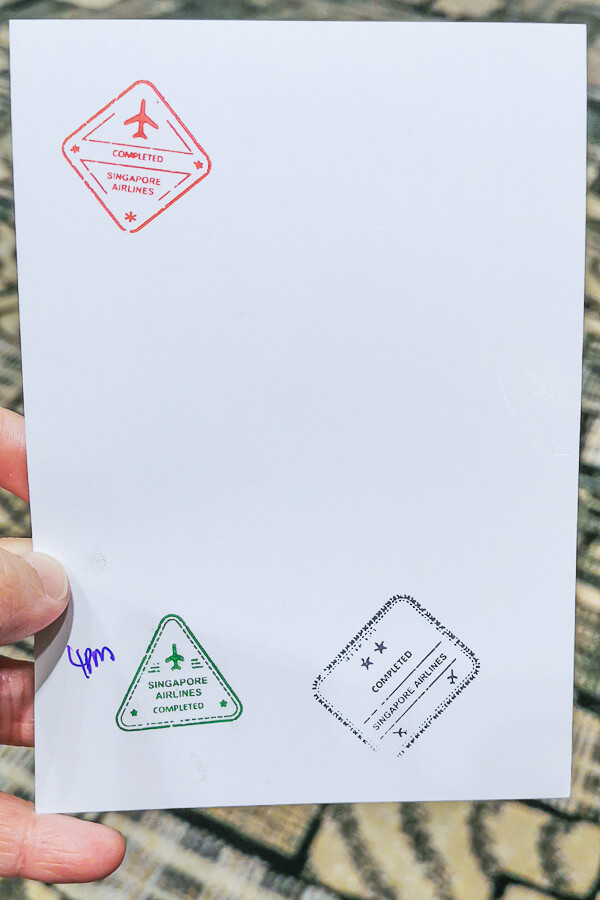 I took a visit to the loo, and was amazed to find hand lotion, eau de toilette (lightly scented perfume) and face mist bottles on the sink countertop. Could not resist such a luxury, I used the lotion and perfume, and felt so happy when I came out of the toilet.
There was a water dispenser that dispenses warm, hot and cold drinking water. This dispenser is located just outside the toilet.
Inside the holding room, there was a snack bar that sells snacks, cup noodles, potato chips, coffee and tea. The price of the snack is undoubtedly more expensive compared to supermarkets, and the price of the coffee is about the same as Starbucks. But I think it's a good idea to have a snack bar at the gate in case people get bored, hungry or thirsty.
Boarding Economy Class
Finally, the clock turns to 7pm and it's time to board. The boarding process was a breeze. I guess that's because it's not a full flight (thanks to social distancing).
At the plane's gate, just before we stepped into the plane, there were 2 tables with a card box filled with care kit and earpiece, respectively. We took our care kit and earpiece and walked straight to our seats at the back of the lower deck.
Once everyone is seated, it was time for safety announcement. It's a nice gesture that the safety announcement was still executed even though the plane was not going to fly anywhere.
Prior to commencement of dining, the pilot and air stewardess walked around the cabin taking photos with passengers.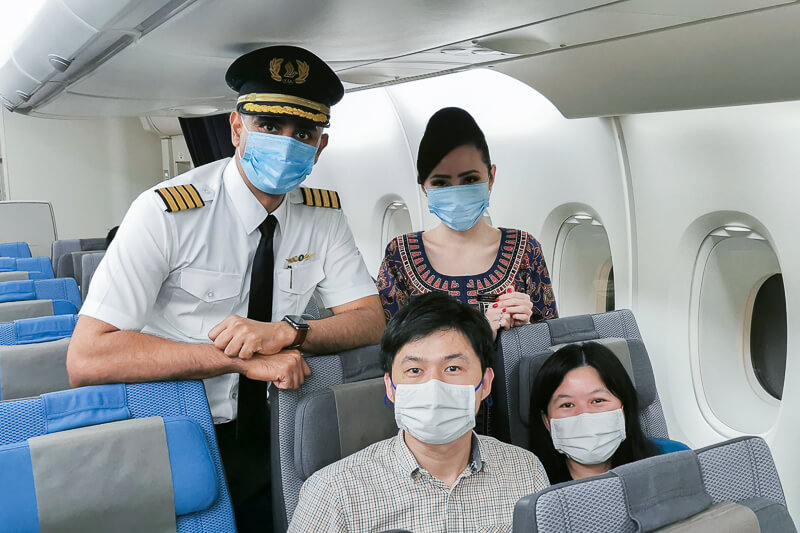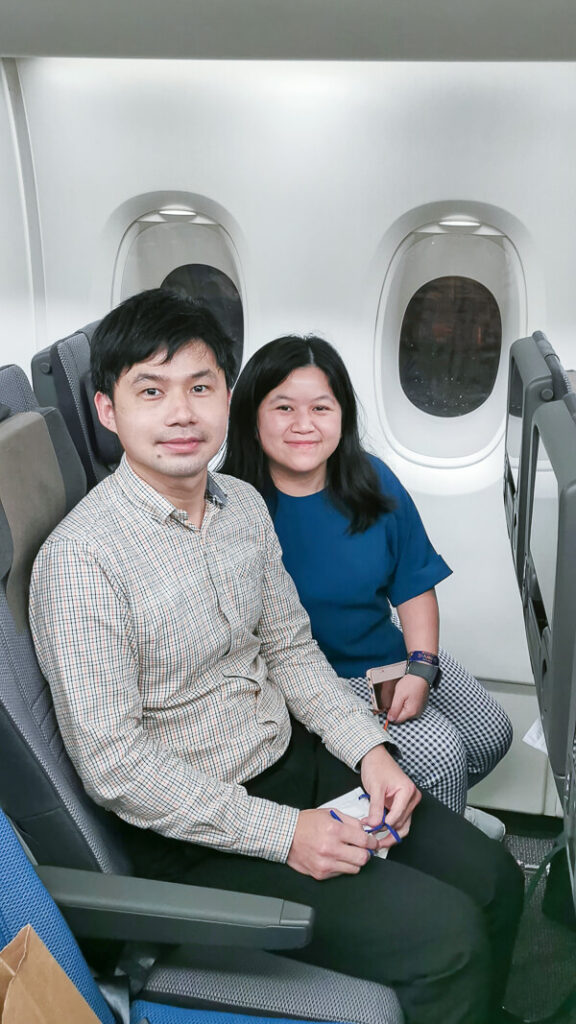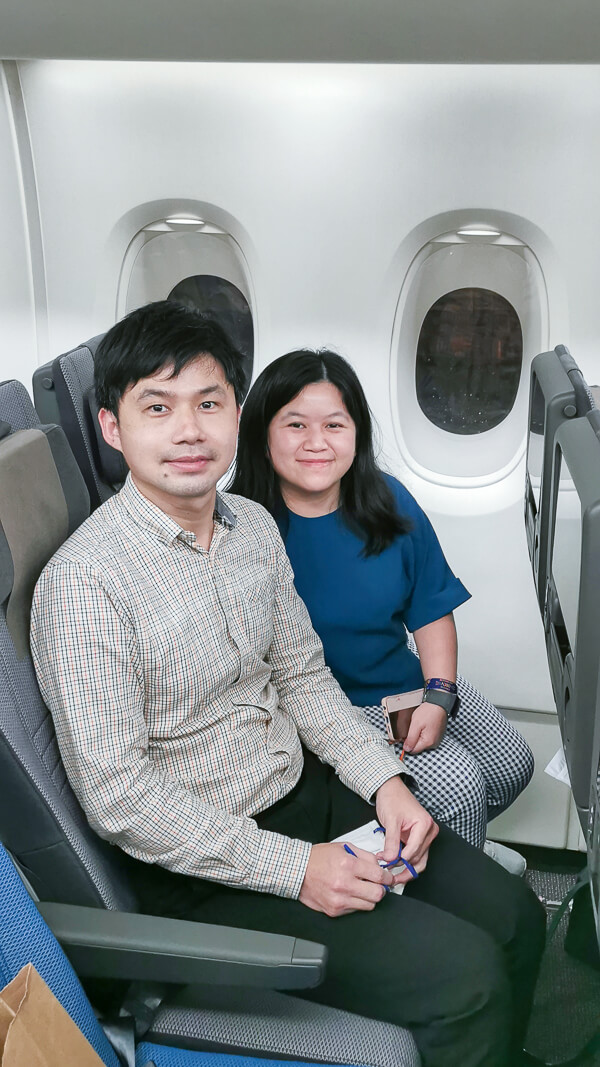 Before the food came, we took some time to play around with the IFE. Here are some shots of the seat monitor.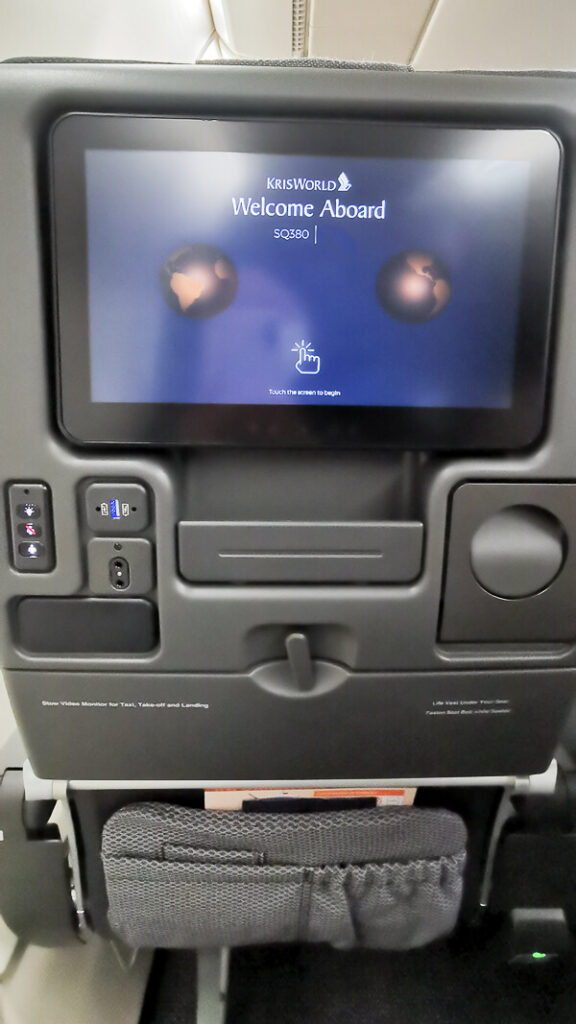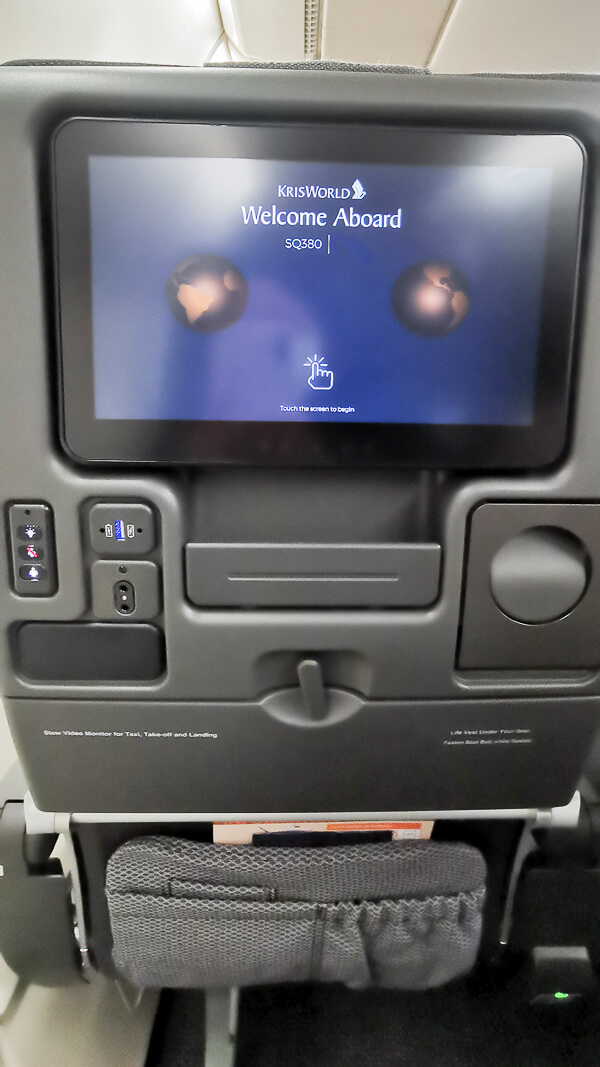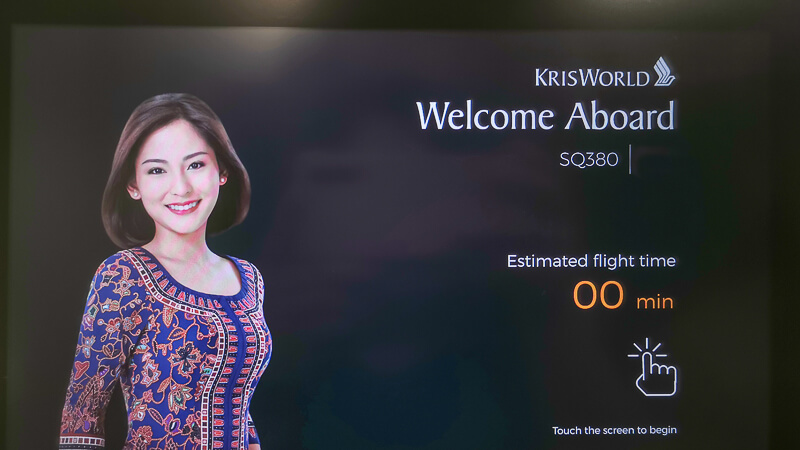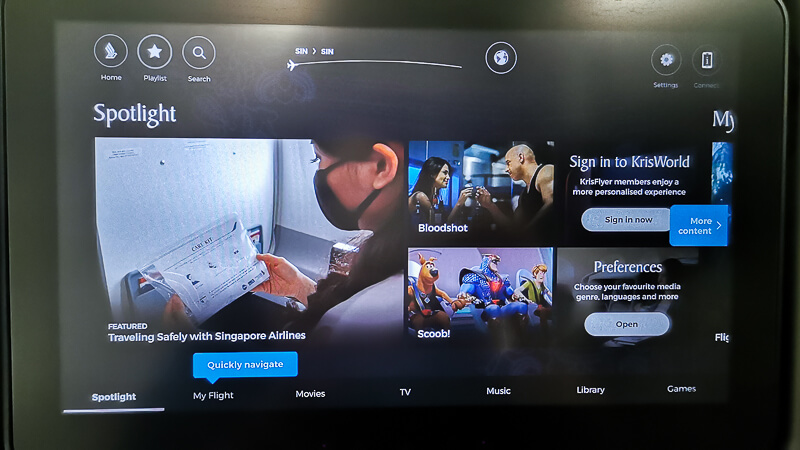 Dining experience
At about 7.40pm, our food arrived. The air stewardess that served us food asked if we'd like to have our photos taken. We quickly pass the phone to her and took out our masks and smiled. Without being asked, the stewardess took a portrait and a landscape. I'm impressed with their professionalism.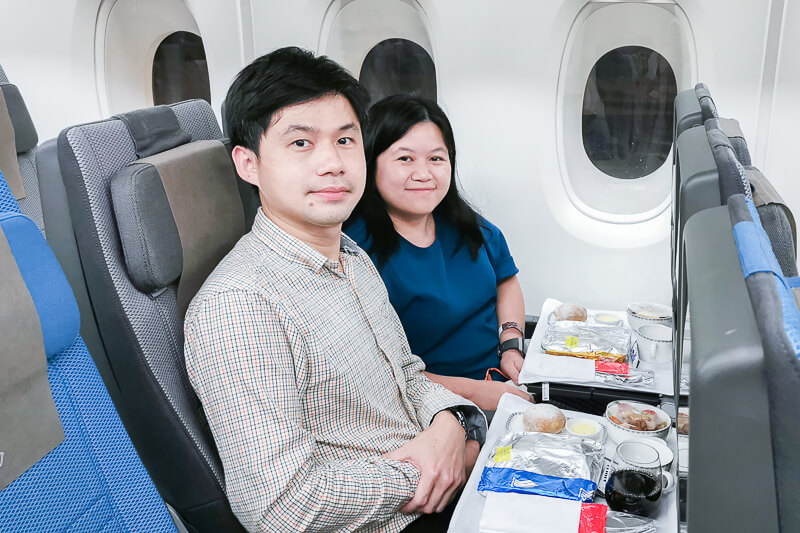 For Economy class, we were given 3 choices of Mains, namely Ayam Tempra and Brinjal Sambal (Peranakan dishes), Pan Fried Salmon with Dill Cream Sauce, and Miso Kakuni. The appetizer is Roasted Chicken with Potato and Pumpkin Salad. The dessert is Haagen Dazs ice cream.
I chose Ayam Tempra and Brinjal Sambal, which consists of chicken glazed in soy sauce with onions and calamansi lime juice, fried eggplants with chili and steamed Jasmine rice. I asked for Singapore Sling and champagne as my drinks.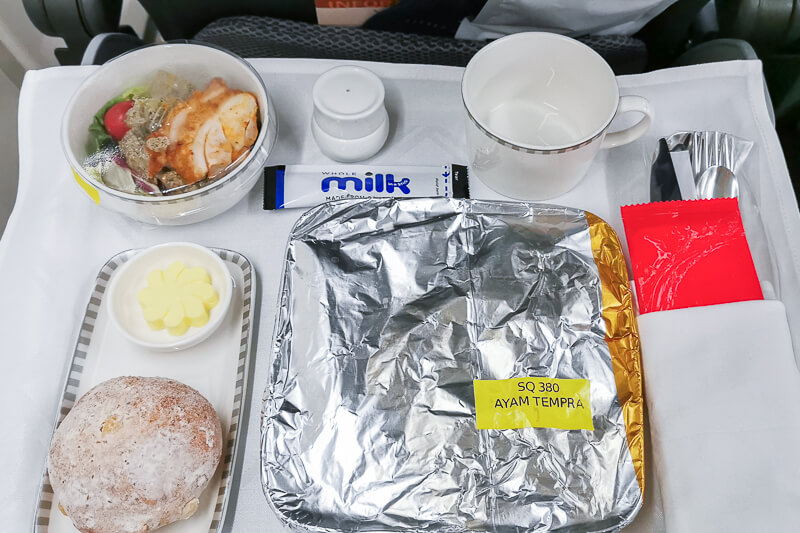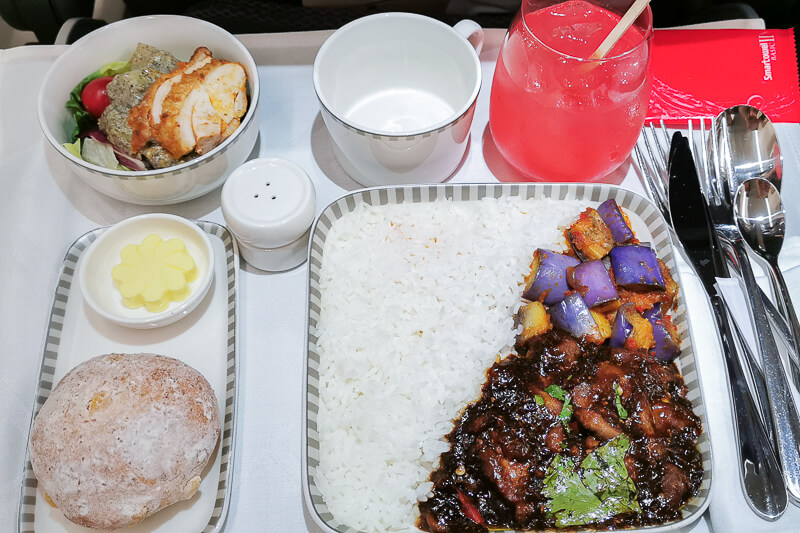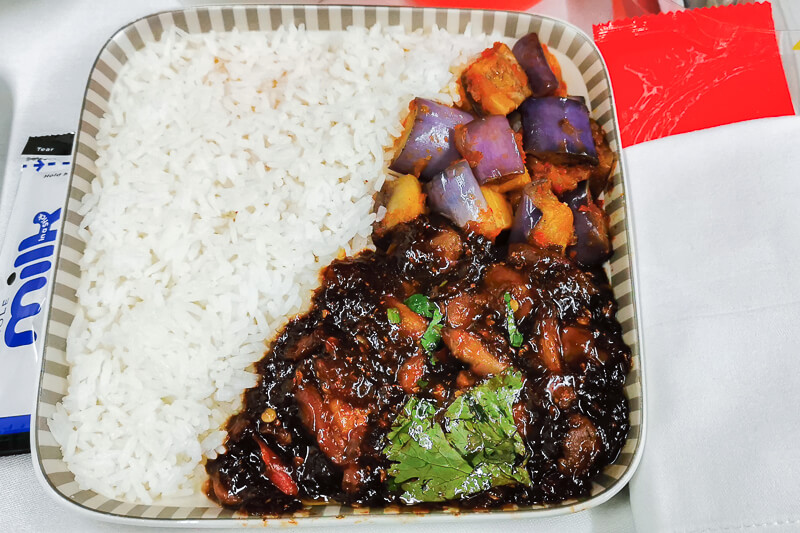 Meanwhile, hubby chose Pan Fried Salmon, which comes with vegetables and roasted potatoes. He requested for red wine and champagne.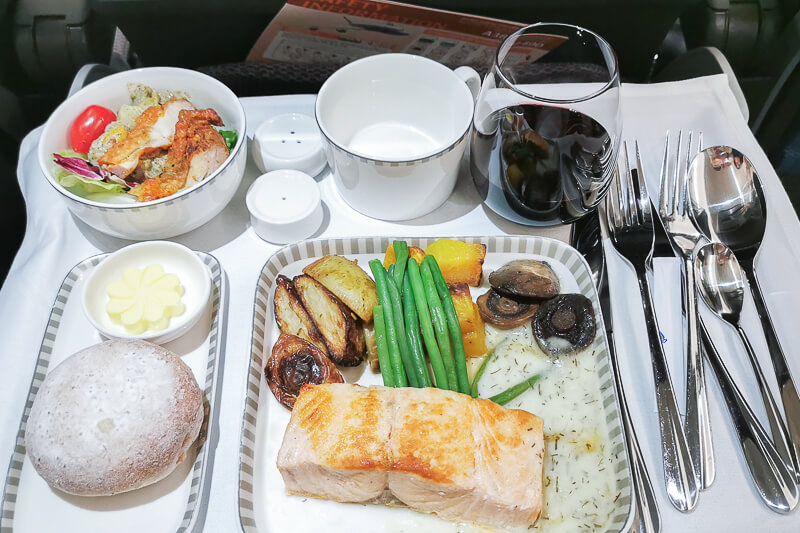 Our champagne came later, after we've finished our meals. After the dinner, we learned that champagne wasn't actually available on Economy class. Our friends who were seated on another aircraft (also Economy class) requested for champagne but were told that champagne wasn't available. We're so grateful for the generosity of the stewardess that served us champagne even though we were in Economy class. We really appreciate the nice gesture.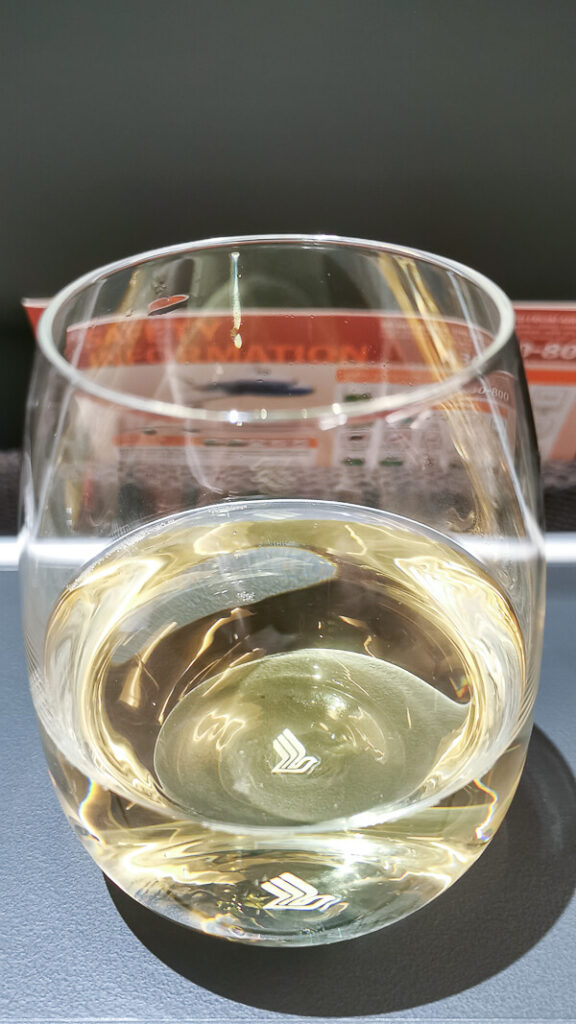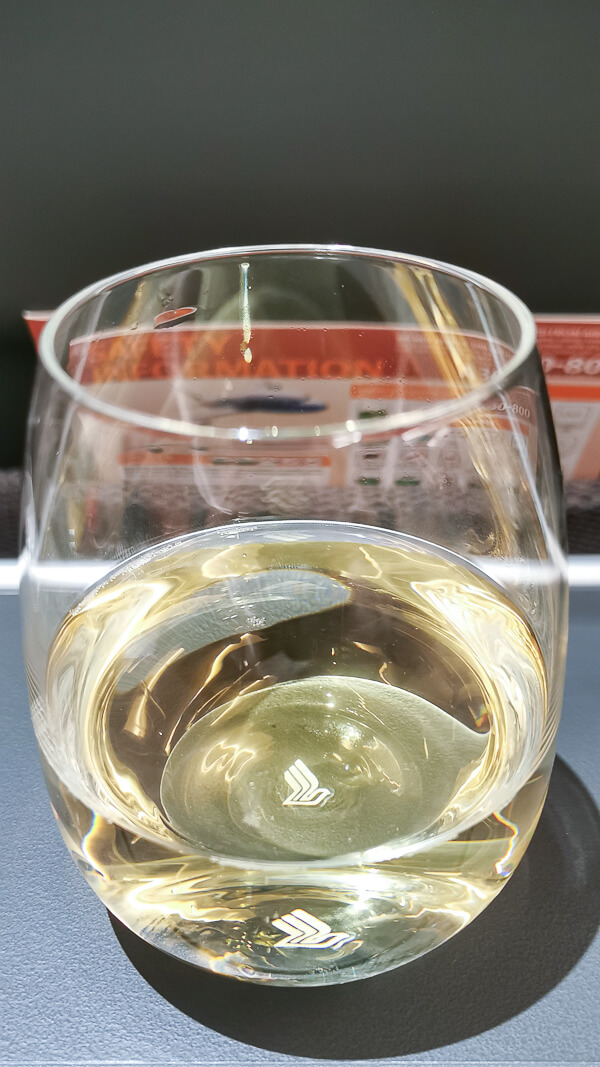 I finished my meal at about 8.30pm and realized that I still had 1.5 hours to go. Hence, I decided to watch a movie. The movie selection was pretty good. It got so many of great movies, but instead of re-watching my favorite movies, I chose to watch a movie I haven't watched before: A Star is Born, featuring Lady Gaga.
At 9.30pm, I requested for another Singapore Sling. I was prepared for rejection because it's almost 10pm. The stewardess happily served me the Sling and even gave me 2 packs of peas and crackers. I'm in heaven!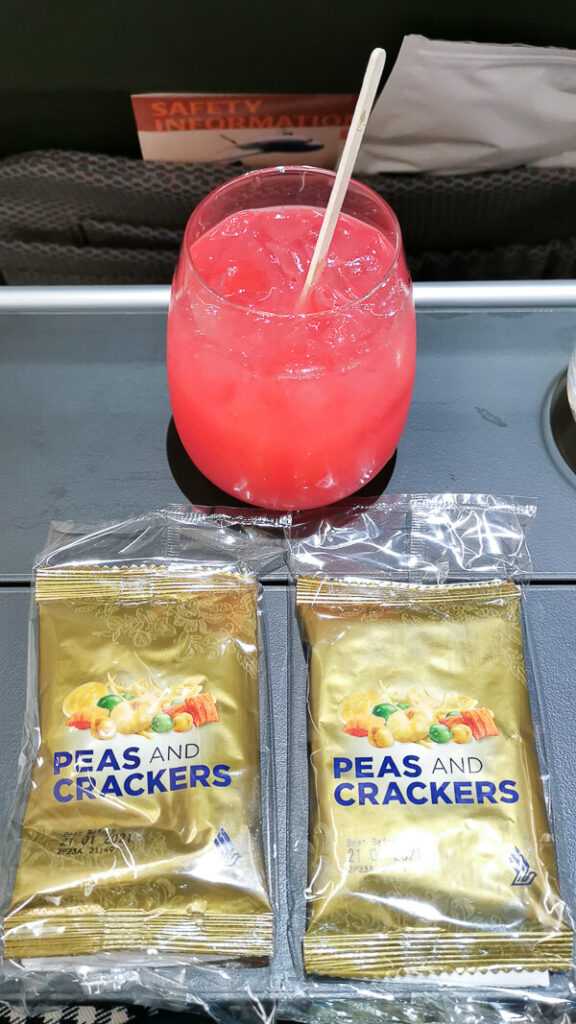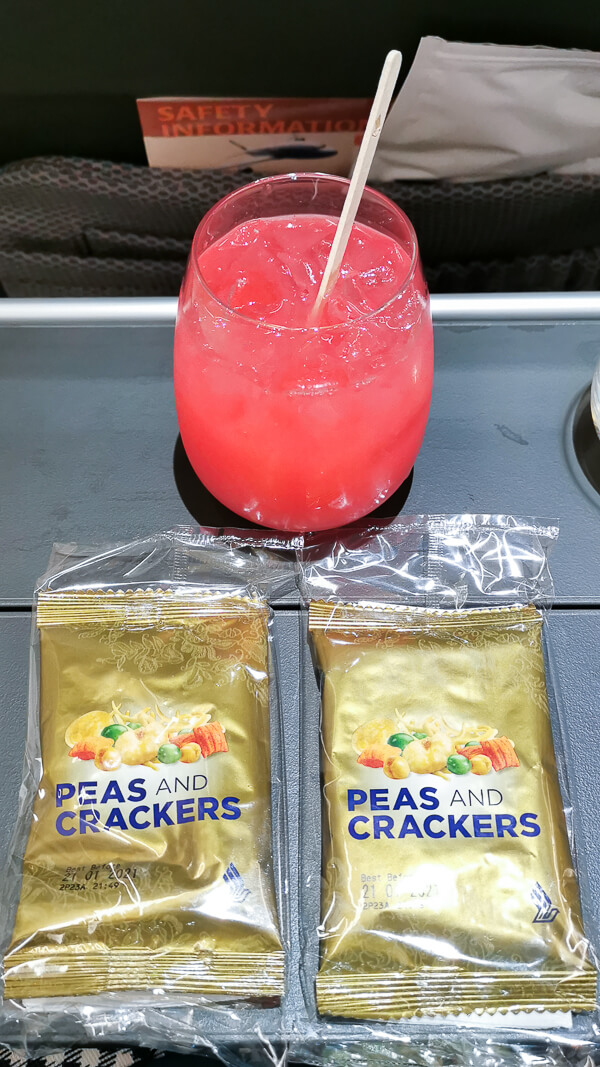 At about 9.45pm, the announcement to disembark came. We were so sad that this event is ending. Before the end of the event, we received goodie bags which has packing cubes, pen and poker cards.
Thoughts after the dinner
I mentioned at the beginning of the post that this event is life changing for me. But I haven't explained in what ways this event changed my life. That's because I like to save the best part for the last!
My friends, family and readers know that I'm a budget type of person when it comes to flight. I flew budget airlines most of the time. I flew with SilkAir a couple of times before, but I've never flown with Singapore Airlines. After this event, I think I'm a convert.
I'm now officially a fan of SIA, because I admire their unparalleled service. I feel that they would go the extra mile to make sure passengers are well taken care of. Of course, not every cabin crew is the same, but most of them are outstanding.
I do not eat eggplant and pumpkin. I just don't like them. But my main course has eggplants and hubby's main course has pumpkin.
I told myself to try a bite of the eggplants and pumpkin. Boy, there were surprisingly tasty! I took another bite, then another bite, then another. I can now eat eggplant and pumpkin! I did NOT expect this to happen at all!
IF Singapore Airlines decided to offer the Restaurant A380 dining experience again, will we go again? HELL YEAH!
Want to be the first to know whenever I post new articles and videos? Join my Telegram Channel and you'll get new post alerts sent directly to your phone.