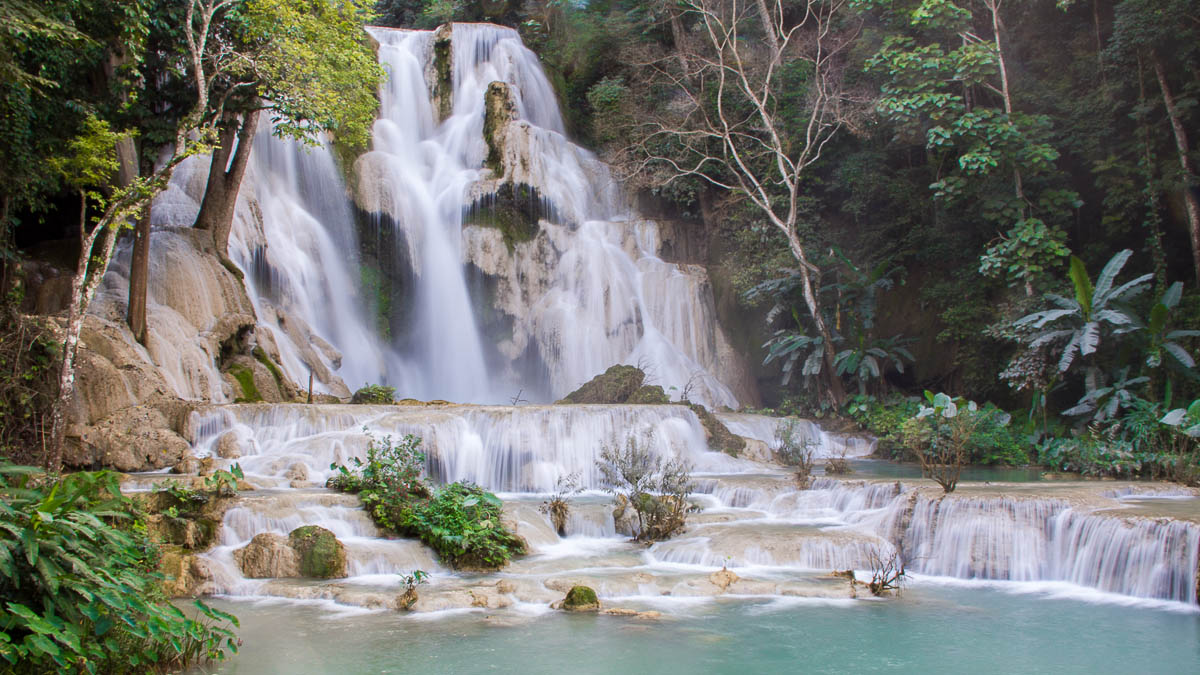 Honestly, there are probably too many waterfalls in Luang Prabang! There are Kuang Si, Tad Sae, and Tad Thong. With our limited time and unlimited curiosity, we decided to visit only one waterfall during this trip. It was Kuang Si Waterfalls, no doubt!
If you're visiting this waterfall, here's my number 1 advice: Go there early!
We spent our morning packing our bags, renting a motorbike, having a breakfast, filling the gas, visiting Phosi Market, and having a lunch before going to Kuang Si Waterfalls. And we DID NOT have enough time in Kuang Si! Anything less than 5 hours is obviously not enough for such a majestic waterfall.
What to Bring
Here are my recommended things to bring to Kuang Si Waterfall:
Swimsuits (bikinis are common)
goggles, if that's your things (but nobody really wears these at Kuang Si)
change of clothes
towel
sunscreen
drinking water
snacks
camera (waterproof cameras are better)
tissues, wet and dry
cash and phone, obviously
Don't bother to bring:
shower stuff (soap, shampoo, etc) as there's no shower facility there.
tripod as it's heavy, unless you're a professional photographer
Remember this: the smaller and lighter your bag is, the better it is! Because there is a lot of walking and hiking! And when you go for a dip in the pool, you want to put your bag at locations within your sights (that include uneven stones at the edge of the pool), so you want a light and not a bulky bag.
For your info, there's changing room but there were no lights and some cubicles have huge holes. There are public toilets but they are not clean, just be prepared mentally!
How to Go
In summary, here are the methods of going to Kuang Si Waterfalls:
Shared tuk-tuk (approx. 30,000 to 50,000 kips/pax)
Private tuk-tuk (approx. 200,000 kips/tuk-tuk)
Shared minivan (approx. 60,000 kips/pax)
Boat (approx. USD 45 to 93/pax depending on group size)
Motorbike (we paid 90,000 kips/24 hours)
Private car (approx. 250,000 kips/car)
Bicycle (approx. 30,000 to 50,000 kips/24 hours)
I won't dive into the details of each method because So Many Miles has written such a detailed post about how to go to Kuang Si Waterfalls. Instead, I'll write about our own experience riding a motorbike to Kuang Si Waterfalls.
We rented a motorbike from Moto Rental on Kisalat Road (opp Vat Phonxay) for 24 hours. At first, we were quoted 100,000 kips. After negotiation, they reduced the price to 90,000 kips. When we made the booking, we had to fill up some particulars and surrender a passport. Then, we were given the papers, key, helmets and a map.
They recommended that we fill the gas at That Luang gas station, which is located on the way to Kuang Si Waterfall, at the junction of Phothisalath Road and Phu Vao Road. At that time, we realised the gas tank indication was not working! Worried that the tank was almost empty, we decided to fill up the tank. Luckily, our gas bill was only 22,000 kips. Then, we made a detour to the delicious Phu Vao Pho and Phosi Market before finally going to Kuang Si Waterfalls.
The road to Kuang Si is about 30km long. As hubby rode the motorbike, I sat behind monitoring Google Maps on my phone with one hand, while making sure my helmet doesn't fly away with another hand. I didn't have any more hands to hug him unless I keep my phone under my shirt (#realstruggle). As I can't monitor Google Maps all the time for the fear of falling off the bike and being robbed by other motorcyclists, we made a wrong turn at the junction after Le Palais Juliana. Tips: the wrong road is small and quiet; the right road is wide and busy.
Fortunately, my guts told me not long after we made the wrong turn, and we were able to return to the correct road not long after. The journey took us about 1 hour. We passed by the Butterfly Park but decided to skip it because our priority was Kuang Si. We then parked our motorbike, secured our helmets to the bike's hook under the seat (we didn't use motorbike lock), paid 2,000 kips parking fee, purchased Kuang Si tickets (20,000 kips per person) and headed to the paradise.
Tat Kuang Si Bear Rescue Centre
The Bear Rescue Centre is located inside Kuang Si Waterfalls compound. That means you don't need a separate ticket for it. In fact, the bears are the first things you'll see, even before you see the waterfalls.
Operated by Free the Bears, the Tat Kuang Si Bear Rescue Centre aims to protect the endangered Asian black bears. The bears were kept by illegal hunters for use in the traditional medicine trade, restaurant trade or as exotic pets. But now, they are safe and happy at their new house.
A Series of Pools and Falls
At Kuang Si Waterfalls, you can safely expect to find MANY pools and falls. Believe me when I say they're all so beautiful! It was like nothing I've ever seen before. As we walked up the trail, we were met with never-ending pools and falls. The more we climbed, the more pools and falls we found. We immediately suffered from FOMO (Fear of Missing Out). We kept asking ourselves, should we swim here or should we keep moving? Are there more beautiful spots ahead? Should we swim first or should we explore first?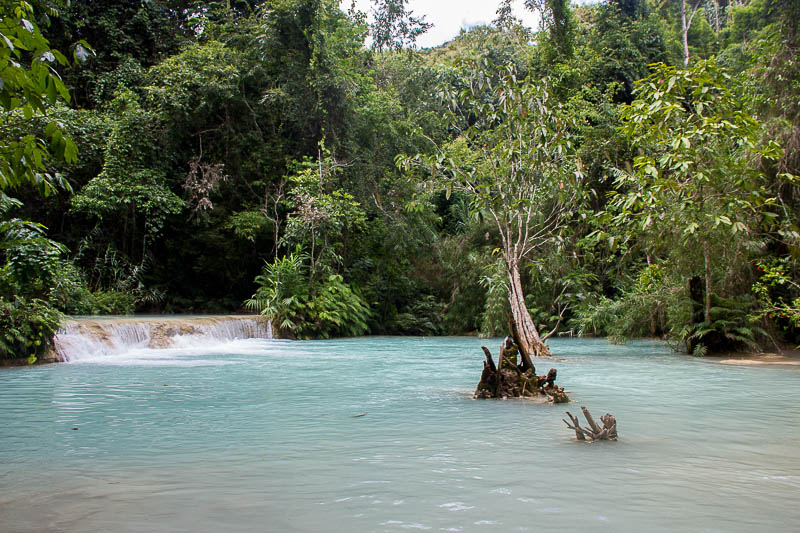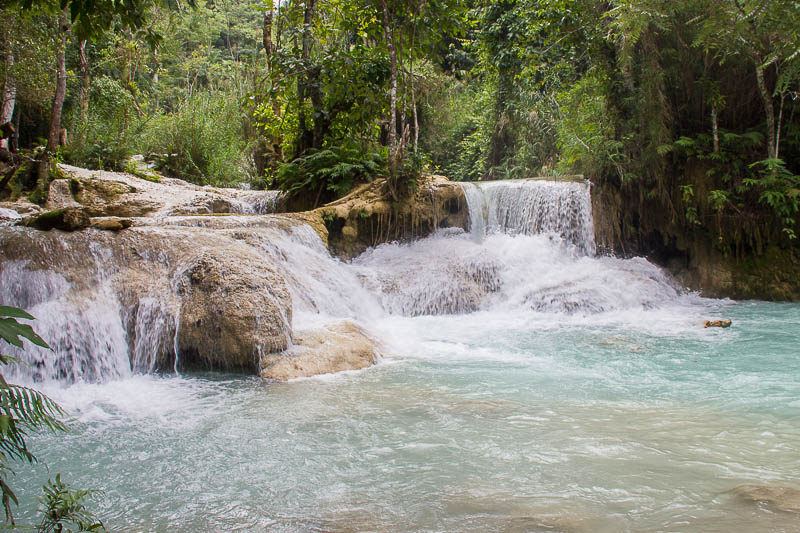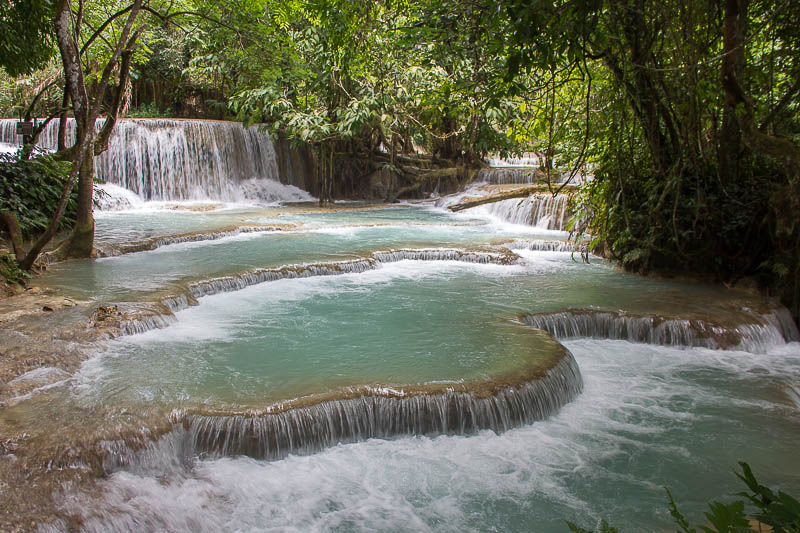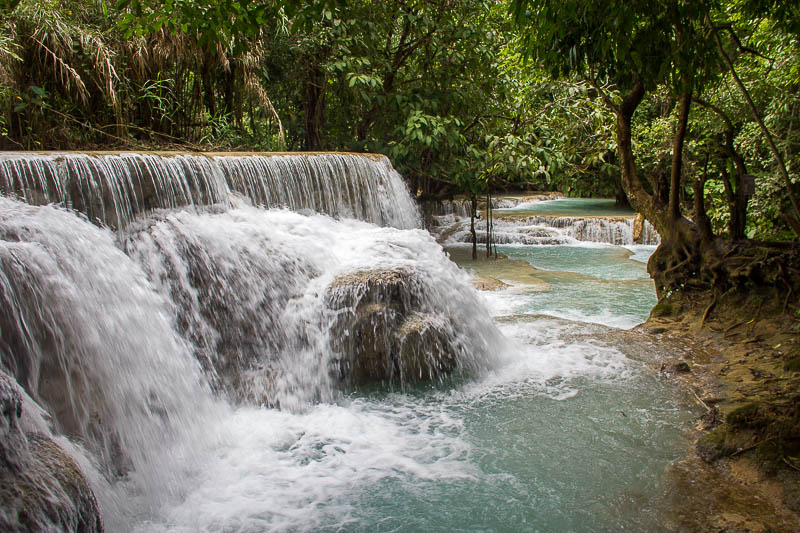 Guys, hear me out. There are 3 main spots you don't want to miss at Kuang Si: the secret pool, the big fall, and the jump pool.
The Secret Pool
The secret pool is located at the top of the big fall. To reach it, you have to hike all the way to the top. There will be slippery paths, endless steps, and shaky mini bridges. All these obstacles shouldn't deter you from visiting the secret pool. Maybe not many people know about this spot, or not many people want to hike so far, there are not many people here.
Here, you can see the big fall from a standing platform built ABOVE the big fall, which is not for the faint-hearted. Then, you can swim in the pool, sit on the swing as you sweet-talk your sweetheart, have a natural fish spa (yep, the fish are hungry and will be more than eager to eat your feet's dead skin), or simply just admire how wonderful the place is.
If you want to swim, make sure you've changed into your swimwear earlier, because there are no changing huts here. I missed the opportunity to swim here because I hadn't changed.
The Big Fall
The Big Fall is undoubtedly the most beautiful fall of Kuang Si. From far, it looks like a perfect painting. From near, it looks so surreal. When you stand in front of the fall, you'll be stunned, you'll be wet, you'll wish other people just go away and you'll want to take as many selfies as possible.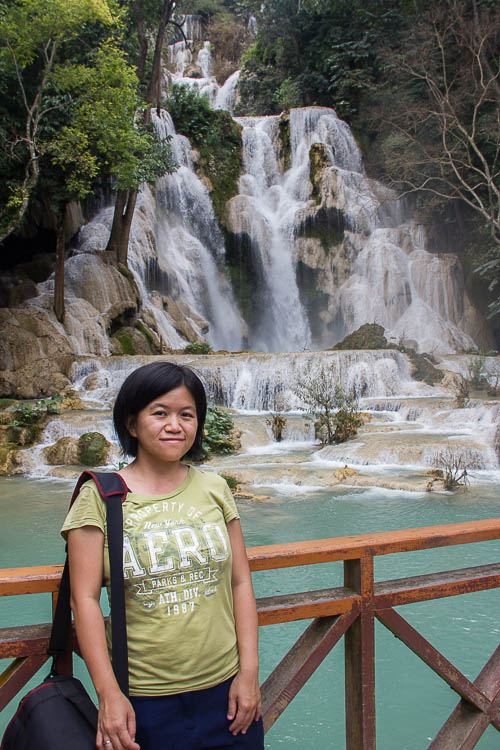 The Jump Pool
I guess "Jump Pool" is the right name for this pool. People are lining up throughout the day to jump into the pool from a protruding tree branch. There's a sign that discourages people from jumping, however, nobody cares. Don't ask me whether I made the jump or not.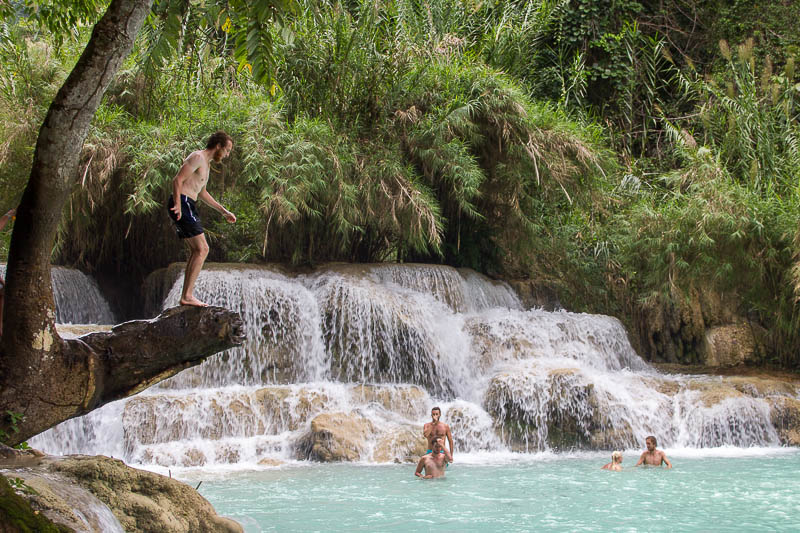 Other Pools
After visiting all the three pools, we decided to walk away from those popular spots to enjoy our time. We sat down under small falls, swam in quieter pools and took so many photos with our GoPro.
If You Love Butterfly
Butterfly lovers, there's Kuang Si Butterfly Park located about 300m before Kuang Si Waterfalls. We didn't visit it due to time constraint, we'd love to in the future, though. Do note that it's closed on Tuesdays.
Stay at Kuang Si Waterfall
Did you know you can stay near the waterfall? There's a guesthouse called Vanvisa at the Fall (check price at Agoda and Booking.com) that offers rooms from USD 20 to 60 per person. We were tempted to book a room there, however, we had multiple bags and felt that it'll be troublesome to carry all of our belongings on a motorbike. If you're an ultra-light backpacker, you might be interested to try the guesthouse. Several guests said that it was great as they have their own waterfall. But other guests had negative comments. So, decide wisely.
Conclusion
At the end of the day, we did not want to leave, but we had to. Kuang Si Waterfall is a "MUST VISIT" place when you visit Luang Prabang. Do not give this a miss, you'll regret it!
Disclosure: Some of the links in this post are affiliate links. If you make any purchase through my links, I will receive a small commission, at no extra cost to you. Thank you for your support ?