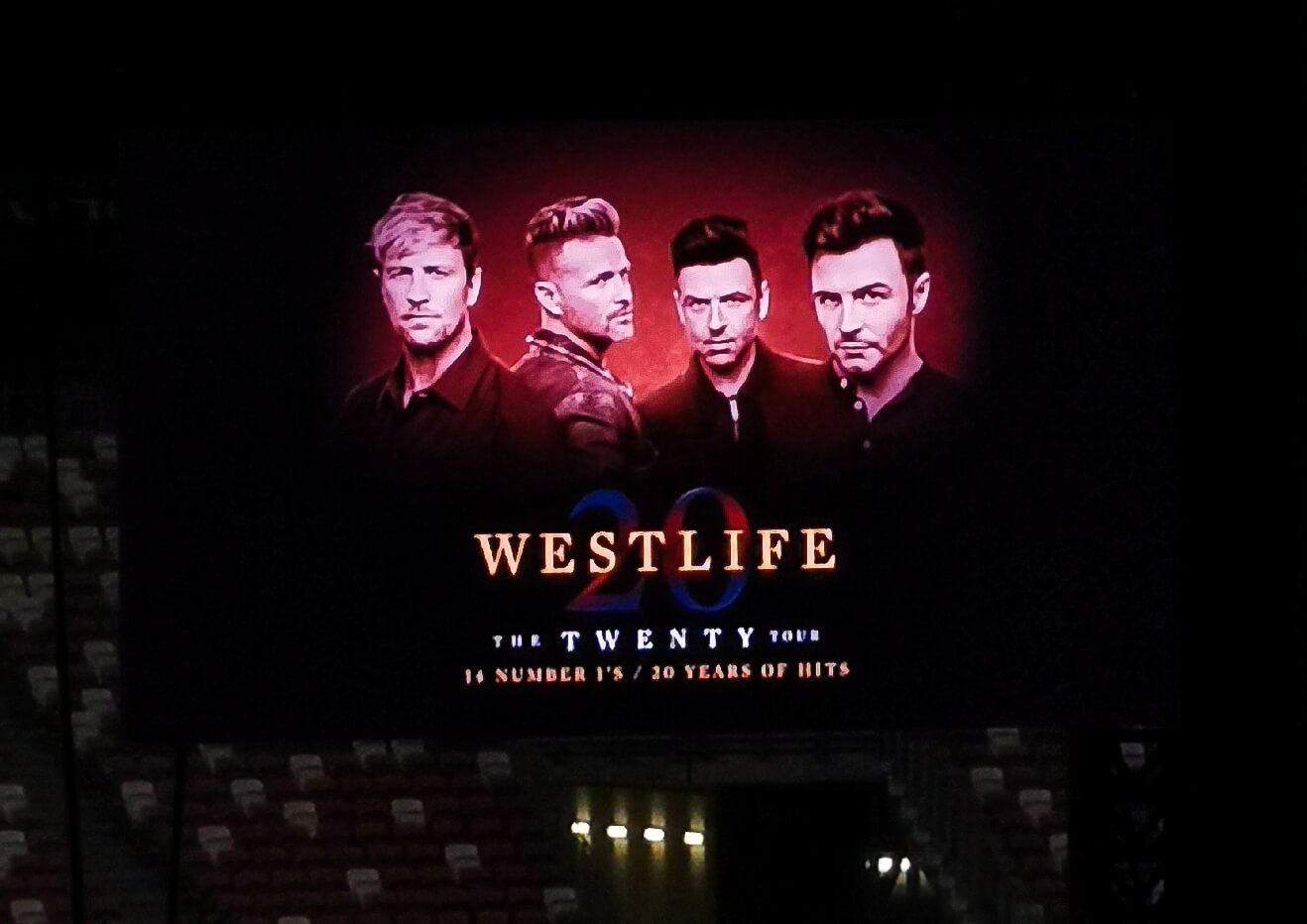 Hello, my love – I've been searching for someone like you
For most my life – happiness ain't a thing I'm used to
You could have fallen hard for anyone – plenty of fish in the sea, hey now
For all of time, now I know – It's just my angel and me
The earth was shattering around me when these voices filled the National Stadium Singapore on 10 August 2019.
How could it not?
For all my life, I dream of seeing my idols with my own eyes. But, as someone born in a small city, I realized early in life that it'd be foolish to dream too big.
Back in my high school days circa 1999 to 2005, like other teenage girls, I was obsessed with music and boy bands.
I had plenty of idols, but the first boyband that stole my heart was Westlife. I followed their music since their first single, Swear It Again, was airing on TV and radios. Then, when they released If I Let You Go, I officially became their fan.
Whenever a magazine mentioned any news about the boys or included a free poster (or stickers) of them, I must have that magazine!
My friends and I would ask each other, who our favorite member is. My answer would always be Shane Filan..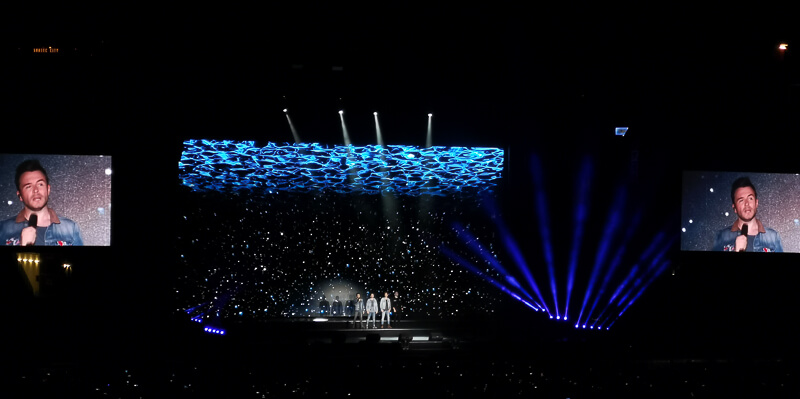 I bought VCDs of their concerts and watch it repetitively until I got bored or I got busy with schools. I also bought their official cassettes and CDs (which were terribly expensive in Indonesia).
I wanted so much for them to come to my hometown and have a concert. I imagined that they would come and I would go to airport with huge signs to welcome them. Then, I would take a photo with them. Well, they never come to my hometown, because it was just a small city.
I would go to internet café to search for lyrics to their songs and save them to my Floppy disk. At home, I'd open the offline files containing the lyrics and then wrote them down with fancy colorful pens in my beloved "Lyrics Book."
I would memorize as many lyrics as I could, so that I'll be able to sing along when the songs are being played on TV or radio. My friends and I would copy each other's Lyrics Book occasionally.
Besides searching for lyrics at internet café, I would also join fans groups in Yahoo! Groups. I would read messages in the forum because I was dying to know what the boys were up to. Back then, there were no Instagram so we couldn't stalk celebrities!
From the forum, I got to know a girl from Thailand. Back then, Thailand was a foreign and mysterious land to me. Soon, we became e-pal! We would send each other short emails each time we got access to internet. Now, we are friends forever because of our mutual love for Westlife.
When Westlife split up in 2011, honestly, I had no idea they did. I found out about this fact after seeing news that they had just wrapped up the Farewell Tour. I was already working in Singapore in 2011, but I didn't know they had a concert in Singapore. I WAS SO ANGRY WITH MYSELF. I missed the one and only chance to see my idols.
Or so I thought.
***
I couldn't recall exactly when and how I saw the advertisement of Westlife's Twenty Tour concert. I couldn't believe my own eyes.
I googled and googled to find more information. Well, it looks like it's real news and I am NOT going to miss this concert!
My two sisters agreed to watch the concert with me even though it means they have to come to Singapore just to watch it. Yay!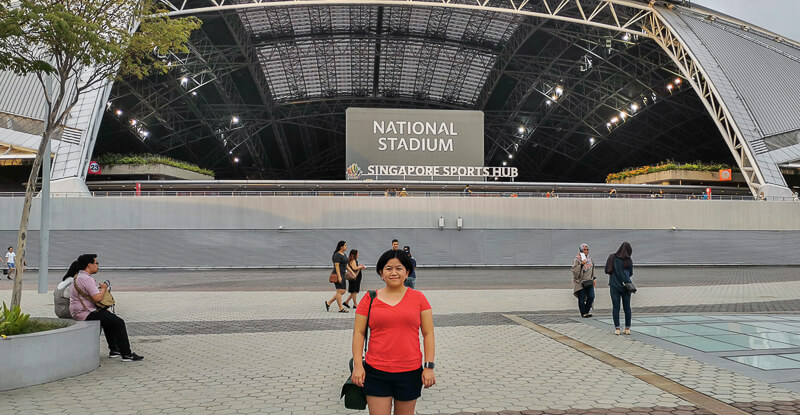 Purchasing the tickets was not easy! On the second day of the sales, the VIP and front rows of each front-facing categories were already SOLD-OUT! Oh, no! I wasn't planning to get VIP tickets, I just wanted to get the front rows of the category.
Anyway, the early birds get the worm. And since I was 1 day late, I got the 24th row of a category near the back of the hall. Still, it's better to buy ticket from the organizer directly than paying exorbitant amount to re-sellers.
***
The long-awaited day has finally come. My sisters, my mom and my auntie is finally in Singapore, and I was beyond happy. It's been ages since they last came to visit me. While hubby accompanied my mom and auntie, the three of us took the MRT to Stadium.
We decided to have lunch at Kallang Wave Mall, which is located right beside National Stadium. The mall was crazy packed with Westlife fans! How did I know? Well, they were all talking about the band!
They were at least in their late twenties or thirties. Boy, does time fly!
A couple of photos in front of the stadium and a security check later, we were seated on our seats! We were really early. The hall was still quite empty when we arrived.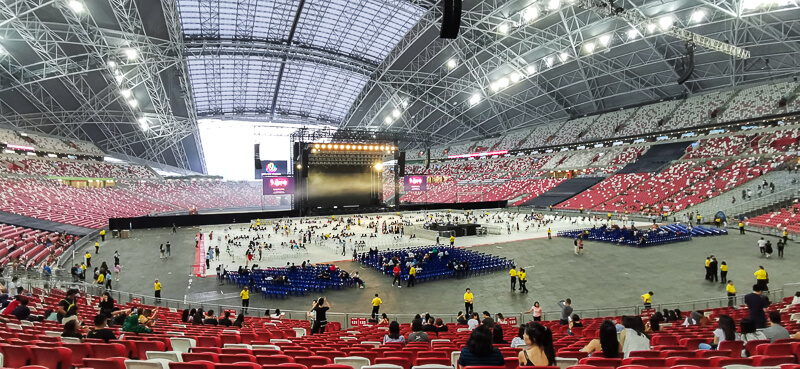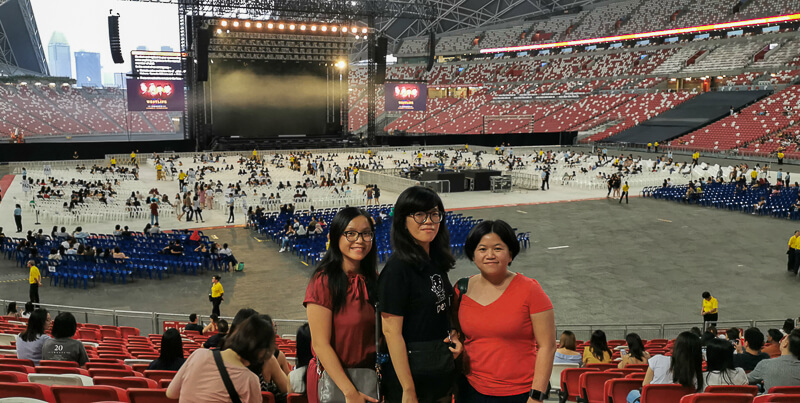 ***
One hour and forty five minutes later, they appeared before our eyes.
Their opening song was "Hello My Love" from the new album "Spectrum." That opening act was surreal. I didn't know the lyrics but I knew the tunes, so I hummed along 🙂
A few classic top hits followed afterwards. I tried to write down the list of songs they sang so that I could re-live the concert, but I got distracted that I decided to just enjoy the present moment and forget about making notes.
From what I could recall, they sang Swear It Again, If I Let You Go, Fool Again, My Love, What About Now, Unbreakable, Uptown Girl, When You're Looking Like That, Better Man (new song), You Raise Me Up, Flying Without Wings and World of Our Own.
Oh, they also did a rendition of Queen's songs. I love the way they sang Somebody to Love, We Are The Champion and We Will Rock You. But honestly, I hoped they sing their own songs throughout the concert instead 🙁
Here is a video showing the stadium and the concert.
I loved how they interact with audience by telling stories about how they decided to make a comeback, about the time they sang You Raise Me Up at Nicky's father's funeral and then at Kian's father's.
There was a man who proposed on the stage to his girlfriend! It was a surprise proposal. Westlife sang Better Man after the girl accepted the proposal. Oh, HOW SWEET!! How I wish I was serenaded by Westlife at my own engagement!
***
At the concert, I had a realization.
I realized that I had loved Westlife for a very long time. Twenty years, to be exact. And I promise myself I will not stop loving them. I will keep watching their concerts if they come back to Singapore or other countries in Southeast Asia.
It is because of their songs, I learned new vocabularies and improved my grammar. It is through their music, I discovered how therapeutic music is.
Because of them, I learned about love. Thank you for Flying Without Wings, Queen of My Heart, Beautiful in White, Tonight, Obvious and Hello My Love.