Built in the 8th and 9th century, Borobudur Temple is the largest Buddhist temple compound in Indonesia.
Borobudur is located in Central Java province. However, the nearest big city is Yogyakarta. Therefore, most people visit Borobudur from Yogyakarta, not from Semarang.
In Indonesian language, Borobudur Temple is called Candi Borobudur. Candi usually refers to ancient stone temples built during Hindu and Buddhist era in Indonesia.
The Borobudur Temple Compound (which consists of Borobudur, Mendut and Pawon) was inscribed as UNESCO World Heritage Site in 1991, the same year as Prambanan.
In this guide, I'll share my experience visiting Borobudur as well as important travel information you need to know before visiting.
Borobudur Temple Operating Hours
Borobudur is open everyday except during special occasions (such as Vesak Day).
| Admission to | Opening Hours |
| --- | --- |
| Ticket counter | 6.30am to 4.30pm daily |
| Temple Park / Taman Wisata Candi Borobudur | 7am to 5pm daily |
| Temple Yard / Pelataran | 7am to 5pm daily |
| Temple Monument / Monumen Candi | 8.30am to 5pm Tue-Sun (limited quota per day) |
(Source: 1, 2, 3)
Pro-Tip: Avoid visiting on Monday because the Temple Monument is closed on Mondays.
If you intend to visit Borobudur during sunrise (4.30am), you need to get a special ticket, which allows you to enter early in the morning before the official opening hours. I'll share more about this later in this article.
Can you climb Borobudur? Yes, you can climb to the top of Candi. To do so, you need to queue to get a timeslot. There are 8 hourly timeslots each day, the first one at 8.30am and the last one at 3.30pm. I highly recommend that you arrive at the Candi early in order to secure a slot.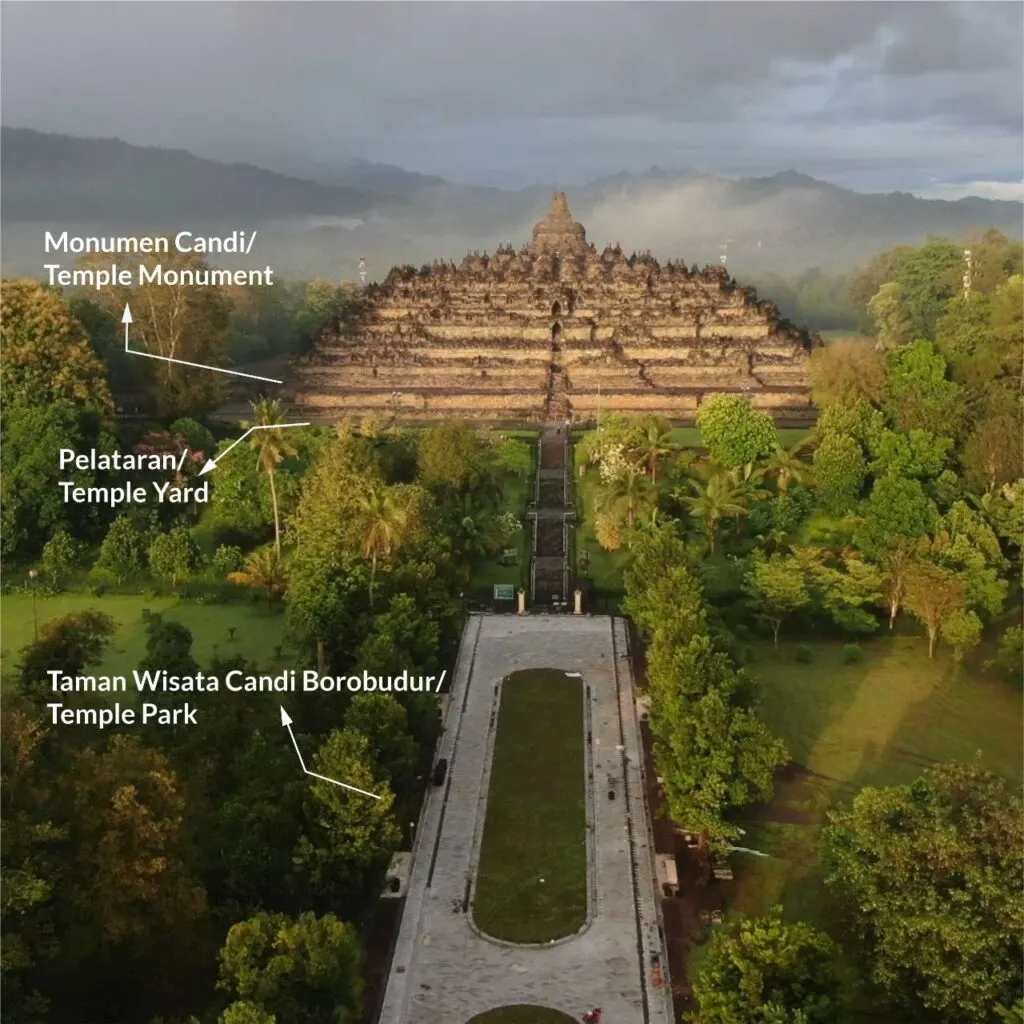 Borobudur Temple Entrance Fee
Here are the official ticket prices for entering Borobudur Temple during the normal visiting hours (exclude sunrise hours):
| For | Official Ticket Price |
| --- | --- |
| Adult (Foreigner) – Ground Only | IDR 375,000 |
| Child (Foreigner) – Ground Only | IDR 225,000 |
| Adult (Foreigner) – Ground & Temple | IDR 455,000 |
| Child (Foreigner) – Ground & Temple | IDR 305,000 |
| Adult (Local) – Ground Only | IDR 50,000 |
| Child (Local) – Ground Only | IDR 25,000 |
| Adult (Local) – Ground & Temple | IDR 120,000 |
| Child (Local) – Ground & Temple | IDR 75,000 |
(Source)
Child refers to children aged between 3 and 10.
You can purchase ticket on-site or online from the official Candi Borobudur ticket website. On this website, you can directly purchase the ticket that allows you to climb the temple structure.
You can also get slightly cheaper price if you book your ticket from Klook. But, you need to exchange it to a physical ticket at the counter. This Klook ticket doesn't include the ticket to go up to the temple structure, you need to pay additional IDR 80k at the counter.
If you'd like to visit Borobudur together with Prambanan or Ratu Boko, you can get a bundle ticket from the ticket counter. It costs USD 45 (Adult) & USD 27 (Child) for foreigners. (Source)
Note: Samudera Raksa Museum requires a separate ticket.
How to Visit Borobudur Temple For Sunrise
Visiting Borobudur Temple during sunrise offers a lot of advantages, such as:
You get to explore the temple without the tourist crowd
You get to witness stunning view of the temple and its surrounding during the golden hour
You might even get to see Mount Merapi because the sky is usually clearer in the morning
But, there are a few considerations you need to take into account before deciding whether visiting Borobudur during sunrise is the right option for you:
You need to wake up very early, like 3am or 3.30am depending on where you stay
You need to pay a more expensive entrance fee
You need to pre-arrange your transportation
If you have decided that you want to visit Borobudur during sunrise, there are 2 main ways to do so:
From Manohara Hotel. Make your way to Manohara Hotel (which is located just next to Borobudur) and try to arrive there before 4.30am. Then, purchase your special ticket on the spot (or book in advance by emailing them). You'll then be able to enter Borobudur Temple from Manohara and enjoy the sunrise. Details of Borobudur Manohara Package (BMP) here.
From Punthuk Setumbu Hill. This Punthuk Setumbu Hill is not inside Borobudur, instead, it is a popular viewpoint to watch sunrise over Borobudur Temple. The easiest way to get here is by taking this private tour which will pick you up from your hotel at 3.30am and drive you to Punthuk Setumbu Hill to watch sunrise. Then, it'll drive you to Borobudur Temple and Prambanan Temple in a day.
How to Get to Borobudur Temple
By taxi/ride hailing
Borobudur Temple is about 40km from Malioboro (aka the central of Yogyakarta). The journey takes between 1.5 hour to 2 hours depending on the traffic condition. The fare ranges between IDR 300k to 350k per way.
By private car charter
If you're going to many places in a day, you can consider renting a private car with driver. Through this method, you can create your own custom itinerary and the driver will drive you anywhere you want during the 10-hour rental period. But, make sure you book the correct area.
This is also the transportation method that I chose. After visiting Borobudur, I decided to visit the nearby Candi Mendut, went up Merapi mountain, went to buy bakpia as souvenir. We were also able to have lunch and dinner at my chosen eateries.
By private tour
If you want to visit both Borobudur and Prambanan in a day, you can consider taking this private tour. It includes private car charter, local driver, entrance ticket and tour guide (optional add-on).
By bus (Trans Jogja)
Trans Jogja Bus 2A & 2B connects downtown Yogyakarta to Jombor Terminal. From Jombor Terminal, take a local bus to Borobudur Terminal. From there, you can walk to take a horse carriage to Borobudur Temple. Full route of Trans Jogja can be seen here.
This method is quite time consuming and after exploring Borobudur, you need to catch the last bus back to Yogyakarta at 3pm.
By bus (DAMRI)
From Yogyakarta International Airport (YIA), you can take DAMRI bus that goes directly from airport to Borobudur. Because the route and timetable changes often, you can approach the DAMRI counter at the airport to enquire about the latest route, timetable and fee.
Borobudur Temple History
Borobudur is a Buddhist temple built in the 8th and 9th century (between AD 780 and 840) during the Syailendra Dynasty, who ruled Java for around five centuries until the 10th century.
Candi Borobudur was built to worship Buddha and to serve as a pilgrimage spot for travelers from around the world who want to seek knowledge on how to achieve enlightenment and wisdom according to Buddha's teaching.
Between the 10th and 15th centuries, Candi Borobudur was abandoned as the power shifts to East Java, and Islam arrived on the island.
Despite being neglected for 10 centuries, the temple remained strong. Borobudur was re-discovered by Sir Thomas Stamford Raffles in 1814. In the 1970s, the Indonesian Government and UNESCO worked together to restore Borobudur to its former glory.
The main building of Candi Borobudur has 3 main spheres. Each sphere represents the 3 levels one has to climb to reach enlightenment (Nirvana). The three spheres are:
Kamadhatu. Kamadhatu (the sphere of desires) is the lowest level located at the foot of the temple. It contains 160 carvings that illustrate human behavior of desire and kamma (the law of cause of effect).
Rupadhatu. Rupadhatu (the sphere of forms) is the middle section located at the body of the temple. It contains stone carvings as well as niches containing statues of Buddha.
Arupadhatu. Arupadhatu (the sphere of formlessness) is the highest section location at the top of the temple. It contains 3 circular terraces leading to a central stupa. Each terraces contain circles of perforated stupas with Buddha statues inside. There are 72 of these stupas in total.
Exploring Borobudur Temple Compound
Temple Park
The temple park (Indo: Taman Wisata Candi Borobudur), also known as Lumbini Park or Green Park, is a the long walkway from the entrance gate to the Borobudur temple.
It's a nice place to take photographs with Candi Borobudur as the background. Other than that, there's nothing much to do here.
There are many street photographers offering their services here. You can also find toilet as well as street food / souvenir vendors here.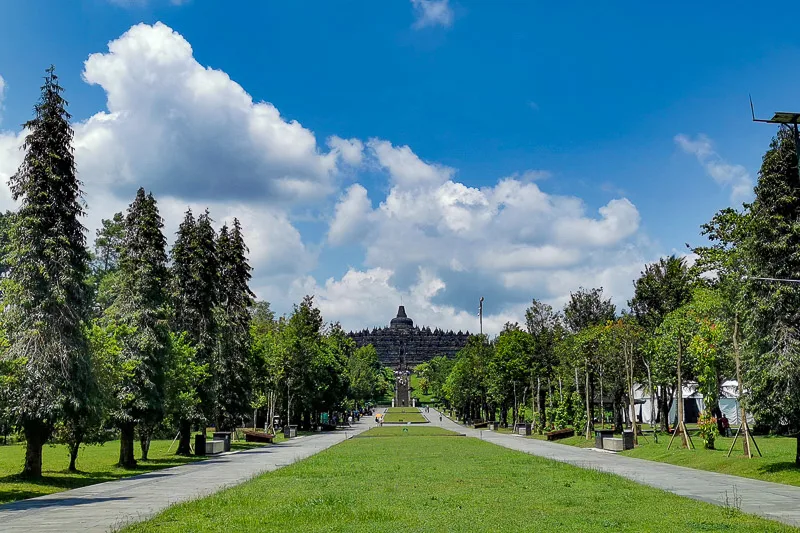 Temple Yard
The temple yard (Indo: Pelataran) is the yard at the base of Candi Borobudur. It is recommended to explore the temple yard by walking in clockwise direction.
Here at temple yard, you can look up to the temple and see relief of Kamadhatu and Rupadhatu sections.
Kamadhatu is the lowest section of the temple which comprises stone carving telling stories human beings. Meanwhile, Rupadhatu is the middle section which comprises Buddha statues which sit inside niches.
There is no way you can see the upper section (Arupadhatu) of the temple from this yard.
Along the perimeter of the yard, there are plenty of benches as well as signages with information about Candi Borobudur. Beware, there were wild animals as well. We encountered a young lizard in the bushes.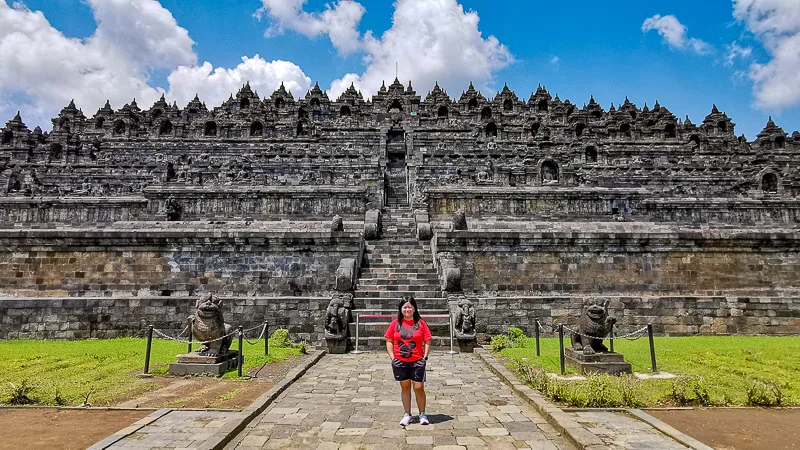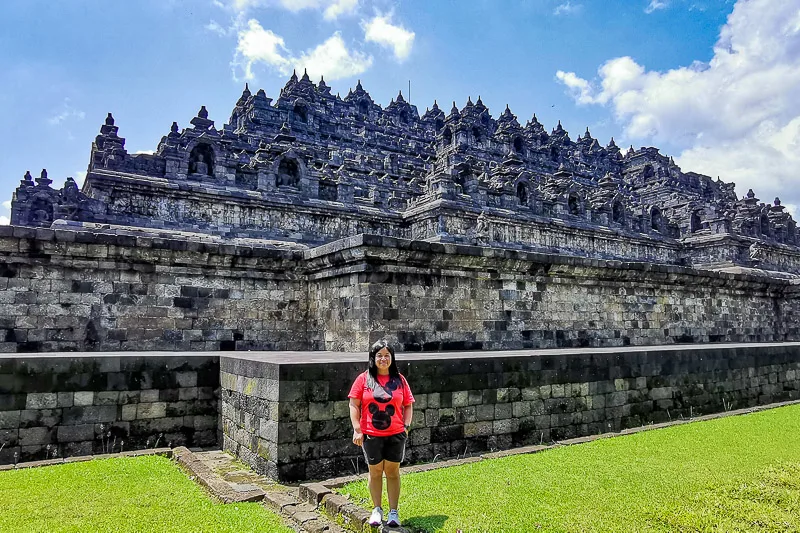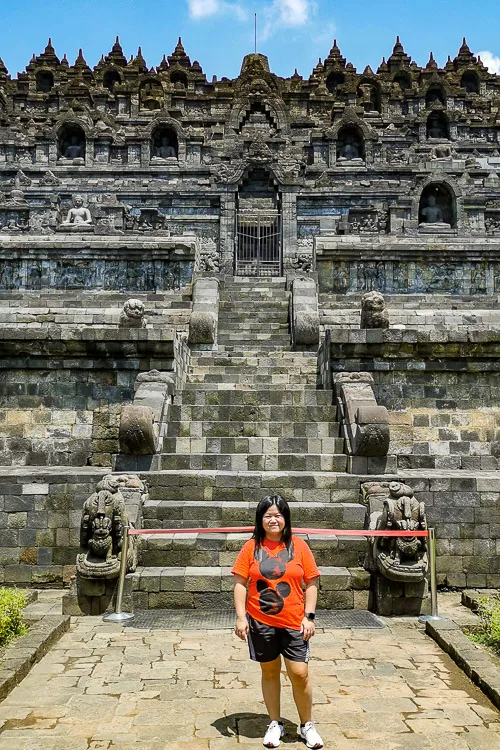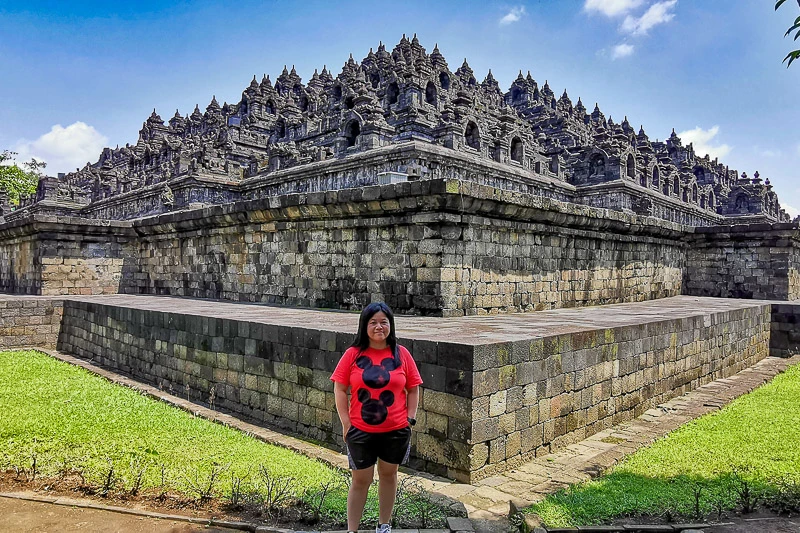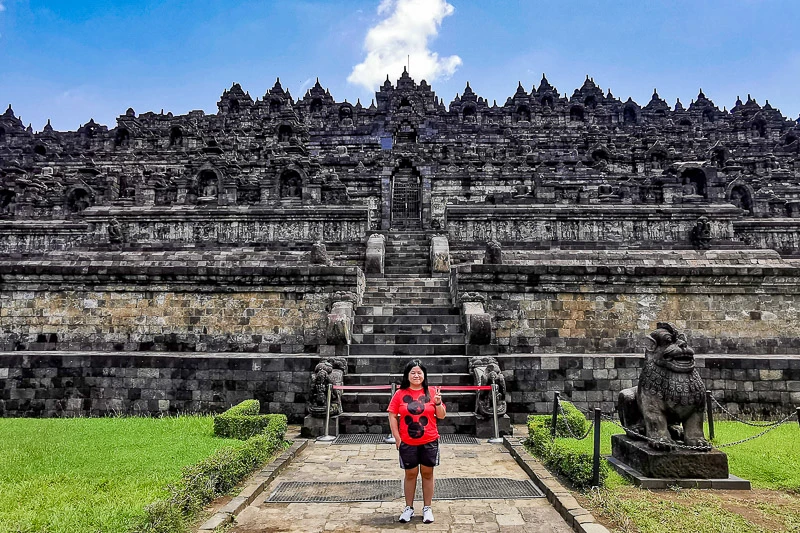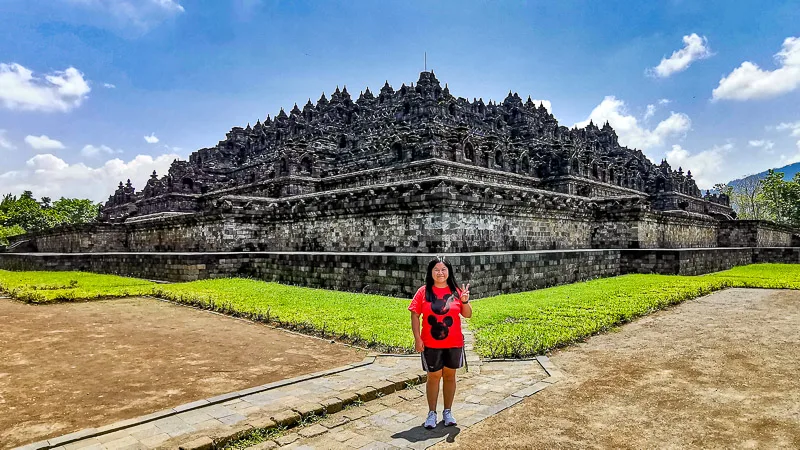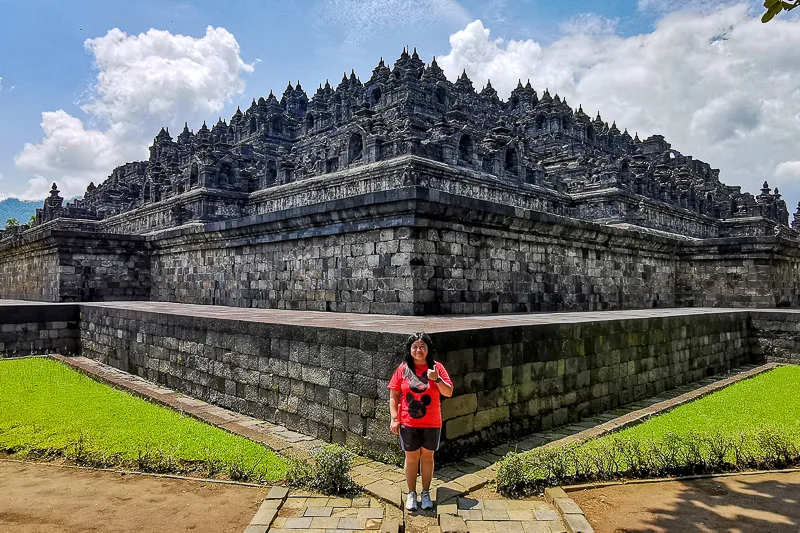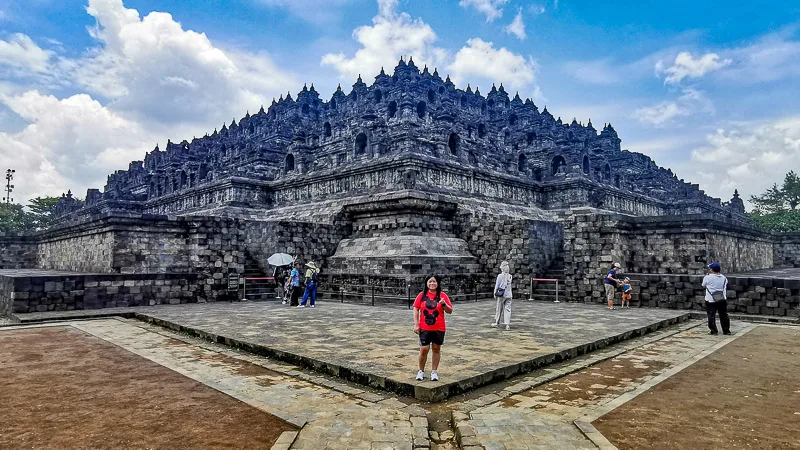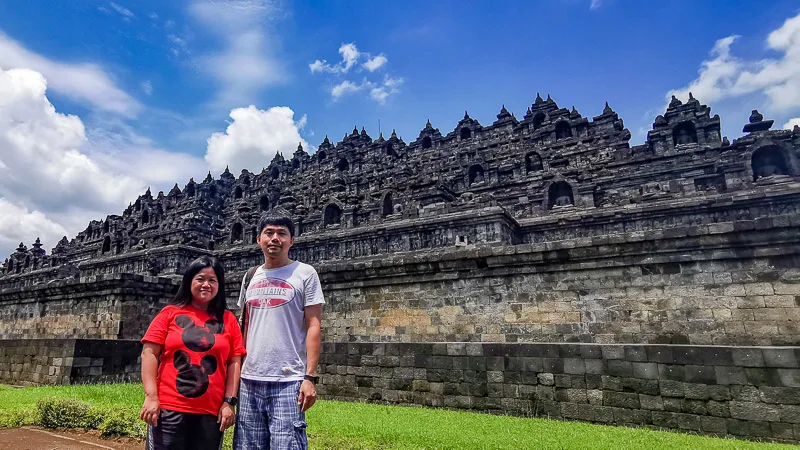 Temple Monument
Temple monument (Indo: Monumen Candi) is the building itself. For simplicity, let's call it Candi Borobudur.
When I visited in 2022, there is no access to the top of Candi Borobudur where the beautiful rounded stupas are located at. Local news and govt websites said that currently, conservation is ongoing.
I'm grateful that I've already had the chance to go up to the top of Candi Borobudur when I visited it years ago, back in 2009.
Good news: in 2023, the top of Candi Borobudur is NOW OPEN! However, there is a limit on how many people are allowed to go up each hour. Highly recommend that you arrive at the temple early, so that you can get a slot to go up. If you go late, there's a chance that all slots have been taken up.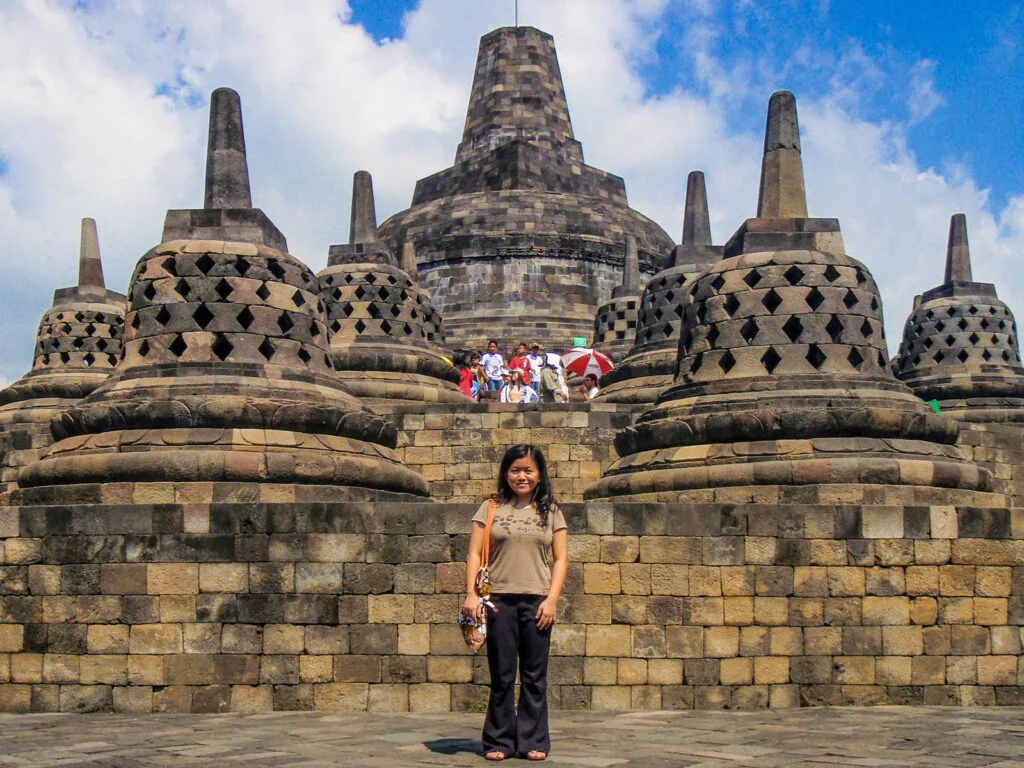 And here are the zoomed-in photos showing the relief (stone carving) of Candi Borobudur taken from the base of candi from my latest visit after pandemic.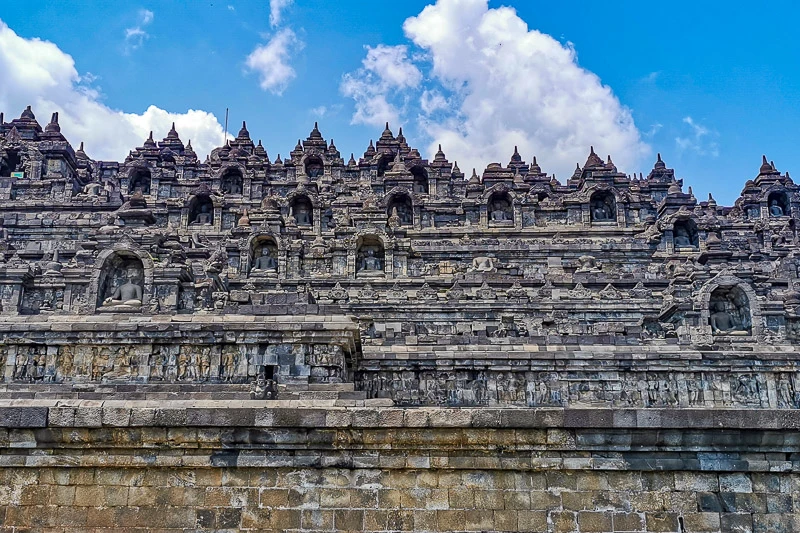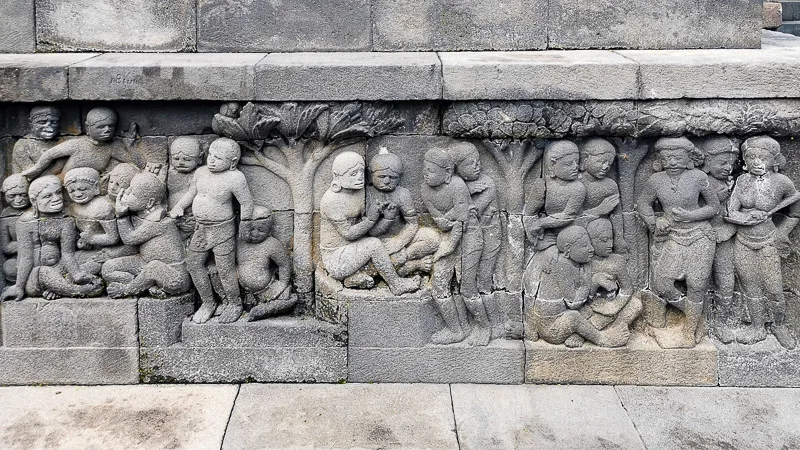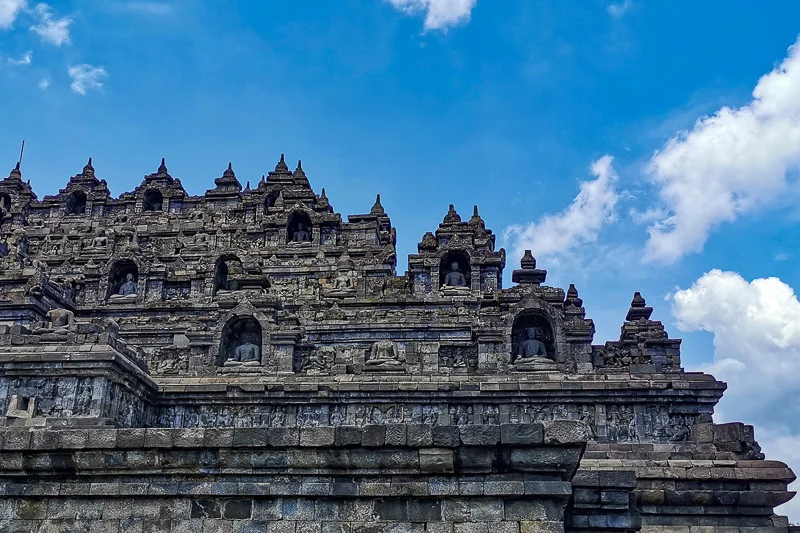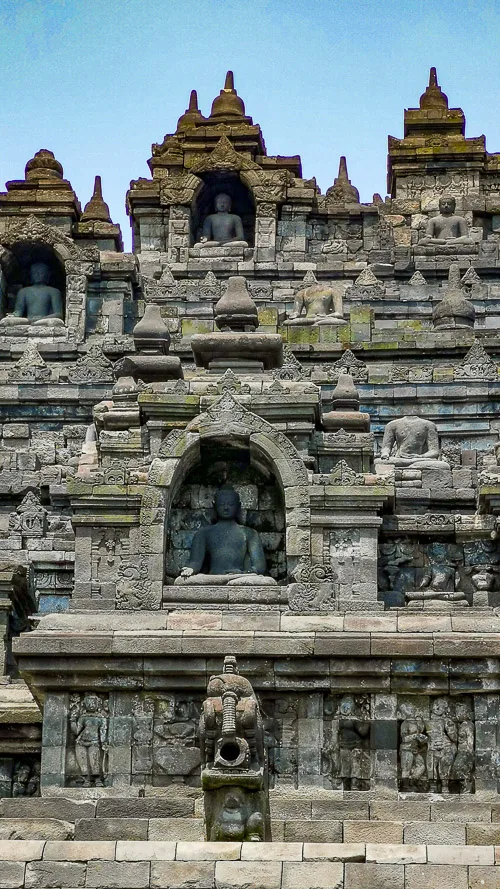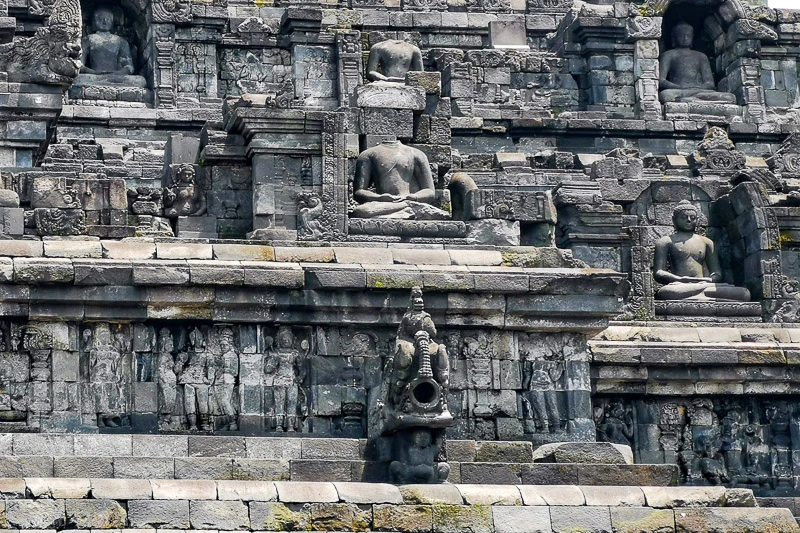 Samudraraksa Ship Museum
Samudraraksa Ship Museum (Indo: Museum Kapal Samudraraksa) displays collection of ships that were built based on the relief found on the Borobudur Temple.
Admission to the exhibition area is free. However, the main hall which contains the giant wooden ship is gated and requires a separate ticket. It is said to feature interactive LED wall and floor. We didn't went in because we were running out of time.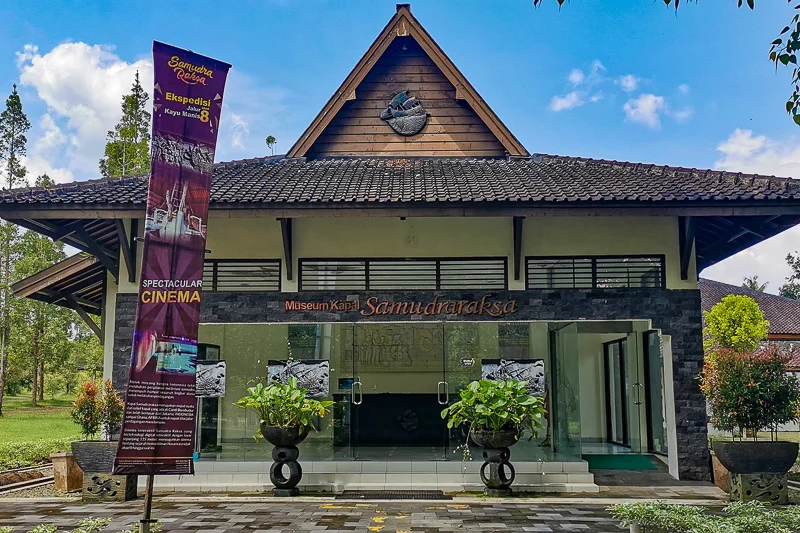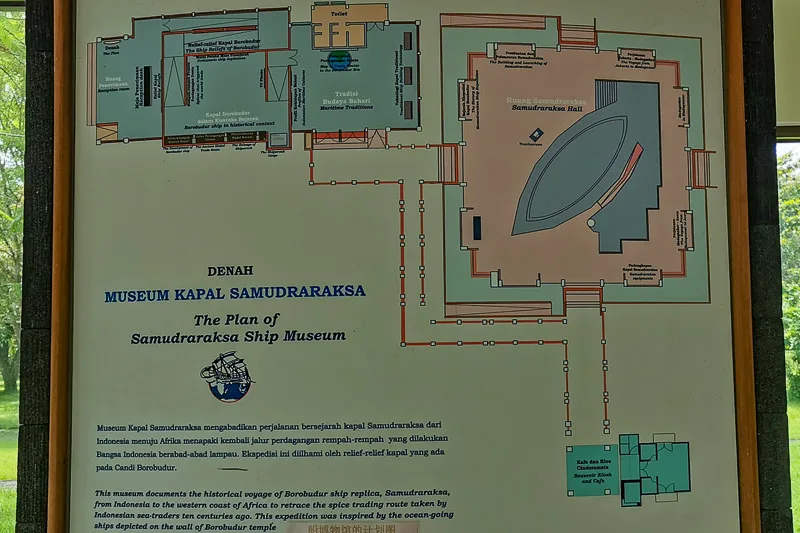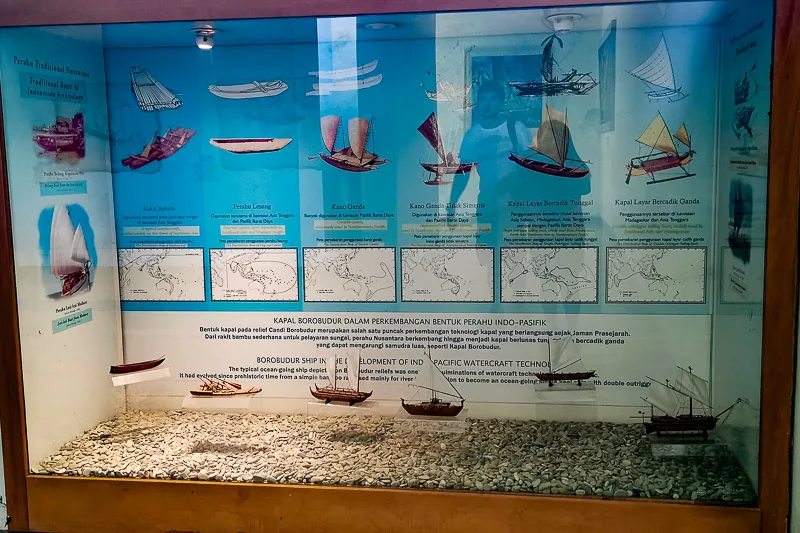 Museum Borobudur
Museum Borobudur tells the stories of Candi Borobudur, including the history, the geographic condition, the restoration, the stories of the relief (stone carving), and the statues.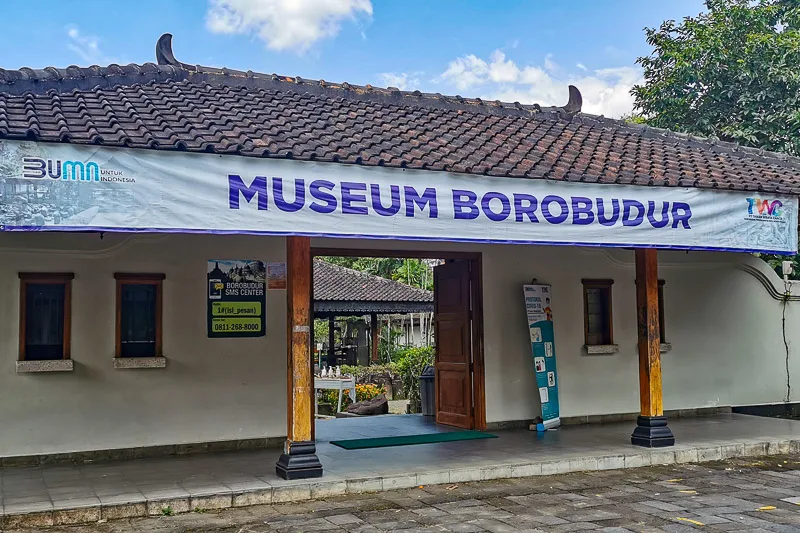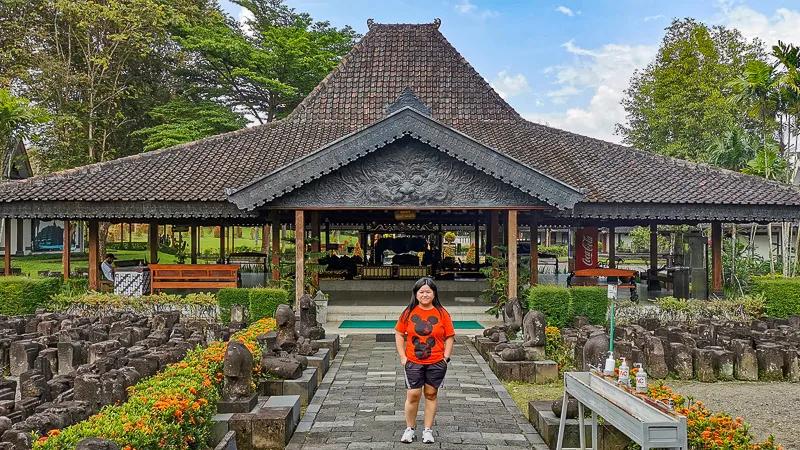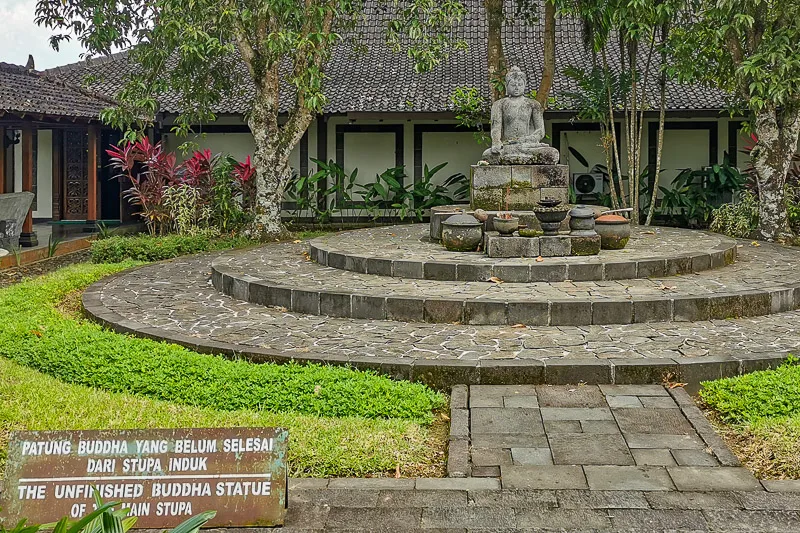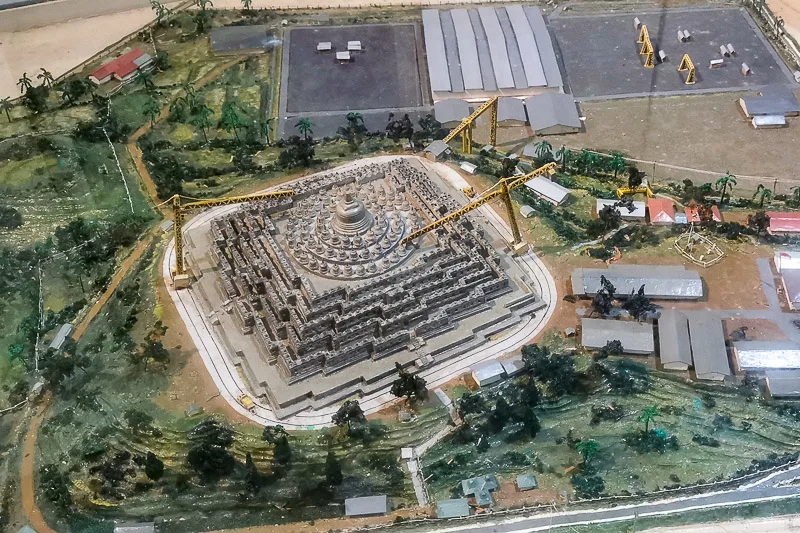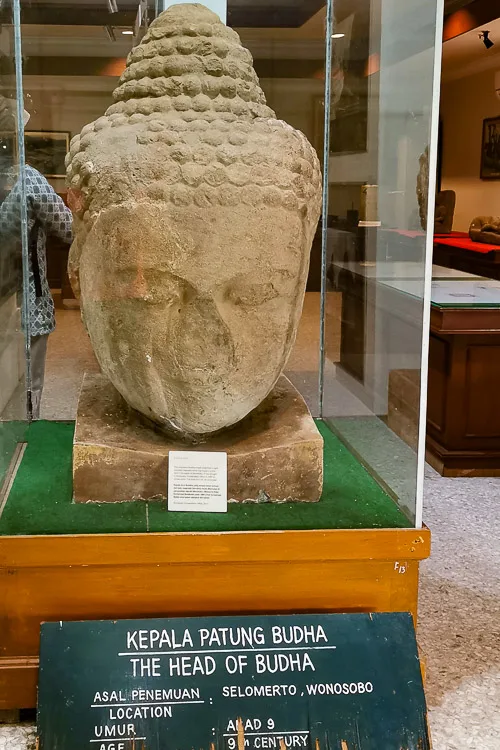 After coming out from the Museum, it is a short walk to the exit gate. After going through the exit gate, you will find yourself lost in a maze of souvenir stalls with persistent vendors offering their souvenirs. Bargaining is a must because they will ask for a high price in the beginning and they'll slowly reduce their price as you bargain.
FAQ
How long do you need to spend in Borobudur?
About 3 hours without climbing up to the temple. If you read this in the future when visitors are allowed to climb up to the temple, then you'd need at least 4 to 5 hours at Borobudur Temple.
Do you need a tour guide to visit Borobudur?
Tour guide is optional.
Where should you go after Borobudur?
You can visit the nearby Candi Mendut and Candi Pawon.
If you like my work, you can buy me a coffee! Your support will help me to keep going!