Built in the 10th century, Prambanan Temple is the largest Hindu temple compound in Indonesia. It is located right on the border of 2 provinces: Yogyakarta and Central Java.
Because of its proximity to Yogyakarta city, most people travel from Yogyakarta to Prambanan on a day trip.
In Indonesian language, Prambanan Temple is called Candi Prambanan. Candi usually refers to ancient stone temples built during Hindu and Buddhist era in Indonesia.
Candi Prambanan is not just a single temple. Instead, it is a compound filled with hundreds of temples. Don't worry, I will only write about the significant ones.
The Prambanan Temple Compound was inscribed as UNESCO World Heritage Site in 1991, together with Borobudur.
Being less popular than Borobudur, Prambanan is often overlooked by travelers visiting Yogyakarta. However, I truly feel that every traveler should make Prambanan into their to-do list when visiting Yogyakarta, because this temple compound is really beautiful and worth spending half a day.
In this guide, I'll share my experience visiting Prambanan as well as important travel information you need to know before visiting.
Prambanan Temple Operating Hours
| Admission to | Opening Hours |
| --- | --- |
| Candi Prambanan | 7am to 5.30pm daily |
| Ticket counter | 6.30am to 5pm daily |
| Parking | 6pm to 4.30pm daily |
(Source)
Before visiting, please note that they don't allow visitors to bring food into the temple compound. They do bag check during admission.
There are food stalls inside the compound, but they're near the exit which is quite far from the temples. So, try to avoid visiting Prambanan during your meal time or you'd risk getting hungry during your visit.
Prambanan Temple Entrance Fee
Here are the official ticket prices:
| For | Official Ticket Price |
| --- | --- |
| Adult (Foreigner) | IDR 387,500 / USD 25 |
| Child (Foreigner) | IDR 232,500 / USD 15 |
| Adult (Local) | IDR 50,000 |
| Child (Local) | IDR 25,000 |
However, you can get slightly cheaper price if you book your ticket here. If you purchase online ticket, you need to exchange it to a physical ticket at the counter.
Child refers to children aged between 3 and 10.
If you'd like to visit Prambanan together with Borobudur or Ratu Boko, you can get a bundle ticket from the ticket counter. It costs USD 45 (Adult) & USD 27 (Child) for foreigners. (Source)
How to Get to Prambanan Temple
By taxi/ride hailing
Prambanan Temple is about 17km from Malioboro (aka the central of Yogyakarta). The journey takes between 30 to 45 minutes depending on the traffic condition. The fare ranges between IDR 80k to 130k.
By private car charter
If you're going to many places in a day, you can consider renting a private car with driver. Through this route, you can create your own custom itinerary and the driver will drive you anywhere you want during the 10-hour rental period. Make sure you book the correct area.
By private tour
If you want to visit both Borobudur and Prambanan in a day, you can consider taking this private tour. It includes private car charter, local driver, entrance ticket and tour guide (optional add-on).
By bus
Trans Jogja Bus 1A connects Malioboro and Tugu with Prambanan. Full route can be seen here. Bus 1A will stop at Candi Prambanan Terminal, from which you can walk for about 10 mins to the entrance of Prambanan.
Prambanan Temple History
Prambanan is a Hindu temple built in the 10th century to worship the three great Hindu divinities (Shiva, Vishnu and Brahma). Back then, Prambanan was used as a Candi Agung for various royal and religious ceremonies.
There is not much facts known about real history of Prambanan Temple. Some historians believe that Prambanan was built by Rakai Pikatan, the king of Sanjaya dynasty. Others believe that it was built by Sailendra dynasty, the Buddhist dynasty that built Borobudur Temple.
Several centuries later, Prambanan was abandoned as the power shifts to East Java. Earthquakes and eruptions toppled and buried the temple.
In 1930s restoration effort was started to reconstruct the ruined temples.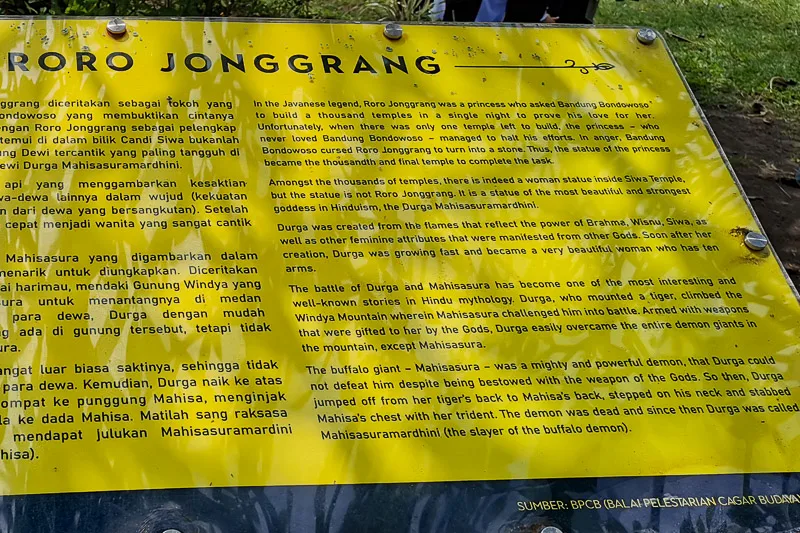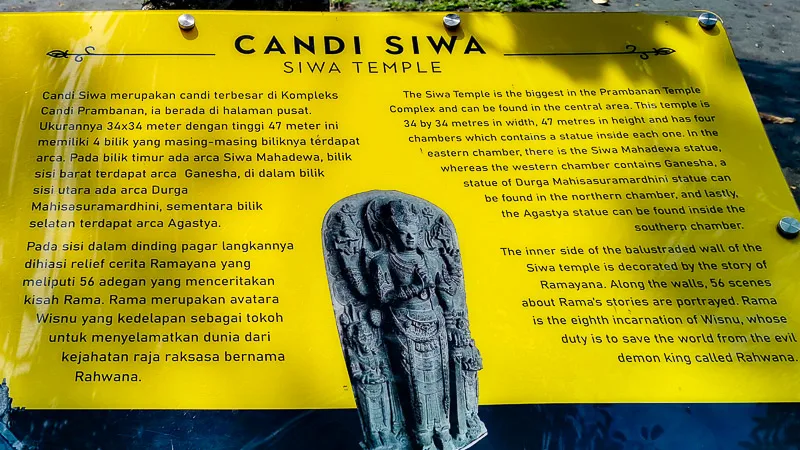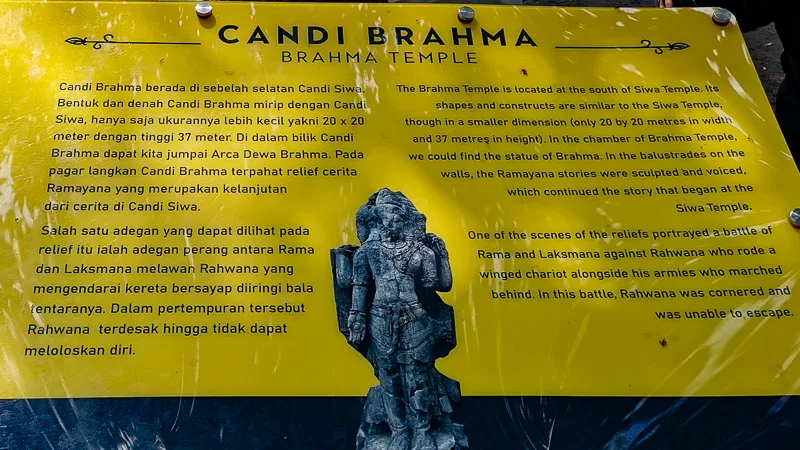 Prambanan Temple Map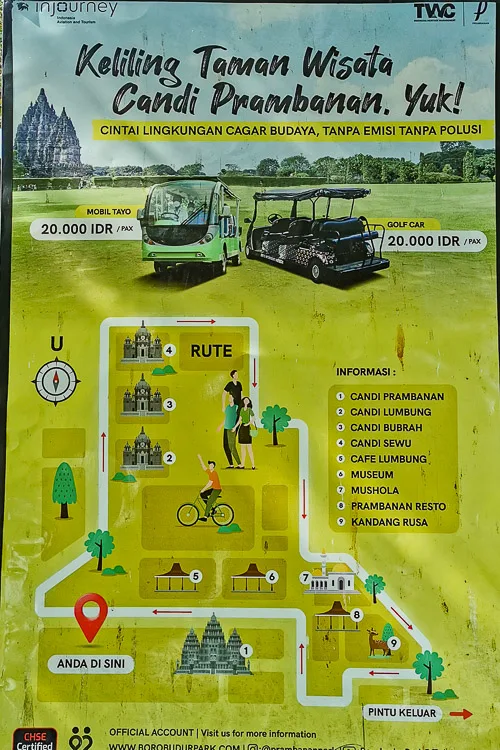 Exploring Prambanan Temple Compound
The Prambanan Temple Compound is quite huge! If you're fit, you can get around the compound by walking. Otherwise, you can pay to rent a bicycle, scooter, or join a shuttle or golf car.
After entering the temple compound, you will pass through an undulating park with concrete stones scattered on it, before arriving at the main courtyard.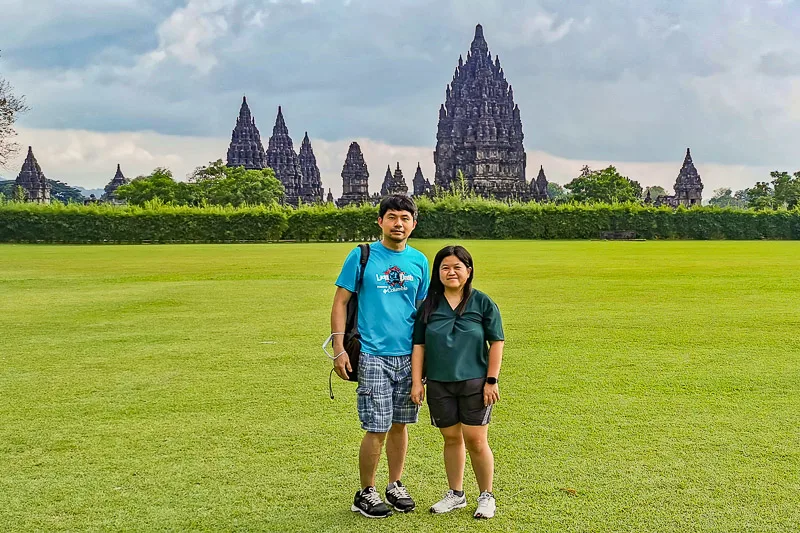 Main Courtyard of Candi Prambanan
The main courtyard of Candi Prambanan houses 3 main temples: Candi Siva (the biggest one in the middle), Candi Brahma (south of Candi Siva) and Candi Vishnu (north of Candi Siva).
Next to these 3 main temples are 3 smaller temples dedicated to the animals who serve them: Candi Nandi (sacred bull of Siva), Candi Angsa (goose of Brahma) and Candi Garuda (eagle of Vishnu).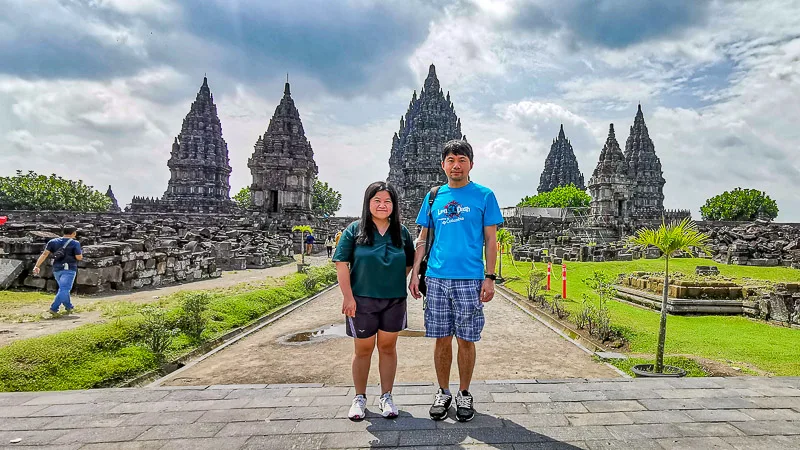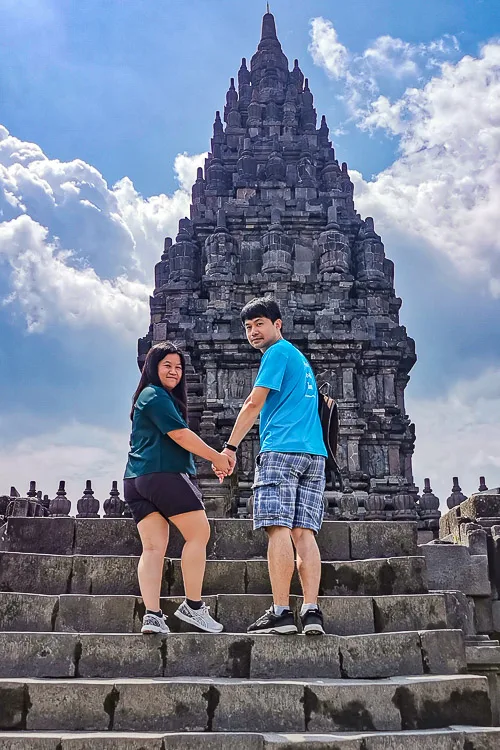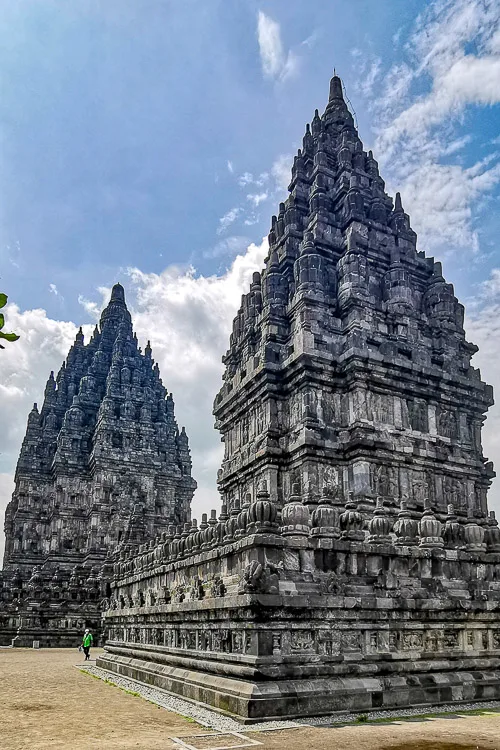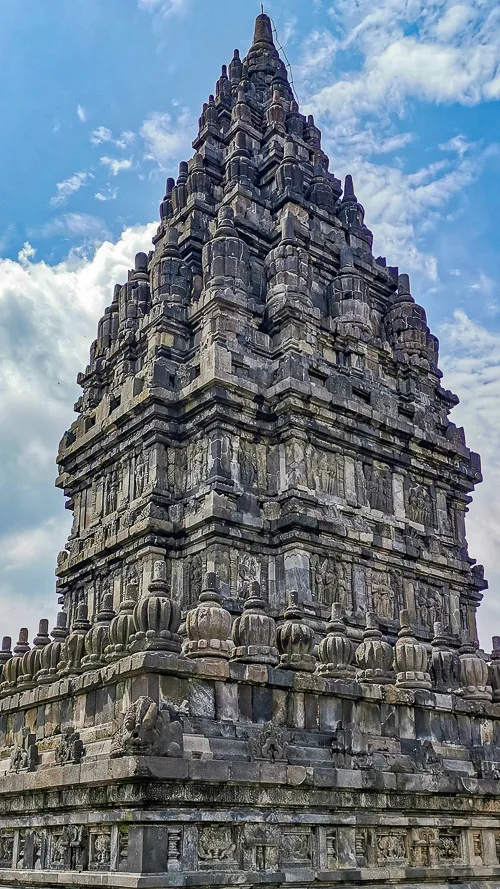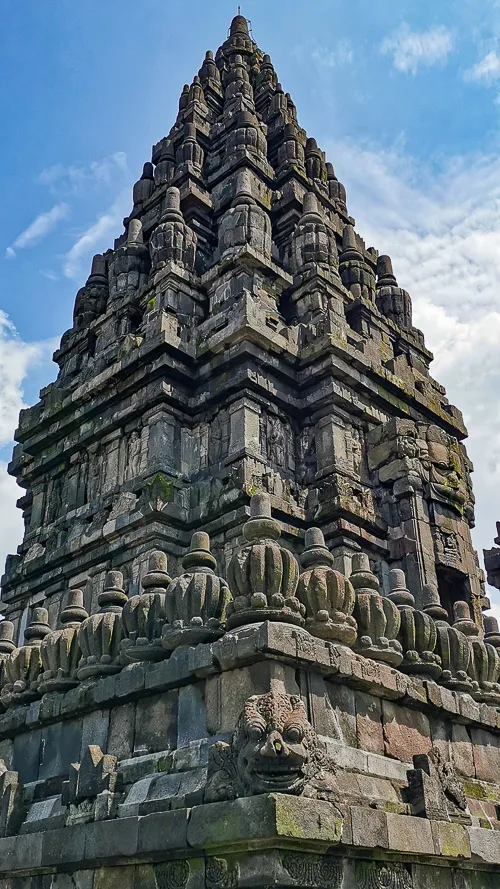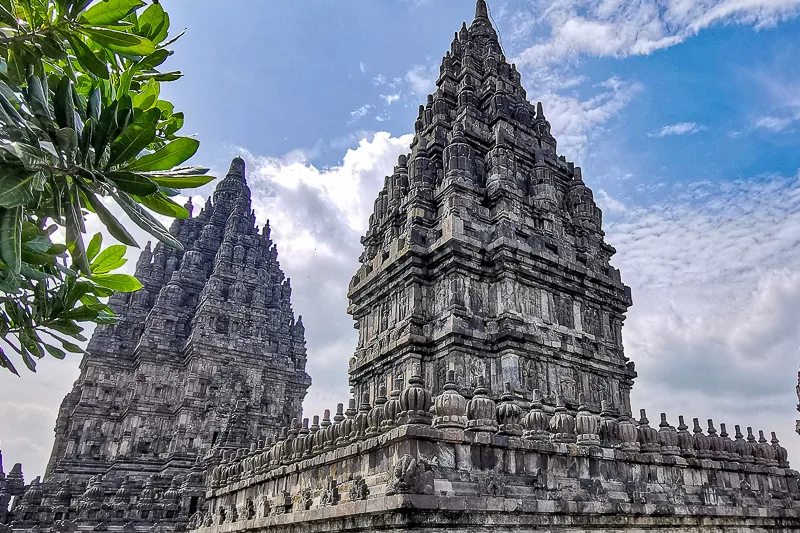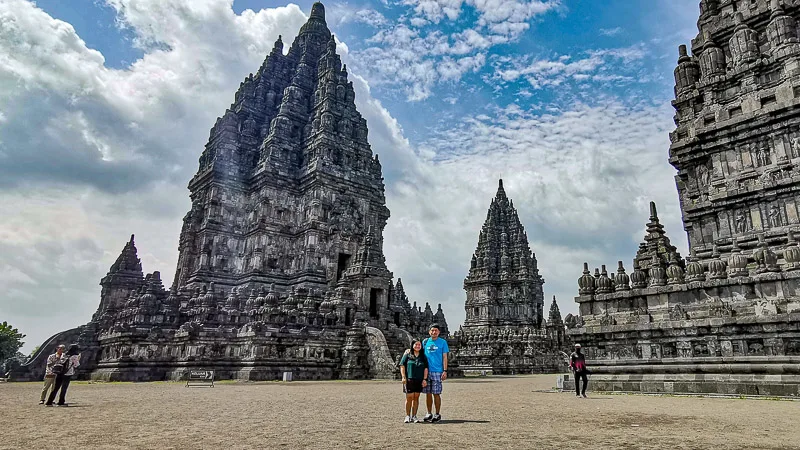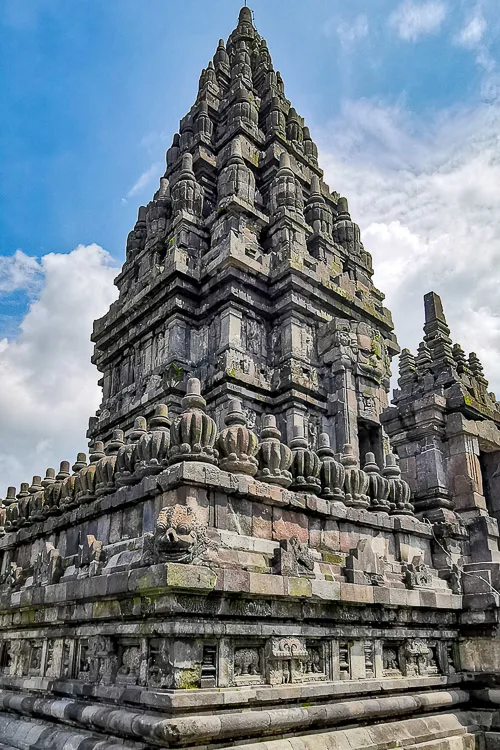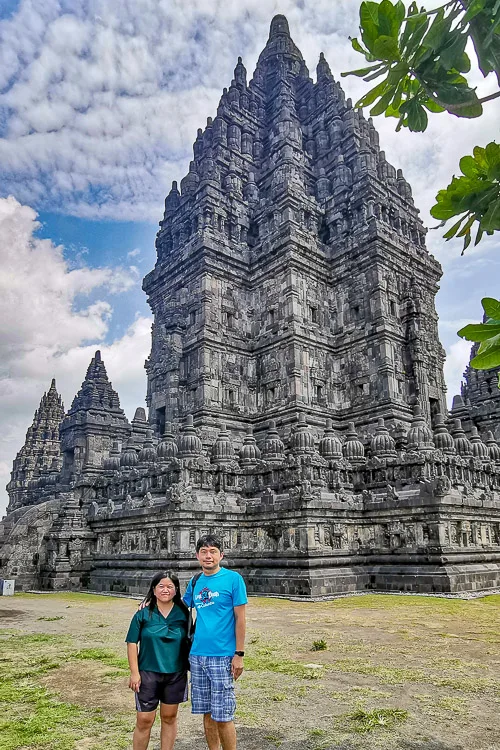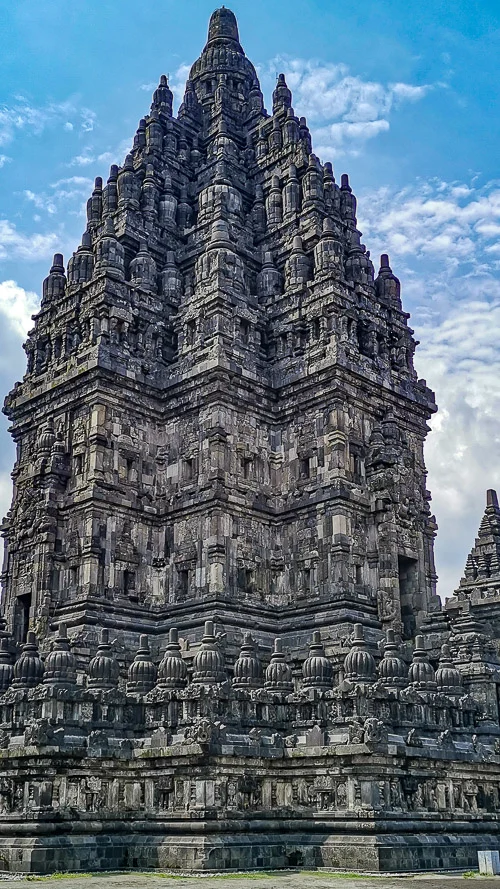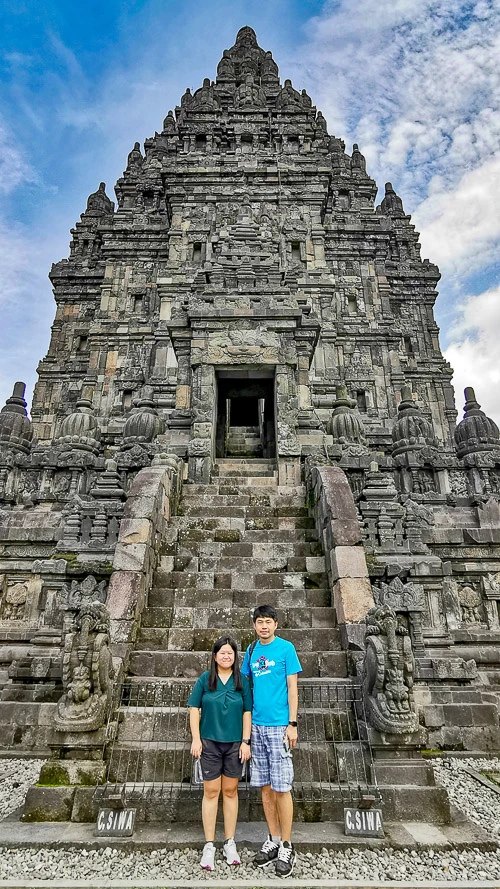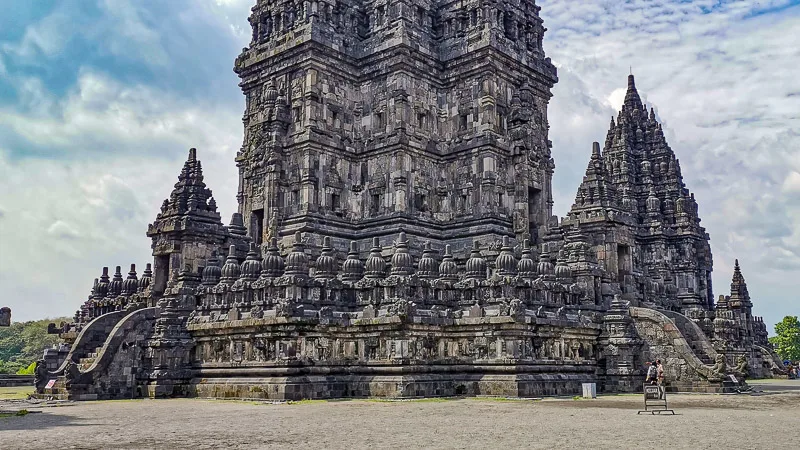 To find out the name of each temple, you can pay attention to the signage located at the foot of the temple, it tells the name of the Candi.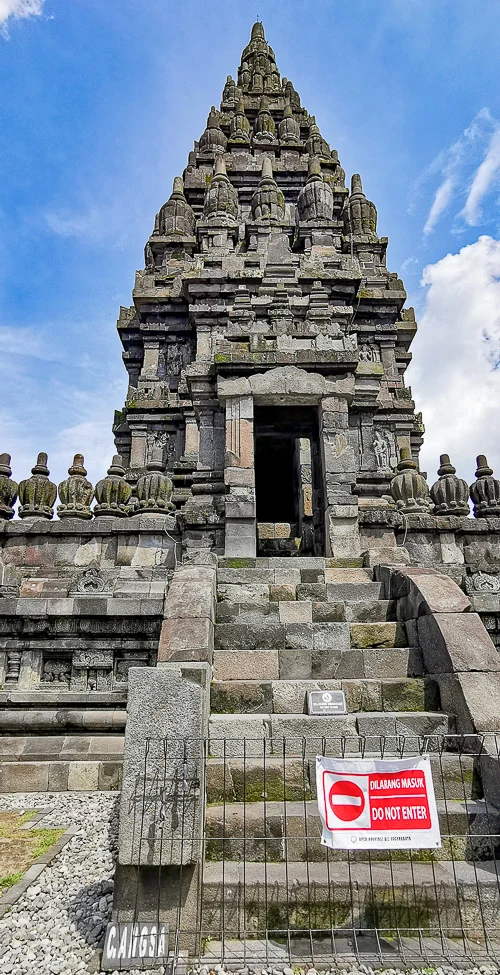 If you're lucky to visit Prambanan on a clear, bright day, you'll be spoilt by the incredible backdrops for photography. We took so many photos at the courtyard and I'm having a hard time trying to shortlist the photos that get posted on this blog.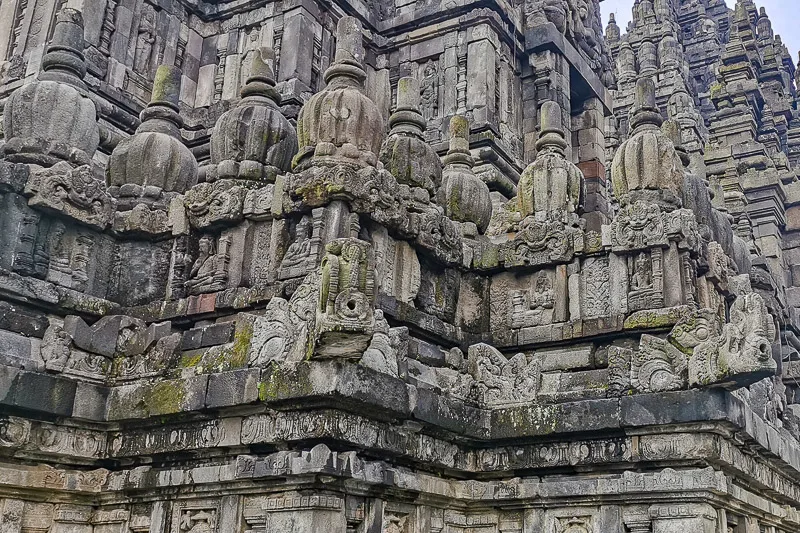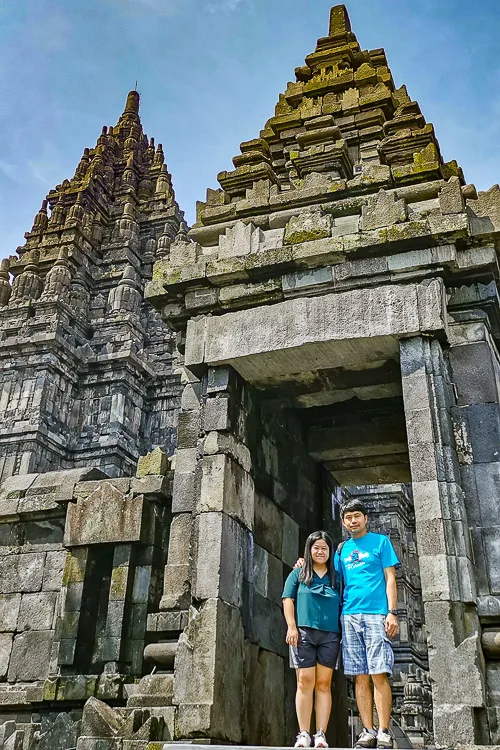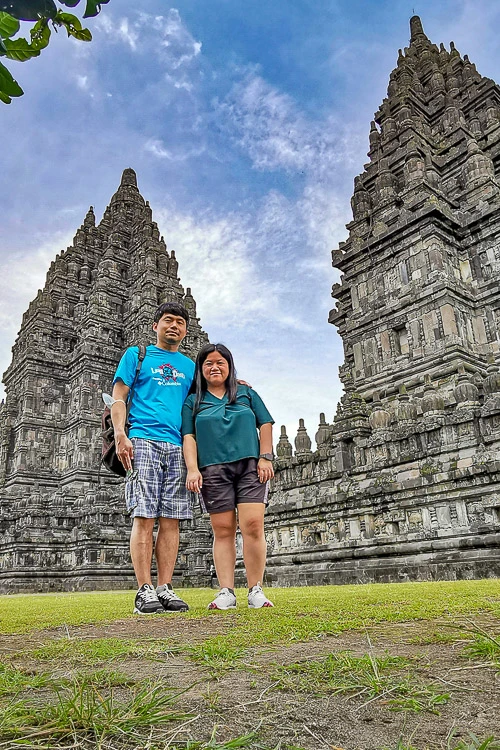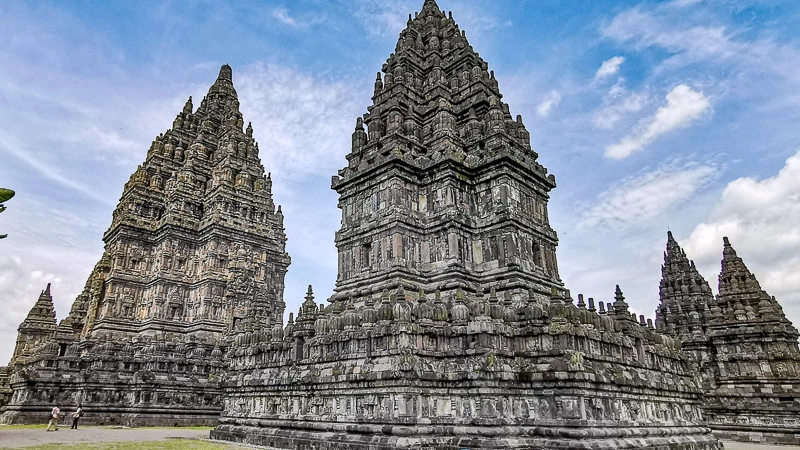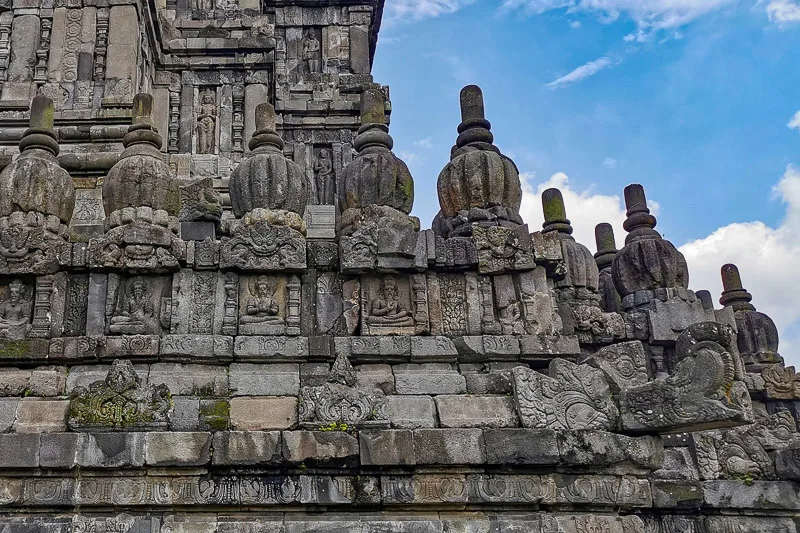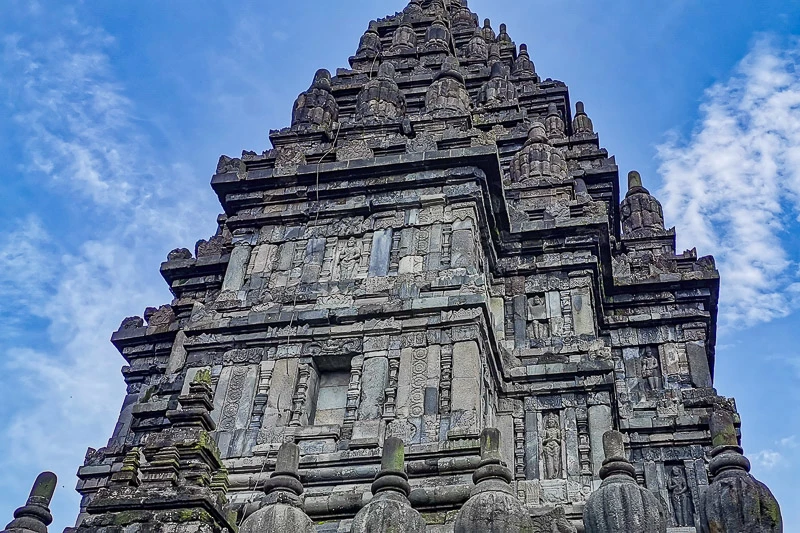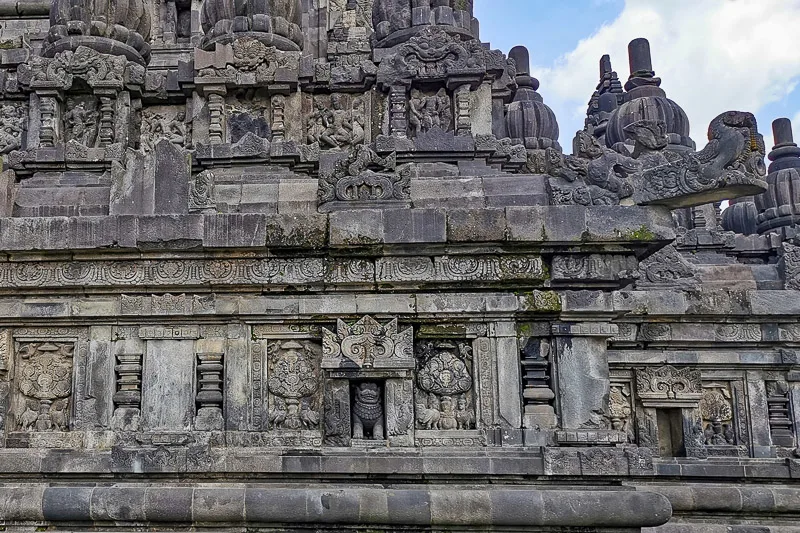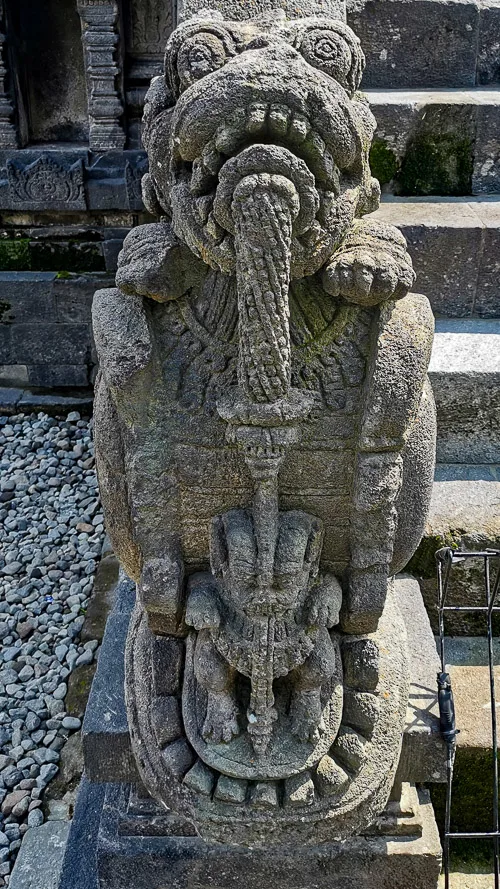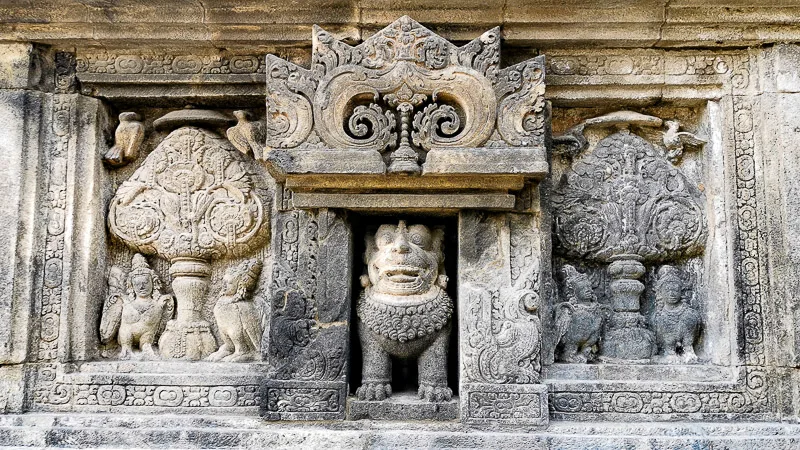 Visitors are not allowed to climb to the top of the main temples at the courtyard.
There is a earthquake monument that stood next to a fallen stupa (ratna peak). This monument tells story of the 2006 earthquake that struck Prambanan Temple, causing toppling and devastation of some temples.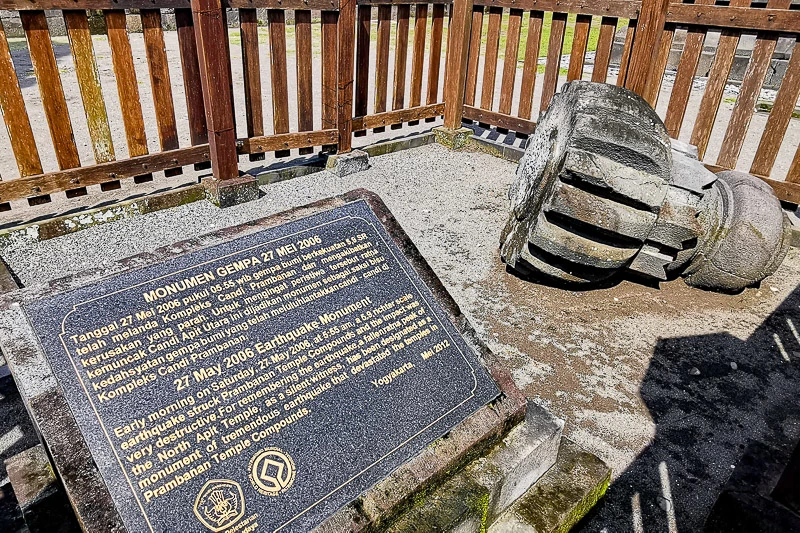 Do not miss out the ruins that surround the courtyard.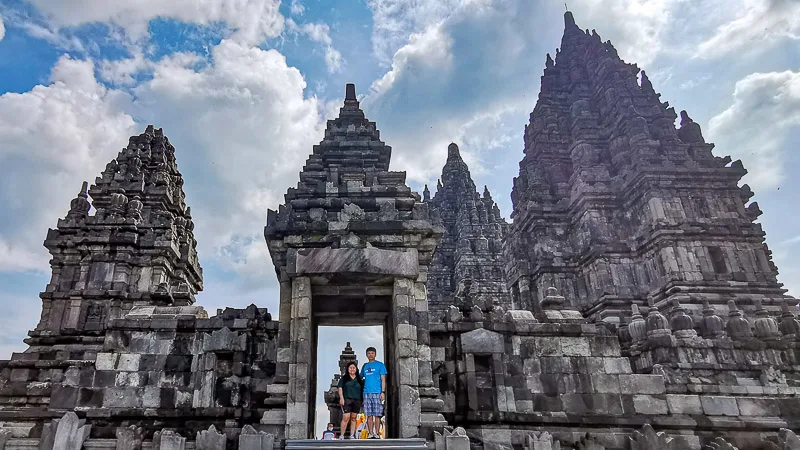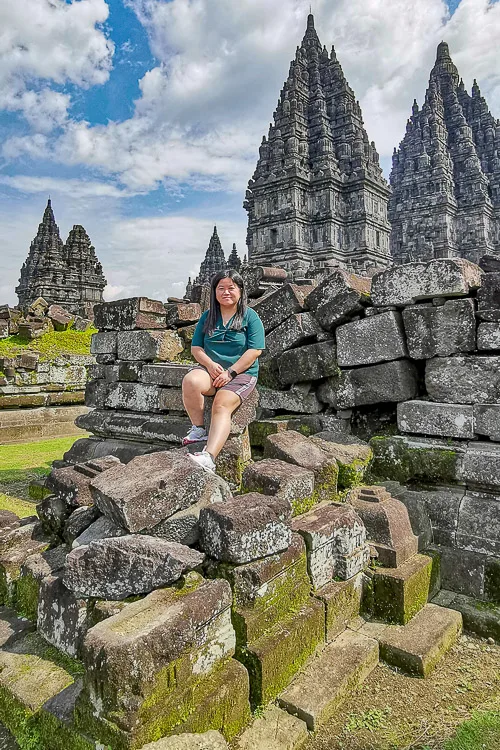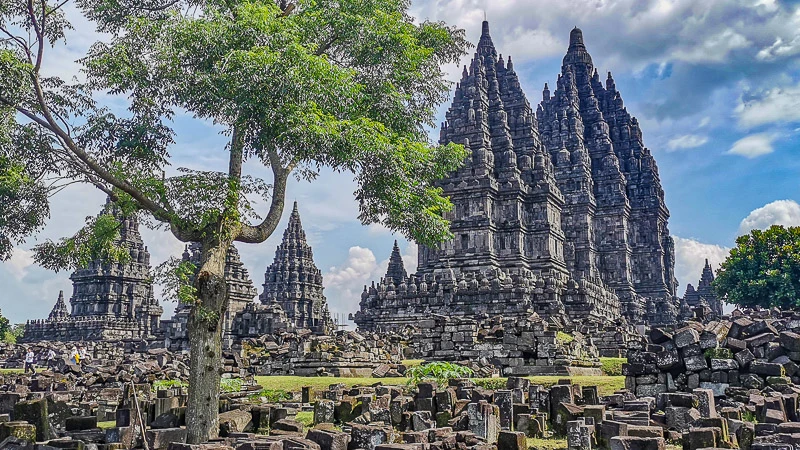 Candi Sewu
After exploring the courtyard, DO NOT head to exit yet. You haven't seen it all. There are 3 more important Candi that you want to visit, namely Candi Sewu, Candi Bubrah and Candi Lumbung. Admission to these 3 candi is already included in you Prambanan ticket.
Candi Sewu is the furthest temple from Prambanan main complex (about 1km north of courtyard), and it's also the biggest of the three. On the way to Sewu, you will pass by Lumbung and Bubrah.
Our guide recommended that we visit Sewu first so that you can immediately see the difference between a Buddhist temple (Sewu) and Hindu temple (Prambanan). Later, as you make your way back to Prambanan, you will notice that Bubrah & Lumbung has less Buddhist influence and more Hindu influence.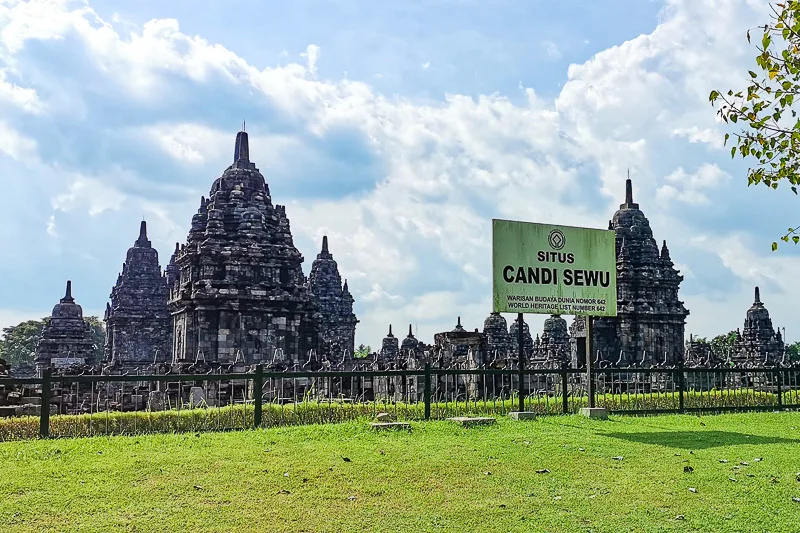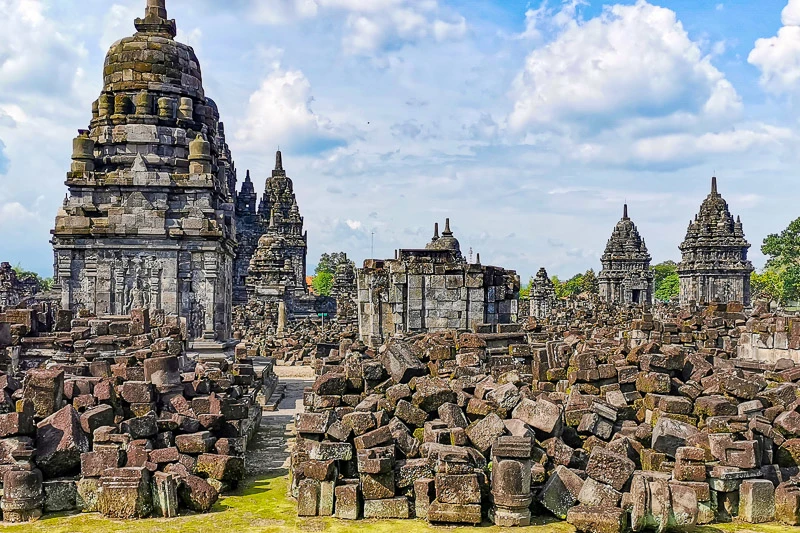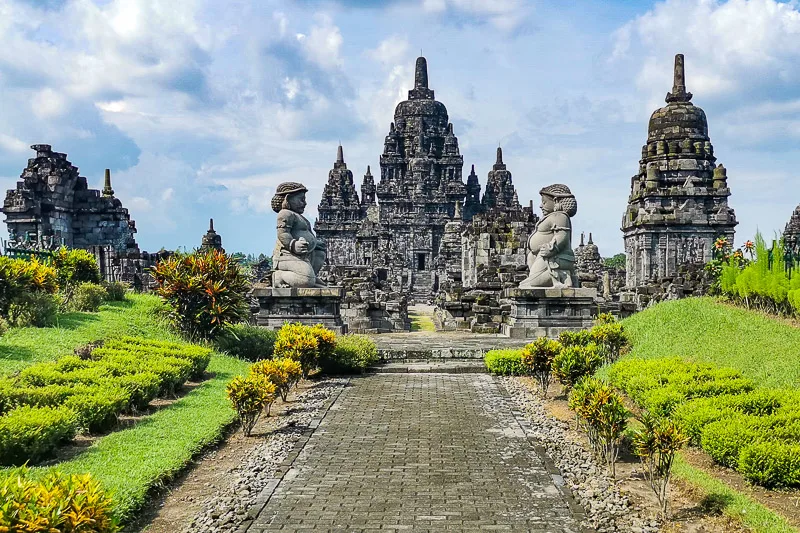 Candi Sewu is a Buddhist temple dating from around AD 850. Candi Sewu site is quite huge. It has 1 Candi Induk (main temple), 8 Candi Apit (2 on each side) and 240 Candi Perwara.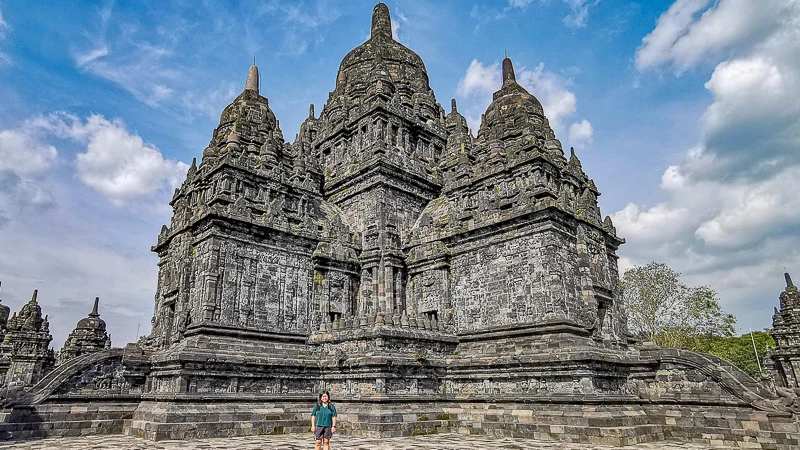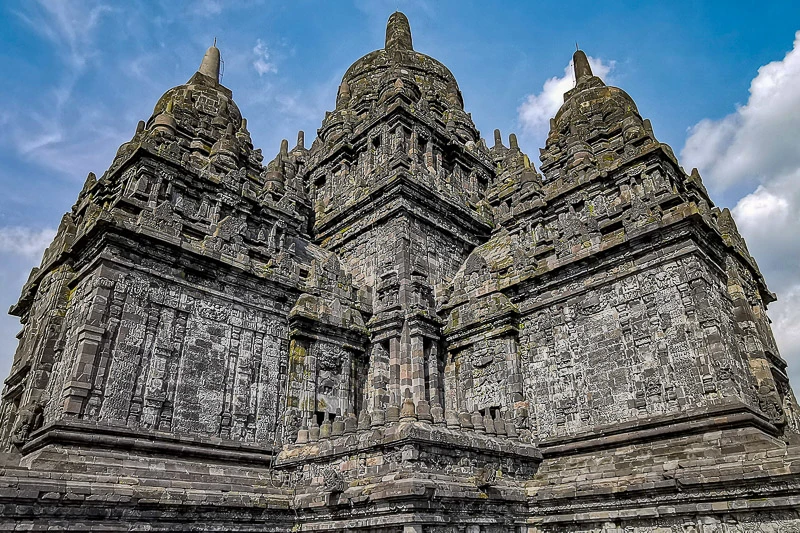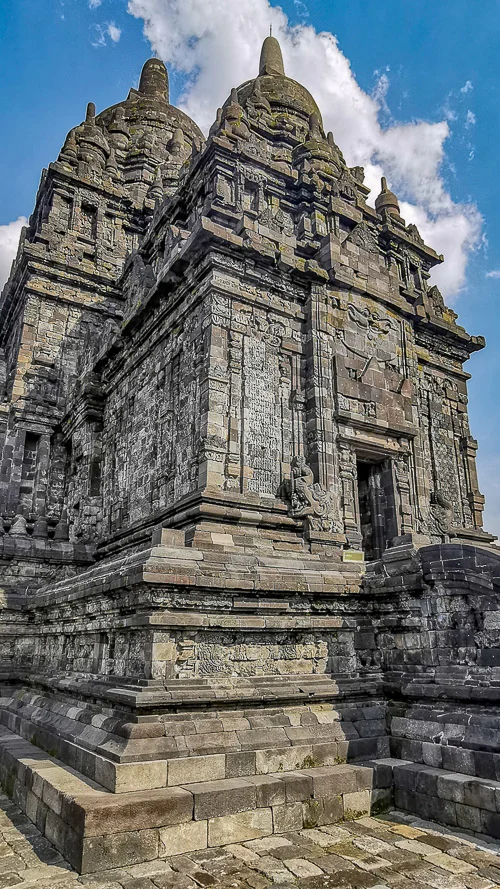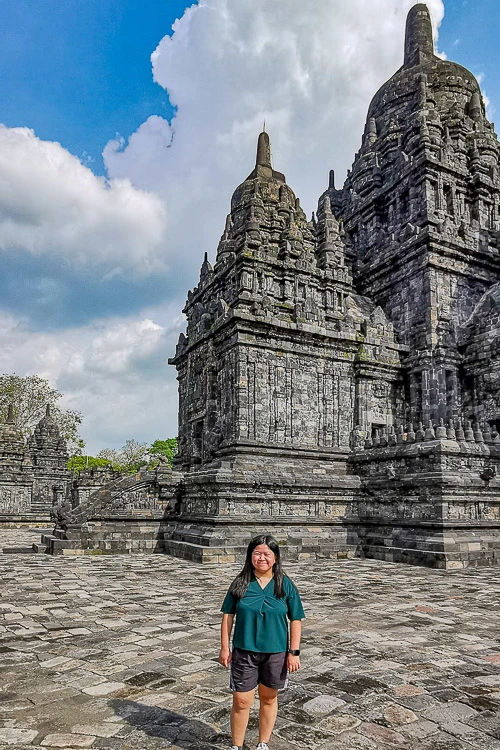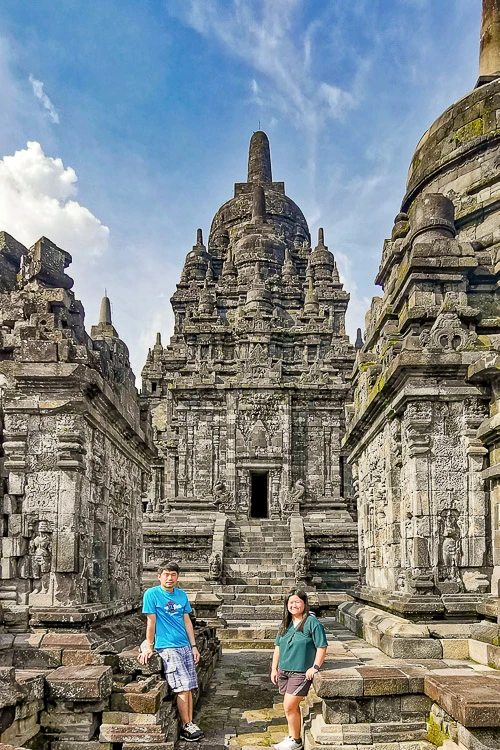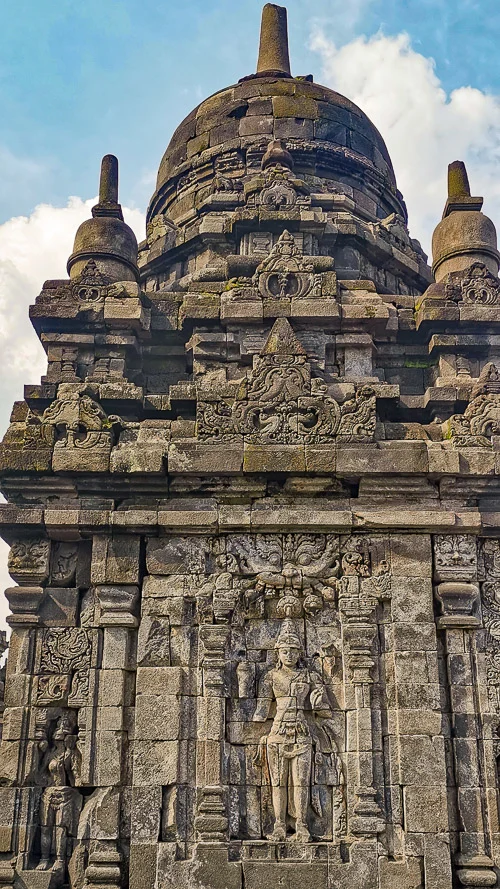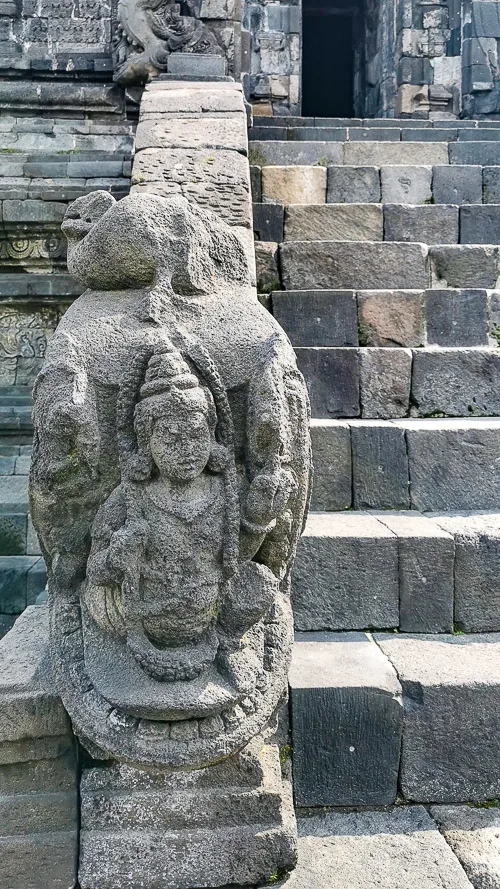 There are 4 pairs of Dwarapala guardians located at 4 side entrances.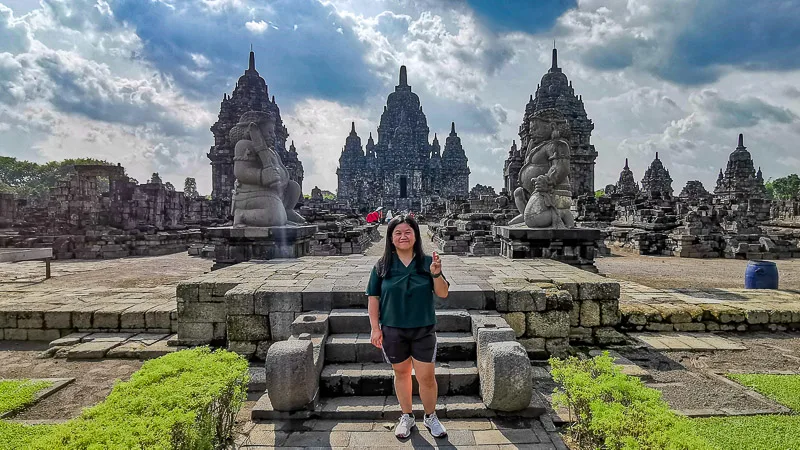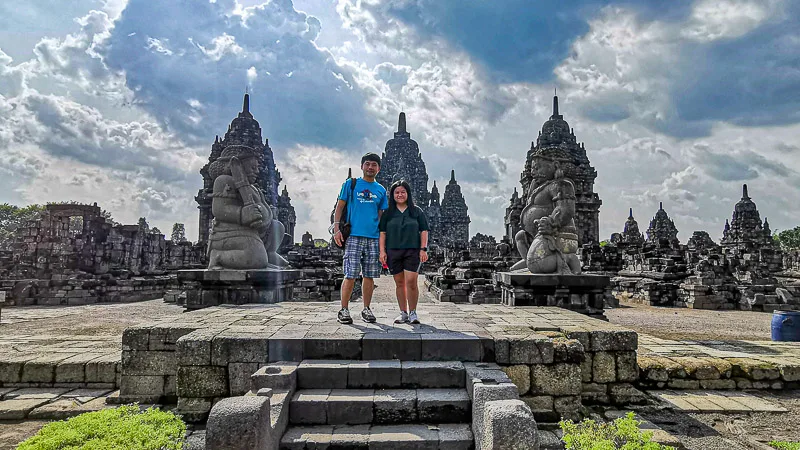 Candi Sewu has prominent round stupas at the top of each temple.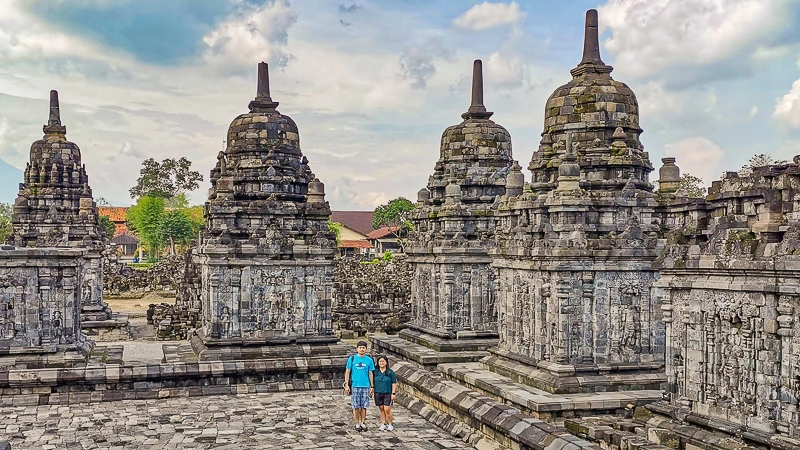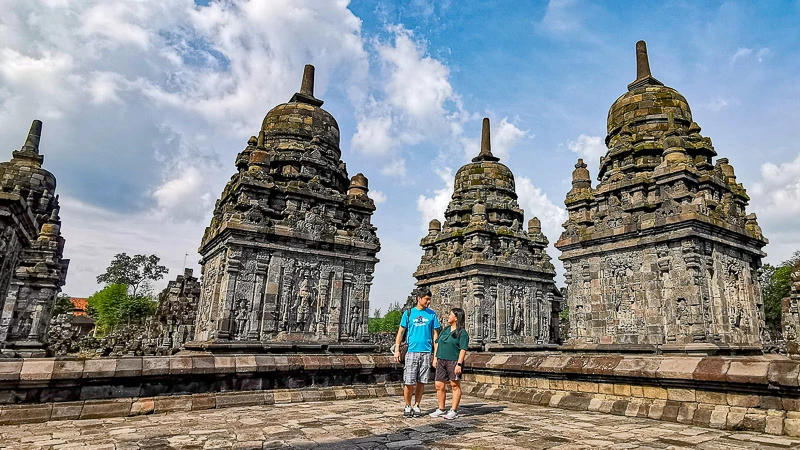 During our visit, it is possible to climb up the stairs and enter the temple. There's no statues, no light and no opening inside the temple, but the air circulation is pretty good, it was very breezy inside.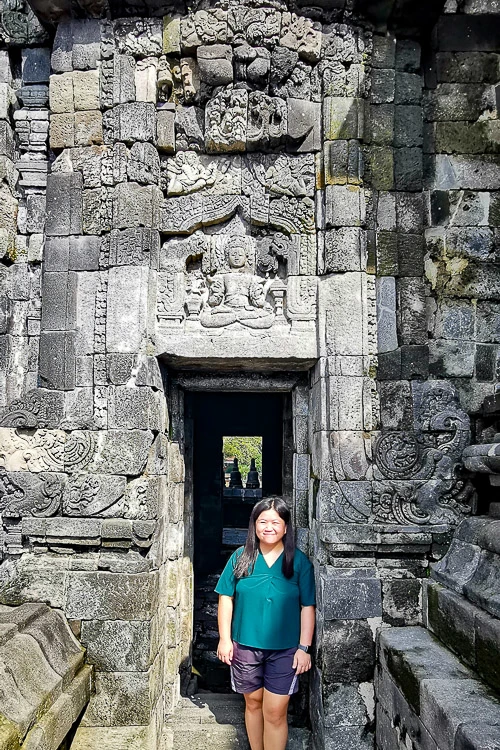 Candi Sewu is truly a hidden gem off-the-beaten-path because it is often skipped my most visitors because they may not be aware of its existence, or they don't want to make the long walk under the hot sun. If you're able to make the walk, I highly recommend that you visit Candi Sewu.
Candi Bubrah
Candi Bubrah is a Buddhist temple located 300m south of Candi Sewu. Here, there is a single main temple measuring 12m by 12m, which faces the east direction.
According to Indonesia's Ministry of Education and Culture, Candi Bubrah was built by Rakai Panangkaran, a leader during Sailendra dynasty.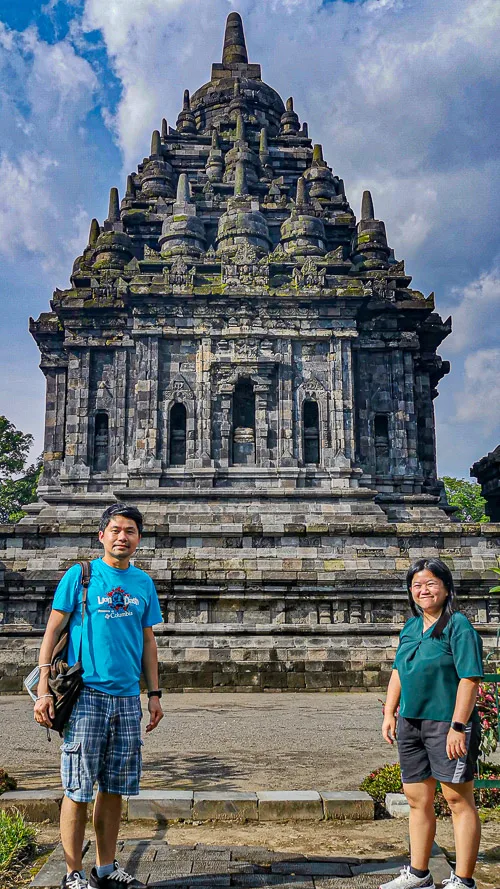 Candi Lumbung
Candi Lumbung is a Buddhist temple located north of Prambanan courtyard and south of Bubrah. It has 1 Candi Induk (main temple) and 16 Candi Perwara.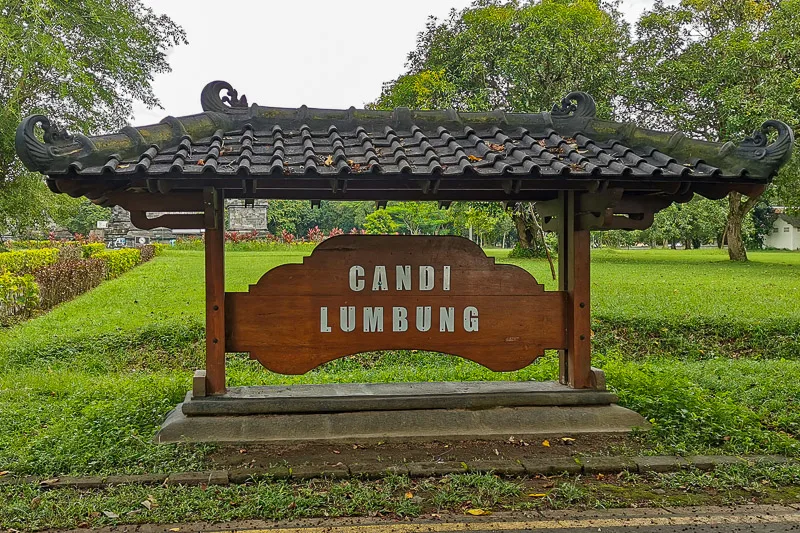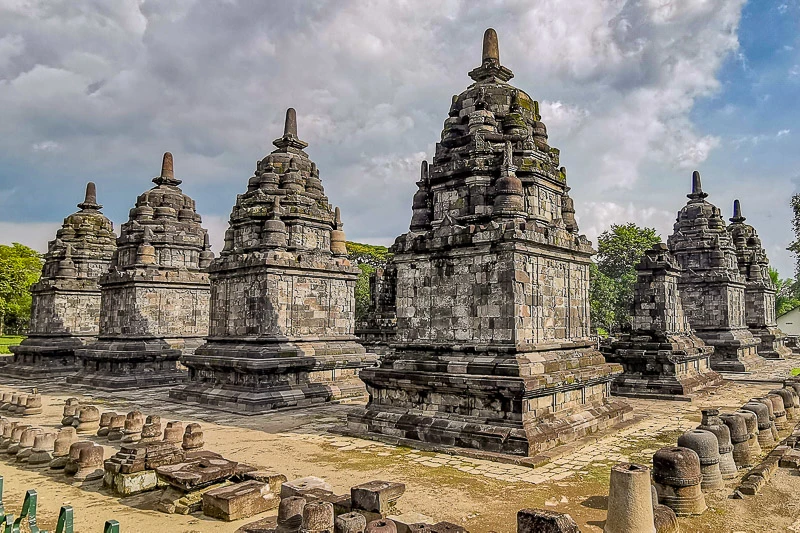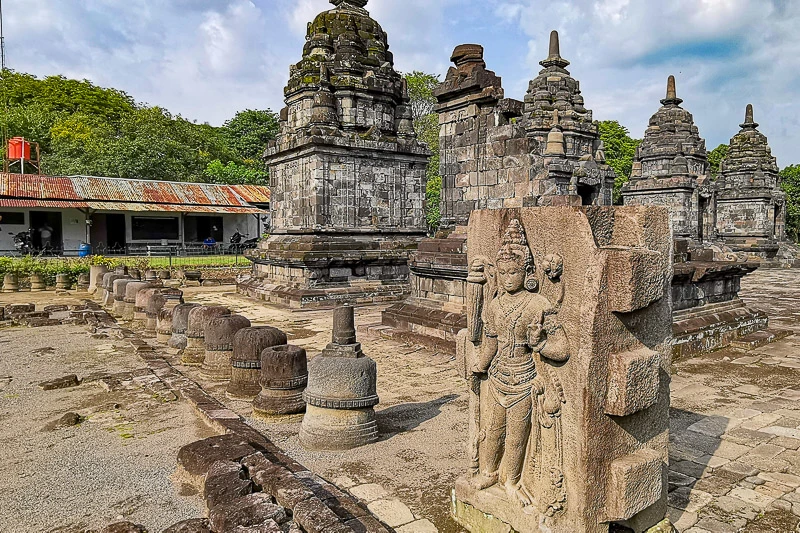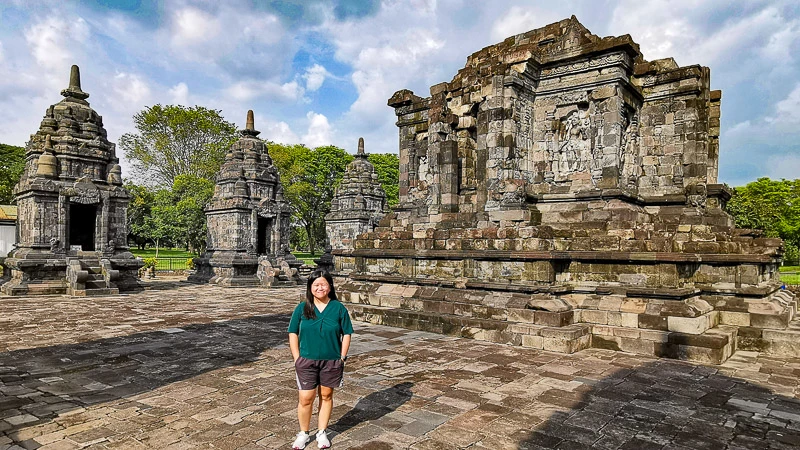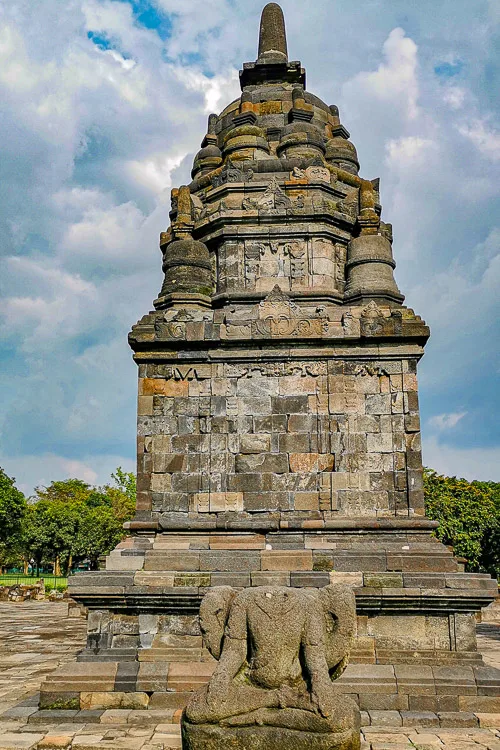 Prambanan Museum
For history buffs, Prambanan Museum is a must visit. It is located at the southeast of Candi Lumbung. Admission is already included in your Prambanan ticket.
Inside, there is a main outdoor hall filled with various traditional musical instruments.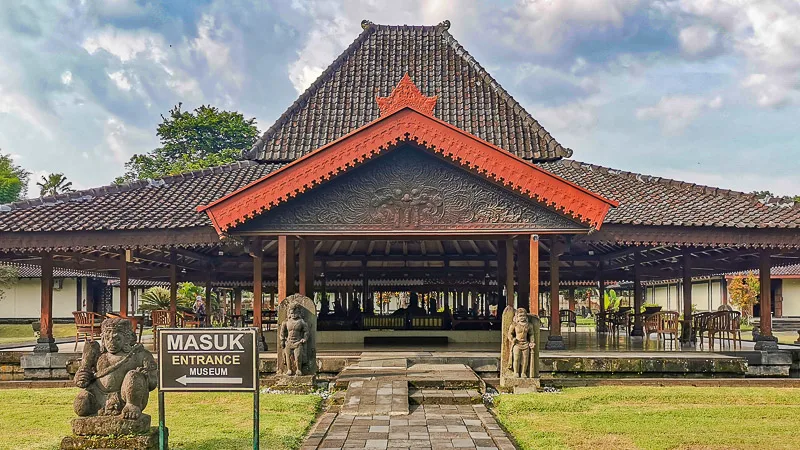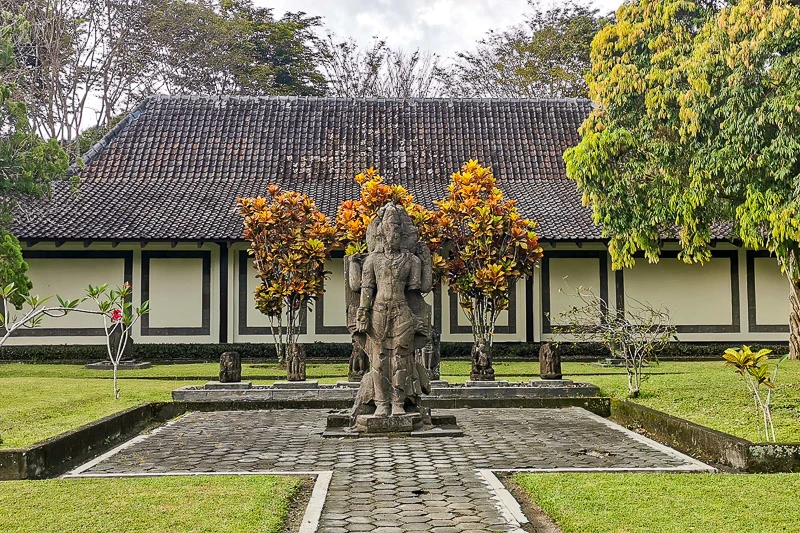 The indoor halls display various exhibitions telling the stories of the candi. There is also a miniature of the main Prambanan complex.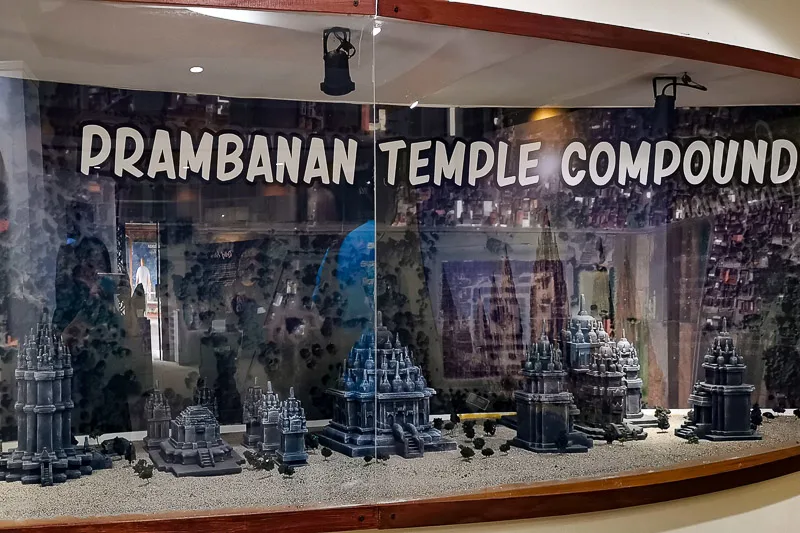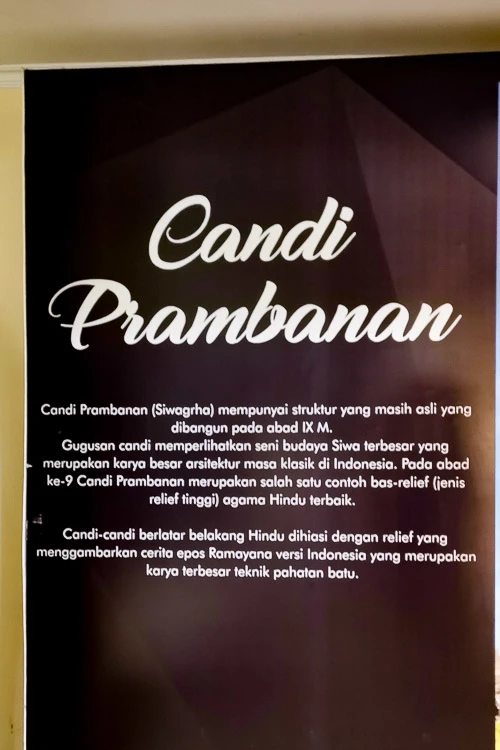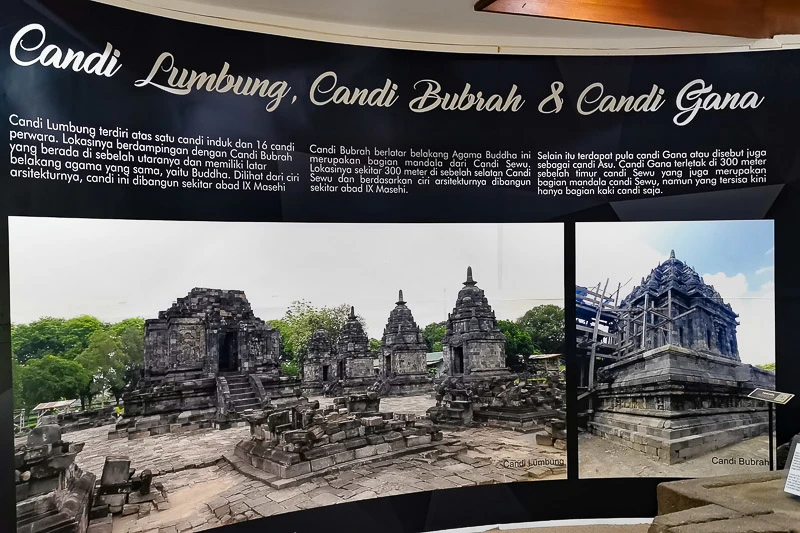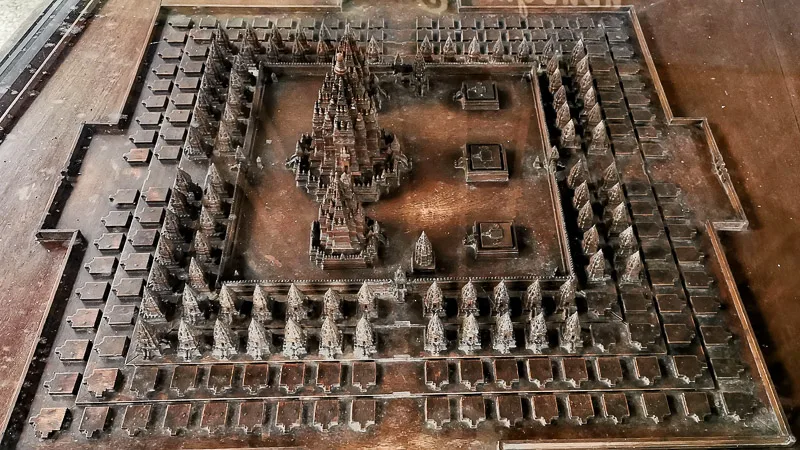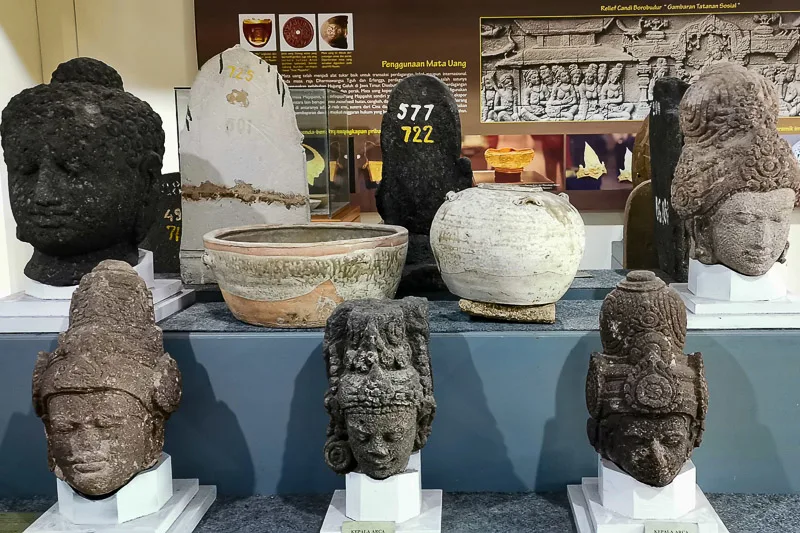 How long do you need to spend in Prambanan?
For a complete experience, I recommend allowing about 3 hours at Prambanan Temple. That's because the temple compound is so huge, there are 3 other temples outside the main cluster
Do you need a tour guide to visit Prambanan?
Tour guide is optional.
Where should you go after Prambanan?
Nearby temples around Prambanan are Plaosan Temple, Ratu Boko, Candi Gana and Candi Kalasan.
If you like my work, you can buy me a coffee! Your support will help me to keep going!