Mendut Temple is a Buddhist temple built in the 9th century. It is one of the 3 monuments in the Borobudur Temple Compounds, the other two are Borobudur and Pawon.
The Borobudur Temple Compounds was listed in UNESCO World Heritage Site in 1991, the same year as Prambanan Temple.
Mendut is located in Central Java province. However, the nearest big city is Yogyakarta. Therefore, most people visit Mendut from Yogyakarta, not from Semarang.
In Indonesian language, this temple is often referred to as Candi Mendut. Candi usually refers to ancient stone temples built during Hindu and Buddhist era in Indonesia.
In this guide, I'll share my experience visiting Candi Mendut as well as important travel information you need to know before visiting.
Mendut Temple Operating Hours
Candi Mendut is open from 7am to 6pm daily except during special occasions (such as Vesak Day).
The opening hours are subjected to change without prior notice.
Mendut Temple Entrance Fee
Currently, Candi Mendut ticket costs IDR 10,000 per person. The ticket includes admission to both Candi Mendut as well as Candi Pawon.
There is no ticket required for admission to the Monastery.
The entrance fee is subjected to change without prior notice.
How to Get to Mendut Temple
By taxi/ride hailing
Mendut Temple is about 40km from Malioboro (aka the central of Yogyakarta). The journey takes between 1.5 hour to 2 hours depending on the traffic condition. The fare ranges between IDR 300k to 350k per way.
By private car charter
If you're planning to visit many places in a day, you can consider renting a private car with driver. This method allows you to create your own custom itinerary and the driver will drive you anywhere you want during the 10-hour rental period. But, make sure you book the correct area.
This is also the transportation method that I chose. By renting a car, I get to visit Borobodur, Mendut and Merapi on the same day. We were also able to have lunch and dinner at our chosen eateries.
Mendut Temple History
There is not much facts known about real history of Mendut Temple. According to Indonesia's National Library, Mendut was built by King Indra, the first king of Syailendra Dynasty in AD 824.
Candi Mendut, Candi Pawon and Candi Borobudur are located on an imaginary straight line, implying that there are connections between the three temples.
Candi Mendut was discovered in 1836 in an unsatisfactory condition. Restoration was done between 1897 and 1904 by the Dutch government. More restoration works continued after that.
Each year, on days leading to Vesak Day, there is an annual procession to celebrate the holy day. The procession starts from Candi Mendut, then continues to Candi Pawon and ends at Candi Borobudur.
Exploring Mendut Buddhist Monastery
Don't confuse Mendut Buddhist Monastery with Candi Mendut.
Mendut Buddhist Monastery is located on the same road as Candi Mendut, but on a different plot of land. Admission to Mendut Buddhist Monastery is free.
There are plenty of Buddha statues around the monastery. My favorite one has to be the stone gate with Buddha's head that resembles those at Angkor Wat.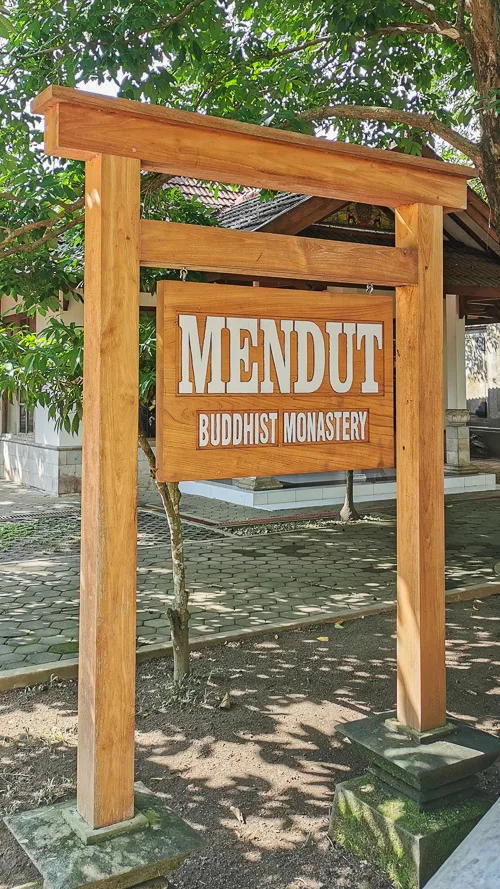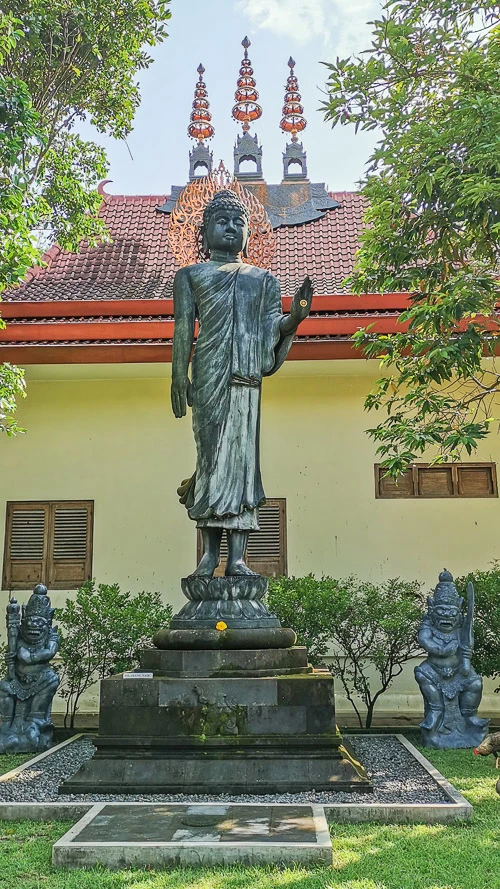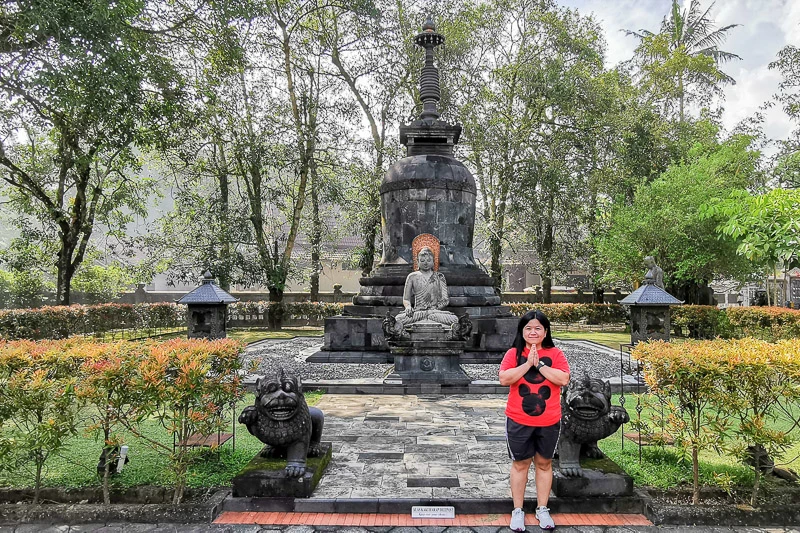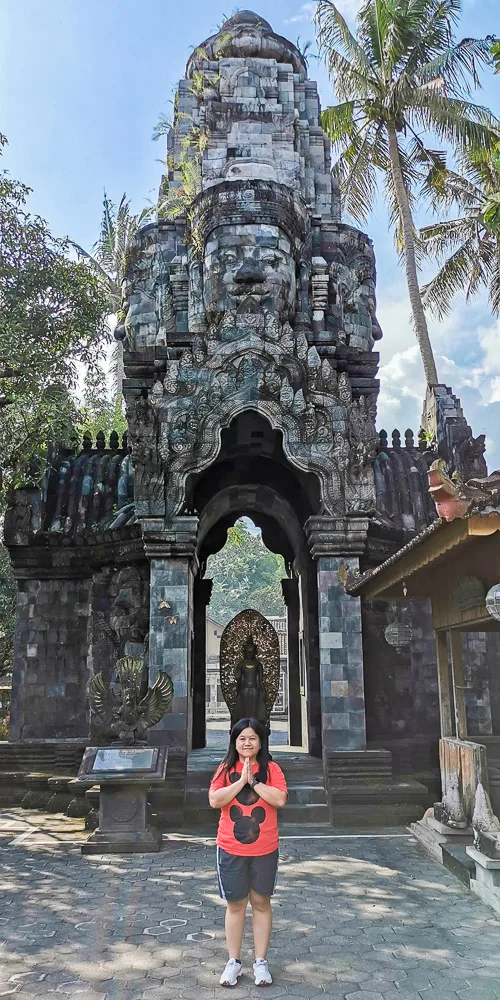 Exploring Mendut Temple
To get to Candi Mendut from the monastery, after coming out from the monastery, simply turn left and walk along the narrow road that's often crowded by souvenir stalls. If unsure, you can ask for directions, the locals are quite friendly.
When you reach Candi Mendut, you will see the ticket counter at the entrance of Candi Mendut. If you wonder whether it's worth paying for the ticket since you can see the temple clearly from outside, well, I think it is very worth it. The price is really affordable and the temple is quite beautiful!
Candi Mendut compound consists of 1 main temple which is 26.4 meters high. Around the temple is a flat green yard.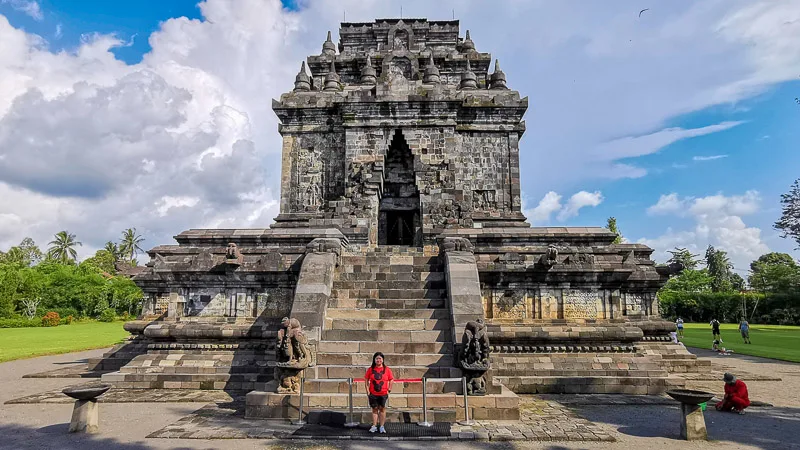 The relief (stone carving) on the wall of Candi Mendut tells stories about the life of Buddha.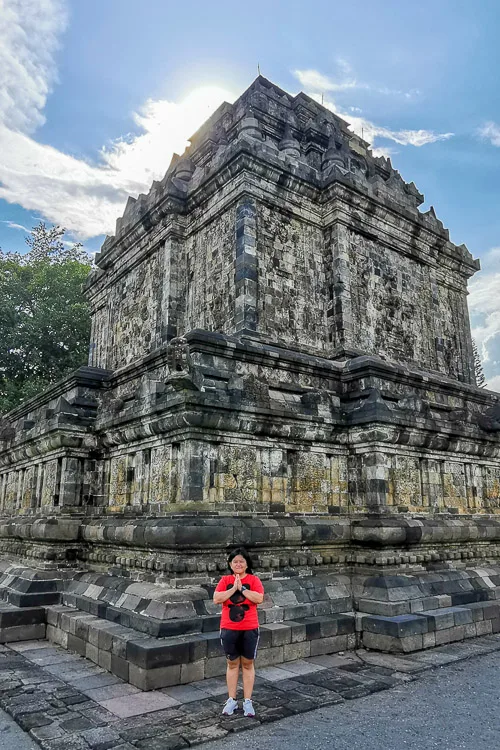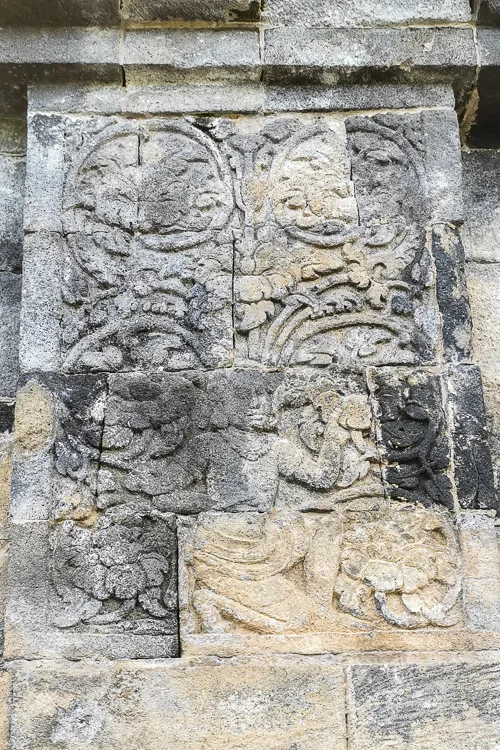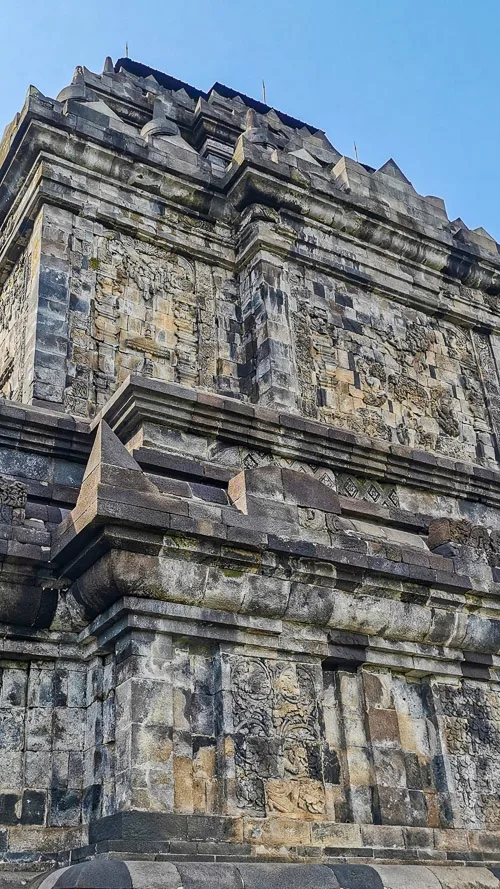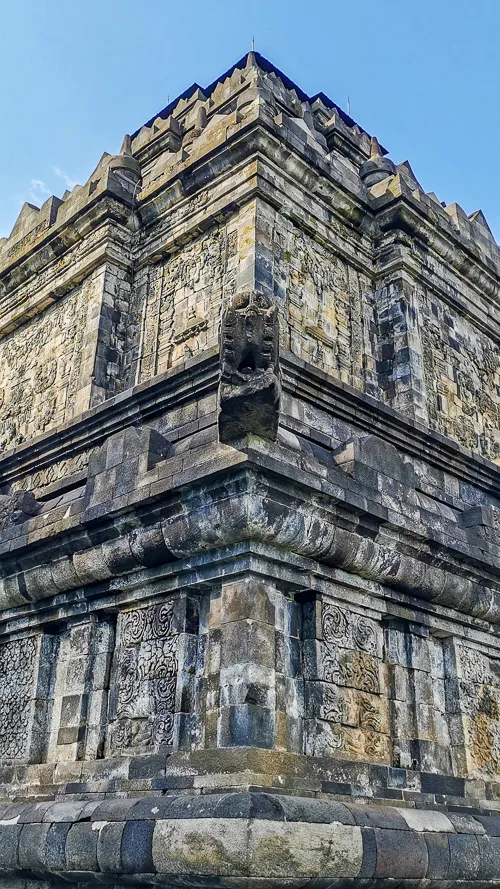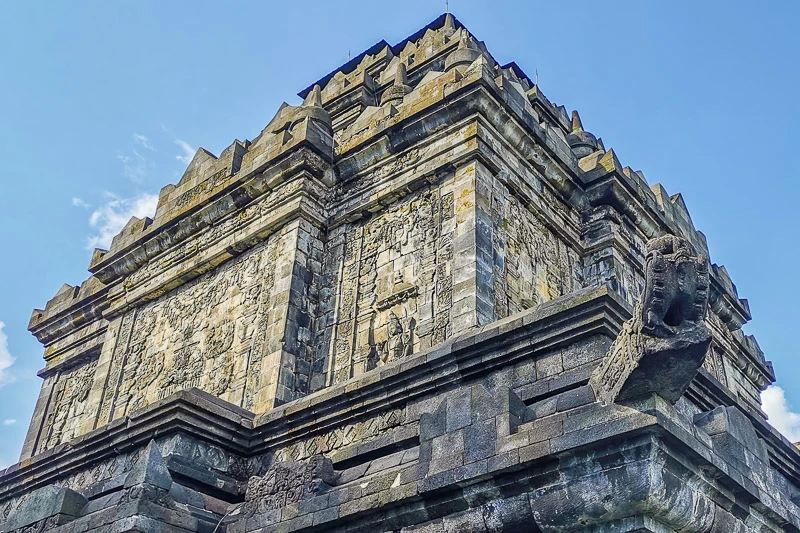 Inside Candi Mendut, there are three statues of Buddha, namely: Buddha Sakyamuni, Bodhisattva Avalokiteswara and Maitreya. However, access to the inside of temple is currently restricted.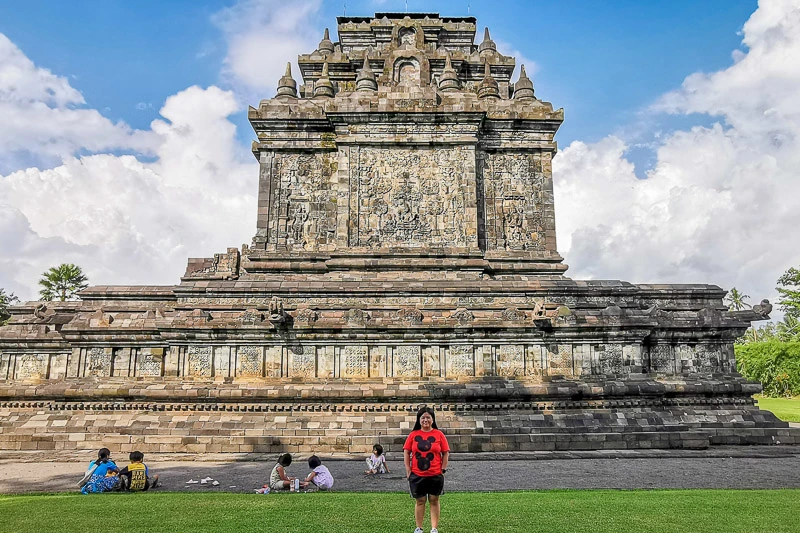 During my visit, the temple is almost empty of visitors. Only 1 or 2 groups of visitors, plus local children playing on the ground.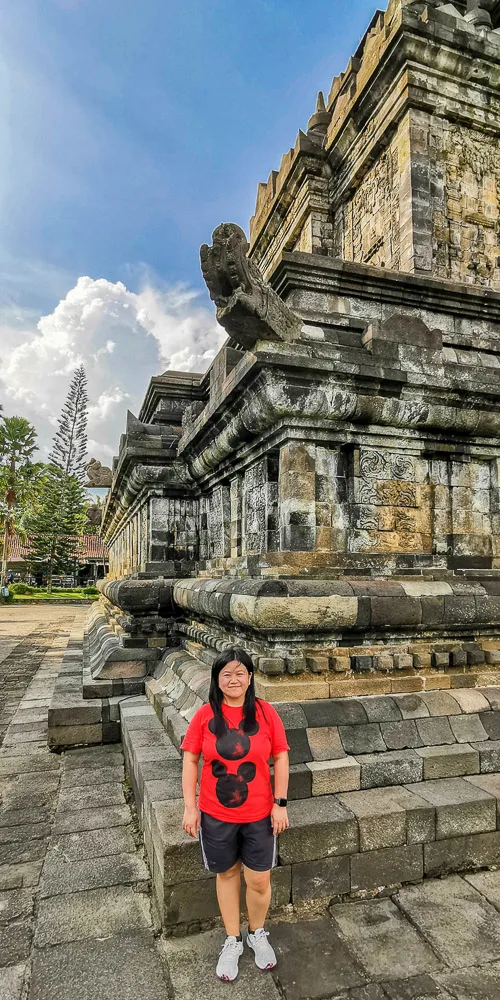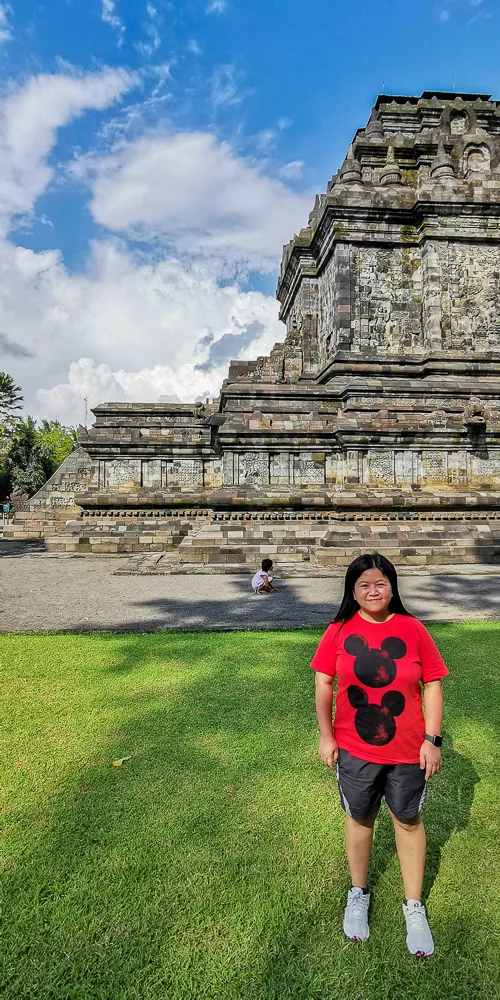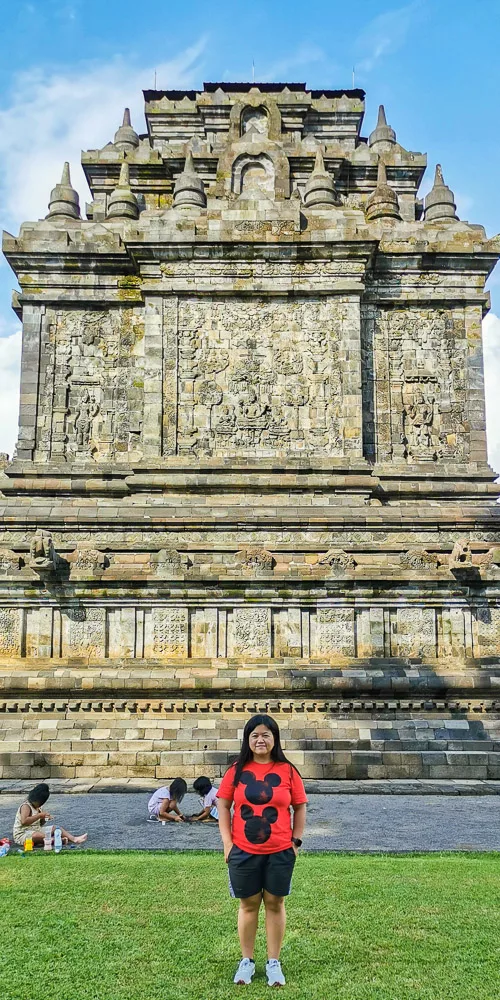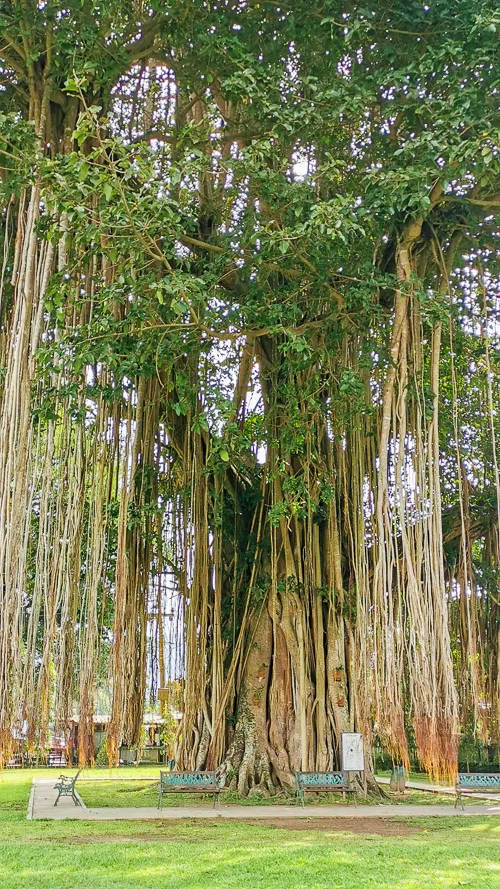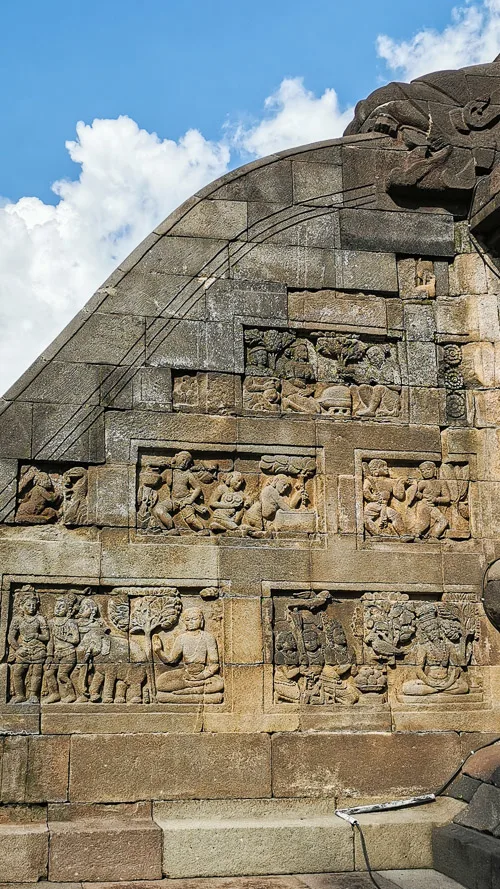 I think Mendut Temple is such a hidden gem. It is so beautiful, especially on a clear and bright day, yet not many people visit this temple.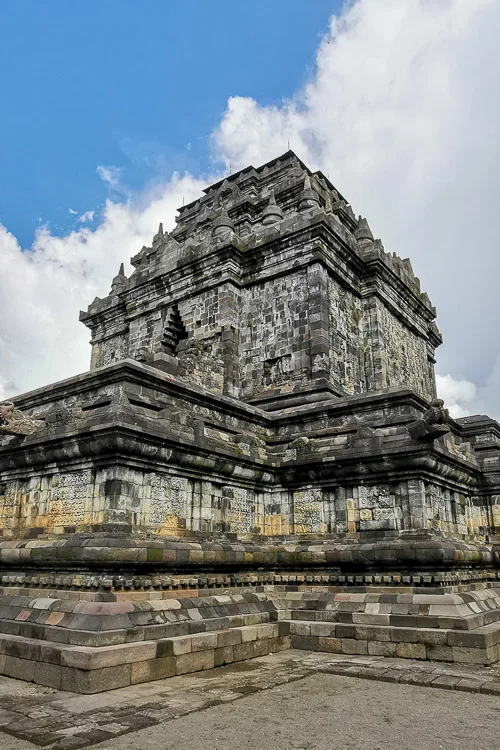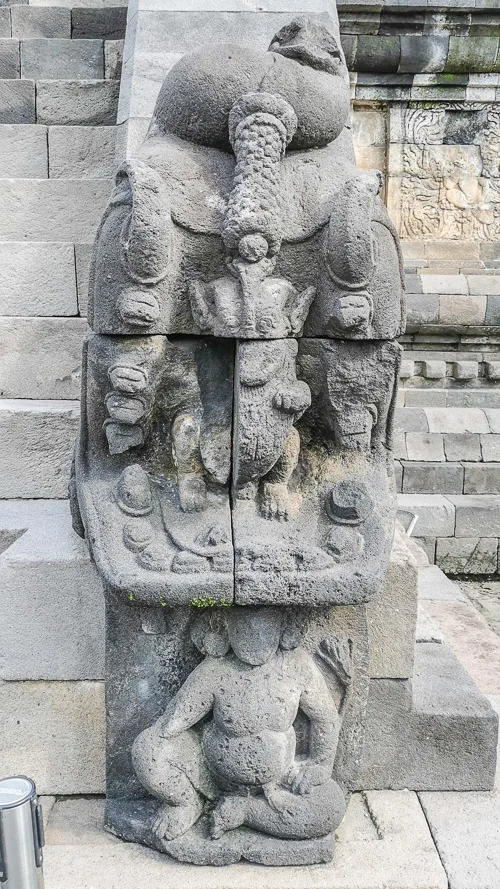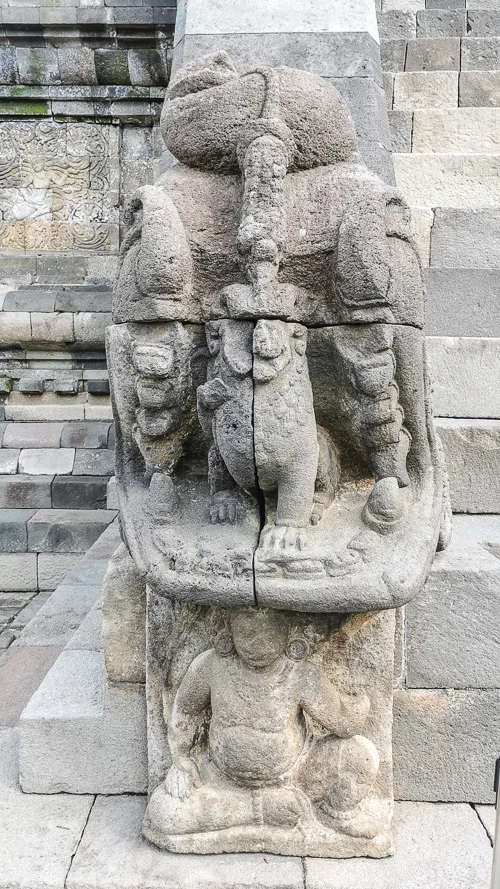 This temple is only 10-min drive away from Borobudur, I highly recommend that you visit this on the same day as the day you visit Borobudur.
If you like my work, you can buy me a coffee! Your support will help me to keep going!