Cordia Hotel Yogyakarta is a 3-star hotel located right inside Yogyakarta International Airport (YIA). It's located at mezzanine level, which is right above the arrival hall.
We stayed here for 1 night during our trip to Yogyakarta. We booked our room here and paid about IDR 450k for a night stay at Deluxe Double Room (Room Only).
We chose this hotel because we have an early morning flight to catch at 7.45am. That means, the latest we had to check-in is 6.45am. The breakfast at Cordia starts at 6am, so we decided not to get the breakfast package because the timing is too tight.
The tagline of Cordia Hotel is "simple, functional, comfort and the best value accommodation" so let's find out if they live up to their humble tagline.
Getting to Cordia Hotel Yogyakarta
As mentioned above, Cordia Hotel Yogyakarta is located right inside YIA airport. To get here, you can take the airport train or take a taxi/ride-hailing from Yogyakarta.
I highly recommend taking the airport train because it's cheaper and faster than taxi. If you take airport train, the train will alight at the train station inside the airport.
To get to the hotel lobby, you need to head to Arrival Hall at Level 1. There, you will see a lift that goes up to Cordia Hotel.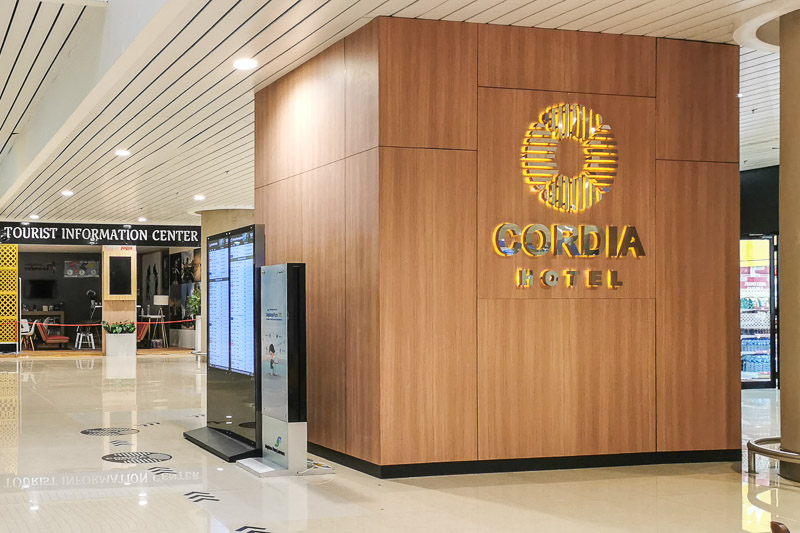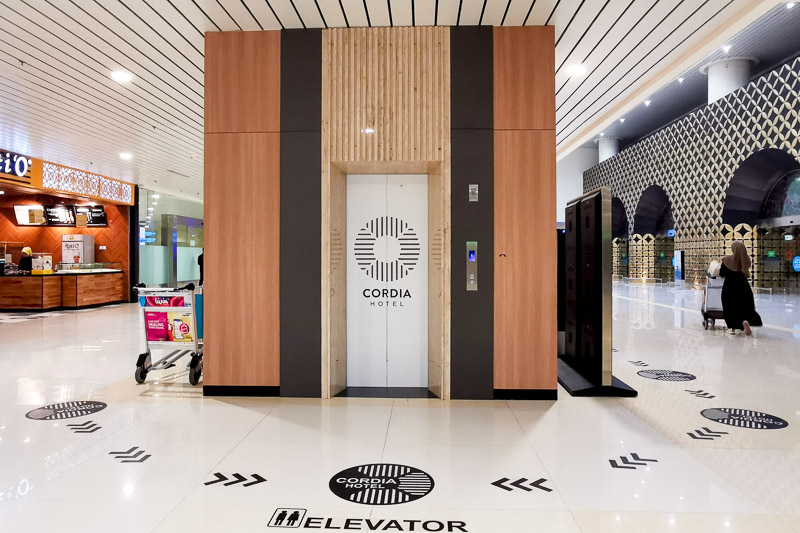 Check-in
The check-in process is quite straightforward. No deposit was collected. We were told that during check out, we need to return the room key (Isn't that the norm? Or did the previous guest forget to return key?).
There was hot ginger tea at lobby which I presume every guests can help themselves to.
We were told that bottled water is not provided in the room to reduce plastic usage. Instead, they provide empty water jug that we can refill ourselves. The water dispenser can be found outside the room.
We asked about swimming pool opening hours, only to receive apology from them that they do not have swimming pool.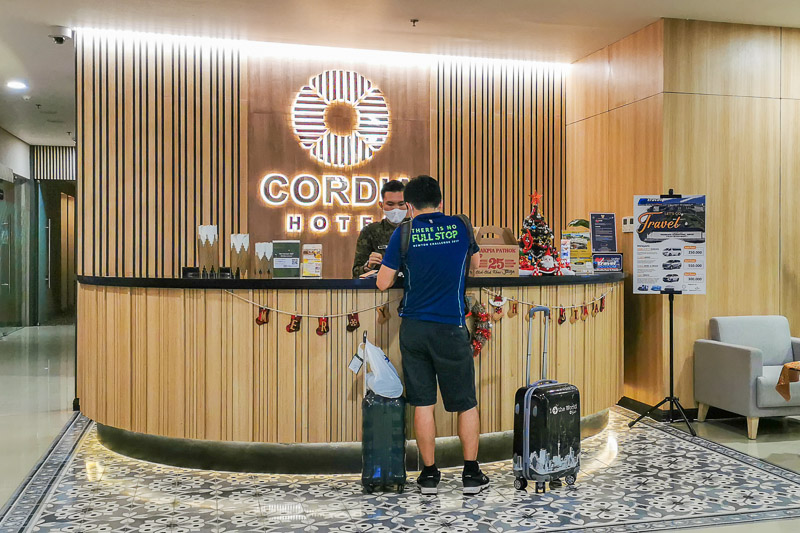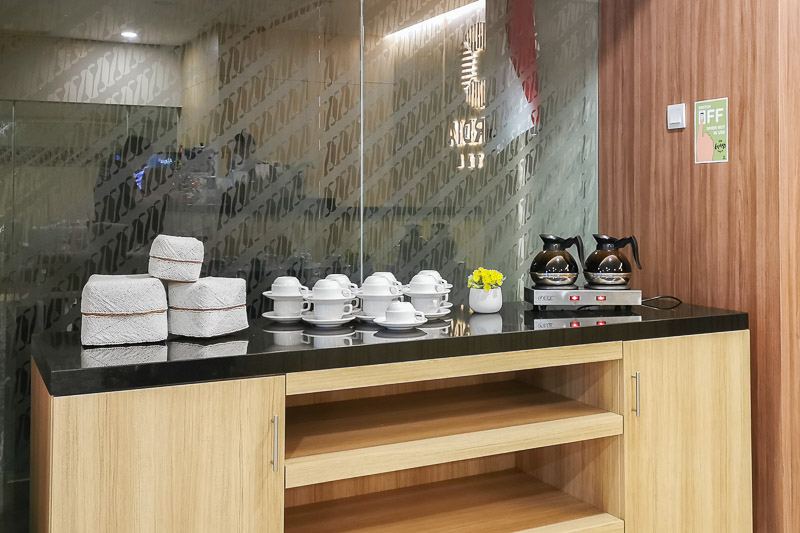 Deluxe Double Room
There are 3 types of room available at Cordia Hotel Yogyakarta:
Deluxe Twin Room (for 2 pax)
Deluxe Double Room (for 2 pax)
Deluxe Double Room with Extra Bed, aka Deluxe Murphy Room (for 3 pax)
We book the Deluxe Double Room and here's how it looks like.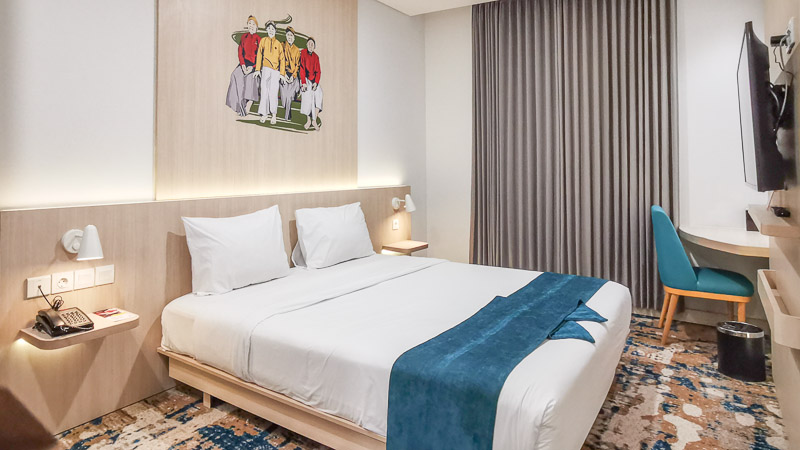 The room features modern minimalistic interior with carpeted floor. There's a small table and chair at the corner.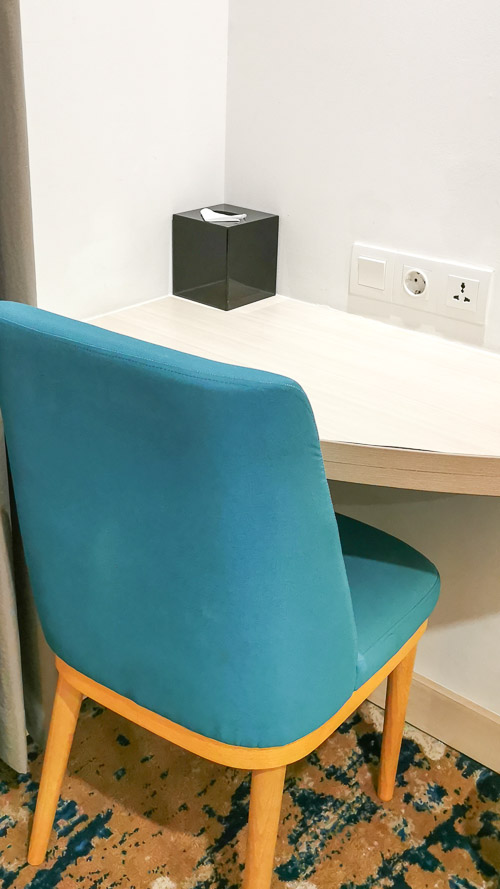 In terms of power outlets, there are 4 power outlets in the room:
One universal power outlet at the desk.
One power outlet by the bed, next to window.
One power outlet by the bed, next to wardrobe.
One power outlet at the minibar, next to kettle.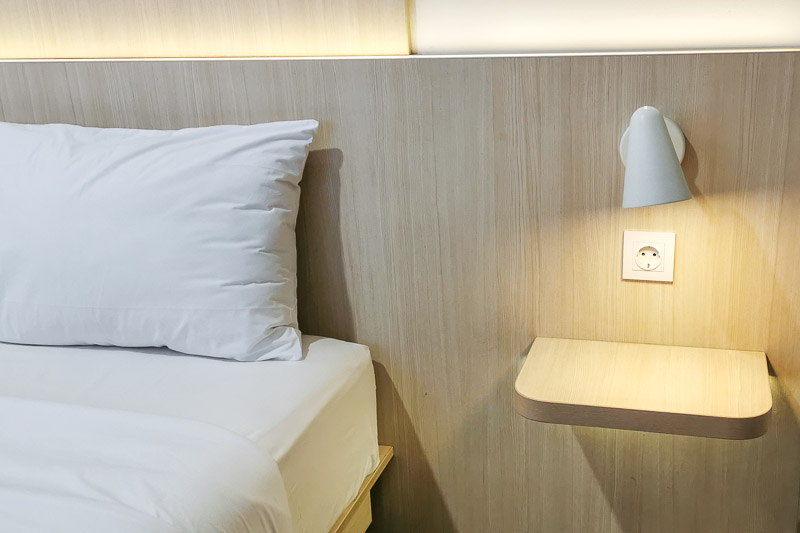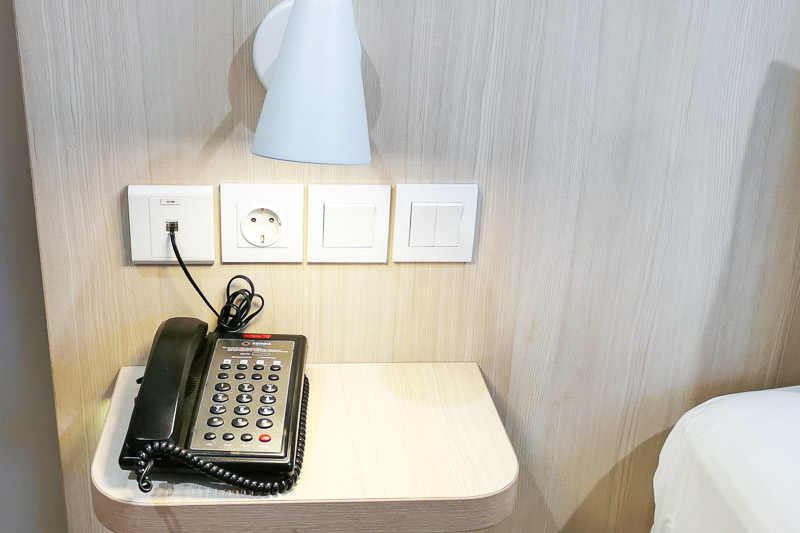 Beside the bed, there's a small open wardrobe at the corner. Next to it is the minibar, deposit box, and chiller.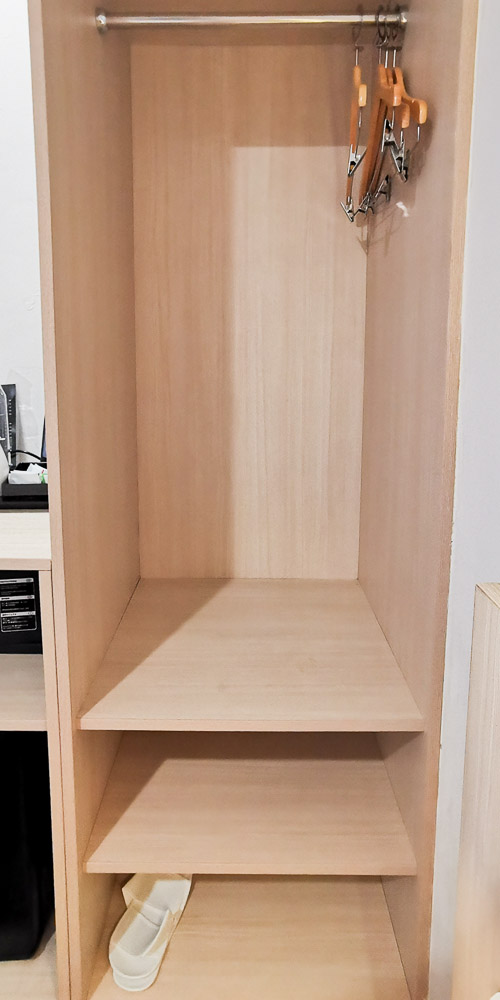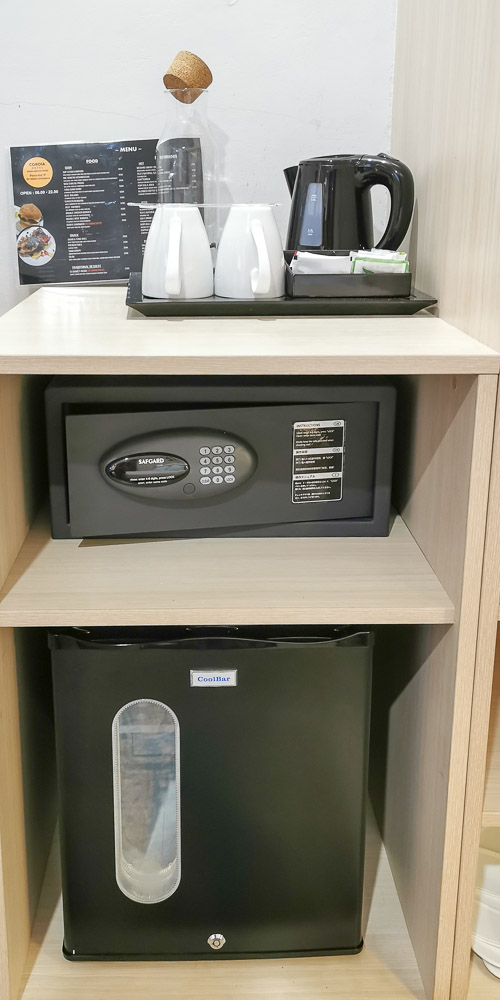 The Minibar is nothing to shout about. It comes an electric kettle, a water jug, two cups, and several unbranded packs of coffee, tea, sugar and creamers.
There's also a room service menu at the minibar. The food are reasonably priced. The main dish costs about 50k-60k.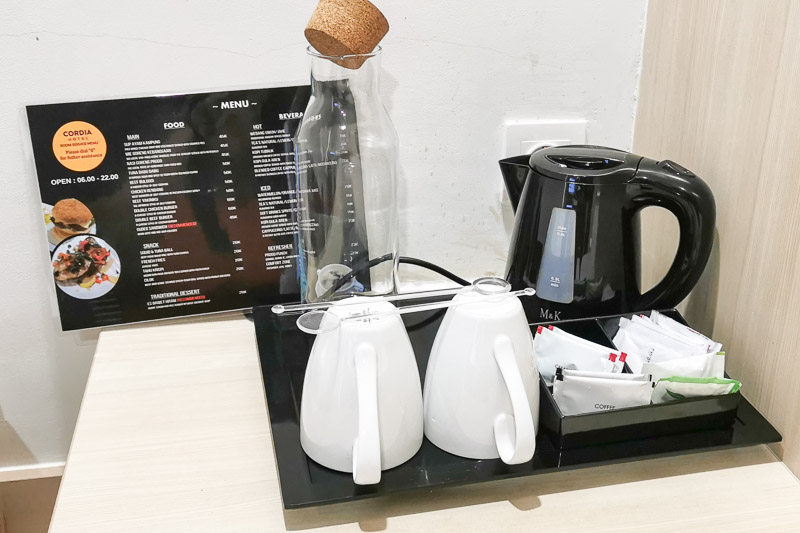 Only when I took out all the coffee, tea, sugar and creamers, I realized that some of them were not properly sealed. Eww. Put it back, not going to touch it and definitely not going to drink it.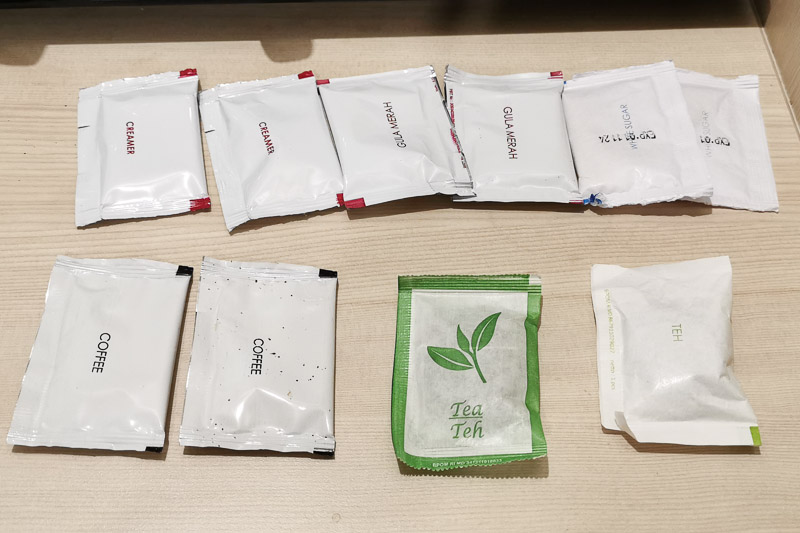 Moving on to the window. I actually really like the view of our room. Through the window, we can see the outdoor space right outside Arrival Hall.
The escalator on the left goes to airport train station. And if you take the escalator another level up, you'll arrive at the Departure.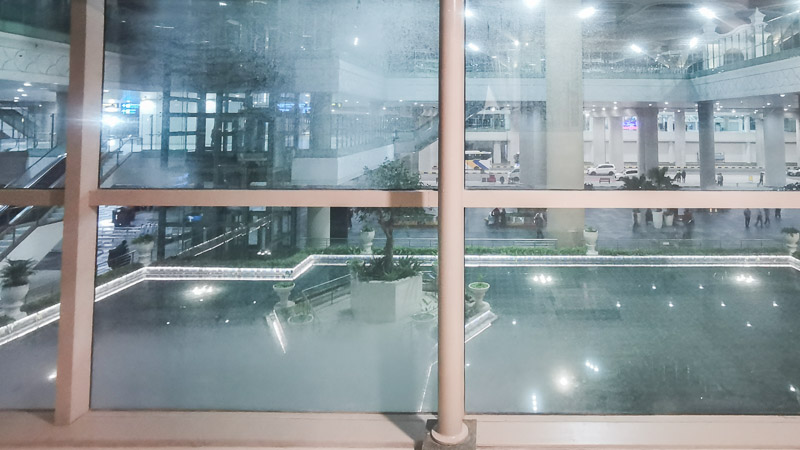 Next is bathroom. It looks and feels okay, it's clean, it's acceptable. The shower mixer looks sophisticated but you should never judge something from its look. Turned out, the hot water ran out before I finished showering!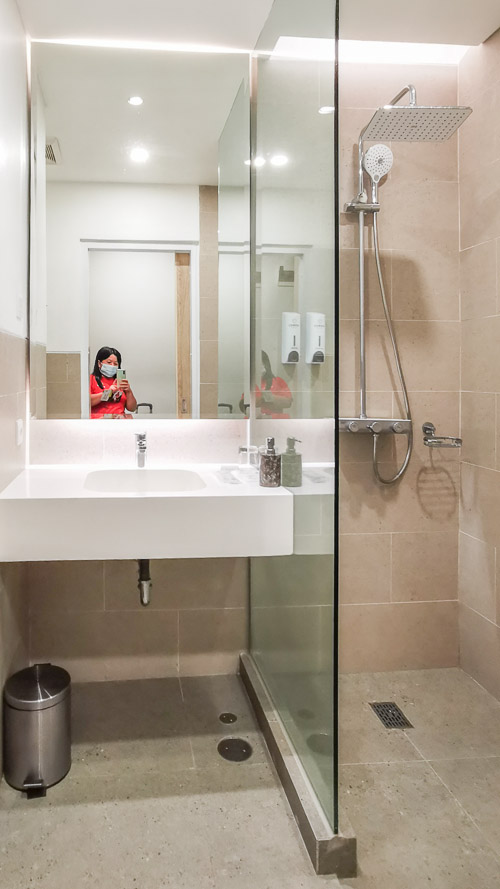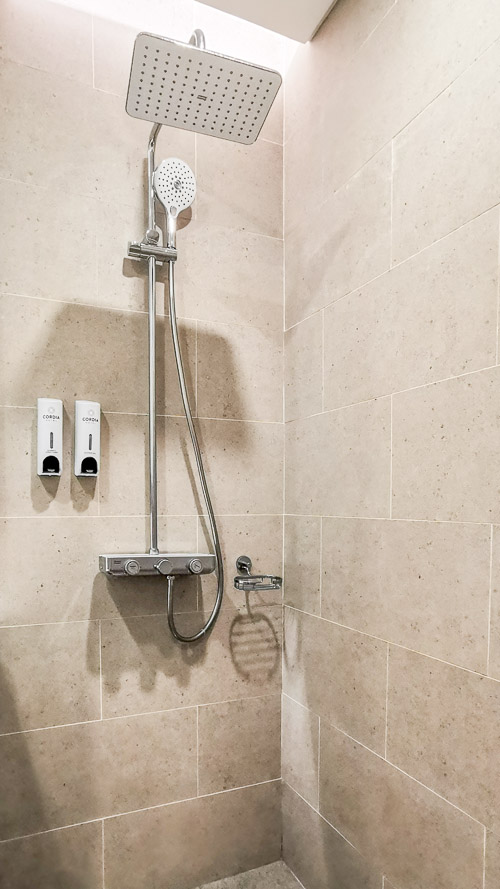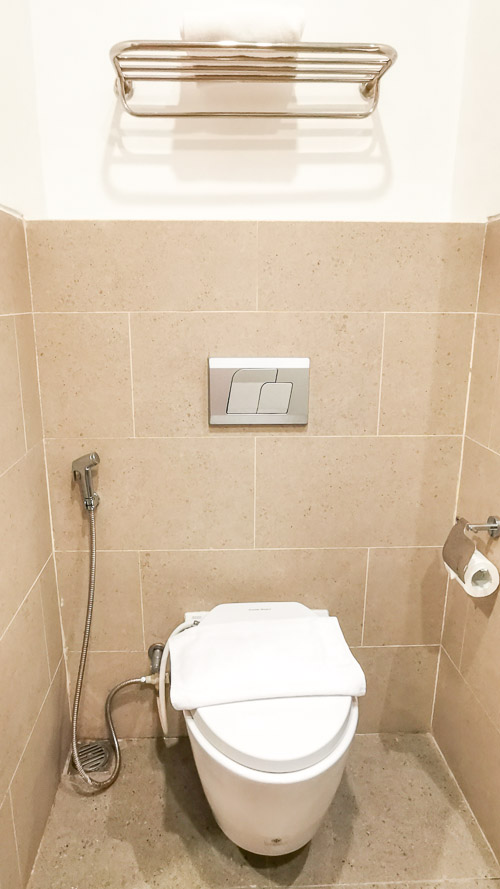 The bathroom kits are all in-house branded. I'm so glad that they give a comb! I didn't brush my hair during my entire trip because all the previous hotels I stayed in didn't provide a comb.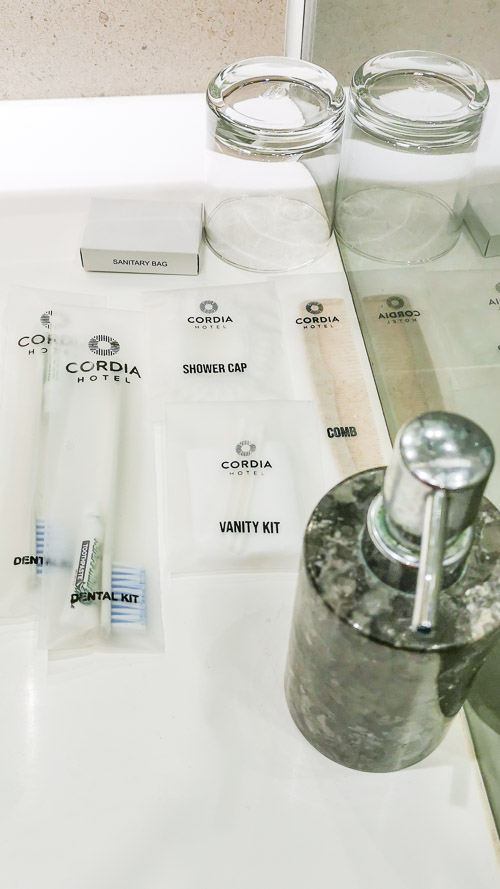 Just when I thought everything was fine, and we were getting ready to leave the room to go for dinner, I told hubby, "Let's check the bedsheet to see if there's any surprises."
We've had bad experience with stained bedsheets in many hotels in Jakarta and Yogyakarta prior to this, so we had prepared ourselves to be surprised, although we hoped not to be.
And… yup! Upon closer inspection, there was a big stain on the bedsheet and it looked like a blood stain! What?!?! It was part traumatic, part expected.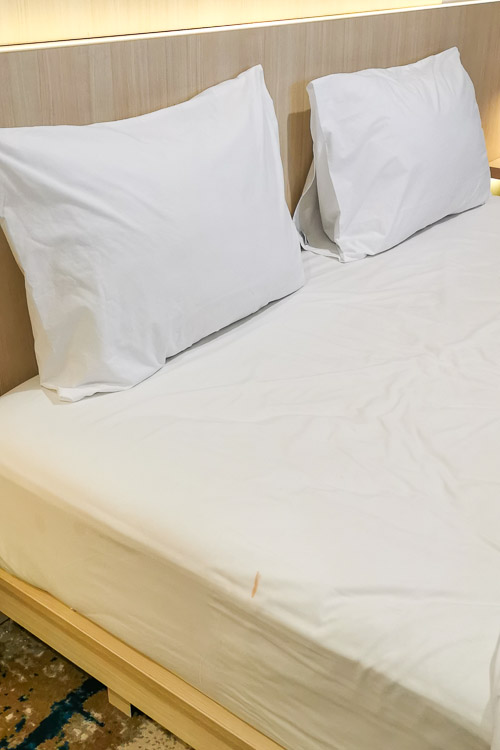 Frustrated, I called the receptionist and requested for the bedsheet to be changed, and they did the change. The replacement bedsheet was better but still had little stains. We decided to close our eyes and just tolerate it because we were too tired.
Restaurants
While we didn't have chance to eat at the restaurant, we managed to take a sneak peek of the empty restaurant in the evening. Here's how the restaurant looks like.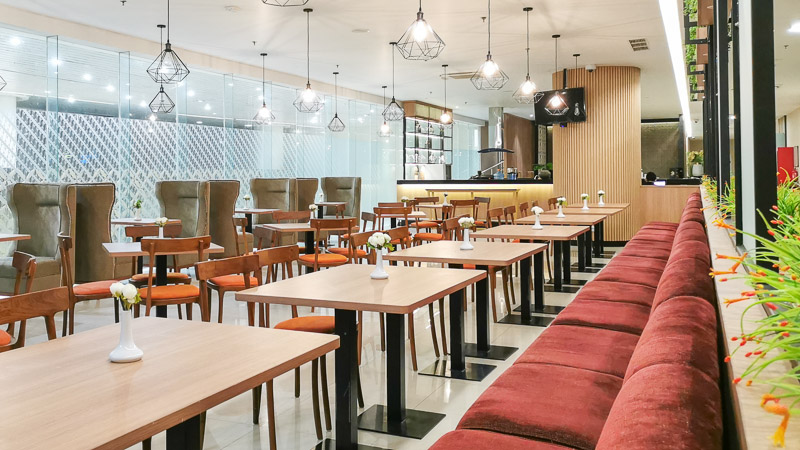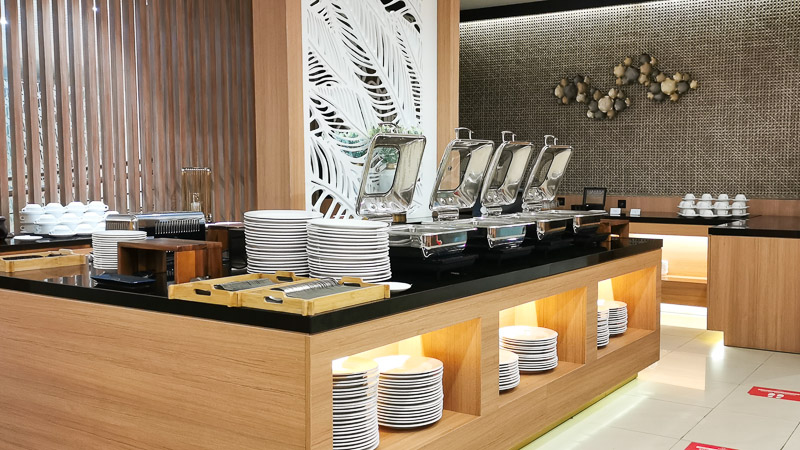 Facilities & Amenities
Massage. It's quite a pleasant surprise that Cordia Hotel has massage service. You can choose whether you want to have the massage in your own room or outside. If you choose outside, they have a hotel room that has been turned into a makeshift massage room. During our visit, we paid IDR 255k for 1 hour of massage.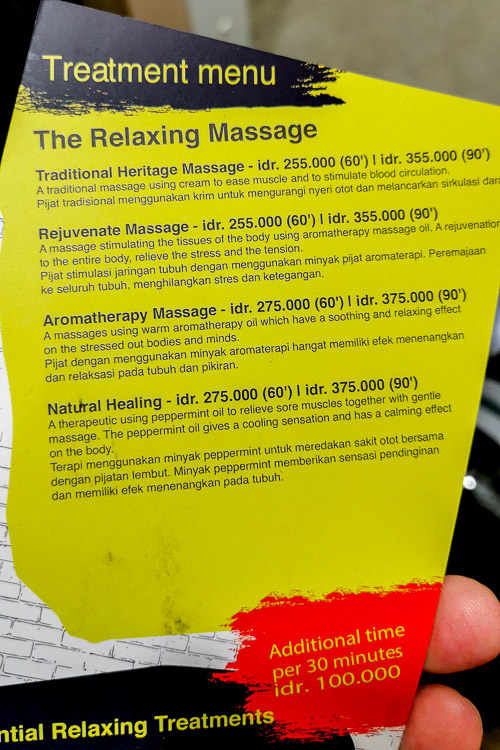 Fitness Centre (Gym). There is a small gym at the hotel with a treadmill, stationery bike and a couple of weights.
Wrapping Service. There's a wrapping machine at the lobby and it costs IDR 50k. That's a nice convenience.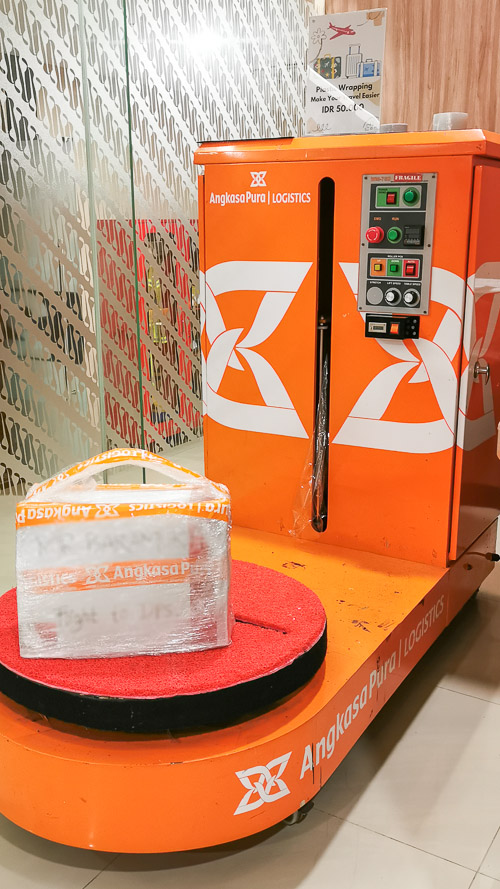 No swimming pool. Just to iterate here, there's no swimming pool at Cordia Hotel Yogyakarta.
Nearby Food & Retail
I have a good news and a bad news.
The good news is there are plenty of restaurants and shops at the airport; they are scattered at Level 1 (Arrival), Level 2 (Departure), and Airport Train Station. You can read my guide on Yogyakarta International Airport to see what kind of restaurants and shops are available.
The bad news is they are all closed quite early! We went to look for dinner at 7.30pm and only 2 restaurants were open (Roti O and A&W at Arrival). Convenient stores were already closed.
Furthermore, the Departure is restricted for non-passengers, so we were not able to enter Departure to look for food; the security guard said that all the shops inside Departure have closed. Sigh.
If you're like us, staying at Cordia because you need to catch an early morning flight, try to eat your dinner early before the restaurants are closed. The A&W closes at 8pm.
Otherwise, your last option is the hotel room service which is quite affordable, however, they only operate between 6am to 10pm.
My Tips
If you use airport train to get between YIA airport and Yogyakarta city, book your airport train early! The ticket runs out fast.
In case you arrive at Cordia at night, do stock up on food and drink before arriving at airport, because very few shops and restaurants are open at night at public area (land-side).
If you can't catch the hotel breakfast because you have a super early flight, don't worry, there are so many restaurants at departure gate (air-side) after checking into your flight.
My Review
What I like
Opened in 2020, the hotel is still new and cozy. It honestly feels like a 4-star hotel, instead of its actual rating of 3-star.
I love not having to worry about early morning commute for morning flight. By staying here, I don't have to worry about traffic jam. The departure hall is just a couple of minutes walk from the hotel!
For the price tag that I paid (IDR 450k), I actually feel that this hotel is a steal!
I also like that they have massage service that's quite affordable in my opinion.
I really appreciate having the view of the space outside arrival. The view gives me the real feeling of sleeping in airport.
What I don't like
Poor linen cleanliness. I don't know why they still reuse the stained bedsheet. Is this because they're struggling with cashflow due to pandemic, and they can't justify throwing away/recycle the bedsheet just because of little stains?
Poor hot water system. The hot water in the bathroom ran out before I finished my shower! Like.. how am I supposed to shower in cold water at 10pm?
Tight door. It may be a small inconvenience but an annoying one. We can't fully open the door without force. I guess the floor is uneven or too high, and it results in difficulty to open and close the door.
Conclusion
I think Cordia Hotel Yogyakarta is a great choice for travelers with late night inbound flights or early morning outbound flights. It saves us a lot of time and sanity. But you need tolerate the bedsheet stains and limited hot water supply.
Going back to their tagline, I think they lived up to the simple , functional and best value part, but not so much on the comfort part (fix the bedsheet stain, please!).
If you like my work, you can buy me a coffee! Your support will help me to keep going!