The new Yogyakarta International Airport (YIA) at Kulon Progo is located about 45km from Yogyakarta city. The best way to travel from airport to the city (and vice versa) is definitely by the Airport Railink Train (or KA Bandara in Indonesian language).
The duration of the train ride is only 39 minutes, which is much faster than the taxi journey which takes around 75-90 mins. Furthermore, the train price is really cheap at IDR 20k/person, while taxi costs at least IDR 200k.
However, seats often get sold out early, so I highly recommend that you book your ticket online in advance.
In this complete guide to taking the YIA Airport Railink Train, I'll share everything you need to know, from route, schedule, ticket price, how to buy, what to expect at train stations and the train interior.
YIA Airport Railink Train Route & Schedule
Yogyakarta Airport Train has 2 routes:
Yogyakarta City -> Wates -> Yogyakarta International Airport (YIA)
Yogyakarta International Airport (YIA) -> Wates -> Yogyakarta City
Some trips are Express trips, that means the train travels directly from Yogyakarta to Airport (vice versa) and skip Wates. The express train is more expensive but the duration is shorter (35 mins instead of the usual 39 mins).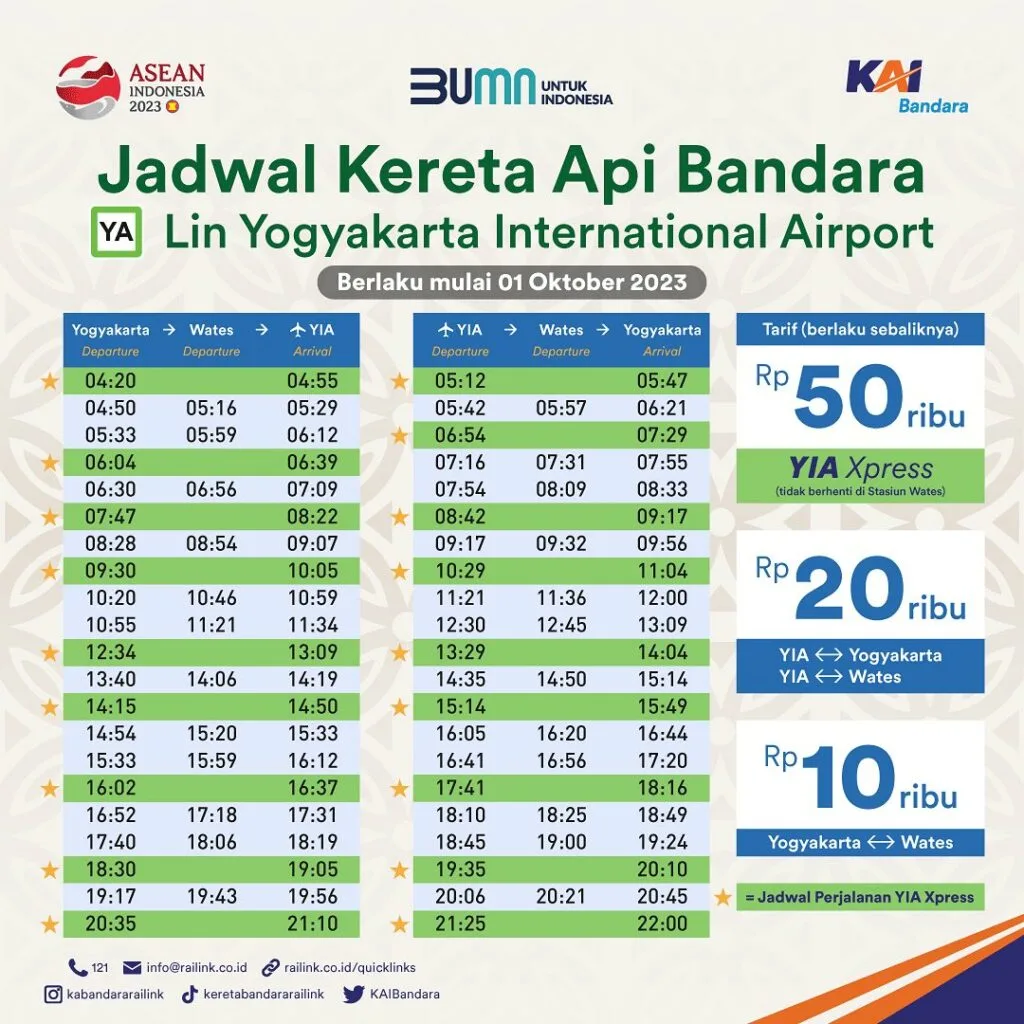 YIA Airport Railink Train Ticket Price
| Route | Price |
| --- | --- |
| YIA <-> Yogyakarta (Express, no stop in Wates) | IDR 50k |
| YIA <-> Yogyakarta (via Wates) | IDR 20k |
| YIA <-> Wates | IDR 20k |
| Yogyakarta <-> Wates | IDR 10k |
How to Buy Train Ticket
Via Walk-in Counter/Ticketing Machine
All the stations have walk-in counter/information desk where you can purchase same-day train ticket. You can't purchase advance ticket from the counter.
I highly recommend against purchasing from the counter because there is always a risk that the tickets are sold-out by the time you arrive at the train station.
That's what happened to me when I arrived at YAI station 1 hour before the last train departure. All the tickets were sold out and I had to pay the overpriced taxi to get to city.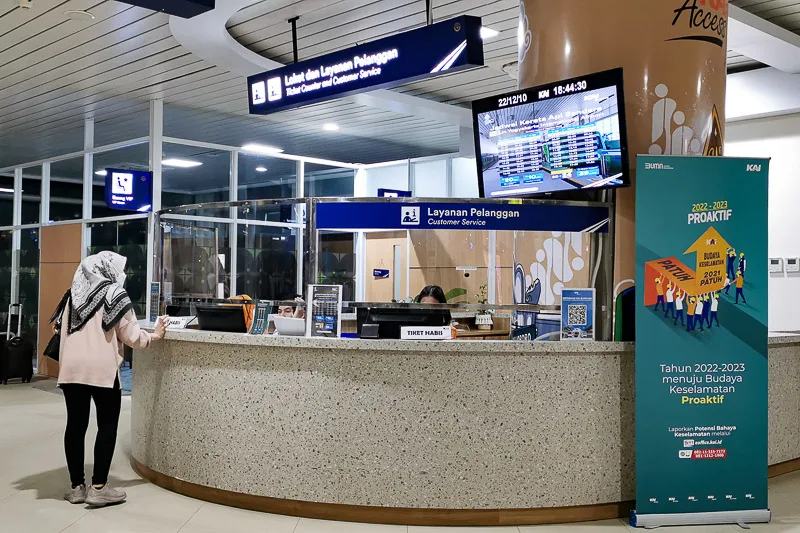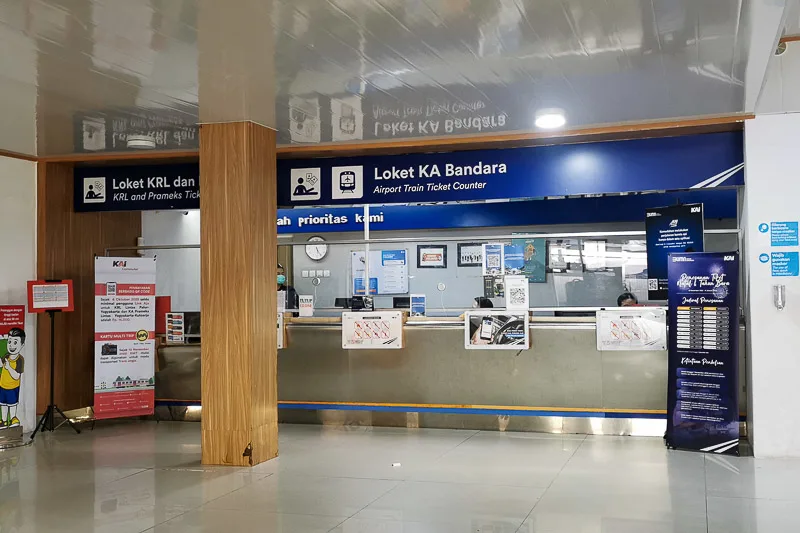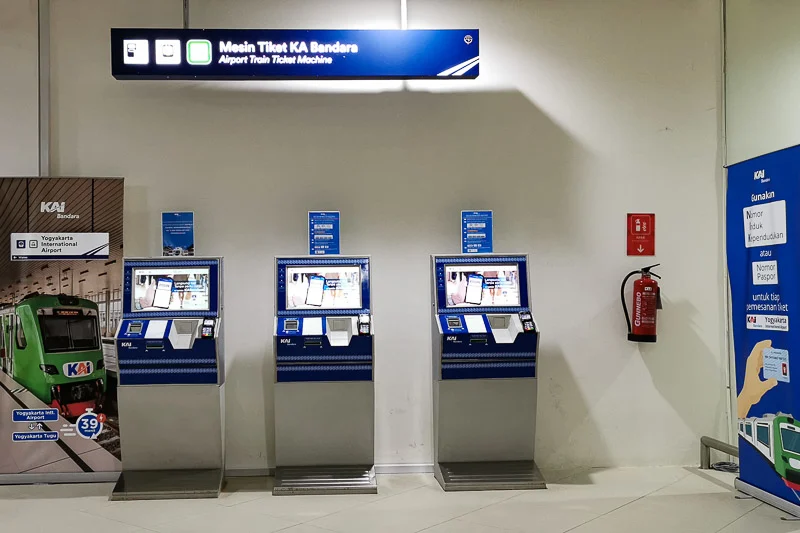 Via Mobile App
There are 2 ways to purchase the ticket online: via Mobile App or via Website.
To purchase the ticket via Mobil App, download KA Bandara app from App Store or Google Play Store. This KA Bandara app is developed by PT Railink, which also operates airport train in other cities, such as Jakarta and Medan. So, if you're visiting Jakarta and Medan and plan to take airport train, you can purchase tickets using this KA Bandara app.
To purchase airport train ticket, you need to create an account via this KA Bandara app. If you don't want to create an account, then you can consider purchasing via website which I'll describe in the next section. Payment can be made with international credit cards and various local payment methods.
Don't confuse this with KAI Access app (App Store/Google Play). This app is developed by PT. Kereta Api Indonesia which operates long-distance intercity trains in Indonesia. If you use this app, when you choose airport train, you will be directed to the website. So, this app is useless for purchasing airport train tickets.
Via Website
To purchase train ticket without creating an account, you can head to Railink Official website and choose your route.
You can purchase tickets one week in advance. Similar to app, payment can be made with international credit cards and various local payment methods.
The e-ticket (which contain QR code) will be sent to your email. On the travel day, simply scan the QR code at the turnstile to enter train boarding gate.
Train Station at Yogyakarta International Airport
The train station at Airport is located outside the terminal building.
From Arrival Hall, come out from the terminal building, then either turn left or right and take the escalator/lift 1 level up to the mezzanine level. After that, simply follow the direction and walk about 3 mins to the Train Station.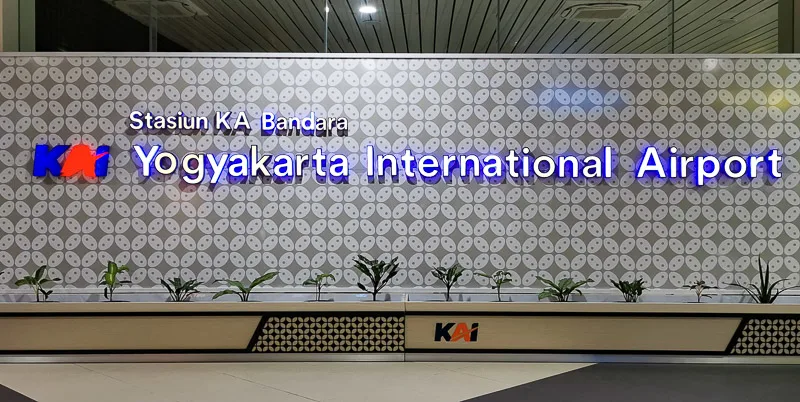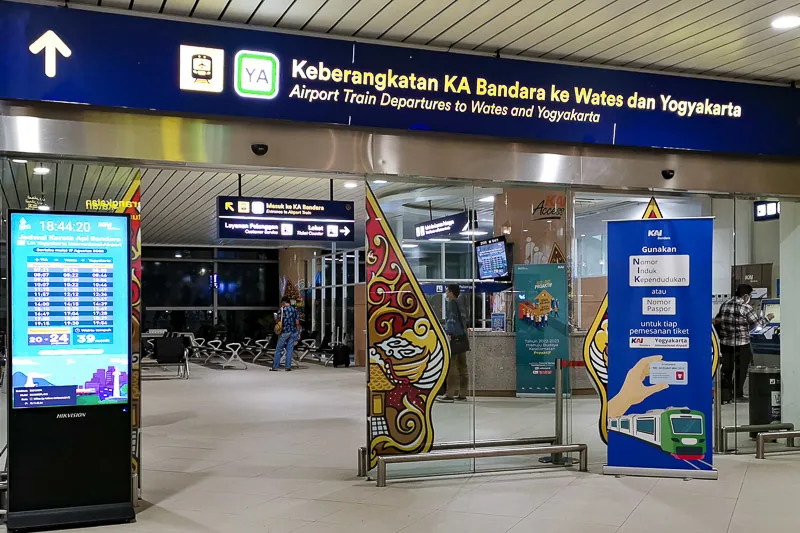 Inside the station, there are plenty of seats for people who will be boarding the train. Toilet is outside the station, but still on the same floor.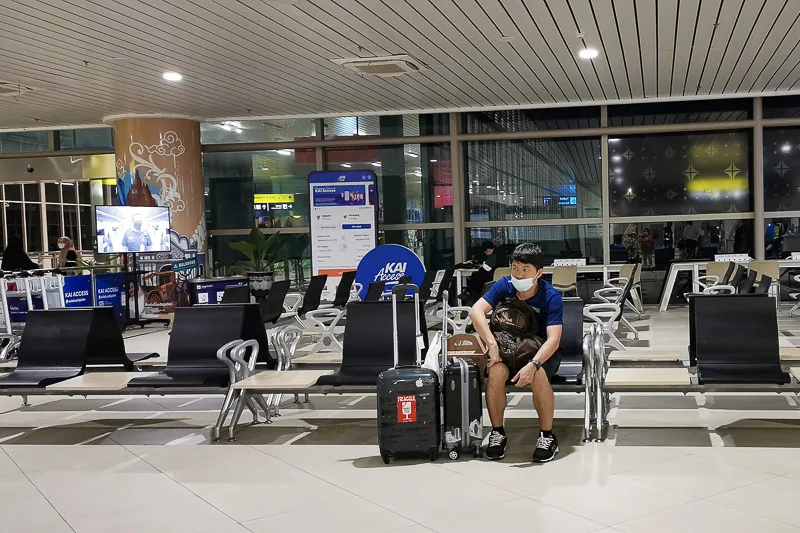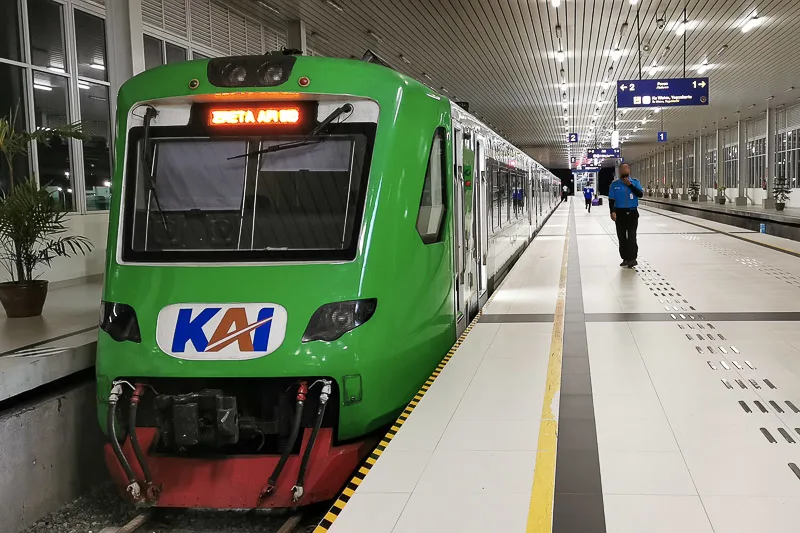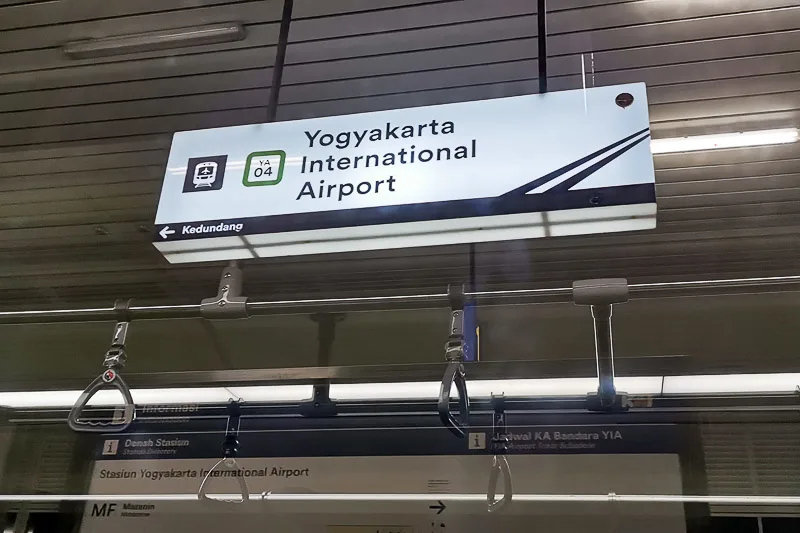 Outside the station, there are several shops selling souvenirs and food, but it's pretty much a quiet place when I visited in late 2022. Hopefully when travel picks up, there will be more food offering here.
Train Station at Yogyakarta City
The train station at Yogyakarta City is called Stasiun Tugu Yogyakarta. Don't confuse this with Tugu Monument, which is 1km away from Stasiun Tugu.
Stasiun Tugu has several entrances. The nearest entrance to the Airport Train platform is called Pintu Selatan Stasiun Tugu (a.k.a. South Entrance).
If you're using ride hailing app to get to the station, simply key in Stasiun Tugu and when you're on the vehicle, just tell your driver you're going to take Airport Train. The driver will know where to drop you off. Even if he drops you off at other entrances, you can simply walk to the Airport Train building.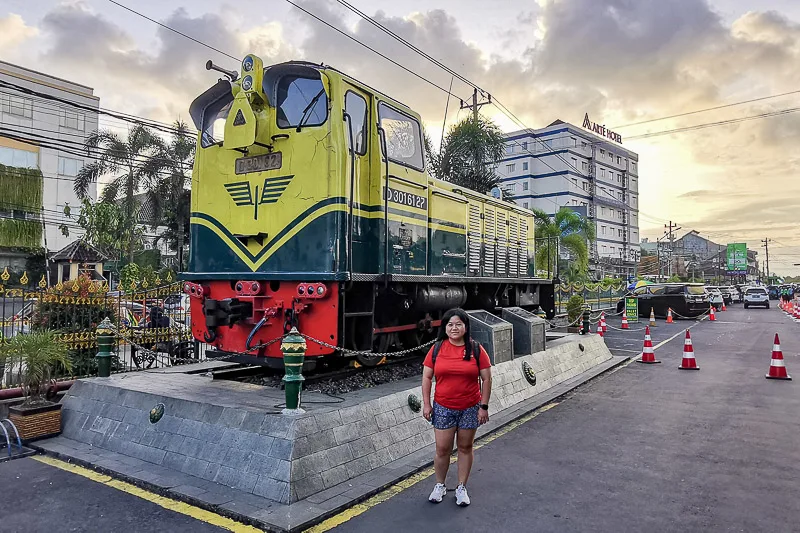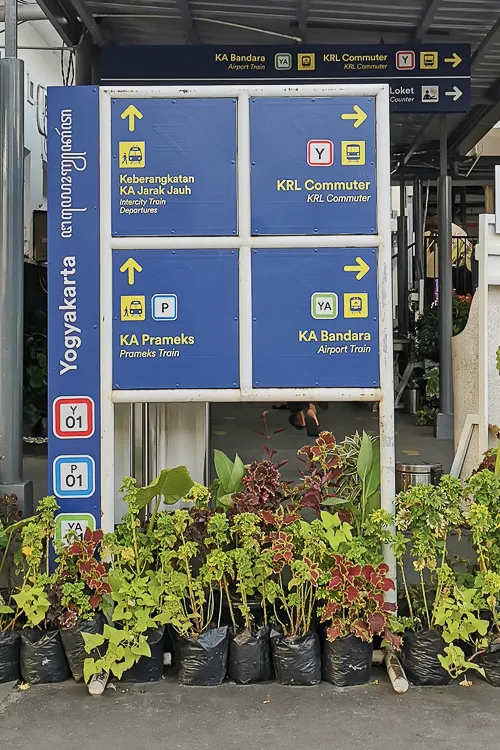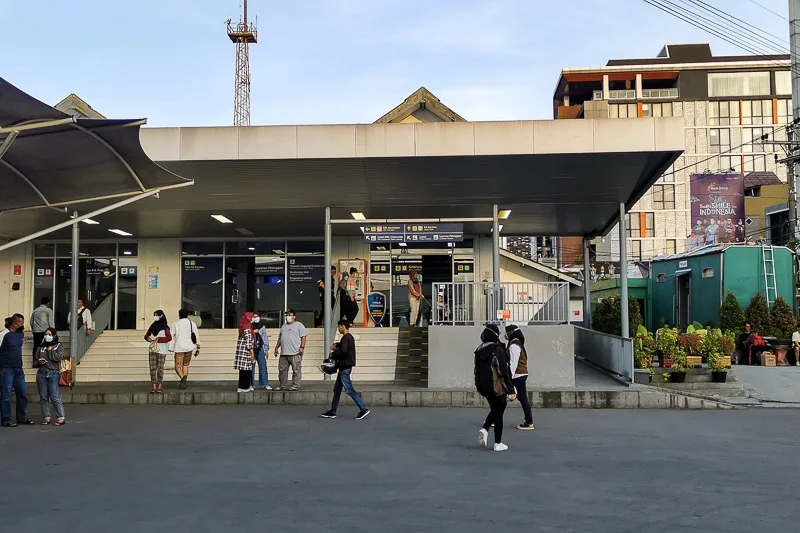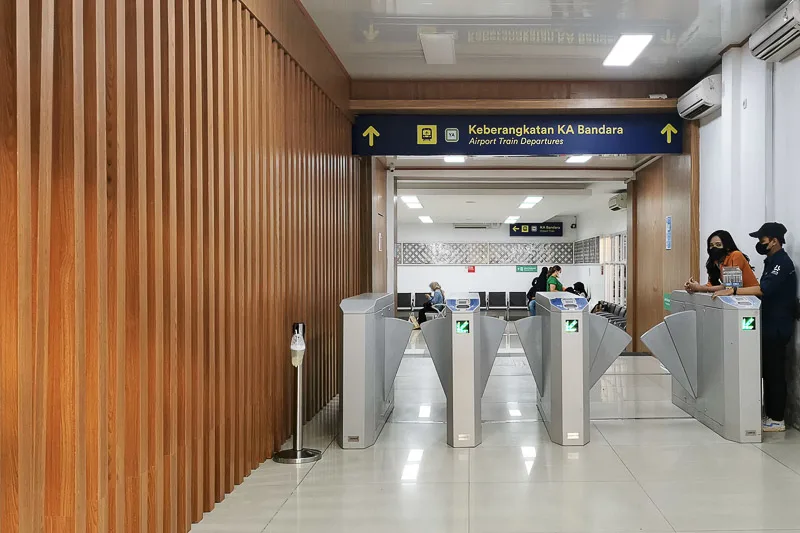 Inside the boarding area, there are plenty of seats, a toilet and even a charging station!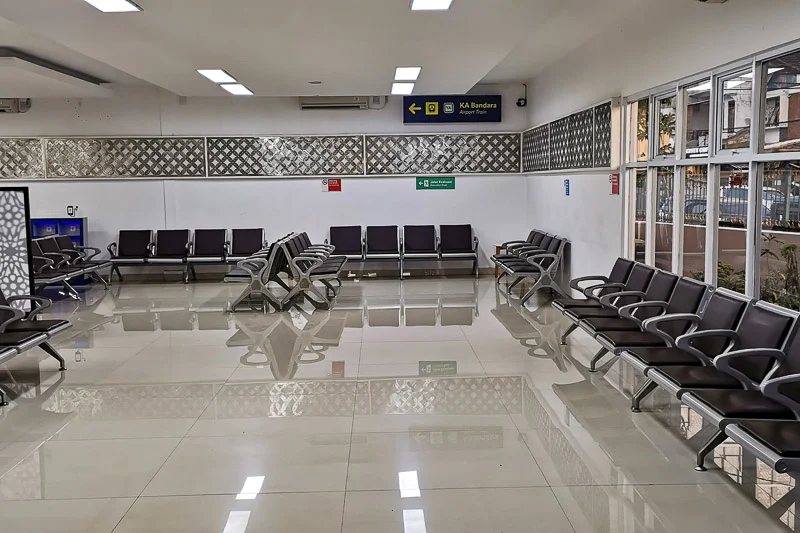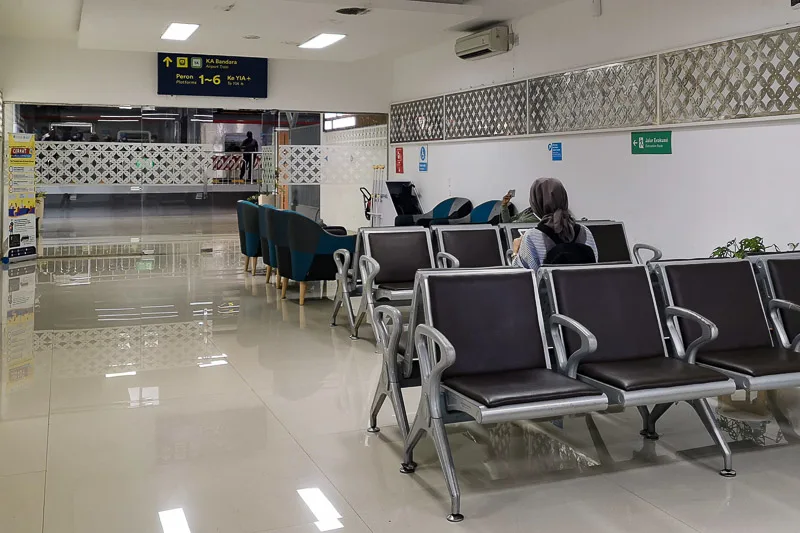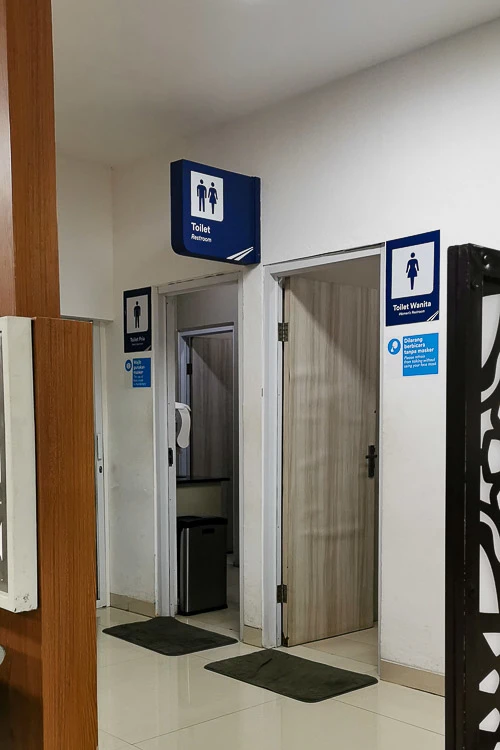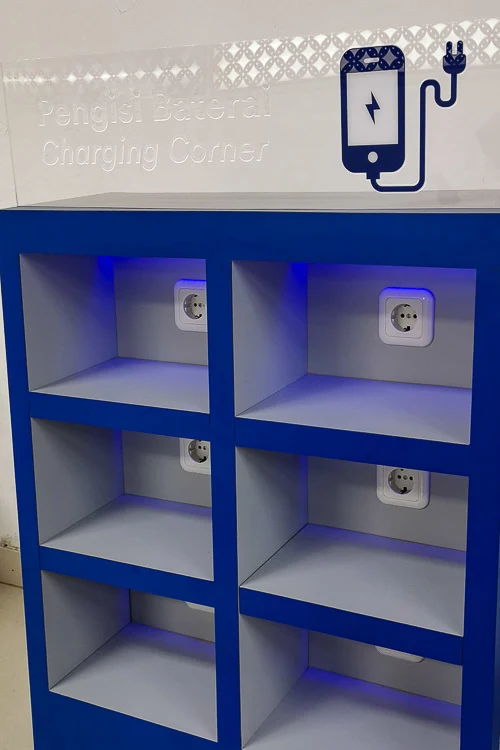 If you are hungry or thirsty, head to the platform area and you will find various food stalls selling cooked food, drinks and snacks.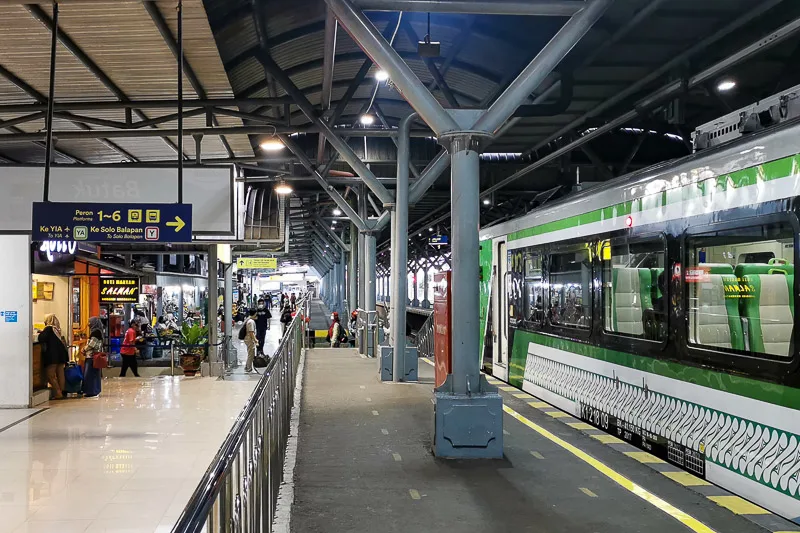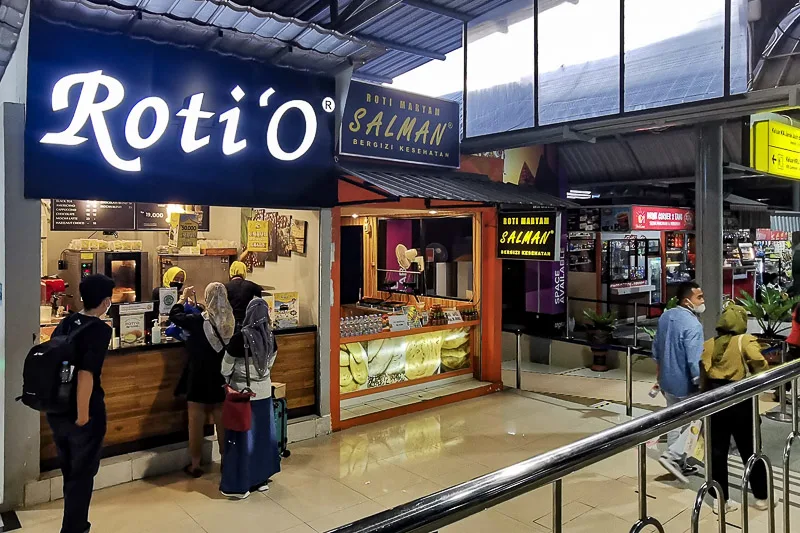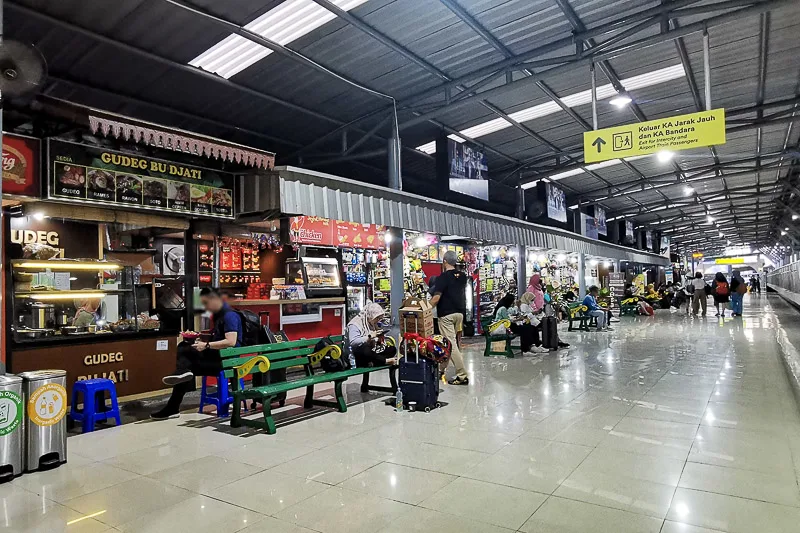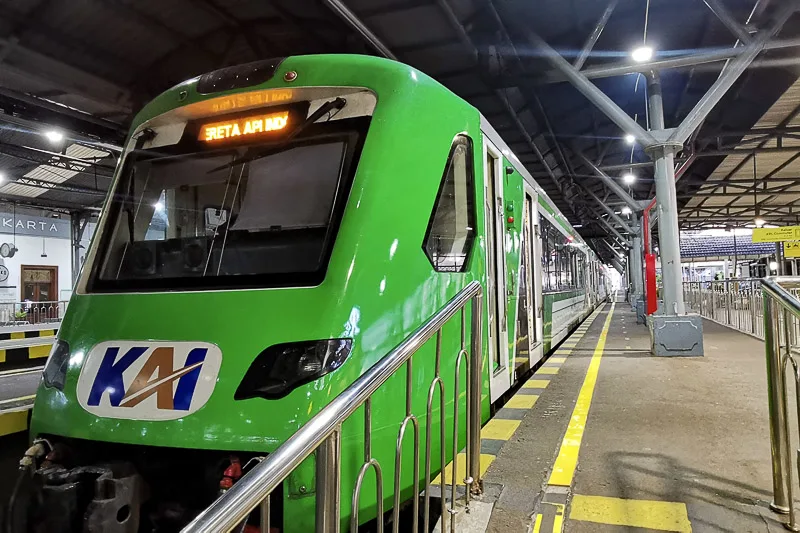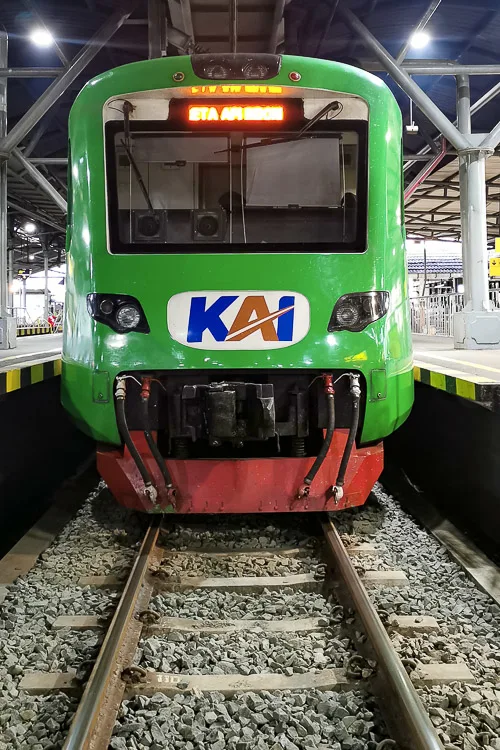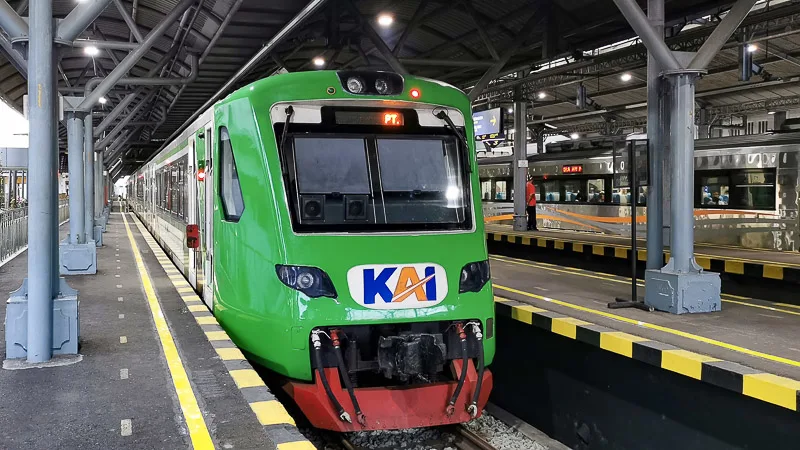 If you want to stay near the train station, the nearest hotels within walking distance from Stasiun Tugu Yogyakarta are Hotel Neo, Royal Malioboro and Abadi Malioboro Jogja.
Train Interior
The interior of Yogyakarta Airport Train is pretty good! The seats cover are still in nice condition. Seating is on a first-come first-served basis.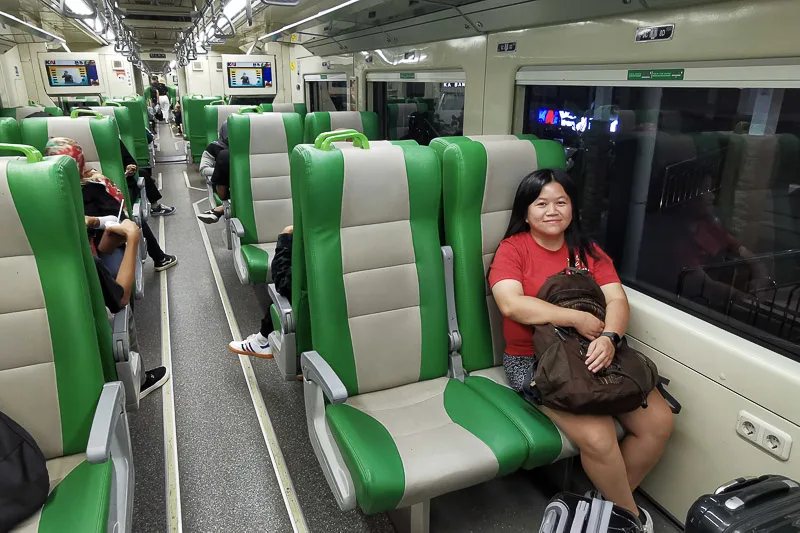 There are storage compartments above the seat but it's too small to fit a luggage; you can only fit hand carry items.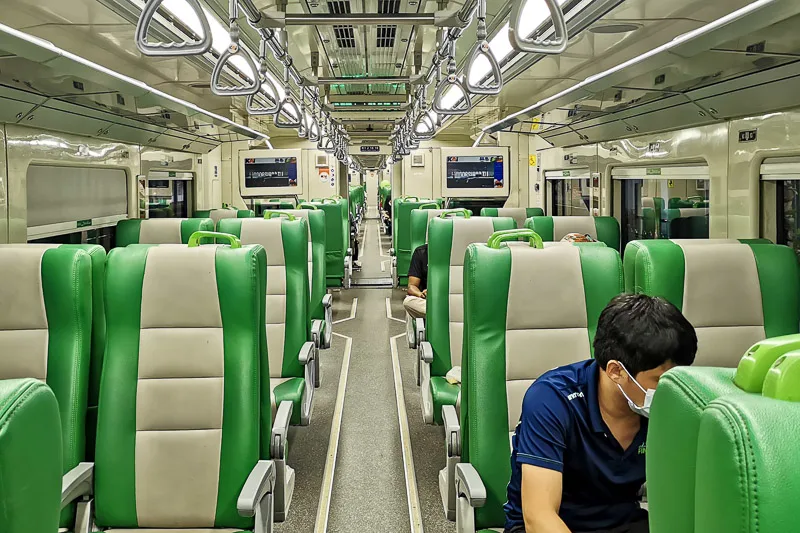 To properly store your luggage, head to the dedicated luggage section near the train doors.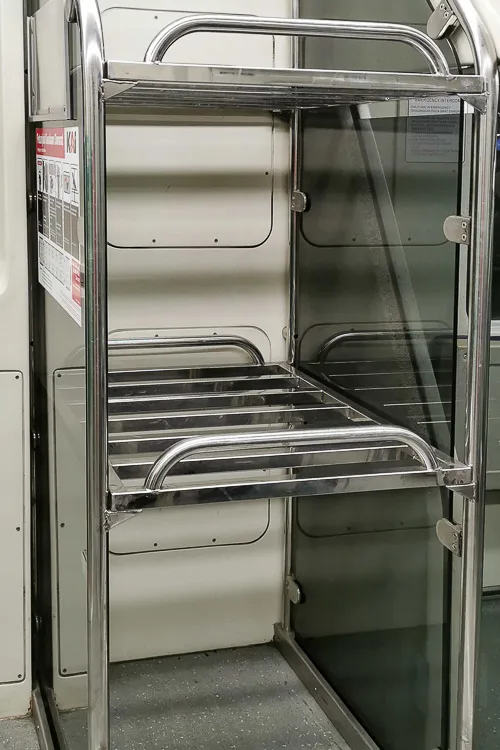 There are toilets on the train as well.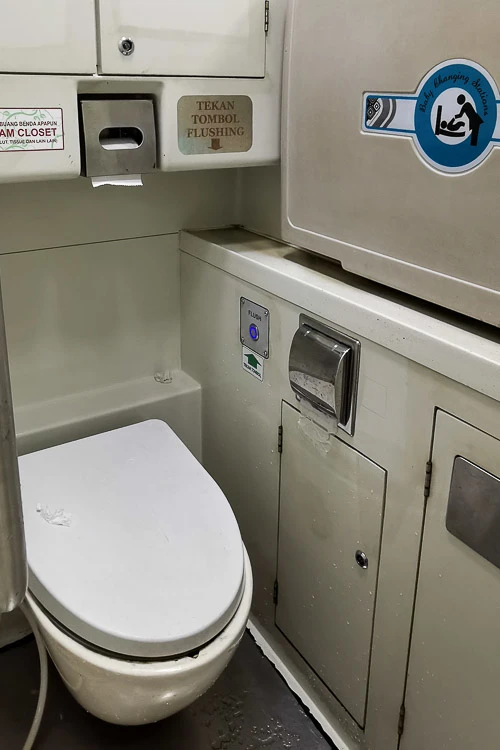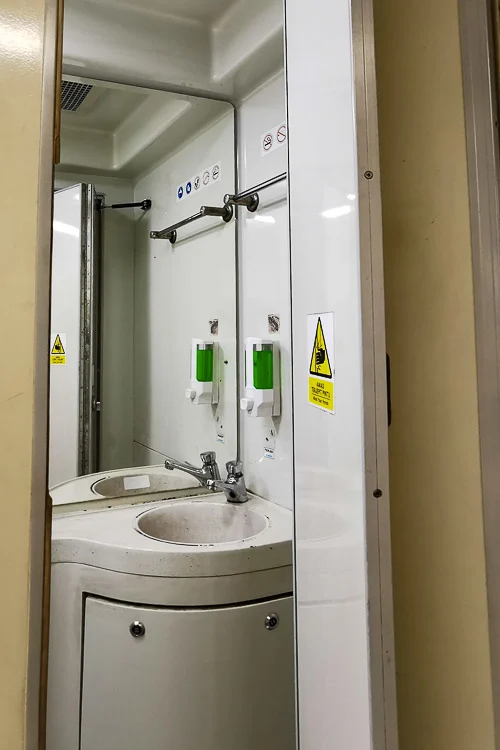 The train departs on time. And we were able to board the train 30 mins before departure so it wasn't a chaotic boarding at all.
Because we took the train after sunset, there weren't any sceneries that I can share on this blog, unfortunately =(
All in all, I really enjoyed my ride on this airport train. It's cheap, it's fast, it's on time and it's clean!
My gut is telling me that they will increase the price of the ticket in the future, because the airport railink in Jakarta and Medan costs 70k, while this Yogyakarta railink still costs 20k. I hope they keep it affordable for as long as possible.
If you like my work, you can buy me a coffee! Your support will help me to keep going!