Nusa Dua in Bali is known as the area with high concentration of luxurious resorts. When I did my research for cheap places to eat in Nusa Dua, nothing much came out. I was a little bit worried that I would have to burn my wallet for every meals in Nusa Dua. The truth is, my worry was short-lived. There are plenty of cheap foods in Nusa Dua. We tried these 3 restaurants during our stay in Nusa Dua.
1. Nasi Ayam Ibu Oki
From Courtyard Nusa Dua where we stayed at, Nasi Ayam Ibu Oki is within walking distance. Basically from our hotel, we exit at the side gate at Jalan Pantai Mengiat, turned left and just walked straight for about 400m until we saw Ibu Oki on our left.
The road that we walked pass, Jalan Pantai Mengiat, is full of restaurants, souvenir shops, travel agencies selling attraction packages, money changers, mini markets, and many more shops. The pedestrian path was narrow, probably around 80 cm wide, and built with red square bricks with yellow bricks forming the shape of octagon at every certain interval. I had to pay full attention on the floor, because the bricks' surface were not even, and many there were many offerings on the floor which I attempted to avoid stepping on. Sometimes, some motorbikes would cross the pedestrian path as well, making it another reason to be even more careful while walking. Other than offerings, there were many small shrines found along the roadside as well as at junctions. The shops were mostly quiet on the weekdays we were there. The restaurants however were pretty alive.
Ibu Oki is located at Jalan Siligita, west of Jalan Pantai Mengiat. There was a big banner of "Warung Nasi Ayam Ibu Oki" in front of Ibu Oki stall. It was surprisingly not crowded, with only 3 or 4 groups dining there, including our group. The staffs were busy, we had to clean the table ourselves. Unable to get their attention, we walked to the counter to order the food. There were only 2 choices of food: spicy or not spicy. It costs Rp 25 000 regardless of the choice of flavor. We ordered 4 plates, one for each of us. We also ordered hot plain tea for Rp 5000 each. There was a huge plate on the table with greasy chili, which we thought was a leftover of previous customers, but it was actually chili that customers can scoop themselves if they want. Our food eventually came out after a while. It was good and spicy. The rice was accompanied with chicken, vegetables, egg, fish, pepes and yummy chili. Just a small complaint though, we noticed the food to be inconsistent, one of our plates didn't have pepes (meat wrapped and cooked in banana leaf), and neither of us had sate lilit (wrapped satay). Perhaps it was almost closing time, I'd give them a benefit of doubt.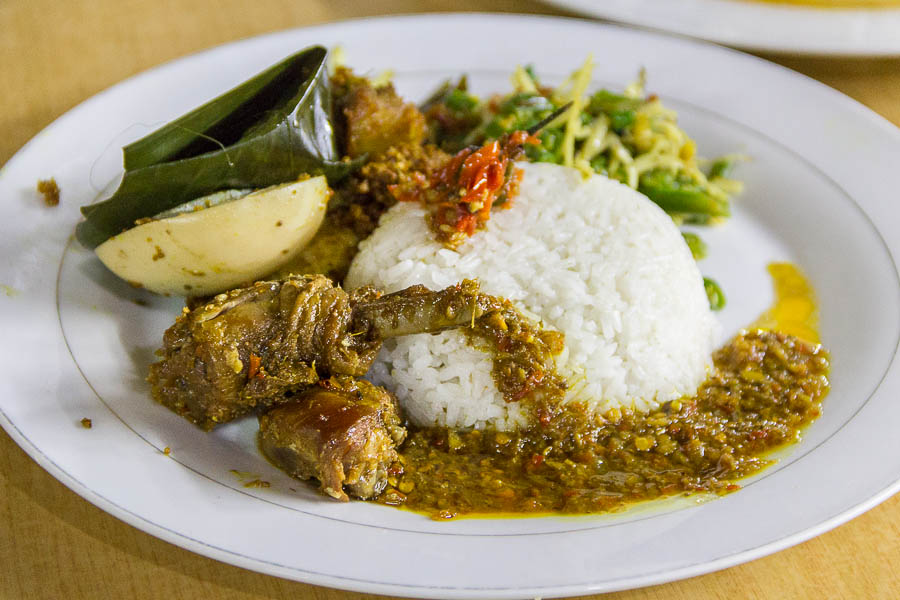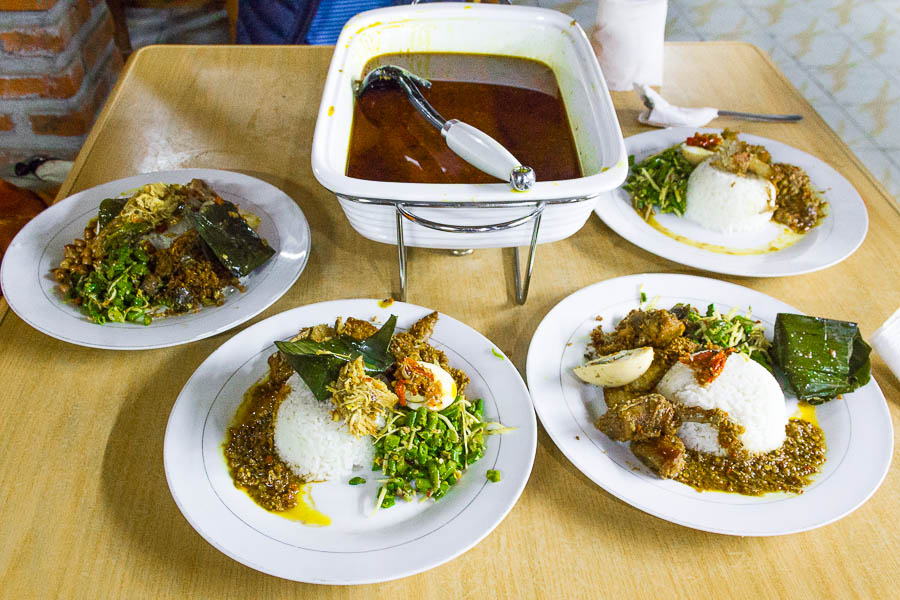 Location of Nasi Ayam Ibu Oki in Nusa Dua:
[googlemaps https://www.google.com/maps/embed?pb=!1m18!1m12!1m3!1d6630.946674333805!2d115.22189341940313!3d-8.806307463845519!2m3!1f0!2f0!3f0!3m2!1i1024!2i768!4f13.1!3m3!1m2!1s0x0%3A0x3c2abfe89c5f08e0!2sWarung+Nasi+Ayam+Bu+Oki!5e0!3m2!1sen!2ssg!4v1468649644808&w=400&h=300]
2. Babi Guling Pak Dobiel
Warung Babi Guling Pak Dobiel is not near our hotel at Courtyard Nusa Dua. Therefore, we went there with a rental car. It was lunch time, the stall was so crowded. There were limited parking spaces nearby Pak Dobiel, most cars park along the road side. The warung is easily recognizable from its bright-colored yellow banner outside the stall. When we stepped inside, we saw a huge line. Two of us joined the line, and two of us waited for empty table. I am part of the queuing team. My queuing partner asked me to check with the seller whether we queued at the right line. I went to the front and found out we had been queuing at the wrong line. The line of the left (we were facing inside of stall) was for takeaway, and the line on the right was for dining in. So I placed my order on the right line, and was told to go back to my seat, wait for my order, and pay after eating. There were also only 2 choices of flavor here: spicy or not spicy. The price is Rp 40 000 per plate.
I noticed two China women having difficulty to place order. They didn't speak fluent English and the staffs were too busy to understand what they wanted. As someone who speaks very basic Mandarin, I asked the women about what they wanted and became a translation volunteer for them. I could understand their frustration, they have been queuing at both lines and still couldn't place their order correctly. I feel that all warungs should have English menus with price, if they want to increase their productivity and turnover rate. On another hand, tourists have their own responsibilities to learn at least basic English and foreign countries culture to allow them to communicate effectively with locals.
The food came in a plate of rice and a soup. The rice was accompanied with lean pork meat, crispy skin, satay of grilled lard, fried lard, vegetables, and chili. The taste was extraordinary! I'm craving for it as I'm writing this. It was so good! Go with an empty stomach guys, so that you can eat more!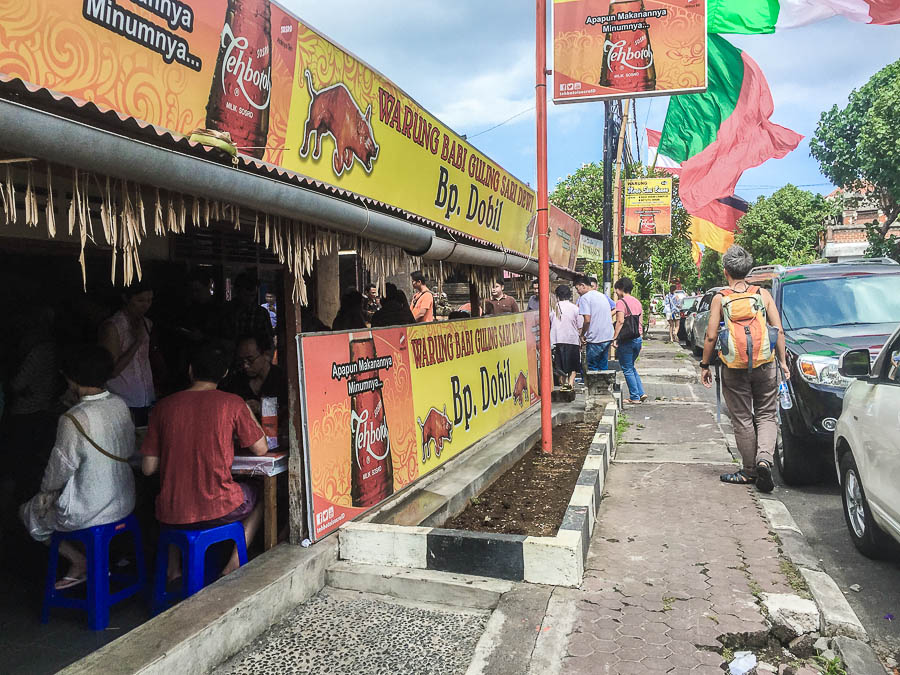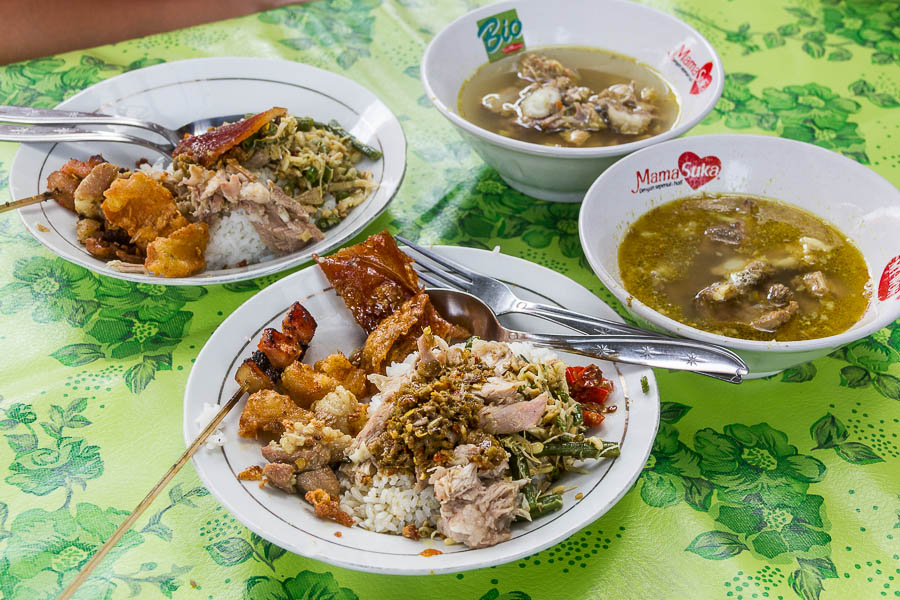 Location of Warung Babi Guling Pak Dobiel:
[googlemaps https://www.google.com/maps/embed?pb=!1m18!1m12!1m3!1d1971.4221383436543!2d115.22213993353931!3d-8.800696877150816!2m3!1f0!2f0!3f0!3m2!1i1024!2i768!4f13.1!3m3!1m2!1s0x2dd2432632a802d9%3A0x2d1cf1572b51b62!2sWarung+Babi+Guling+Pak+Dobiel+nusa+dua!5e0!3m2!1sen!2ssg!4v1468653505075&w=400&h=300]
3. Ulam Restaurant
Ulam is probably less than 20 steps away from Courtyard Nusa Dua's side gate. Yeah, it is that near, making it our choice of dining place on a rainy evening. The restaurant was not particularly crowded, yet not too quiet either. In addition to individual dishes, they also have executive meals which is a combination of a few individual dishes. We ordered individual dishes of: crispy duck, grilled chicken, grilled fish, vegetables, and nasi goreng (fried rice). The best dish was crispy duck. It was so crispy. Our total bill came up to Rp 420 000 for 4 person.

Location of Ulam Restaurant:
[googlemaps https://www.google.com/maps/embed?pb=!1m18!1m12!1m3!1d3942.786334686987!2d115.22332031438816!3d-8.80613369248599!2m3!1f0!2f0!3f0!3m2!1i1024!2i768!4f13.1!3m3!1m2!1s0x2dd2432e0998193d%3A0xf74547f5bb47672b!2sUlam!5e0!3m2!1sen!2ssg!4v1468656006023&w=400&h=300]
Other Recommendations
Other than the food above, I would also recommend some places to eat cheap food in Nusa Dua. First, walk along Jalan Pantai Mengiat and follow your nose and eyes. There are plenty of affordable restaurants along this road. Second, you may go to Bali Collection, which is a pretty huge place for shopping, dining and hanging out. Third, we heard good reviews about Warung Bule and Susy, give it a try.
Let me know if you have other recommendations, I'll try it if I have the chance!