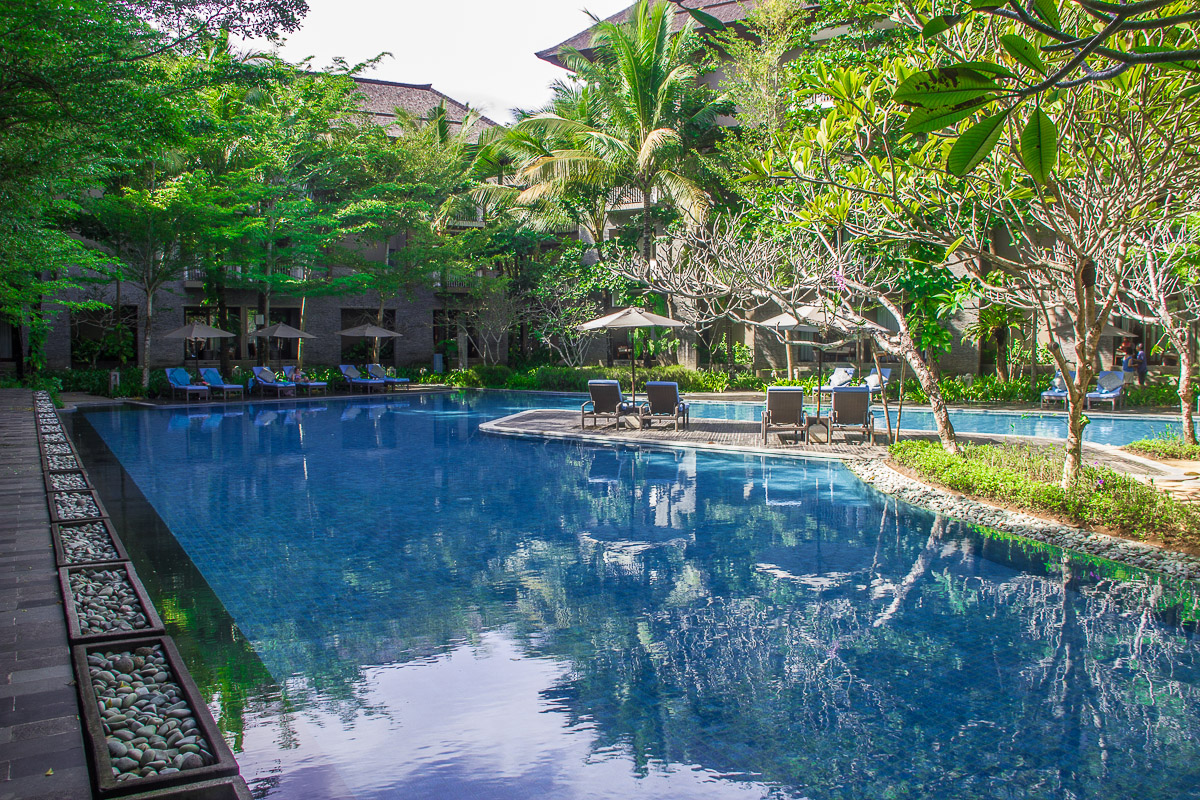 I am not a luxurious traveler, but I'm not the extreme budget traveler either. I am at the middle of the scale, and leaning towards budget direction. However once in a while, I do not deny myself of luxurious experiences. For our 7D6N in Bali, we decided to stay for 2 nights in high-end hotel and the rest 4 nights in medium-end hotel, simply because we wanted to experience the best of both worlds. My friend searched for the cheapest high-end hotel in Nusa Dua area with private beach, and came up with Courtyard by Marriott. I think I must emphasize here, the private beach is actually a shared private beach with other resorts, but it was a good beach nevertheless.
Here is my personal unbiased review of the hotel, which is broken down into a few categories for easy reference.
The Booking & Price
I did the booking through Marriott official website. I started by inputting the date and viewed available rates. At first, I was overwhelmed by so many different deals (eg: Marriott Rewards Members Rate, Marriott Member Executive Rate, Stay for Breakfast Rate, etc), some deals look very similar but have different rates for the same room type. I think Marriott management need to tidy up this reservation page. For each deal, I noticed the cheapest room type is Deluxe Garden View, so settled for that room; then I searched through all the deals to find the cheapest one with breakfast. Eventually I found the cheapest deal, which also include free 15 mins foot massage and welcome drinks, woohoo!
As June is a peak season, the prices are considerably higher than other months. My room cost Rp 3,400,000 for 2 nights, so it was Rp 1.7 mil per person. During booking process, I found out that I could sign up for membership for free, and then be qualified for member's price, so I signed up! I also downloaded Marriott apps which I can use to do advance check-in and to call for housekeeper or room service.
The Check In
I was kind of disappointed with check-in. One day before my arrival in Bali, I have checked-in from the mobile apps, and I have indicated my arrival time to be 9am. However when we arrived at the hotel, we were told that our rooms were not ready until 3pm. I wonder, what is the point of downloading the mobile app? I was so exhausted because I didn't sleep the night before, yet I couldn't check-in to my room to rest. The receptionist acknowledged that I have done mobile check-in and apologized for being unable to get the rooms ready. So went to lunch while waiting for our room to be ready.
The Room
The room is spacious and comfortable! Our twin beds are each given 3 fluffy pillows and soft blanket. There is a sofa and coffee table between the bed and balcony door. There is also a set of desk and chair at the corner of balcony door and toilet door. A TV is hung on the wall, facing our beds, above a table on which the electric kettle, glasses, teabags and coffee bags sit. A full size mirror is hung on the wall near main door. The balcony comes with a table and some chairs. The bathroom is coated with grey ceramics on the wall, floor and the racks. The shower room has both hand-held shower and rain shower.
I noticed the hand shower was leaking, and the room floor was dusty. So I used the app to request for housekeeper to fix these 2 things. They came when I was using the toilet, so I wasn't able to open door immediately. When I came out to open the door, they were already gone. I then use the phone to call housekeeping directly. Not long after, the technician came to fix the hand shower; followed by a housekeeper who came to vacuum my room. My sour mood eventually turned to sweet mood.
The Breakfast
We had 2 days for breakfast, one day we went there after 9 am, the restaurant was not crowded. On another day, we went there early, around 7.30 am, and we had to wait for some time before we get a seat. I guess being late has its own merits. There was a huge selection of food at the buffet. If you turn left from the main door, you will meet the main buffet spread: fruit juices, fruits, salad bar, yoghurt, cold cut meats, cooked dishes, omelette, noodle and porridge. If you turn right from main door, you will meet western breakfast stuffs such as breads, croissants, bagels, donuts, and cereals. For coffee and tea, you could order them with the staffs. We ordered cappuccino! I couldn't really pinpoint which food is my favorite though.
By the way, if you can choose your seat, I'd recommend you to take outdoor seat by the pool, because the view is awesome.
The Pool
I will admit it. I love the pool! I couldn't stop taking photos of it and admiring it every time we passed by. I'm glad I swam in it one afternoon. The deepest section is about 1.4 m, which is too deep for me to stand, lol. There are 2 main pools, connected by a shallow walk way in between. There is pool bar in the middle of the 2 pools. There is also a jar of infused lemon water which you can help yourselves to. It was not uncommon to see squirrel climbing the trees.
The Free Stuffs
So I mentioned in "the booking" section that we each got a free 15 mins foot massage. We procrastinated in redeeming it. We went to the spa in the evening of 2nd day, and were told that the available slots for the next day would be 11:15, 11:30, 14:15 & 14:30. We had to check out at 12 noon and our rented car's driver would pick us up at 12, so only 2 of us got to try the foot massage. Me included. It was short and sweet.
We also procrastinated in redeeming the free welcome drinks! We redeemed after we have checked-out. We were allowed to select a few mocktails from the pool bar. Not bad!
Another free stuff that I noticed was fitness classes. Apparently, they offer many fitness activities, but advance booking is required 1 day before. You can check the schedule and book for the activities at the gym (just opposite spa).
The Private Beach
Sorry to inform you that the private beach is not located within the resort, it is actually at Nusa Dua Beach. You can take free hotel shuttle to go there, just inform the staffs at the lobby and they will arrange for you. I will write more about the private in beach in another post.
Nearby the Hotel
There are many other resorts nearby the hotel, such as St. Regis, Ayodya, Amarterra, Novotel, Inaya Putri, and many more. If you are interested in the restaurants in those nearby resorts, they are within walking distance.
There are also plenty of cheap restaurants around the hotel, especially at Jalan Pantai Mengiat. Just exit at the side gate and you will be able to see rows of restaurants and shops.
PS: In case you think this is sponsored, it is NOT. We paid for it ourselves 🙂 I'll be honest in my reviews, regardless of being sponsored or not.