Changi Lounge was opened in 2019, the same year Jewel was opened. It is located inside Jewel, which is the iconic landmarks with breathtaking waterfall.
Changi Lounge is a landside lounge, hence, it is outside the terminal. That means, if you're departing from Changi Airport, this lounge is before the immigration. If you're arriving, this lounge is after immigration.
Before the pandemic struck, I had taken several peeks into the lounge, trying to decide if it's worth using my Priority Pass here.
Back then, Changi Lounge was serving buffet food with very few variety and there wasn't any free flow alcoholic drinks. Hence, we felt that our PP were better used at other lounges.
This year, we decided to use our Priority Pass to get access at Changi Lounge, because: a) our PP are expiring soon, b) we arrived at T4 and there weren't any lounge for arriving passengers.
We went in with very low expectation because we knew the food and drink offering here isn't that great. Did it exceed or barely meet our expectation? Read on to find out.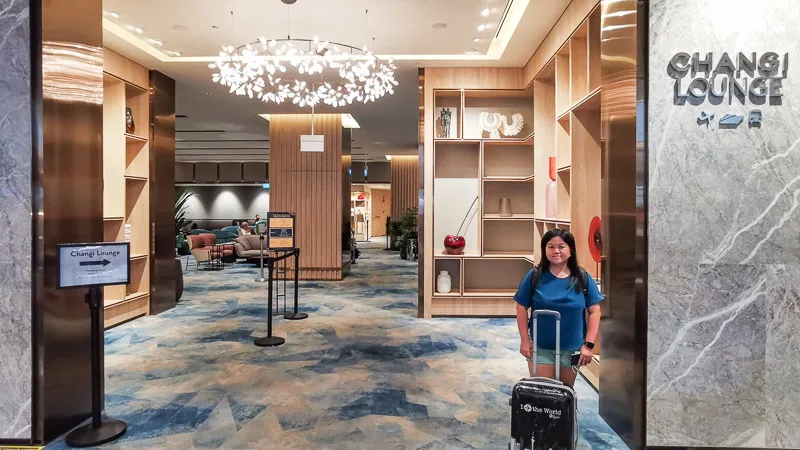 Have any questions about traveling in Singapore? Join All About Singapore Travel FB group, I'll be there to answer your questions!
How to go to Changi Lounge
Changi Lounge is located at Level 1 of Jewel, opposite the Early Check-In and Baggage Storage.
If you're coming from Terminal 1 Arrival at Level 1, when you enter Jewel, just turn left and you will see Changi Lounge on your right.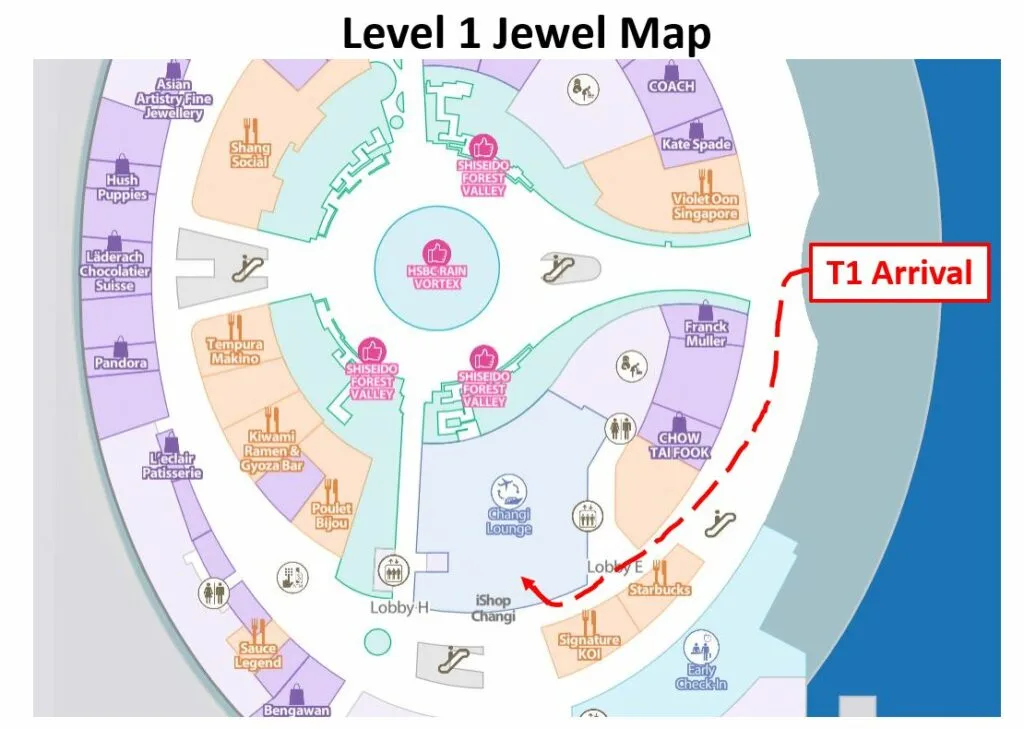 If you're coming from Jewel Drop-off/Pick-Up Point at Level 2, when you enter Jewel, just turn left, take the escalator down and you'll immediately see Changi Lounge.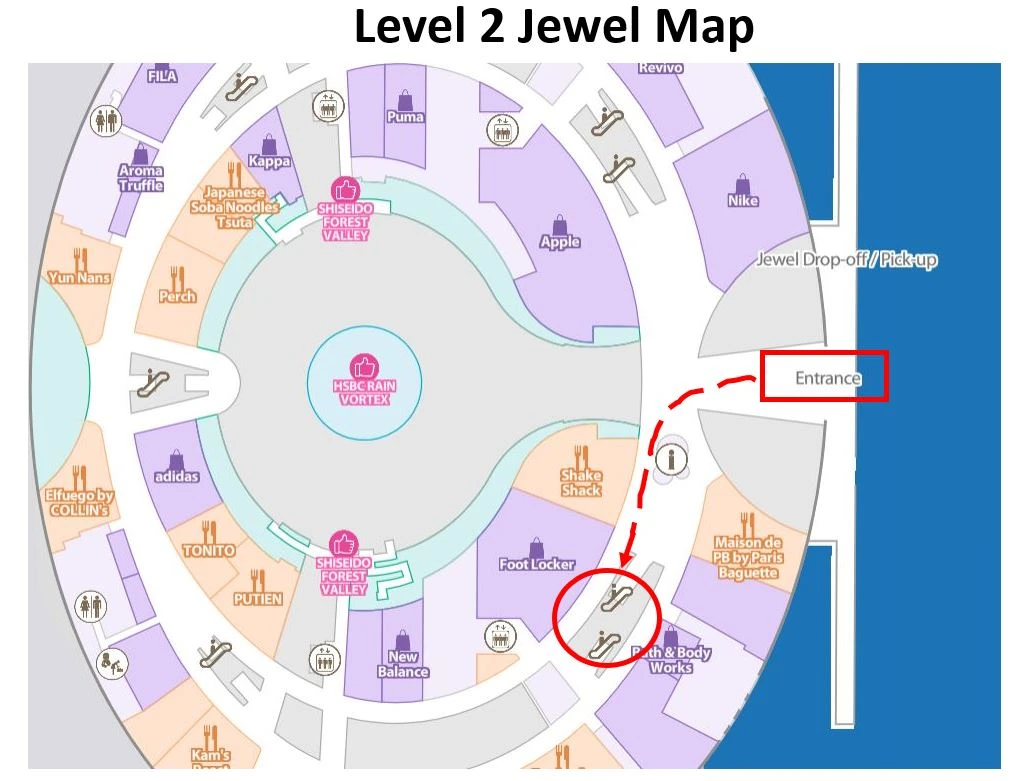 If you're coming from MRT, walk to either T2/T3, then walk to Jewel via a pedestrian bridge. When you enter Jewel, make your way to Level 1 and walk towards T1.
Operating Hours
Changi Lounge is open from 8am – 10pm daily (kitchen and bar close at 9pm).
How to get access to Changi Lounge
By Priority Pass (including LoungeKey and LoungeKey Pass), Dragon Pass and DreamFolks
You can access Changi Lounge with Priority Pass (including LoungeKey and LoungeKey Pass), Dragon Pass and DreamFolks, but you need to produce a valid boarding pass (it could be outbound or inbound flight).
For us, we use our Priority Pass on arrival and we're entitled to:
1x shower
1x hot meal
1x beer
free-flow snacks, hot drinks and soft drinks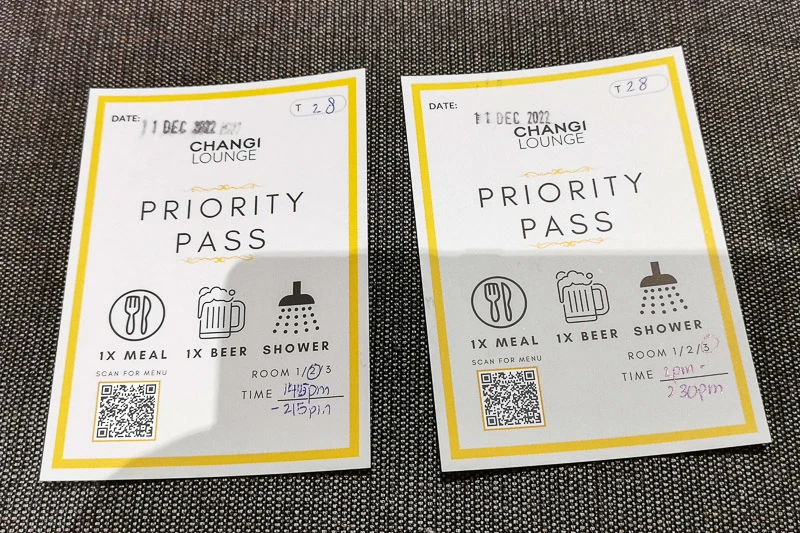 By Paying
If you're not flying, you can access Changi Lounge by paying. Here are the prices and entitlement.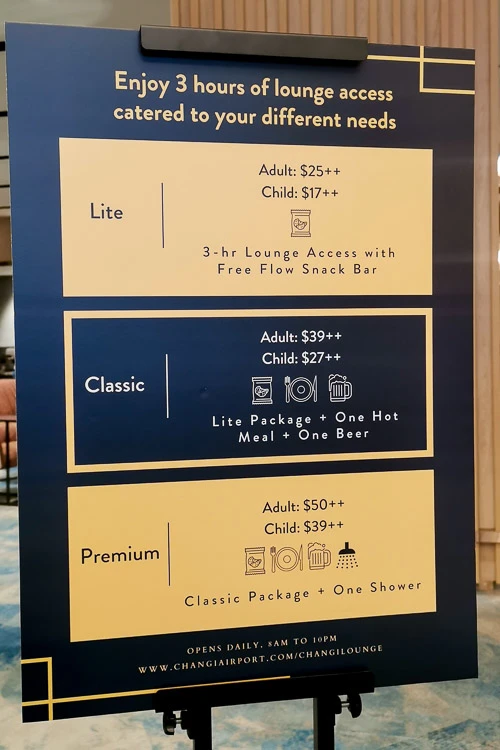 In case you're wondering what the ++ sign means, it means the price is subjected to additional 10% service charge and GST (which is 8% starting from 2023).
You can get slightly cheaper price if you book the access online. Here are the comparison.
Package
Entitlement
Walk-in Prices
Online Prices
Lite
– 3-hr access
– free flow snack bar
Adult: S$25++
Child: S$17++
Adult: S$29
Child: S$20
Classic
– 3-hr access
– free flow snack bar
– 1x hot meal
– 1x beer
Adult: S$39++
Child: S$27++
Adult: S$45
Child: S$31
Premium
– 3-hr access
– free flow snack bar
– 1x hot meal
– 1x beer
– 1x shower
Adult: S$50++
Child: S$39++
Adult: S$58
Child: S$45
You can book online here.
Ala carte add-ons
To compliment the lounge experience, these are add-ons that visitors can purchase:
30-min shower: $17++
Additional ala carte food: as per the prices shown in F&B menu
Sleep Pod – S$10 per hour
Meeting Room – Single Room (up to 4 guests): from $80++ per hour
Meeting Room – Double Room (up to 8 guests): from $160++ per hour
Do note that you may need to have a valid lounge access in order to purchase these add-ons.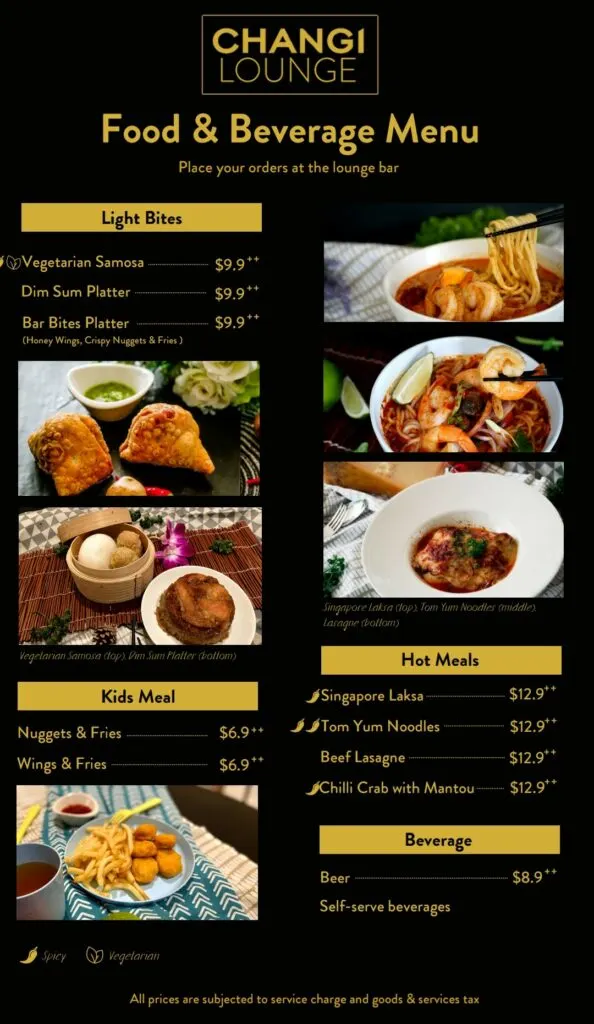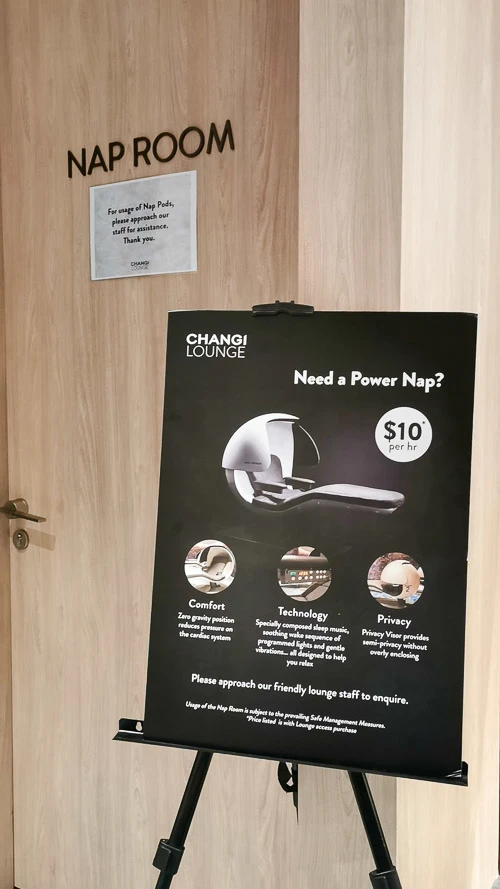 Hot Meal
During my visit, there are 4 hot meals option that we can choose from: Singapore Laksa, Tom Yum Noodles, Beef Lasagne and Chili Crab with Mantou.
We read bad reviews about beef lasagna on Google Maps, someone said the core was still frozen when served, so lasagna was out.
We decided to order Singapore Laksa and Tom Yum Noodles, one for each of us.
Laksa comes with thick beehoon, half egg, 2 prawns, taupok (beancurd), fish cake, bean sprout and thick creamy coconut laksa soup.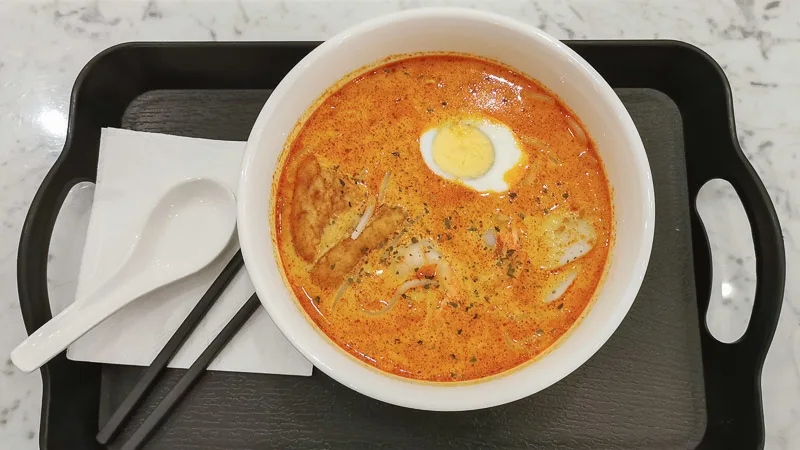 Meanhile, tom yum noodle comes with noodle, 3 frozen prawns, cherry tomatoes, and button mushroom. It is not spicy at all.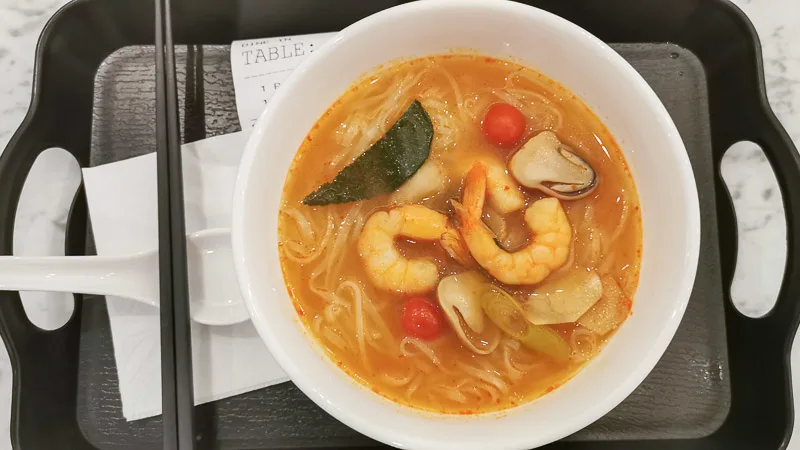 To be honest, both were equally forgettable. Nothing was special about these noodles, we ate them to fill our hungry stomach. Maybe next time we'll try the mantou or we'll ask if the can exchange the hot meals to light bites.
Snack Bar
At a glance, the snack bar looked boring. There were pastries inside a glass display, childhood snacks, cookies, mixed nuts, apples, fruit juices and corn flakes.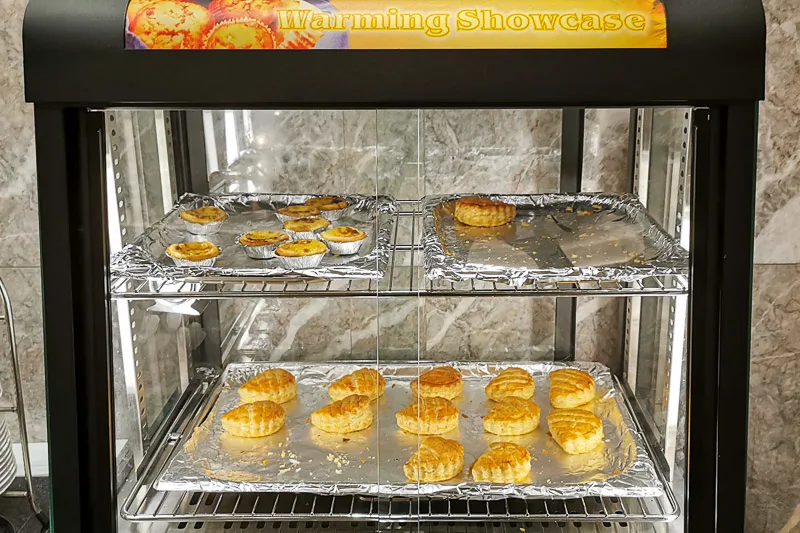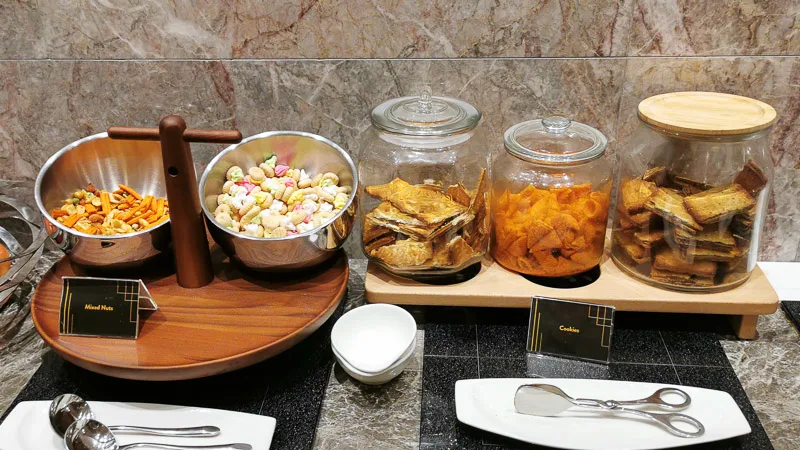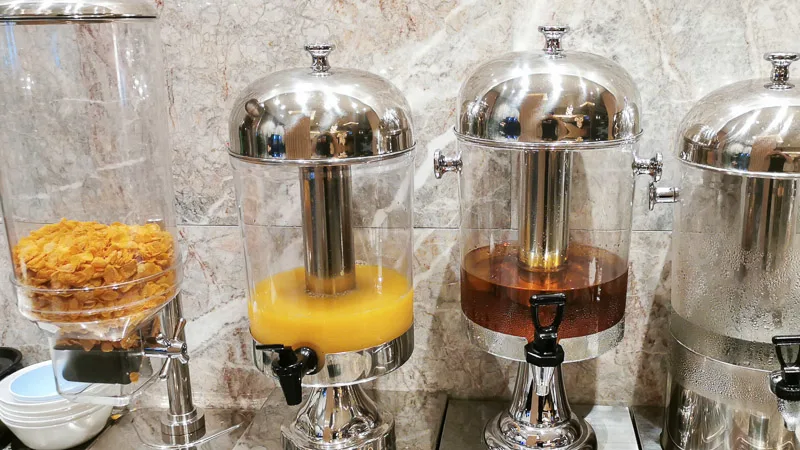 I took one mini egg tart and some chips and nuts. And boy was I shocked!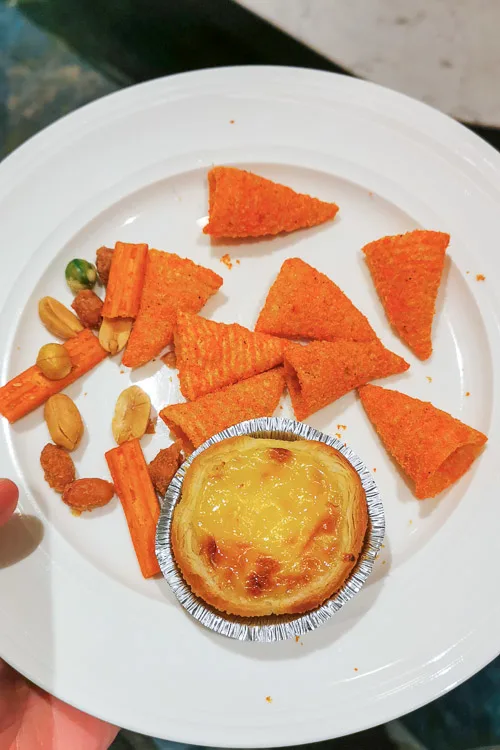 The egg tart was so delicious!! I'm not an egg tart fan but this egg tart is so good!!
When I wanted to take more egg tarts, they were gone, just like that! And the egg tarts were never replenished even until the end of our 3-hr stay. I was heartbroken for sure.
Fortunately, they replenished the apple puff and croissant and these two were quite good as well. The pastries have crispy outer layer which I love.
Drinks
At the coffee section, there are 2 coffee machines serving Espresso, Coffee Crema, Americano, Cappuccino, Caffe Latte, Hot Chocolate and Teh Tarik.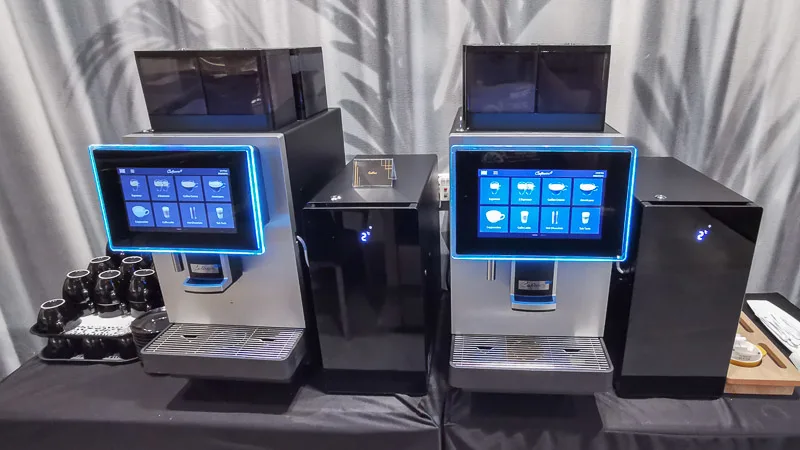 At the tea section, there are Dilmah teabags with various flavors.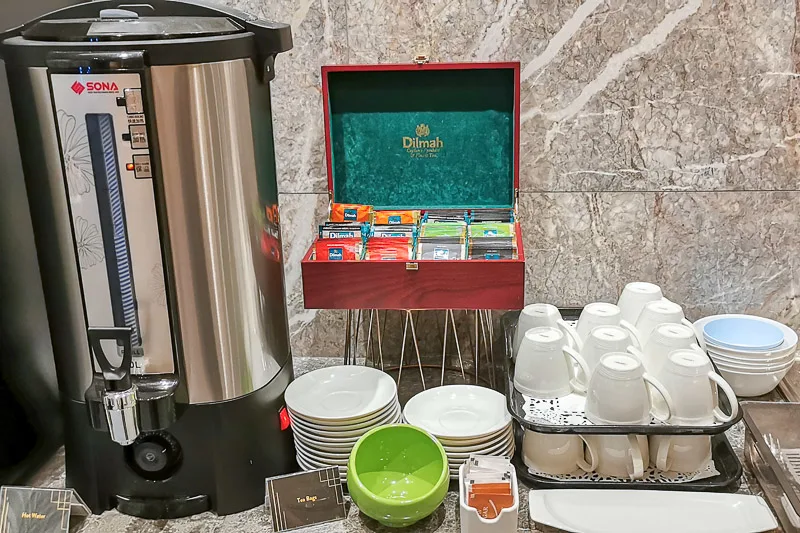 Inside the fridge, there were A&W, 7-Up, Coke, Green Tea, Ice Lemon Tea, Yoghurt and Fresh Milk.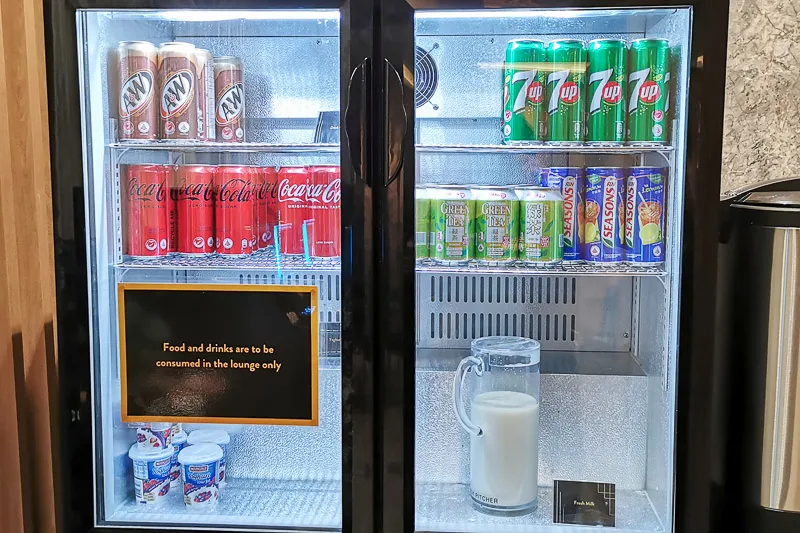 Beer
The free beer that we got was Tiger Beer in a 330ml can. We were given a chilled beer glass but the upper part of the glass were chipped; I didn't dare to use it.
We totally forgotten to take any photos of the beer and the beer glass, ugh!!
Shower
Changi Lounge has one of the best, if not the best, shower at Changi Airport. The shower rooms are thoroughly cleaned after every use, so you can expect a dry & clean shower room with towel and toiletries.
Before using the Shower, you need to book a timeslot with the receptionist. Each session is limited to 30-min (which is too short!!). There are 3 shower rooms at Changi Lounge.
During peak-period, you may have to wait at least 1 hour until your turn. For us, we visited during weekend afternoon which apparently isn't a busy period, so we only had to wait for 30 mins before our turn.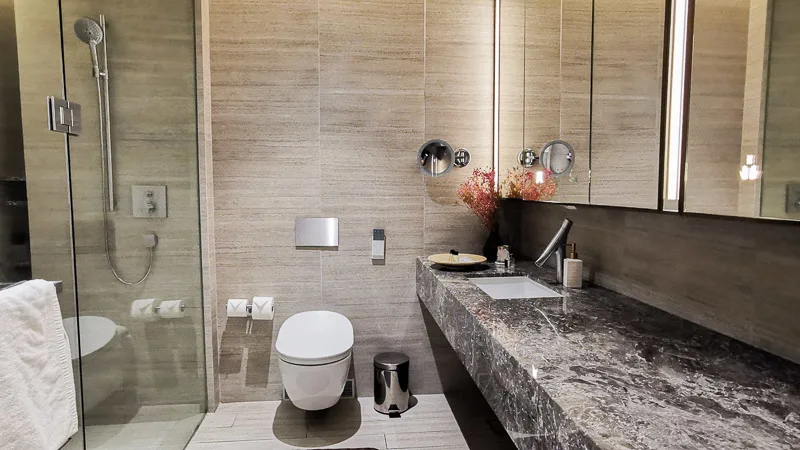 The shower room is pretty spacious filled with essential oil aroma that's not too empowering. I love the nicely-designed tap at the basin.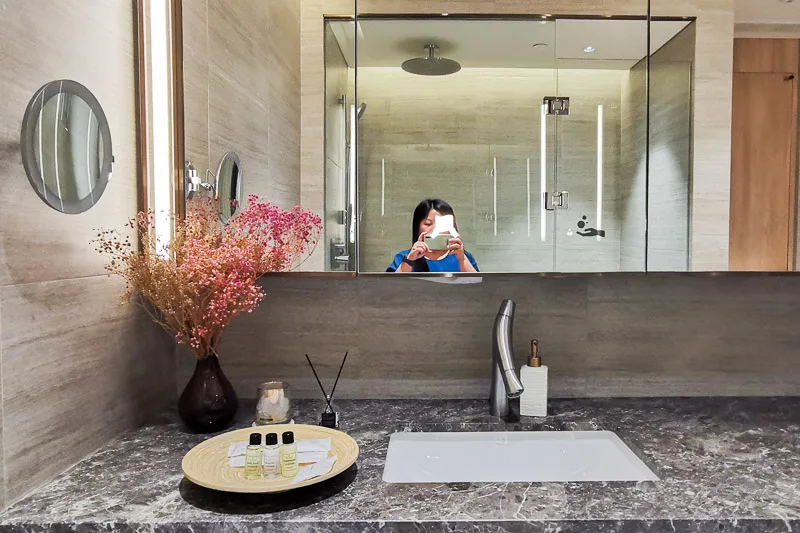 On the countertop are the toiletries from POB Vitalite La France; all the bottles are still brand new and sealed. Too bad, the quality didn't live up to its fancy name, though.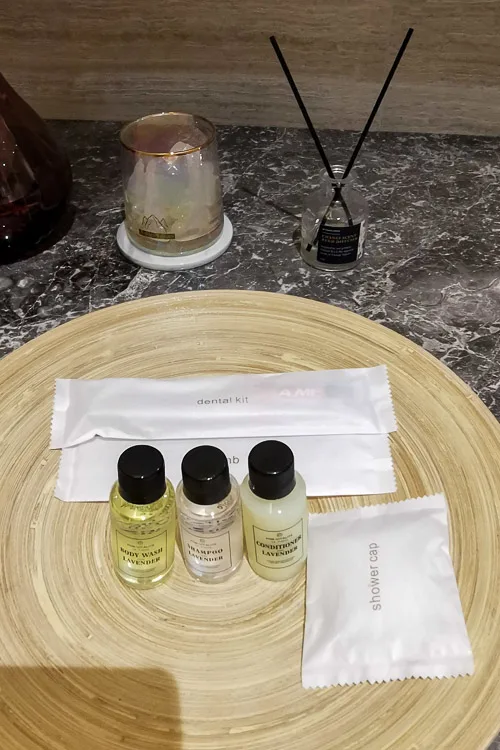 The toilet has this smart toilet system where you can adjust the direction and intensity of the bidet via a keypad. However, the keypad didn't seem to be in working condition.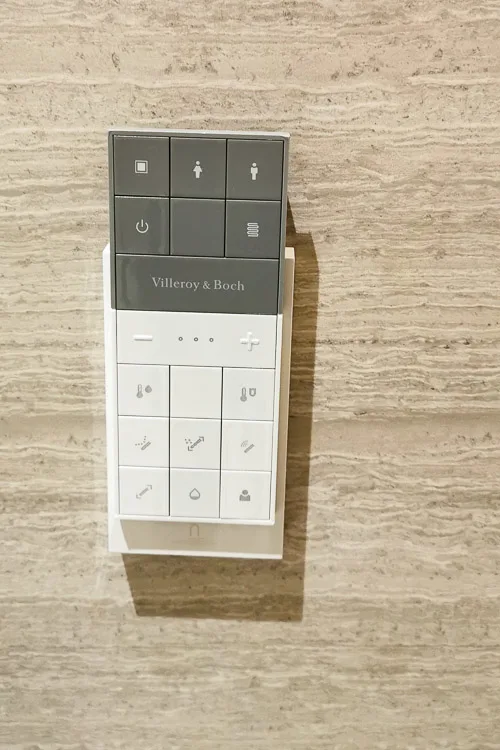 The shower area comes with a rain shower and hand shower. The knobs are a little tight to turn. But, overall, I really enjoy my shower here.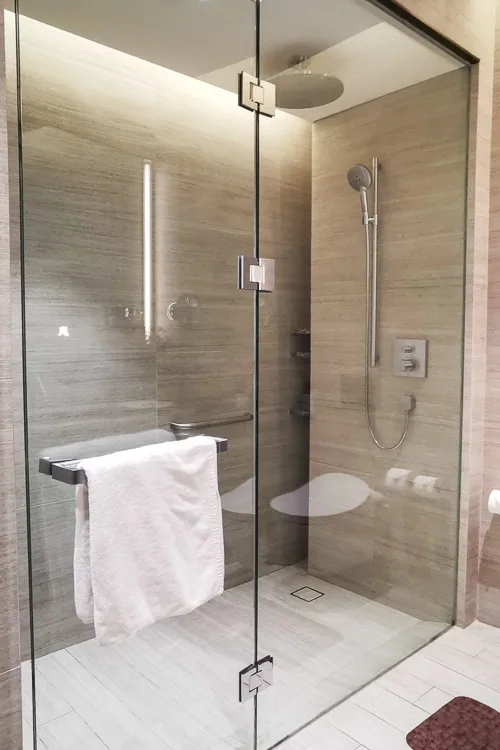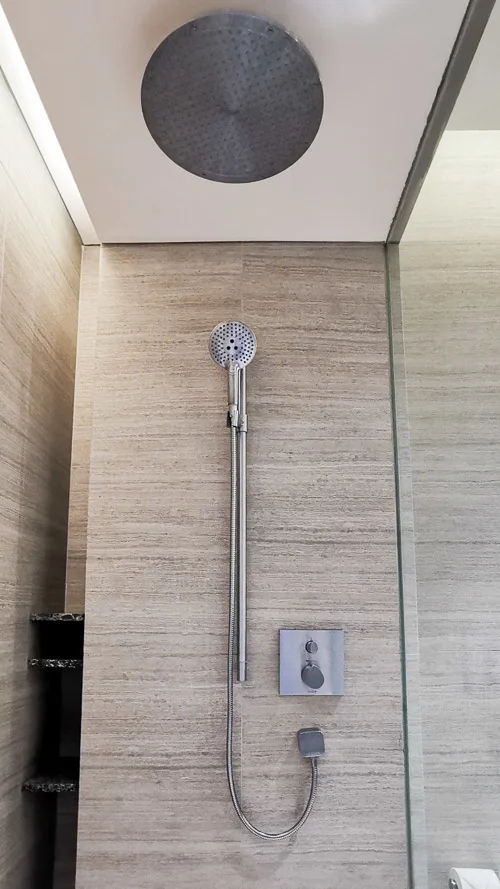 Seating
There are many different types of seating for various purposes. At the main hall, it's mostly sofas and arm chairs with low tables.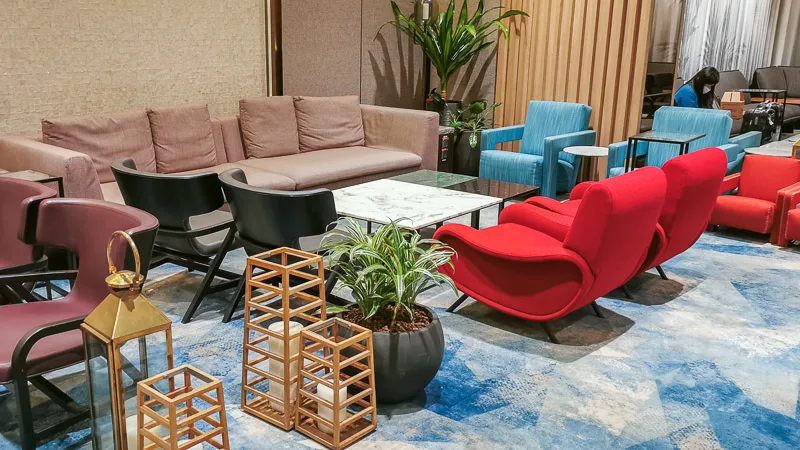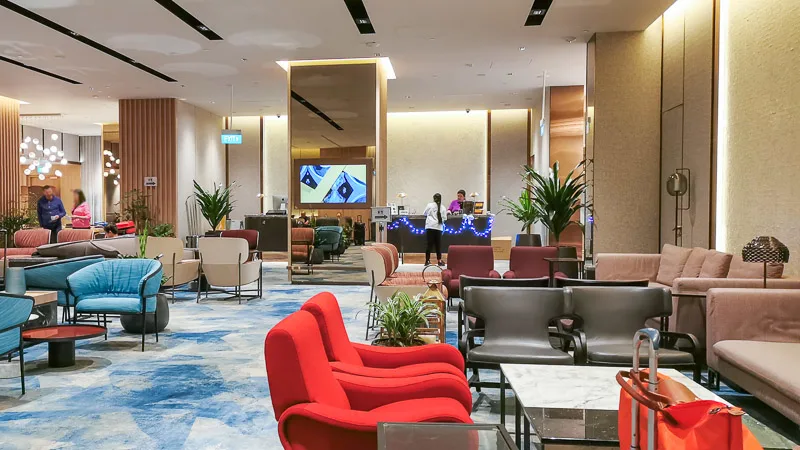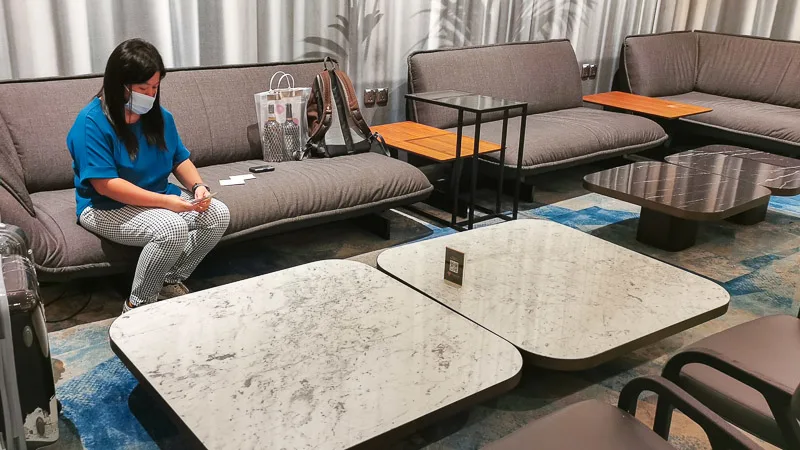 There's also a desk designed for people to do work with laptops. In the past, there were Macs here, but now it's just a bare desk with abundant power outlets.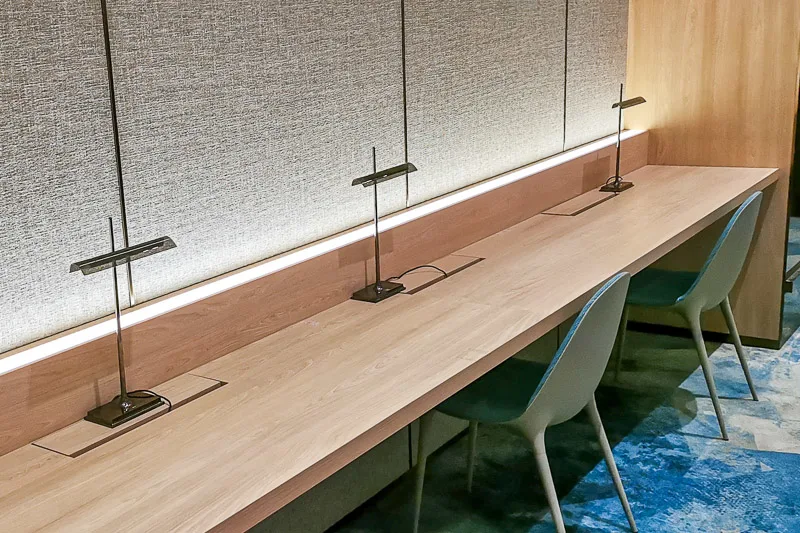 At the snack bar area, there is a long communal dining table, several round dining tables, and a couple of seats at the bar.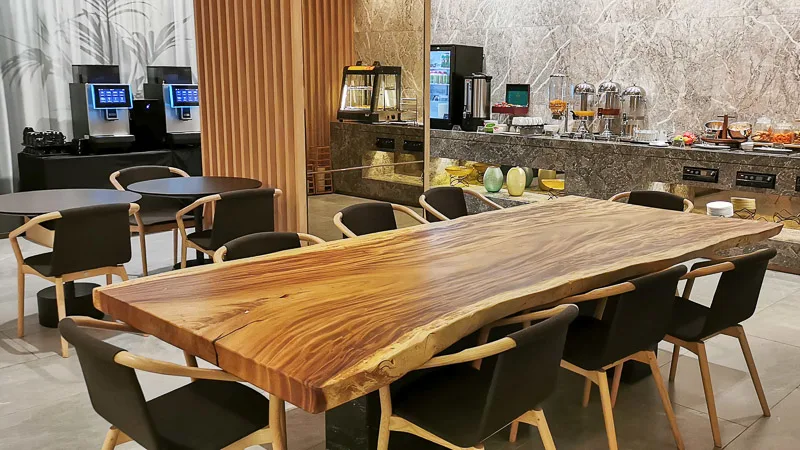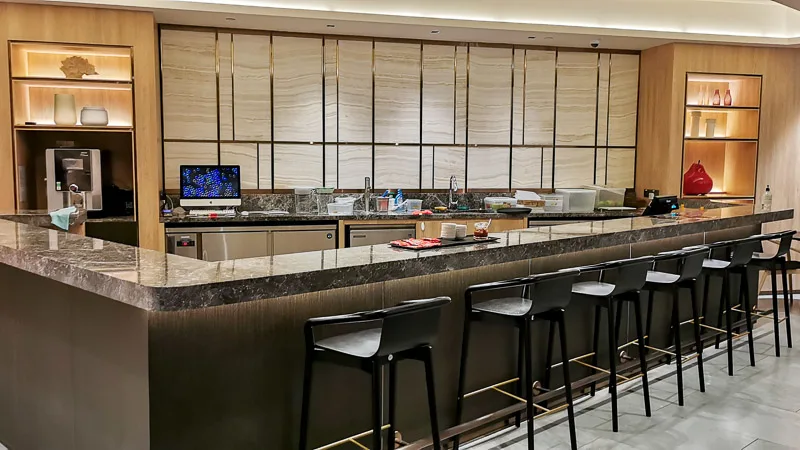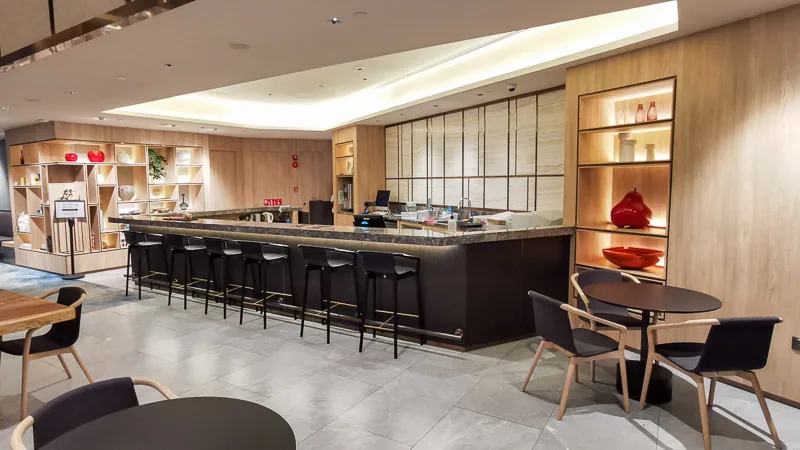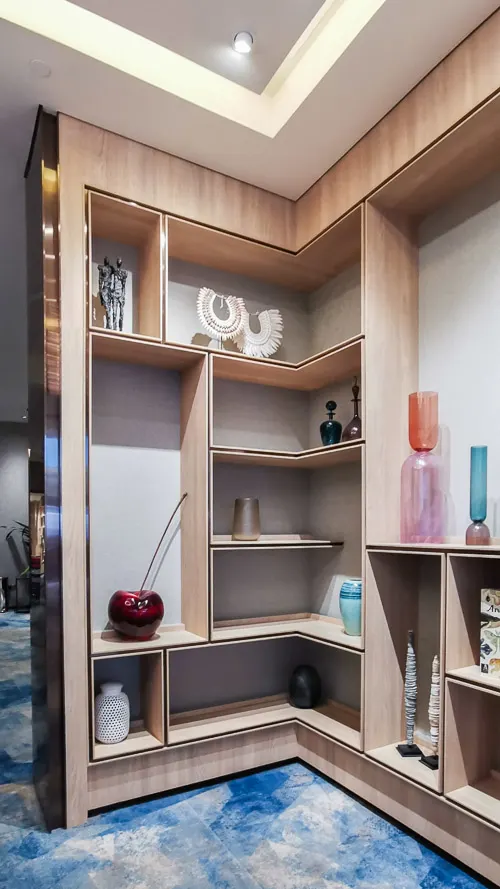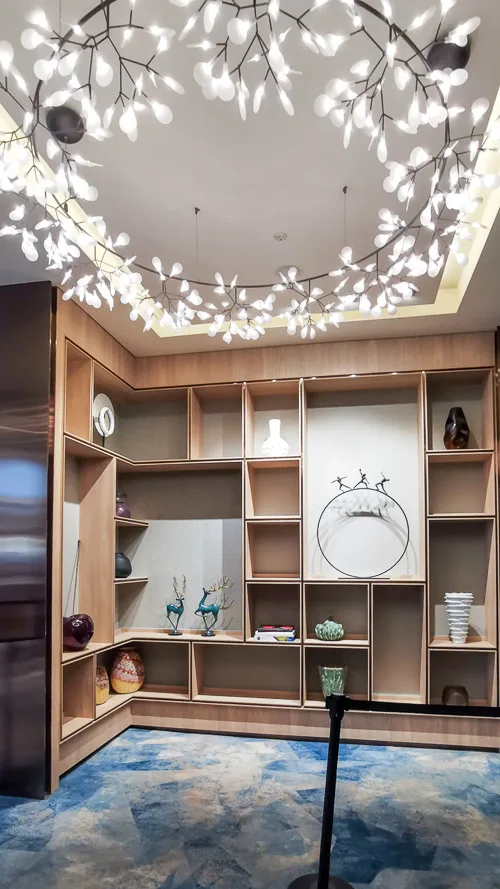 Toilet
The toilet is outside the lounge. When coming out from the lounge, simply turn left, the toilet is just less than a minute walk away.
It is indeed funny that a lounge doesn't have its own toilet. But, to be honest, I really don't mind. The toilet is just beside the lounge anyway. I'd rather
Conclusion
Changi Lounge may not excel in its hot meal & alcoholic beverages offering, but its excellent pastries and exquisite shower more or less make up for it.
I do see myself returning again in the future.
If you like my work, you can buy me a coffee! Your support will help me to keep going!