Kranji Marshes is home to more than 170 species of birds, 54 species of butterflies and 33 species of dragonflies1. Previously inaccessible, Kranji Marshes were open to public in 2016 after a careful restoration.
In case you're wondering, what is a marsh? According to Nat Geo, A marsh is a type of wetland which is usually treeless and dominated by grasses and other herbaceous plants.
At 56.8-hectare, Kranji Marshes is Singapore's largest freshwater marshland. However, only about 20% of the marshes is open to public. The remaining 80% is the Core Conservation Area, which is open only to approved guided walks.
Kranji Marshes is the place to go for bird-watching. If you're a bird/nature enthusiast, you might want to join the walk to get the most out of it. But, getting a slot at the guided walk is quite tough. If you can't get a slot, it's still worth it to go by yourself.
This article will focus on the public areas of Kranji Marshes (i.e. areas that you can visit on your own, without joining a guided walk).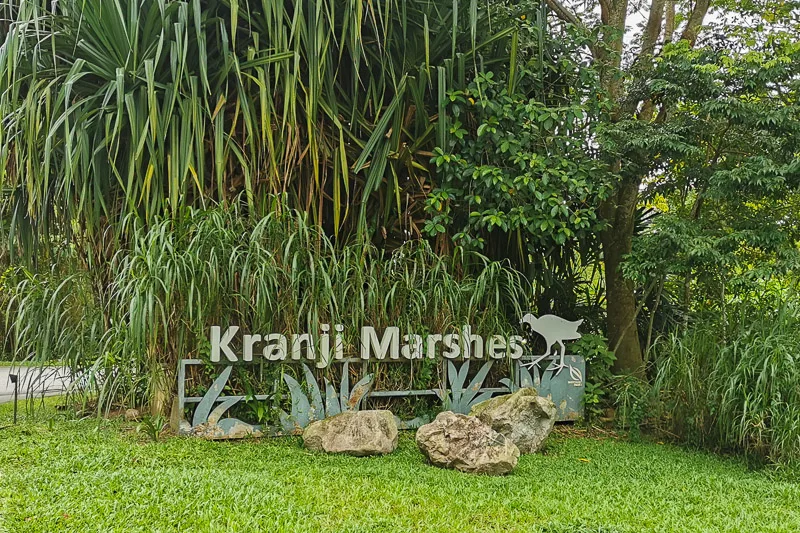 Have any questions about traveling in Singapore? Join All About Singapore Travel FB group, I'll be there to answer your questions!
Kranji Marshes Opening Hours
Kranji Marshes is open from 7am to 7pm daily. Entering or remaining in Kranji Marshes after 7pm is not allowed.
Carpark is open from 7am to 7pm daily.
How to get to Kranji Marshes
By Kranji Farm Shuttle (Sat, Sun, PH): This is the easiest way to get to Kranji Marshes on weekends & Public Holidays. Take MRT to Kranji MRT. Then, take Kranji Farm Shuttle (SGD5) from Kranji MRT and alight at Kranji Marshes. Here's the route and timetable.
By taxi: If you're visiting during weekdays and you're not driving, I'd recommend taking a taxi because public transport is too inconvenient. By taxi, simply input in the app or inform the driver the address of Kranji Marshes: 11 Neo Tiew Lane 2, Singapore 718814.
By car/motorbike/cycle: Head to Kranji Marshes (address: 11 Neo Tiew Lane 2, Singapore 718814). There are 20 parking lots for car, 10 lots for motorcycle and 30 lots for bicycle. Parking rate is free. In case the carpark is full, there are more carparks at Kranji Farm Resort just 250m from Kranji Marshes (parking fee applies).
What to Bring
Generally, here are the things to bring when visiting Kranji Marshes:
Water. You can bring your own drinks, or you can buy them from the vending machine at Kranji Gate.
Umbrella/raincoat. Kranji Marshes is mostly unshaded. Do bring umbrella because the heat is brutal especially if you visit around noon like me. I fell sick after spending a couple of hours here under the sun.
Sunblock. As mentioned, the park is mostly unshaded, do wear sunblock to protect your skin if you're planning to spend a lot of time at the park.
Mosquito/ant repellant. There are plenty of mosquitoes and ants at Kranji Marshes, even during daylight! Highly recommend that you use repellant or wear covered clothings.
Kranji Marshes Map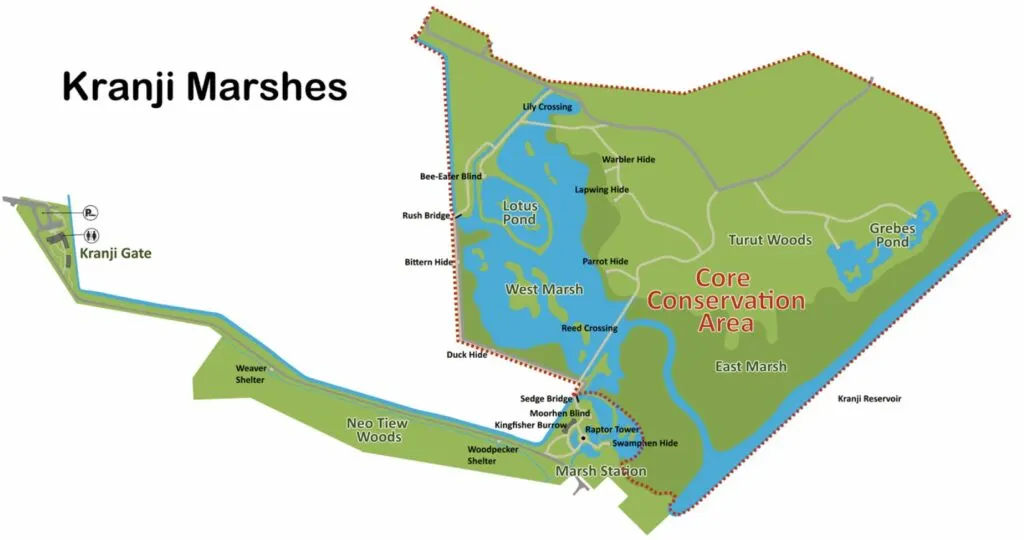 The area within the red dotted line in the above map is Core Conservation Area, which is not open for public. It is only open to approved guided walks.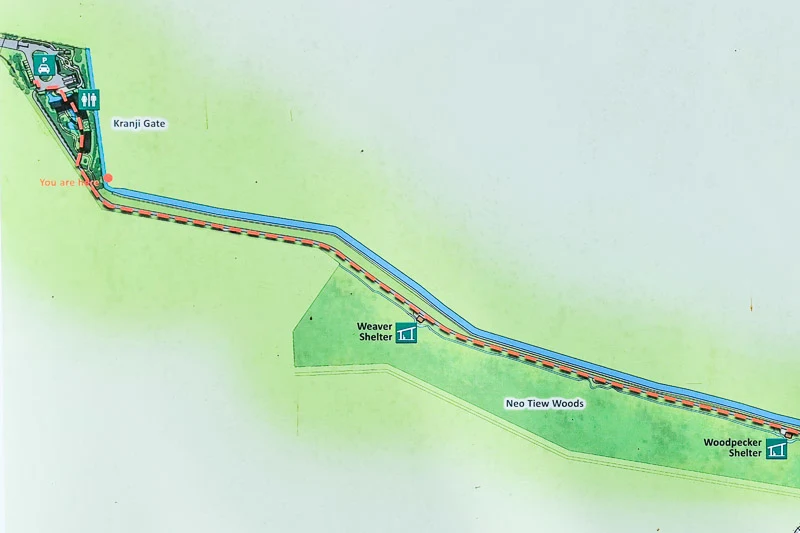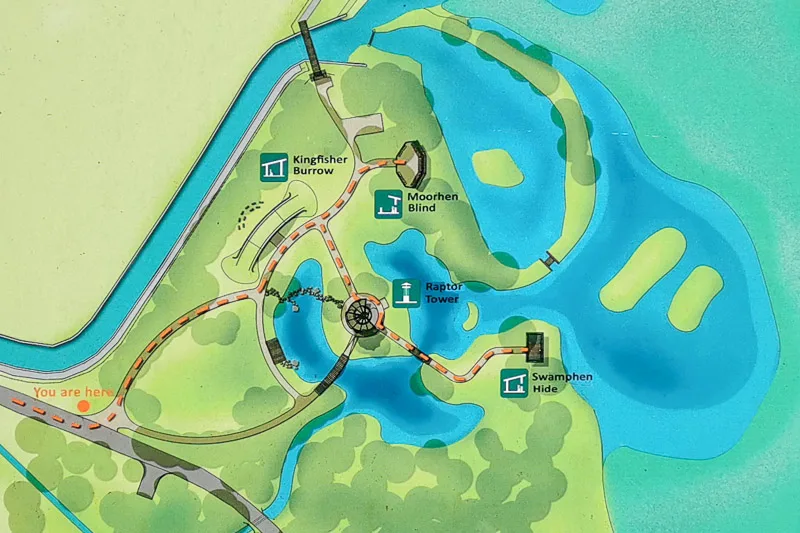 Kranji Marshes History
In the early 1900s, Neo Tiew Village was home to coconut, pineapple and vegetable farms, as well as pig and poultry farms. In the 1970s, Kranji Reservoir was constructed, causing the unforeseen formation of marsh habitat.
In 2008, PUB and NSS implemented habitat management to maintain good balance of open water and vegetated areas for the marsh birds to use. In 2011, URA and NParks worked with PUB and NSS to restore and enhance the marshes to enable public to enjoy its flora and fauna.
The enhancement works were completed in the late 2015. In 2016, Kranji Marshes was officially open to the public.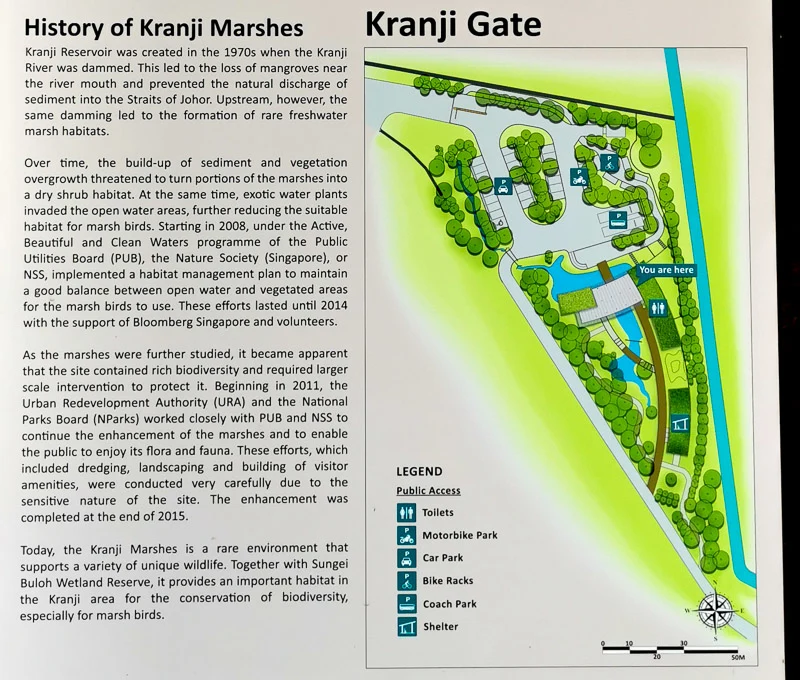 What to do at Kranji Marshes
1. Kranji Gate
As the name suggest, Kranji Gate is the first landmark you will encounter when arriving at Kranji Marshes. Here, you will find toilet, water fountain, vending machine, shelter and an arch.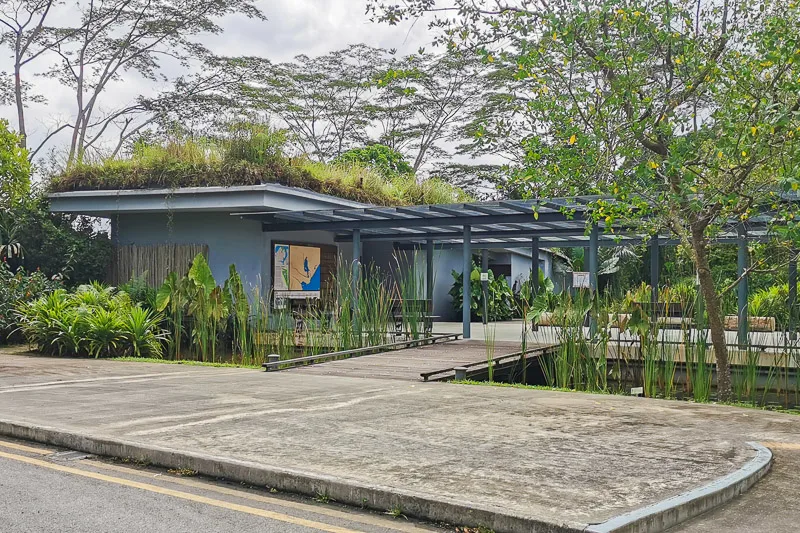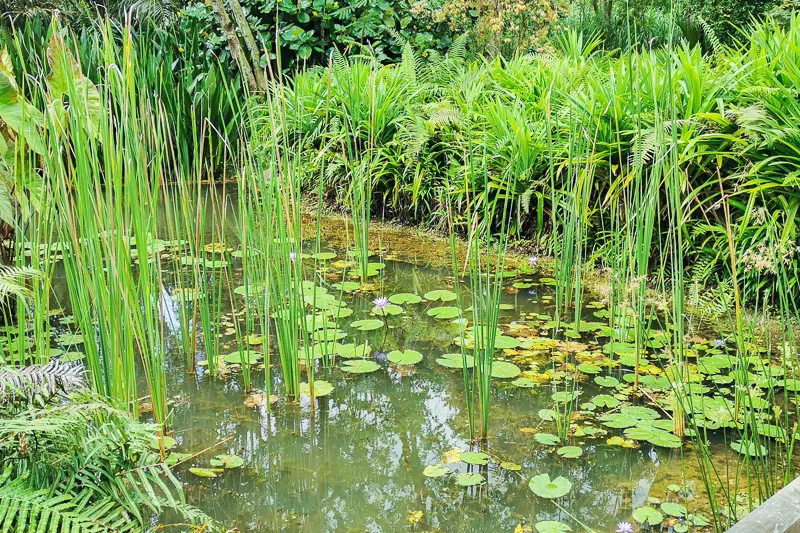 There is only one toilet, water fountain and vending machine at Kranji Marshes; so, do use them before you go further into the marshes.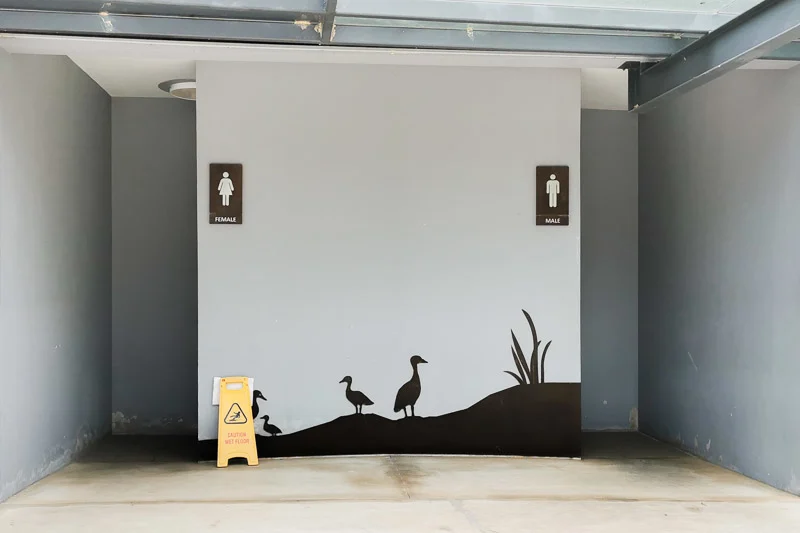 As you walk past the toilet towards the marshes, you will notice a shelter with a curved roof covered in grass. Under the shelter, you can learn about the different birds you'll find in Kranji Marshes, as well as the many types of bird's feet and beaks.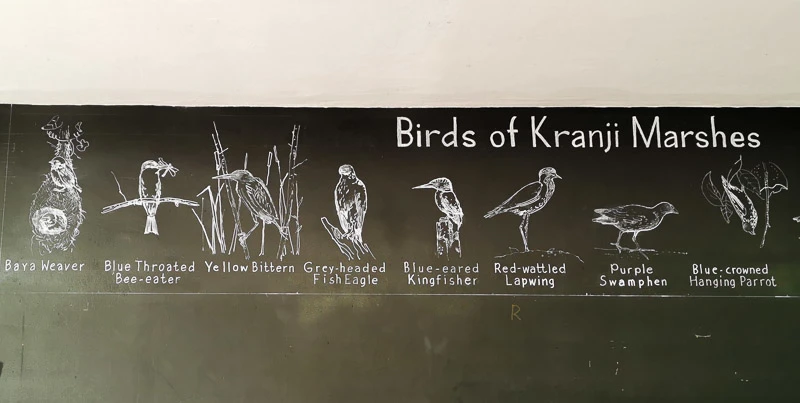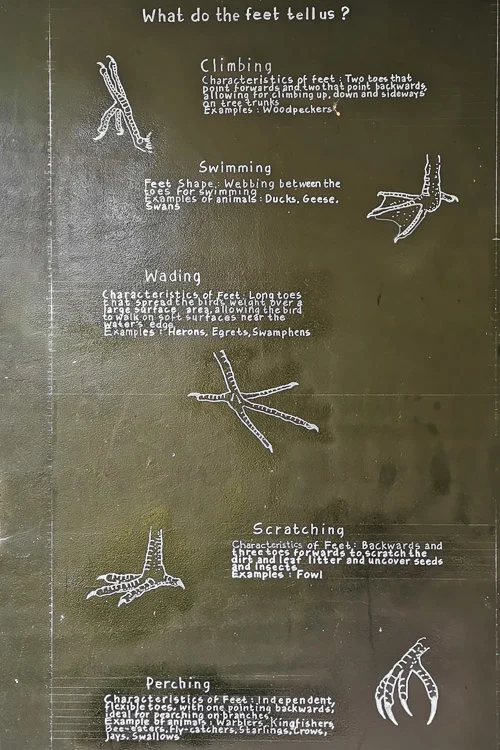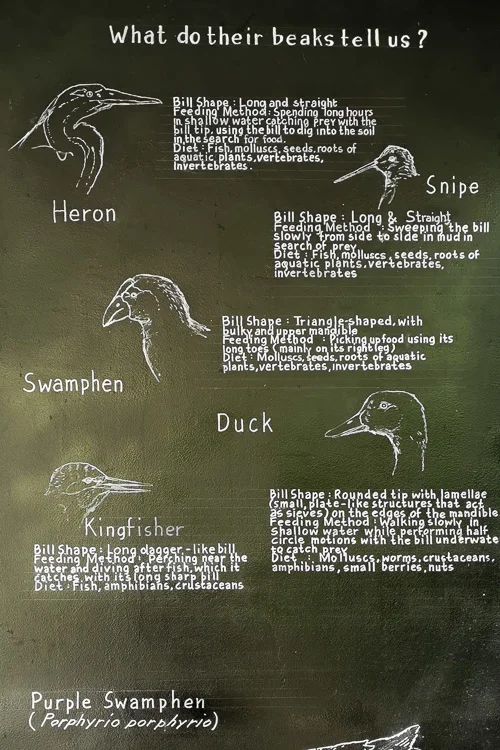 I particularly like the arch near the shelter. During my visit, the arch is a steel skeleton. In the past, the arch resembled a giant bird's nest arch.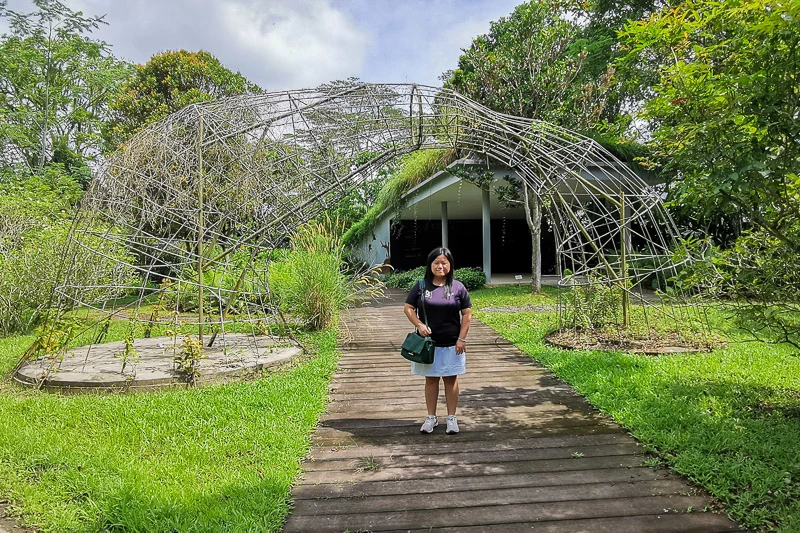 2. Long Walk along Neo Tiew Lane 2
Neo Tiew Lane 2 is a 1km walking road that connects Kranji Gate with Marsh Station (where the marsh is located at). It is a brutal walk if you're not used to walking under the sun, because the entire stretch is unshaded.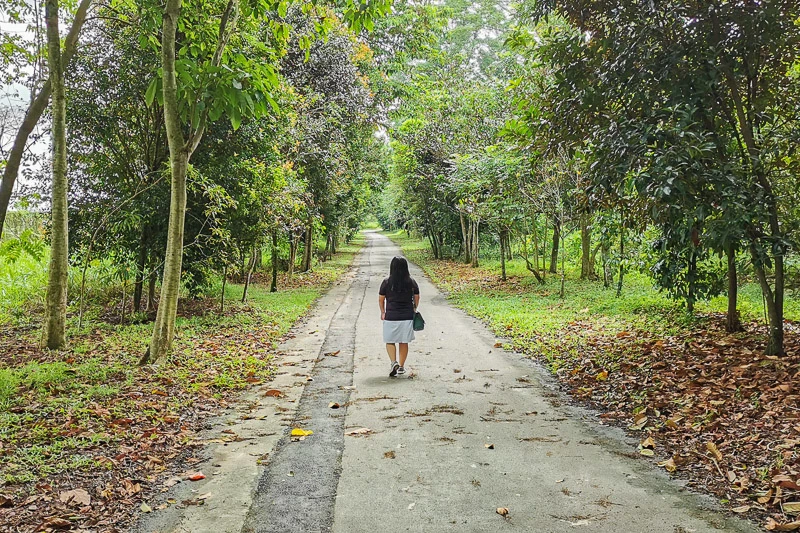 There are 2 shelters along the way where you can take a respite from the heat. But, we found plenty of ants at the shelters, so we didn't dare to sit there. There are boards with information at these shelters, so you can learn a new thing or two.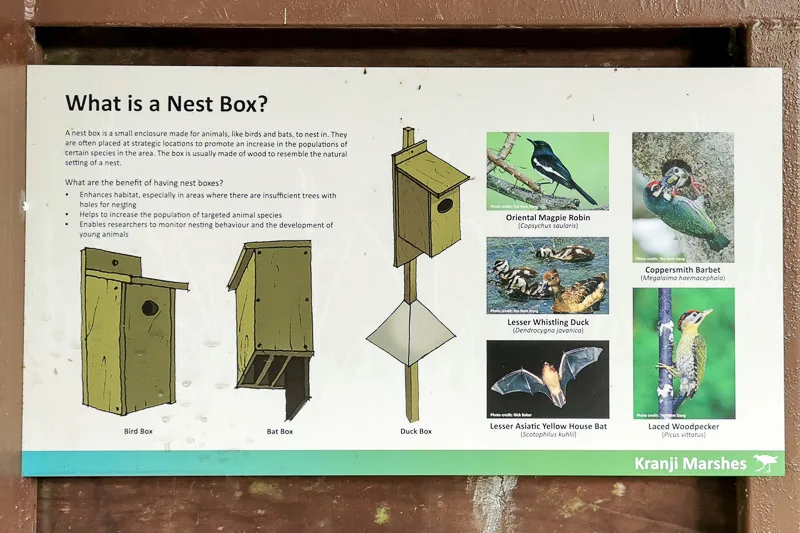 3. Raptor Tower
When you arrive at Marsh Station, you will undoubtedly notice Raptor Tower, a 10m tall wooden tower set among lush greenery and wetland.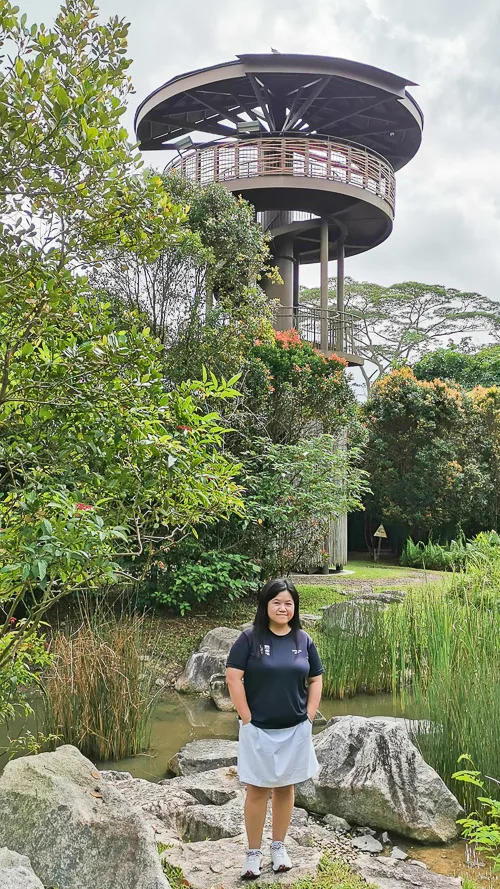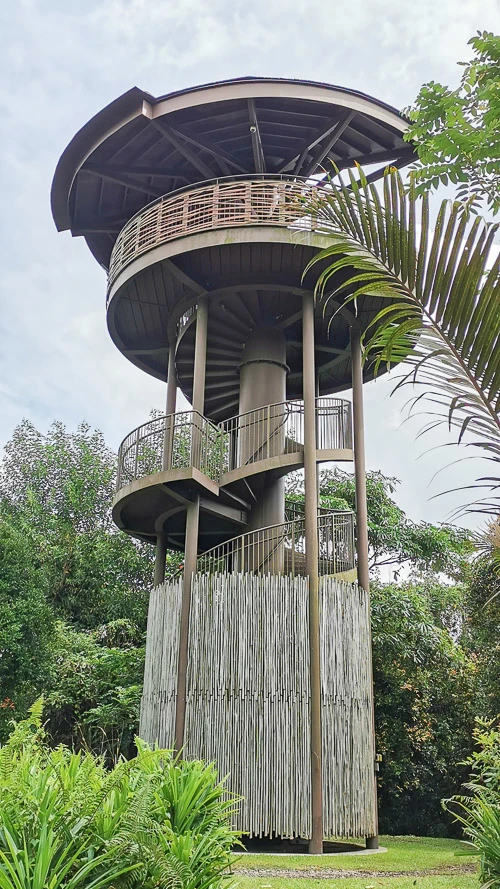 Climb the 72-step (yes I counted!) to the top of the Raptor Tower and be rewarded with a stunning view of Kranji Marshes and Kranji Reservoir.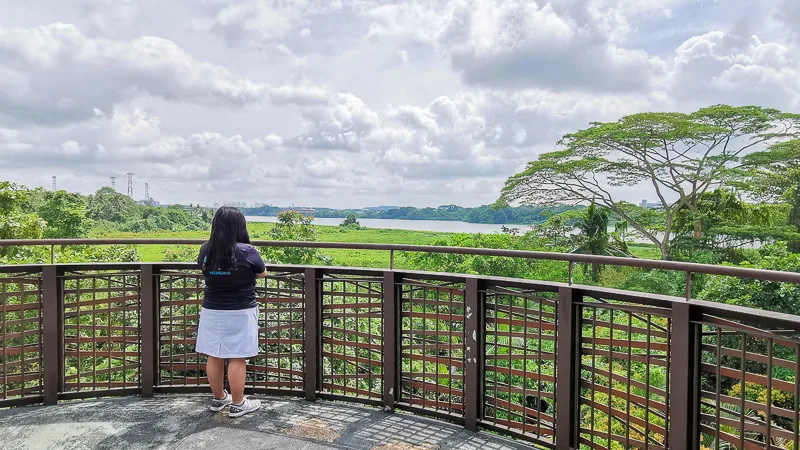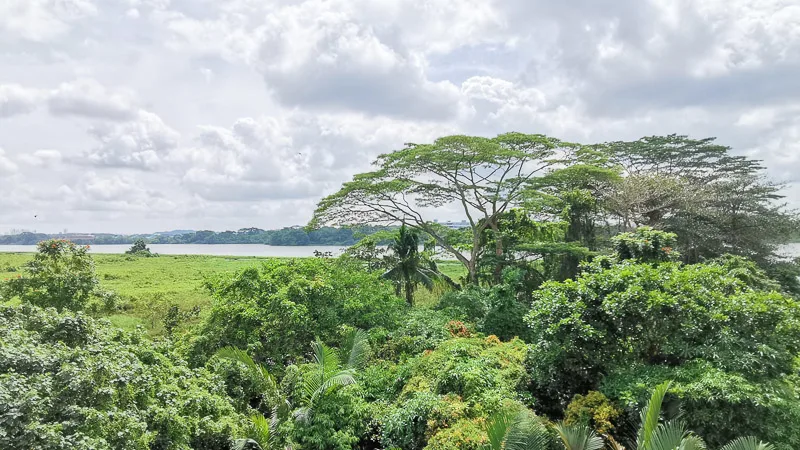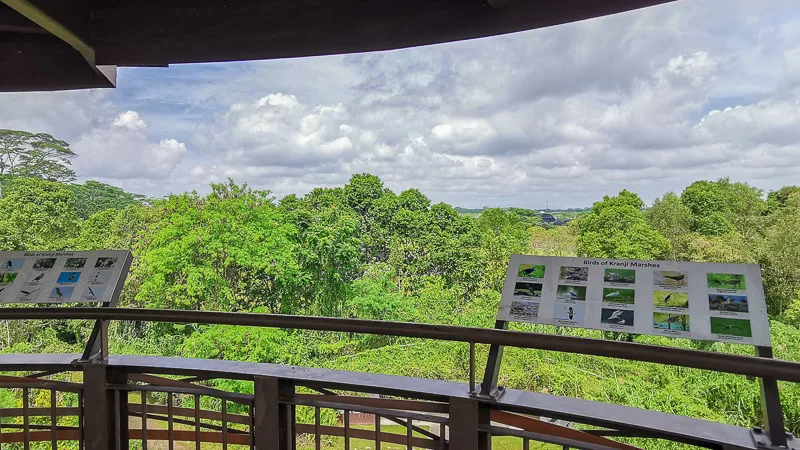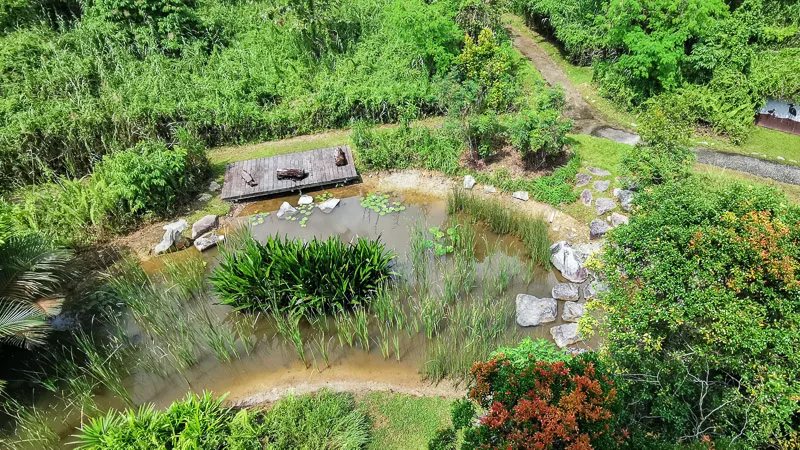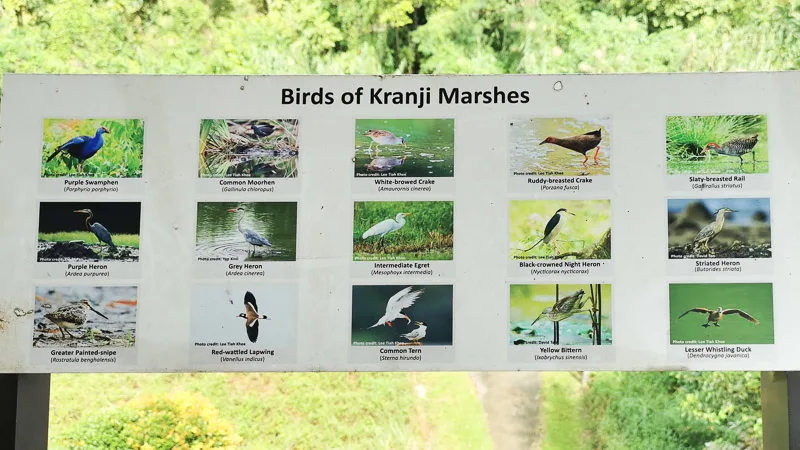 4. Spot the Monitor Lizard
If you're lucky, you might see a monitor lizard near the base of Raptor Tower. There is even a sign warning people to watch out for the lizard!
I'm lucky that when I was on the ground, the lizard wasn't in action. Then, when I was at the top of the tower, the lizard appeared on the ground and I got to see it from afar.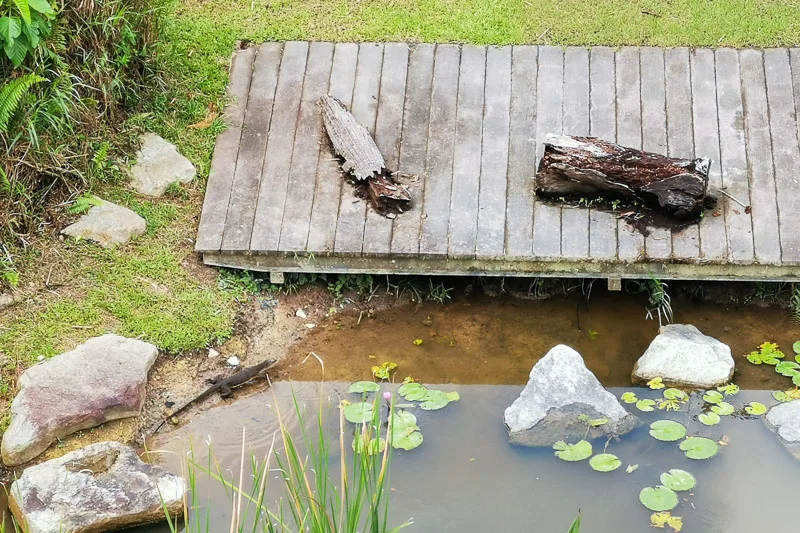 5. Bird Watching
At the Marsh Station, there are 2 wooden huts where you can hide while watching the birds, namely Swamphen Hide and Moorhen Blind. There are more huts inside the conservation area.
During my visit, the huts had lots of ants in them. So, if you're planning for bird watching and you're not comfortable with ants, do bring some sort of protection (perhaps ant repellant, etc).
Also, don't forget to bring your own binoculars (and probably tripods)!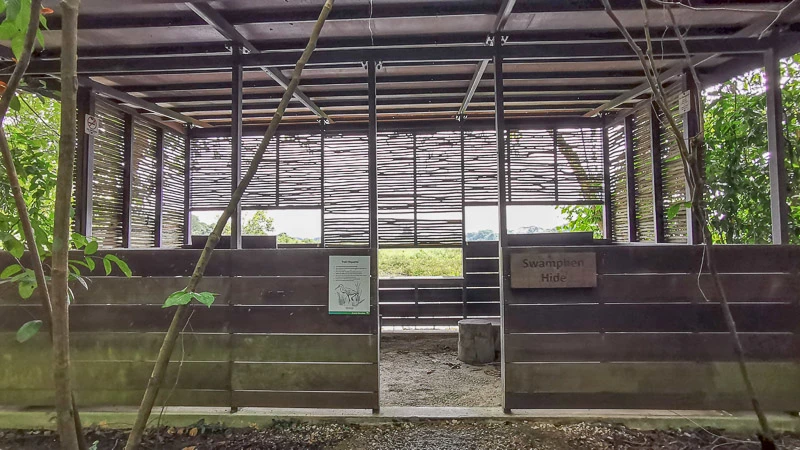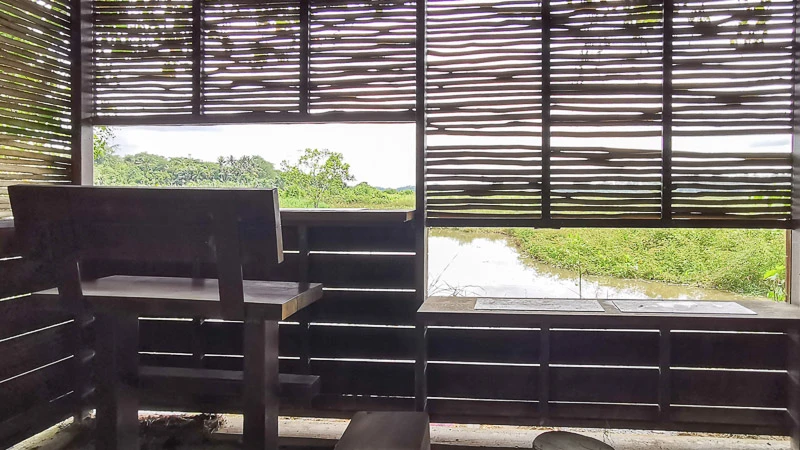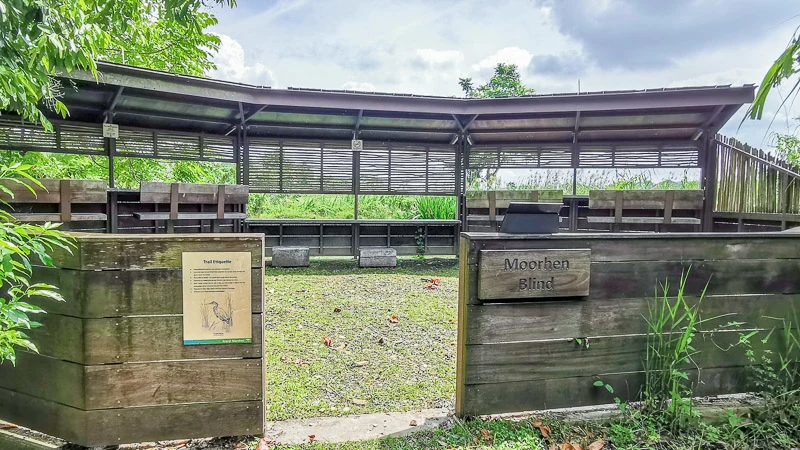 6. Kingfisher Burrow
Kingfisher Burrow is the name of an elevated arch bridge overlooking the Raptor Tower. Located at Marsh Station, Kingfisher Burrow is truly a photogenic spot. Below the bridge is a shelter where you can take a rest.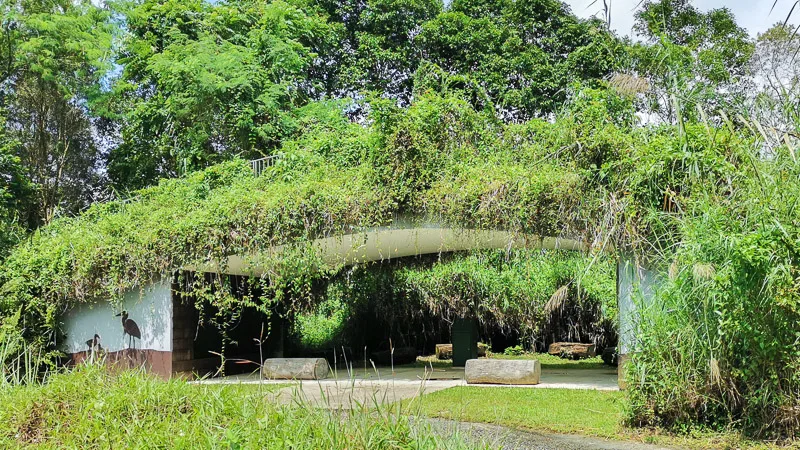 7. Join the Guided Walk
Without joining the guided walk, the furthest you can go is the Sedge Bridge. Here, your journey will stop at the "Restricted Conservation Zone" sign.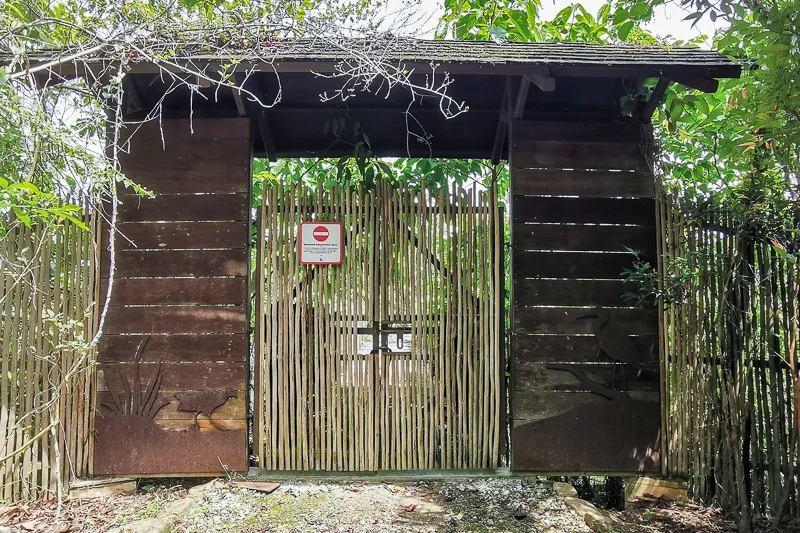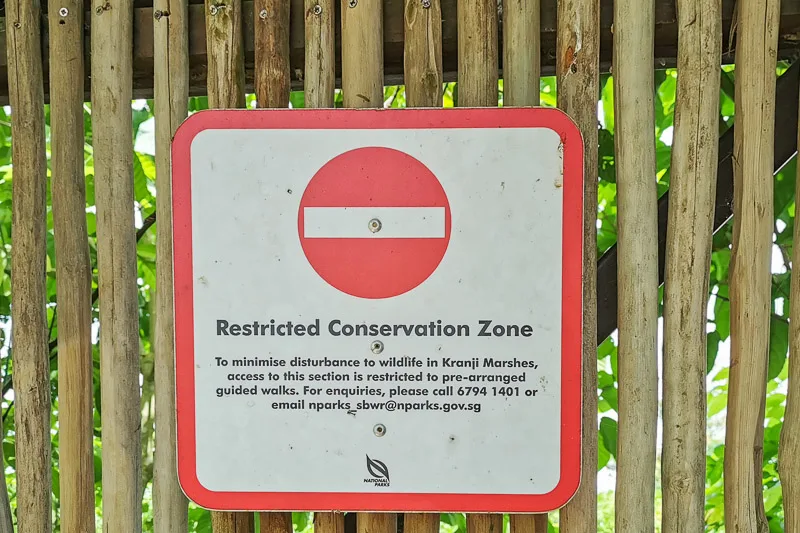 The area behind this gate is the Core Conservation Area, which comprises 5 zones: West Marsh, Lotus Pond, East Marsh, Grebes Pond and Turut Woods.
At time of writing, there are 3 types of guided walk at the Core Conservation Area. The dates of the walks are not fixed, you need to check this website regularly for announcement of new dates.
Here are the 3 types of walks at Kranji Marshes:
Evening Chorus at Kranji Marshes
Bird-watching at Kranji Marshes by Nature Society (Singapore)
West Marsh Visit with the 'Kranji Marshals'
Facilities at Kranji Marshes
1. Carpark. Carpark is located at Kranji Gate, which is the entrance of Kranji Marshes.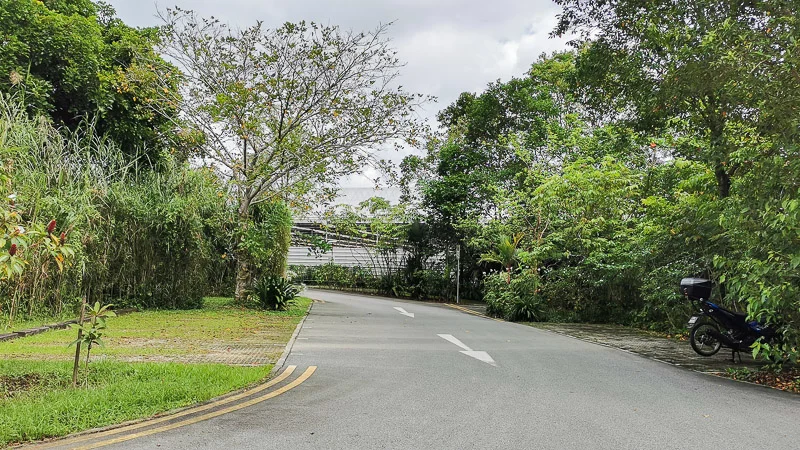 2. Toilet. There is 1 toilet at Kranji Marshes and it is located at Kranji Gate, which is the entrance of Kranji Marshes. The toilet is semi-enclosed; from outside, it looks like an enclosed toilet, but the wall at the sink is non-existent.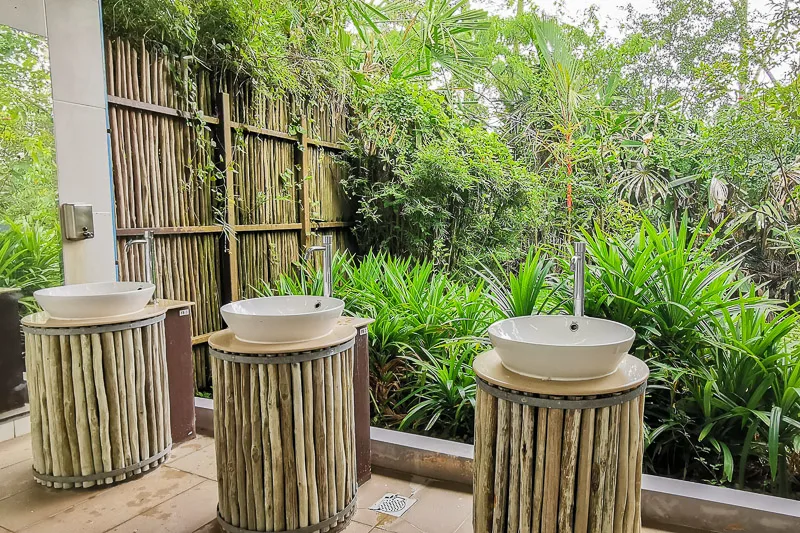 3. Water Fountain. There is a water fountain opposite the toilet. However, for hygiene purpose, I recommend that you bring your own water.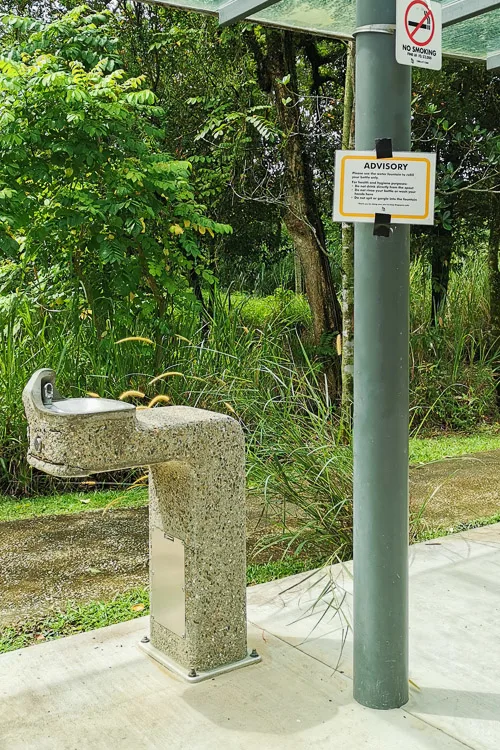 4. Vending Machine. There is a vending machine next to water fountain, opposite the toilet. It only accept cash.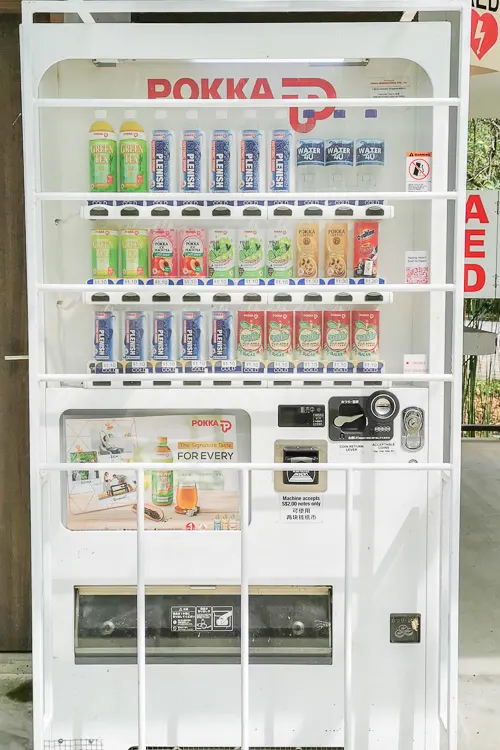 Nearby Attractions
Kranji Farm Resort. Located just 250m from Kranji Marshes is the Kranji Farm Resort which offers villas for people who want to stay near farms and nature. However, the resort looks run-down and development is void of people. It used to be a popular place in the past. It's easily skippable.
Nelly's Prawning. Nelly's prawning is located inside Kranji Farm Resort. Instead of fish, you're fishing for prawns. Prawning is a fun activity if you have the patience. Again, I feel that it's easily skippable.
Bollywood Farm. Bollywood Farm is located 700m away from Kranji Marshes. There are plenty of vegetable and fruit plants at Bollywood Farm (you can easily spend 2 hours here). There's also a restaurant called Poison Ivy which serves homey local food cooked using farm produce. Recommended to visit.
Hay Dairies Goat Farm. Not exactly near Kranji Marshes, but if you're visiting Kranji Marshes, I suggest that you visit Hay Dairies Goat Farm as well because you can feed and interact with goats; it's a really fun experience for both kids and adults.
References
If you like my work, you can buy me a coffee! Your support will help me to keep going!