Bollywood Farms is a vegetable farm in Kranji Countryside that's quite unlike other farms. Some people might know it as Bollywood Veggies, but they have rebranded as Bollywood Farms since 2021.
The farm planted various types of vegetable and fruits with no pesticides or fertilisers. Public are welcome to explore the farm without any guide; they even designed a self-guided walking trail that'll bring visitors through all of the plots in the farm!
Near the entrance is Poison Ivy Bistro, which is the farm's restaurant that offers dishes cooked using the farm's very own produce!
One thing that really stands out to me is the farm's obsession of playing with words. I couldn't stop giggling each time I found their unique take on some words, like "Hotel 881", "Banana Street", "Nature's Pharmacy", and many others.
If you're planning to visit Kranji Countryside and wondering whether Bollywood Farms is a place worth visiting, I really think it's a must-visit farm. Let me share my experience at Bollywood Farms, so that you'll have an idea of what to do and see at Bollywood Farms.
Bollywood Farms History
Bollywood Veggies (now: Bollywood Farms) was started in 2000 by Ivy Singh and her husband Lim Ho Seng. Initially, they had planned to uproot and move to Perth, but due to the passing of a dear friend, they decided to change plan and retire in Singapore so that they can be closed to their loved ones.
They submitted and won a tender to a plot of weedy land at Kranji Countryside. Over the next few years, the farm was redeveloped into a sustainable farm, the founders' house was built, a restaurant was open and the farm became an Agriculture-entertainment destination which has a museum and a cooking school.
In April 2021, Bollywood Veggies rebranded as Bollywood Farms with a fresh new lease.
Bollywood Farms Opening Hours
Monday – Wednesday: closed
Thursday: 10am to 4pm
Friday: 10am to 6pm
Saturday: 7am to 6pm
Sunday, Public Holidays: 7am to 4pm
The above operating hours are correct at the time of writing, but they may change the hours when you read this article. Do check their FB for the latest operating hours before visiting.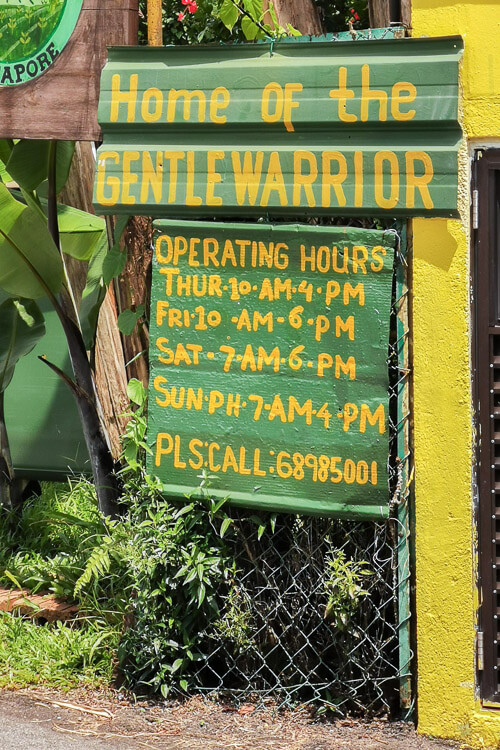 How to Get to Bollywood Farms
By Kranji Farm Shuttle (Sat, Sun, PH): This is the easiest way to get to Bollywood Farms on weekends & Public Holidays. Take MRT to Kranji MRT. Then, take Kranji Farm Shuttle (SGD5) from Kranji MRT and alight at Kranji Marshes. Here's the route and timetable.
By taxi: If you're visiting during weekdays and you're not driving, you can take a taxi because public transport is too inconvenient. By taxi, simply input in the app or inform the driver the address of Bollywood Farms: 100 Neo Tiew Road, Singapore 719026.
By car/motorbike/cycle: Head to Bollywood Farms (address: 100 Neo Tiew Road, Singapore 719026). There are several parking lots for car, motorcycle and bicycle. Parking rate is free.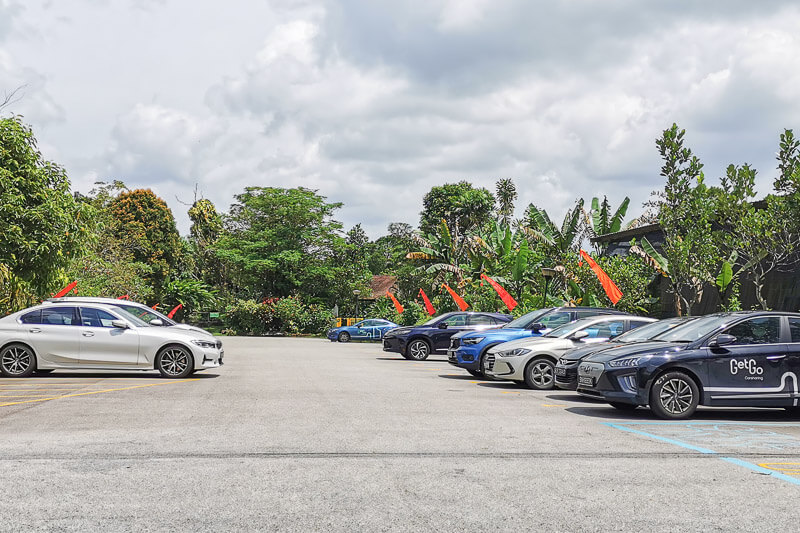 If you're planning to visit several places in a day during weekdays and you don't own a car, I highly recommend that you rent a car instead of taking a taxi, because renting a car gives you a lot of flexibility and saves you money, time, and headache.
There are not many taxi around Kranji countryside, when you book one, you'll probably have to wait quite some time for it to come.
Personally, I prefer to visit Kranji Countryside on a weekday because I prefer quieter days. Therefore, for this trip, I rent car from here (use my code G748UZPK to get S$8 off your first drive, do register in advance though because approval may take some time).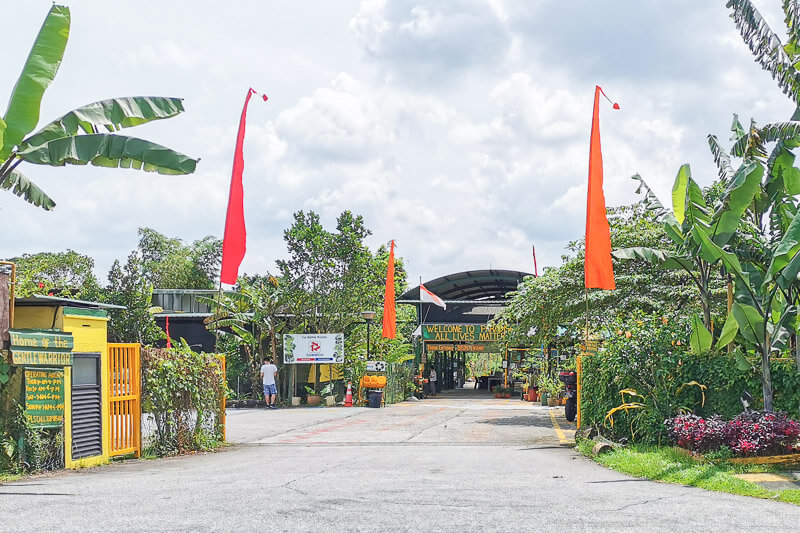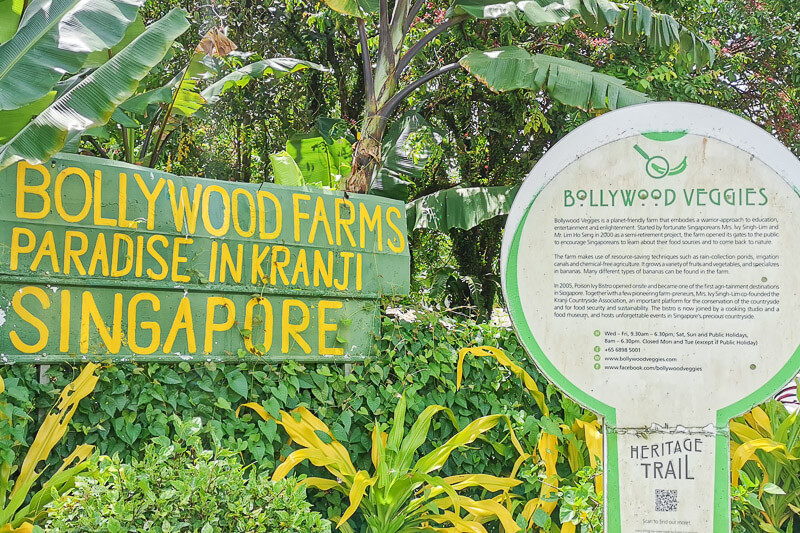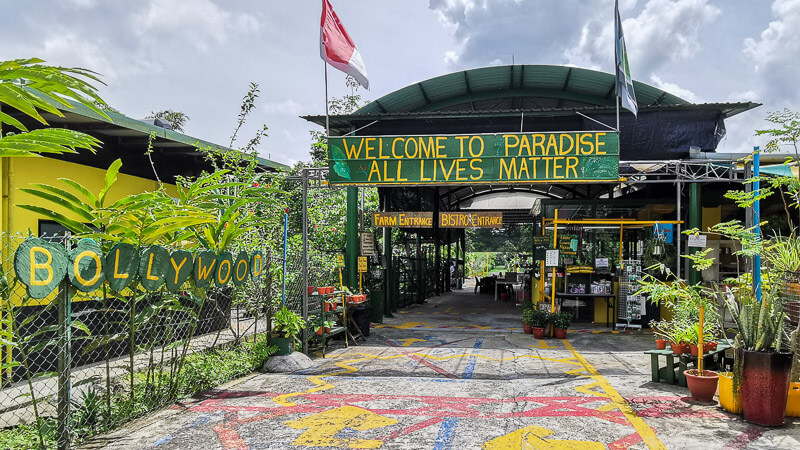 What to Bring
Generally, here are the things to bring when visiting Bollywood Farms:
Water. You can bring your own drinks, or you can buy them from Poison Ivy Bistro.
Umbrella. Bollywood Farms is mostly unshaded.
Sunblock. As the farm is mostly unshaded, do wear sunblock to protect your skin if you're planning to explore the farm.
Mosquito/ant repellant. For precaution.
What to do at Bollywood Farms
1. Eat at Poison Ivy Bistro
Poison Ivy Bistro is the in-house restaurant of Bollywood Farms which serves local dishes that incorporate the farm's very own produce!
There are indoor seats and outdoor seats. You can place your order and make payment at the cashier, then, the food will be served to you. During my visit, they only accepted cash and nets.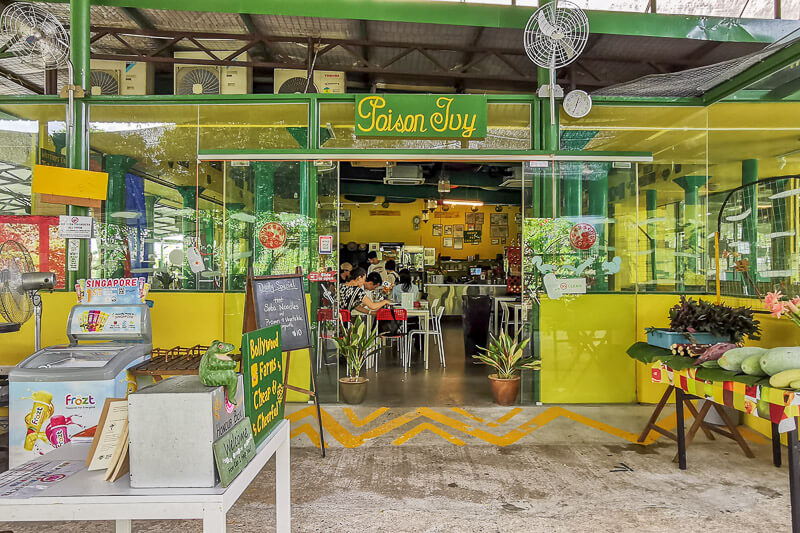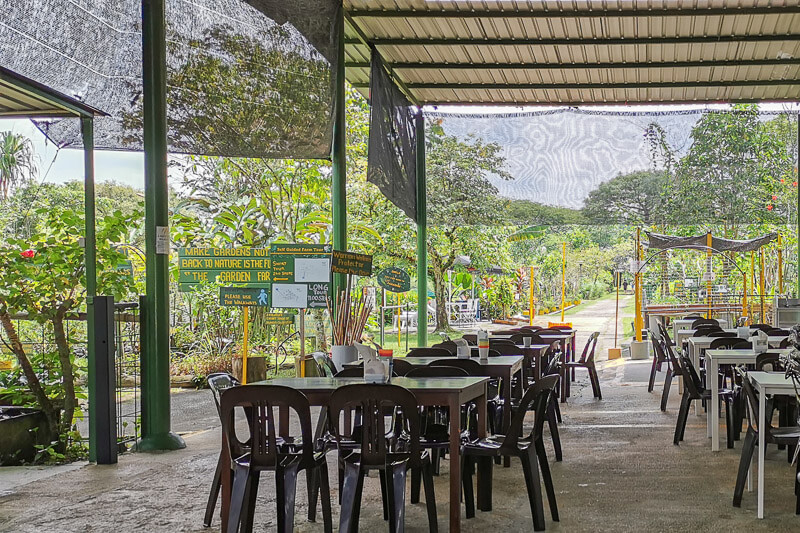 While the menu is seasonal, there are some fixtures as well, such as banana bread, warrior's platter and nasi lemak. The below photos were the menu available during my visit, you can see there's a date printed at the bottom of the menu, which indicates that this menu is only valid on the specified date.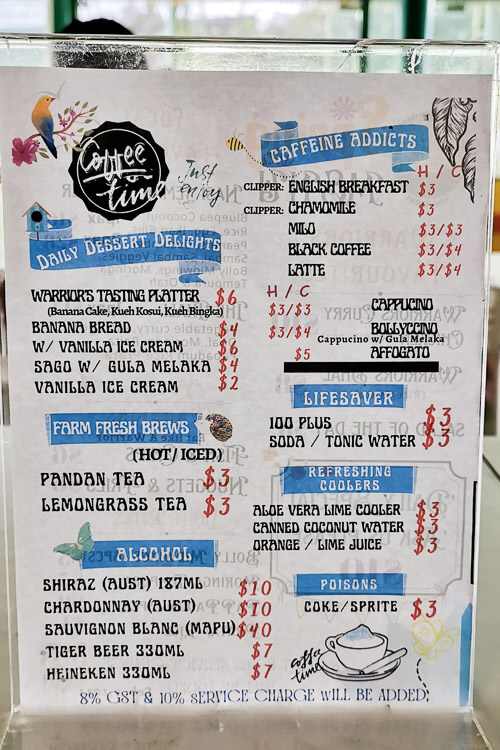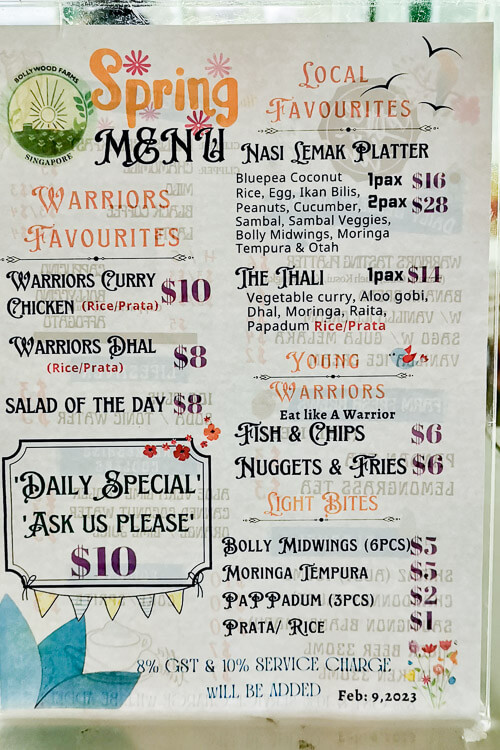 We ordered a nasi lemak platter for 2 pax. It comes with blue pea coconut rice, egg omelet, cucumber, ikan bills and peanuts, midwings, sambal, otah, veggies, and fried moringa. And a hibiscus flower!
I'm not a food reviewer, but as someone who's picky about food, I really enjoy Poison Ivy's nasi lemak. I especially like the otah, midwings and moringa tempura. I never knew you could fry moringa and it could taste good.
Despite the higher-than-cafe price, I think the food has really good quality and it's worth it. I highly recommend that visit Poison Ivy Bistro for a meal whenever you're exploring Kranji Countryside.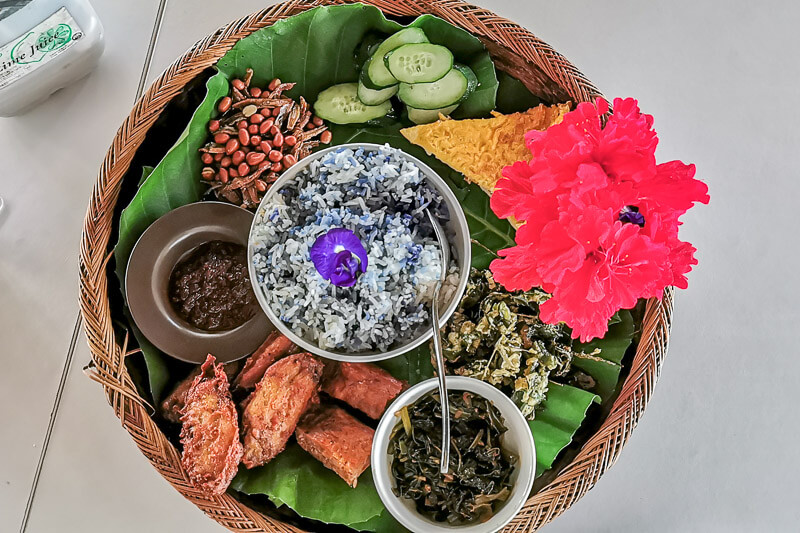 2. Visit the Faith Garden
Right across the Poison Ivy Bistro, is a small plot of land with signboard that says Faith Garden. Here, you will find a herb garden, a kitchen garden, and even a food museum. Unfortunately, during my visit, the food museum wasn't open.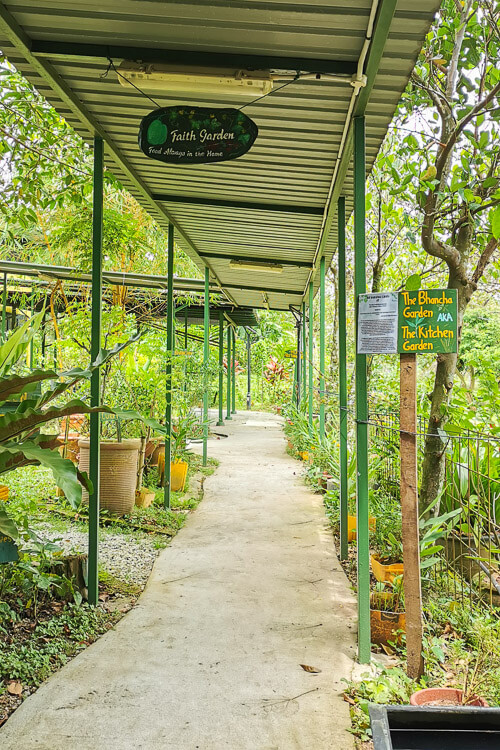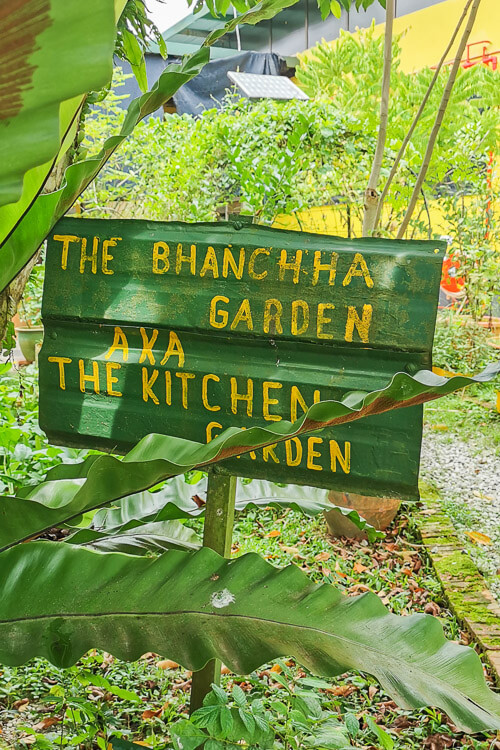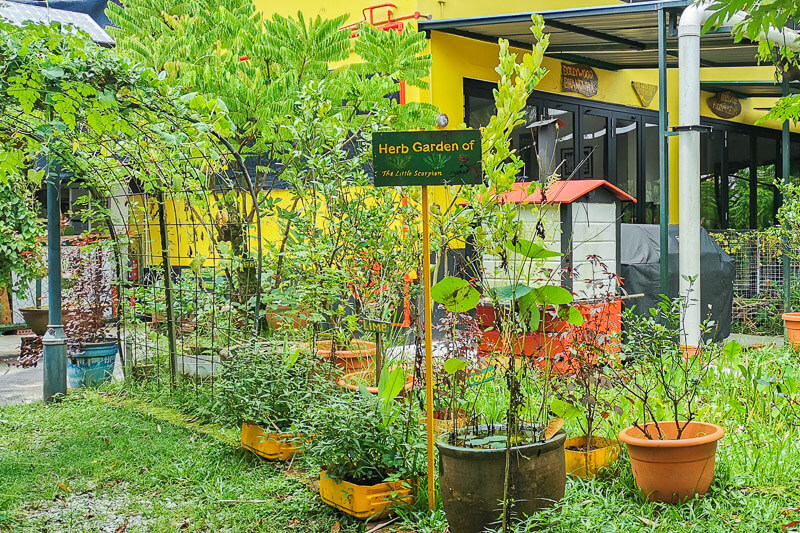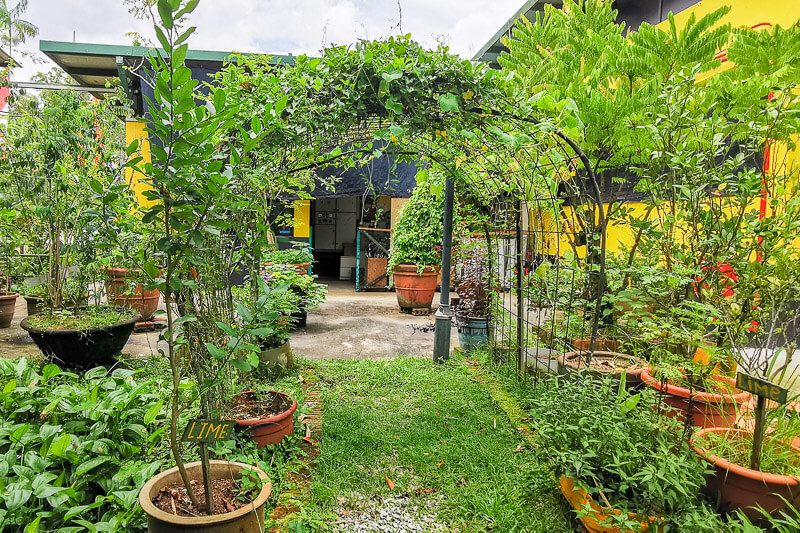 I was so excited to see a Moringa tree (having just eaten Moringa tempura a few minutes earlier). And I'm impressed by the papaya tree which young green papayas hanging from the tree.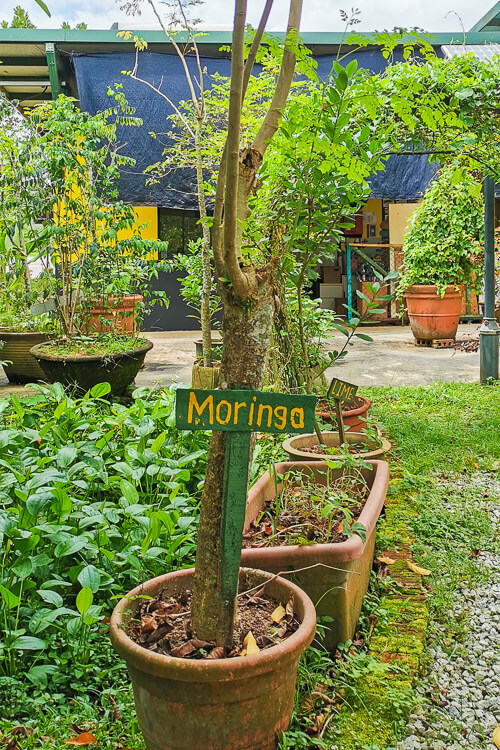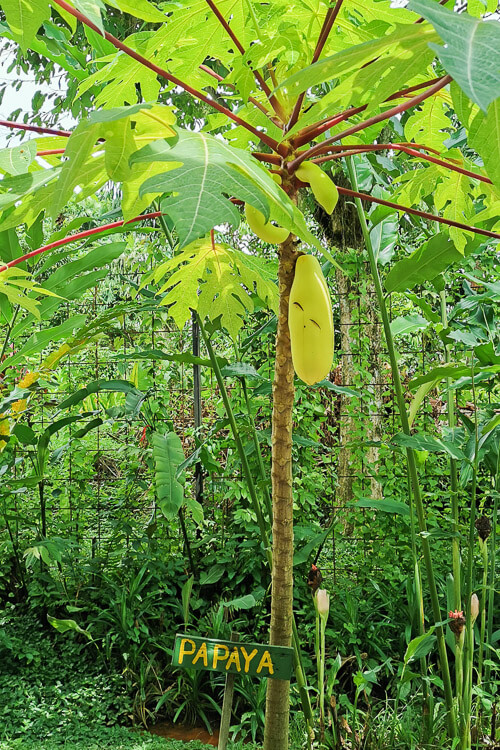 3. Take the long self-guided walking tour around the farm
It isn't a farm visit if you don't get to walk in the farm, right? Bollywood Farms has designed self-guided walking tour which allows visitors to explore the farm on their own pace.
There are 2 types of routes: Short tour (240 steps) and Long tour (1100 steps). We really enjoyed going on the long tour. There are arrow marks everywhere along the trail, so you won't get lost. And most trees/plots has a label, so you won't be left wondering what plants they are.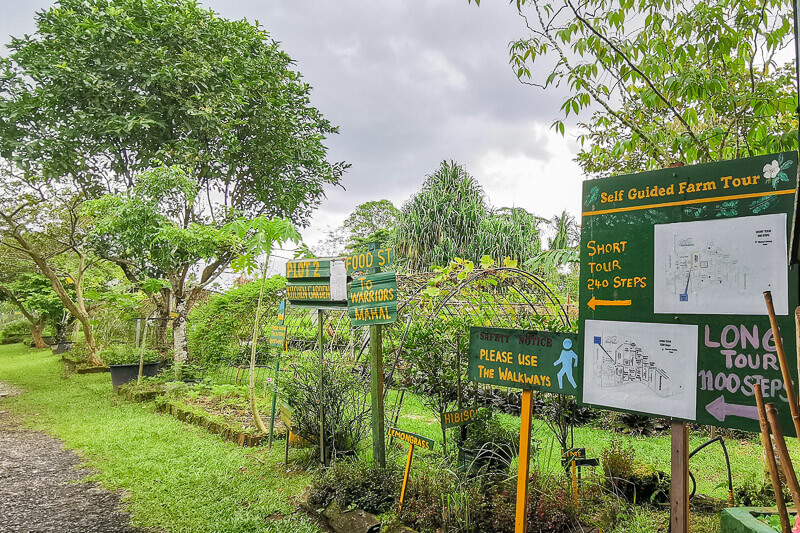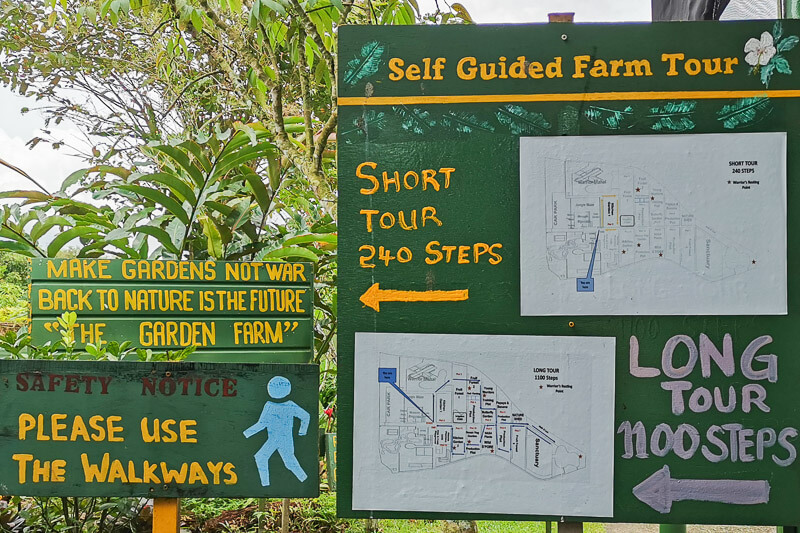 For those wanting to make a wish, there's a wishing well near the start of the walking tour.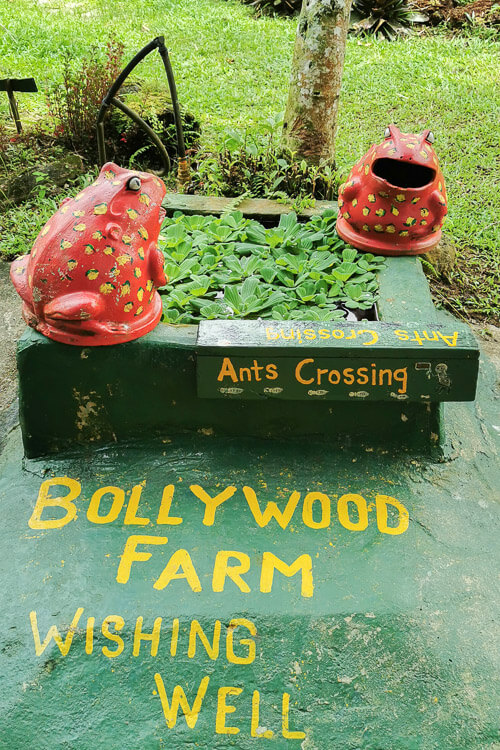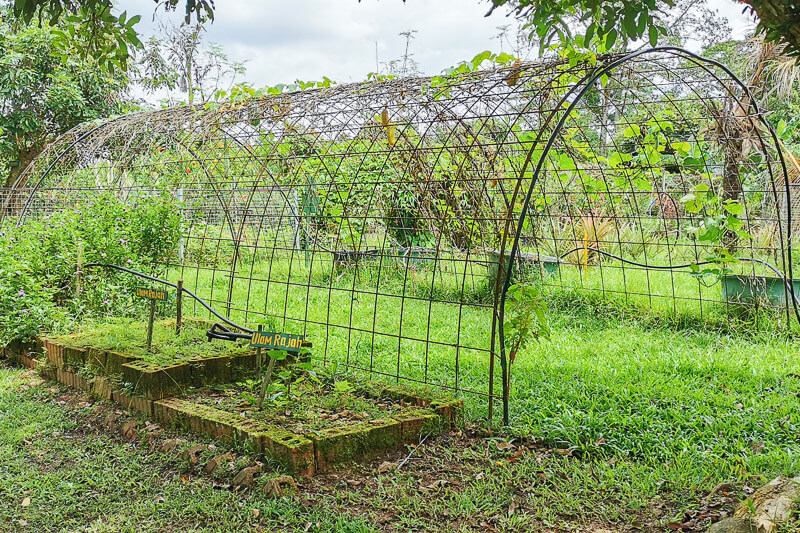 There are several resting point (aka picnic area) with tables and chairs. That's a thoughtful gesture for people who may find the tour a little too tiring, especially the elderly.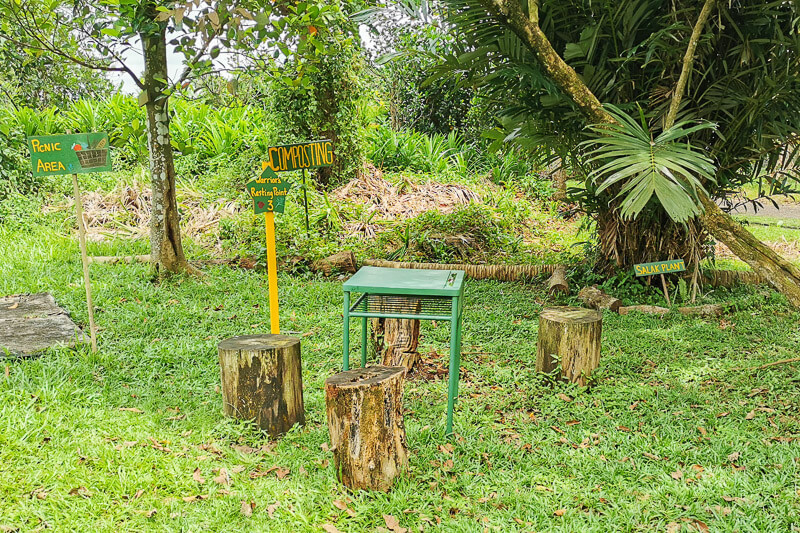 Amazed by the cocoa fruit and jackfruit.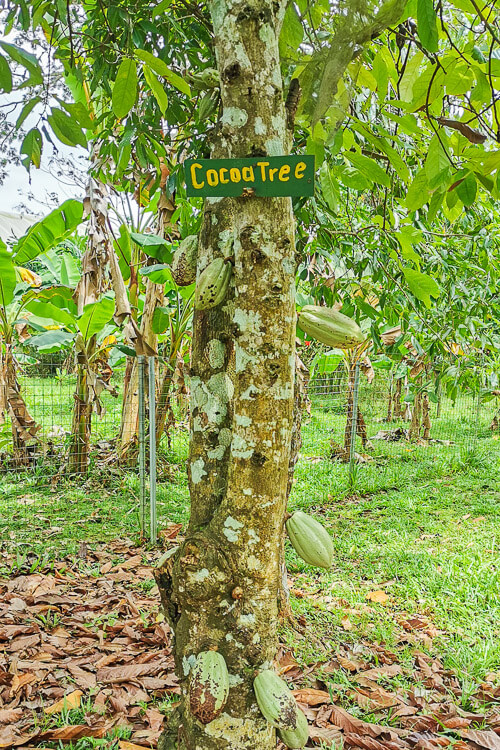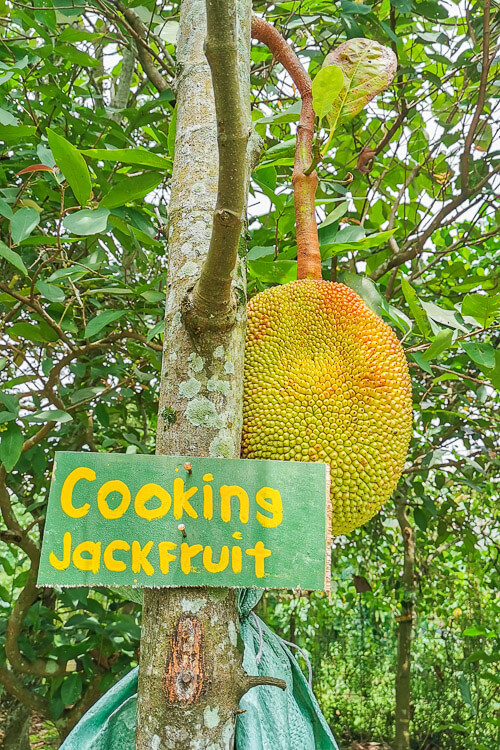 The banana street is a plot with various types of bananas, from Bangladesh banana to Cavendish banana.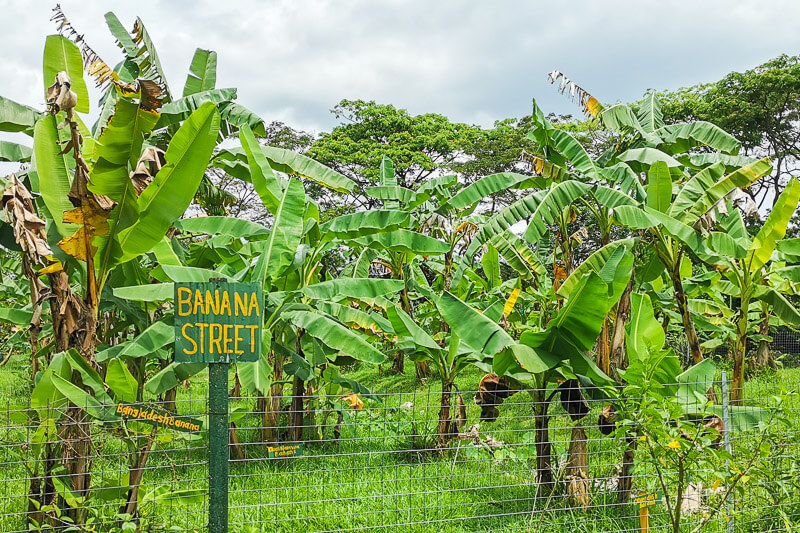 At the far-end corner of the farm is a pond filled with probably hundreds or thousands of lotus.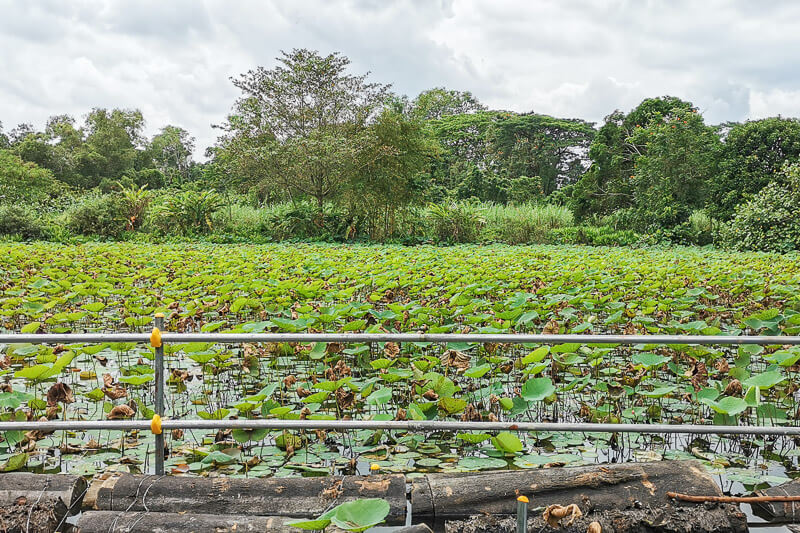 The trails are made up of beaten paths and grassy paths. Trail paths are well-marked with arrows and signboards.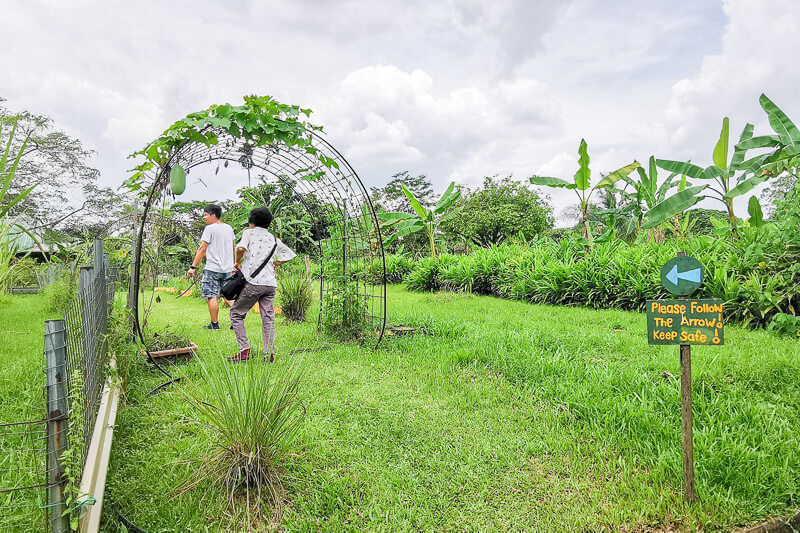 Bollywood Farms also has their own irrigation pond. Visitors can see it, but they're not allowed to access the pond for safety reason.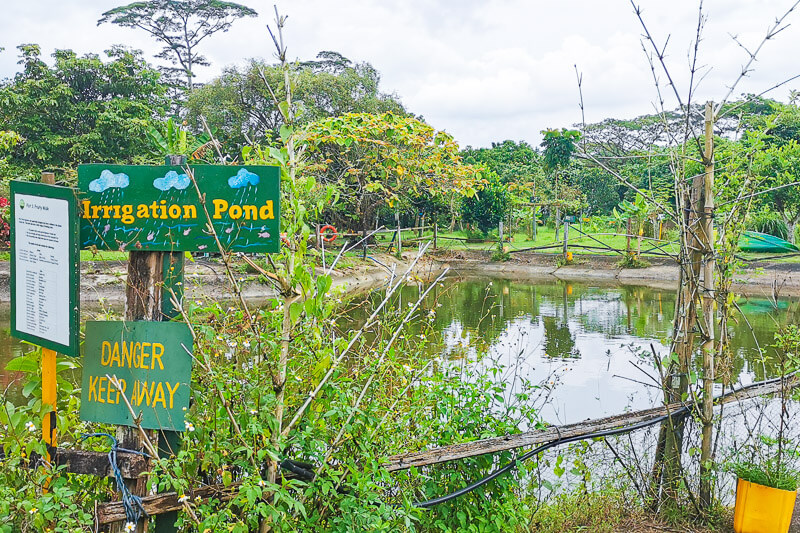 I like the Butterfly Garden. I like the funny sign that says Insect Hotel 881 (if you stay in Singapore, you'll know why Hotel 881 brings smile to many residents here).
On top of that, I like that it's a real, natural butterfly garden. Wild and colourful butterflies do come here to visit the flowers.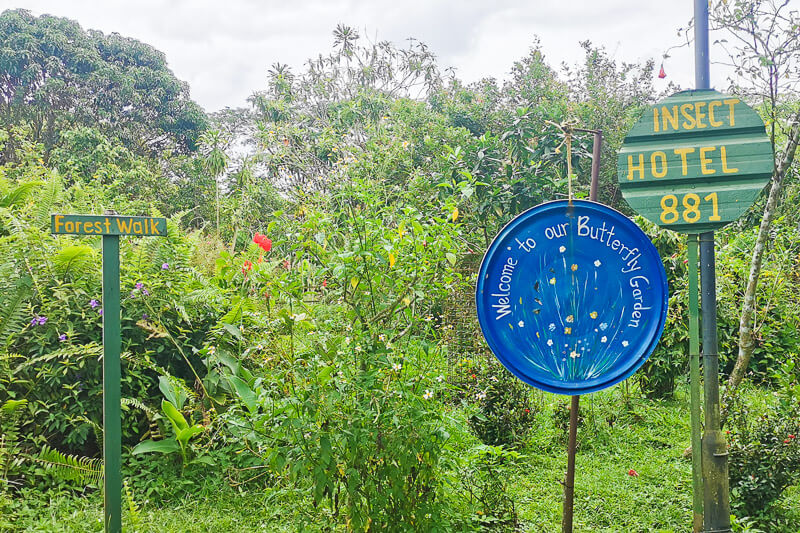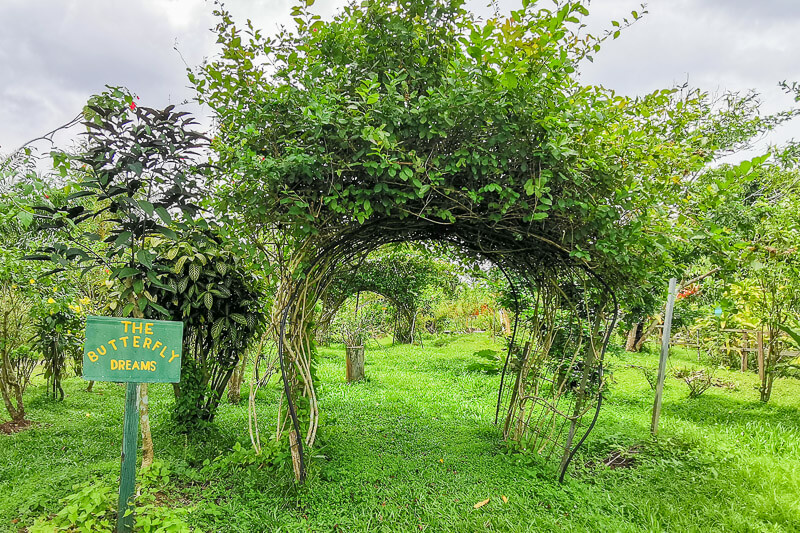 I was excited to find Hibiscus flower because it reminded me of the hibiscus that was used to decorate my nasi lemak platter.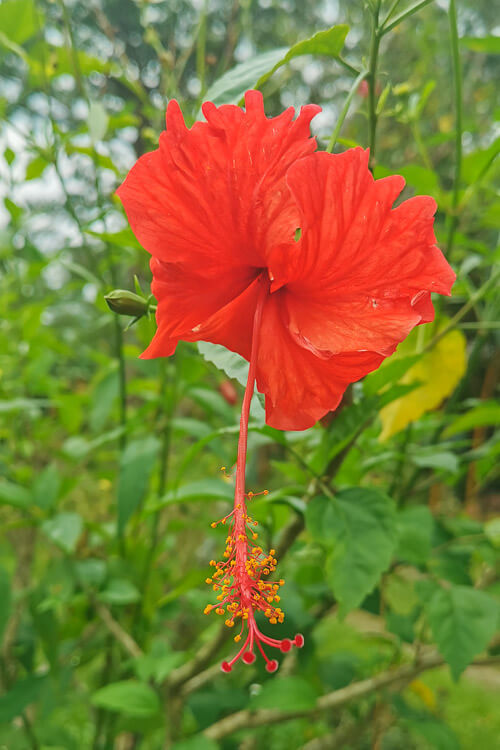 There's also a lookout point, from which you're able to see the vast majority of the farm. And yes, they even designed a ladder for you to climb to the top of the lookout point.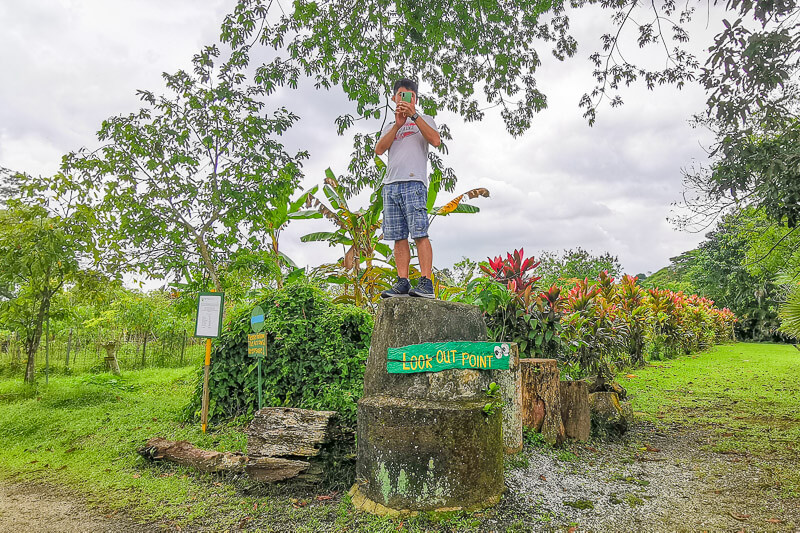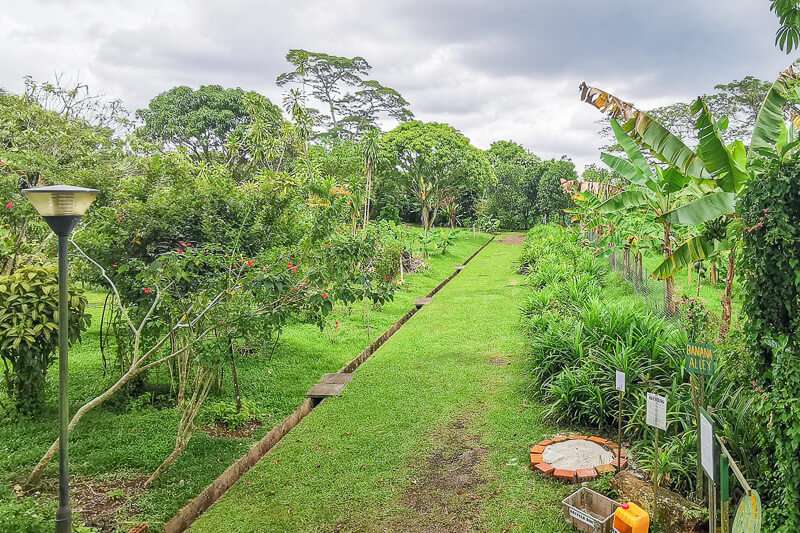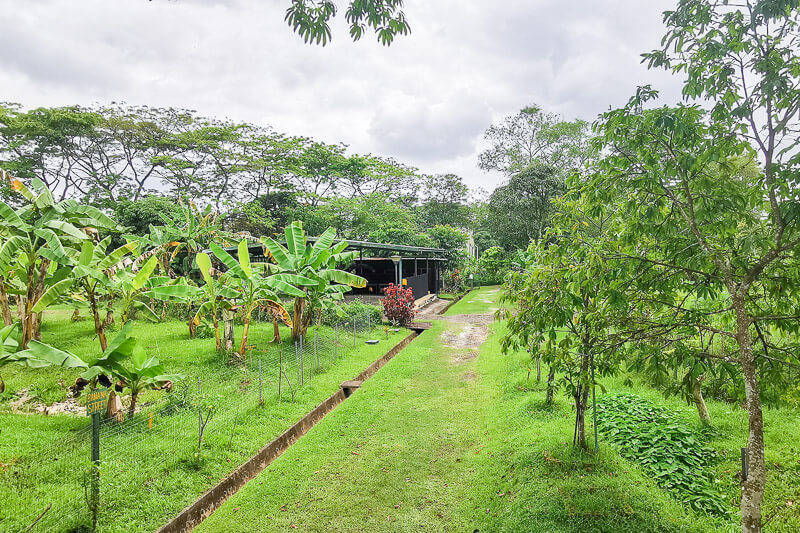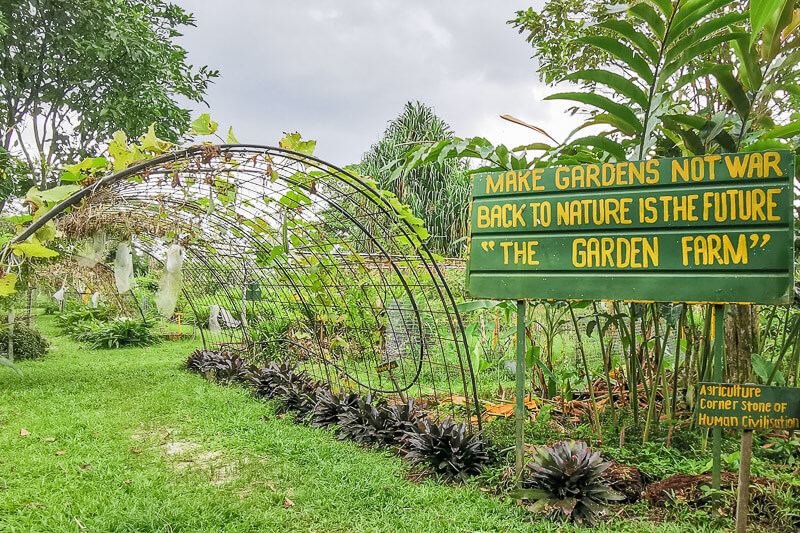 4. Visit Aromatic Garden
On the way to toilet, there's a small Aromatic Garden (is it a pure coincidence or a genius play of word, having aromatic garden next to toilet? You'd be the judge).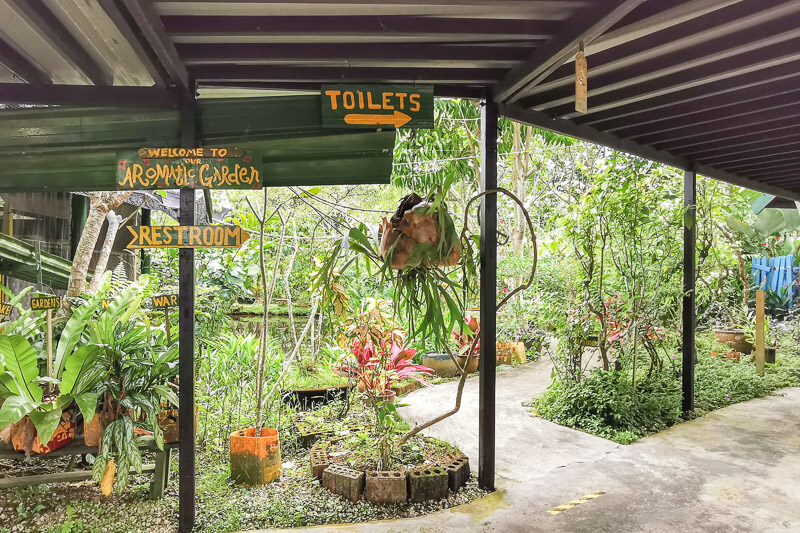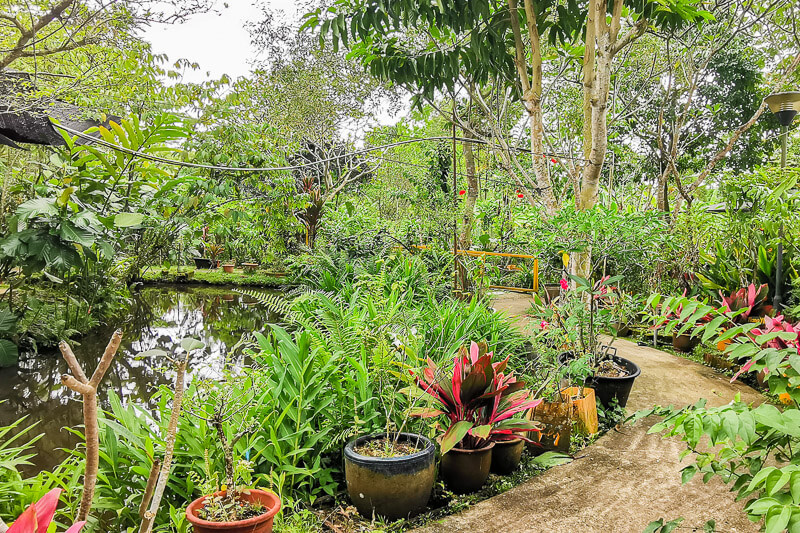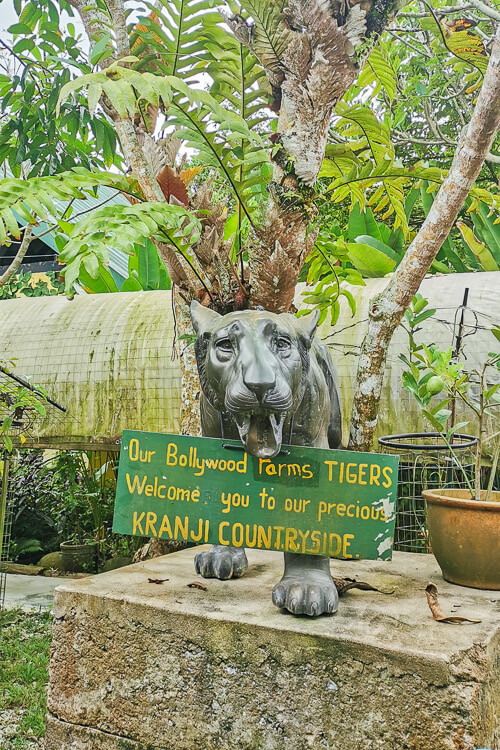 Final Thoughts
If you want to experience countryside in Singapore, Bollywood Farms is a great place to go back to nature. There's a sign at the farm that says, "Every country needs a countryside" (or something along this line) and I couldn't agree more.
Other Attractions near Bollywood Farms
If you like my work, you can buy me a coffee! Your support will help me to keep going!