Hay Dairies Goat Farm is the only goat farm in Singapore. The farm started out in 1988 with just 48 goats. Today, it has over 1000 goats.
I've visited Hay Dairies Goat Farm a couple of time, and I'm always excited every time I visit. The goats are truly cute and funny, they bring so much joy to everyone, from kids, adults to seniors.
If you're looking for unique farm activities in Singapore, Hay Dairies is a must-visit farm.
In this article, I'll share what you need to know before visiting Hay Dairies Goat Farm.
Looking for ideas on what to do in Singapore? Here's my guide on the best things to do in Singapore.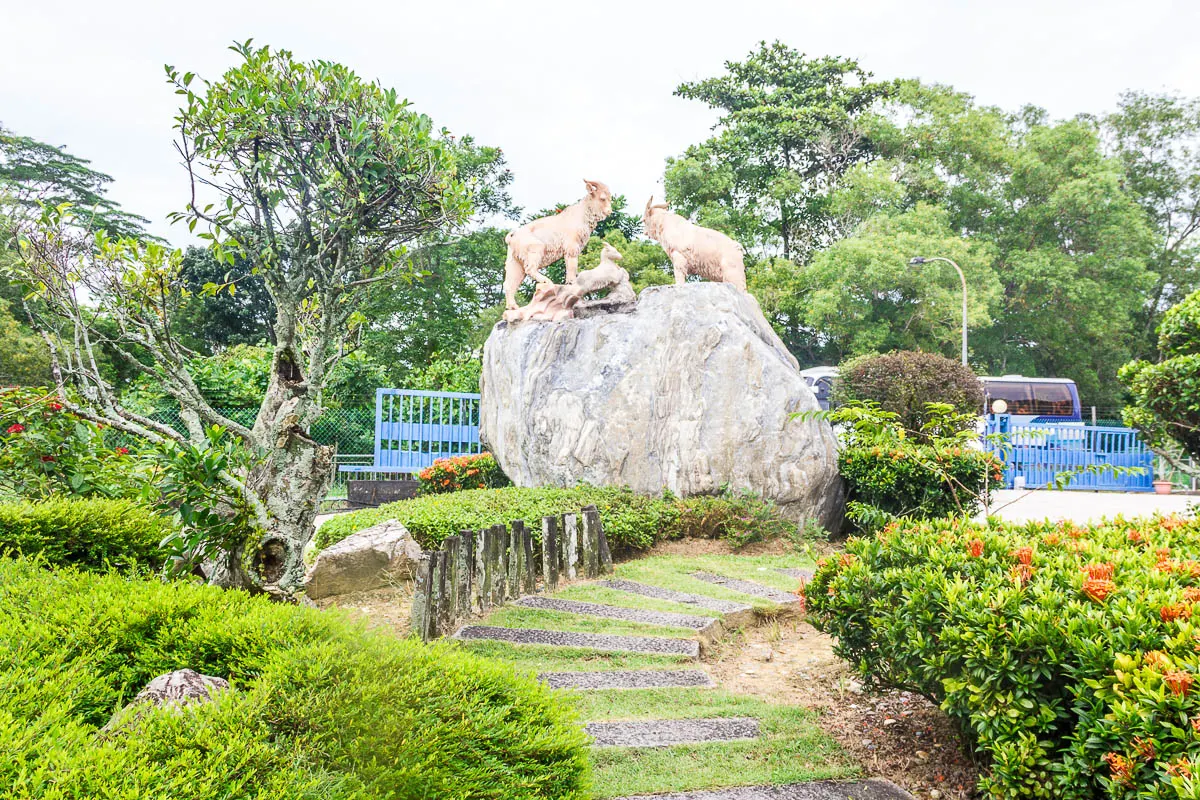 Have any questions about traveling in Singapore? Join All About Singapore Travel FB group, I'll be there to answer your questions!
Hay Dairies Opening Hours
Hay Dairies Goat Farm is open from 9am to 4pm, Wednesday to Monday (closed on Tuesdays).
Goat milking is conducted from 9am to 10.30am, so try to be there in the morning.
How to get to Hay Dairies Goat Farm
Hay Dairies Goat Farm is currently located at 3 Lim Chu Kang Lane 4, Singapore 718859 (location on map). However, it will be moving to a new place in 250 Neo Tiew Crescent, Singapore 719866 in Mid 2023.
If you're taking public transport, I recommend visiting the farm on weekends because there is a shuttle bus that brings visitors from Kranji MRT to Kranji Countryside. Here's the latest timetable. Do try to be at the pick-up point early, in case the bus arrives earlier than the schedule and leaves early too.
Technically, there is a public bus that goes to Hay Dairies Goat Farm (Bus 975 from Choa Chu Kang). However, I'd advise against taking this bus because it is too time-consuming.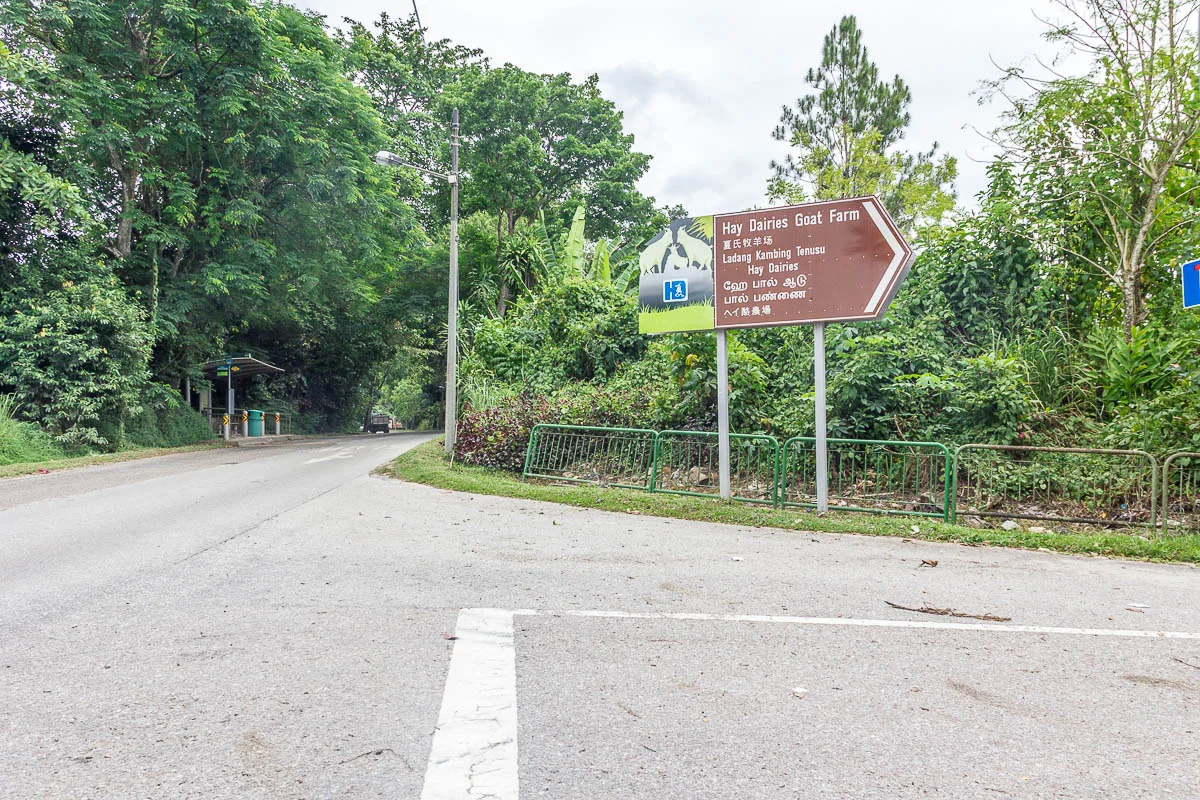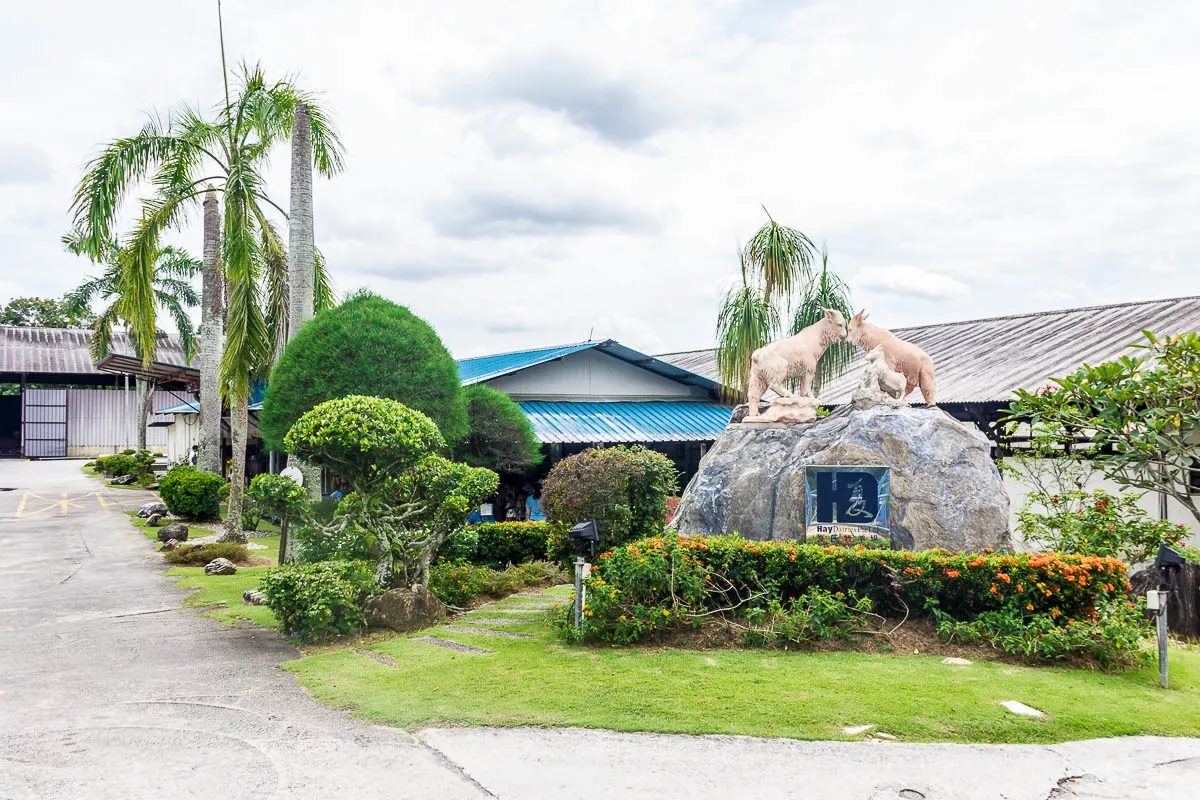 Things to do at Hay Dairies Goat Farm
1. Watch Goats Milking
If you'd like to witness goats milking process too, take note that milking is only done in the morning, approximately from 9am to 10.30am. Also, take note that they are closed on Tuesdays.
It's such an interesting experience to witness milking process. They use a mechanical pump to suck the milk, then channel the milk through pipes to a huge collection tank. The goat milk from collection tank will be pasteurized before packaging it into bottles for sale.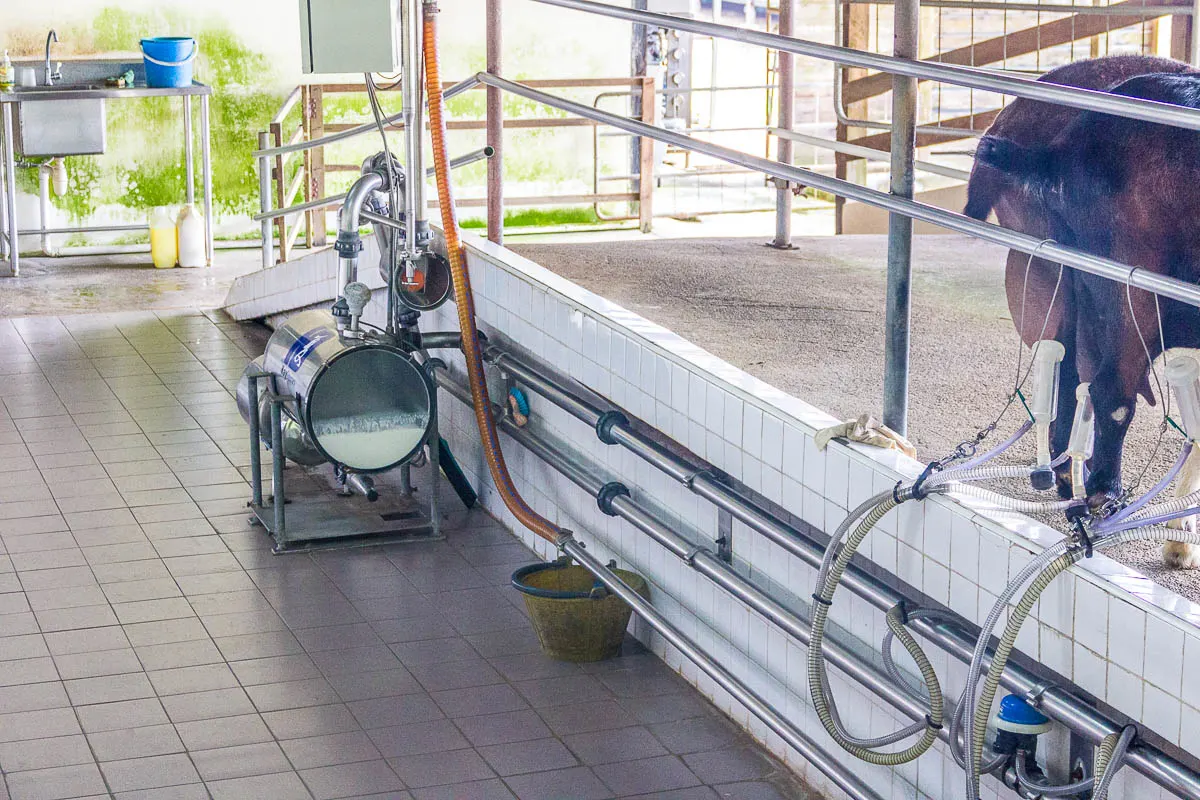 On the same day of our visit, there was a tour group of school children. The farm has a rule that states if your group is less than 20 people, booking is not required. However if your group is more than 20 people, it is considered as a large group and entrance fee will be chargeable with an educational tour package included.
So, once the children filled up the milking viewing platform, the emcee explained about the goat, the farm, and the milk to the children. I joined the crowd because I want to learn too. But later I found that the information is available on their website as well. If you are keen to learn about the goat, farm and milk, do read the whole content on their website, which is pretty easy to do in less than 30 minutes.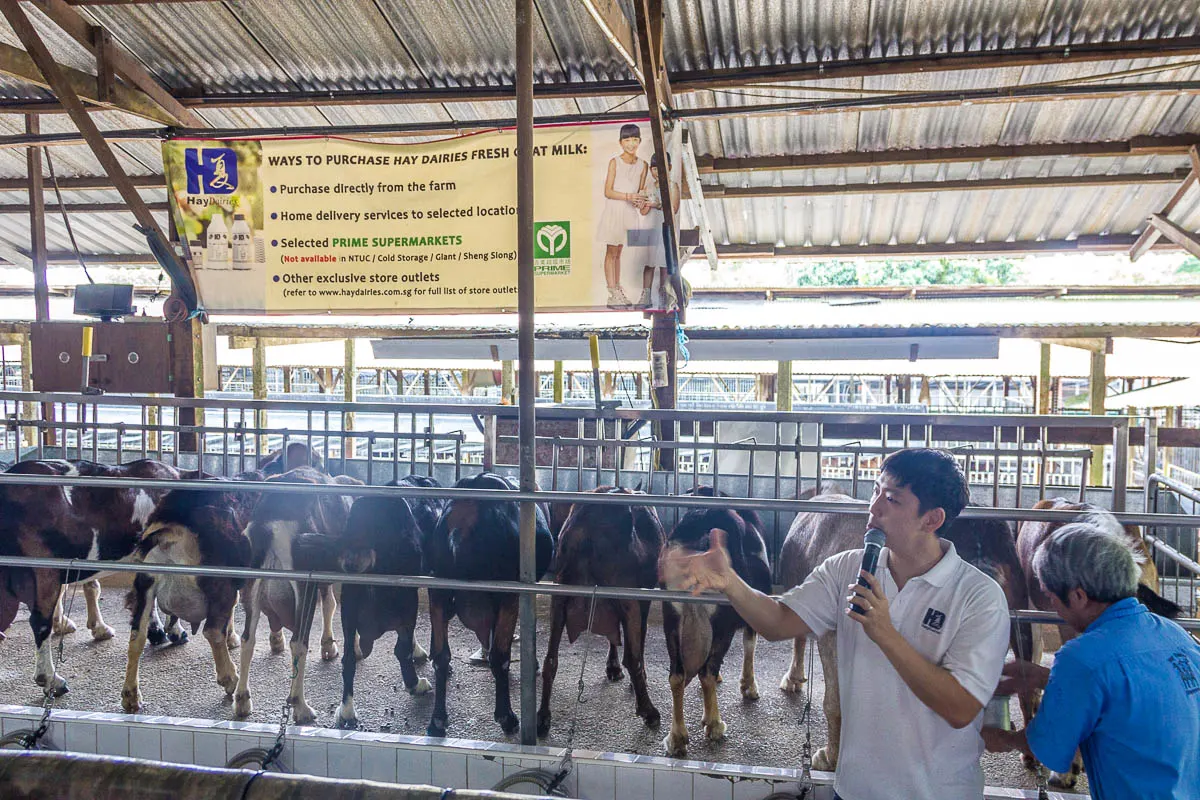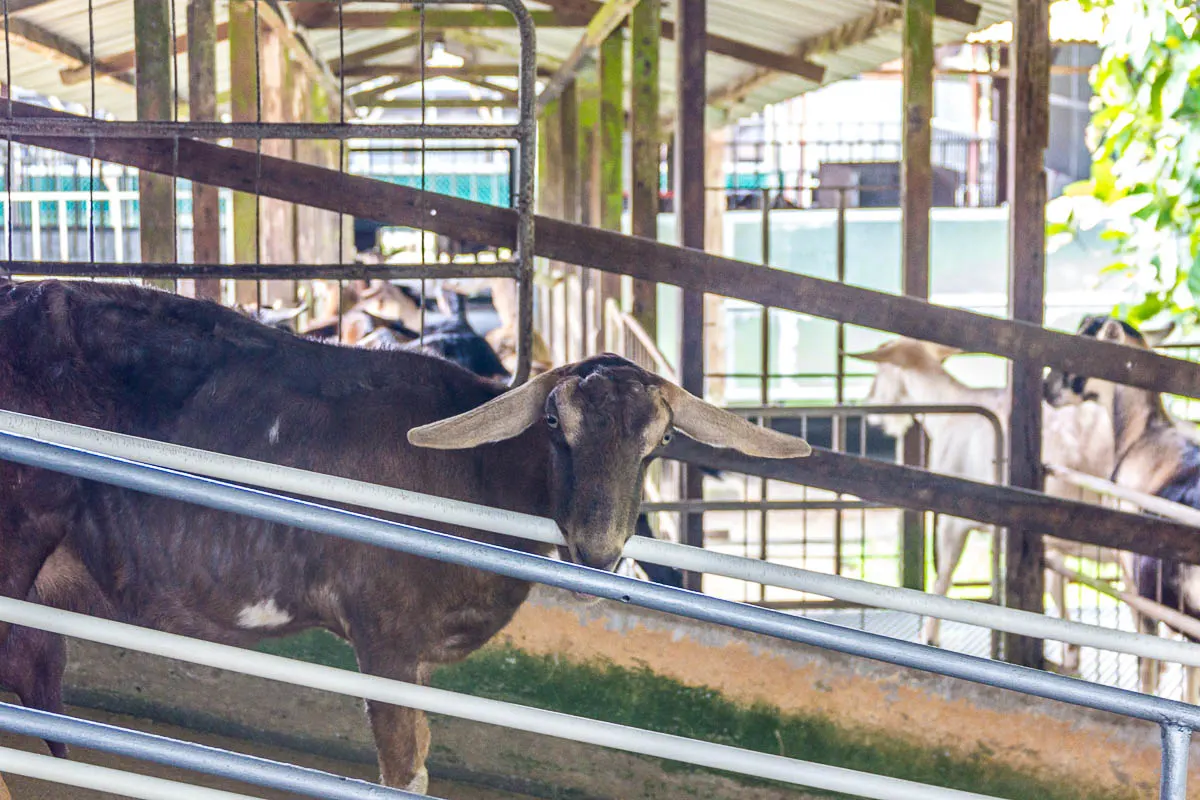 2. Drink Goat Milk
When in a goat farm, drink goat milk. We bought 2 small bottles of goat milk, each 200 ml, in original and chocolate flavor. Our verdict: it tastes similar to cow milk, and we prefer the original flavor.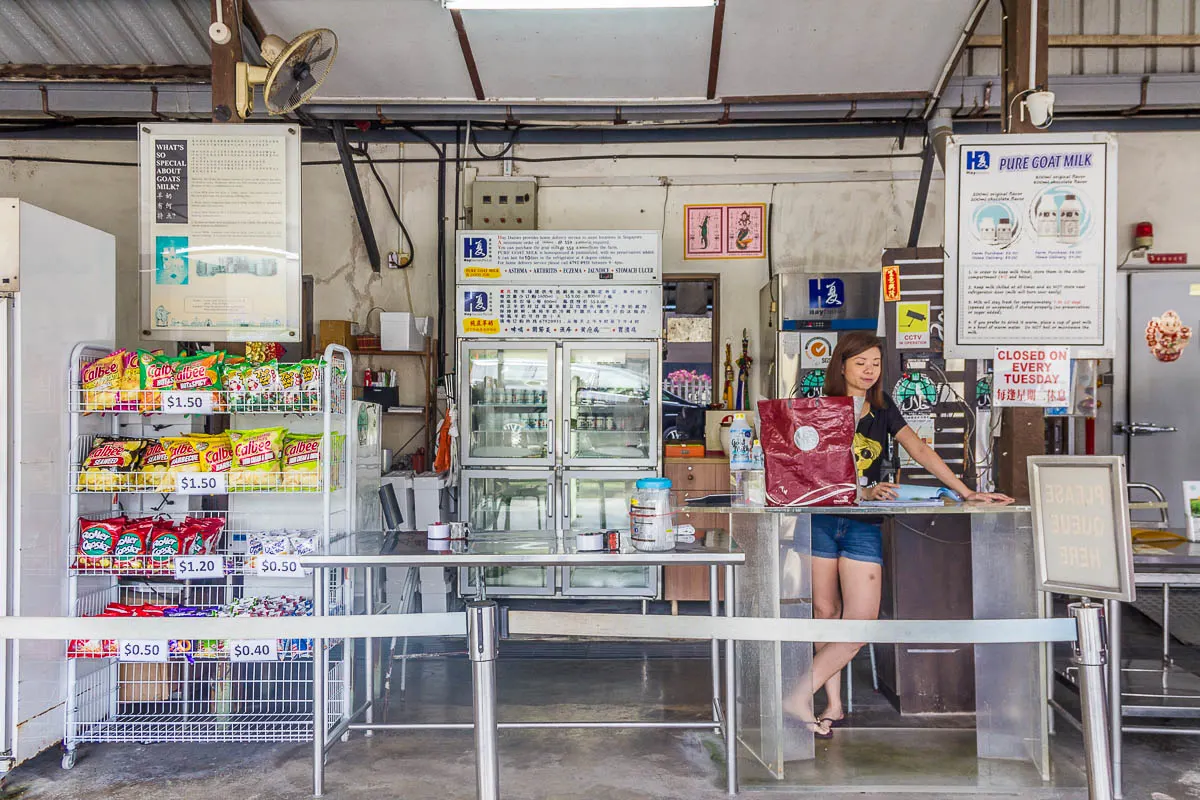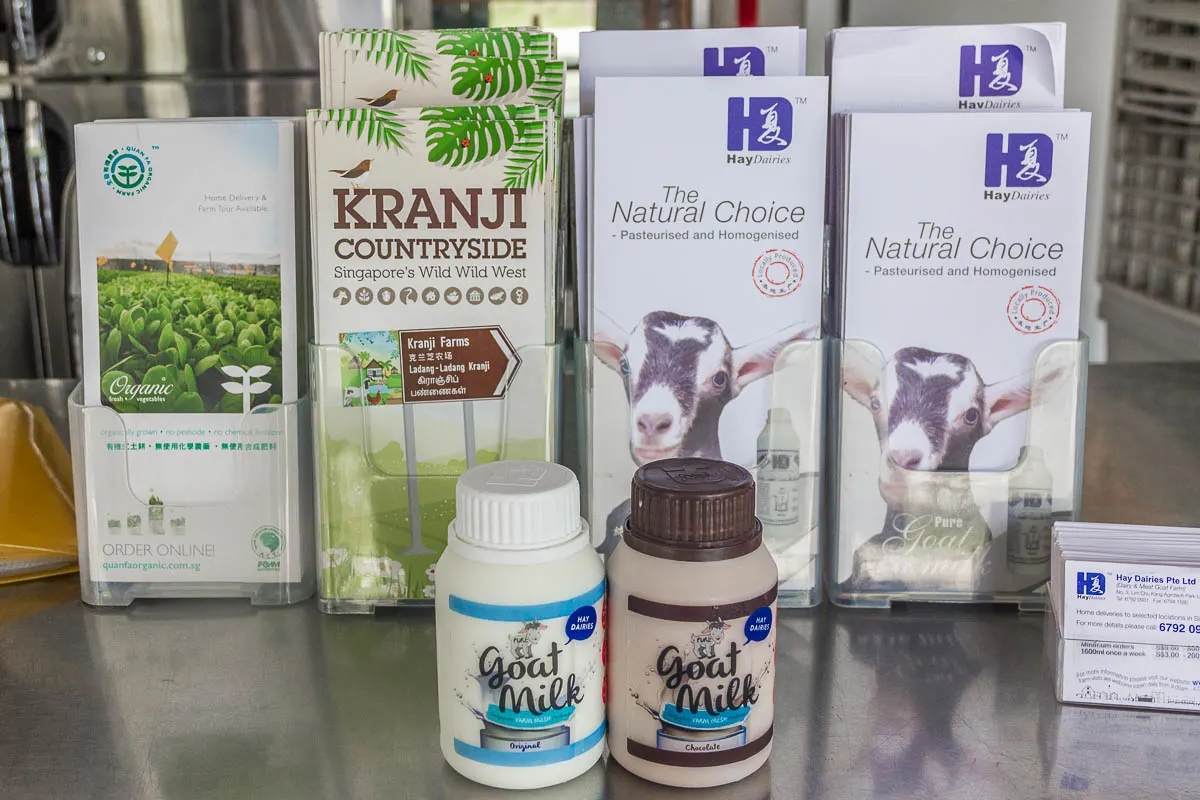 Other than on the farm itself, the goat milk is also sold in selected stores, as well as on Hay Dairies website. For direct purchase from the farm, the price is S$2.70 for 200 ml and S$8.50 for 800 ml. You need to consume the milk within 1 hour.
If you want to bring home, you can purchase cooler box to store the milk, or simply buy more to be entitled to a free cooler box, more details here. There is expiry date stated on the bottle, just make sure you keep them in the chiller (temperature of 4°C and below) and avoid placing them on the fridge's door.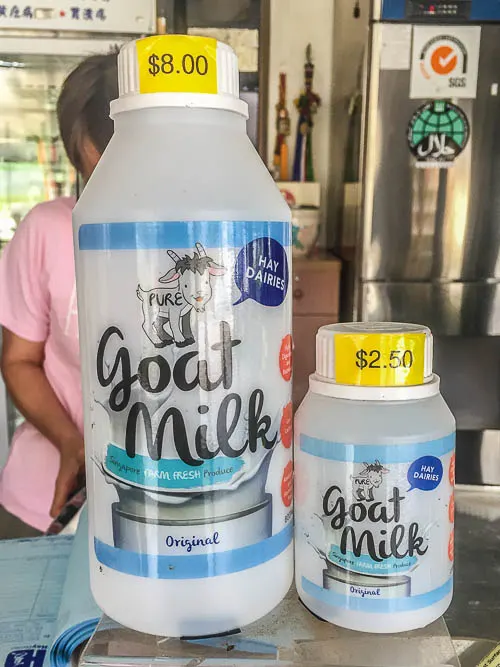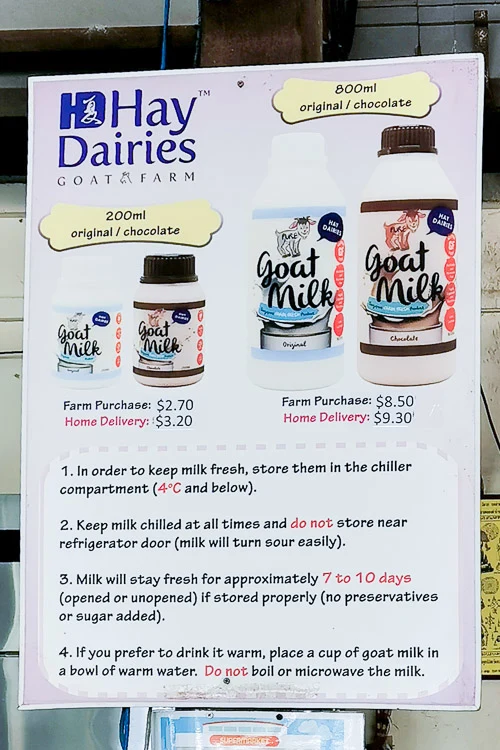 3. Feed and Pet the Goats
Do you see how cute those goats are? I was so excited to get up close with the goats. You can buy Alfalfa Hay from the counter for S$5 a pack.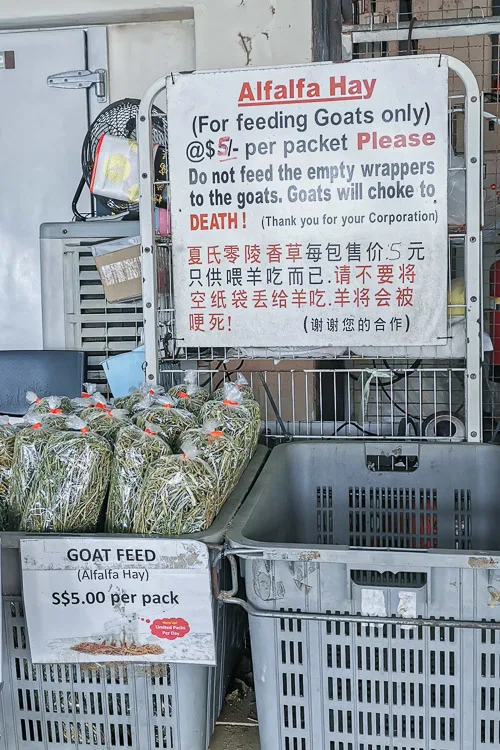 To get to the petting area, follow the signs along the sheltered walkway. There are 2 clusters of cage.
On the left, it is a row of elevated cage without visitor access. The reason why the cage is elevated is because it prevents the goats from being in contact with harmful pests and parasites.
They are fed with corn and hay twice a day. The drinking water for goat is supplied through a nipple-like outlet, attached to the water pipe fixed horizontally at midheight, at the front of the cage.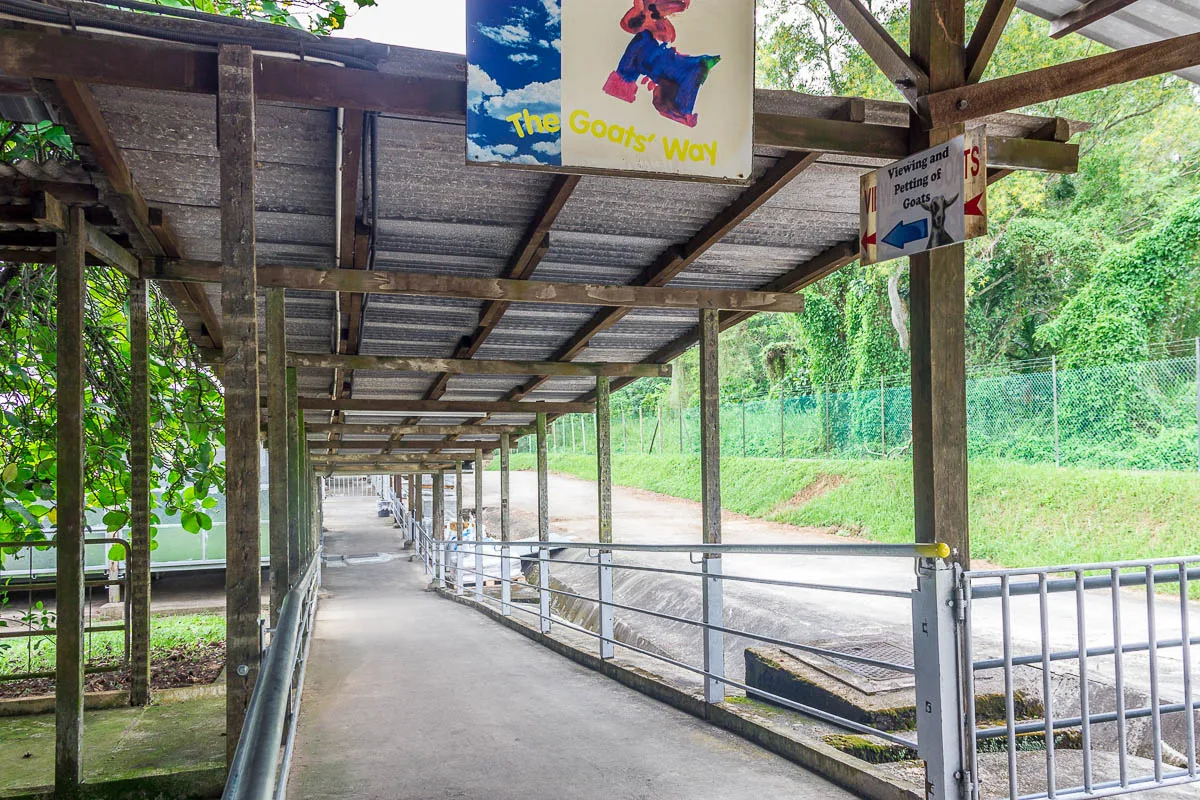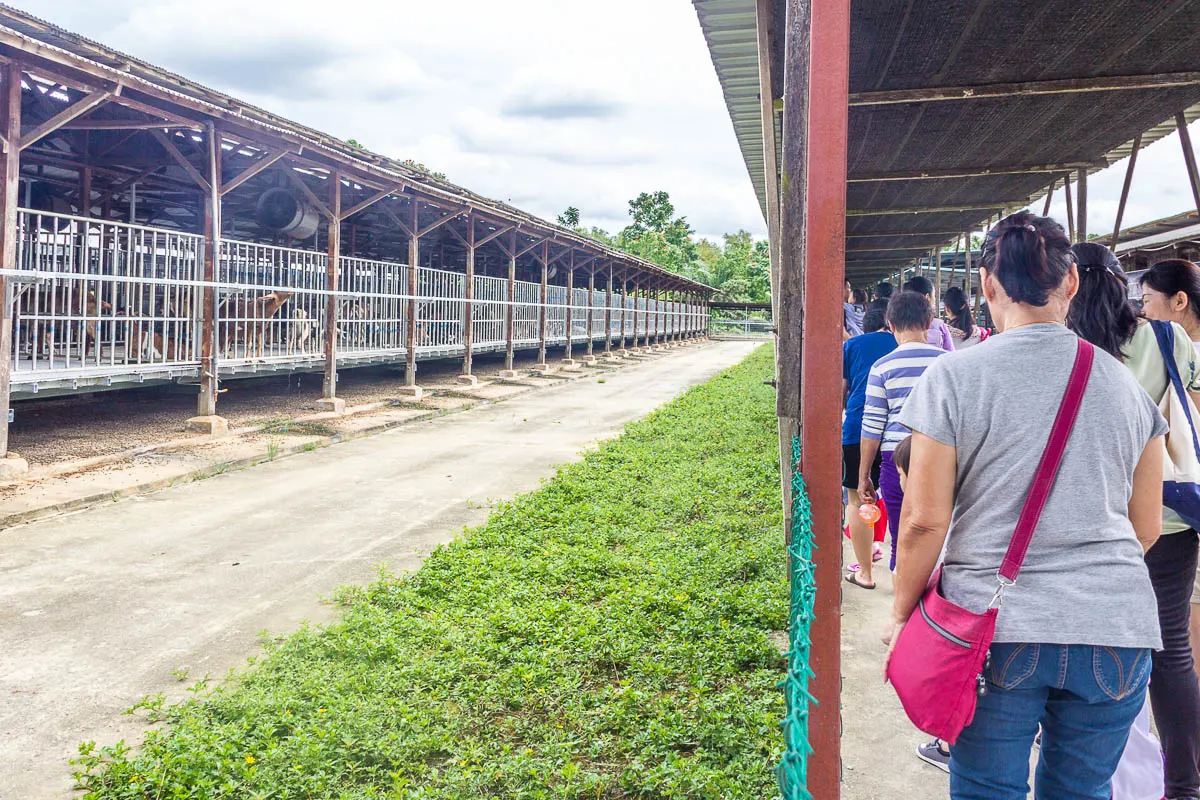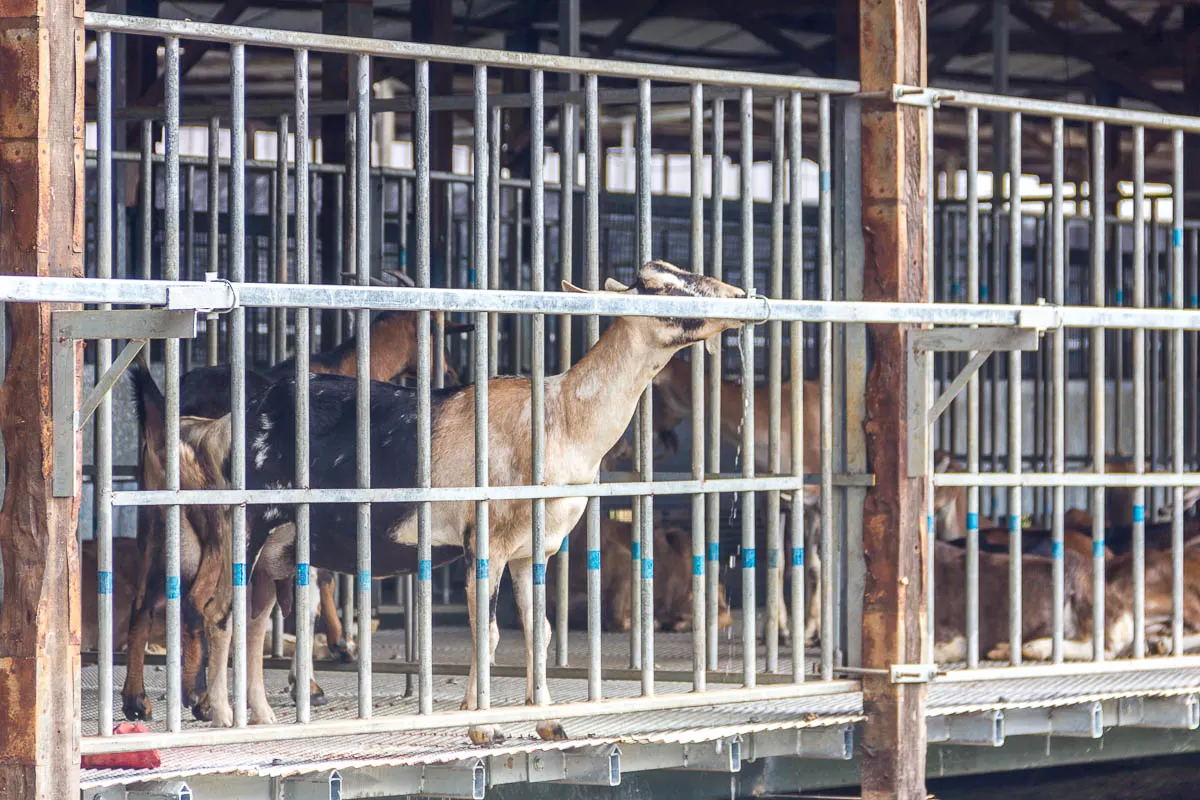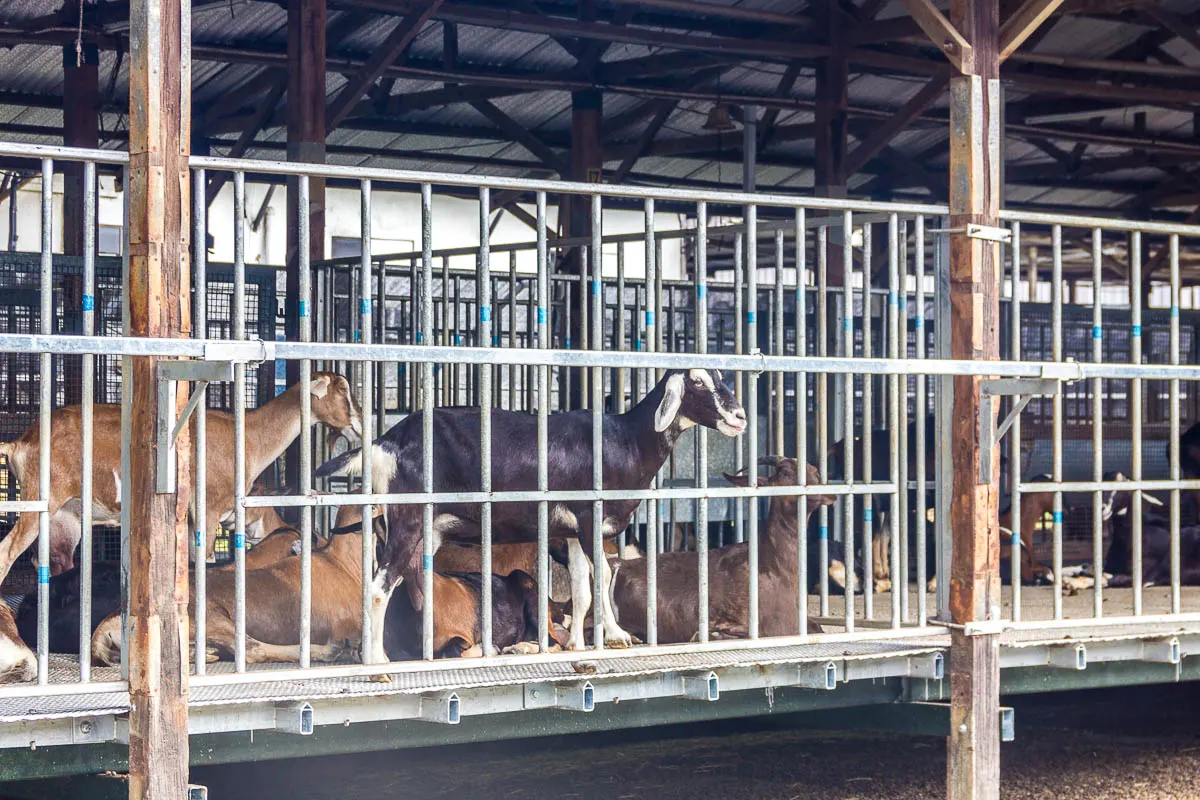 On the right, it is another row of elevated cage where visitors can feed and pet the goats. Some goats have voices that sound like human, it's so hilarious!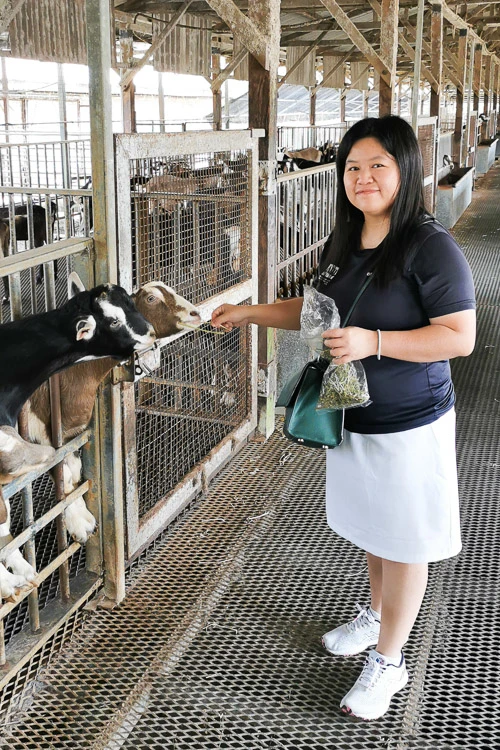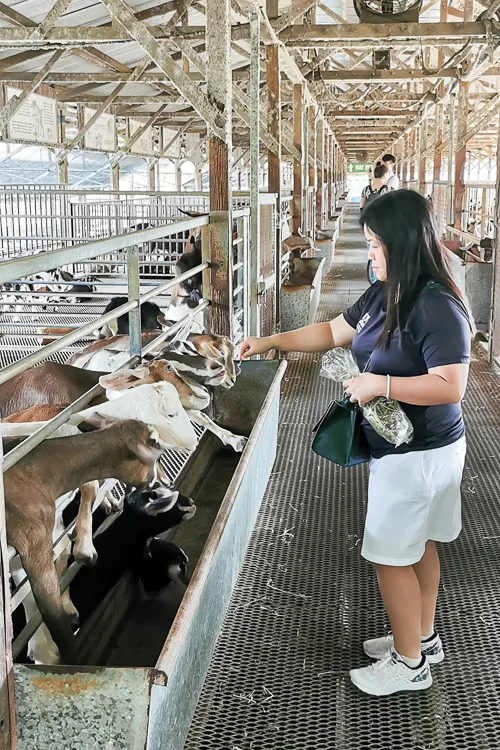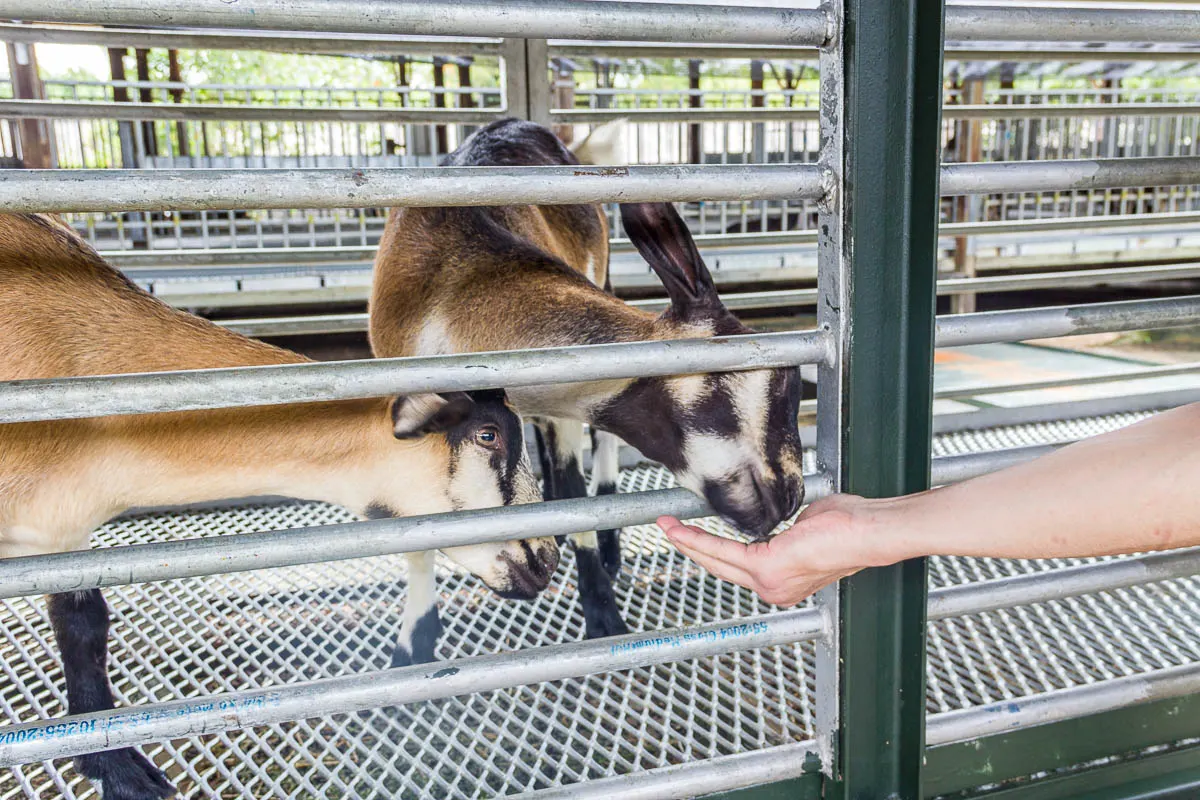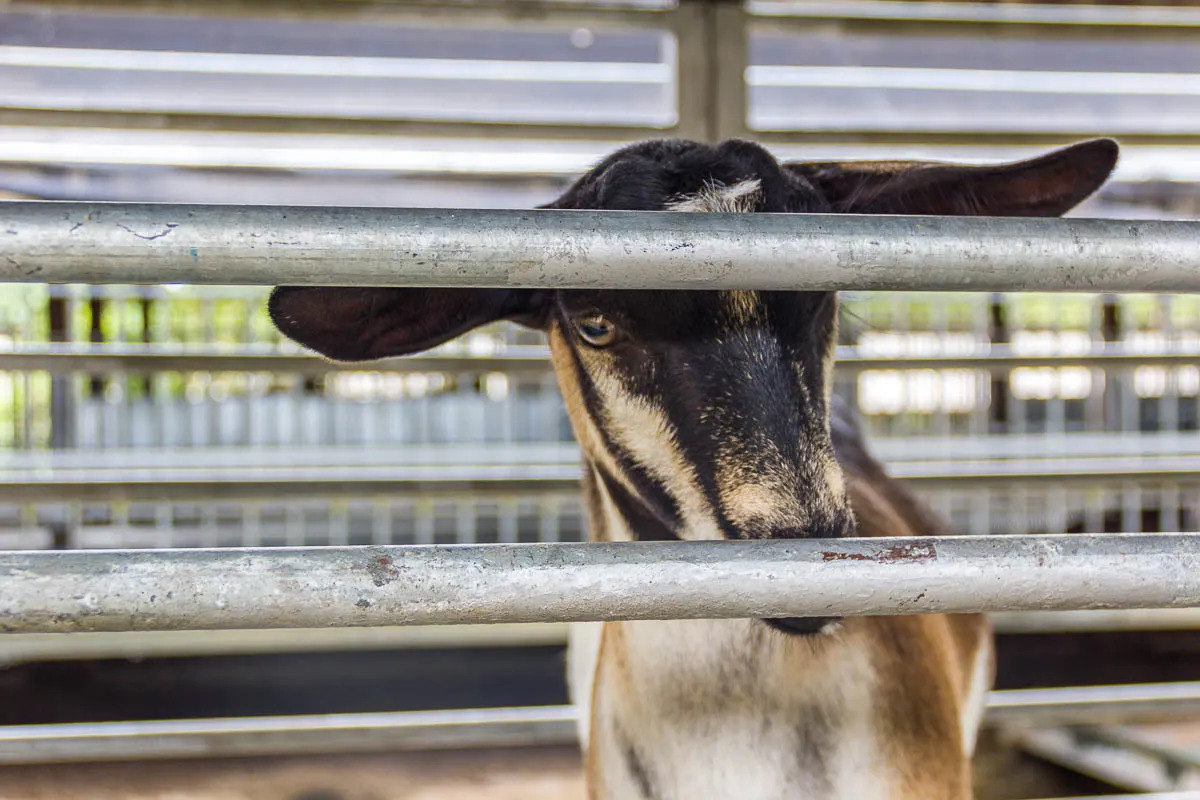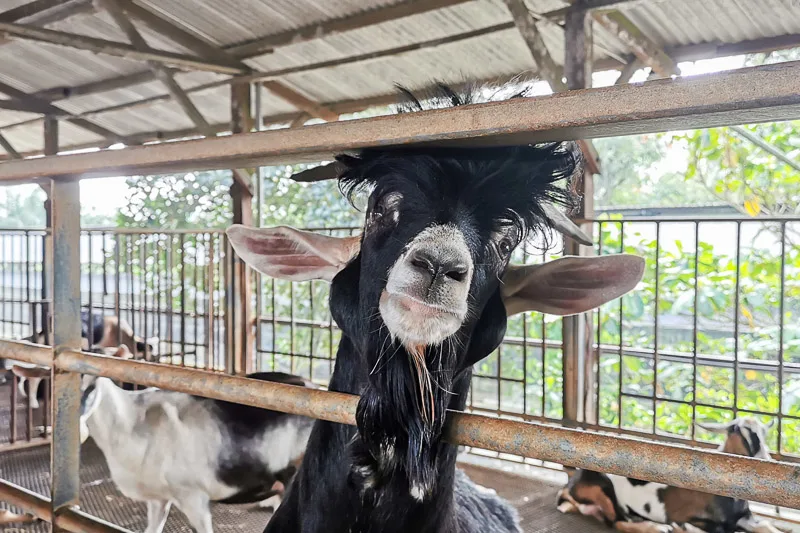 Watch the videos I made that summarize my experience in Hay Dairies Goat Farm: here and here.
Summary of Essential Information and Tips
The farm is open from 9am to 4pm from Wednesday to Monday. They are closed every Tuesday unless it is a Public Holiday.
Admission is free.
If your group is more than 20 people, you need to register in advance and pay for tour fee (a bottle of 200 ml milk is provided for each person).
There is no meal sold here, only goat milk and snacks, so make sure you eat your breakfast before visiting.
There are plenty of tables and benches for visitors to sit down.
Public toilet is available.
Other Things You Can Do Nearby
If you hold a ticket to Kranji Countryside Shuttle Bus, you can go to other farms and parks on the list, namely Sungei Buloh Wetland Reserve, Gardenasia, Kranji Marshes, Bollywood Farms and Jurong Frog Farm. Unfortunately, Hay Dairies is not within walking distance to other farms, so you have to take shuttle bus (if you don't drive).
If you like my work, you can buy me a coffee! Your support will help me to keep going!