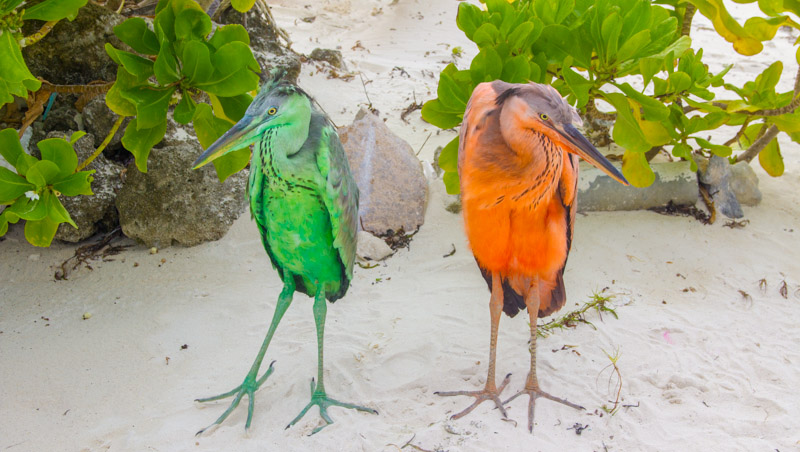 When I was doing research to determine which island to visit, Maafushi came out way more often than any other island. I had the impression that Maafushi is like the tourist hub for backpackers in Maldives, like Phuket. That, to me, is a good thing. But, Nomadic Matt said it was a horrible island as it has become too crowded with tourists and he would never return. He got me wondering, should I really avoid Maafushi?
After months and months of contemplation, I decided that I should give Maafushi a try. I booked 2 nights at Maafushi Inn as they have great reviews. We paid USD 54.2/room per night.
Getting from Male to Maafushi
From Malé, we took public ferry from Villingili Ferry Terminal. The journey took 1.5 hours. Below is the ferry schedule.
Male to Maafushi:
1. Sunday/Tuesday/Thursday: 10:00 (Cost = 53 MVR)
2. Weekdays (except Friday): 15:00 (Cost = 22 MVR)
Maafushi to Male:
1. Saturday/Monday/Wednesday: 12:55 (Cost = 53 MVR)
2. Weekdays (except Friday): 7:30 (Cost = 22 MVR)
Another method of getting from Malé to Maafushi is the speedboat, which can be arranged with your hotel or with iCom Tours. It costs about USD 20 – 40 per person, depending on the timing and provider. Pickup can be from airport or Malé.
Checking In Maafushi Inn
After we came down from the boat, someone approached us and asked for our hotel's name. We said Maafushi Inn, and it turned out, that guy is a staff from the inn. He then loaded our baggage to a wheelbarrow and pushed it to the inn.
At the check-in, we were met with a friendly and resourceful front desk guy who, we later figured out, is the owner of the inn. He upgraded one of our rooms to a family room at the second storey, woohoo! Maafushi Inn offers plenty of activities, they even have wetsuits hanging at the dining area. We ended up booking a day trip to Olhuveli through him. Spoiler alert: the trip was amazing!
The rooms were spacious. They came with air conditioner and hot water. The mattress is kind of thin. It wasn't mind-blowing, but it was affordable and comfortable.
Our rooms came with breakfast, and it was the BEST breakfast we've ever had in our entire Maldives trip. It wasn't sophisticated, but it was definitely well-thought out. They serve breakfast in buffet style. We got to toast the bread ourselves and make our own coffee or tea. There were jam, butter, juice, water, eggs, milk, cereal and even Maldivian tuna breakfast! After 4 days of eating toast with jam and butter for breakfast in Hulhumalé and Hangnaameedhoo, Maafushi Inn's breakfast totally won our hearts.
Exploring Maafushi
Contrary to the sleepy island of Hangnaameedhoo, Maafushi is so full of life. Everywhere we walked to, we saw other tourists. Most of the tourists don't really adhere to the conservative clothing rule. Pants or skirts above knees are common.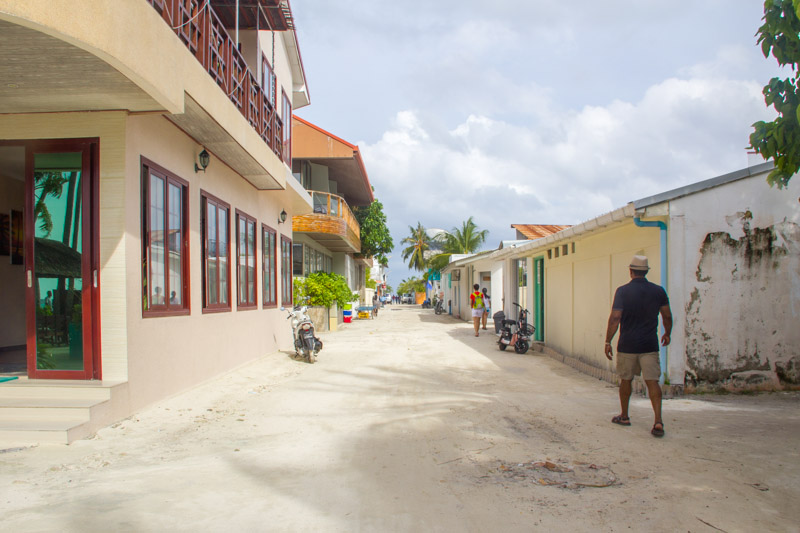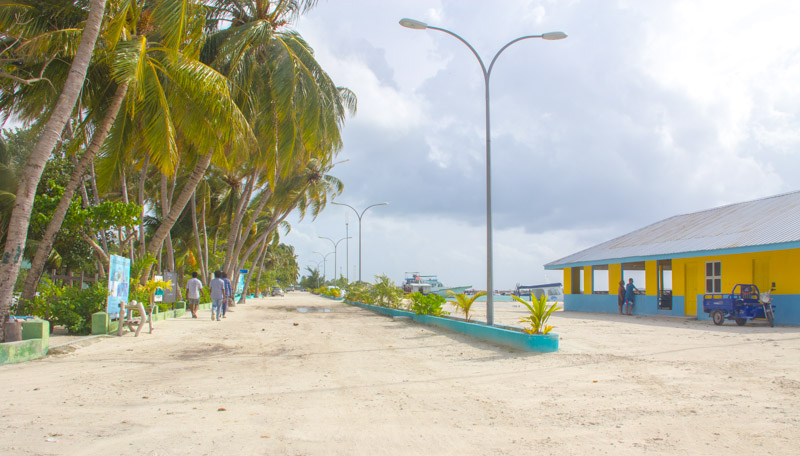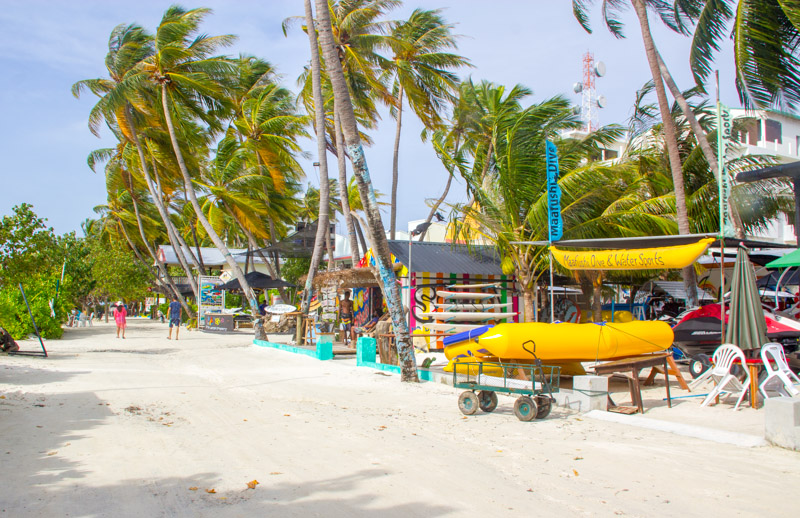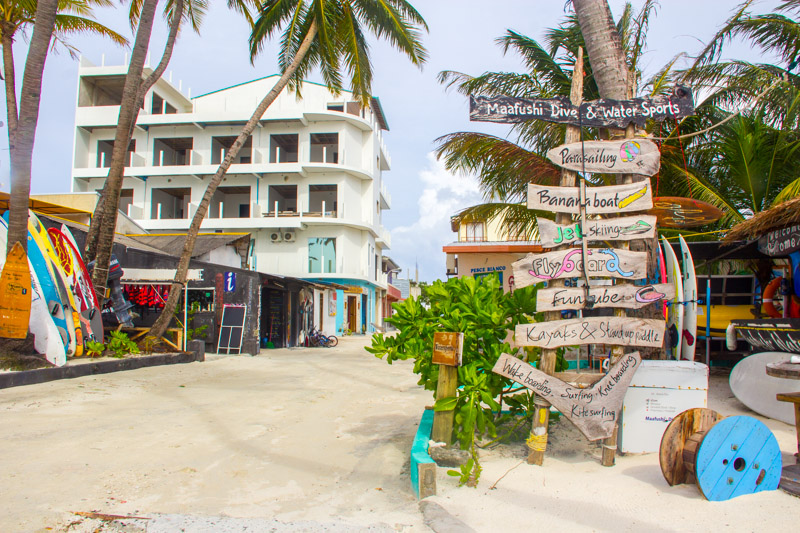 There are so many activity providers, so many hotels from guesthouses to fancy-looking hotels. There is a bikini beach at the lagoon where tourists flock to. The bikini beach is not really hidden from the locals, it is more like a public beach. The water is not as clear as the water in Hangnaameedhoo, we didn't bother to swim.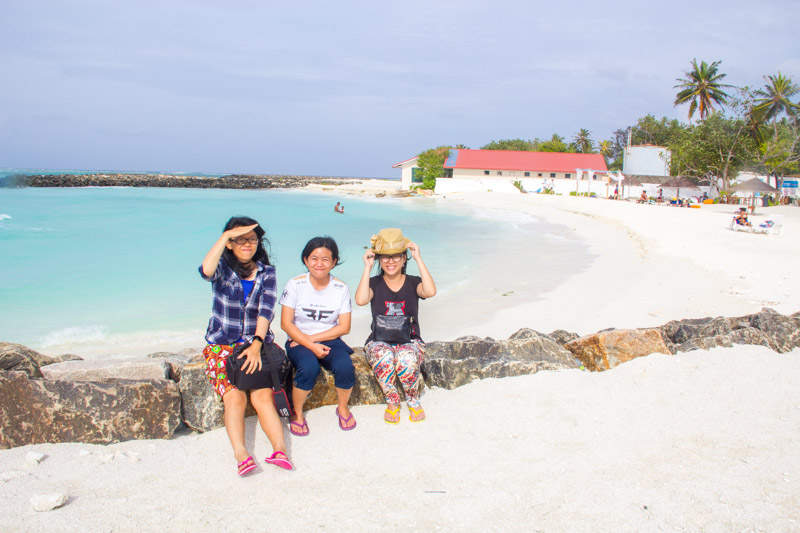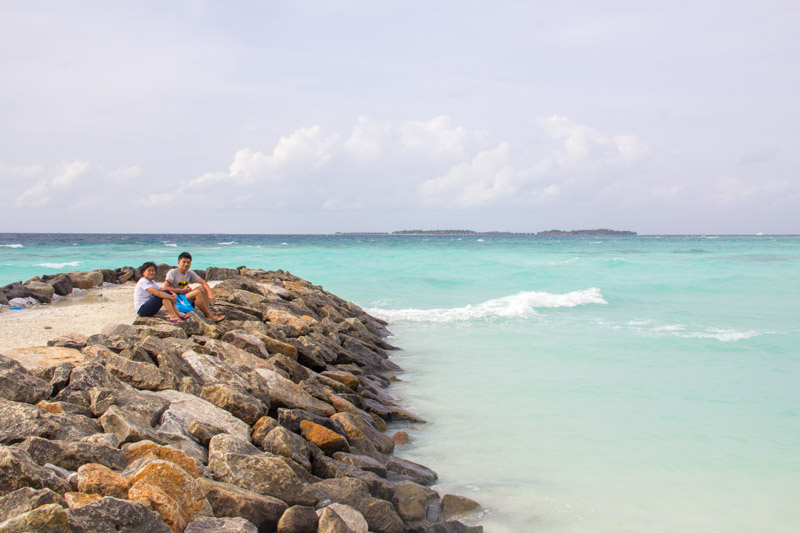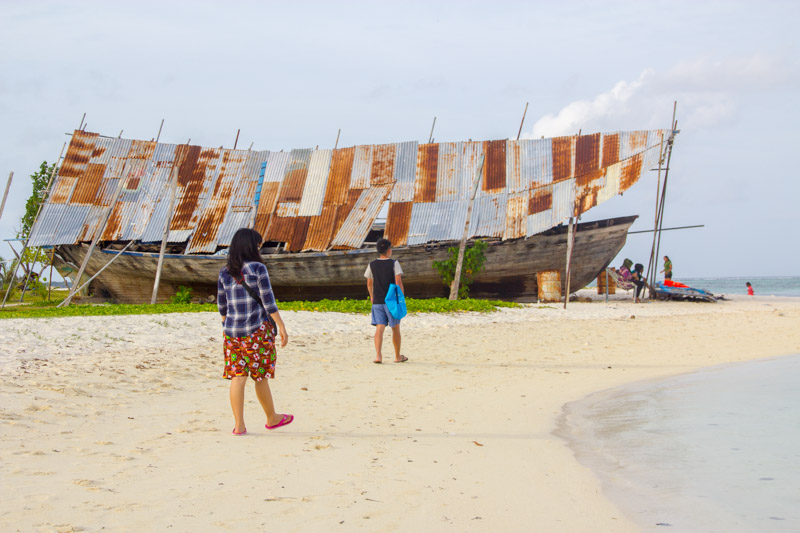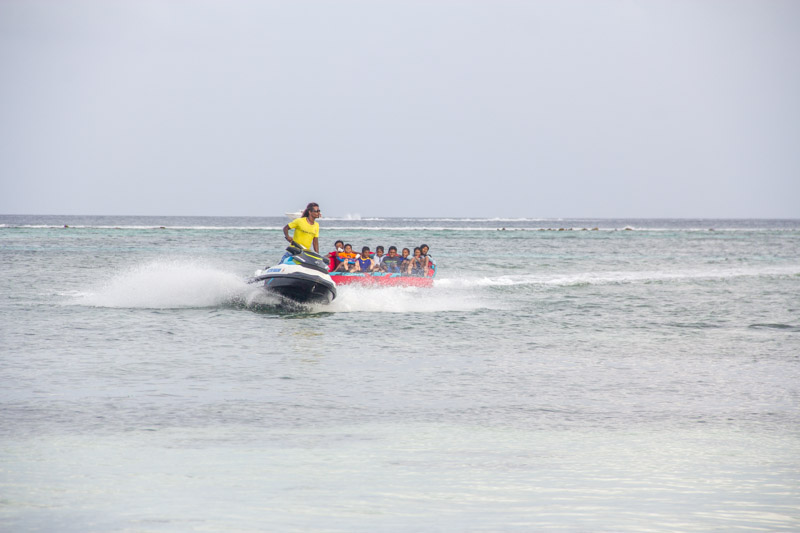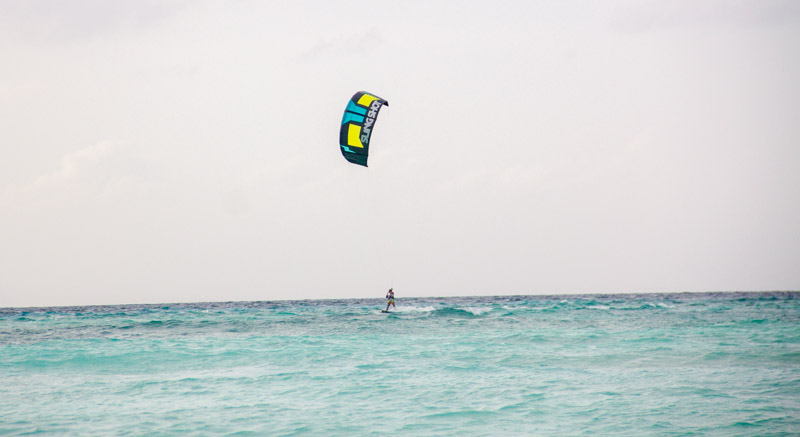 Similar to Hangnaameedhoo, the ground of Maafushi island is compacted sand that is uneven. After the rain, flood is inevitable in certain areas. At night, certain areas are not well-lit. But since it's a lively island, we really felt safe. There are plenty of convenient stores, where we could buy drinks, snacks and daily life necessities.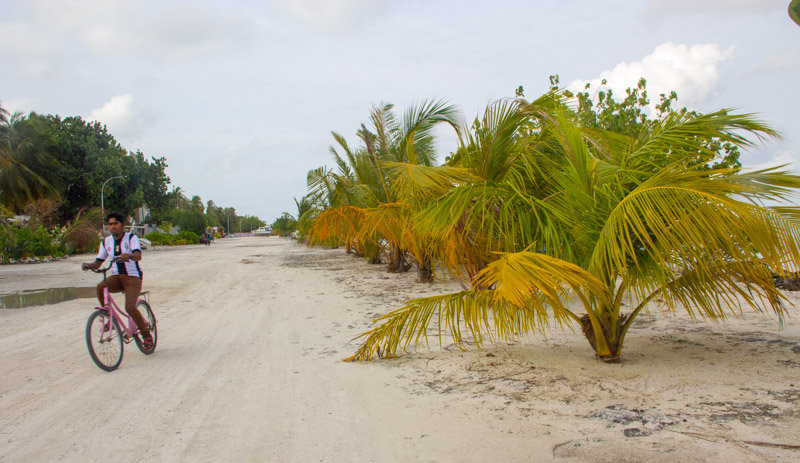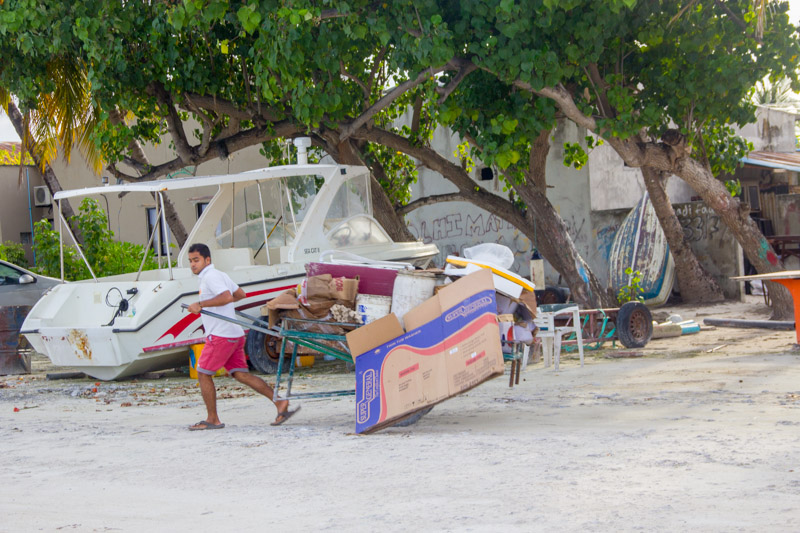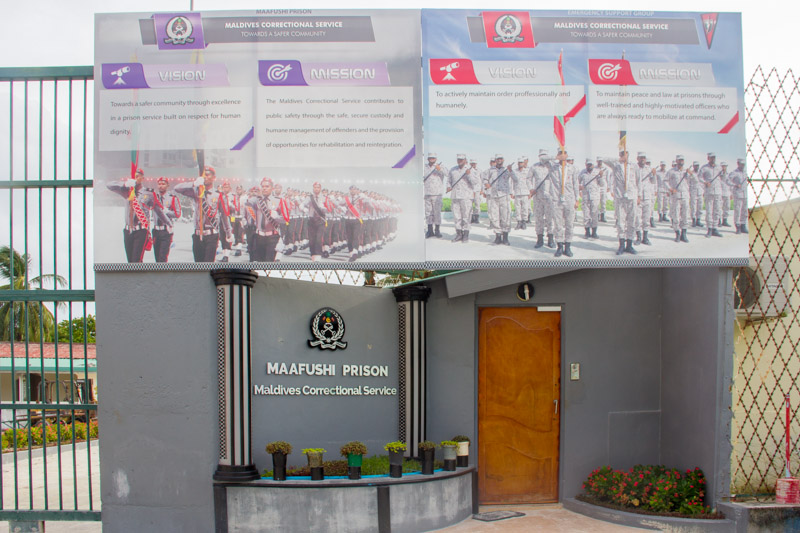 Eating in Maafushi
Since it's a "tourist hub" Maafushi has plenty of dining options. We tried 3 of them, and here are what we think.
1. Kalaama Restaurant
Located at Velana Beach Hotel, Kalaama Restaurant is just 2 mins walk from Maafushi Inn. The food is nice with awesome presentation. However, we were turned off by the staff who promised to give us mosquito repellent but never did. There were ants crawling on our table and a cat begging to be fed when we were eating. We spent USD 58 for 4 dishes and 3 drinks, it's neither cheap nor too expensive.
2. Arena Beach Restaurant
Located at Arena Beach Hotel, this restaurant is always crowded for lunch and dinner. During lunch time, they have lunch set menus; meanwhile, at night, they serve buffet. We went there for dinner buffet, it cost USD 12 before tax (after tax, it's USD 15) excluding drinks and ice creams. The food was decent. The BBQ was great though limited in variety. On the day that we went, they served fried rice, pasta, fried chicken, grilled sausages, grilled meats, deep fried fish nuggets, vegetables and cakes. I'd recommend this restaurant to anyone visiting Maafushi island.
3. Stingray Beach Restaurant
Located at Stingray Beach Inn, the restaurant ranks quite high on TripAdvisor so we gave it a try. We ordered a massive mix grill which consisted of grilled fish, calamari, prawn, and mussels. It cost MVR 220 and it was pretty good. However, the staff was horrible. He told us we could only order once, because, otherwise, it would be inconvenient for them. We didn't know the dishes come with a plate of rice, so we ordered a few plates of rice. He just kept quiet, and he delivered too much rice than we could handle. If you want to try this restaurant, lower your expectation of the service and you'll be fine.
My Takeaway
After spending the first 4 days in Hulhumalé and Hangnaameedhoo, honestly, I think Maafushi is heaven! There are so many options of activities and dining. The beach and water are not too fantastic, though; you'll be better off swimming at resort islands. If you're visiting Maldives, I really recommend that you spend at least 2 nights in Maafushi.
---
This is Part 6 of my "Maldives Trip in 2017" series. Read other posts in this series:
To see all articles I've written about this archipelago, visit my Maldives page.
---
Disclosure: Some links in this post are affiliate links. If you book with my links, I will receive a commission, but you are still paying the same price. Thank you for your support.