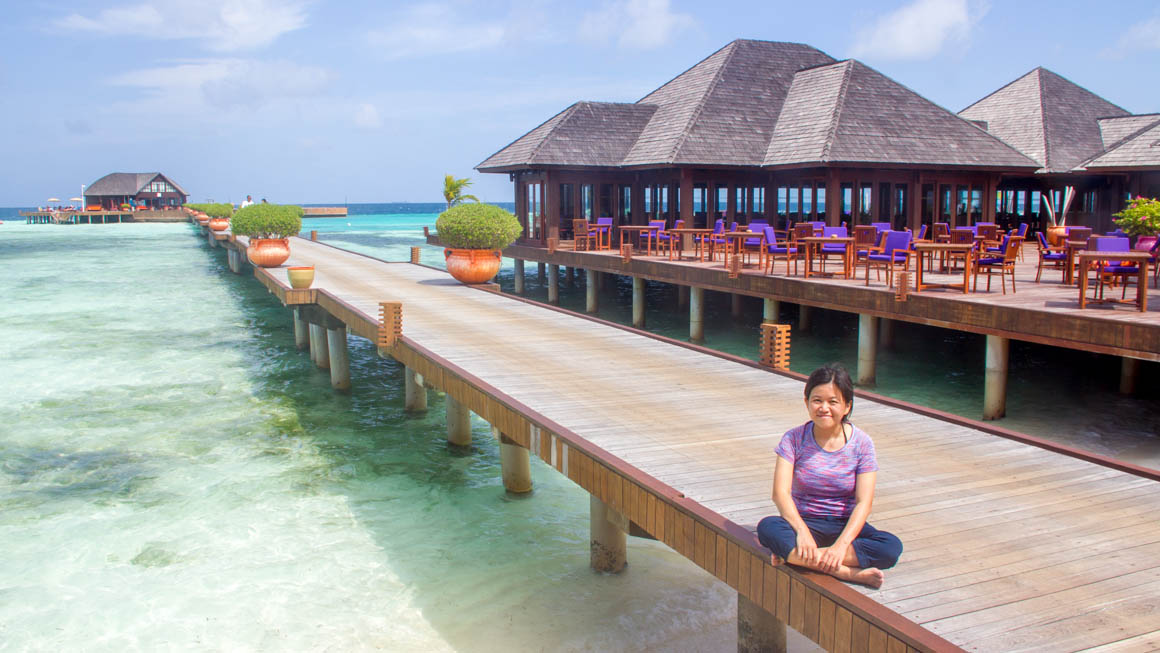 "You're so rich!" That's what people said when I told them I'm going to Maldives. I can't blame them, that's the impression people have about Maldives. And I'm going to prove them wrong!
Planning Stage
Planning a trip to Maldives for the first time gave me a lot of headache! I knew I didn't want to stay in resorts, so I began searching for local islands. But there are so many local islands, and most of them are located in different Atoll (chain of islands).
It was a pain in the ass to find the location of the atolls in Google Maps because Google Maps only show the island name and there are thousands of them in Maldives. It was frustrating!
So, what did I do? I decided to just do a generic search of guesthouses in booking websites such as Agoda, Booking.com, and AirBnB (get SGD 45 credit when you register here); then read the customer reviews and eventually chose the guesthouse that has great reviews and affordable price.
The thing that cost me sleepless nights during my trip planning stage? It's figuring out the ferry departure schedule (certain ferry doesn't operate every day) and making sure we have enough time to catch the ferry that will bring us to our next destination. In my in-depth posts about each island, I'll include the essential ferry information so that future travelers will be better equipped.
Itinerary
The country of Maldives has more than a thousand beautiful coral islands, but only around 200 of them are inhabited. We didn't want to confine ourselves to a single island for the whole 8 days, so we decided to visit a couple of islands to experience the true life in Maldives. We managed to visit 5 islands and stay in 3 local islands. Every island that we visited has its own characteristics, and I'll describe all of them in details in separate posts.
Day 1 (Airport – Hulhumale):
– Dinner at airport
– Took bus from airport to Hulhumale
– Check in hotel
Day 2 (Hulhumale – Male – Hangnaameedhoo):
– Breakfast at hotel, check out
– Took public ferry from Hulhumale to Male
– Took public ferry from Male to Hangnaameedhoo
– Check in hotel, lunch at hotel
– Explore Hangnaameedhoo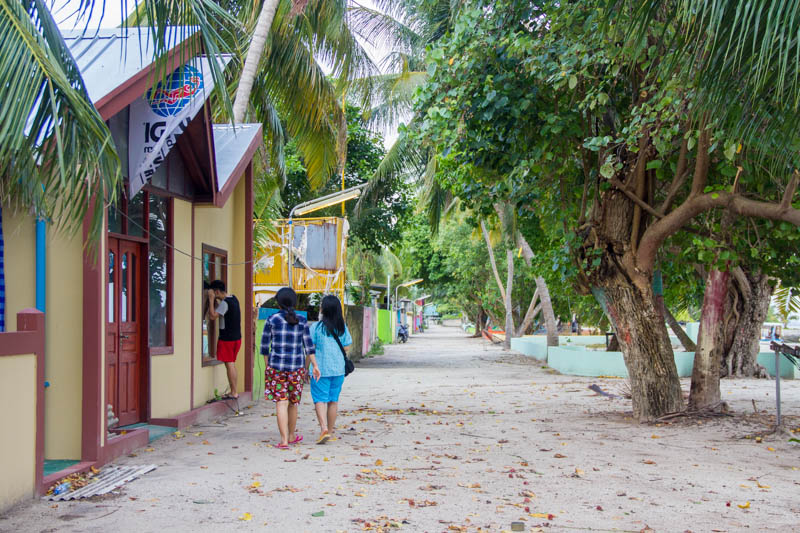 Day 3 (Hangnaameedhoo):
– Snorkeling at house reefs
Day 4 (Hangnaameedhoo):
– Explore Hangnaameedhoo
– Swimming at bikini beach
Day 5 (Hangnaameedhoo – Male – Maafushi):
– Check out
– Took speedboat ferry from Hangnaameedhoo to Male
– Took public ferry from Male to Maafushi
– Check in hotel in Maafushi
– Explored Maafushi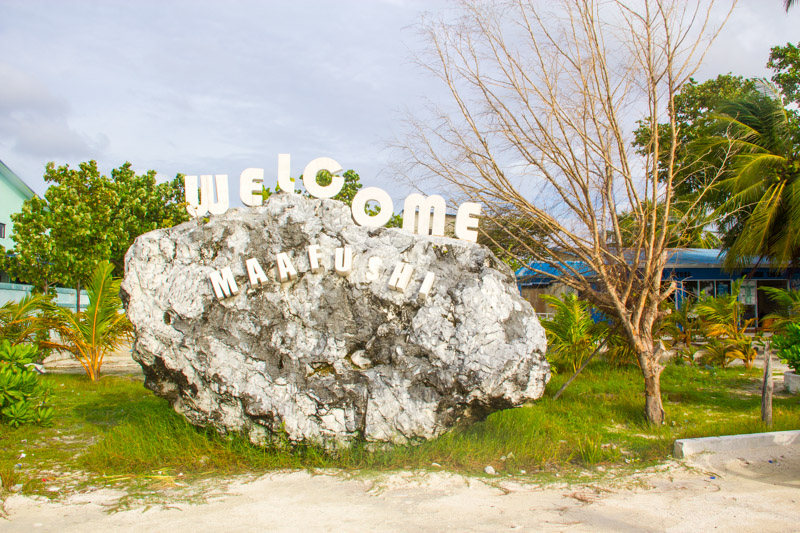 Day 6 (Maafushi – Olhuveli – Maafushi):
– Day trip to Olhuveli Beach & Spa
Day 7 (Maafushi – Male – Hulhumale):
– Check out from hotel in Maafushi
– Took public ferry from Maafushi to Male
– Took public ferry from Male to Hulhumale
– Check in hotel in Hulhumale
– Explored Hulhumale
Day 8 (Hulhumale – Male – Hulhumale – Airport):
– Explored Hulhumale
– Took public ferry from Hulhumale to Male
– Explored Male on foot
– Took public ferry from Male to Hulhumale
– Collect luggage from hotel
– Took bus from Hulhumale to Airport
Cost Per Person
Flight = SGD 236 (Singapore – Male – Singapore on Scoot)
Accommodation = SGD 238 for 7 nights
SIM Card = USD 22 (Dhiraagu, 15GB, valid for 7days)
Day Trip to Olhuveli = USD 115 (admission and transfer)
Transportation = USD 25 (speedboat) + MVR 215 (public ferry and taxi)
Food = approx SGD 158
Activities = USD 15 (snorkeling at Hangnaameedhoo and Olhuveli)
Total Cost = approx SGD 893 per person
*1 USD = 1.36 SGD; 1 SGD = 11 MVR
Our cost is equivalent to SGD 112/day per person, a figure similar to my Hong Kong trip, and surprisingly lower than my Taiwan trip. So, if you're budget-conscious like us, you, too, can travel to Maldives on a budget!
Where I Stayed and How Much I Paid
Tips to Keep Your Cost Minimum
Look for bargain flight ticket. We got our flight tickets from Scoot during the promotion. We booked the tickets 6 months in advance.
Stay at local islands, not resorts. If you'd like to experience resort's life, go for a day trip instead of staying at the resorts.
Take the public ferry, not speedboat. Even though public ferry takes longer traveling time compared to speedboat, I will choose public ferry over speedboat anytime. The only time I took speedboat in Maldives, I threw up, and I'm now forever traumatic towards Maldives' speedboats.
Only take excursions that you REALLY want. Every guesthouse and hotel in Maldives offer many excursions such as snorkeling, diving, fishing, sandbank visit, resorts day trip. Unless you're a hardcore diver or angler, or have plenty of cash lying around, I recommend that you stick to free or cheap activities (swimming, snorkeling at house reefs, chilling, sunbathing) and spend your hard-earned money on excursions that you really want (for us, it was a resort day trip).
Visit during low season. The low season lasts from May to October. Beware though, even though things are cheaper in low season, it's a rainy season, and your day trips could be canceled due to the rain and you'll have to stay in for the day. We went during low season, we saved money as guesthouse prices were cheaper, but we were miserable when it rained on day 3 and 4.
Read Next
This is Part 1 of my "Maldives Trip in 2017" series.
Here are the detailed posts in this series in chronological order:
To see all articles I've written about this archipelago, visit my Maldives page.
---
Disclosure: Some links in this post are affiliate links. If you book with my links, I will receive a commission, but you are still paying the same price. Thank you for your support.