Oh, Olhuveli. The day that we've been waiting for since we booked the plane ticket to Maldives finally arrived. We've been dreaming about visiting a luxurious resort in Maldives for so long. We knew we didn't have the budget to stay in a water villa in Maldives, so the best thing we can do to experience the luxury of Maldives is to visit the resort on a day pass.
Previously, in Hangnaameedhoo, we contemplated about doing a resort day trip to Elaidhoo Resort, but the weather was too unpredictable; it rained 2 nights out of 3 nights we were there! Now, in Maafushi, we thought, it's now or never! This is our last chance to visit a resort!
Going to Olhuveli
We booked the day trip to Olhuveli Resort through our guesthouse, Maafushi Inn. We paid a transfer fee of USD 100 for 4 people, which worked out to be USD 25/person. The speedboat picked us up from a jetty near Maafushi Prison at about 9am. We were joined by 2 female travellers from the Philippines, one of them lives in Singapore too!
The speedboat journey took about 15 minutes. And the ride wasn't terrifying like the speedboat we took from Hangnaameedhoo to Male. In fact, this speedboat ride was exciting.
Admission
We were greeted by a female Chinese representative from the resort. She told us to wait until another group arrive before she could check us in. 15 minutes later, a huge group arrived and shot the woman with hundreds of questions in Chinese that I could barely understand.
She tried to answer them while walking all of us towards the reception, passing through crystal clear water with plenty of fish. At the reception, we were given welcome drinks while the woman spent 20 mins checking that huge group in and answering their questions. Eventually, 35 mins after we arrived at the resort, we were attended to. We paid the admission fee of USD 90/person and were given a receipt, customer number, and briefing about what's allowed and what's not.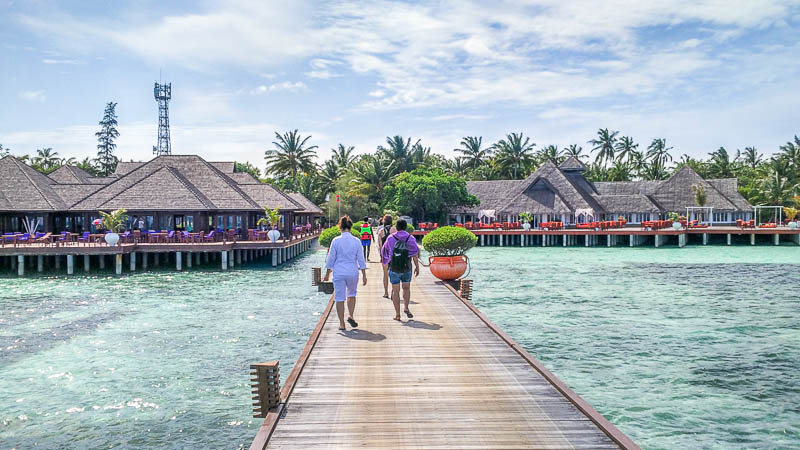 Basically, we can use any pools and shower facilities in the resort. For food, we can get free buffet food and drink (including alcohol) during lunch time only. Beyond lunch hour, food and drinks are chargeable. Snorkelling is allowed at designated areas near the main jetty, but outside ferry landing area.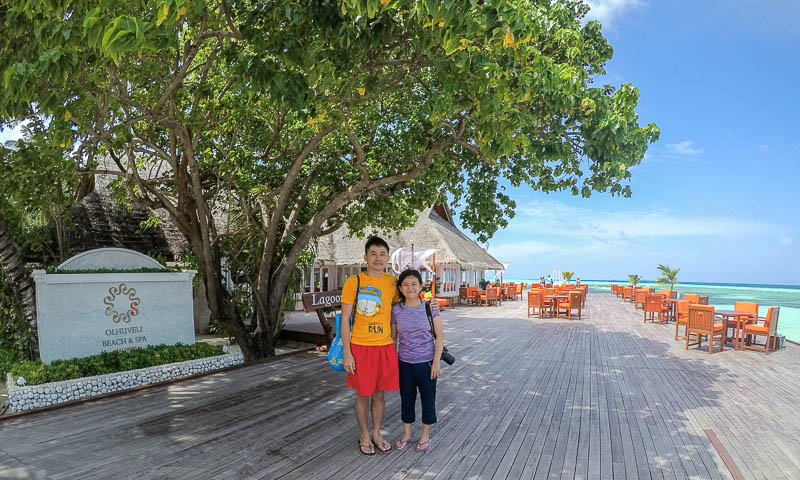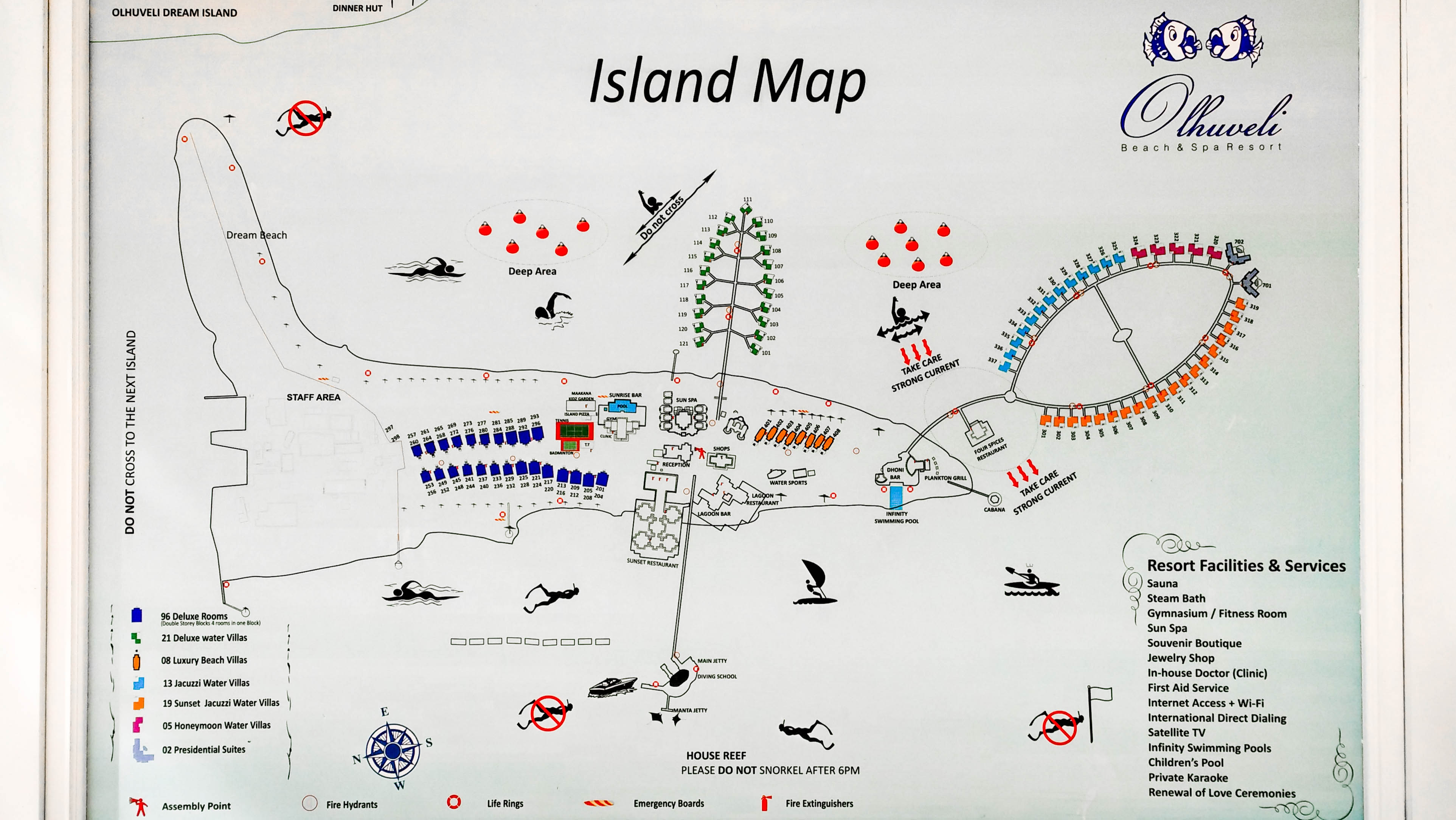 Water Villa and Beach
After admission, we didn't waste a lot of time chit-chatting. Instead, we took out our cameras and phones and started snapping and posing. Next, I'm gonna bombard you with dozens of photos during our snap session before lunch. Brace yourself!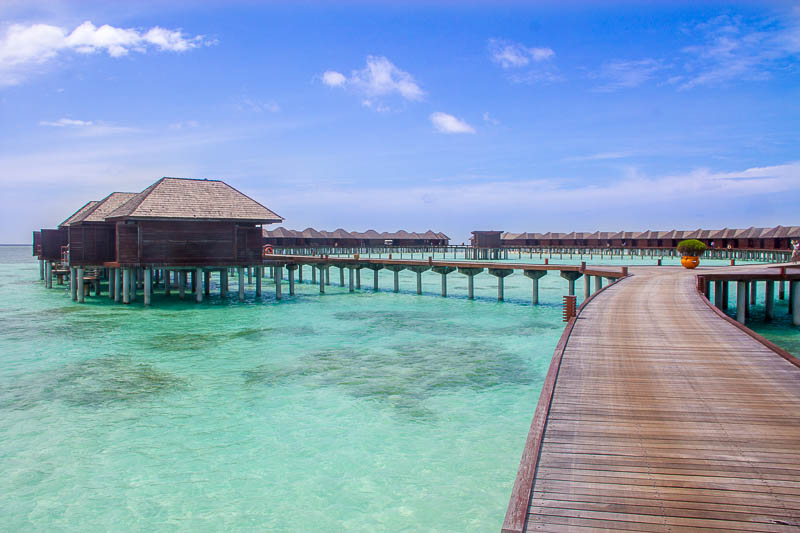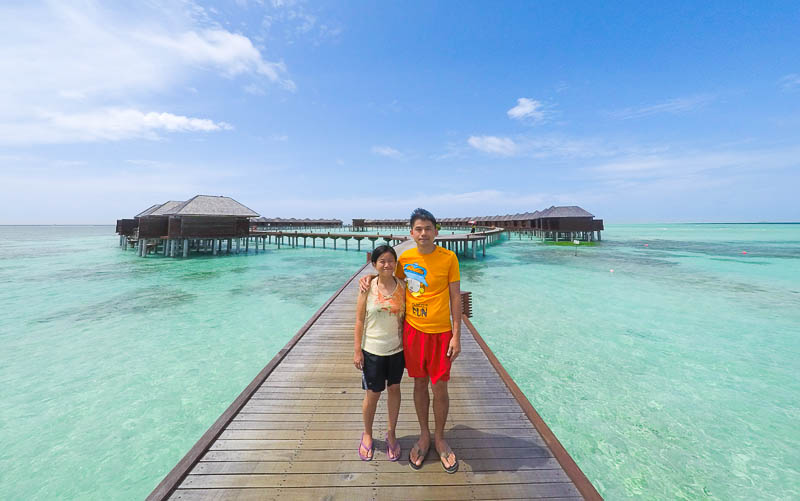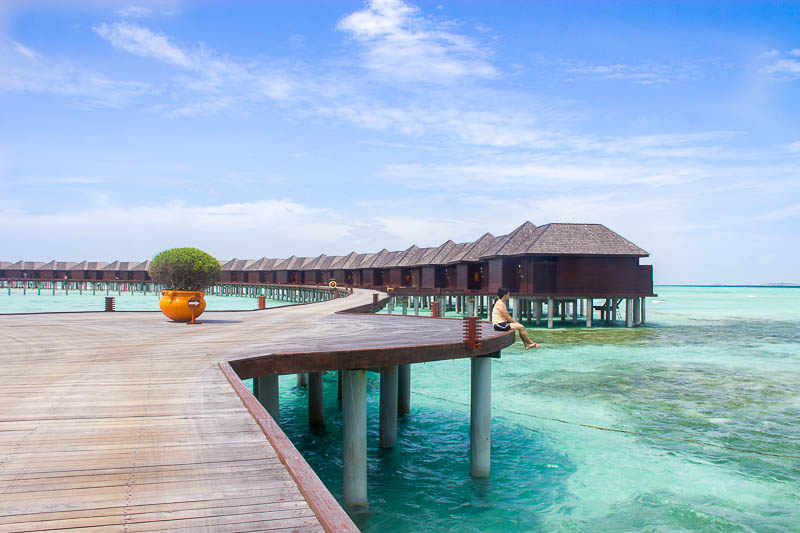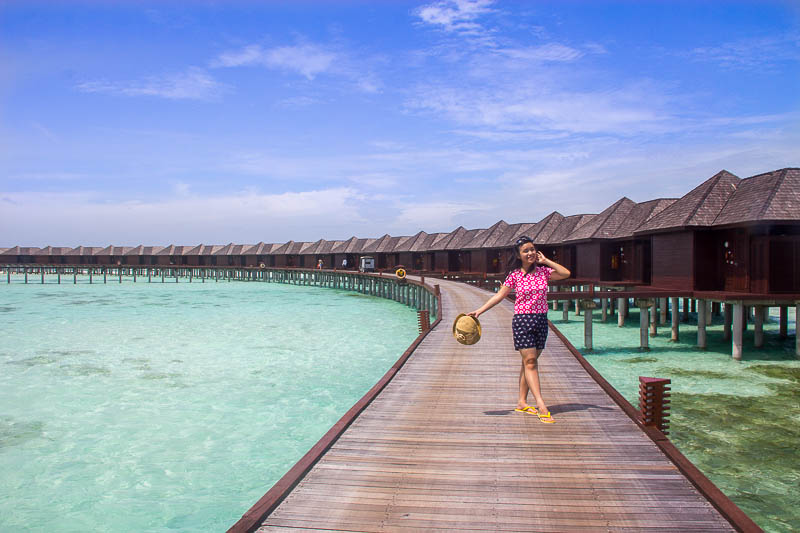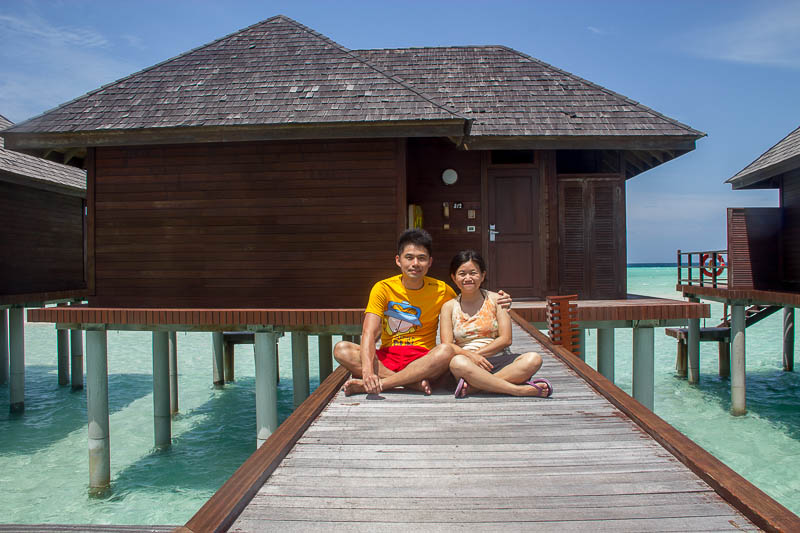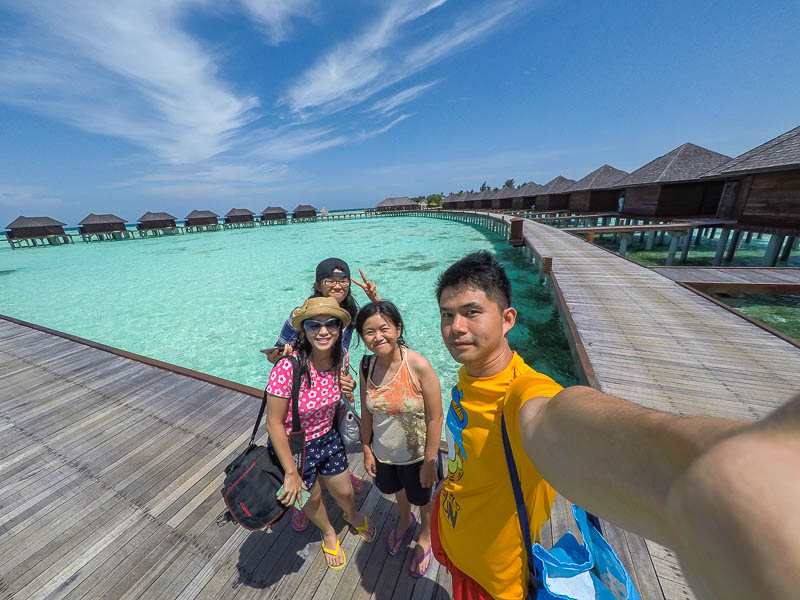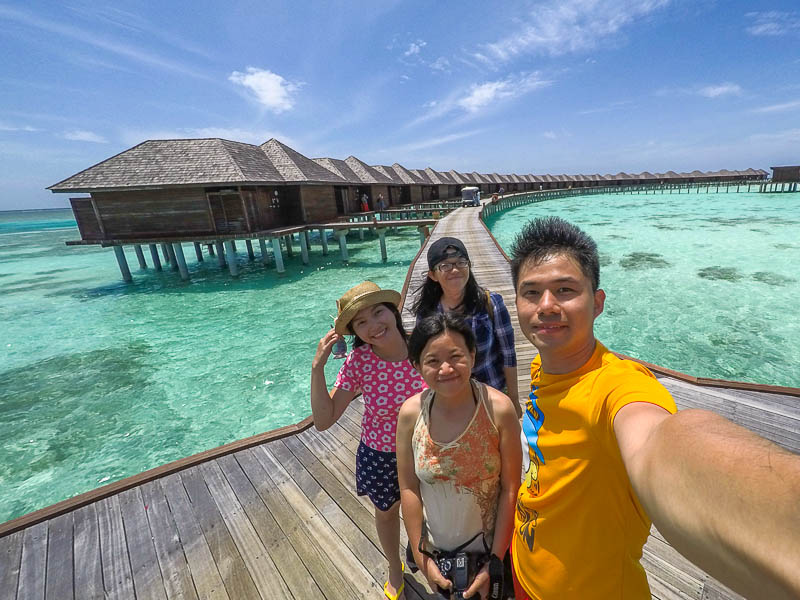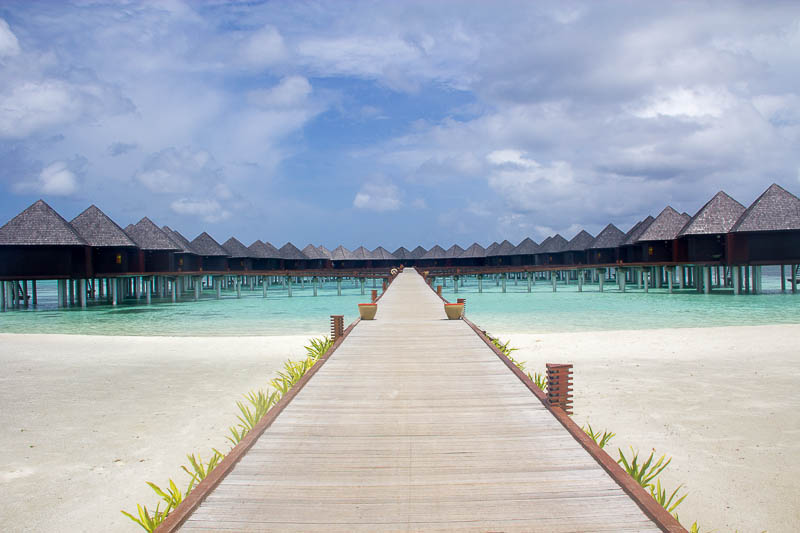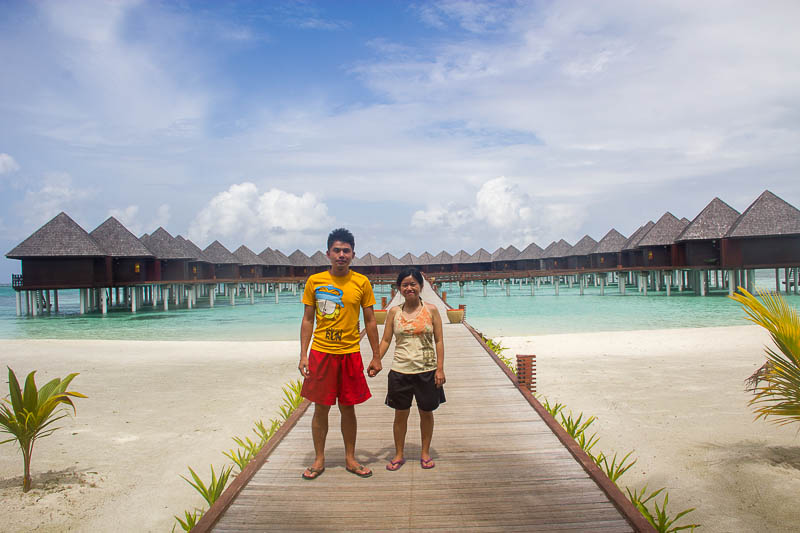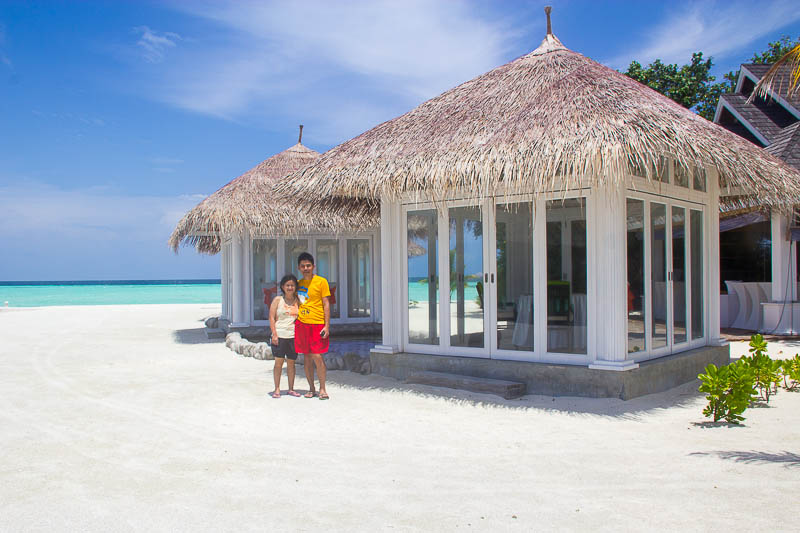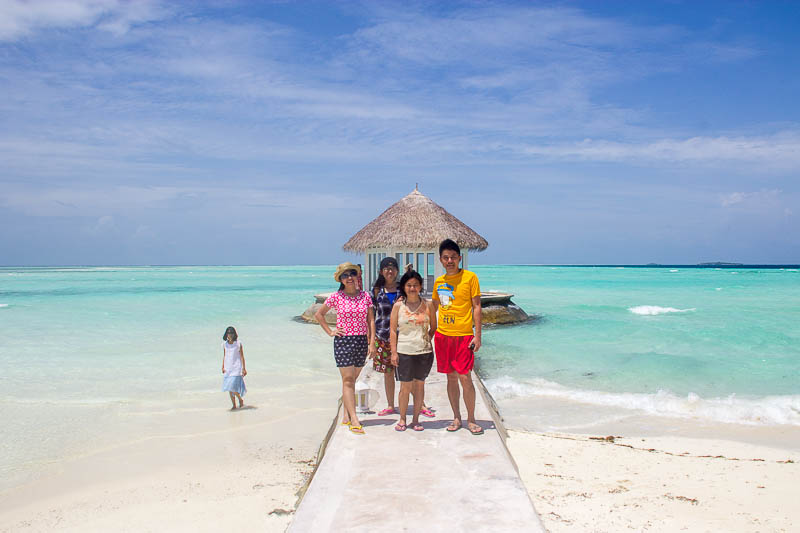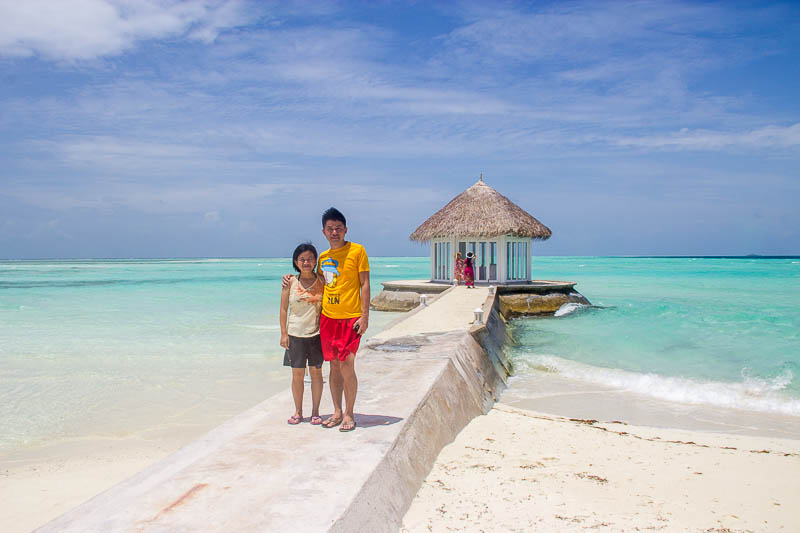 All-You-Can-Eat-and-Drink Lunch
Oh, lunch! We were probably the restaurant's first customers on that day. I was so stoked to find so much mouth-watering food, meanwhile, my hubby was more stoked with the unlimited alcohol! There were canapes, salad, pasta, Asian dishes, fancy desserts, and other food I couldn't recall. I just remember that it was a heaven!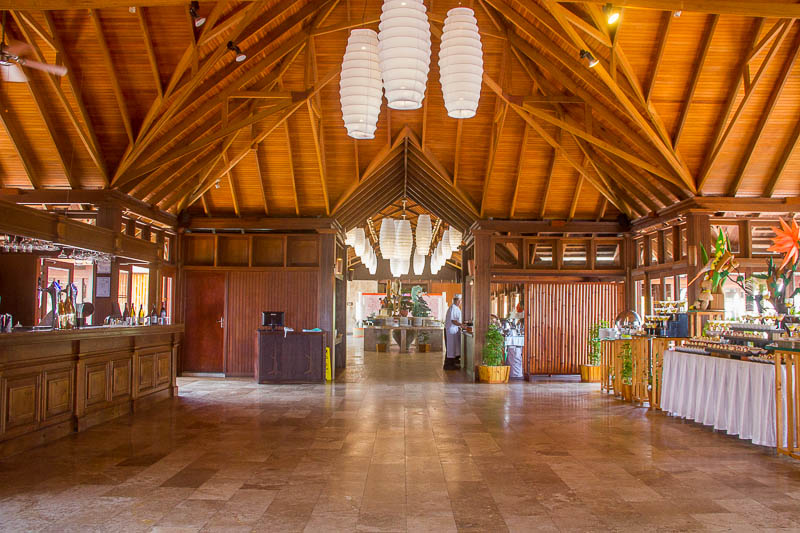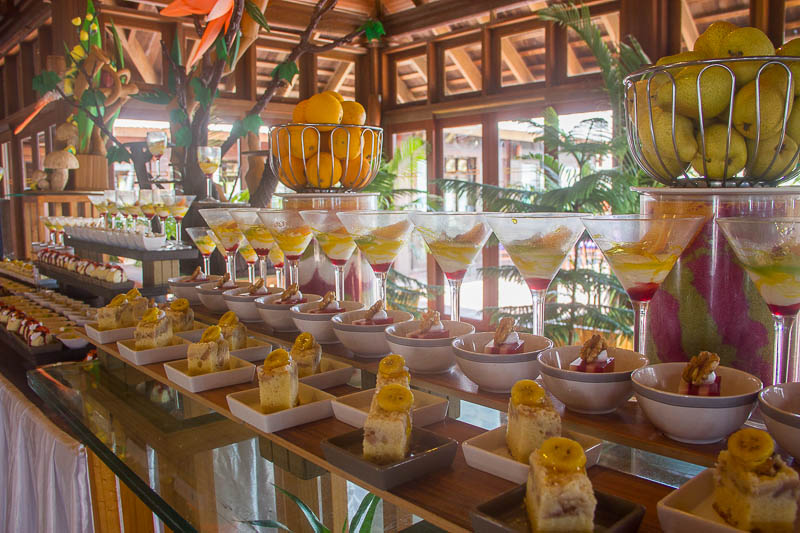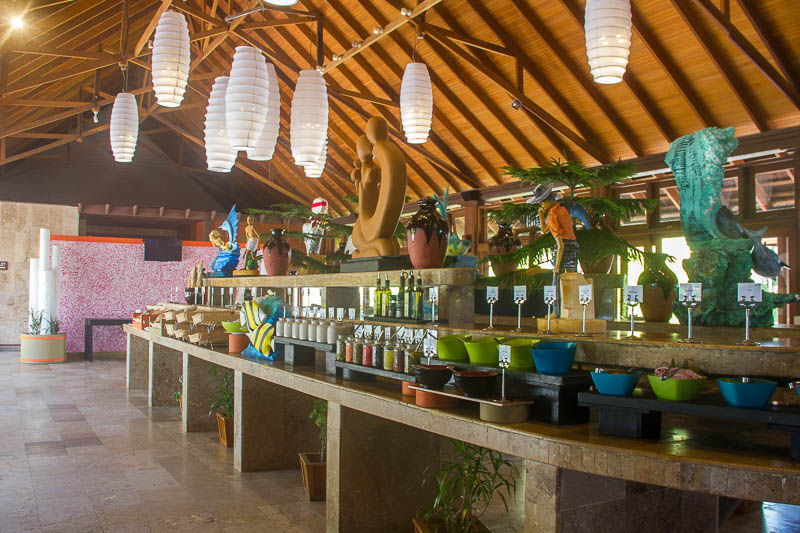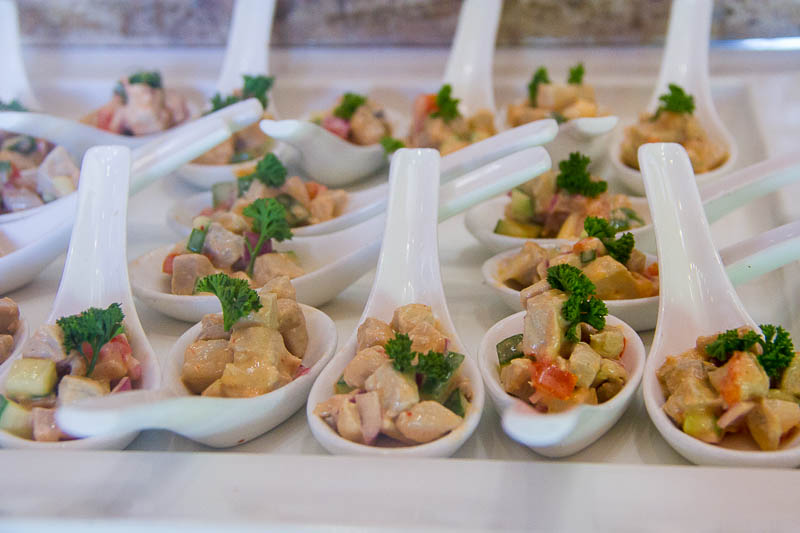 Infinity Pool
Right after lunch, we walked past the infinity pool and found that it was empty! What a golden opportunity, we thought. We rushed to change into our swimsuits and snapped a few hundreds of photos there. It was such a gorgeous pool on a beautiful day.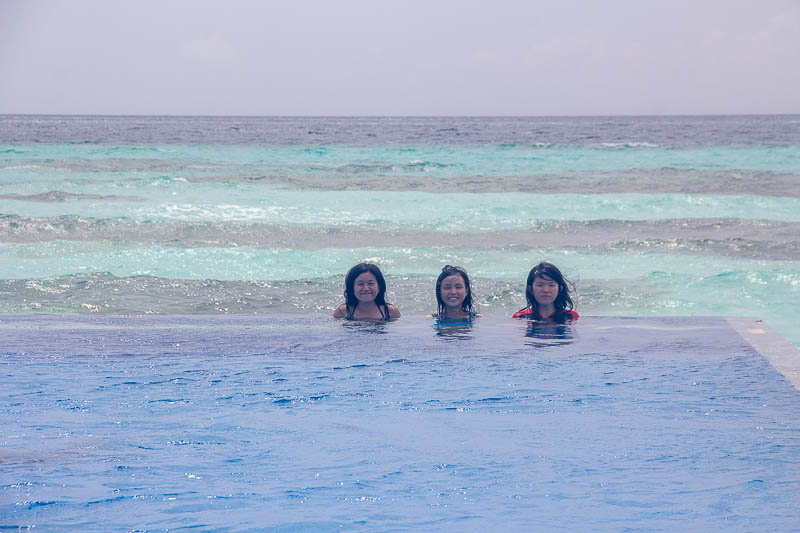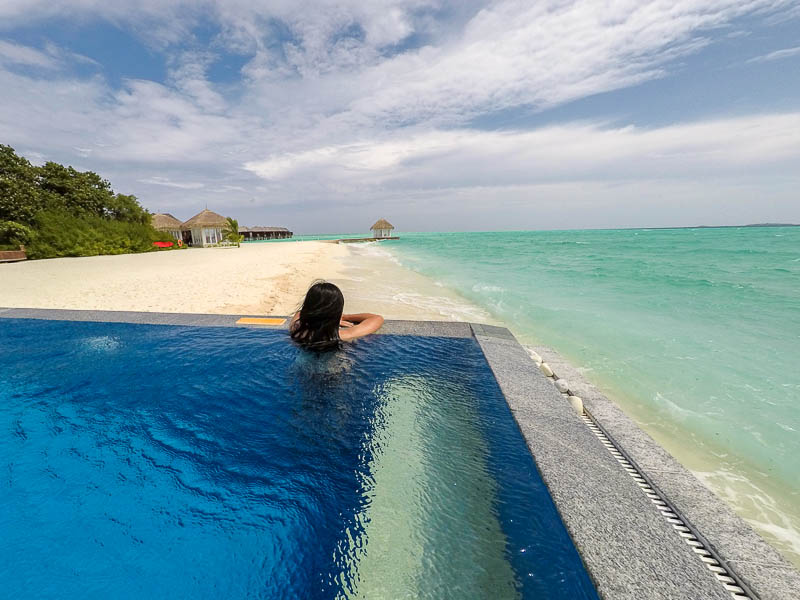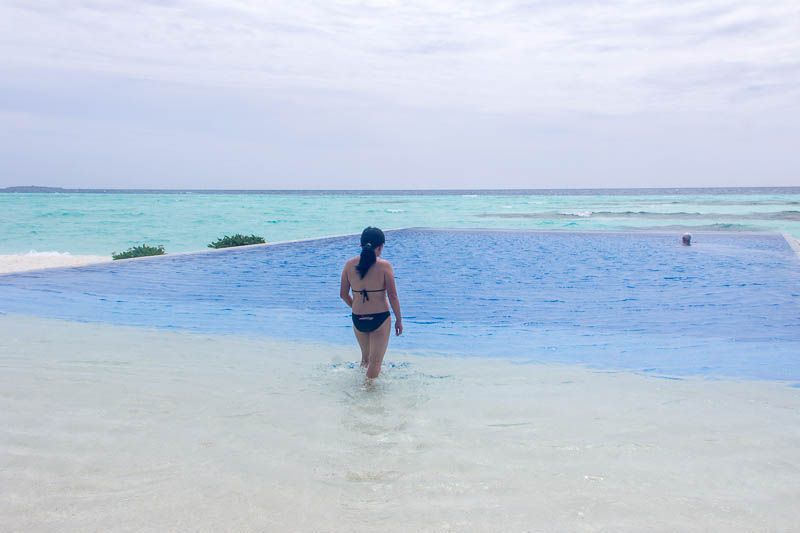 Snorkelling
Fascinated with the crystal-clear water, we didn't pass up the opportunity to snorkel at Olhuveli. We rented 3 sets of snorkel equipment for USD 4/hour each set. The ABC set that we rented consists of mask, fins and snorkel. We requested for life jacket as well, and we weren't charged for it even though the price list stated that life jacket rental is USD 4/hour.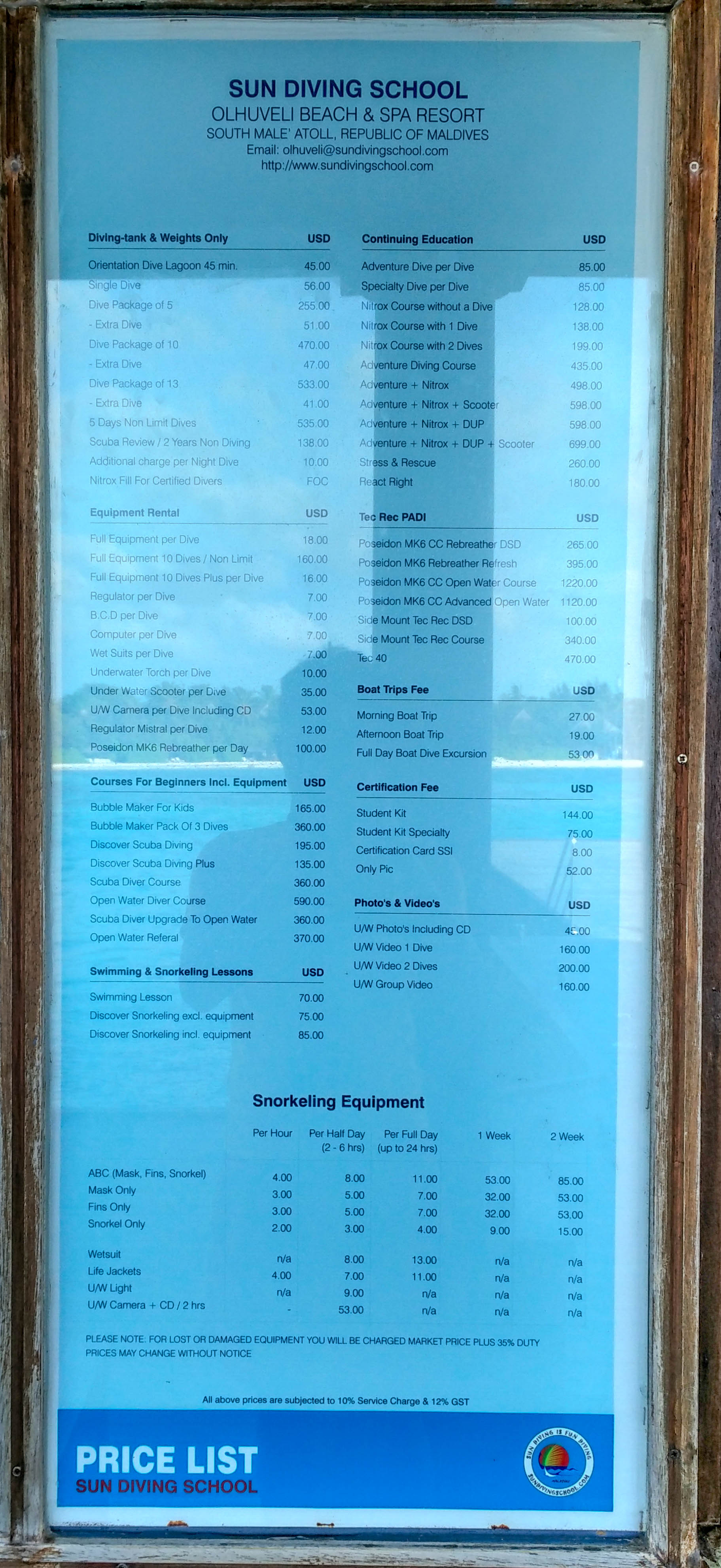 Well, it turned out that our snorkelling activity was a disappointment. In the late afternoon, the wave was so strong that we struggled just to stay afloat. Every time we thought we were stable, the wave came crashing into our face. We swallowed a lot of ocean water during that 1-hour snorkel. When I tried to swim further, I was hunted with the anxiety of being pushed by the wave to the pillars that supported the jetty, I kicked my fins with all the energy I had. Thankfully, we all survived the choppy water without any injury.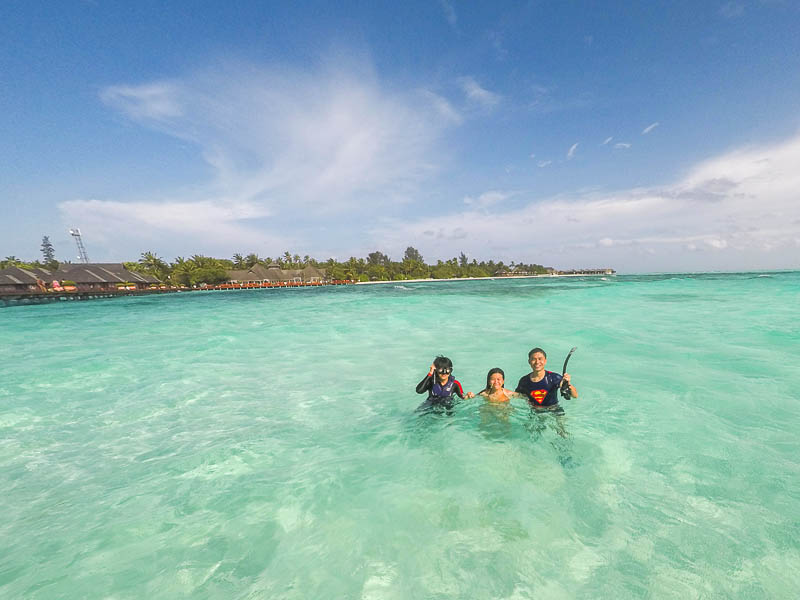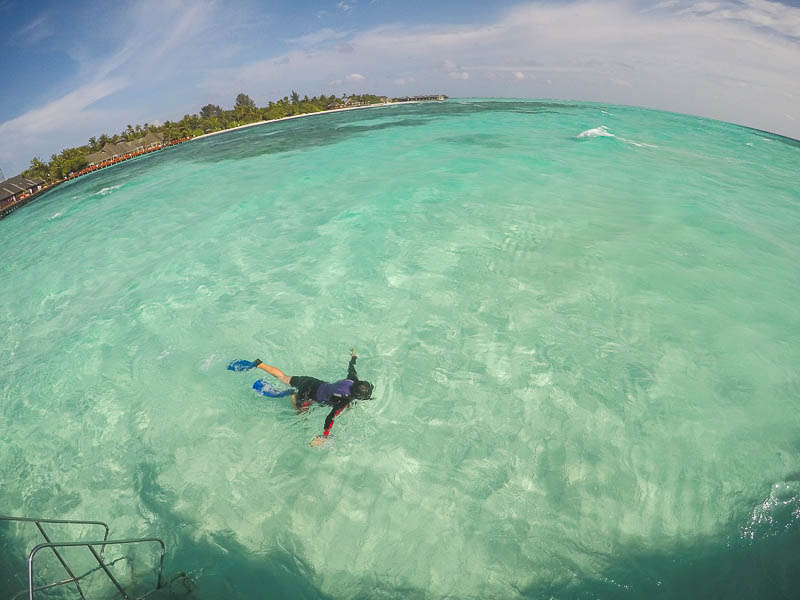 Checking Out
After snorkelling, we returned the snorkel equipment and went to reception to settle our bills and to check out. After tax, the final fee for our snorkelling rental was USD 15.
We waited at the jetty for our speedboat. Our guesthouse's owner said the speedboat would pick us up at 4pm, so we waited and waited until 4.20pm, but the speedboat didn't come. I sent Whatsapp message to the guesthouse's owner and he said the boat was on the way. Later, we found out that the pick-up time has been changed to 5pm but we weren't informed about it! Well, I guess, things happen and things go wrong, sometimes. We decided not to sweat such a small stuff.
As I'm writing this, it's been a month since the day we visited Olhuveli. And I'm already missing Olhuveli. It'll be something I won't forget so easily. If you visit Maldives on a budget, I really recommend that you do a day excursion to a resort. It's the highlight of my Maldives trip, and I think it'd be the highlight of your Maldives trip too!
---
This is Part 7 of my "Maldives Trip in 2017" series. Read other posts in this series:
To see all articles I've written about this archipelago, visit my Maldives page.