Are you missing Japan but can't travel to Japan yet? Me too. It's been 7 years since I last visited Japan. Time really flies. And now, I'm 19 months grounded (and counting) because of border restrictions. I hope I can visit Japan soon when travel resumes. In the meantime, I need to find a way to cure my travel thirst.
Thanks to Sakuraco, I can enjoy authentic Japanese snacks right here, at the comfort of my apartment in Singapore.
What is Sakuraco?
Sakuraco is a Japanese snack subscription that brings Japanese afternoon tea culture to the world through its monthly snack box. Each box features 20 authentic and traditional Japanese sweets and teas that are locally sourced and curated.
How does Sakuraco subscription work?
To receive monthly snack box, you can sign-up on Sakuraco's website and choose your desired plan. At the time of writing, Sakuraco offers 4 different pricings:
– 1 month: US$37.50 per month
– 3 months: US$35.50 per month
– 6 months: US$33.50 per month
– 12 months: US$32.50 per month
Every month, Sakuraco's team will curate different theme according to the season and ship the box directly to your home.
You will be charged monthly, so don't worry about having to pay for the entire package up front. They deliver worldwide. Shipping is charged separately. The shipping fee can be found here. The shipping include tracking, so there won't be anxiety over uncertainties.
Receiving Sakuraco in Singapore
On their website, it's stated that shipping duration for Singapore is 3-5 days. When they sent out the box, I received a link that tracks the journey of my box, including estimated arrival within 4 days.
Well.. My box arrived in 2 days! I was pleasantly surprised. My snack box was placed in a secure locker near my apartment. That means, I didn't have to stay at home the entire day waiting for the deliveryman, I could collect it at my own convenience within 2 days.
What's inside Sakuraco Box?
The theme of my November 2021's snack box is Autumn in Kyushu. Autumn is the season of sweet potato and chestnut in Japan. Hence, this box is dedicated to autumn flavors from Kyushu.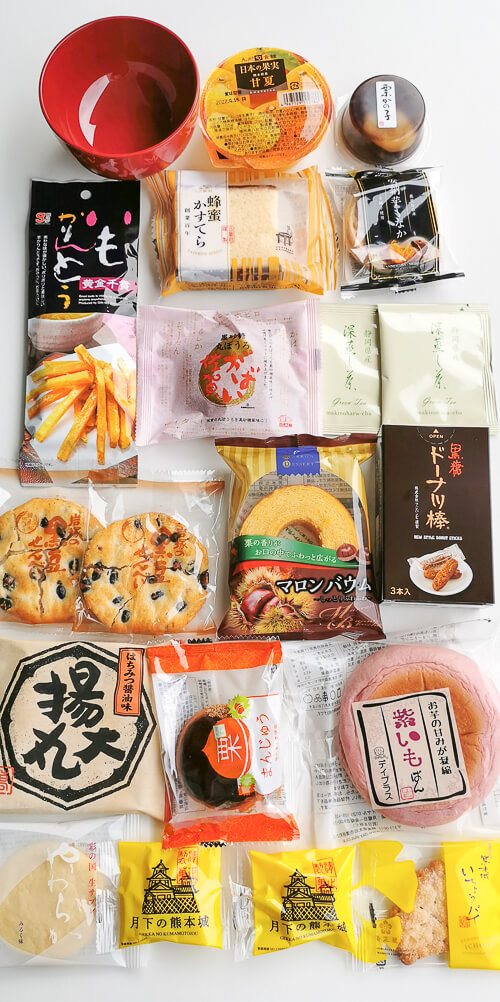 Cakes
Chestnut Baumkuchen is a German-style layer cake infused with rich chestnut flavor. Here in Southeast Asia, the layer cake that we have is square, so this Baumkuchen is something new for me. The taste is really good, I can have this everyday for breakfast or afternoon snack. (My rating: 5/5)
This Honey Castella cake is different from my expectation. I imagined it would be similar to Malaysia's Ah Mah Homemade Cake, but it's different. This one is a tad dry compared to Malaysia's version. (My rating: 3/5)
Bread
Purple Imo Bread is a fluffy bread with purple sweet potato filling. The sweetness of the feeling is just nice. I really enjoy this bread and I think it is a good breakfast staple. (My rating: 4/5)
I was fooled by its name. I thought it was something similar to Hong Kong's bolo bun, but this Brown Sugar Bolo is more like a cookie than a bun. I feel that this is too dry for my palate. (My rating: 2/5)
Cookies
This cute Sweet Potato Monaka is actually a wafer sandwich with sweet potato filling. I like the combination of crunchy and soft textures. It is something that I can munch every day as a snack. (My rating: 4/5)
As the name suggests, Yawaraka Milk Cookie is a milk cookie. The taste reminds me of Danish butter cookies, except that this is a soft cookie. (My rating: 3/5)
Brown Sugar Donuts is a donut made with Okinawa brown sugar. It's lightly fried to keep the center moist. The box consists of 3 donut sticks. It's quite sweet so it's best to be paired with tea. (My rating: 3/5)
Kumamoto Castle Ginkgo Pie has a bit of resemblance with sugar cracker biscuits, except that it's thinner and tastier. I was expecting it to be predominantly sweet, but I was surprised to find savory hints from the cracker. (My rating: 4/5)
Sweet Potato Karinto is deep fried sweet potato strips coated in sugar. Personally, I find the sweetness to be too overpowering, but maybe that's because I'm not someone with sweet tooth. (My rating: 3/5)
Jelly
This Chestnut Jelly is quite a unique jelly. It has red bean and chestnut! I've never had this kind of elaborate jelly before and I really enjoy eating this jelly. (My rating: 4/5)
I would say that Amanatsu Citrus Jelly is the perfect complement to the rest of Japanese snacks. The refreshing citrus flavor balances out the sweetness and savory from other Japanese treats. (My rating: 5/5)
Manju
Kumamoto Castle under the Moon Chestnut Manju is my most favorite snack in this box! The bean paste filling is sweet but not too sweet, and the skin is just so tasty. I'm so glad there are 2 pcs of this manju in the box. This manju is made by Kiyomasa Confectionery, which was founded in 1982 in Kumamoto. (My rating: 6/5, yes it's so good that I give it 6 stars out of 5)
This Chestnut Manju by Chikuho Confectionery in Fukuoka has a white bean paste. The skin is light and airy and coated with poppy seeds. Similar to Bolo, this manju is too dry for my palate. (My rating: 3/5)
Senbai (Rice Cracker)
Daimaru Senbei is a plain senbei (Japanese rice cracker) coated with honey and soy sauce. The combination of sweet and savory flavor is perfect and this is my second most favorite snack in the box. (My rating: 5/5)
The Black Bean Senbei is a senbei (Japanese rice cracker) is predominantly salty and contains black beans. This is my first time eating toasted black beans and I enjoy it. (My rating: 4/5)
Tea
Fukamushi Green Tea (from Shizuoka) is made using fukamushi leaves that are are steamed twice to create a beautifully rich yet sweet flavor. It is cultivated by Takanayagi, a tea company with over 100 years of experience. I really enjoy the flavor of this tea. (My rating: 5/5)
Home Goods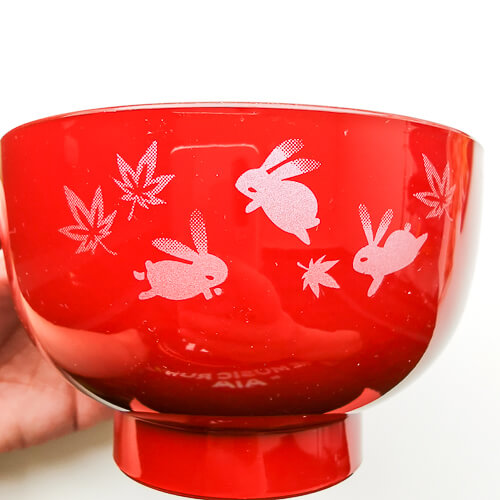 Each Sakuraco box contains 1 item of home goods. In this box, the home goods is this Spring Autumn Rabbit Owan Bowl. It is such a coincident because my Chinese zodiac is rabbit, so I really love this bowl. It's a plastic bowl and it's microwave safe. (My rating: 5/5)
What I like
I like that all of the products are locally source and curated with intention. Curating and sourcing truly good quality products is not an easy job. I truly appreciate that they put a lot of effort into the boxes.
I like that they guarantee 20 products in each box. Trust me, 20 items is A LOT! If you're only getting 1 box without subscription, the cost per item is US$37.5/20 = US$1.88. If you're getting 12-month subs, the cost per item becomes US$1.63. I think it's pretty reasonable.
I like the brochure that accompanies the box. It tells the story about the products, the season, Japanese culture as well as the company from which Sakuraco source the snacks. It makes me understand Japan and Japanese people on a deeper level.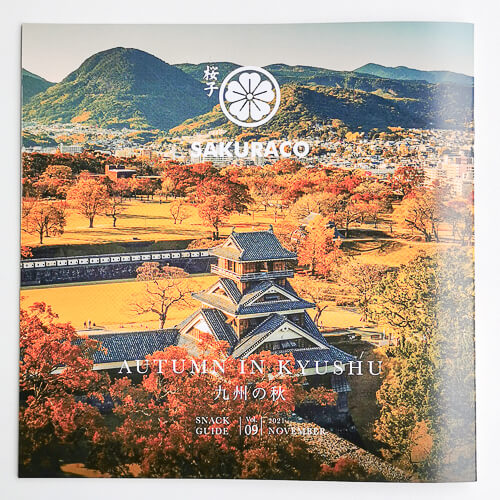 I like the fact that I can see the items in current month's box directly on website. I prefer "what you see is what you get" approach rather than "mysterious boxes" approach. It helps customers to justify that the money is well-spent.
Rooms for improvement
In the box that I received, majority of the snacks are sweet. As someone who has salty tooth, I hope that Sakuraco can source for more savory snacks in the future.
I have a mixed feeling about the shipping. On one hand, I feel that the shipping is a bit pricy (US$12.50 to Singapore), but on the other hand, I'm glad that the shipping include tracking and it's super fast (it took just 2 days to travel from Japan to my apartment in Singapore, that's amazing!). Hopefully, when travel and commercial flights resumes, the shipping fee could be reduced.
Is Sakuraco worth it?
After doing the math, my average rating for the box is 4.15 out of 5. If you ask me, I'd say it's totally worth it.
This box challenges my perception of Japanese snacks. The snacks are similar yet different from Southeast Asia snacks that I grow up eating. It's truly an adventure eating foreign snacks while learning about Japanese culture at the same time.
Watch my unboxing video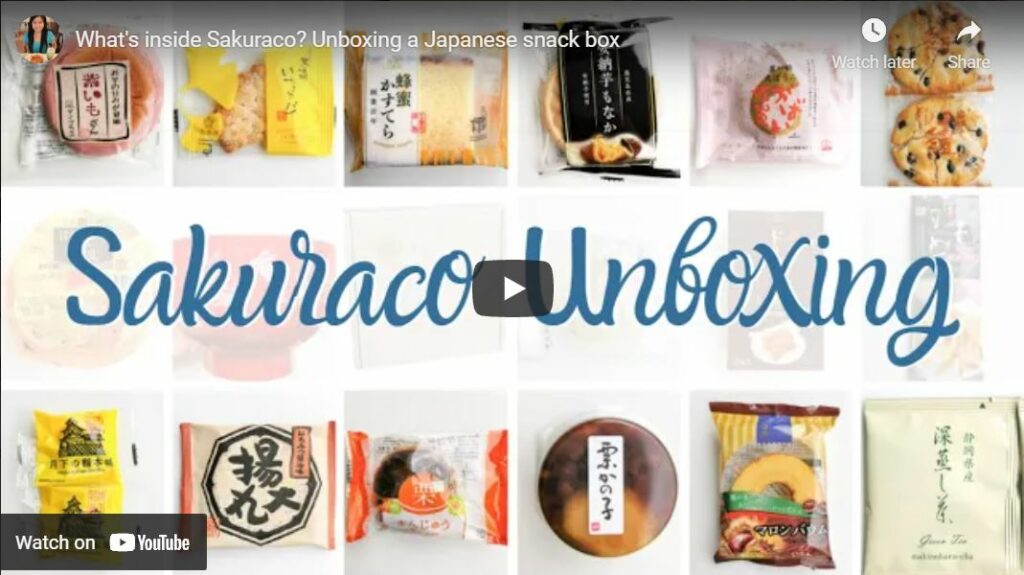 Disclosure: Thanks Sakuraco for sending me this snack box. All words and opinions in this article are my own.
If you like my work, you can buy me a coffee! Your support will help me to keep going!