SilverKris Lounge is Singapore Airlines' lounge for passengers flying Business Class/First Class/Suite on Singapore Airlines or Star Alliance; as well as PPS Club members or Star Alliance Gold members flying on selected cabin classes.
There are many SilverKris lounges in Changi Airport. For easy reference, here's the list of all SilverKris Lounges in Singapore Changi Airport:
Terminal 2:

SilverKris Business Class Lounge at T2
SilverKris First Class Lounge at T2

Terminal 3:

SilverKris Business Class Lounge at T3 -> This is what I cover in this article!
SilverKris First Class Lounge at T3
The Private Room at T3
The SilverKris Lounge at T3 was renovated from 2019 to 2022. The renovated lounge was soft-launched in late 2021 and fully re-opened in mid 2022.
At time of writing, SilverKris Lounge at T3 is the better lounge than its cousin at T2. So, I highly recommend that you visit SilverKris Lounge at T3 instead of T2.
Even if your flight departs at T2, you can check-in at T3 and use the lounge at T3 before your departure. Just allow enough buffer (about 10-15 mins) to take the skytrain from T3 to T2.
In this article, I will share my review of SilverKris Business Class Lounge at T3 based on my experience visiting the lounge on several occasions. You will be able to see various food and drinks offered on different days.
Lounge Access Eligibility
The Business Class SilverKris Lounge at Changi Terminal 3 is accessible by:
Departing on Singapore Airlines Flights:

Passengers flying on Business Class
PPS Club members, flying on Business Class, Premium Economy Class, Economy Class
KrisFlyer Elite Gold or Star Alliance Gold members, flying on Business Class

Departing on Star Alliance Flights:

Passengers flying on Business Class
Solitaire PPS Club, PPS Club, KrisFlyer Elite Gold or Star Alliance Gold members, flying on Business Class
Opening Hours
SilverKris Business Class Lounge at Terminal 3 Changi Airport is open 24 hours daily.
How to get there
To get to SilverKris Business Class Lounge at Terminal 3, after passing through immigration at Level 2, turn left and walk towards Transfer A.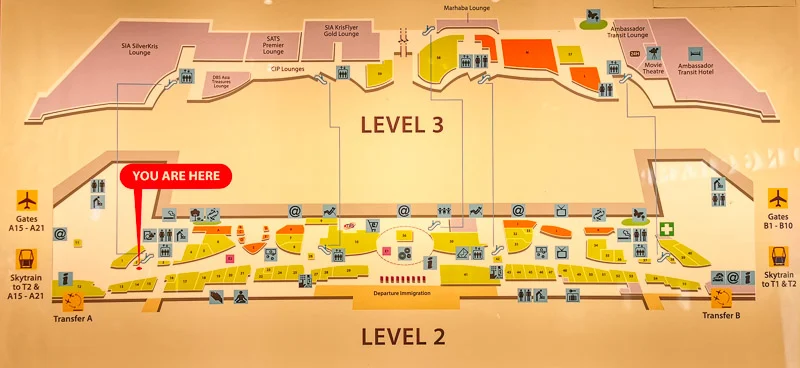 Have any questions about traveling in Singapore? Join All About Singapore Travel FB group, I'll be there to answer your questions!
Just before you arrive at Transfer A, you will see an escalator on your right, as well as a sign that asks you to take the escalator up.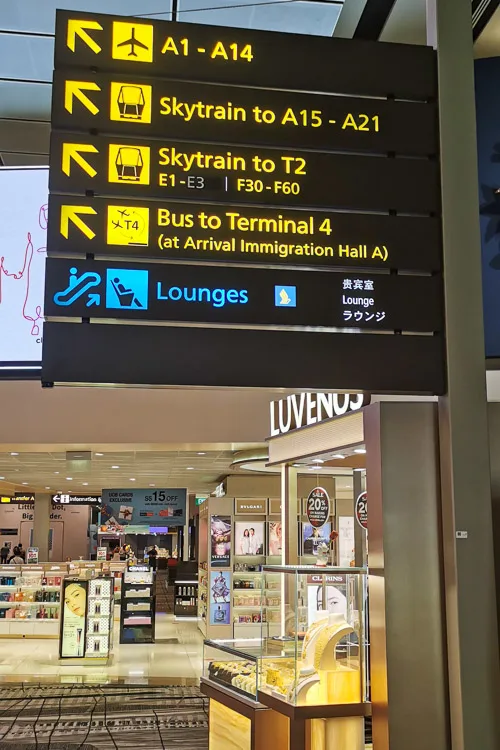 You will see this eye-catching colorful flowers with SilverKris Lounge logo beside the escalator. Take this escalator up and you will arrive at the entrance of SilverKris Lounge.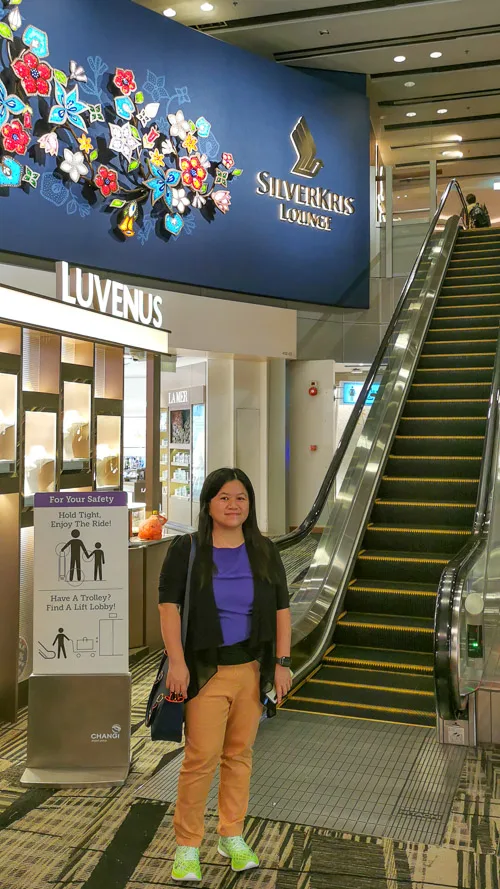 At the entrance, we showed our boarding pass and in just a few seconds, we found ourselves in the SilverKris Lounge for Business Class.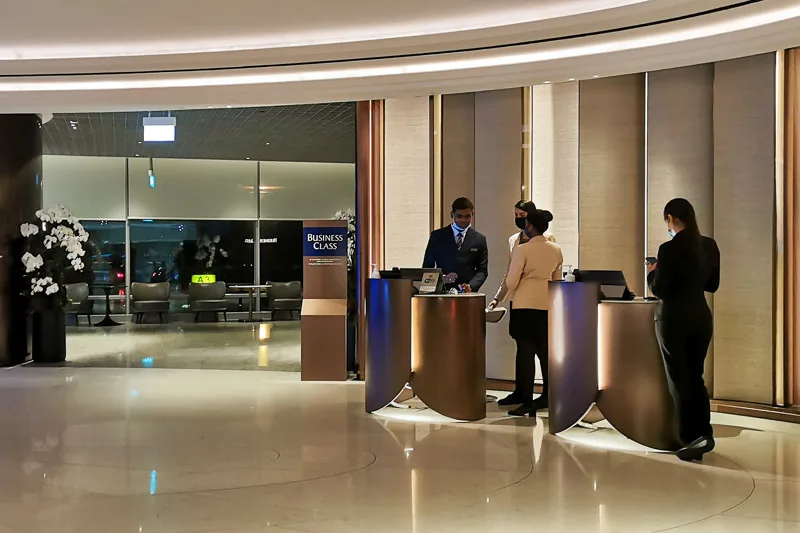 Seating
The SilverKris Business Class Lounge is pretty huge! There are plenty of seats for everyone. The lounge gets pretty busy during certain peak period, but we were always able to find empty seats.
As you walk into the lounge, turn right and you will arrive at this open space with natural lighting during the day. Here, if you look down over the railing, you will see koi pond and retail stores at Level 2.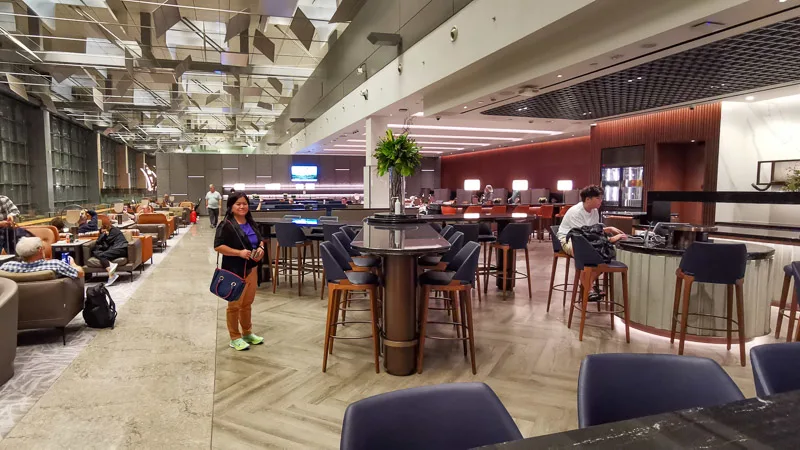 Throughout the lounge, there are various types of seating. Some seats are great for groups, such as these armchairs and sofas with small coffee tables.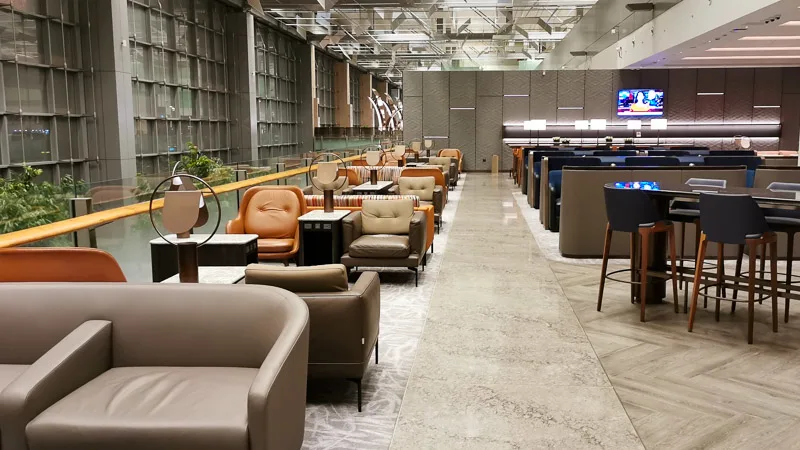 There are also communal tall tables with bar stools.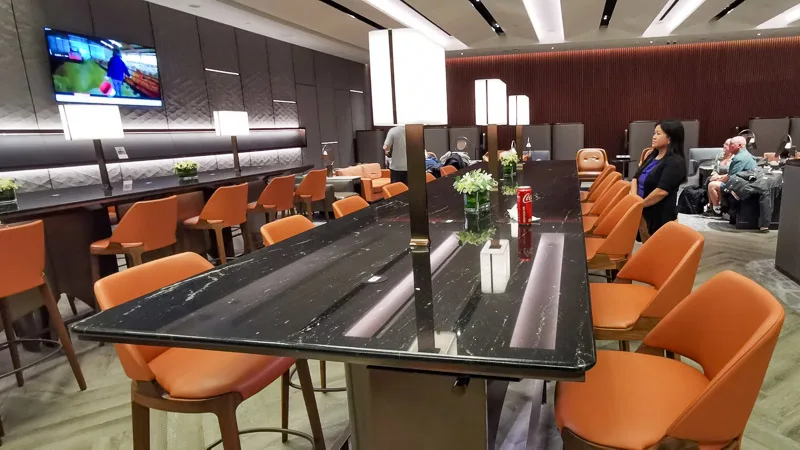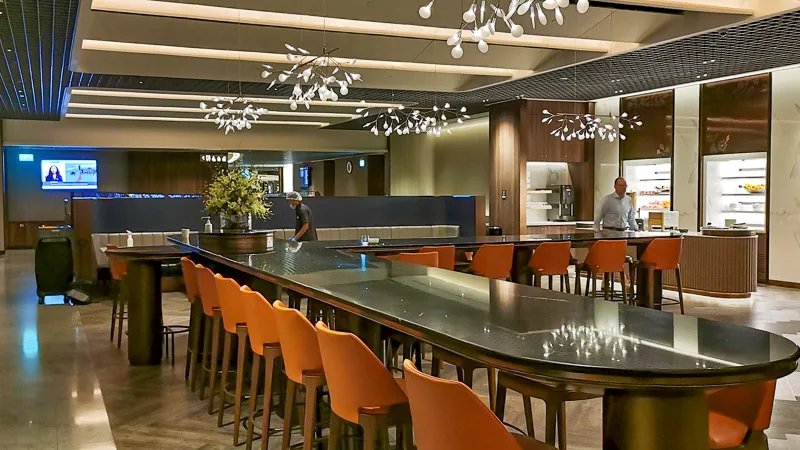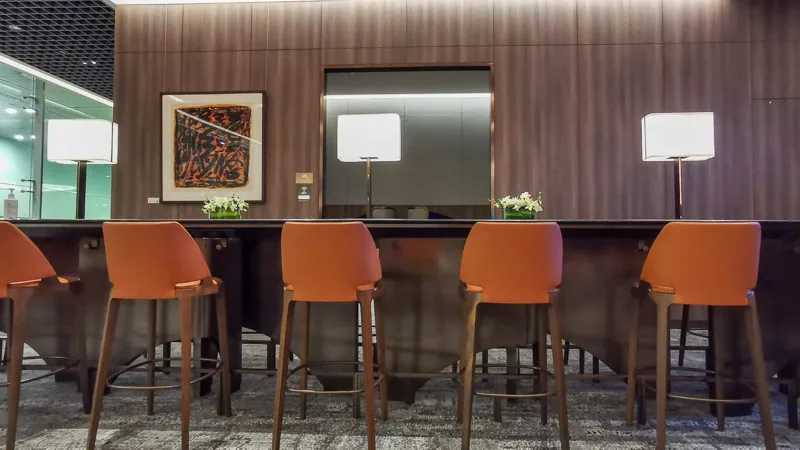 The below pairs of seats are great for eating as well chilling. The distance between each pairs of seats is too near, though.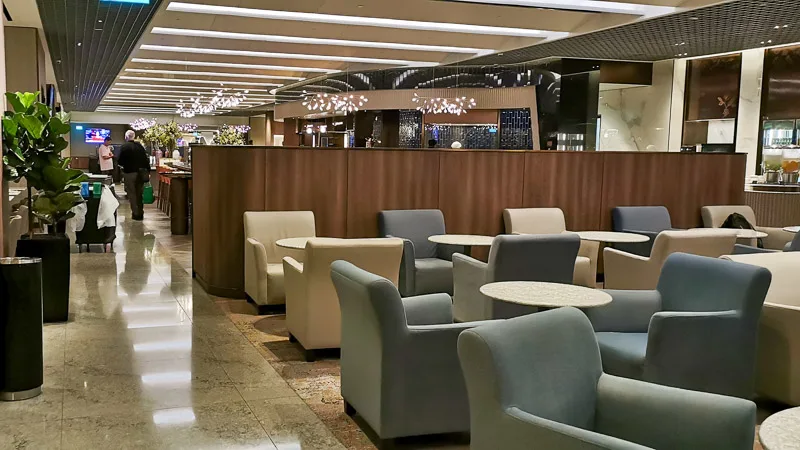 There are also these cute throne chairs with a very tiny table. I personally did not enjoy this seat, but I imagine this could be a great seat for important discussion or negotiation.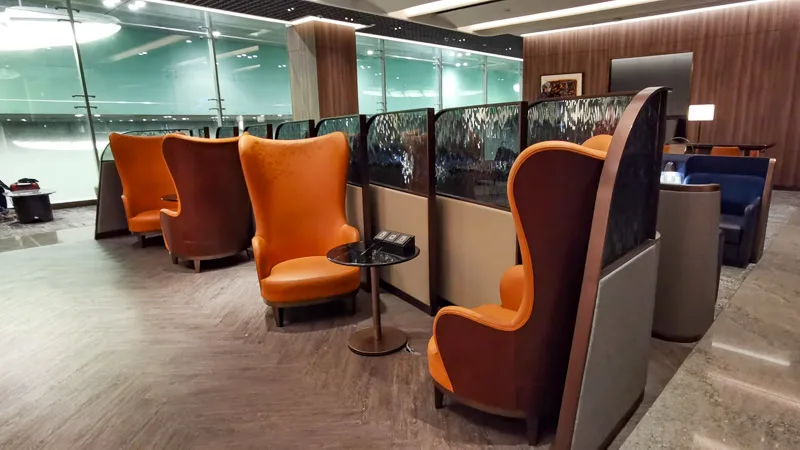 If you love business class vibes and greater privacy, you might like the below seats. Each pair of seats share a middle table, they have a slightly curve back. And the table even has wireless charging function! I think it's perfect for couple or groups of 2.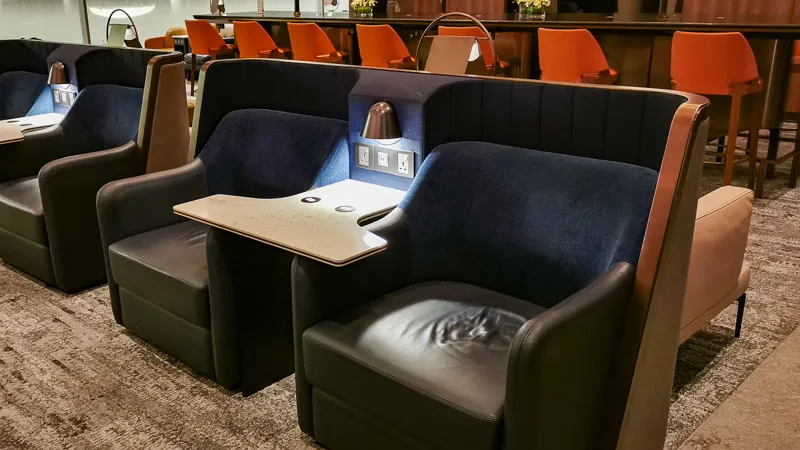 The below grey chairs may look unassuming but they're actually extremely comfy. Once I sat down, I didn't want to leave.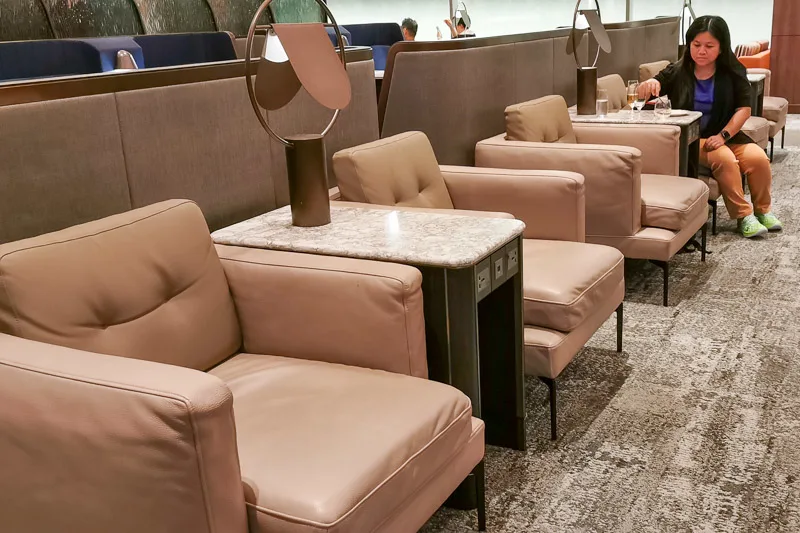 If you need a quiet place to do work, the productivity pod may be what you're looking for.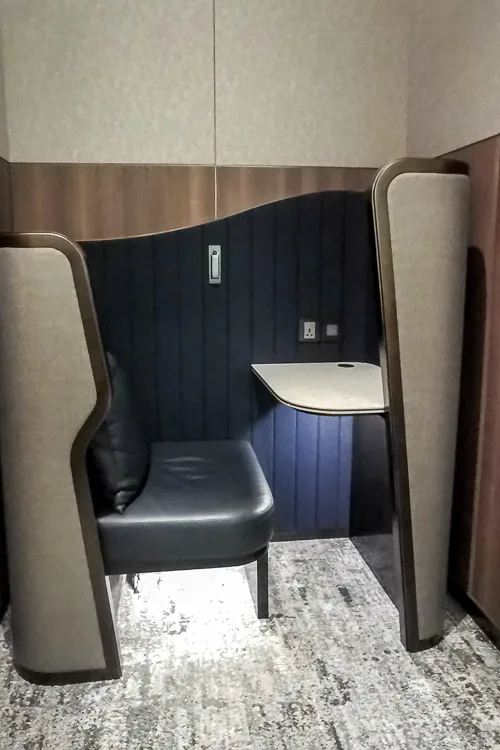 I kind of love this rare semi-circular sofa located near the bar. It's great for groups.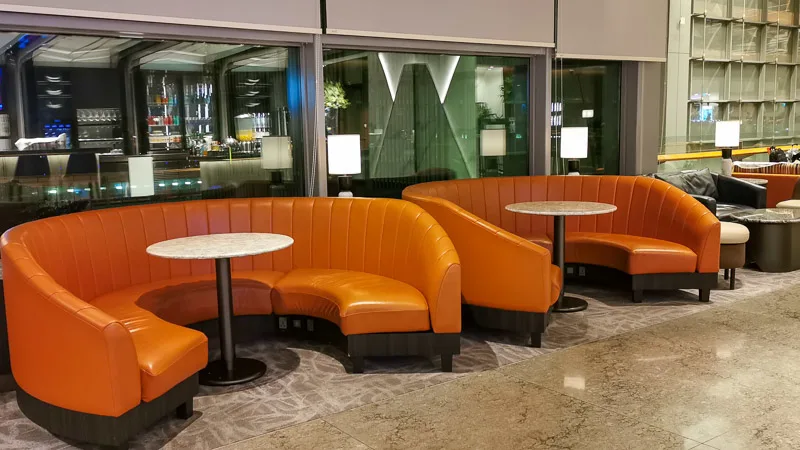 For those who enjoy drinking in a bar setting, the bar has several bar stools.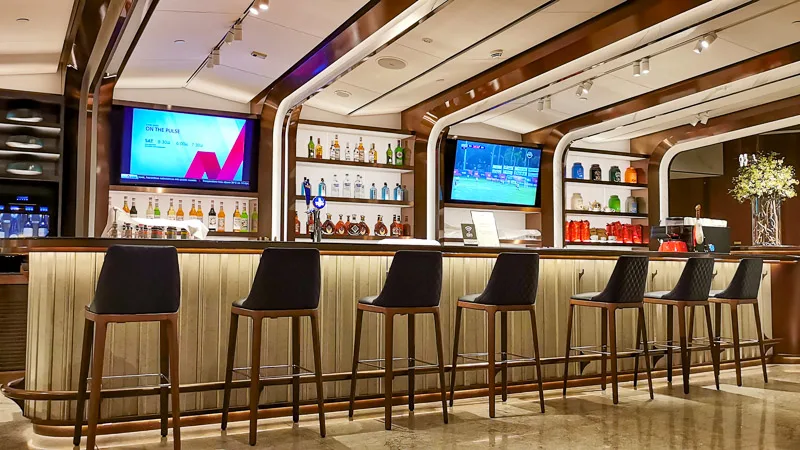 Food
Food is probably one of the best sections of SilverKris. The lounge has so much great food, we wanted to try everything. However, our stomach space was limited and it got full before we were able to try every single thing!
For easy reference, I will categorize the food into several sections, namely: buffet, dimsum, made to order, noodle, porridge, soup, cold food, and others.
Buffet
Let's start with the buffet line. During the day and in the evening, the buffet line is filled with a mixture of Asian and Western main staples, such as rice, pasta, potato, lasagna, chicken, duck, seafood, and vegetables.
The buffet line closes at about 2.30am, and re-opens for breakfast at 5am. If you need any food between 2.30am and 5am, you can request one from the made-to-order counter.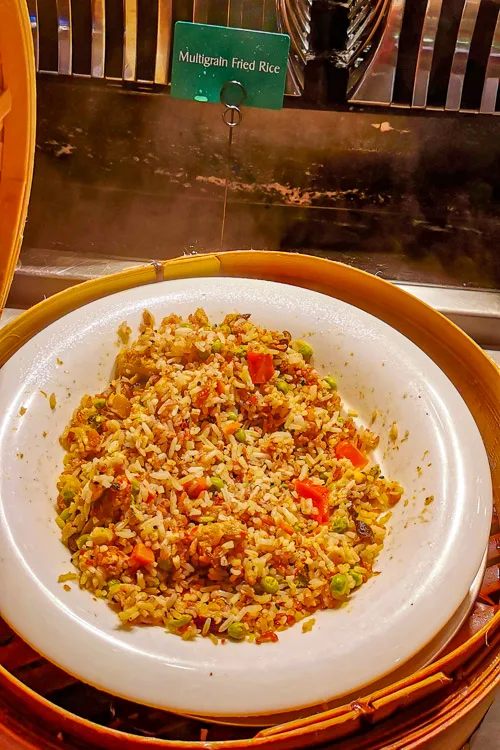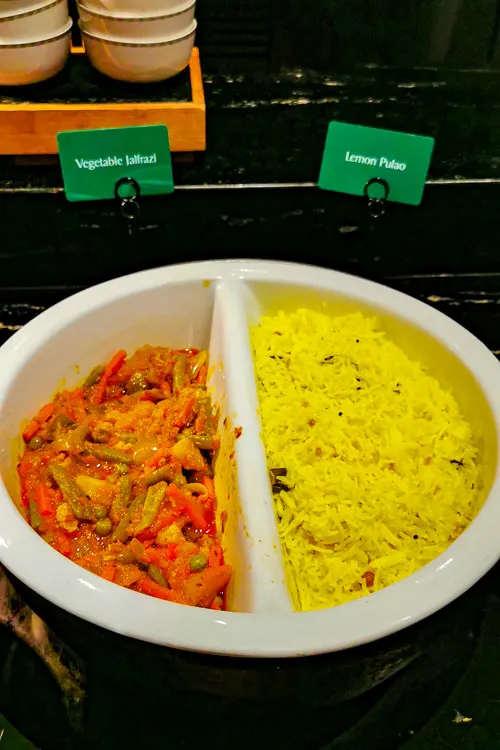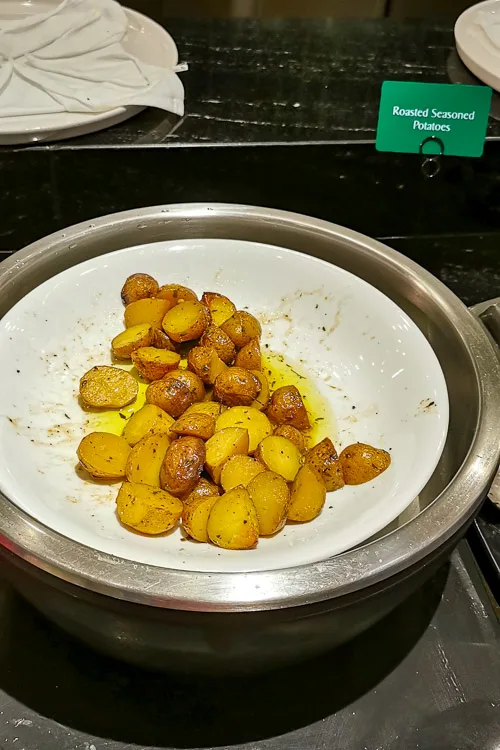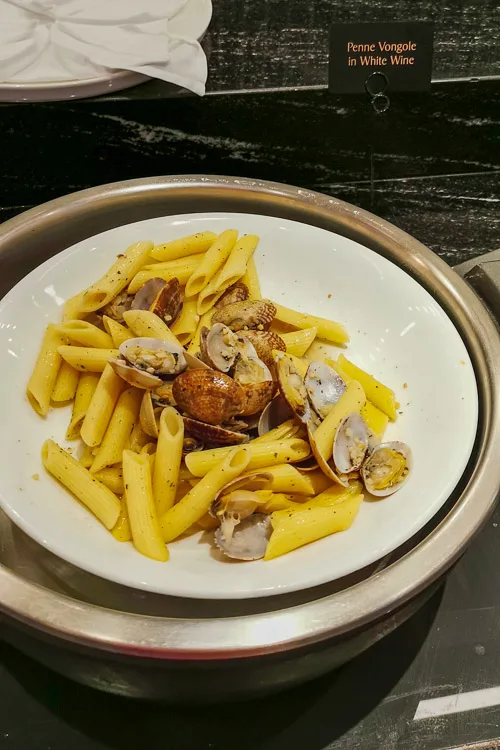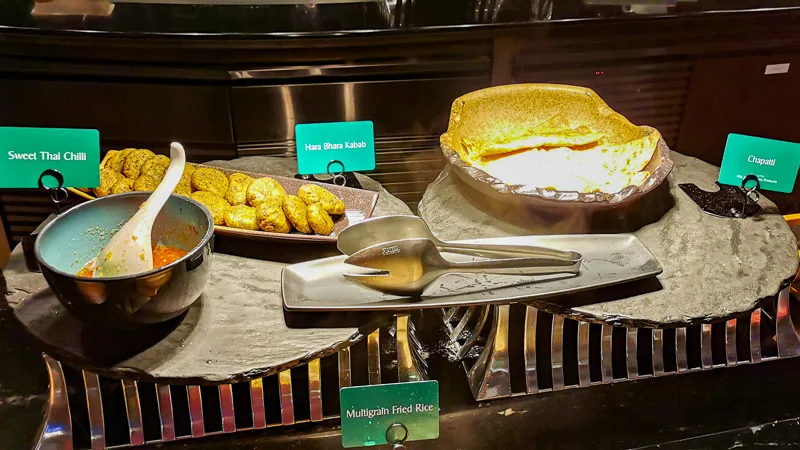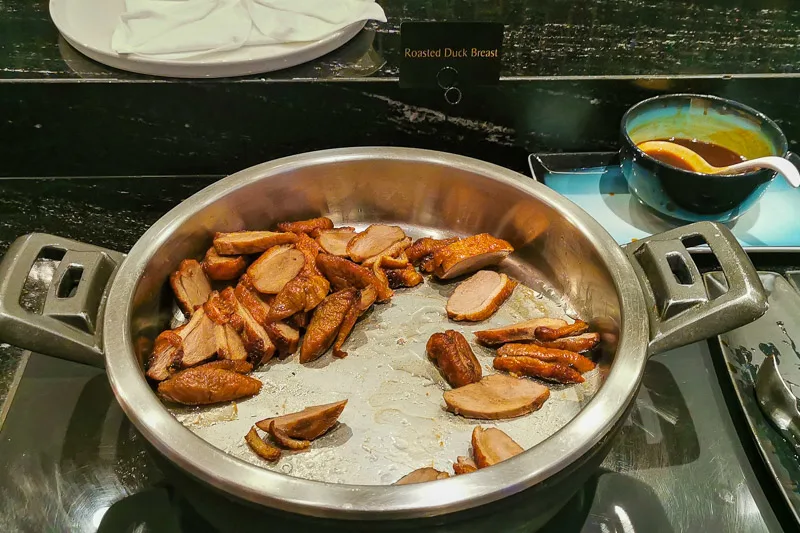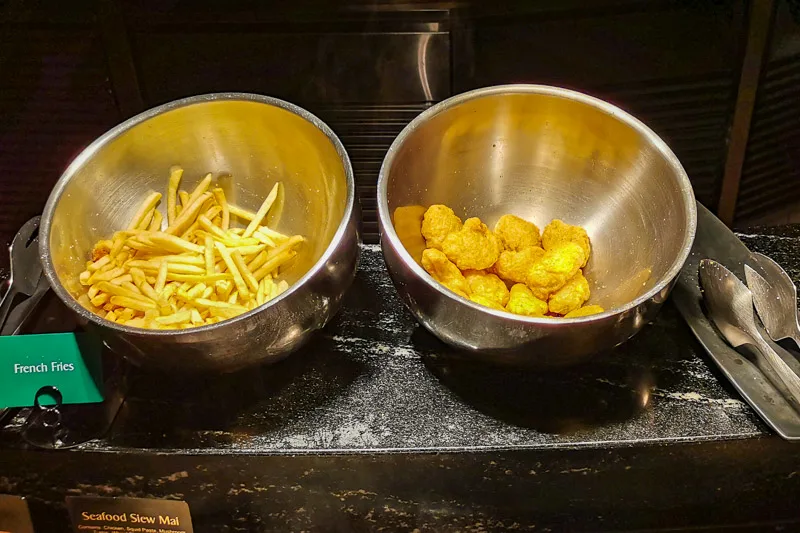 For breakfast, the buffet offers Asian as well as Western breakfast items, such as chapati, vadai, scrambled eggs, sausages, ham, corn kennel, pancake, chwee kueh, waffle, croissant and hash browns.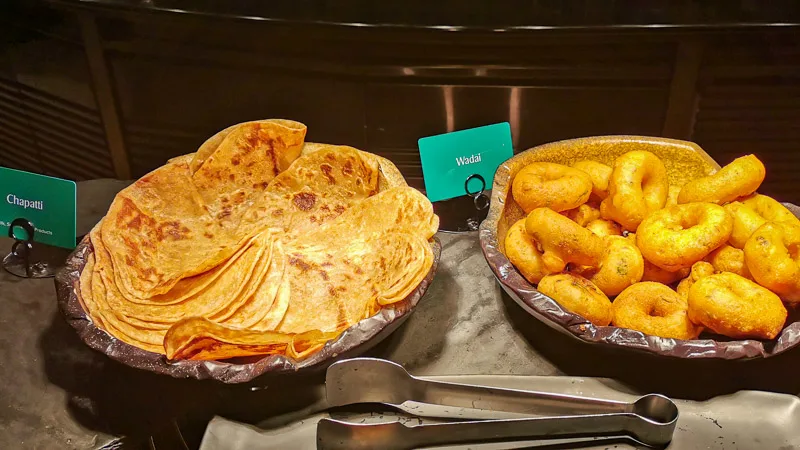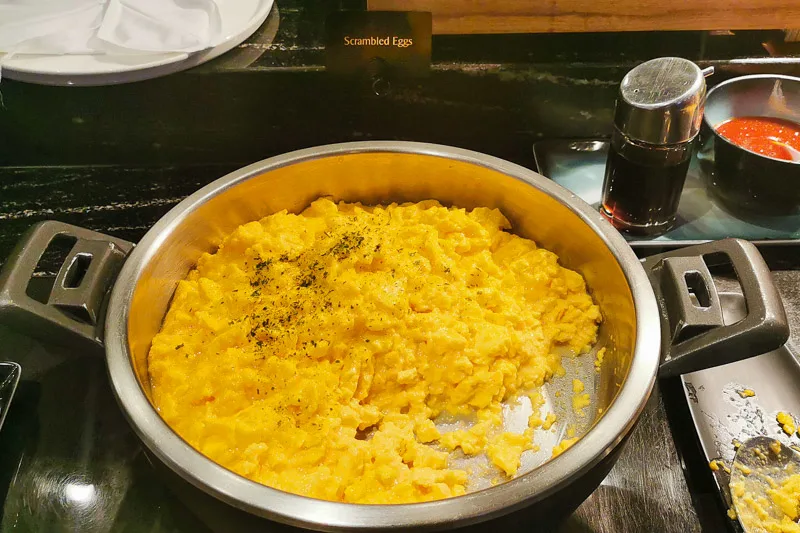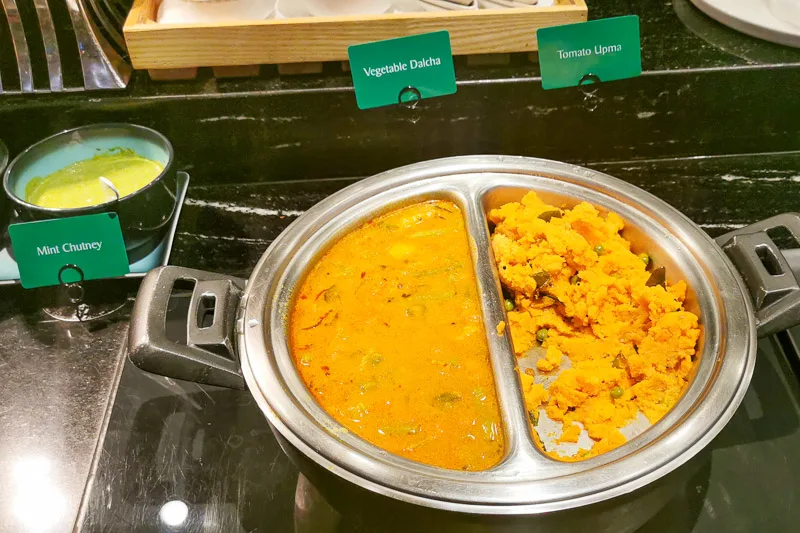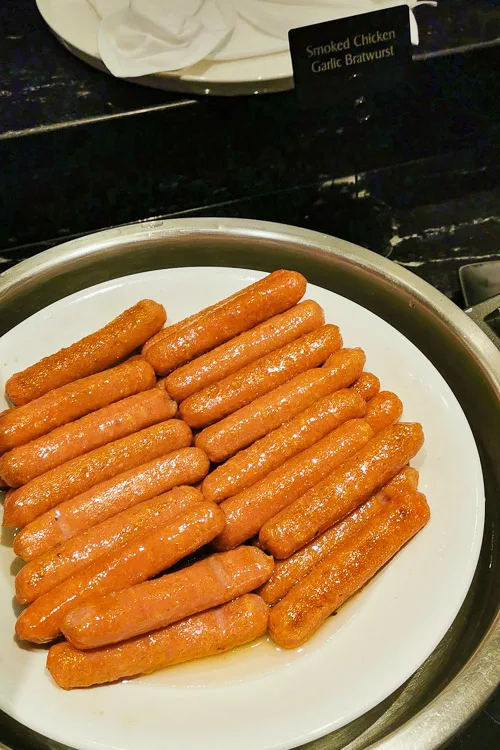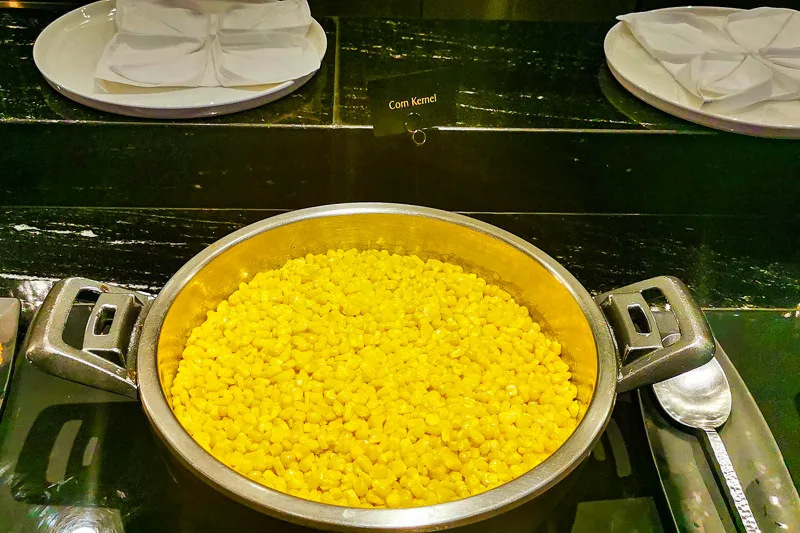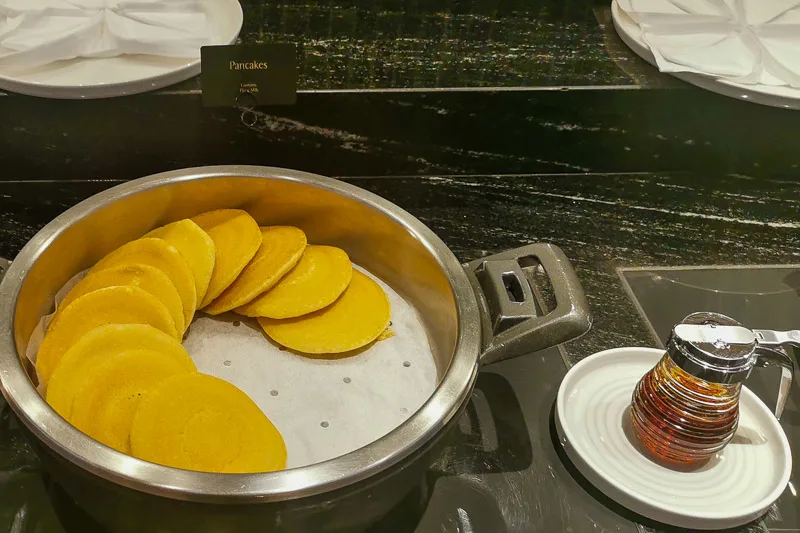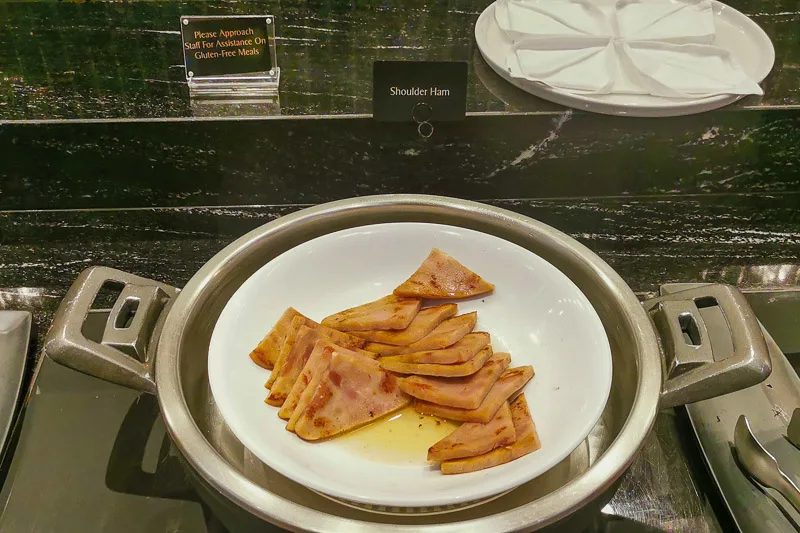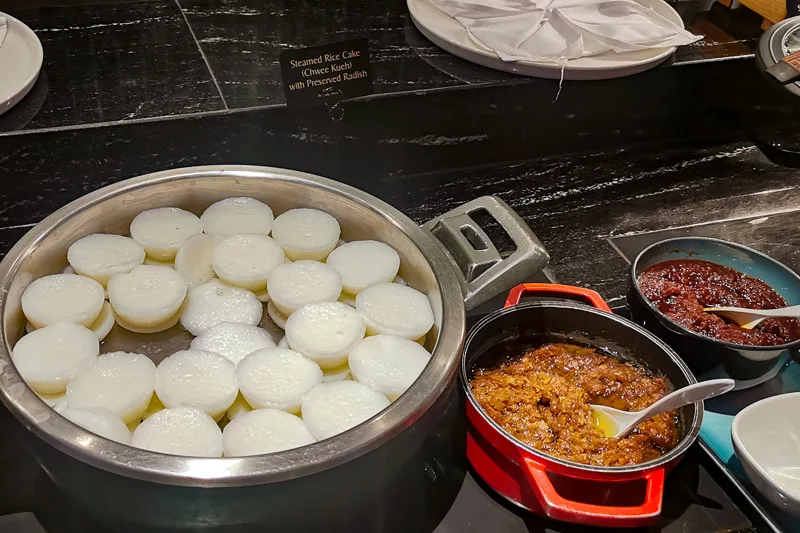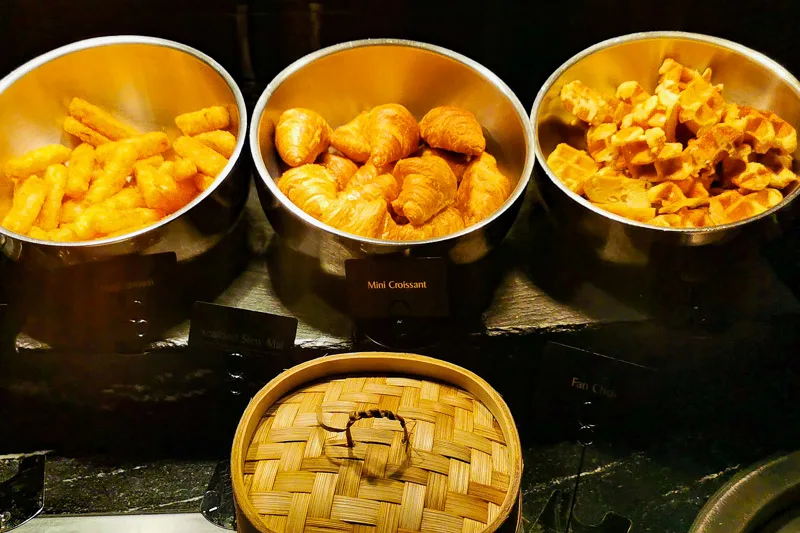 Dim Sum
Dim sum is available throughout the day. There were siew mai, har gao, chicken treasure, crystal dumpling, gyoza, loh mai kai (glutinous rice), and char siew bao (pork bun).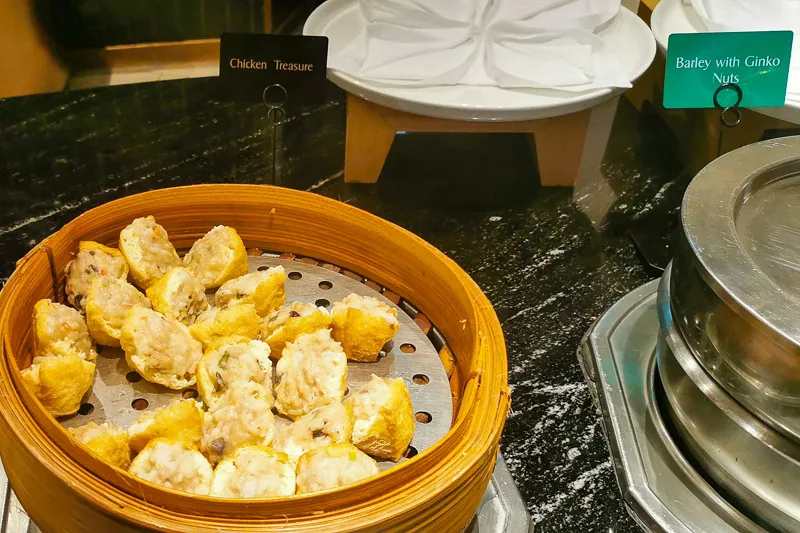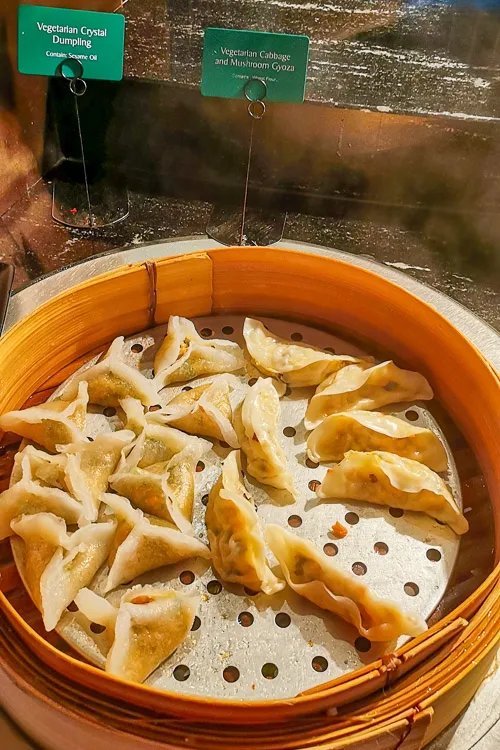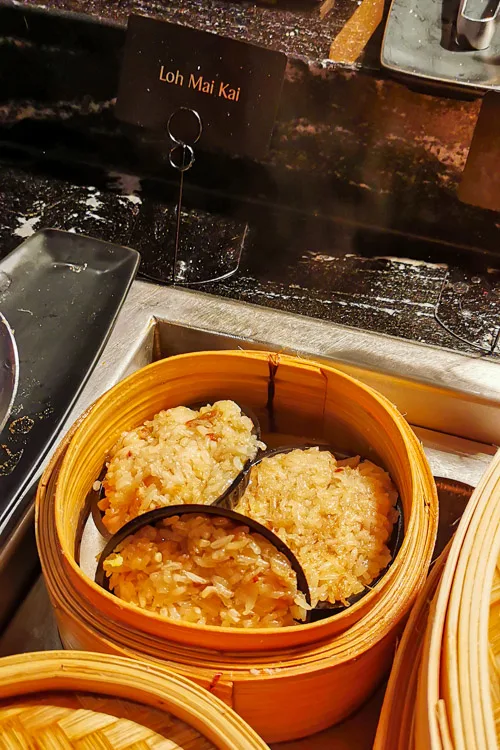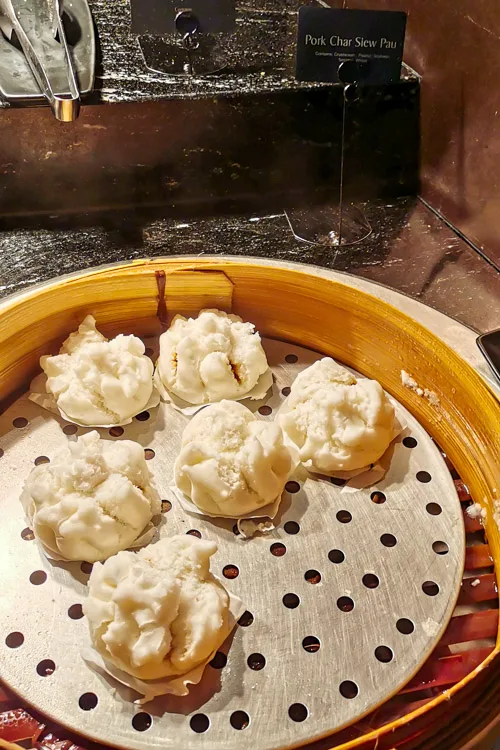 Made to Order
The made-to-order station never disappoints! For lunch and dinner, sometimes they offer pasta, and other times they offer rice dishes (like green curry rice).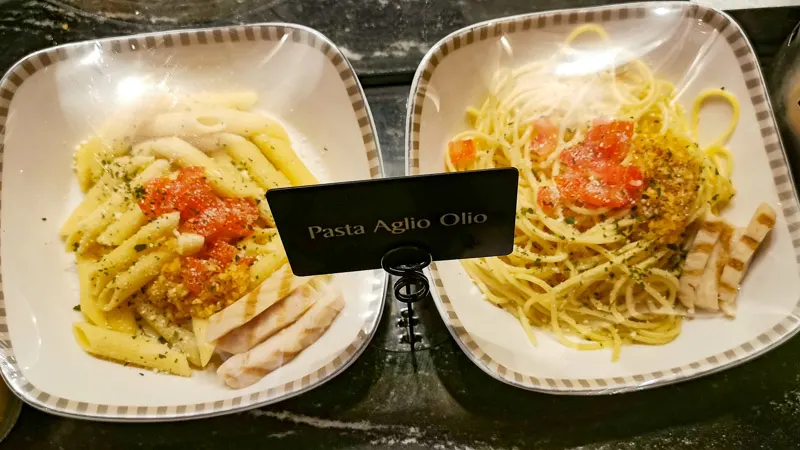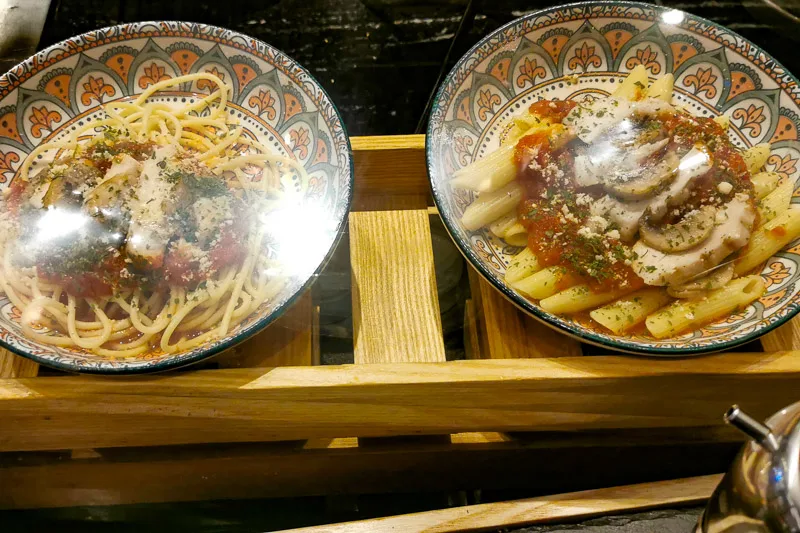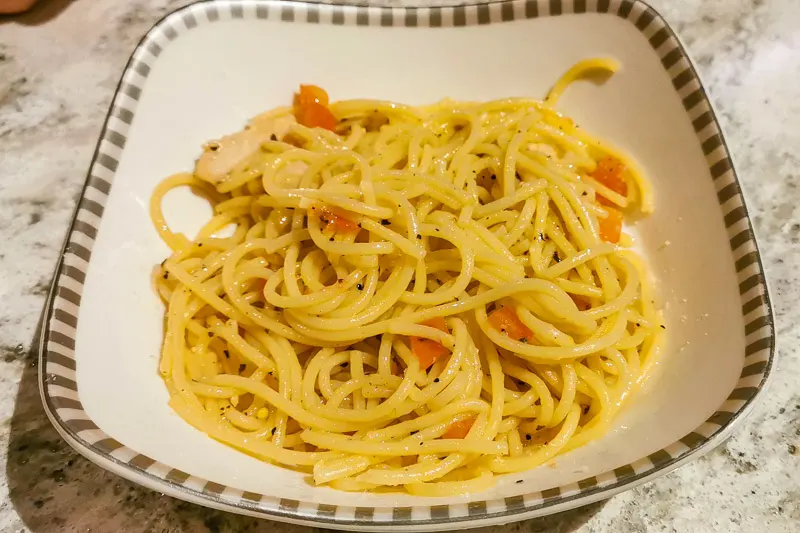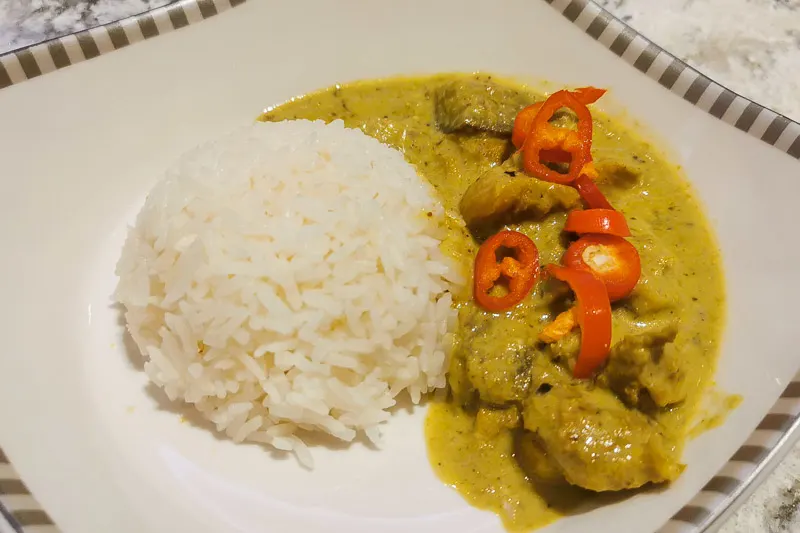 For breakfast, they offer breakfast items, such as breakfast set (scrambled egg, bacon, hash brown, croissant) and Italian Focaccia with black forest ham. I absolutely LOVE the Italian Focaccia!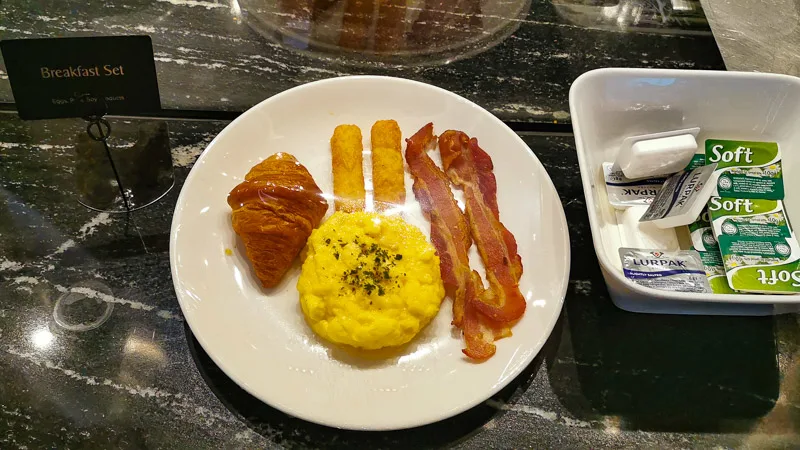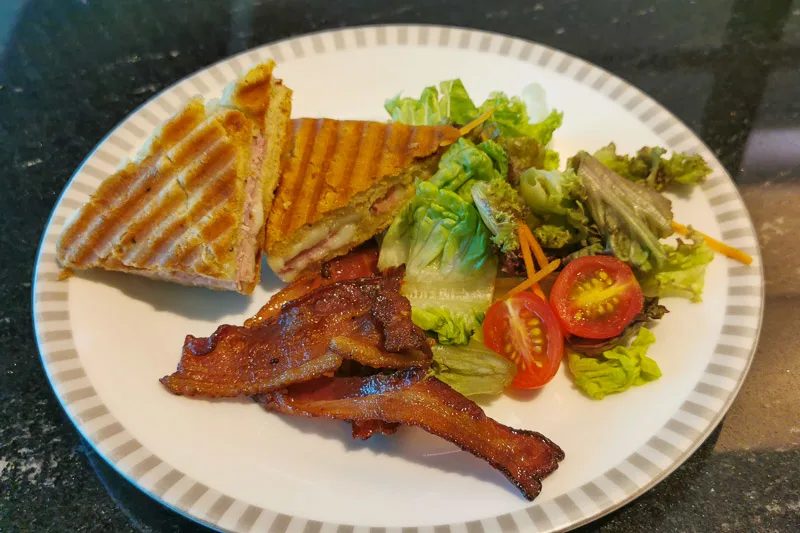 Noodle
The noodle section is one of the most popular sections at SilverKris Lounge, the line can be extremely long during peak period.
Here, you can find the iconic laksa noodle. It seems like laksa is a permanent fixture that's being served all day round. Highly recommend it!
Beside laksa, they also offer various noodle/wanton dishes. What we've encountered were Si Chuan spicy wanton in red oil, Udon with karaage, and Wanton noodle.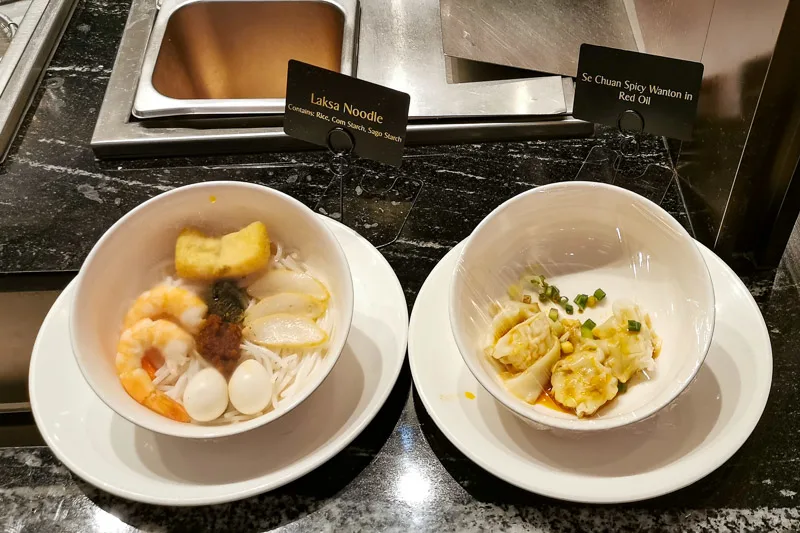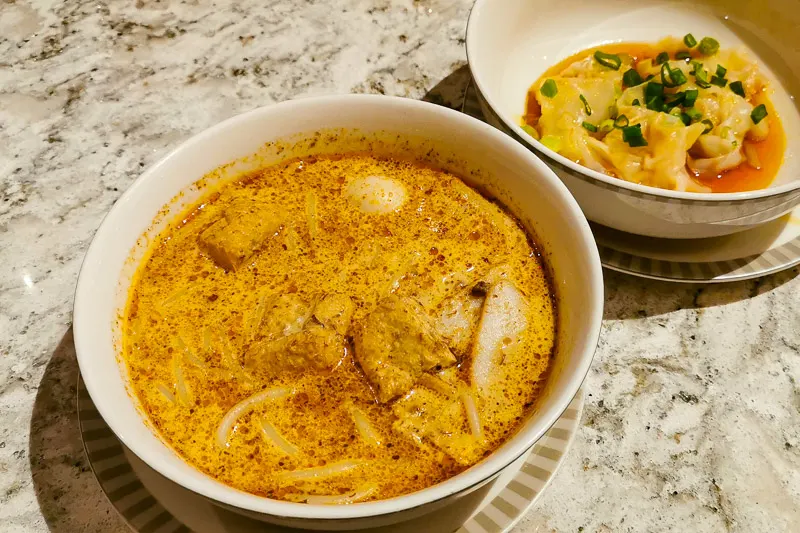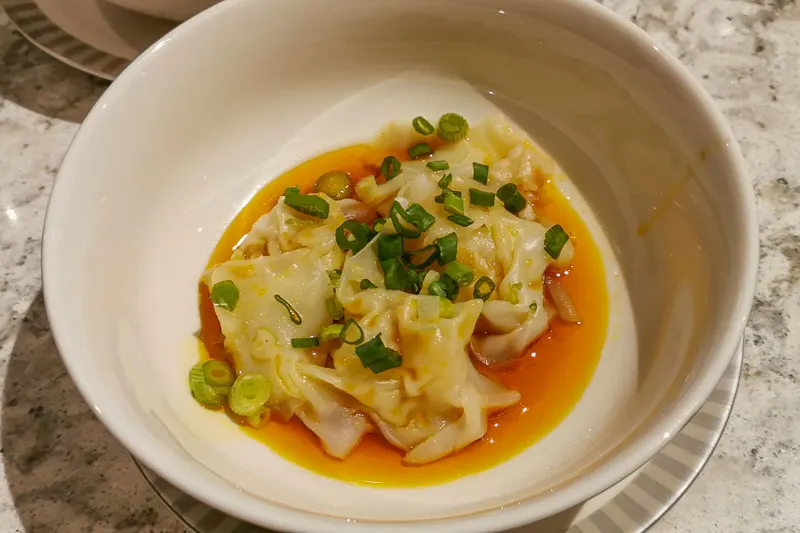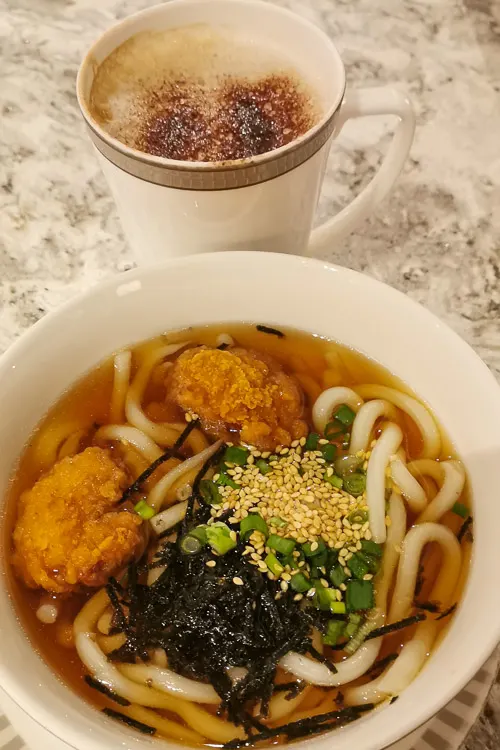 Porridge
As someone who loves porridge, I can testify that the porridge in SilverKris is quite good, it's not as bland as it looks like in the photo!
The porridge we've encountered were pork porridge and fish porridge. The condiments were spring onions, fried onions and fried dough (you tiao).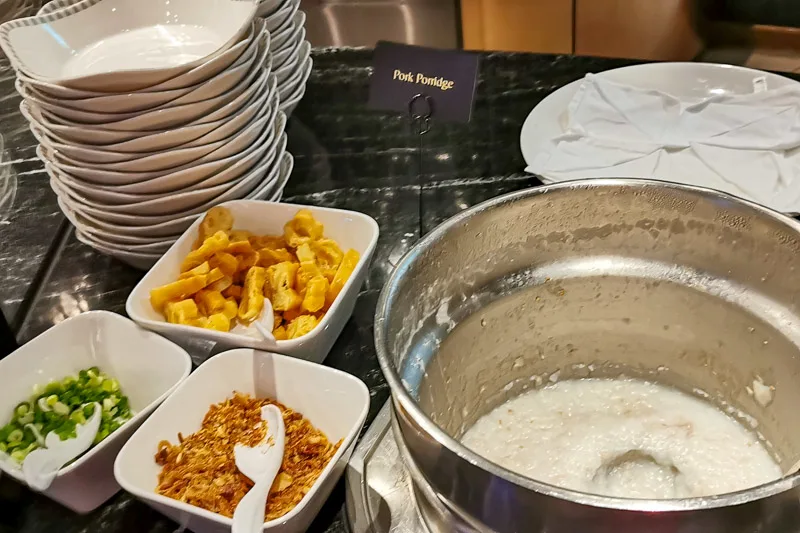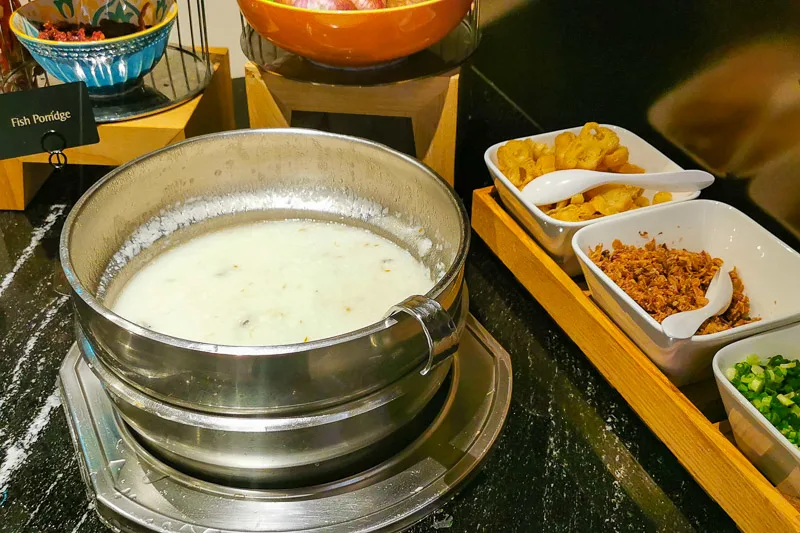 Soup
At the soup section, they offered both savory and sweet soups, such as broccoli soup, cheng teng and barley with ginko nut.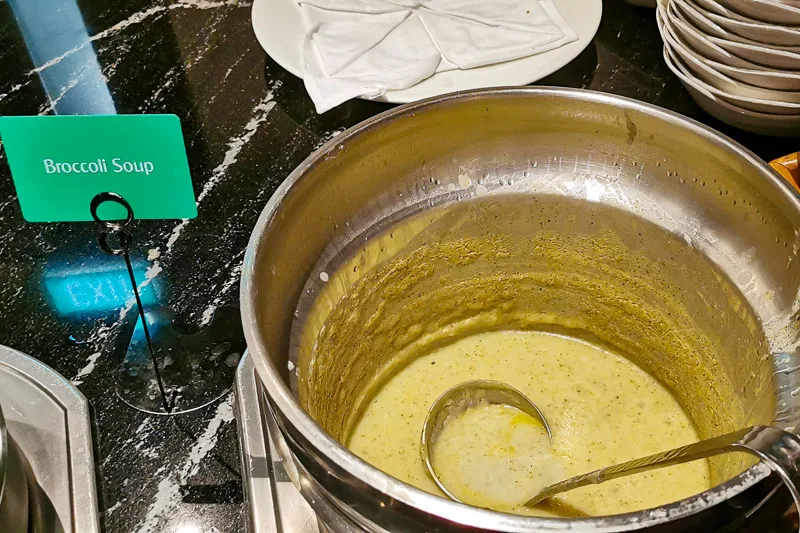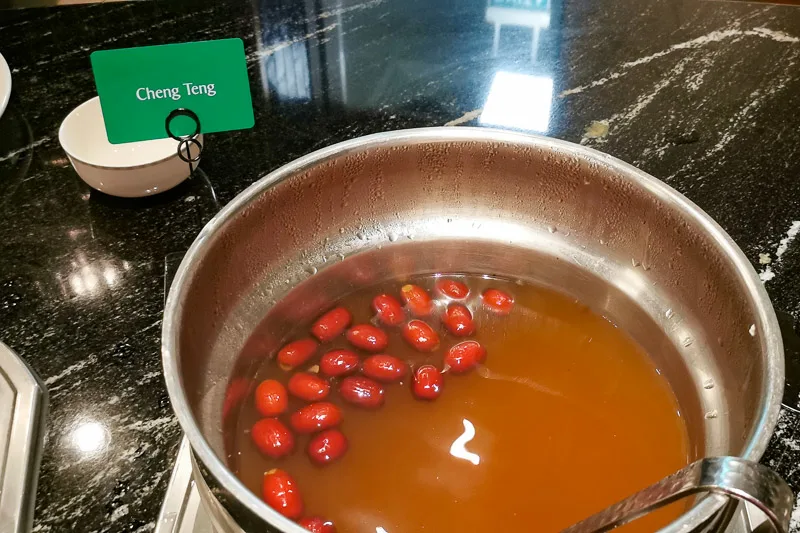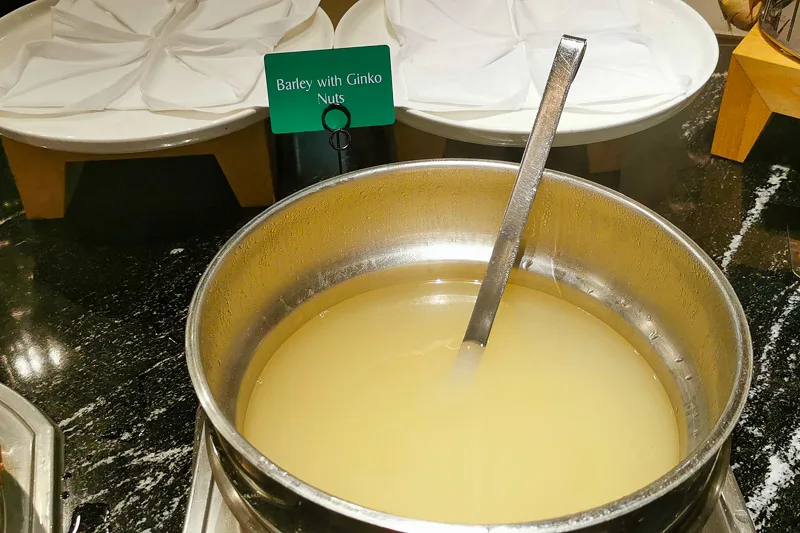 Cold Food
The cold food can be found at the chilled shelf. They have so many variety of food here, such as assorted cheese, sandwiches (chicken pesto, egg mayo, tuna), desserts (ondeh ondeh, eclairs, mango cake), fruits, salad, soba, yoghurt, cereals and cold milk.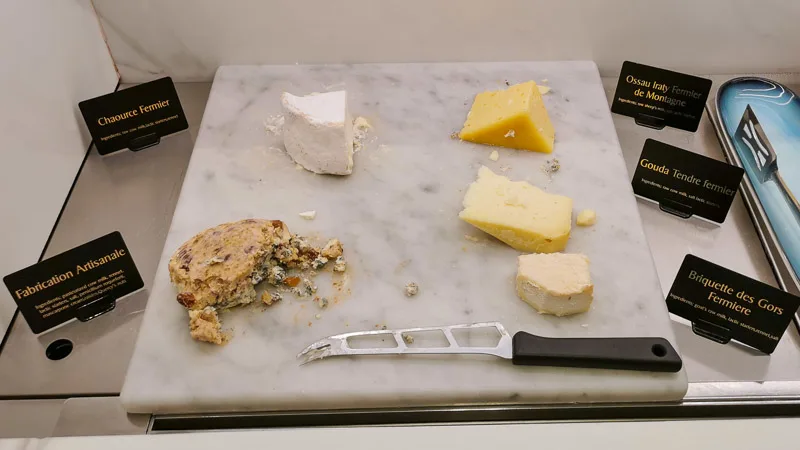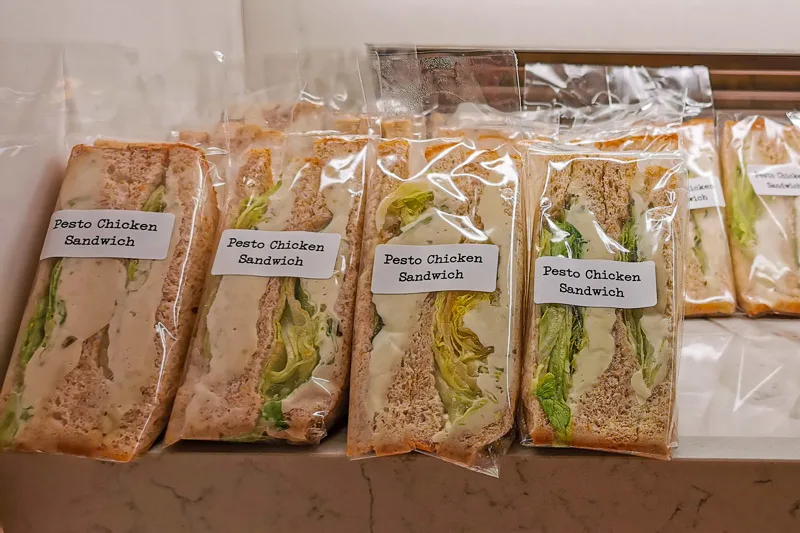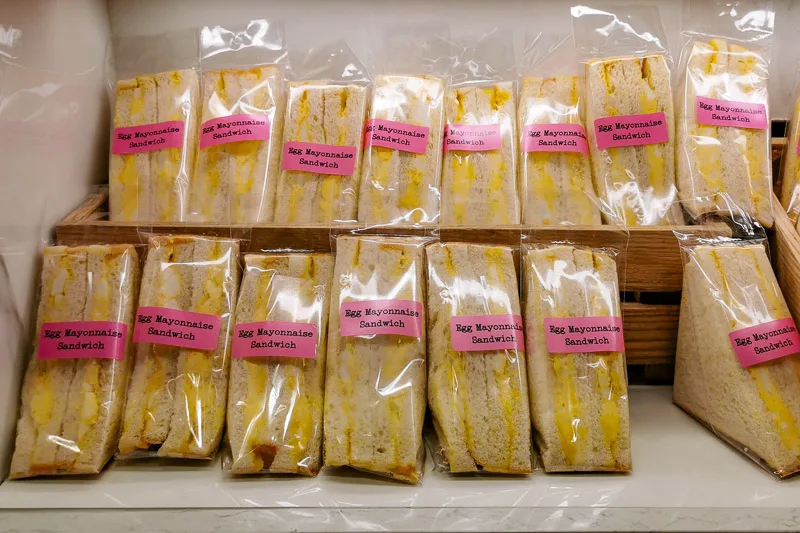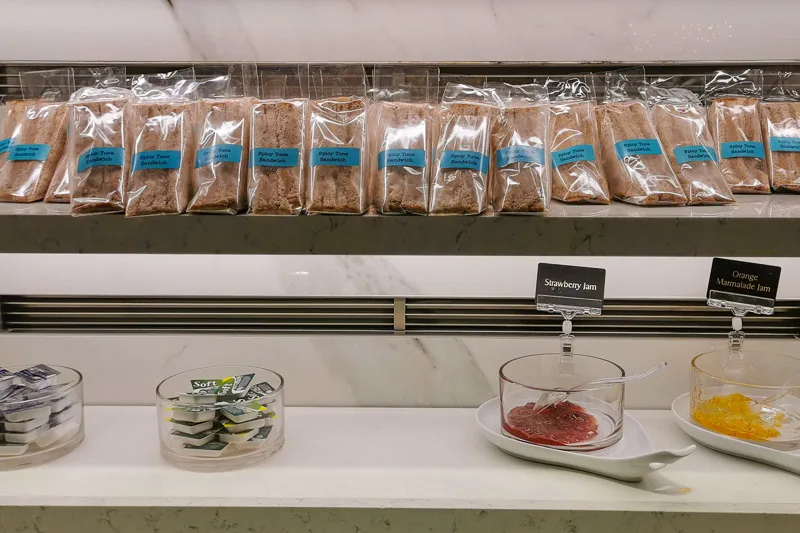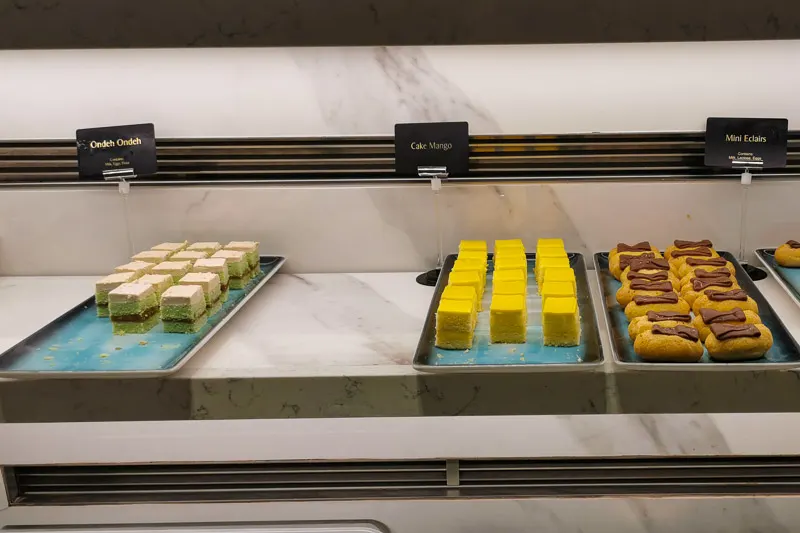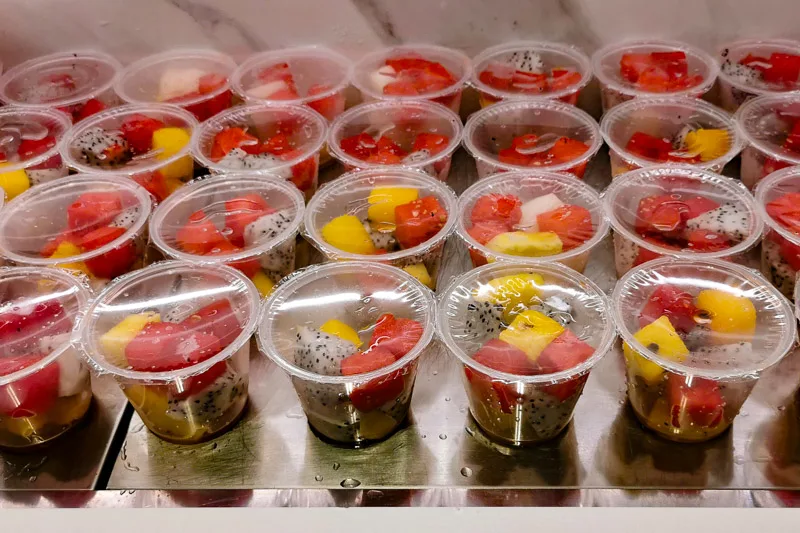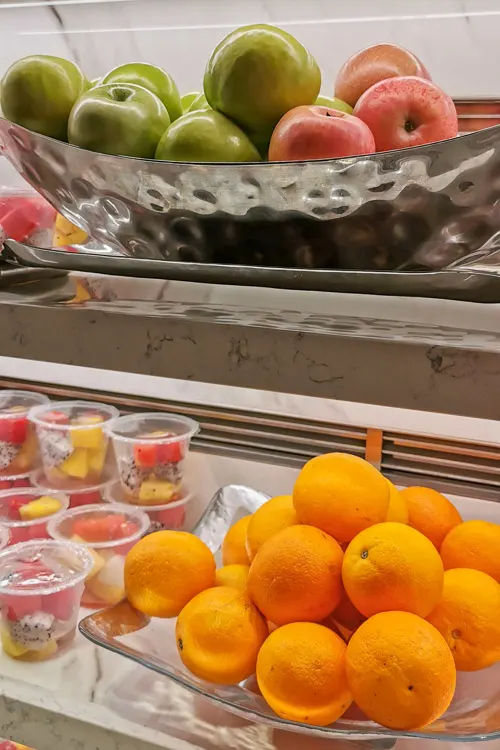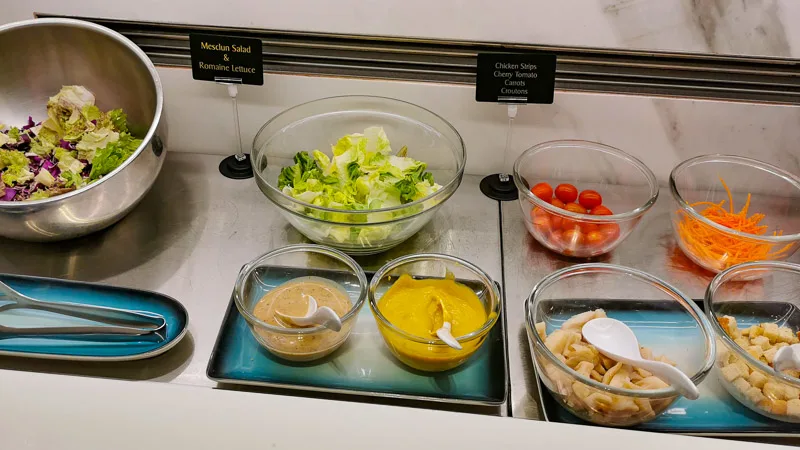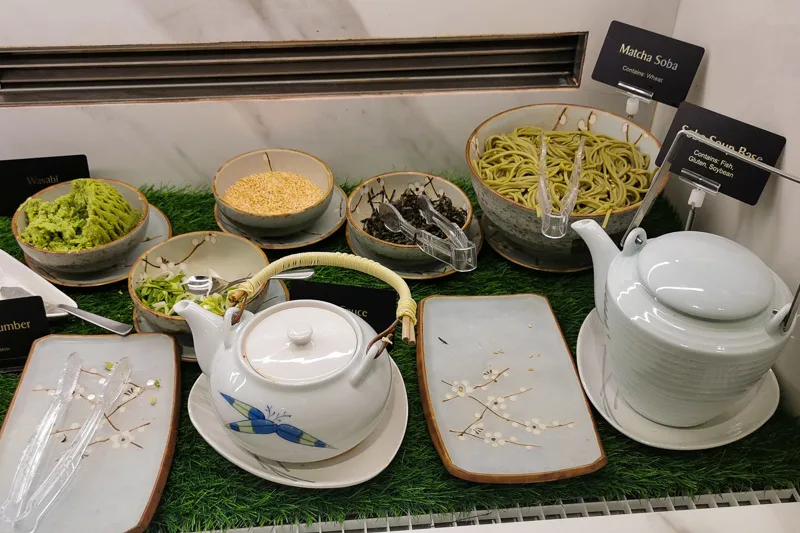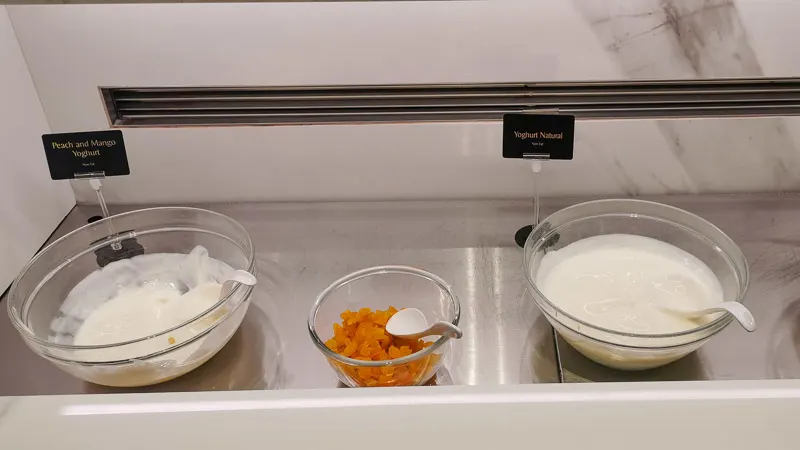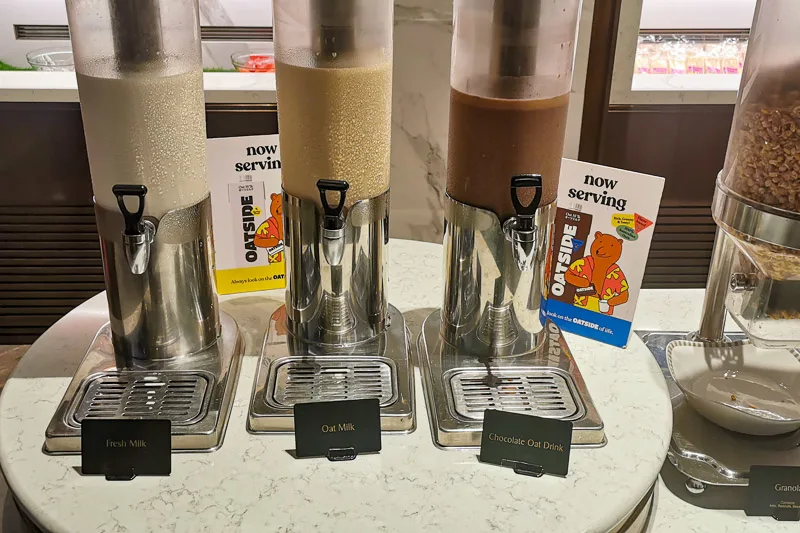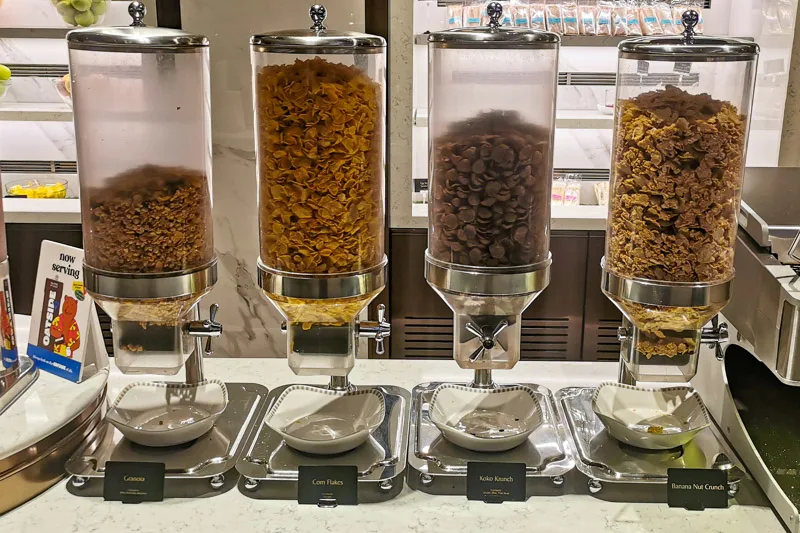 Others
Lastly, here is where I list all the food that I can't categorize in the sections above. There were light bites (nuts, chips), bread (with toaster), and pastries.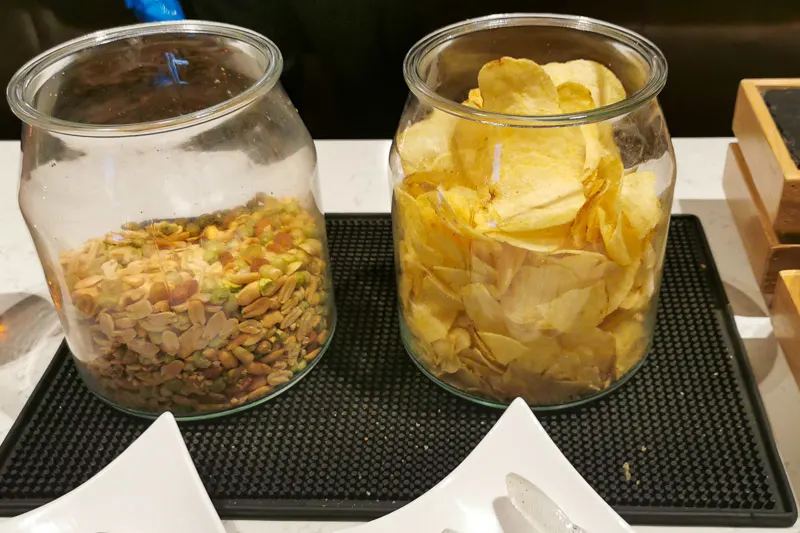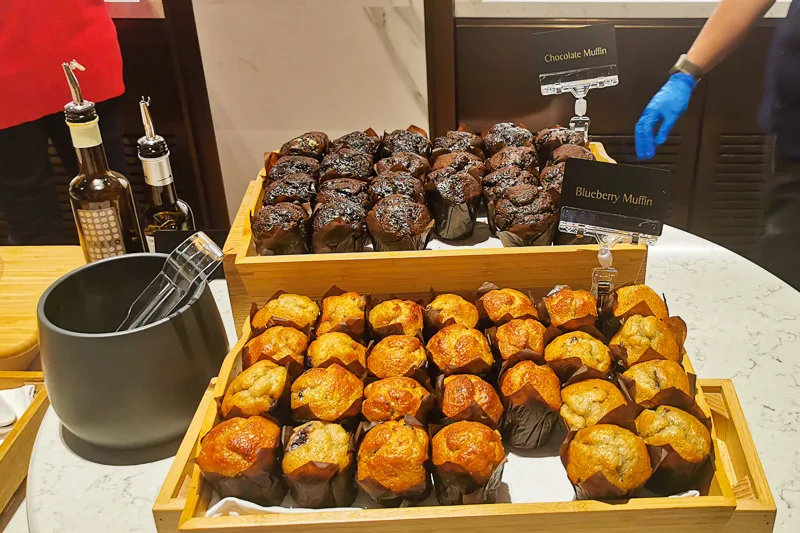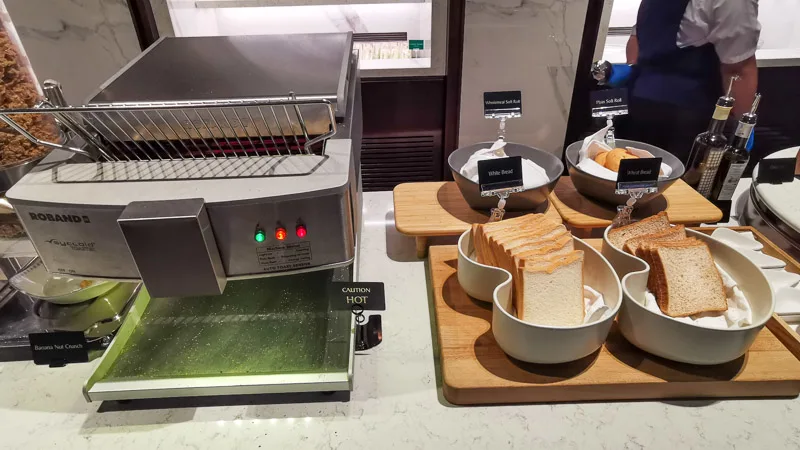 Beverage
Alcoholic Drinks
The alcoholic drink selection in SilverKris is fantastic!
Let's start with the cocktail! If you love cocktails, do note that cocktails are NOT available throughout the day. Cocktails are ONLY available during bartender service hours, which is from 5.30pm to 1am.
I made the mistake of thinking that cocktails are always available, so I went to eat to my heart's content before returning to the bar at 1.30am to find the bar has closed! Sigh! Don't make the same newbie mistake as me!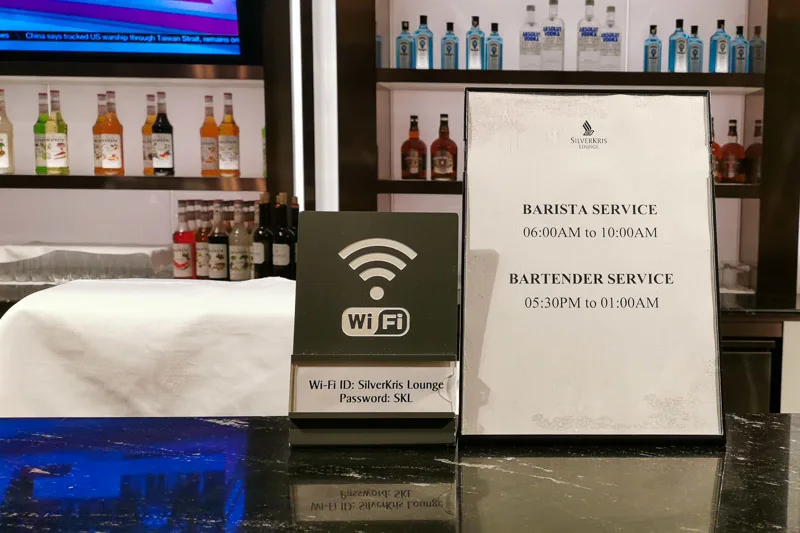 When we visited the SilverKris Lounge during another occasion, we made sure we get to the bar during bartender service hours and not wait till last minute to order a drink! We had Singapore Sling and we loved it!
The cocktails menu consists of: SilverKris Sling, Singapore Sling, Bloody Mary, Bronx, Cosmopolitan, Daiquiri, Manhattan, Margarita, Martini, Negroni, Screwdriver, Side Car, Tequila Sunrise, Whiskey Sour, White Russian.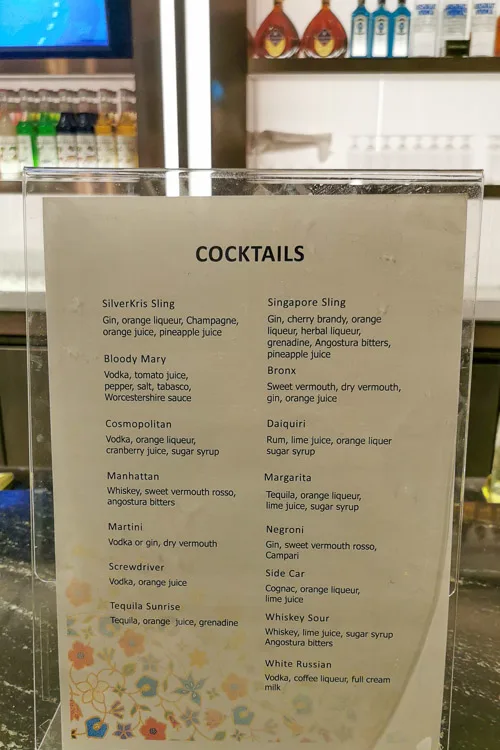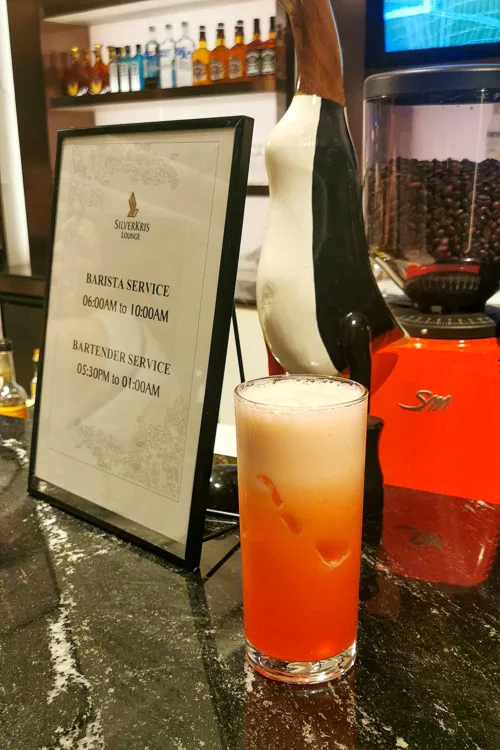 For beer lovers, SilverKris Lounge has Singapore's very own Tiger Beer on tap; you can request for it at the bar, or you can help yourself with a self-serving machine.
There are also beers in cans. In the fridge, there are Tiger Beer and Heineken.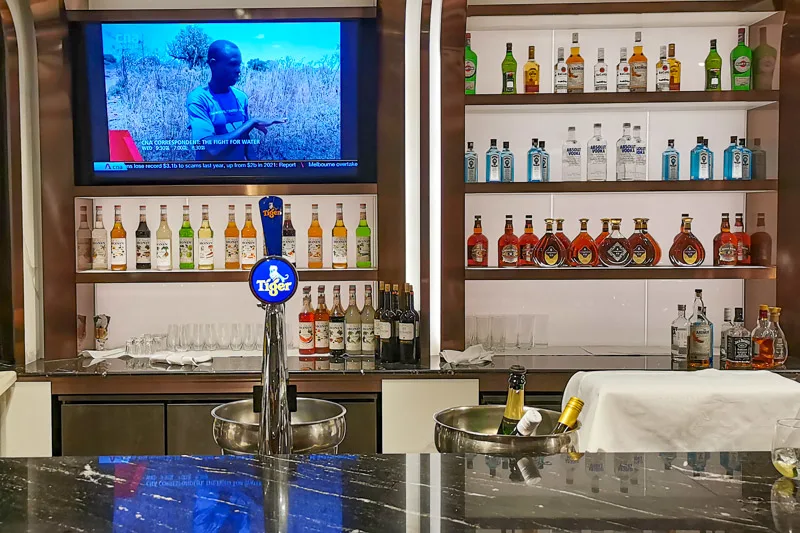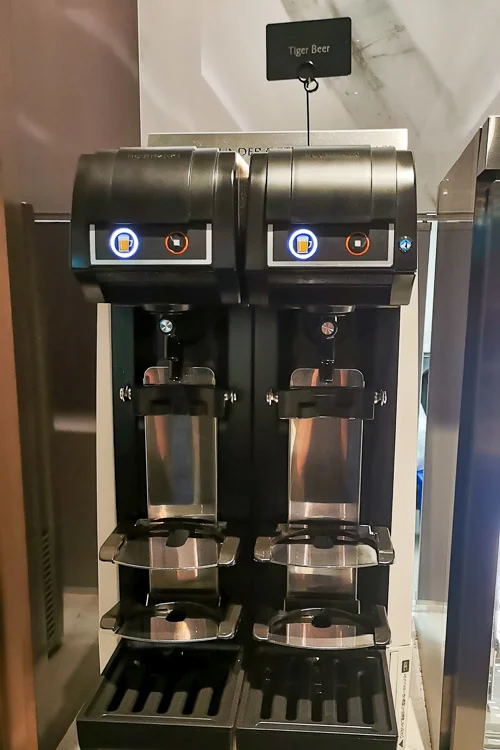 At the liquor section, there are Courvoisier XO, Absolut Vodka, Bacardi Rum, Bombay Sapphire Gin, Jack Daniel's Whiskey, 12yo Chivas, and Ardmore Whisky.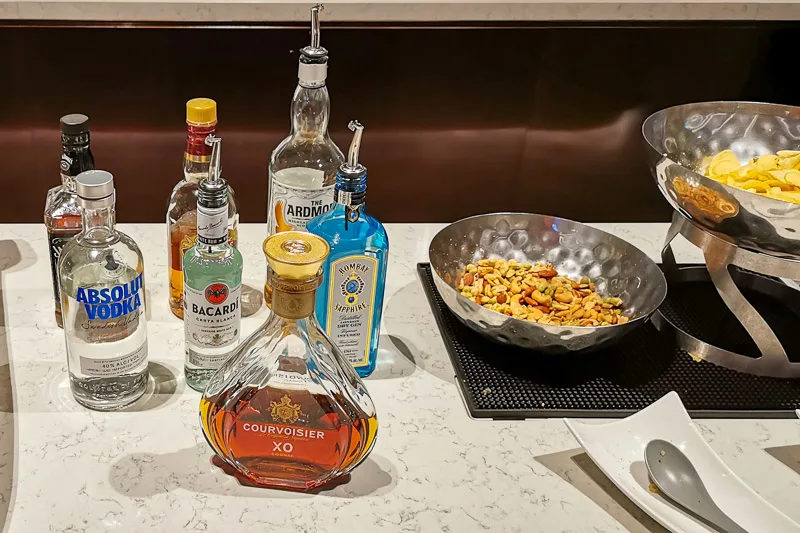 For champagne, we noticed they have a rotation of champagnes being served each day. The champagne that we encountered were Champagne Henriot and Piper-Heidsieck Champagne.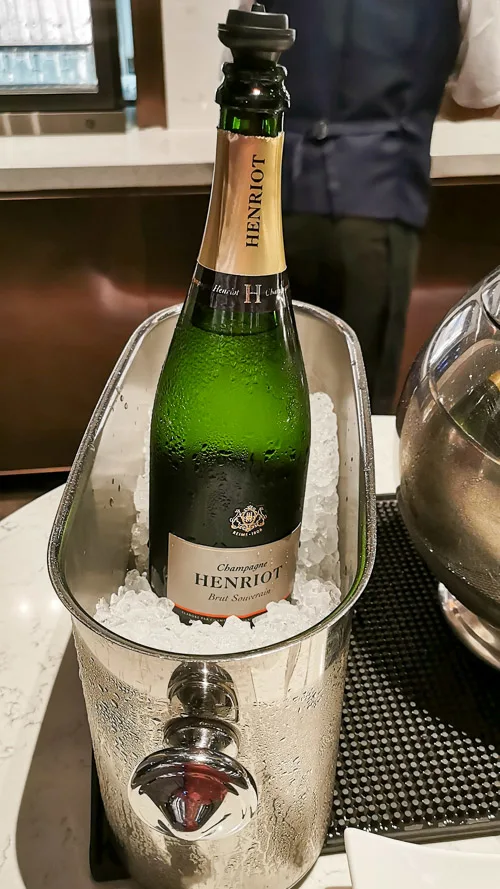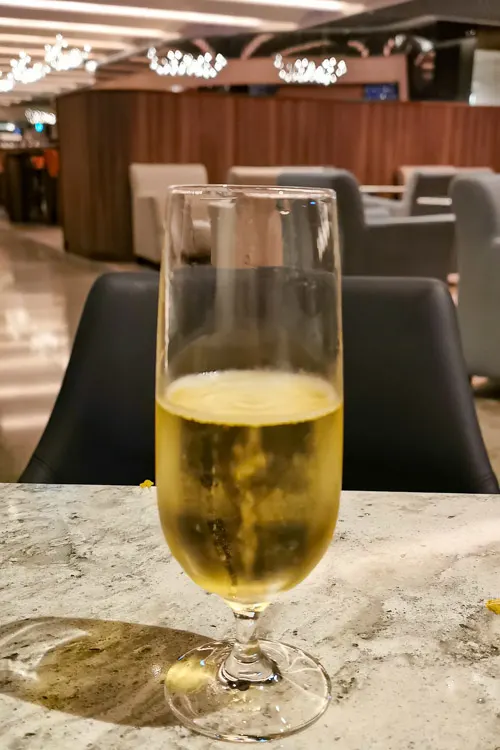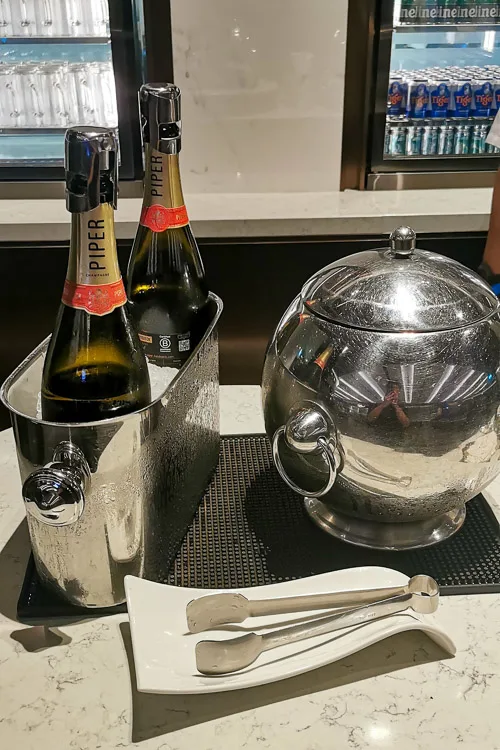 The wines being offered during our visits were: Leeuwin Estate, Pikes Wines, Ontañón Rioja Reserva, De Wetshof Lesca Chardonnay, Chateau Poitevin, and Lyeth.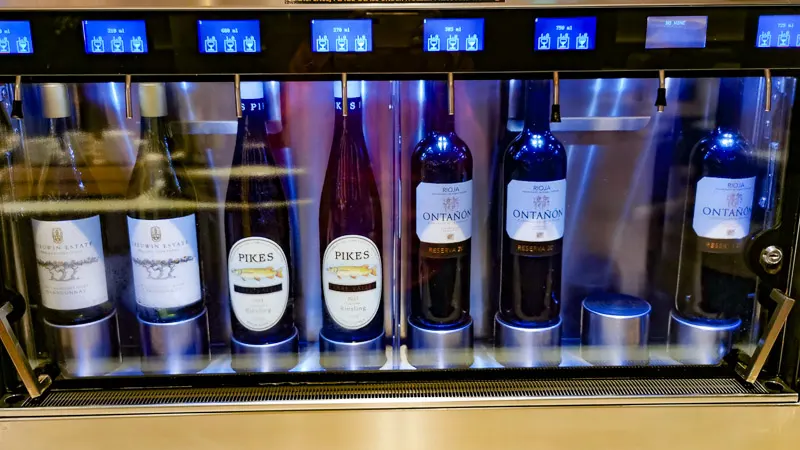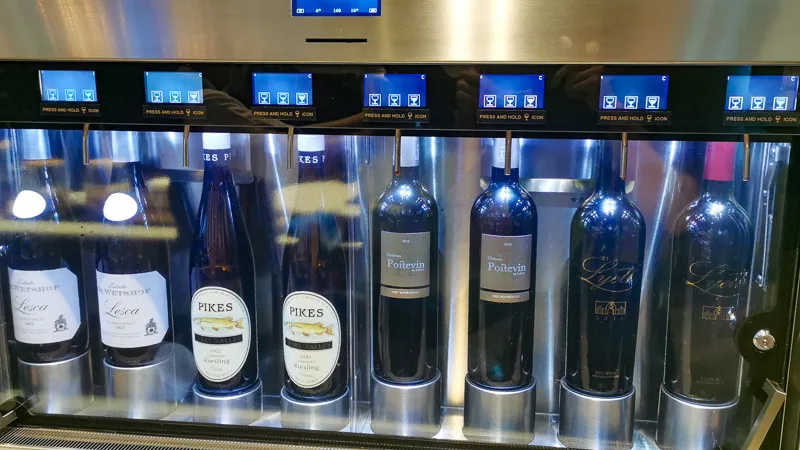 Cold Drinks
For cold drinks, they have very refreshing infused water, soft drinks, and fruit juices.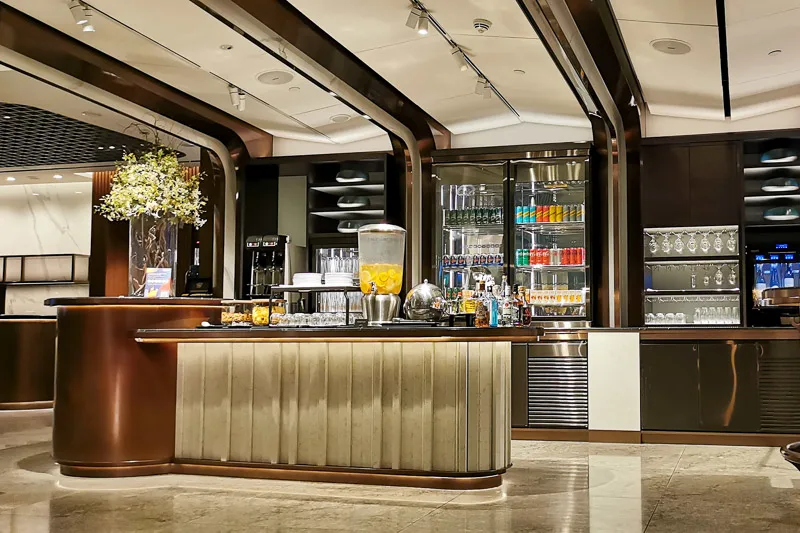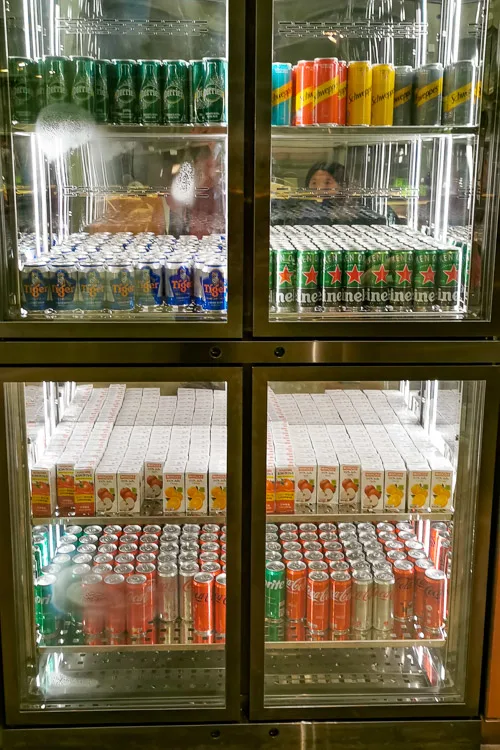 Hot Drinks
The hot drinks section features a coffee machine that serves various types of coffees, as well as TWG teas of various flavors.
You can also get your coffee fix from the bar between 6am to 10am.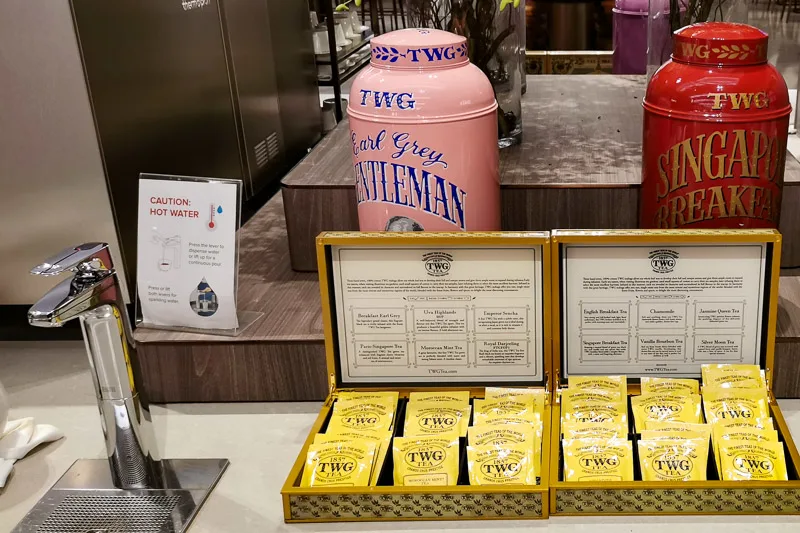 One thing I really appreciate about the hot drinks selection is that they even have sliced lemons and honey jars! It was exactly what I needed when I felt a little unwell before one of my flights. Probably one of the best honey lemon drinks I've ever had!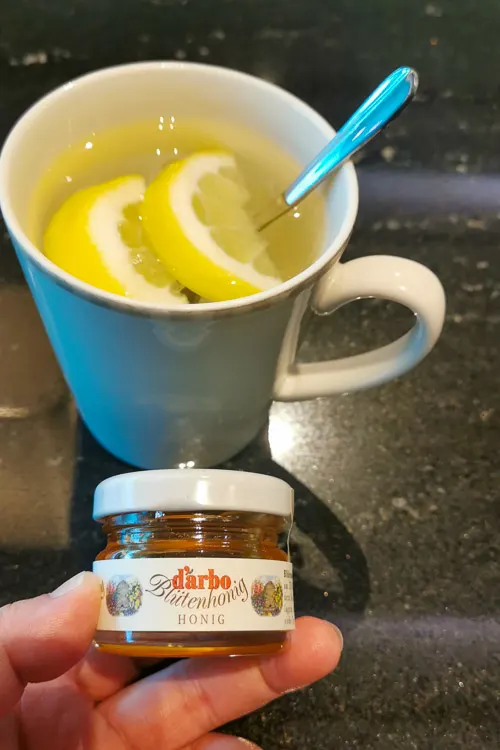 View
SilverKris Lounge has a great view of the airport tarmac where you can see plenty of Singapore Airlines taxiing or parking at the gate, including the hustle and bustle of baggage loading and unloading.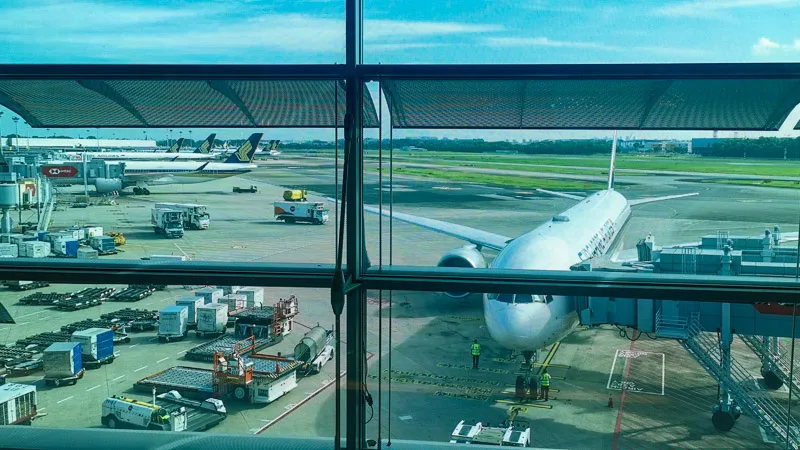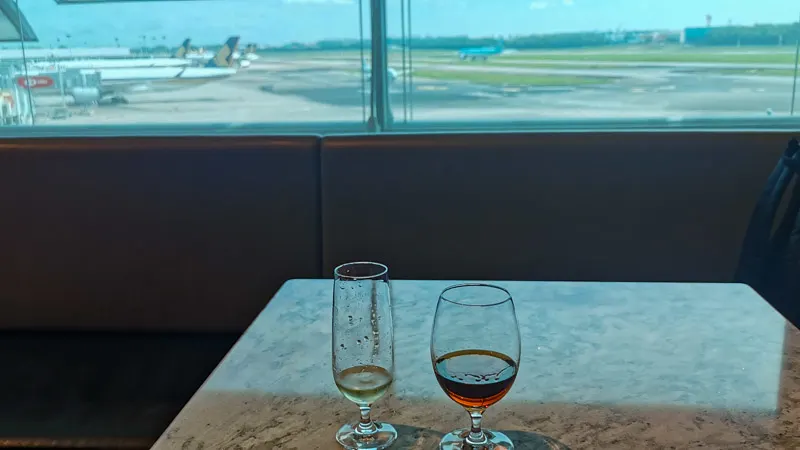 Sleeping Area
There is a sleeping area located at the end of the lounge, behind two closed doors. Inside, there are cubicles with a lounger and a side table. Blanket and pillows are available inside the wardrobe.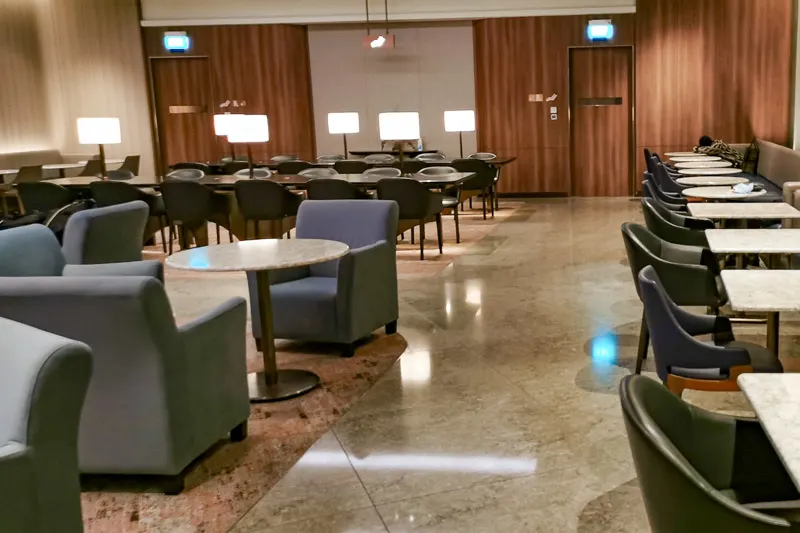 Booking is not necessary. Anyone can enter the room to see if there's any empty cubicle. The room can get pretty full at midnight because the number of loungers are quite limited (there are less than 20 loungers).
At first glance, the lounger looks like a great place to snooze while waiting for your flight. But, from our experience, we didn't have a good sleep here because of several reasons.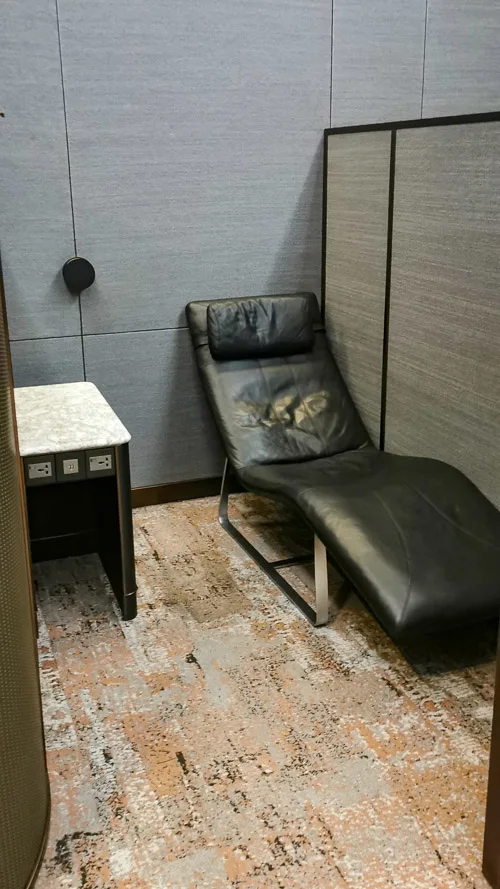 Firstly, the lounger is reclined and not flat; we didn't feel comfortable at all sleeping with this posture. Secondly, the room isn't soundproof; when someone moves the chair outside the room in the middle of the night, the noise is unbearable.
If you can't sleep on a recliner, or if you can't get a recliner because they're all fully occupied, there are benches and sofas around the lounge that you can use to take a nap.
Just a word of caution, unless you're someone who can sleep in any situation, it's quite a challenge to get a good night sleep anywhere in the lounge.
If you need a good night's sleep in a quiet environment with comfy bed before a morning flight, the lounge isn't the place you want to be. You'll get a better quality sleep at a transit hotel.
Toilet & Shower
The toilet has quite a number of cubicles. The cleaner cleans it frequently, so cleanliness is well-maintained.
At the sink area, you can find various toiletries, such as toothbrush and toothpaste, shaver, hand lotion and disposable cups.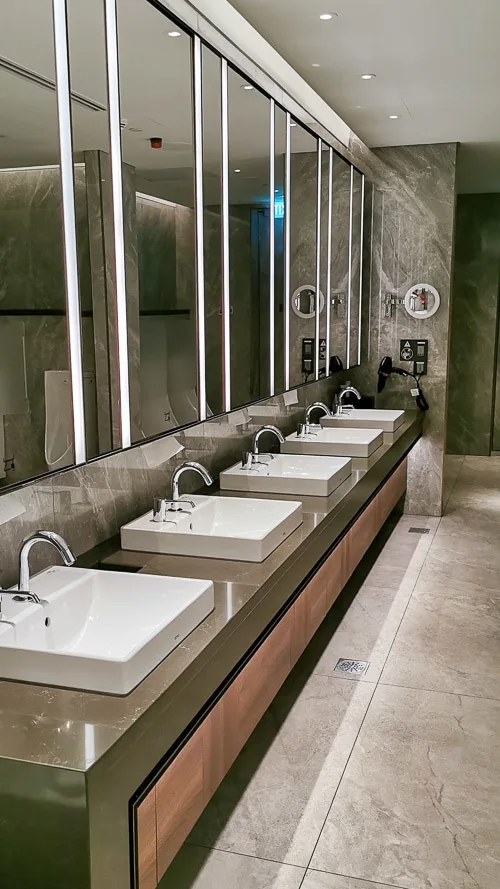 The showers are separated from the toilet. The are quite a number of shower rooms. The staff cleans the shower after every use, so you can expect a clean and shiny shower room.
At the entrance, the staff will tell you which shower room is available for use. The towels are provide inside the shower room.
The shower room has its own toilet and sink. The shower comes with rainshower and handheld shower. Attached on the wall are bottled body wash and shampoo.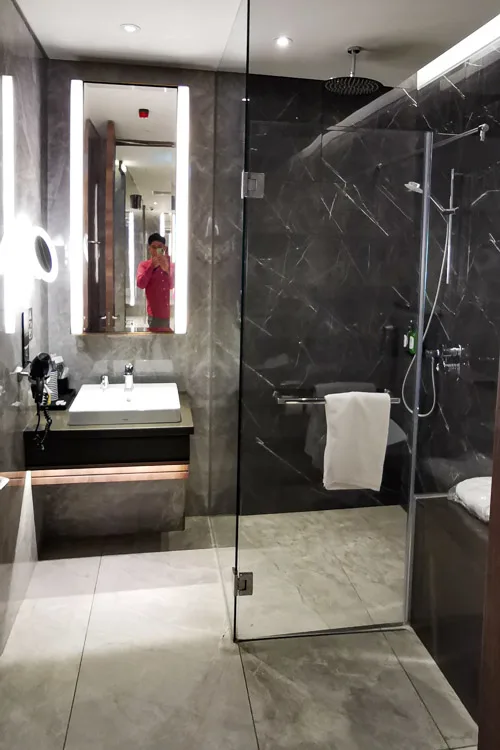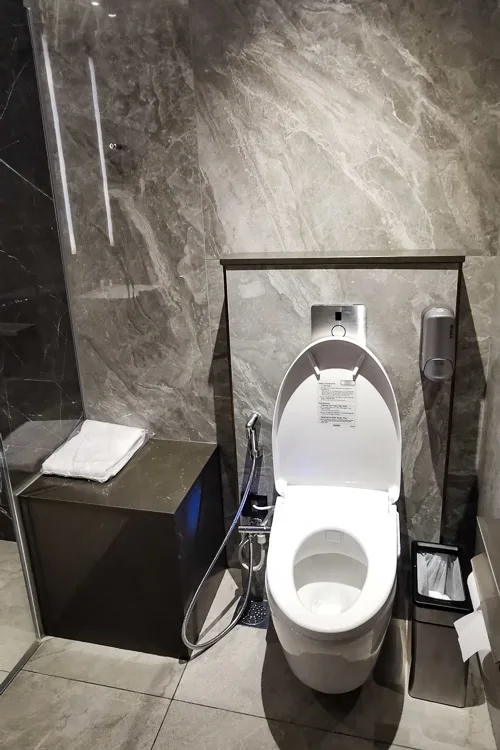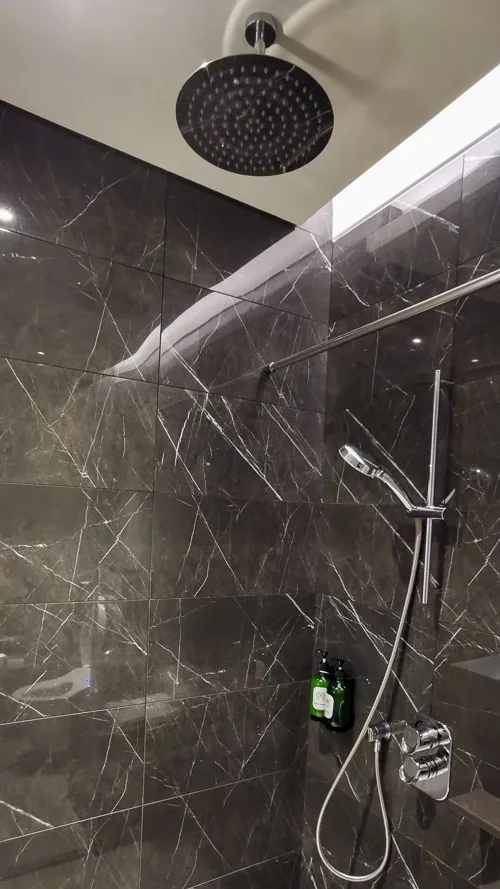 At the sink area, there is a hairdryer, a huge mirror, a make up mirror, as well as toiletries such as toothbrush and toothpaste with disposable cups, comb, shaving kit, hand lotion and perfume.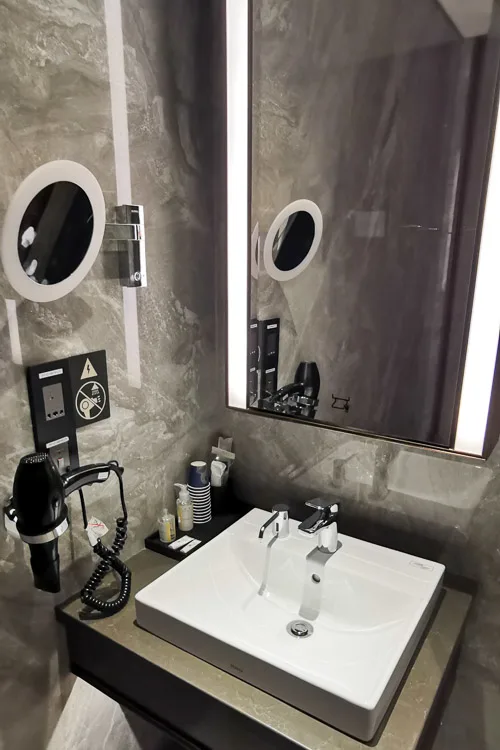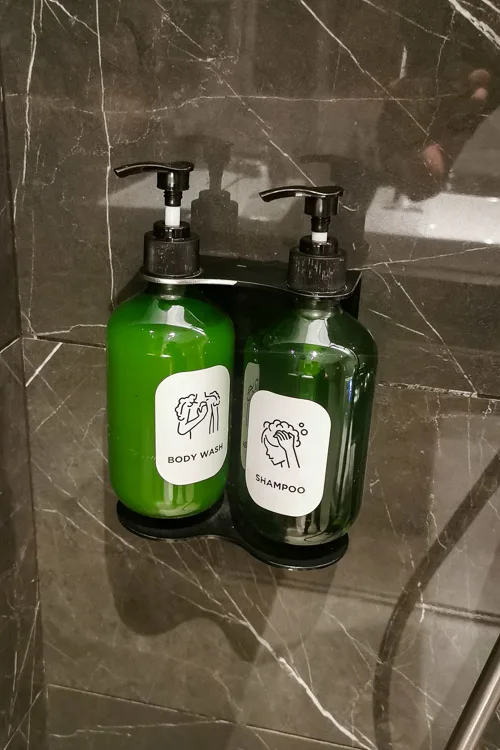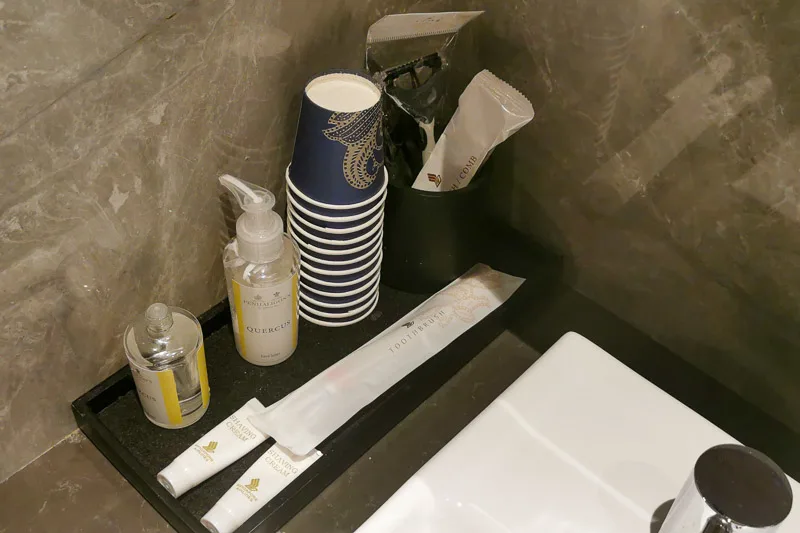 Final Thoughts
The Singapore Airlines Business Class Lounge at Terminal 3 Changi Airport is a great lounge which excels at many areas.
The food and drink offerings are incredible. The shower suite is fantastic. The space is huge and seating options are aplenty. It's totally worth checking-in a few hours early for.
If you like my work, you can buy me a coffee! Your support will help me to keep going!