Many people may not know that I actually love snacks like potato chips and corn puffs. I'm the type of person who can focus on deep work only when my mouth is occupied with snacks (#truestory).
Whenever I travel overseas, I always make time to buy local snacks. Well, we know that travel is still restricted now, and I miss overseas snacks dearly.
Thanks to Tokyo Treat, I can now enjoy snacks from Japan without having to travel to Japan!
What is Tokyo Treat?
Tokyo Treat is a curated Japanese snack box that features 12 to 17 Japanese chips, cookies, candy, chocolate and soda.
From 1st Dec 2021 onwards, Tokyo Treat is adding new variety to their box, including instant ramen, baked goods, jelly and purin. These new boxes will have 15 to 20 items, and the total weight will be at least 1.3kg!
How does Tokyo Treat subscription work?
Basically, you can choose whether you want to purchase a one-time box, or you want to subscribe for 3, 6 or 12 months. The 12-month plan offers the most value.
Here's the breakdown of the price:
– 1 month: US$37.50 per month
– 3 months: US$35.50 per month
– 6 months: US$33.50 per month
– 12 months: US$32.50 per month
Do note that the price above does not include shipping. The shipping fees can be found here, it ranges from US$10.50 to US$12.50 per box. The shipping include tracking, so you will know exactly where the parcel is throughout the shipping journey.
Receiving Tokyo Treat in Singapore
On Tokyo Treat's FAQ on shipping details, it says that shipping to Singapore takes about 2 to 5 business days. Well, I received the box in just 2 days. That's a pleasant surprise. The shipping operator was DHL and they delivered to my doorstep.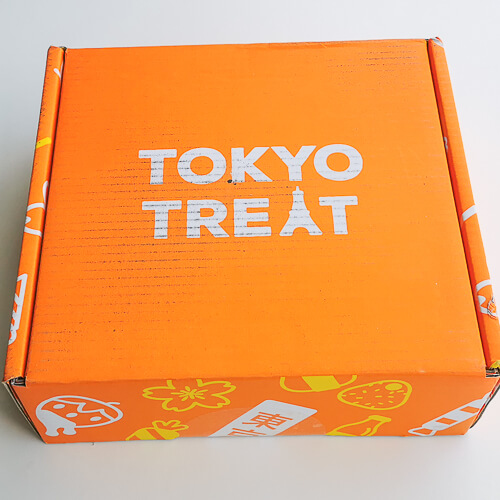 What's inside Tokyo Treat Box?
The theme of my December 2021's snack box is Christmas Crunch, so the box is full of festive snacks to celebrate the holiday season. There is a total of 17 items in my box.
This is the last edition of the old box that features 12 to 17 items. The new box (which will be shipped from 1st Dec 2021 onwards) will feature more items and more variety of snacks.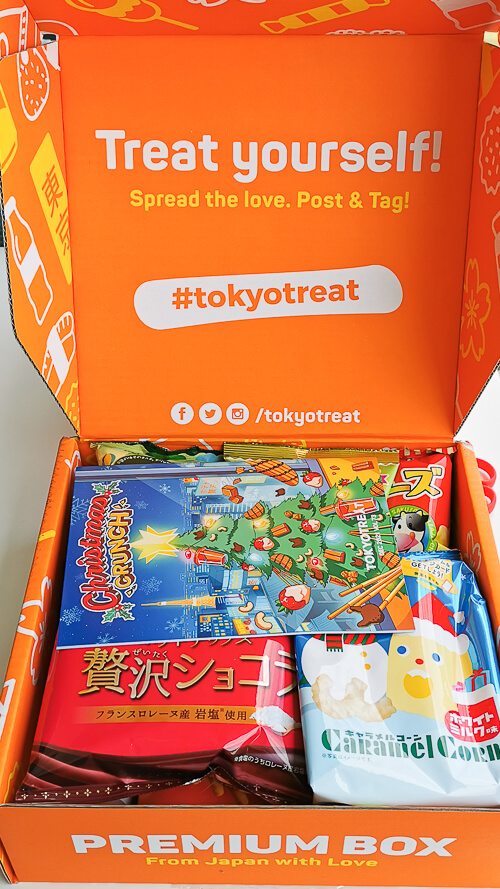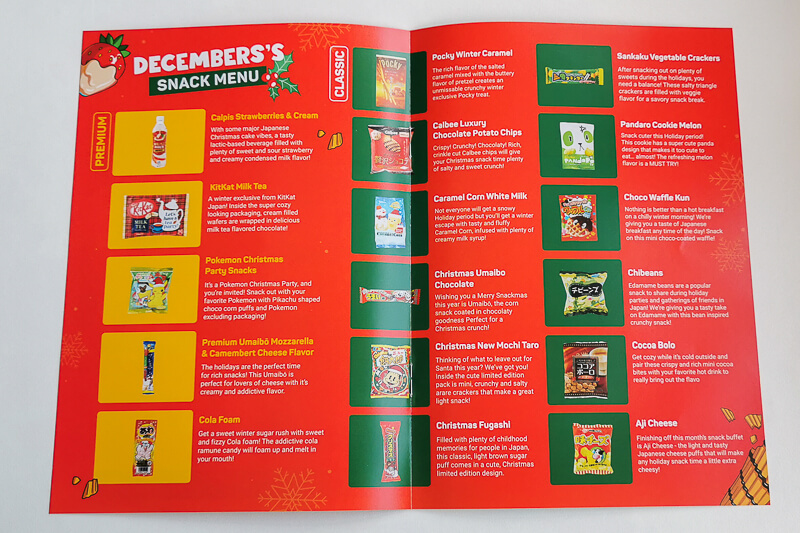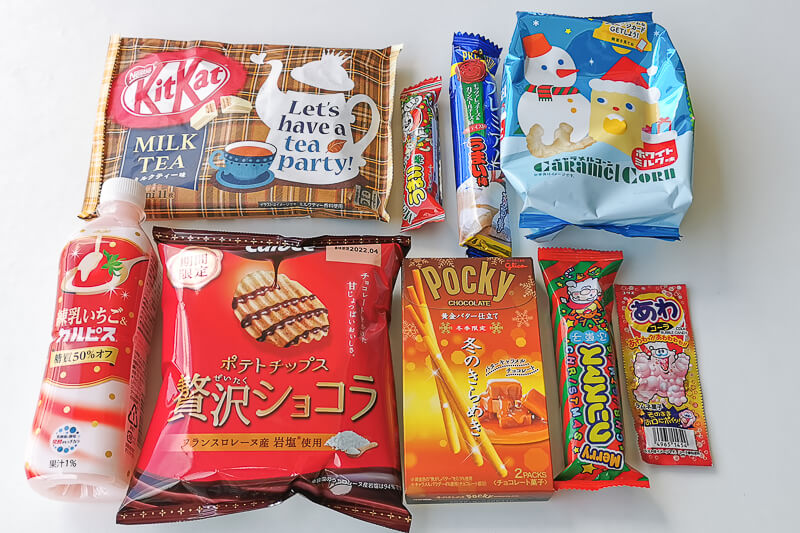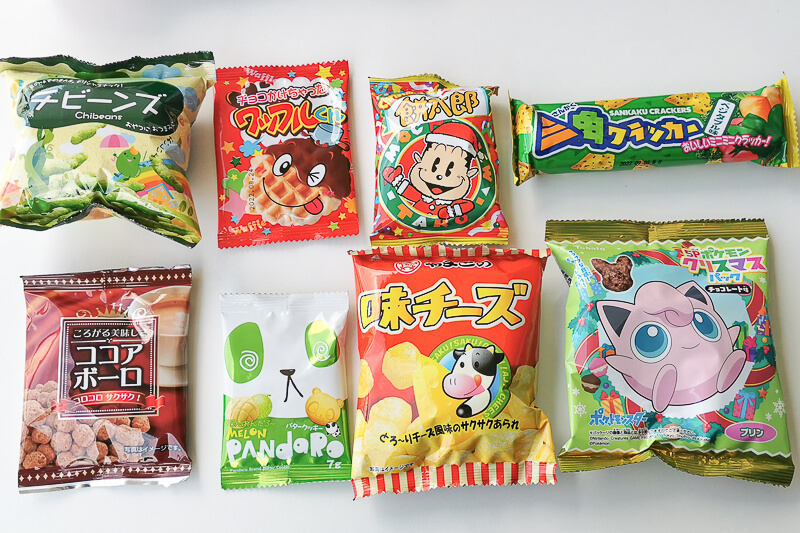 Party Packs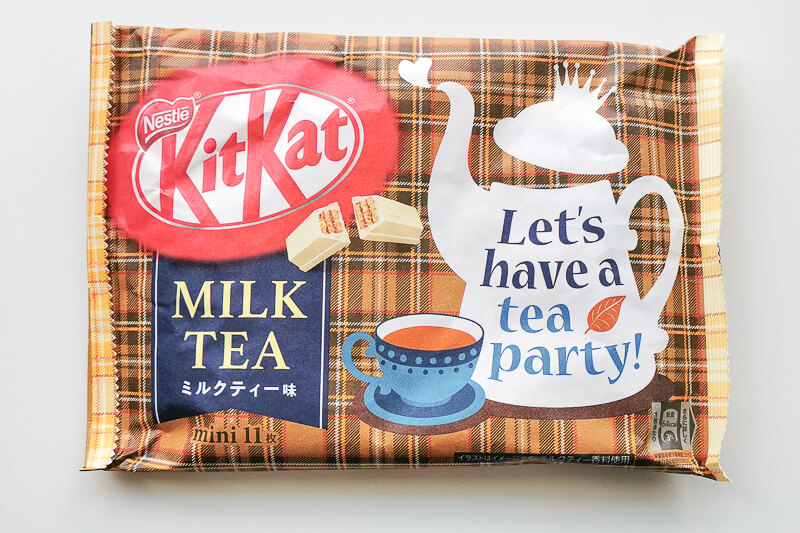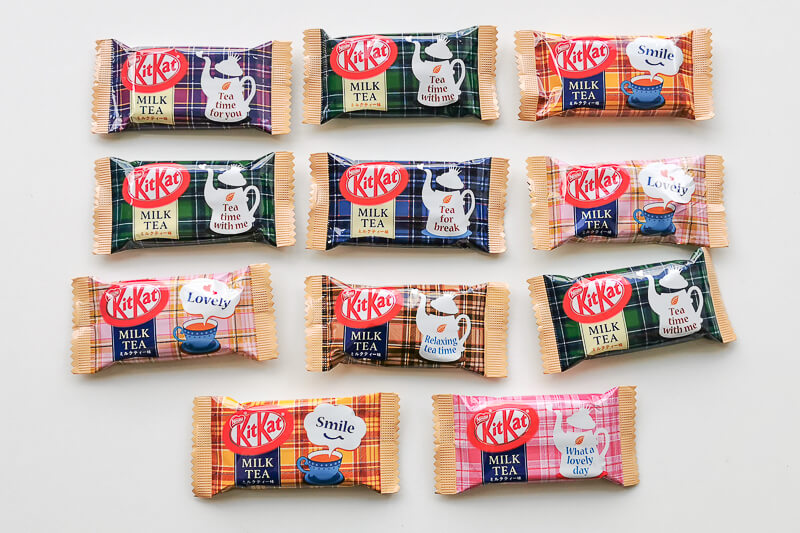 It's amazing how many flavors KitKat has! In this box, I got a bag of KitKat Milk Tea, which has 11 mini milk tea kitkats. They are pretty sweet and they make a good gathering snack. You might want to be careful not to put them at places with high temperature, because they do melt easily.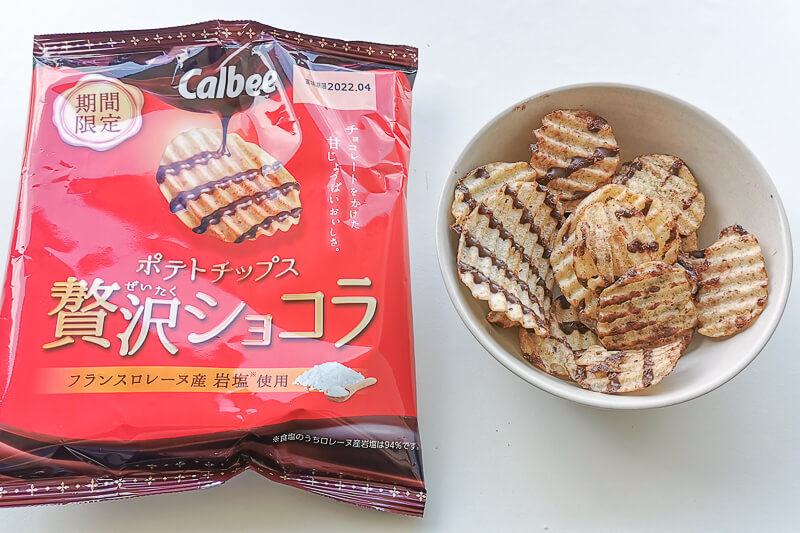 The Calbee Luxury Chocolate Potato Chips is quite unique. It's an interesting combination of savory potato chips and sweet chocolate. It doesn't spell comfort food, but after I tried it, I'm hooked. The chips come in a big pack, so it's great for sharing.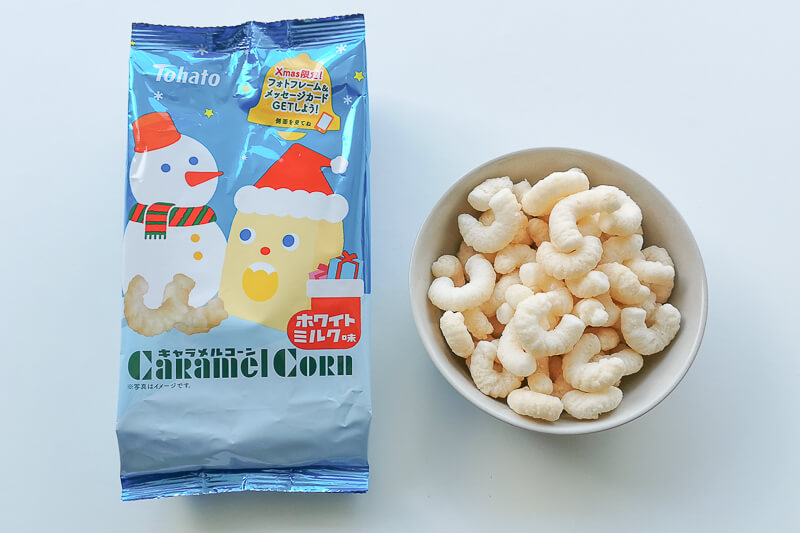 Caramel Corn White Milk is a macaroni-shaped snack that melts in your mouth. It's mostly sweet and it comes in a very huge pack. It's my comfort food and it's really binge-worthy.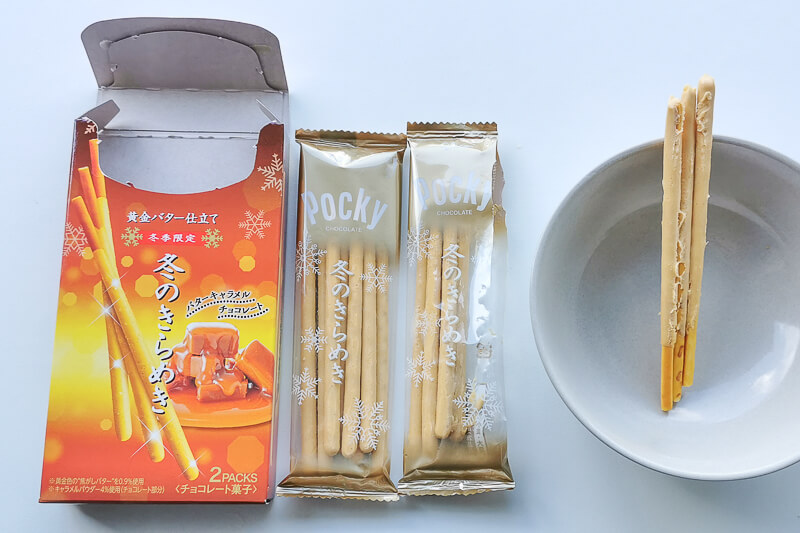 The Pocky Winter Caramel box consists of 2 packs of Pocky sticks. Each stick is covered with deep coating of sweet caramel and butter.
Anime Snacks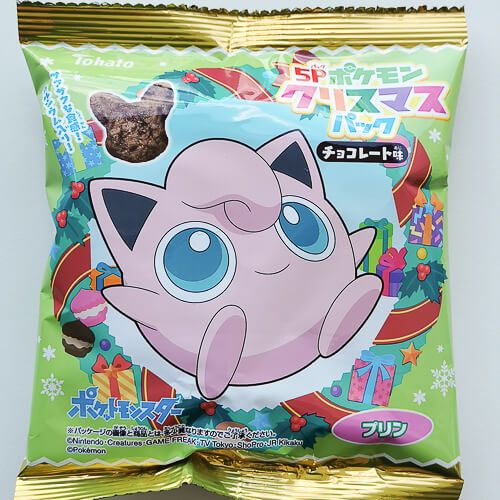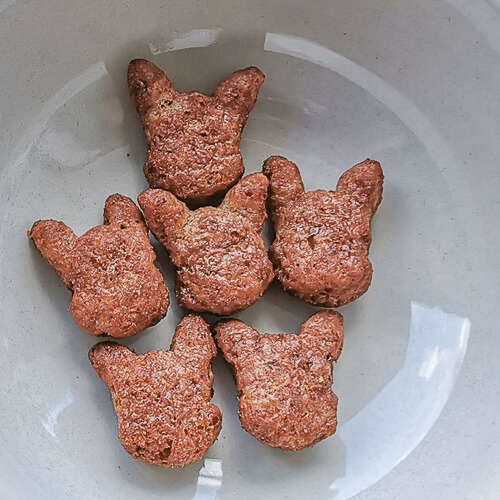 I'll be honest, I don't know the name of the purple pokemon on this packaging, please let me know in the comment if you know its name. Pokemon Christmas Party Snacks is a pokemon-shaped chocolate corn puffs. Though it's a bit gimmicky, I actually enjoy this corn puff so much.
Umaibo
Umaibo is a corn puff that comes in stick shape and has various flavors. The literal translation of umaibo is "delicious stick." In this month's box, there were 2 umaibos.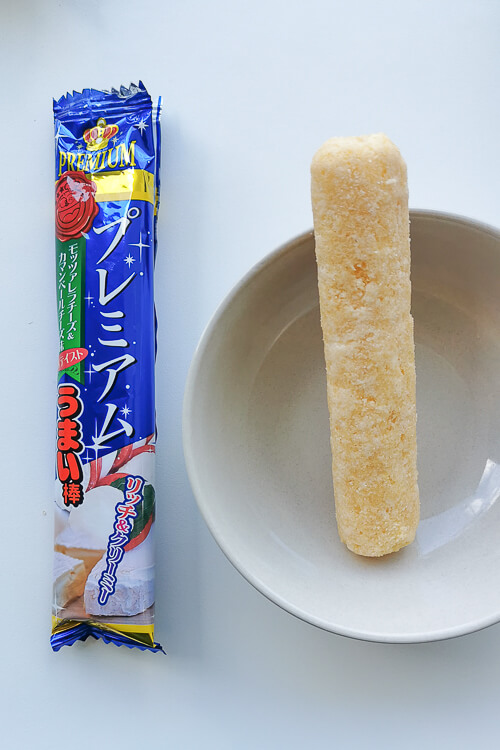 The first umaibo is the Premium Umaibo Mozarella & Camembert Cheese Flavour. As the name suggests, this corn puff stick has mozarella and camembert cheese flavor, and I really like it! When I ate it, it melted and spread the cheesy flavor all over my tongue. It is so addictive. Too bad, there's only 1 stick!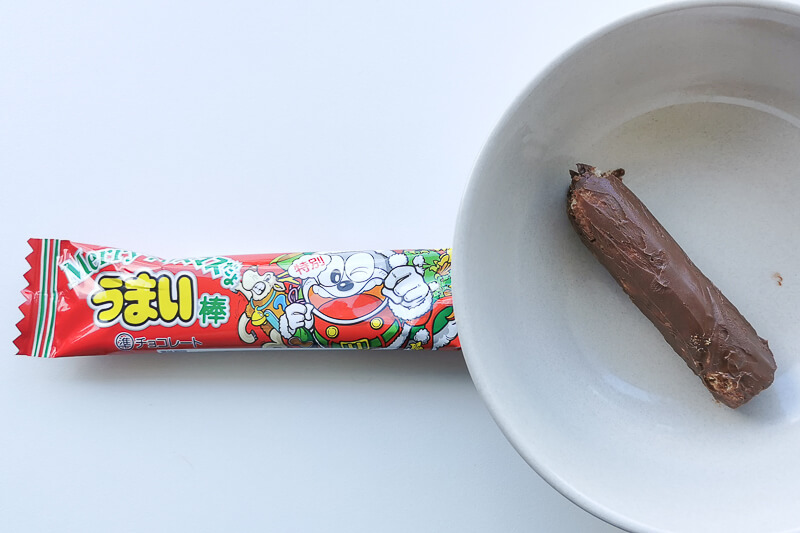 The second umaibo is Christmas Umaibo Chocolate. It's smaller than the cheese umaibo, and it is coated in chocolate goodness.
Dagashi
Dagashi is a broad category of Japanese snacks and candies that are very popular with children due to their fun packaging and very affordable prices.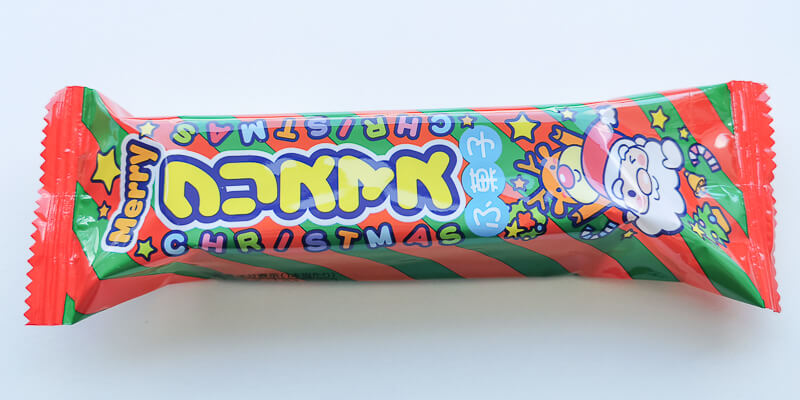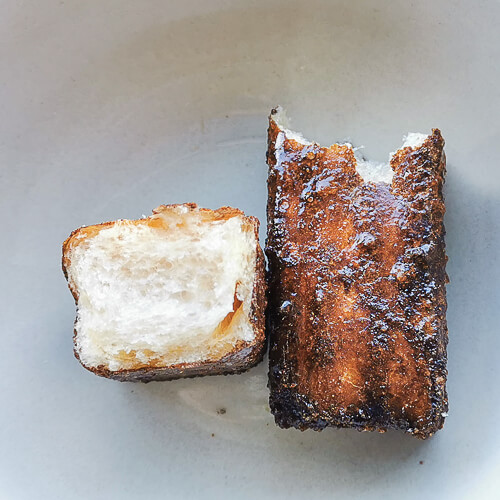 Fugashi is a classic Japanese dried wheat glutten snack that is coated in brown sugar. The inside of Fugashi tastes like a cotton candy. I've never had this snack before, this Christmas Fugashi definitely broadens my horizon on Japanese snacks.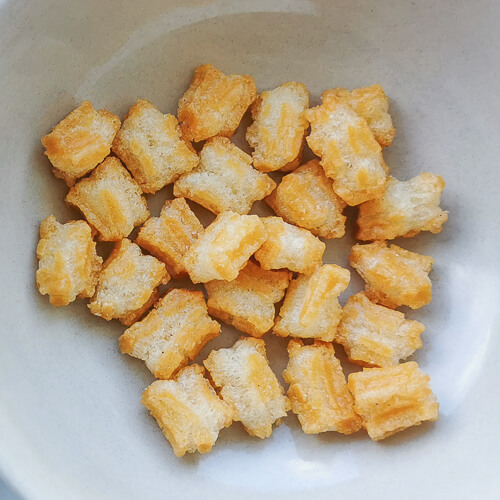 Christmas New Mochi Taro is a pack of rice crackers with churro-like shape. It has subtle saltiness and it's a delight to eat.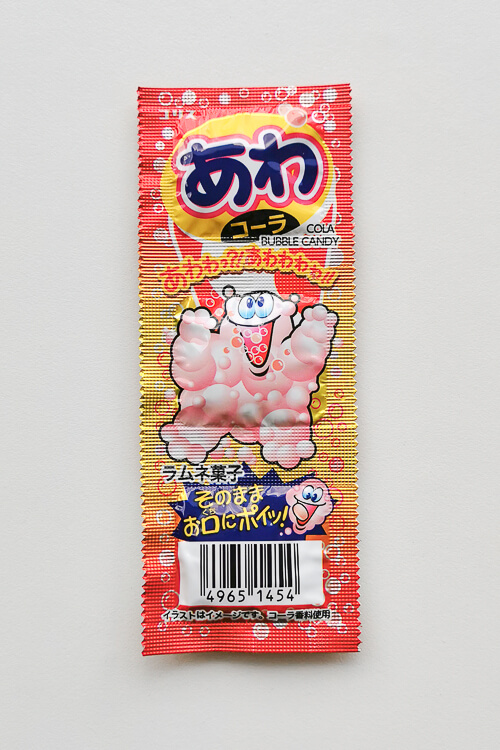 Cola Foam is a fizzy candy that tastes like cola and foams up (gives you carbonated-like feeling) when it's in your mouth.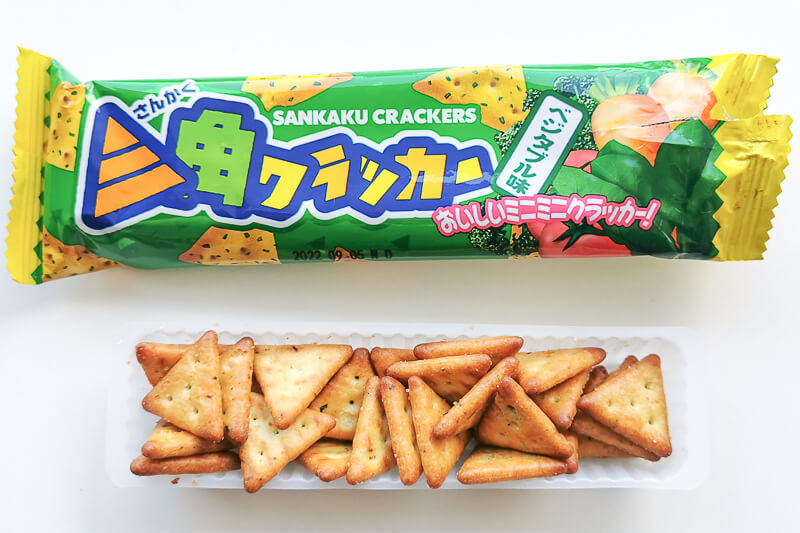 Sankaku Vegetable Crackers is a savory triangle crackers. It is something I like to munch on while doing my work.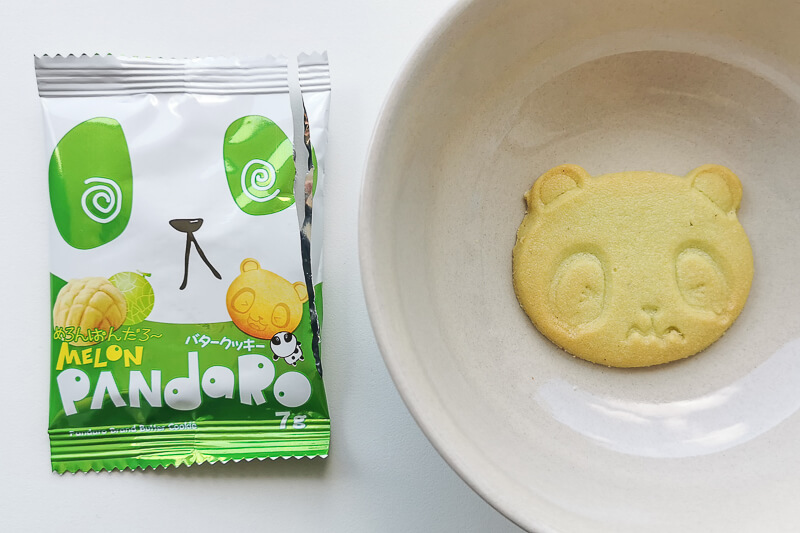 Pandaro Cookie Melon is a cute panda-shaped cookie with melon flavor. It has a blend of sweet and savory.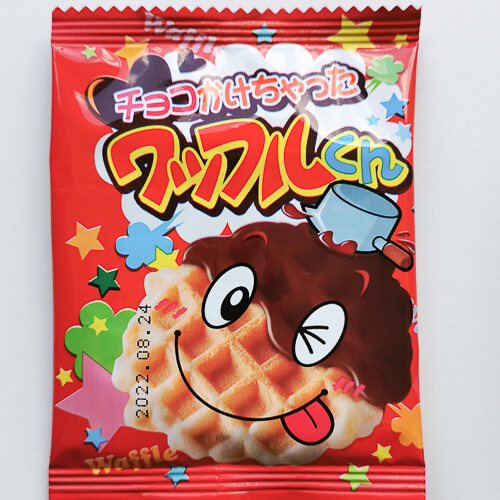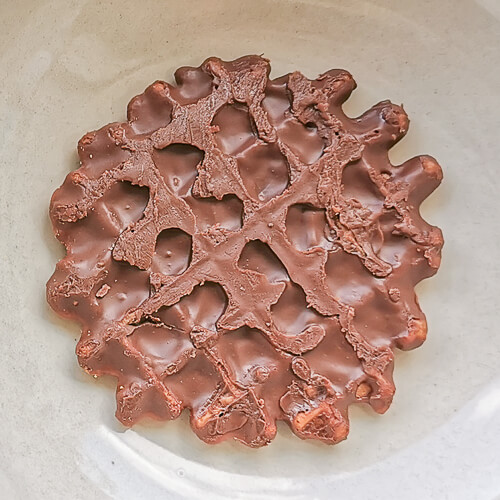 Choco Waffle Kun is a crunchy waffle coated with chocolate. Personally, I find the waffle to be too tough and the chocolate just don't blend with the waffle.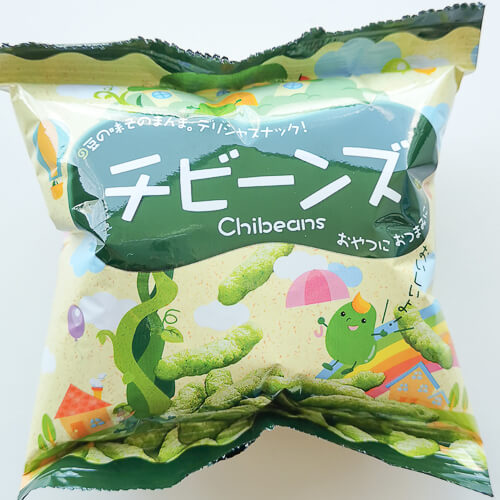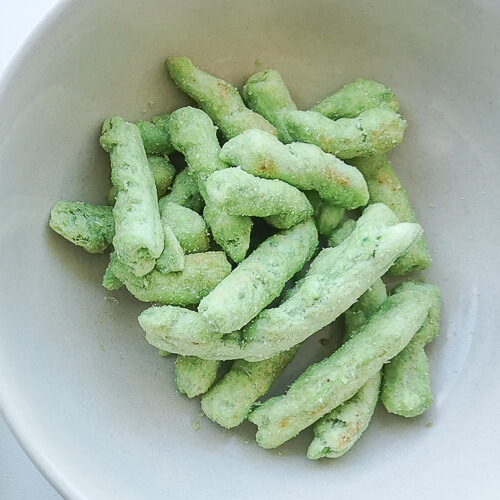 The Chibeans is a cruncy snack with the shape and taste of edamame beans. It's certainly a new snack for me and I enjoy this.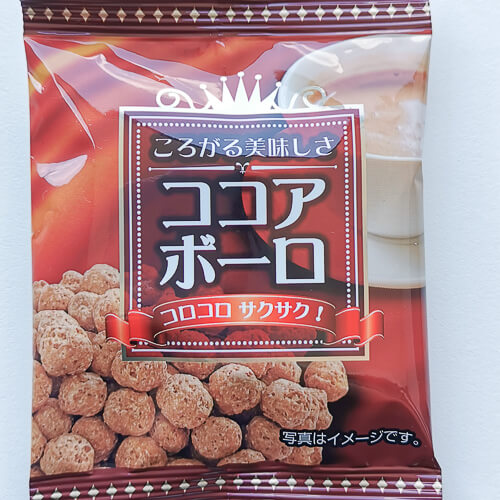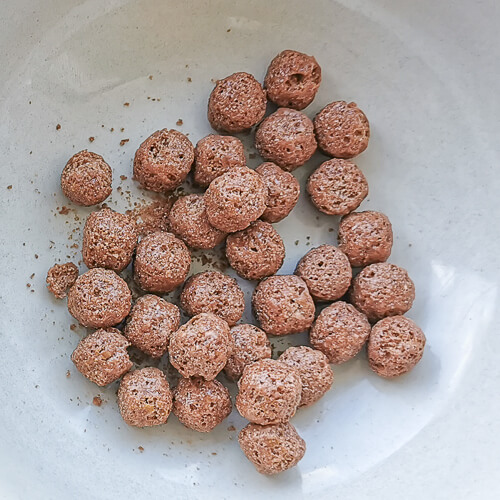 Cocoa Bolo is like a koko krunch but with the shape of a mini ball. I think it's a great afternoon snack for working or studying.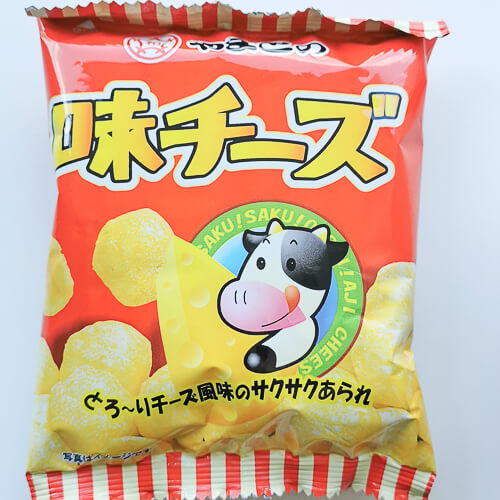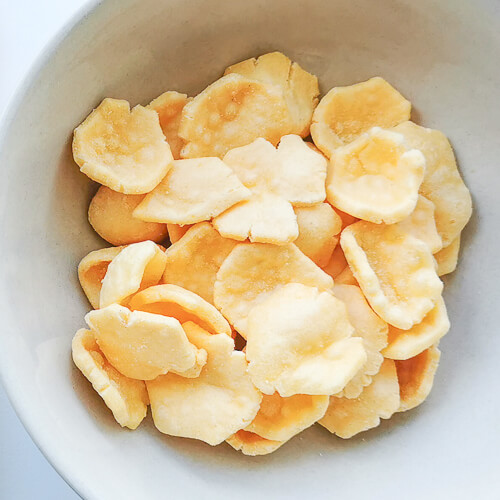 Aji Cheese is a very simple snack cheesy snack. It is soft, savory and it melts in your mouth. I can binge-eat this the whole day.
Drink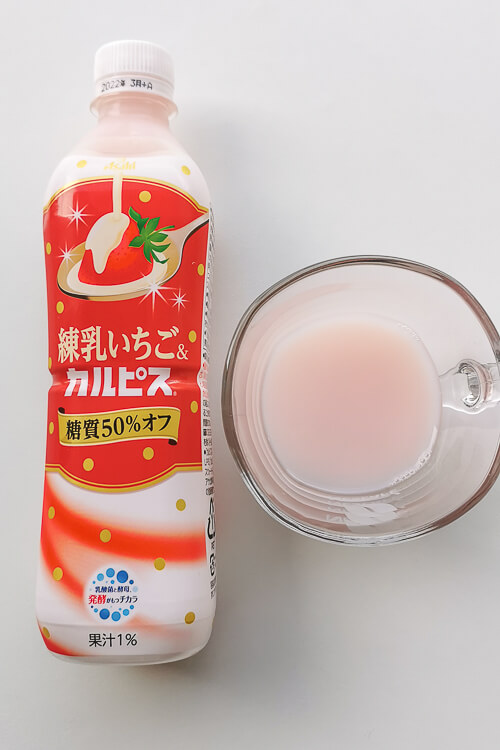 In Japan, Christmas time is often associated with strawberry. Hence, it is only apt that the drink of the month is Calpis Strawberries & Cream. This drink resembles a yoghurt drink, but without the overwhelming sourness. I like to drink it chilled.
What I like
I like a curated box because it gives me the opportunity to learn about snacks that I wouldn't otherwise pick if I were to choose the snack myself. I wouldn't have learned about Fugashi, Dagashi and Umeibo if it weren't for Tokyo Treat box.
I also like that the brochure contains information about why certain snacks are picked. Without the brochure, I wouldn't know that Christmas in Japan is full of strawberry goodness!
I like the fact that I can see the items in current month's box directly on website. No, it doesn't list down every single item of the current month's box, but they do give a sneak peek on their "pricing" page. Plus, they reveal the content of their past boxes. It definitely help to give a picture on what to expect in the box.
I absolutely love the express shipping. My box arrived in 2 days and it's trackable throughout the entire shipping journey.
Rooms for improvement
Unlike my previous snack box from Sakuraco, this Tokyo Treat box was not bubble-wrapped. The box was still intact when it reached my home, but there were black ink scratches on the box. The black ink doesn't affect the quality of snacks at all, but I think it would be great if Tokyo Treat can improve their packaging to include bubble wrap in future editions.
Is Tokyo Treat worth it?
Different people prefer different kind of snacks. If you love chips, crackers, dagashi (bite-sized savory and candy snacks) and flavored beverages, you will enjoy Tokyo Treat. If unsure, you can give it a try by getting the 1-month box first, before committing for the long-term. Click here to check the latest Tokyo Treat's box. Also, remember to click "Today's Promo" to get special offer.
If you prefer baked goods or artisanal snacks, you can check my review on Sakuraco.
Disclosure: Thanks Tokyo Treat for sending me this snack box. All words and opinions in this article are my own.
If you like my work, you can buy me a coffee! Your support will help me to keep going!