Novotel Danang Premier Han River is a 5-star hotel located about 5km from Da Nang International Airport, 1km from the popular Han Market, and RIGHT by the Han River.
Just a couple of footsteps outside Novotel Danang is the Bến Du Thuyền Đà Nẵng pier where you can take a boat to cruise along Han River. Some of these boats even offer dining on the boat.
Novotel Danang Premier Han River was the tallest building in Da Nang when it was completed in 2012. Over the years, other buildings soon caught up. Today, Novotel Danang is still in the top 10 tallest building in Da Nang.
We paid around VND 2.970.000 (~SGD 174) for 1 night in a Corner Suite. It is not cheap, but I felt that it's okay to splurge once in a while because we were celebrating my hubby's birthday.
Summary of our stay in Novotel Danang Premier Han River? What supposed to be a happy stay to celebrate birthday turned out to be a hell of a rollercoaster ride!
It began with excitement and highs, then escalated to anger, followed by defeat. After that, things took a turn when we met a fairy Godmother. Our stay eventually ended well without hostility.
What I Like:
Second to none view of the Han River
Wonderful corner balcony
Great premier lounge experience
The ever-helpful Premier Lounge Supervisor
What I Don't Like:
Unfair reception team and manager
Underwhelming benefits for Accor Plus Silver member
Pre-Arrival
Before arrival, I received an email from the hotel's Premier Executive Lounge Agent telling me that they will be setting up a birthday cake for my hubby, and asked me what message I would like them to write. That's really thoughtful of them!
They also asked if I wanted to book airport transfer. The prices are as follow:
4 seats at 300,000VND NET/ (~US$13) one-way airport transfer
7 seats at 400,000VND NET/ (~US$17) one-way airport transfer
16 seats at 600,000VND NET/ (~US$26) one-way airport transfer
Because we would be arriving by land transport, we didn't take up the airport transfer.
Check-In
We checked-in at around 1.15pm and the good thing was that our room was ready! Welcome drinks were served and the receptionist team spoke great English.
However, during check-in, we were told that we were not entitled to Premier Lounge access because we booked our room during sale, and our booking is "Room only".
On one hand, it's true that there is a sentence that says "Room only" in the booking confirmation, but on the other hand, the title of the room is: CORNER SUITE WITH TERRACE, ESPRESSO MACHINE, IP OD STATION, PREMIER LOUNGE ACCESS – 57 M²
We booked a freaking SUITE, and the title mentions that it comes with a Premier Lounge Access! Just take a look at my booking confirmation email below and tell me what you think in the comment. Do you think I should or should not get Premier Lounge Access?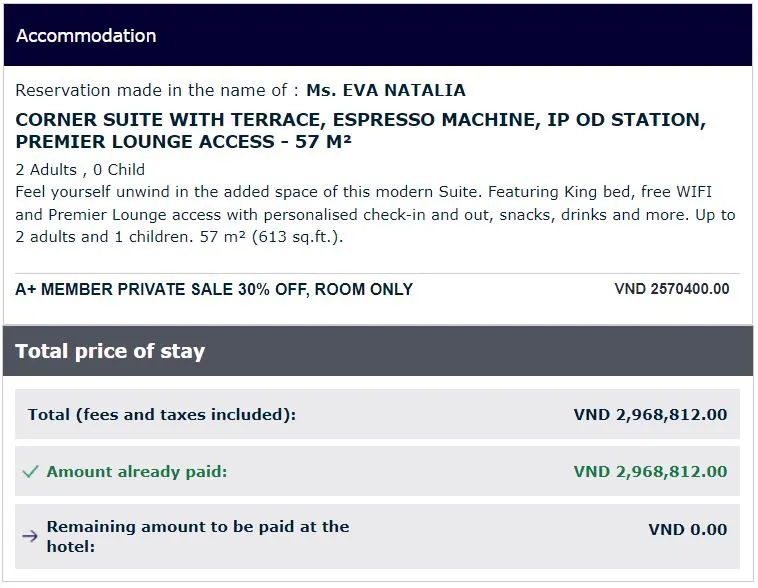 I was furious inside, but I tried to keep calm because it was a happy occasion for us. I tried to push gently for the lounge access, but the manager confirmed our room doesn't have lounge access. I asked how much we need to pay to get lounge access, and they said VND 1.300.000 for 2 person. If we only wanted breakfast, we need to pay VND 940.000 for 2 person.
The lady at front desk convinced me to take the lounge package instead of breakfast only because she thinks the continental lounge breakfast food is much better compared to the restaurant breakfast. (Spoiler: she was wrong! The lounge breakfast was similar to restaurant breakfast. In fact, the restaurant has more variety than lounge. I can confirm this because I went to both to compare the food.)
When we got to the room, I tried to call the reception again to argue about the lounge entitlement, but they persisted. They even forwarded me to their "account department" who then confirmed that we're not entitled to lounge. Eventually, we relented and agreed to pay the said fee; they came up to our room and asked me to sign a confirmation form that I agree to pay, before they gave us another set of room cards that can access Premier Lounge level.
I was extremely bitter at that point, but we were on this beautiful hotel with a nice room. It was a tough balance to stay positive and enjoy the moment, while being bitter from feeling shortchanged. Anyway, let me paused my negativity for a while and share my objective review of the hotel and the room, regardless of whether I was shortchanged or not. I promise I will come back to the resolution part later in this review!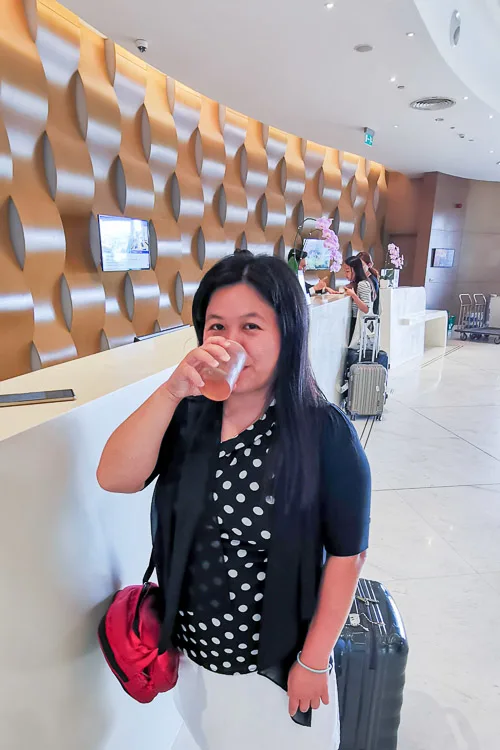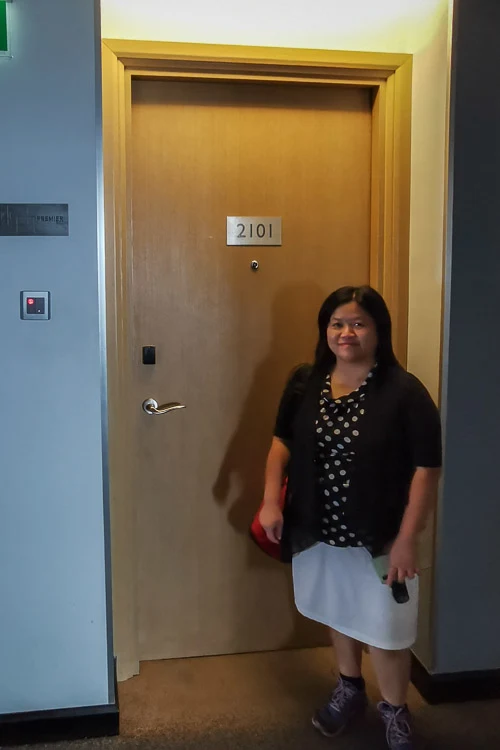 So, according to the lift directory, there are 31 levels. Our room was at Level 21, while Premier Lounge is at Level 29.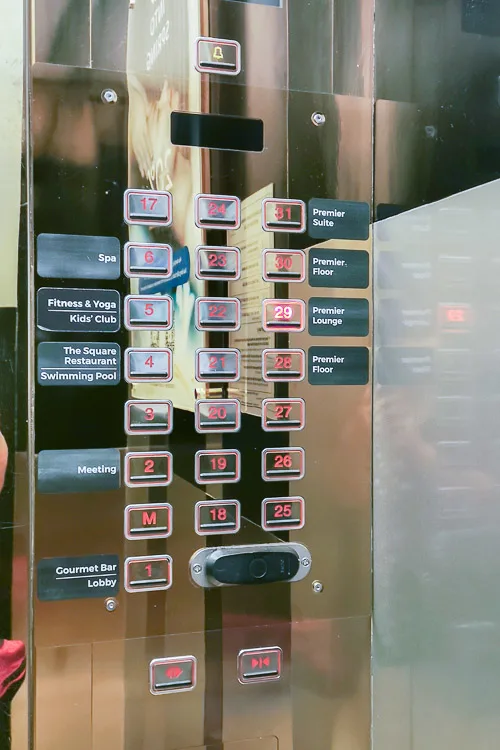 Accor Plus Silver Member Benefit
As an Accor Plus Silver Member, below are my benefits on paper.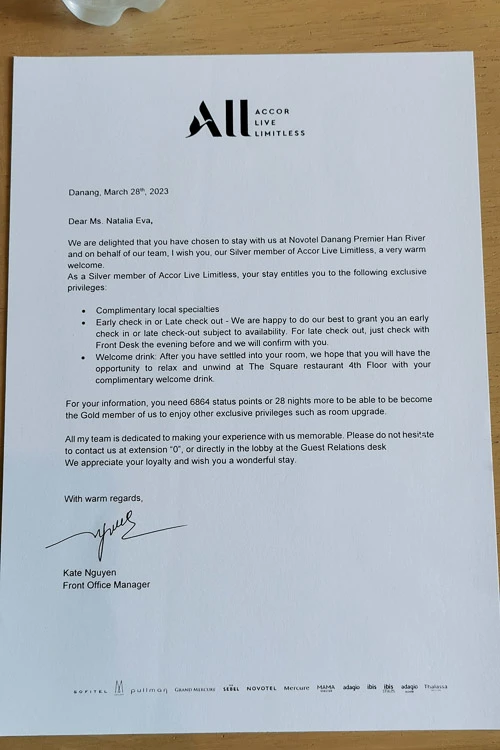 Curious about the first benefit, complimentary local specialties, I called the receptionist and asked about it. They told me it's the amenities in the room. I didn't know whether I should laugh or cry!
The second benefit, early check-in or late check-out, was quite standard. We didn't request for it because we had to leave by 12pm to catch our flight anyway.
The third benefit is the complimentary welcome drinks for 2 at the Square Restaurant at Level 4. I was hoping for a real treat, because Novotel Danang is a 5-star hotel. What we got were fruit juices! It was totally an unexpected surprise, given that even the 4-star ibis Saigon Airport gave us 2 beers.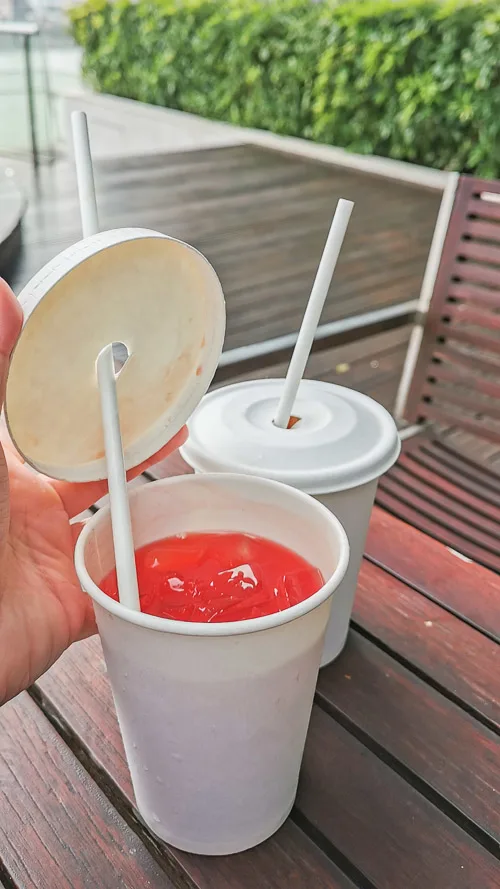 Corner Suite
The corner suite has 2 main parts: the living room and the bedroom. Let's start with the former.
In the living room, there is a sofa, a working desk, a minibar, a powder room and a small balcony.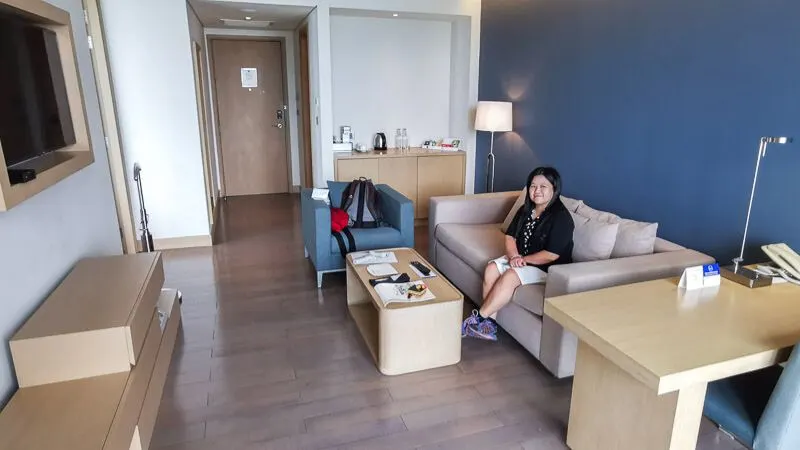 The minibar is nothing to boast about. There's a coffee machine, electric kettle, 2 jars of water, coffee and tea, and snacks. The snacks are not free, they include Pringles chip, Loacker wafer and peanut.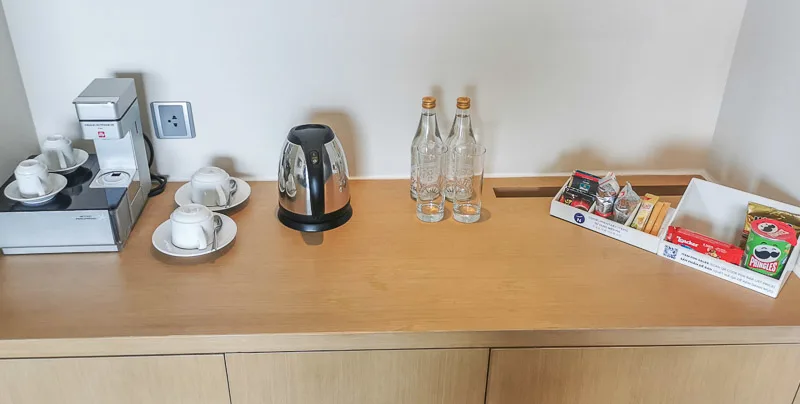 In the minibar, the were some can drinks, such as Tiger beer, Larue beer, Heineken beer, Coke, Sprite, fruit juices, still water and sparkling water. I couldn't find pricelist of the beverages but I supposed they're not free, so we didn't touch them.
In the cupboard, there were bathrobes, iron, ironing board, hanger, slippers, safe deposit box and laundry bags.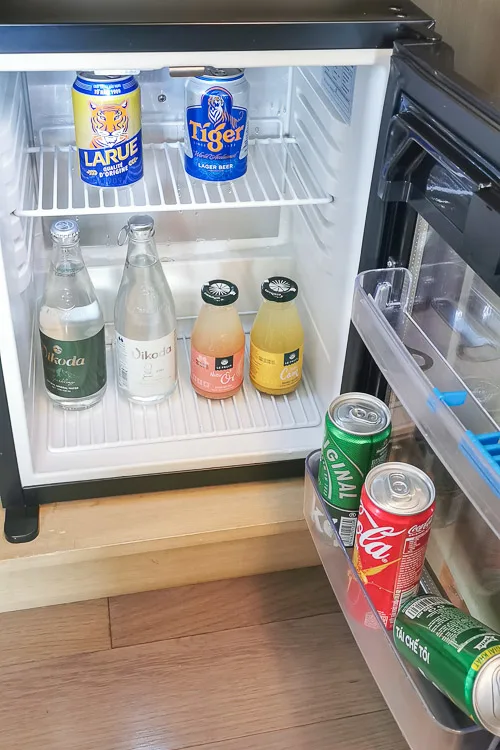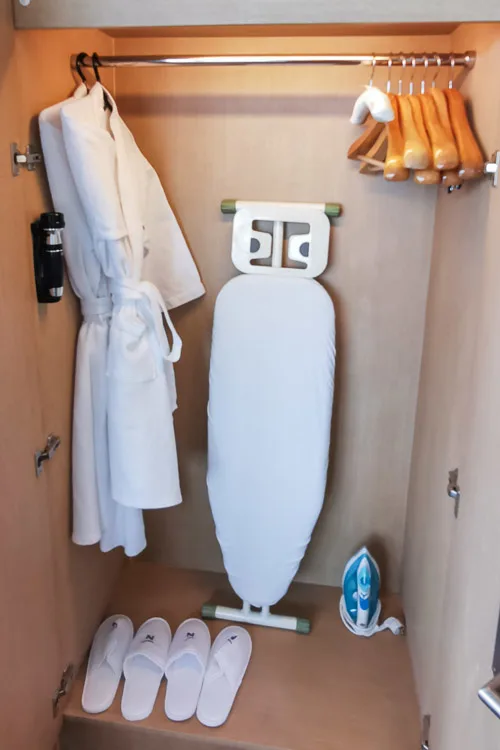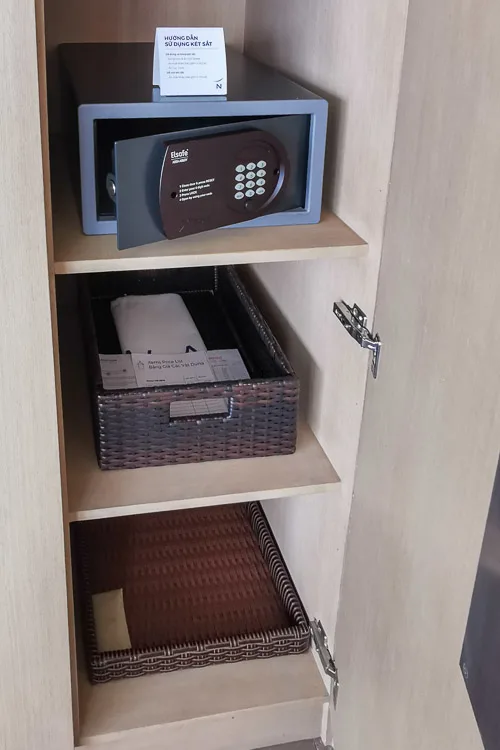 In the living room, there is a powder room with a single sink and a toilet. It's a great feature for couple who needs to use toilet for extended time.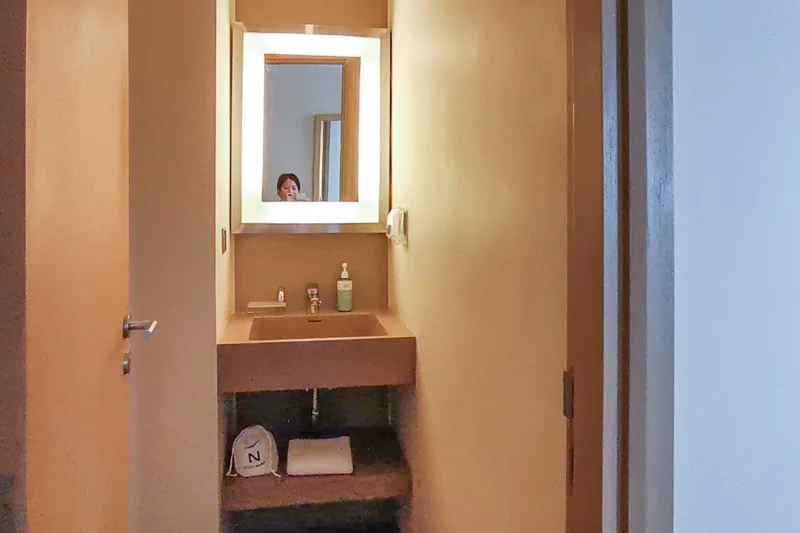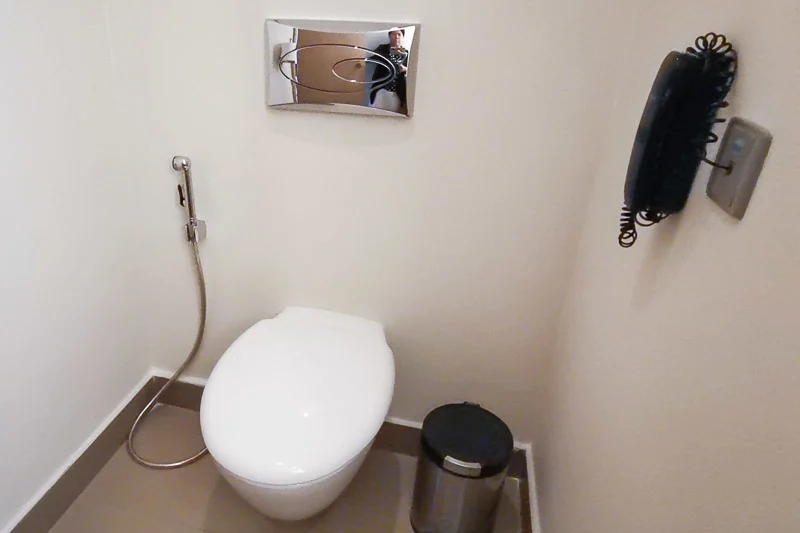 The living room has a sliding door that leads to a small balcony. Here, you can watch the misty mountain and Han River, while pondering about life.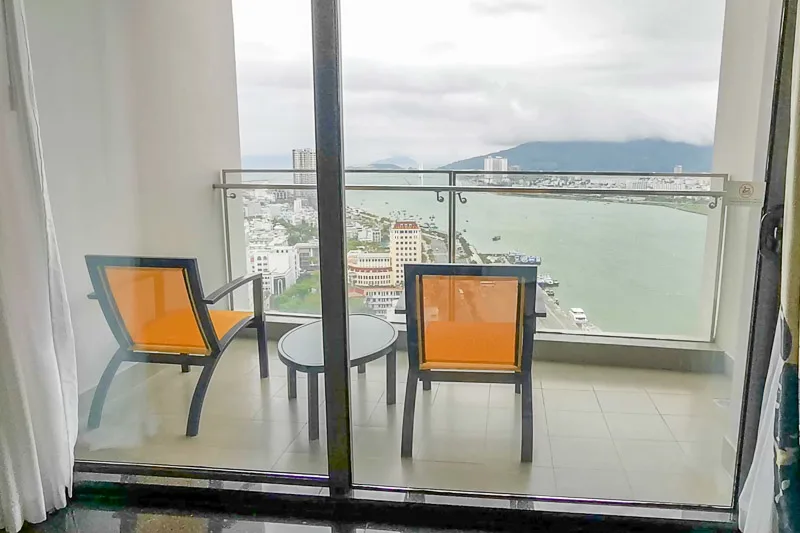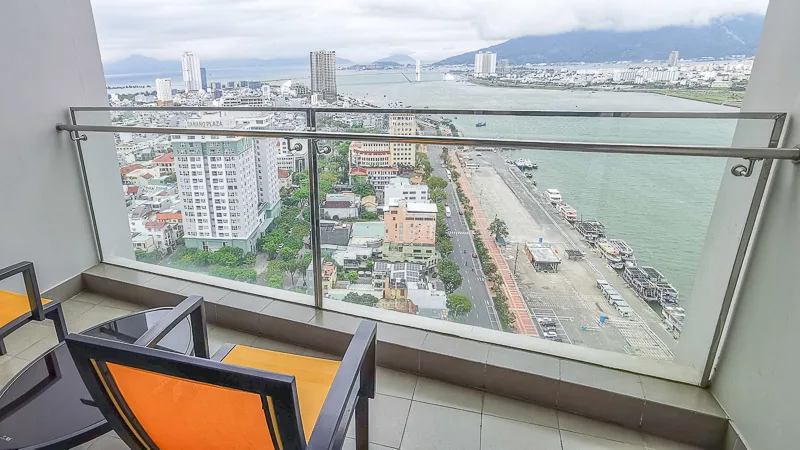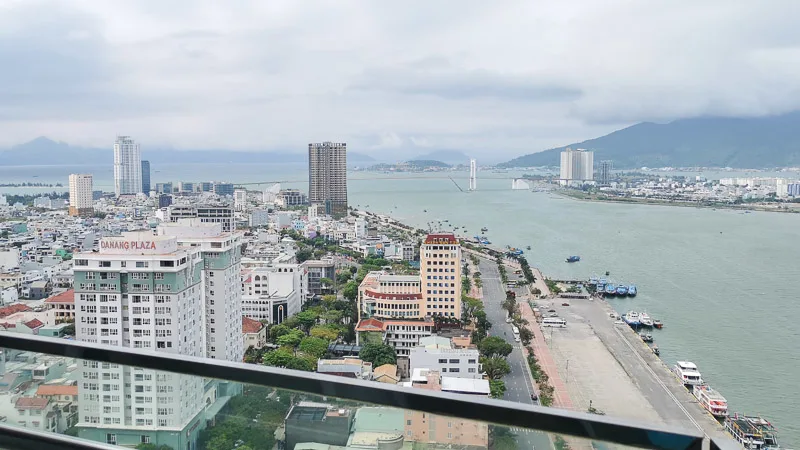 Now, let's move on to the best part of the room, which is undoubtedly the bedroom! Two sides of the bedroom wall are full-height glass wall/sliding door, with a view of mountain, Han River and the An Hải Bắc suburb across the river!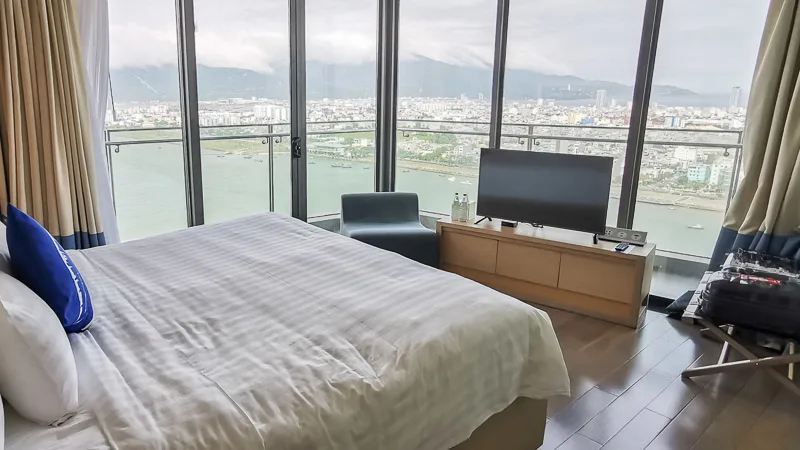 The room has plenty of natural light during the day. But, when night falls, the room gets quite dark. There are two tiny table lamps on the side of the bed as well as ceiling lights, but they're not bright enough.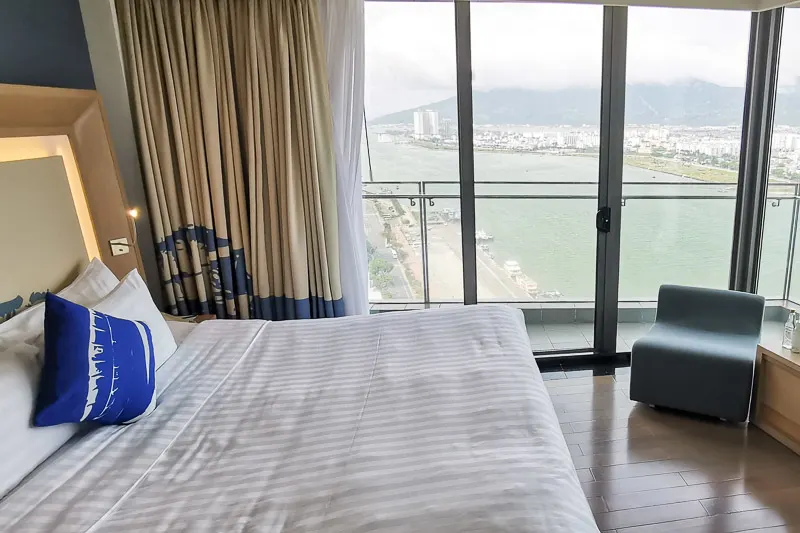 Inside the bedroom, there is a King bed, a TV, a chair, a luggage rack and an ensuite bathroom.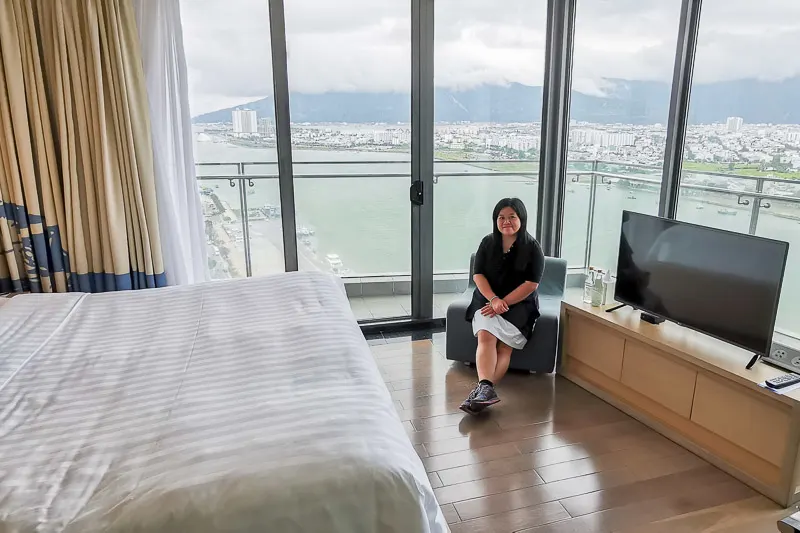 The bathroom is a bit dated in my opinion. There are 2 sinks with a big mirror at the center of the bathroom.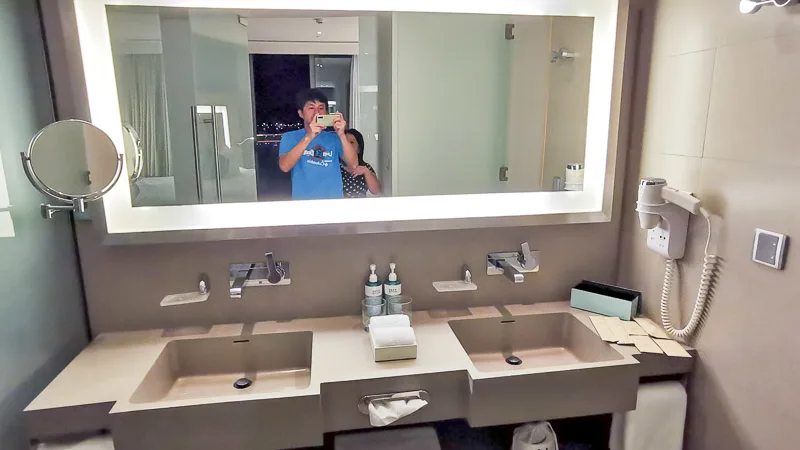 On one side, there is a bathtub and a shower room.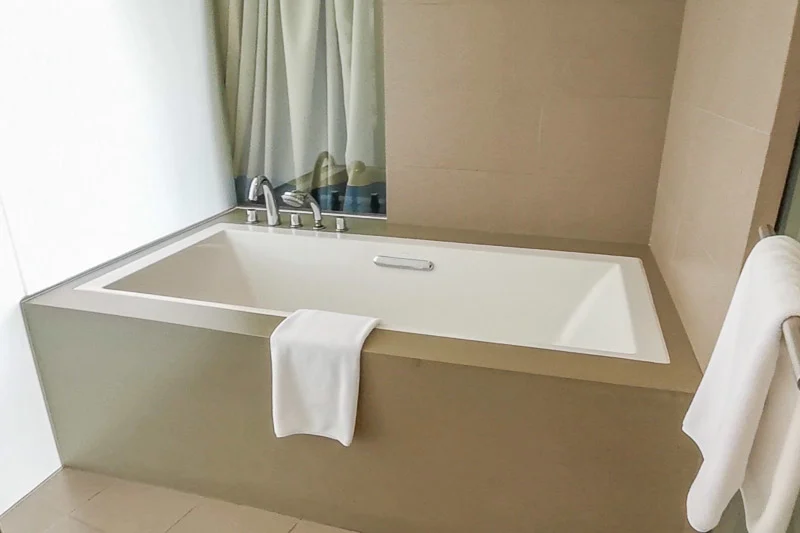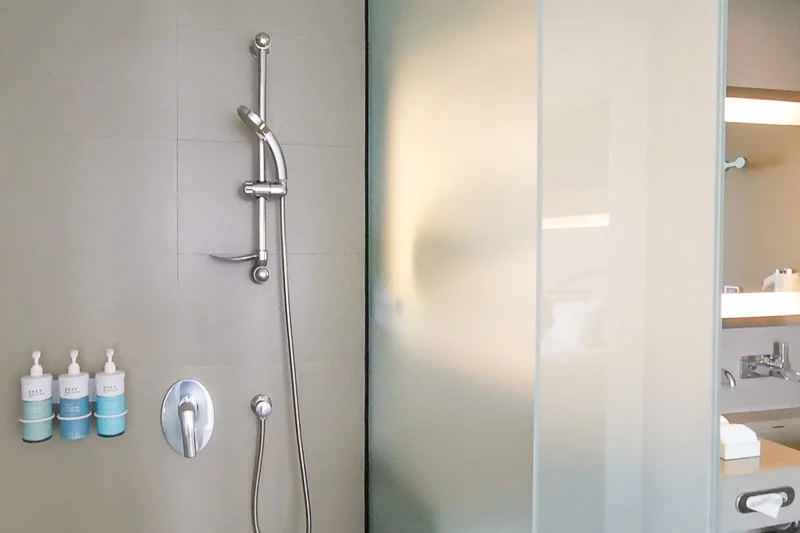 On the other side, there is a toilet room. The toilet and shower are separated.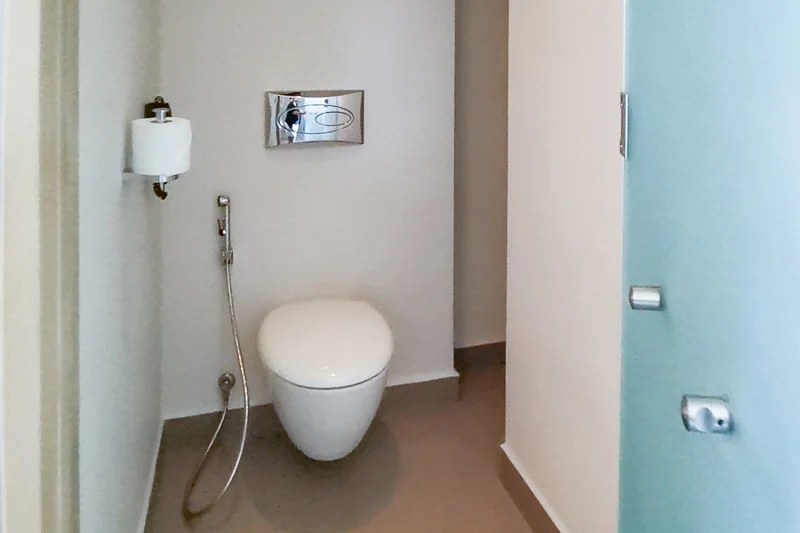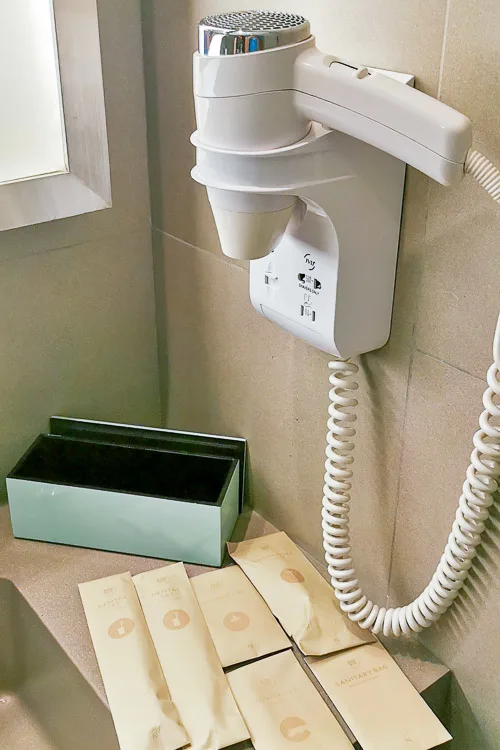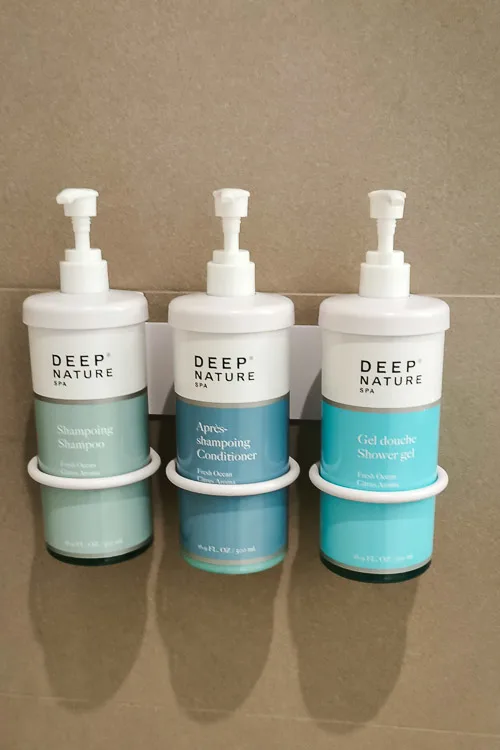 The glass door of the bedroom leads to the corner balcony. Here, the wind is so strong because there are no skyscraper obstructions.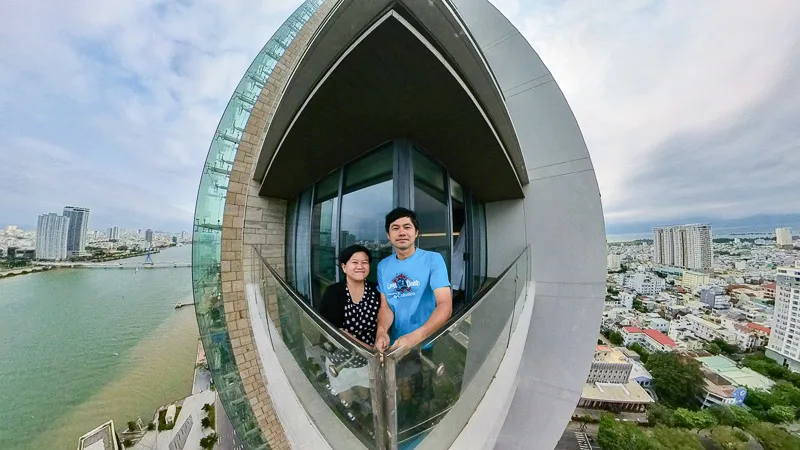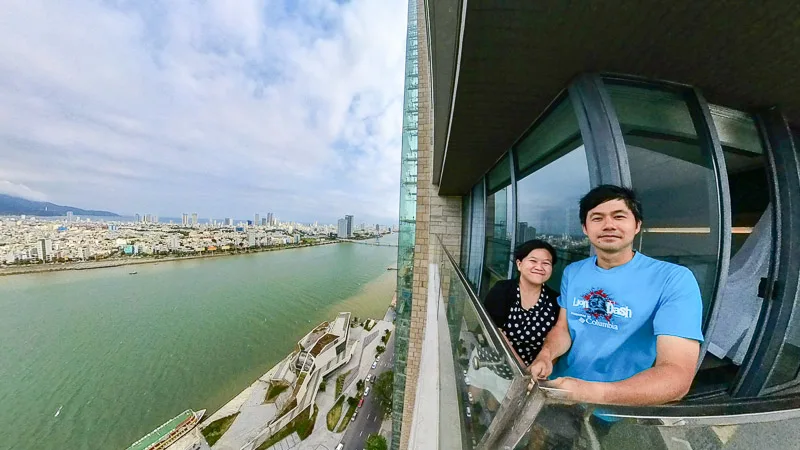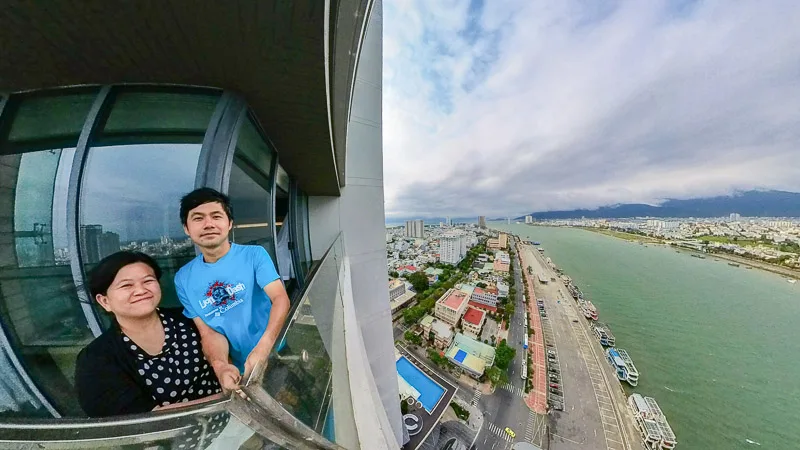 Lastly, here are some of my favorite views from the balcony. I can never get tired of these views!!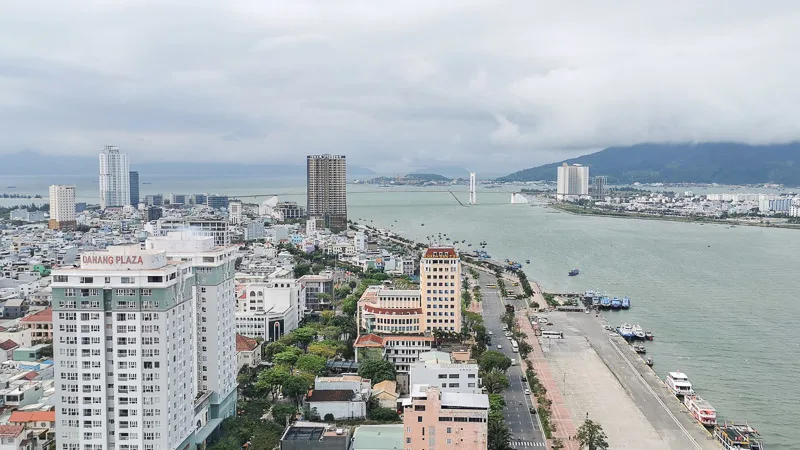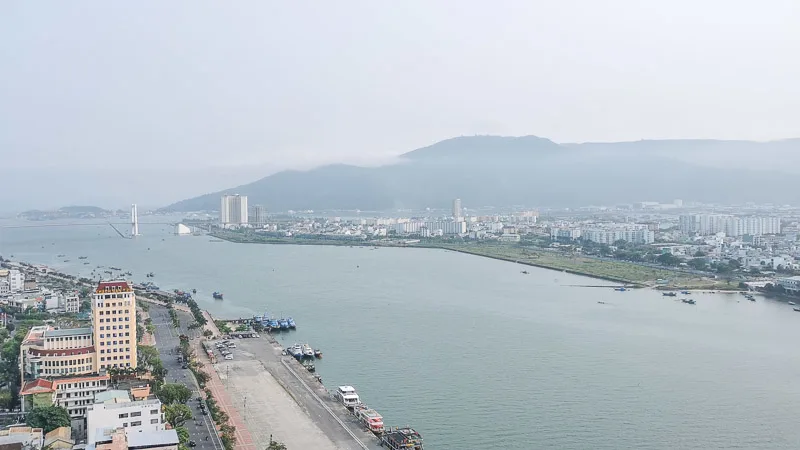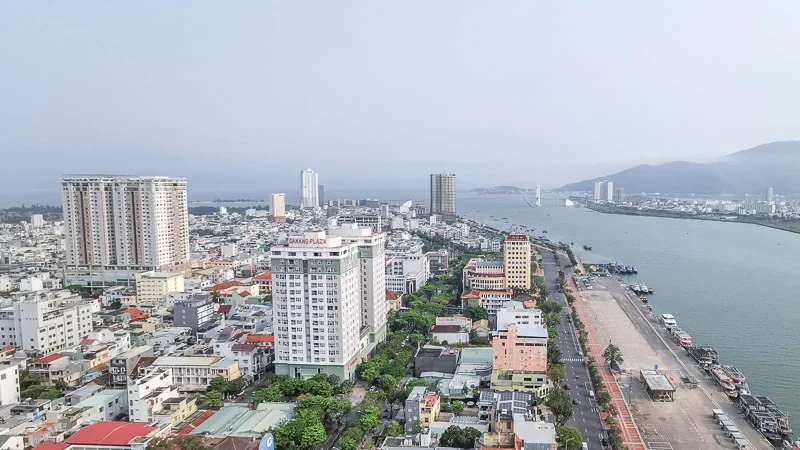 We also received the birthday cake, yay! During check-in, the receptionist said our cake is in the room, but it wasn't there when we entered the room. After I made the call, then they sent the cake to our room. The cake may look simple but it's quite nice!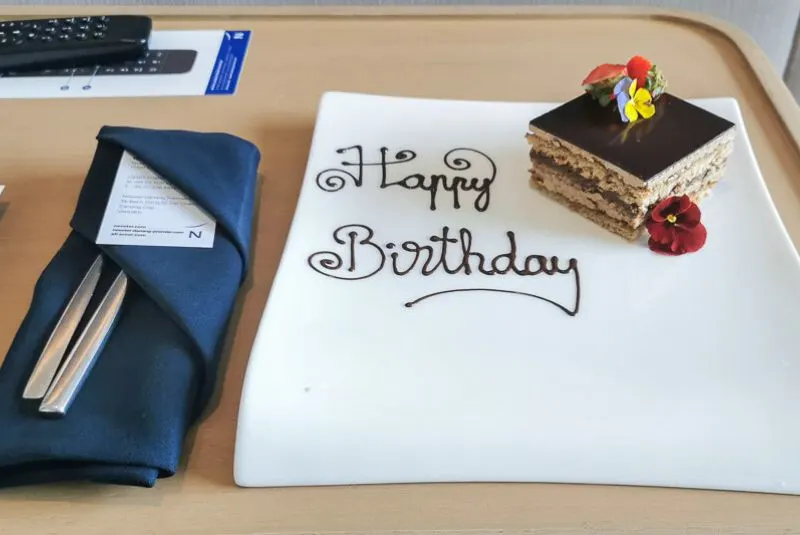 Swimming Pool
The swimming pool is located at Level 4. It's such a nice pool that gives infinity-pool-kind-of-vibe. You get a really nice view of the misty mountain. But, the wind is quite strong, so it gets quite chilly if the weather is cloudy.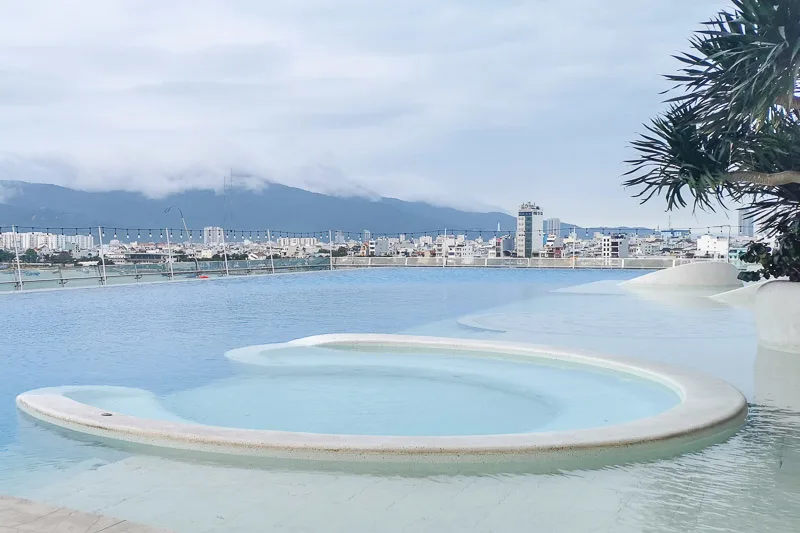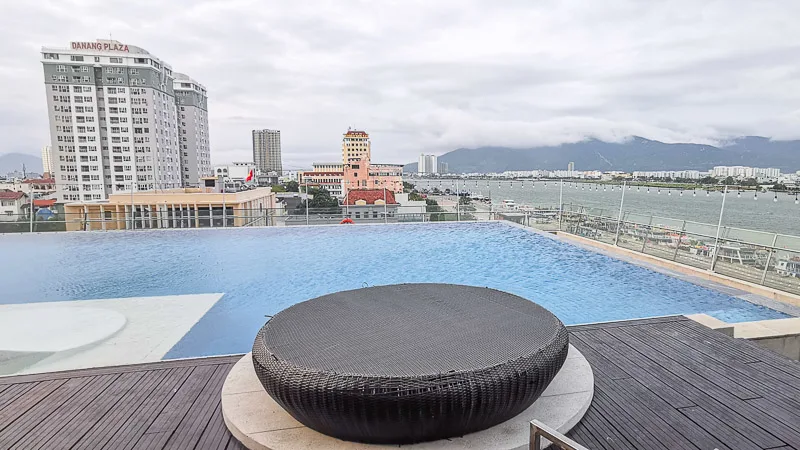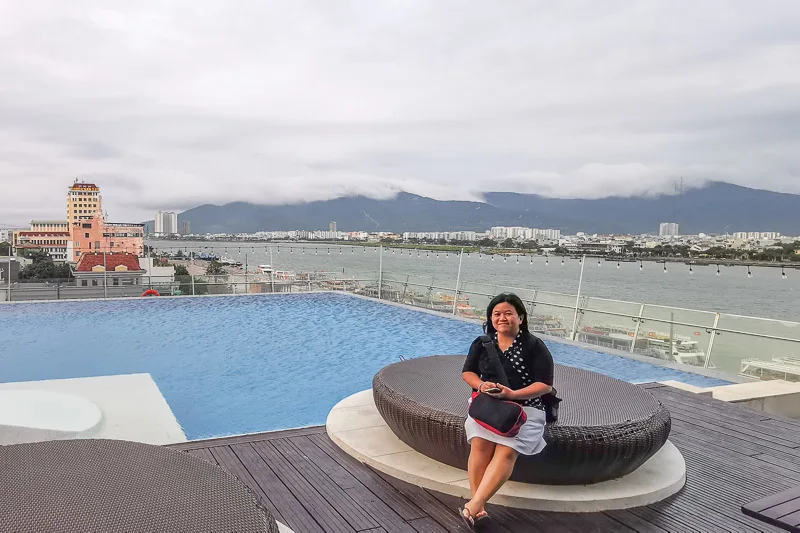 Gym
The gym is located at Level 5. It's quite a decent-sized gym with plenty of exercise machines.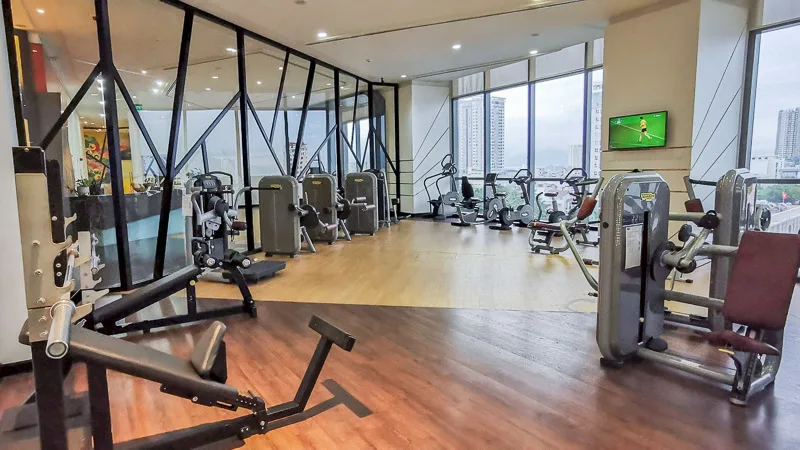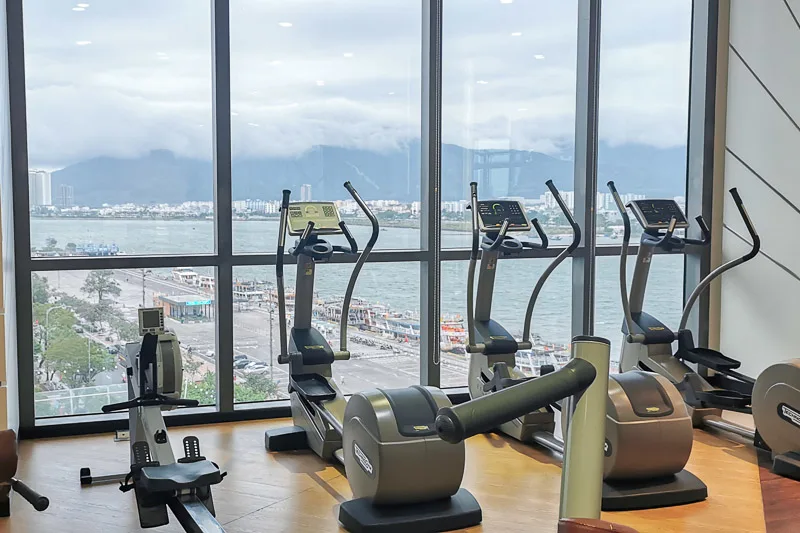 The walls are full-height glass walls, so you can get a guaranteed scenic view while exercising.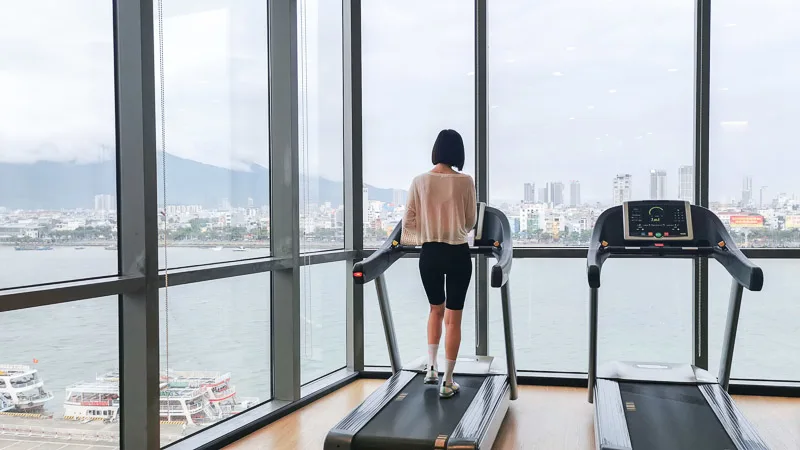 Premier Lounge
The Premier Lounge is located at Level 29. It is open daily from 6.30am to 10pm.
We were given a paper that lists down all the benefits at Premier Lounge. Key benefits are:
High tea from 3pm to 5pm
Evening cocktail with canapes from 5.30pm to 7.30pm
Breakfast from 6.30am to 10.30am
Complimentary tea, coffee and soft drinks throughout the day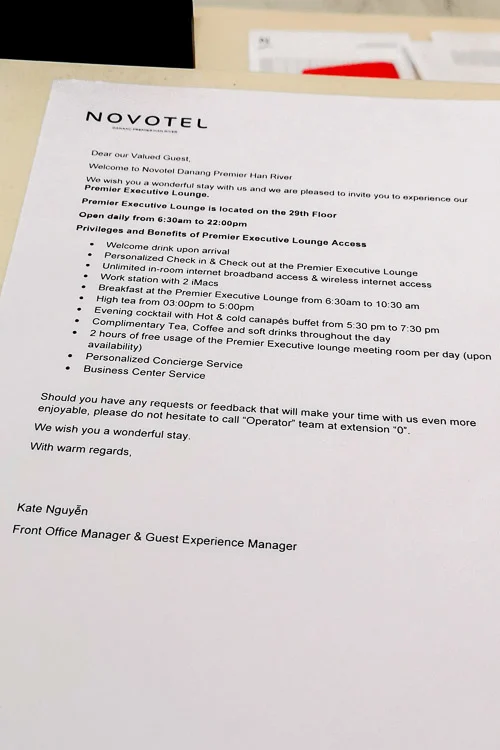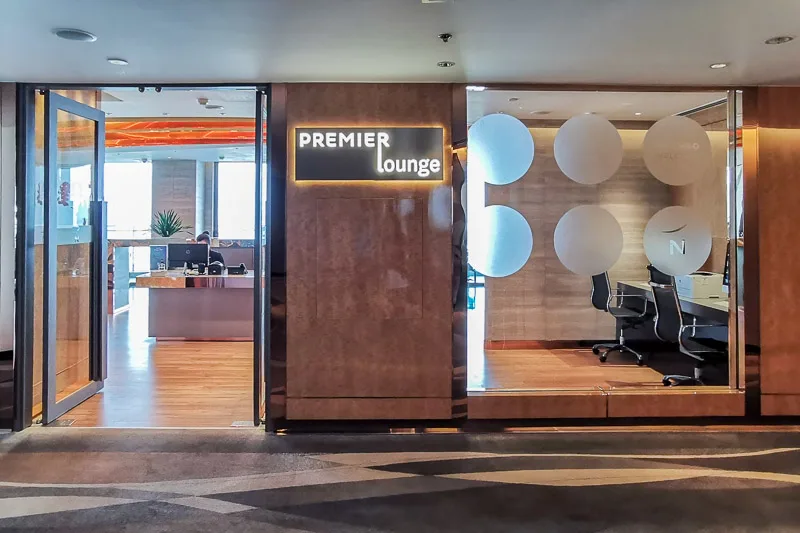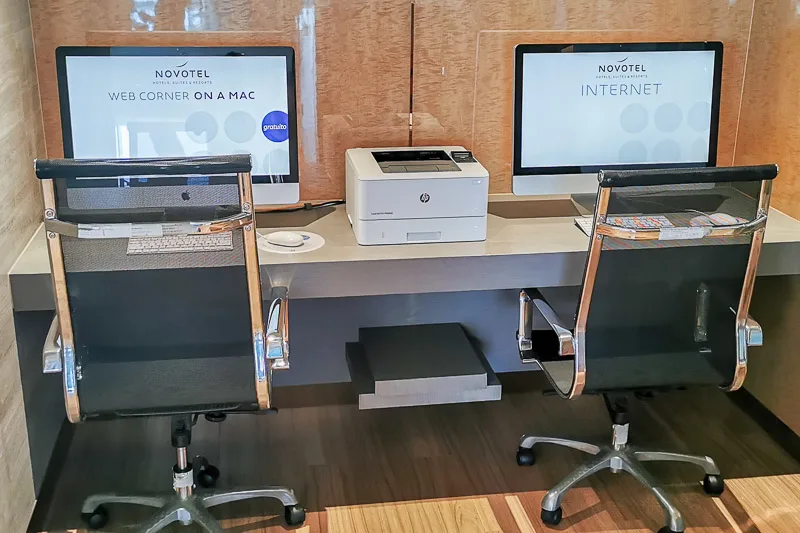 The Premier Lounge has sofa seats at one side, and square dining table with chairs at the other side.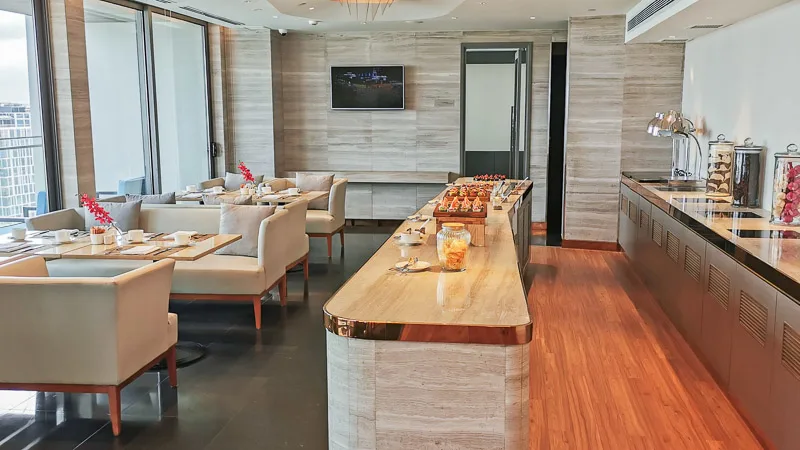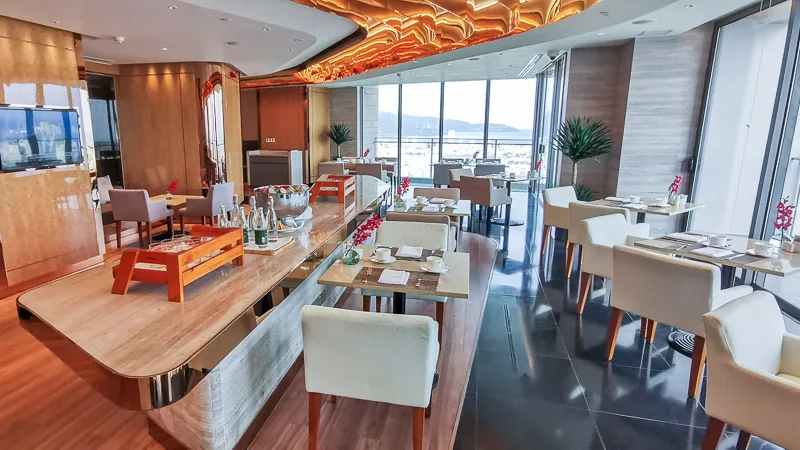 The sliding doors lead to an outside balcony. Here are the magnificent views you can get from the Premier Lounge balcony.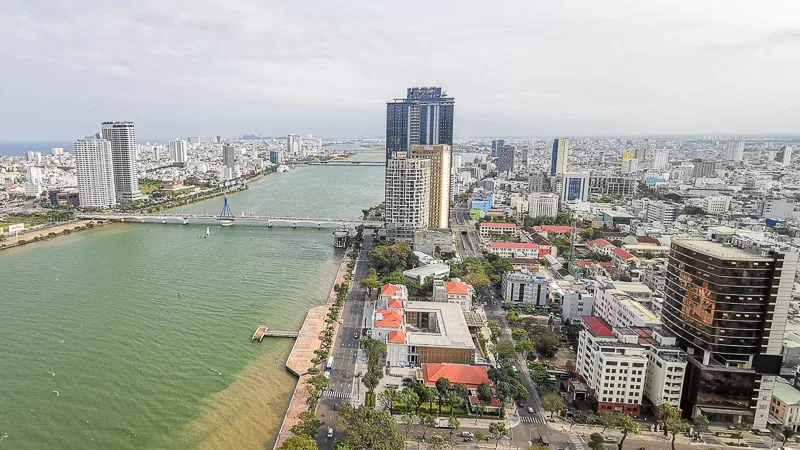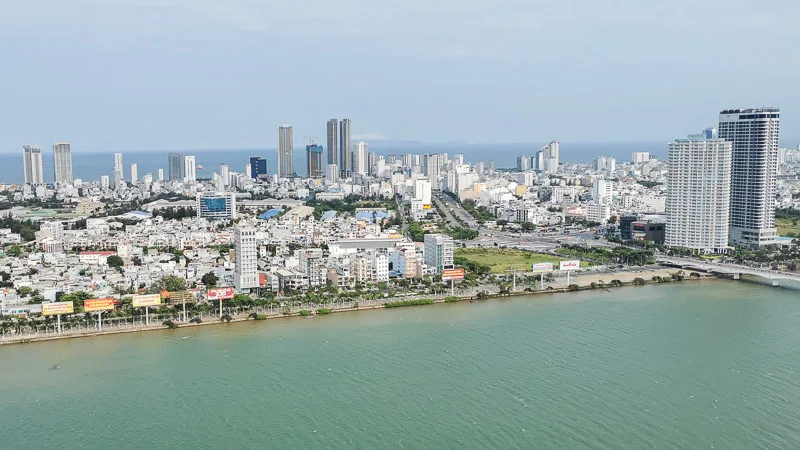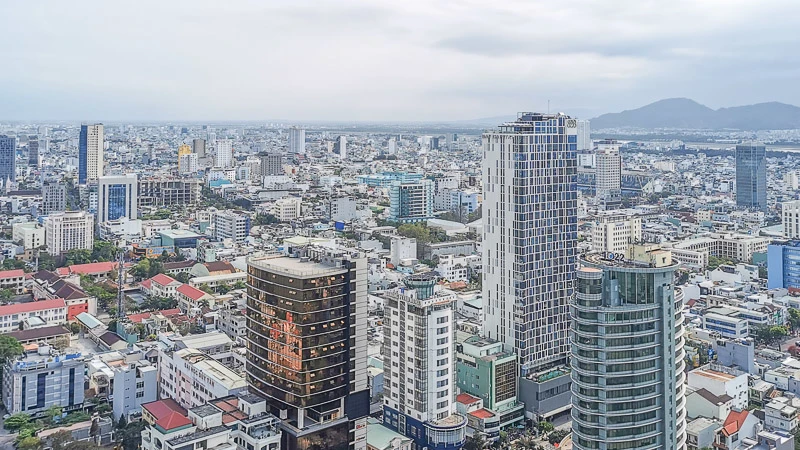 Afternoon Tea at Premier Lounge
The high tea, or afternoon tea, at premier lounge starts from 3pm to 5pm.
The food at the afternoon tea is not bad. There were sesame prawn toast with chili jam, pepperoni and vegetable on baguette, cheese cake, financier, chocolate brownie, dark chocolate mousse, and assorted cookies.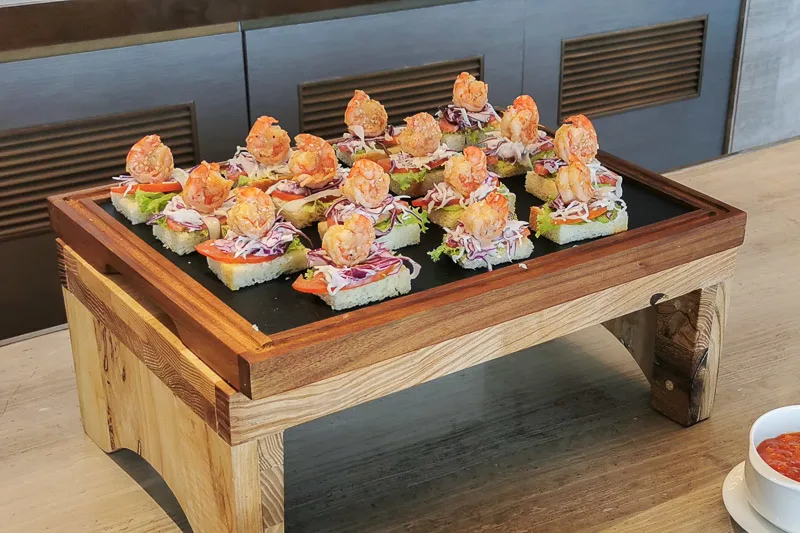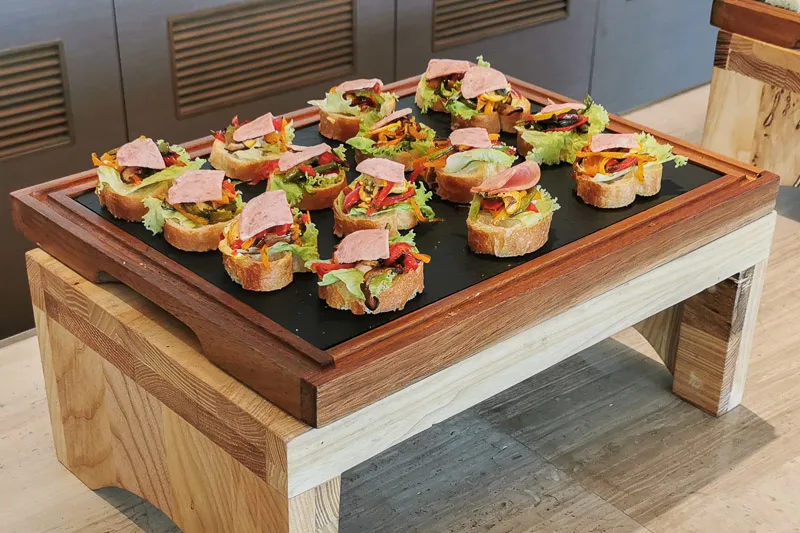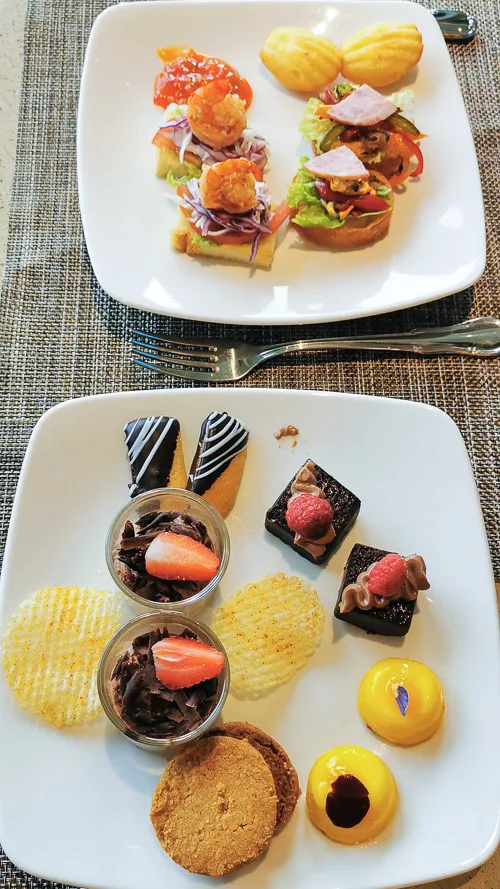 In the beverage section, there were coffee, tea, soft drinks, water, and sparkling water.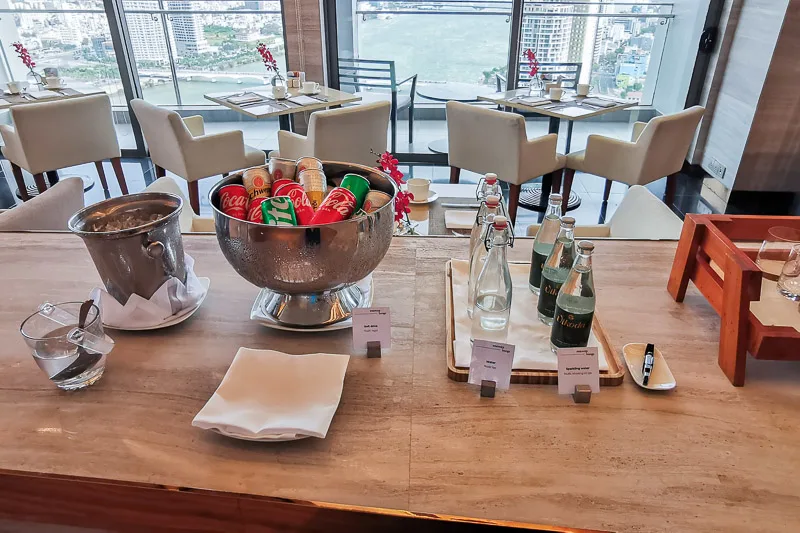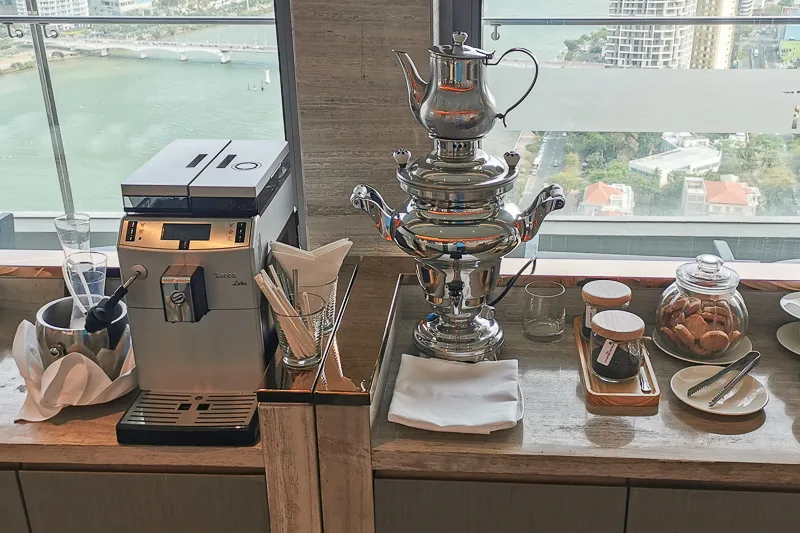 Evening Cocktail at Premier Lounge
The evening cocktail with canapes starts from 5.30pm to 7.30pm. After 7.30pm, they will clear the food and drink, but you can sit there for as long as you'd like, until the lounge closes at 10pm.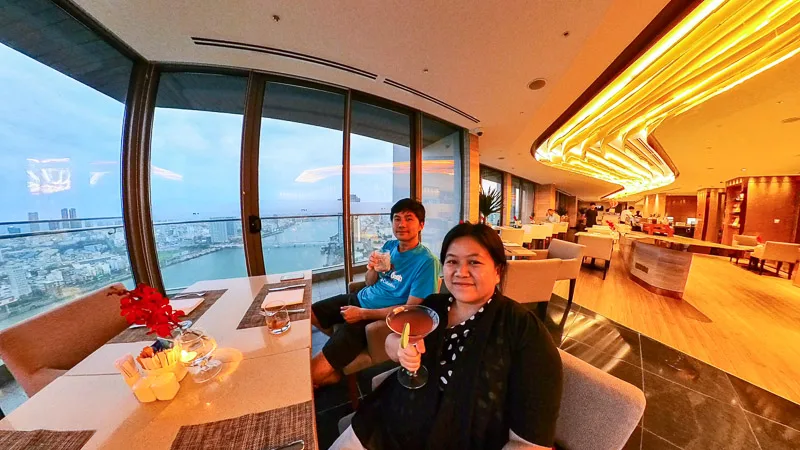 As the name suggests, there are plenty of booze during this happy hour. During our visit, the available alcohol were Absolut Pear, Absolut Blackcurrant, Havana Club, Captain Morgan Dark Rum, Jose Cuervo Tequila, Marie Brizard Triple Sec, Smirnoff Vodka, Gordon's Gin, Johnnie Walker, Tavernello Wines, Dufouleur Monopole, Delafinca Brut, Tiger beer, Heineken beer and Larue beer.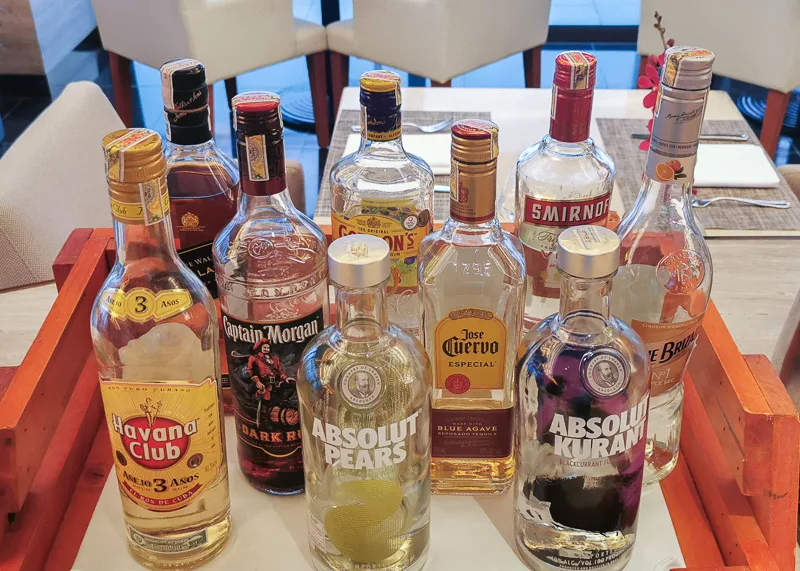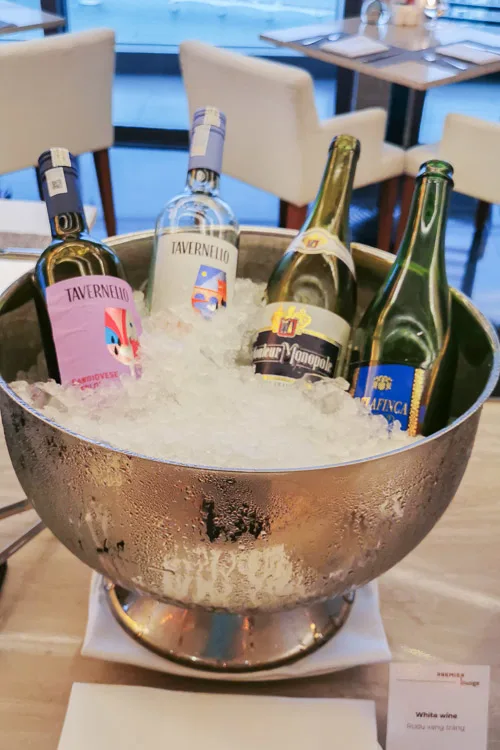 The amazing thing is that there is a cocktail-making section, complete with measuring cup and shakers. That means, you can make your own cocktail if you know the recipe!
I love cocktails but I don't know how to make one even if I have the recipe. Thankfully, the lounge supervisor knew how to do it and she made us some cocktails, yay!
For non-alcoholic drinkers, there are soft drinks, such as Coke, Sprite and Schweppes.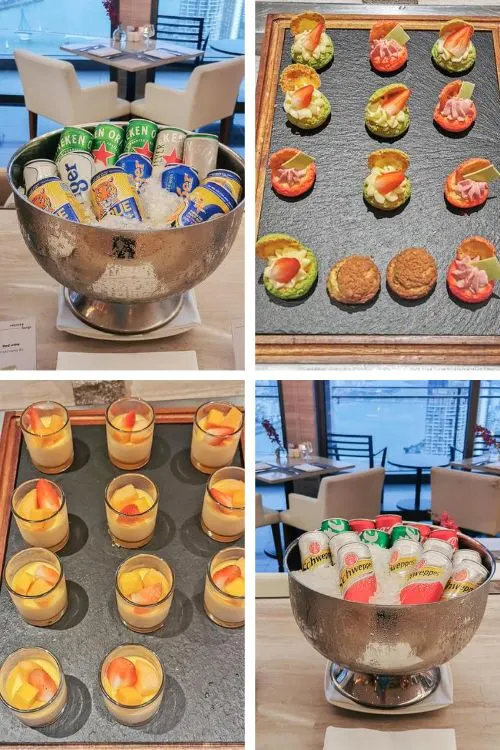 As for the canapes, there were scallop with ginger and spring onion, romaine salad with seared salmon (my favorite), pastrami mini sandwich roll, seared beef with nori seaweed salad, herb cheese with spicy onion and cashew nut, sweet potato croquettes, choux, and cream caramel.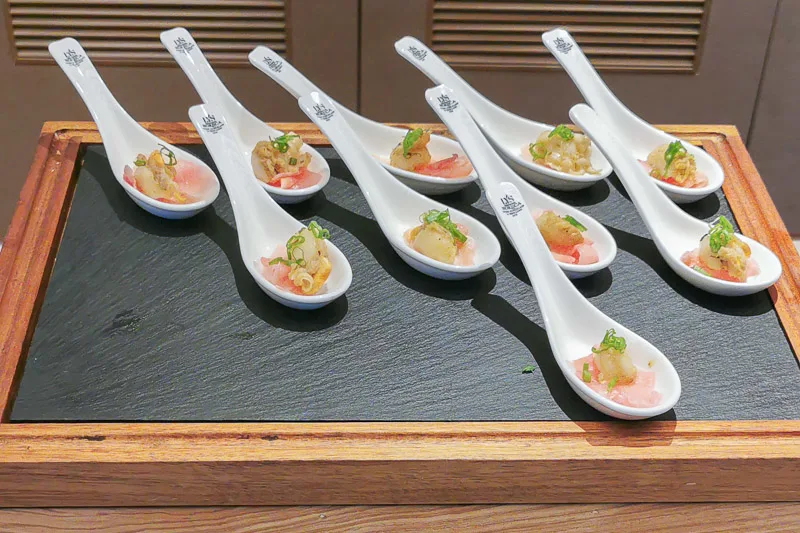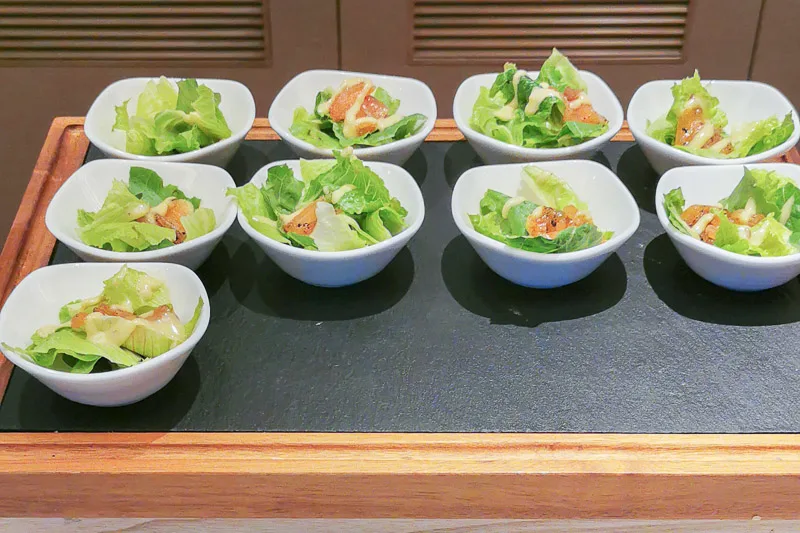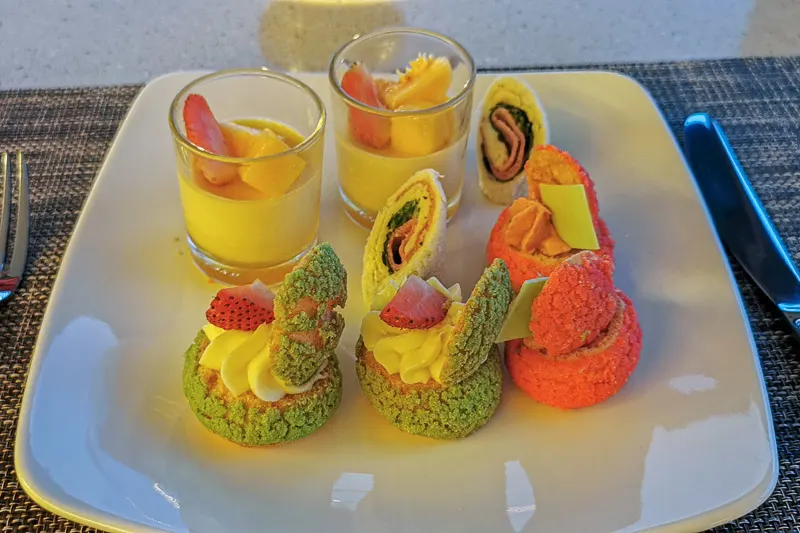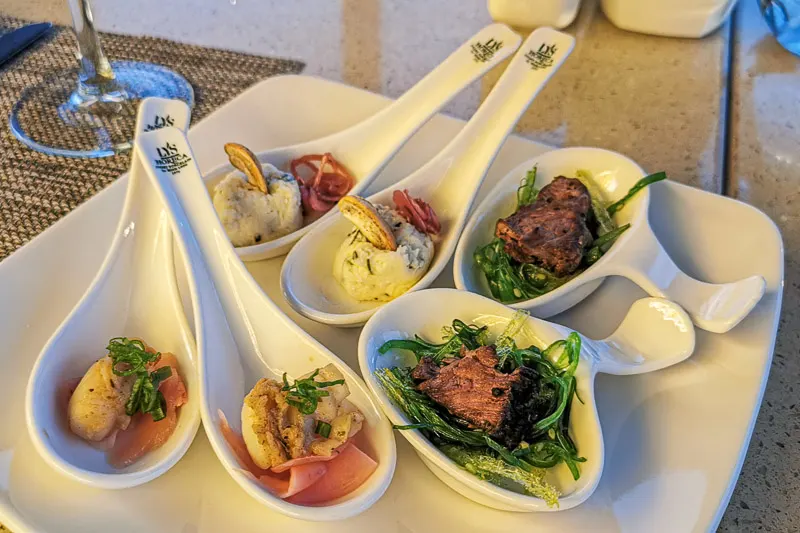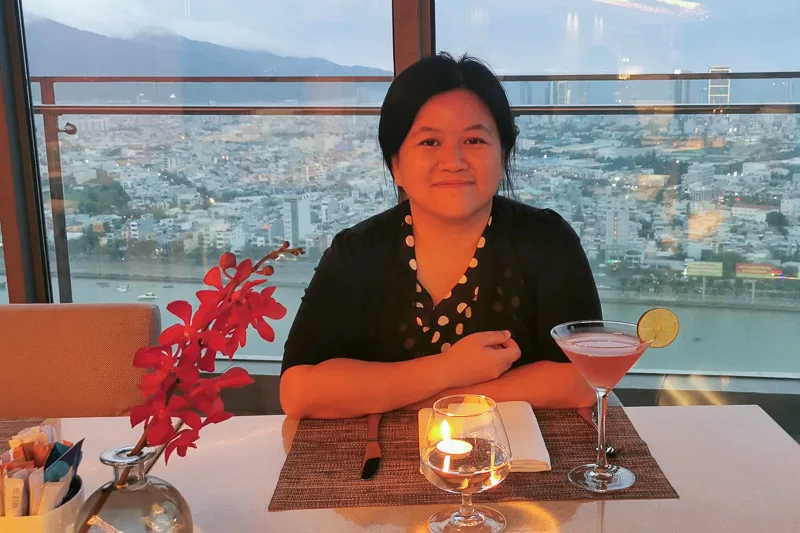 By the time the evening cocktail ended, it was already dark and we got to admire this calming evening view of the Han River.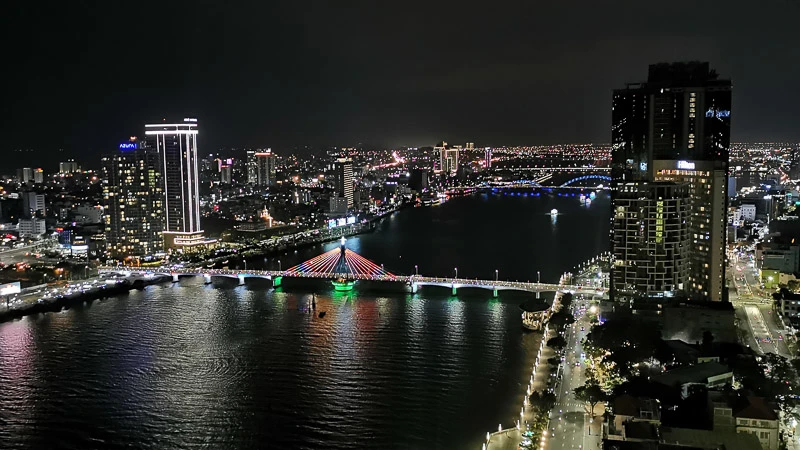 The lounge was pretty quiet during our visit. Other groups spent only a short time at the lounge. Most of the time, we were the only guests in the lounge.
The lounge supervisor (I believe her name is Ms Giang Ng) was very friendly. She went above and beyond her duty. She made us cocktails, she kept us company during the evening cocktail session, we chatted and shared stories about our lives, you can feel the sincerity from her.
It was towards the end of the lounge hours that we told her about our disappointment with the reception team. We told her that in our booking confirmation email, it was clearly stated that our room comes with lounge access, but the reception team denied it and asked us to pay for lounge access.
She was shocked that we had to pay for lounge access. She quickly excused herself to check our bookings and made some calls to cancel our lounge fee. We were beyond grateful for her help. If it wasn't for her, we would be paying so much extra money and be shortchanged. Novotel Danang should definitely give her an award for her outstanding service.
Other members of the lounge team (Trang & Tuan) were quite helpful as well.
Breakfast at Premier Lounge
The breakfast at Premier Lounge is from 6.30am to 10.30am. To be honest, the buffet selection was alright but it was nothing special.
There were baked beans, sautéed potato, stir fried pork with kimchi, stir fried seafood noodle, steamed egg, fried egg plant, chicken curry, vegetable fried rice, pancake, waffle, sausage, bacon, boiled egg, grilled tomato.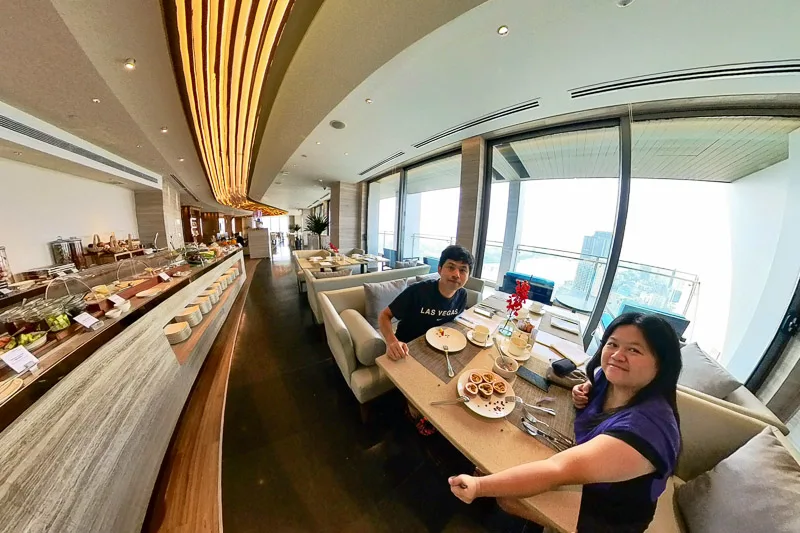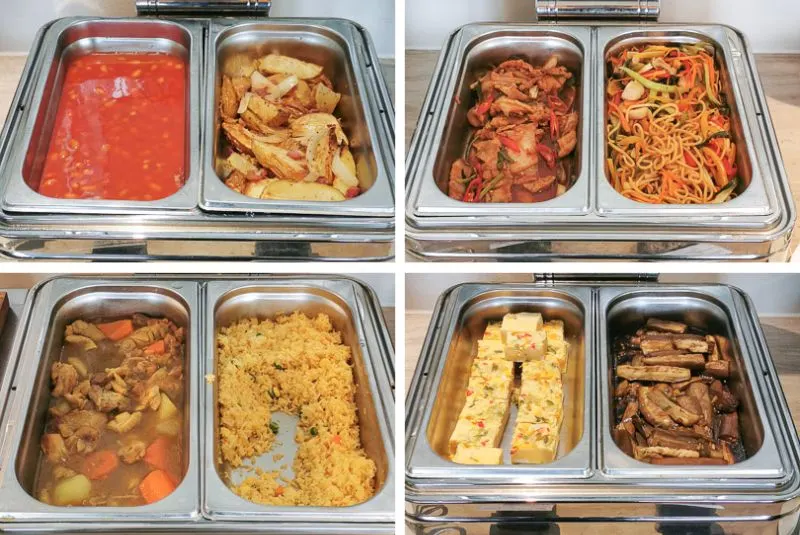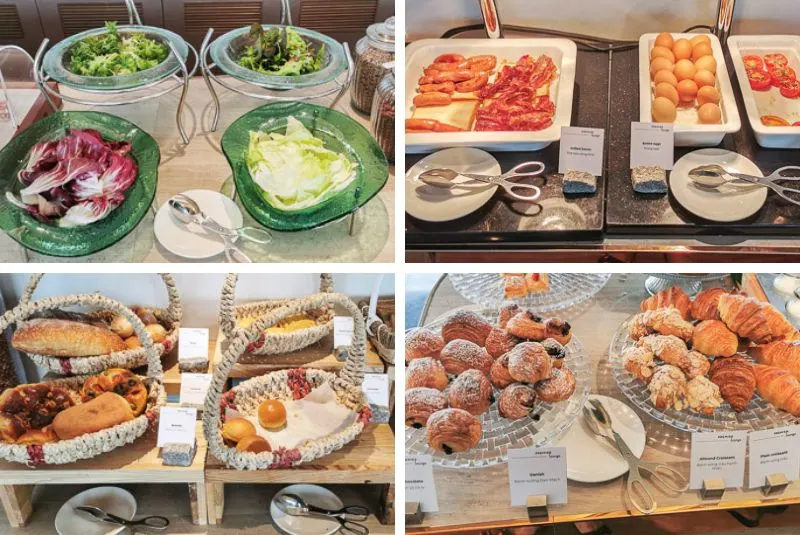 In the bread section, there were focaccia, brioche, boule, soft bread and gluten free bread. In the pastry section, there were plain croissant, almond croissant, pain au chocolate, Danish and muffin.
The salad section was pretty extensive. There were 4 ready-made salad, alongside assorted salad condiments and leafy vegetables. There were also assorted cheese and cold cuts.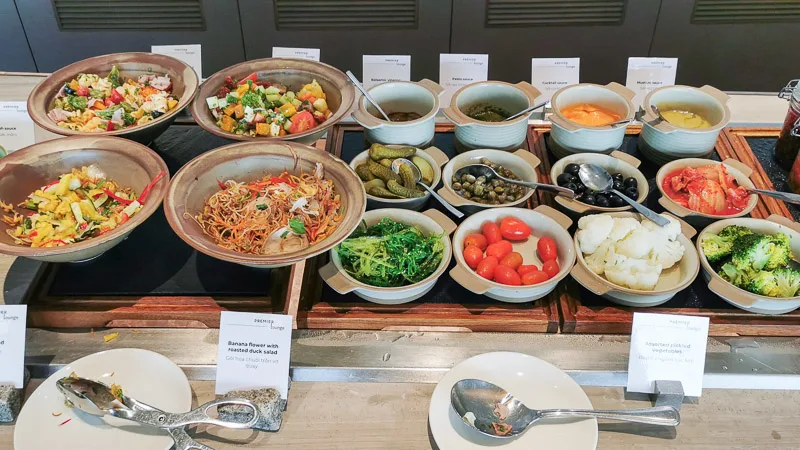 In the fruit section, there were watermelon, pineapple, passion fruits, plain yoghurt and fruit yoghurt. Beside the fruit, there were some cereals with fresh milk.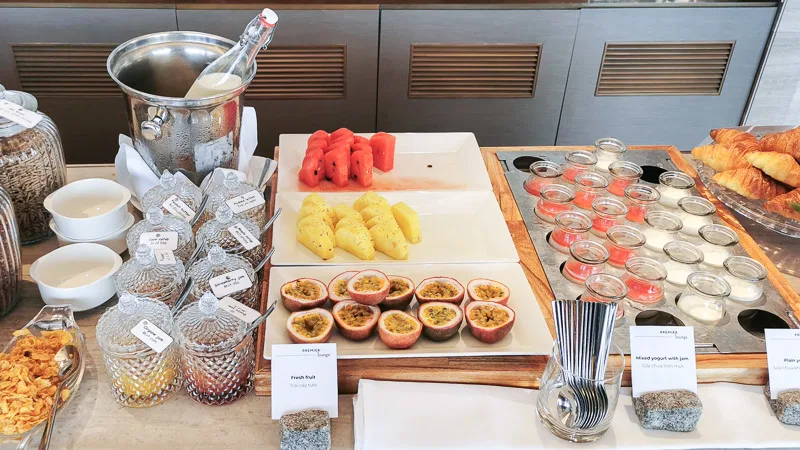 I love having soup for breakfast, and I'm glad that they have fish noodle soup!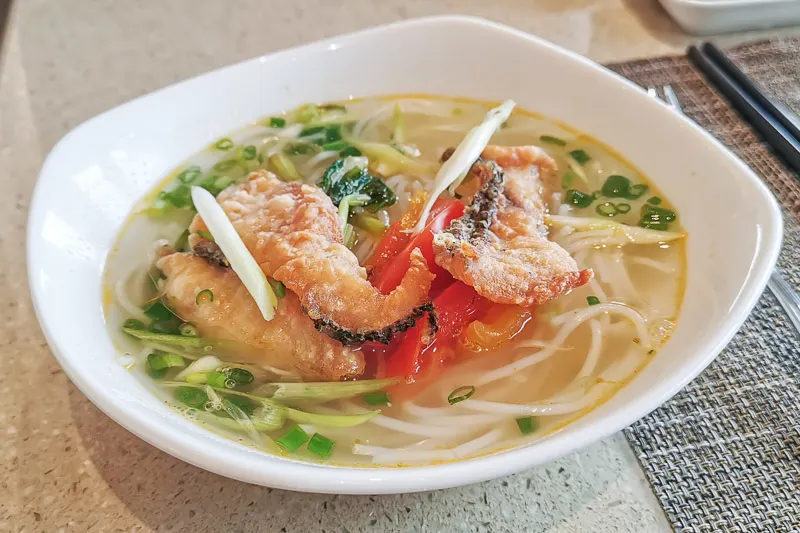 In the drink section, there were the usual coffee and tea, as well as fruit juices and fresh milk.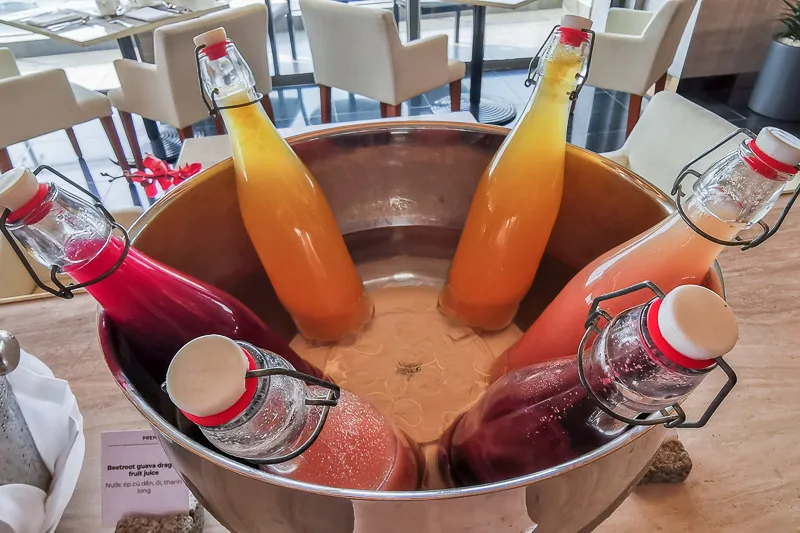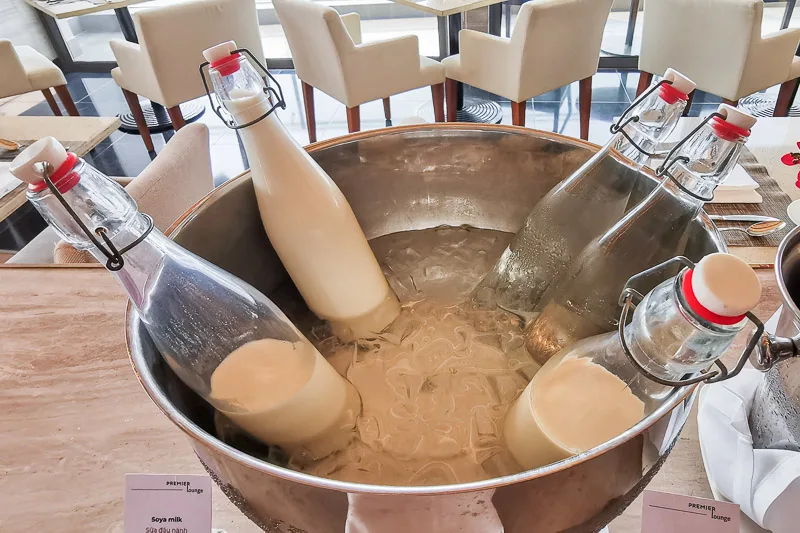 Breakfast at The Square Restaurant
We didn't eat at The Square Restaurant (Level 4), but I went in to have a look on what's served for breakfast.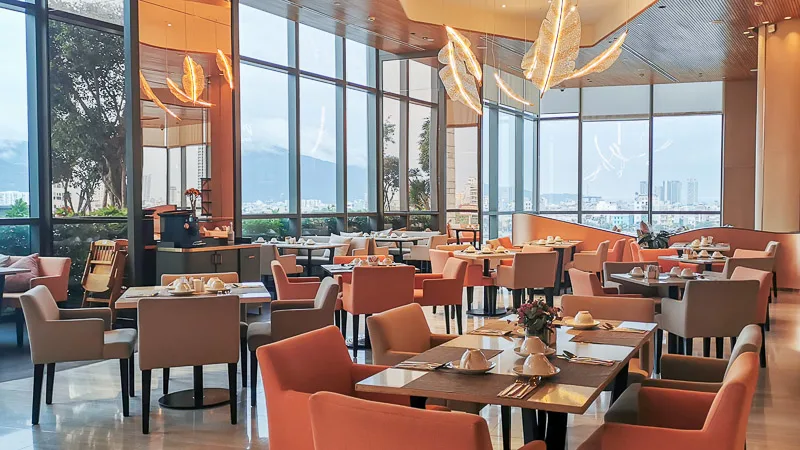 There were sushi and congee (which were not available in the lounge), salad, various bread and pastries (all these 3 were similar with those in lounge).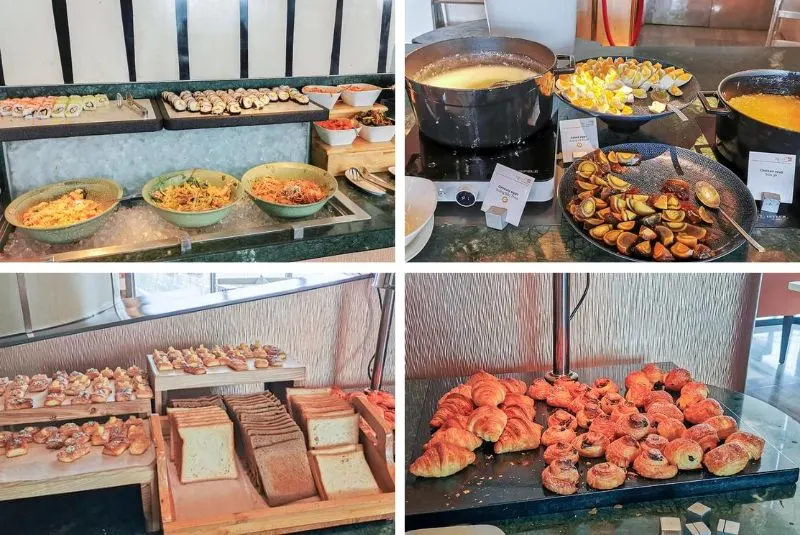 Then, there were boiled egg, sautéed potato, grilled tomato, sausage, bacon, and traditional snacks. The traditional snacks were not available in lounge, while the others were.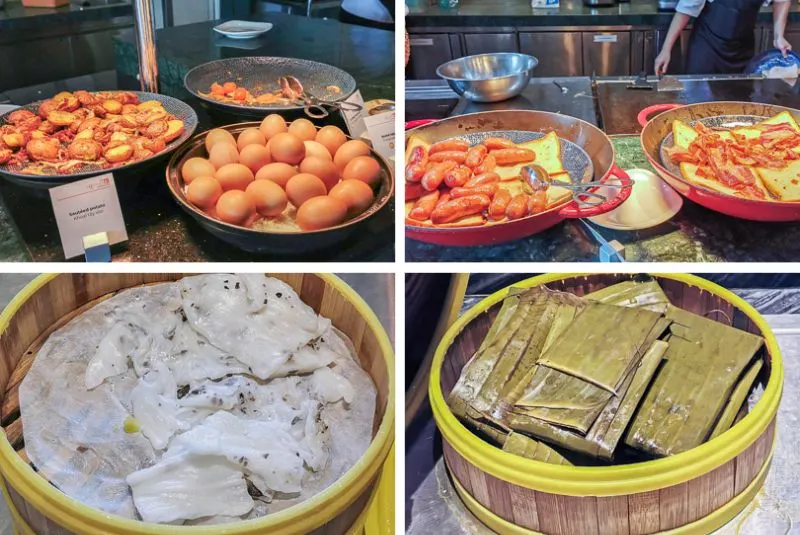 There was even a Banh mi section at the restaurant!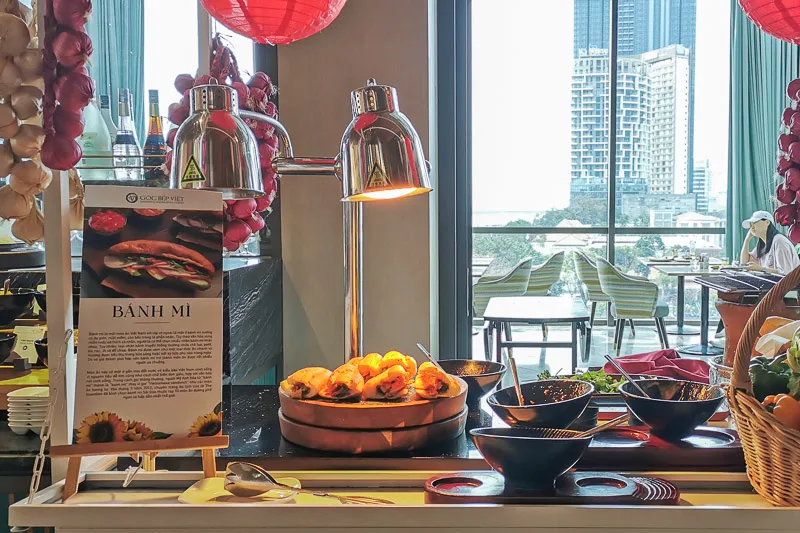 In the live noodle section, they were serving the fish noodle soup which was exactly the same dish served in the lounge.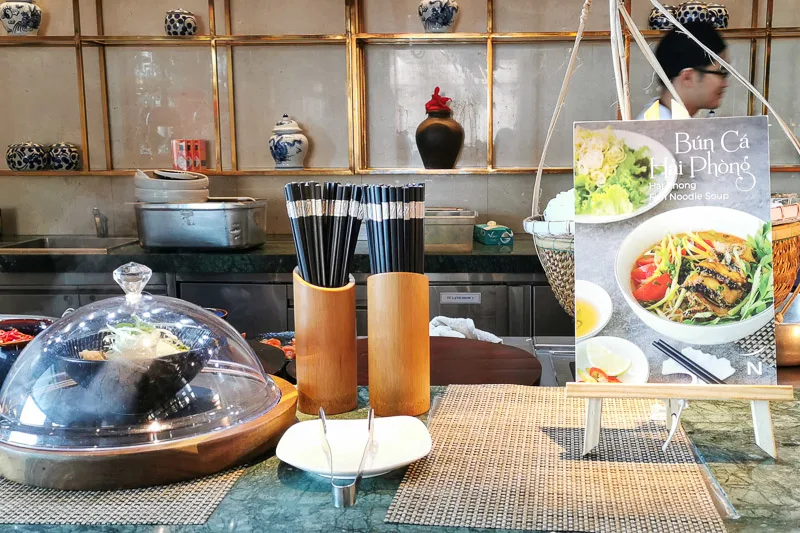 Then, there were several jugs of fruit juices and milk.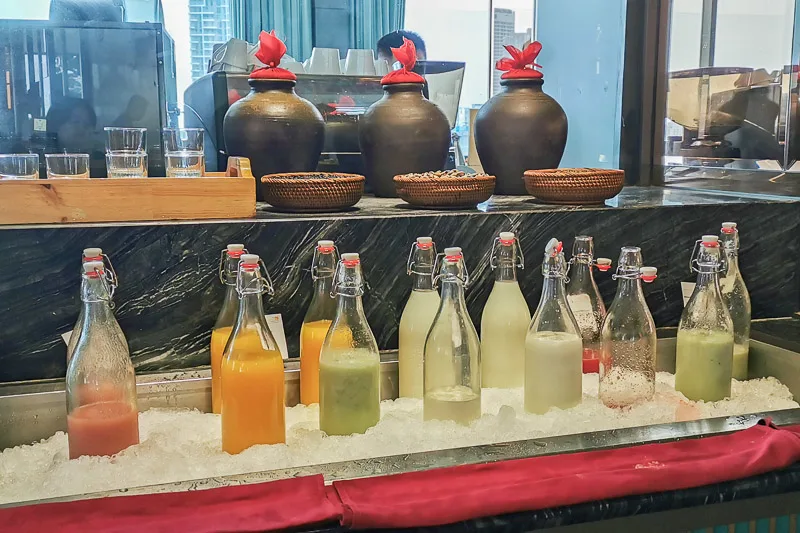 If you don't have lounge access and wondering whether the breakfast is worth it, I think it is worth it.
Final Thoughts
One day is too short for a stay in Corner Suite. Even though we didn't leave the hotel for the entire 23 hours, from our check-in at 1.15pm to our check-out at 12noon, we still didn't have enough time to fully enjoy the amazing view from our room.
I want to say I will be back, but… I'm truly afraid of being shortchanged again.
If you like my work, you can buy me a coffee! Your support will help me to keep going!