Wink Hotel Danang Centre is a 4-star hotel located about 4km from Da Nang International Airport, 700m from the popular Han Market, and just 150m from Han River.
Don't confuse this hotel with Wink Hotel Danang Riverside. The riverside one is located at the other side of Han River, it's further from airport but nearer to the beach compared to this Danang Centre one.
Built in 2022, the Wink Hotel Danang Centre is still a brand new hotel. When we stayed here, occupancy was still low. Good for us!
We paid around VND 972.000 (~SGD 57) for 1 night with breakfast included, and we felt it's quite a value for money. We took Grab from Da Nang Airport to the hotel, it cost us only VND 66.000 (~SGD 4).
So… is Wink Hotel Danang Centre a good hotel? Here's the summary if you want the quick answer!
What I Like:
Brand new hotel
Great location, walking distance to riverside, many eateries nearby
Great view of the Han River
Affordable without compromising quality
Fabulous birthday gesture
What I Don't Like:
Room sensor is not reliable
With 5.0 rating on Google and 9+ rating on Booking.com, and the length of "What I Don't Like" list in the previous paragraph, I think you can guess which direction this review is leaning towards.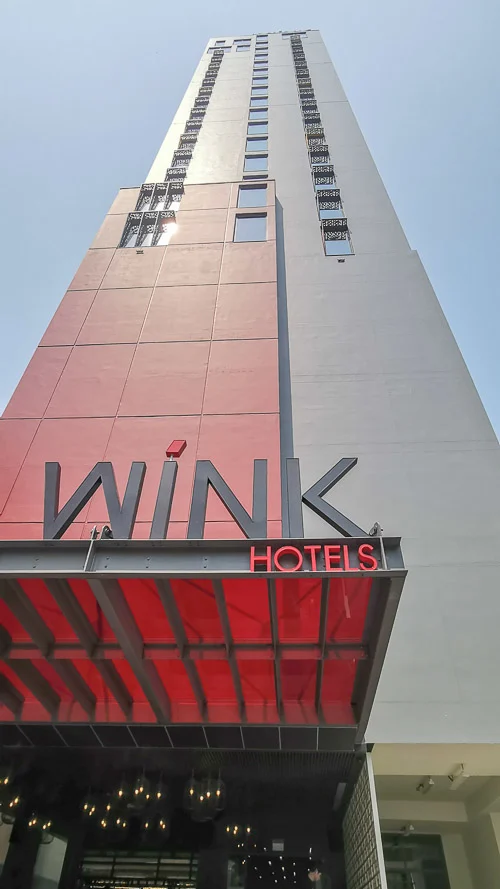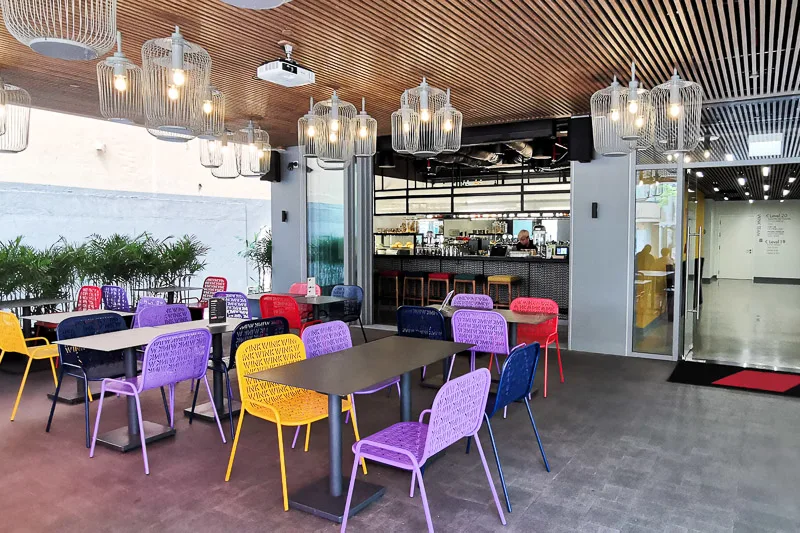 Unlike a typical hotels, you won't find lobby at the ground floor. Instead, on the ground floor you'd find a café and a barber.
Check-In
Located at Level 19, Wink Hotel Danang Centre's lobby is compact yet cozy. There are 2 check-in counters and some seats by the window.
What's interesting is that instead of having a fixed check-in and check-out time, Wink Hotel allows you to stay for the full 24 hour. So, if you check in at 9pm, you will only need to check out at 9pm the next day. So cool, right?! It's like having a guaranteed late check-out without the extra fee!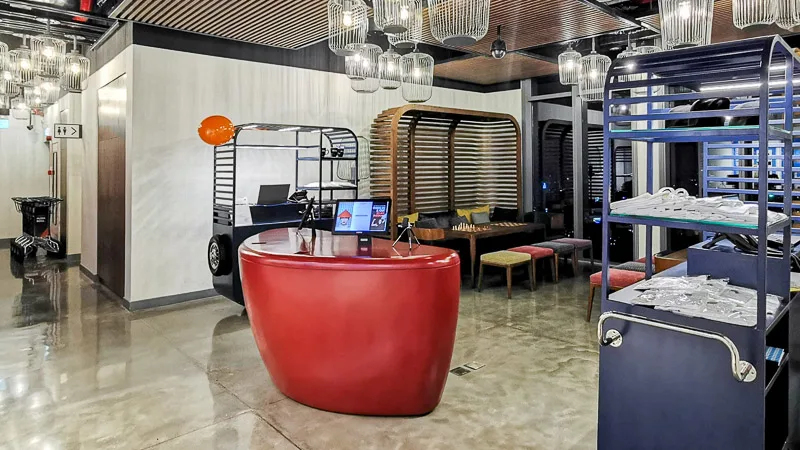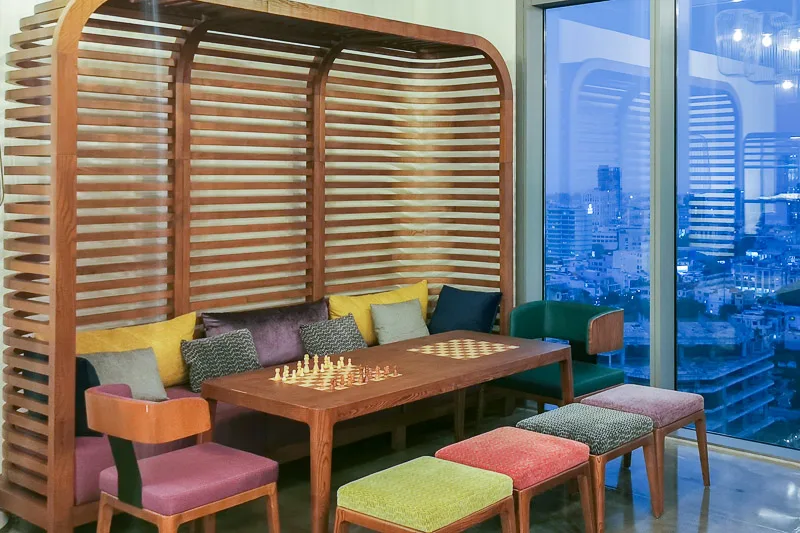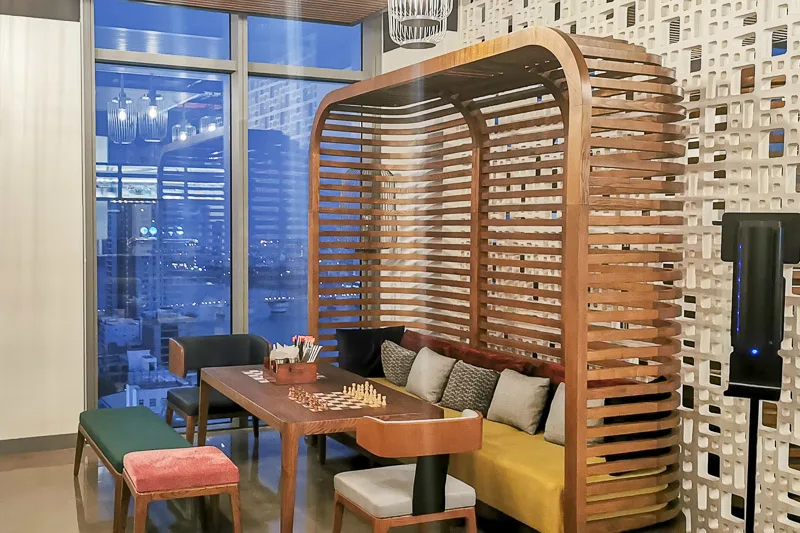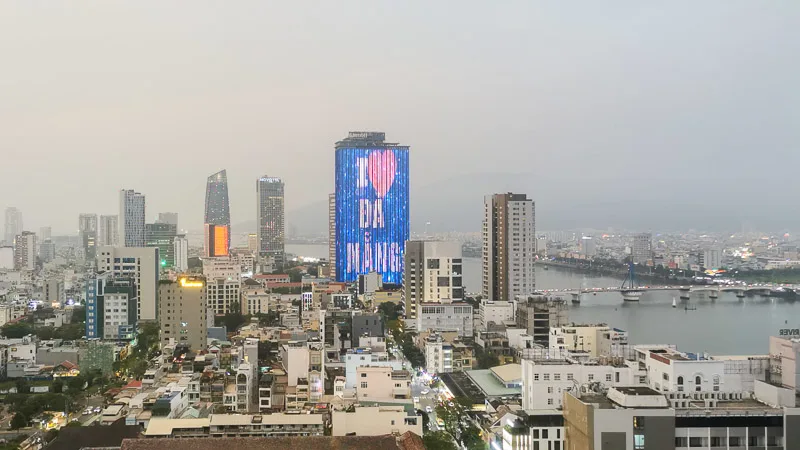 Standard Room
There are only 3 types of room in Wink Hotel Danang Centre: Standard Room (18m2), Twin Room (18m2) and Family Room (27m2). We booked the Standard Room.
Because we were celebrating my hubby's birthday, the hotel gave us a really nice room that has 2 windows! One is facing the Cầu sông Hàn bridge, and the other window is facing the Dragon Bridge! Usually, a Standard Room only has a window. We're beyond grateful to Wink Hotel!
As you can see from the photos below, the 18m2 Standard Room is very compact (read: small). We have a double bed that's facing the window. Behind the bed, it's the toilet and a mini-desk.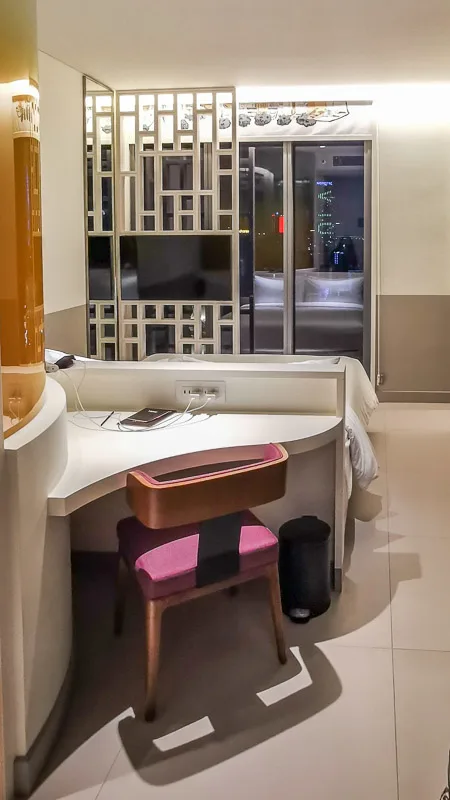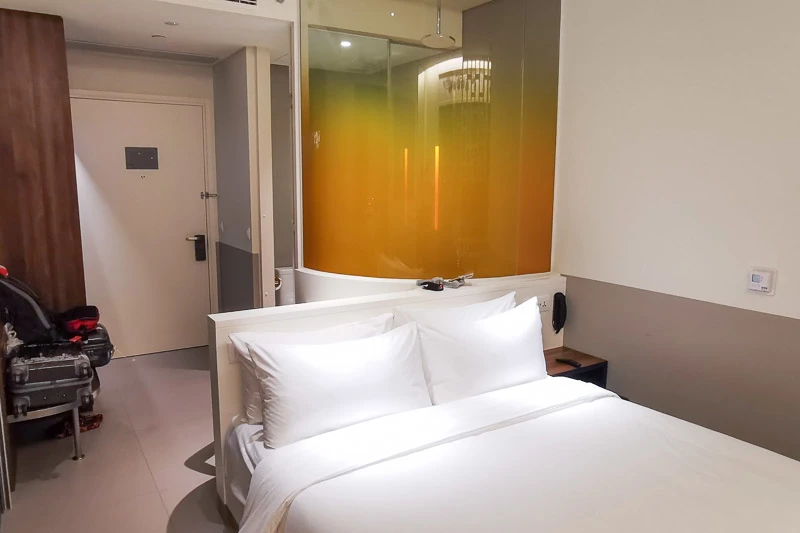 The second window facing Dragon Bridge is located at the side of the room. Beside this window, there's a luggage rack and a cupboard.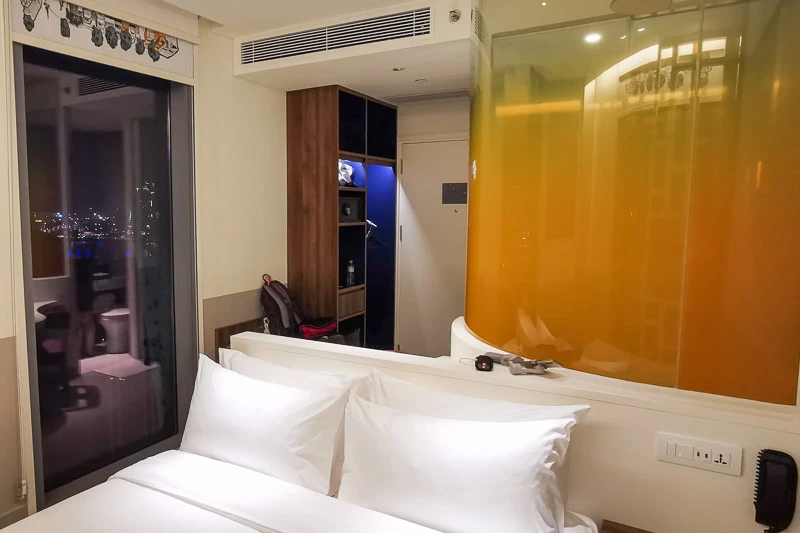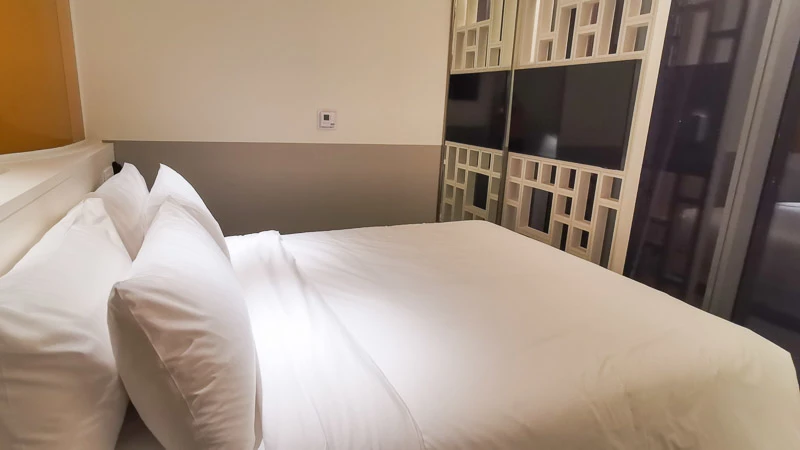 The bathroom is pretty compact as well, but they didn't skimp on bathroom amenities. The shower room has a rainshower and hand-held shower.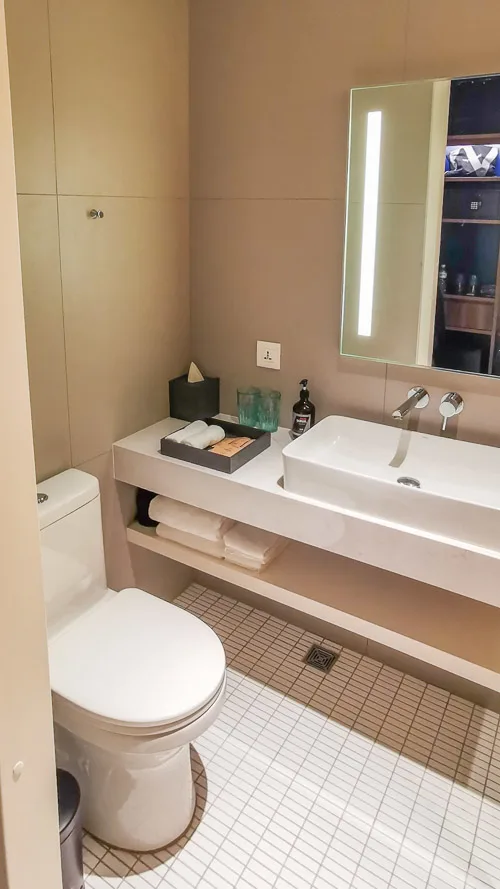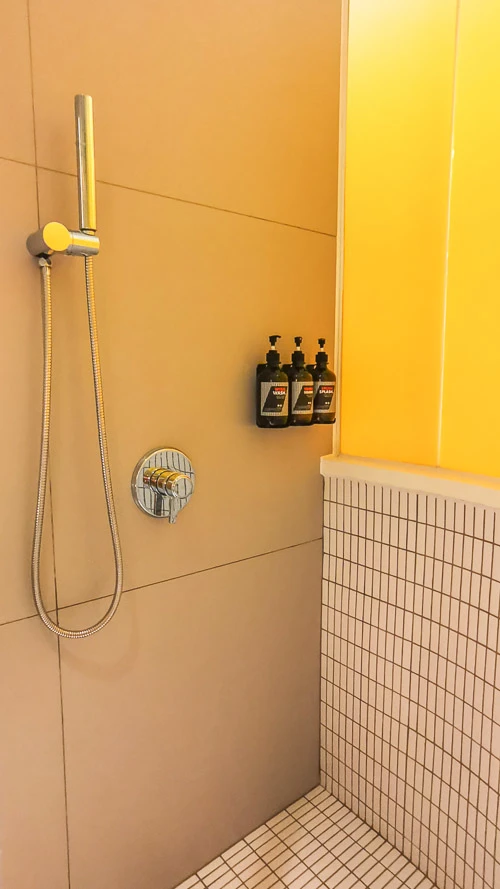 The bathroom amenities include body towels, hand towels, toothbrush, toothpaste, and vanity kit.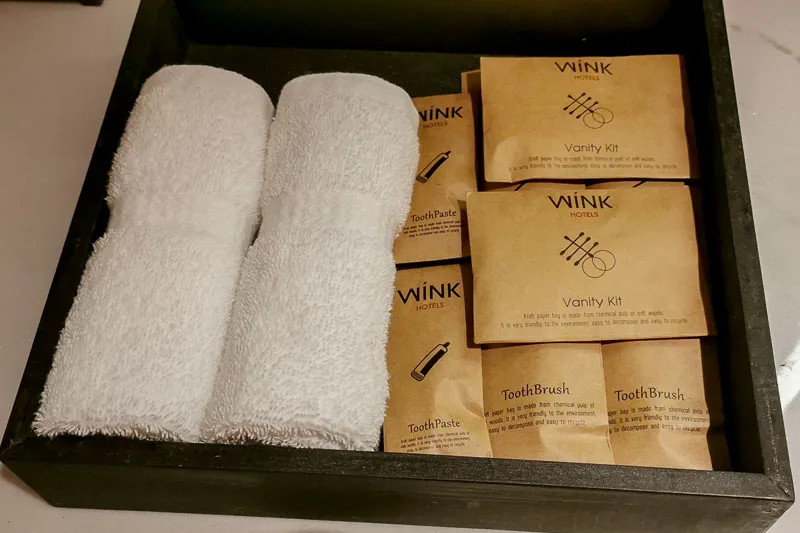 The shower amenities include body wash, shampoo and conditioner.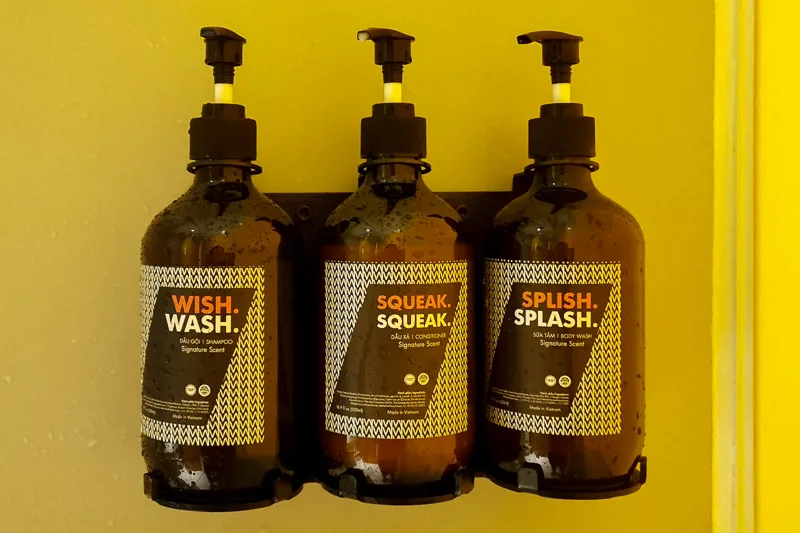 Another unconventional thing about the room is the fact that there is no "slot" where you put your room card to turn on the electricity. Instead, it uses motion detection to turn on the power. It's a great power-saving technology as they don't need to worry about guests leaving the air-conditioner on the whole day.
But.. there motion detection sensor is not reliable! In the evening, my hubby went out to buy something, so it was me alone in the room. I went to have a long hot shower. Because of the lack of motion in the room, the electricity were turned off automatically while I was in the middle of my shower!!
It was pitch black and I was soapy! Terrified of darkness, I made loud noises but the power just wouldn't come back. Fortunately I knew where the towel was, so I grabbed one, came out of the bathroom but the power were still shut! I had to walk to the center of the room until the sensor recognized me and it finally decided to turn on the electricity. Gosh!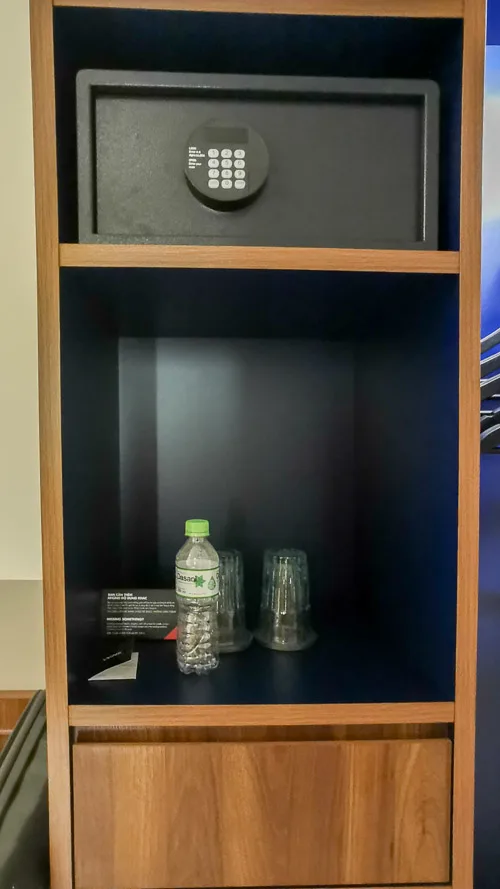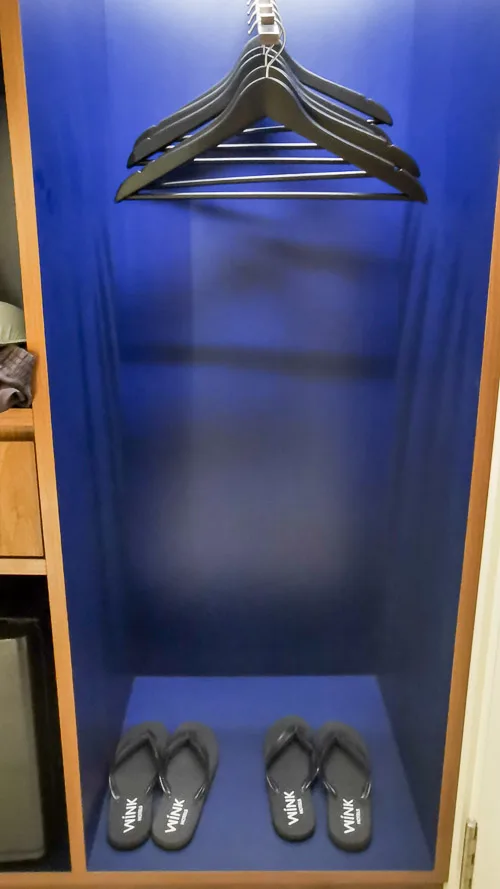 Moving on, let's talk about the cupboard. The cupboard serves 2 functions, as minibar and wardrobe. The minibar has only glasses without mineral water. Guests can purchase water from the hotel or outside. In the fridge, there are 2 cans of alkaline water, but we didn't try it.
No bathrobes, but there are hangers, slippers, and safe deposit box.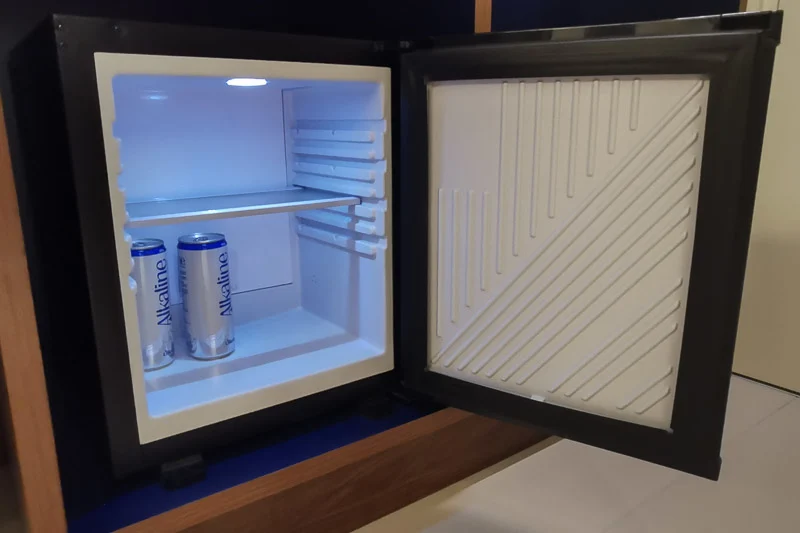 Here are the views from our windows!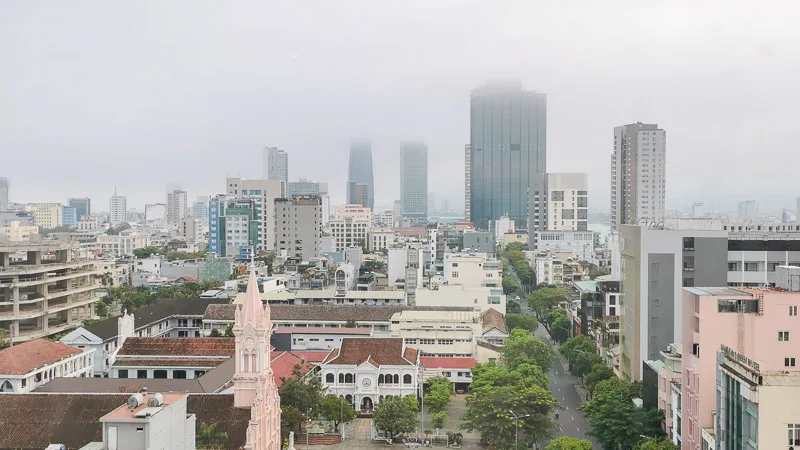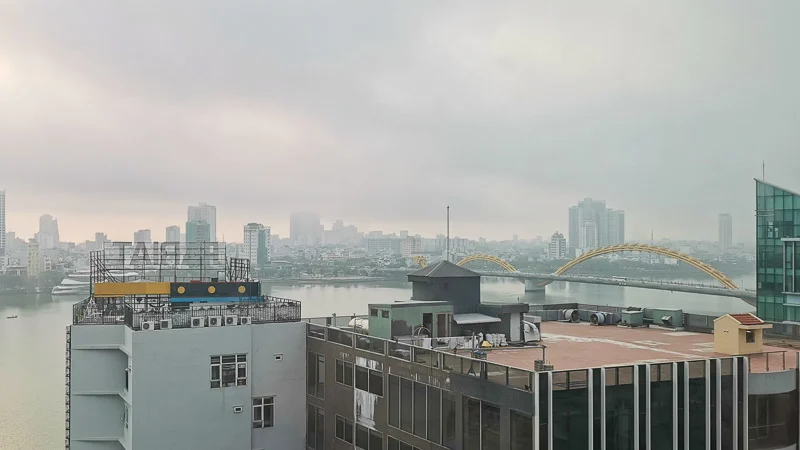 Restaurant
Because we were celebrating hubby's birthday, the hotel not only gave us a nice room, they also gave us 2 free cocktails! Wow, we totally didn't expect it, and we're truly grateful for how generous they are!
To redeem the cocktail, we simply had to head to the restaurant located at Level 19, the same floor as the lobby and tell the staff about the free drinks.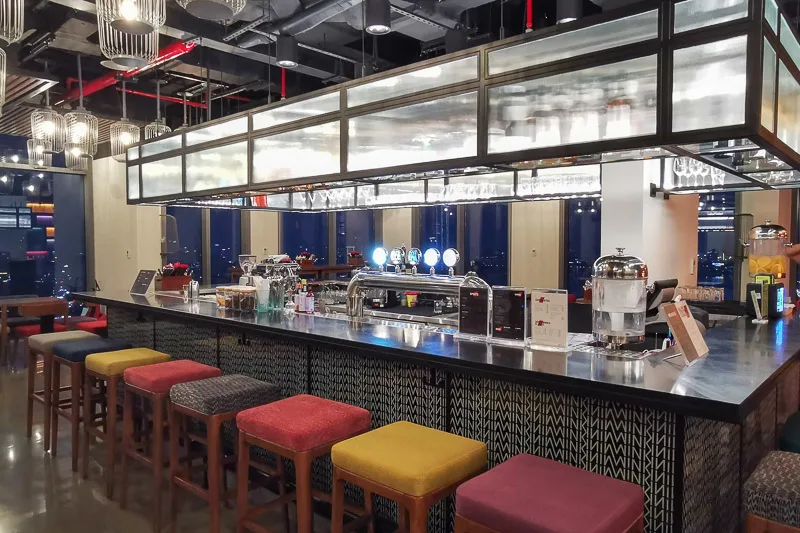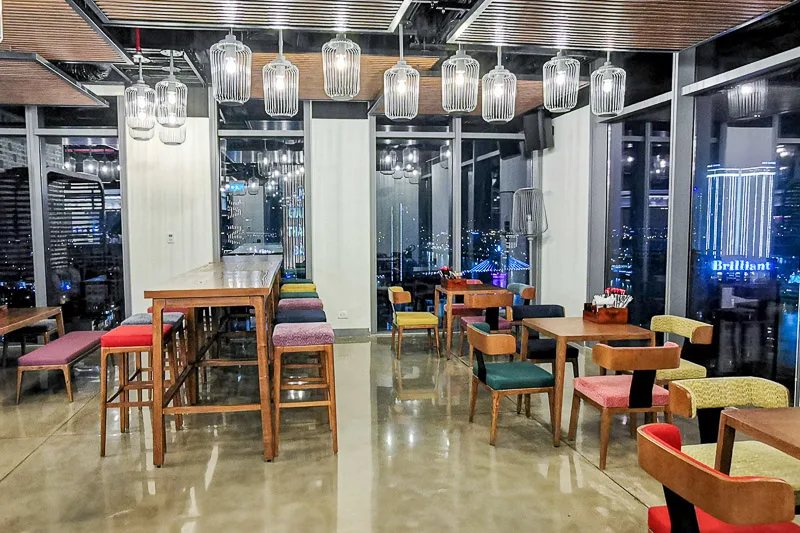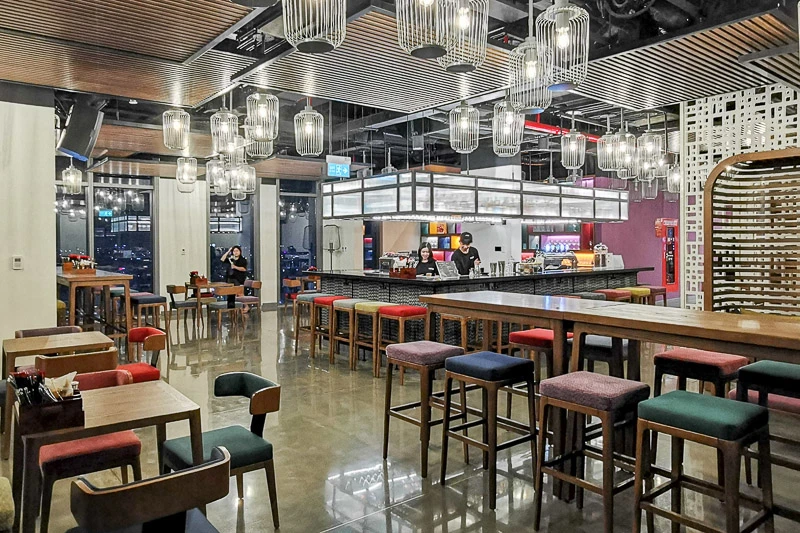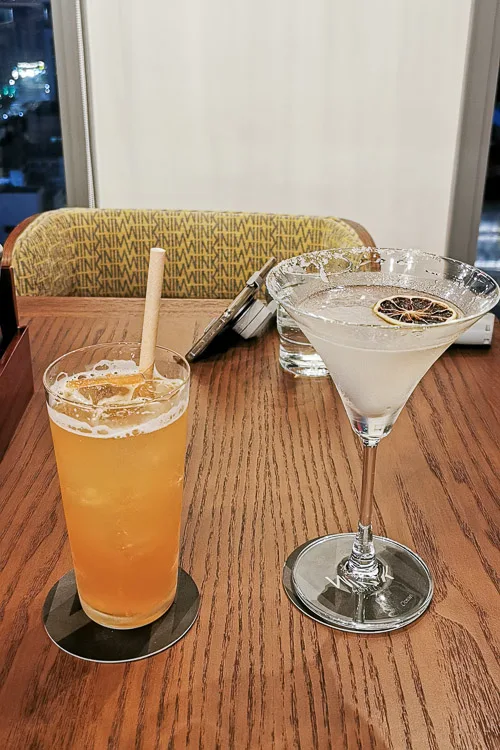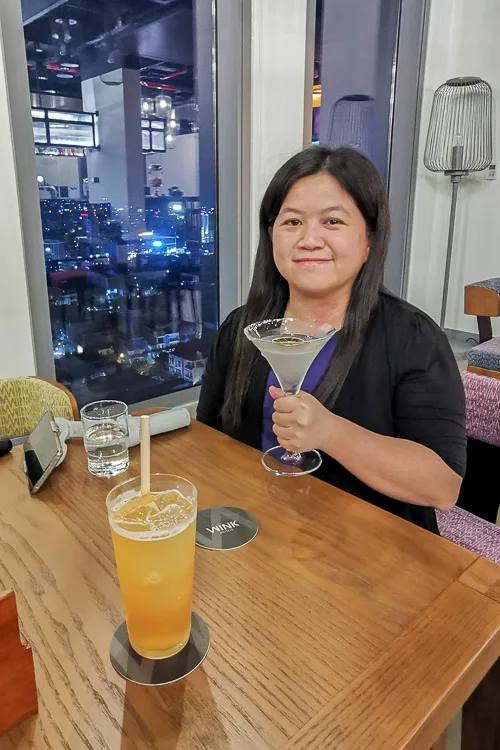 Because we were hungry, we decided to order a bowl of Mi Quang, which cost only VND 80.000 (~SGD4.70). The Mi Quang came with 2 prawns, a couple slices of meat, and a plate of vegetables. It tasted SO GOOD, we ordered another bowl!
Wow! Just wow! Cheap and good food, in a cozy hotel, what else could we ask for?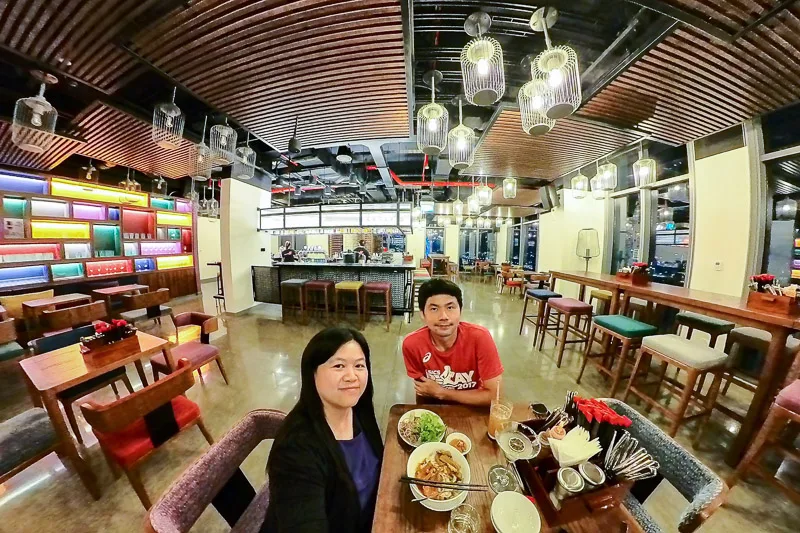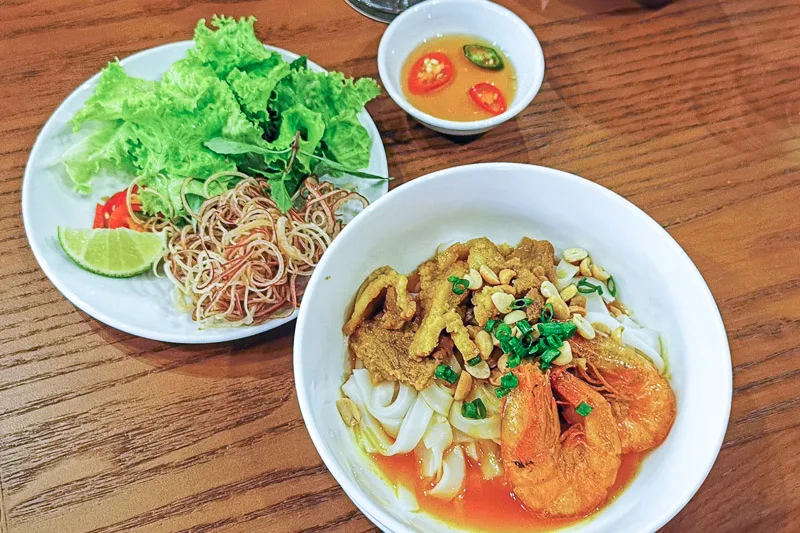 Grab & Go
Outside the restaurant, next to the lobby, is this section called Grab & Go. Outside breakfast hours, this section is like a minimart inside a hotel. You can buy ready-to-eat meals, snacks and drinks.
The prices are quite reasonable. A cup of cappuccino is VND 45.000 (~SGD2.60). A plate of salad is VND 75.000 (~SGD4.30).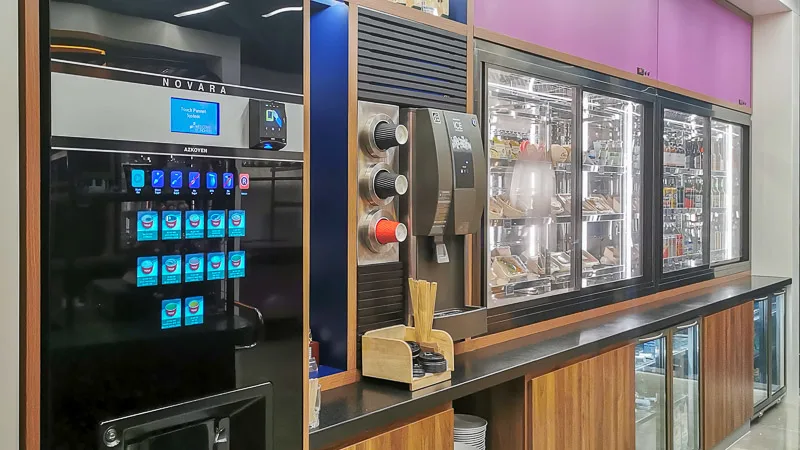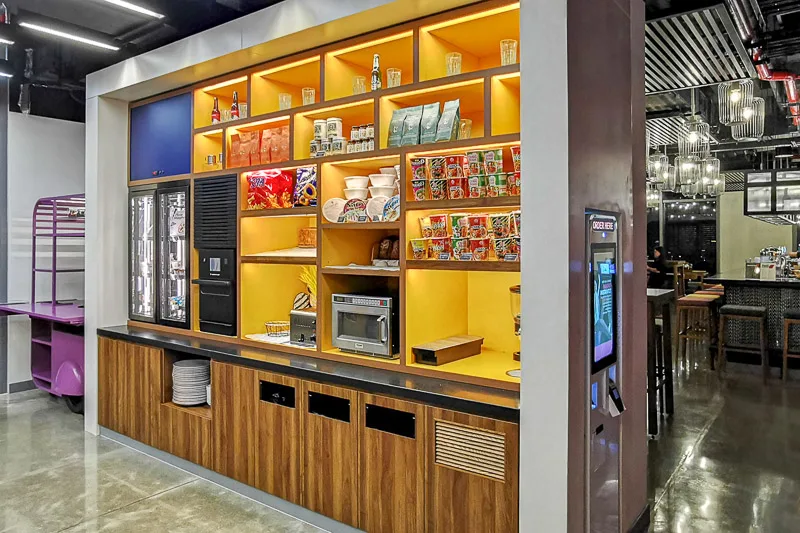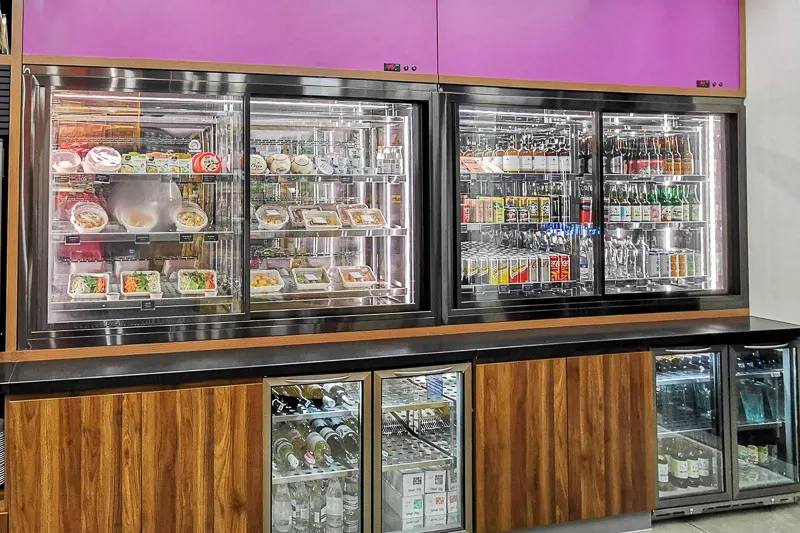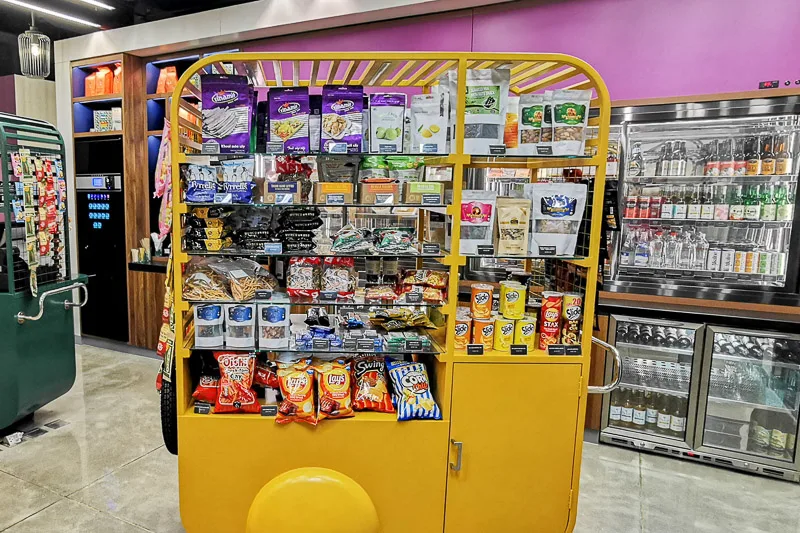 Gym
The Gym has 2 treadmills, an elliptical, a bike machine, a pull-up, and plenty of weights. The views from the gym are pretty amazing and unobstructed. There's also free towels for gym-goers.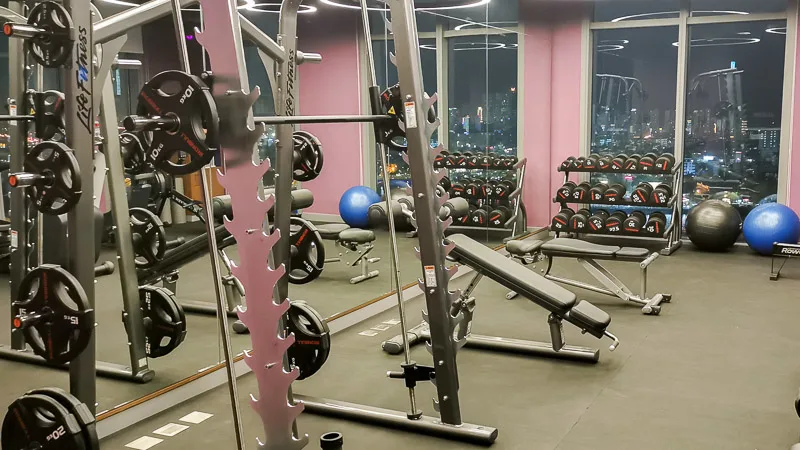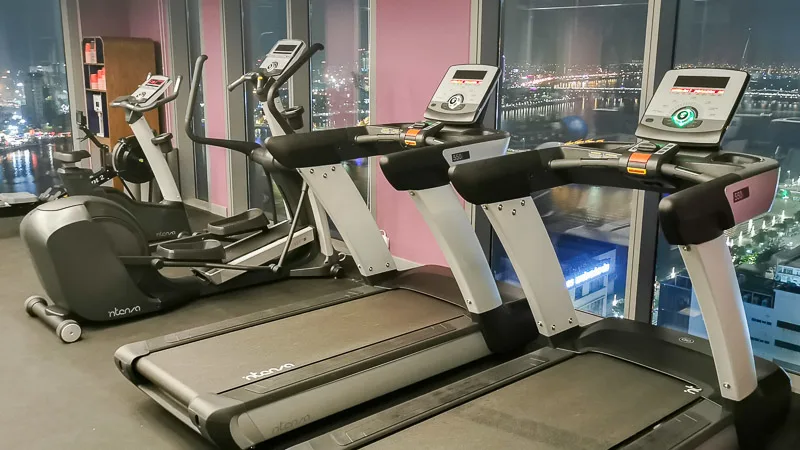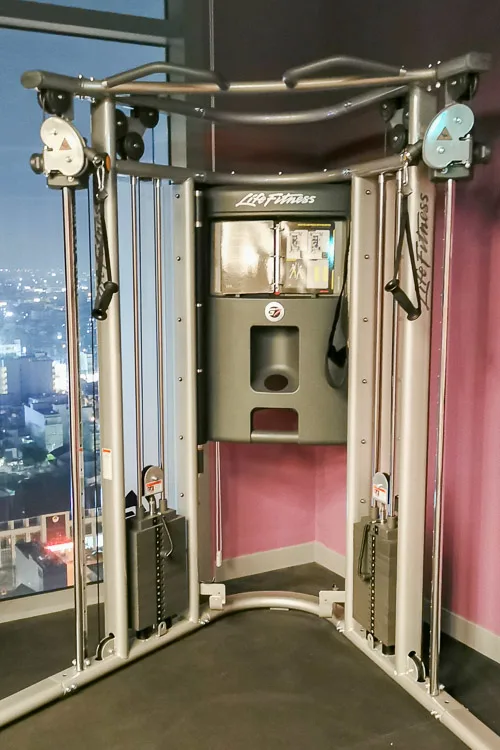 Co-working Space
There is a co-working space at Wink Hotel Danang Centre. Inside, there is a hot-seat section which looks like it can accommodate 10 people. In addition, there are also several private rooms, as well as a meeting room with projector!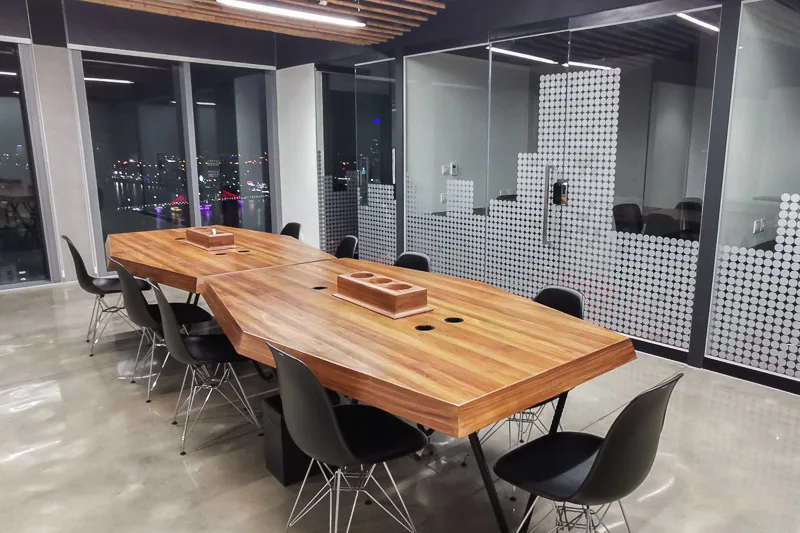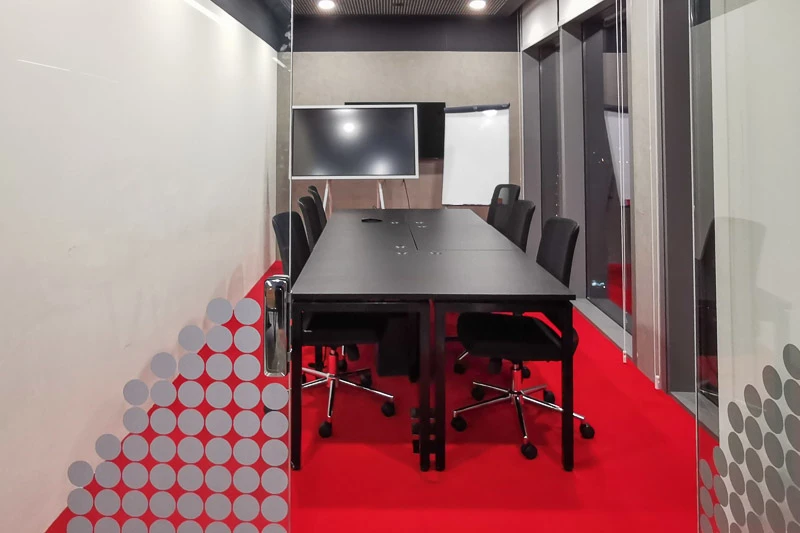 We also noticed a small pantry corner with a water dispenser, a refrigerator and a sink.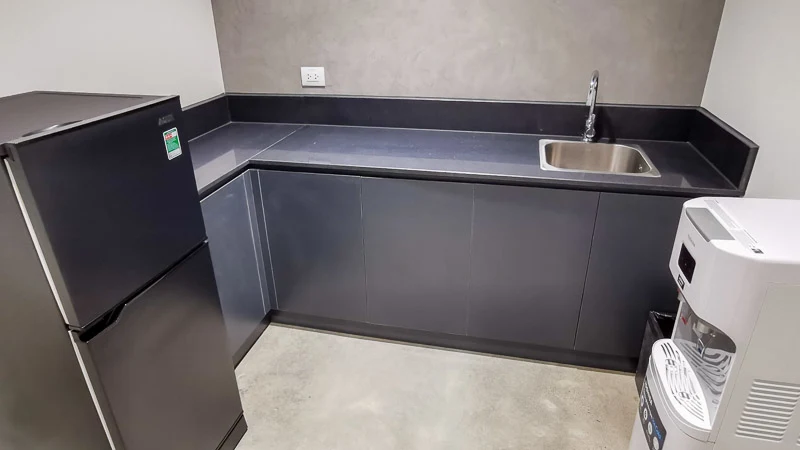 Laundromat
I love the laundromat! It is a huge life-saver for people who need to do laundry during their trip. There were 2 washing machines and 2 drying machines.
The washing machine can wash up to 10.5kg in 50 minutes, and costs VND 50.000 per usage. The dryer can dry up to 8.2kg in 50 minutes, and costs also VND 50.000 per usage. That means, the total cost is VND 100.000.
To get the machine to start, you need to use the self-service machine to choose the machine and make payment. However, you can't directly use credit card on the machine (we spent 5-10 mins trying to insert our credit cards in various directions to no avail. We looked like stupid people when a lady came in and told us we needed to load the money into our room card at the receptionist.)
After we got the washer to start, the machine asked us if we want to be notified via email when our laundry was done. What a great idea! Just make sure your phone has email notifications turned on, otherwise, you'd still miss out the notification.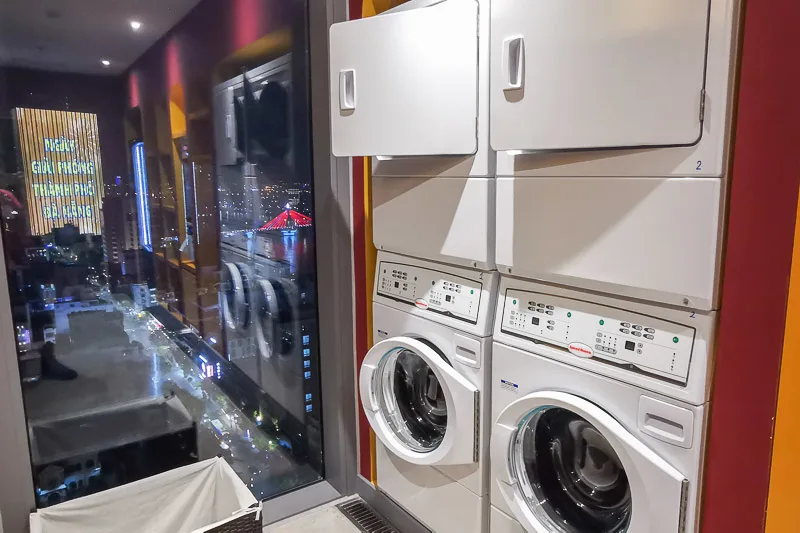 In the laundromat, there are 2 ironing boards and a TV for you to watch if you decide to wait at the laundromat. For short people (like me), there's also a stool for you to stand so that you can reach the inside of the dryer.
Near the door, there's a vending machine selling things you might need, such as sunscreen, bandage, pads, snacks and protections.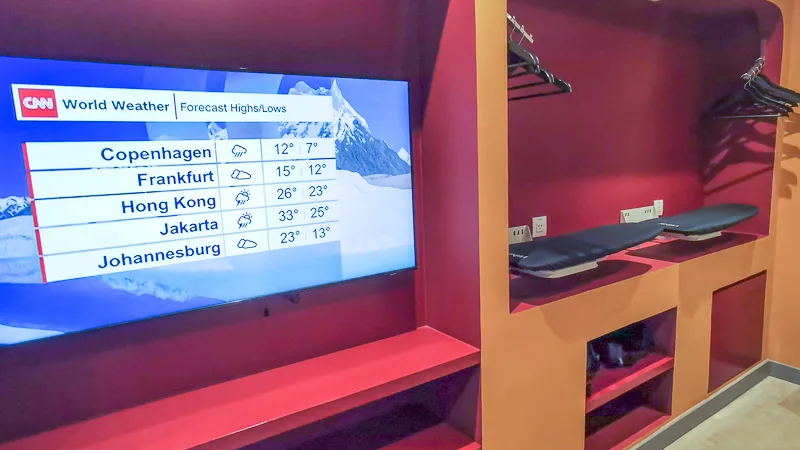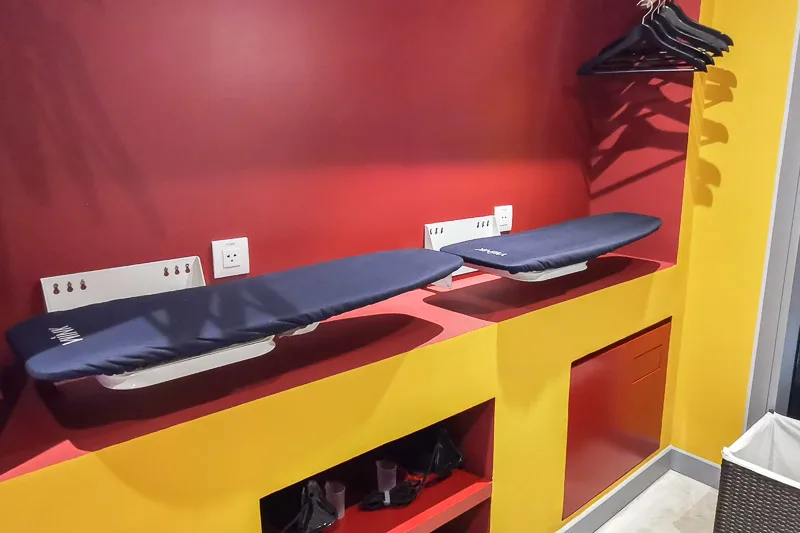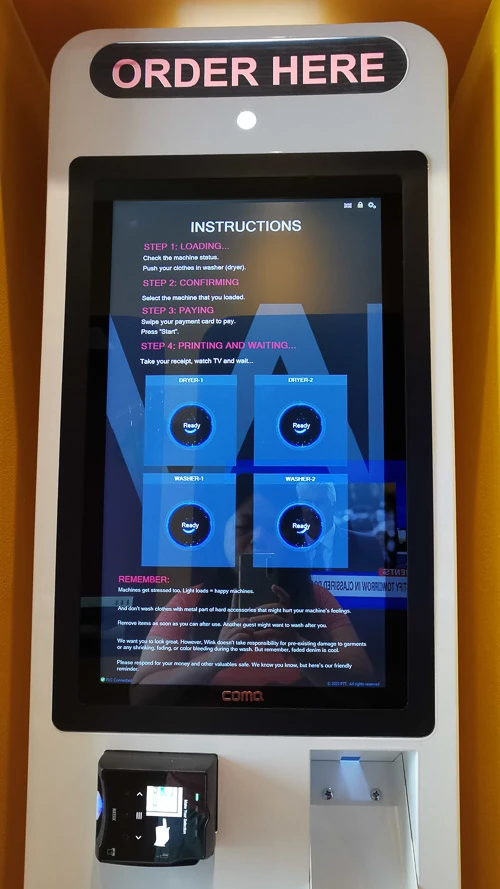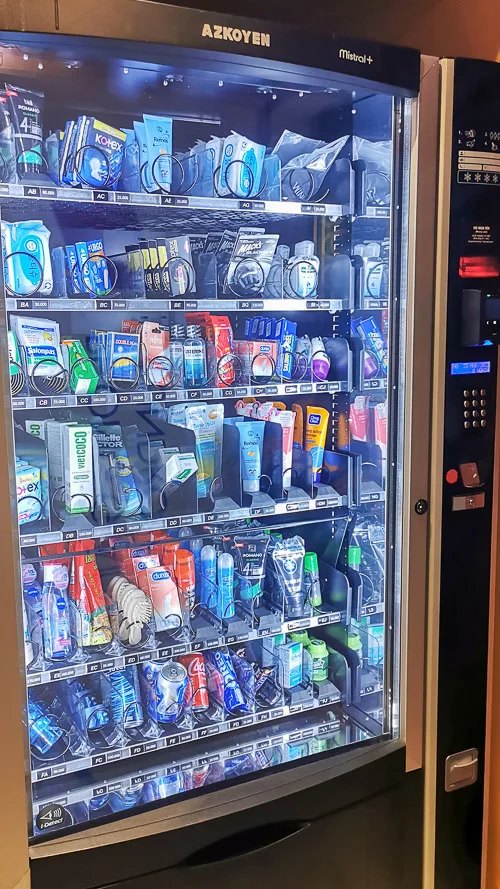 Breakfast
The breakfast, while not as grandeur as those in 5-star hotels, is one of my favorite parts of my stay at Wink Hotel Danang Centre. The breakfast is at Level 19, at the same location as the restaurant and Grab & Go section.
At one side of the shelf, there are various bread and pastries, and you can use the toaster and oven to heat them. There were also cereals with fresh milk in the jars. The instant noodles are free during breakfast.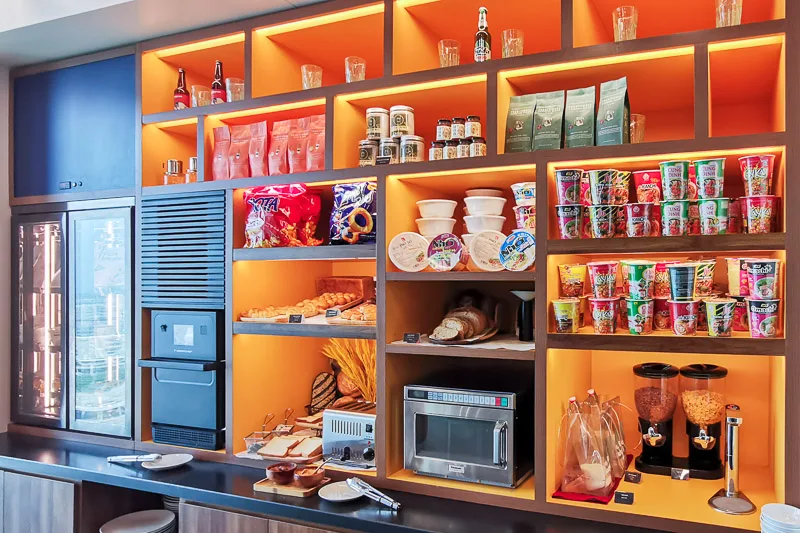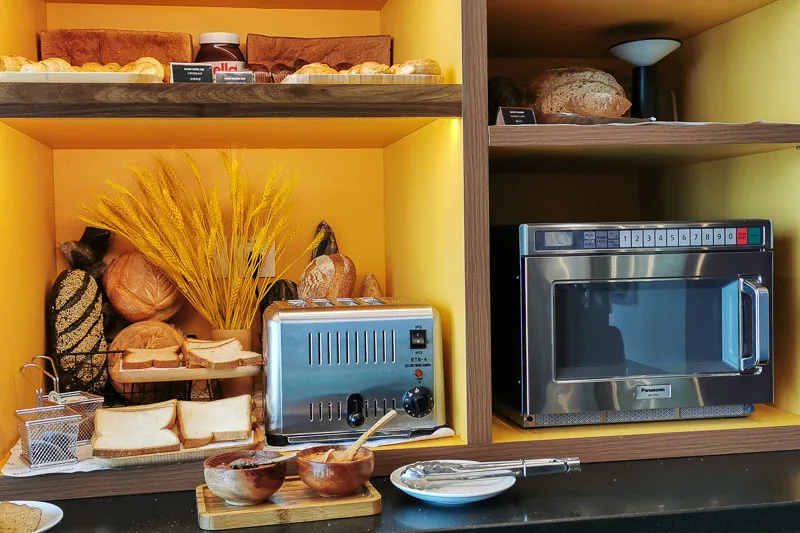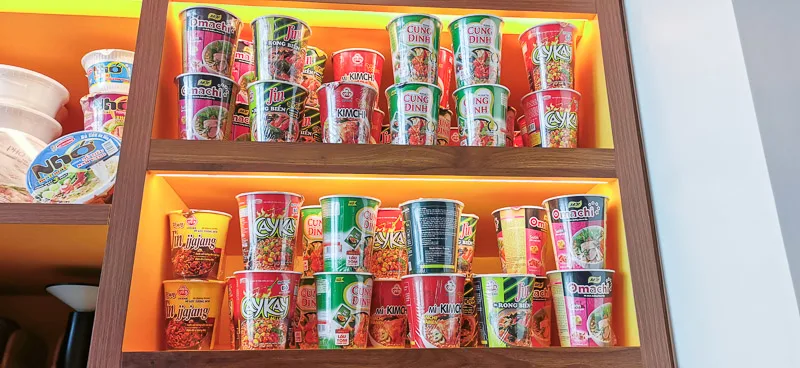 At the corner, there is a noodle cooking station. They've prepared the noodle, you just need to pour hot soup onto the bowl. I made the mistake of pouring too little soup and my noodle turned out lukewarm.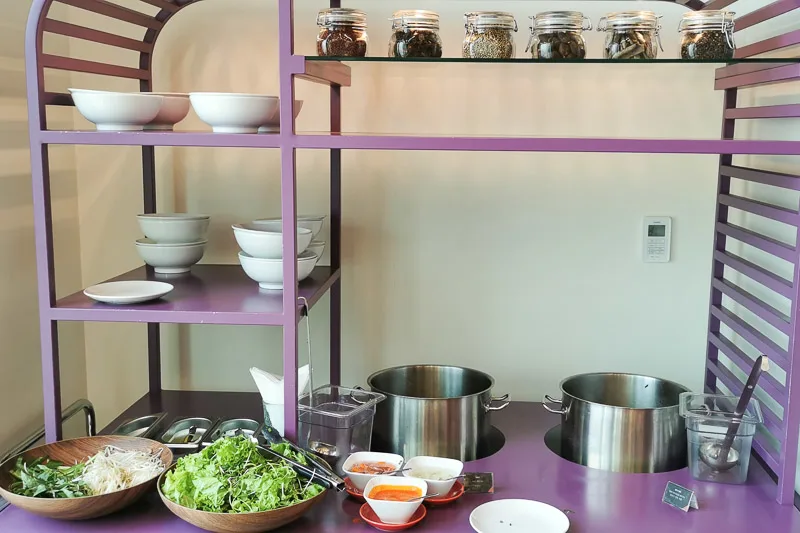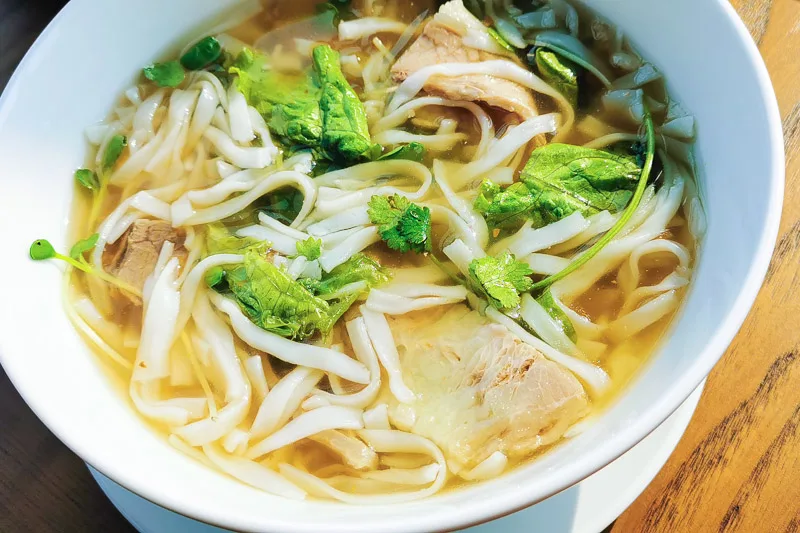 At the center, there is a cart with a pot of congee and a portable stove with a skillet for frying eggs. The staff helped us to fry eggs and the eggs turned out so lovely.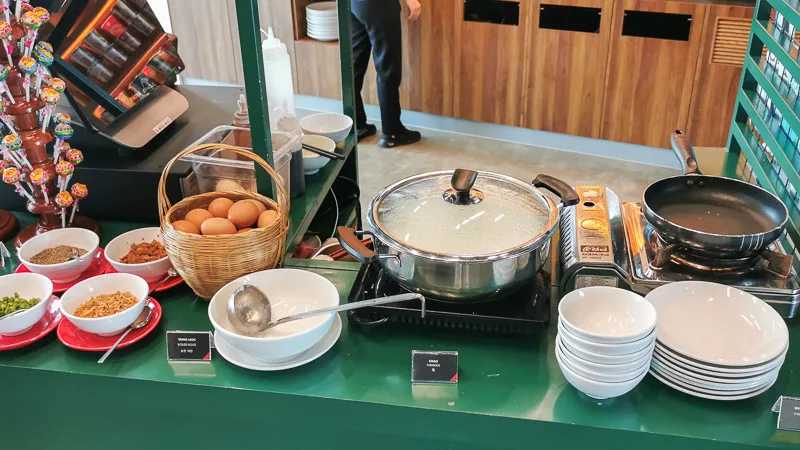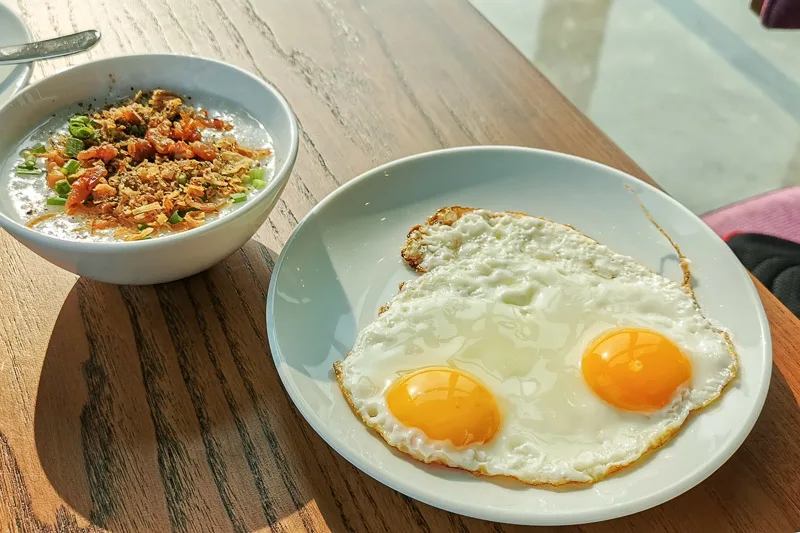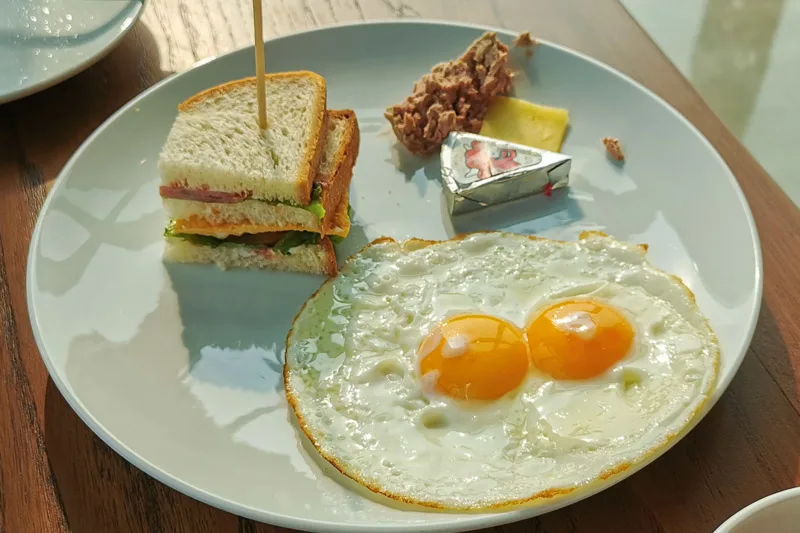 In the cold section, there are salads, fresh cut fruits, yoghurt, ham, sandwich, pate and cheese. Most of the items are free, while some special items require additional fee.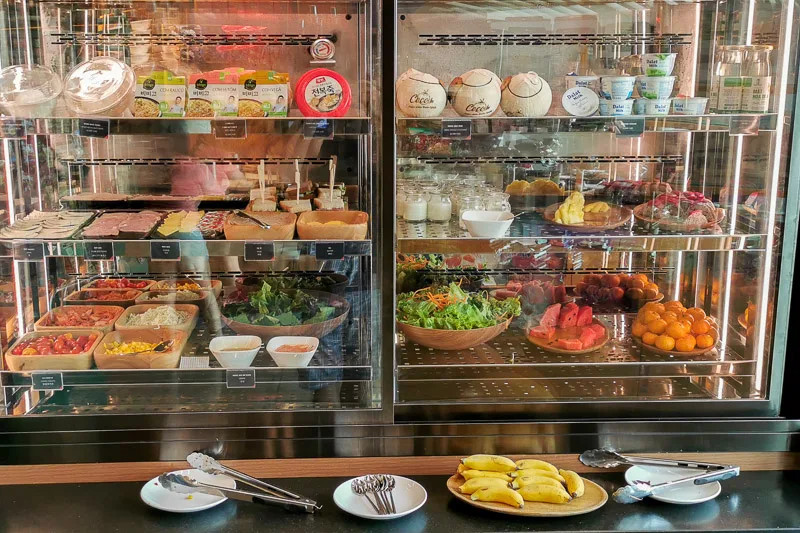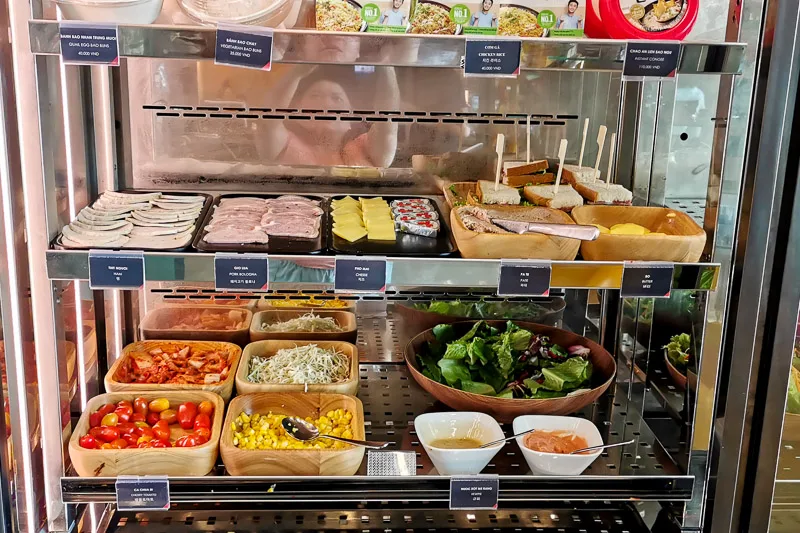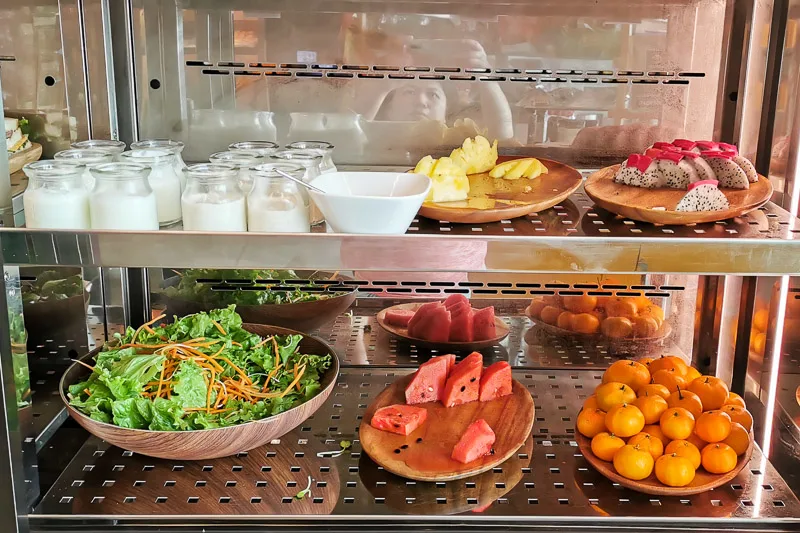 In the drink section, the coffee and tea are free during breakfast hours (outside breakfast hours, you need to pay for them).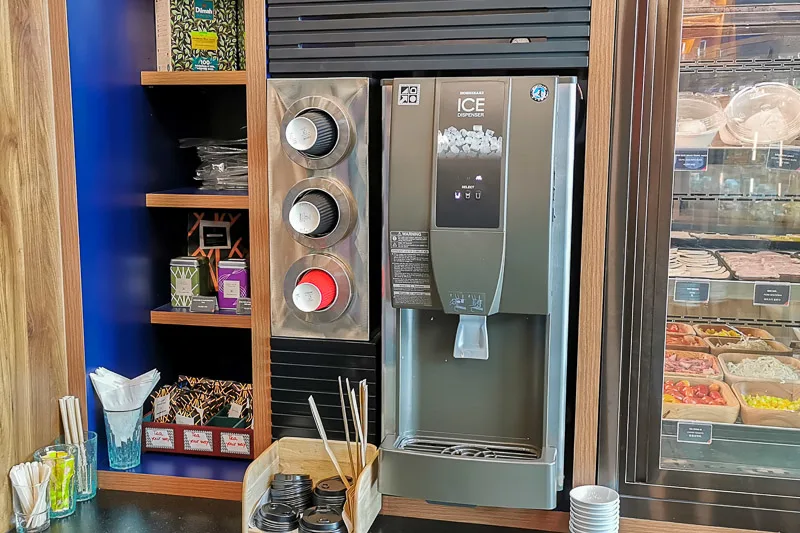 There is also a hidden section inside the restaurant where you can find jars of fruit juices. These were pretty popular and they were almost always empty.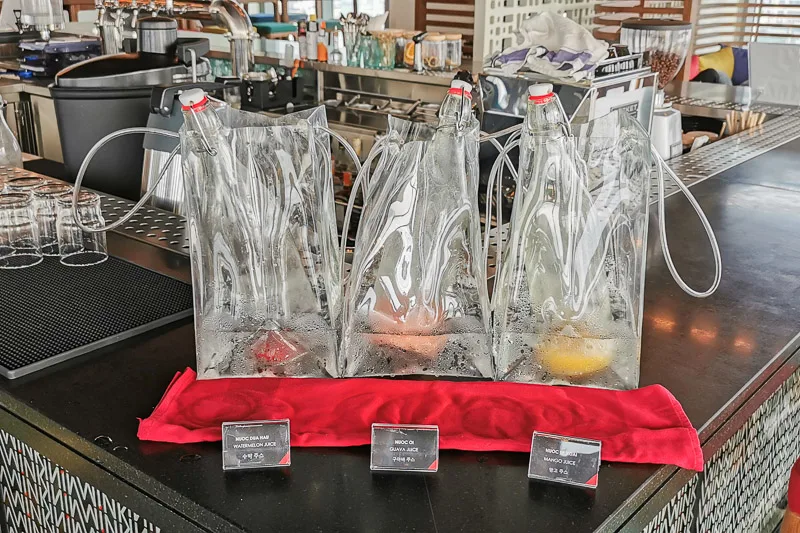 I love sitting by the window, so that I can have a breakfast with a view of the Dragon Bridge.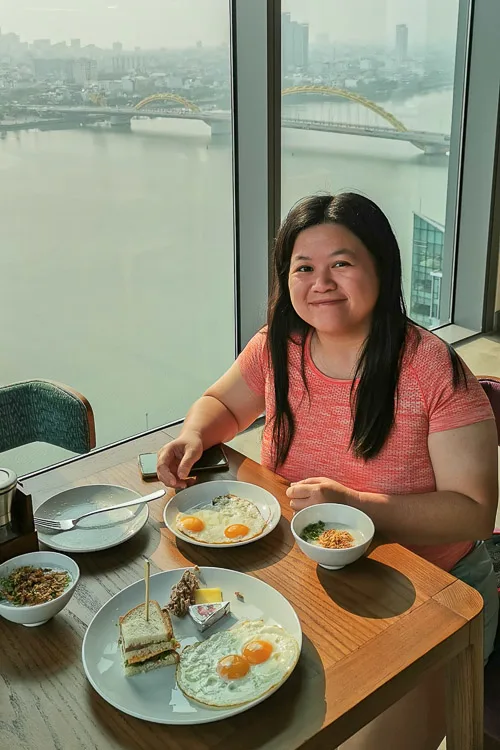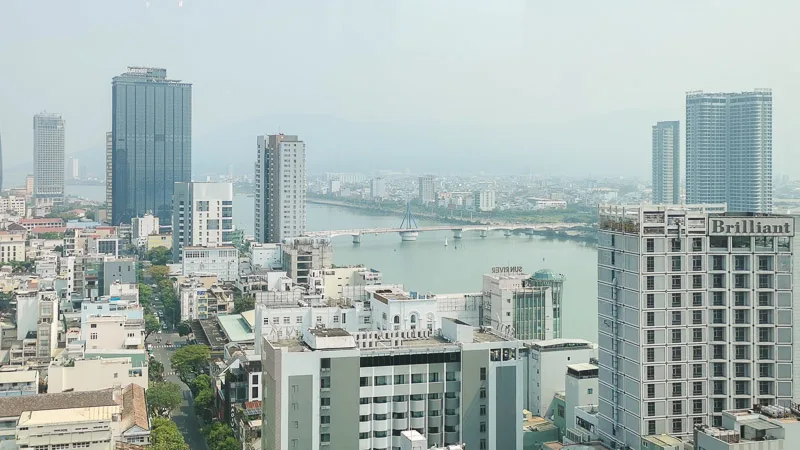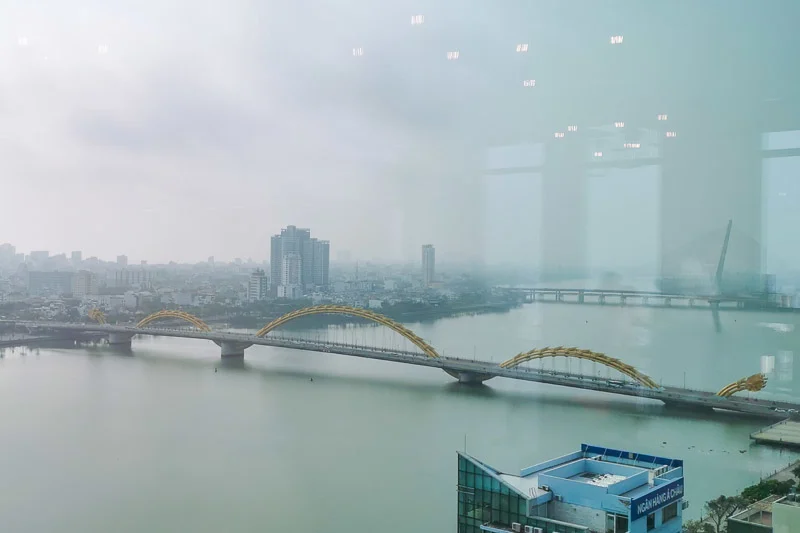 Final Thoughts
I hope it is not a stretch if I say that Wink Hotel Danang Centre is almost perfect (for medium-budget category, not luxury or budget category). Next time I visit Da Nang, I'll most likely stay in Wink Hotel again, perhaps the other property, the Riverside one.
Part of me wonder, why didn't we stay at Wink Hotel Saigon when we visited Saigon a couple of days ago?
If I've convinced you to stay in Wink Hotel in your upcoming visit to Da Nang, it'll mean so much to me if you book with the link below, thank you so much!!
If you like my work, you can buy me a coffee! Your support will help me to keep going!