Meliá Vinpearl Hue is a 5-star hotel in Hue and it's probably the tallest building in Hue at the time of writing.
Meliá Vinpearl Hue is located across the Perfume River from Hue Historic Citadel. Because of its superior height, and the lack of skyscrapers around, you can get a bird's eye view of Hue city center from the hotel's sky bar as well as from rooms at the upper levels.
The locals call it Vinpearl, because the hotel was formerly known as Vinpearl Hotel Hue. In 2022, Vinpearl Hotel cooperated with Meliá and transferred management rights of its 12 hotels to Meliá, including Vinpearl Hotel Hue.
We stayed here for 2 nights and paid around VND 3,200,000 (approx SGD 187) in total.
If you want the TLDR, here's the summary.
What I Like:
Breathtaking view at the sky bar
Amazing breakfast spread
Fabulous room interior
Affordable for a 5-star hotel
What I Don't Like:
Afternoon tea that wasn't worth our time and money
Sky bar is hot and not air-conditioned
No gestures for birthday celebration
Most staffs are not good in English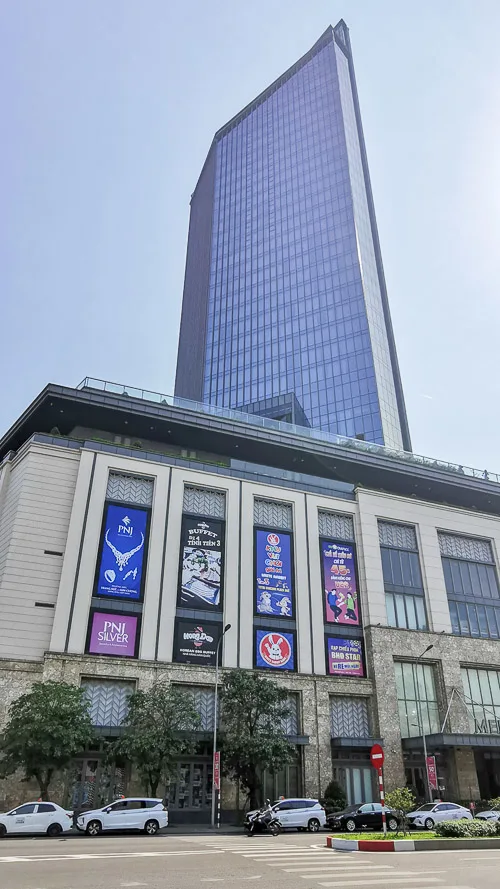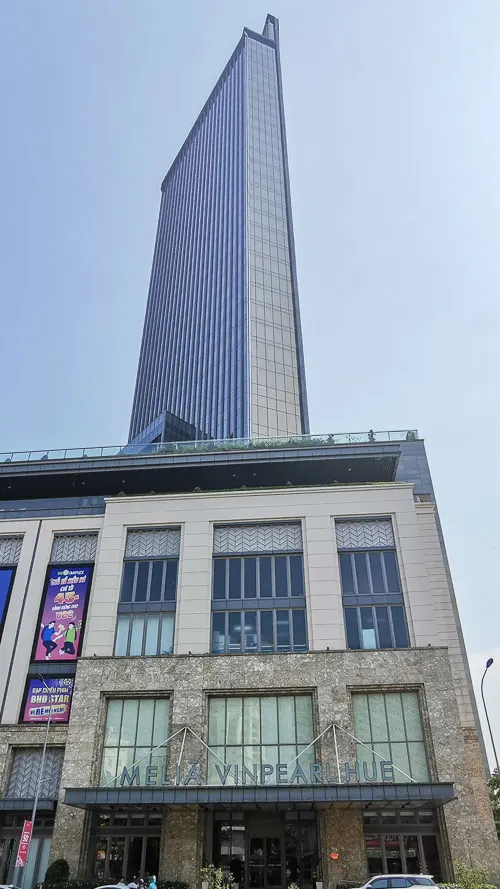 Check In at Meliá Vinpearl Hue
We arrived at Meliá Vinpearl Hue at 12.30pm. The concierge team were quite attentive and quick to provide service. As we stepped into the lobby, the concierge promptly took our luggage and put luggage tag on them. Within seconds, another staff came to us with two welcome drinks.
Check-in was swift. Unfortunately, our room was not ready until 2pm! Ugh! I would not recommend that you arrive at the hotel before 2pm.
When booking the hotel, I had indicated the remarks that we're celebrating my husband's birthday in advance. We stayed there 3 days before my husband's actual birthday. During check-in, the hotel did not acknowledge our remarks and didn't offer any gestures at all. And I didn't pursue it further.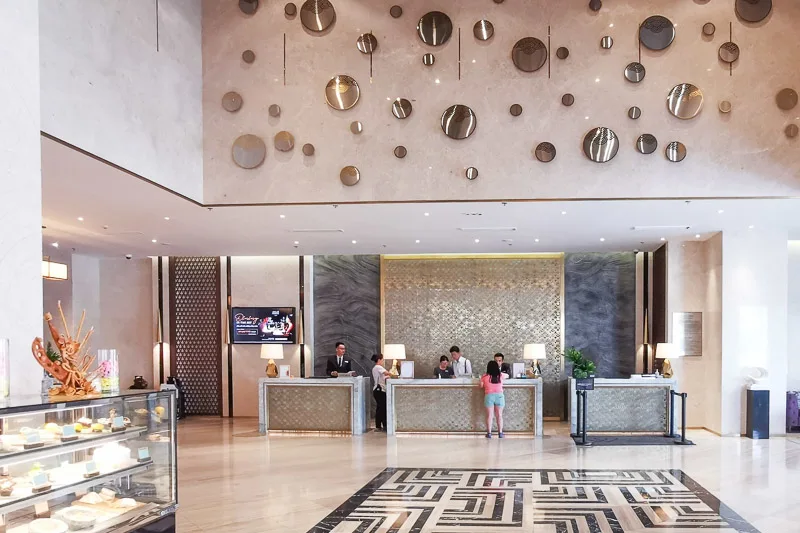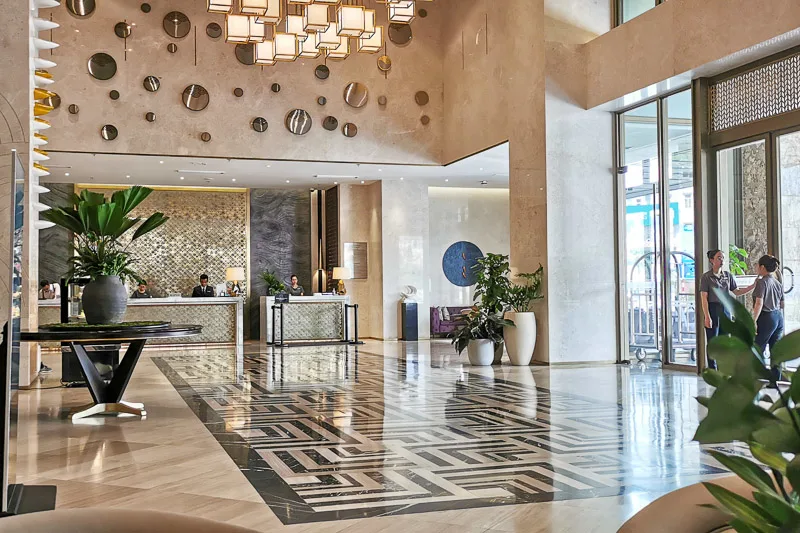 A few meters away from the receptionist is this Moss Café. They sell cute cakes and local food. A tiny slice of cake costs VND 50,000 (approx SGD 2.80).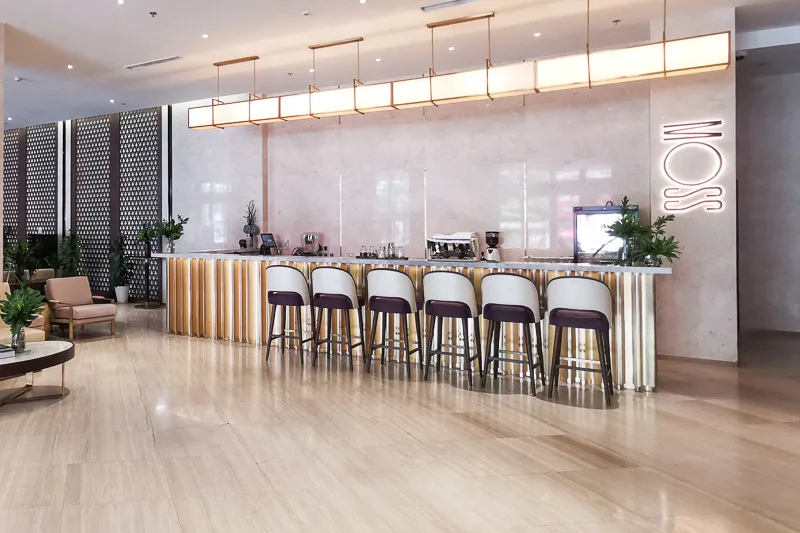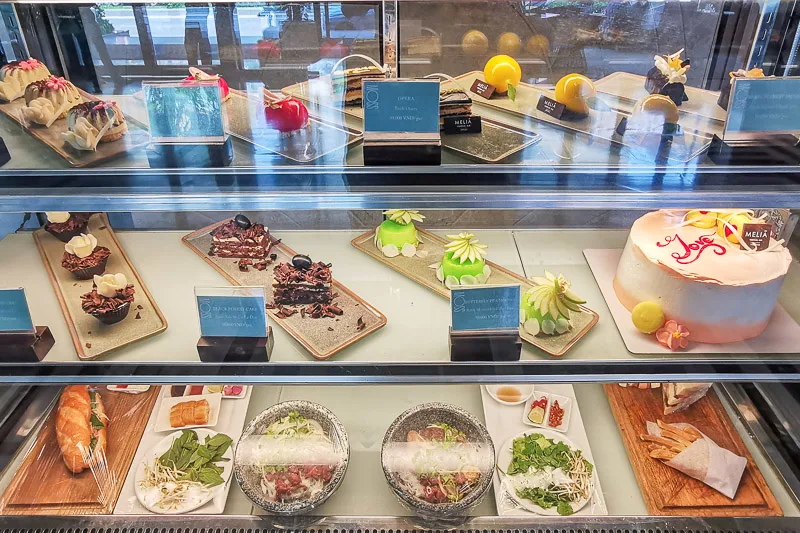 There are 34 storey at the hotel. Only 1 lift goes up to Level Sky, the other lifts only go as high as Level 33.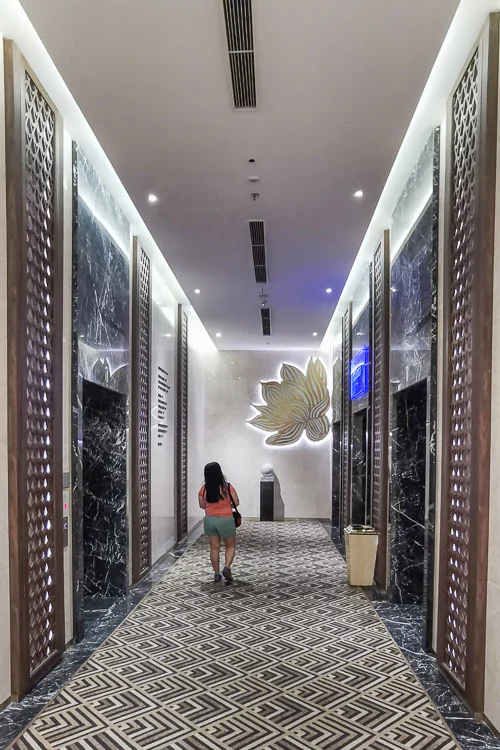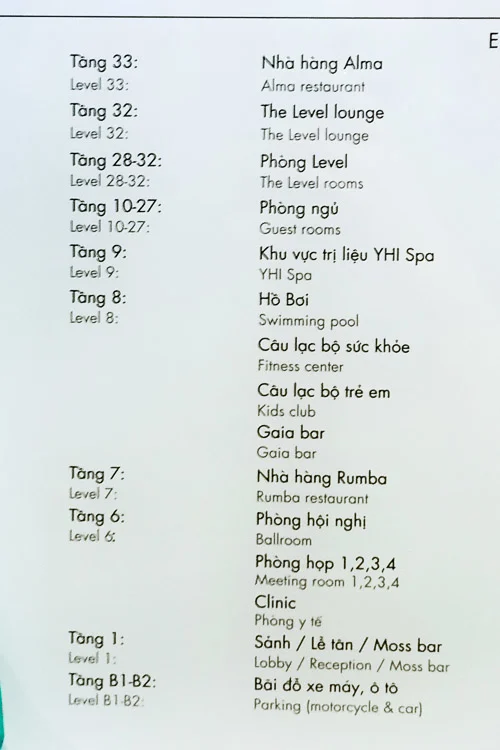 Rooms in Meliá Vinpearl Hue
Here are all the room types in Meliá Vinpearl Hue with their corresponding sizes. All rooms have a view of the city. Some faces the river, some faces other part of Hue city.
| Room Type | Size |
| --- | --- |
| Deluxe Room | 36 m² |
| Premium Room | 47 m² |
| Two Bedroom Deluxe | 72 m² |
| Suite | 81m² |
| Two Bedroom Suite | 117 m² |
| Presidential Suite | 247 m² |
| The Level Deluxe Room | 36 m² |
| The Level Premium Room | 47 m² |
| The Level Suite | 81m² |
| Family Room | 72 m² |
Meliá Vinpearl Hue – Deluxe Room
We booked the Deluxe Room with Double Bed. The room is painted with teal, which I feel brings warmth and tranquility feeling. There are SIX pillows! I love rooms with plenty of pillows.
At the corner of the room is a small work area, enough for just 1 person. If you and your partner need to work at the same time, there's another coffee table with armchair that you can use as a working space.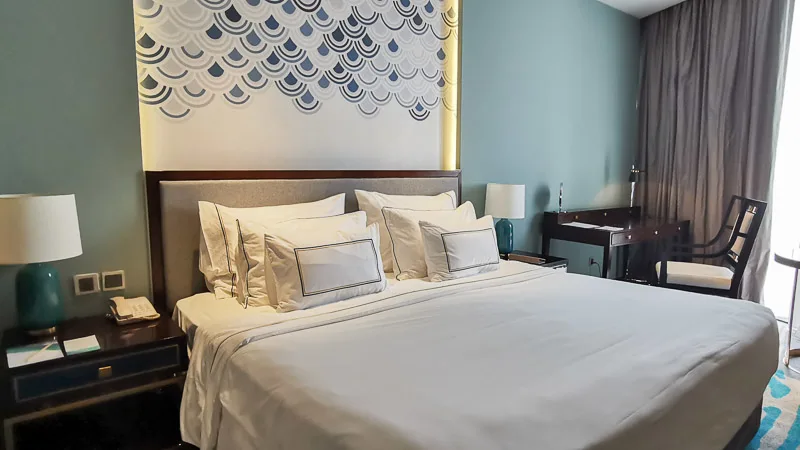 The TV console is.. quite simple.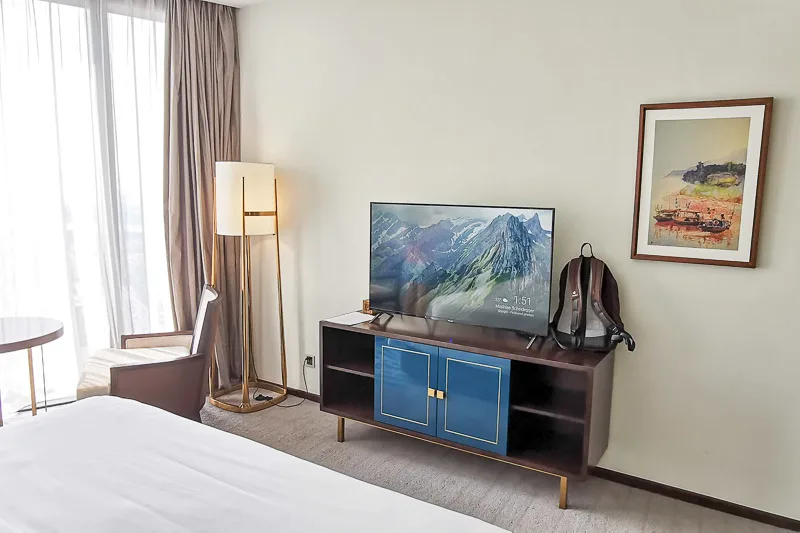 The minibar also boast simplicity and minimalism. There's no coffee machine or teabags. There's only an electric kettle, two glasses and two bottles of mineral water.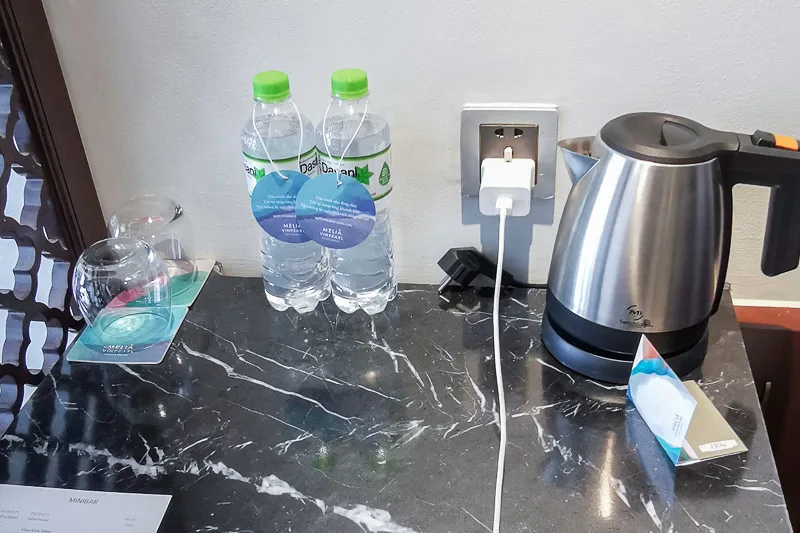 The fridge has some snacks, sodas, beers and waters. However, it's more of a storage space than a fridge. It isn't cold at all! I mean, who would want to drink room temperature sodas and beers?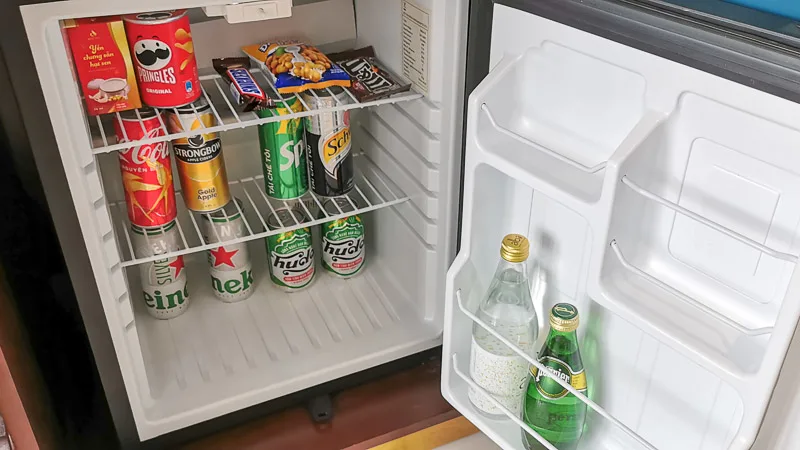 Here's the price list of the minibar. The cheapest drink starts from VND 25,000 (approx SGD 1.4), which is pretty affordable actually! The most expensive drink is the bird's nest water at VND 90,000 (approx SGD 5).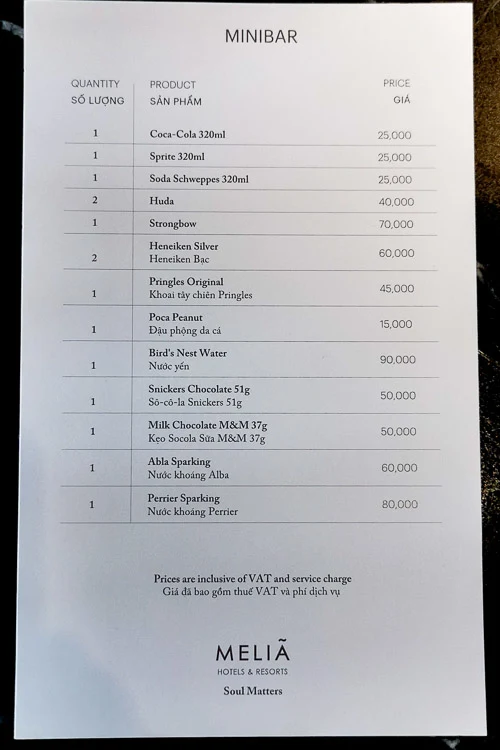 Here is the in-room dining menu. Both American and Vietnamese breakfast cost VND 220,000. To be honest, I'd recommend having breakfast buffet instead of in-room dining. I'll write more about breakfast later in this article.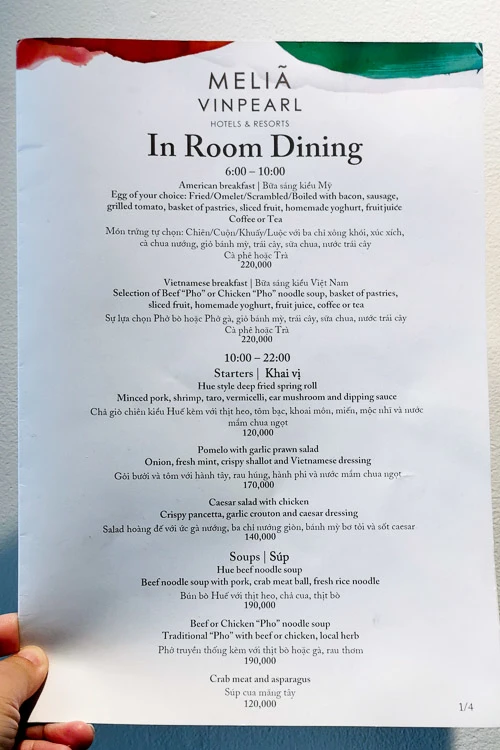 Safe deposit box, bath robes and slippers can be found in the cabinet.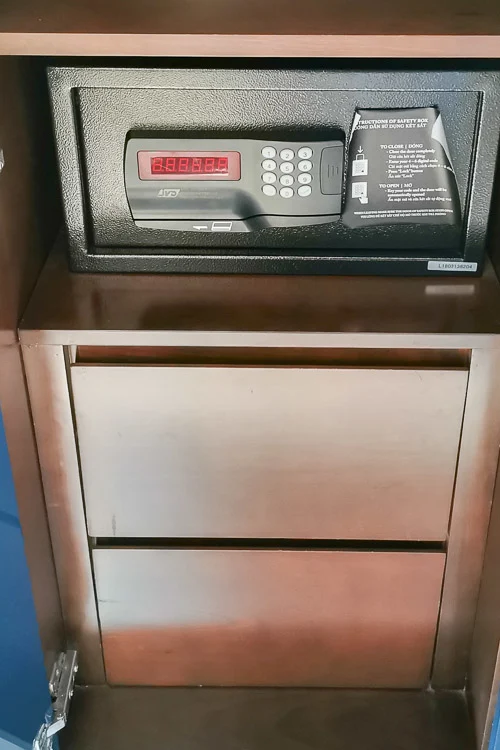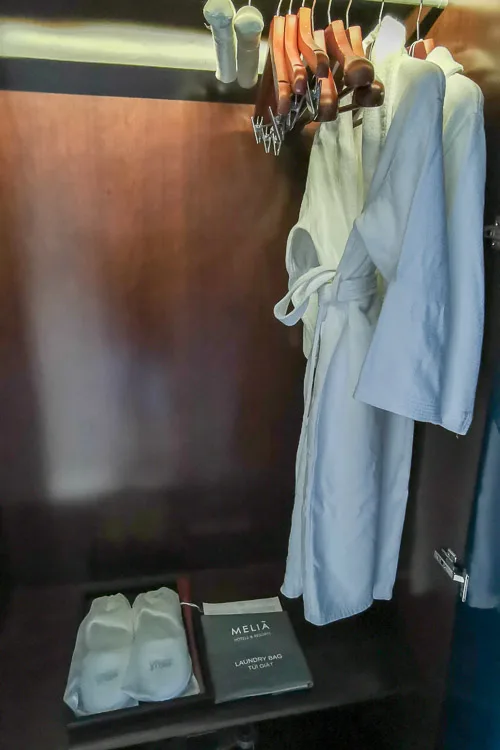 The bathroom is quite nice, in my opinion. At the center is the vanity counter with single sink and mirror. On the right is a bathtub. On the left is the shower and toilet bowl.
The separator between the bed and bathroom is a transparent glass window. If you want more privacy, simply pull down the blind.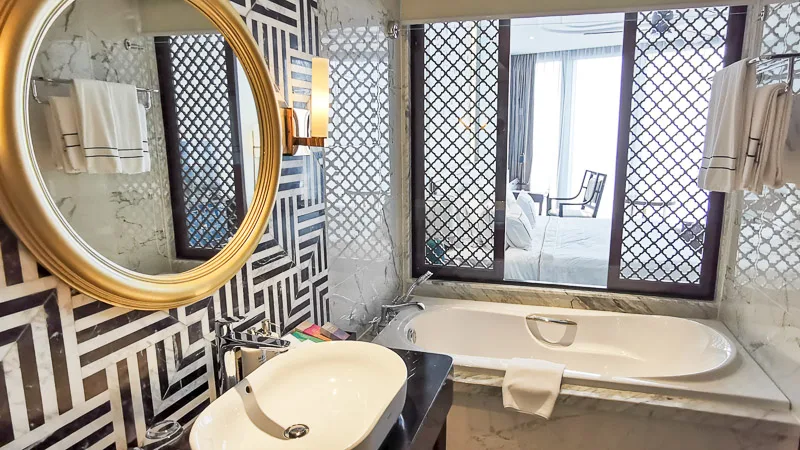 The amenities were all Meliá branded. The quality of the amenities was quite good in my opinion.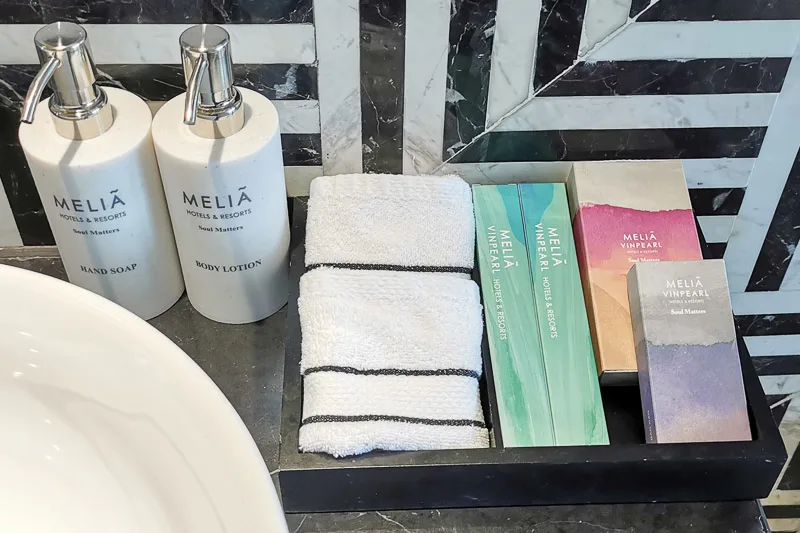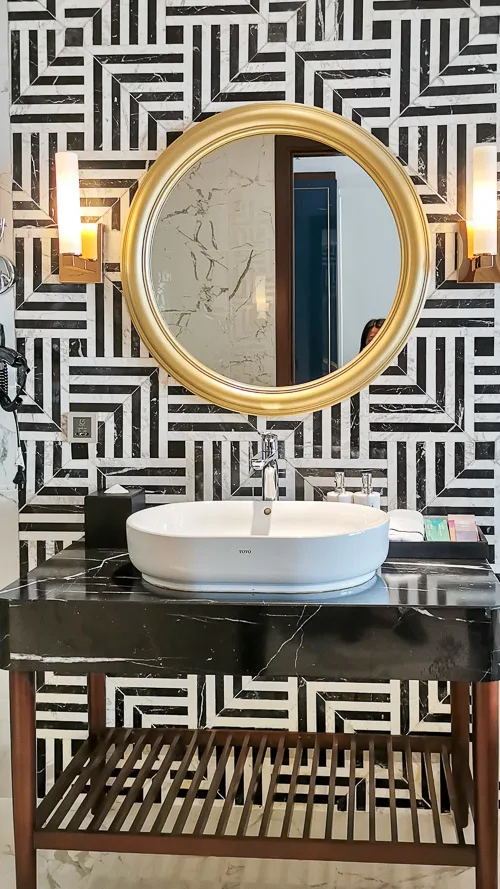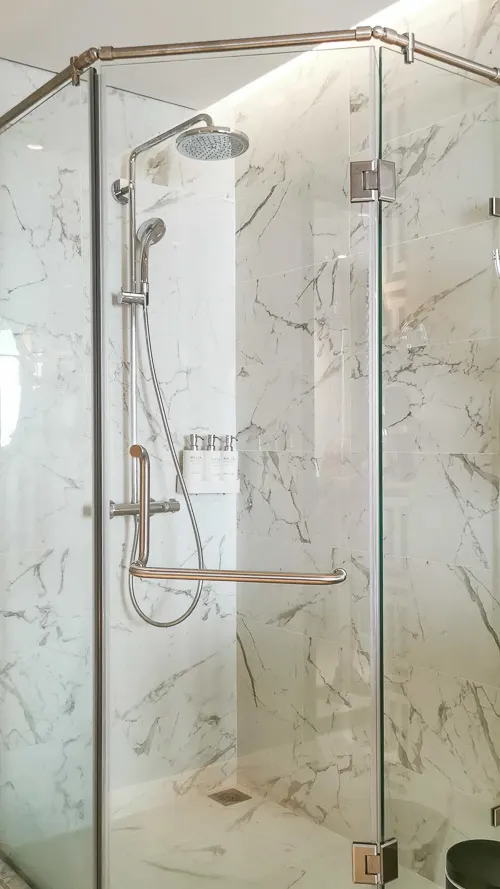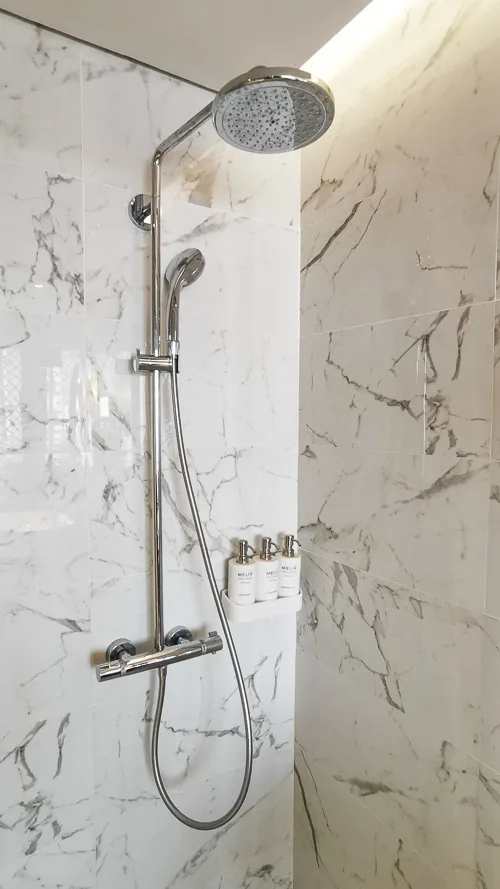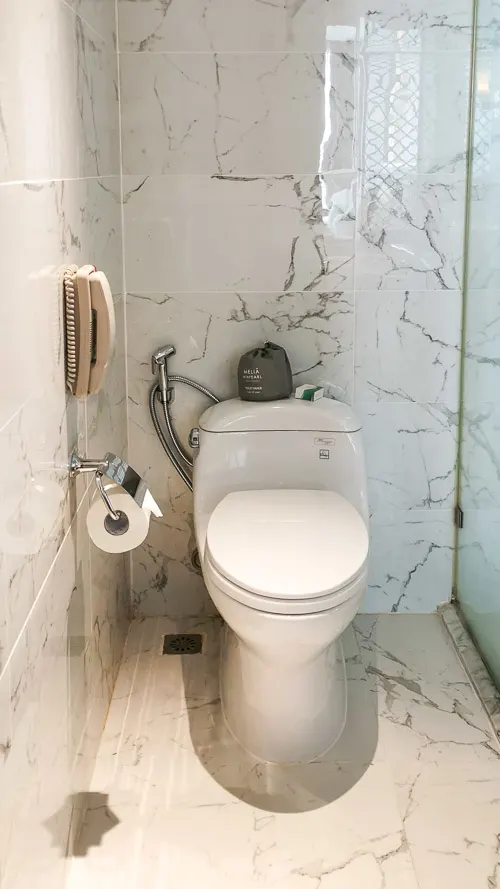 Now, let's talk about the things that need to be improved in the room.
We noticed that the wooden divider had been collecting dust for some time (pictured below). There were also dust on other wooden furniture like fan, TV console, and vanity counter. Also, the curtains had brownish mold stain (not pictured).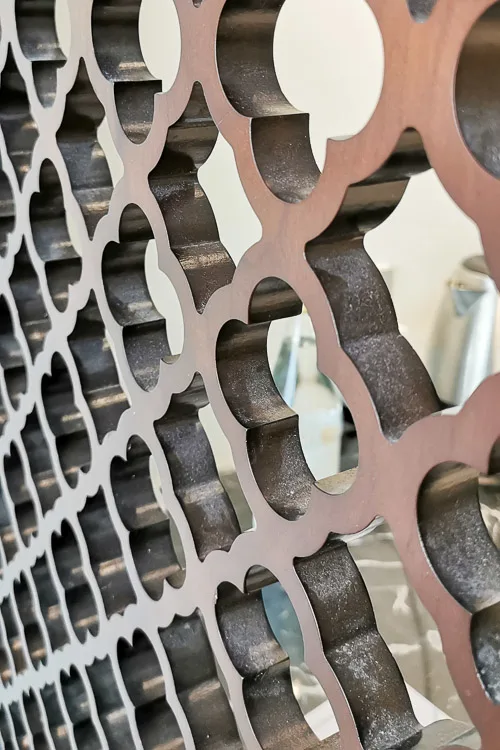 The air-conditioner in the room is not cold. We set the temperature to the minimum (i.e. 5 degree) but it keeps going back up to 23 degrees Celsius. It's not overly hot, it's just room temperature.
Meliá Vinpearl Hue – Swimming Pool
Meliá Vinpearl Hue's swimming pool is located at Level 8. It is an indoor, open-air pool. That means, you will be sheltered from the heat, but there is no air conditioning.
Just beside the pool is the Gaia Mediterranean Pool Bar where you can order a drink or two.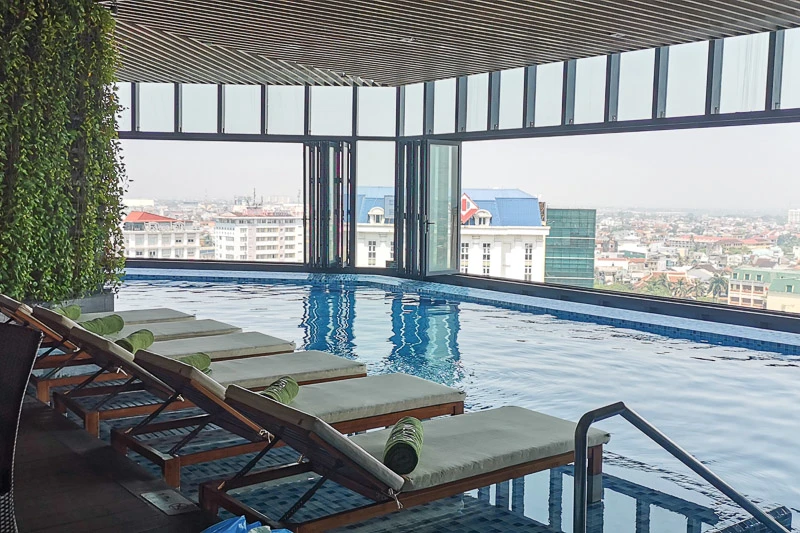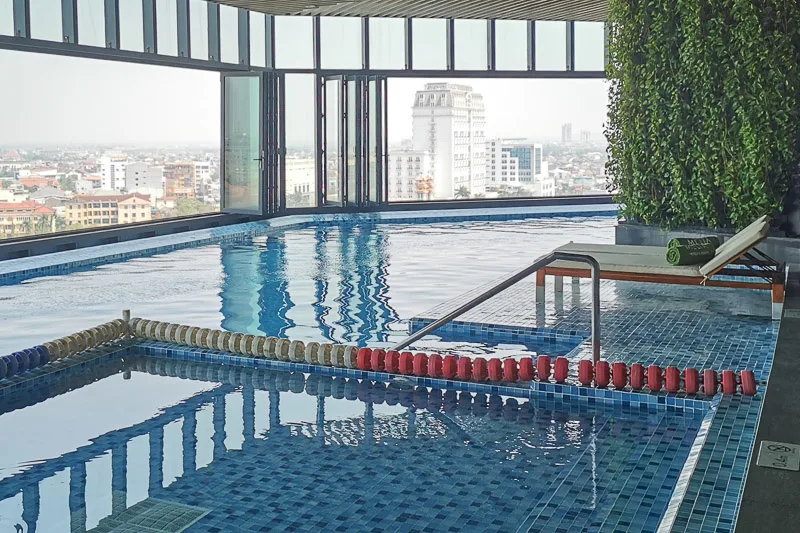 The changing room is pretty spacious. There are shower rooms, toilets and lockers.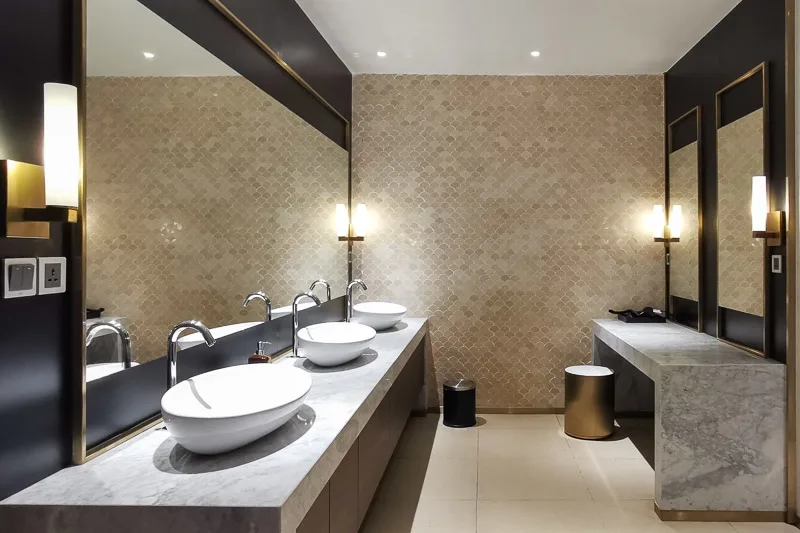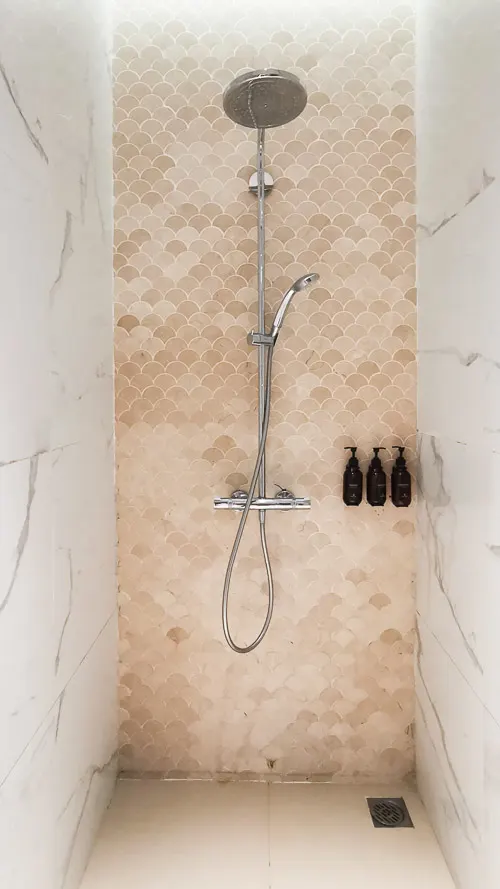 Meliá Vinpearl Hue – Gym
Meliá Vinpearl Hue has a gym with scenic view. Located at Level 8 (same as the pool), the gym is not that huge but it's got quite a variety of machines.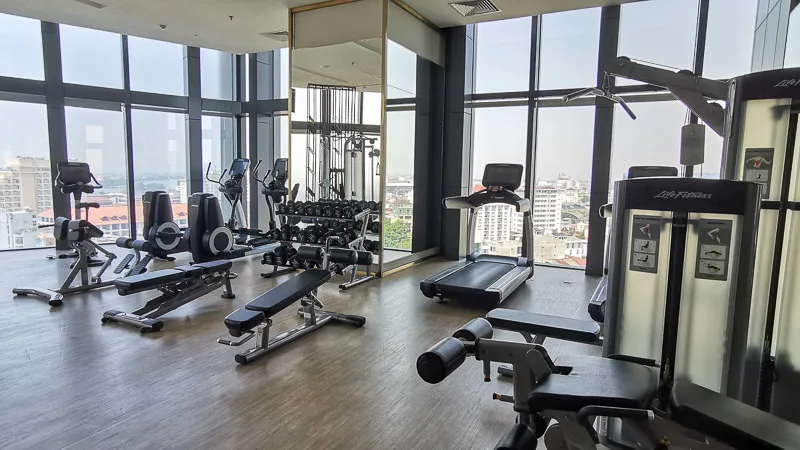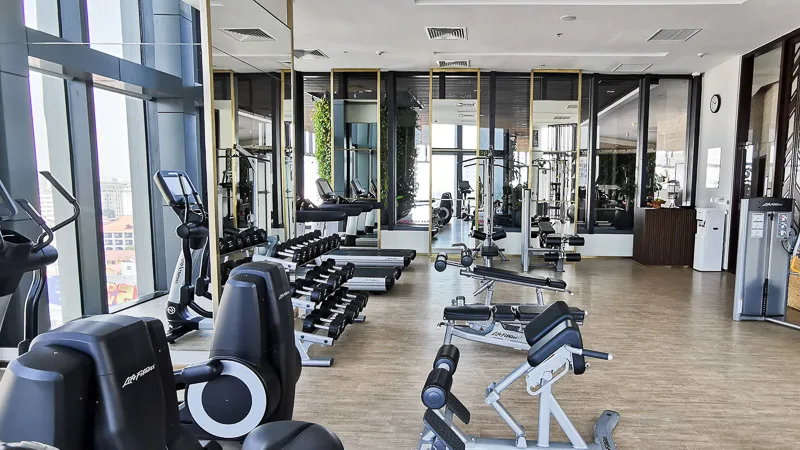 Meliá Vinpearl Hue – Kidsdom
For guests with children, there is a kids club called Kidsdom. There are kids activities at certain timing. Inside the room, there's a hudge room with plenty of plush toys as well as a bed!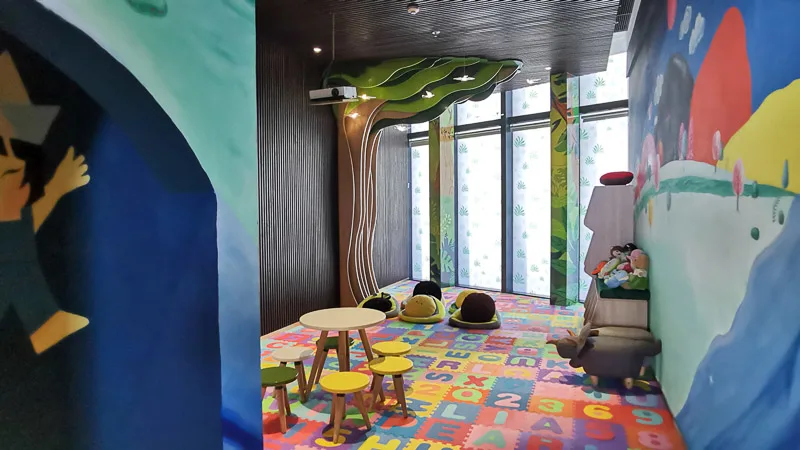 Meliá Vinpearl Hue – Spa
The Spa is located at Level 9. The cheapest option is probably the "Absolutely Relief" which comprises 10mins foot bath, 30 mins foot/back massage, 30 mins facial, and 30 mins of steam/sauna/jacuzzi.
Meanwhile, body treatments start from VND 900,000 for 1 hour. Couples or families may want to try their Family combo, which is cheaper than two individual packages.
If you don't want the treatment and just want the steam, sauna and jacuzzi, it costs VND 150,000 per person. I think it's quite a steal.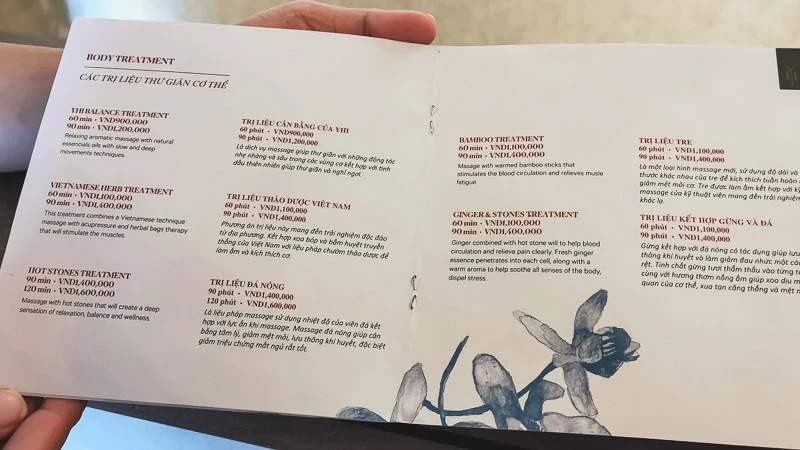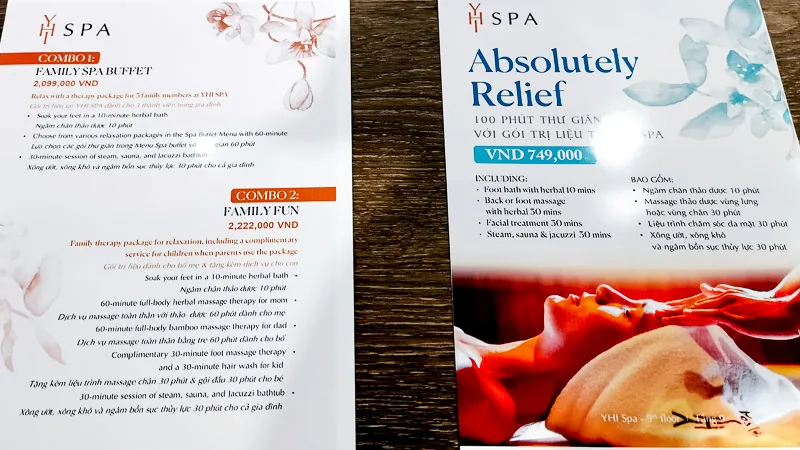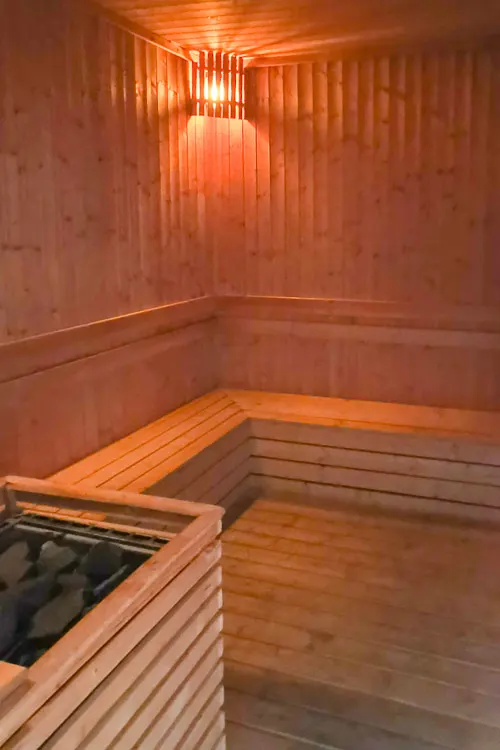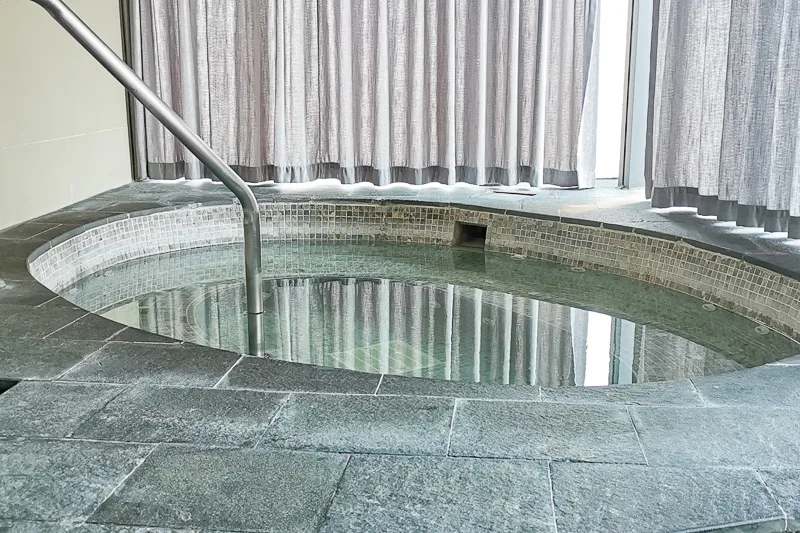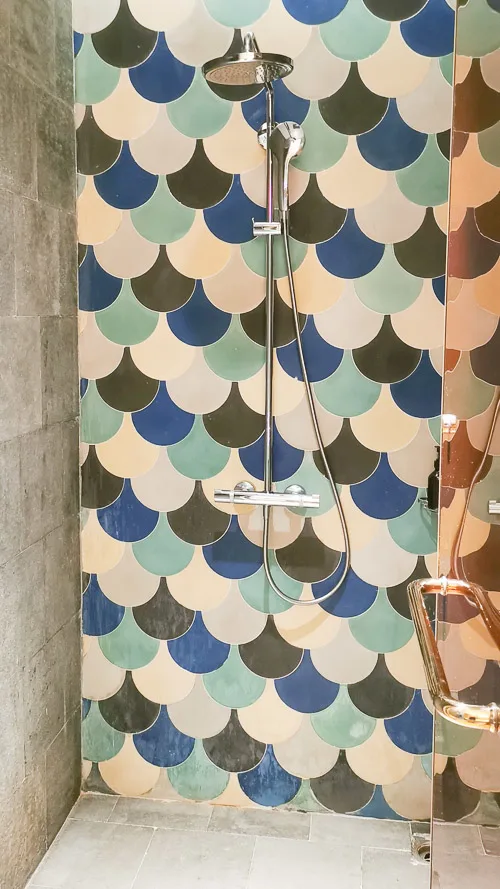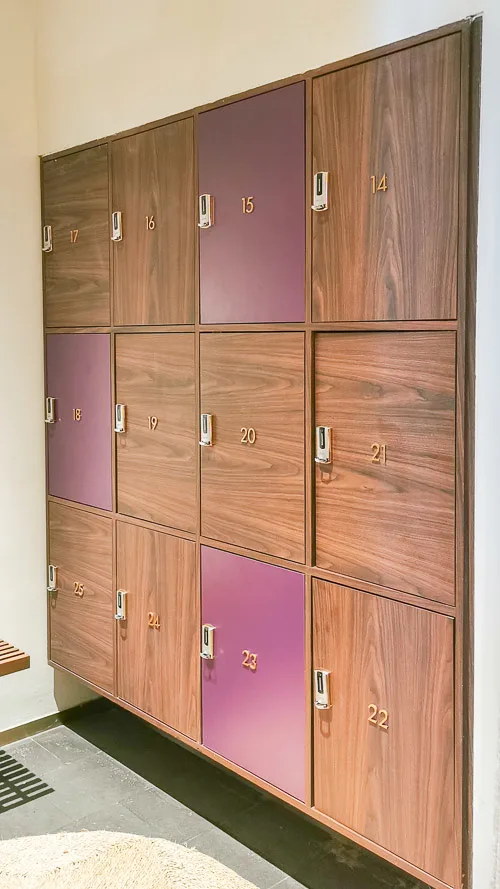 Meliá Vinpearl Hue – Sky Bar
The Sky Bar has really impressive view of Hue city. It is located at Level Sky (equivalent to Level 34 I guess?)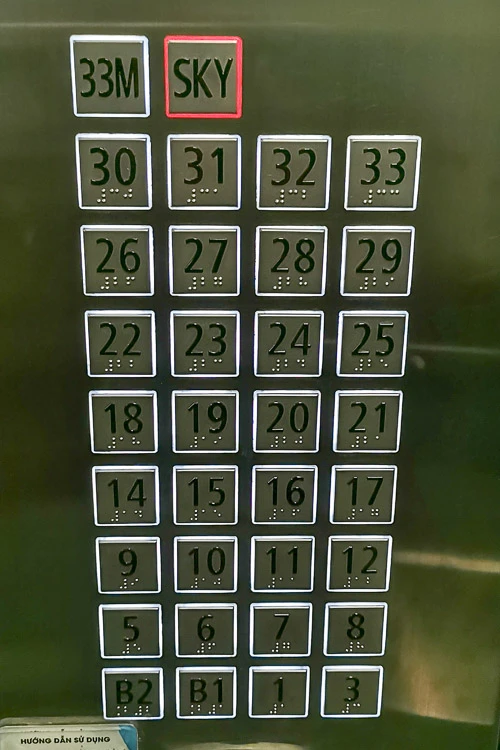 The sky bar is called Zenith 360 Skybar. The view here is not entirely 360 degree, but you get the point.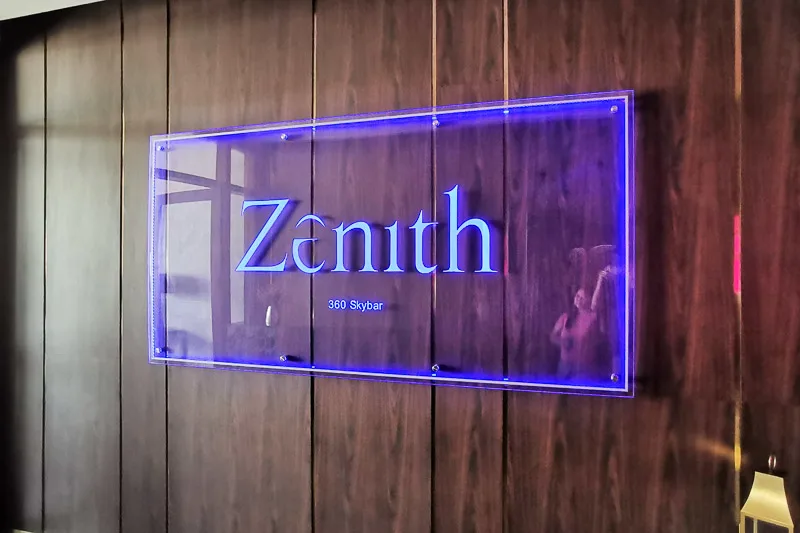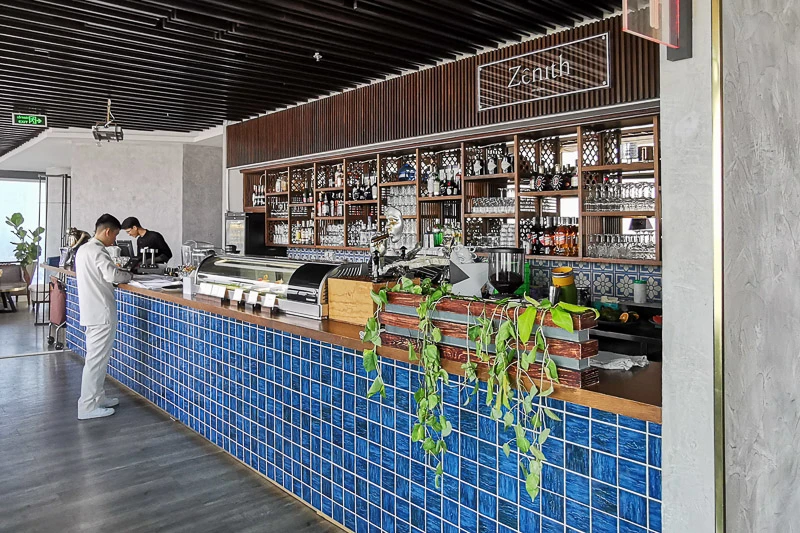 During our visit, the weather was really hot and humid. Because the sky bar was open-air and not air-conditioned, it felt really stuffy.
The bar isn't that spacious. I think there were probably less than 50 seats.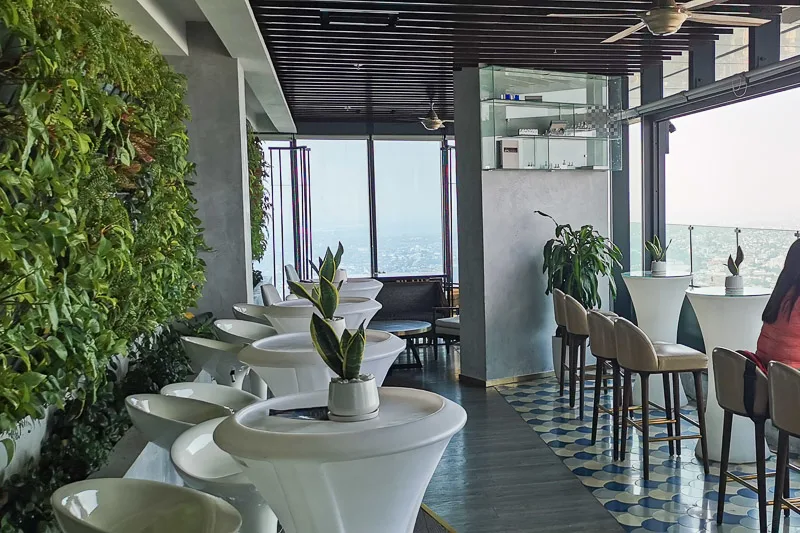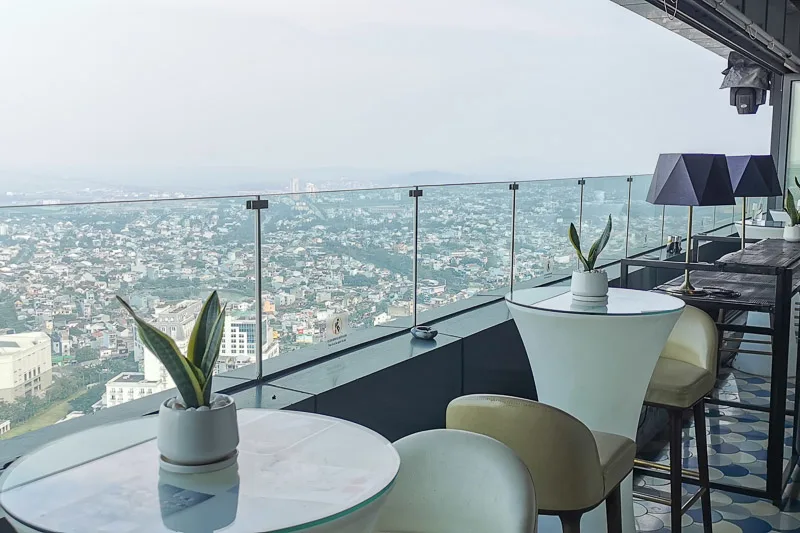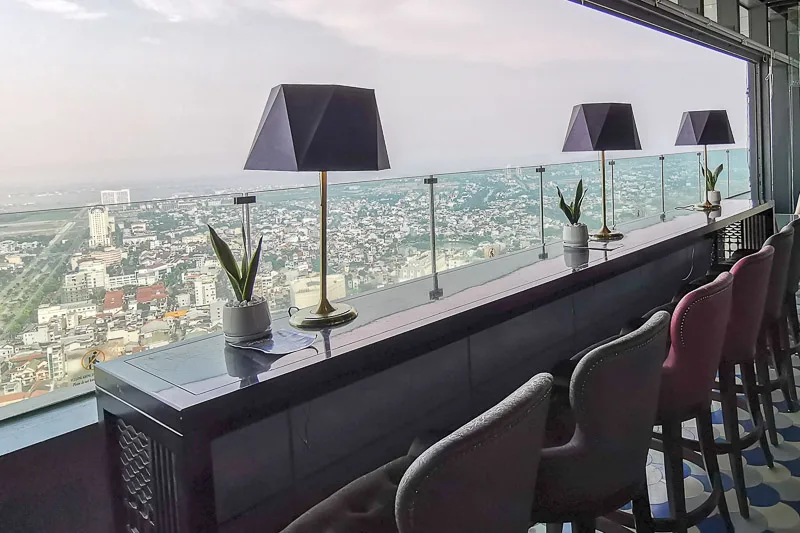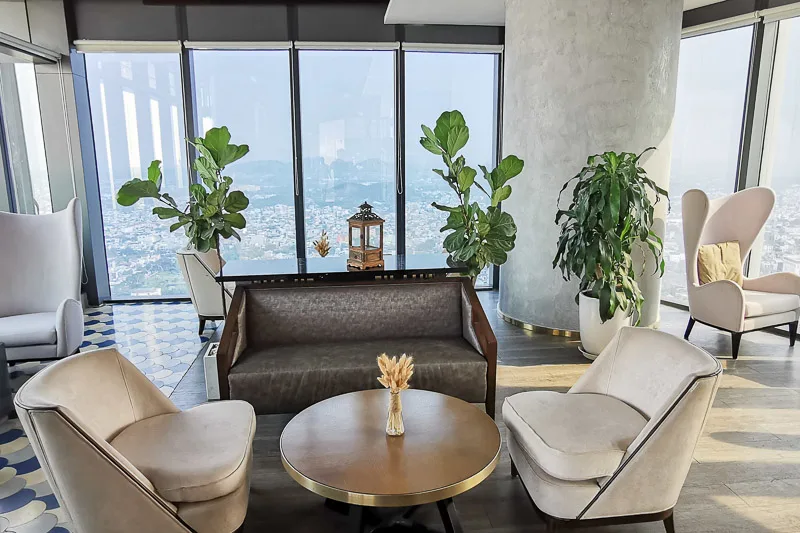 The highlight of the sky bar is none other than the views! I mean, look at these!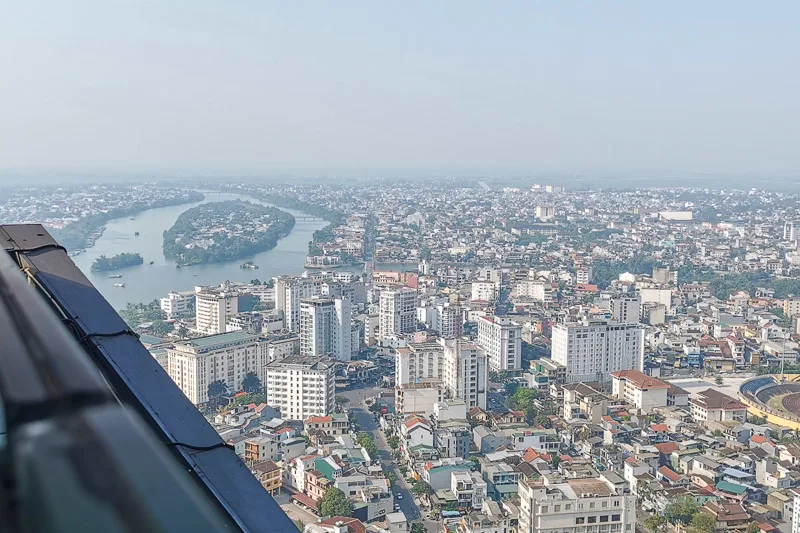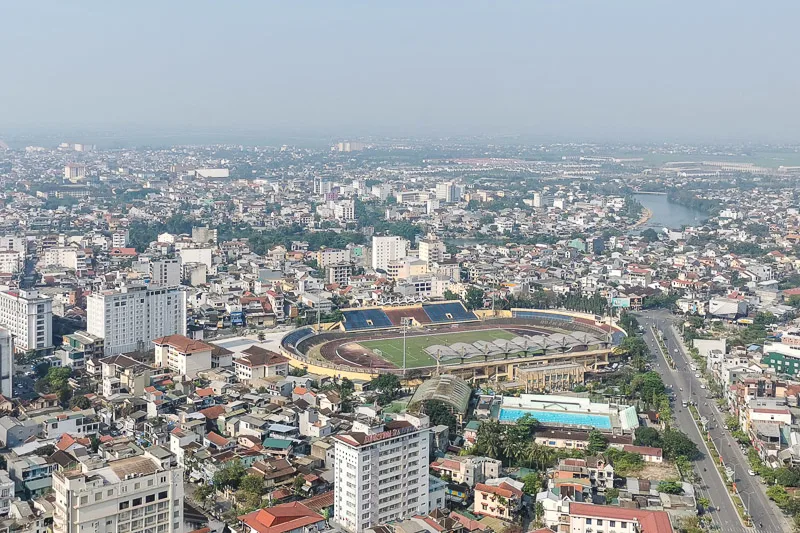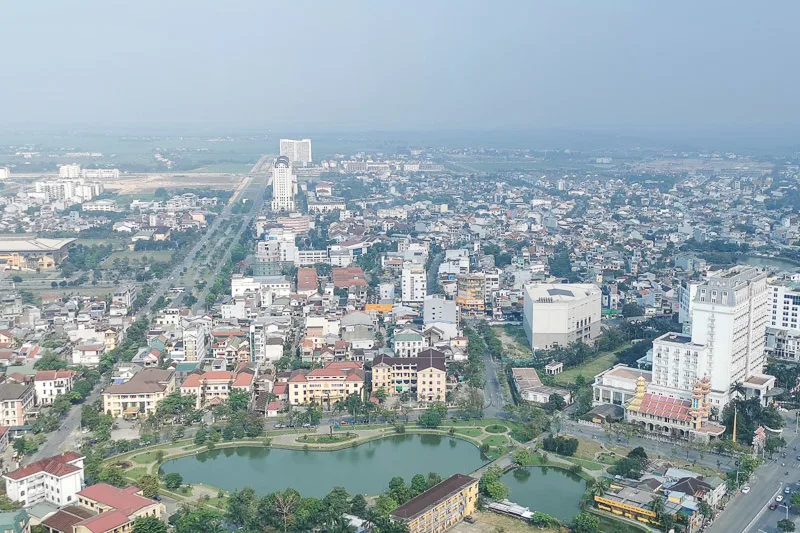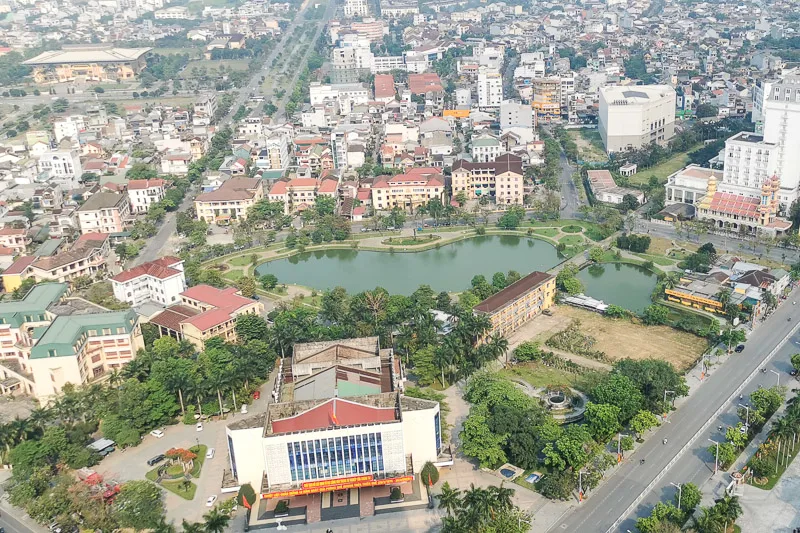 Meliá Vinpearl Hue – Afternoon Tea at Sky Bar
During our visit, Meliá Vinpearl Hue has a very affordable Afternoon Tea at Sky Bar. The Afternoon High Tea costs just VND 270,000 and it comes with everything in the picture (or so we thought). Furthermore, guests can get extra 20% discount when they order between 3pm to 6pm. We thought it was a really good deal.
We asked the receptionist whether we needed to make any reservation and they said no need. So, after getting the keys to our room at 2pm, we rest in the room and waited until 3pm.
When we turned up at Sky Bar at 3pm, we were told that we need to wait for 1 hour for them to prepare! WHAT?! Had we known earlier, we would've made reservations at 2pm! Well, since we didn't want to skip this cool opportunity to have afternoon tea while watching the city from above, we agreed and asked them to call us when the food is ready.
They didn't call us! We went up at 4pm and our afternoon tea was not ready yet! It was only ready at 4.20pm oh my gosh.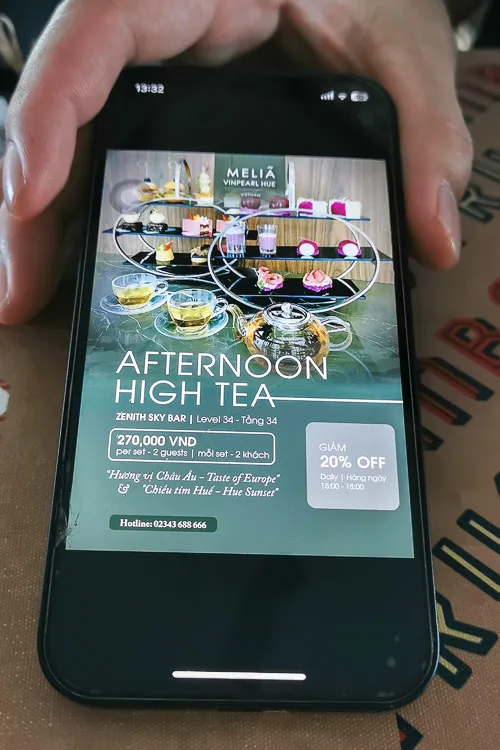 When the food came, there was only 1 rack. Not 2 racks as shown in the photo! I didn't notice this until a few minutes ago when I write this article and I compared my photo against the promotional poster. Oh well.
Anyway.. did they taste good? Was it worth the wait?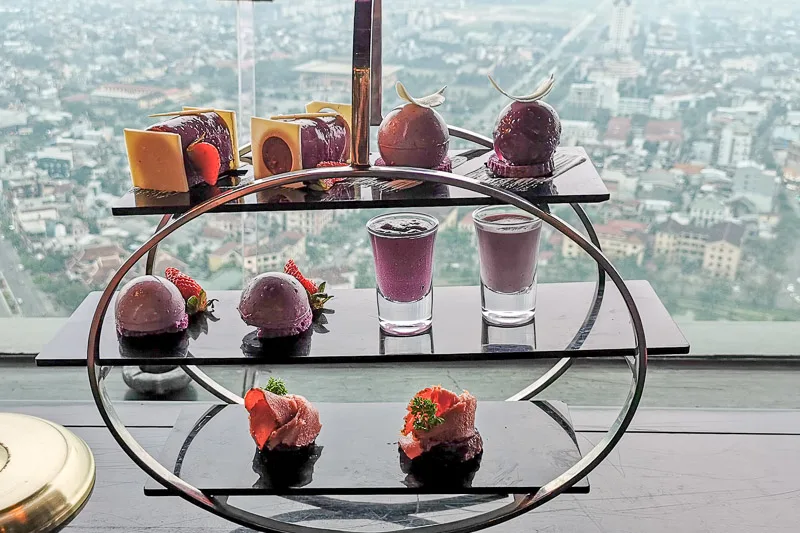 NOPE! The savory one at the bottom was okay. BUT, the remaining 8 purple items were sweet and that was it. There was no remarkable taste or flavor or texture, they were simply sweet creams. I totally regretted wasting 3 hours of my life for this underwhelming afternoon high tea experience.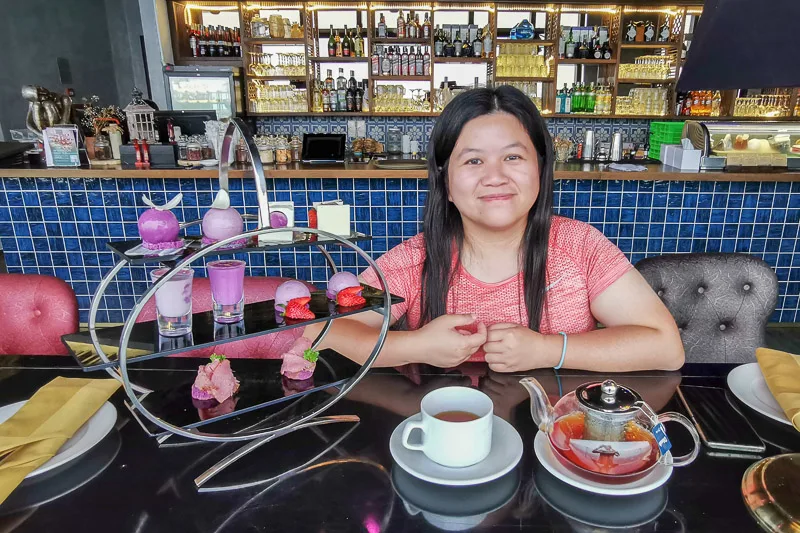 When we asked for the bill, we were charged with the full price of VND 220,000. Luckily we remembered we were supposed to get 20% discount, so we asked the staff. After the staff checked with her superior, she revised the bill. Man!
Meliá Vinpearl Hue – Breakfast
On a brighter note, the breakfast at Rumba Restaurant (Level 7) was amazing! It's probably the best breakfast spread we had during our entire 8-day trip in Vietnam where we visited Saigon, Danang, Hue and Hoi An. Let me show you the many photos that we took during breakfast.
So, on the buffet, there were boiled eggs, baked beans, banana flambe, minced beef with tomato sauce, sticky rice, fried rice, pork ribs, vegetables.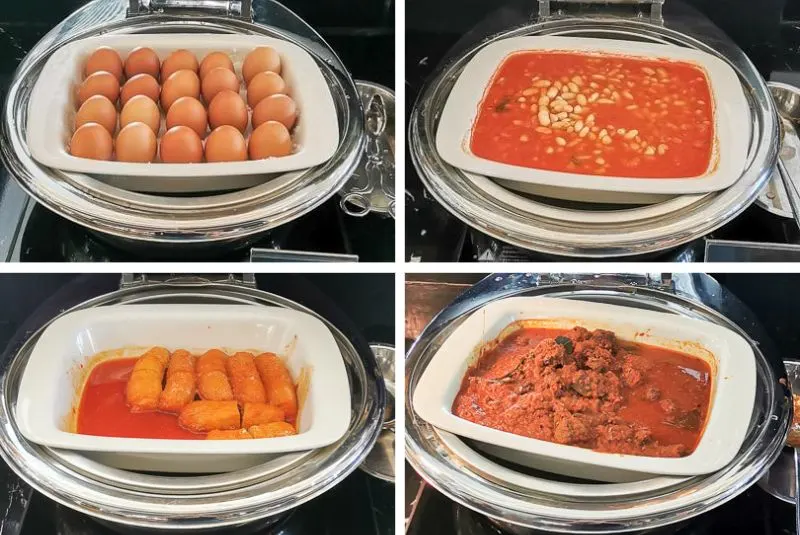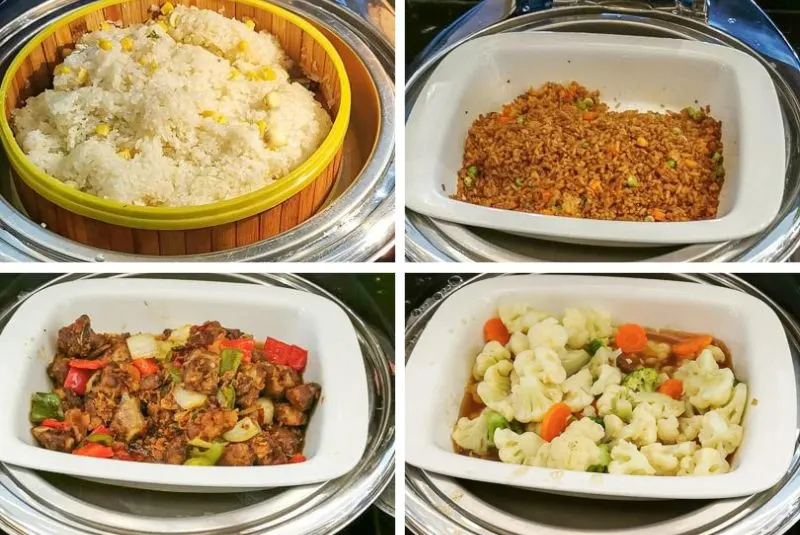 There were also cold plates as well as local snacks, such as Bánh bèo, Bánh Ram Ít, Bánh cuốn nhân thịt.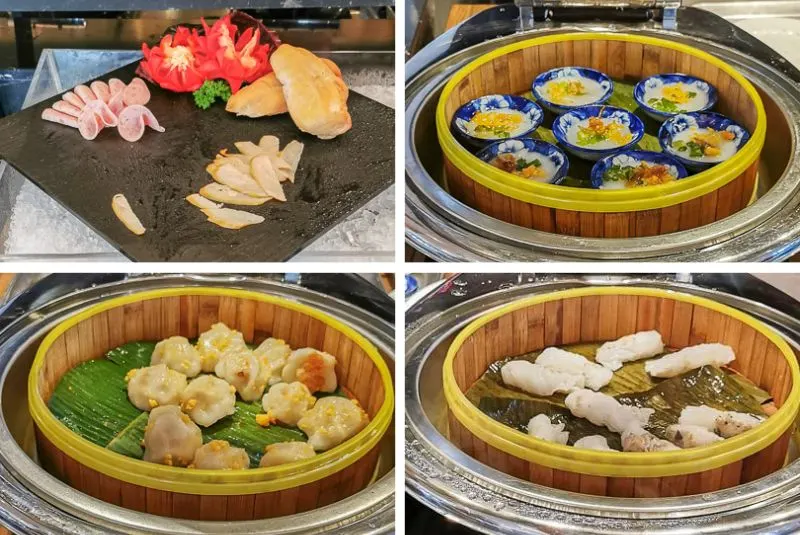 The following photos are cereals, yoghurts (sugar-free and sweetened) with condiment fruits, cut fruits (guava, dragonfruit, mandarin, plum), egg condiments.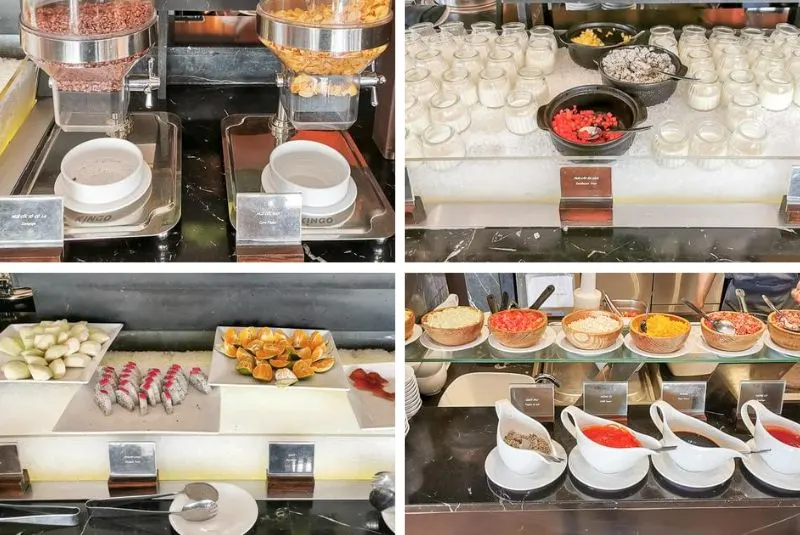 Below are bacons, sausages, French toasts, pancakes, waffles, dessert and egg station. There were 3 mock-up of eggs, namely sunny side up, omelet and scrambled eggs.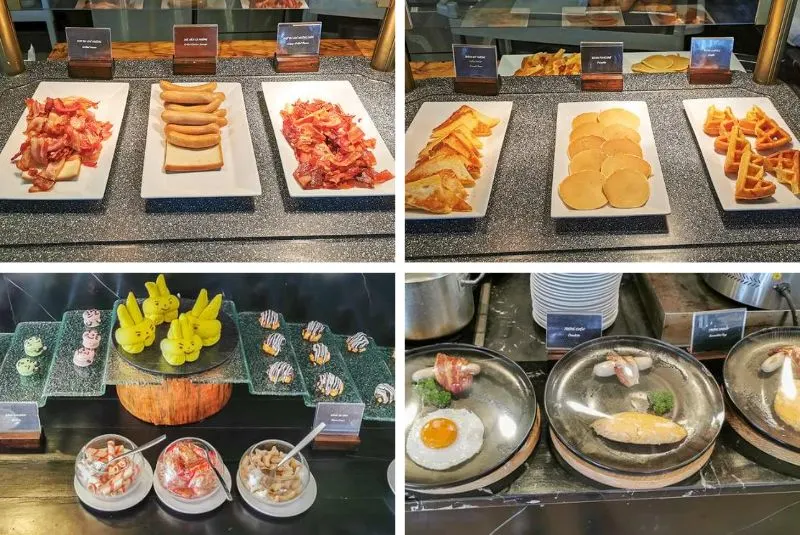 There were macarons but they were extremely sweet, tough and not melt-in-your-mouth.
The congee comes with condiments like pate, century egg, salted egg, spring onion, coriander, fried dough, shredded pork, peanut, and ginger.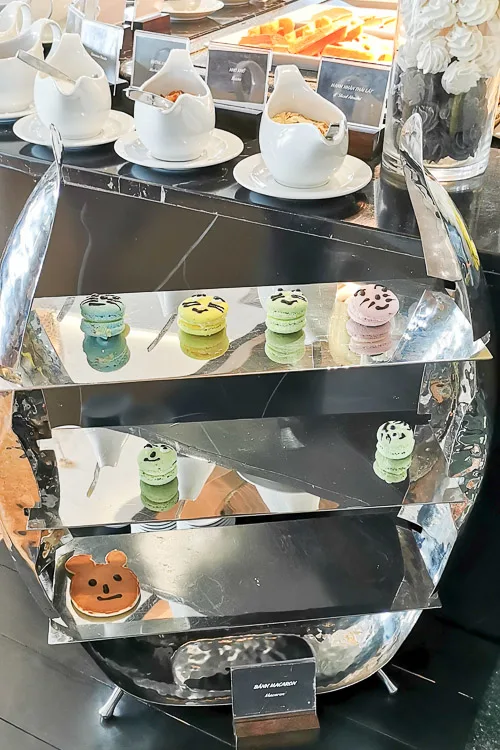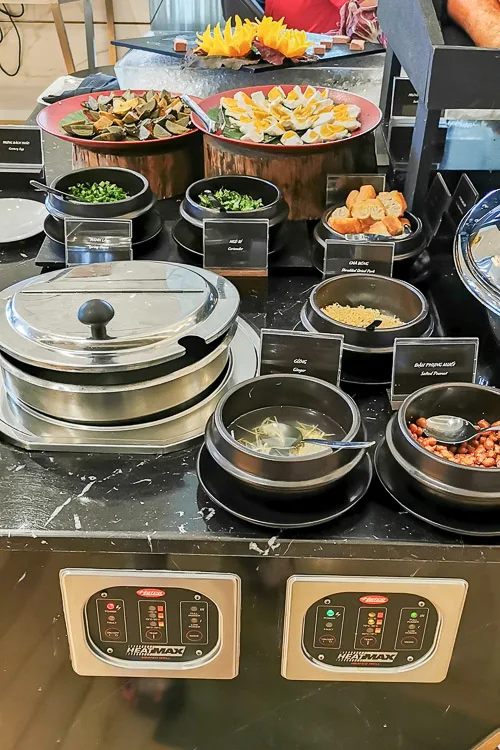 Then, there is a DIY banh mi section!! You cut your own baguette and insert whatever ingredients you like. The available ingredients were cucumber, coriander, shredded carrot, char siew pork, Vietnamese ham, pork terrine, pork jus, shredded dried pork and sambal chili. Not enough? You can grab more ingredients from cold cuts or salad section.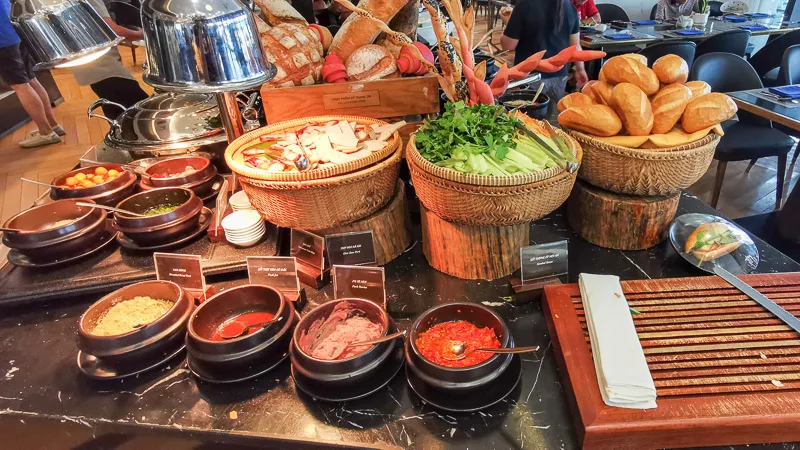 The bread and pastry section is another mouthwatering section! They have mini and big baguette, wholemeal bread, croissant, Danish pastry and various types of sliced bread.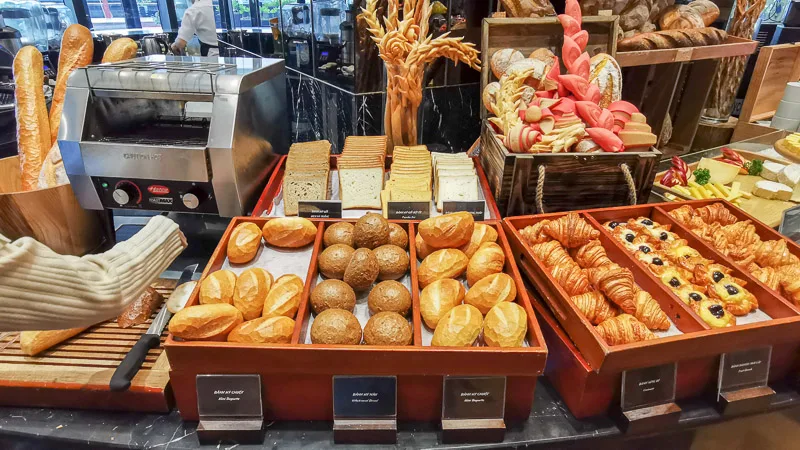 There's a cheese platter with cheddar, brie and butter. As for the jam, there were marmalade, strawberry jam, pineapple jam. There were also raisins and cookies.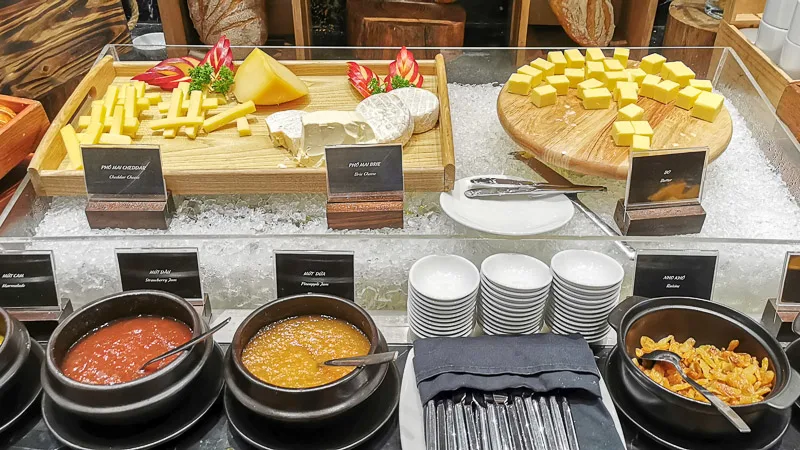 More pastries below: raisin and coconut muffin, fruit Danish and churros.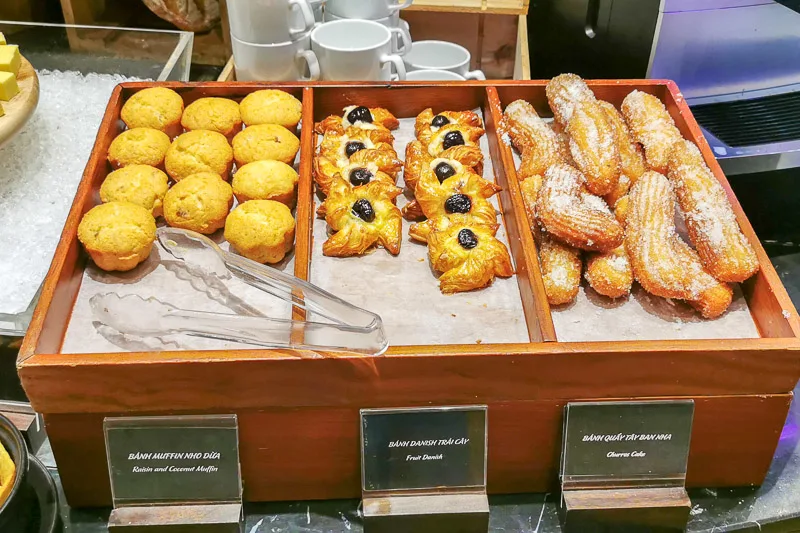 At the live noodle section, there were 3 noodle options: chicken noodle soup, Pho beef noodle soup, and Hue beef noodle soup (also known as bun bo hue).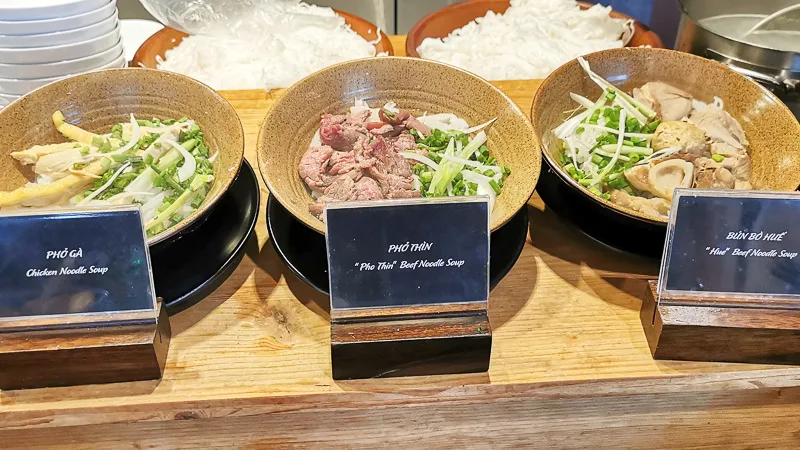 And here's the mouthwatering bun bo hue!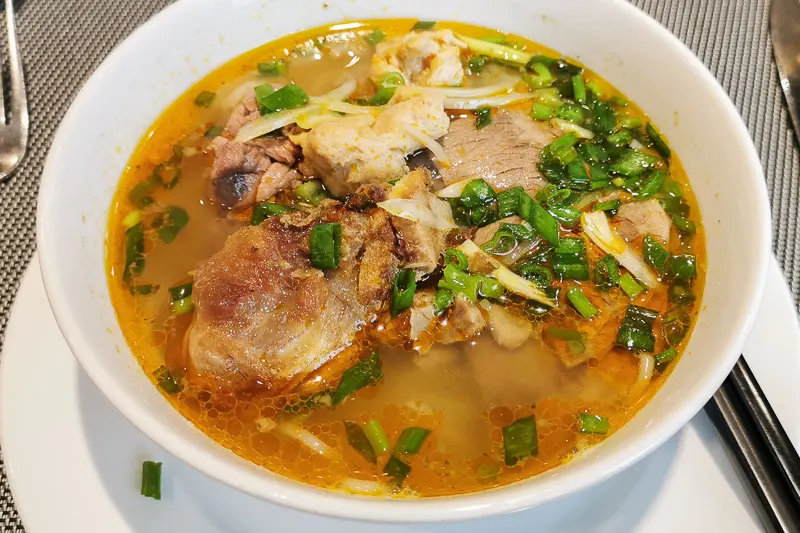 In the beverage section, there were several drink jars: water, detox water, passion fruit juice and orange juice.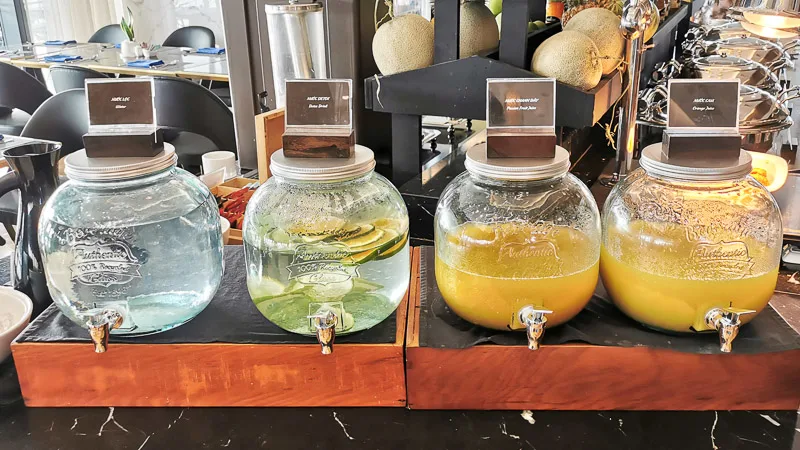 Next to the cold drinks were fresh milk, Dilmah tea bags, lime, and hot water.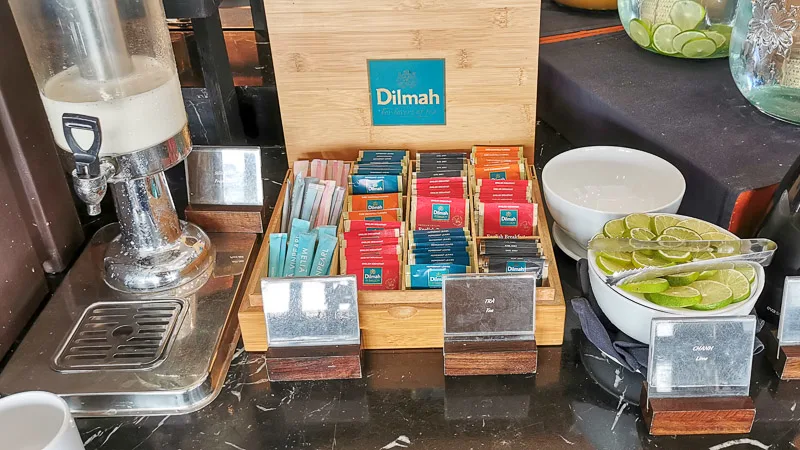 There were also the super-strong Vietnamese black coffee.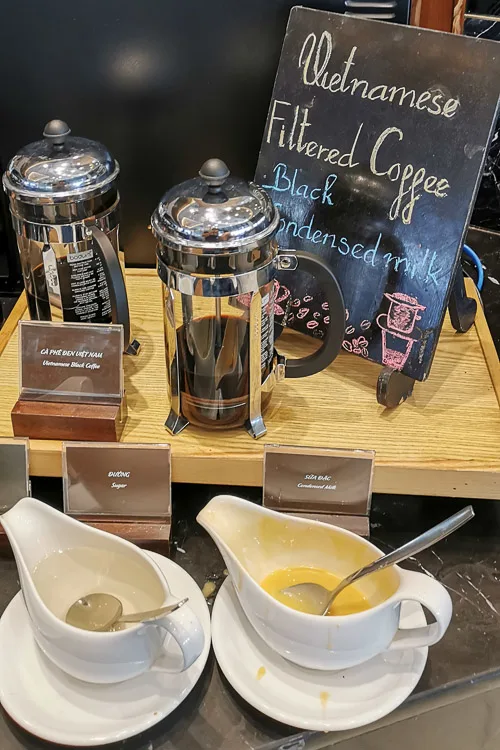 Here are some interior looks of the restaurant.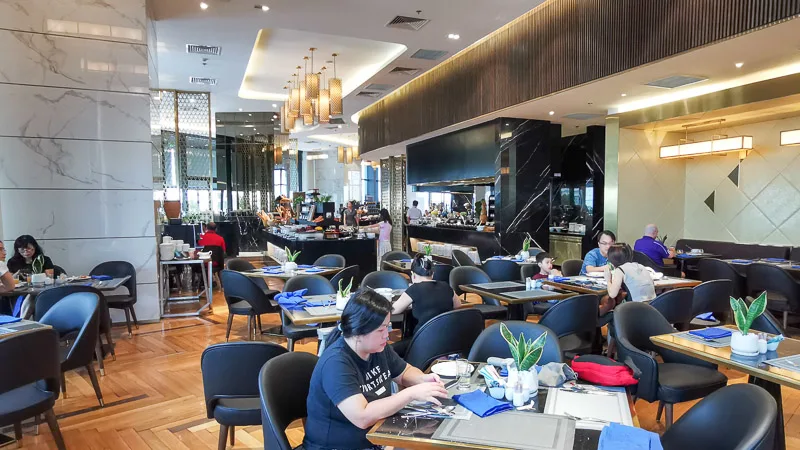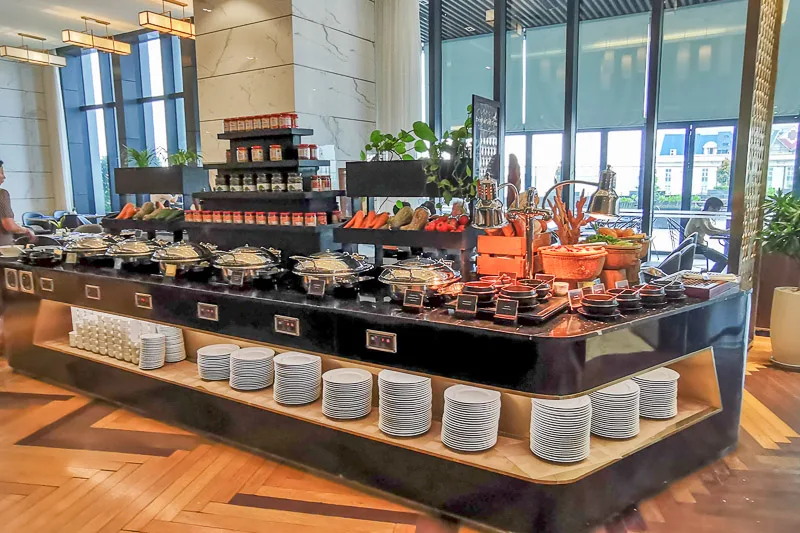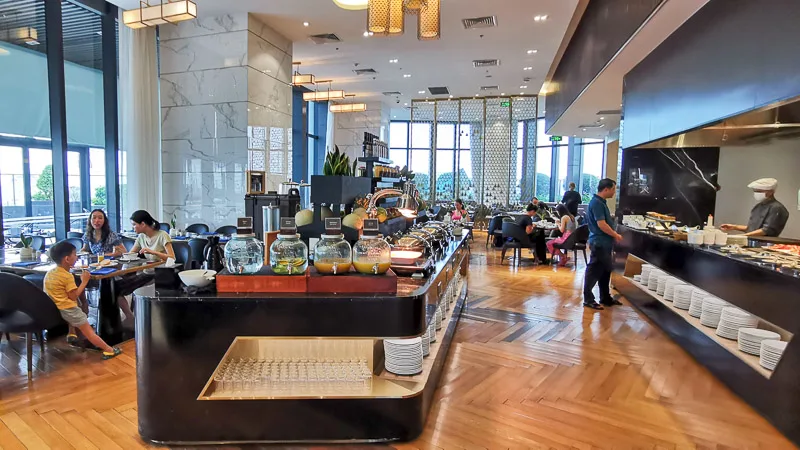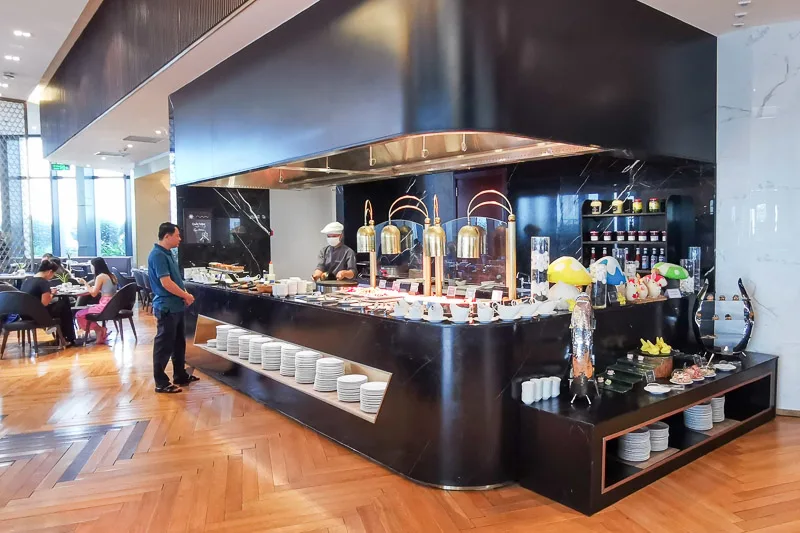 They also have outdoor section, but obviously it wasn't a popular choice.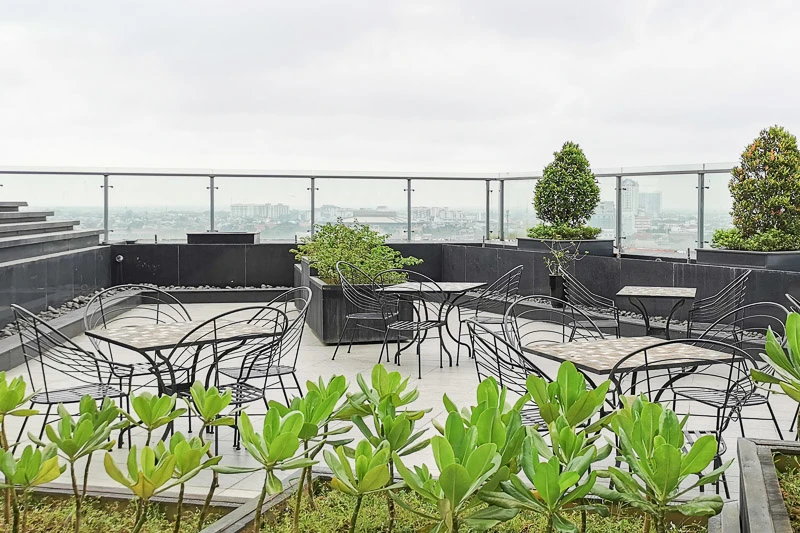 Meliá Vinpearl Hue – What's Nearby
Next to Meliá Vinpearl Hue Hotel is the Vincom Plaza, a small yet decent shopping mall with a supermarket and various retail shops.
Even though Vincom Plaza and the hotel are occupying the same building, they are not connected internally. That means, you need to get outside of the hotel, in order to go to Vincom Plaza. It'd greatly benefit hotel guests if the plaza is connected seamlessly with the hotel!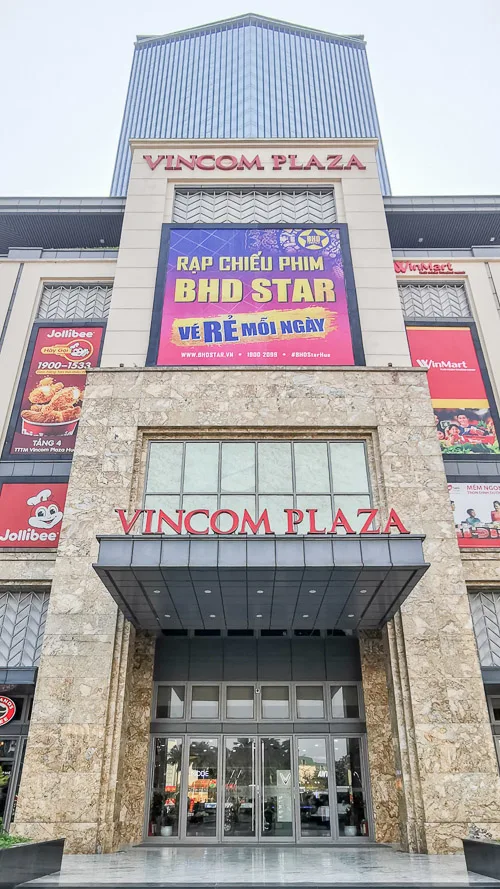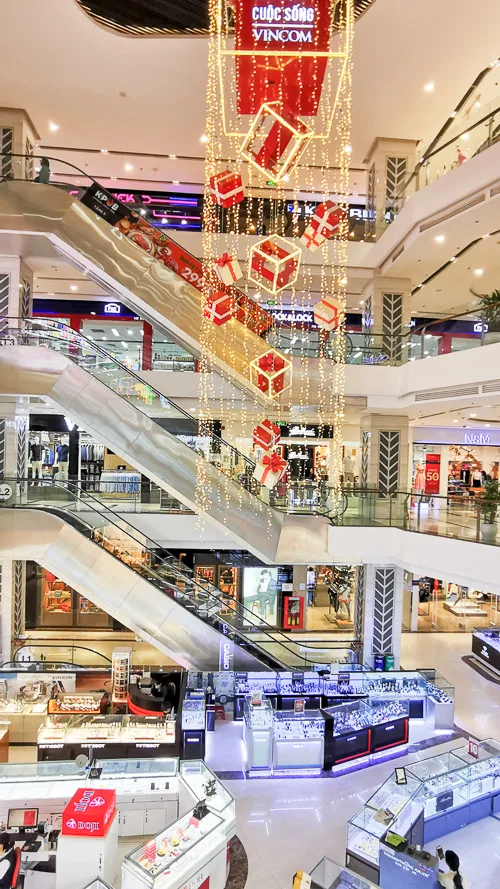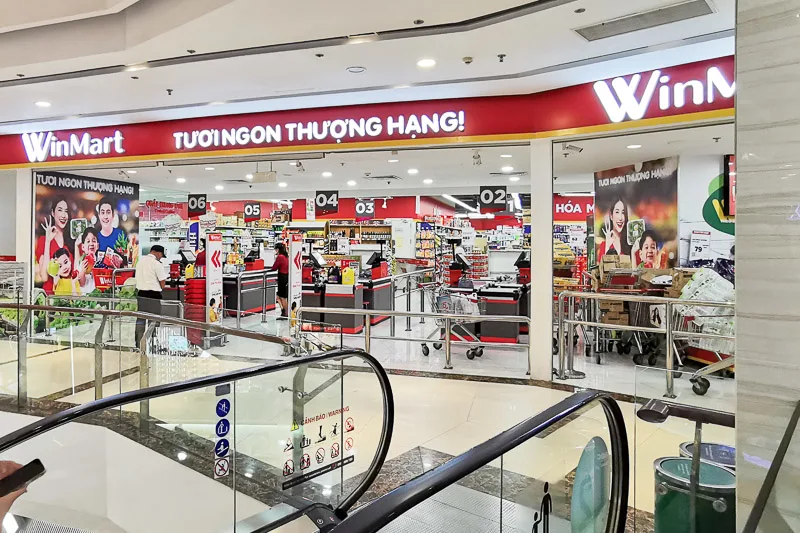 If you're looking for an affordable dining place near the hotel, simply cross the main street and head to the hidden Cozy Restaurant. We ate there on our second night, and we enjoyed the food there.
If you're looking for a place to walk around or to hang out, you can walk to Hai Ba Trung walking street; there's a cinema, massage parlors and food stalls. My advice: avoid the massage parlors, they're just not as good as those in Hoi An.
When we checked-out, the concierge was extremely fast. They asked if we have arranged any transport and we said we're going to take taxi. So, he immediately brought out suitcases out of the hotel, into one of the taxis that's being parked outside the hotel.
We told the taxi our destination, which is just 5-min drive away. Without discussing the price, he immediately drove us to our destination. And he didn't turn on the meter. When we arrived, he asked for VND 50,000! I was like, WHAT?! That's too steep of a price! I checked Grab and it was only VND 12,000 for the route that we took. I bargained with him and eventually we settled for VND 20,000.
So, my advice to you is this. When staying at Meliá Vinpearl Hue, avoid taking the taxi outside the hotel and take a Grab instead. If you must take the taxi outside the hotel, try to agree on the price before boarding.
Final Thoughts
All in all, I think Meliá Vinpearl Hue is still a hotel worth staying in Hue. If I re-visit Hue in the future, I would definitely consider staying here again. I would just avoid the Afternoon Tea.
If you like my work, you can buy me a coffee! Your support will help me to keep going!