August is the month of National Day celebrations in Singapore. Every year, on 9 August, Singapore National Day Parade (NDP) will be held at the city center from late afternoon until evening.
During the NDP parade, there will be live performances, Presidential Gun Salute, Aerial Display, parade of military vehicles as well as a spectacular fireworks to end the parade. It's very hard to get tickets to the parade even for locals.
As a tourist, you can watch the fireworks for free at certain locations, which I will elaborate further in this article.
If you're planning to visit Singapore in August, here's what you need to know.
Singapore's Weather in August
August is a Southwest Monsoon Season in Singapore. During this time, there will be occasional "Sumatra Squalls" with wind gusts of 40-80 km/h occurring between the predawn hours and midday. Short duration showers/thunderstorms in the afternoon are also common.
Despite the thunderstorms, the afternoon temperature is considerably hot, with maximum temperature around 31.4°C.
Based on historical data between 1991 to 2020, it rains 14 days out of 31 days. So, it will rain 45% of the month.
I recommend that you bookmark Singapore's weather website, which is a very useful website to see current rain area & intensity, and to check the rain forecast for the next 4 days.
Most of the rains have pretty short duration. So you don't have to cancel your plan if the forecast is rain. Just bring foldable umbrella if you're planning to explore the outdoors.
August's temperature hovers between 25.3 to 31.4 degrees Celsius (77.5 to 88.5 degrees Fahrenheit). Generally, the temperature in Singapore doesn't differ much from month to month.
In August, the sun rises between 7.05am (1 Aug) to 7.01am (31 Aug) and sunset occurs between 7.16pm (1 Aug) to 7.09pm (31 Aug).
Things to do in Singapore in August 2023
1. Singapore National Day Parade Fireworks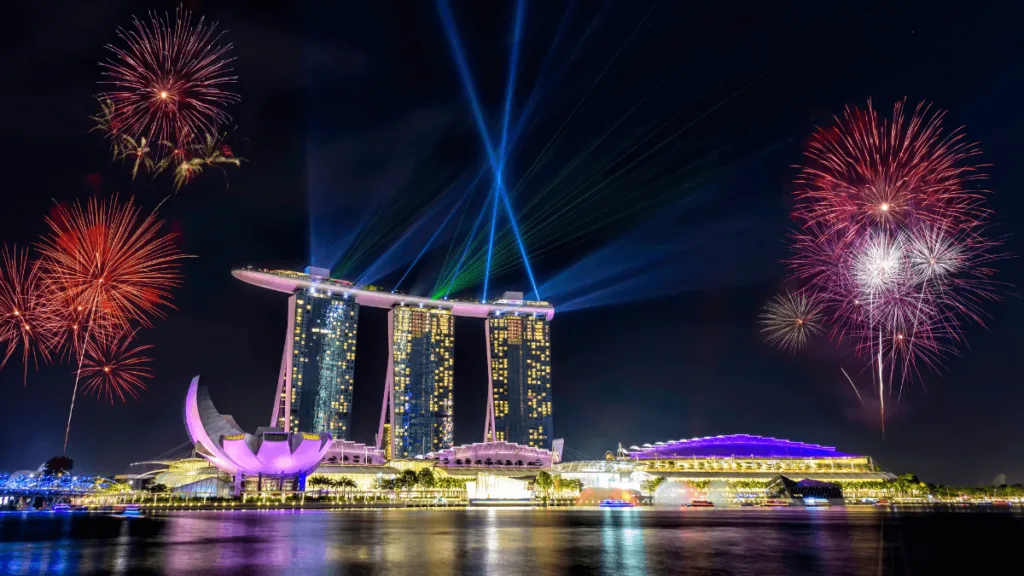 Have any questions about traveling in Singapore? Join All About Singapore Travel FB group, I'll be there to answer your questions!
National Day Parade (NDP) is an annual event that celebrates Singapore's National Day on 9 August. Even though the actual NPD takes place on 9 August, there are various rehearsal and preview sessions where you can watch the NDP fireworks.
Read my guide: Best Spots to Watch Singapore National Day Fireworks
Date: 9 August 2023 (NDP Actual Day)
Admission: NDP event requires ticket, but public can watch fireworks without joining the event
Venue: various places at Marina Bay
2. National Day Light Up at National Museum of Singapore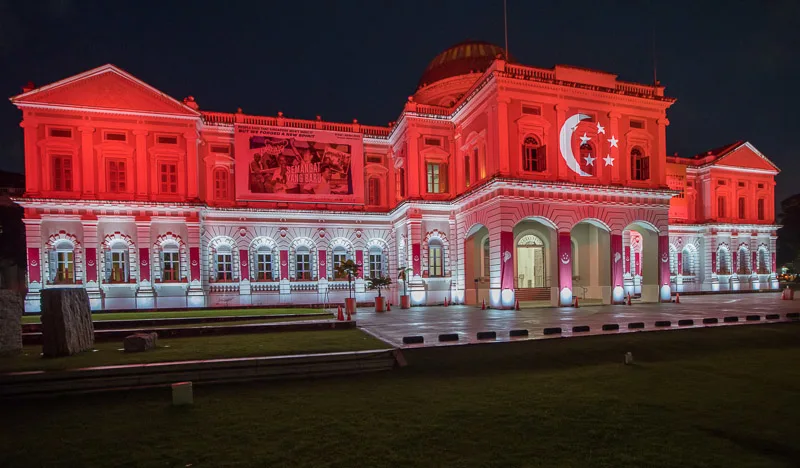 The façade of National Museum of Singapore comes alive with the animated light projection which covers the building in colours and symbols that represent Singapore. There will also be a special feature to commemorate Mr Lee Kuan Yew's 100th birth anniversary to honour Singapore's founding prime minister and his enduring contribution to Singapore.
Other than the light up, there will also be a myriad of activities at National Museum of Singapore to celebrate the National Day. Full list of activities can be found here.
Date: 21 Jul to 9 Aug 2023, 7.30pm to 12 midnight
Admission: Free
Venue: National Museum of Singapore
Address: 93 Stamford Road, Singapore 178897
3. Singapore Night Festival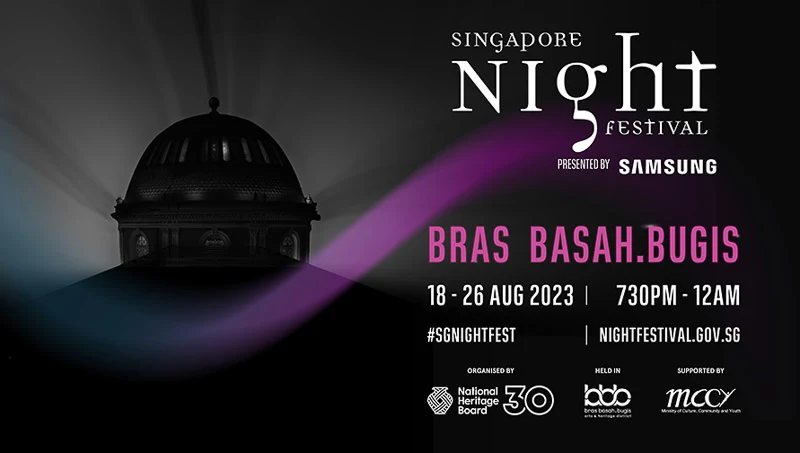 Singapore Night Festival is an annual event organized by National Heritage Board to showcase Singapore heritage in the evening setting. This year is the festival's 14th edition and the theme is 'Singapore, the Great Port City.'
In this year's edition, there will be over 50 experiences, including light exhibition, art installation, performance, tours, programmes and activities.
Date: 18 Aug to 26 Aug 2023, 7.30pm to 12 midnight
Admission: Free
Venue: Various places around Bras Basah and Bugis. Refer to Festival Map for exact location of each exhibits.
4. Orchid Extravaganza at Flower Dome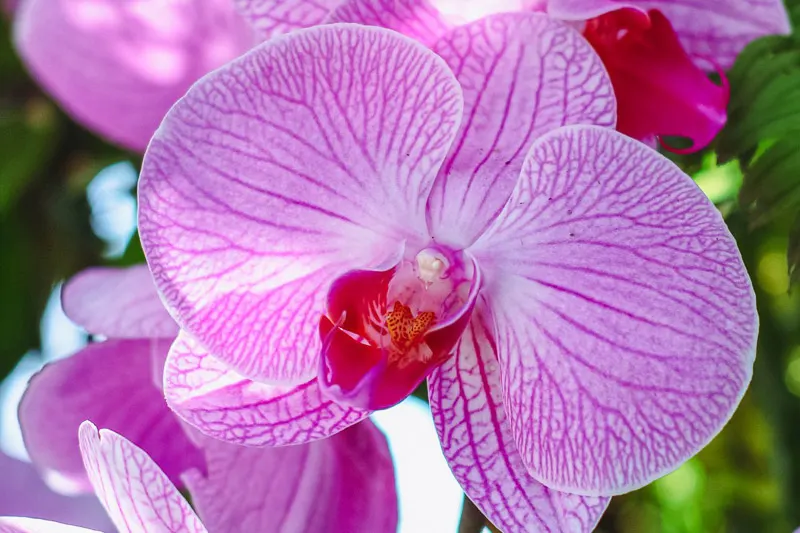 Did you know that Vanda Miss Joaquim orchid is Singapore's national flower? If you love orchid, head to Flower Domes at Gardens by the Bay from 28 Jul to 17 Sep 2023. During the Orchid Extravaganza display, the flower field will be full of orchids of various species and colors.
Date: 28 Jul to 17 Sep 2023
Admission: From S$18 onwards (include Supertree)
Venue: Flower Dome at Gardens by the Bay
Address: 18 Marina Gardens Drive, Singapore 018953
5. Sentosa Food Fest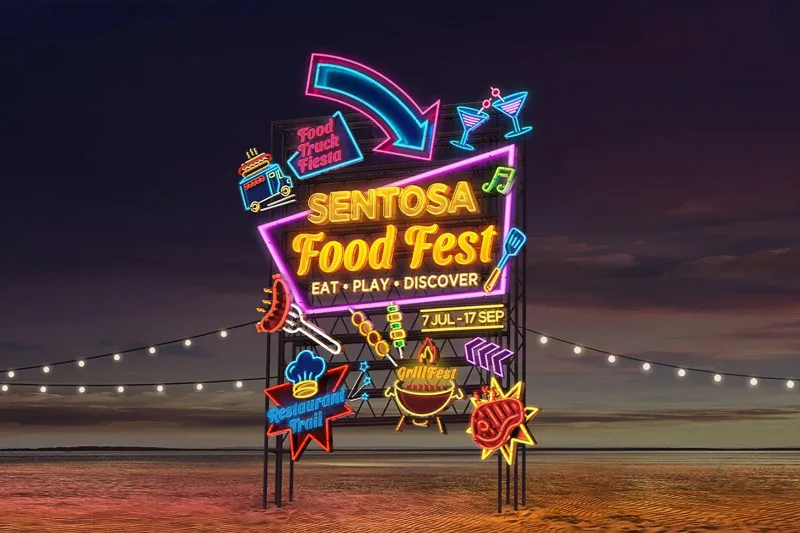 From 7 Jul to 17 Sep 2023, Sentosa Food Fest will be taking place at Sentosa beachfront. Stretching 3km long, there will be tons of food establishments from Siloso to Palawan beach.
Besides food, there will also be awesome experiences, such as:
Festive Market

1 to 2 Jul, 5 to 6 Aug, 2 to 3 Sep 2023 at Palawan Green Walk

Movies by the Beach

1 Jul 2023, 1 to 10 Sep 2023 at Palawan Beach

Movies at Southside

14 to 28 Jul 2023, Every Friday, 7.50pm, at Southside
Details about Sentosa Food Fest can be found here.
Date: 7 Jul to 17 Sep 2023
Admission: Free
Venue: Sentosa
6. Van Gogh: The Immersive Experience
Van Gogh: The Immersive Experience is a 360° multi-sensorial exhibition featuring over 300 artworks by the renowned artist Vincent Van Gogh.
his exhibition is ranked as one of the top 12 best immersive experiences by CNN and have received over 5 million visitors since 2017. This particular exhibition in Singapore is the first Van Gogh: The Immersive Experience exhibition in Southeast Asia.
Date: 1 March 2023 to 1 October 2023
Admission: Individual tickets from S$27 onwards, bundle tickets with S.E.A. Aquarium or Universal Studios Singapore from S$69 onwards
Venue: Resorts World Sentosa, B1 Forum
Address: 8 Sentosa Gateway, Singapore 098269 (location on map)
What else to do in Singapore
If you haven't yet, I highly recommend that you read my guide on the best things to do in Singapore. In that article, you'll find 60+ ideas to make your trip to Singapore a memorable one.
If you have any questions about traveling in Singapore, join All About Singapore Travel Facebook group and post your questions there to get a faster response from me
If you like my work, you can buy me a coffee! Your support will help me to keep going!