One of the items in my 40 before 40 bucket list is to fly on a Business Class. I'm so excited that my dream came true when I took Singapore Airlines Business Class from Singapore to Beijing, as well as from Beijing back to Singapore!!
So, in this article, I'll do my best writing my first-ever Business Class flight review, from the perspective of a first-timer.
I'll be separating this article into 2 parts: Part 1 (SIN-PEK) and Part 2 (PEK-SIN).
Booking Singapore Airlines A350 Business Class
We booked our flight directly on Singapore Airlines website. We redeemed our hard-earned KrisFlyer miles which we have started accumulating passively since 2009, and actively since 2018.
The tax we had to pay for SIN-PEK flight is SGD 62.20/person. Meanwhile, the tax for PEK-SIN flight is CNY 90/person (approx. SGD 18.10/person). The default baggage allowance is 40kg per person.
Seat Type & Seat Map
Singapore Airlines has various business class seat types for A350 fleet. Our aircraft is A350-900 MH which is typically used for medium haul. Our flight duration between Singapore and Beijing is 6 hours 10 minutes.
The business class has 2 sections: the front sections (row 11 to 18) and the rear section (row 19 to 21). For both flights, we chose the middle seats because we wanted to sit together.
Our SIN-PEK is in the front section, while our PEK-SIN is in the rear section. I will describe more about each seat further in this article.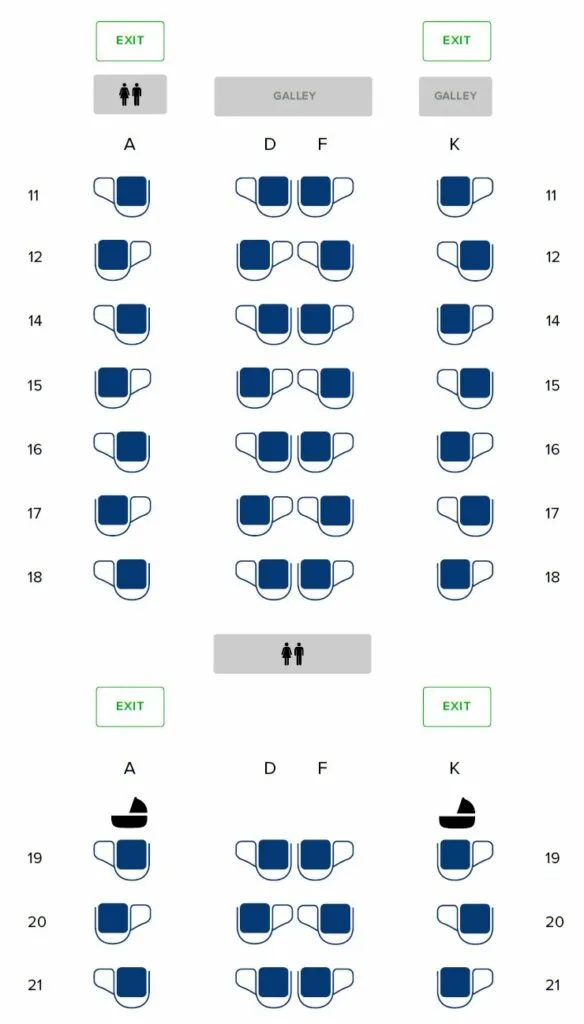 Have any questions about traveling in Singapore? Join All About Singapore Travel FB group, I'll be there to answer your questions!
Part 1: SIN-PEK
Pre-Departure
Before departure, we were able to choose our meals several days before our departure. All we had to do was simply log in to our SIA account and go to Manage Booking.
There were 3 food menus for us to choose from: In Flight Menu, Book the Cook, and Special Meals.
We decided to order from Book the Cook (BTC) menu because BTC was only available for flights departing from Singapore when we took the flight in early 2023; the BTC was still suspended on the PEK-SIN leg. So, naturally we had FOMO and didn't want to miss out the chance of trying BTC.
Besides, our SIN-PEK flight was a morning one, and in-flight menu only offers breakfast items which were not that appealing to us, such as congee, dim sum and scrambled eggs with sausage.
As for our pre-departure preparation to enter China, we had to apply visa, set up alipay, filled up health declaration form before departure, and download useful apps. Here's my guide on essential things you need to do before visiting China.
Checking in at Singapore Changi Airport
According to our ticket, our flight departs from Terminal 3 of Singapore Changi Airport. So, we checked-in at Terminal 3.
There are special counters for Business Class passengers at Row 6 (meanwhile, Economy passengers at Row 3, Premium Economy passengers at Row 7, and First Class at Reception near Door 1).
The check-in counter opens 48 hours before departure and closes 40 minutes before departure. However, do note that the check-in counter at Terminal 3 is open from 5am to 1am daily, so avoid checking-in between 1am to 5am.
Even though our ticket shows that our departure is from Terminal 3, apparently our aircraft was being transferred to Terminal 1. Hence, we had to take the skytrain to Terminal 1.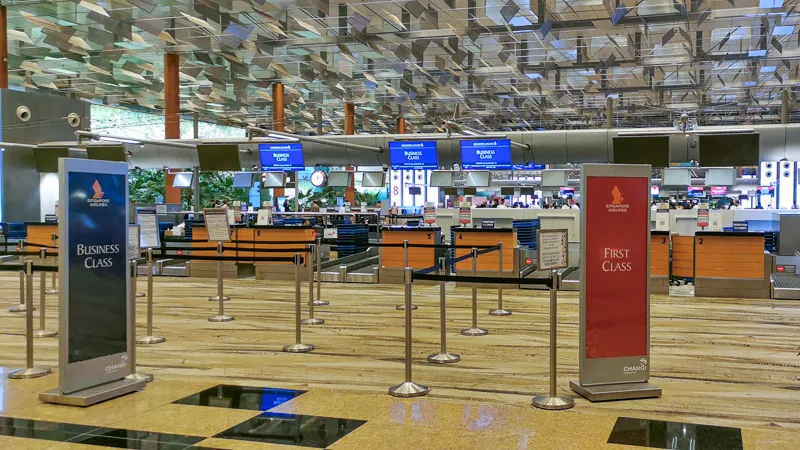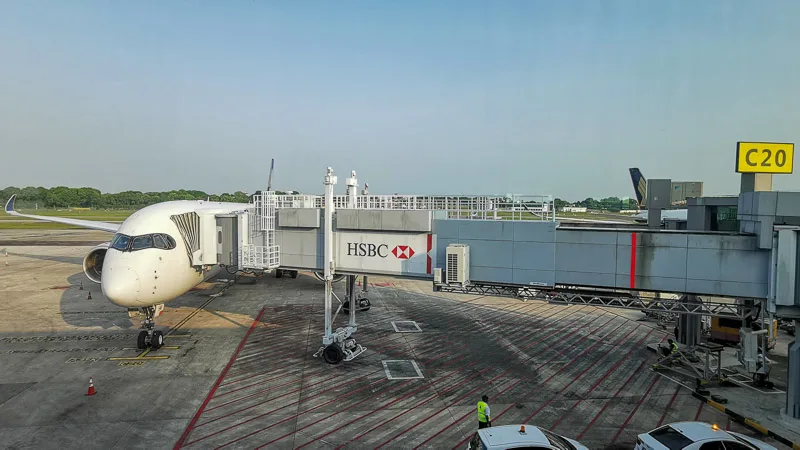 SilverKris Lounge at Singapore Changi Airport
Singapore Airlines Business Class passengers are invited to SilverKris Lounge at Changi Airport. There are 2 SilverKris Lounges in Changi Airport: one at Terminal 2, and one at Terminal 3. The one at Terminal 3 is the better one.
We went to the SilverKris Lounge at Terminal 3. After passing through immigration, simply turn left and follow the sign. You will see this eye-catching colorful flowers with SilverKris Lounge logo. This is the entrance.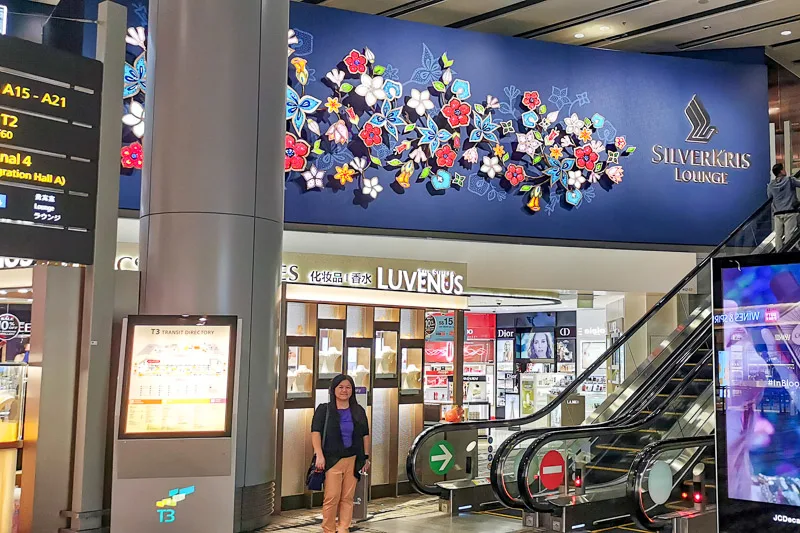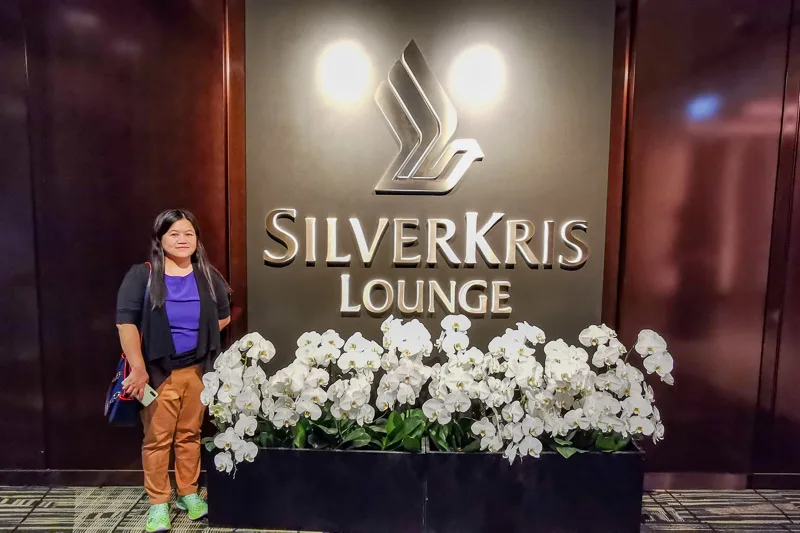 At the entrance, we showed our boarding pass and in just a few seconds, we found ourselves in the SilverKris Lounge for Business Class. They have another section for First Class/Suites passengers. Read my review of SilverKris Business Class Lounge at T3.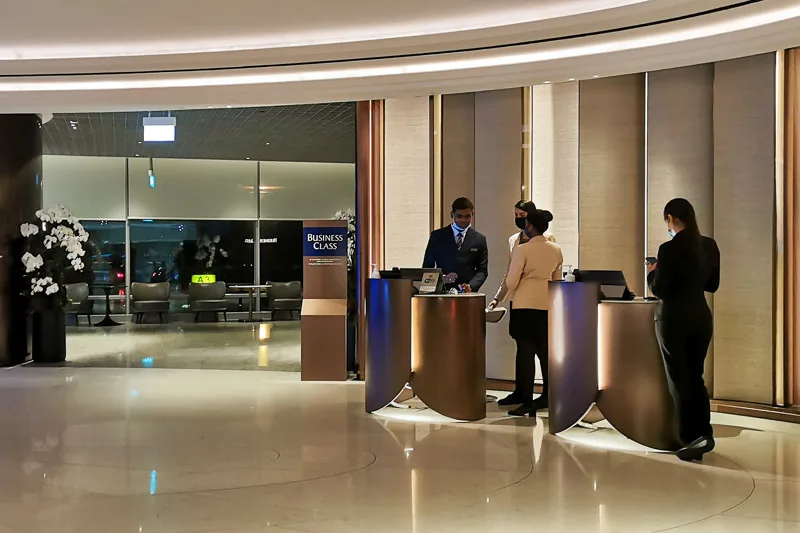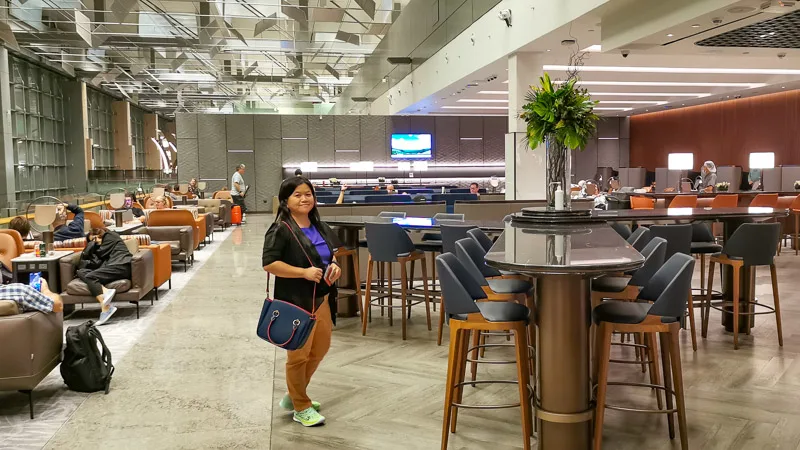 Seats
For our SIN-PEK flight, we sat at 14D and 14F (middle seats). It is in the front section, and it's the third row from front.
It is one of the best seats for couple who want to sit together because the storage console is located near the aisle, hence the distance between the couple is nearer compared to the seats with storage console in-between the passengers. Other couple-friendly seats are 11D&F, 16D&F, 18D&F, 19D&F, and 21D&F.
If you're traveling solo and you have the middle seat, don't worry about the proximity with the passenger in the next seat. That's because there is a center divider that can be lifted up to act as a barrier between the two middle seats.
About my seat at 14D: About halfway into the flight, I found out that I can't fully recline my seat into the bed position! I asked help from the cabin crew, and they had to manually recline the seat (it took 2 person do it it). Before landing, they helped me again to turn the bed into the seat.
It's a little disappointing that Singapore Airlines has a faulty seat and I feel bad for the cabin crews to undertake this taxing task. Thankfully, it's not a super long-haul flight, so the inconvenience isn't that unbearable.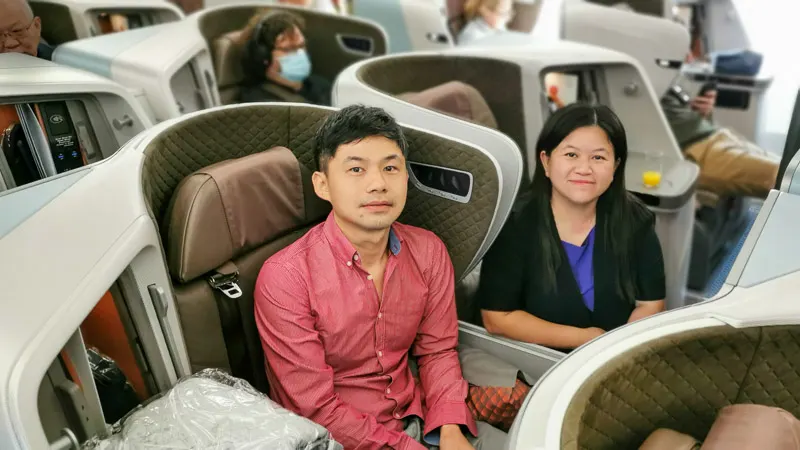 The safety belt comes with a shoulder harness as well. The safety harness must be worn only during taxi, take-off and landing. Meanwhile, the safety belt must be put on when the seatbelt sign is on.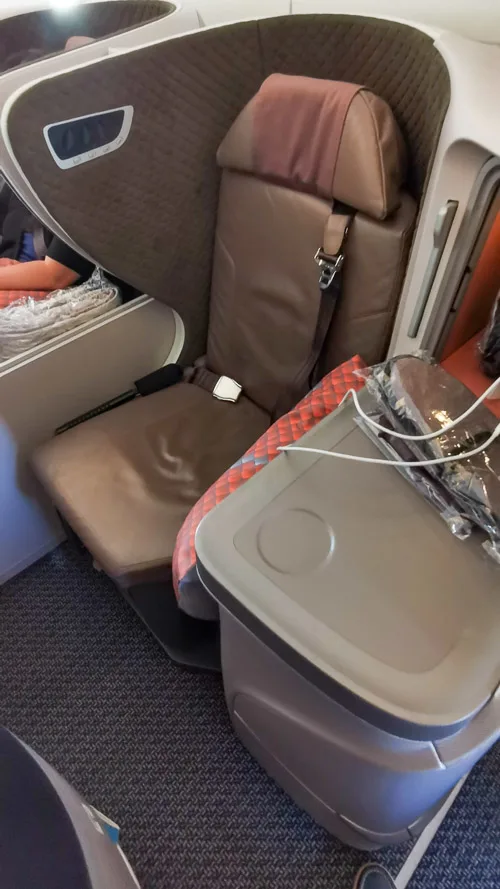 Each seat comes with a sealed blanket and a pillow.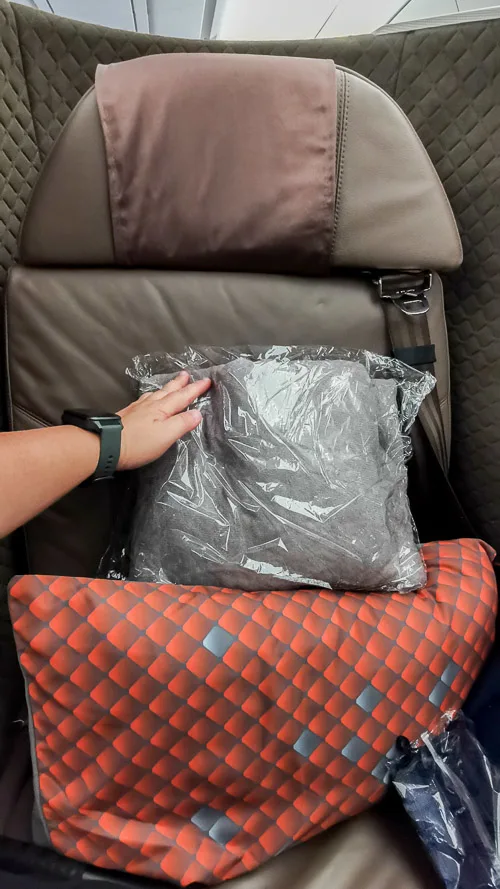 One one side of the seat is the storage console with a small counter. On the other side of the seat is an overhanging "ear" with a small black panel with buttons for lighting control.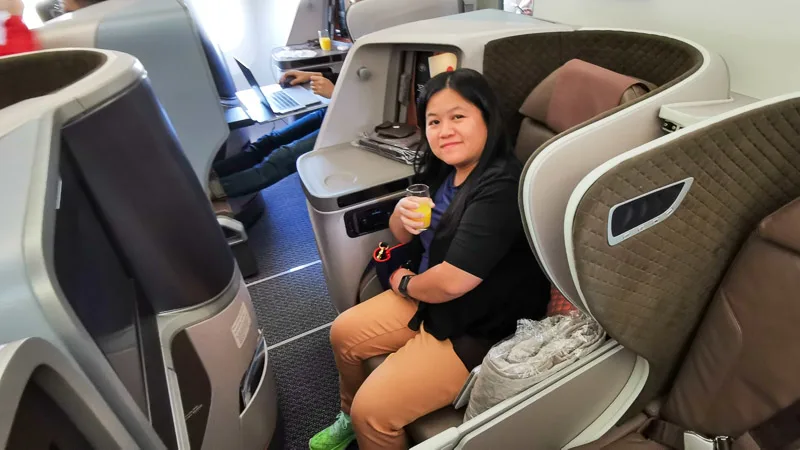 The storage console has a small table that is perfect for placing drinks and loose items. There is also a mounted hook presumably to hang the headphones.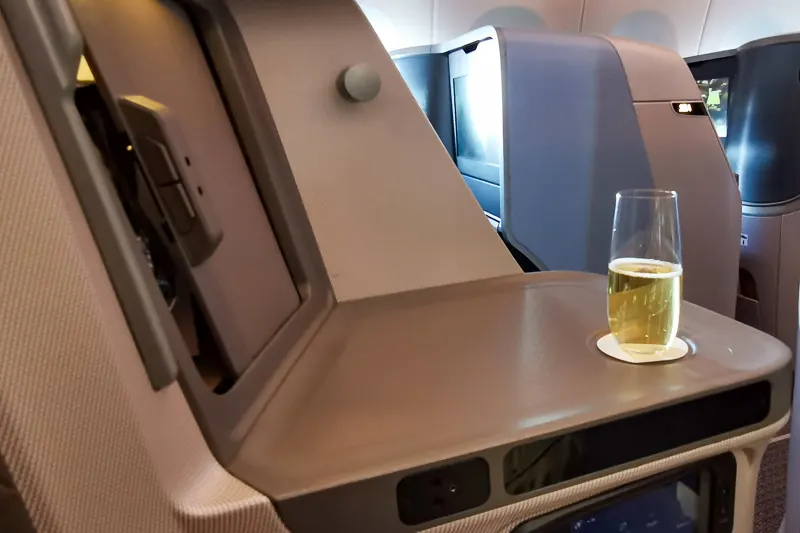 The storage console has a storage section and a panel section. The storage section used to store food menu, earphone, and amenities. Meanwhile, the panel section has USB outlets and NFC card reader. The storage has a door which must be closed during taxi, take-off and landing.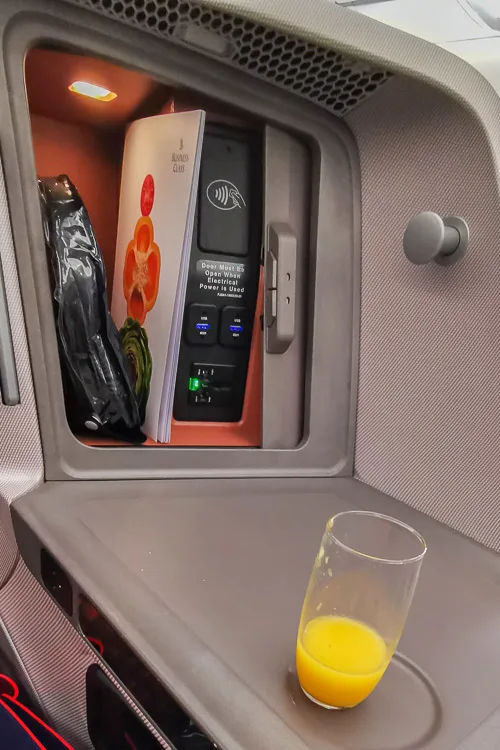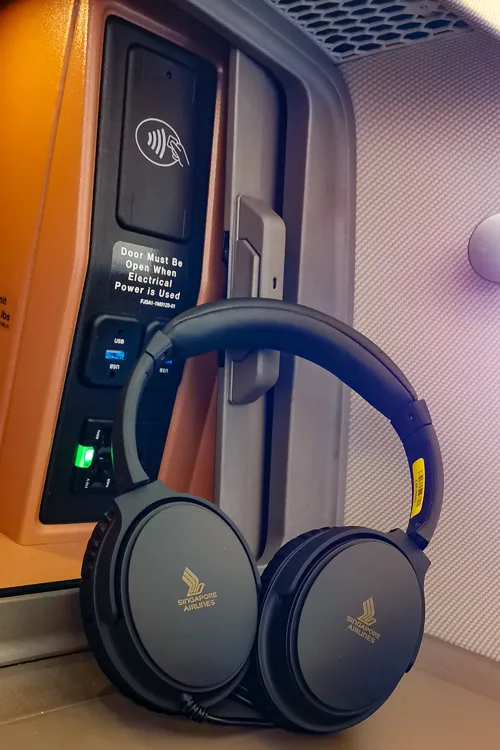 Right below the console table is a row of buttons to control the overhead lighting, to adjust the seat positions, to call the cabin crews and to turn on/off the TV.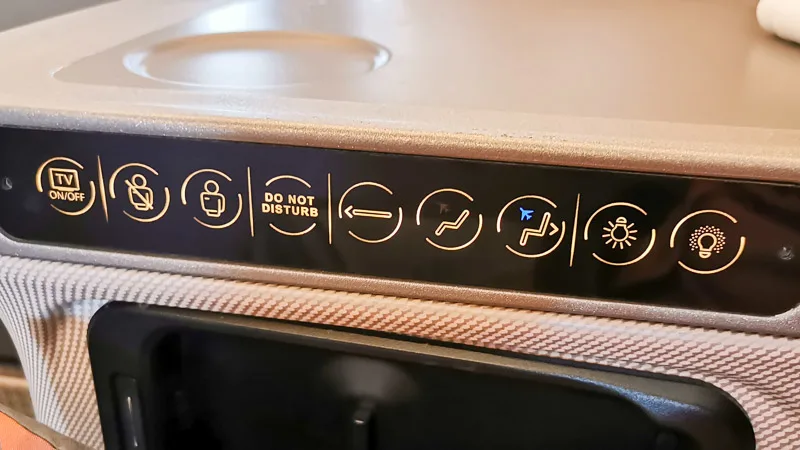 Underneath the buttons is the detachable remote control for the TV.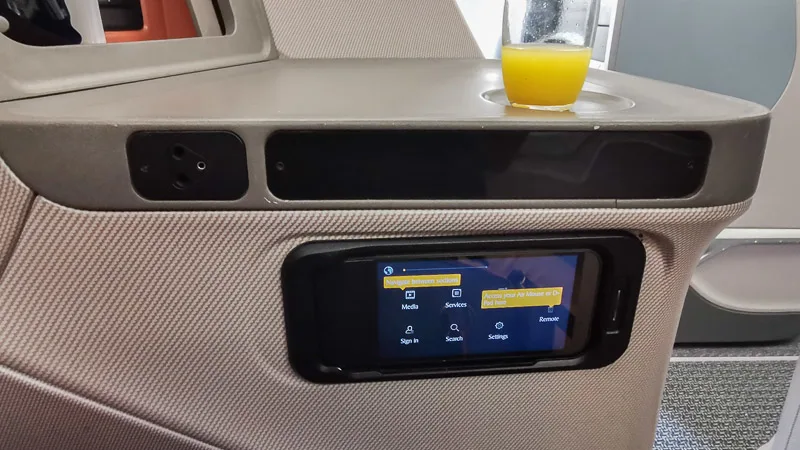 The tray table can be customized into a narrow table, or the full-width table.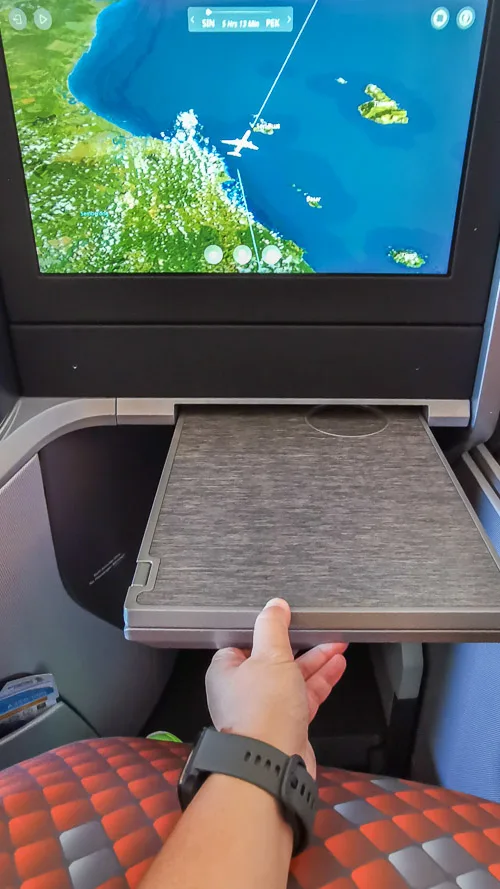 When you sit down at your seat, here's what you'll see. The TV at the top, followed by the "leg compartment" in the middle, and hand-carry storage at the bottom.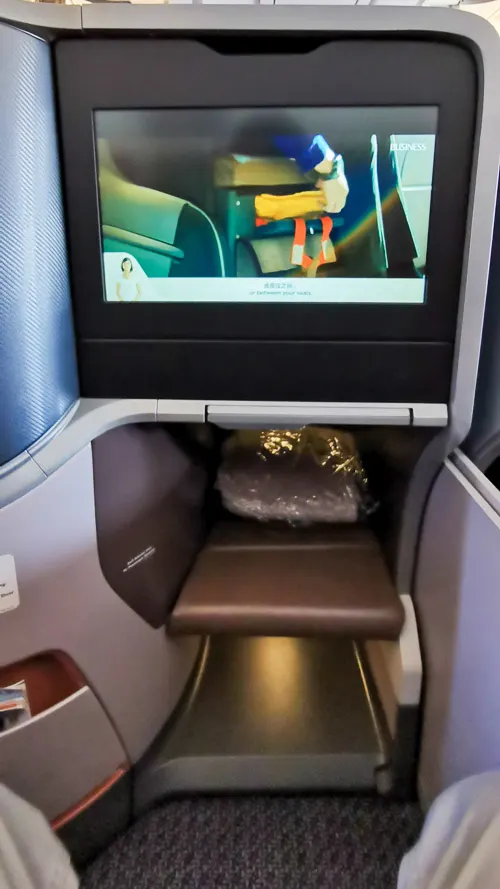 When the seat is turned into the bed, your leg will goes into the the "leg compartment" as shown below.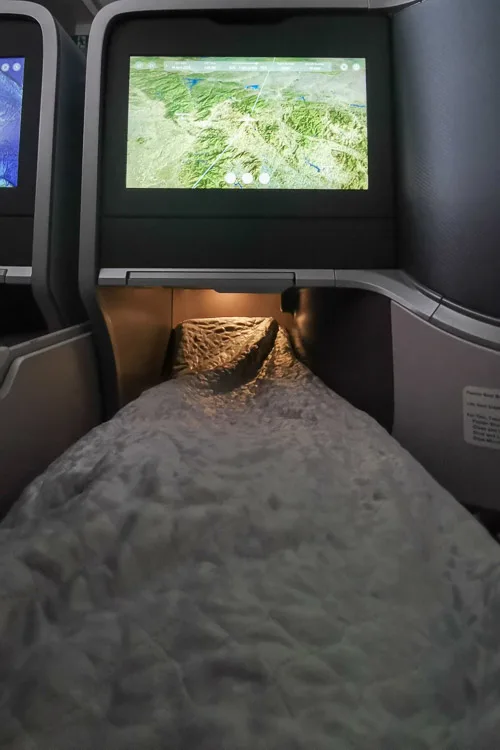 Important thing to remember: Before turning your seat into a bed, if you're taking off your shoes, place your shoes in front of your console, not in front of your seat. Follow the signs as shown in the photo below.
Otherwise, when you change your seat into bed and vice versa, your shoes will be pushed either into the carry-on storage below the "leg compartment" (best scenario) or they will be pushed into the room under your seat (worst scenario), and you will have a hard time retrieving it.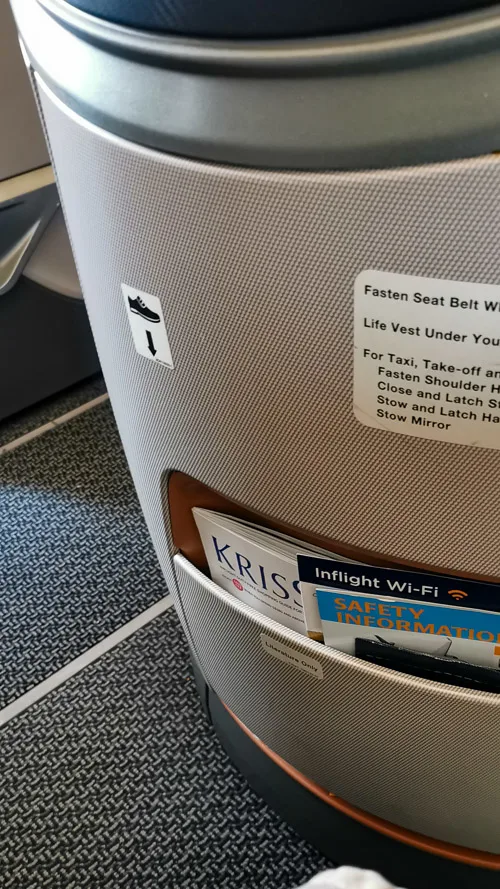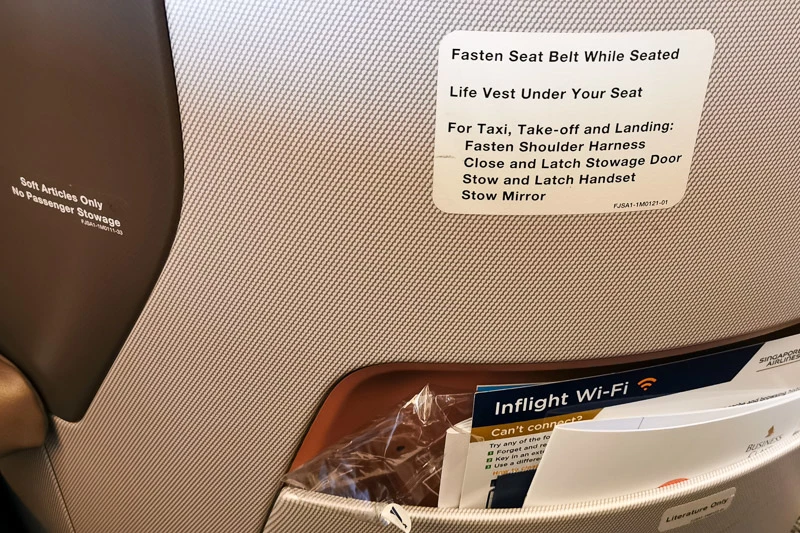 Here's how the overhead cabin luggage compartment looks like. Pretty neat and sleek! But, for someone short like me, it's impossible for me to open the compartment on my own (it's just too high for me to reach).
If I'm traveling solo and I have cabin luggage, I would have to get the cabin crew to store and store and retrieve my luggage for me.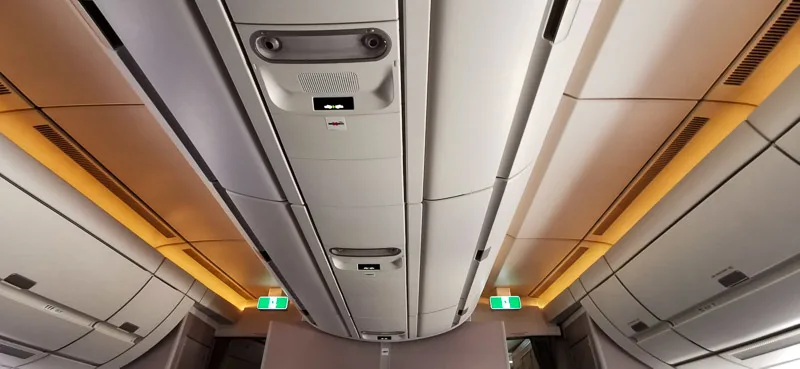 Amenities
Singapore Airlines has a list of "inflight amenities on request." These amenities on request are available for all flights above 6 hours, upon request.
For flights below 6 hours, passengers can check with cabin crew on the availability, but it's not guaranteed.
The "inflight amenities on request" consists of 6 items: amenities kit in a pouch, hair brush, slippers, socks, eyeshades, and ear plugs.
Since our flight duration is 6 hours 10 minutes, we were entitled to all of the amenities.
On top of the "inflight amenities on request," there are also other guaranteed amenities, such as headphones with protective cover, blanket and pillow.
For our first leg, SIN-PEK, only the earphones were placed in our console storage. No other amenities were provided at our seats.
Meanwhile, for our PEK-SIN leg, when we got to our seat, we found headphones with cover, socks, slippers, eyeshades and even a water bottle readily available at our seats!
Hair brush was not provided at the seat in both flights, you can get them from the toilet. Amenity kits in the pouch also were not provided; we had to ask the cabin crews for it.
The amenities kit is from Penhaligon's. Inside the pouch, there are 3 items: hand lotion, lip balm and facial mist.
I feel that the small gesture of providing amenities without being requested is such a nice gesture and definitely a time-saver to the cabin crews. I really appreciate how thoughtful the team at PEK-SIN flight was.
Different teams do have different standards, so consider yourself lucky if you get a great, caring and professional team.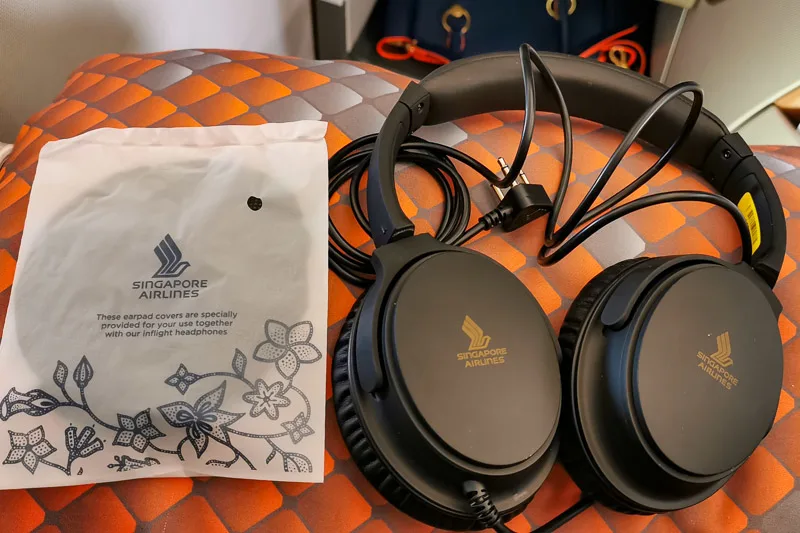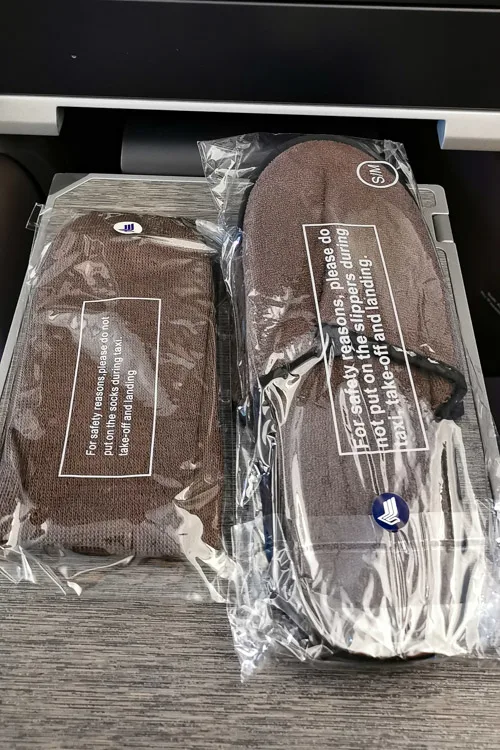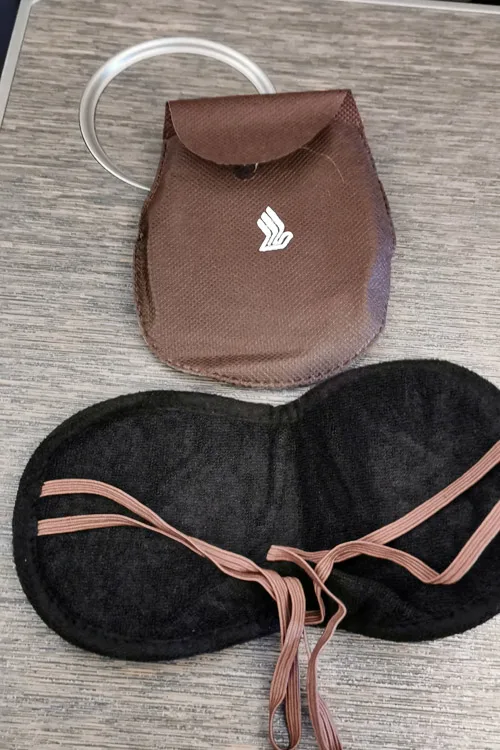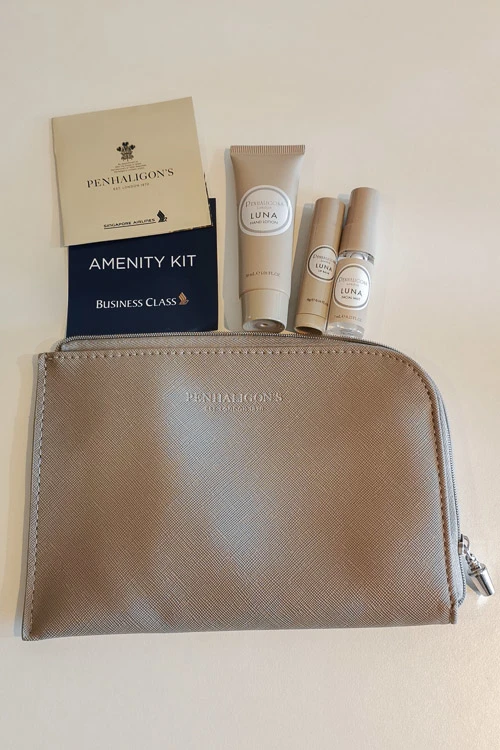 Wi-Fi
Complimentary Wi-Fi is available to all Business Class passengers, regardless of whether they're KrisFlyer members or not. To connect to the Wi-Fi, connect to the 'KrisWorld' Wi-Fi network on your device while in flight mode.
The Wi-Fi system used on this A350-900 Medium Haul aircraft is SITAONAIR. Under this system, the Wi-Fi can only be used on one device at a time.
If you need to switch device, you need to disconnect the Wi-Fi on your first device, and then connect with your second device.
The inflight Wi-Fi does not support streaming. You won't be able to stream from Disney+ / Netflix / Viu / Hulu, etc.
Food & Drinks Menu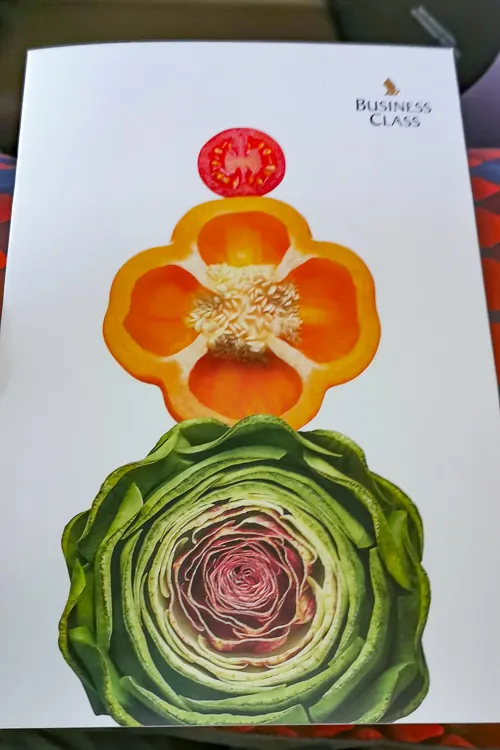 Meals
Our SIN-PEK flight was a morning one. Therefore, the food served was pretty light. No canape, appetizer, dessert.
The first course was fresh fruits and/or Bircher Muesli. The starter was fruit yoghurt in a tub, which was served together with the first course.
So, the person serving me meals didn't even bother to ask me whether I wanted fruits or muesli for my first course. He simply served me the fruits without asking. No muesli and no yoghurt! WOW!
After he had passed my seat, and I saw that my hubby is served the muesli and yoghurt, I then called the cabin crew and requested for a muesli and yoghurt.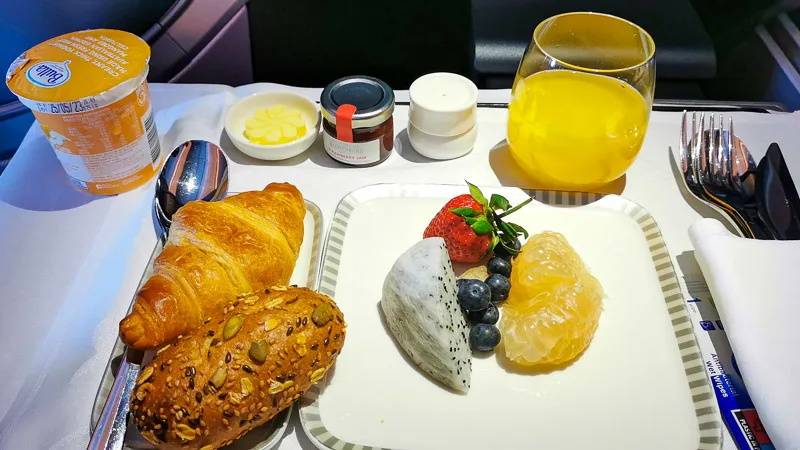 I love the fresh fruits and the bread. The fruits were sweet, and the bread was so good. I don't usually enjoy wholegrain bread, but this one is so good.
The croissant was served warm and went well with the butter. The muesli may look unappetizing at first glance, but it's surprisingly good.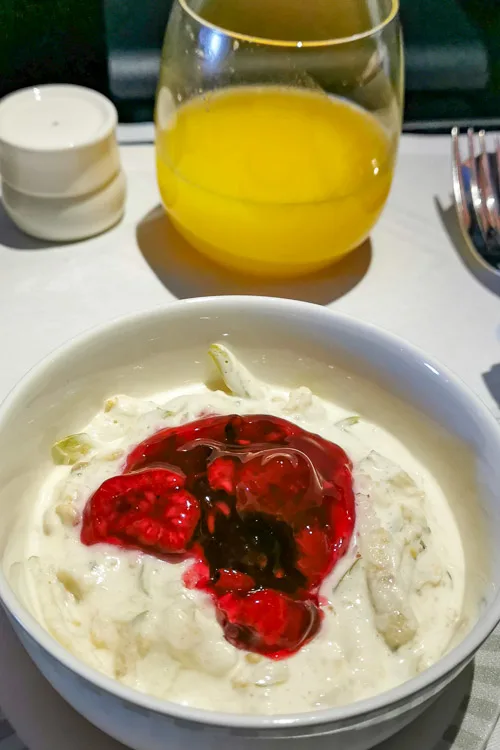 For our mains, we ordered Lobster Thermidor from Book the Book menu because, a) the in-flight breakfast menu was not appealing to us, b) it's our first business class so we wanted to do it in style and lobster seemed like a fancy choice.
Tbh I've never had lobster thermidor at any other place (I'm not that fancy), so I have nothing to compare this to.
As a first-timer, I think the lobster thermidor is not bad, but I'll admit it wasn't mind-blowing. We could smell the preservatives and it was a bit of a turn-off.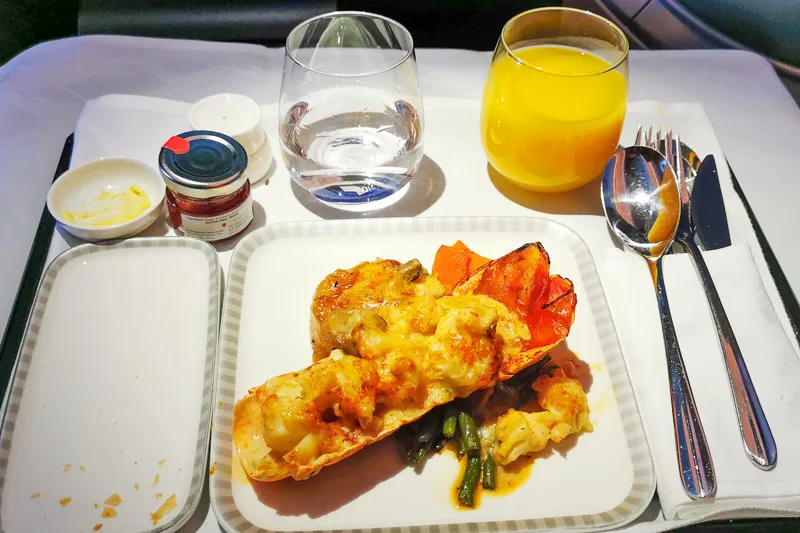 No dessert, unfortunately. The last course was beverage. Thankfully we had fully loaded up on breakfast at SilverKris Lounge!
Entertainment
The In-Flight Entertainment offers quite a decent number of options, from Movies, TV, Music and even Games. To access the IFE, you can either login with your KrisFlyer account, or simply login as guest.
You can use the remote control to toggle between different options in the IFE, or you can simply do it via the touchscreen. The remote can be found under your console table.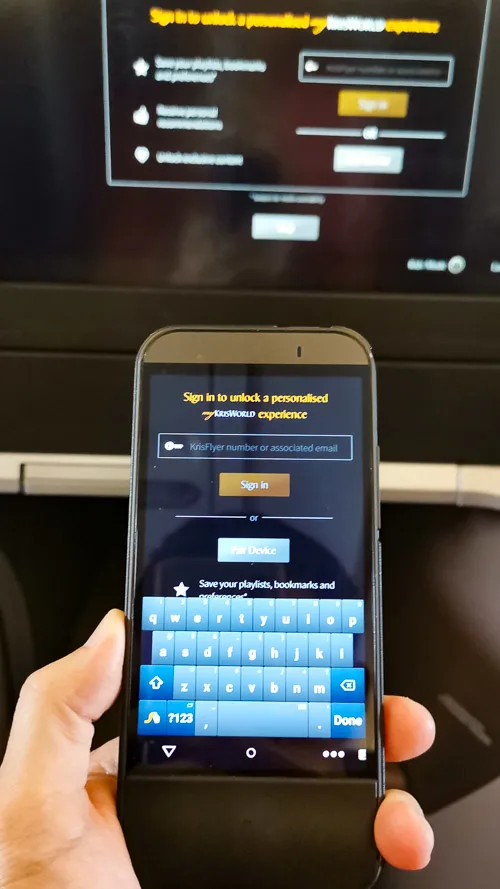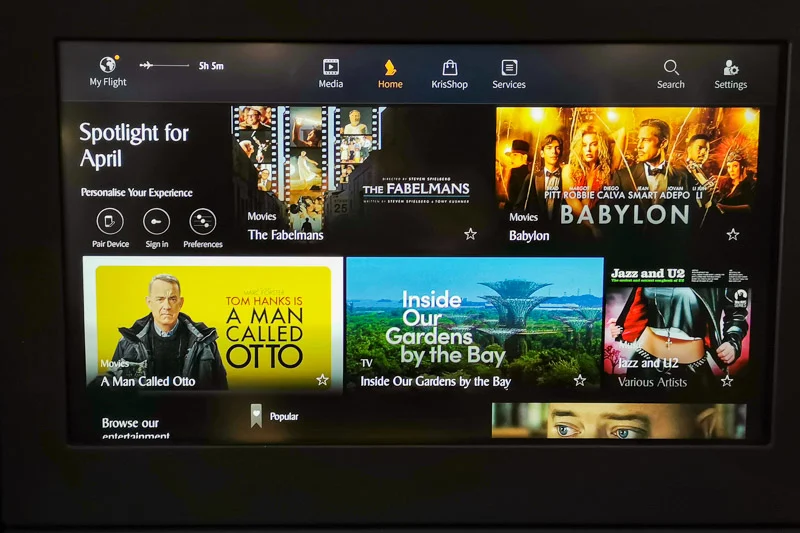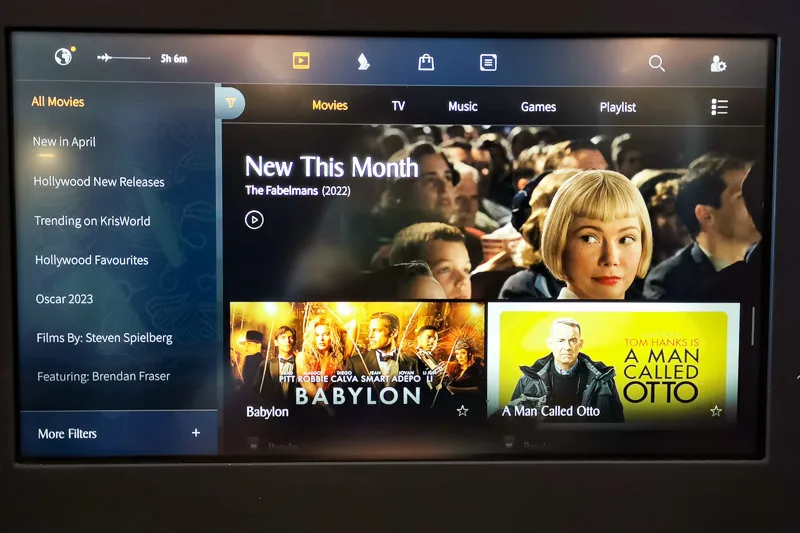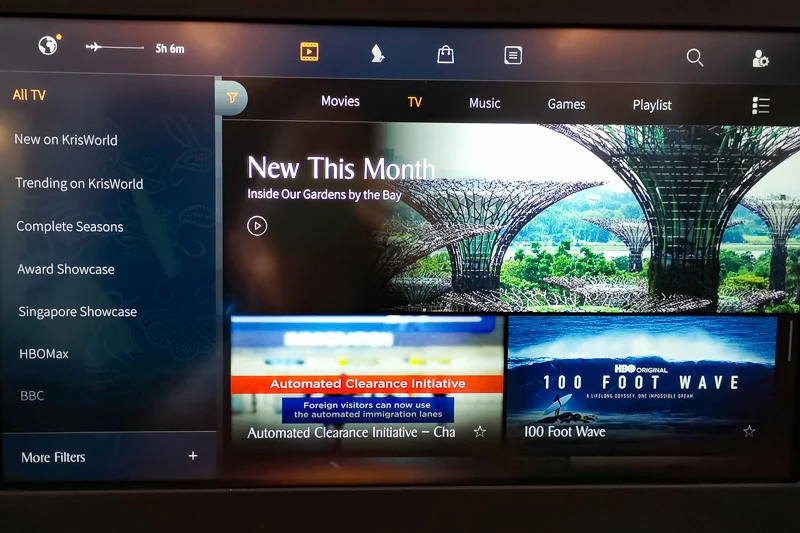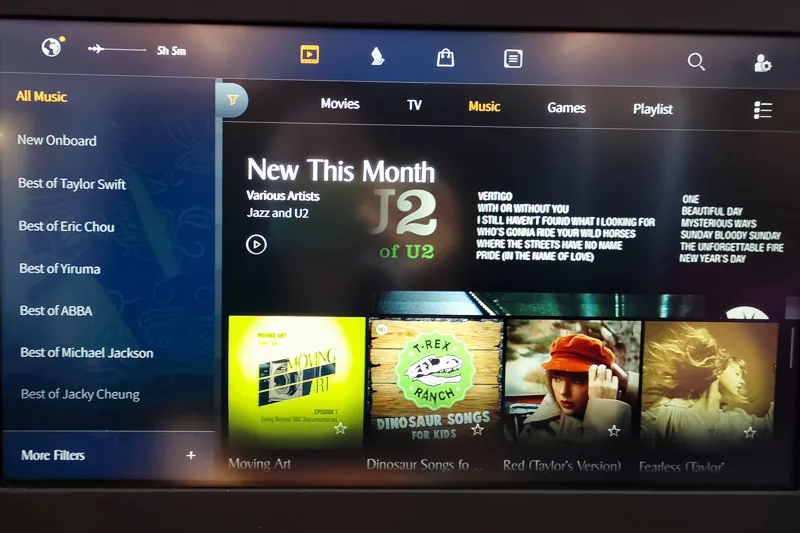 Besides the usual IFE options, you can also do shopping via KrisShop, access the digital F&B menu, and view your flight path.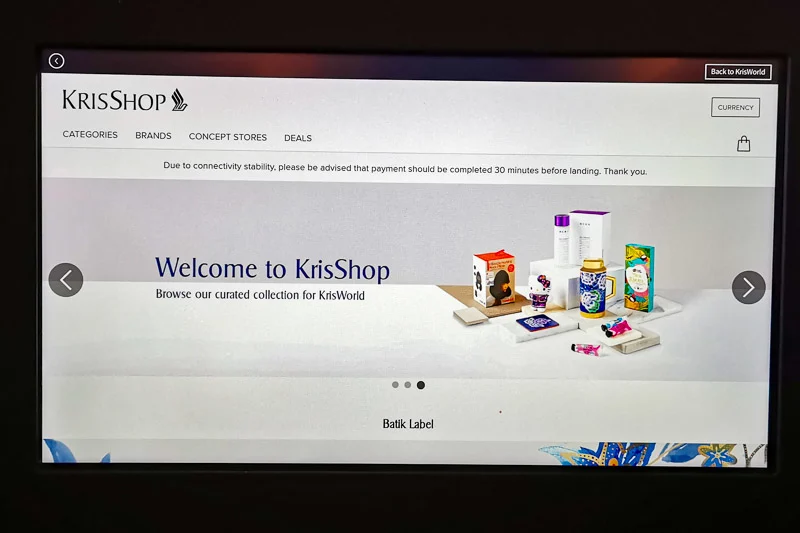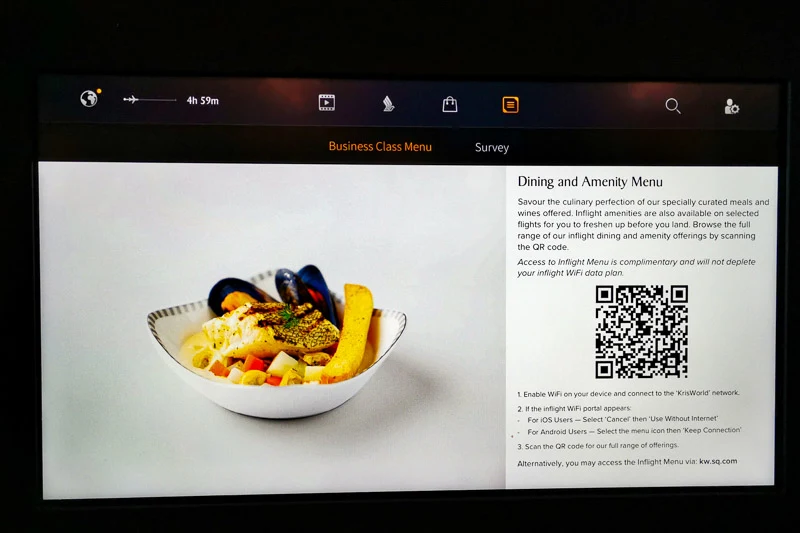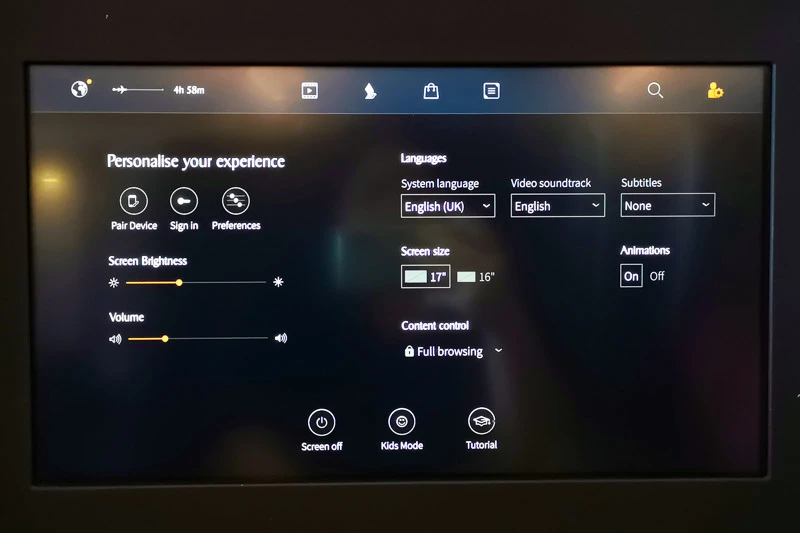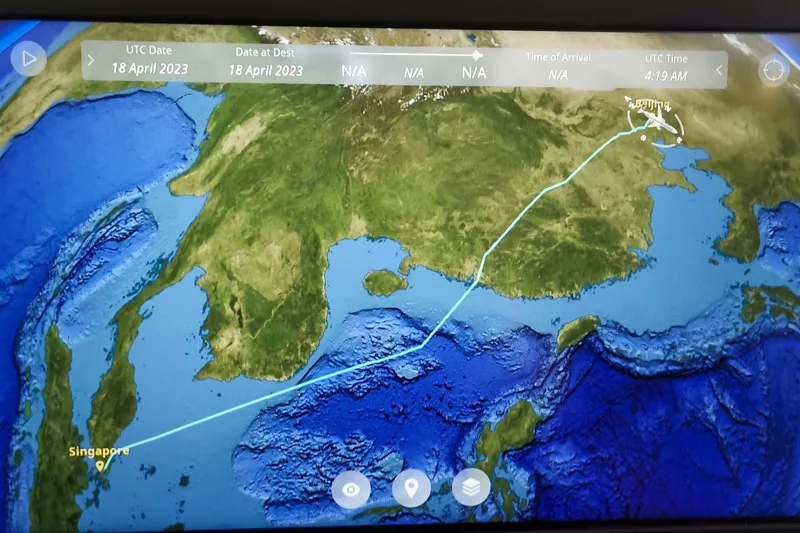 Toilet
There are 4 toilets for Business Class passengers in this aircraft. Two at the very front, and two between front section & rear section.
The sink comes with hot and cold water.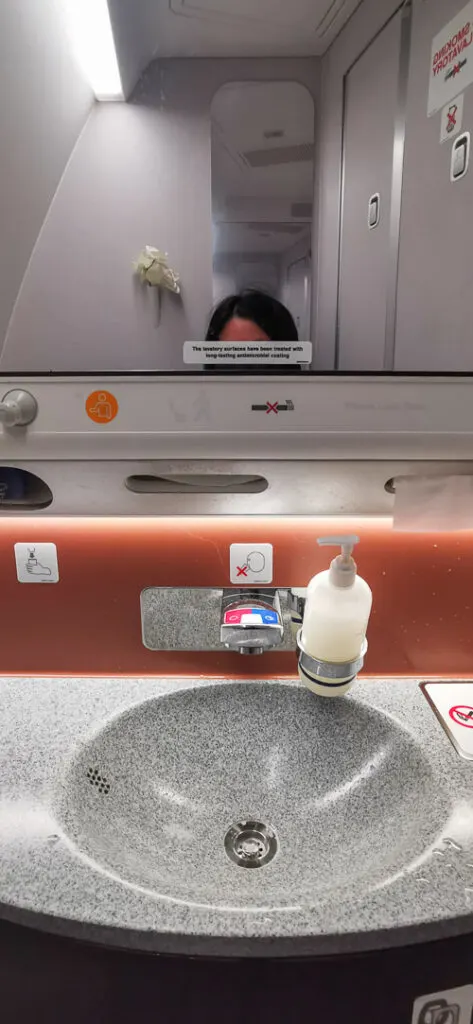 Inside the toilet, there is a full-height mirror which is very useful to check your appearance.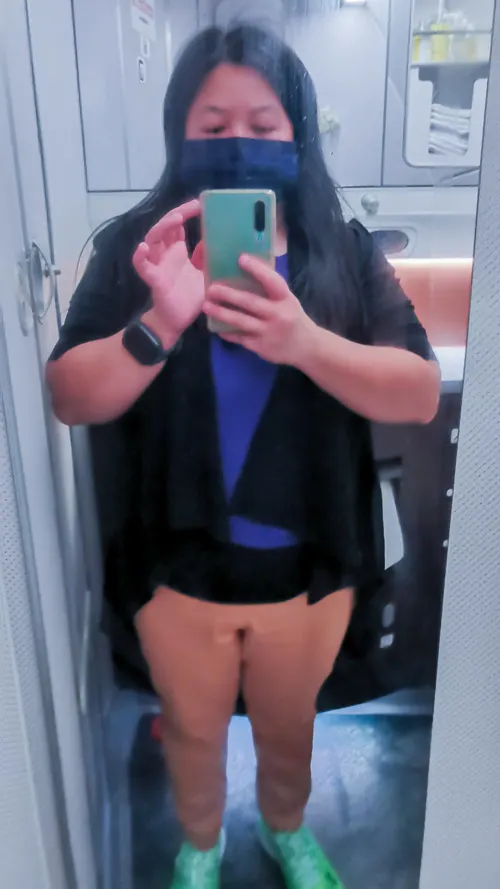 Inside the amenities drawer, you can find hairbrush/comb, shaver, toothbrush, and sanitary pad.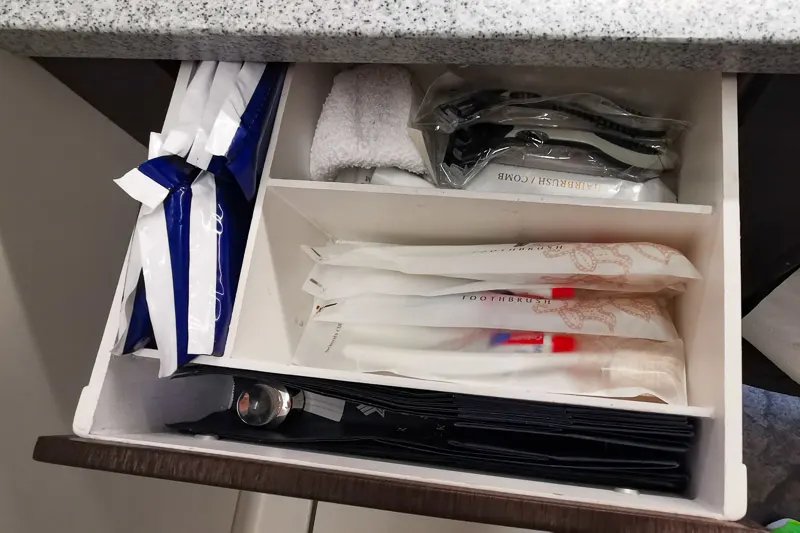 There are also hand towels, as well as lotion and facial mist on the rack.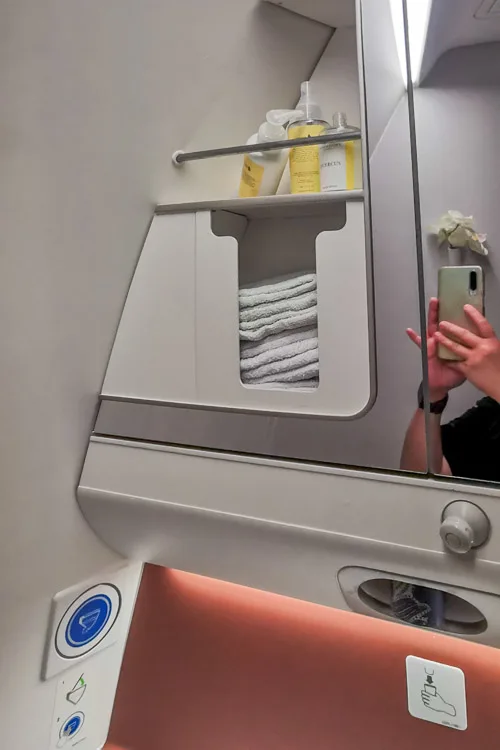 Service
As I elaborated in the Meal section, the service from this team is severely lacking. The meal guy didn't ask what I wanted, and simply served what he thought I wanted. This was definitely way below Singapore Airline's standard.
My spouse also experienced a sub-standard service. He pressed the button to call the cabin crew. When the guy came (not the same guy as meal guy), the crew looked at my spouse with an annoyed face without saying anything, so my spouse pointed to the empty glass and the crew cleared it without saying anything at all. Guess silent service is a thing here.
Despite the two bad apples, there were great services by the female cabin crews who helped to manually fix my seat issue!
Unfortunately, the nametag of cabin crew is pretty hard to read. Hence, we didn't note the name of the crews.
Feedback
Did you know that at the end of each flight, SIA sends you an email with a link to provide feedback, and the link expires in just a few days? We didn't.
We only checked our email when we were back from our week-long vacation, because of the internet restrictions in China. By the time we clicked the feedback link, the link has expired. Hence, we didn't submit our feedback. Newbie mistake.
Arriving at Beijing Capital International Airport
Beijing has 2 international airports: Beijing Capital International Airport (PEK) and Beijing Daxing International Airport (PKX). Singapore Airlines flies to/from the Capital Airport.
When we arrived at Beijing Capital International Airport Terminal 3, we had to go through the necessary arrival formalities.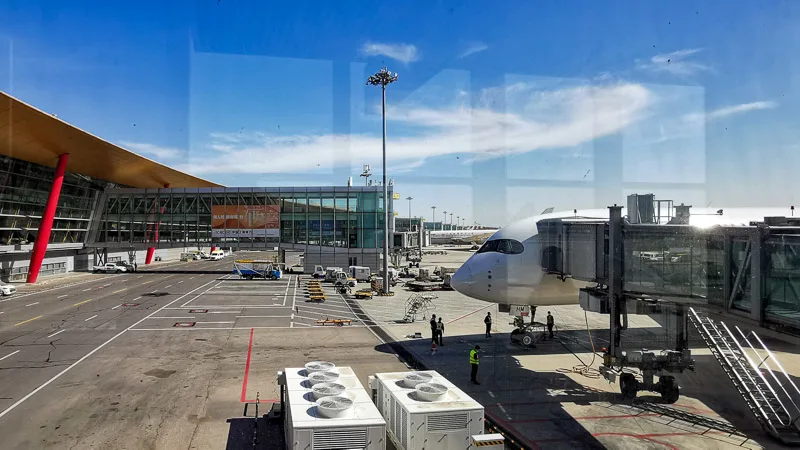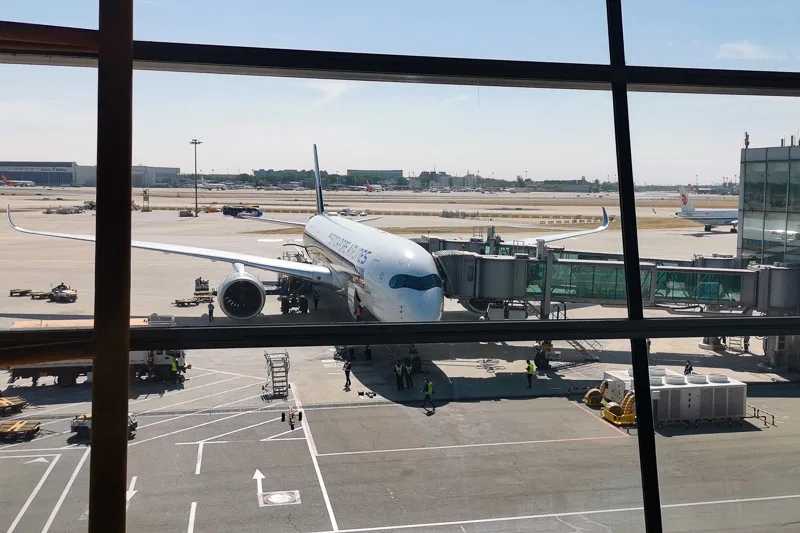 The first formality was getting our fingerprints registered using one of these self-service machines. After the registration, we'd receive a paper which we will need to submit at the immigration.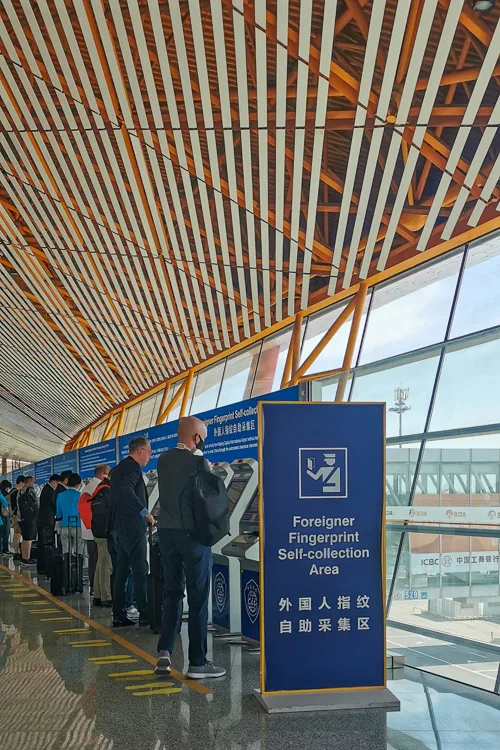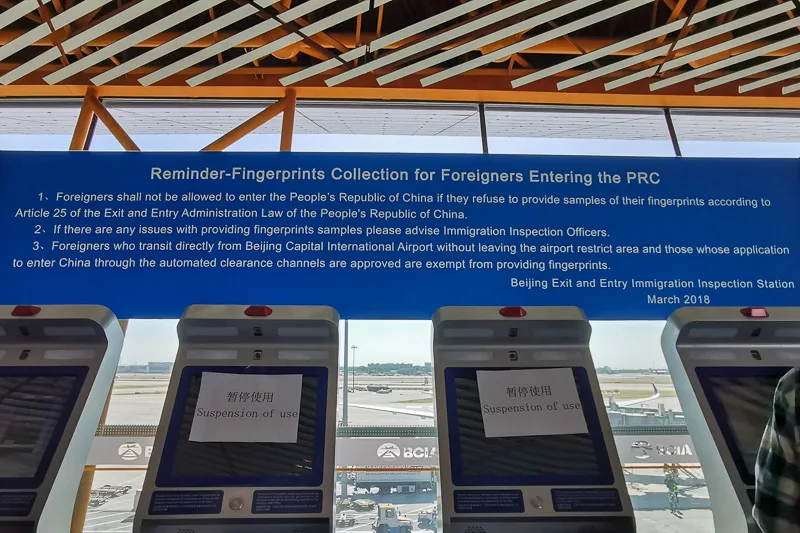 Then, we had to take the skytrain to another terminal for baggage claim and exit. It was quite confusing for first-timers like us because in Singapore, we are supposed to exit through the same terminal, not from other terminals.
Anyway, the design is quite fool-proof. There was no other option for us other than taking the skytrain, and the skytrain only stopped at 1 location, so it felt seamless.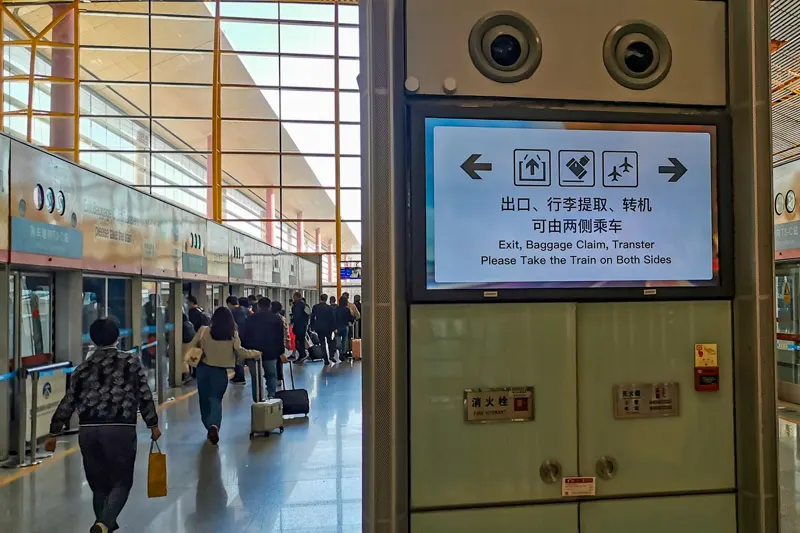 After arriving at the other terminal, we took our baggage and off we went to the city.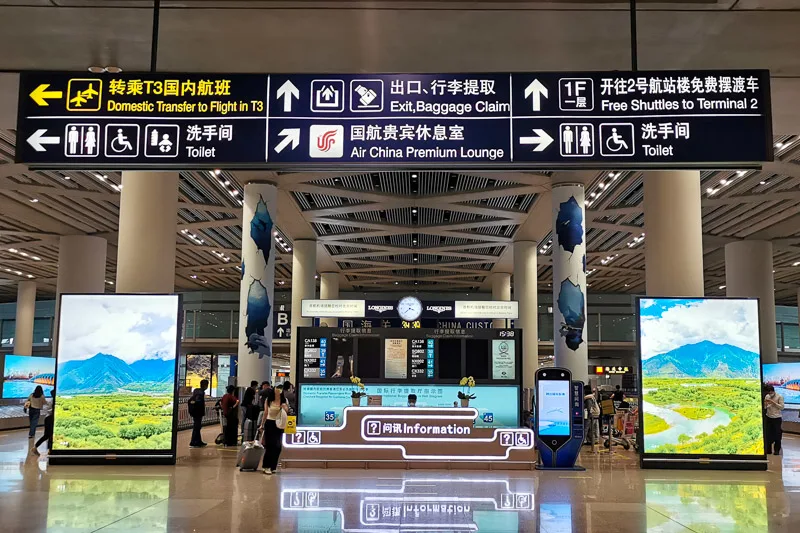 To travel from Beijing Capital Airport to Beijing city, the easiest way would be to take the Beijing Capital Airport Express Train. Train leaves every 10 minutes, and we simply used our AliPay QR code to enter.
Beijing Capital Airport Express Train has 5 stations: Capital Airport Terminal 3, Capital Airport Terminal 2, Sanyuanqiao, Dongzhimen and Beixinqiao. The ticket costs CNY25 regardless of your departure and arrival points.
Alternatively, if you're bringing quite a number of luggage, you might be better off taking taxi instead.
Part 2: PEK-SIN
Pre-Departure
Prior to our departure from Beijing, we had to fill up exit form which can be found in the same declaration form that we filled up for entry.
And since we're flying to Singapore, we also had to fill up Sngapore's SG Arrival Card (SGAC).
Meal selection was available before departure, however, because of the restricted internet connections in China, we didn't choose our meal before departure.
Getting to Beijing Capital International Airport
Beijing Capital International Airport is located about 46km from the Tiananmen. We decided to take taxi from our hotel at Fairmont Beijing to the Capital Airport. It cost us ONLY CNY72.72.
If we were to take airport train, we would spend CNY50 for 2 people for the train, plus probably CNY20 to get to the train station. So, it was really a no-brainer, a taxi was the best choice.
Along the way, we got to have mini sightseeing. We saw the CCTV Tower and CITIC Tower.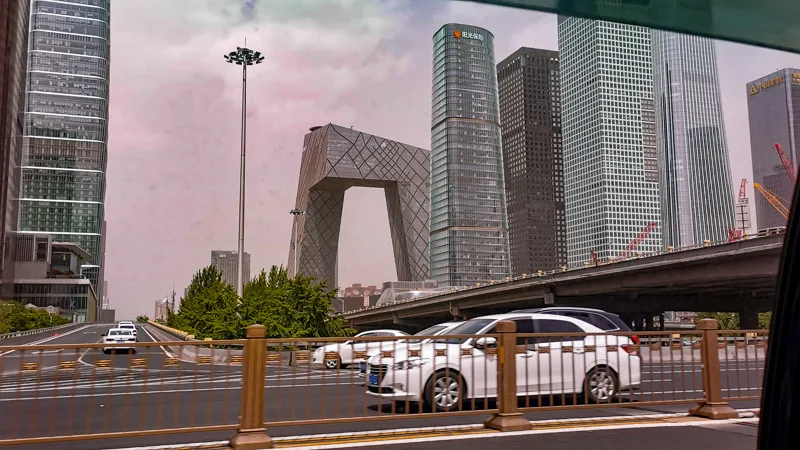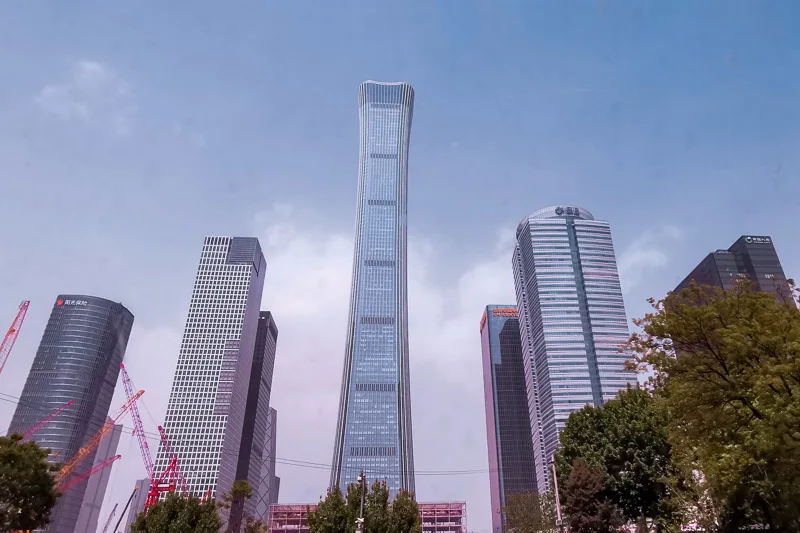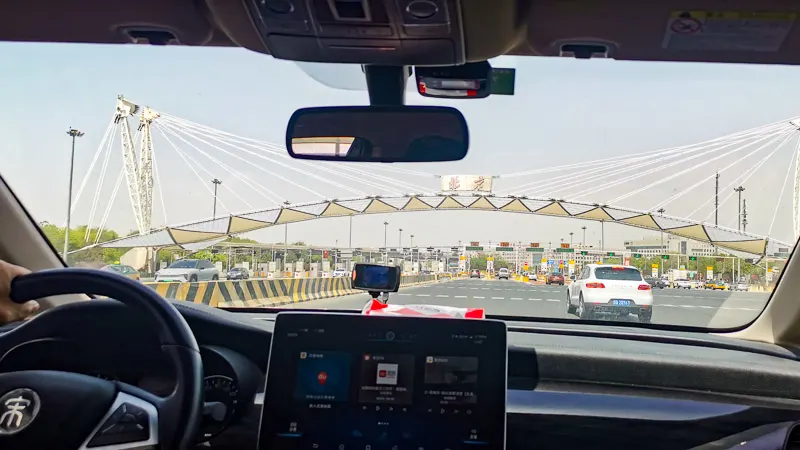 Checking in at Beijing Capital International Airport
Our PEK-SIN flight departs from Terminal 3, hence we checked-in at the Terminal 3. There is a designated lane for Business Class passengers at row F.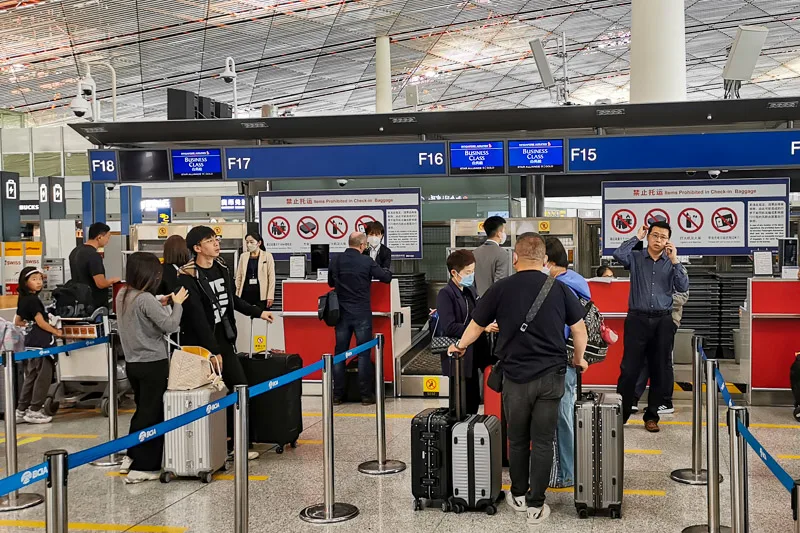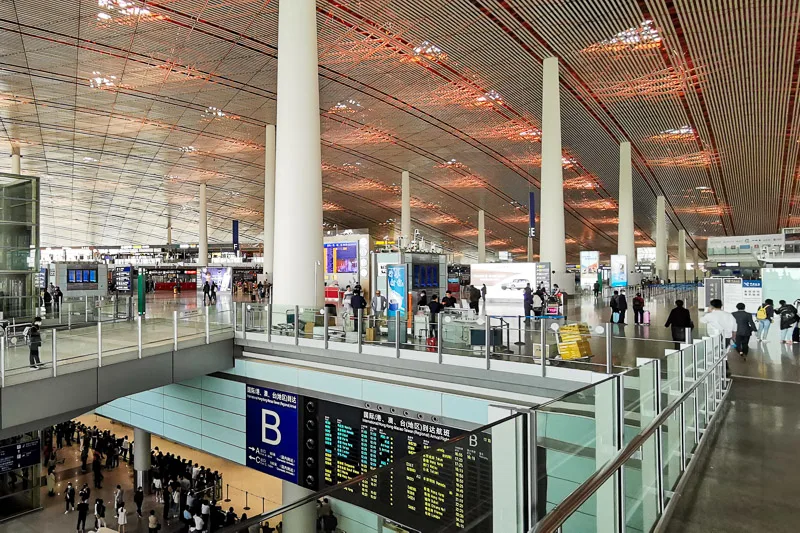 We informed the check-in girl that we wanted a fragile label for our bag. She gave us our luggage tag and told us to drop our luggage at the "International Oversized Baggage Check-In" located at row D50. We appreciate the gesture.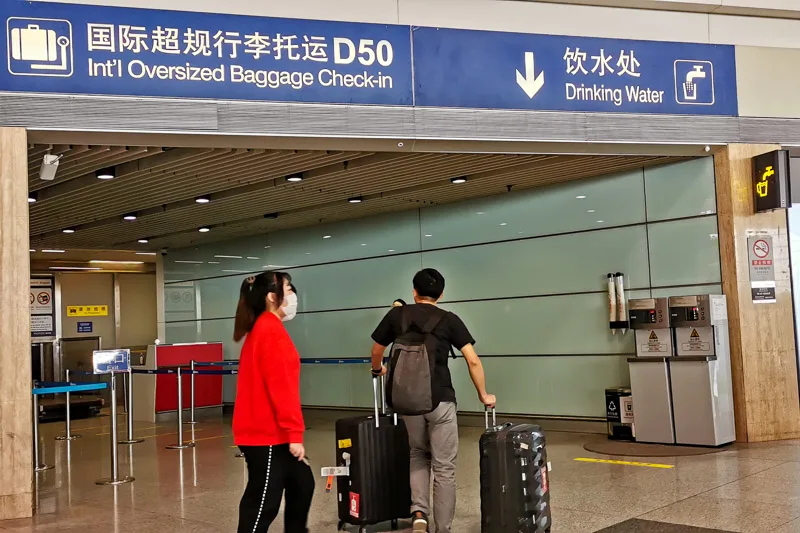 Air China First Class Lounge at Beijing Capital International Airport
Because there isn't a SilverKris Lounge in Beijing, we were invited to Air China First Class Lounge instead. While the name sounds grand, the lounge is apparently open to Priority Pass members too! Oh well.. I've written a separate post about this lounge. Read my review of Air China First Class Lounge.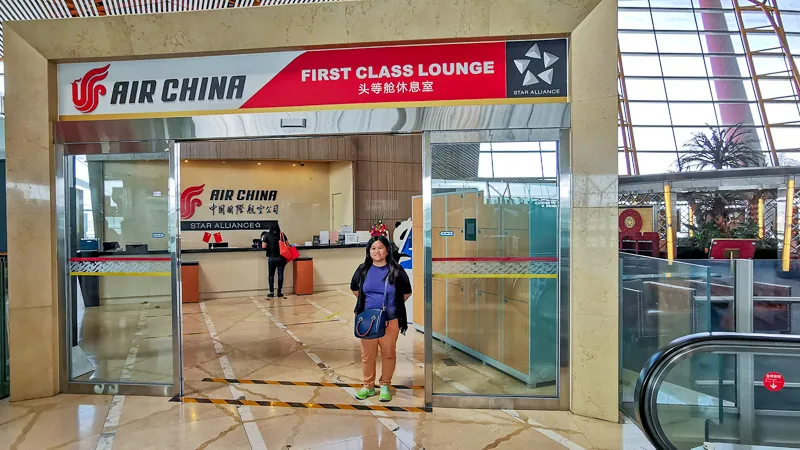 Boarding
Our aircraft departs from gate E29, which is located at Terminal 3E. It's not that far from the Air China First Class Lounge.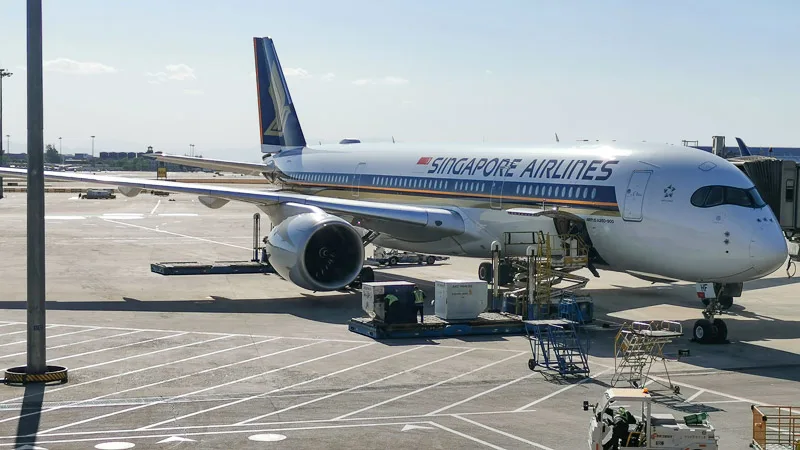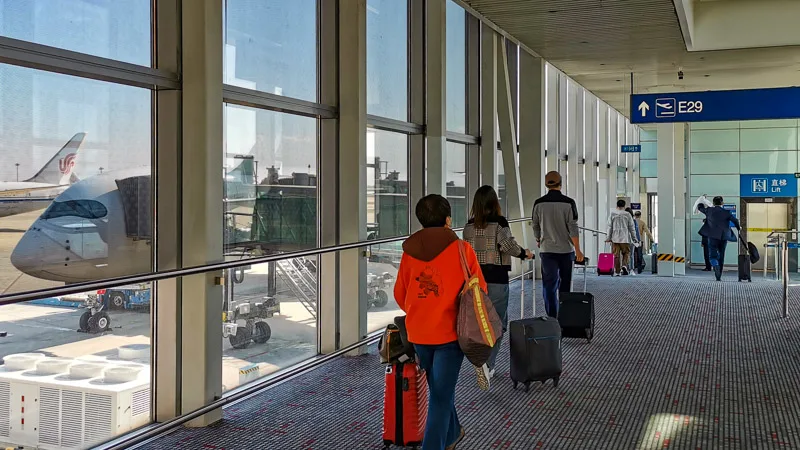 Seats
Because the seat features are pretty much the same as the first flight (they're the same aircraft), so I'm not going to repeat seat features. Instead, I'll just focus on location of our seats.
For this PEK-SIN flight, our seat numbers are 21D and 21F. It's located at the rear section, and it's the last row of the entire Business Class section.
One thing we didn't like about the rear section is that it shares the same door as the Economy passengers. So, during boarding, the were many passengers passing through our seats.
We had to be super careful whenever we saw people with oversized carry on, they might just unintentionally knock over our drinks or our stuffs that we placed on the console table.
The second thing we didn't like is that we only had 2 toilet options instead of 4, which is the toilet in front of row 19. I also felt that our toilet was less clean compared to the one at the front.
Sure if we had to use toilet urgently, we could walk all the way to the front. Still.. I would much prefer to sit in the front section in the future.
Meals
Compared to our first leg, the meals on this second leg of PEK-SIN looks extremely lavish. Our PEK-SIN is an evening one, so we had a full meal service.
The meal service started with canape, which was Singapore Chicken Satay. This famous satay didn't disappoint! The meat was chunky, panut sauce was tasty. It's the perfect way to start a meal.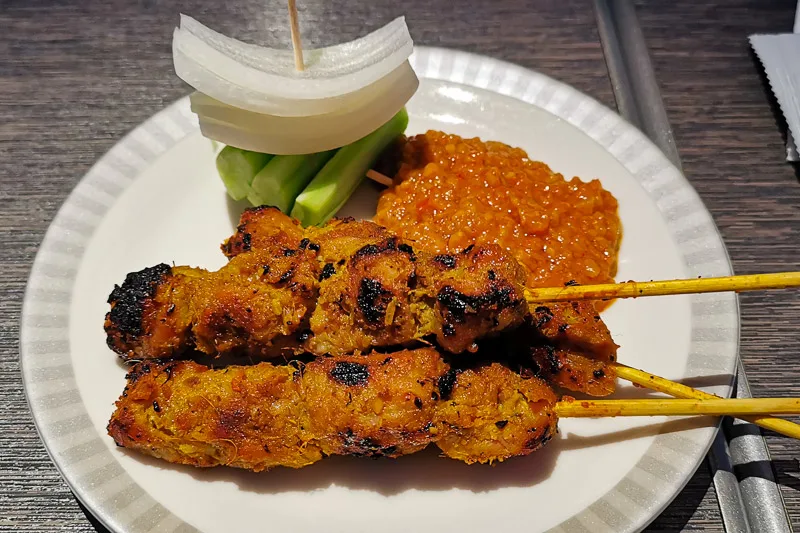 The appetizer was smoked duck breast with potato salad. Not bad. Side note: I love SQ's garlic bread!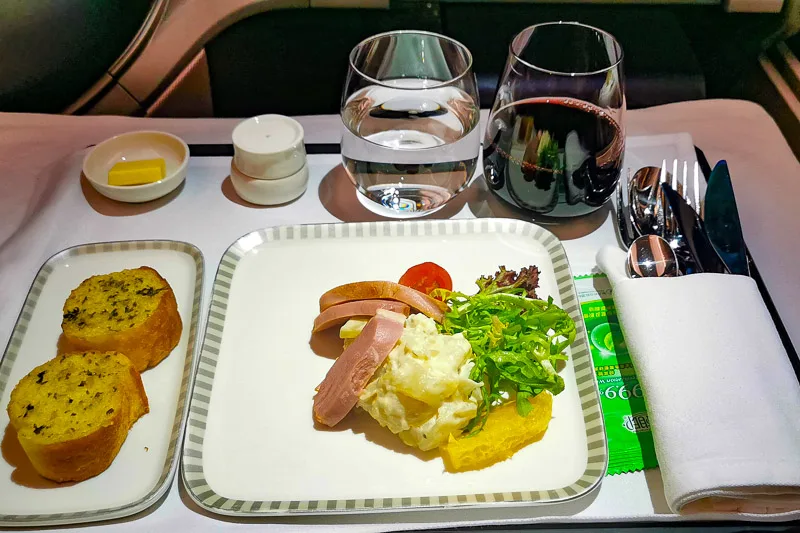 My main was pan seared sea bass fillet with sauteed vegetables, fettucine pasta and olive caper tomato sauce. The sea bass tasted great with tomato sauce, while the pasta is a tad dry.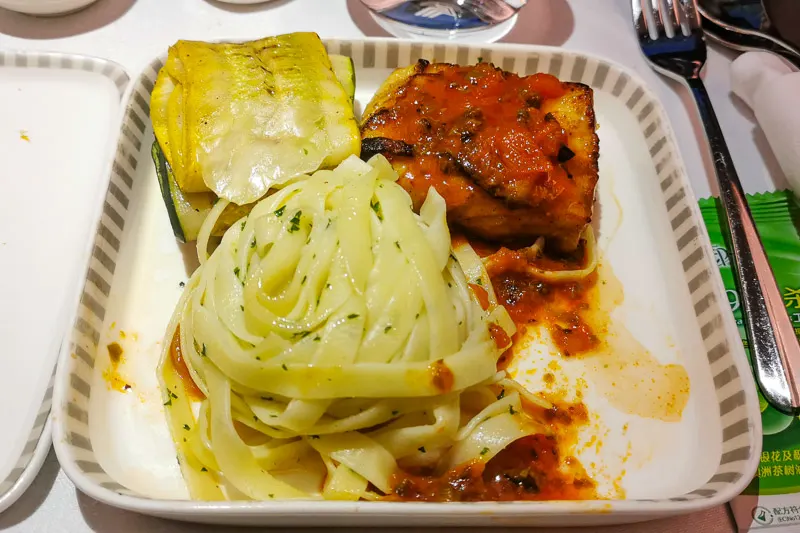 My spouse had oriental Jing Du Style Pork Ribs with Chinese vegetables and egg white fried rice. The taste was alright. No complaints.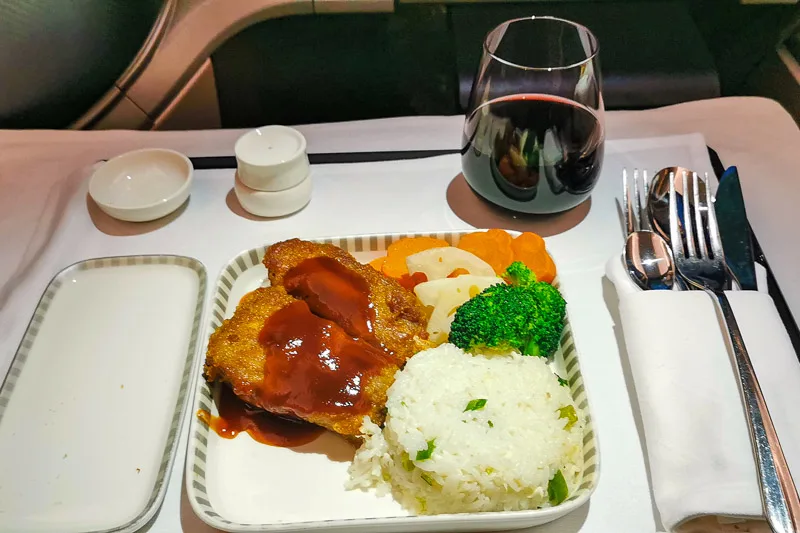 For dessert, it's a choice between raspberry cheesecake and cheese platter, plus fresh fruits. I went with the former while my spouse went with the latter.
I LOVE THE CHEESECAKE! It was so addictive, I couldn't stop eating it. If it wasn't for my full stomach, I would have finished the entire cake!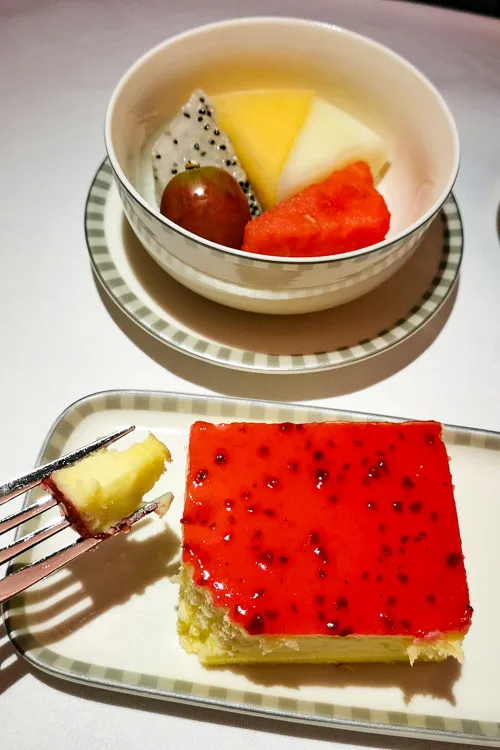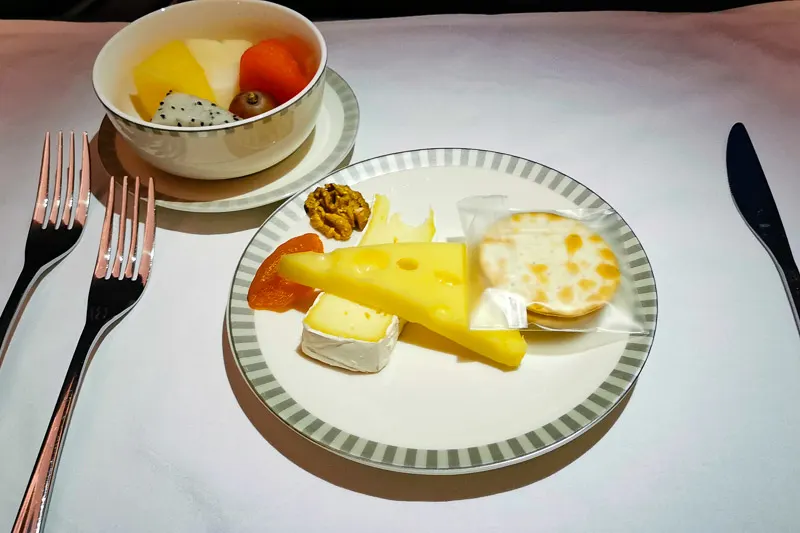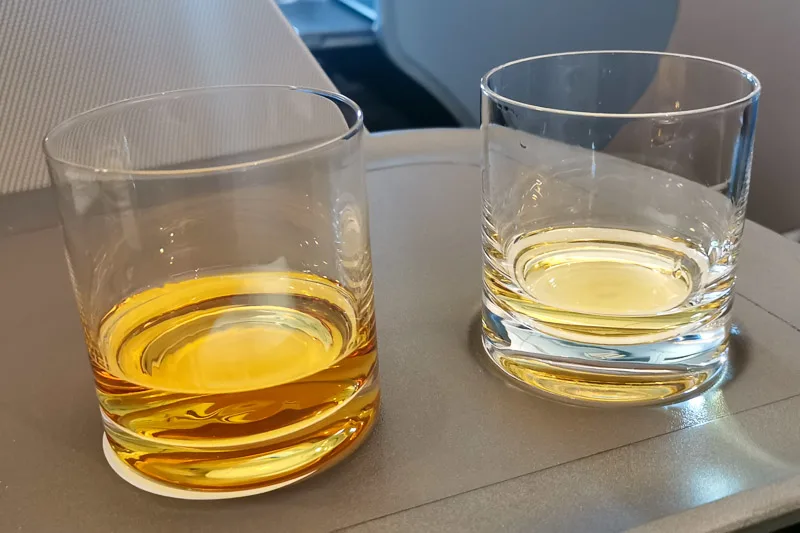 Service
The service on this flight is WAY MUCH BETTER than what we've seen in our first flight.
First, as soon as I got to my seat, the cabin crew came to ask for my meal and drink. In our first flight, the cabin crew asked me for my meal even though I had pre-booked a BTC meal.
Then, I was pleasantly surprised to find that most amenities have been provided to me, including slippers, socks, eyeshades, headphones and even a bottle of mineral water!
The leading stewardess Lisha Fang knew my spouse loves whisky because my spouse purchased whiskies from KrisShop before the flight and she was the one delivering it to my spouse onboard.
When she handed over the whiskies to him, she offered him some whisky recommendations as seen in the above photos, and even shared stories about whisky with him. This team is just very friendly and superb.
Entertainment
The In-Flight Entertainment is pretty much the same as the first flight, so I'm not going to repeat it here.
Toilet
Similarly, toilet feature is pretty much the same as the first flight too.
Arriving at Singapore Changi Airport
We had a smooth landing back at Changi Airport. We landed at Terminal 2 instead of Terminal 3. It's not a big deal for us.
But, if you're a visitor coming to Singapore, you might want to take note that the arrival terminal may change, and you can simply take the skytrain to go to other terminals.
Conclusion
In every flight, I would say the hardware contributes about 50% of guests satisfaction and the service quality contributes the other 50%.
If I have to rate the hardware of these two flights, I would give 5.0/10 for the first leg (SIN-PEK) due to the faulty seat, and 8.0/10 for the second leg (PEK-SIN).
And, my rating for the service would be 6.0/10 for the first leg (SIN-PEK) and 9.5/10 for the second leg (PEK-SIN).
I really hope SIA looks into the performance of each team seriously because it takes just one bad apple to spoil the barrel. The service from the team in my first leg was way below SIA's standard.
I'm an SIA fan and I hope it can continue to be one of the world's top airlines and improve the team's performance.
If you like my work, you can buy me a coffee! Your support will help me to keep going!