I live in Singapore and there is really no reason for me to intentionally book an airport hotel in Singapore… unless a travel mishap happens.
Unfortunately, a mishap happened to us this year. Our flight was delayed for almost a day. That explains why we had the opportunity to stay at Ambassador Transit Hotel at Terminal 2.
In case you're wondering, what's a transit hotel? A transit hotel is a hotel located at the airside of an airport. You will need a passport and boarding pass to access the transit area. Usually transit hotel serves passengers on a long layover.
In this article, I'll share my honest thoughts about our stay at Ambassador Transit Hotel at Terminal 2.
Our Background Story
Our Malaysian Airlines flight from Singapore to Malaysia was delayed for 4.5 hours. Because of this, we wouldn't be able to catch our connecting flight to Indonesia.
Hence, the airline rebooked us on a direct flight to Indonesia, but this new flight only departs the NEXT DAY. We had a total delay of 20.5 hours and we had to spend the night at the airport.
Fortunately, the airline booked us a room at Ambassador Transit Hotel at Terminal 2, so we won't have to be sleeping at public places in the airport.
Types of Room
At the time of writing, there are 3 types of room at Ambassador Transit Hotel at Terminal 2:
Standard Ensuite Room (1pax)
Double/Twin Ensuite Room (2pax)
Single Budget Common Facilities (1pax)
The rate is per 6 hours block. You can check the latest price on their website.
Booking
You can book them online in advance if you are sure that you can arrive at a certain time. Or, you can simply turn up and book the room on the spot.
For us, our booking was done by our airline. Malaysia Airlines booked a room for us by directly emailing Ambassador Transit Hotel.
We didn't have any written proof of the booking; we simply had to turn up at the hotel, tell our story and present our boarding pass.
Check In
We checked in at around 3pm and our new flight would be departing at 7.40am the next day.
The receptionist said that because our boarding time is at 6.40am, we have check out latest by 6.30am. That means, we had about 15.5 hours at the hotel.
For this duration, we were entitled to 2 meals: dinner and breakfast. We were given 2 meal vouchers each, which we can use at the nearby Ambassador Transit Lounge.
We were asked if we wanted a double room or twin room. Obviously we chose the former.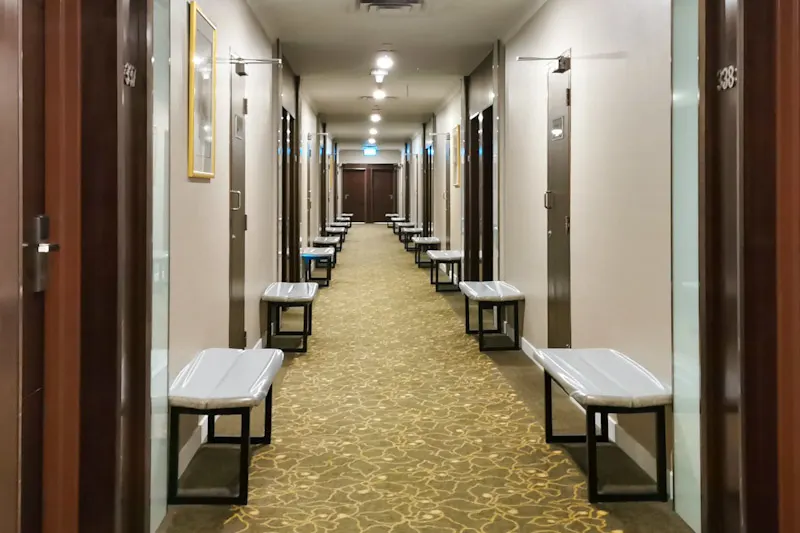 Have any questions about traveling in Singapore? Join All About Singapore Travel FB group, I'll be there to answer your questions!
Double Room
Our double room comes with a double bed and an ensuite bathroom. It's a pretty basic room with no fridge, no wardrobe and no window. But I'll take this flat bed over reclined seats at the lounges anytime for an overnight stay.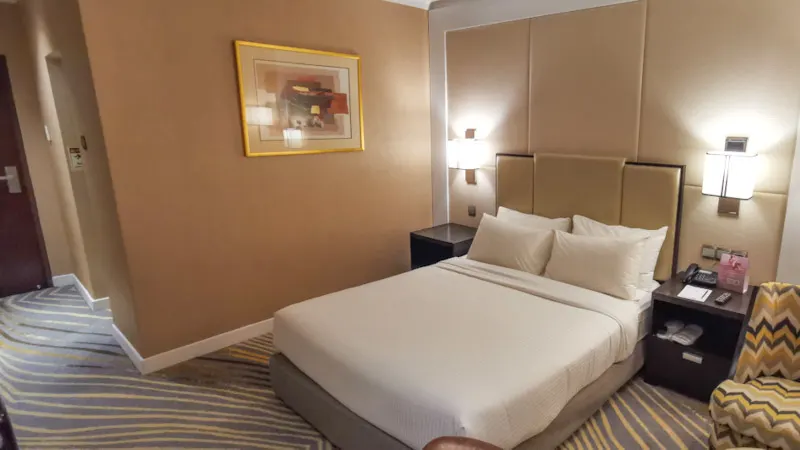 The bed is a queen-sized bed with 4 pillows and coffee tables at each side. The lighting is pretty dim, so it's not exactly suitable for working.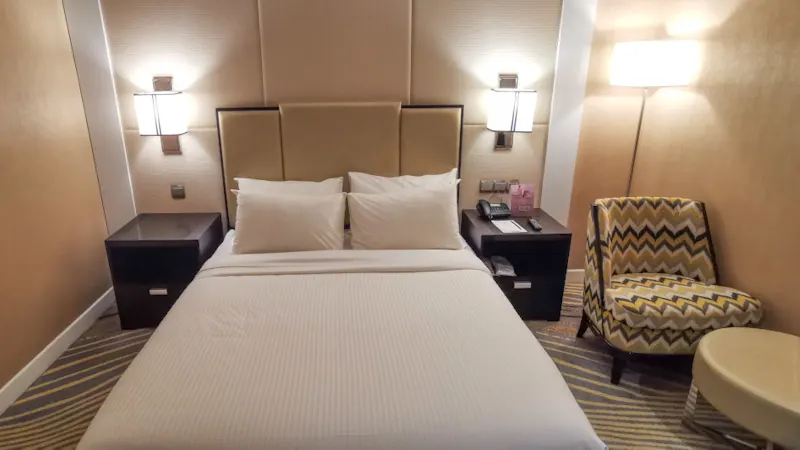 There's a sofa chair and a round table beside the bed. There's also a desk with a chair, a half-height mirror and a basic minibar.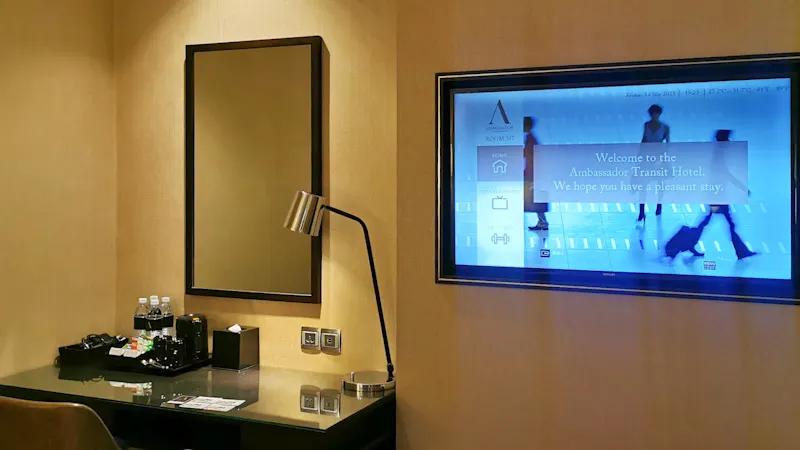 On the desk, there's a hairdryer, 4 bottles of mineral water, instant coffee, Milo and teas, as well as electric kettle and cups.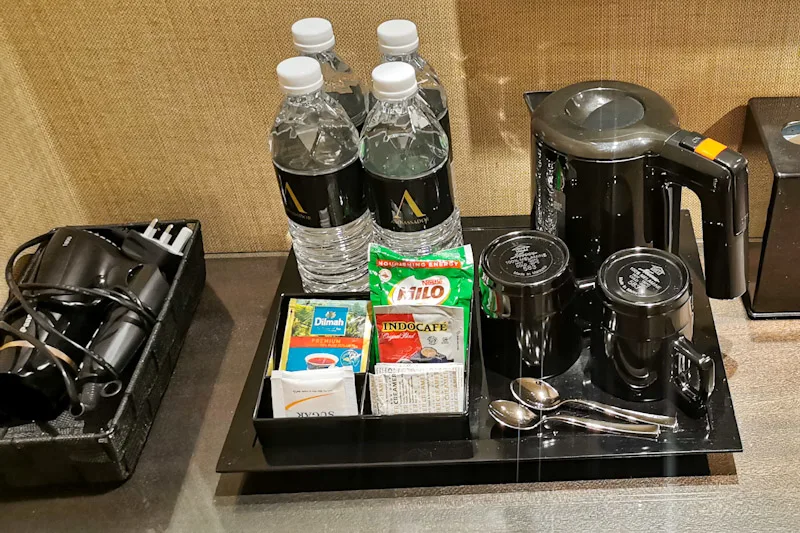 There's no built-in wardrobe in the room; only a row of 4 hooks with 2 clothes hangers. Good thing they have a full-height mirror just outside the bathroom.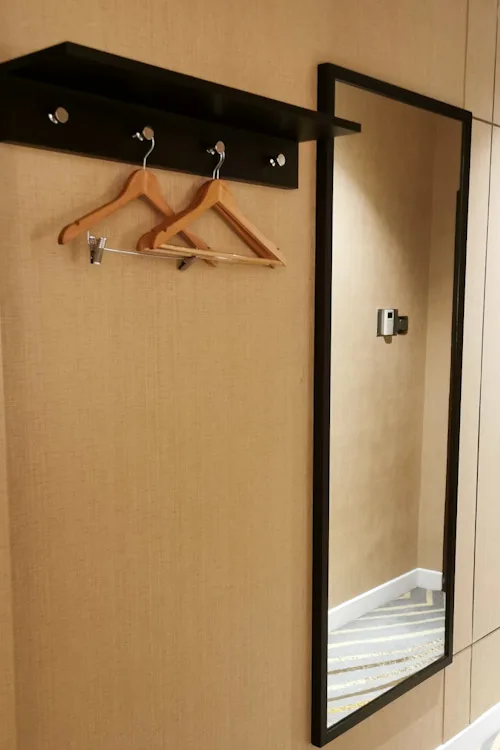 Bathroom
Despite the small size, the bathroom has quite a nice interior.
The toilet bowl is right beside the sink. There's a huge mirror across the wall above the sink. No cabinet, the bathroom amenities can be found inside the box on the ledge.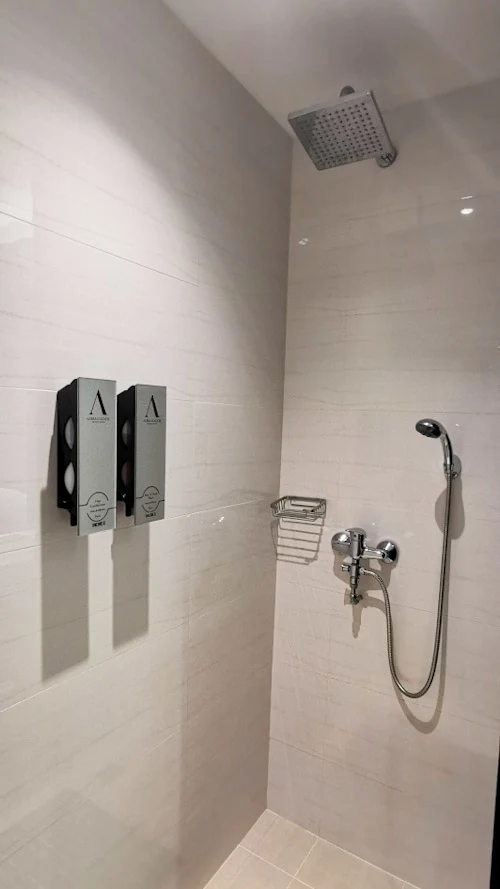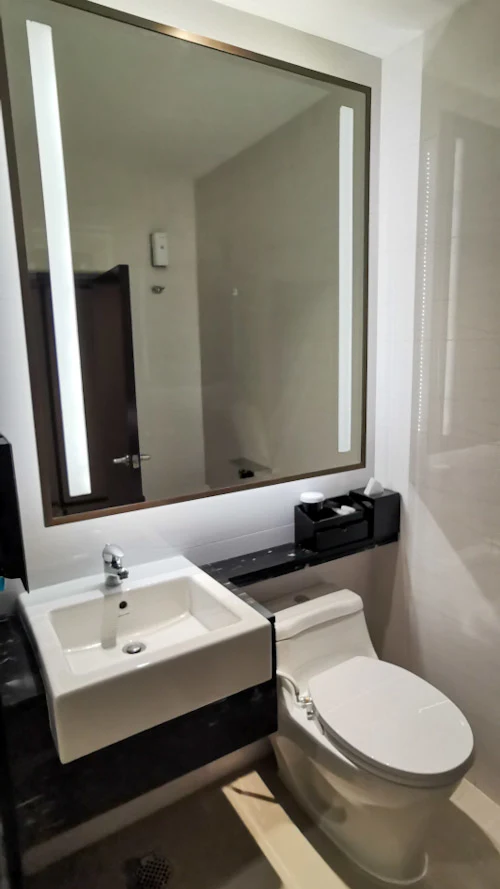 The shower comes with a rainshower and a hand shower. Water pressure and temperature are alright. The body wash and shampoo are in the containers attached to the wall. No fancy brand.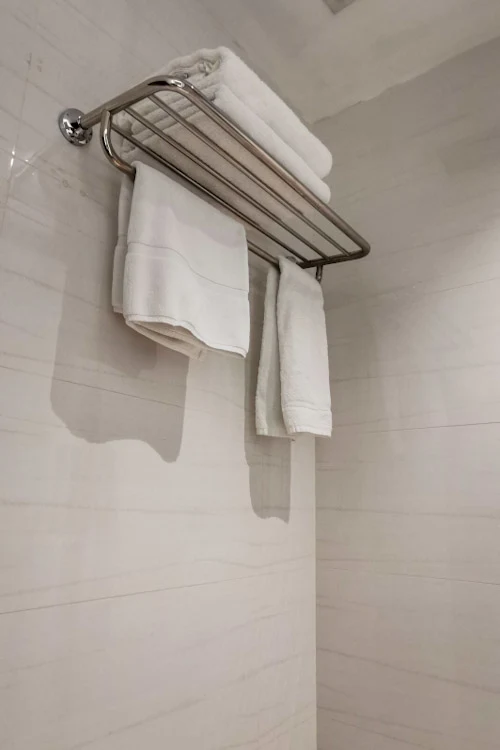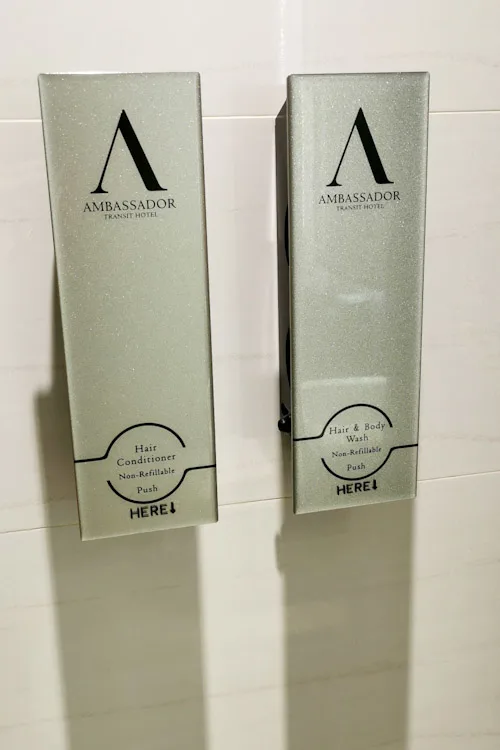 The bathroom amenities consist of toothpaste and toothbrush, comb, shaving kit, sanitary bag, shower cap and hand soap.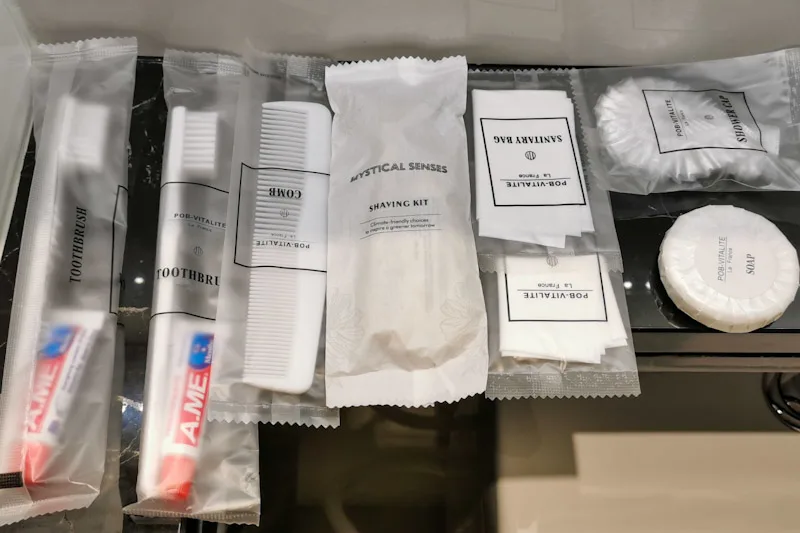 Gym
There is a gym next to the Lounge, however, admission is not free. I was told that it costs S$15 for 2 hours of gym usage.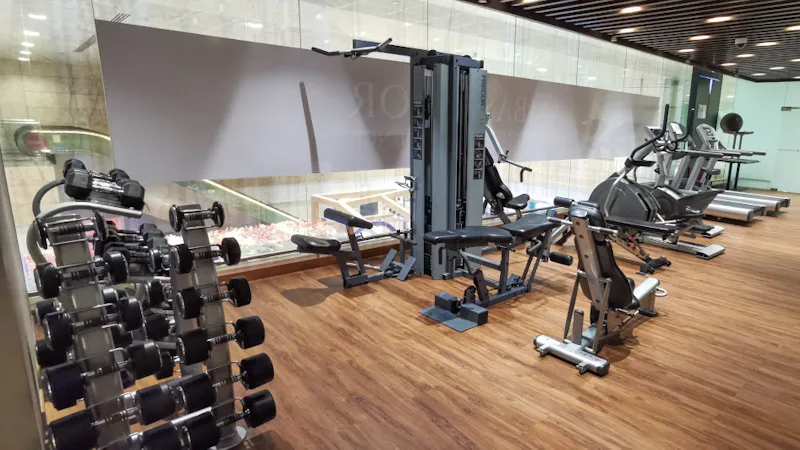 Meal
As mentioned earlier, our room comes with 2 meals at Ambassador Transit Lounge: dinner and breakfast.
We were given 2 meal vouchers each, one for dinner and one for breakfast. The vouchers are dated and labeled with our room number.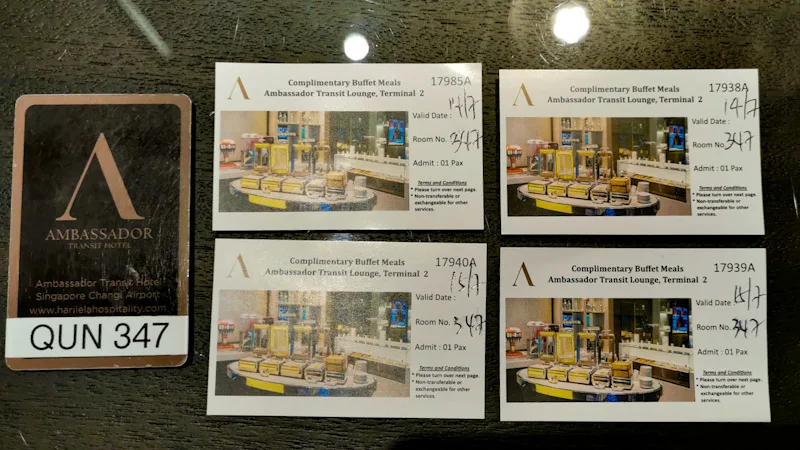 Behind the voucher are the terms and conditions:
45 minutes Lounge use for meals
Alcoholic beverages are not included, subjected to payment
Must be used during hours of Hotel T2 stay
Additional meal SGD 20 nett
Child between 2 to 6 years old additional SGD 10 nett
Other lounge facilities subjected to payment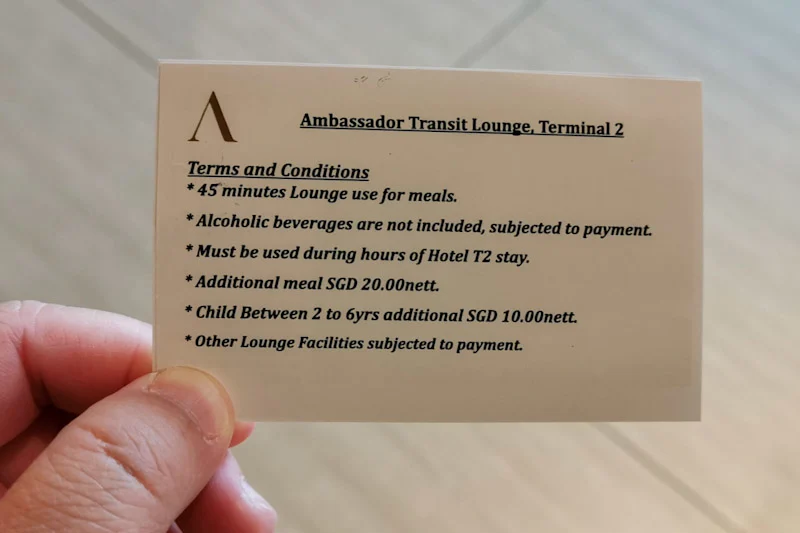 Personally, I feel that 45 minutes meal duration is too rush. During our visit, the lounge wasn't that crowded. Since the food selection was not much, we didn't spend more than 45 mins anyway. For comparison, Priority Pass holders get 3 hours of stay.
Regarding the lack of alcohol beverage entitlement, I don't get it. I mean, the 6-hour double room costs S$255 (i.e. S$127.5/pax); with this price, you can't even give a beer or wine to the guest? For comparison, Priority Pass holders get free alcohol drinks, albeit in limited amount.
Anyway, it wasn't a big deal for us because we have Priority Pass that we could use at other lounge that provides free-flow alcoholic beverage. We decided to have late lunch/early dinner at Ambassador Lounge, and in the evening, we we'd go to SATS Premier Lounge at Terminal 3 with our Priority Pass.
Read my post about the Ambassador Transit Lounge at Terminal 2.
Check Out
The check out process was really fast and straight forward. We simply gave our room key to the receptionist and that's it. We weren't asked to wait for the housekeeping to check the room.
Final Thoughts
Ambassador Transit Hotel at Terminal 2 is quite expensive for such a basic room with minimum facilities. However, transit hotel is the best option for people who need to nap or sleep, and can't leave the airport.
If you have a long layover, you have the option to sleep at landside airport hotels outside the security (such as Crowne Plaza, Yotelair Jewel), or even at hotels in the city. All layover passengers are allowed to exit the airport security maximum once.
If you have a short layover and you desperately need to sleep on a flat bed, transit hotel is definitely worth the expensive price tags.
If you can sleep anywhere and you don't need a flat bed, you can definitely save money by sleeping at reclined seats at snooze lounge or at contract lounges.
For your information, Changi Airport has 4 transit hotels:
Terminal 1: Aerotel
Terminal 2: Ambassador Transit Hotel T2
Terminal 3: Ambassador Transit Hotel T3
JetQuay CIP Terminal (aka private terminal): JetQuay Sleeping Suite
You can stay at any transit hotel, you don't have to stay in the hotel that's in the same terminal as your flight. That's because Terminal 1, 2 and 3 are well connected with skytrain.
If you like my work, you can buy me a coffee! Your support will help me to keep going!