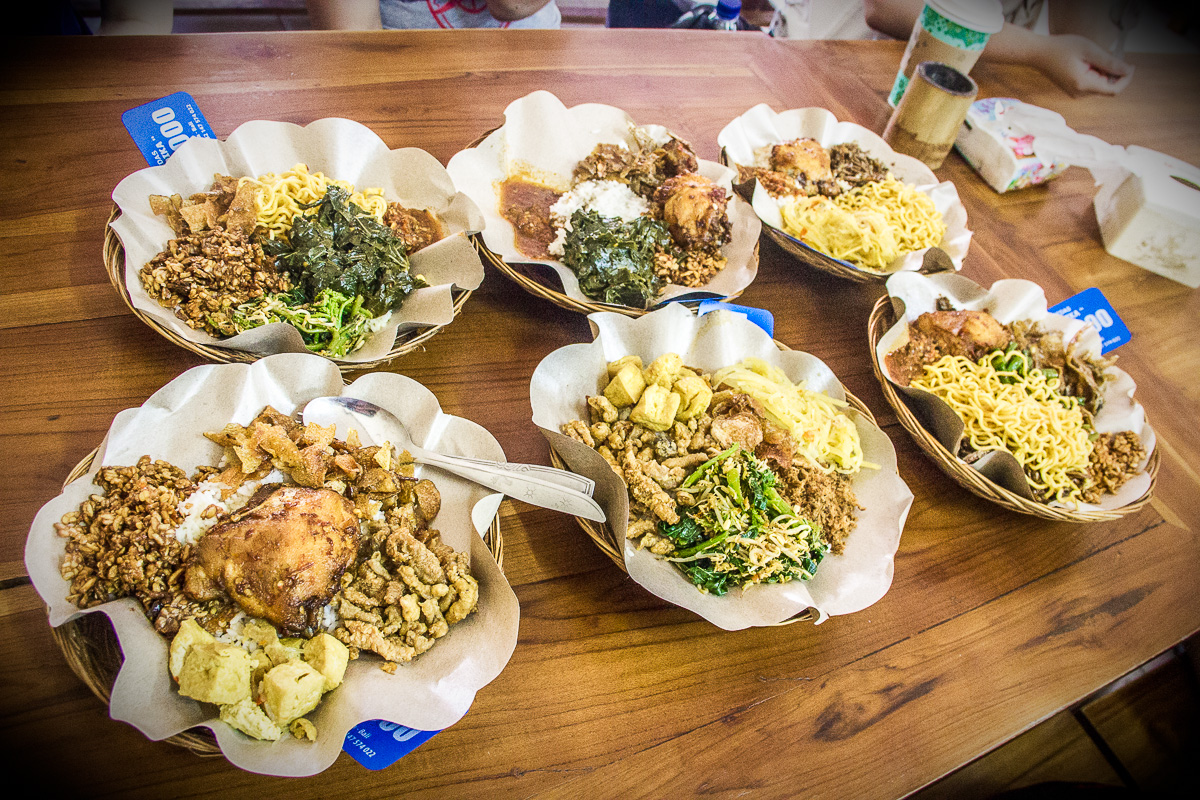 Day 5 is the day when our team members have all arrived. We kicked off the day with a breakfast at Nasi Pedas Ibu Andika at Jalan Raya Kuta. "Pedas" means spicy. Nasi Pedas Ibu Andika is well-known for its spiciness, obviously, and its cheap price. They serve halal food. It's a kind of mixed rice (nasi campur), where you choose the dishes that you want and you'll be charged depending on the dishes that you chose. There were so many dishes to choose from: potato chips, fried chicken intestine, fried noodle, tofu, tempe, fried chicken, vegetables, long beans, and others. The shop is open for 24 hours, so you can go there pretty much anytime. We went in the morning and the shop was quite empty.
Here's how to order: Stand at the food display, tell the staff you want a plate of food, choose your ingredients (don't forget to ask for chili). Once done, the staff will put a price tag on your plate. Bring the plate to your seat and enjoy your meal. If you need a drink, tell the staff at the drink fridge what you want. The staff will not give you a price tag for drink, you just declare your drink when you pay. After you finish the food, bring the price tag to cashier and pay for your food.
So what did I order? Well, my plate is the one at the bottom left corner. I got fried chicken, potato chips, tempe, tofu, fried intestine, and just a little bit of chili (Rp 43k). It wasn't too spicy for me. In fact, it tasted rather sweet. And I ordered my favourite drink: teh botol sosro (Rp 4k) I didn't finish my food. My friends joked that the food must be not good because I didn't finish it. Honestly, I don't know, it's just okay for me, not too bad or too great. Perhaps I need to ask for more chili!
For your info, opposite this stall is Pabrik Kata-Kata Joger, which is a souvenir shop selling stuffs with humorous lines on it. The stuffs they sell are shirts, slippers, bags, key chains, etc. I bought a slipper at Joger for Rp 42500. Nearby Nasi Pedas, you can also find souvenir shops selling textiles and some food items, such as pie susu and pie legong. We got our pie susu and pie legong from there.
Next, we made our way to Ubud Monkey Forest. Stay tuned for next post.
Location of Nasi Pedas Ibu Andika:
[googlemaps https://www.google.com/maps/embed?pb=!1m14!1m8!1m3!1d2150.27565751175!2d115.17628929030245!3d-8.727314662469688!3m2!1i1024!2i768!4f13.1!3m3!1m2!1s0x0%3A0x59993ccb74d827b1!2sNasi+Pedas+Ibu+Andika!5e0!3m2!1sen!2ssg!4v1470207843623&w=600&h=450]