We spent so many hours looking for the perfect place to stay at in Phuket. Well, our definition of perfect involves the adjectives cheap and nice. And I think we found a gem.
To be honest, there are too many things I like about Phuket. First, its efficient transport and travel agent. Second, the huge varieties of food. And, the number of affordable hotels. There are literally hundreds of affordable hotels all around Phuket.
Since it was our first visit to Phuket, I wanted to stay at a busy location with plenty of amenities and crowd. I want to be able to walk safely at night along busy roads with countless cheap massage parlours.
It looks like Patong is the area that could fulfil my requirement. So, Patong it is! We booked Lub d Phuket Patong for our first 2 nights because of the many rave reviews. We told ourselves not to have any expectations. After all, it's only SGD 50.9/night after tax.
From Airport to Patong
To get to our hotel, Lub d, from airport, we decided to take the minivan (it cost THB 180 and dropped us right in front of the hotel) instead of public bus (we don't want to walk from bus stop to hotel carrying luggage) or taxi (we prefer to save on this and splurge on food and activities).
We were so glad when we discovered that we can find literally everything as we stepped our feet outside the hotel. Massage, travel agent, street food, restaurants, bars, supermarket, mini market, you name it.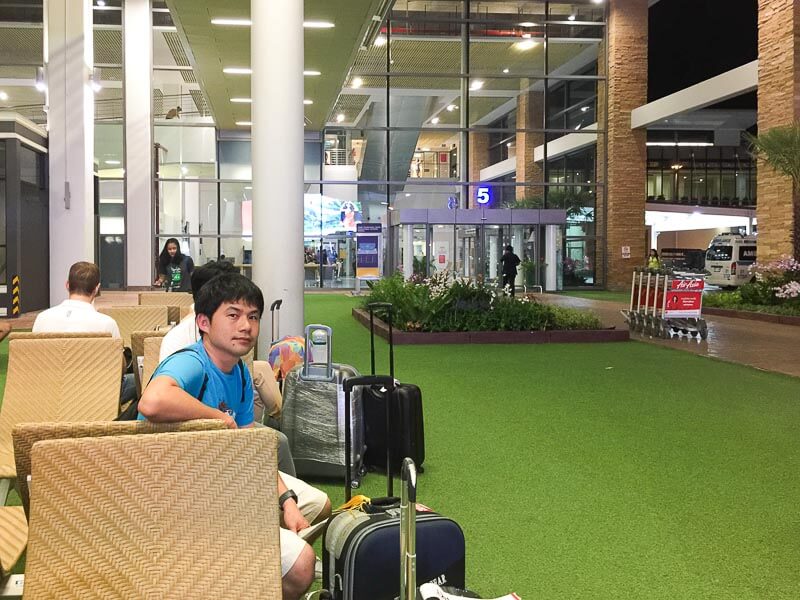 Massage around Patong
We had massage from a massage parlour opposite the hotel on our first night. The price was THB 250, which is a pretty standard rate in Phuket. It was okay. The next night we had a more expensive massage at So Relax (220 meters from Lub d). We paid THB 400 and I loved it (but my hubby didn't). I guess the satisfaction you get from a massage depends largely on the skill of your therapist.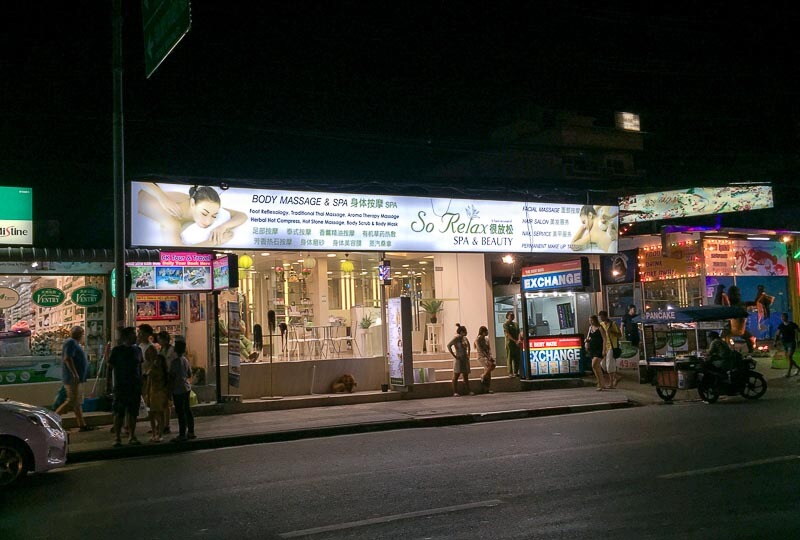 Food around Patong
Ok, to be honest, we don't have so much exposure to food in Patong. We only had 1 meal at Patong, and that was at Naughty Nuri's. The food was awesome. We ordered fried rice (nasi goreng), pork loin and a glass of Budweiser. Their signature dish is pork ribs, but we didn't order it because it was out of our budget. To our surprise, they gave us a small portion of the ribs free of charge!
I love the interior design and the live band so much, I didn't want to leave. We were seated at an open-air table. I swear I could stay there all night long if we didn't suddenly remember that we wanted to explore Patong. Oh ya, you're lucky if the free ribs tasting stall is still there. The ribs are out of this world! We were extra lucky on that day because we were given a voucher of THB 150 when we were walking past the restaurant.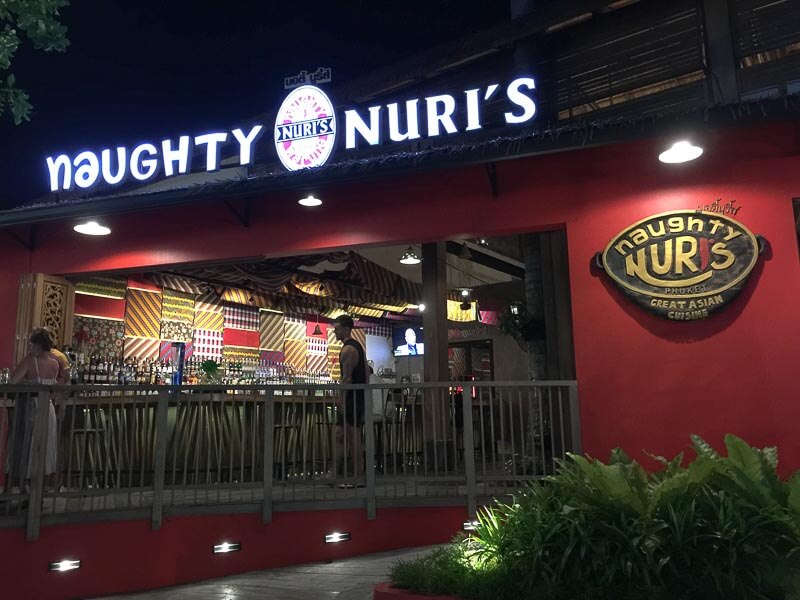 Free ribs

Live performance

Our food for the night

Yeah we wore couple shirt
Travel Agents
I'm an advocator of independent travel and usually, I would avoid travel agents unless they have the best prices and packages. Looking at the many tourist agents along the road, we had a feeling that those agents were out there to rip off tourists, as they do in many parts of Asia.
Surprisingly, travel agents in Phuket are different. Initially, I thought we could do everything without travel agents; that we could buy ferry tickets from the terminal. It turned out that doing it ourselves is more expensive than going through travel agents. If you're a first-timer in Phuket, you can trust the travel agents (but do a comparison of prices between different agents first).
In Patong, travel agents are literally everywhere. It's actually good for us because we have more options and it's likely the prices are really competitive.
About Lub d
A long time ago (in 2012, when I haven't met my hubby), I travelled to Bangkok alone and stayed in Lub d Bangkok female-only dorms and I loved it. So, I have the confidence that Lub d Phuket will not disappoint. Similar to its sister in Bangkok, Lub d Phuket has dorm rooms and private rooms. As I'm quite old now and my dorm days are behind me, hubby and I stayed in a Junior King Room.
A good thing about Lub d is that there are elevators, not one but many! Our hotel in Phi Phi and Phuket Town don't even have one elevator. Our room is pretty simple, with a bed with nice art above it, a balcony with drying rack, TV, safe, hairdryer, cloth hangers, two bottles of mineral water and a clean bathroom with towels, toilet papers, body soap and shampoo. It's a really nicely decorated room.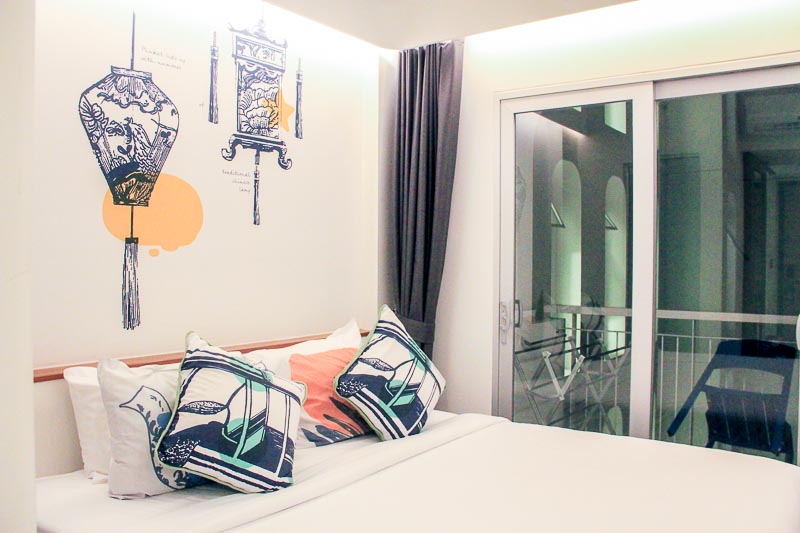 Our room came with a free breakfast for two. It wasn't a buffet, instead it was ala-carte. What we had was to turn up at the counter, place our order from the list of available food, take a number, wait for the number to be called up and collect our food. Coffee, tea and water are free-flow.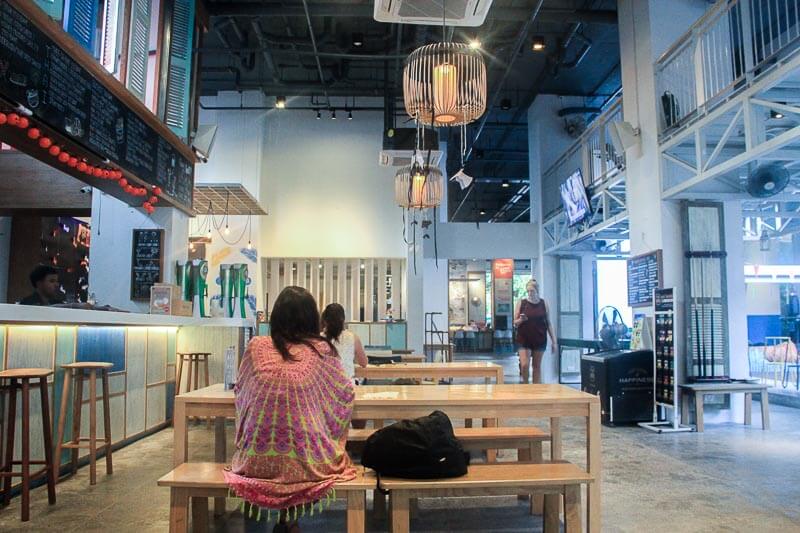 On our first morning at Lub d, I had a grilled pork rice while hubby had rice noodle soup. I loved mine and but he didn't. On the second morning, I had a toast with bacon, egg, tomato, mushroom and hash brown while hubby had a burger. Both were good, though not exceptional.
Noodle soup

Grilled meat with rice (yeah I eat rice for breakfast)

Toast with bacon, egg, tomato, mushroom, hash brown

Burger
Lub d has a pretty long list of facilities; some of them you'll never expect. There's a cool swimming pool with a see-through wall, bar, pool table, laundry, Muay Thai boxing ring, karaoke corner, and even a co-working space! How cool!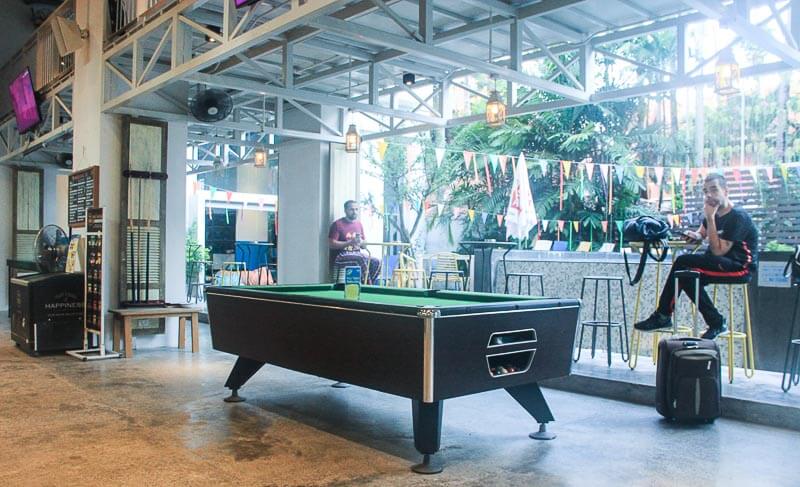 If you're looking for a place which is cheap but has a good vibe and is in close proximity to plenty of amenities, I recommend Lub d Phuket Patong. Click here to check the latest price.
So, I guess those are all of my first impressions of Patong. Next: James Bond Tour!
Disclosure: Some of the links in this post are affiliate links. If you make any purchase through my links, I will receive a small commission, at no extra cost to you. Thank you for your support