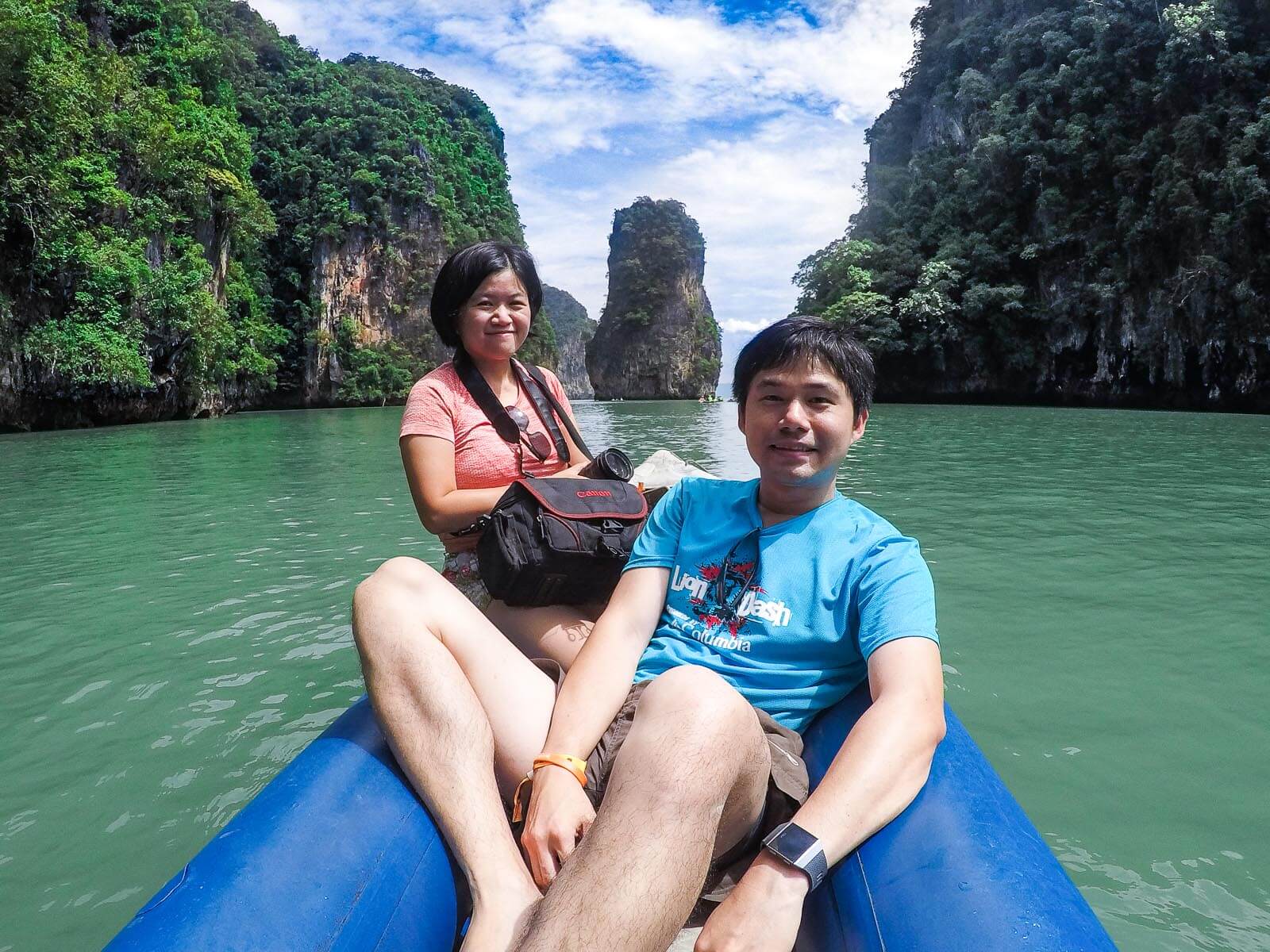 "What are the places that you REALLY WANT to visit in Phuket?" I asked my hubby when we were planning for this trip to Phuket.
"James Bond Island and Maya Bay," he said.
"Okay. Let's go to James Bond Island on our first day. Then, Phi Phi Island (where Maya Bay is located at) the next day."
That pretty much summed up how we did trip planning! Of course, this conversation can only happen after both of us have done thorough research (him on youtube and me on google).
In order to visit James Bond island, we have to join a day tour because there aren't any public boats that let you purchase last minute tickets at ferry terminals. And these travel packages must be booked in advance, at least one day before.
If we were to visit Phuket five years ago, chances are we must walk around our hotel frantically in search of the best travel agent that sells day tour to James Bond island at the best price. It's likely we end up paying exorbitant prices if we arrive at Phuket at night because, by that time, travel agents know we're desperate. I guess this is a pain point for many travellers visiting Thailand. We hate to be haggling and then ripped off. We want convenience; we want trustworthy sellers; we want to pay for a fixed price that is reasonable.
Our wish was sort of granted when we found a way to book James Bond island tour in Phuket that doesn't involve walking frantically asking for prices from one travel agent to another. We booked the James Bond Island Tour via Voyagin because it frees up our time from haggling with travel agents and the price is really reasonable. So, even though we checked-in to our hotel at almost 9 pm the day we landed in Phuket, we could enjoy our first night without worrying about the next day activity (we've already booked it before our arrival).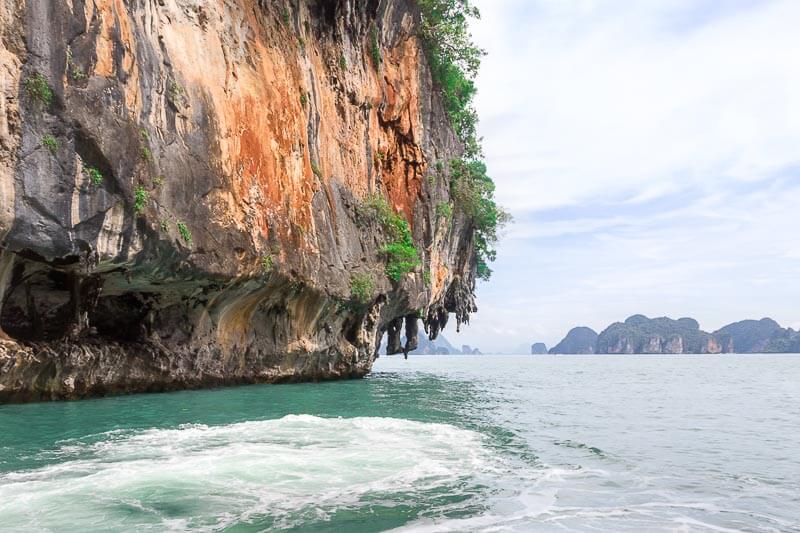 Pick up from Hotel
I love the fact that tour operators in Phuket pick up their participants from their hotel. Taxis are rare and expensive in Phuket, so I really appreciate the convenience. This tour's pickup time is between 8 am to 8.30 am from the hotel, so we had breakfast at about 7 am and waited at the hotel lobby since 8 am.
As the clock hit 8.15 am, we were a little bit anxious because the pickup has yet to arrive. Fortunately, the anxiety was short-lived. At 8.20 am, a man walked in and asked me if I was going to James Bond Island. I said yes, gave him my name and off we went.
Ao Po Pier
After picking up the rest of the tour participants, the minibus travelled about 30km northeast to Ao Po Pier where it dropped everyone at a travel agent office. There, we had the opportunity to rest, drink the free coffee, visit the toilet, buy food, drinks and props (eg waterproof phone case). About 15 mins later, we were given a briefing by the English-speaking tour guide and were told to prepare THB 30/person to pay for insurance as required by the authority.
After the briefing, we walked to the gate of Ao Po Pier (5 mins walk) to pay for the insurance. In return, we received a bracelet-like rope with a QR code that we need to wear on our wrists. Then, it was a short wait to board a tuk-tuk that would bring us across the bridge to the actual pier.
On board the speedboat
Finally, we were on board! It was a full house, about 25 to 30 people in a speedboat but it didn't feel too packed. There were life jackets for everybody on the seat. And, oh, there were so many canned and bottled drinks in an ice container; it was more than enough to satisfy our thirst. Also, there were fresh watermelon and pineapple.
First Stop: Phanak Island Cave
Just before we arrived at Koh Phanak, our first stop, we were given helmets because we were going inside a cave, so we needed to protect our heads. We kept our slippers in a bucket on the boat because footwear is prohibited in the cave.
The cave was… dark, slippery and rough in some area. We used our phones' torches and thankfully they were bright enough. To our surprise, the stalactites and stalagmites were sparkling as the torch rays fell on them. For a moment, I wondered if the sparkles were human-made. I quickly realised how bad I am in science. Of course, the sparkles are from natural minerals, I told myself.
Some parts of the ground are dry, some others are wet and slippery. I walked carefully and let fellow tour members walk ahead of me. At the end of the cave is an opening to a lagoon, which is pretty nice. However, it is a high drop from the cave to the lagoon, so it's quite dangerous to stand at the edge.
Photography inside the cave was only possible with flash. Our tour guide was so kind that he helped pretty much everyone to take photos inside the cave.
Second Stop: Kayaking
Not too far from the cave, we arrived at Hong Island and saw a big group of kayakers, each sitting in their own kayaks. My hubby quickly detached our GoPro from the selfie stick and mounted it on a head strap. I quickly interfered, "We don't need a head strap. We are not going to paddle. They will." Relieved, he kept the head strap in our dry bag. Soon, we alighted from our speedboat into a kayak with bursting excitement.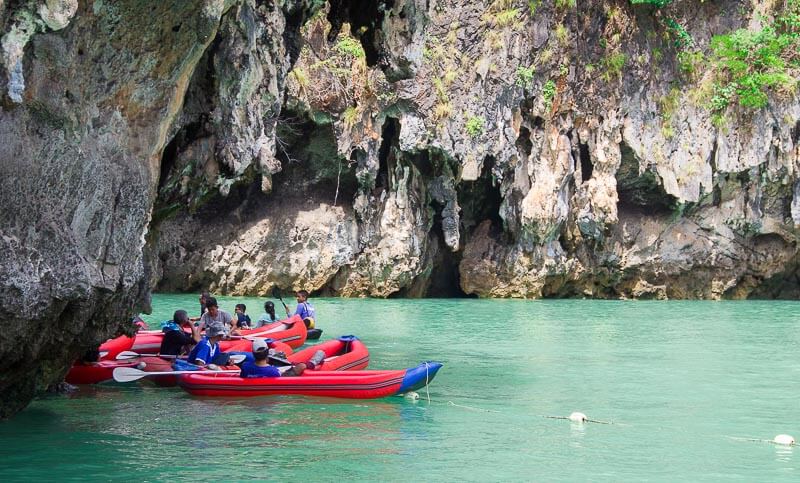 It was an approximately 35 minutes ride. Our guide speaks little English, but it doesn't dampen his willingness to communicate with us. With his limited English, he pointed to the many shapes of rocks that we encountered, and we happily snapped pictures of those rocks. There was a turtle, elephant, chicken, crocodile, James Bond No. 2 and many other shapes I couldn't recall.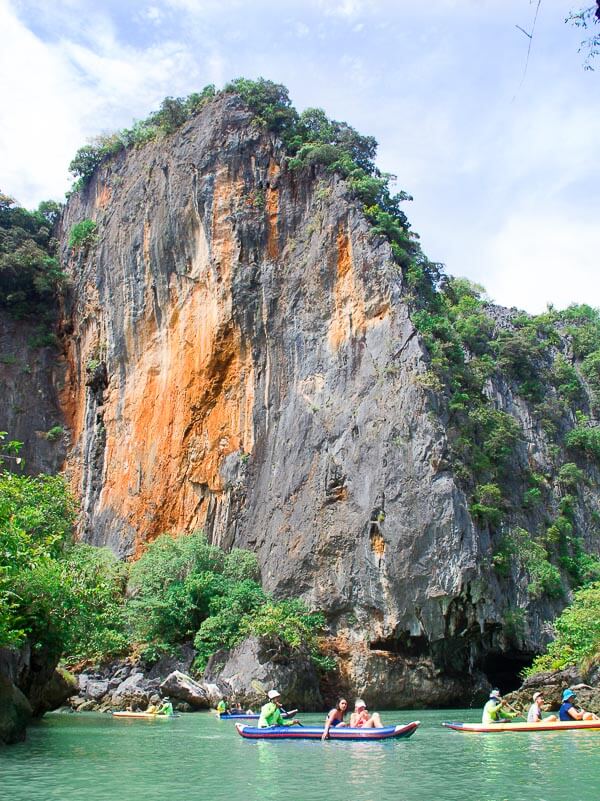 He even told us to look up to the sky to see a heart shape opening amongst the trees. Throughout the ride, we couldn't stop laughing, ahhh-ing and wahhh-ing. Because of him, our kayak activity turns out to be unforgettable.
There were plenty of small openings with low headroom through the rocks where we had to lie down on our back in order to get through. It was so fun. It felt surreal being surrounded by beautiful rocks in a quiet lagoon. Suddenly, it didn't feel like Phuket at all.
Third Stop: James Bond Island
With heavy hearts, we left the kayak and headed to our main destination, the James Bond Island. Actually, there are two main parts of James Bond Island. The first one is the iconic Ko Ta Pu, which is a limestone rock about 20 meters high. The diameter is 8 meters at the top but decreases to 4 meters at the bottom part. It resembles a nail.
Tourist boats are not able to dock at Ko Ta Pu as there isn't a beach. Instead, boats dock at Khao Phing Kan, a larger island with a magnificent view of the legendary Ko Ta Pu. The special thing about Khao Phing Kan is the perfect cut through the rock due to forces of nature. Reaching the viewpoint requires climbing plenty of steps, but it was worth it, I assure you.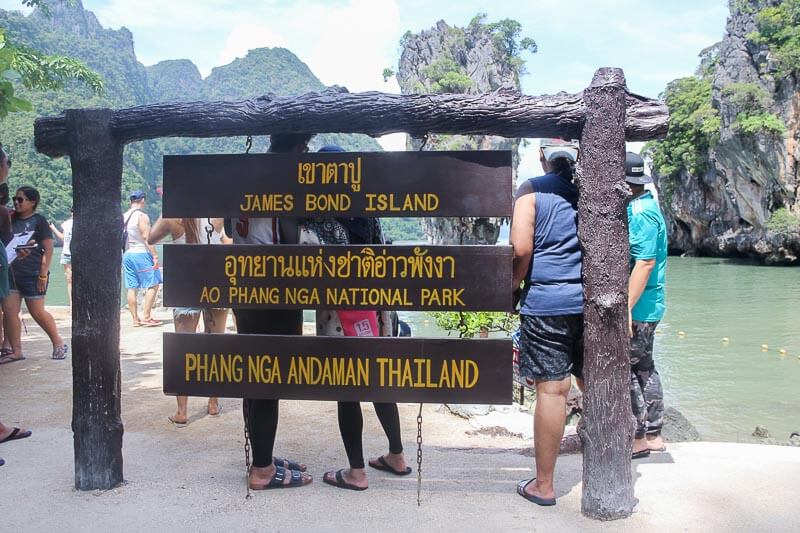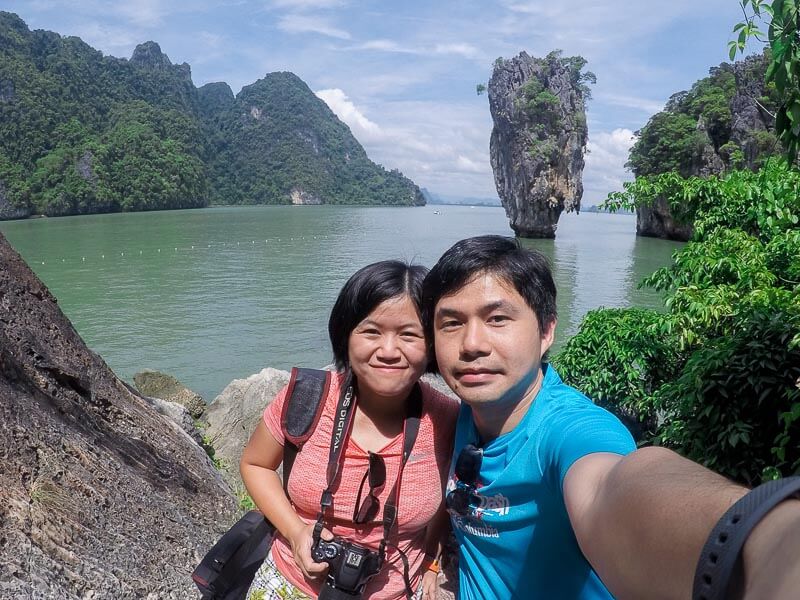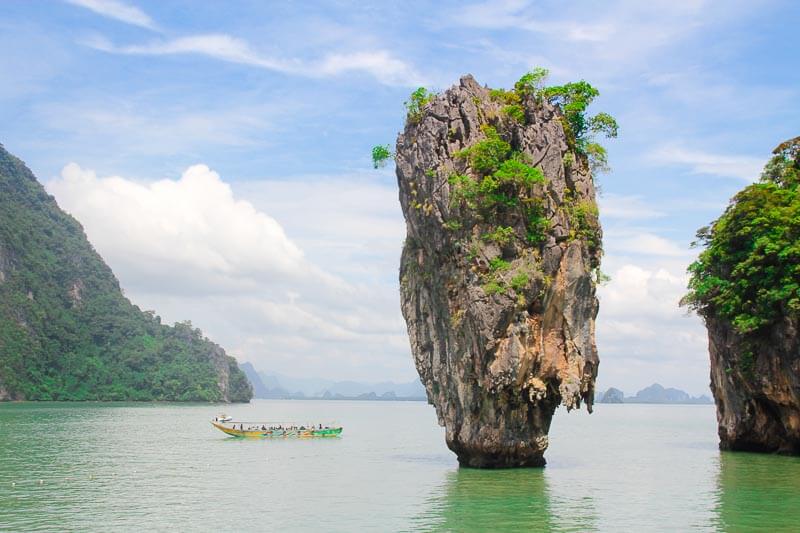 After all the photo-taking and climbing, many people swim at the beach while waiting for their boat. Our tour guide gave us 40 minutes to explore the island, but it wasn't enough. We were a little lost trying to find our boat because there were two beaches where boats dock. In the end, we found our boat at around 12.50 and realised we weren't the last ones to arrive. Our tour guide was cool with that though.
Fourth Stop: Lunch at Panyee Village (Ko Panyi)
By 1 pm, our stomach was growling due to hunger. Fortunately, it was lunchtime. The boat dropped us off at Panyee Village where we had a buffet lunch in a restaurant with a traditional roof.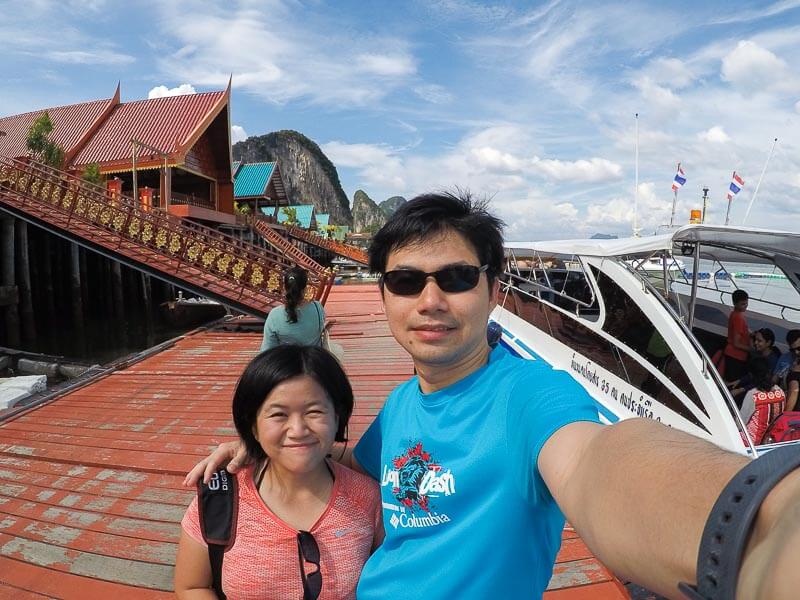 There were many types of dish, such as fried rice, fried noodle, fried shrimp, seafood tom yam soup and other food. Since Panyee is a Muslim-dominated island, the food there is halal. Vegetarian food is available upon request.
After lunch, we explored the village on our own. The souvenir street in Panyee is less buzzing compared to, say, Phuket. After all, it's a fisherman village, not a cultural village for tourists. The residents are descendants of Javanese people from Indonesia who established the settlement 200 years ago.
Most structures are made from wood and built on stilts. There are a school and a mosque on the island. Technically, it's possible for us, tourists, to peek into the classroom and snap a couple of photos. But I highly suggest fellow tourists avoid the unethical act of taking photos of the local children, classroom, etc, just to get likes on social media.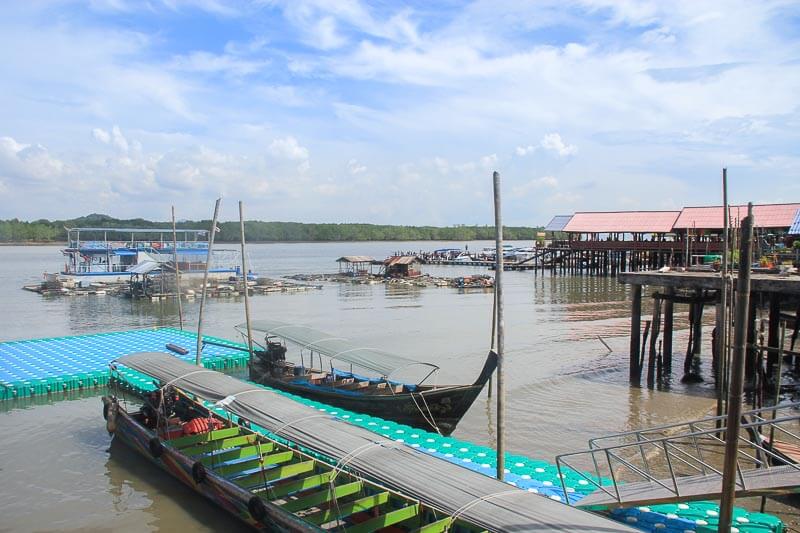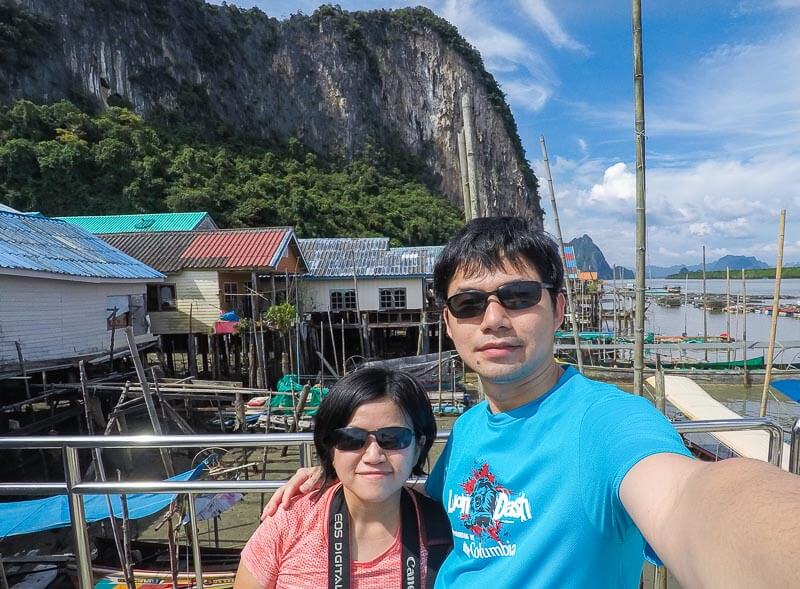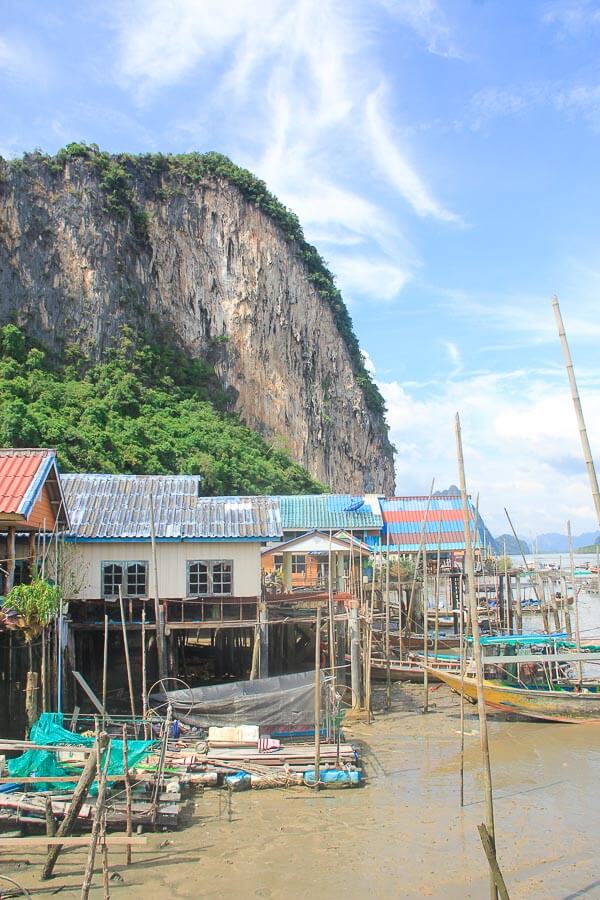 Fifth Stop: Naka Island
After the short exploration, we were back on our speedboat. This time, we were headed to Naka Island for relaxation. There are two Naka Islands, the big Naka (Ko Naka Yai) and the small Naka (Naka Noi). Our tour includes a visit to Naka Noi where we could laze around or swim.
To be honest, Naka Noi was underwhelming. It was a private island where the owner stays at one corner and rents out the other corner to businessmen. So, the businessmen set up a few stalls that sell fruit juices, drinks, ice cream and snacks at exorbitant prices; rent out sun loungers to tourists and offer water sports. If you're not willing to pay a single cent, make yourself comfortable on the beach.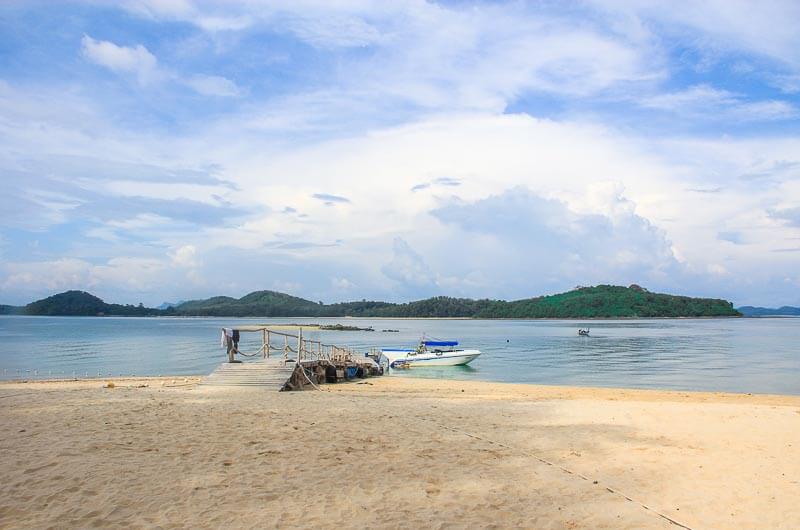 Going Back
Ah, it's finally time to go back! It's been such a packed day with so much memorable experience. The journey from Naka Noi to Ao Po Pier is quite short. After alighting from the boat, we took the tuk-tuk again to the pier entrance and then walked back to the travel agent office. Then, it was the same minibus ride back to our hotel.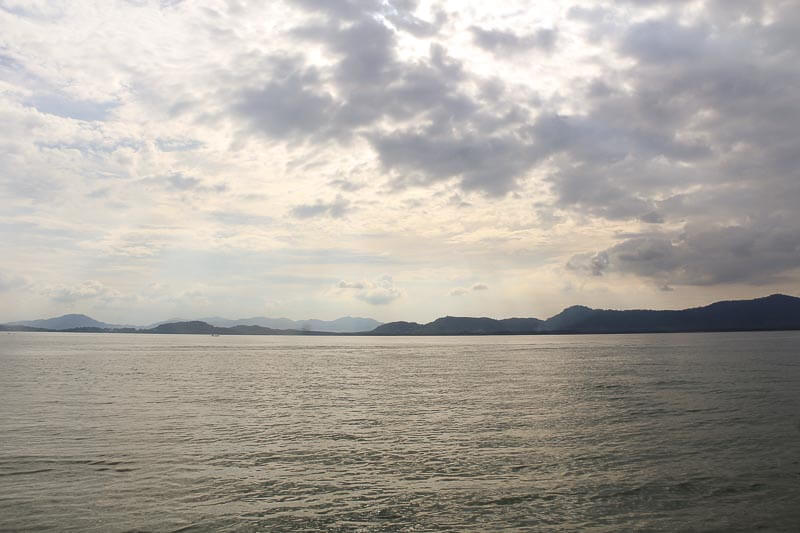 Conclusion
Is it worth visiting the James Bond Island? I seriously think so. To me, it's like I haven't been to Phuket if I haven't been to James Bond island. Well, technically, you can get to James Bond island from Krabi too. But I'm sure you get what I mean.
This tour that I took is by speedboat. The advantage of a speedboat is that you get to Phang Nga Bay faster, but it might not be suitable for people with severe motion sickness. I am prone to motion sickness especially when the waves are too big, but this ride was okay for me. I felt a little dizzy but not to the point that I wanted to throw out.
Besides speedboat, you can also opt to do James Bond island tour by long tail boats (slower pace) or cruise (more people in a boat, steadier ride).
Disclosure: Thank you Voyagin for hosting us on this tour. This article is my own opinions, which are objective regardless of whether I paid on my own or I'm hosted. Some links on this post are affiliate links; I would receive a commission when you booked through my links, at no extra cost to you.