If you have time constraints, take a day tour to visit Phi Phi Island from Phuket. If you love to travel deep, skip the day tour; instead, take the ferry from Phuket to Phi Phi Island and stay at least a night on Phi Phi Don.
My hubby and I decided to stay a night on Phi Phi island on the second night of our Phuket trip because we want to see Phi Phi island up close. Our next step was to look for a ferry from Phuket to Phi Phi Island.
We searched online, and a bunch of websites came up. All of these websites show different ferry schedules from different companies and have links to book the ferry tickets in advance. However, we didn't dare to book these online because:
1. We don't know how trustworthy these websites are. They are not from a renowned company like Voyagin.
2. The prices are steep for our wallet.
3. Online tickets don't include transfer from hotel to the pier.
We decided to wait until we arrive at Phuket to see if we can find ways to buy cheaper tickets from trusted sellers. Btw, if you're thinking to take a taxi to the pier and buy the ticket there, I don't recommend it. Taxi costs THB 800 one-way, it's just too expensive. I'm not sure if there are any ticket counter at Rassada Pier.
Ferry Tickets
There are literally hundreds of travel agents in Patong. For every 10 steps you take, you'll see a travel agent. We asked the travel agent in our hotel as well as a random travel agent outside our hotel. Both offered two-way cruise tickets (from different companies) with pickups from and to a hotel in Phuket.
The one in our hotel offered a luxurious cruise. The one outside our hotel offered a normal cruise (Phi Phi Cruiser) with a much cheaper price at THB 650/pax two-way. Without hesitation and haggling, we said yes.
We are sceptics. We are constantly worried about being sold fake tickets or being scammed. We told the agent that we wanted to pay on the day we travel, not on the day we book the ticket. The female staff asked if it was okay for us to make a deposit of THB 600 first and pay the remaining at Phi Phi Cruiser counter at Rassada Pier. We agreed.
Pickup from the hotel to Rassada Pier
Our pickup from the hotel was pretty early, at about 7 am. So, we had to wake up at 6 am, had breakfast at 6.30 am and check out at 7 am. We waited for about 15 mins at the hotel lobby for the pickup. As usual, the minivan picked up other people from other hotels first before making its way to Rassada Pier (about 20km from Patong).
At the pier, we were greeted by Phi Phi Cruiser staffs, who then gave out stickers for us to stick to our shirt and a check-in card. Soon afterwards, we checked in to the boat by passing through the turnstile with our card.
Cruise Amenities
We were considerably early, so we had time to explore the boat and look for our preferred seats. But first, we had to put our luggage on the bottommost deck.
So, there are 4 decks on the Asean Cruise:
1. The bottommost deck where luggage is stored. There are seats here and it's an enclosed deck.
2. The second deck which is at the same level as the entrance. There's a snack counter where you can buy food and hot drinks. You can also help yourself with free snacks and drinks. There are seats here and it's an enclosed deck with windows.
3. The third deck which is open air and has a snack shop too (the VIP room is also located here). There are limited seats here.
4. The topmost deck which is an open deck with plenty of seats.
Since I'm prone to motion sickness, I can only choose the third deck or topmost deck. It wasn't hot that morning, so we decided to sit at the topmost deck. It was a good decision because we could get an awesome view during the sightseeing at Phi Phi Le. Yeah, sightseeing is included even though we're not on a day tour.
Asean Cruise is quite a big cruise. It could accommodate hundreds of passengers, including ferry transfer passengers (us) and day tour passengers. We are differentiated by the colour of stickers on our shirt.
We were slightly surprised that there were free biscuits and free coke on this boat. On our return trip, there was free pineapple. We didn't purchase any snacks or hot drinks; the price was quite affordable, though.
Sightseeing at Phi Phi Le
Phi Phi islands consist of 2 islands: Phi Phi Don (the bigger one with shophouses and hotels) and Phi Phi Le (the smaller on where Maya Bay is located, but there's neither shops nor hotels here).
The sightseeing at Phi Phi Le was a surprise bonus for us. The lady who sold us the ticket didn't mention about this. Sightseeing on a cruise means seeing the sights from the deck. Basically, the cruise circled Phi Phi Le and stopped several minutes at interesting viewpoints for us to take photos.
There were Maya Bay from afar (it was currently closed for public due to restoration), Viking Cave and other spots that I couldn't recognise.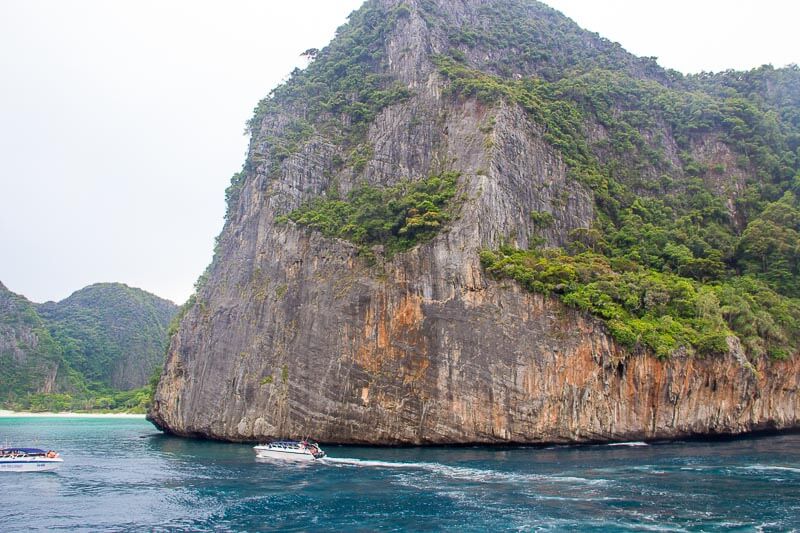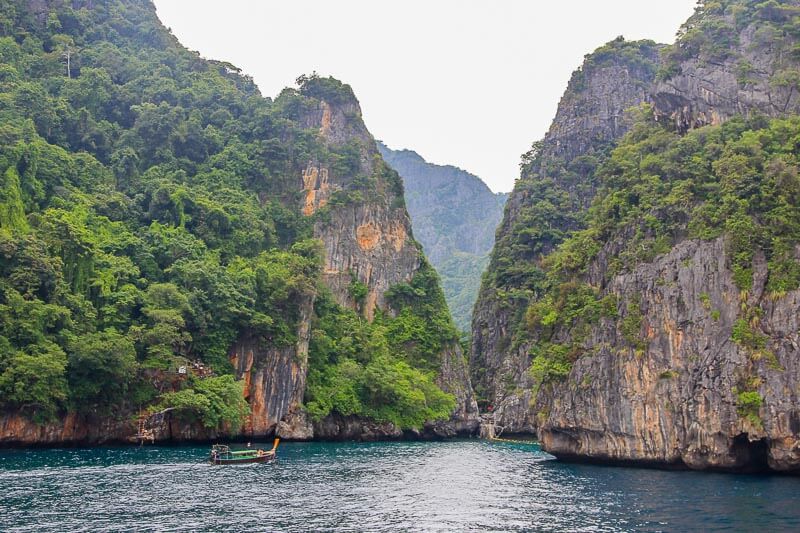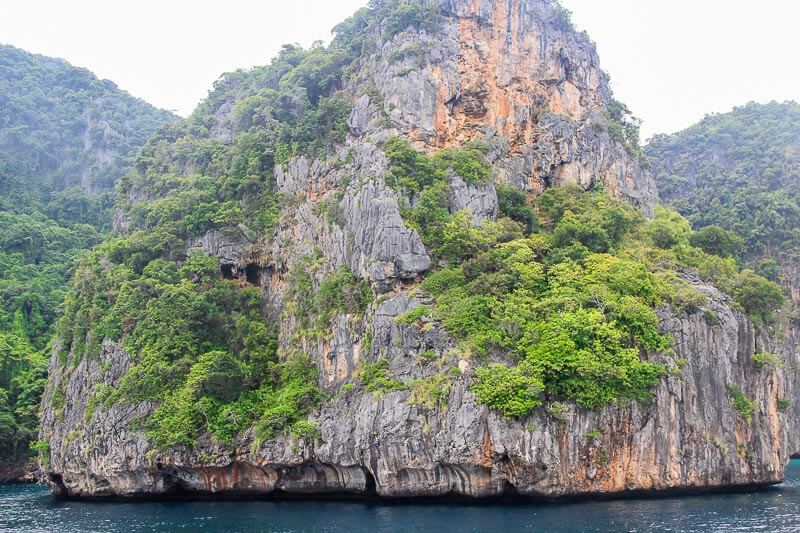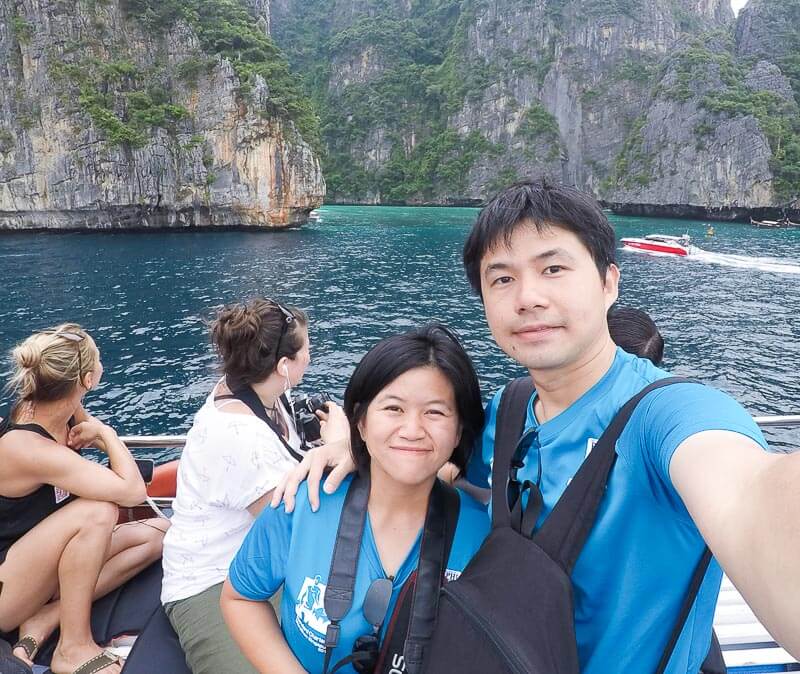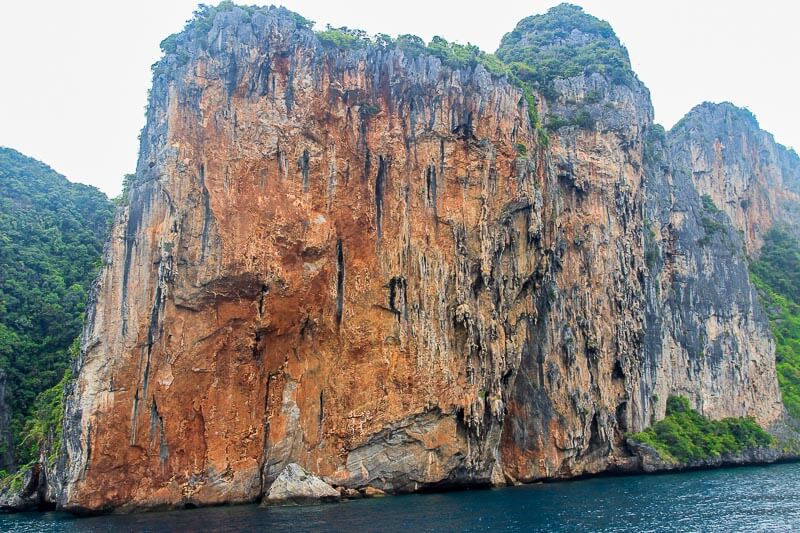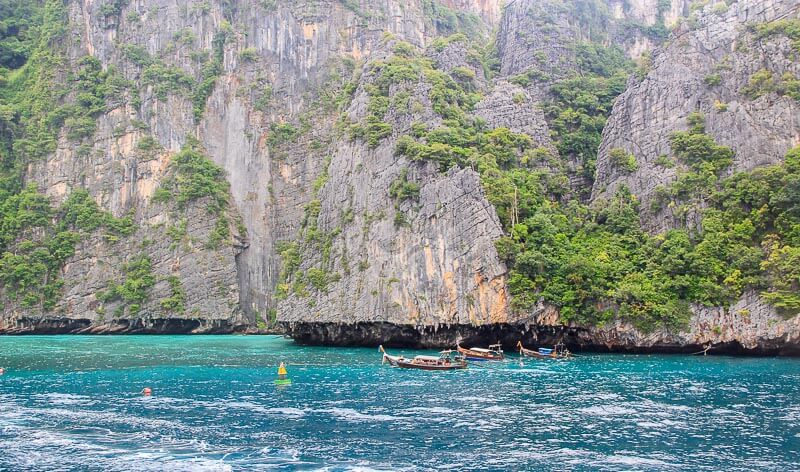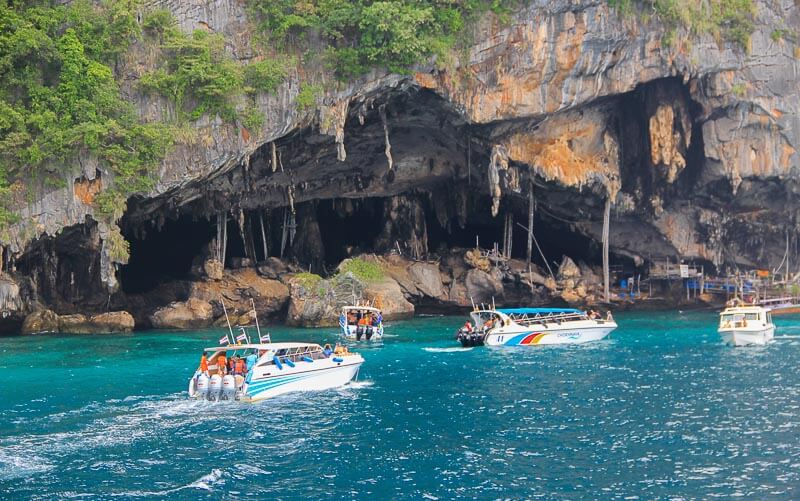 Landing at Tonsai Pier, Phi Phi Don
After all of the sightseeing, the cruise finally made its way to Tonsai Pier at Phi Phi Don. All passengers (including those on a day trip) alighted here too for their lunch. Thus, you can only imagine how difficult it was to get down from the boat.
There was a long line of people who are going to the bottommost deck to retrieve luggage. The walkway is just wide enough for two lines of people. One to go down, and one to go up. After what felt like a long time, we finally got off the boat only to be surprised by the fact that we had to pay THB 20/person landing fee at the pier. It was already 11.30am when we reached. We hurried our way to our hotel, which I'll be writing in upcoming posts.
Going back to Phuket
After a fulfilling 24 hours in Phi Phi island (which I'll write about in upcoming posts), the time has come for us to leave this beautiful island. Since we have bought two-way tickets, we simply turned up at the pier half an hour before the scheduled departure.
There wasn't any counter at Tonsai Pier, instead, there was a small table where they checked our tickets, gave us colour stickers and wrote down our hotel's name in Phuket (our ticket includes transfer from pier to hotel in Phuket). We asked about how we would be transferred, who would drive us, because we couldn't understand how our designated driver would know which passengers they are assigned to. The staffs simply said, "It's okay. They will send you to your hotel." That's it. We thought, okay, let's see.
On the day we went back to Phuket from Phi Phi, the weather was really hot. We decided to sit at the third deck instead of topmost deck to avoid the sun.
After the boat left Phi Phi, several crews walked around. Then, one approached us and asked where we were going to stay in Phuket. We gave our hotel's name, which was located at Phuket Town. Then, she told us to take Minivan No 1 once we arrived at Phuket. Now we understood how the system works in Thailand!
Based on our experience the previous day, we knew that going down the boat would be a hassle. So, 15 mins before arrival, we quickly went down to the bottommost deck to retrieve our luggage and then standby near the exit. The strategy worked, except that we didn't know the actual exit point was at the opposite of the entry point from which we entered the boat. Anyway, it was just a small matter.
Transfer to hotel
Upon exiting Rassada Pier, we walked out of the building and found our driver shortly afterwards. After waiting for other passengers, our minivan made its way to Phuket Town. We were dropped off right in front of our hotel. The logistics were executed very well, in my opinion.
Conclusion
If you're looking for ways to visit Phi Phi without a tour, you can consider taking a cruise because the price is cheaper than a day tour and it includes sightseeing at Phi Phi Le. There are many cruises that provide transfer-only services. I haven't tried other companies, so I couldn't advise if Phi Phi Cruiser is better than others. We stumbled on Phi Phi Cruiser by chance, and we found it to be good considering the price that we paid.
I really recommend that you look for cruise tickets in Phuket and not buy online because I found that online prices are more expensive than offline prices. I'm not sure if it's because we travel during the off-peak period (November).
If you're looking to do Phi Phi islands on a day tour, I wouldn't recommend Phi Phi Cruiser because of the many negative reviews. However, I would recommend that you buy day tour packages from trusted sellers, like this Phi Phi Island Tour on Voyagin, which gives you the option to do the tour on speedboat or cruise.