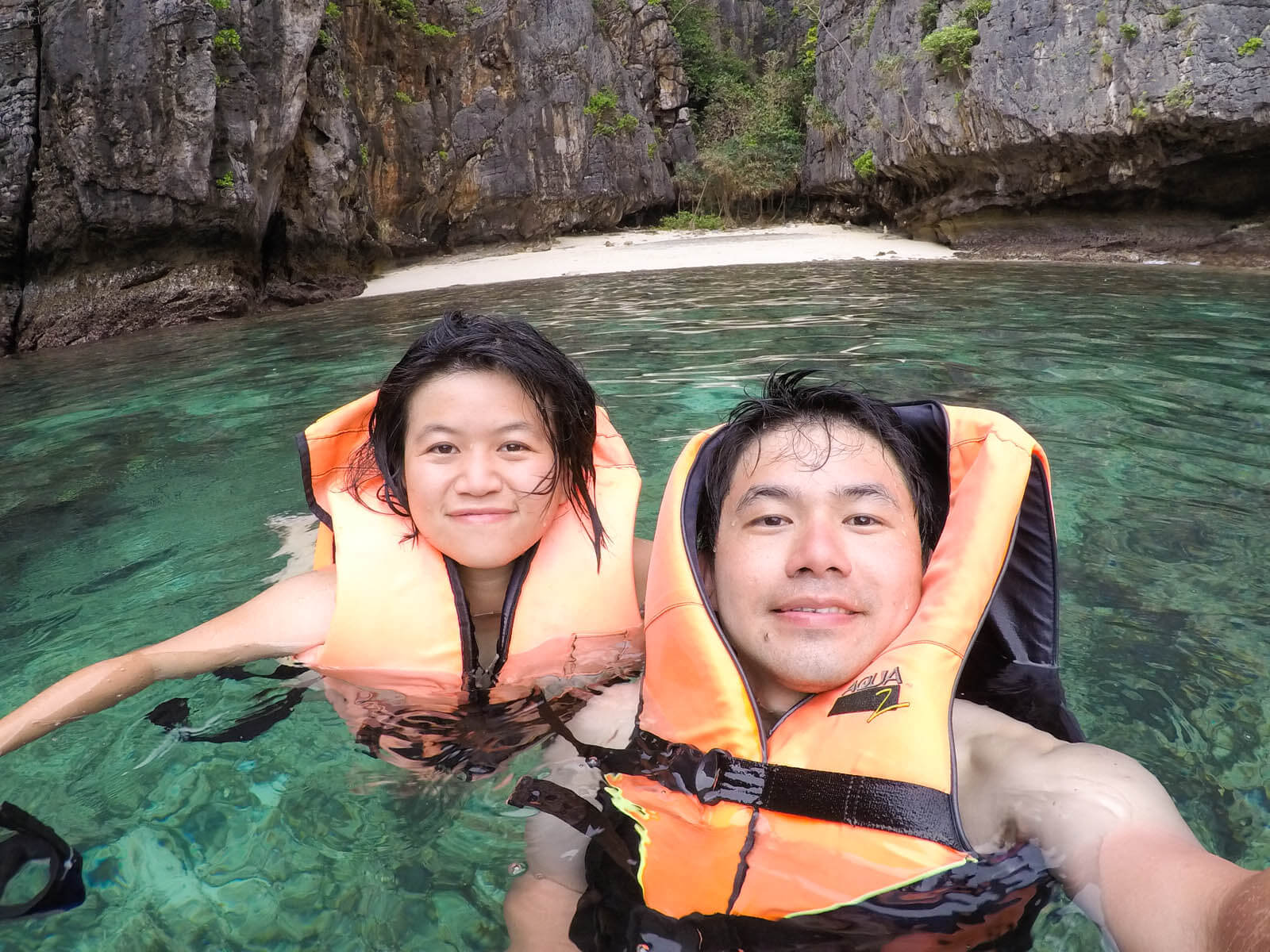 We had made the decision to visit Phi Phi Island without a tour because we wanted to spend a night at Phi Phi Island, and we succeeded. We even had the opportunity for sightseeing around Phi Phi Le with the cruise that we took to come to Phi Phi Island.
But here's our next problem: we want to go snorkelling in Phi Phi Island but we only have half a day. Is it possible given that we arrive at the island about 11.30 am? How to snorkel with only half a day? How can we do it cheaply?
It was indeed a stressful situation that started the minute we landed on Phi Phi Don island. We figured, we had to quickly check-in our hotel and then run around, from one travel agent to another, to learn if there's any snorkelling tour that still has slots on that day, and if we could make it.
After paying landing fee of THB 20/person at the pier and saying "no" to the guys asked us where we were going (presumably they'd offer porter or transport service), we bolted towards our hotel at Phi Phi Hotel, which was just a 5-min walk from the pier.
At the lobby of Phi Phi Hotel, the soft-spoken receptionist told us to wait a while for the room to be ready. So we decided to go to the streets and try to find decent-looking travel agent that sells snorkelling trips.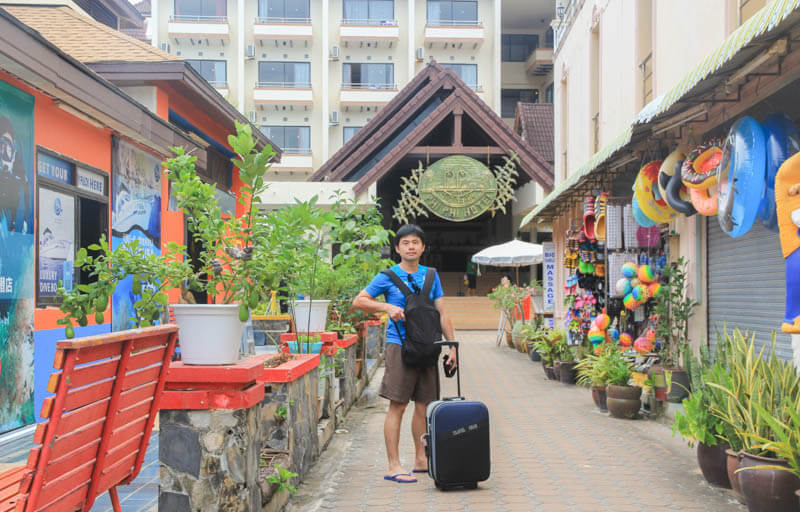 The art of finding a travel agent
First, we approached PADI dive centre located just outside our hotel. They have full-day and half-day diving tours (you can snorkel if that's what you prefer). We could leave in the afternoon on the same day or the next morning. After a thorough but quick consideration, we decided not to go with it because of the price.
We went to another dive shop near the impressive sign of Phi Phi Harbour View Hotel. Within moments of sitting down, the owner told us that they were fully booked. Great.
A few meters later, we arrived at a beach called Loh Dalum, a crowded beach where many tourists were swimming, sunbathing or just people-watching. There's a travel agent there which looked decent. We went to the stall and patiently waited for the staff to come over from where he was standing (about 50m away). He didn't! Oh well, we presumed he didn't need our business, so we left.
We continued walking along the street until we found a travel agent stall with many brochures. He looked polite, attentive and friendly. We told him what we were looking for. He offered us a half-day snorkelling tour which was leaving at 1.30 pm. Wonderful, we thought. Here are the details:
Pick up time: 1.30 pm from the travel agent stall that we bought it from.
Cost: THB 500/person, inclusive of THB 400 Phi Phi Island Marine National Park fee (we didn't even bargain, it was dirt cheap).
It's a longtail boat tour. No need to worry about seasickness.
Lunch is included (my hubby said: nice, we don't need to eat lunch before the tour, we could save money and time).
There will be 6 stops for snorkelling, including seeing the plankton at night (my tips for you: if it's too good to be true, it probably is).
After paying the tour fees in full, we returned to our hotel to check-in, only to be told to wait a while more. After 15 mins (which felt like one hour), we finally checked-in to our room. We did ultra-fast packing for the tour. Moments later, we had a rushed lunch at a restaurant just outside Phi Phi Hotel. To be honest, it was not a good lunch. It didn't taste amazing and it was overpriced (THB 160 for a plate of fried rice). When you are in a hurry, bad things always happen. So, when things don't go your way, repeat this mantra, "Keep Calm and Carry On."
What to Pack
These were what we wore:
Me: bikini with dry-fit shirt and pants
Him: dry-fit shirt, lightweight pants, and waterproof smartwatch (so that we can tell the time)
Slippers. Though we didn't wear it throughout the tour, except at the start and at the end.
These were what we brought:
Huge waterproof bag to keep our stuffs dry
Dry clothes to wear at the end of the day
Towels
GoPro with extra battery (we loved it so much)
Water
These were what we didn't bring:
Phones. It was time to disconnect with world and had the time of our lives. Plus, our phones weren't waterproof.
DSLR. I was glad I left this monster in the hotel.
Passports, money, cards, etc.
The Beginning of the Tour
We turned up at the travel agent stall exactly at 1.30 pm and so was a Germany couple. Then, the man who sold us the package led us to the beach and told us to wait a while for the boat.
We killed the time by chit chatting with the other couple. Probably around 20 mins later, the boat came. It was a half-full boat. We later learned that those people who were in the boat earlier started their tour in the morning. In other words, they were full-day participants and we were half-day participants.
More people joined the boat after us, and suddenly the boat was really packed! It was so full that my hubby and I had to sit separately. We were elbow-to-elbow with the persons next to us. There were 4 people in a row; the row was probably 2m wide. It reminded me of rush hour at train stations. An interesting fact: hubby and I were the only Asian on the boat.
The Monkey Beach
Our first stop of the half-day tour was the Monkey Beach at Phi Phi Le. It was about 2pm but the beach was really crowded with tourists. And monkeys. It was just a small beach and there was nothing much to do there except monkey-watching, photo-taking, chit chatting and swimming.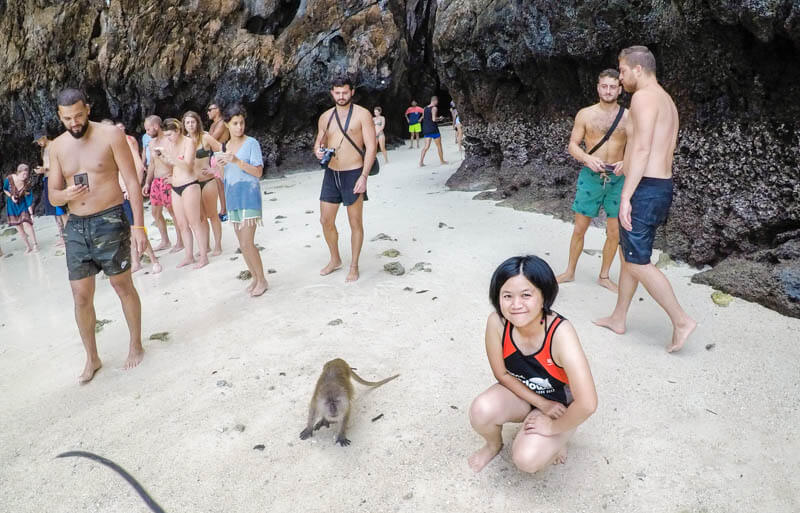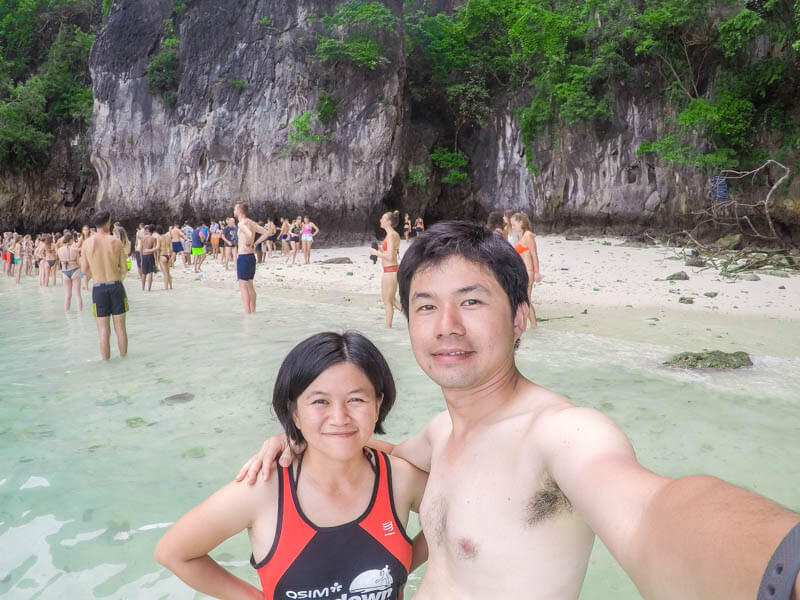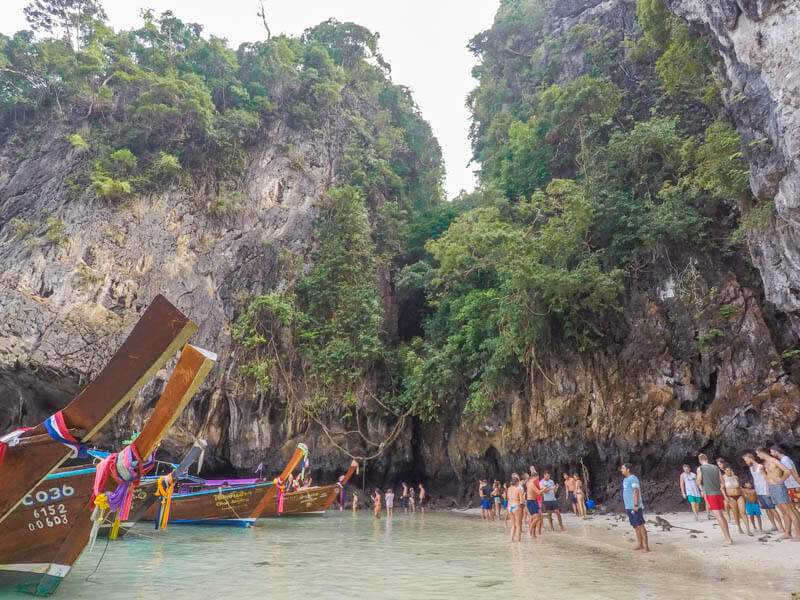 The Lunch
Ah, the long-awaited lunch was actually not a grand buffet lunch. It was a packet of rice with some vegetables. For once, I was glad I had eaten the overpriced fried rice earlier. There were also slices of sweet pineapples distributed around.
The Snorkelling Part
The most important and interest part of the tour is definitely the snorkelling part. The good news is, the visibility was great. We saw plenty of fish and had so much time filming underwater. You can watch the video at the beginning of this article.
The duration of snorkelling was sufficient. We weren't rushed, probably because the tour operators were busy hunting for fish. Yep, they caught some fish for their dinner. I wish I have such skill too, in case one day I get on Survivor Asia 🙂
Ok, we've talked about the good thing. Here's the not-so-good thing. Instead of 6 snorkelling locations as promised by the seller, we went to only 2 locations. To be honest, I wouldn't really mind if the seller had told me 2 locations. I just didn't like the lie. But, given that the price was dirt cheap, I don't deserve to complain, do I?
November was a wet season, probably that's why the tour price was so cheap, right? After completing our second snorkel, it started to rain. All of us hid inside the boat trying to survive the torrential rain that came in through the open sides. Thankfully, the rain didn't last long. Soon, sun came out again.
The Plankton Part
This part almost didn't happen. After the rain and before sunset, the tour operator asked everyone on the boat,
"Is everybody happy?"
"Yesssssss"
"Good! Is everyone tired?"
"Yesssssss"
"Okayyy. Today, the weather is not good. I'm sorry we didn't visit some places because it was high tide. Is everybody okay with it?"
"Yesssssss"
"Okayyy. So, everybody happy. Everybody tired. Everybody wants to go back now?"
"Uhmmm" "Yes" "Errrr"
"Okayyy. So we go back now. Everybody okayyy?"
"Mister! What about the plankton?"
"The plankton? You want to see plankton? If you want to see plankton, we need to wait until 7.30. Now the time is only 5.30."
"But, mister, we join this tour because we want to see the plankton!"
"How many people want to see the plankton?"
I raised my hand, along with several other people. Some other people were busy discussing with their friends / partners. The operator asked the same question for many times, as if it could change our minds to not wanting to see plankton anymore. But, it didn't. So he had to devise a plan.
He decided to send those people who wanted to go back to the island first. Then, he steered the boat to the supposedly "plankton watching" area. While we (6 of us) waited for the sun to go down, the operators (2 of them) were cleaning the entire longtail boat. Some of our things which were stuck under the seat (one of the girls' GoPro and our slippers) were now retrieved and returned back to us, yay!
As soon as the sun went down, which was around 6+ not 7.30, the operator encouraged us to quickly go down to see the planktons. One by one, we jumped into the water with our snorkels. We waved our hands underwater and saw the magical lights. Not much, but it was surreal. I tried to film it but my GoPro gave me an error message. I had just changed the battery, I was so scared I didn't close the battery compartment correctly. Not long after that, we were all called up to the boat.
Once we got on the boat, we were filled with satisfaction of seeing the magical light, as well as unspeakable hunger. The operator wasted no time rushing back to Phi Phi Don island.
Conclusion
If I could turn back time and change my decision, I think I wouldn't change a thing. This tour was the cheapest way to snorkel in the pristine water of Phi Phi island based on my personal research. At night and on the next day, I walked around the island asking for prices of snorkelling trips, and I couldn't get a quote lower than THB 500.
If you just want something cheap, you should consider taking longtail boat snorkelling tour. If you want a tour with better facilities (decent lunch, toilet on-board), then go for cruise or speedboat. There are all kinds of tour in Phi Phi island. There are hardcore diving trips, party cruise (free-flow alcohol), liveaboard, etc. Whichever tour you choose, I'm pretty sure the water you snorkel in is pristine.