Is 24 hours in Koh Phi Phi enough? How big are Phi Phi Islands?
The answer to the first question: absolutely not, but it's completely doable. By now, you could probably answer the second question, one day is barely enough for Phi Phi Islands.
But, if you really really only have a day, like me and my hubby when we visited Phuket a couple months ago, this article will show you how we make the best of our 24 hours stay in Koh Phi Phi.
To get to this small yet beautiful island, you can take a boat from Phuket to Koh Phi Phi. You can choose whether you want to book ferry only, or bus & ferry (means they'll pick you up from your hotel), or day tour (means they'll include hotel pick-up & drop-off, meal and water activities).
---
Our 24-Hour Itinerary in Phi Phi Islands
11.30 am: Arrive at Phi Phi Don
Depending on where you came from before Phi Phi (Phuket, Krabi or Koh Lanta) and your transportation mode, you could be arriving at Phi Phi Don in the morning before 11.30 am or in the afternoon.
For us, we took a cheap boat (they call it cruise) from Phuket to Phi Phi Islands which departs Phuket at 9am and arrives at Tonsai Pier at 11.30 am. Before arriving at Phi Phi Don, we got the opportunity to "sightsee" Phi Phi Le. Upon arriving, we had to pay landing fee of THB 20/person.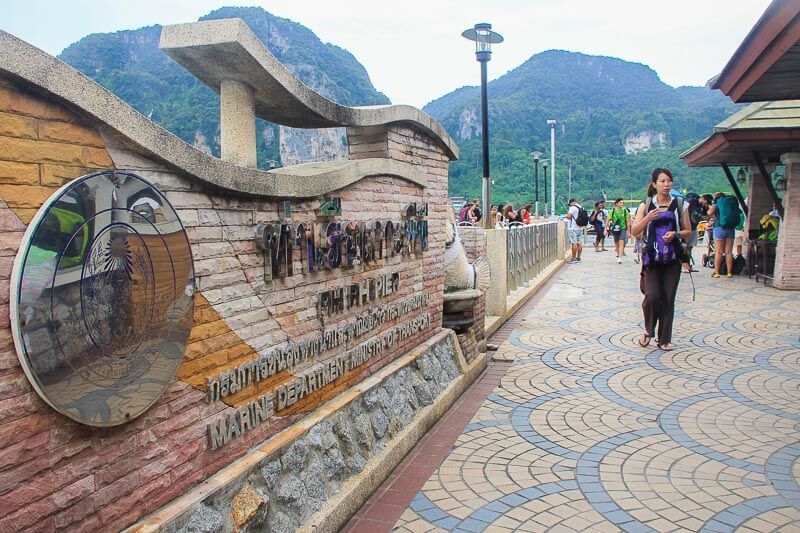 12.00 pm: Hotel
After we come out from the pier, we went straight to our hotel at Phi Phi Hotel to check-in but were told our room wasn't ready. We left our belongings there so that you could roam around the island painlessly.
If your hotel is far from jetty and your belongings are not that heavy, I guess you can skip this step for now, proceed to the next step and come back again after the next step.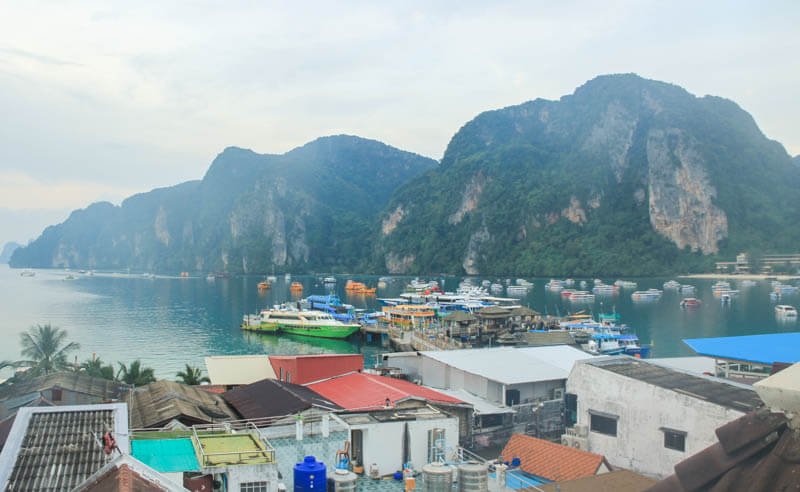 12.15 pm: Look for half-day Phi Phi island tours
We learned from talking to other people in Phuket that in order to explore the Phi Phi islands (both Phi Phi Le and Don), we need to join a tour or charter a boat. We decided to join a tour because it's way cheaper and we won't risk being kidnapped.
There are plenty of travel agents in Phi Phi Don. You can find them at almost every corner. Some focus on diving, some on booze, some on island hopping (Bamboo island, Moskito island), some for family activities, etc. We went around comparing tour packages and prices and eventually decided to join a half-day snorkelling tour which starts at 2pm but the pick-up time is 1.30pm.
My tips for you: Go for the one that fits your budget and has activities that excite you. Take note that some tours already include National Marine Park fee (THB 400) but others don't.
If you're not the kind of traveller who can make a decision within short period of time, I suggest you look for half day tour that starts the next morning instead of the afternoon of your first day. This way, you could have a relaxing first day but you'd miss out swimming with planktons (because you can only see planktons at night).
1.00 pm: Quick Lunch
After booking the tour, we went back to our hotel to check-in and pack for the things that we'll bring for the snorkelling trip. Then, it was a quick lunch.
1.30 pm: Half Day Tour
During the tour, we left all your worries, enjoyed our ride, took many photos and videos. No Instagram, heck, we didn't even bring our phones. We just enjoyed the moment. We visited a couple of places such as Monkey Beach and several snorkelling spots. Read about our honest account of the tour: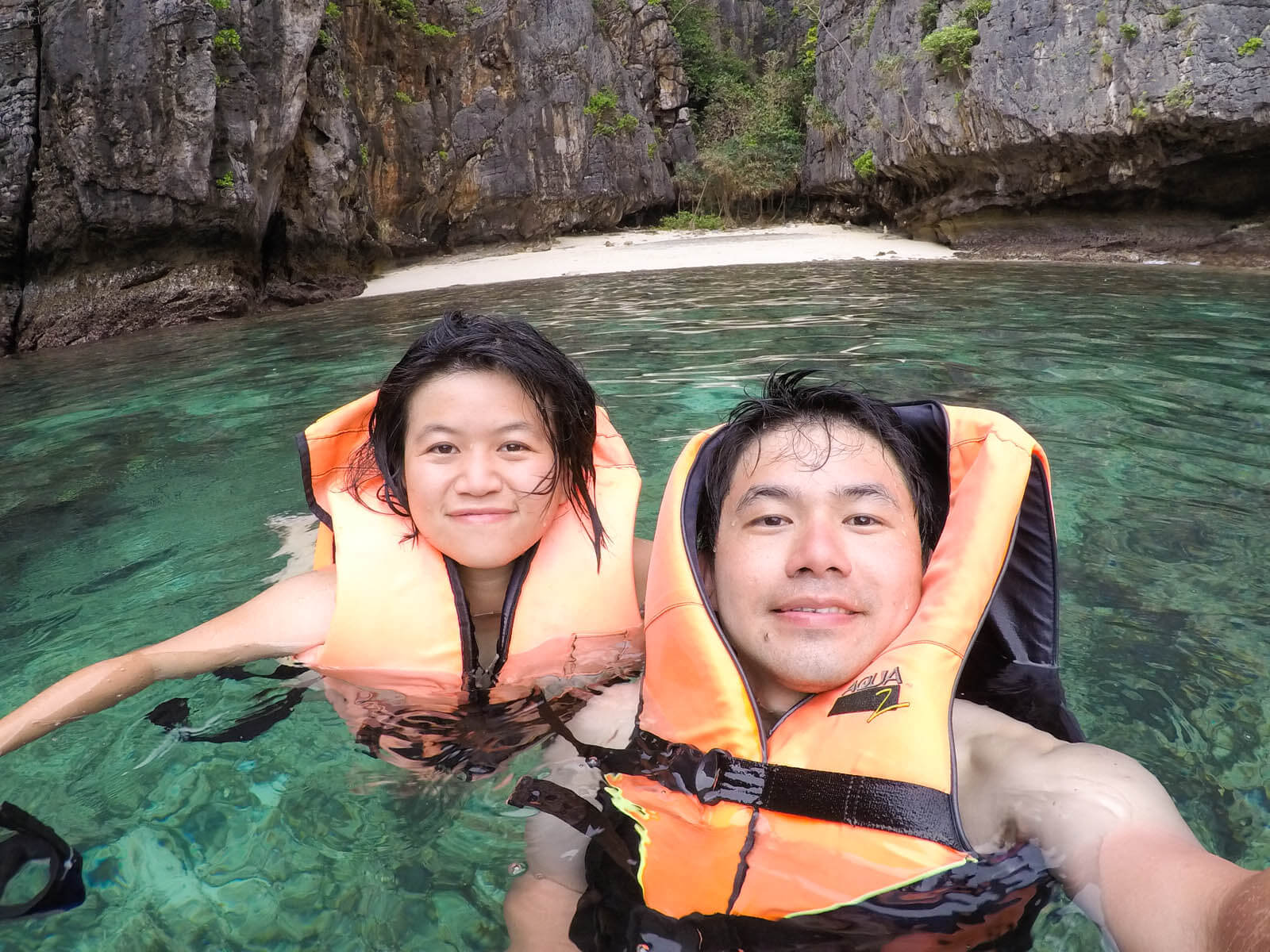 7.00 pm: Shower
The tour's over. We had fun. It was time to go back to our hotel to shower.
7.30 pm: Massage
We had massage every day we were in Phuket and Phi Phi. The best time to have one is right before dinner. There are so many massage parlours on the island. Most of them cost THB 300/hour.
8.30 pm: Dinner
Knots are loose, heart's full of joy, now it's time to please the tummy. The small island of Phi Phi Don truly has a wide array of cuisines. You can have Thai food, seafood, Italian, Chinese, Japanese, Indian and even Mediterranean.
We had our dinner at Chao Koh Restaurant because of 2 reasons. One, there was a live band and I'm a sucker for live performance in a café/restaurant. Two, the tomyam soup was cheap. We spent THB 290 for a pot of soup and two plates of rice.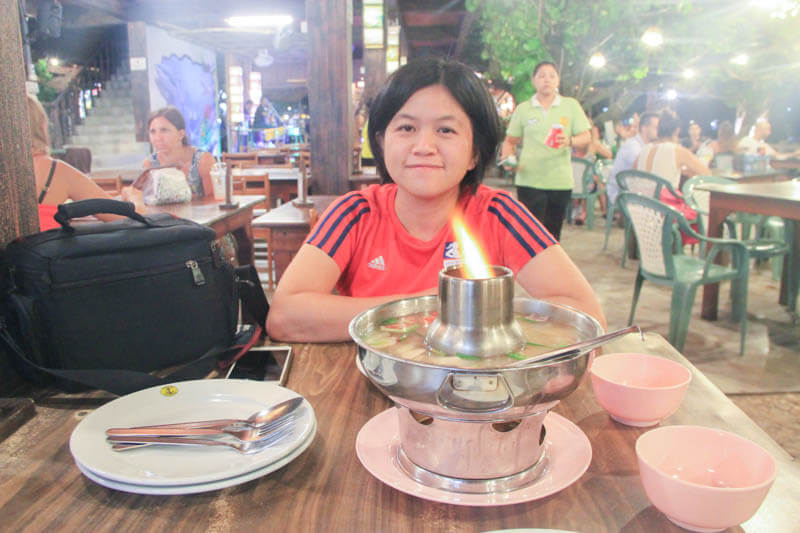 9.30 pm: Drink
We are old-fashioned folks when it comes to drinking. Instead of going to bars or clubs, we prefer to get a couple of bottles of Chang beer (we paid THB 80/bottle) from the convenient shop, drink it while talking to each other and walking through the quiet streets of the island.
If you love partying or you are simply not exhausted yet, head to Reggae Bar to watch Muay Thai or one of the many bars to chill on beers or cocktails.
10.30 pm: Zzzzz
6.30 am: Breakfast
We had our buffet breakfast at our hotel. There were Western (bacon, egg, toast, cereals) as well as Asian (fried rice, noodles) dishes. We requested omelette and poached eggs from the lady at egg counter. Boy, there were really good. The rest of the dishes were just okay.
If your hotel doesn't come with breakfast, or you prefer to eat out, you can try The Mango Garden or Phi Phi Bakery.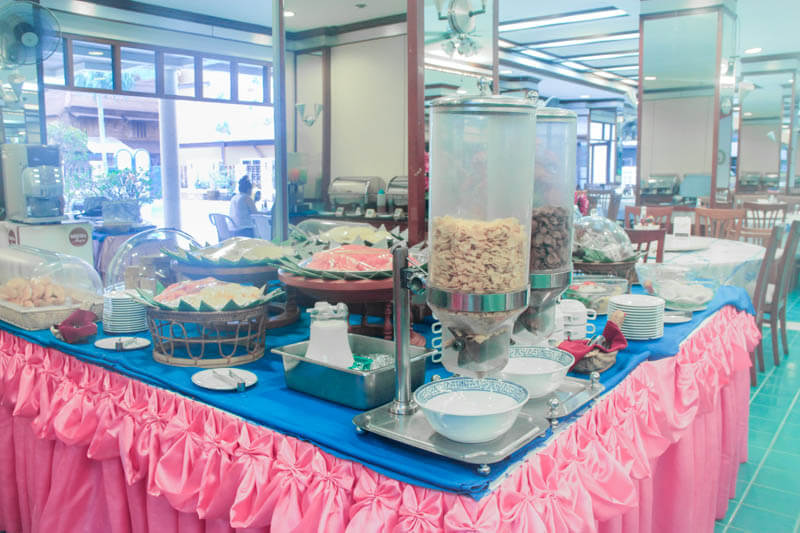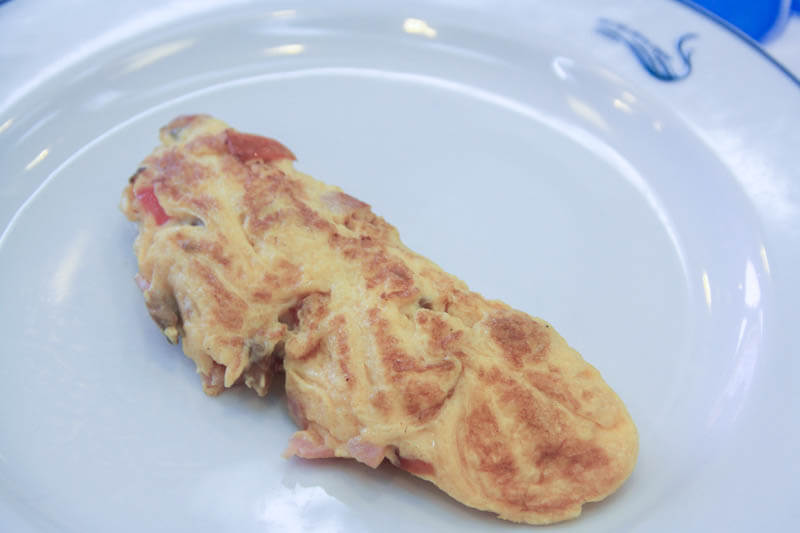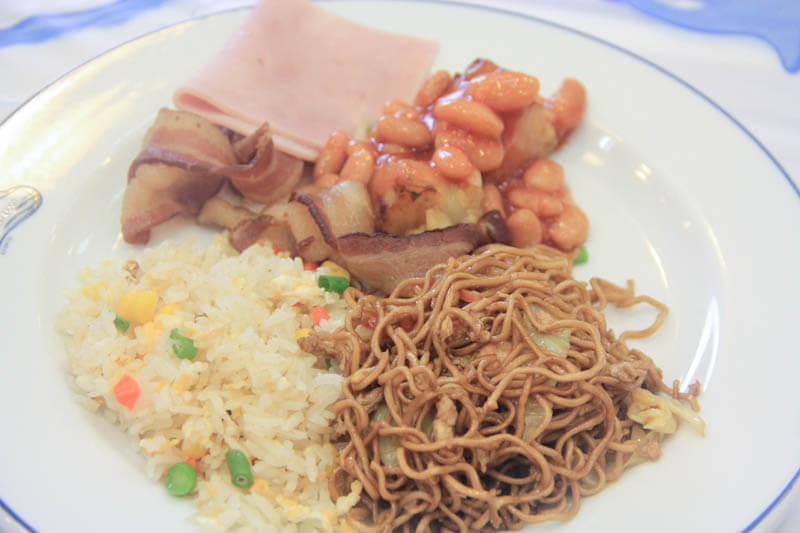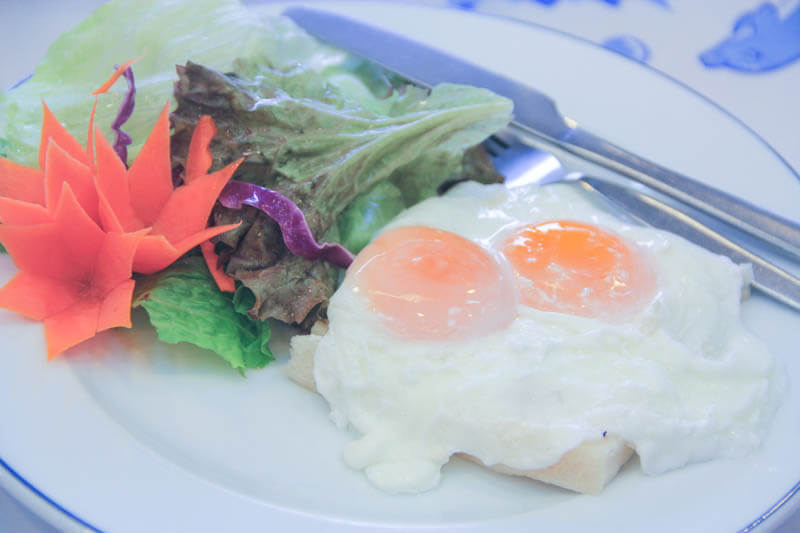 8.00 am: Phi Phi Viewpoint
Phi Phi Viewpoint is a must-visit spot. It takes a lot of effort to conquer the steps and hills to reach the viewpoints but it's really worth it. Signs to the entrance of the viewpoints can be easily found along the streets. Ticket is THB 30/person. You'll pass Phi Phi Arboreal Resort along the way.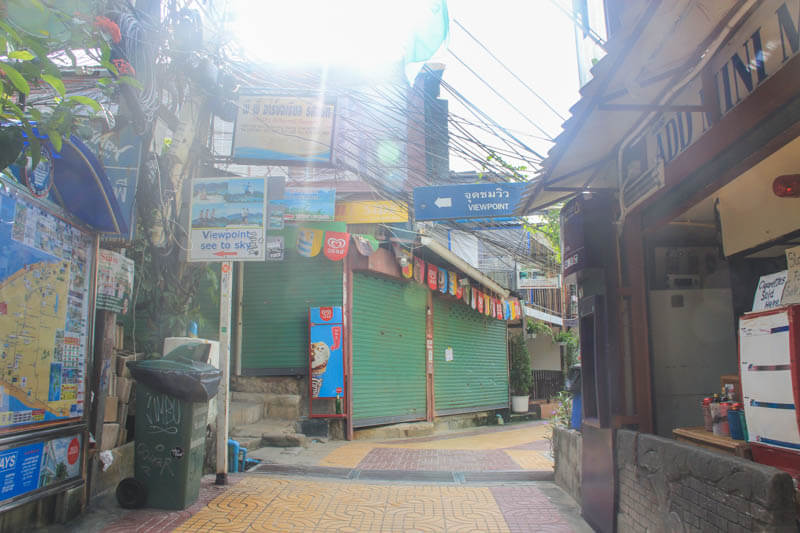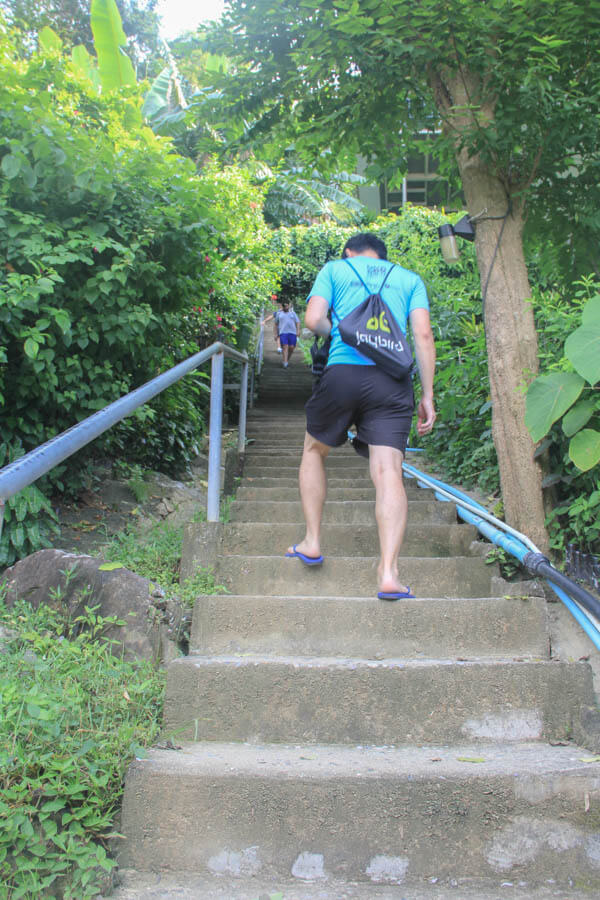 There are 3 viewpoints. All three viewpoints are wonderful Instagram-worthy spots. The first one has "I Love Phi Phi" signs along with well-manicured shrubs forming a beautiful park. Viewpoint 2, about 100m walk from Viewpoint 1, is where you get to capture that "sitting-at-the-edge-overlooking-the-bay kind of photo. There is a café called Viewpoint café at Viewpoint 2 if you want to chillax.
Sadly, we totally missed Viewpoint 3 because we didn't notice any signs at all about its existence. Apparently, you need to pay another THB 20 to visit Viewpoint 3 because the owner is different from that of Viewpoint 1 & 2. Here, you'll receive a complimentary mineral water. Some people say that it has the best view of all three viewpoints. There's a restaurant here, too.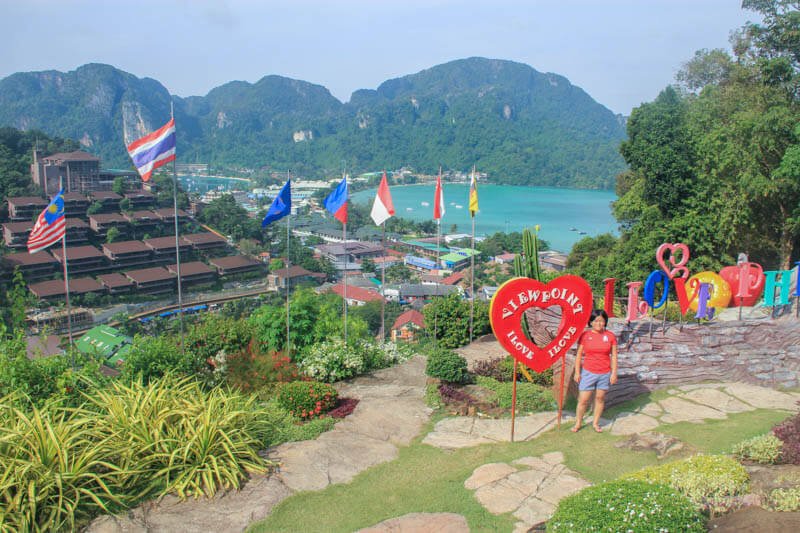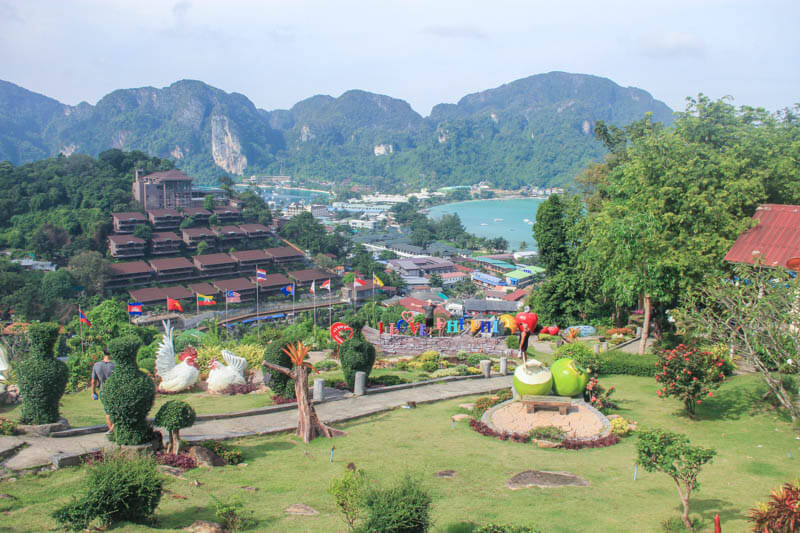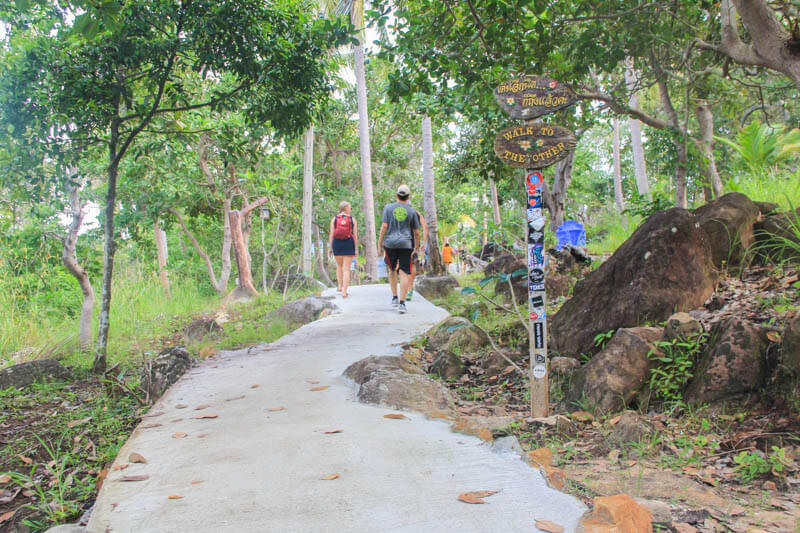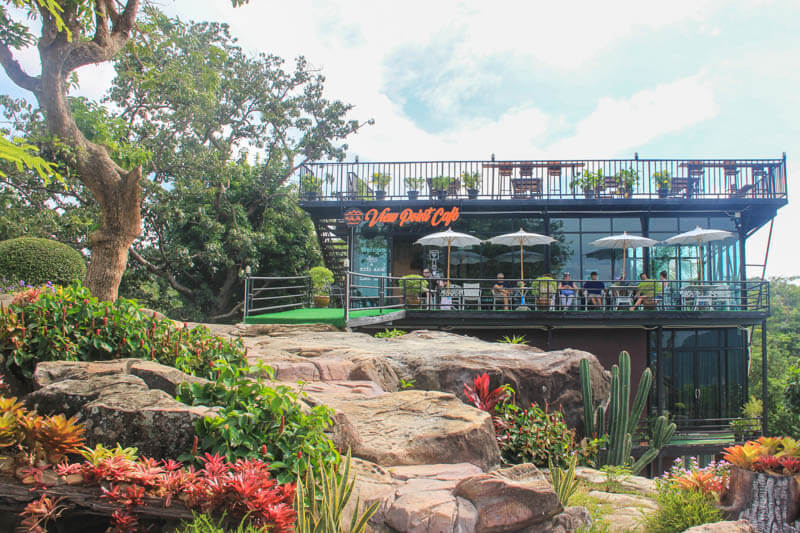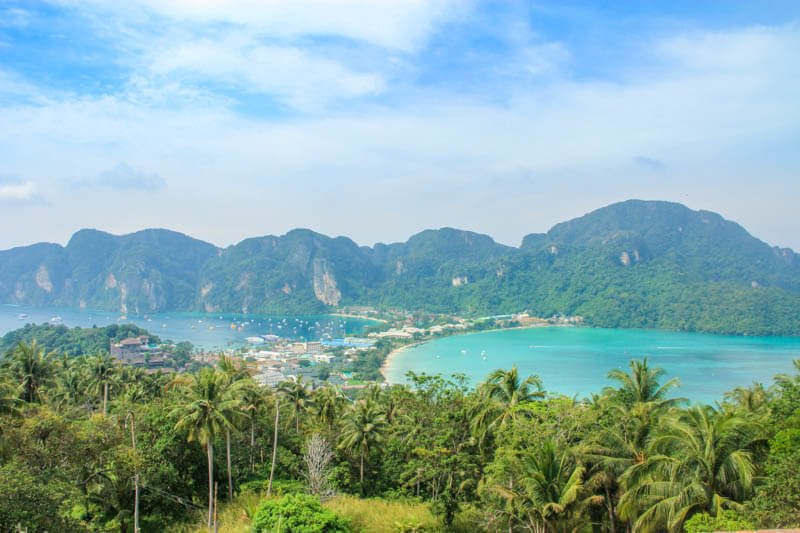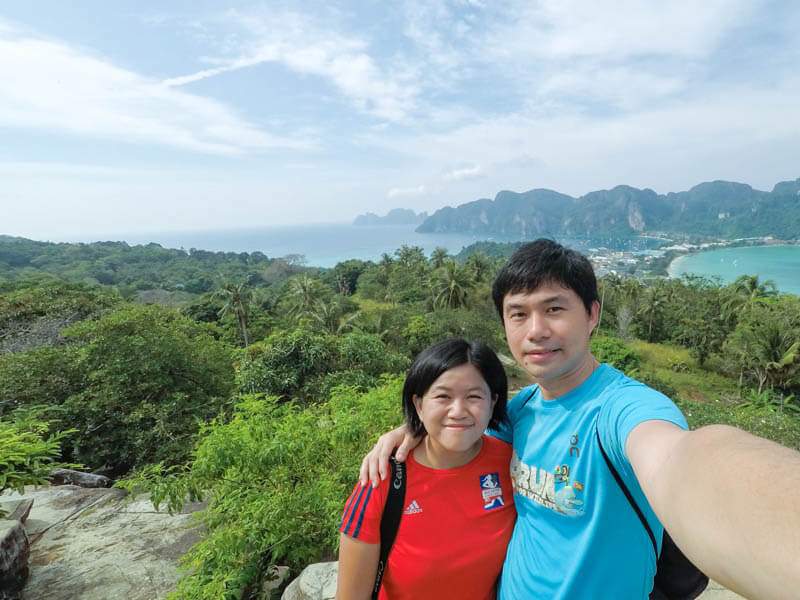 9.15 am: Rest
After getting down from the viewpoints, we were already sweating because the temperature has risen. We decided to go back to hotel to rest for a while and enjoy the AC.
9.45 am: Explore
City folks like us are drained after a morning hike to Phi Phi Viewpoints, so with the energy we are left with, we explored the Tonsai area.
If you're more adventurous than us, I'd recommend that you visit Loh Dalam Bay (it's different from the overcrowded Loh Dalum Beach near the pier).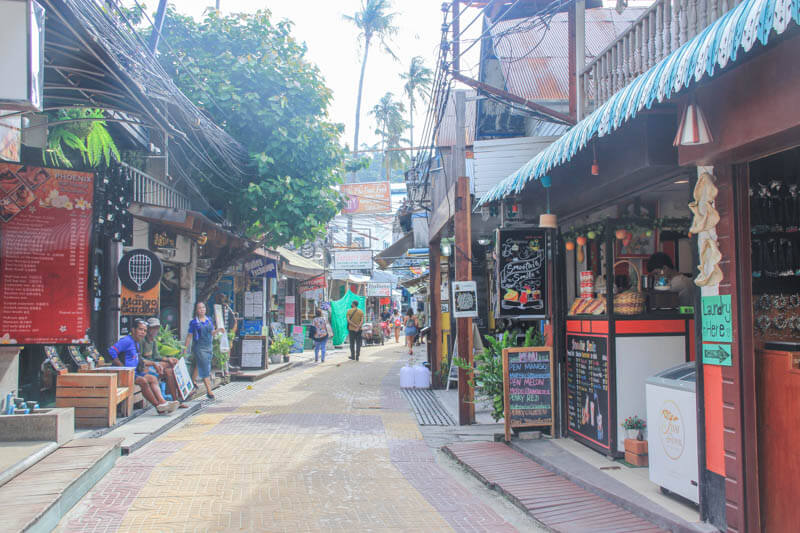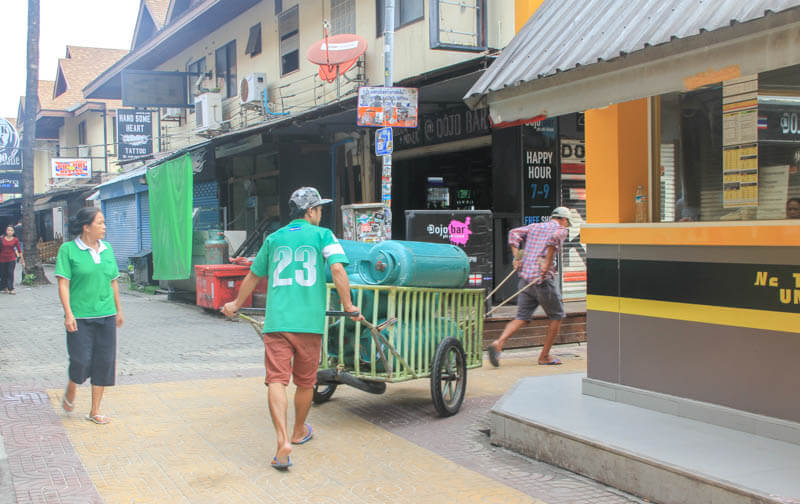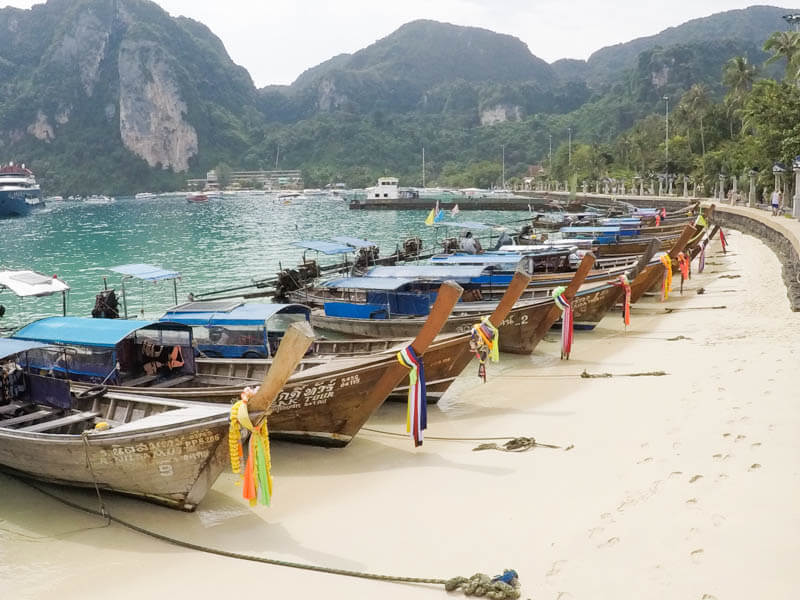 10.30 am: Swim
By now, the weather would've been sweltering. Hubby decided to go for a swim at the overcrowded beach while I went to look for coconut ice cream.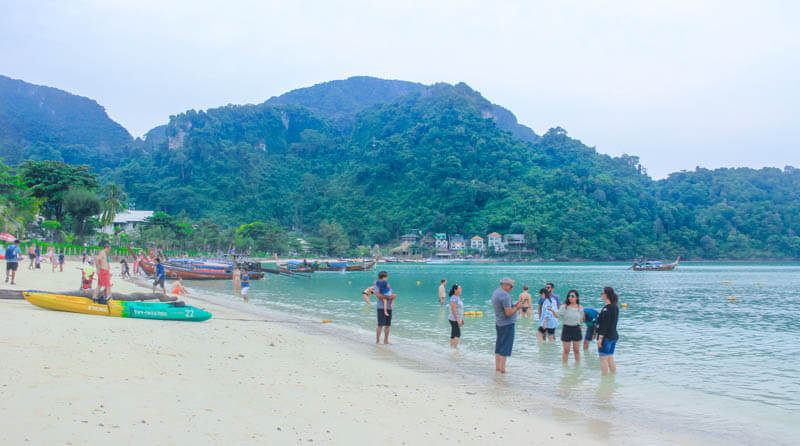 11.00 am: Back to Hotel
Time's running out soon, so we headed back to our hotel to shower, pack and rest.
12.00 pm: Check out
Like a clockwork, we checked out at 12 noon and left our luggage with the concierge.
12.30 pm: Lunch
Not wanting to repeat the same mistake of choosing a lousy restaurant, this time we chose a restaurant that's crowded and sells affordable Asian food. This restaurant wasn't even listed in Google Maps. It's located near a small market just behind Phi Phi Hotel. We were so hungry that we immediately dug into our food without taking a photo first. Now, I've forgotten what we had eaten, ugh!! We paid THB 140 for 2 person, which was cheaper than a plate of fried rice we had eaten the day before.
2.00 pm: Adios
We boarded our boat (Phi Phi Cruiser) back to Phuket. The cruise departed at 2.30pm. Adios, Phi Phi! As I'm writing this post, I miss you already XX.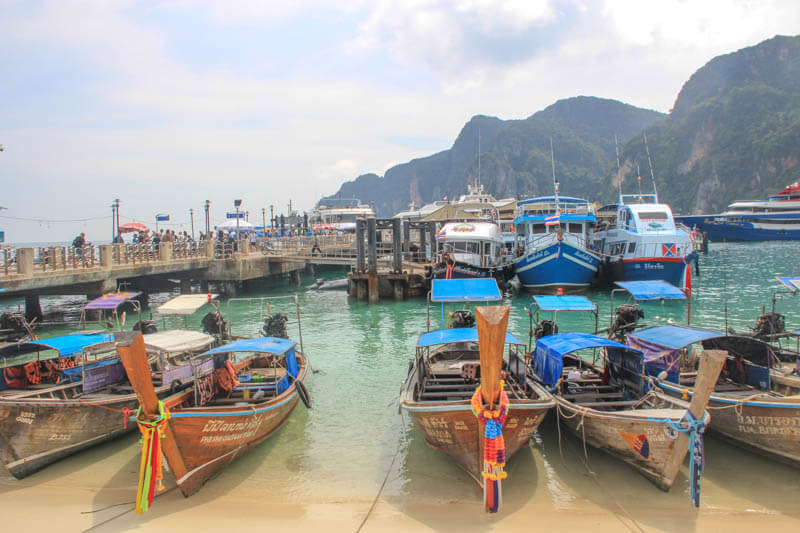 Read my 3 Days Phuket Itinerary and Cost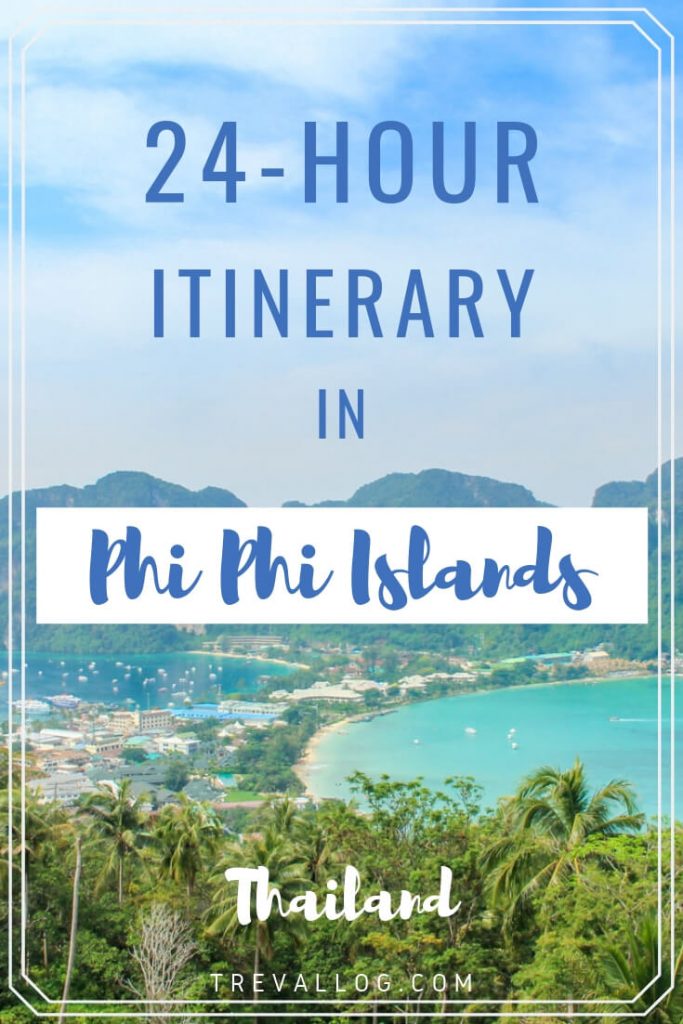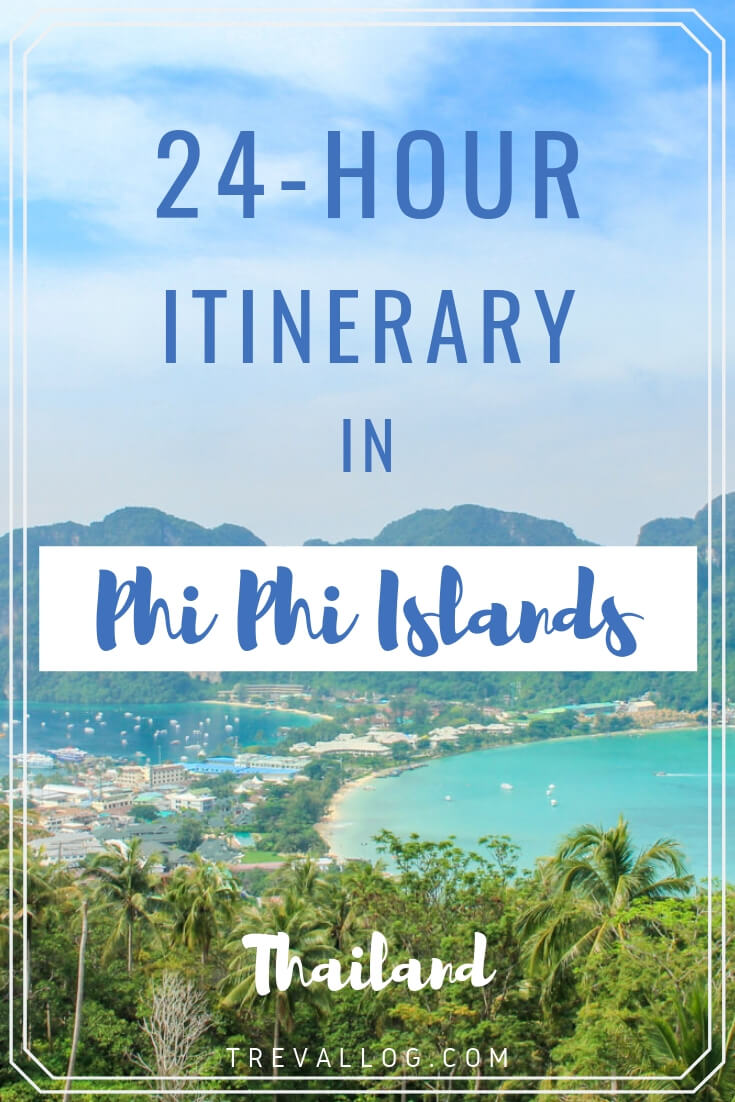 Disclosure: Some of the links in this post are affiliate links. If you make any purchase through my links, I will receive a small commission, at no extra cost to you. Thank you for your support 🙂