I've always been fascinated by fireflies since I was young. However, I've never had any chance to see fireflies with my own eyes until this year.
Recently, when planning for a trip to Malaysia, hubby and I decided to go to Kuala Selangor just to watch the fireflies because none of us had watched them before.
Here's my honest experience watching fireflies in Kuala Selangor as well as my tips for first time visitor.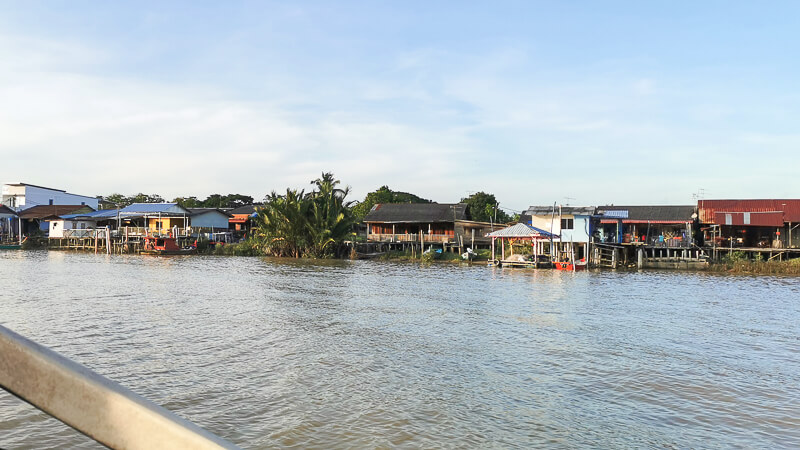 Booking the Tour
There are several companies providing fireflies watching tour in Kuala Selangor. Each company has their own jetty. For us, we decided to go with Sky Mirror World because they also offer eagle feeding and blue tears watching on top of fireflies watching.
You can choose whether you want to watch just the fireflies, or you want a bundle that also include eagle feeding and blue tears watching. For us, we chose the bundle, because we're also keen on eagle feeding and blue tears.
On the booking page, it's stated that the tour starts at 5pm and ends at 9.30pm. However, the tour operator will reconfirm the boarding time in advance.
For our case, the tour operator contacted us in the afternoon on the day we're supposed to go on tour, to inform us that our starting time is 6.20pm instead of 5pm. We were confused and we thought we were shortchanged.
After some communication, we then understood that they had a 5pm trip and a 6.20pm trip for Eagle feeding, meanwhile the trip for fireflies starts at 7.15pm. So, if we take the 5pm trip, we would be back at 6pm and had to wait for 1 hour for the fireflies trip. Therefore, it was better for us to take the 6.20pm trip for eagle feeding.
What to Wear
Because the tour is conducted at night and there will be a lot of mosquitoes, I recommend that you wear long pants and covered shoes. Do apply mosquito repellant also.
I was kind of worried that if I wear covered shoes, they will get wet because we're taking a boat and water might splashes into the boat. However, the staff assured me that I will stay dry throughout the entire trip.
The tour operator recommends bringing jacket, but I don't think it is necessary because we will be wearing life jacket on the boat.
What to Bring
Mosquito repellant. There are lots and lots of mosquitoes so wearing mosquito repellant is compulsory.
Water bottle. It's a long tour so a water bottle will come in handy.
Camera with high ISO. The fireflies and blue tears watching are conducted when the sky is dark, so if you with to take high quality photos, you need a camera and you need to know how to take photos with high ISO setting.
I personally don't need a motion sickness pill because the boat is very well-ventilated, but if you're very prone to motion sickness, do take them.
Getting to the Jetty
Each tour company has their own jetty. The name of our tour operator is Sky Mirror World Sdn Bhd.
The address of their jetty is 10 Jalan Feri Lama, Jalan Bagan Pasir, Bagan Pasir Penampang, 45000 Kuala Selangor. This is the location on the map.
The jetty is quite hidden; we need to walk through a restaurant called "Restoran Makanan Laut Bagan". After coming out on the other side, we finally see a pink floating boat cafe which is where the company is located, and where we spend time to wait for our boat.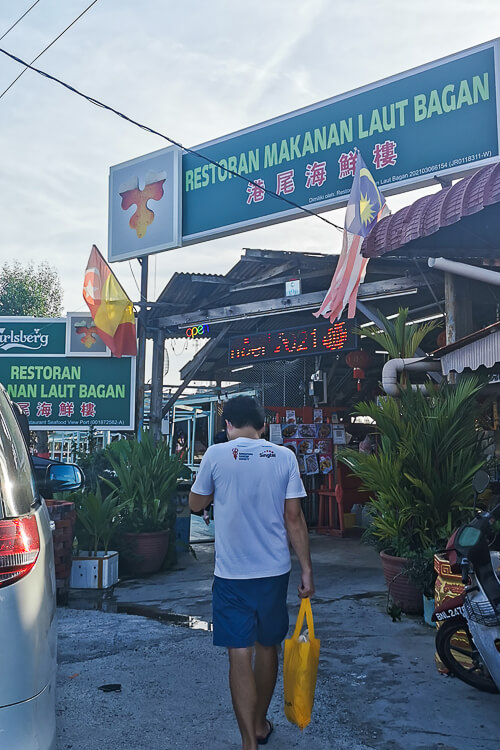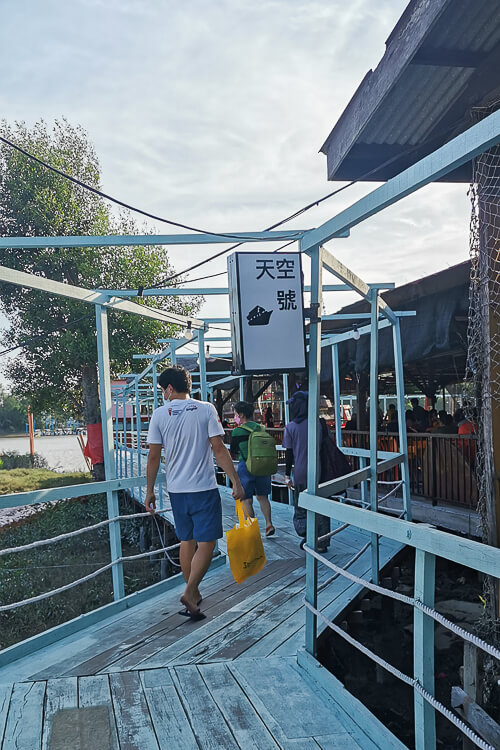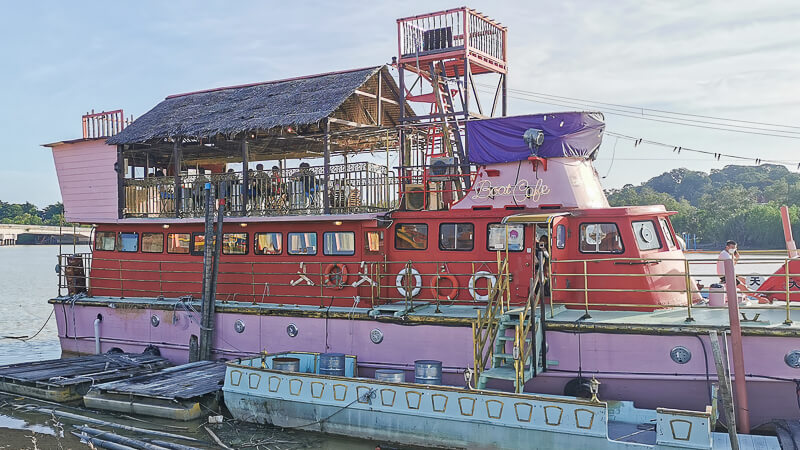 I recommend that you arrive 30 mins before your boat departure. Their departure is sharp on time.
Before entering the pink floating boat, there was a counter for us to register ourselves. Then, we were given a number that corresponds to the boat number that we will be taking.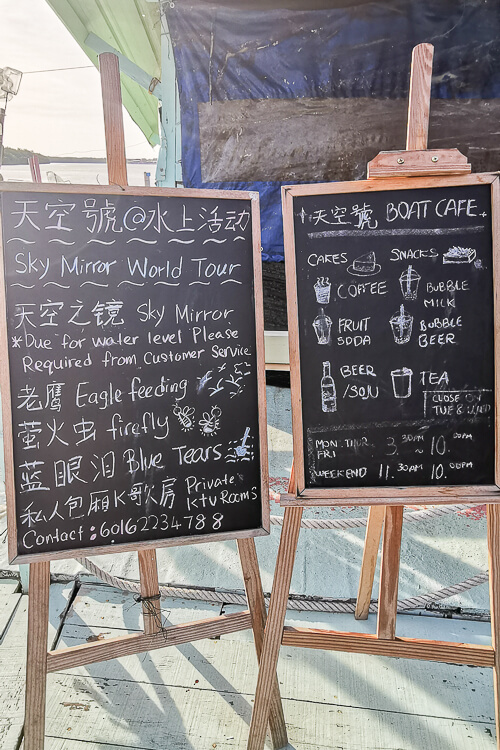 The Pink Floating Boat
The pink floating boat is also known as boat café as it serves cakes and drinks.
The pink floating boat has 3 levels. The below level has a small karaoke room, a dining table, a cockpit and a toilet. The second level has a café-like interior and a toilet. The third level is an alfresco seating area and a kitchen.
If you're on a day trip like us where you wear slipper and short pants during the day, you can change at the pink boat. There are limited toilets (one at Level 1 and one at Level 2), so you might have to queue to use the toilet.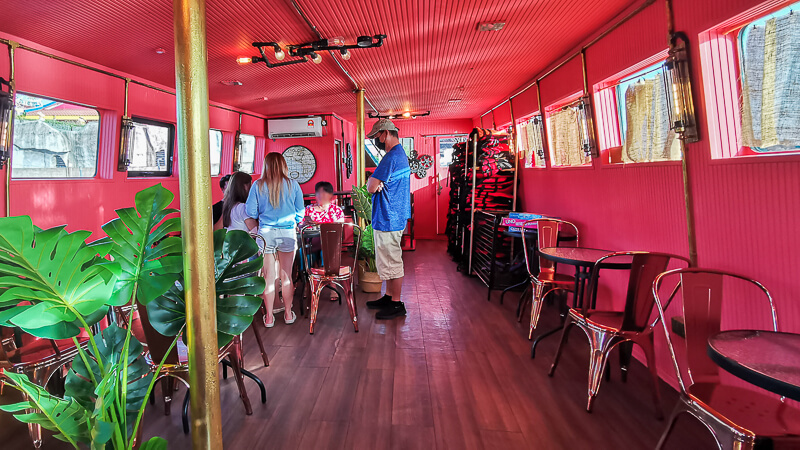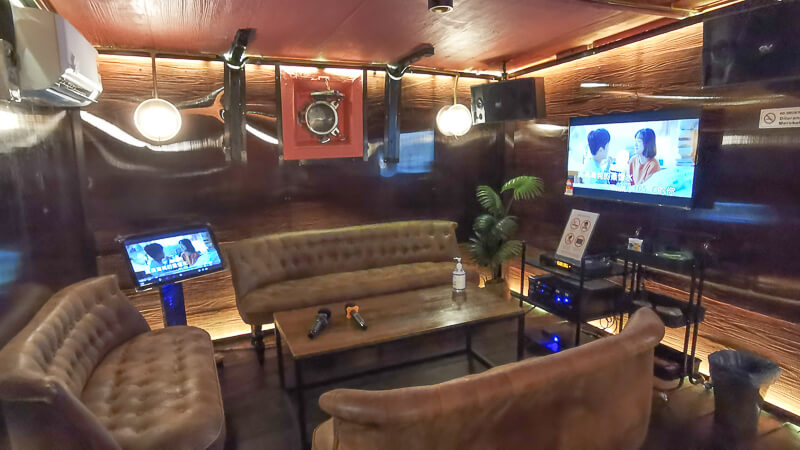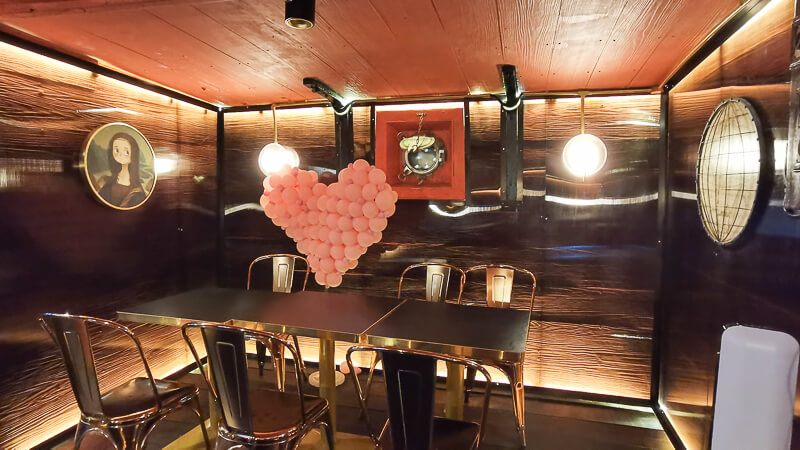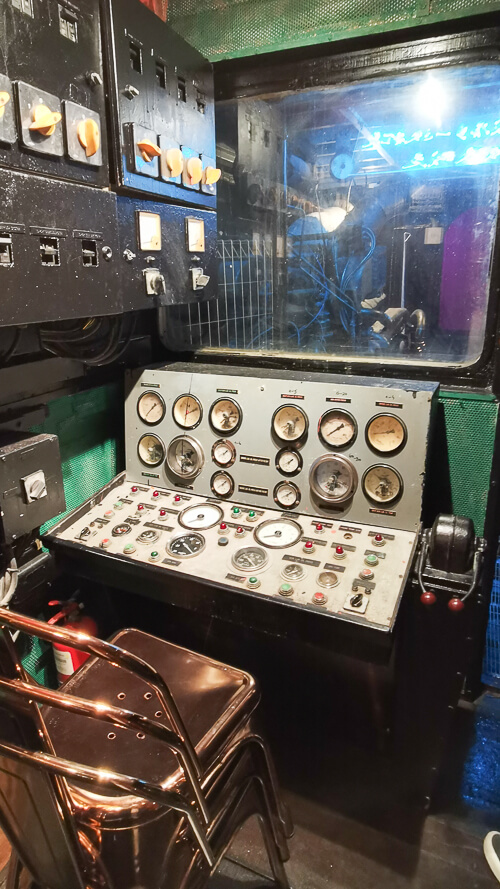 The Tour Boat
Finally it was time to start the tour. The staff distributed life jacket for each of us and helped us descend to our boat. Thankfully, the boat looked nothing like what we saw on the booking page.
Instead of sampan, we got a well-ventilated speedboat, yay!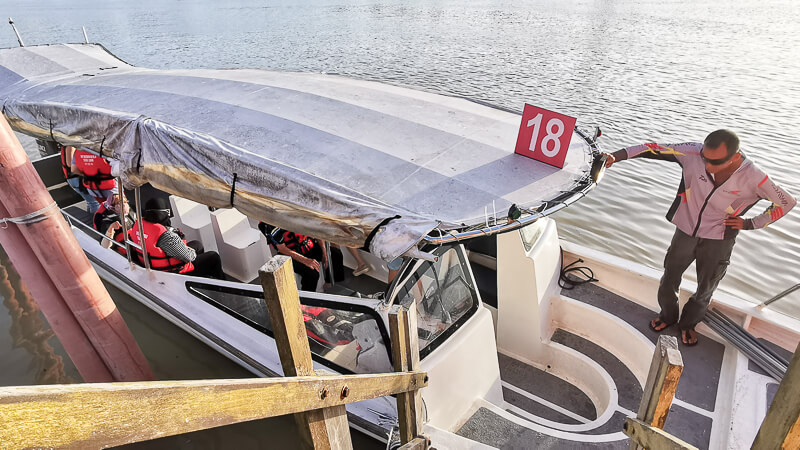 It was free seating. I decided to sit in the middle, which I later regretted. It's better to sit on the side to get unobstructed views.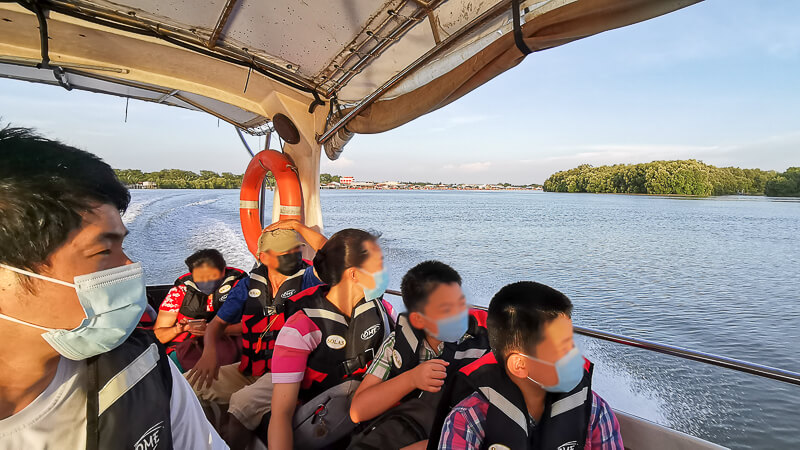 Eagle Feeding
It was a 10-min downstream boat ride to the eagle feeding spot. It was near sunset time, so the weather was breezy and lighting was perfect.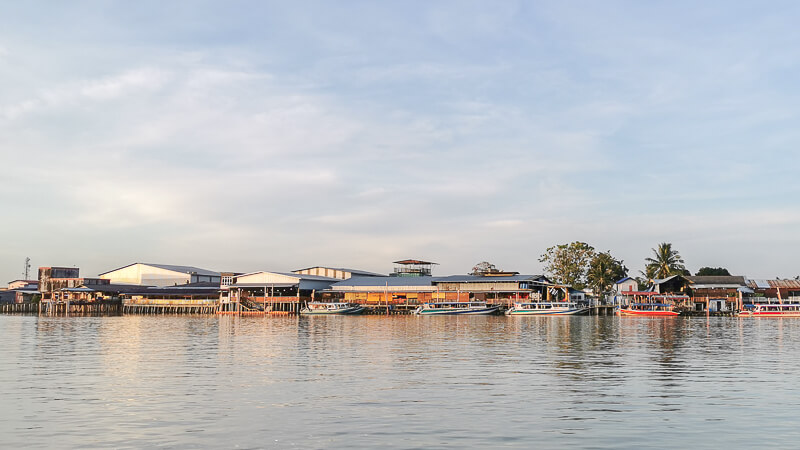 When we arrived, eagle feeding was ongoing. There were so many eagles in the sky.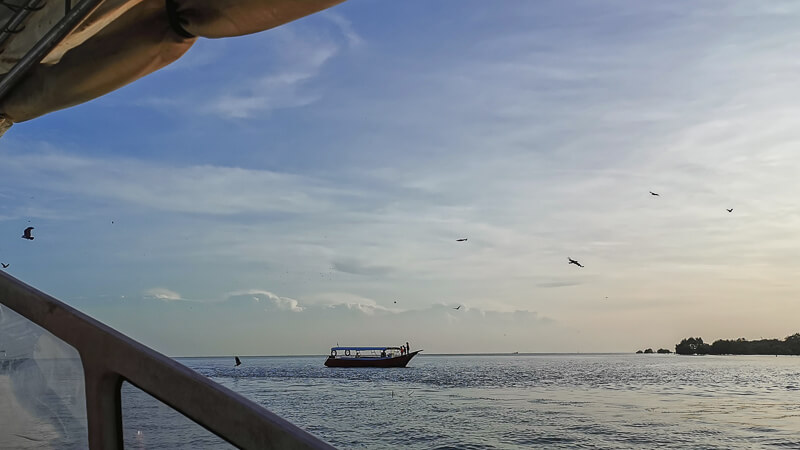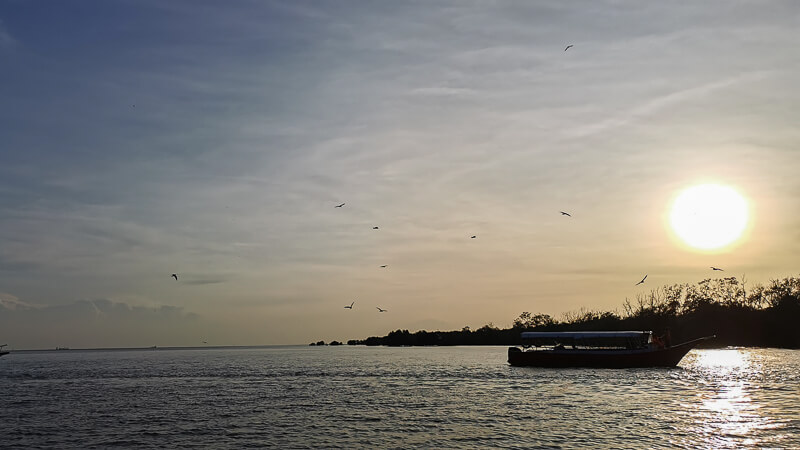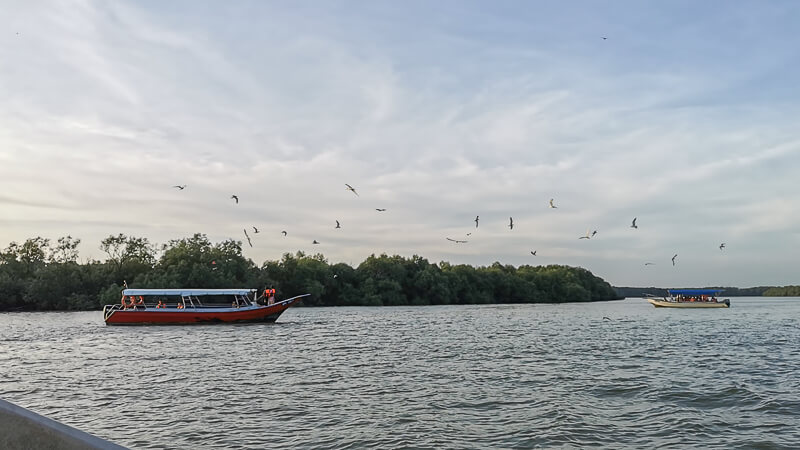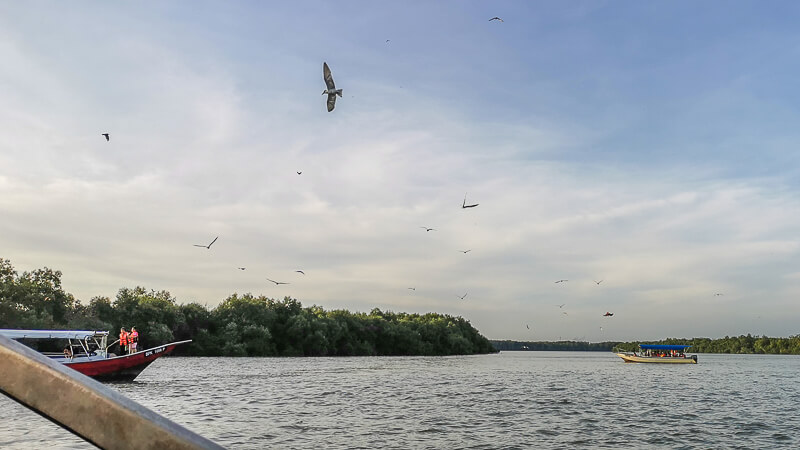 The tour guide was very kind to help all of us to take photos at the front of the boat, with eagles at the background, one family after another. Here are our photos taken by the staff.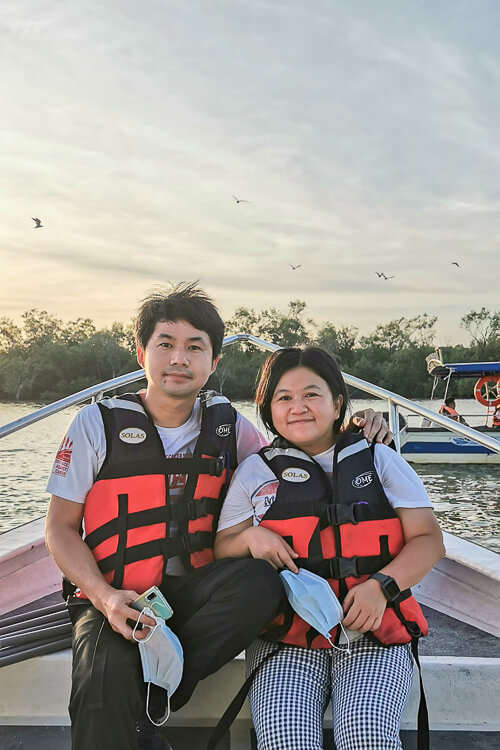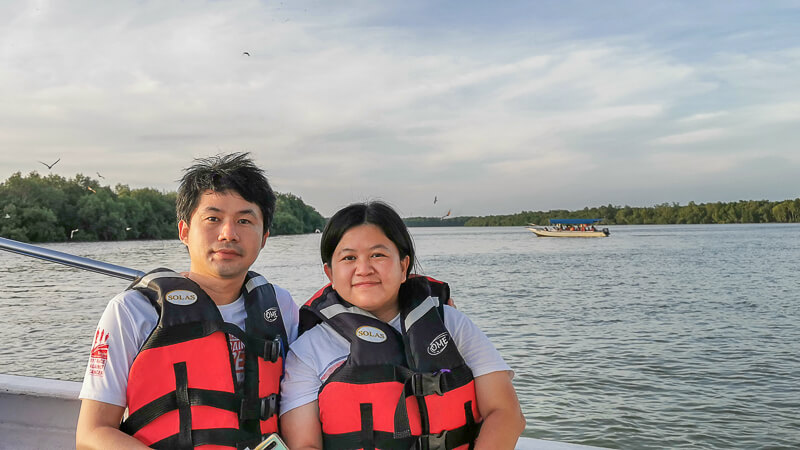 After everyone has their photos taken, the boat made its way back to the pink floating boat.
When we reached the pink boat, it was 7pm and the sky was still bright. We were told to wait in the speedboat for a while because we won't be able to see fireflies when it's bright.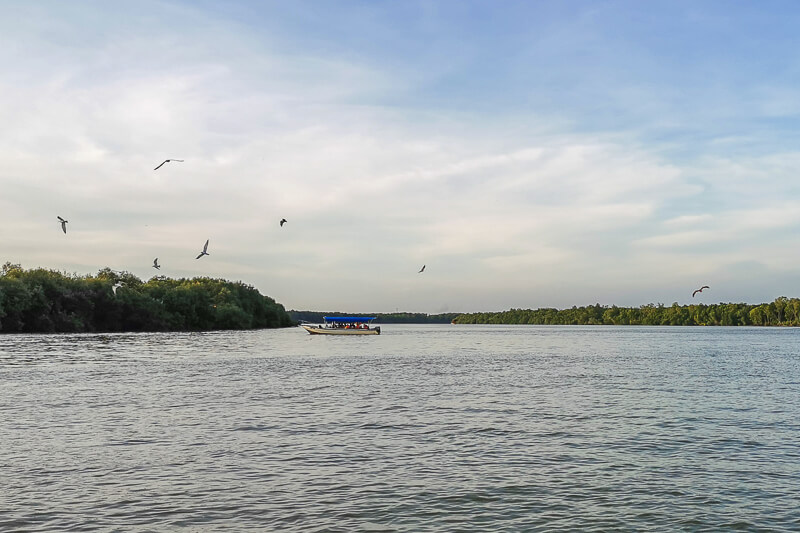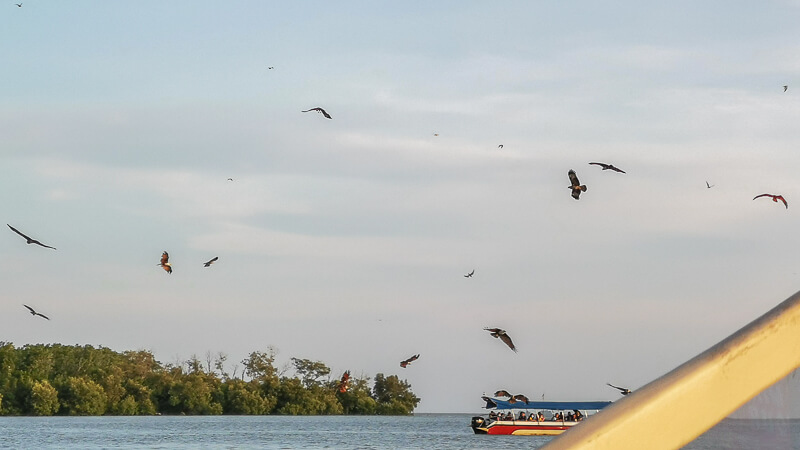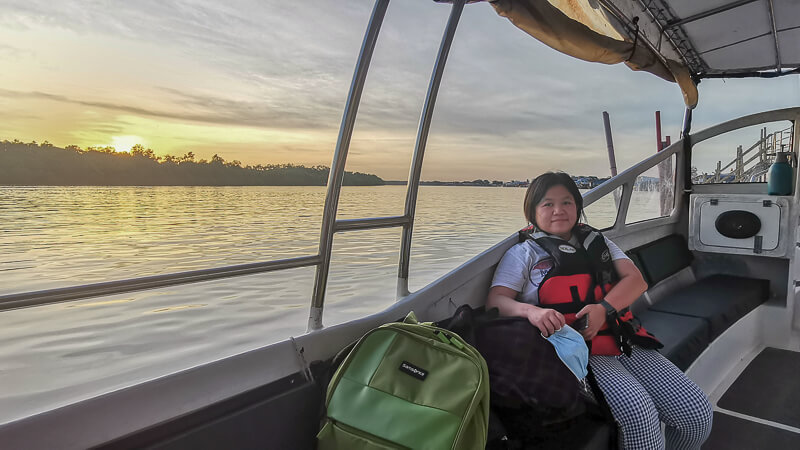 Fireflies Watching
At 7.20pm, our boat departed for the fireflies watching. It was a 10-min upstream boat ride. When we arrived at 7.30pm, it was still not dark enough, so we had to wait for a while.
Finally we started seeing something blinking in the marshes. It definitely looked like a Christmas Tree. As the night gets darker, the blinking lights get brighter.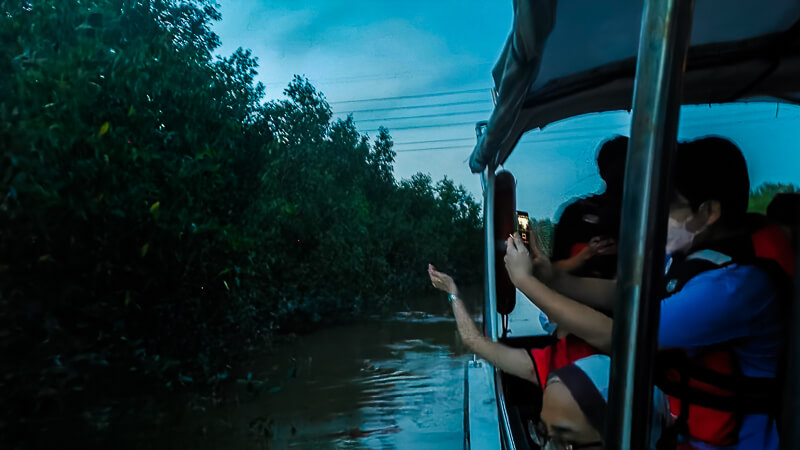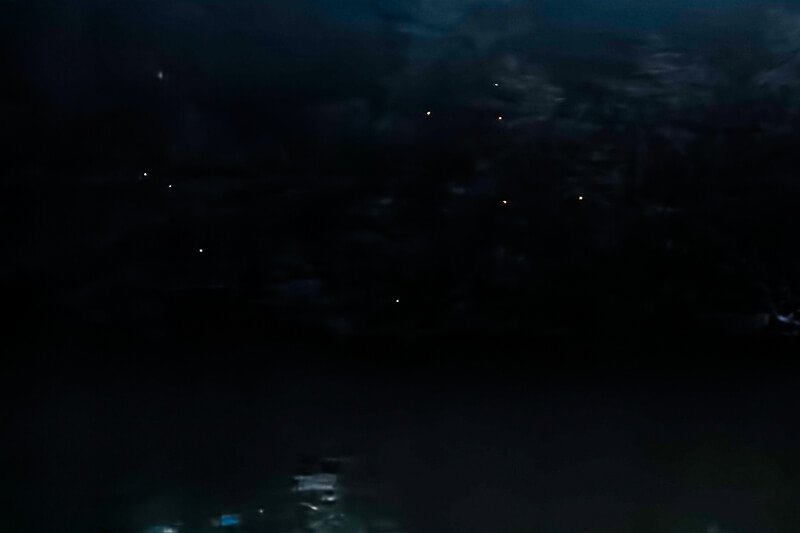 The tour guide did something unthinkable. She managed to attract several fireflies into our boat by using some special torchlight effect! Some of us get touch the fireflies (me included!). I feel that it was a surreal experience to get this close to fireflies.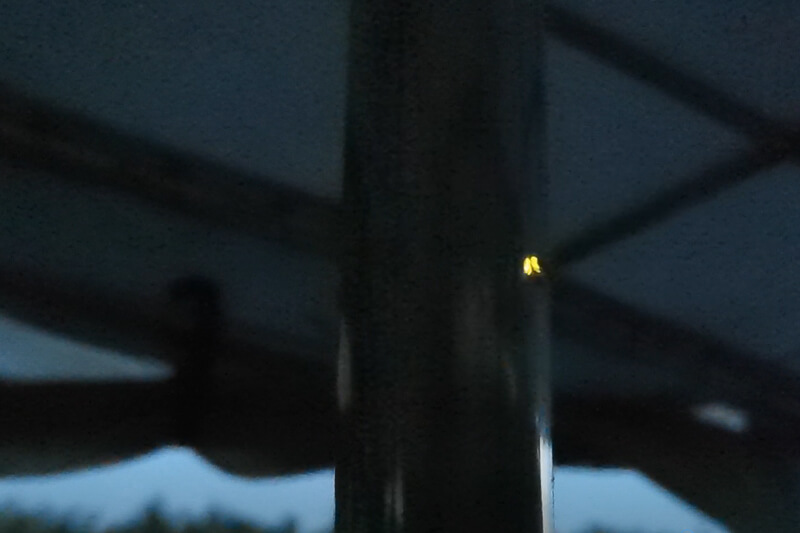 Unfortunately, my phone camera is unable to properly capture the magic of the fireflies because it was too dark. The best I could do was to record a video of the fireflies. So, here's my amateur video.
Blue Tears
Done with fireflies watching, the boat move downstream slowly towards blue tears location. Basically, blue tears are blue light reflected by the planktons.
We were given poles that we can swirl in the water so that the blue light can appear. It was tough, probably because there were not that many planktons in the river.
Still, this experience is much better than the snorkeling plus plankton watching tour that we took in Phi Phi Islands, Thailand, in 2018.
Again, my phone camera can't take proper photos of the blue tears, so here's my best effort.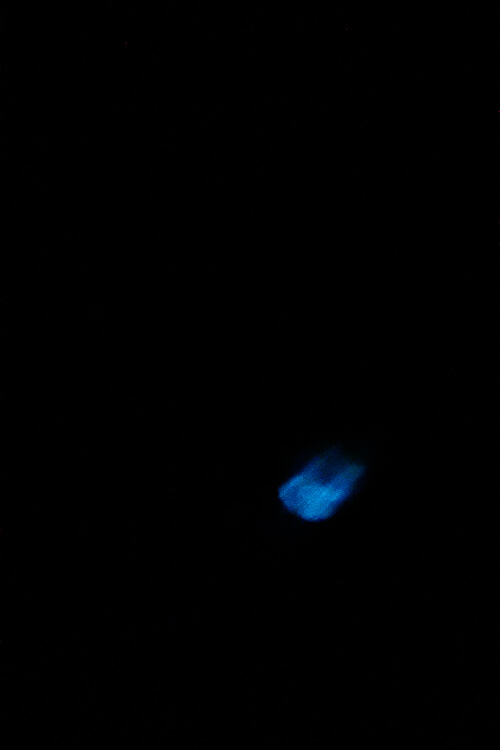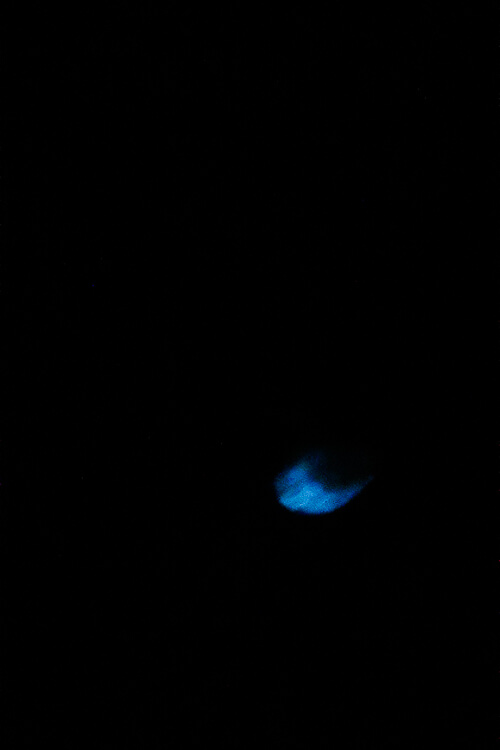 After the Tour
We arrived back at pink floating boat at almost 9pm. We haven't had our early dinner before the tour, and we were starving at the end of the tour.
Clueless on what to eat around Kuala Selangor, we asked one of the tour staff for recommendation. She recommended Want To Eat Restaurant which is just 500m away from the jetty.
Our Verdict? It was so so good and so affordable! I'll write more about the restaurant in my travelogue on day trip to Sekinchan which I'll publish some time next week, so stay tuned!
Conclusion
I personally feel that this tour is so worth it, because we successfully saw what we wanted to see, namely eagle feeding, fireflies and blue tears. The departure was right on time, tour guide was polite, kind and helpful. The facilities (toilet, waiting area, speedboat) are well-maintained. We are happy customers.
They also offer Sky Mirror Tour, but due to our limited time in Malaysia, we couldn't go for it. Next time, we'll definitely go to Sky Mirror if we have another trip to Selangor.
If you prefer a tour with sampan (traditional wooden boat), you can go to Kampung Kuantan Firefly Park which offers firefly tour at RM60 per boat for myKAD holders (a boat can fit 4 persons). Non myKAD holders need to pay RM100 per boat instead. No advance booking was required.
If you like my work, you can buy me a coffee! Your support will help me to keep going!