Welcome to my travelogue series, in which I share my travel diary the old-fashioned way, recounting where I went, what I did, what I ate, how much I paid, what I felt, etc, in a sequential order.
In May 2022, my hubby and I travelled to Malaysia to visit our family for the first time after the pandemic. We wanted to travel together to a place where neither of us has visited before.
We decided to go to Sekinchan, a town that's quite unique because of its abundance of paddy fields. At the same time, Sekinchan is also close to Kuala Selangor which is well-known for fireflies watching, and most of us had never watched fireflies before.
So, Sekinchan and Kuala Selangor it is!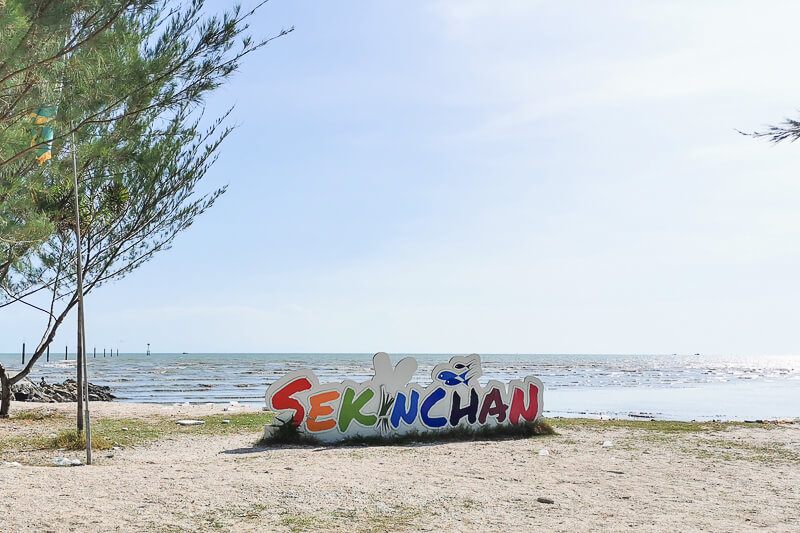 Preparing for the trip
1. Check the calendar. The first thing you must absolutely do before planning a trip to Sekinchan is to check the paddy planting calendar. That is because, if you go in the wrong month, you'll see barren lands instead of green fields.
I'll share the full calendar in the "Paddy Field" section further in this article. In short, if you want to see green fields, do visit between mid March to mid May, and mid September to mid November.
2. Research for things to do. There are plenty of things to do and places to visit in Sekinchan, you won't be able to see everything on a day trip. Therefore, you need to shortlist the things that you want to do and see.
For me, I relied on these insightful articles from Travels with Sun and Ummi Goes Where to shortlist what I want to do and see. Also, don't forget to research for what to eat.
3. Make a draft itinerary. An itinerary helps to plan our time effectively. We made a rough itinerary in our heads and adjusted it when we were on the road.
4. Book the activities in advance. We prefer to book activities in advance whenever possible so that we don't have to be in limbo in case the activity is fully booked when we arrive. For this day trip, we made online booking for fireflies watching tour.
5. Figure out your transportation mode. Public transportation is probably non-existent in Sekinchan, so it's best to drive. If you don't have a car in Malaysia, you can rent a car here.
Getting to Sekinchan
As I've mentioned in the previous section, the best way to get to Sekinchan is to drive. If you don't have driving license, you can take bus from Kuala Lumpur to Sekinchan. Once in Sekinchan, you can rent a bike or a taxi to get around the town.
For us, we drove our family car from south of Kuala Lumpur to Sekinchan.
Lunch
When we arrived at Sekinchan, it was already noon, and that can only mean one thing: It's lunch time! We read great reviews of Restoran Weng Kee on Google maps and blogs, so we decided to give it a try.
It is a humble family restaurant which wasn't too crowded when we visited. Price-wise, it's quite affordable. We ordered four dishes (salted egg calamari, stir fried shark meat, chili prawn, 3 treasures). The total bill was RM 79.
I really liked the salted egg calamari. However, I didn't quite enjoy the other 3 dishes. Perhaps we ordered the wrong things, but some of the things we ordered were their recommendations. Perhaps they just didn't suit my tastebuds.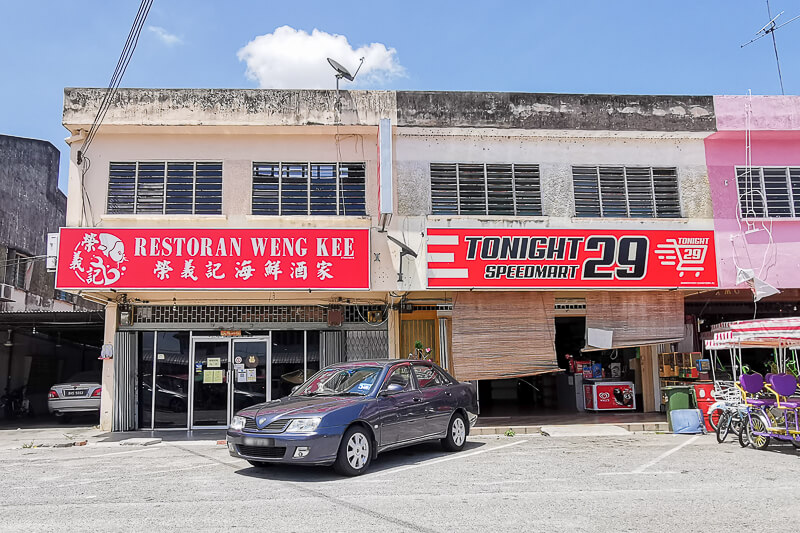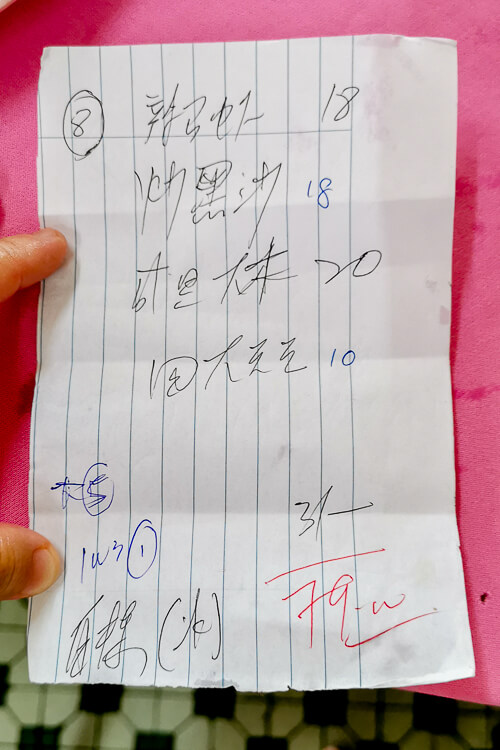 Paddy Field
After lunch, it was time to visit the highlight of our day trip, which was the Paddy Field! Before arriving at Sekinchan, I thought that there is a designated spot for tourists to enter the Paddy Field. It turned out that there isn't.
Basically, the paddy fields on scattered all around Sekinchan. Since most of the attractions are situated along Jalan Tali Air 5, you can head to Jalan Tali Air 5 and you'll find hectares upon hectares of paddy field lining up on both side of the road.
For us, we visited the paddy field near Ah Ma House because there were parking spots opposite of Ah Ma House. Here's how the paddy field opposite Ah Ma House looks like. (Here's the location of this paddy field on map)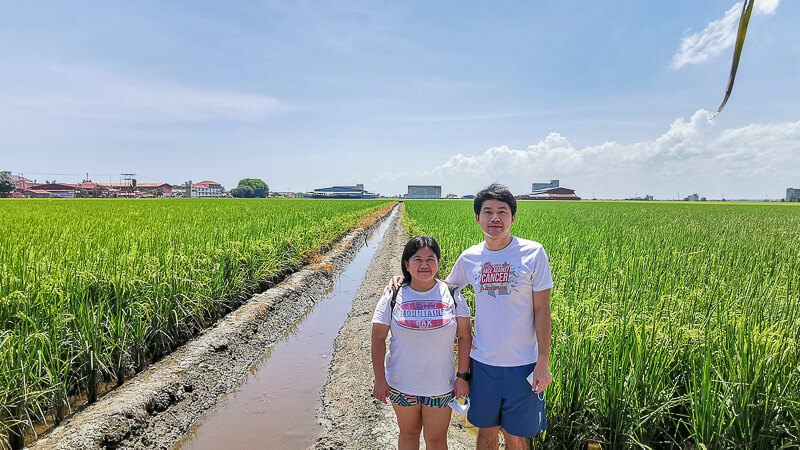 Because we visited in the third week of May, the paddy was ripening and almost ready for harvesting. You can see the paddies below are quite full with rice!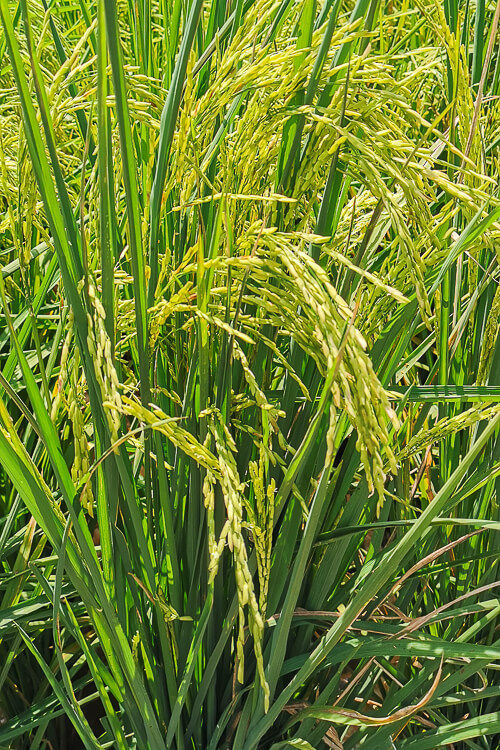 It was my first time holding a paddy and I was really excited.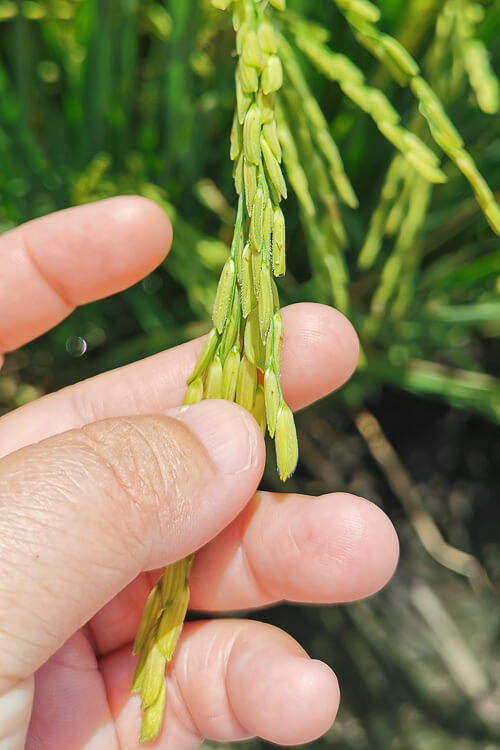 If you are planning a trip to Sekinchan, I highly recommend that you visit between mid March to mid May, and mid Sept to mid Nov. Here's the calendar for your easy reference.
| Month | Activity | Color of Paddy Field |
| --- | --- | --- |
| Jan & Feb | Resting | Barren fields |
| Early to mid Mar | Transplanting | Green in some areas |
| Mid Mar to mid May | Growing | All green |
| Mid May to end May | Ripening | Golden yellow |
| June | Harvesting | Yellow in some, barren in other |
| Jul & Aug | Resting | Barren fields |
| Early to mid Sep | Transplanting | Green in some areas |
| Mid Sep to mid Nov | Growing | All green |
| Mid Nov to end Nov | Ripening | Golden yellow |
| Dec | Harvesting | Yellow in some, barren in other |
Ah Ma House
Ah Ma House is a retail shop that sells old-school snacks. Its interior is full of vintage objects, we felt like we went back to the time when our parents were still kids in the 70s.
As an 80s kid, I could still recognize some of the old-school snacks. It was truly a walk down the memory lane. Personally, I really liked the herbal jelly pudding. Interestingly, they accept electronic payment, such as GrabPay and Touch 'N Go.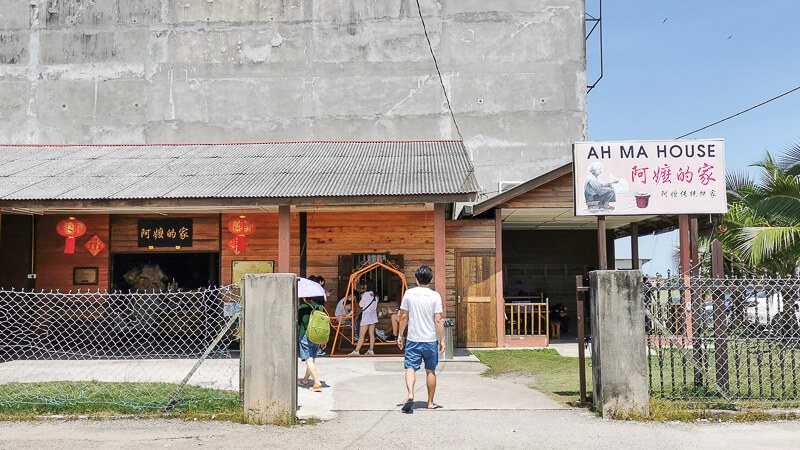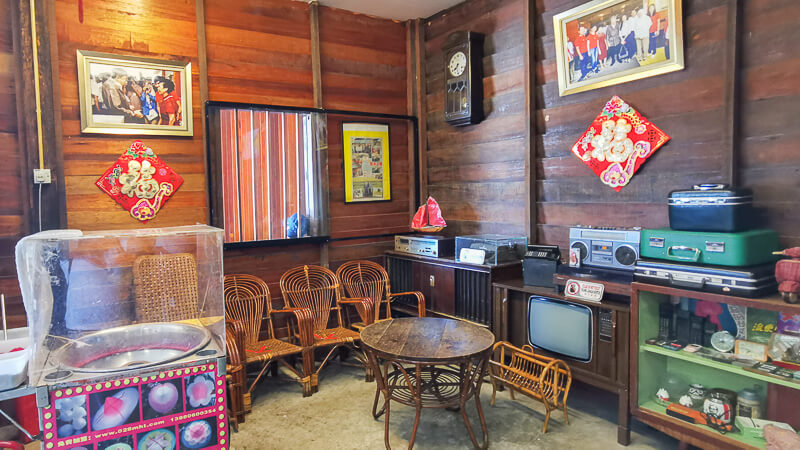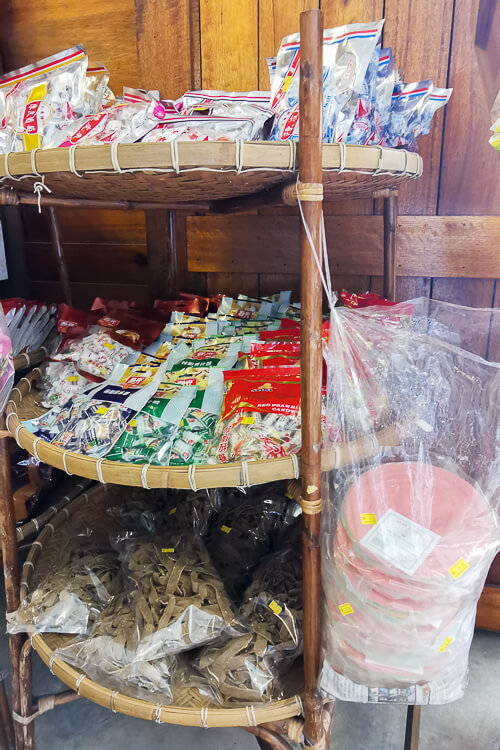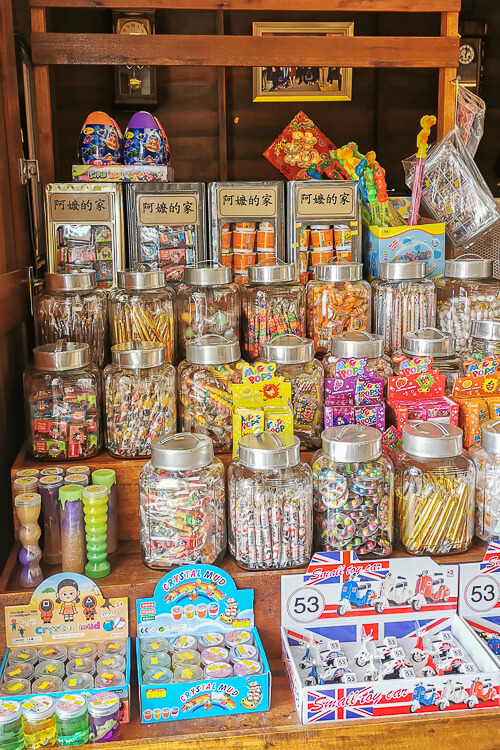 Corn Seller
When exiting Ah Ma House, we were approached by a lady on motorcycle selling corns. At RM10 for 8 corns, we felt that it was really cheap. Even cheaper than supermarkets in KL. If you happen to meet freelance corn sellers, consider yourself lucky!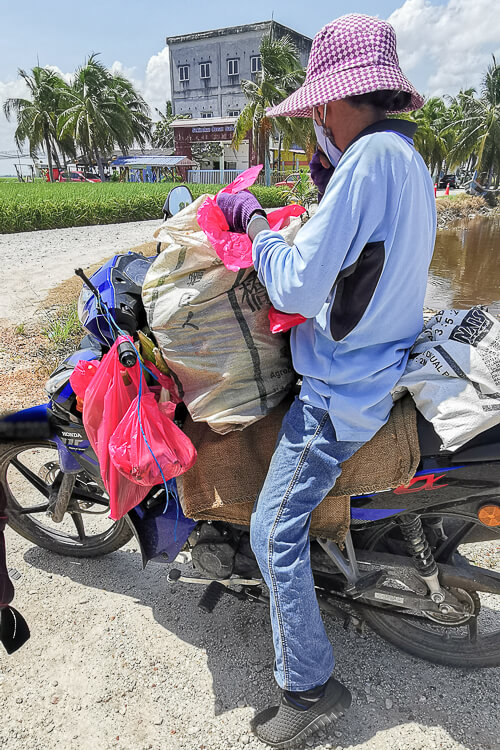 Paddy Gallery
Located along the same road as Ah Ma House is the Paddy Gallery, a factory / gallery / museum about paddy. Admission fee is RM5 and visitors will get a pack of souvenir rice.
I think it is a must visit place in Sekinchan. I wrote a detailed article about Sekinchan Paddy Gallery so I won't be writing about it too much here.
Here are some of my favorite photos of Paddy Gallery.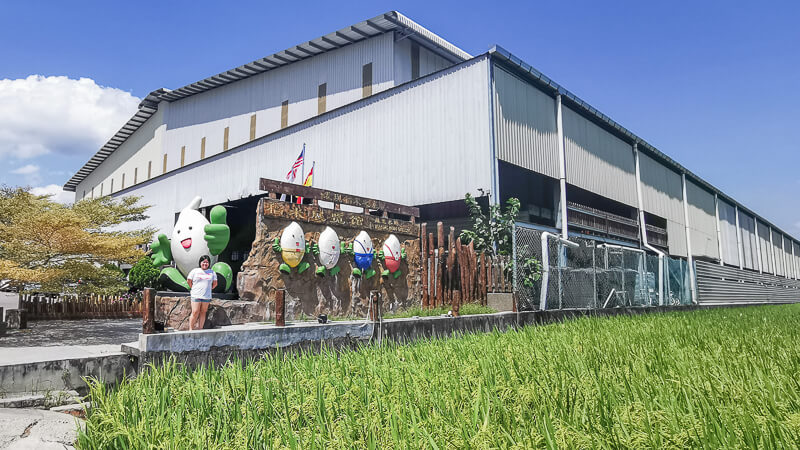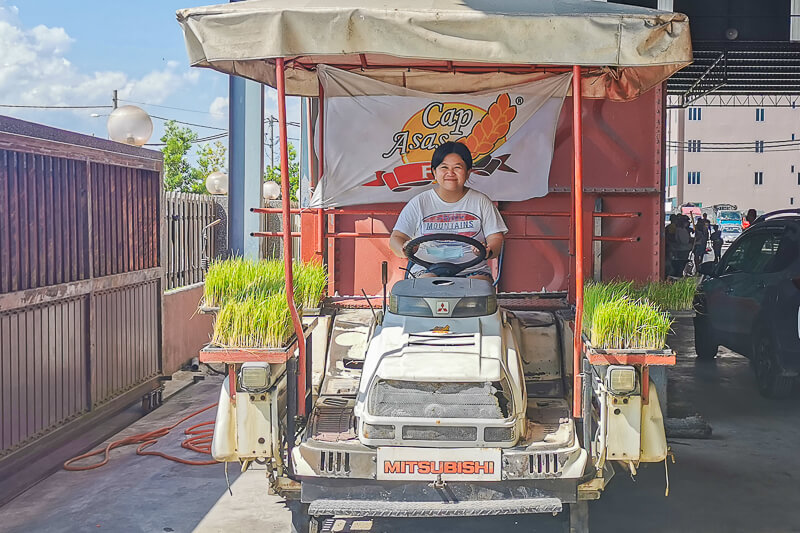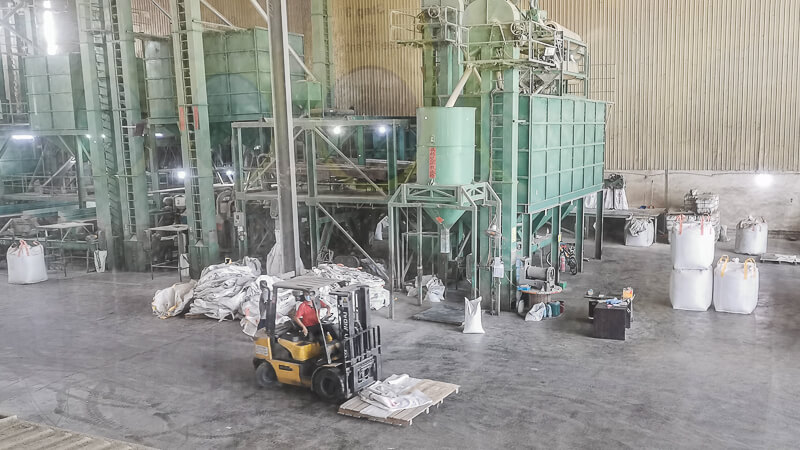 Mango King
Mango King is located near Paddy Gallery. At this food court, you can buy various food, drinks and snacks, but the most famous one is definitely the mango drink stall. They accept electronic payments, such as GrabPay and Touch 'N Go.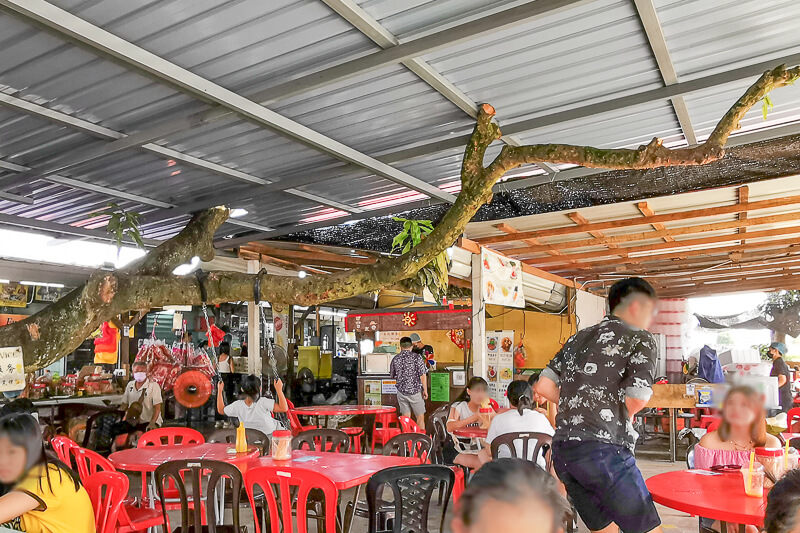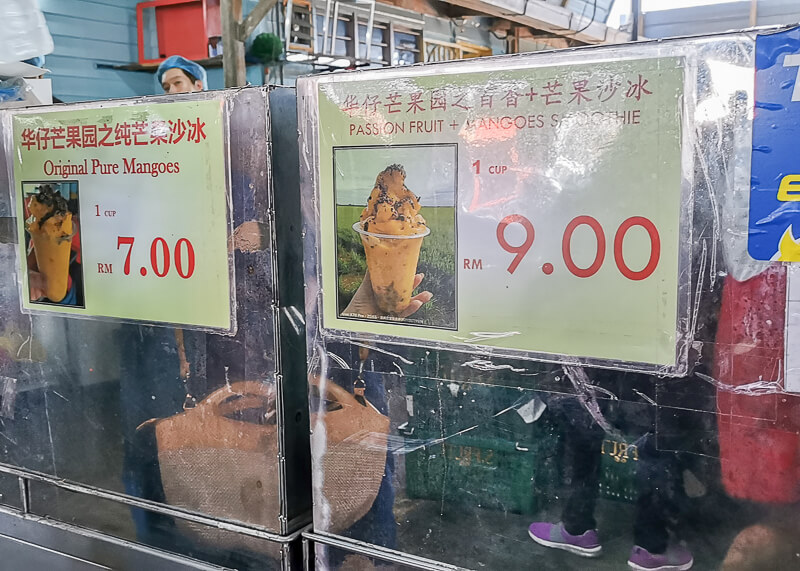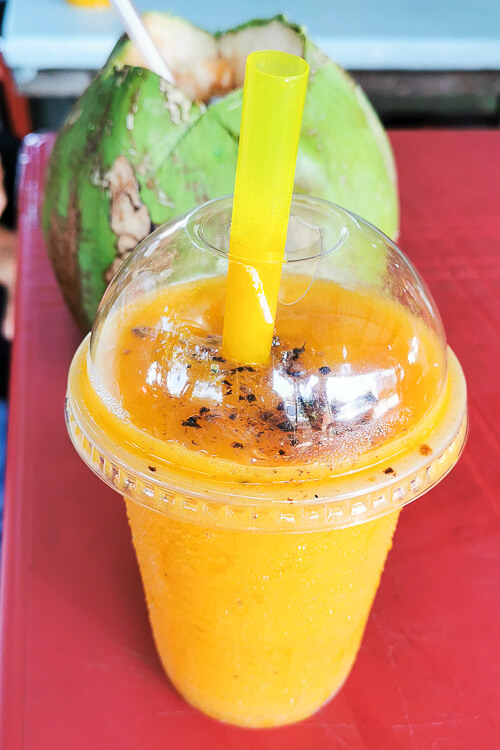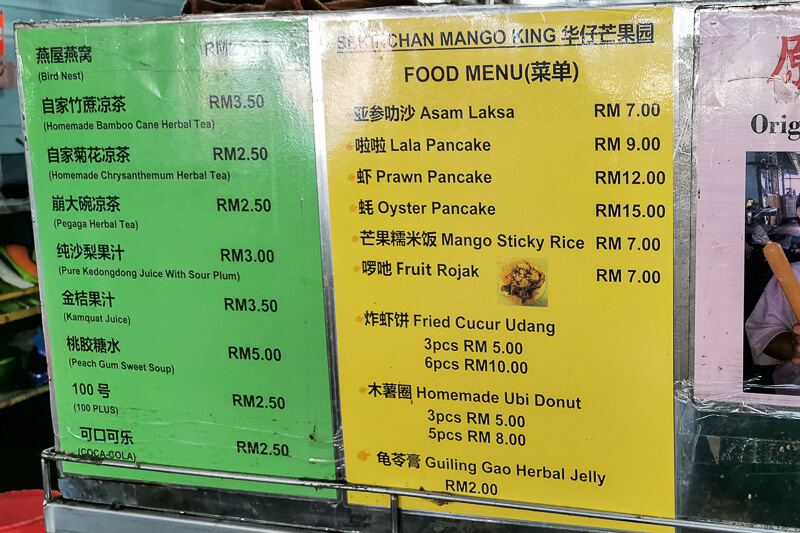 Sekinchan Beach
The next place we visited was Pantai Redang Sekinchan. Don't confuse this with Redang Island, the famous diving spot in Trengganu, which is very far away from Sekinchan (about 500km away).
Sekinchan Beach is quite a small beach. Because it's facing the west direction, it's a great place to watch the sunset.
Across the canal from the beach is the Sekinchan Fishing Port. And if you walk further into the land-side, you'll see a huge Wishing Tree decorated in red prayer ribbons, and a temple beside the tree.
Admission is free. There are a few food stalls (not restaurants) at the beach. And there's this "I Love Sekinchan" signboard which makes a great photo op for tourists like us.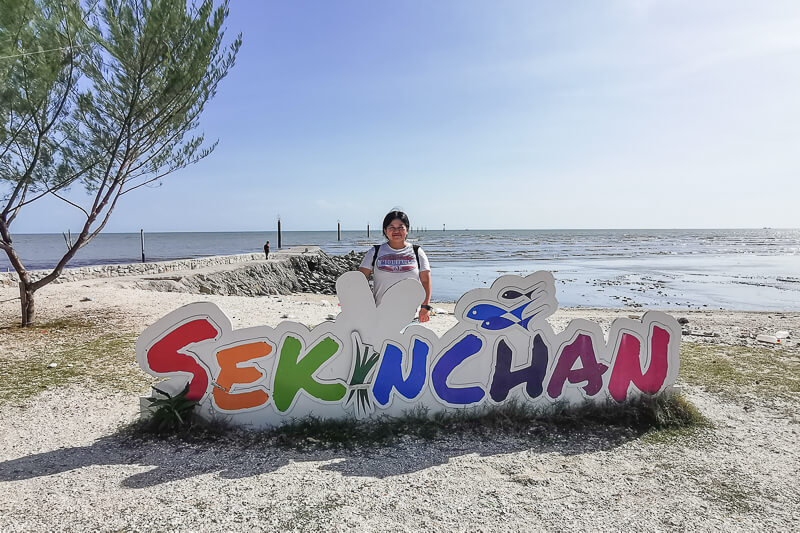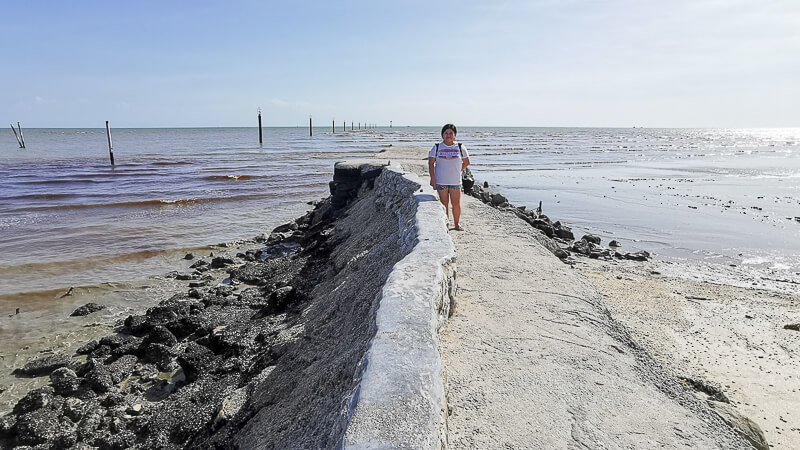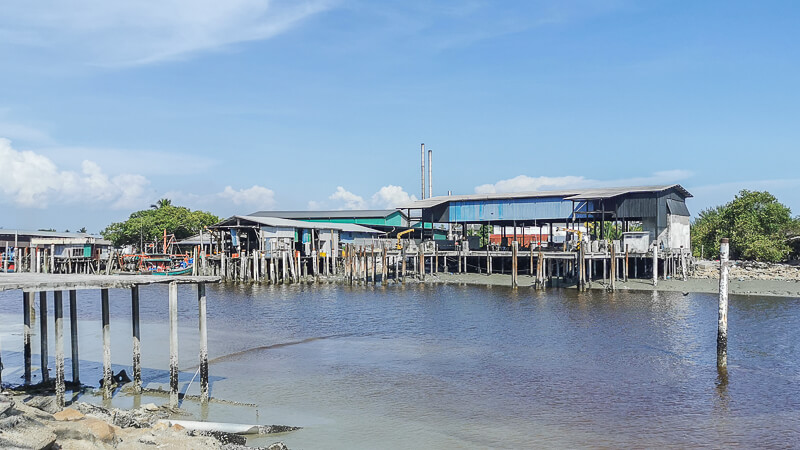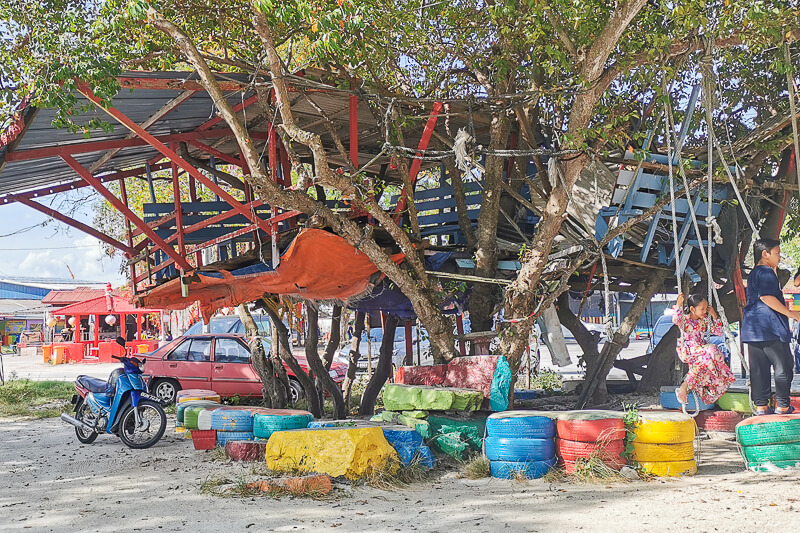 Sekinchan Wishing Tree
The Sekinchan Wishing Tree is within walking distance from Pantai Redang. It can be easily spotted from the carpark at the beach, thanks to its humongous size and the striking red color of the ribbons.
If you want to make a wish using the red ribbon, you can purchase it from the temple beside the tree and write your wish on the ribbon. Then, throw the ribbon up to the tree branch; the rings at both ends of the ribbon help to secure the ribbon to the tree branch. It's not easy, it takes some practice to get your ribbon hooked to the branch.
If you walk around the tree, you will find a small recess on the tree trunk with a praying altar.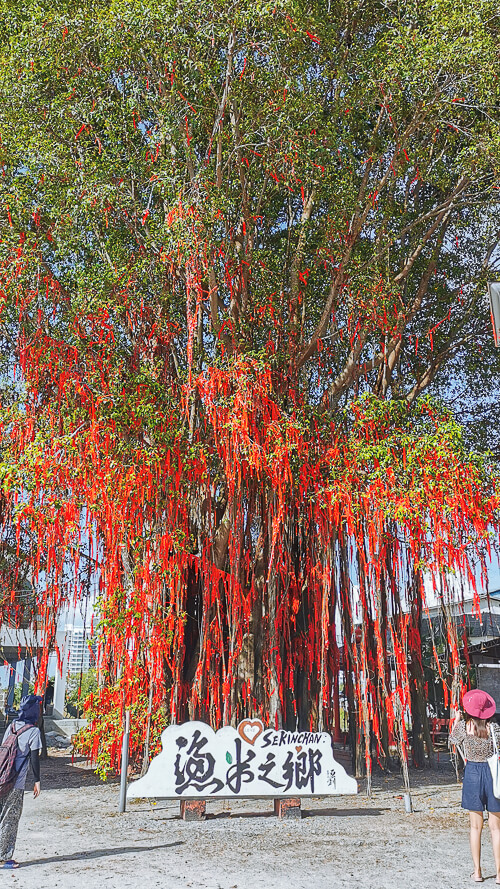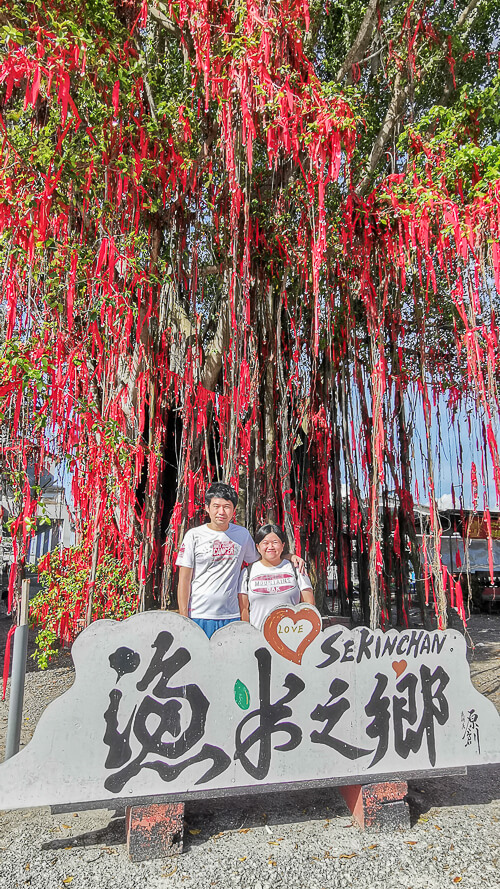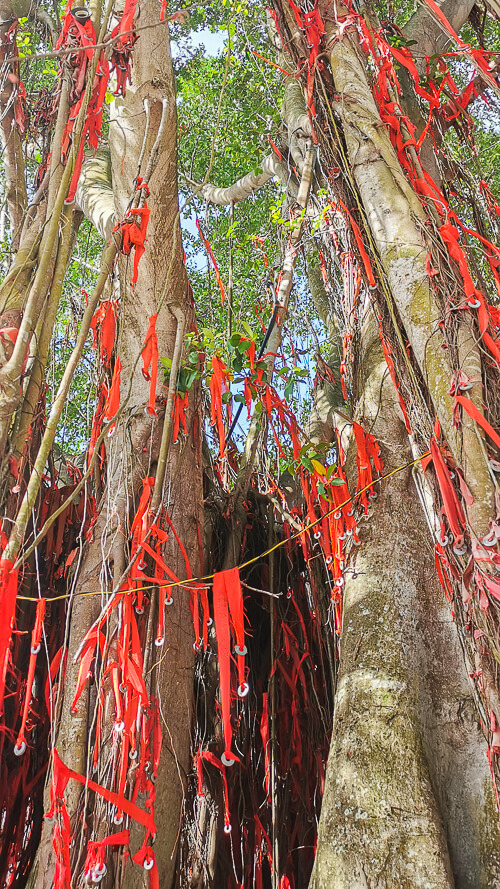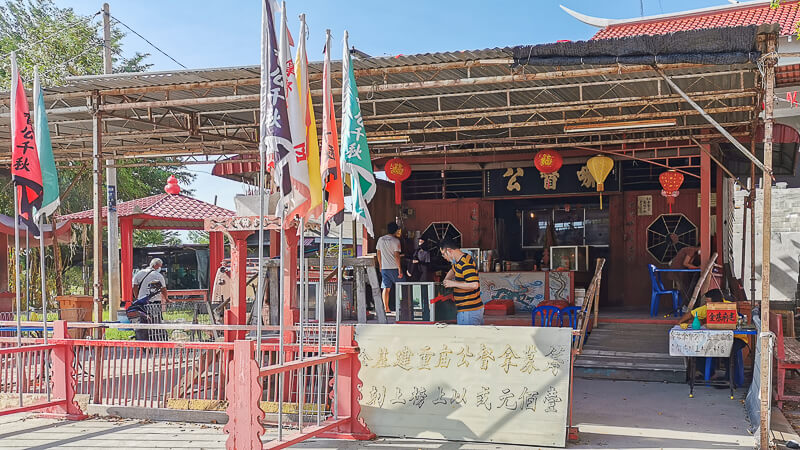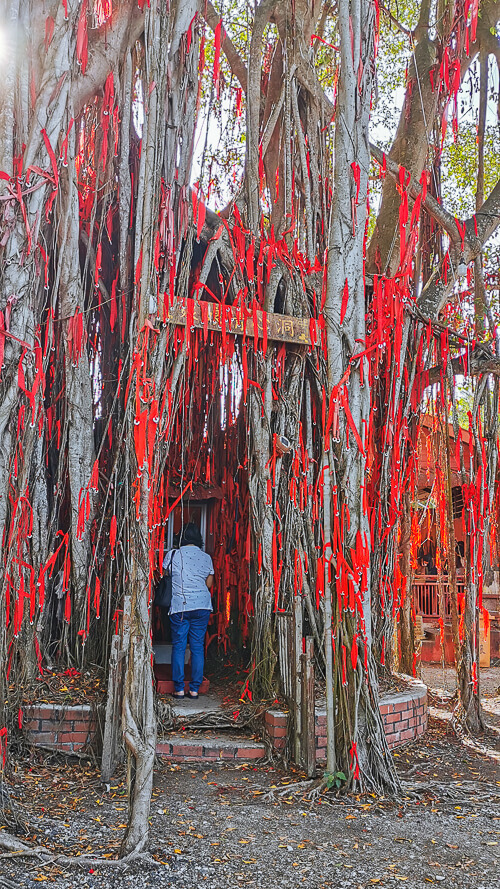 Fireflies Watching Tour
From Sekinchan Beach, we drove about half an hour south to the town of Kuala Selangor for the fireflies watching tour. Our tour bundle included eagle feeding and blue tears watching. The entire tour lasts for 3.5 hours and it cost about RM20/person.
We felt very satisfied with the tour because we managed to see all the 3 things (eagles, fireflies, blue tears) successfully. Furthermore, I feel that the price is really affordable and I highly recommend this tour if you want to see fireflies in Malaysia.
I've had too many things to say about this tour, and too many photos and videos to show. So, I've dedicated a separate detailed article about this tour. You can read my experience watching eagle feeding, fireflies, and blue tears here.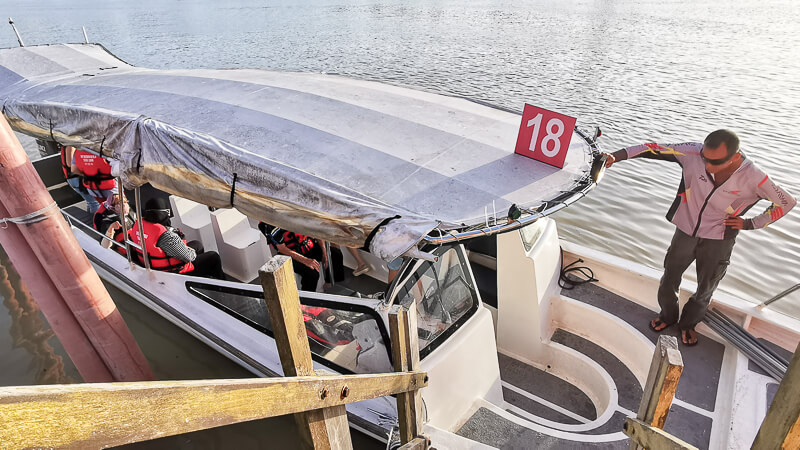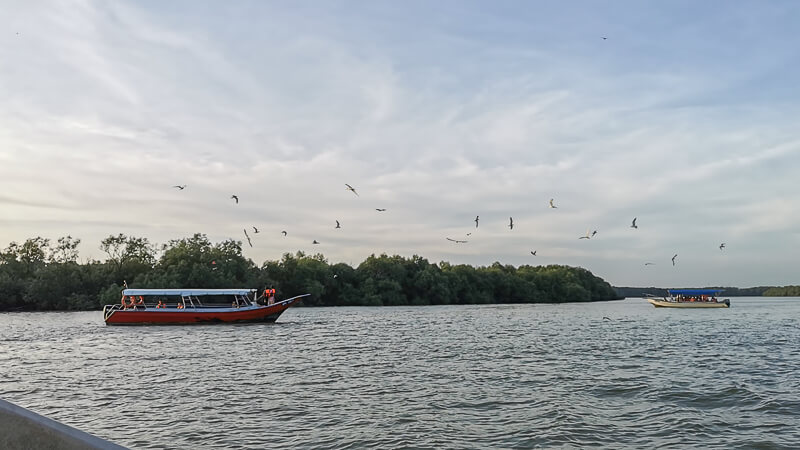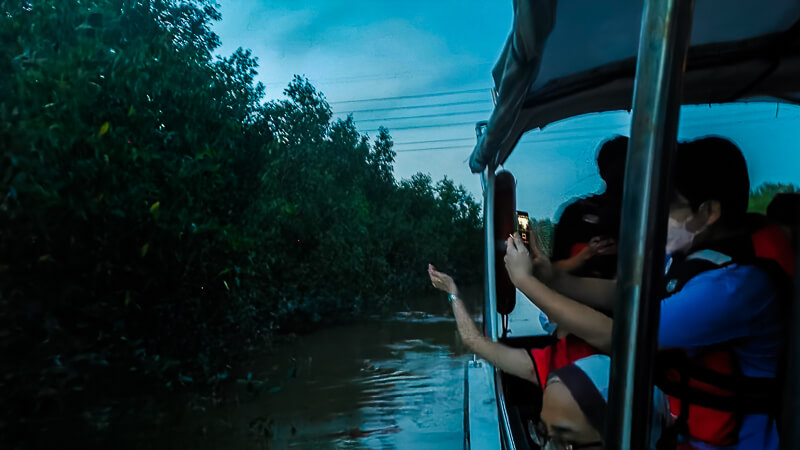 Dinner
We finished the fireflies tour at over 9pm and we were really starving by then. We asked the crew at fireflies watching tour for dinner recommendation, and she recommended this Want to Eat Restaurant, which is just a 3-min drive from the jetty. Thankfully, the restaurant was still open!
We ordered nyonya steamed fish (900gr, RM60), claypot clams (RM22), oyster omelette (RM20), vegetables, rice and drinks. I usually don't like clams and oyster, but surprisingly I love both the claypot clams and oyster omelette! You know a restaurant is good when it turns you from a non-eater to an eater!
Our total bill was RM144. It was double the price of our lunch but to be honest, it's so worth the price! Highly recommend this restaurant.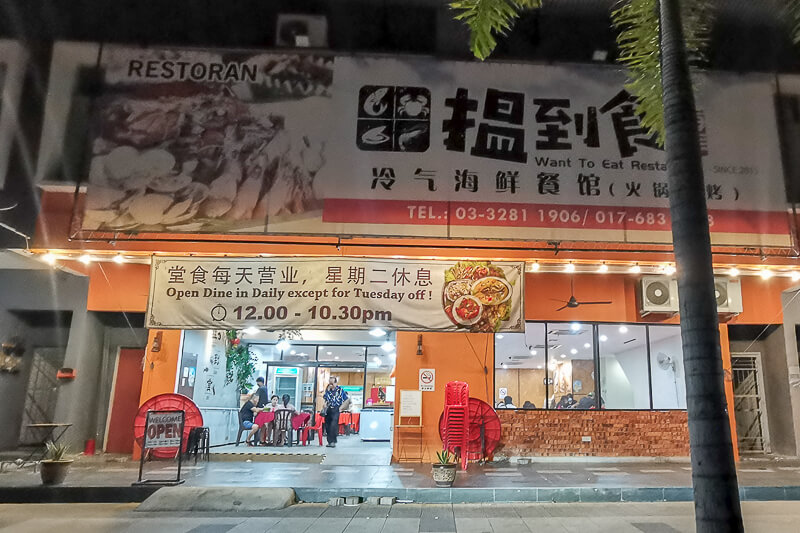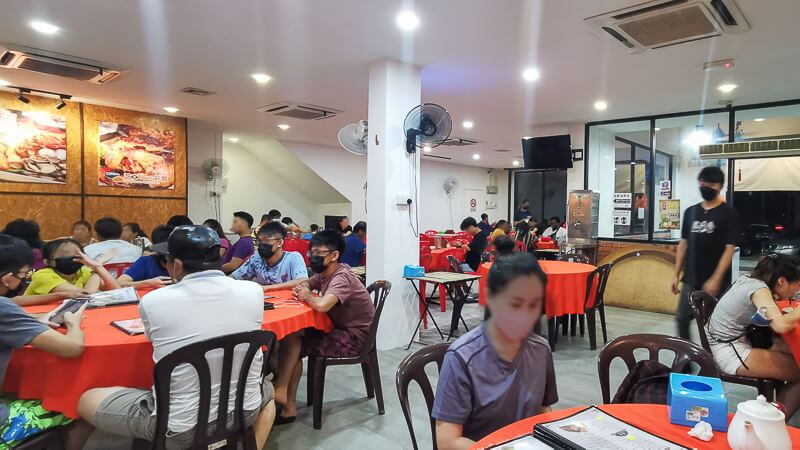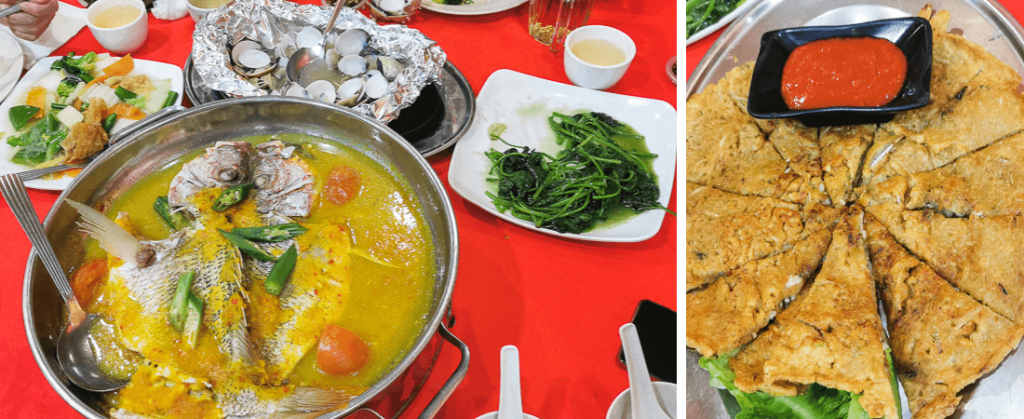 Conclusion
Sekinchan is a perfect day trip destination from Kuala Lumpur and Perak. This unique little town has lush green paddy fields, paddy factory/gallery, beach, fishing port, vintage shops, vintage bus cafe, and cheap food.
Sekinchan is also near Kuala Selangor, the home of fireflies. You can combine a visit to Sekinchan and Kuala Selangor in a day, like what we did.
The downside of a day trip is that you won't be able to see everything. We didn't have opportunity to visit the iconic bus cafe and Nan Tian Temple. To really see the town, I think it's best to spend at least 2D1N.
Will I come back? Yes if I happen to be traveling around Selangor.
If you like my work, you can buy me a coffee! Your support will help me to keep going!