From 24 June to 14 August 2022, the Flower Dome conservatories at Gardens by the Bay is filled with hydrangeas bloom. This is the first-ever hydrangea floral display at Flower Dome.
This year's Hydrangea Holidays exhibition showcases over 20 varieties of hydrangeas set in the countryside of Netherlands-inspired backdrop, featuring the unmissable windmills, canals, townhouses, and a lighthouse.
The opening hours of Flower Dome is 9am – 9pm daily. I highly recommend that you book the ticket in advance to avoid wasting time queueing to buy ticket from the counter.
This year marks Gardens by the Bay's 10th anniversary, and there will be 8 floral displays throughout the year at Flower Dome. Here's the list of floral display for the entire 2022:
Dahlia Dream (Jan & Feb 2022)
Sakura & tokidoki (Mar & Apr)
Precious Peony (Apr & May 2022)
Rose Romance (May & Jun 2022)
Hydrangea Holidays (Jun – Aug 2022) –> This article!
Hanging Gardens (Aug & Sep 2022)
A Spanish Serenade with Sunflowers (Oct 2022)
Poinsettia Wishes (Nov & Dec 2022)
Flight to Holland
So, the story goes like this. The Bear Family is going on a summer holiday to Holland to see the hydrangeas. First, they have to take a flight to Holland. At the entrance of Flower Dome, the first thing you'll see are Fun Felix and Precious Peggy taking on a plane to Holland.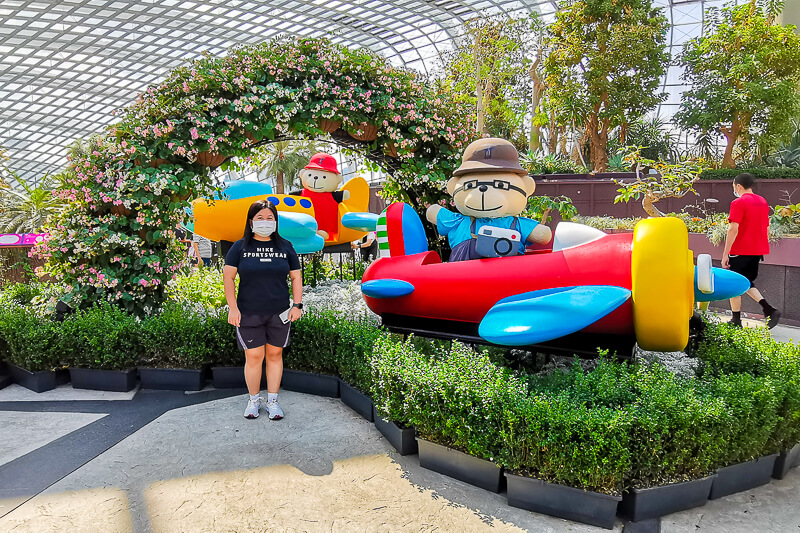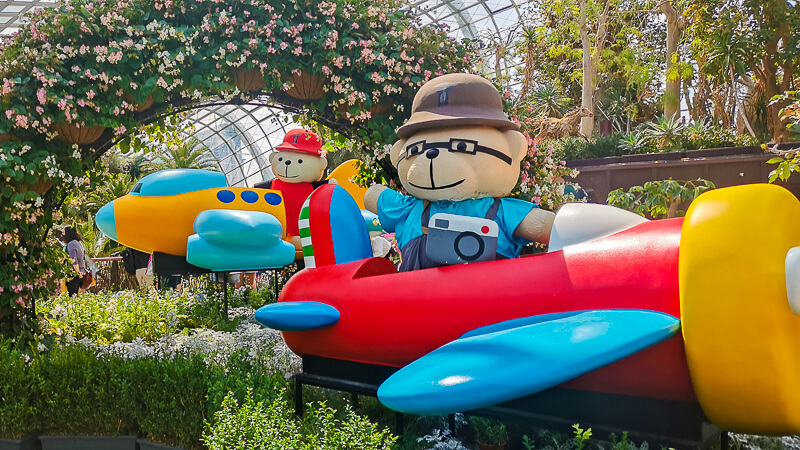 Flower Field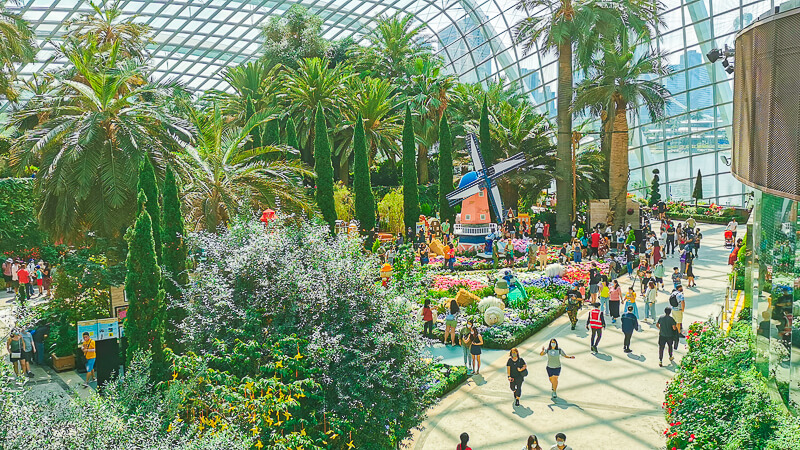 The Flower Field is where the main exhibition is located at. Here, you'll find Poffertjes and Townhouses, Dutch Cows and Dairy, Lighthouse and Windmills and Canals. I'll go into the details in the following sections.
By the way, there are 8 bears in the Bear Family, all of them scattered in Flower Dome, see if you can spot them all!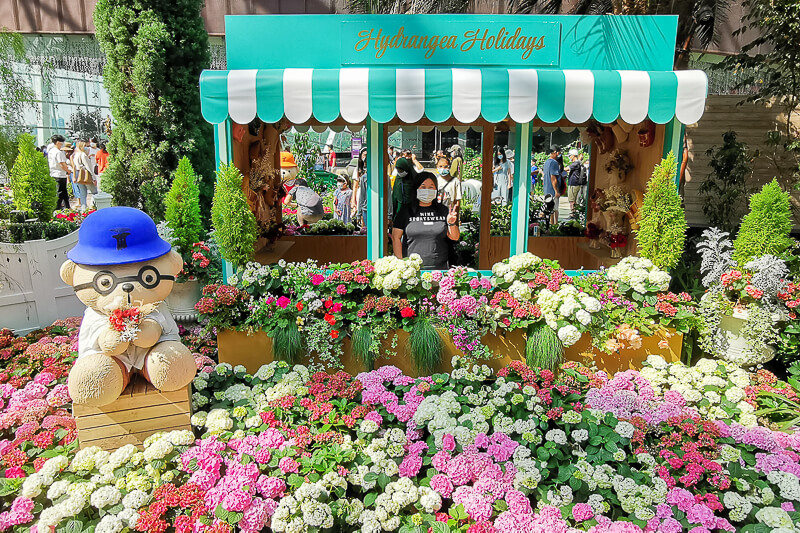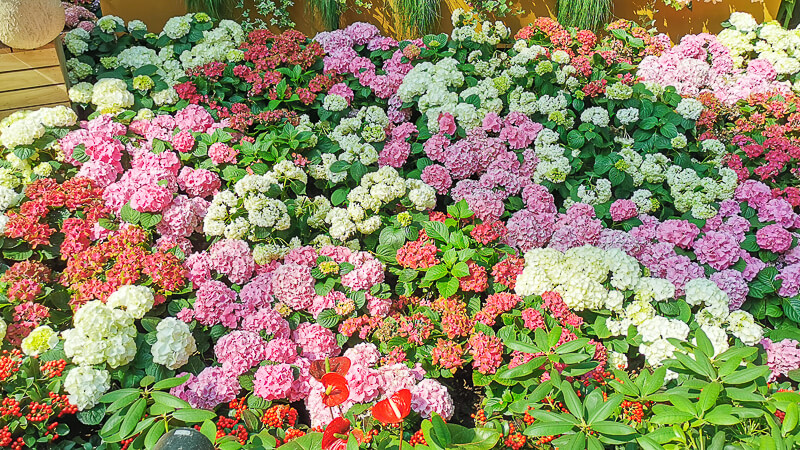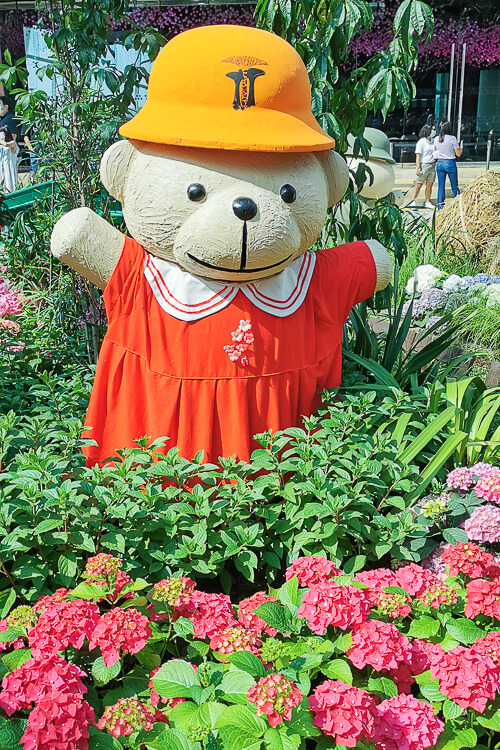 Poffertjes and Townhouses
Poffertjes (pronounced poff-er-jes) are traditional Dutch mini pancakes. This fluffy treat can be easily found in markets in Amsterdam, especially at the popular Albert Cuyp Market. Here, Naughty Nicholas can be seen busy preparing Poffertjes.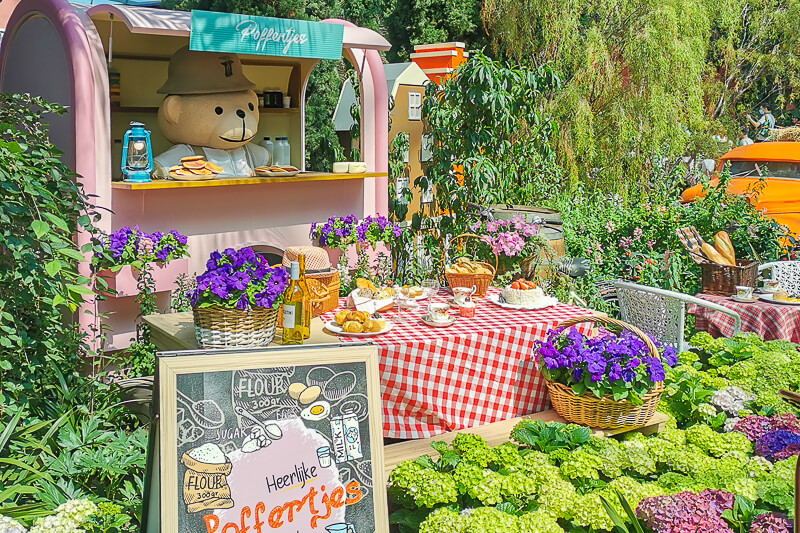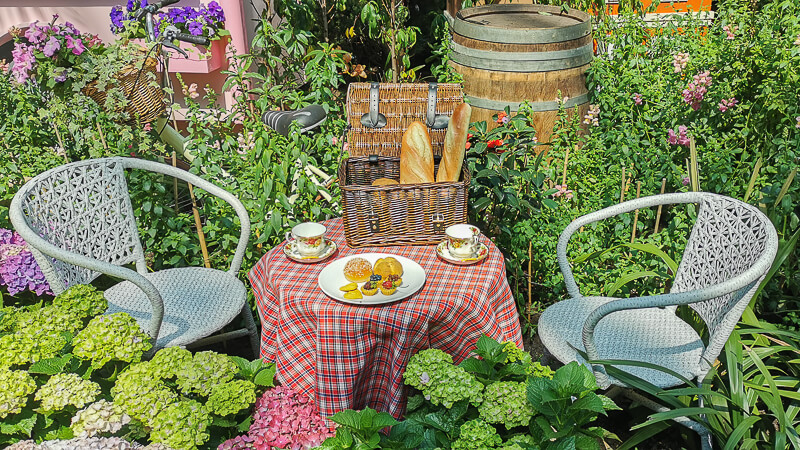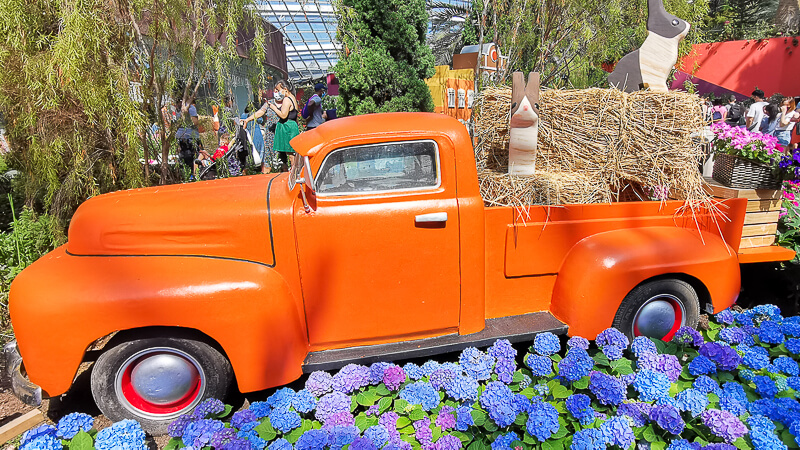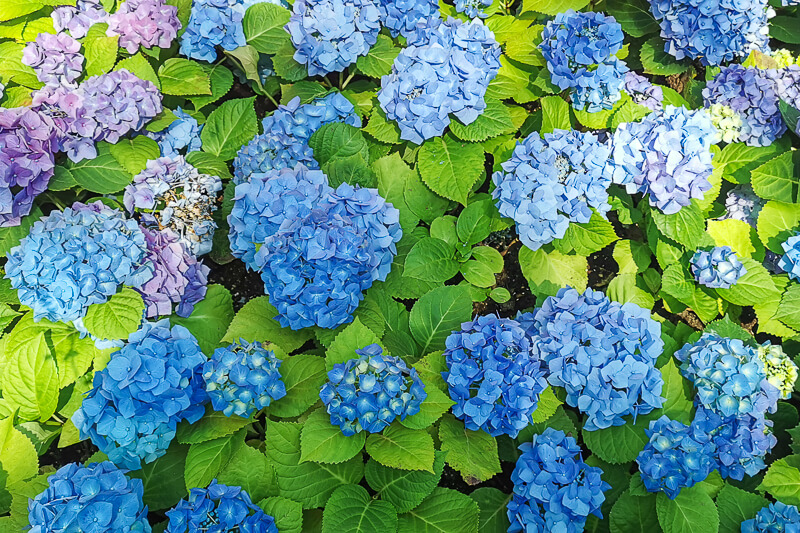 There are also replicas of townhouses that line Amsterdam's canal rings. Many of these townhouses are used as residences as well as storage units and places of business. I don't have a full photograph of townhouses, but you can see it in the cows' photos below.
Dutch Cows and Dairy
In Netherlands, there are 1.58 million dairy cows and calves with a yearly production of 14 billion kg of milk. These cows originated from Friesland, and are knowns as the world's highest producing dairy cow with a long production life.
Almost half of the cheese production in Holland is used to make the iconic Gouda (or "How-da" as the locals say). Named after the city Gouda, it's a semi-hard cheese with rich, unique flavor and smooth texture.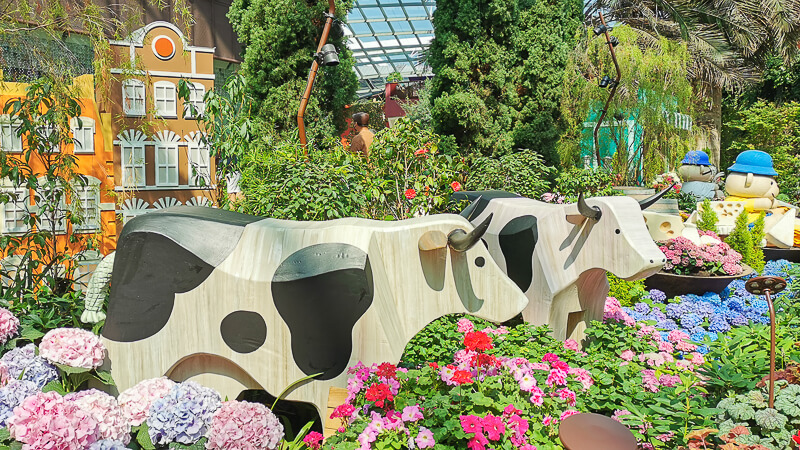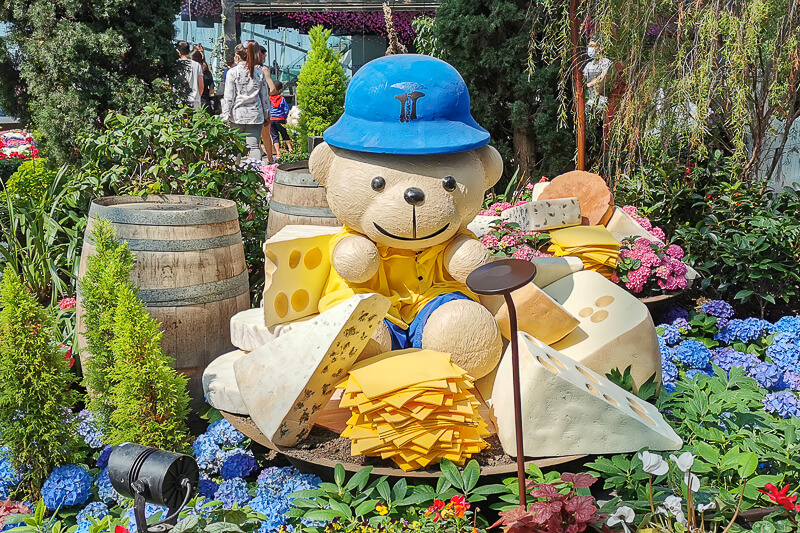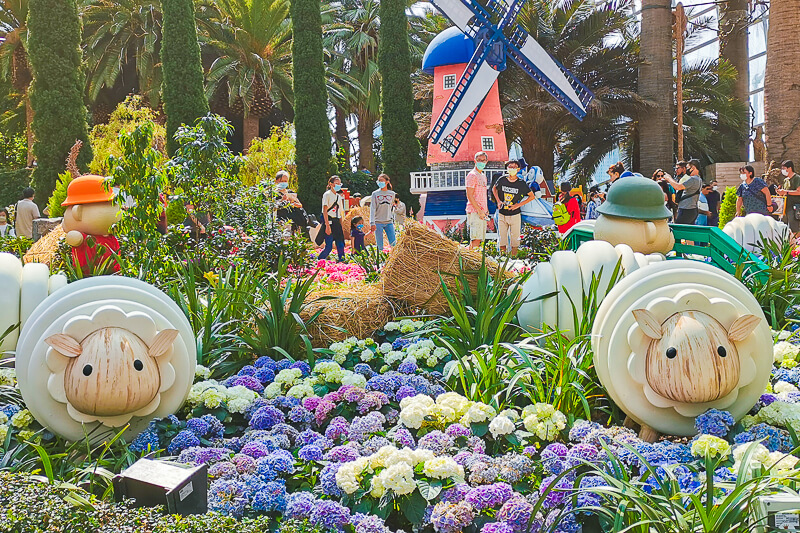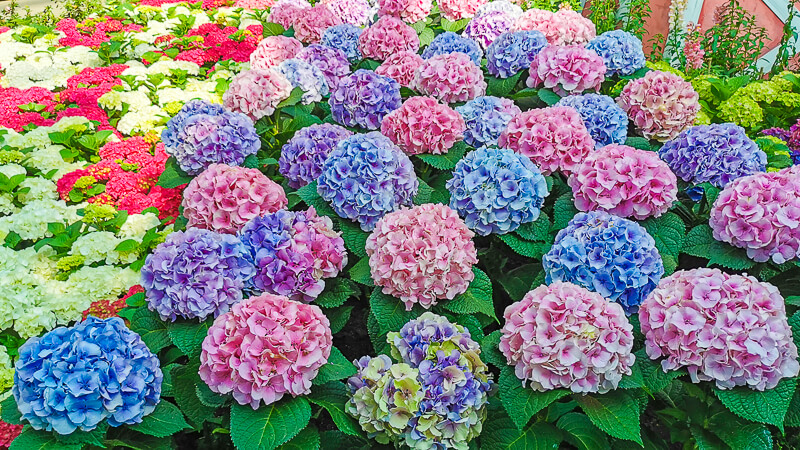 Lighthouse
This lighthouse is inspired by the Westerlichttoren, a lighthouse in Haamstede, Netherlands. At 53 metres above ground level and a light height of 58 metres above sea level, it is one of the largest lighthouses in Netherlands.
The lighthouse was painted with red and white spiral paint about a century after its construction when the airport Haamstede was built in 1934, so that pilots could see it from afar.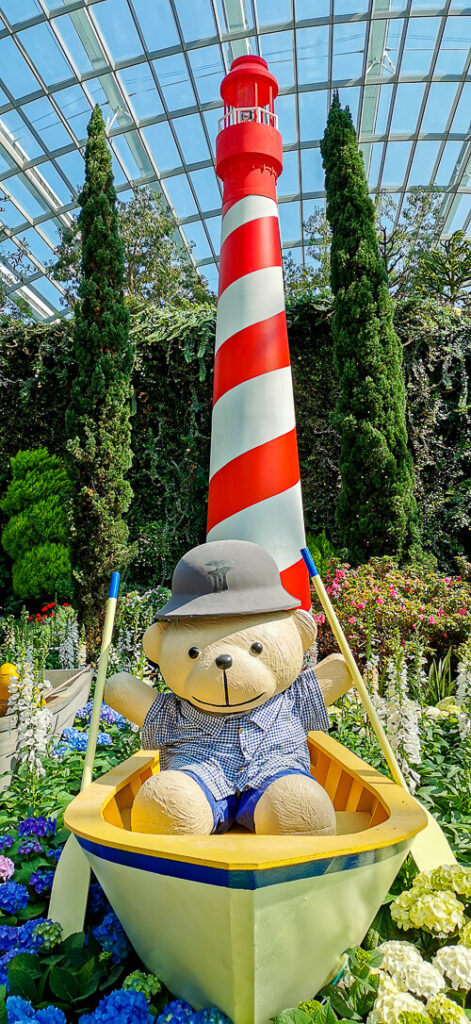 Windmills and Canals
The Netherlands is well known for its iconic windmills, so it is only fitting that there's a giant windmill in the middle of Flower Field. These windmills convert wind energy into rotational energy.
Another thing the Netherlands is famous for is the canal, which residents use for travel, irrigation and water removal. Some parts of the country do not even have streets, just canals! Giethoorn is one such town where there are only canals!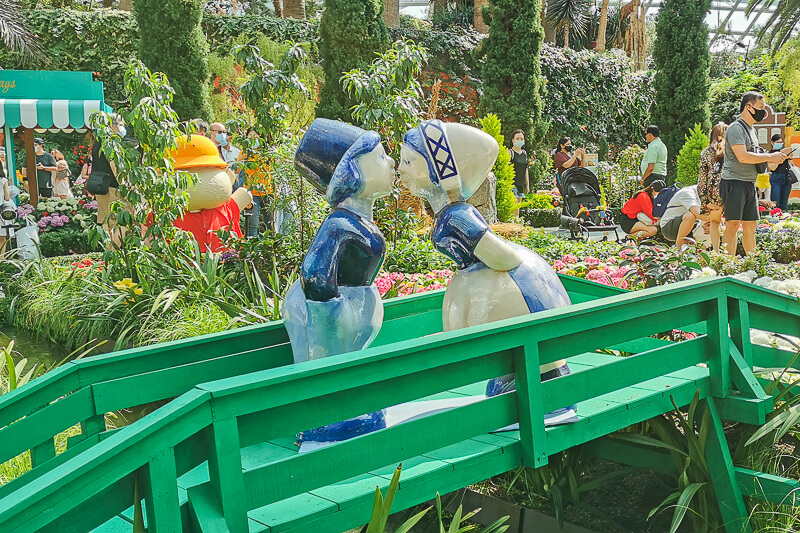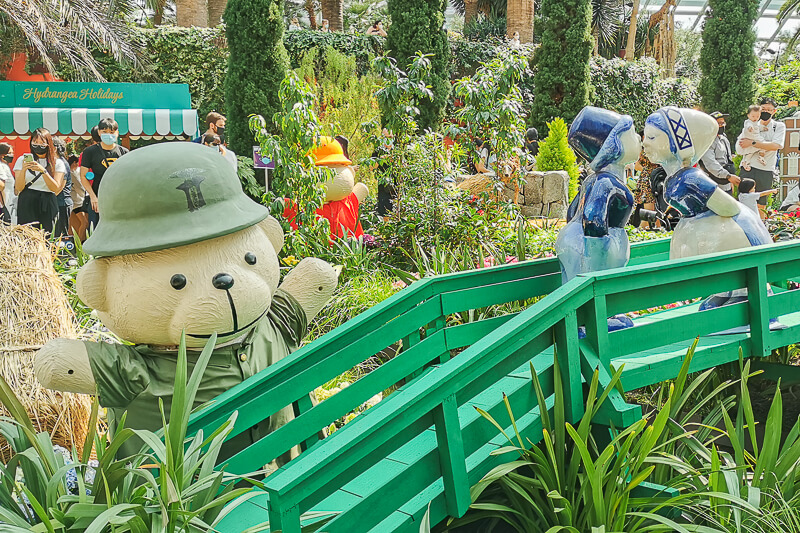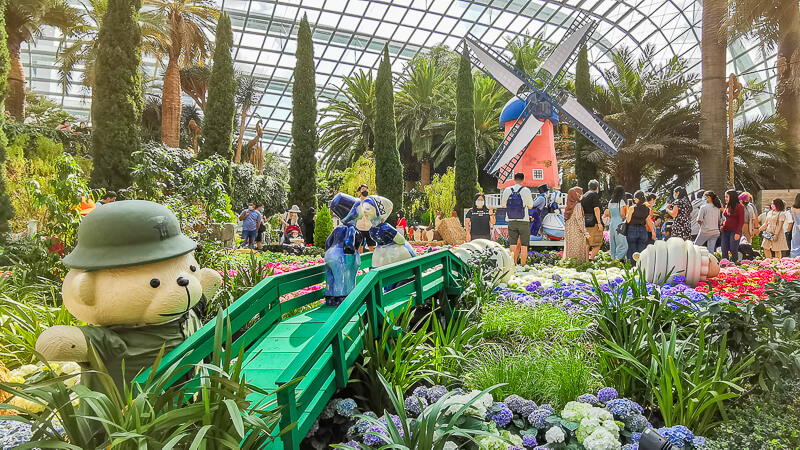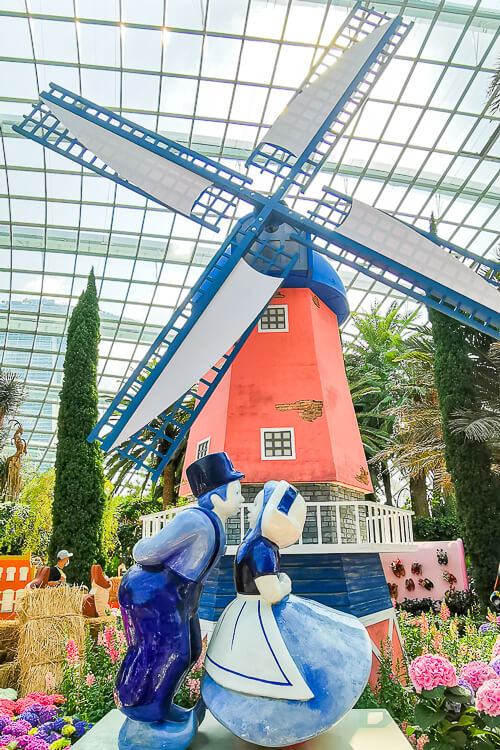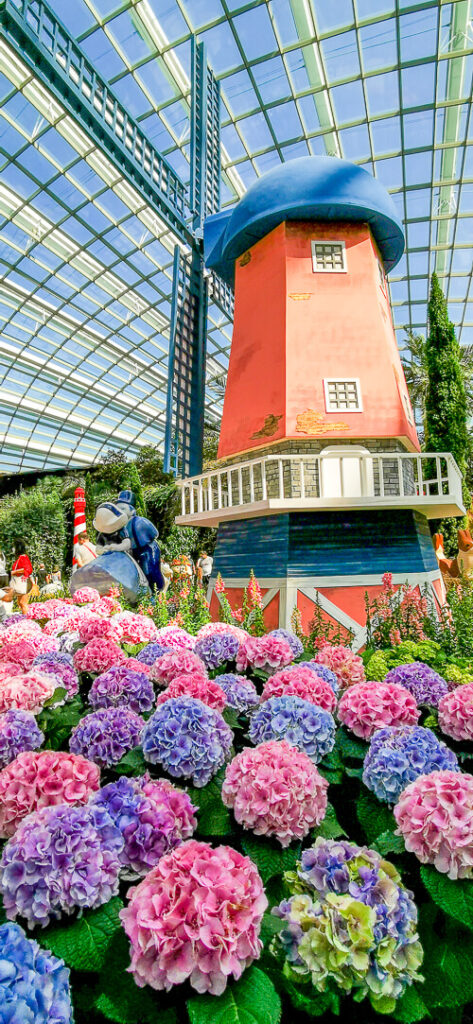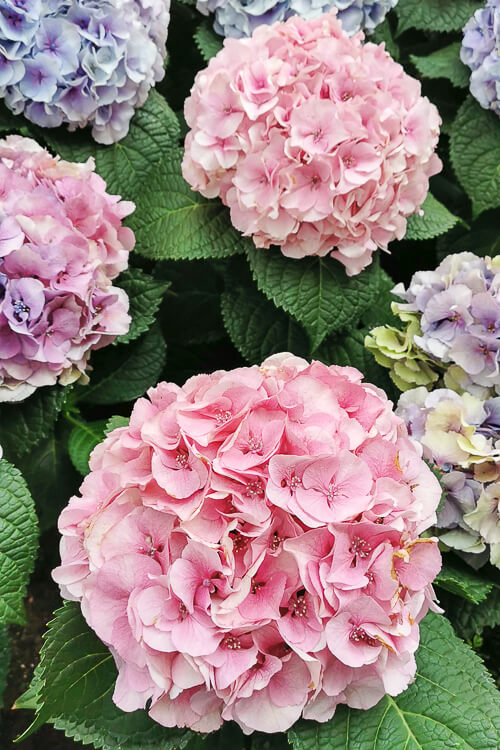 Artworks by JOURNEY by TOUCH Community Services
There are 50 pieces of arts created by artists with special needs from TOUCH Community Services. These artworks are artworks inspired by the Gardens and Hydrangea Holidays.
You can bid for the artworks by scanning the QR code. Funds raised will go directly to TOUCH Community Services and the artists.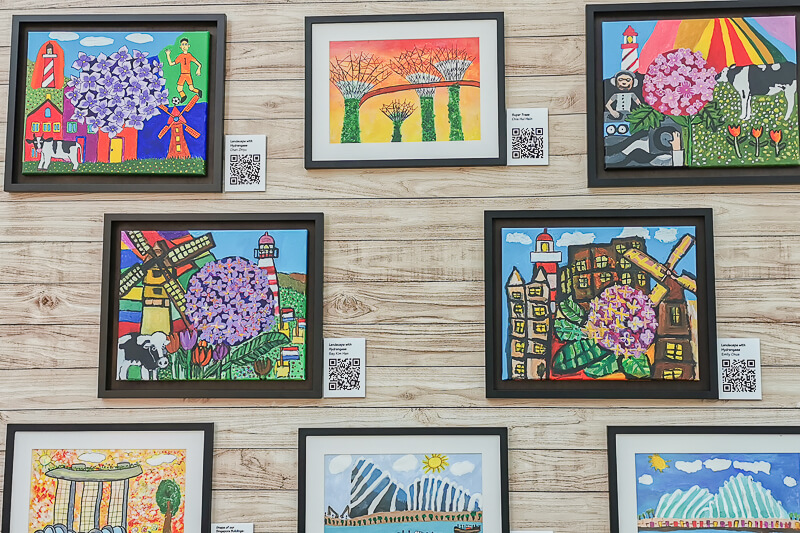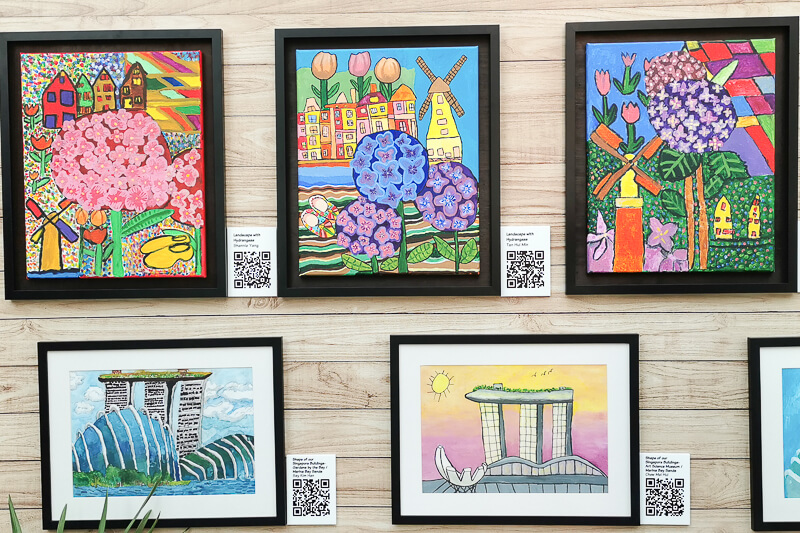 Read next:
If you like my work, you can buy me a coffee! Your support will help me to keep going!