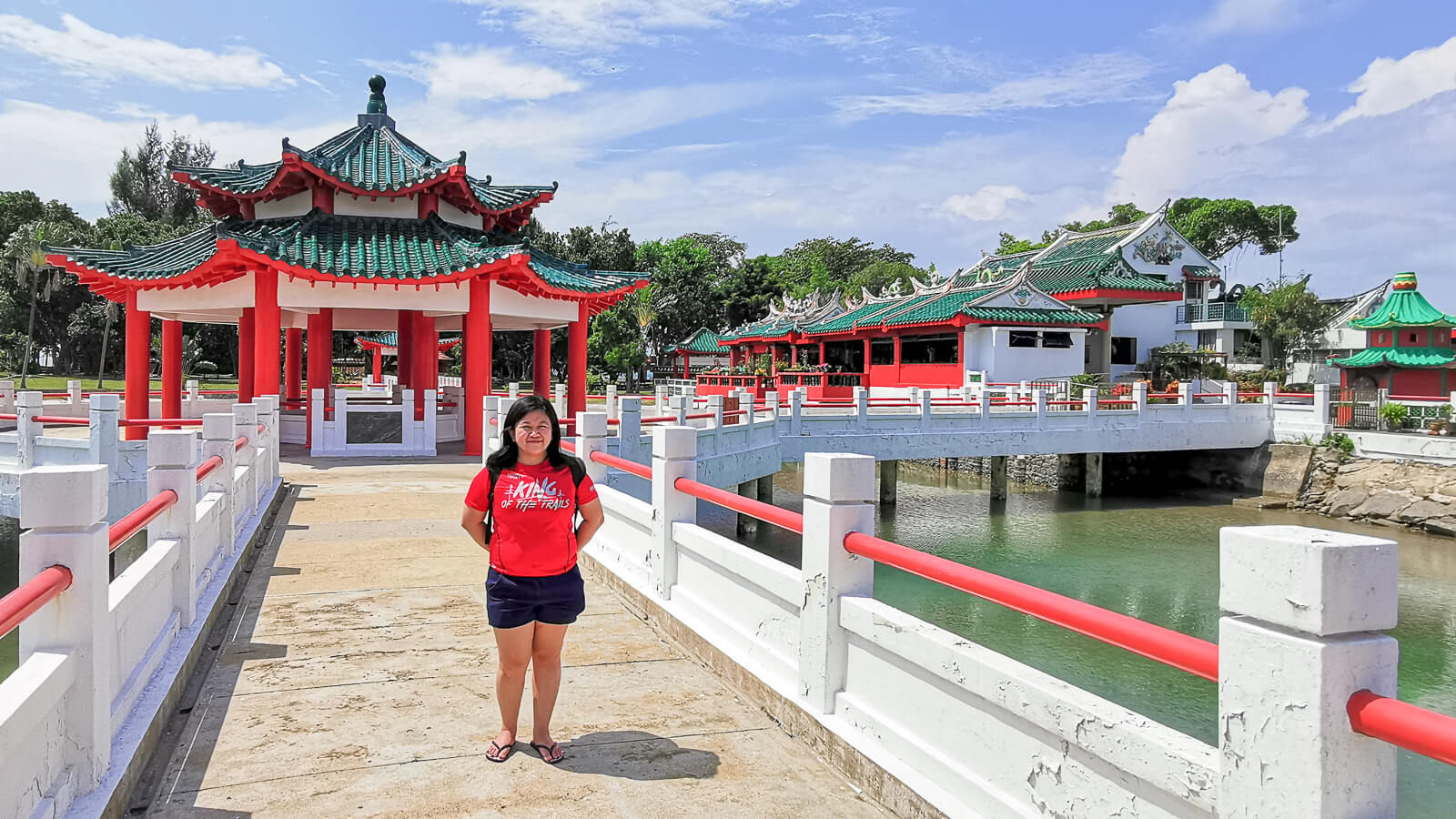 Kusu Island, also known as "Tortoise Island" in Chinese, is located right next to Lazarus Island, about 5.6km off the south coast of Singapore.
Legend has it that a Malay and Chinese fisherman, who were drowning due to their shipwreck, were saved by a giant tortoise. The two sailors returned to the island every year to make offerings and give thanks.
There were many other stories about the legend of Kusu Island, but they all revolve around a giant tortoise and a friendship between a Malay man and a Chinese man.
It is not surprising then to find two sacred temples on this island: a Chinese temple and a Malay shrine.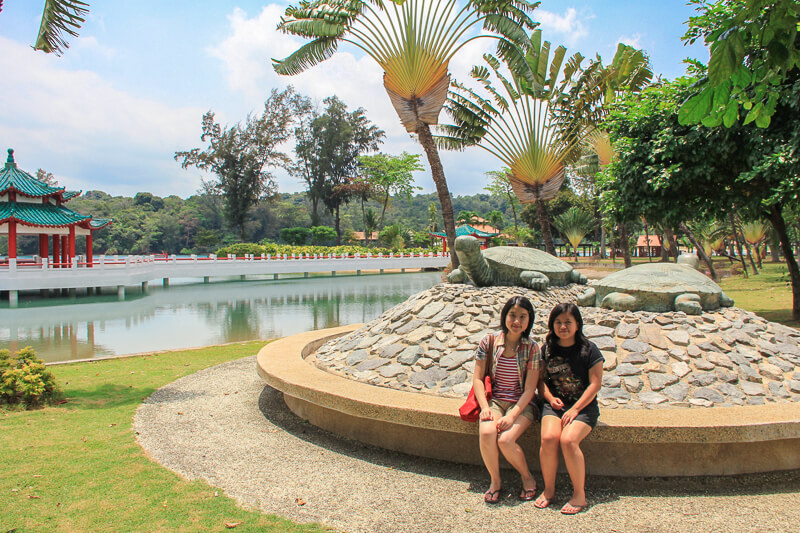 Kusu Island is my favorite island compared to other southern islands (St. John, Lazarus, Seringat, Sisters) in Singapore. I'm a temple buff, I love watching the tortoises and I just think Kusu Island is really beautiful.
If you only have half a day and you have to choose between St. John and Kusu, I really recommend Kusu island.
Important:
Please bring your own food and drinks because you can't buy any on the islands, no matter how much money you have!
How to go to Kusu Island?
The most popular way to go to Kusu Island is by taking a ferry from Marina South Pier. There are 2 companies that provide ferry to Kusu Island, namely Marina South Ferries and Island Cruise.
The ticket costs SGD 15 and it includes stop at St. John's Island without additional costs. MSF's ferry ticket also include stop on Sisters' Islands if you visit on weekends or Public Holiday.
Before you go to the Kusu Island, I recommend that you read my detailed guide for how to visit Southern Islands. It has a comparison between Marina South Ferries and Island Cruise; a packing list; and recommended itineraries to help you to plan your visit to multiple islands effectively.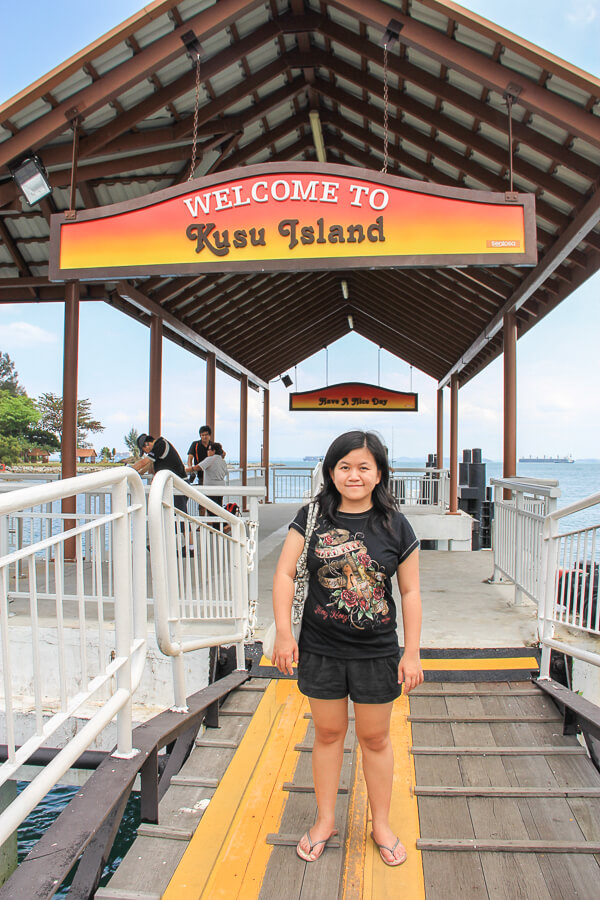 What to do on Kusu Island?
1. Da Bo Gong Temple
The Da Bo Gong Temple (or Tua Pek Kong in Hokkien dialect) is one of Kusu Island's most popular landmarks. This Chinese temple houses many deities, but the main ones are Da Bo Gong (God of Prosperity) and Guan Yin (God of Mercy)
Located 200m from the jetty, Da Bogong Temple is easily recognizable because of its prominent architecture.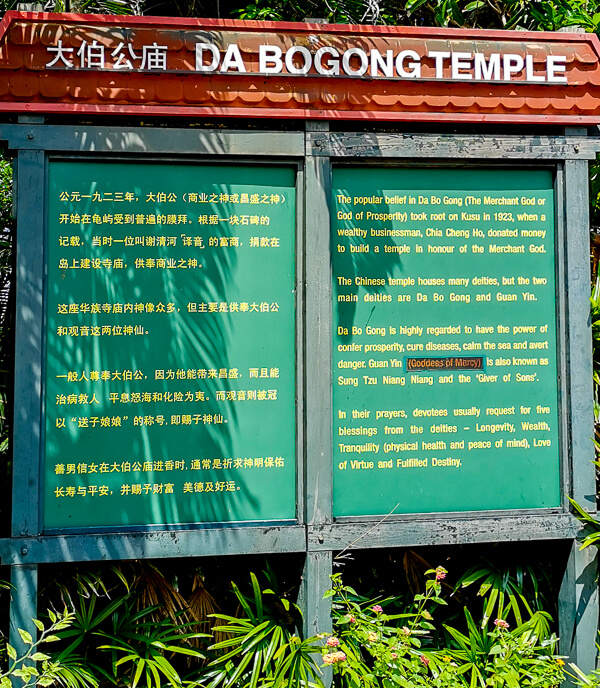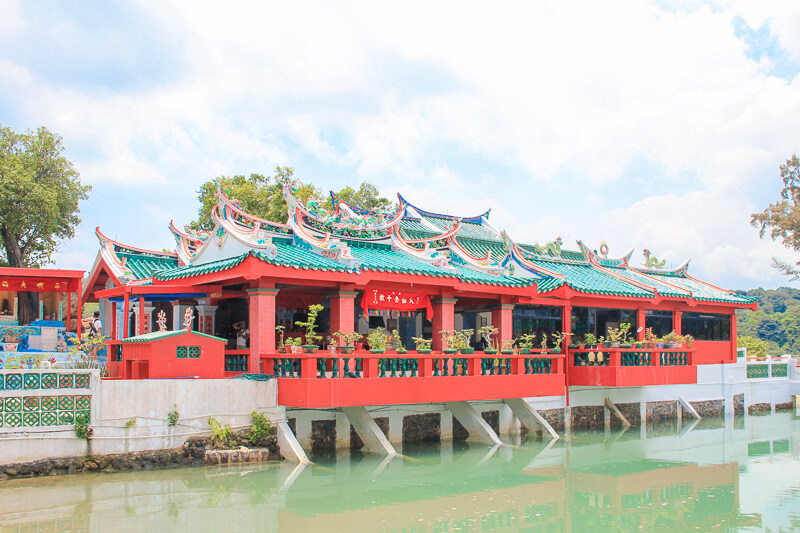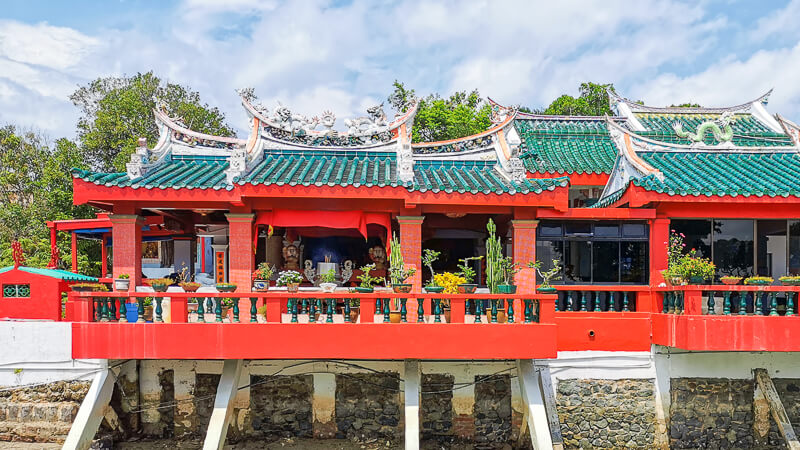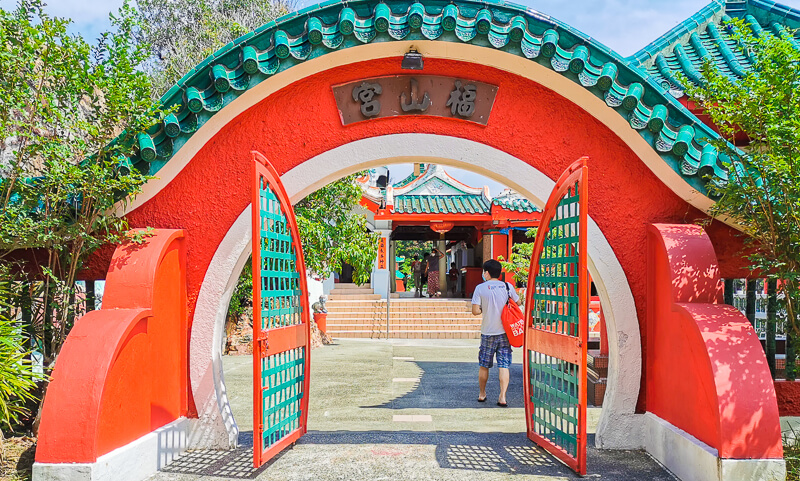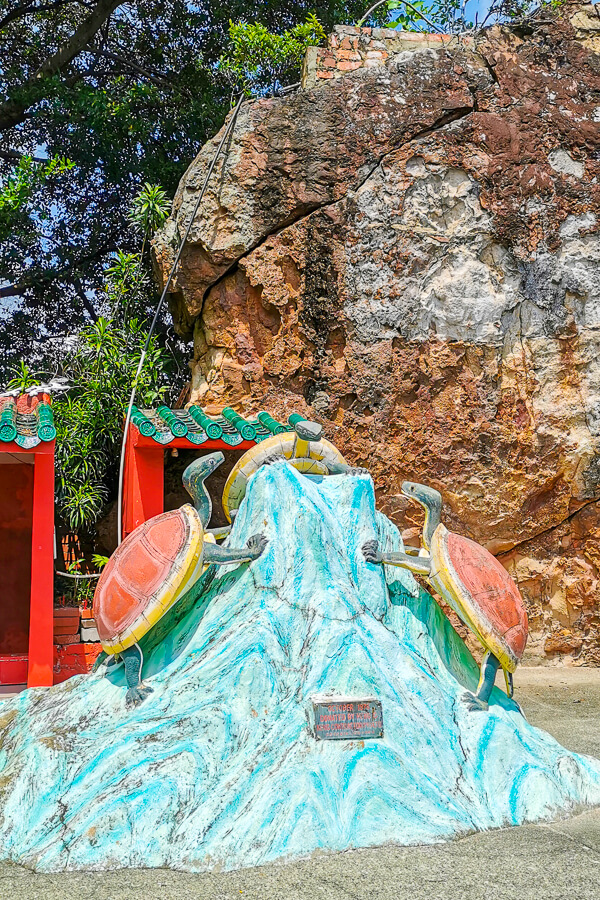 2. Wishing Well
If you're walking from jetty to Da Bo Gong temple via the elevated walkway, you will definitely walk past the Wishing Well.
Inside the wishing well is a lotus-shaped concrete structure with bells in the center of it. After making your wish, throw some coins into the well and try to hit the bells.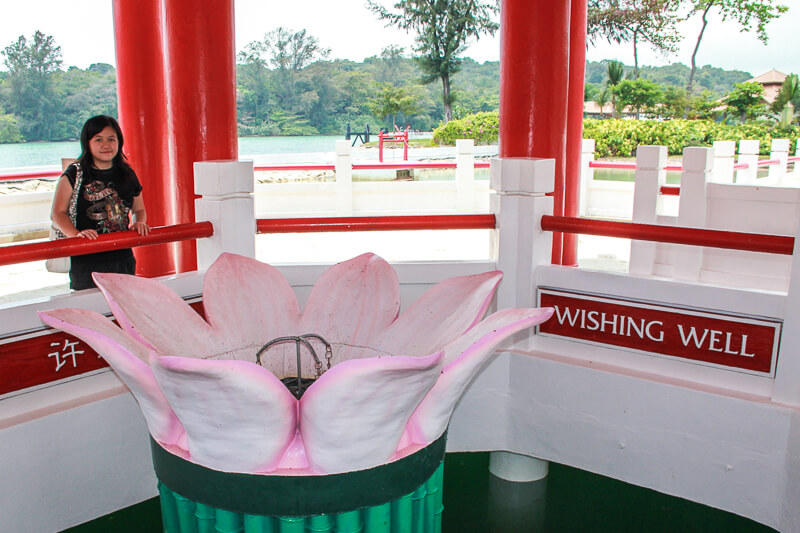 3. Kusu Kramats
In Malay language, Kramat means shrine. In Kusu Kramats, there are 3 shrines built to commemorate a deeply religious Malay family (which consisted of Syed Abdul Rahman, his mother Nenek Ghalib and his sister Puteri Fatimah) who lived in the 19th century. It is a popular shrine for childless couples who wish to start a family.
The Kusu Kramats is located at the top of a hill. To get there, you need to climb 152 steps. There are two stairs, one for going up, and another one for going down. It's quite hidden at the further end of the island. I actually missed this shrine during my first trip to Kusu island.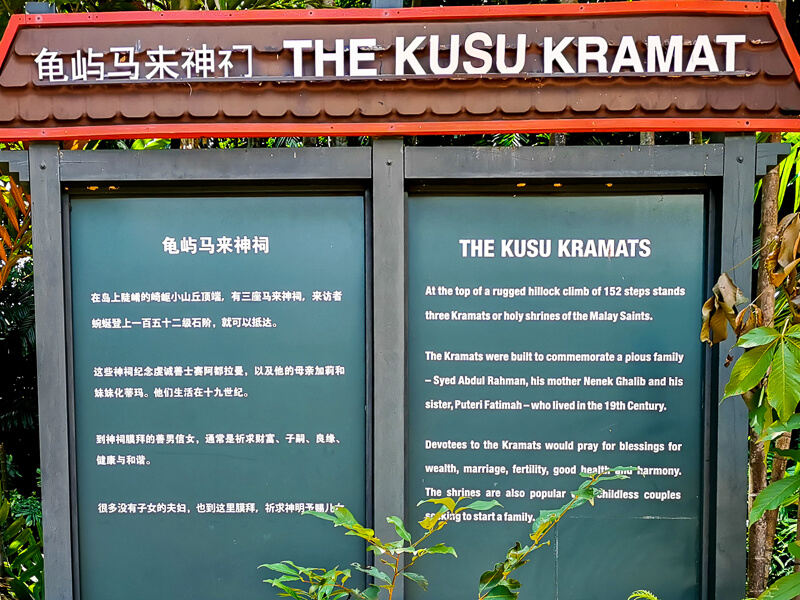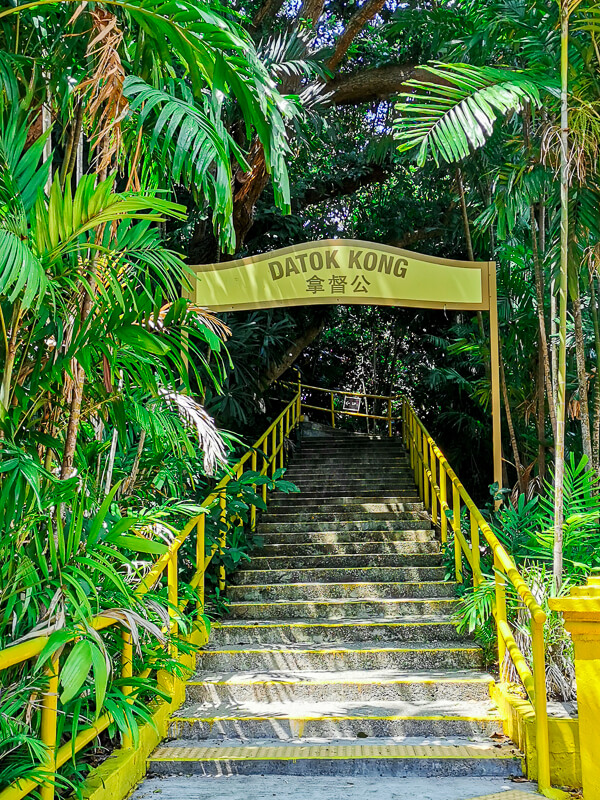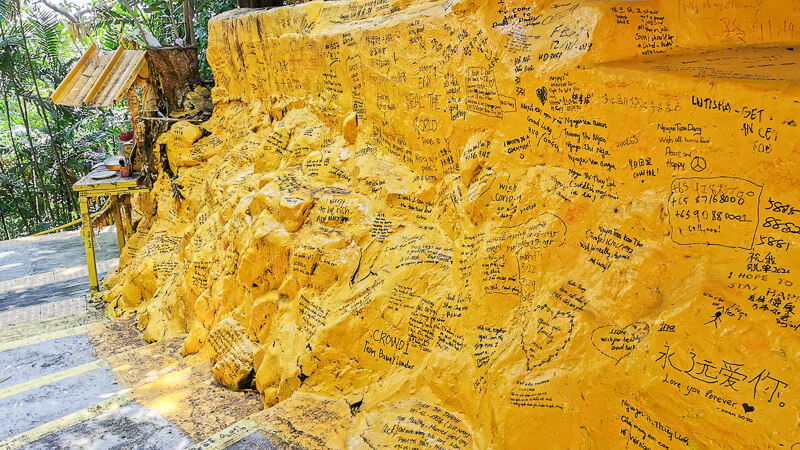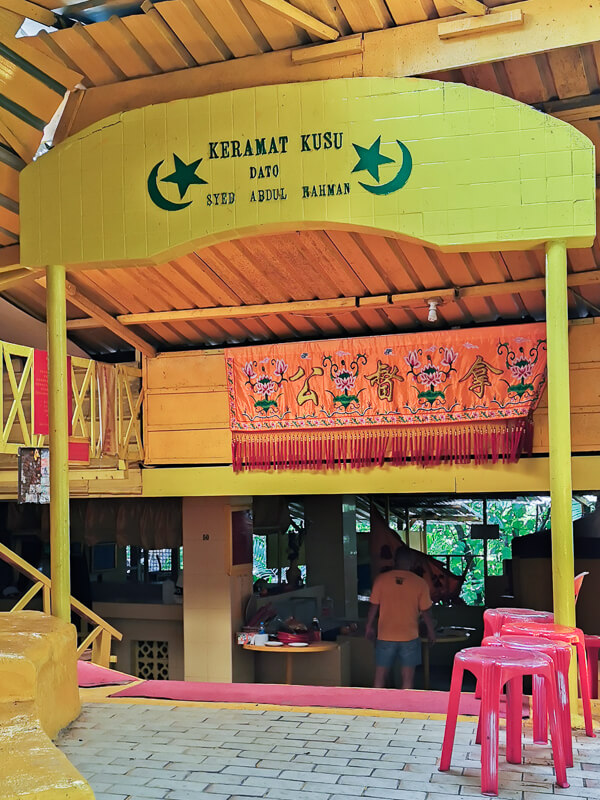 4. Tortoise Sanctuary
The tortoise sanctuary is probably THE one thing that you should NOT MISS when visiting Kusu island. The so-called sanctuary is actually a sunken concrete pit on the ground where plenty of tortoises are roaming around.
To me, they don't look like turtles, but turtle and tortoise are interchangeable on this island. The tortoises come in different shell patterns, it's really therapeutic to watch them taking those tiny steps!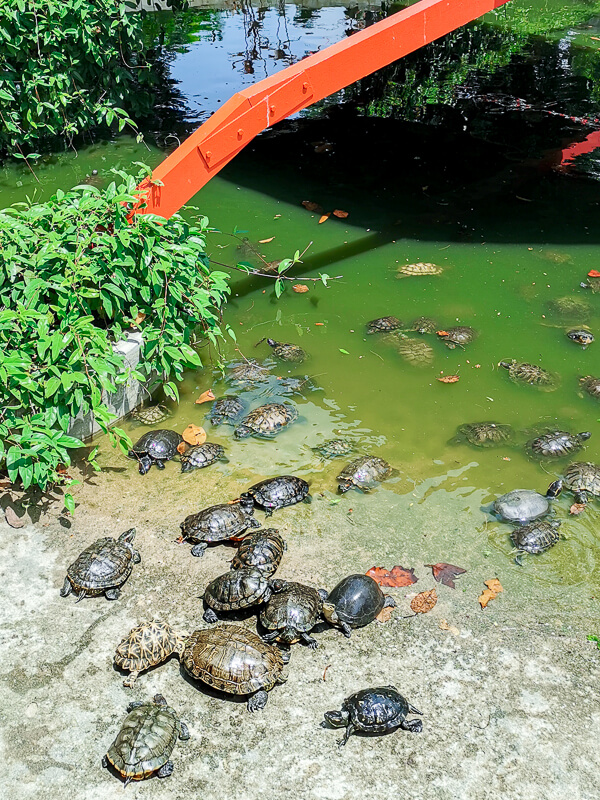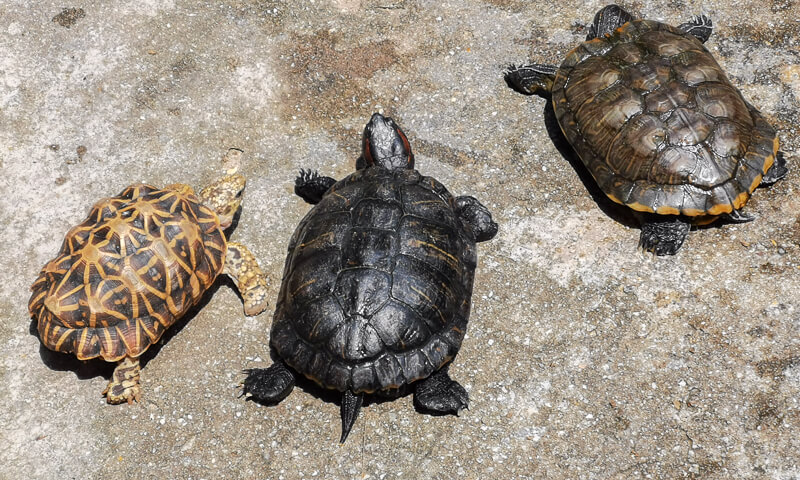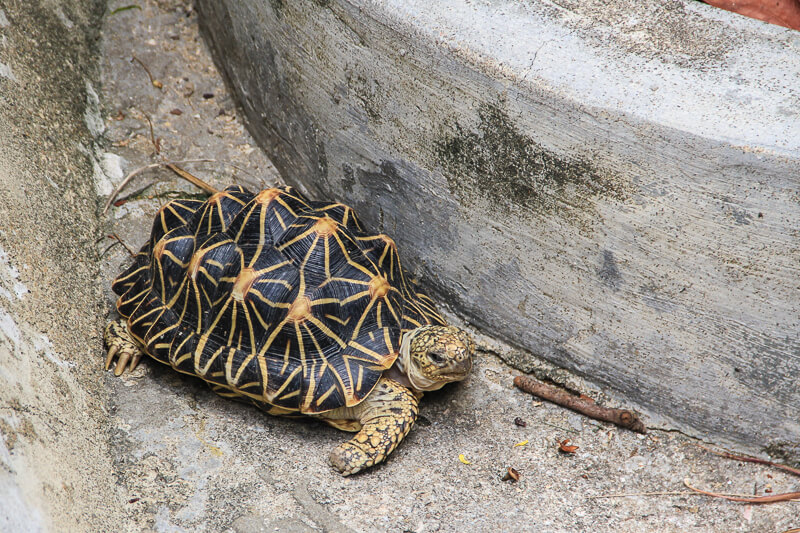 5. Swimming
There are 2 lagoons where you can swim in Kusu island. The bigger one, which is near Tortoise Sanctuary, is facing Singapore's mainland. Meanwhile, the smaller one, which is near Kusu Kramats, is facing Lazarus island.
In case you're wondering about shower, yes there is a toilet with basic shower facilities.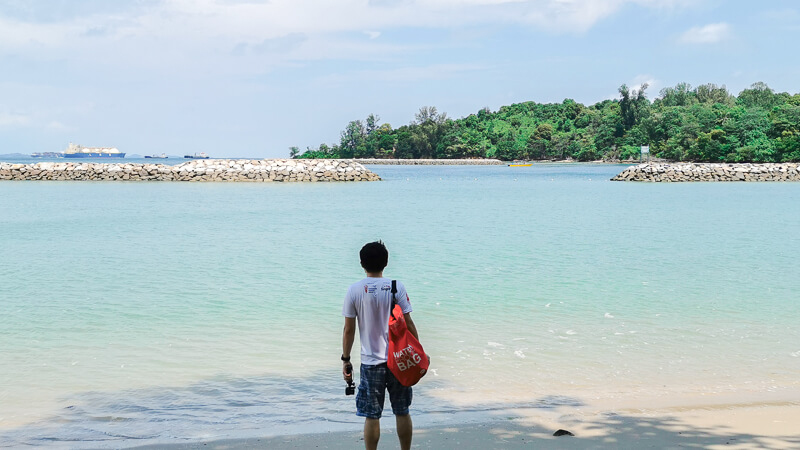 6. Picnic
Kusu island has plenty of sheltered benches with tables, as well as alfresco wooden tables with benches; you'll have plenty of places to set up your picnic or your lunch.
But I noticed that at some tables, there are black ants. So, just be careful with your food. Furthermore, some people reported there are monkeys on Kusu island but I haven't encountered any of them. Do keep an eye on your food before they get attacked by monkeys or ants.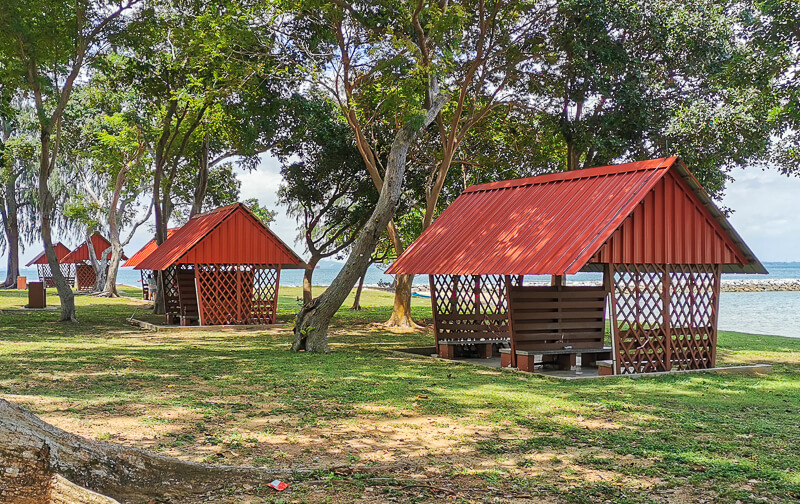 7. See Singapore skyline
Already missing Singapore when you're at Kusu island? The good news is: you can see the skyline of the Marina Bay area, right from Kusu island's beach!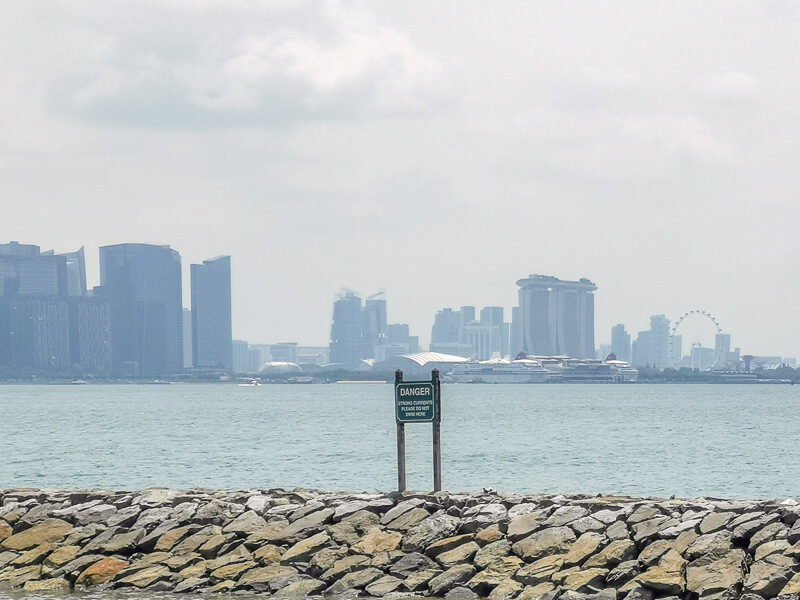 8. Take part in the Kusu Island's Annual Pilgrimage
Every year, during the ninth month of the Lunar calendar, many Singapore residents are flocking to Kusu Island for its Annual Pilgrimage season, which lasts for a whole month. Thousands of devotees are flocking to the island to worship the deities.
During the pilgrimage season, ferries leave much earlier compared to normal days, and there are more ferries throughout the day.
This season is the only time you can buy food at Kusu island, yay! The otherwise deserted Hawker Center is bustling during this period, so don't bother bringing your own food to the island.
Interested to visit Kusu Island during Pilgrimage season? I wrote about my own Pilgrimage experience.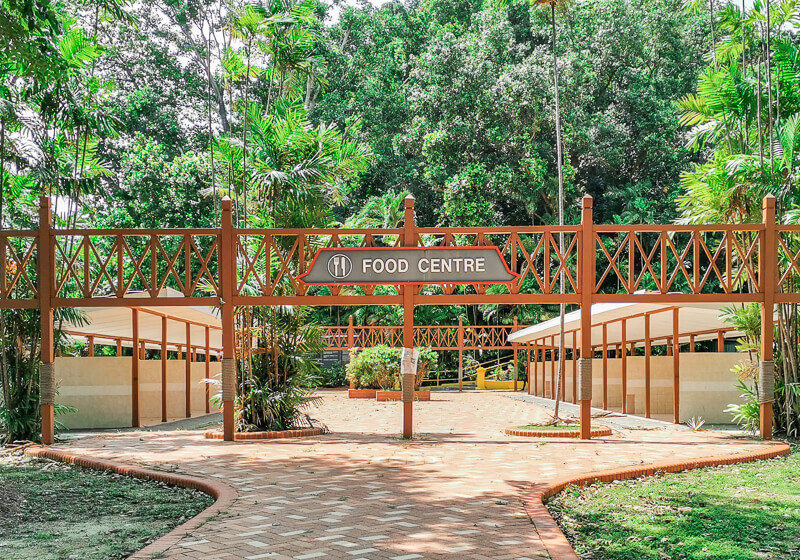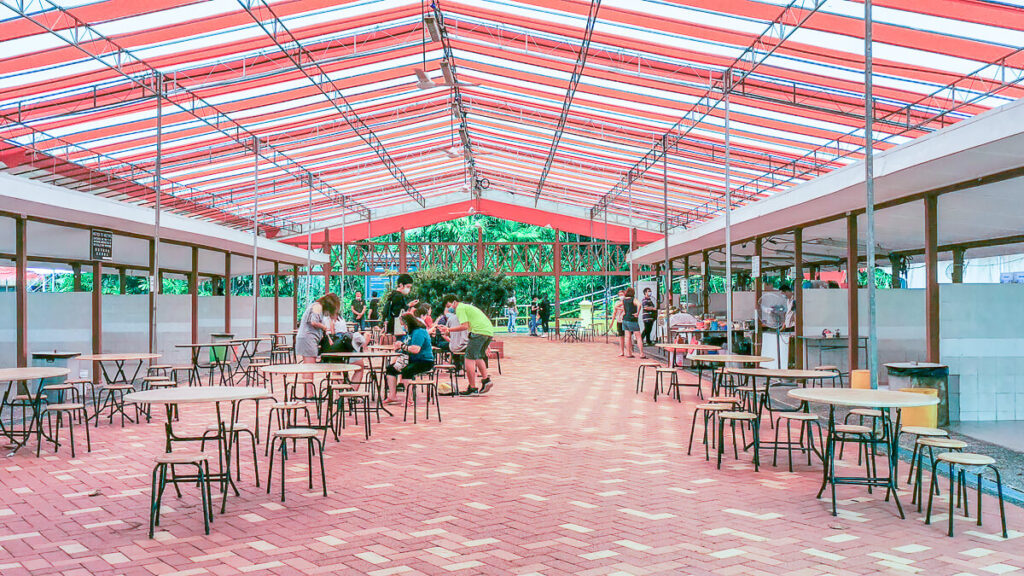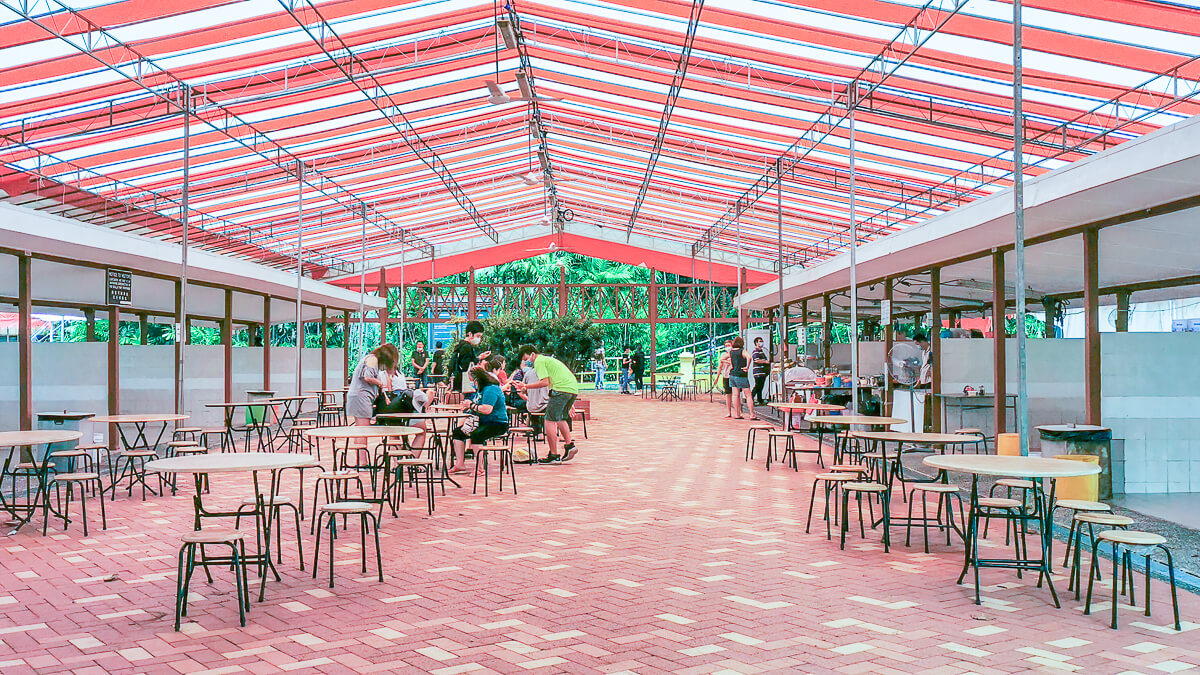 Have you visited Kusu Island before? What did you like and not like? Let me know in the comments!
Want to be the first to know whenever I post new articles and videos? Join my Telegram Channel and you'll get new post alerts sent directly to your phone.